Getting a haircut – KL Malaysia
When you go traveling for a bit longer then a couple of weeks that moment that you need a haircut is bound to happen! So I went! I posted a picture also as we bloggers do… on
instagram
! One of the reactions was of a woman that told me that she didn't dare too. She was already traveling for a half a year but hadn't visited a hairdresser yet!
Getting a hiarcut while traveling
is saving money!!
Well…that is my fathers saying! He loves to go to the hairdresser when he travels and made it into some kind of hobby to go to the hairdresser in every country he visit. When I visited India with him he went to the hairdresser in Varanasi while I was taking this Cookingclass that was a bit too Local! For him this hairdresser couldn't be local enough 😉
In September of 2016 I started to travel and when the holidays came I was still traveling. I didn't celebrated Christmas but was wildwater rafting instead in Sri Lanka. But when new years came…I was in Malaysia, Kuala Lumpur and met a colleague of mine and her family that was traveling too. We would celebrate it together in the Regalia Residence with a view on those great Petronas Towers…from the swimmingpool!!
So in the end you have to go get a haircut!
I wanted to get a haircut before that day. After a couple of months in Asia my hair was dry and the colour in those dead ends were bad! It had to go…NO not all…but those dead ends 🙂 I went to Putra Sunway Shoppingmall and found myself a nice hairdresser.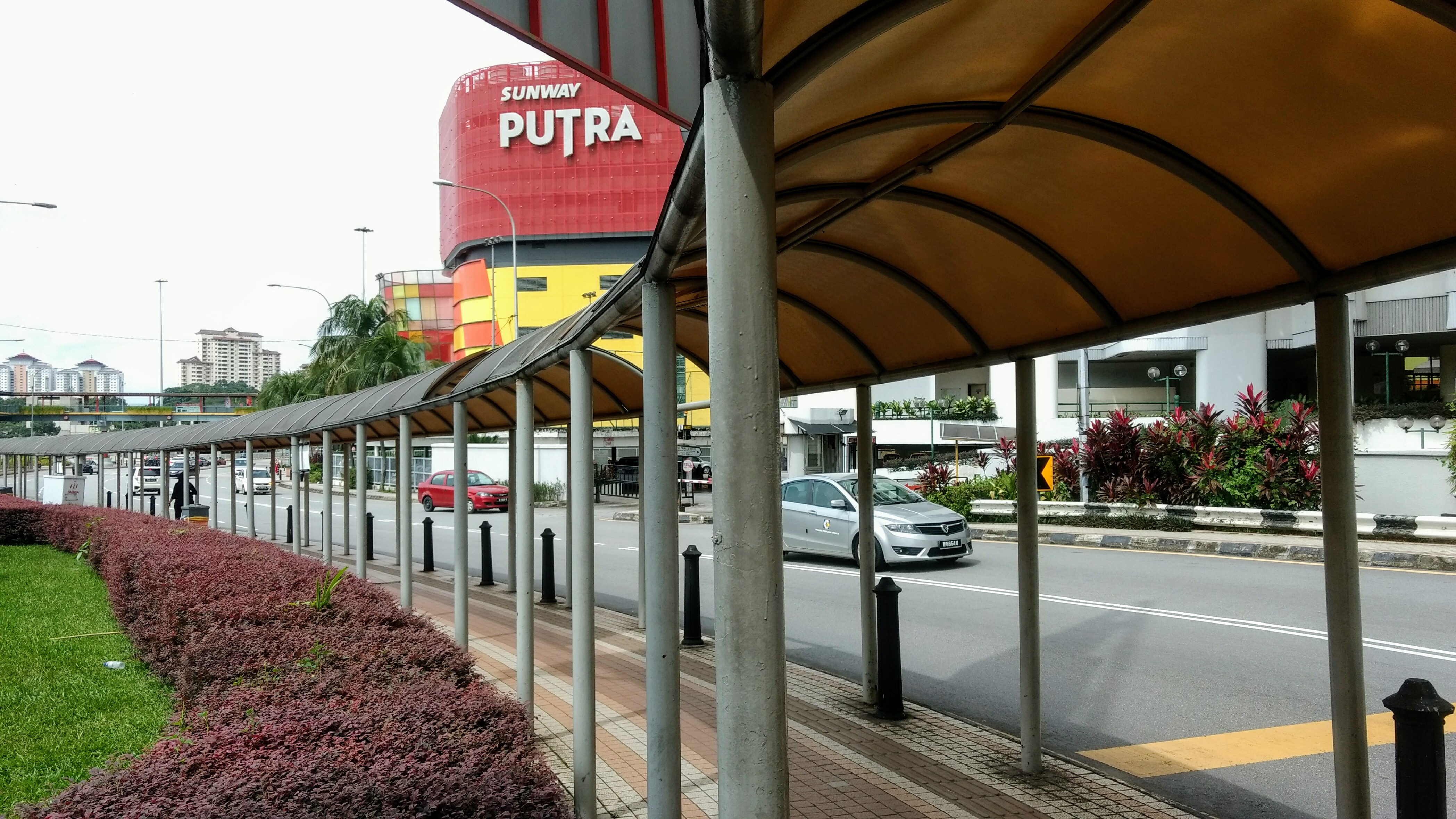 I must admit that I found it kind of exciting, you  never know how different things are untill you really dive into it. It had to be done…so I went! My haircut is not that difficult!
So I sat down and they asked me what I wanted. Just a haircut, those coloured ends need to go. Same questions as normal, same hairstyle? etc So that felt good! She started cutting and things seem to be exactly the same as I'm used too! When she was done she left me with a cup of coffee.
The hairdresser did the same as I 'm used too in Holland!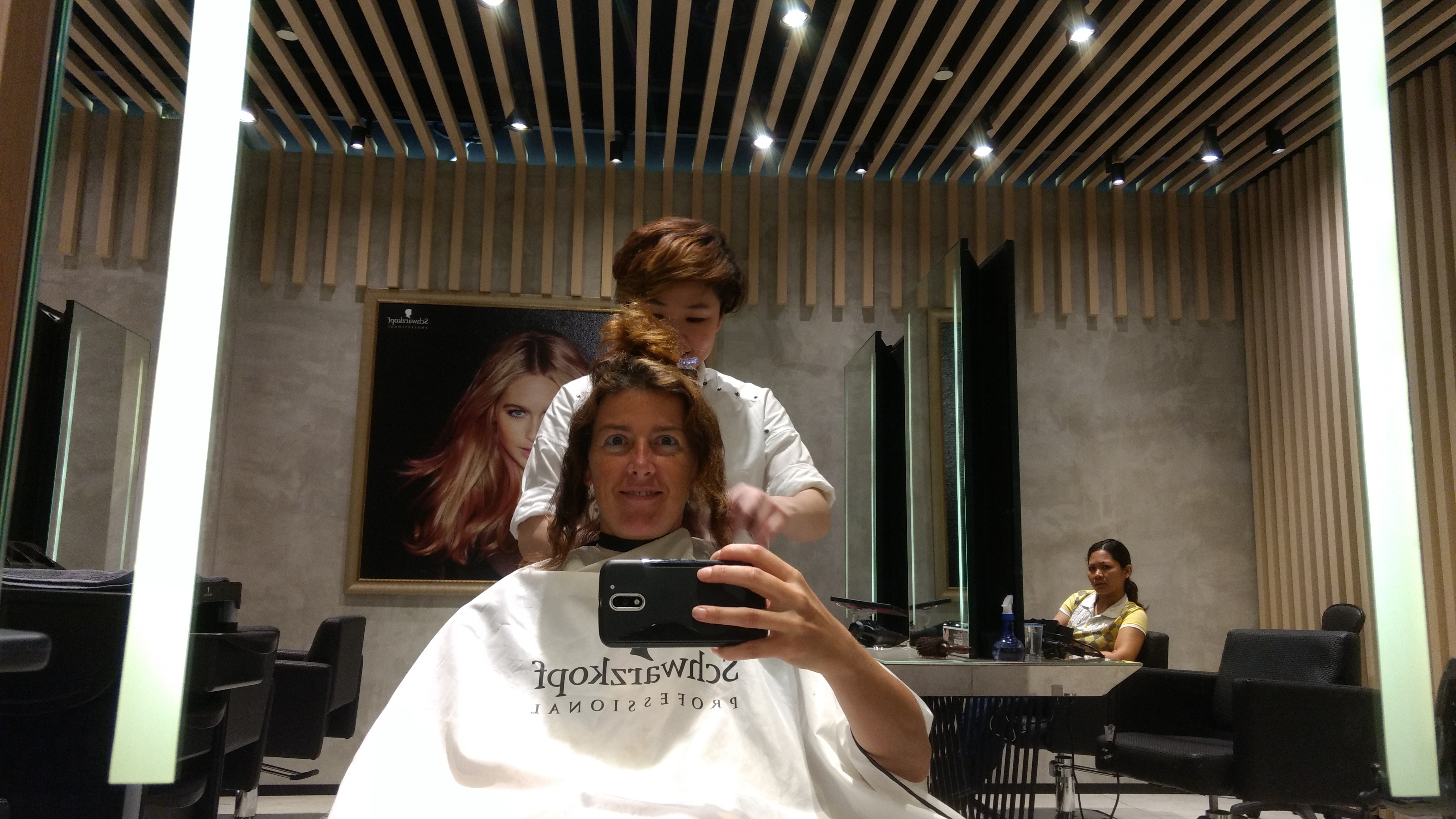 It didn't take long and another lady came and she had some kind of bottle with a fluid with her. In the other hand she had some fluid and she started to wet my hair with a thin beam of fluid straight into my hair. In the meantime she started to put the other fluid in my hair too.
It turned out to be shampoo, it started to foam!
The water went into my hair and I was so surprised to not feel it running down my neck. She was so handy in catchting it all in my hair and washing it with one hand firmly! I was still sitting in my chair! The hairdresser was washing my hair!! I was so surprised and was looking at her with admisation.
She put aside the water and started to massage my head, and my neck…and my forehead.
This was great!!
I loved it!

—
The Hairdresser massages my head, neck and forehead!!
Part of the shampoo was gone after the massage and she got some new shampoo and got the bottle with water to start agan. Still sitting in front of the mirror and washing my hair! I was really so surprised about this! Do they wash you like this?
There was a lot of foam because she really got a lot of it in my hair…and still nothing was leaking into my neck or towel. It was so strange! She started to massage again…she could've done that much longer 🙂 But then I had to go with her to the sink where she finished it.
So they did have a sink. Only rinsing of my hair was been done at the sink. I could take place in front of the mirror again.
The next question was the same .. If they should dry my hair with a blow drier? Ehm…yes, that is good! The mall is always cold with the airco so yes…dry it!
They also used the Blow Drier at the Asian Hairdresser!
She started to blow and brush my hair. I soon found out it would be different then I'm used to at home. I have curls or waves…but not straight hair. And I think she was styling my hair to a straight hairdo. I was hesitating…Should I say someting? I didn't…I was at the Asian hairdresser and would let them do their thing! Just see what they make of me. A blow drier is temporary so it can't hurt.
At some point I was looking at myself in the mirror and really was laughing… seeing how I changed into another person.. One with Asian hair 🙂
I never before had my hair that straight!!
It looked so strange!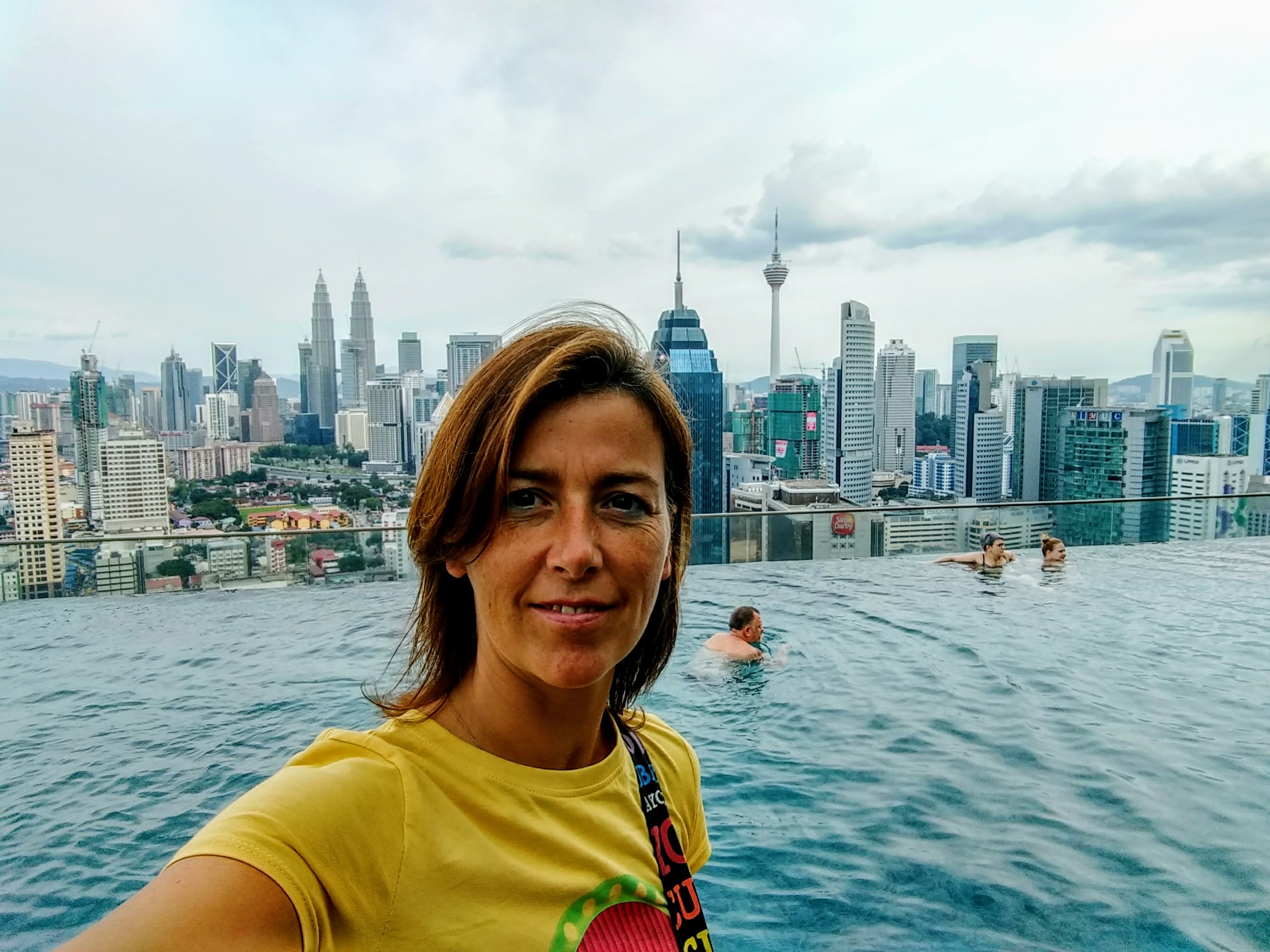 I got out of the shop with straight hair, just as you know of almost all the asian women. I left it like this for the rest of the day. But also the next day when I got out of bed my hair was as straight as it was the day before!! Haha, that was different!! Most of the time, because of the curls…my hair is like a ragdoll when I wake up!
But ofcourse after a dive in htis great swimmingpool at the rooftop of the Regalia Residence it was gone. My hair was as I knew it…only a bit shorter!!
Have you ever got a haircut while you were traveling?
—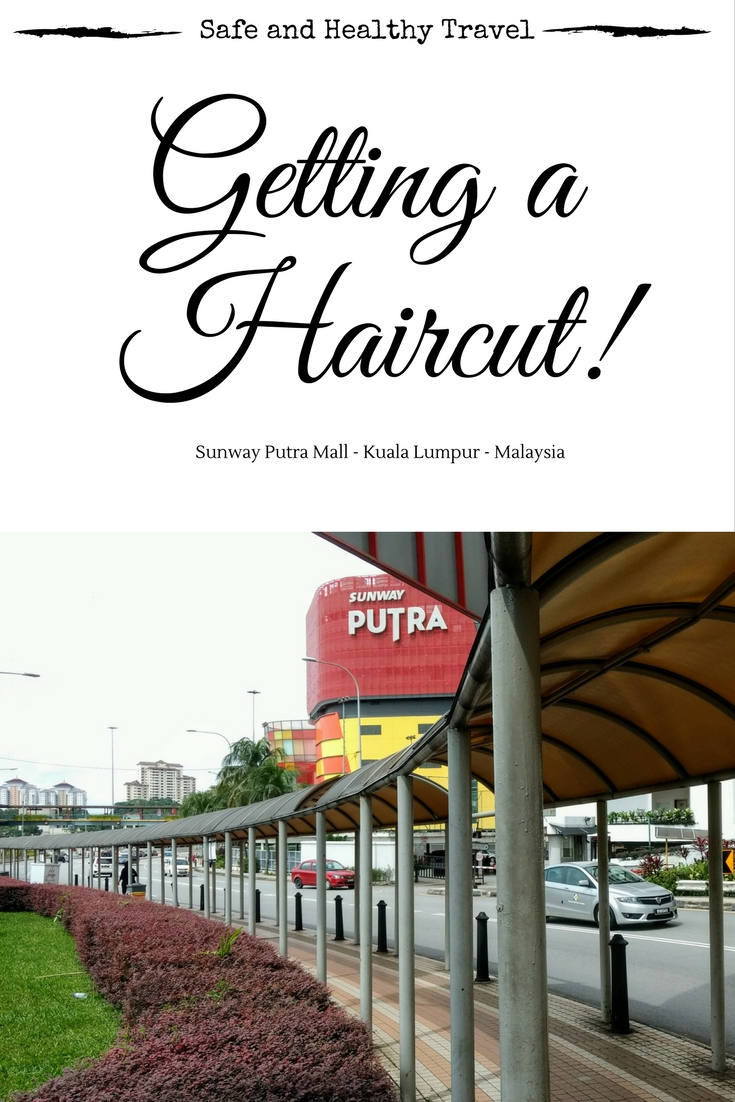 I would love it if you share my post on the social media 🙂
Do you want to read more about local experiences I had while traveling?
Booking Casas or Hotels in Cuba
Going too  Local at a Cookingclass in Varanasi – India
Sacrificing Sheep at Eid Ul Adha – Kashmir, India
I met Sunil in Cochin, Inda – Trust your Feelings
—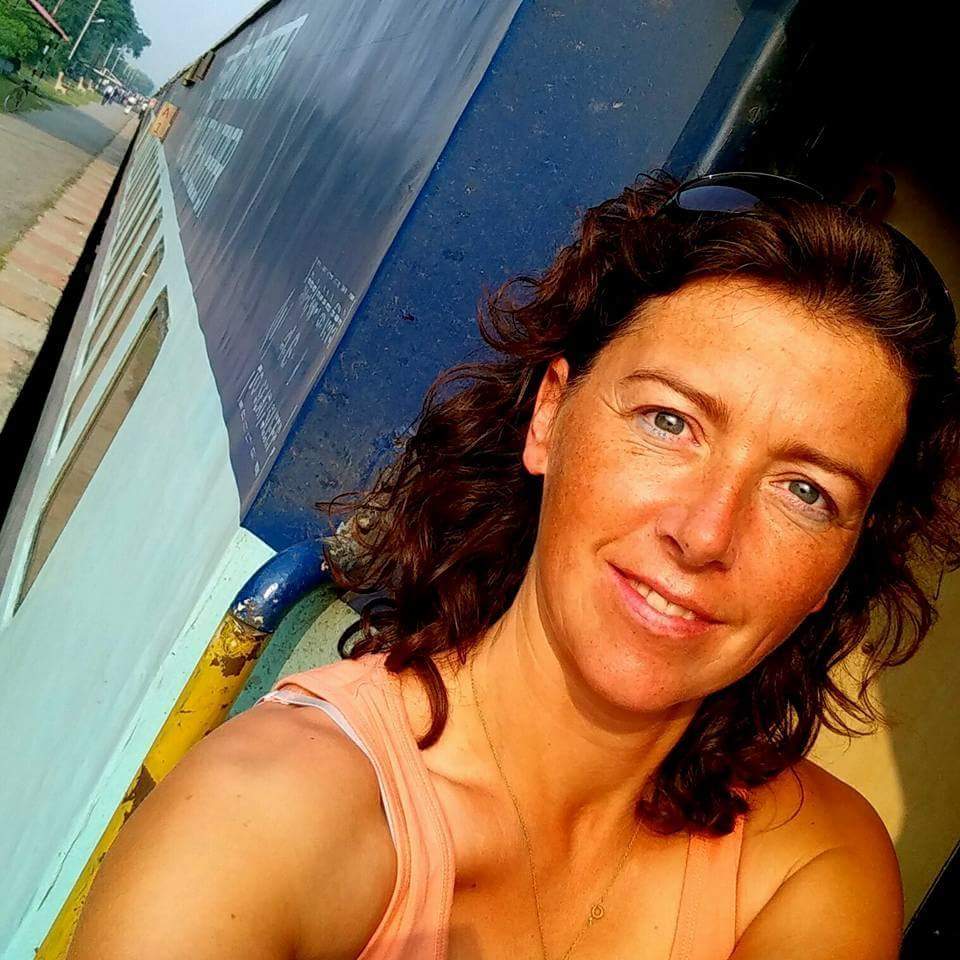 Jacomijn is een politieagent uit Nederland die jou graag laat zien hoe je veilig, actief en gezond de wereld kan over reizen. Safe and Healthy travel is a MUST