Vulcano Camping Gunung Marapi – Sumatra, Indonesia
|
I always like a challenge so when Roni from Roni's Tours offered me to go vulcano camping on Gunung Marapi I immediately said yes! The volcano where I would spend the night, Gunung Marapi, is on the island of Sumatra and close to the city of Bukittinggi. If I was lucky then I would be able to see a beautiful sunrise the next morning.
The Marapi (name means Fire Mountain) is 2891 meters high and is part of the Barisan Mountains. It is the most active volcano of West Sumatra and the last eruption was in 2004.
I was on Sumatra halfway October '19 and the temperatures are nice at that time of the year. Nice temperature during the day and in the evening it cools down but certainly not cold. In the hotels or other place you stay you don't need air conditioning and I always like that. I don't like that cold air. But I was still a bit afraid that it would get too cold.  So in the preparation, in my little backpack, I took an extra pair of trousers and a windbreaker, training jacket and a sweater 🙂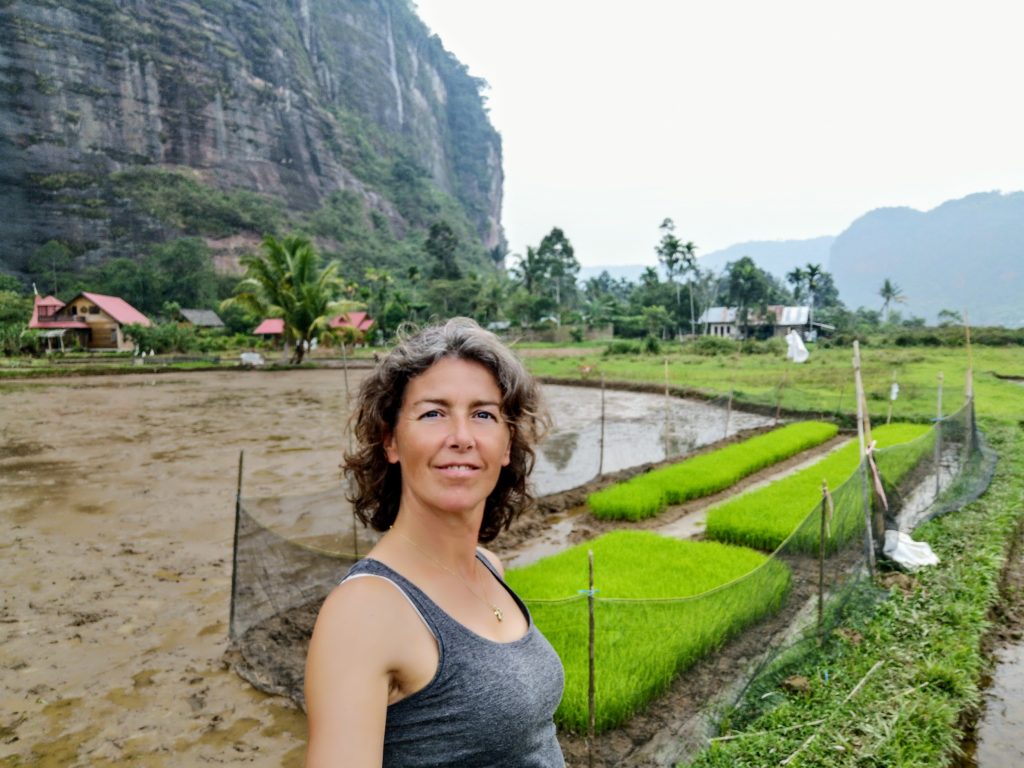 From Bukittinggi I left on the back of a scooter with my guide. On the way we bought some last things for the stay on volcano Marapi like Indomie (for breakfast) and water. Of course you have to carry everything yourself to camp up there. So the tent, food, drinks and everything that goes with it like a small gas stove and plates/pans.
At the foot of the volcano Marapi, before you enter the area, you sign up for safety reasons so they know who is on the volcano. And then we started hiking…until after half an hour my guide found out he forgot the tent… It was still by the scooter! I stayed behind at a house under construction while he ran back to pick up the tent, hahaa! In the meantime I enjoyed the sunshine and added some notes to my phone. It was time well spend for me at least…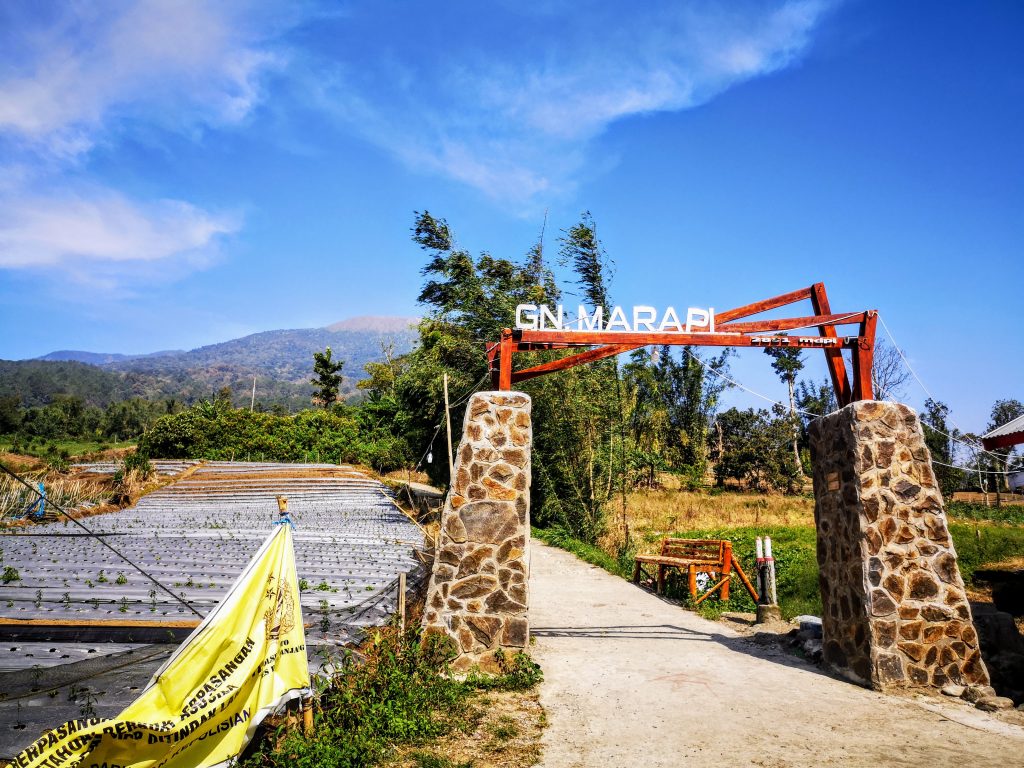 Vulcano Camping Gunung Marapi
Sumatra – Indonesia
The trip up the vulcano takes about 5 to 6 hours. The path is pretty well laid out but the wetness is quit slippery in many places. The higher you get, the wetter it is and the steeper so it doesn't get any easier on either side. I love such a challenge and enjoyed climbing and clambering.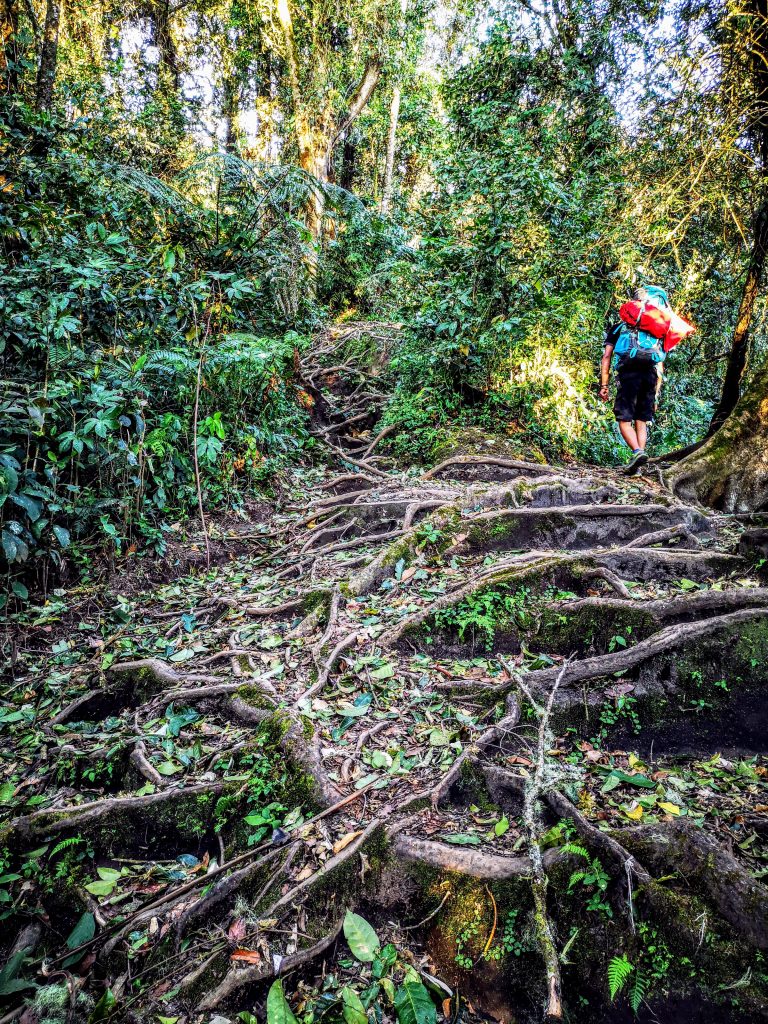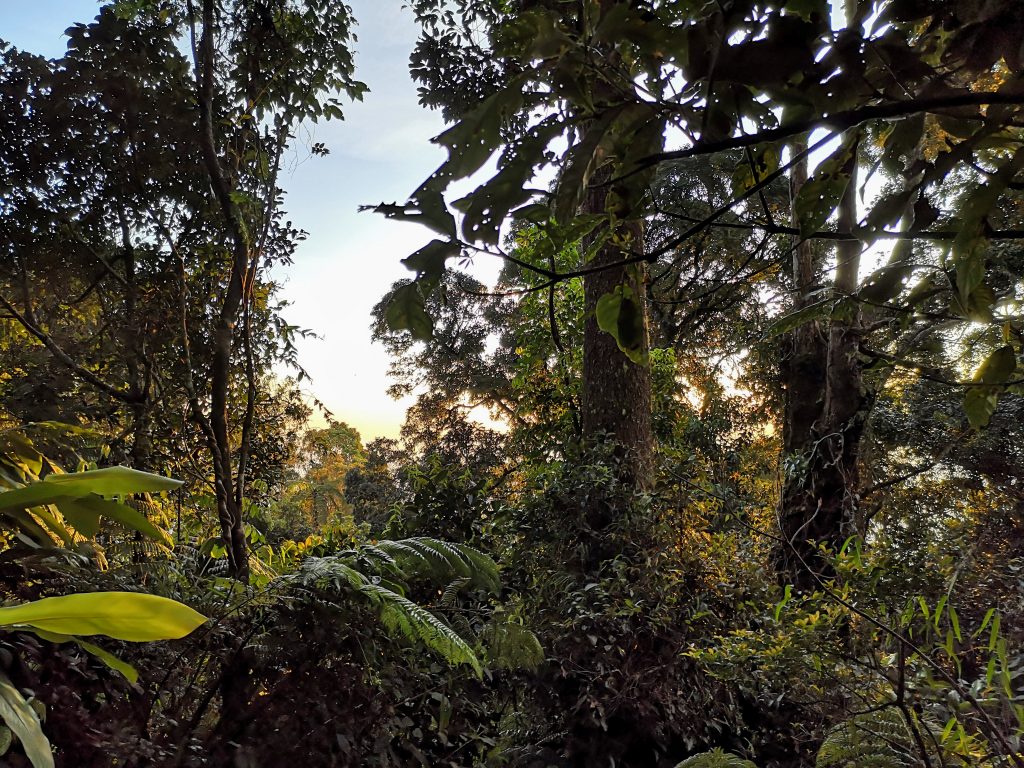 After about 3 hours of walking it became dusk and it started to get fresher…although I was quite warm because of the climbing. Still I put on my training jacket so I wouldn't get sick because my back was wet with sweat and when you stand still for a while you cool down quickly. Because you ascend quite fast it's advisable to stop and drink water every time.
When it almost started to get dark we put up our tent. We were still in the vegetation and had some protection from the trees around us. If we would walk on we would get above the tree line. That's where it gets a lot fresher right away! Just before it was really dark the tent was up and shortly after it started to rain, what a luck!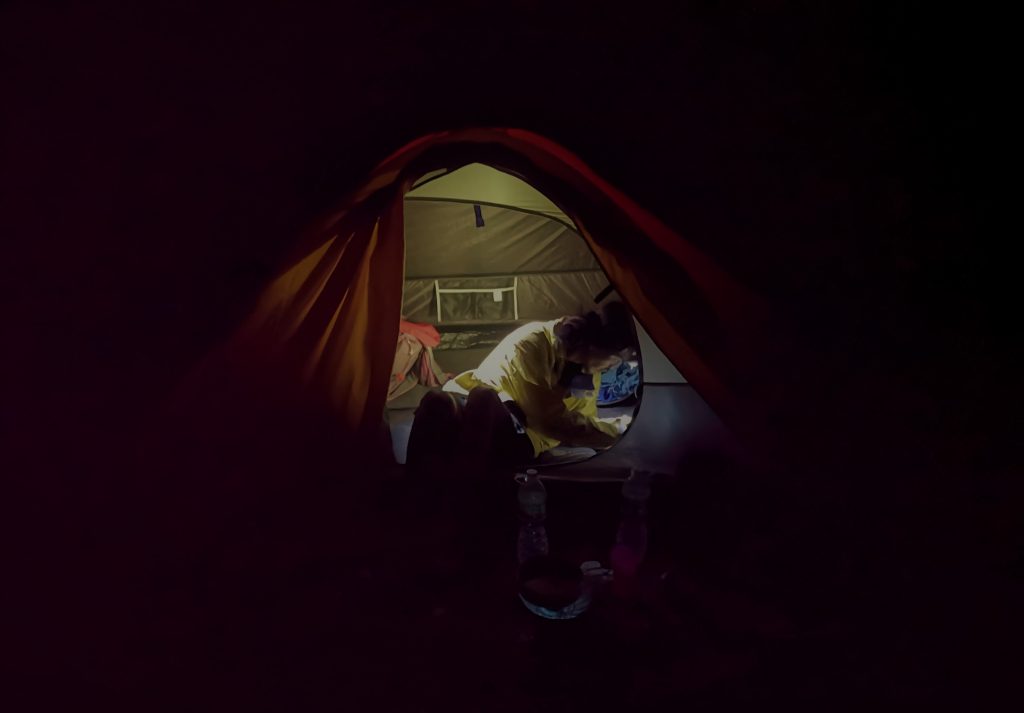 We sat in the tent and the gas stove was brought in to cook our food.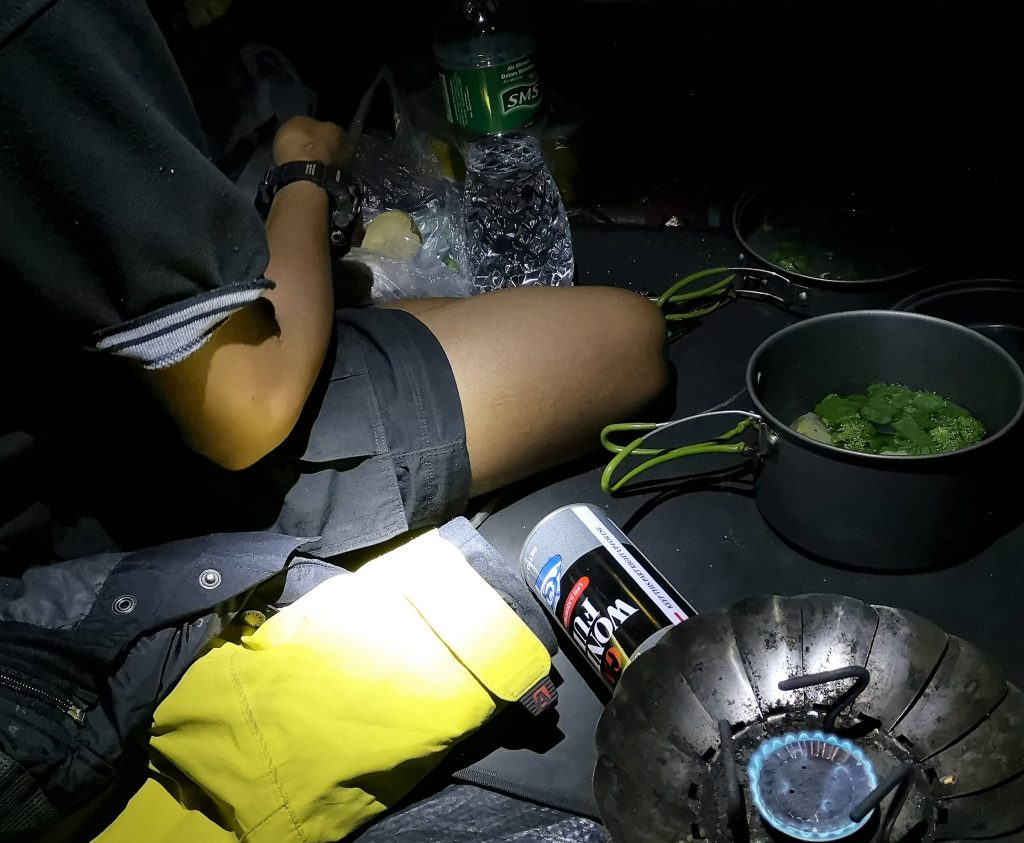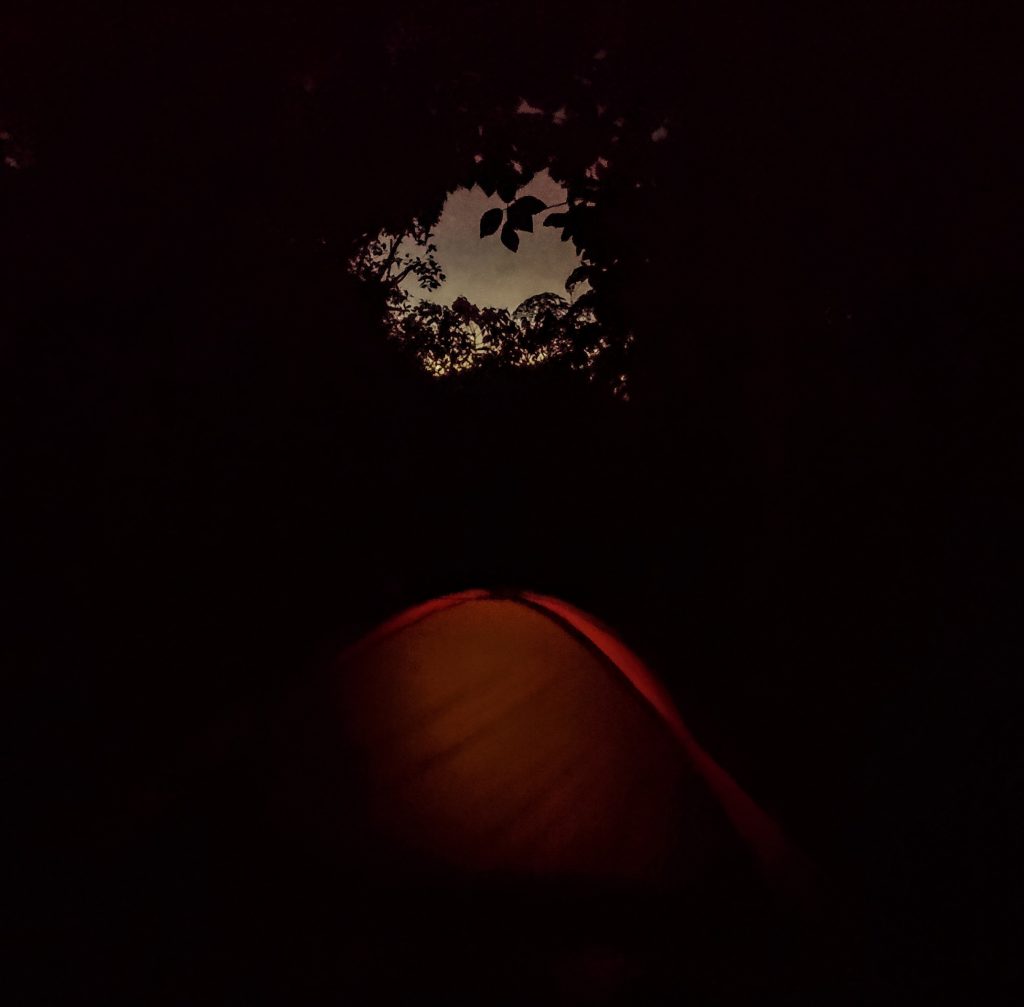 The guide cooked a delicious meal… A combination of potato, broccoli, tomato and nut tempeh. This in water with salt, star anise, cinnamon and cloves gave it a delicious taste. For a meal while camping this was very good! I found it a bit scary of course that the gas stove had been put in the tent and made sure the thing didn't fall over. In the meantime it got nice and warm in the tent which was very nice!
At a certain moment this dog came by 🙂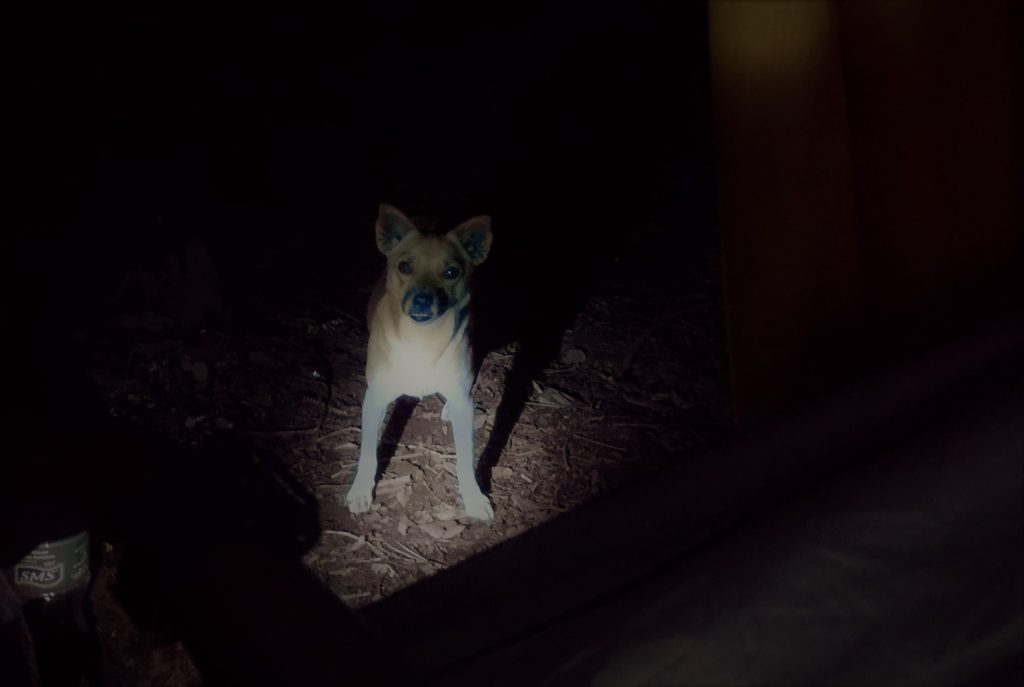 Vulcano Camping Gunung Marapi
The next morning we woke up on time to see the sunrise of course! The weather didn't seem too good but I still had good hope…until I walked out of the tree line and the rain got even worse and I walked into a white, grey world.
The volcano Gunung Marapi is of course all stone and we slipped as often as we took steps up. Around us it was grey and we were wet and cold. It was windy and it was just like a cold autumn day in NL…were it not for the fact that I was almost at 2800 meters altitude and there was nothing around me but rocks..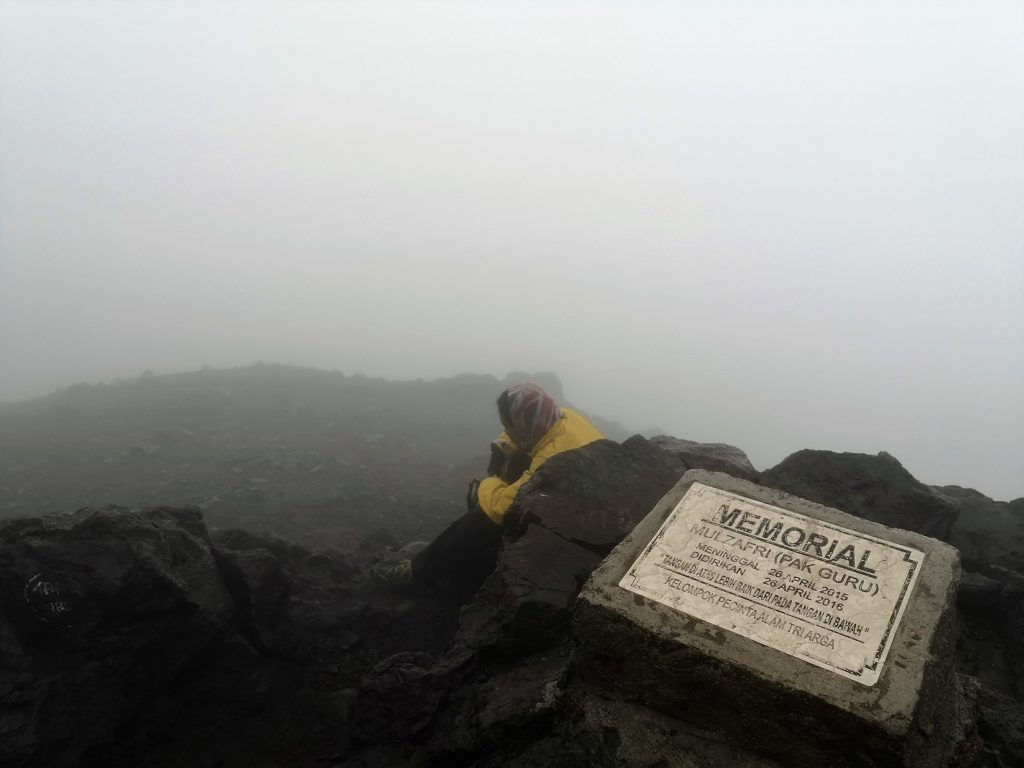 We went to the point where a guide had a heart attack and died. There's a commemorative sign for this. It was of no use to go on, I was fed up too and gave up. I gave up because it just didn't work out, what was I walking for? I wouldn't see a sunrise and then I'd travel those last 100 meters for the fact of doing it.. while you were more and more likely to fall and slip… No we went back!
Giving up is not an option! But that's if you know it's still possible or if it's just heavy but… if you know that the goal is not achievable or just no longer present then I allow myself to give up.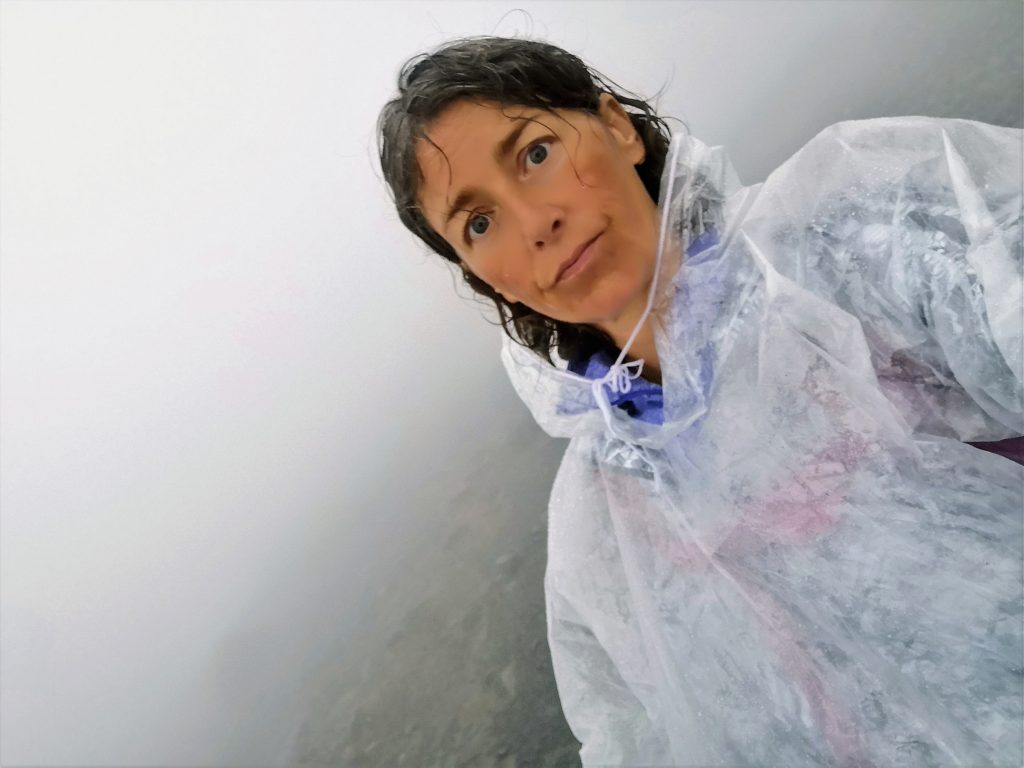 The hike upstairs I already felt I had it easier than the guide. He was a young guy but skinny and on top of that also a bit shy. He didn't carry the backpack well on his hips and so he carried everything with his shoulders which makes it extra heavy. I couldn't explain to him how it was better because he couldn't speak English well. He was experienced and said it was good like that.
The trip downstairs I had it even easier and everything went by itself but the guide stayed behind. He had a hard and difficult time. I stayed with him for a long time but at one point I walked on. It was too cold and too wet to stand still every time. I yearned for the sun and hoped to see it downstairs.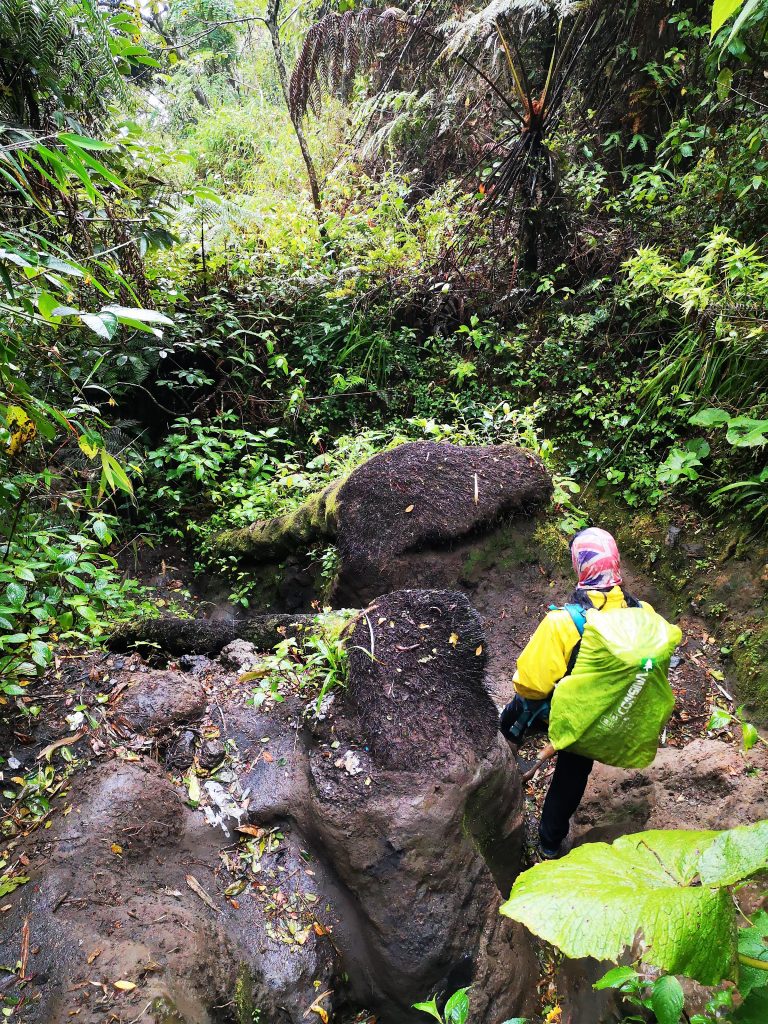 I was a bit disappointed when it was just as foggy downstairs and the sun and the corresponding temperature stayed behind. I didn't take any more pictures and I sat under a shelter for over half an hour waiting for the guide and trying to keep myself warm.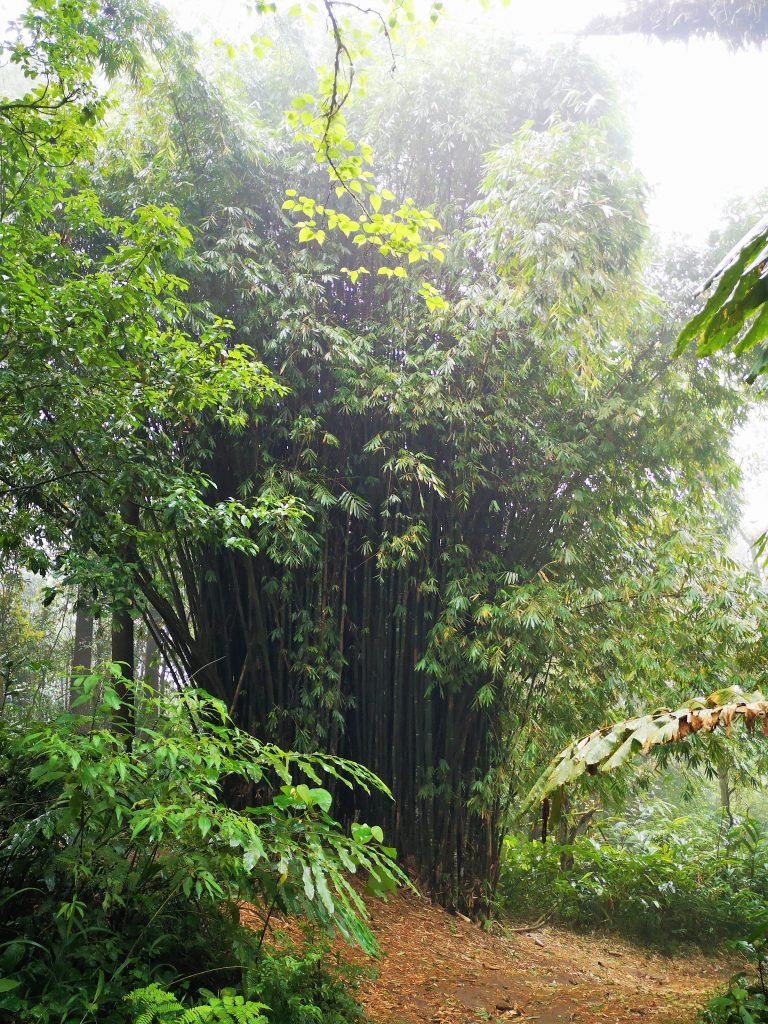 I took some pictures of the trip downstairs, so you can still get a bit of an impression of what the trip looks like and what nature is like.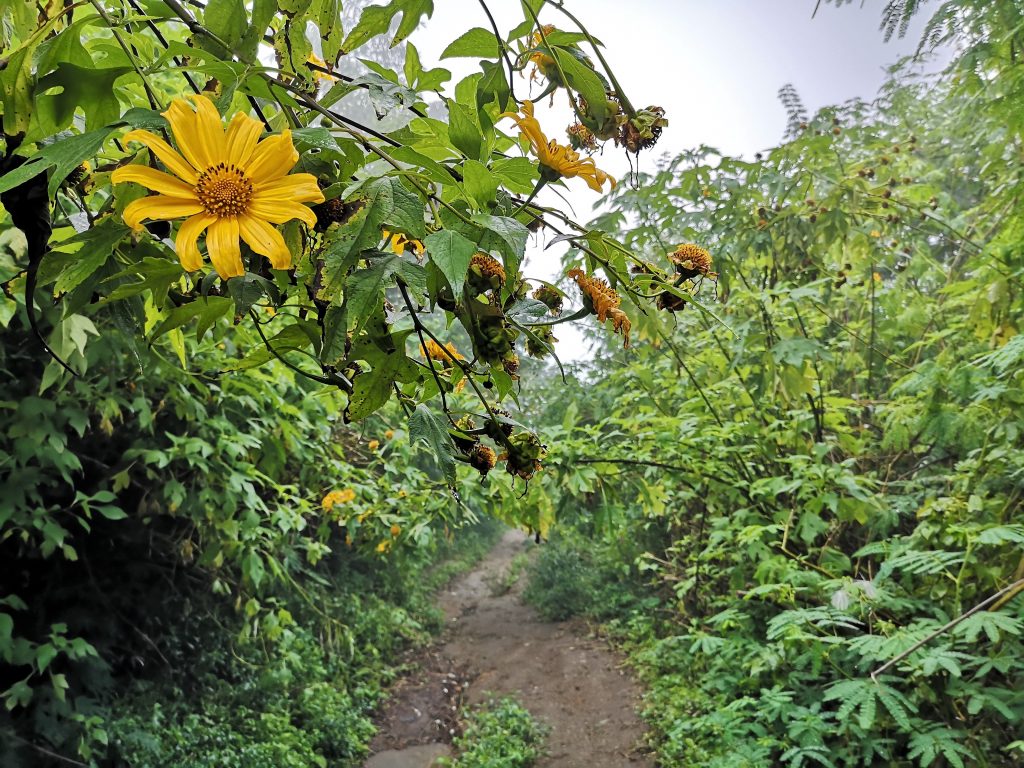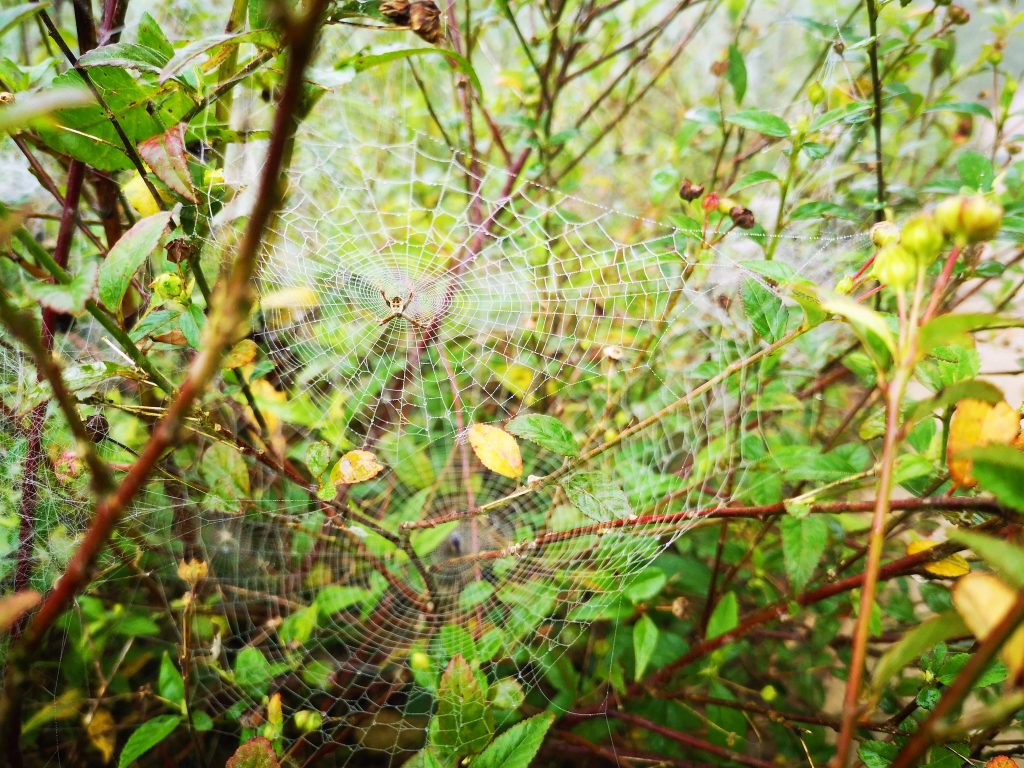 When I arrived in Bukittinggi I booked a lovely hotel and took a hot shower! I needed that!
I loved the experience, volcano camping Gunung Marapi and the hike was also very cool…Only the circumstances could have been better. And of course what the ultimate moment on the volcano had to be stayed out…that was a disappointment 🙂
That's what you do it for, isn't it?
I booked this trip with Roni's Tours and of course he has a lot more to offer for a local price!
Did you find this a nice challenge? Share it on your social media!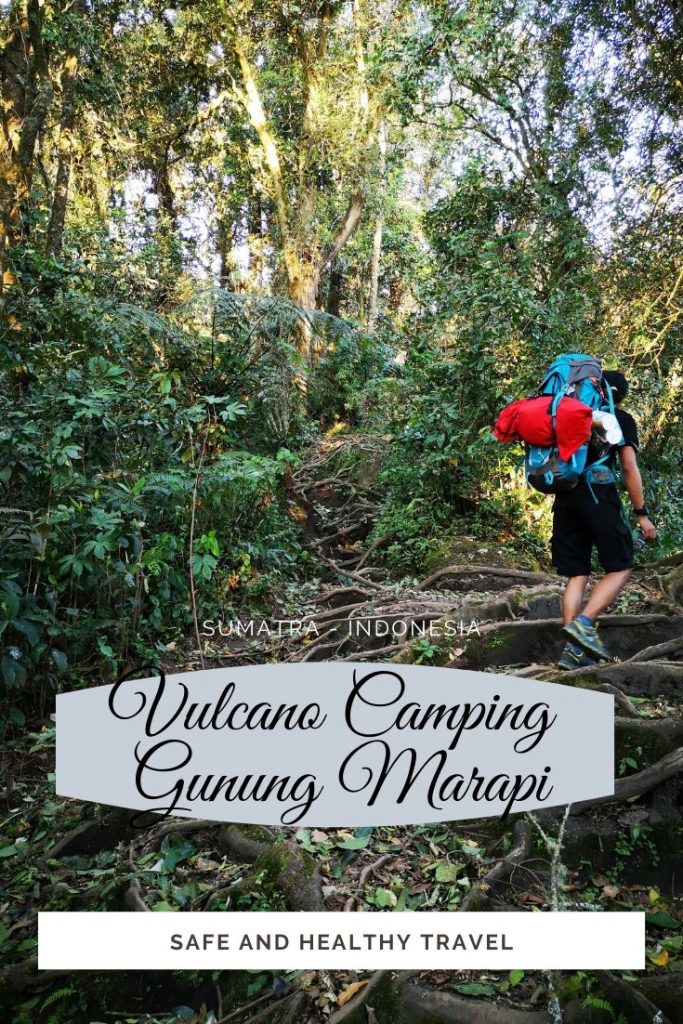 Want to read about more challenges?
Seeing the Orangutan in Bukit Lawang – Indonesia
A visit to the Batcave in Bukit Lawang
Backpacking – Travel Tips for Borneo – Maleisia
Lunch at Ram & Sarda just outside of Pushkar – India
Or read these tips!
I hope you enjoy this beautiful world as much as I do!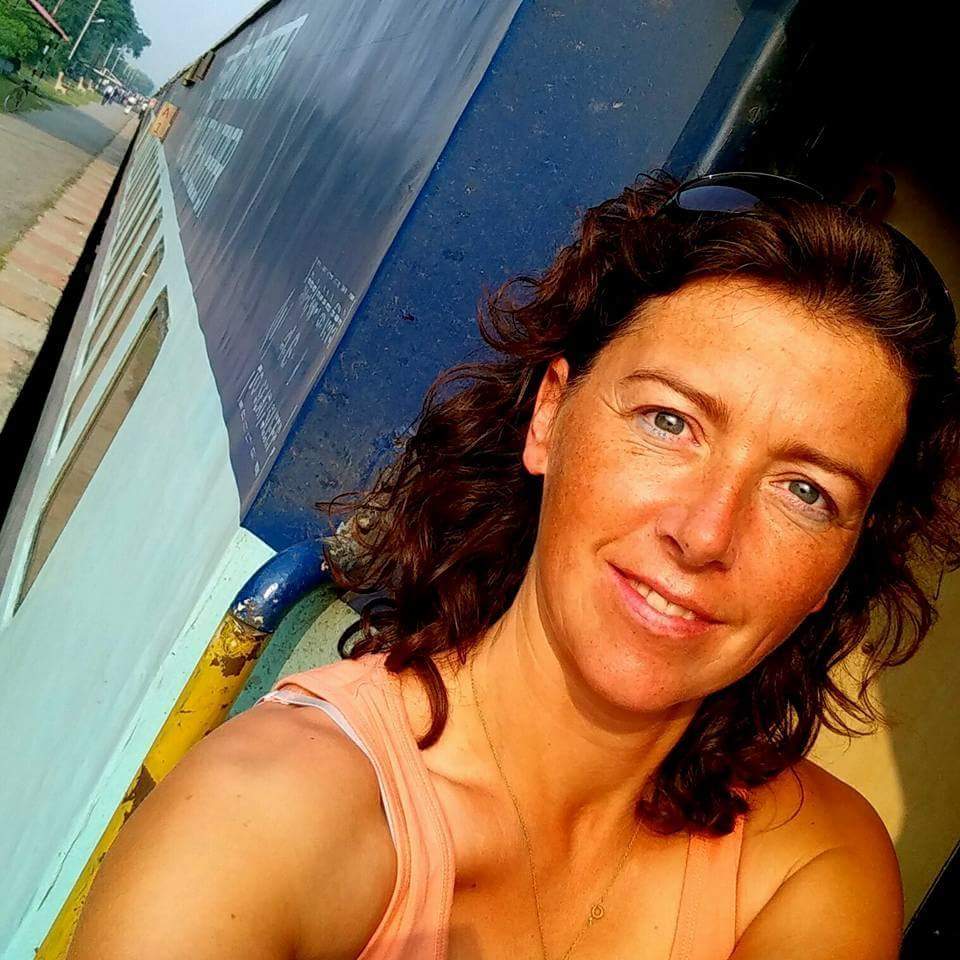 Jacomijn is een politieagent uit Nederland die jou graag laat zien hoe je veilig, actief en gezond de wereld kan over reizen. Safe and Healthy travel is a MUST