Cooking class at Red Bridge in Hoi An, Vietnam
|
When I was in Vietnam I took a cooking class at Red Brigde in Hoi An. I love to take cooking classes and take with me the great taste of Asia into my home!!
First I tried to do one in Mui Ne, but it was on a Sunday and they were closed. Sometimes, while traveling, you loose sense of days… They send me through to the red bridge in Hoi An. I later on heard that they have the same Australian owner. So it was a win win for them 🙂
Cooking class at Red Bridge in Hoi An, Vietnam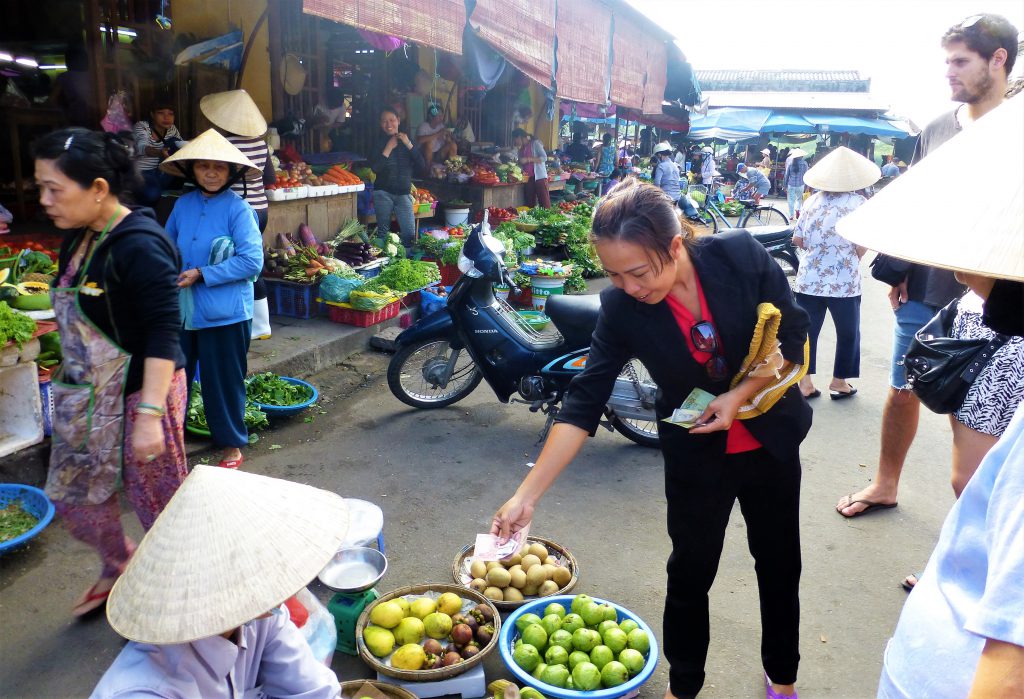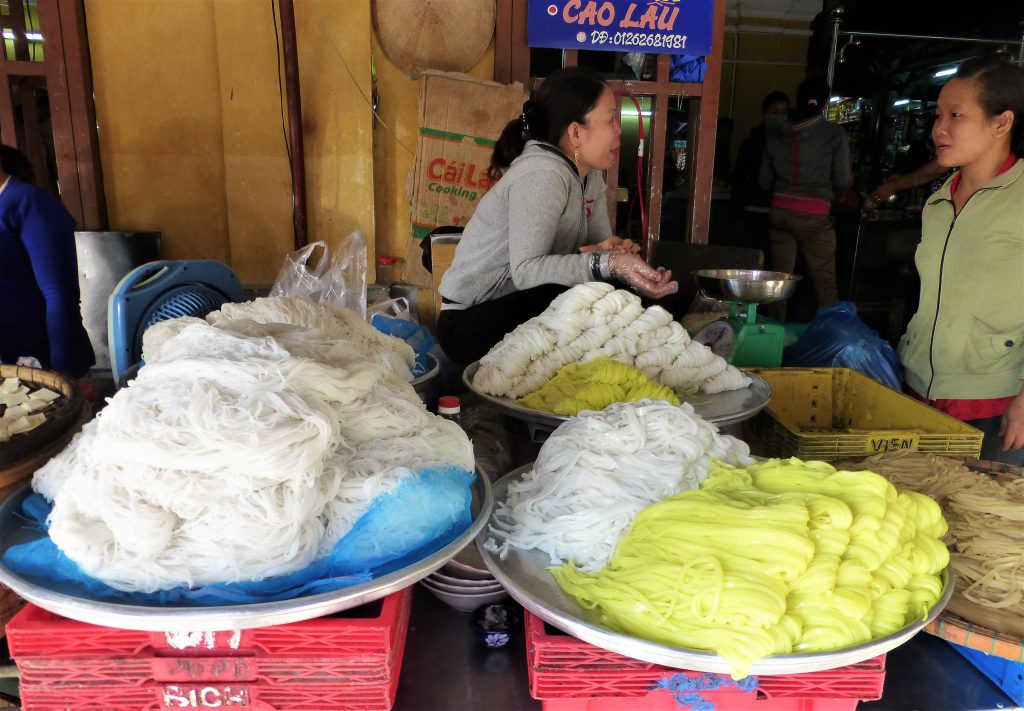 Hoi An is a beautiful town in Vietnam, located near the oceanside. They really made an effort to keep the old houses beautiful and therefor a must visit in Vietnam! There are a lot of heritage buildings to be visited to see how they lived in the old days. The city has a great feeling, also because of the canals that runs trough it.

Do visit Hoi An during the day but also at evening time!
The school in Hoi An was a real nice one. They have a restaurant in the centre of Hoi An, while waiting there for the rest of the students I got something to drink.
From there the cooking class started with a visit to the local market. The cook showed us what we will use for cooking later on. Told us about all kinds of herbs and vegetables. Also showed us the fishmarket and the meat market. It was nice walking around the market and getting your answers about some products or customs you see.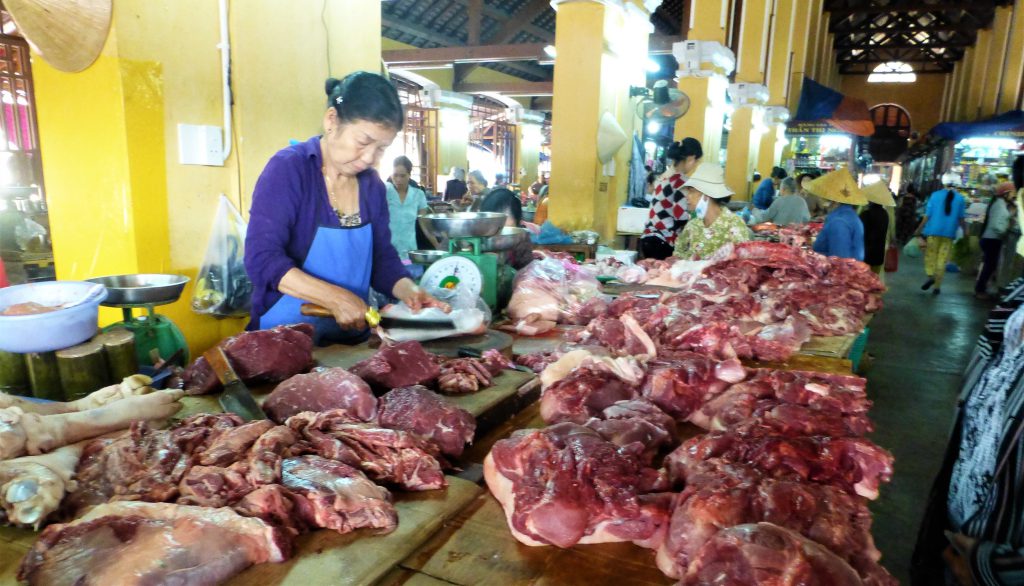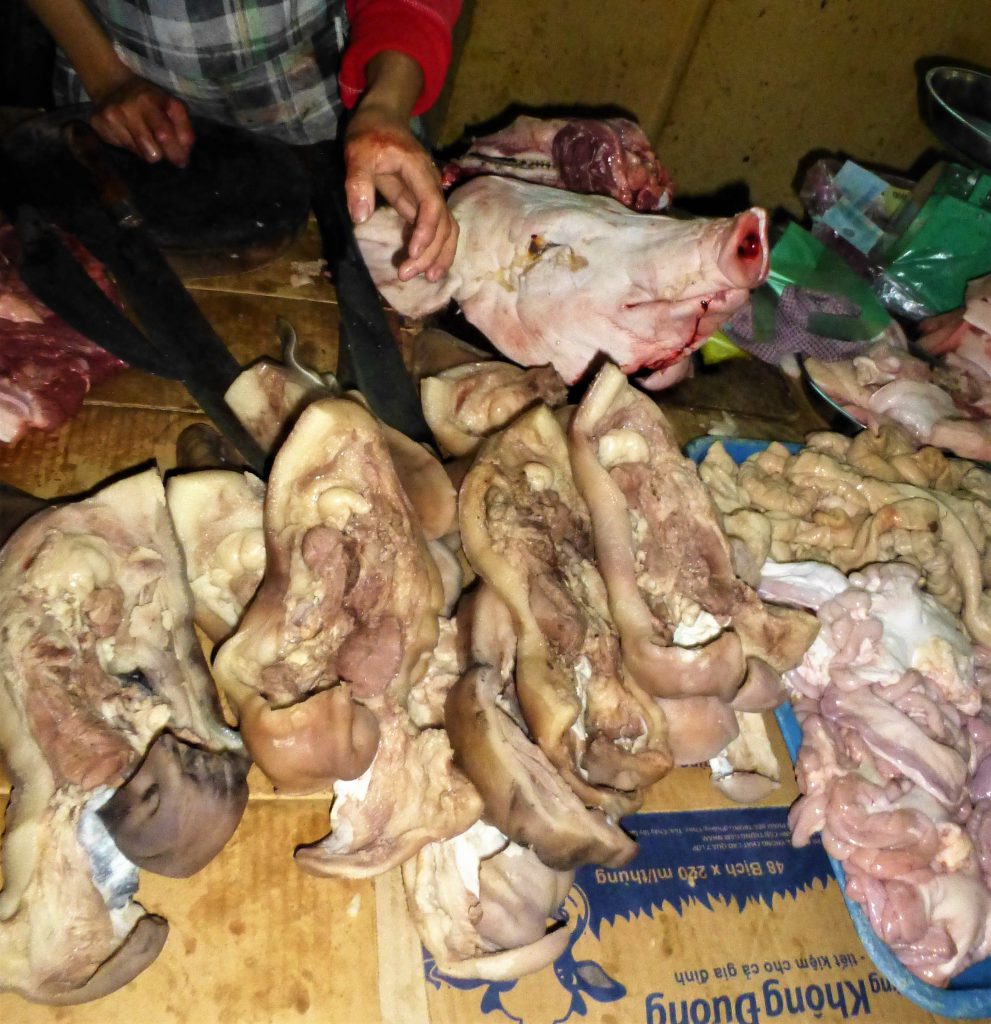 The lady that sold this meat didn't want me to take a picture of it…
I can imagine why…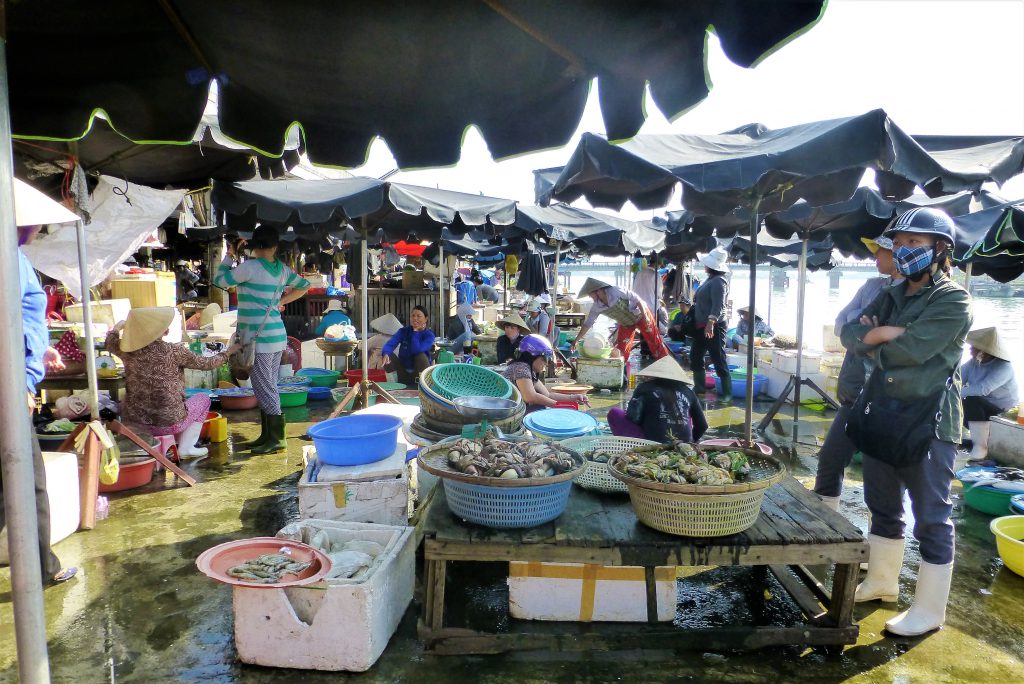 She also told us to buy when she was there, we should get the Vietnamese price, not the tourist price 🙂  After the market we went on a boat down the river to the kitchen. It was a real nice journey on the river for at least a half an hour. I loved looking at the shore and all the activities that passed us.
Relaxing for a half an hour and enjoying the views on shore!
 Cooking class at Red Bridge in Hoi An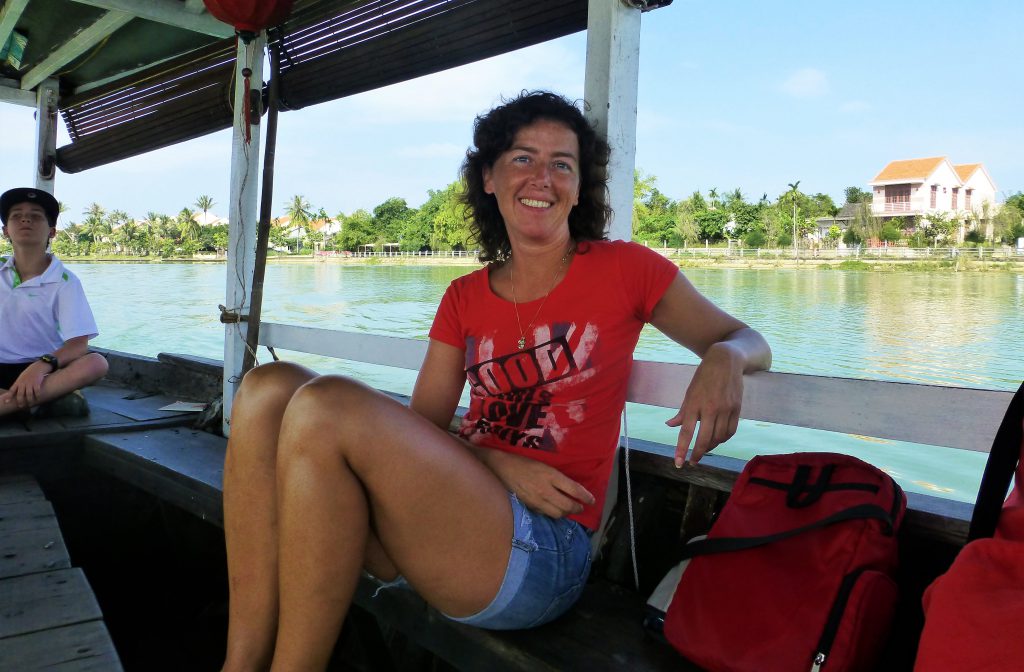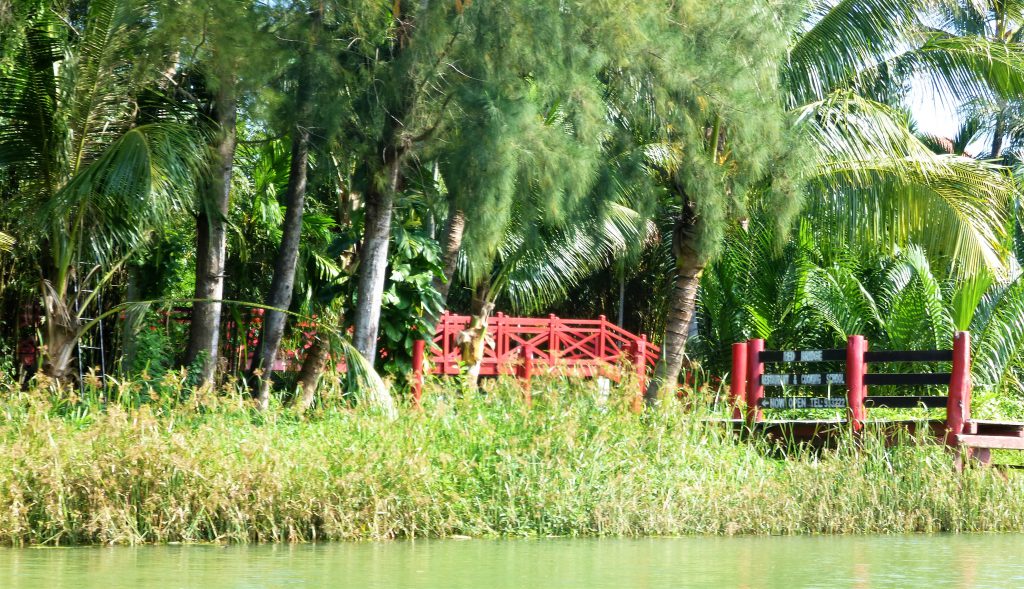 This cookingschool is between Hoi An and the beach where I had my hotel. It is called Red Bridge and you can see why 🙂 I really liked the cookingschool near the river with a herbgarden. They showed us the herbs they grow and use for their restaurant. It was great just to walk around in the garden and see all this.
They have all kinds of herbs I unfortunatley can not find in Holland. That is why it always tastes a bit different….just not the same..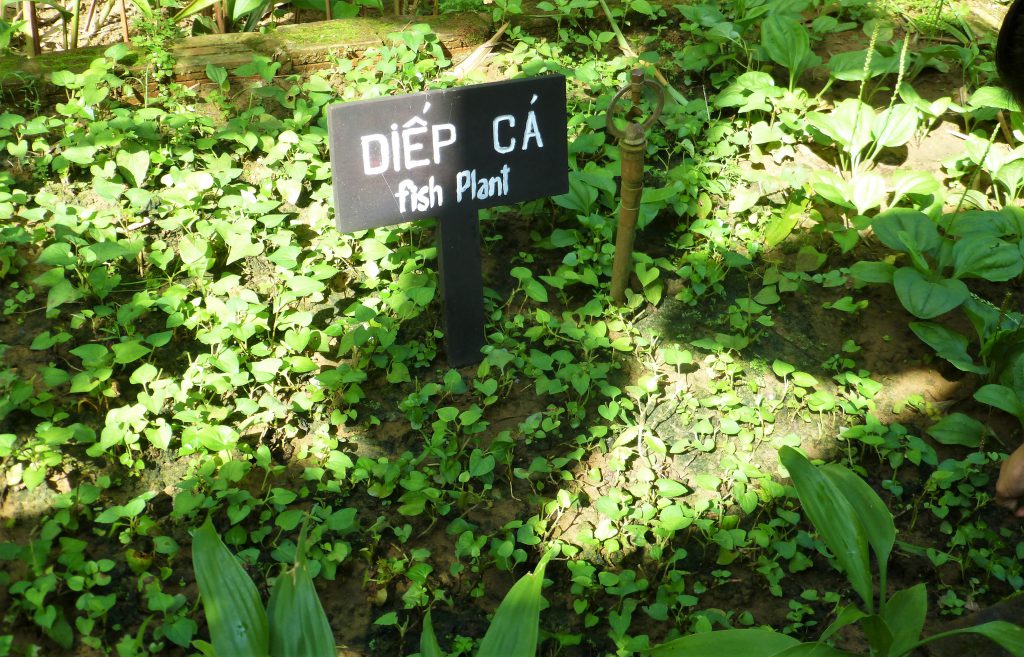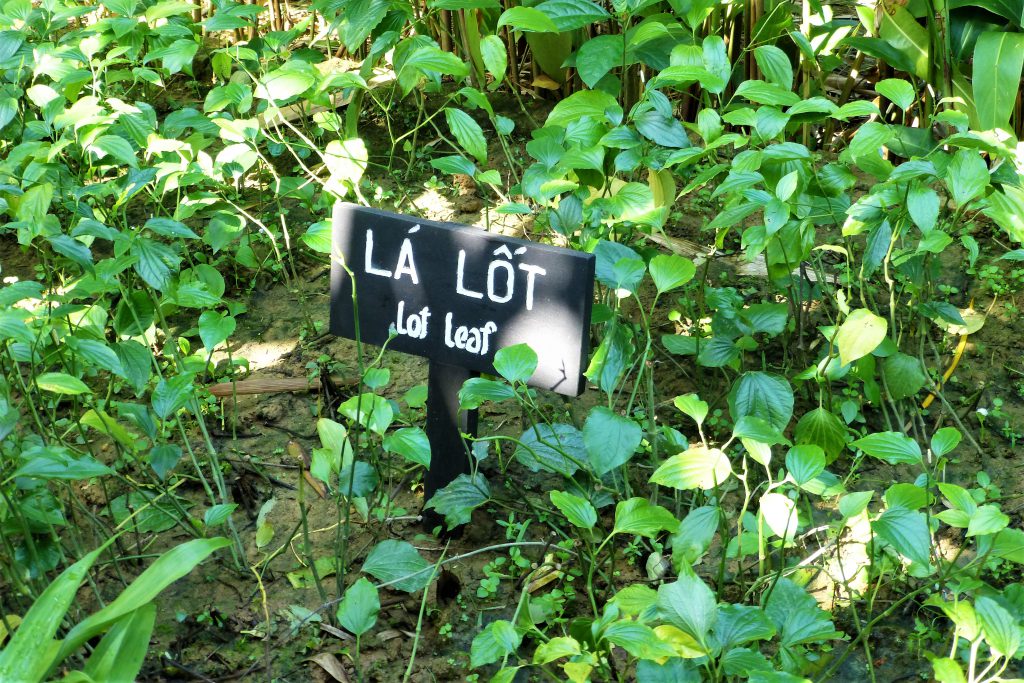 Then we started to cook. The cook showed us a couple of dishes. It looks so easy when a professional cook makes it! And then it was our turn. We all had our own cooking stand and all what we needed to use was there. No excuse… we could do it as she could too!!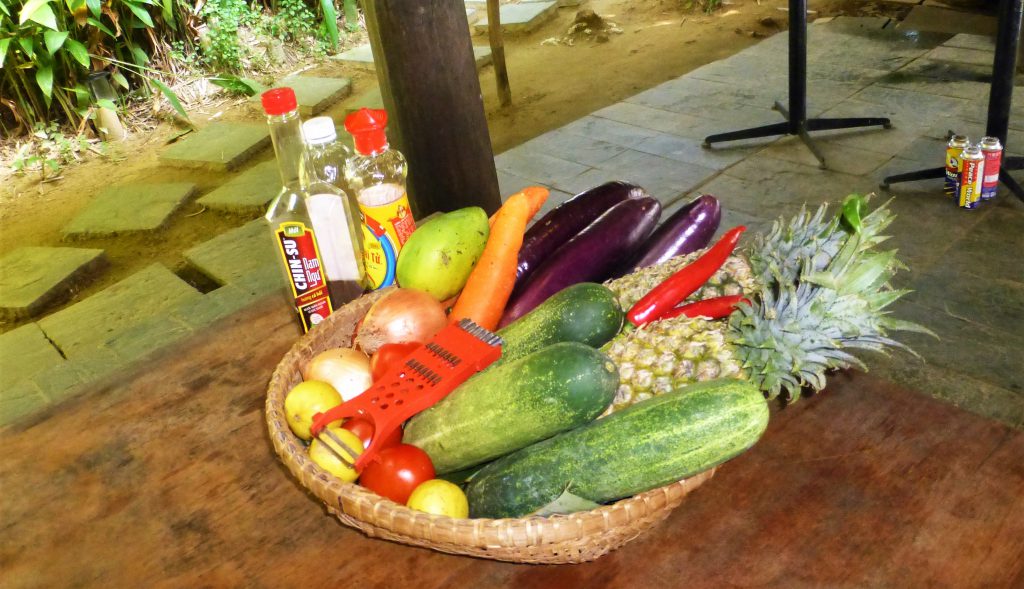 Cooking Class at Red Bridge in Hoi An
Doesn't that already look good?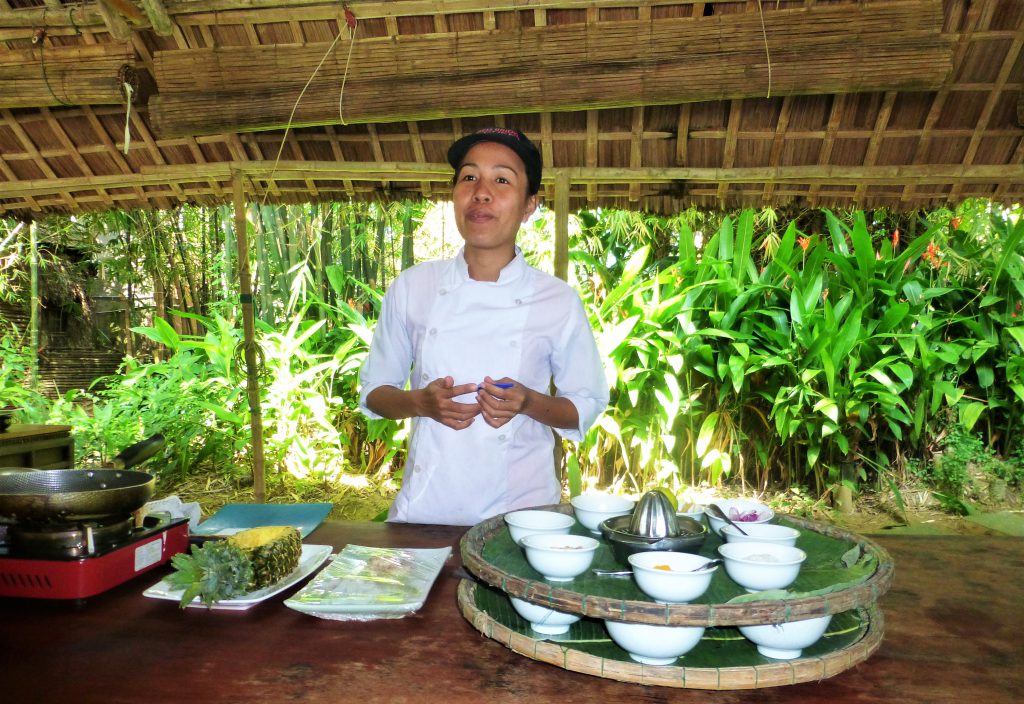 We made fresh springrolls and Hoi An pancakes. I love those pancakes!! I made them already a couple of times here in Holland.  They called in Vietnamese: bành xèo. With a little bit of hot peanutbutter sauce they are the best!!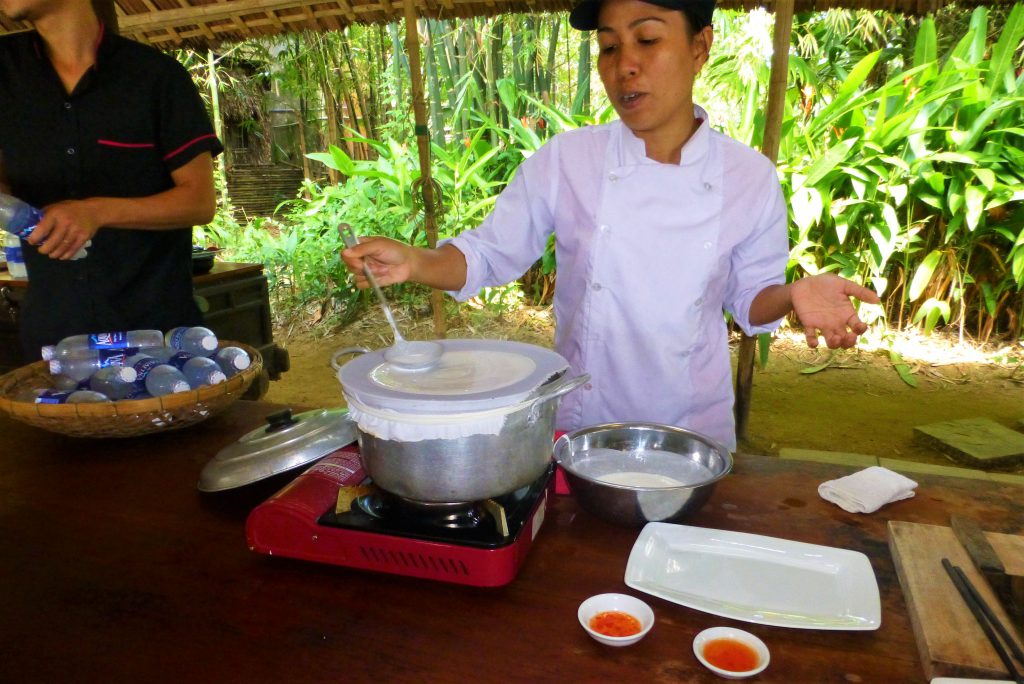 Making the paper from scratch for the fresh springroll!!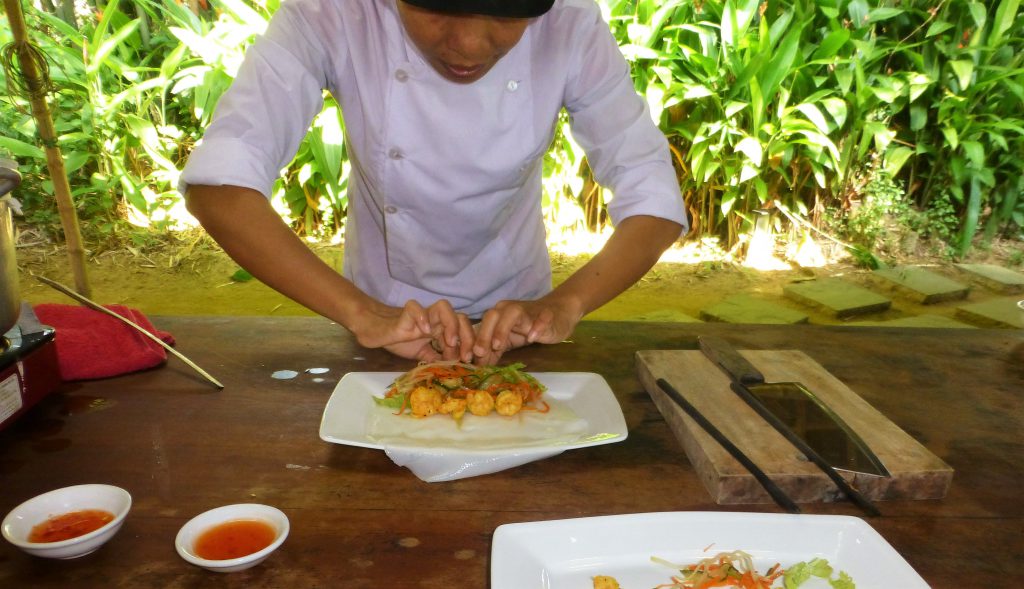 They tasted great!!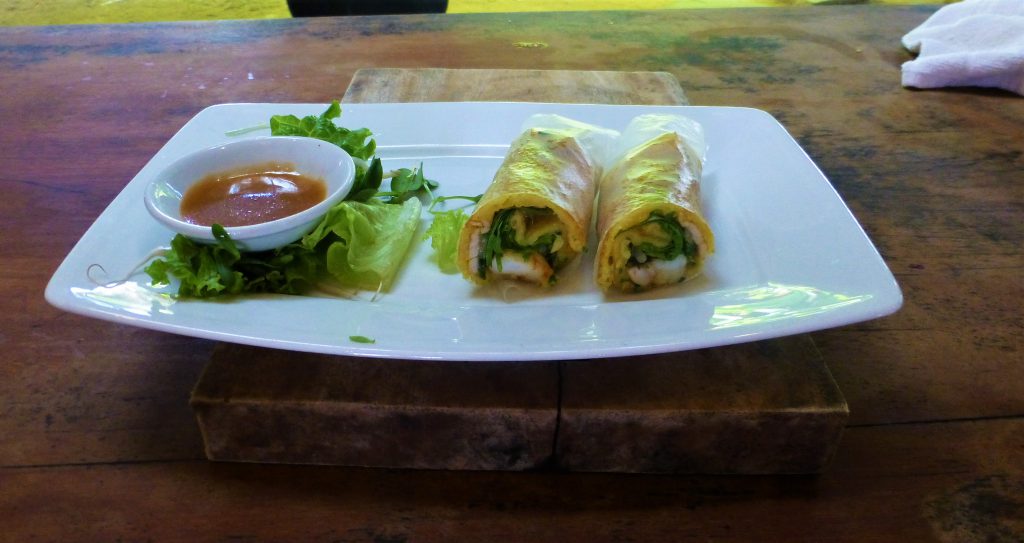 The Hoi An Pancakes, I love those!!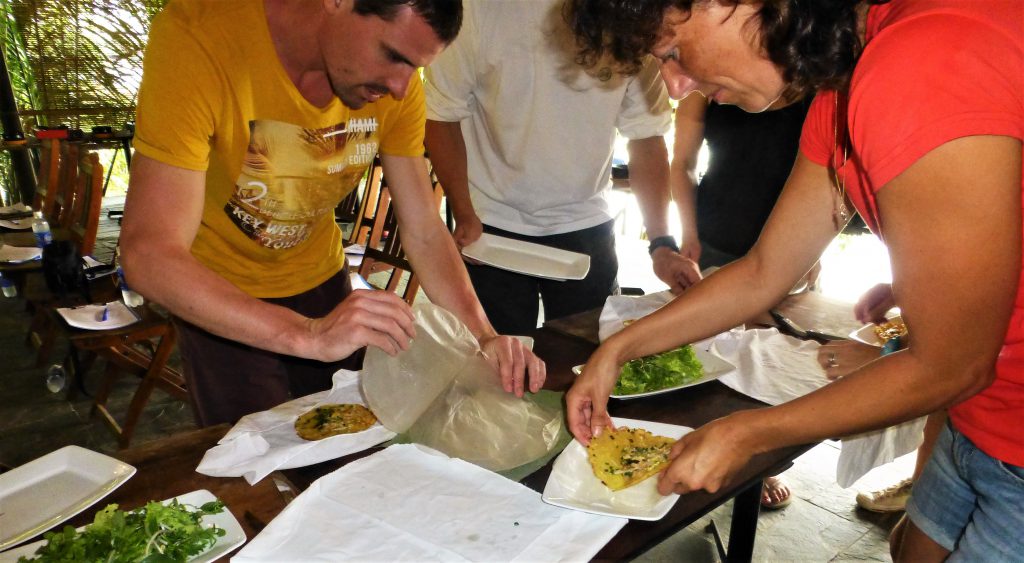 After that we also made Vietnamese eggplant in a clay pot. That was real nice and simple. And the other one was good too, I forgot the name, it was sweet with pineapple!! And served in the pineapple,  I love that about Asia too! All the fresh fruits they have here are the best!! I only know them to be in The Netherlands not that sweet… They taste so much better here!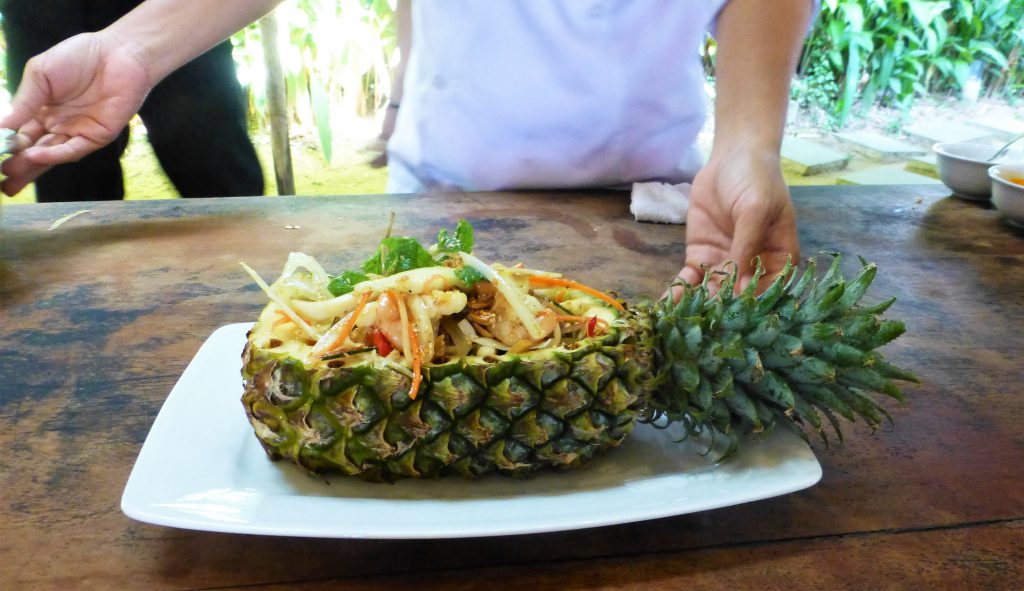 After cooking we ate everything together sitting in their wonderful garden near the river. We had a nice group and it was a great morning together!
I've learned a lot this morning. Cooking with all kinds of new herbs and ingredients which I had never used before.Did you enjoy this post?
I love these classes and will definitely do this again in other countries!!
Did you enjoy this post? Pin it so you won't forget!!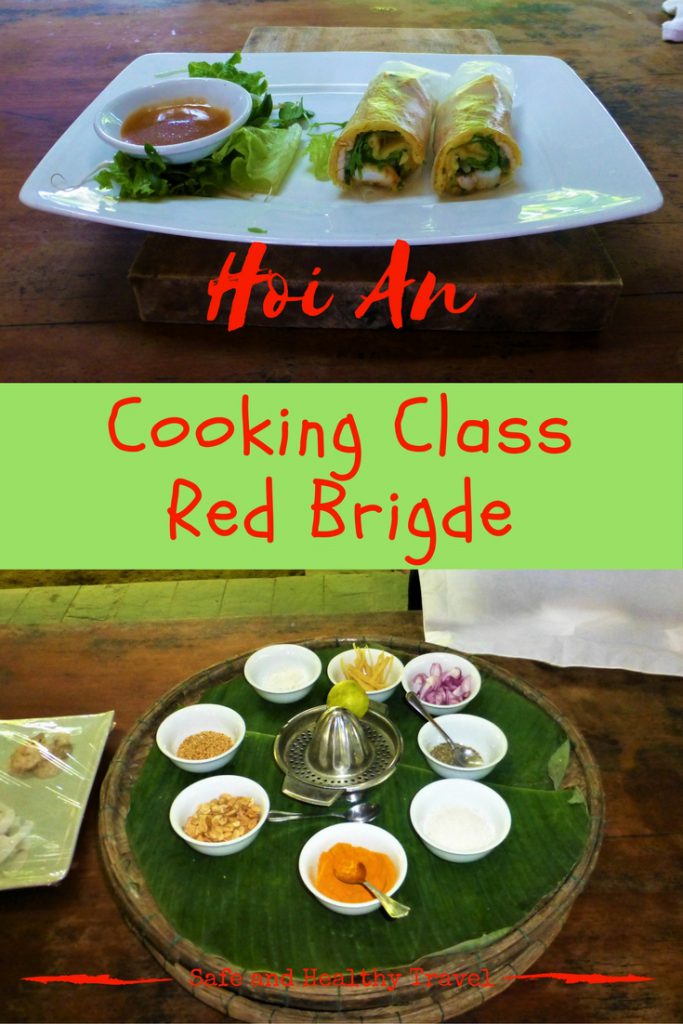 Would you love to read some of my other Vietnam stories?
How about Canyoning in Dalat?
Or Walking the Fairy Stream and the Sand Dunes?
Visit also the Famous Cu Chi Tunnels
How about going to the neighbouring country of Laos too?
Or visiting the Mysterious Plain of Jars – Phonsavan
Or can I give you some tips on how to carry your day bag safely?
Hope you like this beautiful world as much as I do!!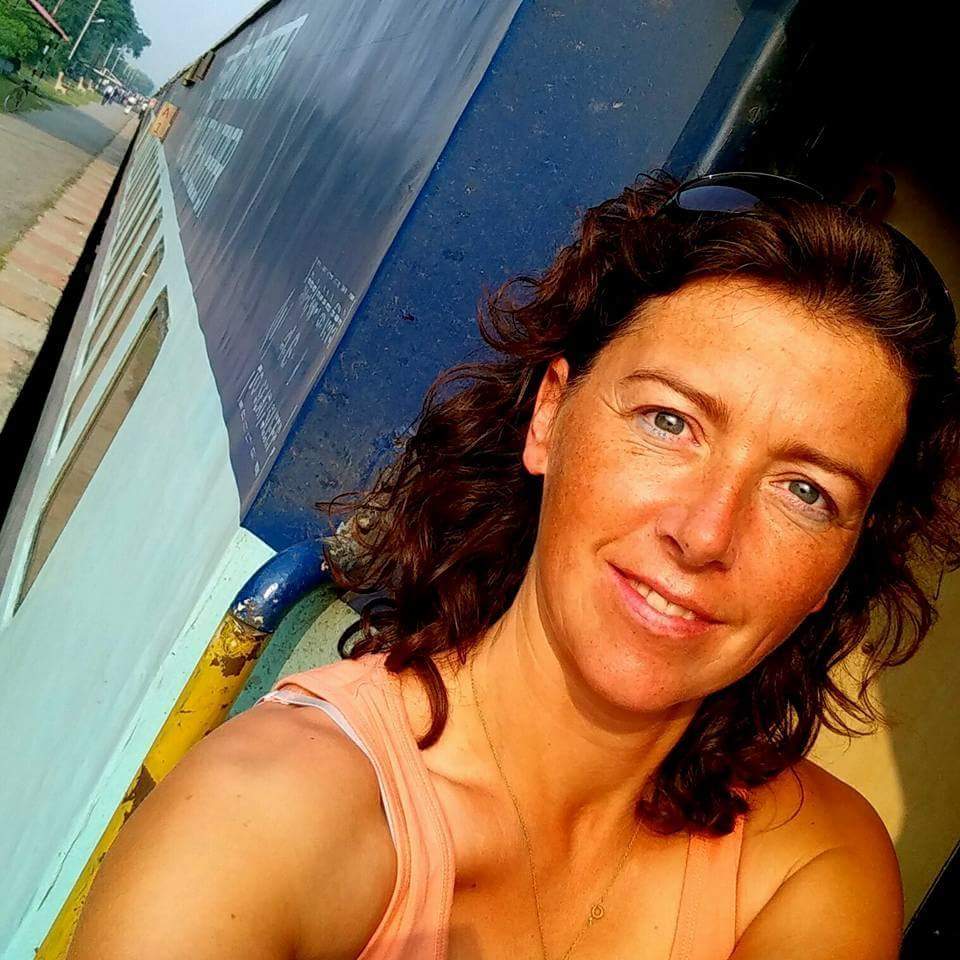 Jacomijn is een politieagent uit Nederland die jou graag laat zien hoe je veilig, actief en gezond de wereld kan over reizen. Safe and Healthy travel is a MUST