Highlights of Matanzas – Cuba
|
A really nice city to explore is Matanzas! It is a big city with a little over 145.000 inhabitants. I stayed there for 2 nights before heading over to Varadero to get some beach time 🙂 Matanzas is the capital of the province with the samen name. The city is good for a daytrip from Varadero with its 32K distance but also from Havana you can come visit for a day.
They call this city: City of Brigdes because it has 17 brigdes. These bridges are great to see!! There are 3 rivers going through or along this city: Rio Yumuri, San Juan and Canimar. I did sat down for a while at this brigde and shot one of my favorite pictures here.

This bridge is called Puente Calixto Garcia and was build in 1899.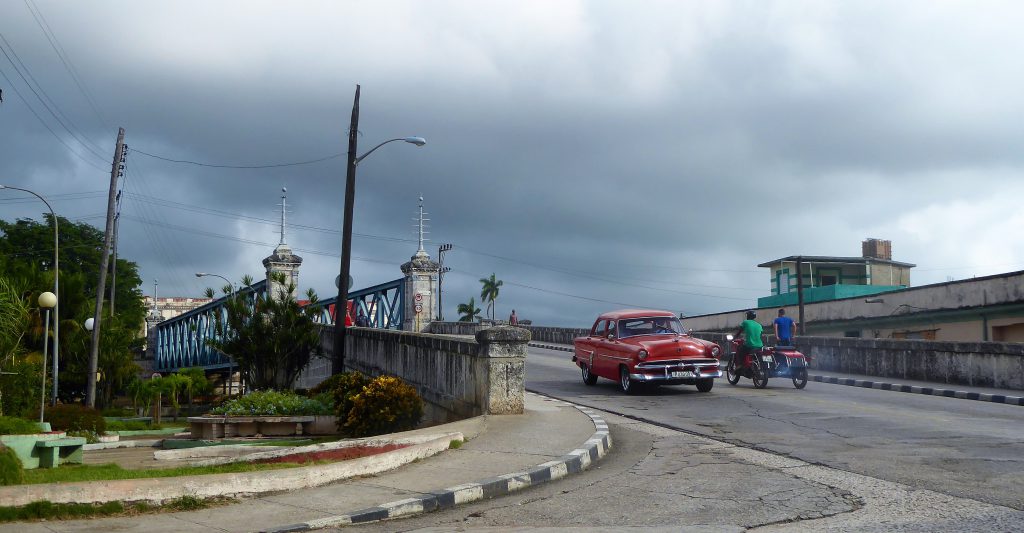 What is there to see and visit in Matanzas? When I looked up this city nothing much in particular pulled me here. My casa in Havana said me to go there because it is a great city and has lots to offer so I did. And I must admit, the atmosphere in the city is great!
It is relaxed and kind of artistic.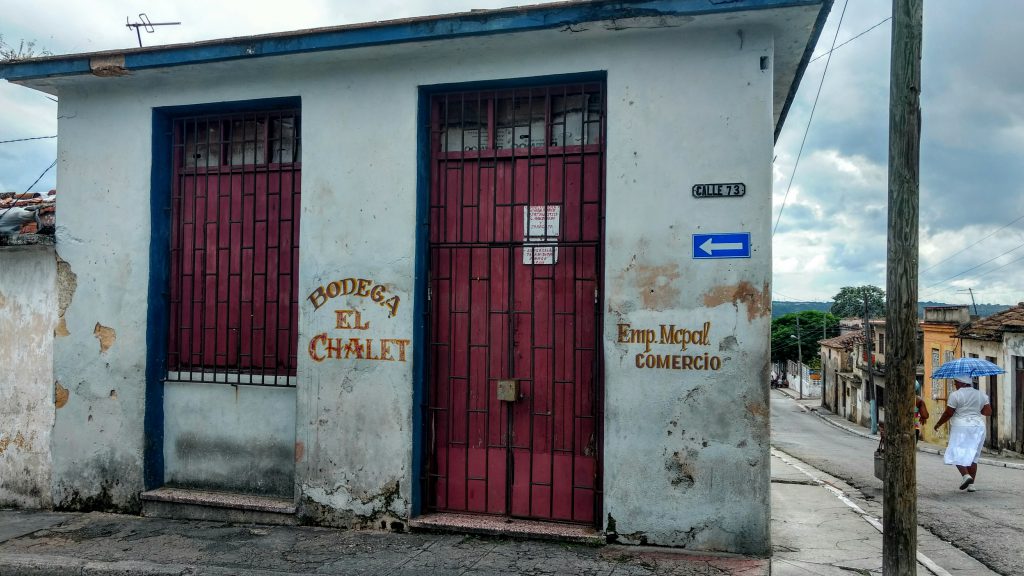 Highlights of Matanzas – Cuba
The best way of exploring a city is to walk as much as possible so I did that! That first night I started to walk around my casa and I saw this huge pig standing in the street. I was very surprised when I entered that next morning and saw it lying on its back.. on the other side of the street…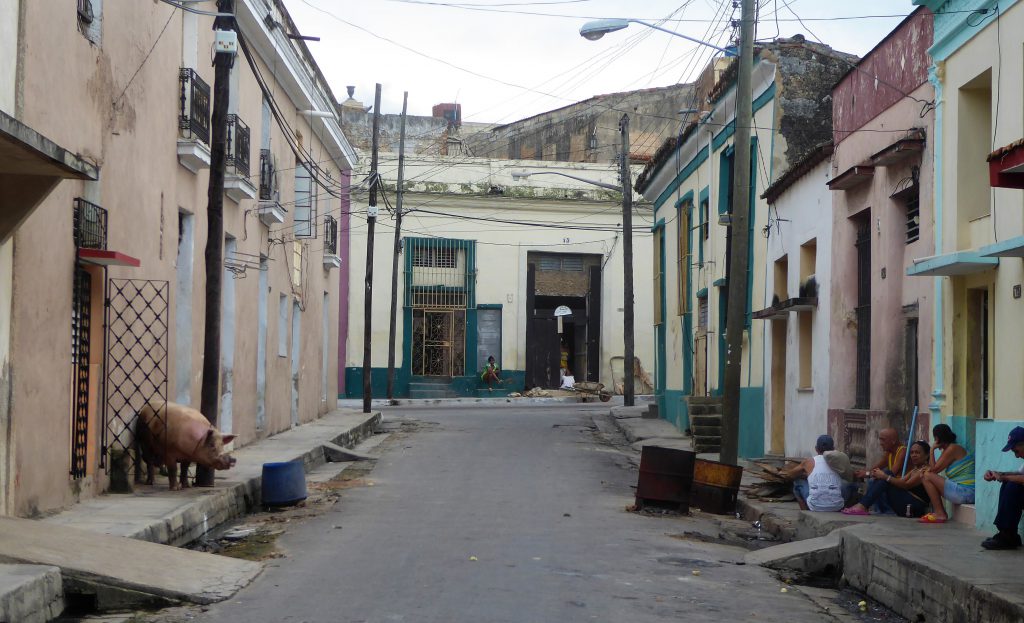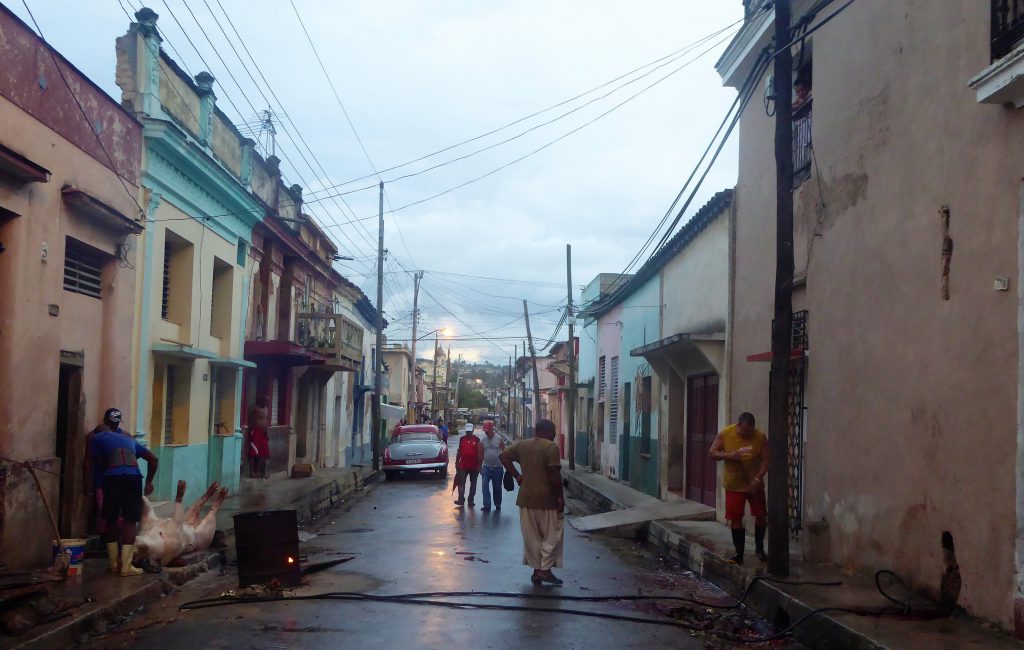 That is how life works around here … also in the city!!
Alright…
on to nicer moments in this non touristic city!!
The citycentre has some nice quares to sit and enjoy the atmosphere. The biggest of them is Parque de la Libertad. The square is surrounded by the most beautiful buildings. I loved sitting here and having Cuban live passing by me. Also a pro of these squares…you can use the WiFi.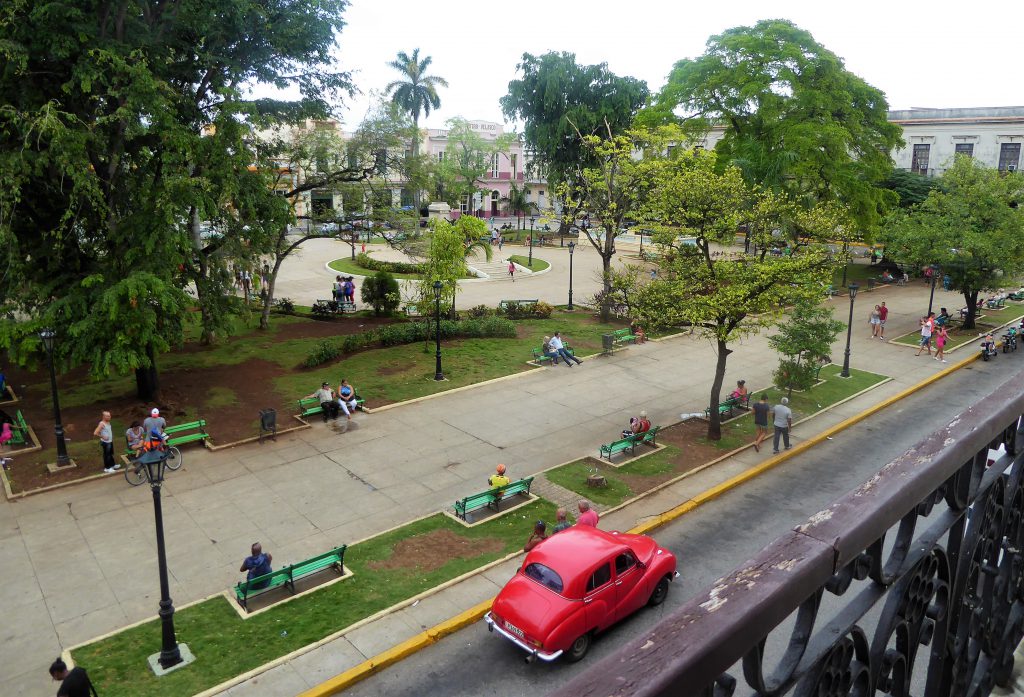 In the middle of this park you'll see the statue of Jose Marti
Just a bit down the road you'll find a smaller park called Parque la Vigia. It also has a great statue in the middle. This park had some more youth in it and also more jineteros. Jineteros are the people that want to sell you anything…most of the time for a bit more then it is worth..
I didn't bought anything at the Jineteros and arranged everything through my casa.
I love to walk in cities to get those specific feeling of a city. I read that there was a viewingpoint from which you had a nice view over the city, it was located next to a church. I got the citymap and started walking. Before reaching my goal I got this park which also had a great view over the city and the bay.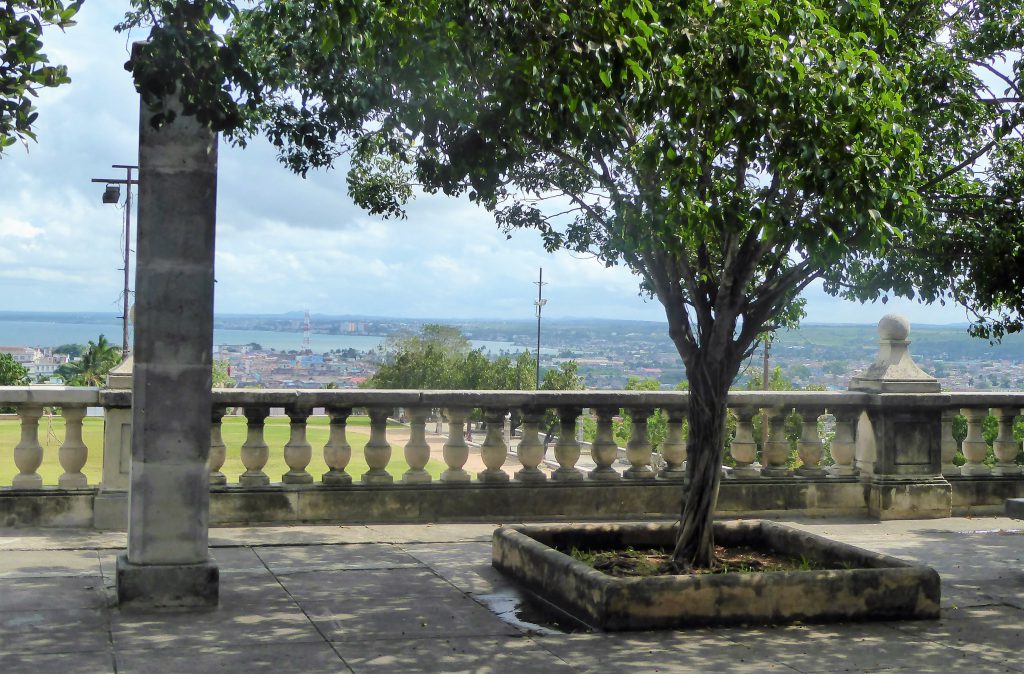 It took a while but after a 1.5 your walk I reached the Ermita de Montserrate. On top of this hill you can buy some food and drinks. I wasn't the only one here and most of them were couples quietly enjoying the view and eachother. I sat down and enjoyed the view for a while!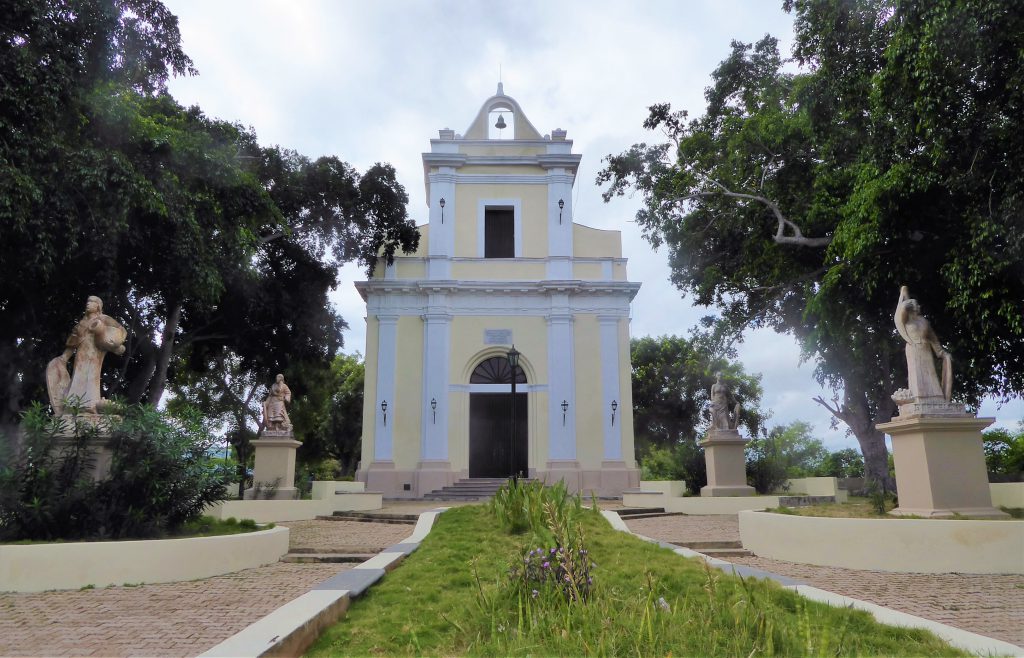 Highlights of Matanzas – Cuba
When you are at parque de la Libertad you should look for the great old pharmacy called Farmacia Francesa. When stepping inside it feels like stepping back in time for about 50 years!! I don't go into much musea to be honoust but I really loved this one. They were still renovating this one but when most visitors were gone they let me go up and see the house of the pharmacist.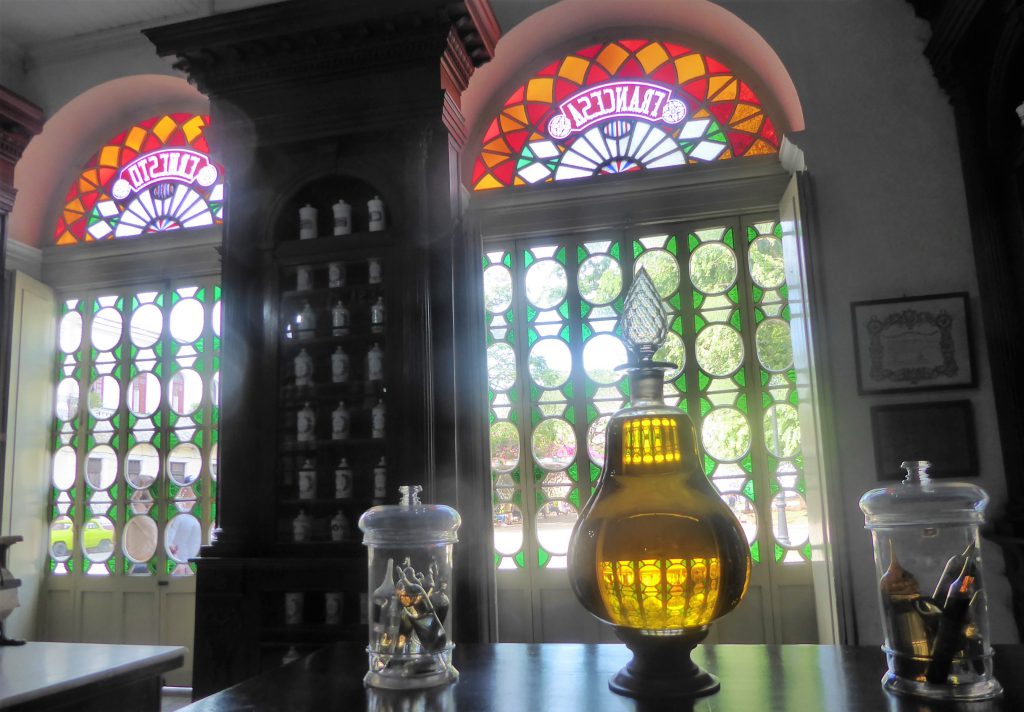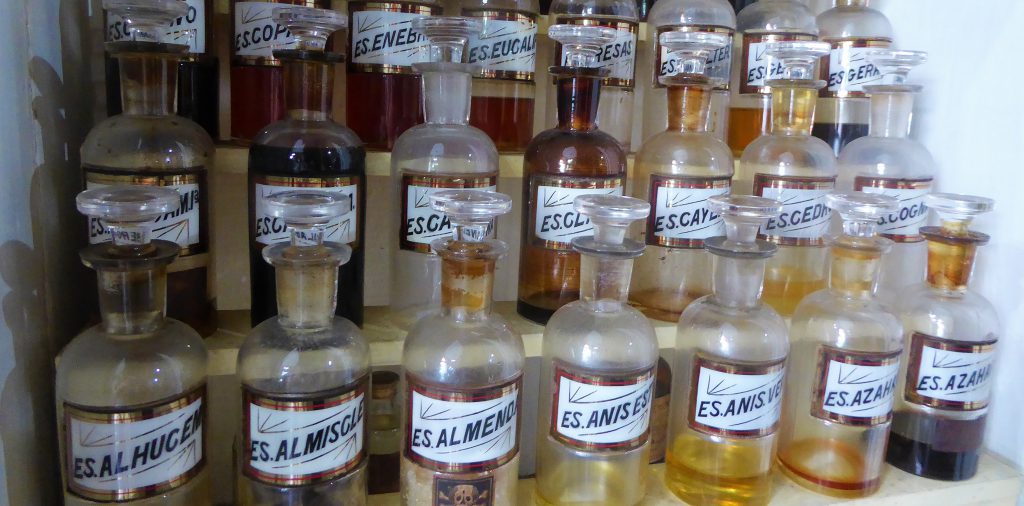 I didn't went in but it must be a great building and is a symbol of the city. The theatre is there since 1863. It is close to Parque la Vigia and it was also close to my casa. I walked passed it several times, the firebrigade is on the opposite side of the road and I did took some great pictures here 🙂
If you pass the brigde Puente Calixto Garcia you'll get to the Che Mural, a remembrance to Che Guevara.Everywhere in Cuba you'll see iconic paintings of Che and it gives it a historic and proud feeling.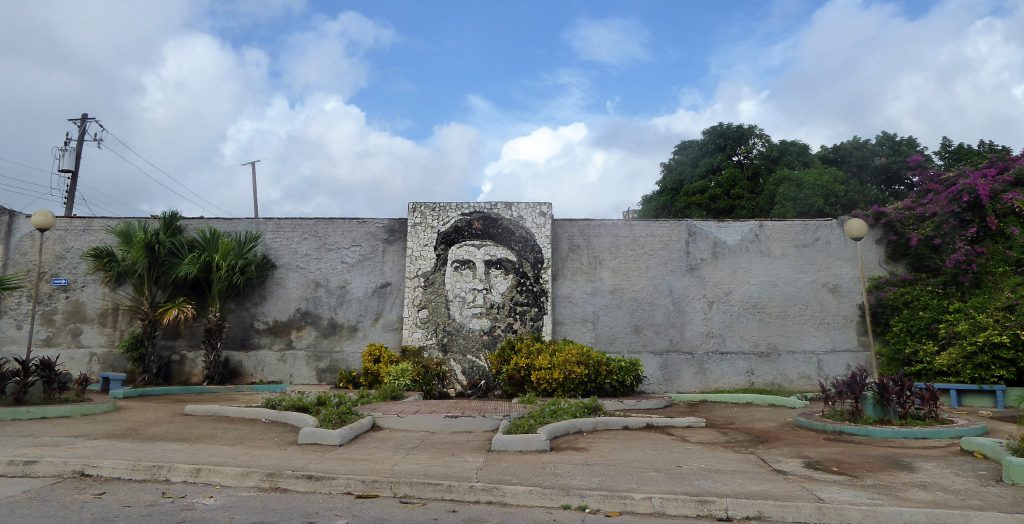 After giving this city some time you need to enjoy the sun, the beach and the ocean too!! I went to Varadero and met these crazy British guys! They were on a cycling trip through Cuba, can you imagine?
I had a great time with them 🙂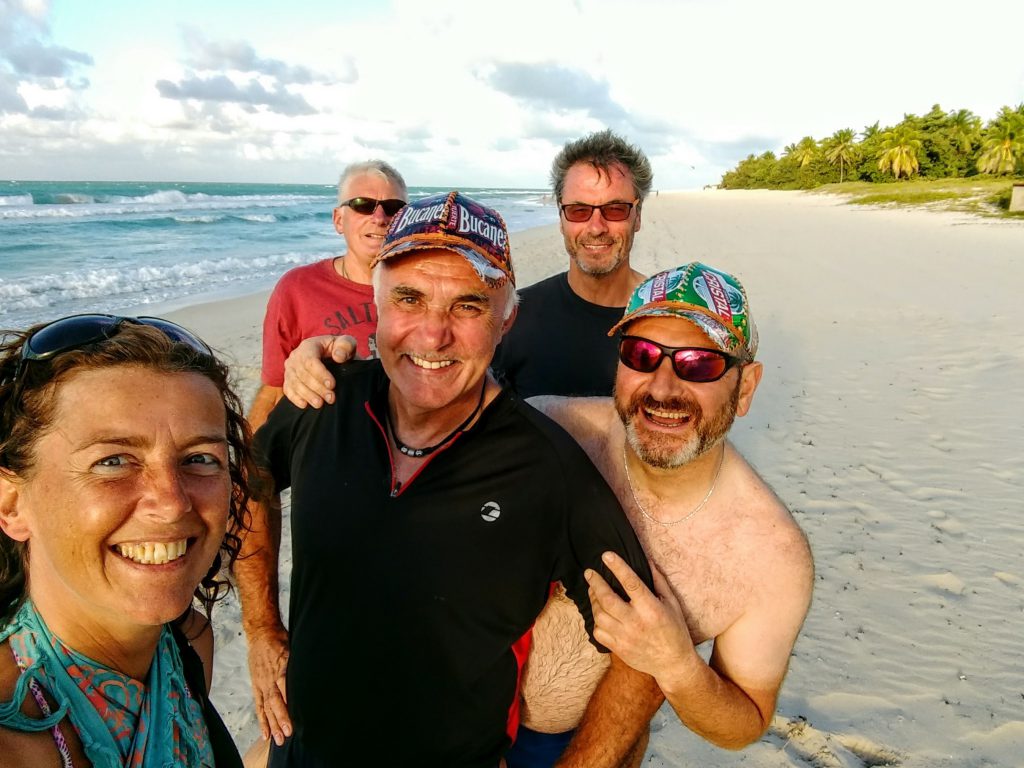 —
Tips for a good Coffee – Food – Sleeping
I got my coffee in Matanzas at this great old, historical hotel called Velazco. It is situated on the Parque de la Libertad and is kind of a chique hotel. They do have internet but if you are lucky you can get the wifi still from the square outside 🙂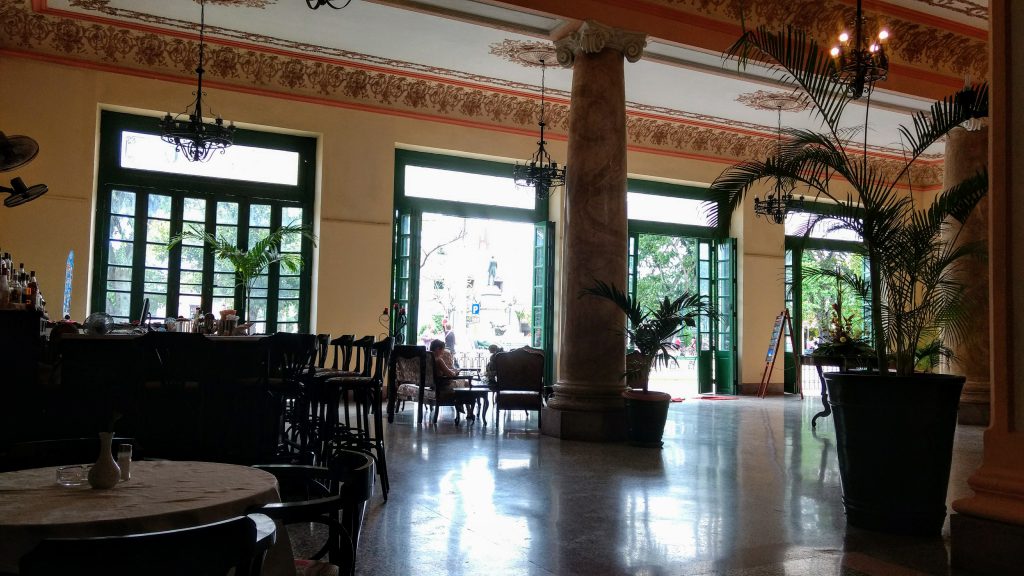 Hostal Roberto y Margerita – Matanzas

My Casa in Matanzas was great.It was situated at Calle Contreras 79 and is called Hostal Roberto y Margerita. I had a good and clean room and they serve some good food! The rooms have a different entrance and so you have some privacy. The diner they serve is in their yard and I got a nice alcoholic appetizer and they made sure I felt at home.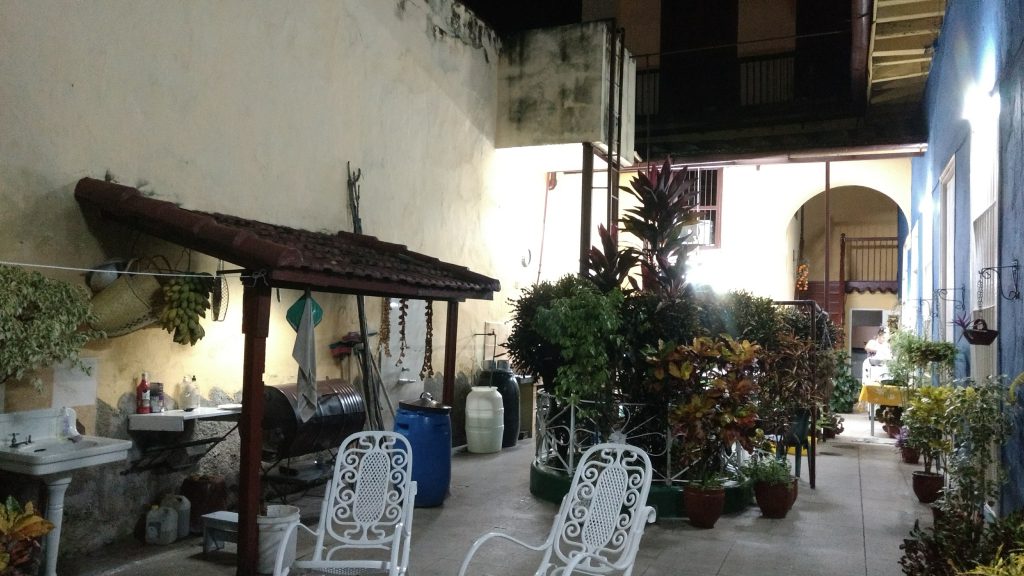 Yard where I had my dinner.
Food at El Galeon – Varadero

Dinner at the locals… you can find it at El Galeon. I went there with the British guys and we had a lovely dinner!
You do need to look for it because it is not located, as everything else it, at the boulevard but it was definitely worth it. It is located at Calle 29 y esquina en segunda, Varadero.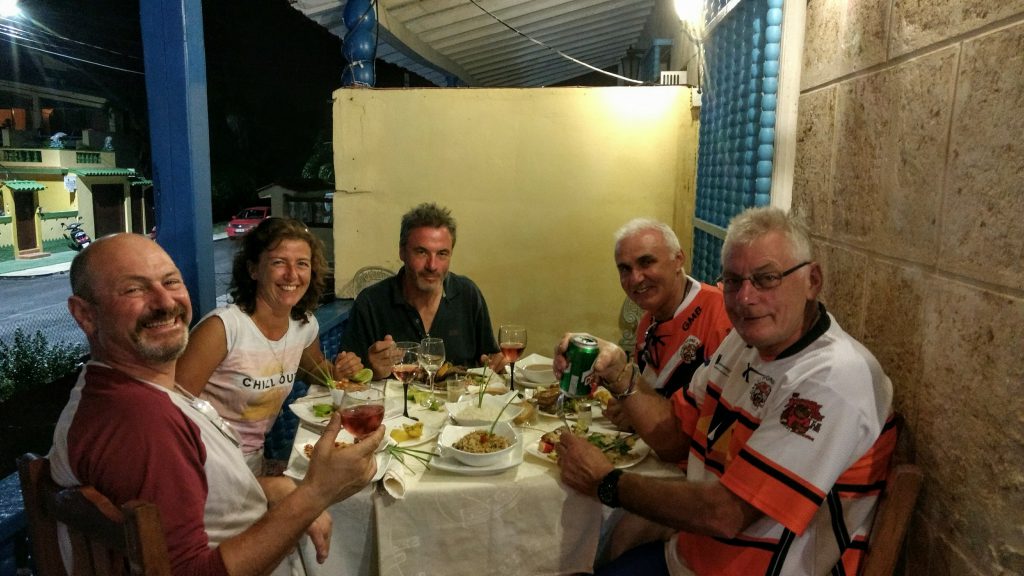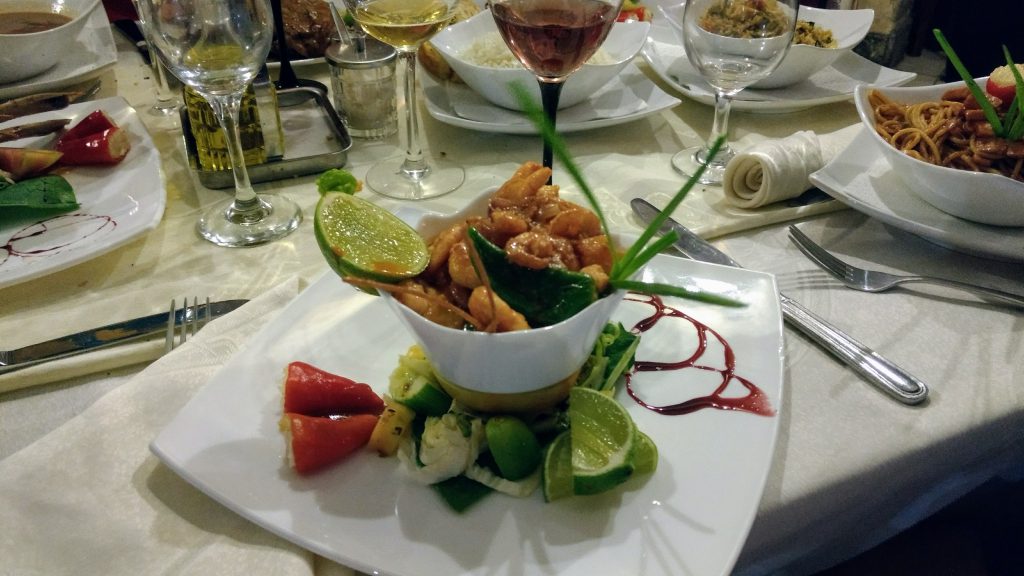 Highlights of Matanzas – Cuba
Will you share these tips?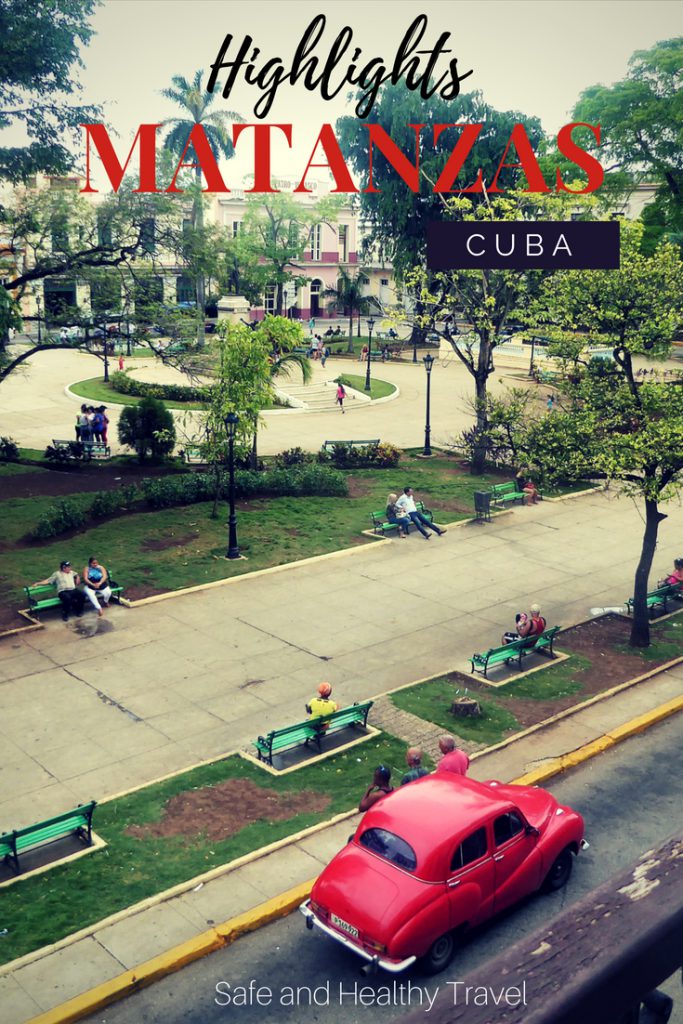 Want to read more about Cuba?
Horseback riding National Park Topes de Collantes
Cycling to the beach – Playa Ancon
If you plan to visit Cuba make sure to book casas!!
I hope you enjoy this world as much as I do!!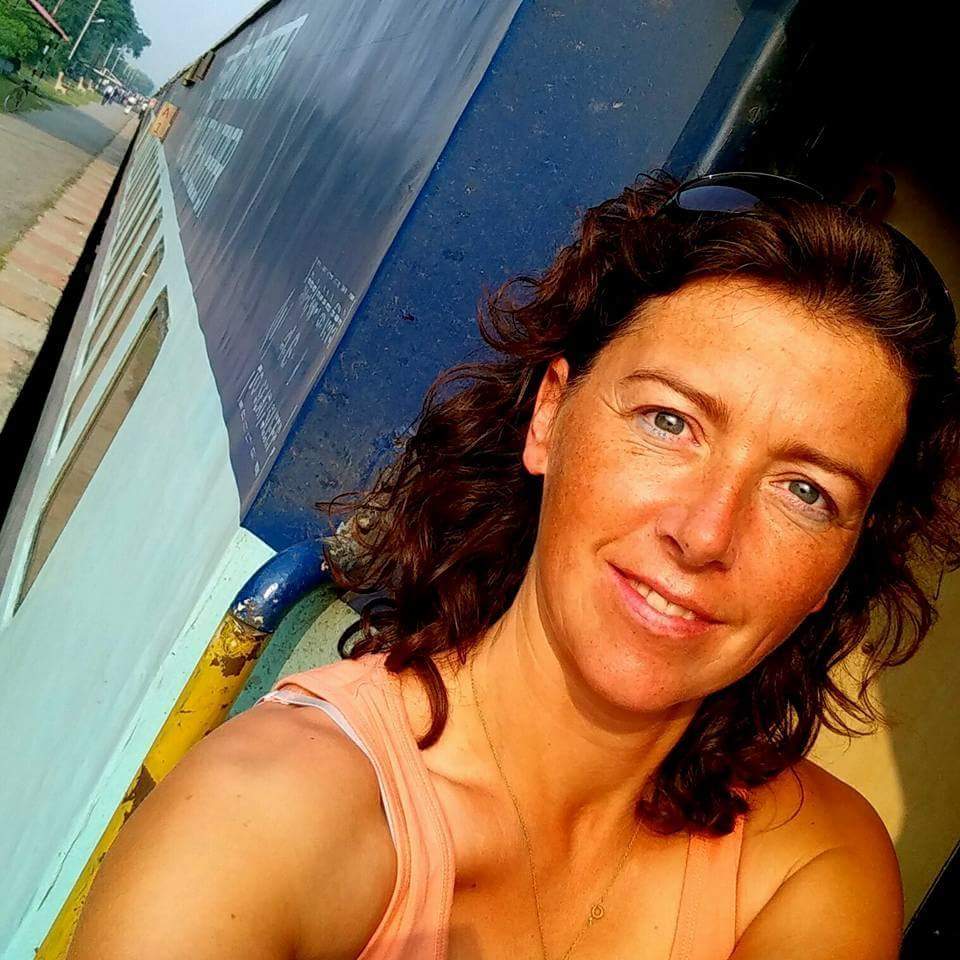 Jacomijn is een politieagent uit Nederland die jou graag laat zien hoe je veilig, actief en gezond de wereld kan over reizen. Safe and Healthy travel is a MUST