Hiking to the cigar farm in the Viñales Valley – Cuba
|
Yes, hiking to the cigar farm in the Viñales Valley! When the valley of Viñales (Valle de Viñales) is mentioned it is soon clear. You're going to a cigar farm! The best cigars in the world come from Cuba and especially from this region, so you really should not miss this! There are all kinds of ways to go to a cigar farmer and I liked doing that during a hike in the area.
I like to explore an area while hiking. You get much more the feeling of being a part of it, the smells and colours are more a part of you! And when you walk in the valley of Viñales you walk in a unique area with amazing views of the karst stone rocks around you!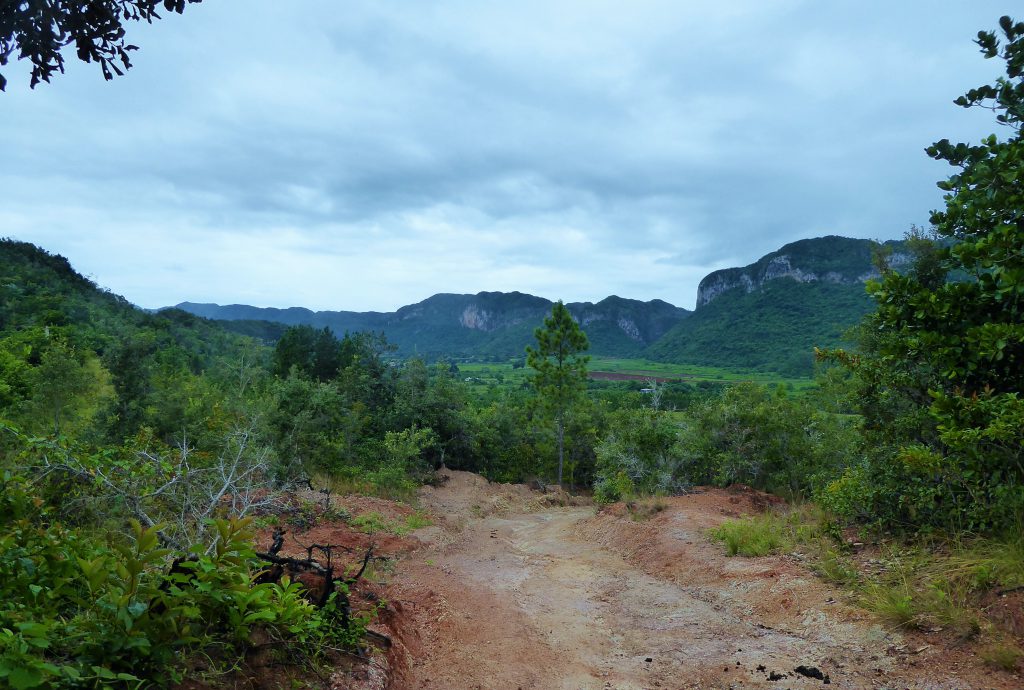 I booked this trip through my casa. Another couple had already signed up for this trip and so I could join them on this hike trip into nature and visit a cigar farm.
I thought it was the best trip to book!
We went on the road and soon we were at the cigar farm. We got a tour around the farm and saw the barn where they hang the tabacco leaves to dry. A little later we sat down at the table again and the man showed me how he had very skilfully rolled a cigar in no time.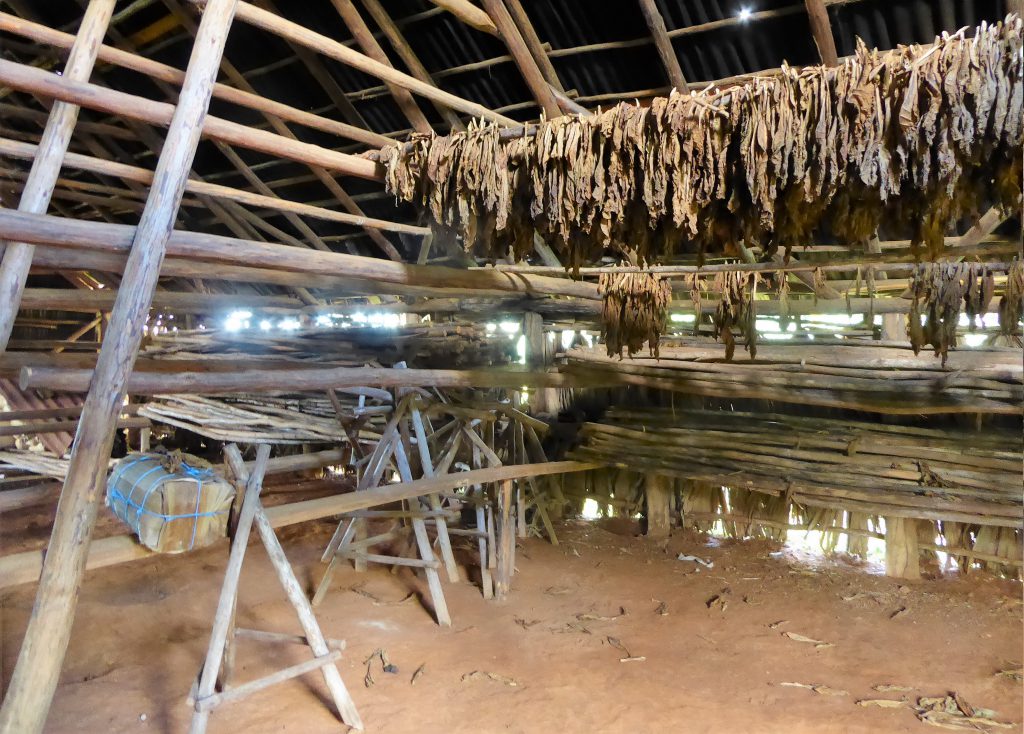 Hiking to the cigar farm in Viñales Valley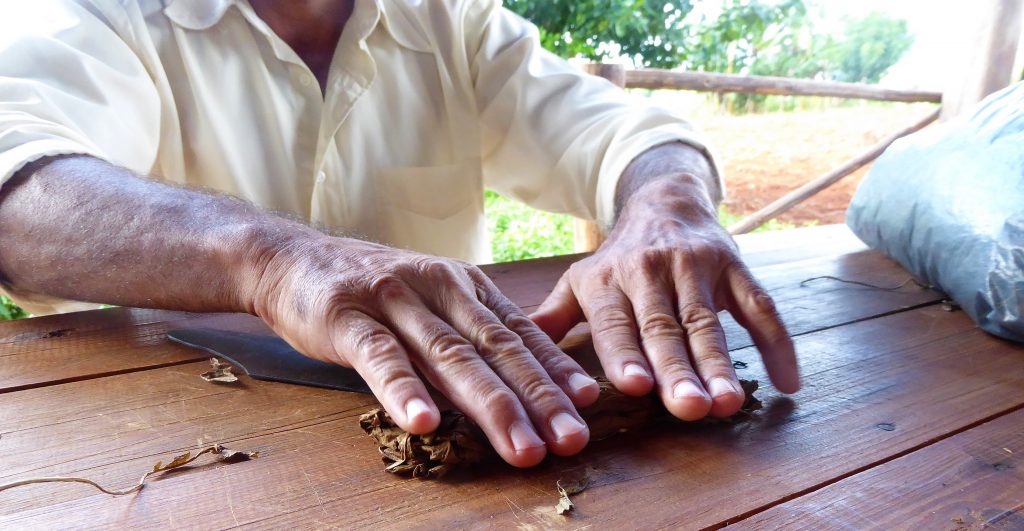 He said that the 'state' actually bought up everything. They were allowed to roll some cigars themselves but they were not allowed to use substances that make the cigar last longer.
This is reserved for the 'state' and so only they can produce in large quantities and export it abroad. The farmer has to sell his entire proceeds to the 'state' and they are allowed to keep a small part themselves. They are then allowed to roll  and sell cigars.
These cigars are of a different quality and actually much more natural, with the only disadvantage that they have a shorter shelf life.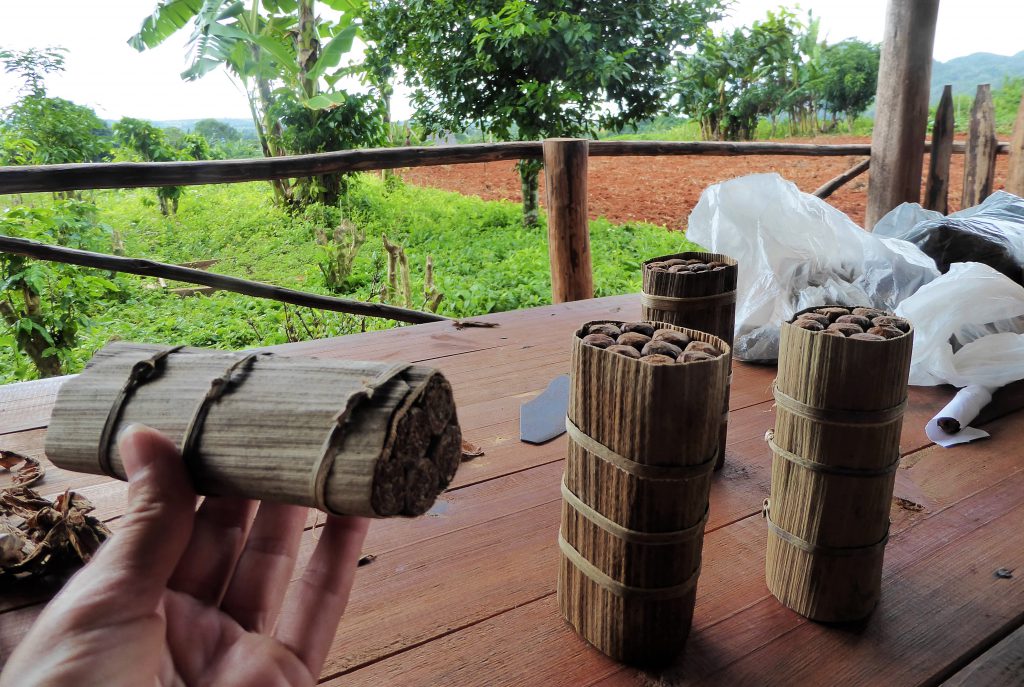 But selling among themselves is of course not the revenue they hope for and so they are very eager to sell to the tourists. Because I was going to travel for a few more months after this I only bought 5 of them. Still a little sponsoring and I can make some people happy at home 🙂
A real Cuban cigar!
After this we walked on again and this is something that really makes me happy. Great views, beautiful lakes and high karst stone cliffs around us. The color of the sand, that typical red/brown color. I love it!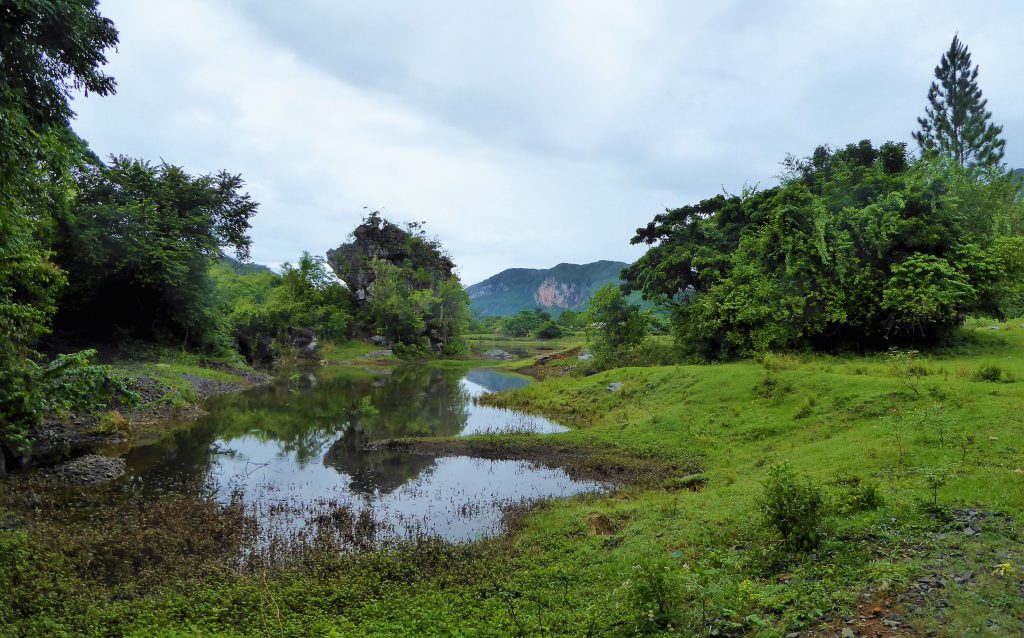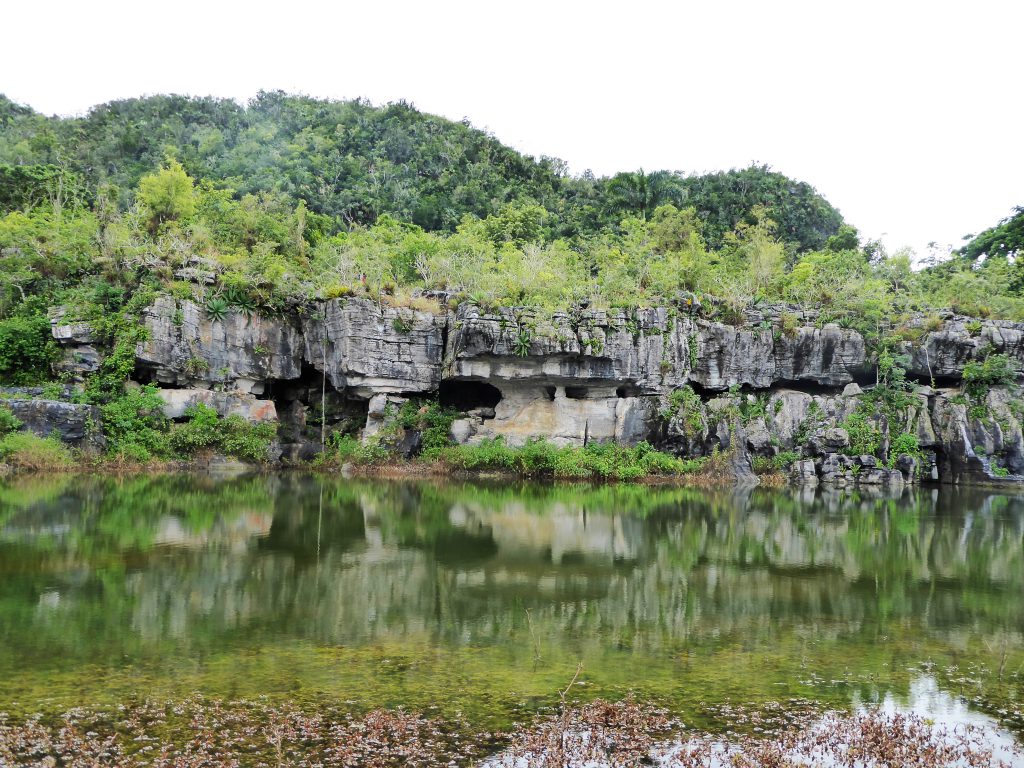 Hiking to the cigar farm in the Viñales Valley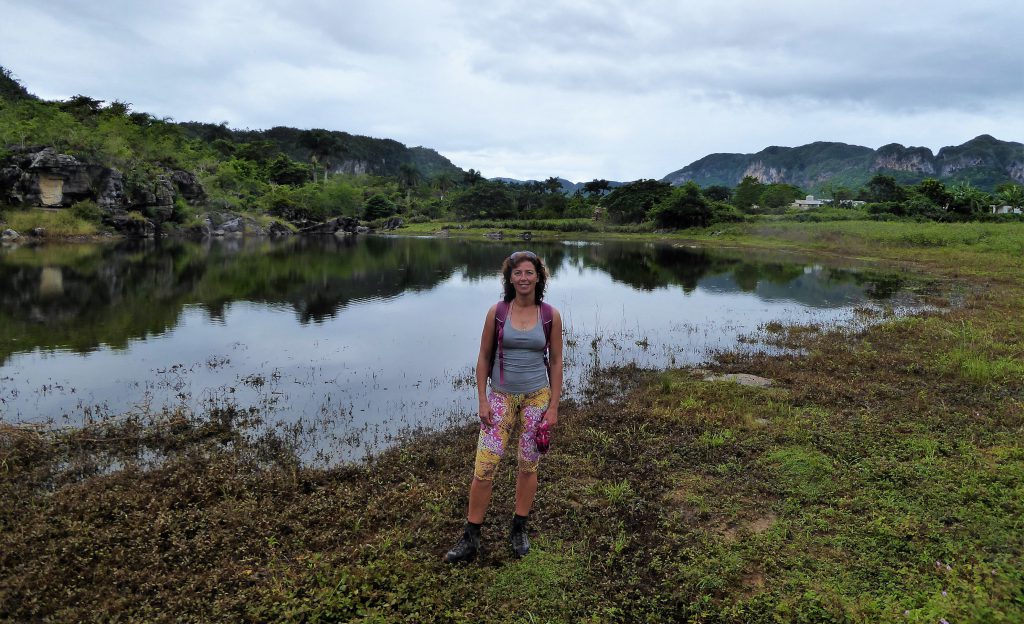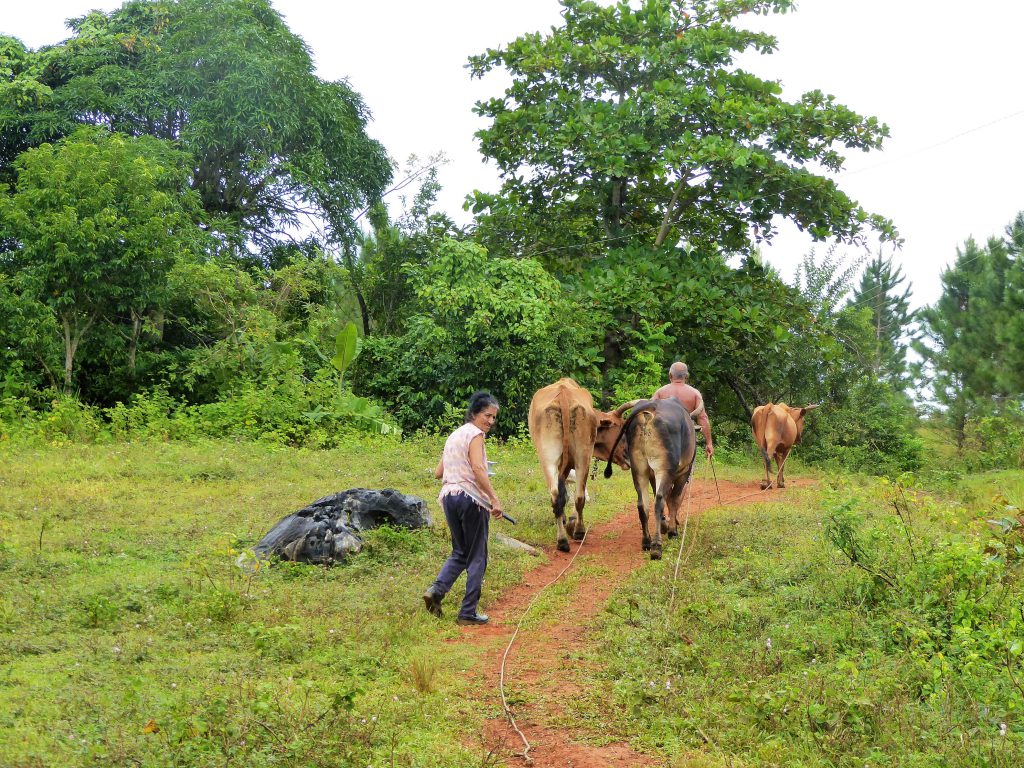 Every now and then we pass by a farm or people working on their land. We waved and said 'Ola!' Isn't that great? Earlier that afternoon it had rained so everything looked fresh and green!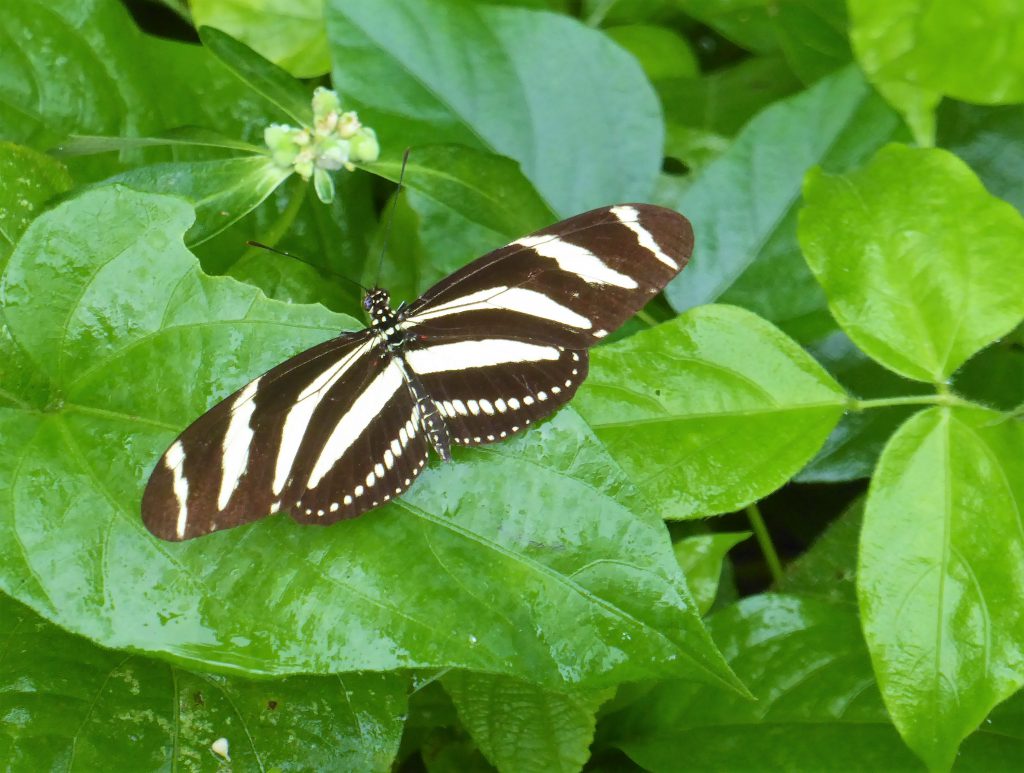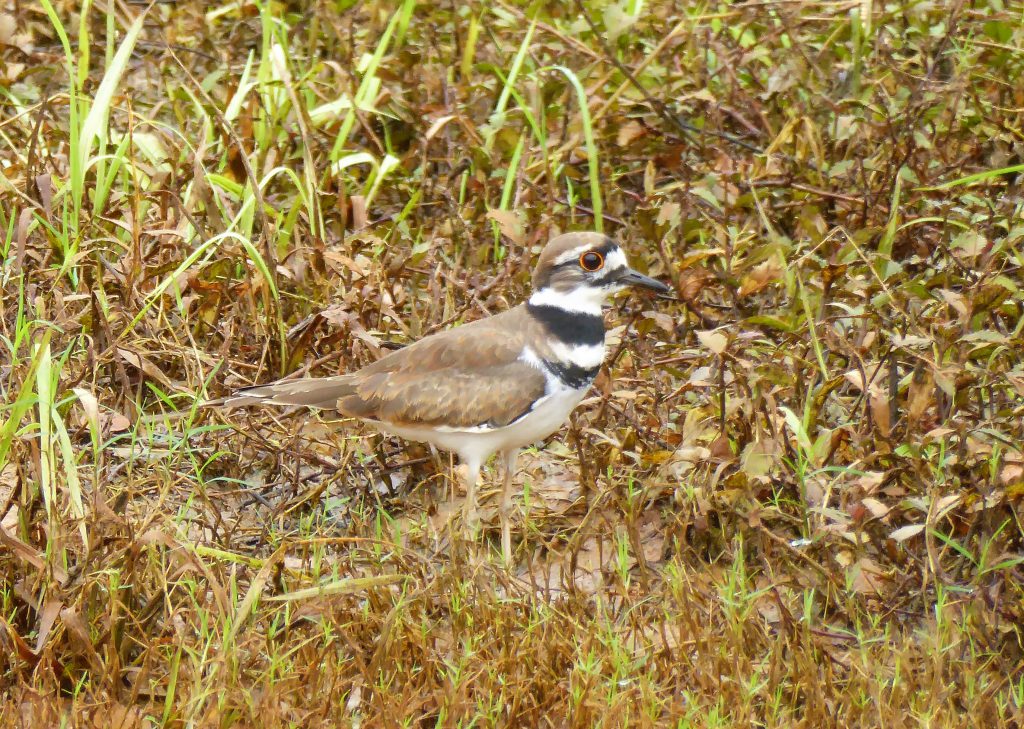 Visiting a Cigar farm in Viñales Valley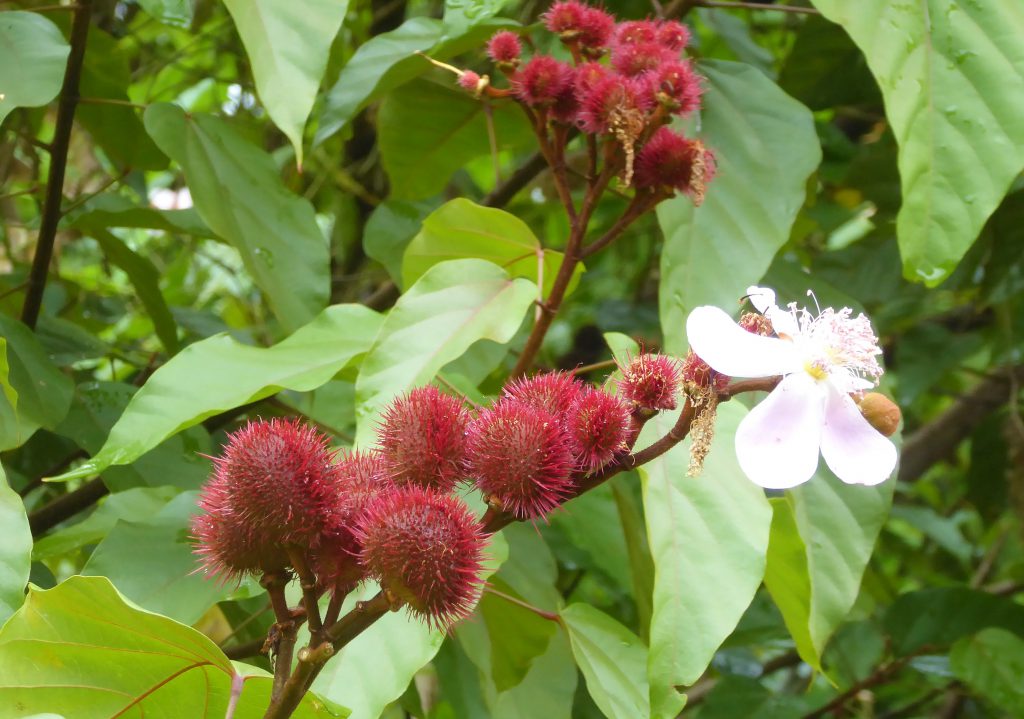 At one point we went up a mountain, a nice view belongs to a nice hike of course! It was still a nice climb, in the meantime we stopped a couple of times so my fellow hikers could catch their breath.
Finally on top we could enjoy this great view!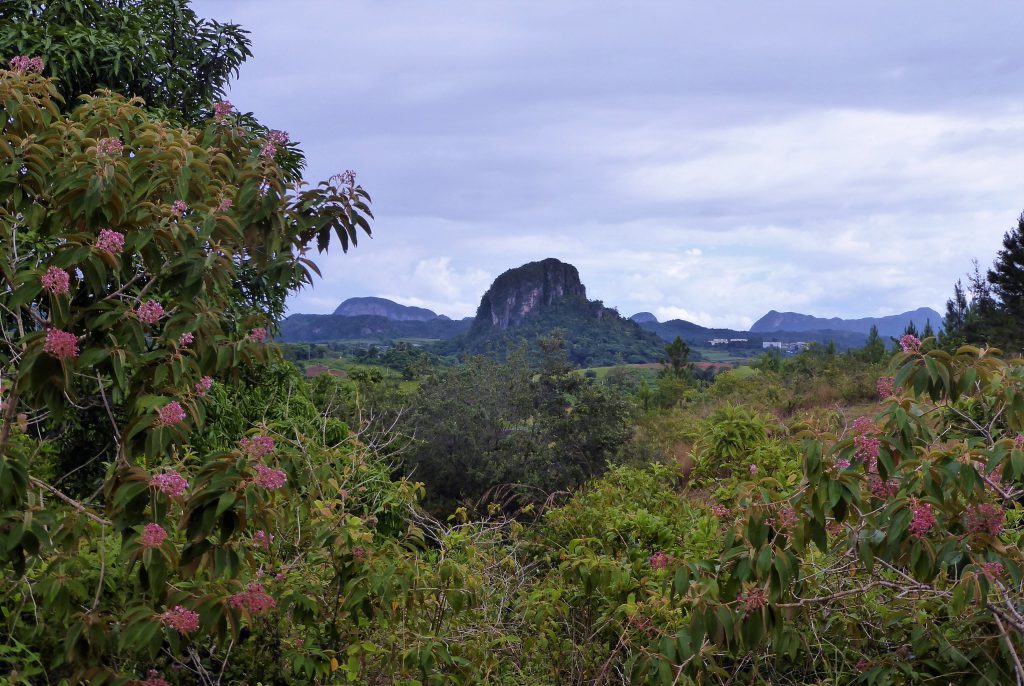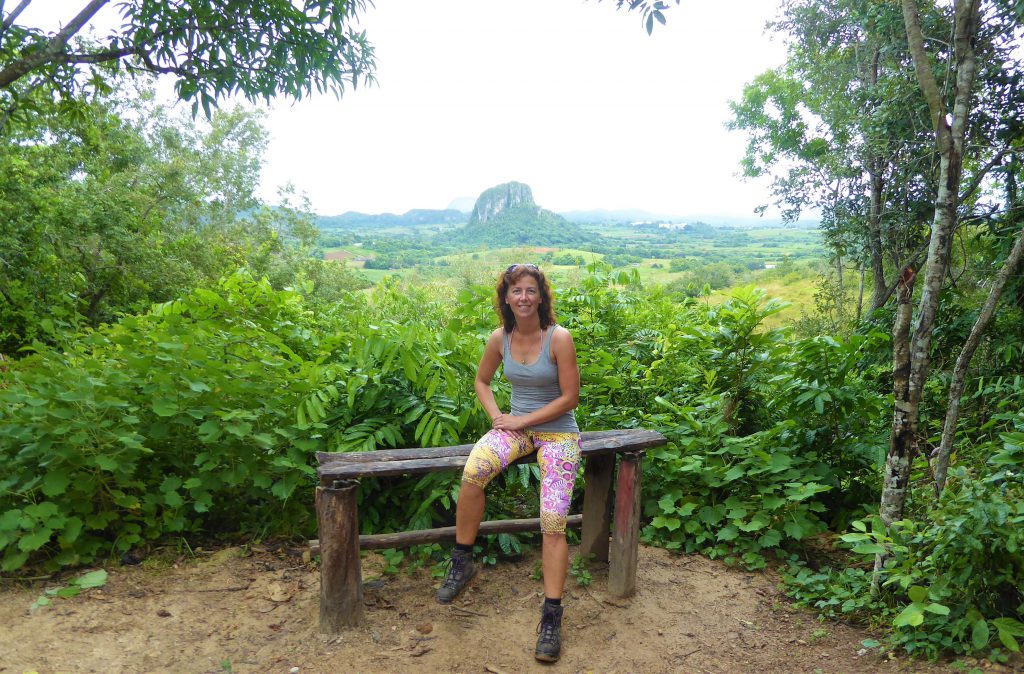 Soon we saw a vulture in the distance, there was a path leading to it. Of course I tried to get as close as possible to take this cool picture!
What a nice picture it gave with that karst stone cliff in the background!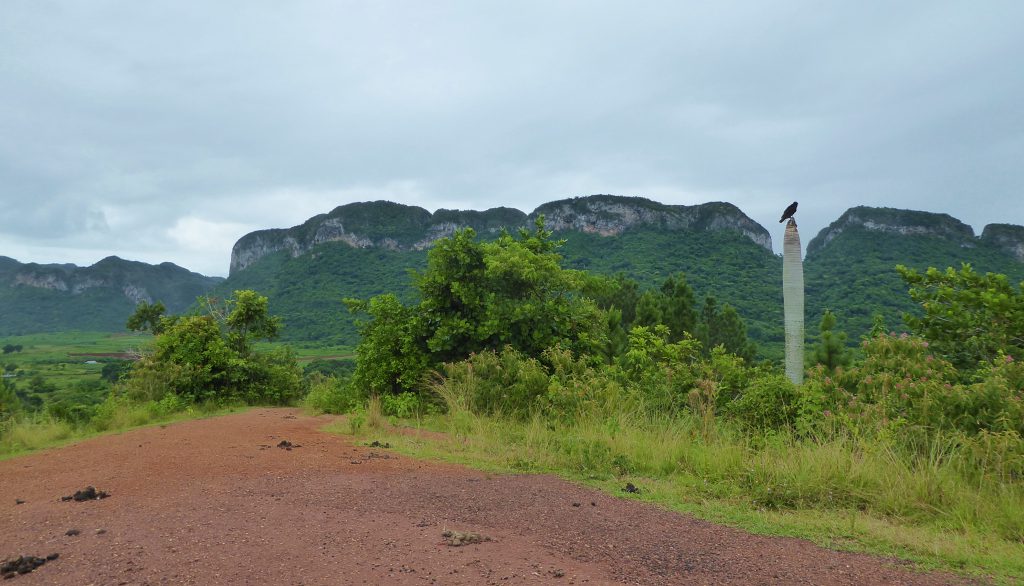 Cigar farm in ViñalesValley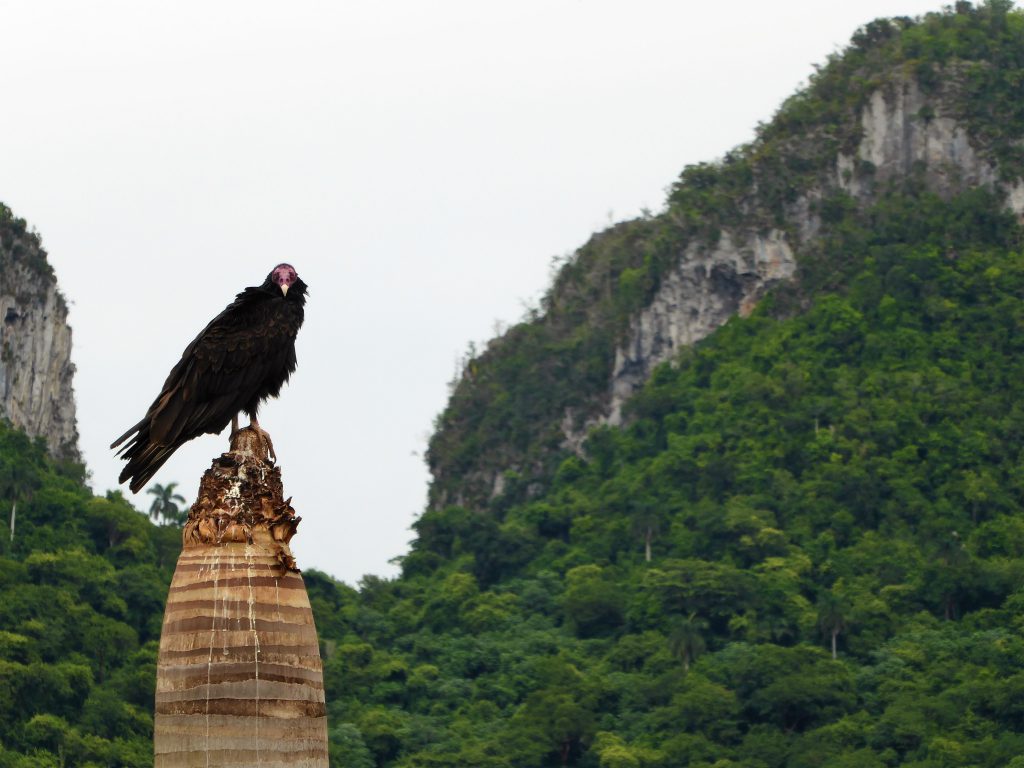 I always think they look a little creepy. I'm sure that's because you know they have such a bald head to stick it all the way into a cadaver so they don't get all covered in blood and get dirty… Yuck! But they are impressive!
We went back down and walked the stretch back to Valle De Viñales. I loved it and looked around to see what was going on everywhere. Who was walking around and what they were doing in their daily routine in which I got a little peak.
Do you also think that's great about traveling?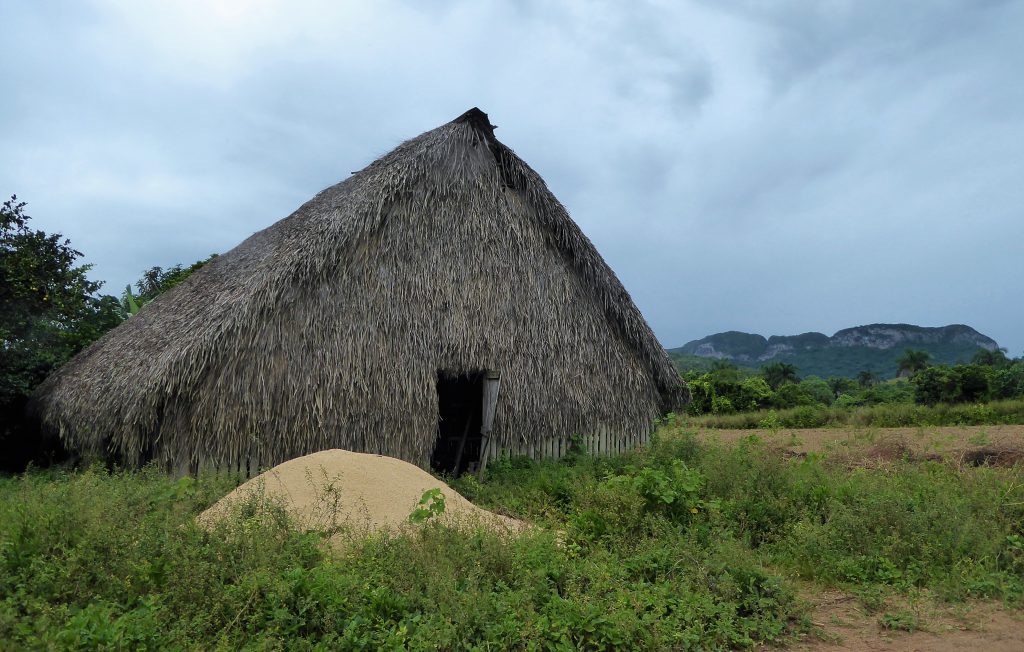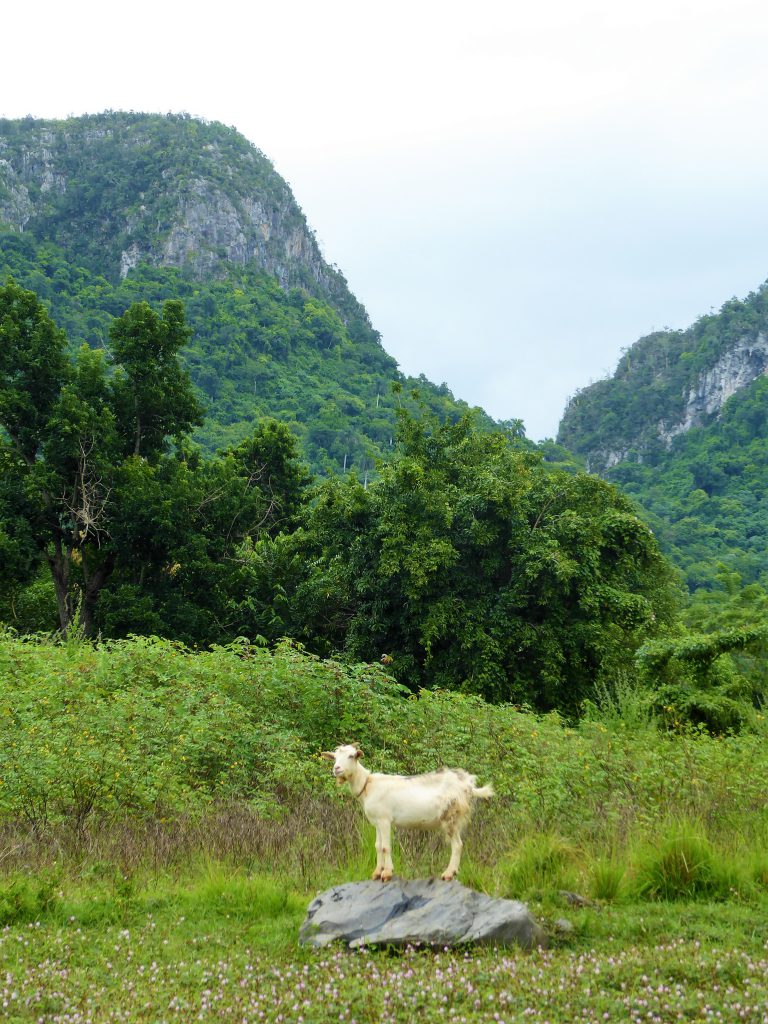 Viñales Valley – Cuba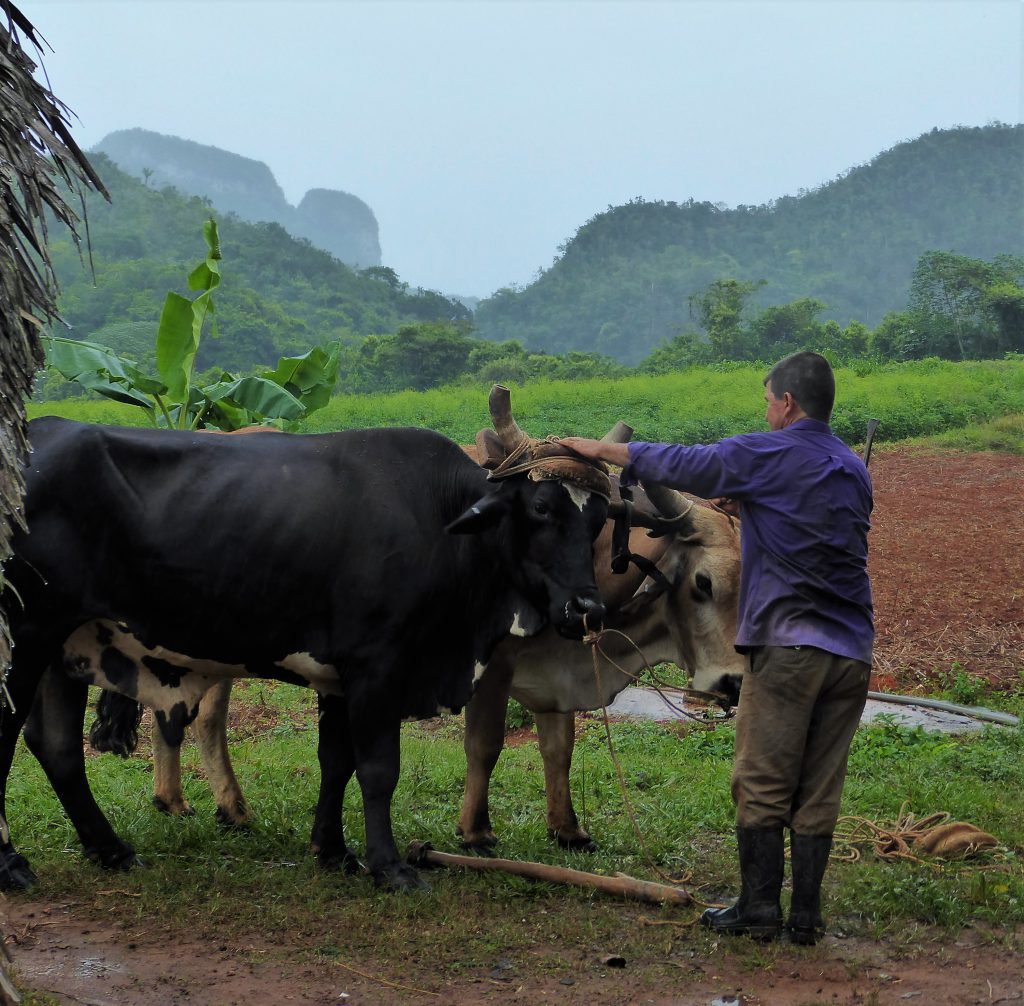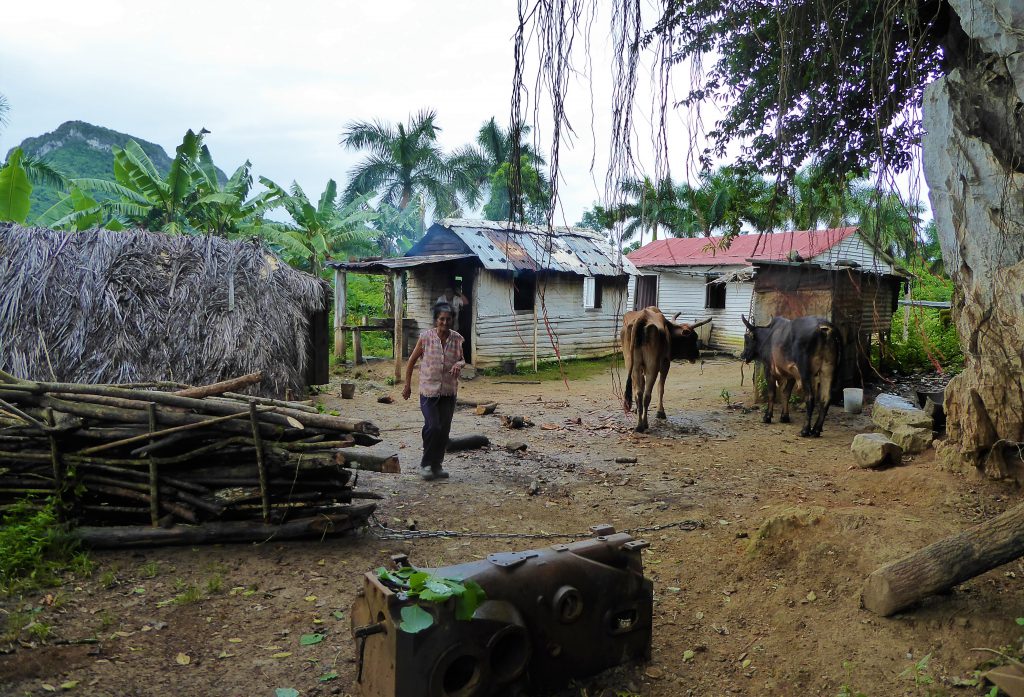 And not much later we walked on the paved road again. The big road that runs through the village of Valle de Vinales. We said goodbye to our guide, a nice young woman who would walk another trip in the afternoon she said. Yet I saw her sneaking into town in the afternoon 🙂 I had to laugh a bit when I saw her walking. Oh well … we always want everyone to believe that we work very hard…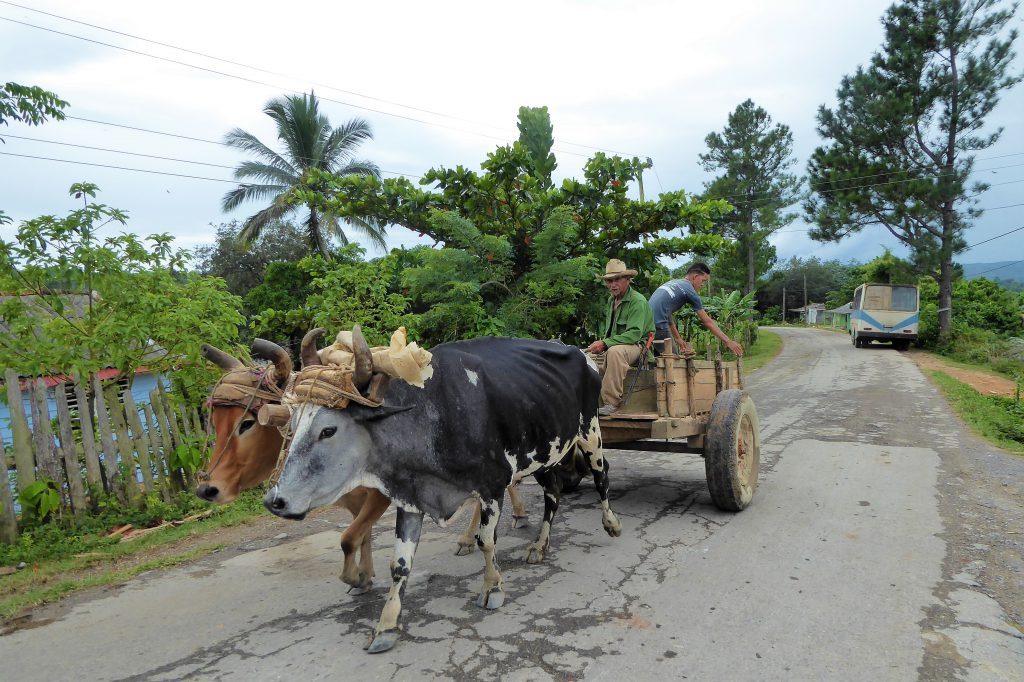 I thought it was a great afternoon. Exploring the valley on foot is really a great way to do it! On the other hand, I also saw some people exploring the valley on horseback.
Also a good way to explore the area!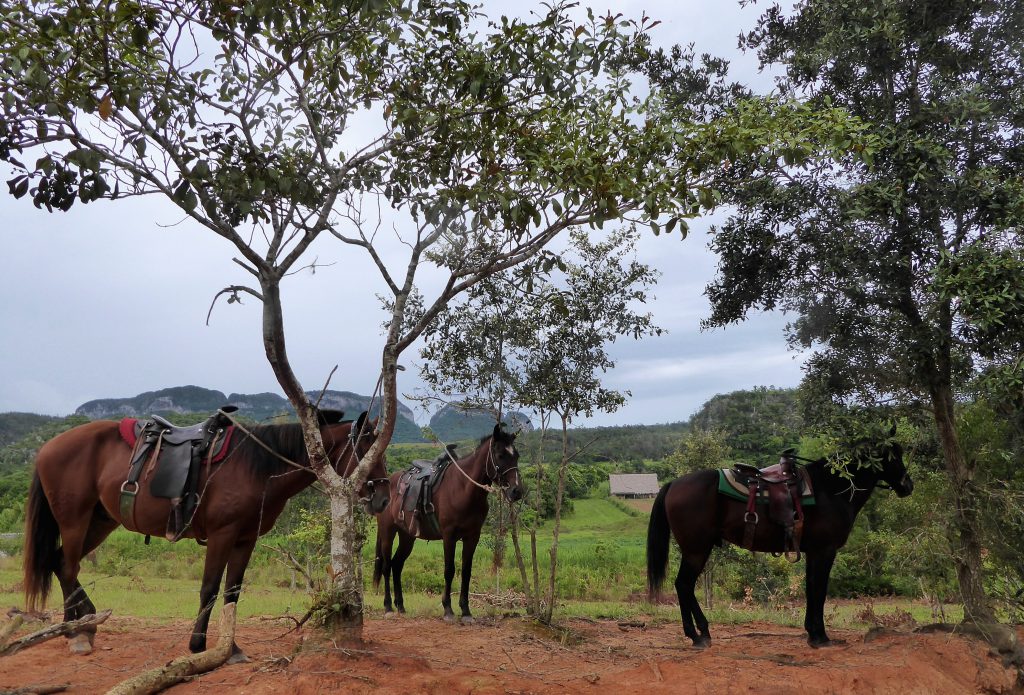 You have to visit the cigar farm in the valley of Viñales but what else can you do here?
Cycling in the valley of Viñales
I went cycling one morning. This day I had stayed on the right side of the village and thought I wanted to see the other side as well. Besides that I had read about a nice hotel (Hotel La Ermita) where you had a super view over the valley and of course I wanted to go there too! I had a cool drink there and after that I cycled on. It does indeed offer a nice view!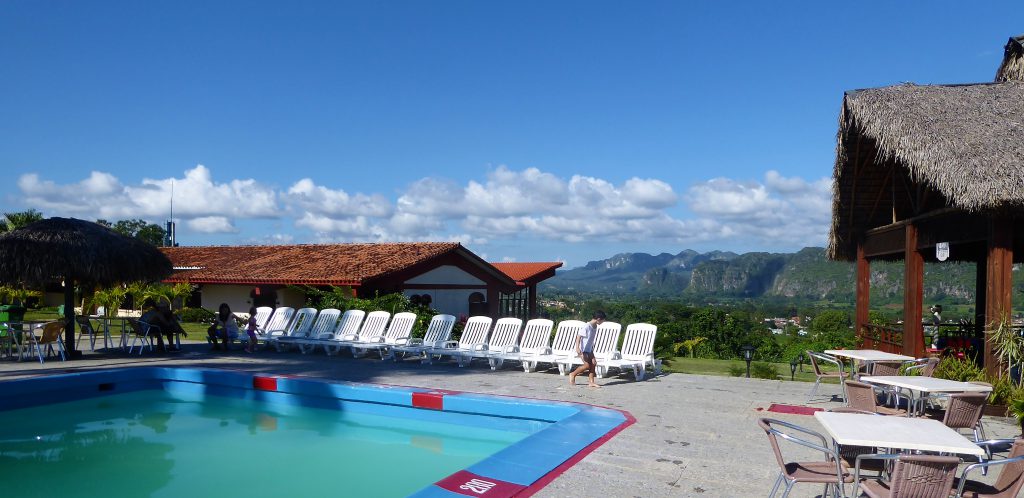 I also ended up at a farmer who had the entrance to a cave, Cueva de la Vaca, on the back of his land. Also nice to walk there and look around. I wasn't really dressed for a cave visit and so I enjoyed the view here as well. The entrance of the cave is at height in the karst stone wall.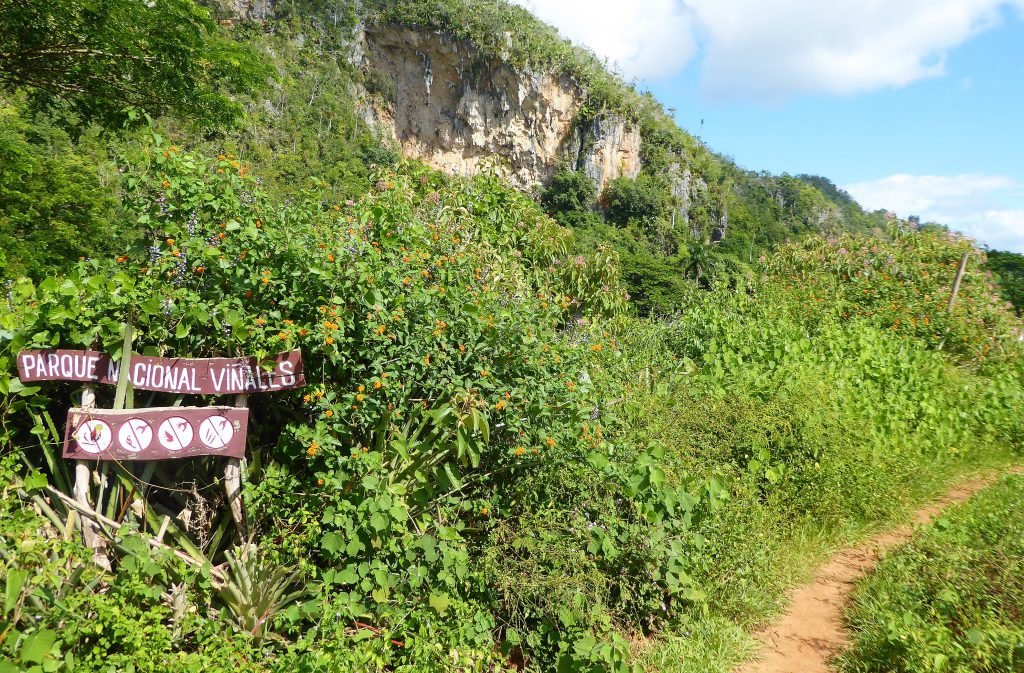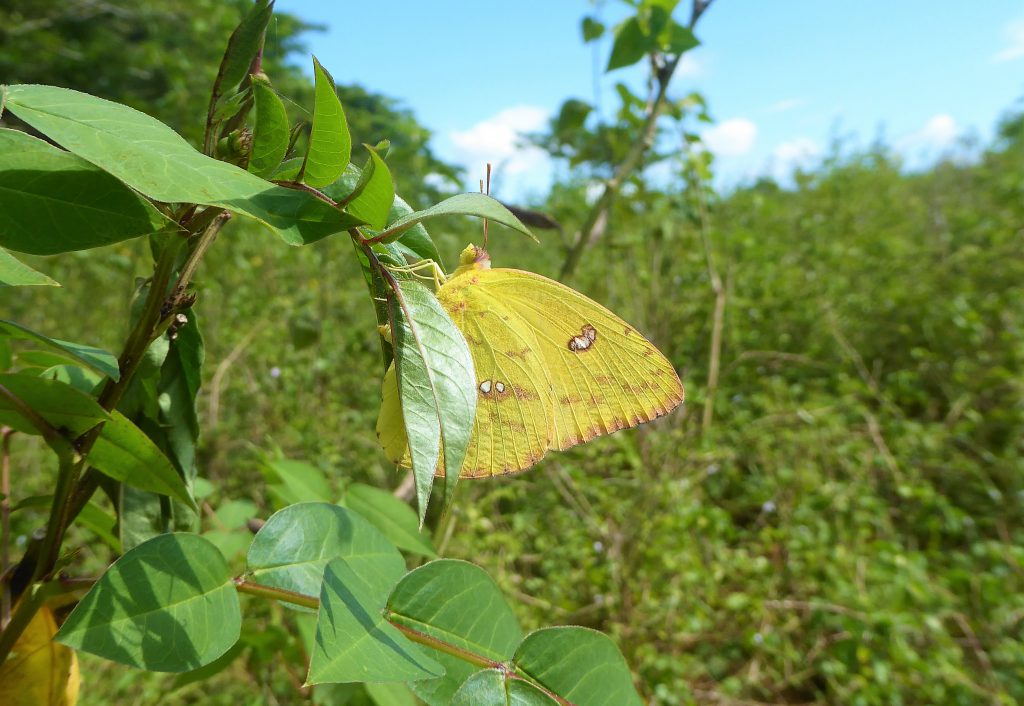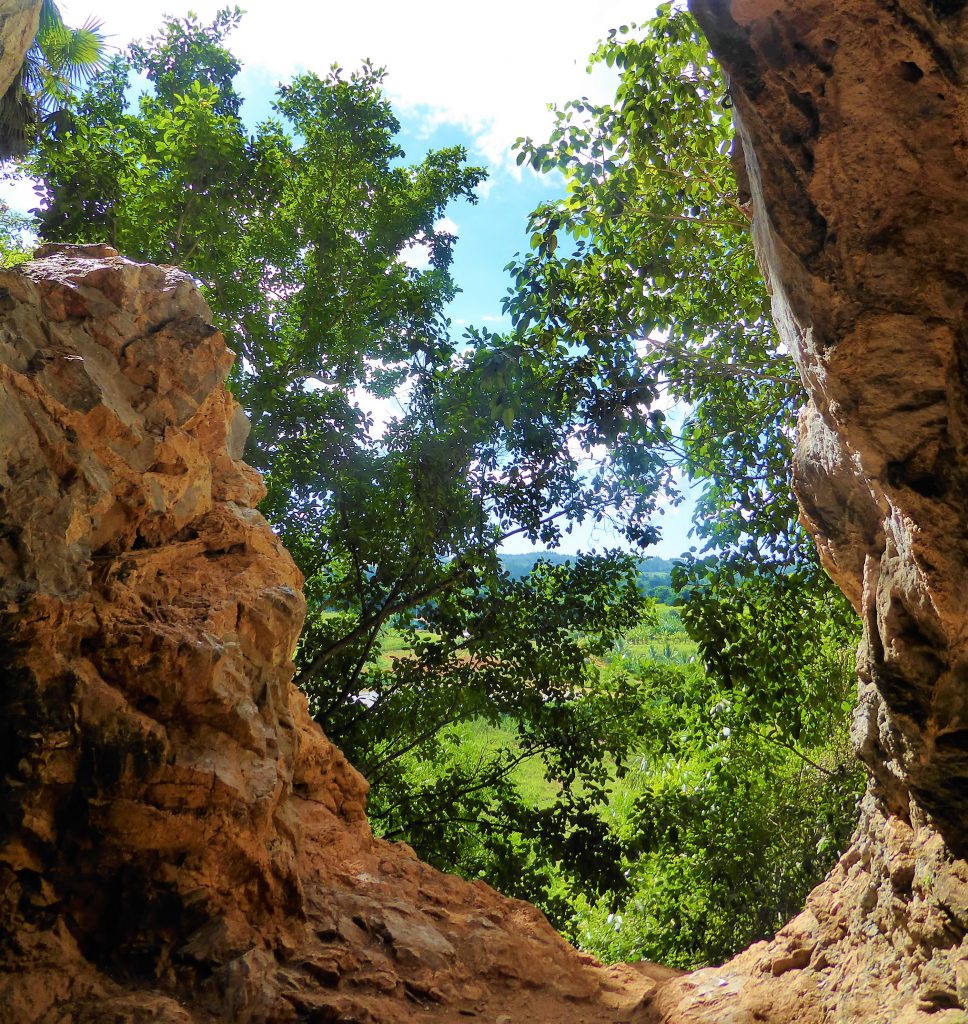 I love having all the time to wander around. To spend a little more time on something than someone else might have done. I had a good time and got lost quite a bit during this bike ride 🙂
In the end, the path I had chosen to cycle ceased to exist... Because I didn't want to go all the way back I crossed a dry river bed to end up in a meadow. A little later I ended up in someone's garden 🙂  I greeted them cheerfully and I was greeted back again, I walked along their path back to the public road and saw where I was. I love it!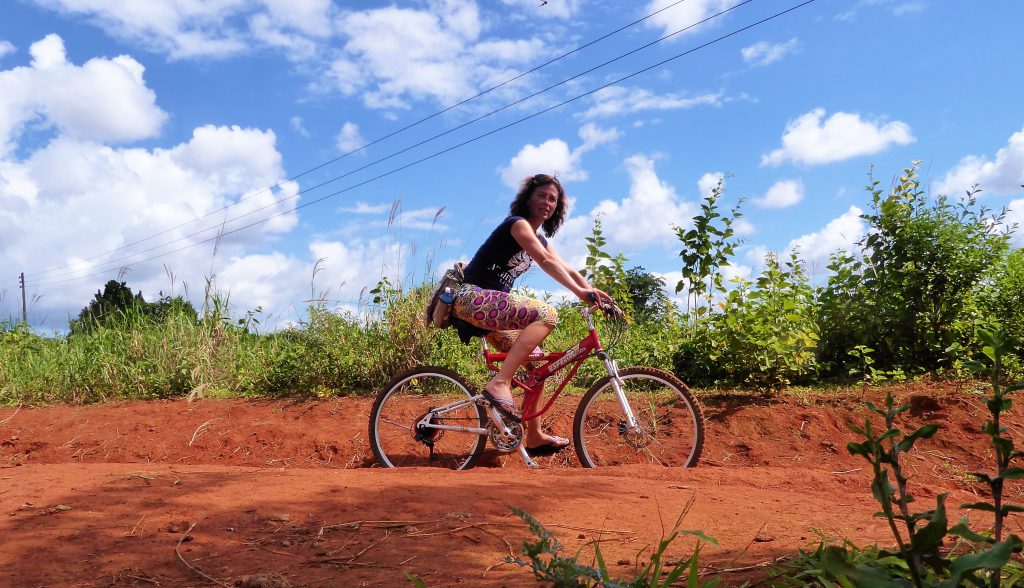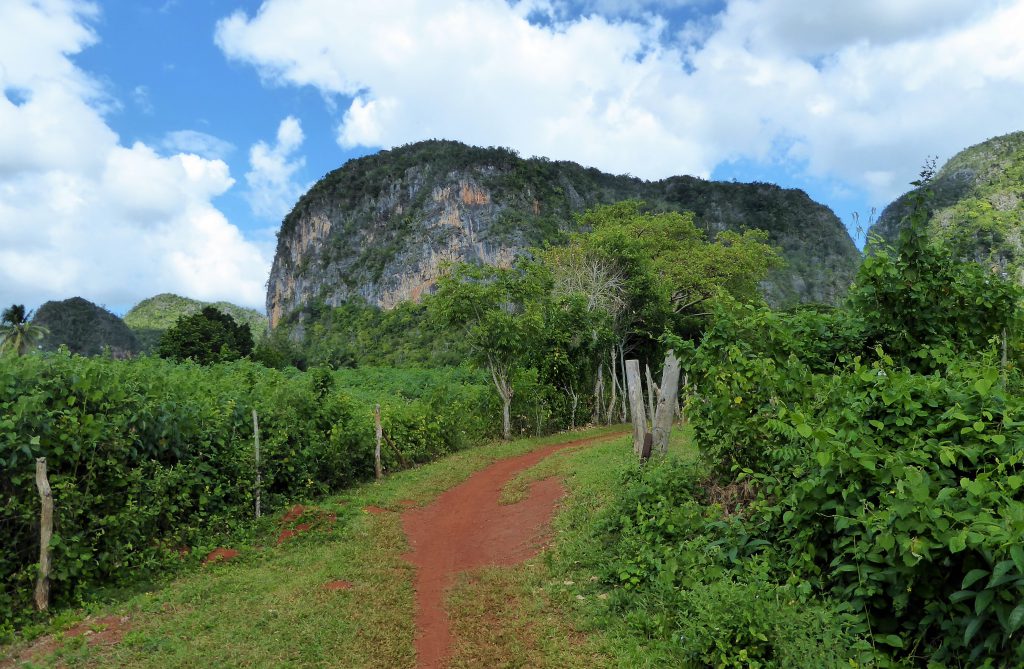 Renting a bike cost me 3 euros for 3 hours. The bikes are of course not the best but to explore the area for a few hours they are very good!
Cuevas de Santo Tomas
Also the cave Santo Tomas is a nice daytrip. In one afternoon you can go here and get a tour of the cave. This cave system is no less than 45 kilometers long, making it the longest in Cuba and one of the largest in Latin America.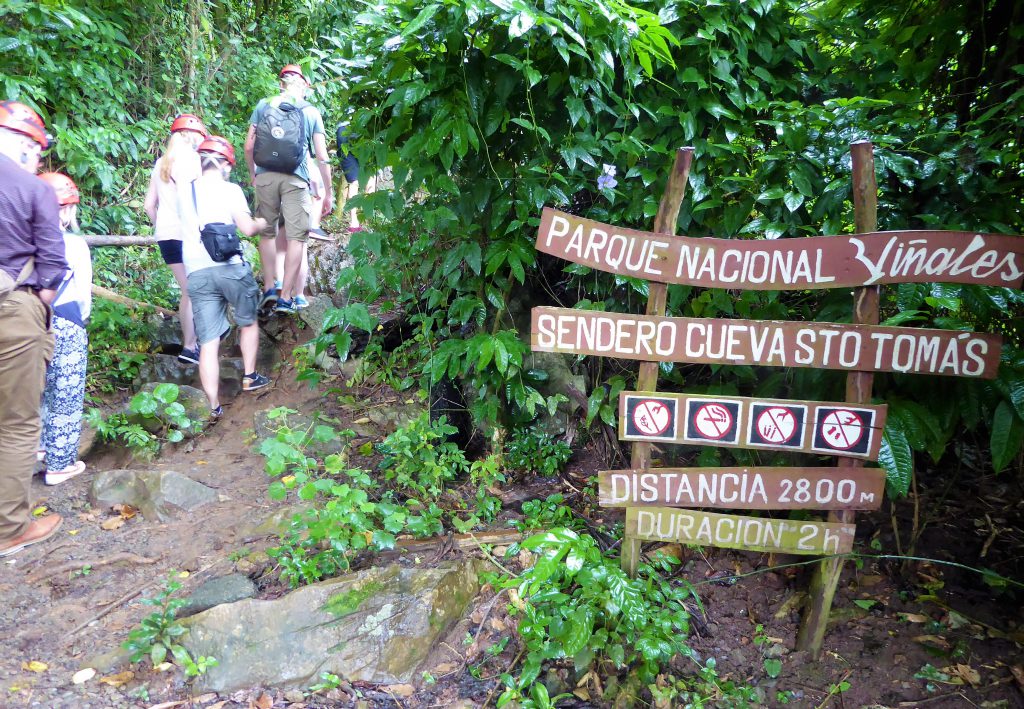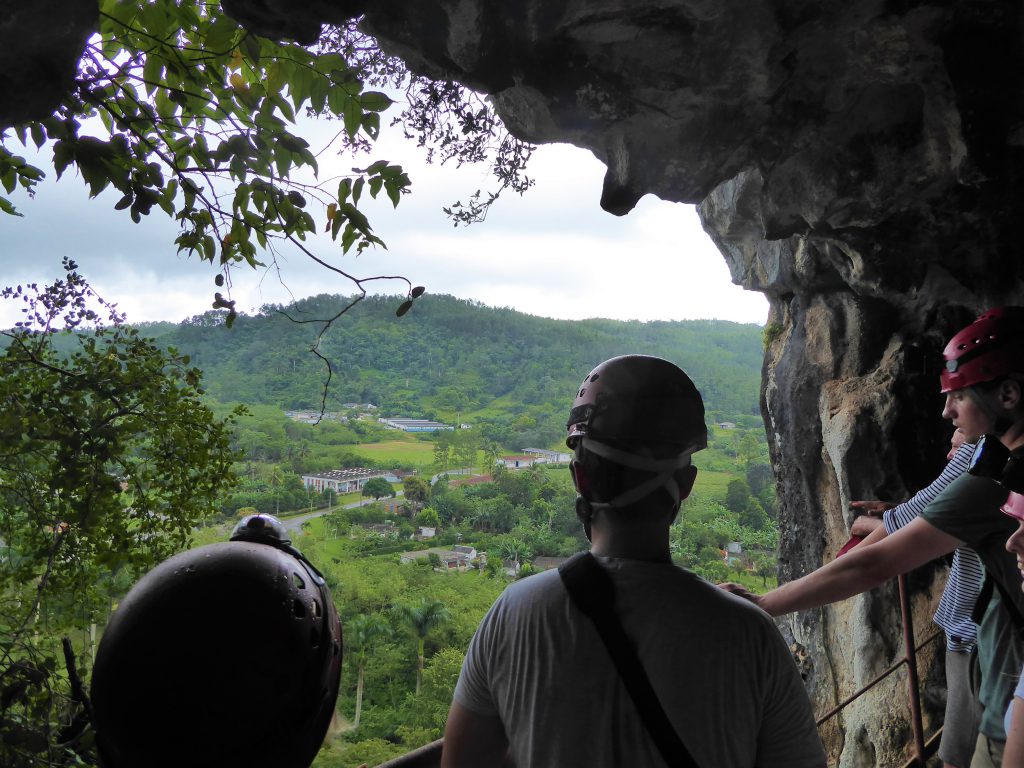 When on the way back you ask the taxi driver to stop at the Mural de Prehistorica you can also see this strange and actually super ugly drawing. I would have liked it better if the wall still had its natural colors…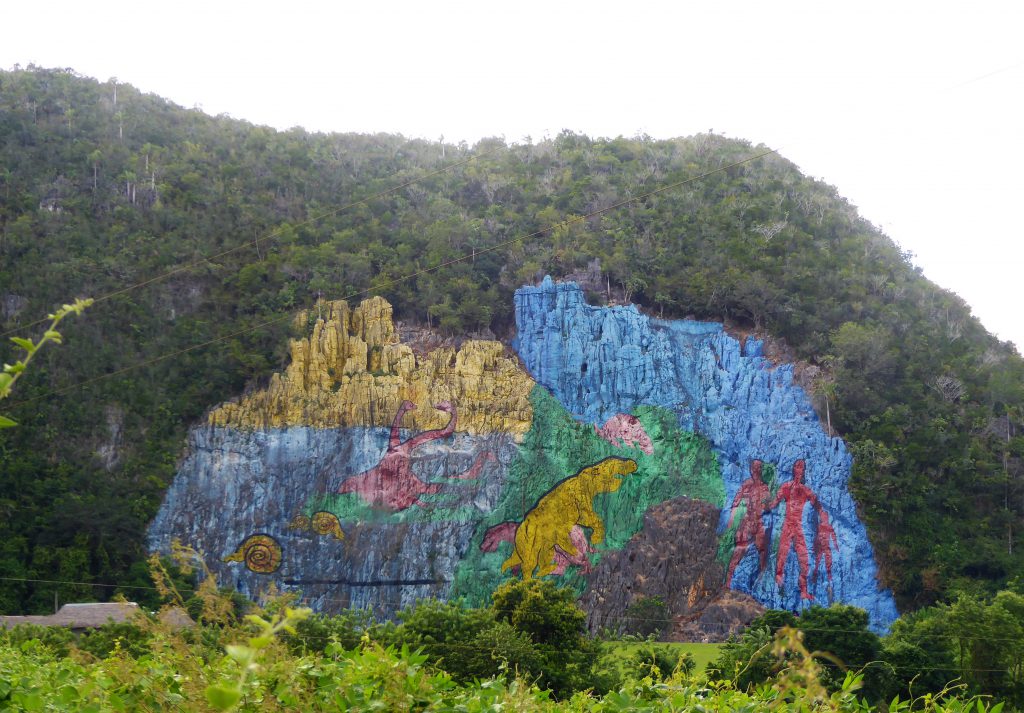 Seriously…tell me… this is a terrible drawing, right?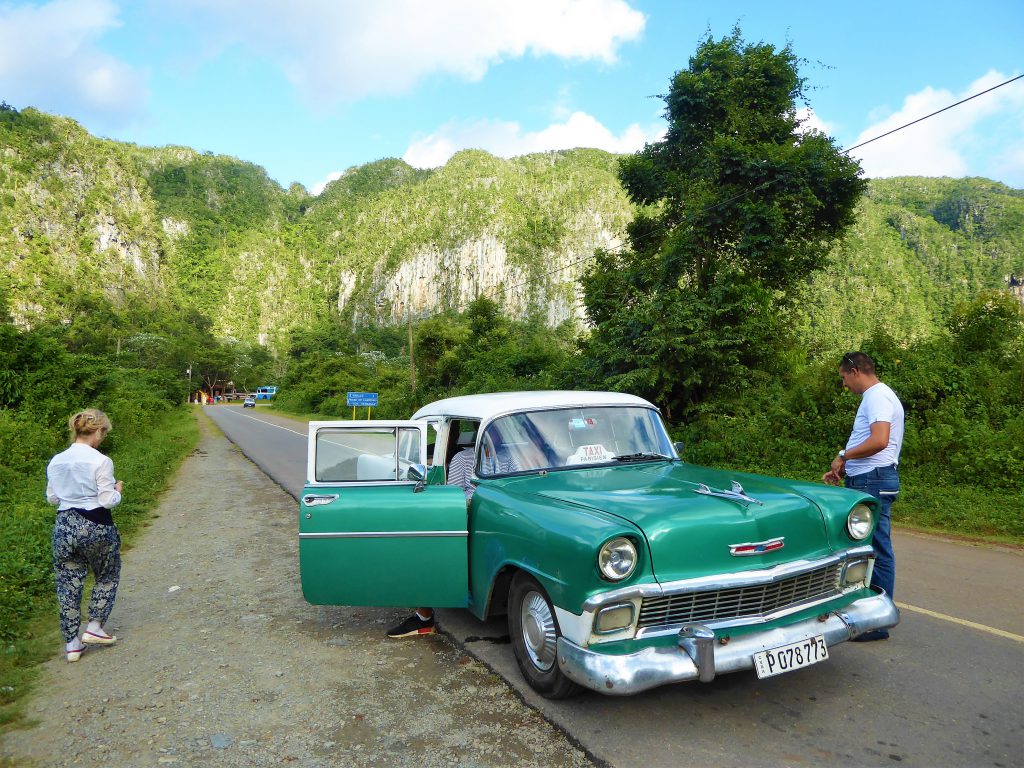 And in Cuba, of course, this is your transport!
Did you like this post? Then share it!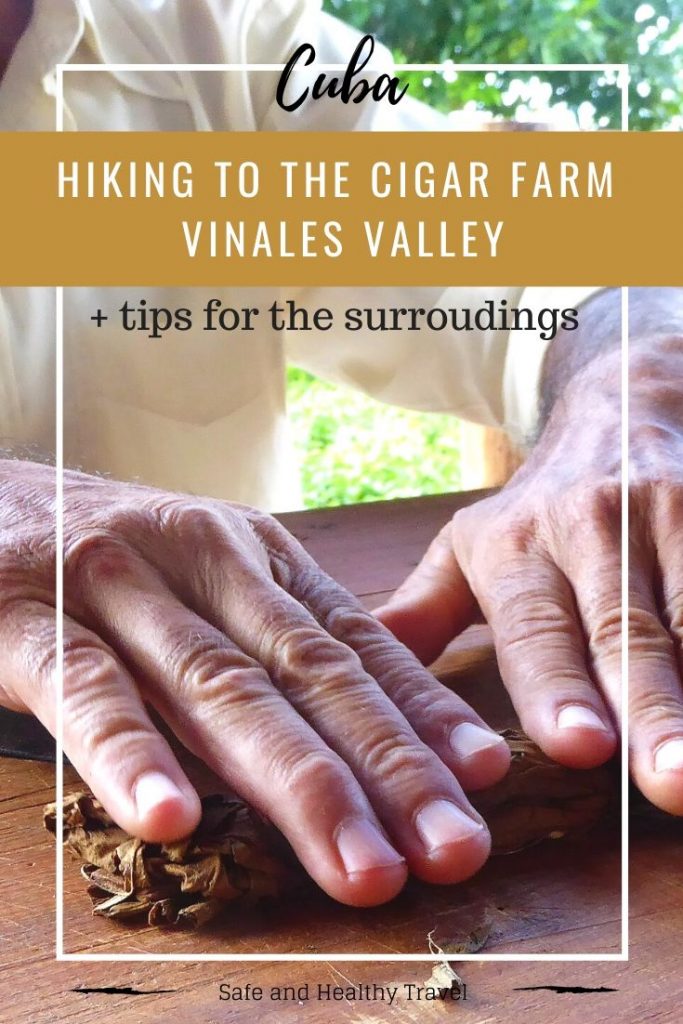 Want to read more about my travel in Cuba?
Cycling to the beach of Playa Ancon – Trinidad, Cuba
Horseback Riding Topes de Collantes – Trinidad, Cuba
Great streetpics of Havana – Cuba
Do you book a Casa or a Hotel? – Cuba
Walking through Colourful Trinidad – Cuba
Or can I inspire you to discover Bogota, Colombia?
I hope you love this world as much as I do!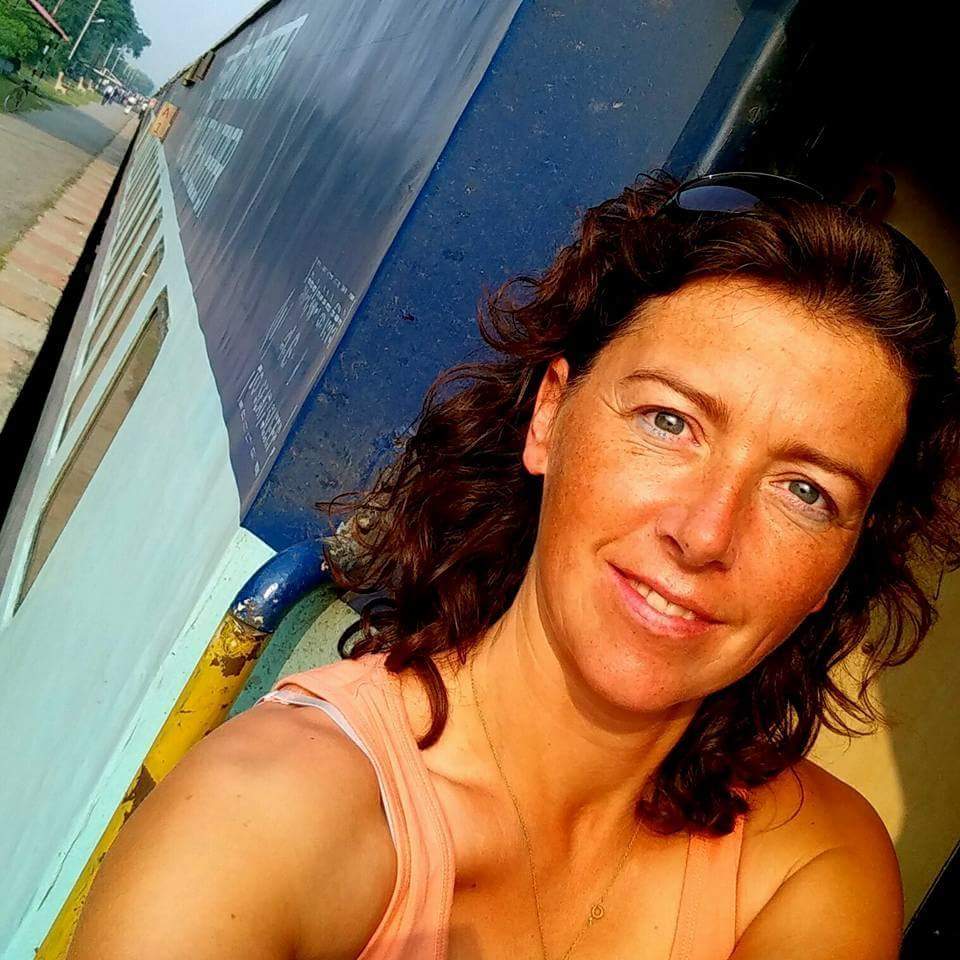 Jacomijn is een politieagent uit Nederland die jou graag laat zien hoe je veilig, actief en gezond de wereld kan over reizen. Safe and Healthy travel is a MUST