Early morning Activities at Hoan Kiem Lake – Hanoi, Vietnam / A Walk around Hoan Kiem Lake
|
Visiting Hanoi I knew I had to go to
Hoan Kiem Lake
early morning. I had read that on the internet while I was preparing for the trip.  A lot of people, young and old, would be there to do some exercise like Yoga or Tai Chi. I really wanted to experience that…maybe join…
So on the second day of my visit I got up early and went to Hoan Kiem Lake.  My hotel,
Rainbow Hotel
, was not that far from the lake so it took me 5 minutes walking to get there.
Early morning activities at Hoan Kiem Lake in Hanoi, Vietnam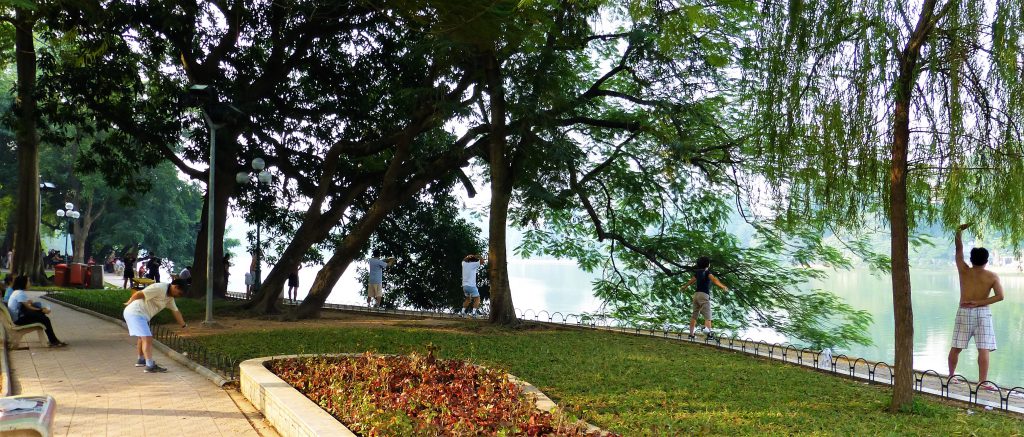 I was so surprised to immediately see people standing on the sidewalk, doing some work out, stretching and doing some kind of Tai Chi. I even heard some music and when I walked there I saw many people dancing. It was real nice to see those early morning activities at Hoan Kiem Lake.
Before I got here I intented to do some exersize myself but now…standing here.. I didn't dance myself, and I was glad nobody asked me 🙂  Although the music was everything from classic to poprock. And as you can see on the pics lots of people were dancing alone. It was mostly for exercising and next to it it seemed to be relaxing and fun for them!!
Healthy Lifestyle @ Hanoi – Vietnam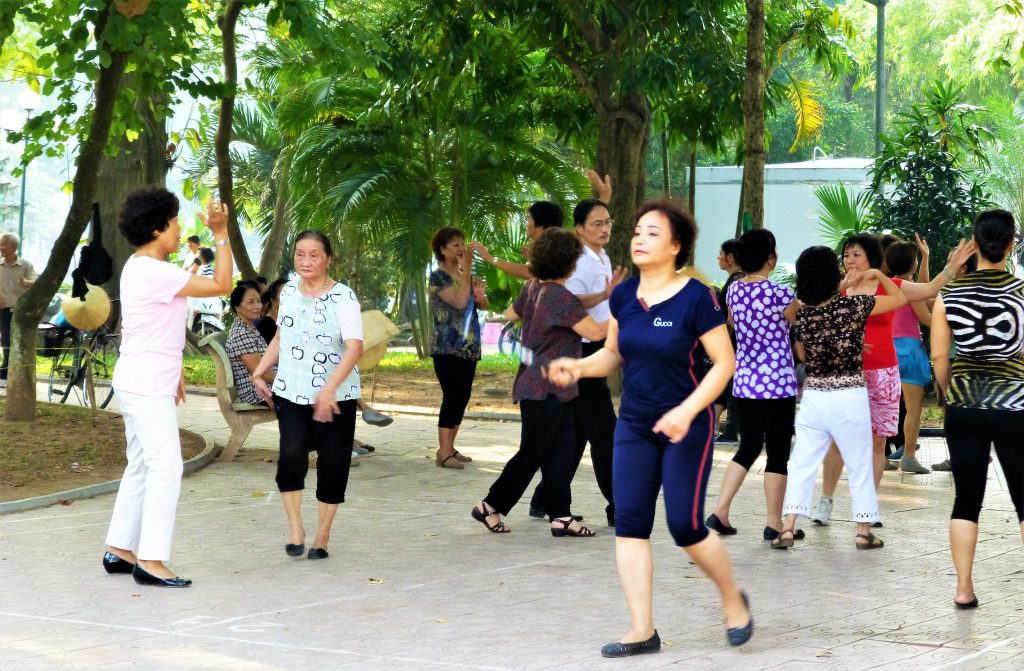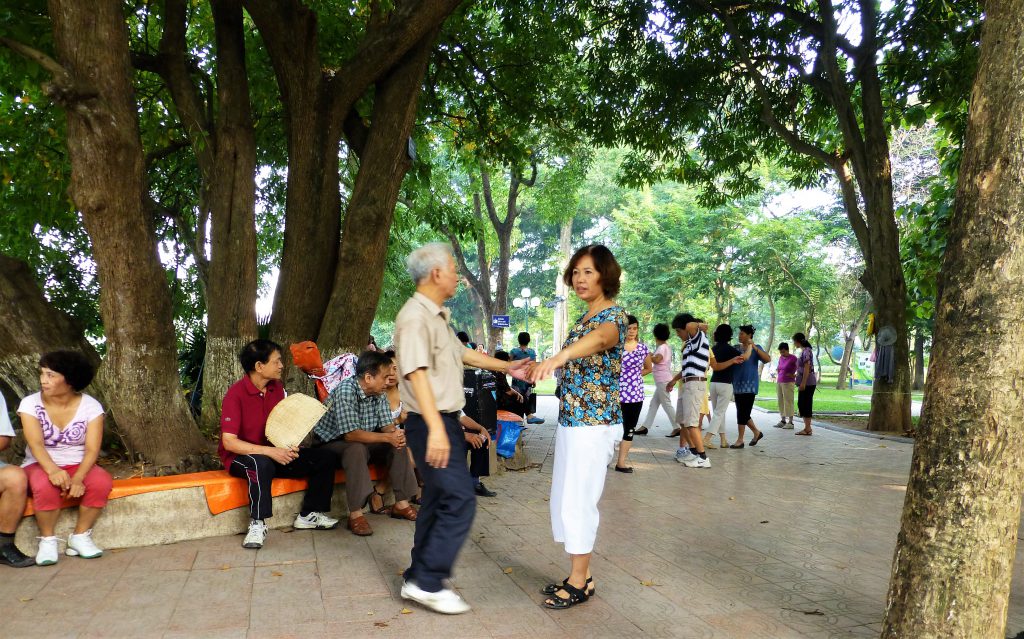 Early morning activities at Hoan Kiem Lake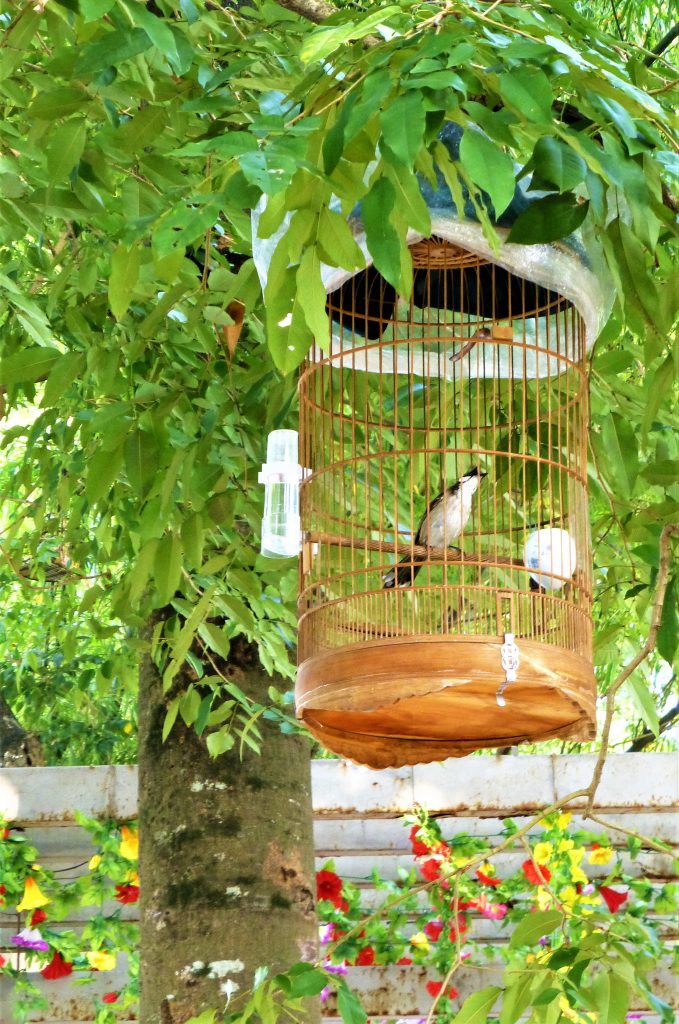 A Walk Around Hoan Kiem Lake – Hanoi
I saw birds hanging in the trees, people brought them with them! There were a lot of birdboxes hanging in the trees like this. You see that more in Asian countries where people have birds and take them everywhere…take them out in the streets for the day and in the evening back home 🙂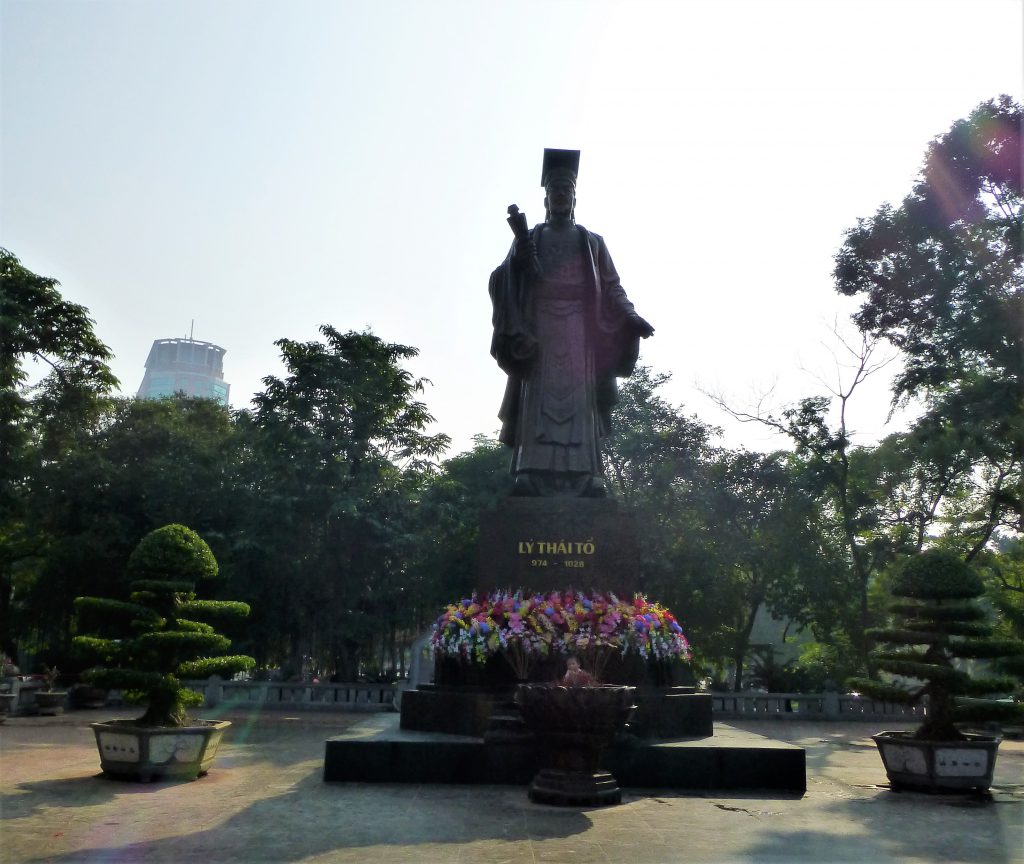 When I walked on to see more of the lake and its surrounding I stumbled upon this statue. The statue of Ly Thai To.
 Early morning activities at Hoan Kiem Lake
I saw it in a street near Hoan Kiem Lake. Just walk around and go several streets and come back to the serenity of the lake again. At this parc / statue there was probably some festivity the day before because there were a lots of flowers at the foot of the statue.
On the picture below you see the parc behind the statue.  The next day I saw a wedding taking place there.  The chapel in the middle was used for the ceremony.
How very nice for a wedding location?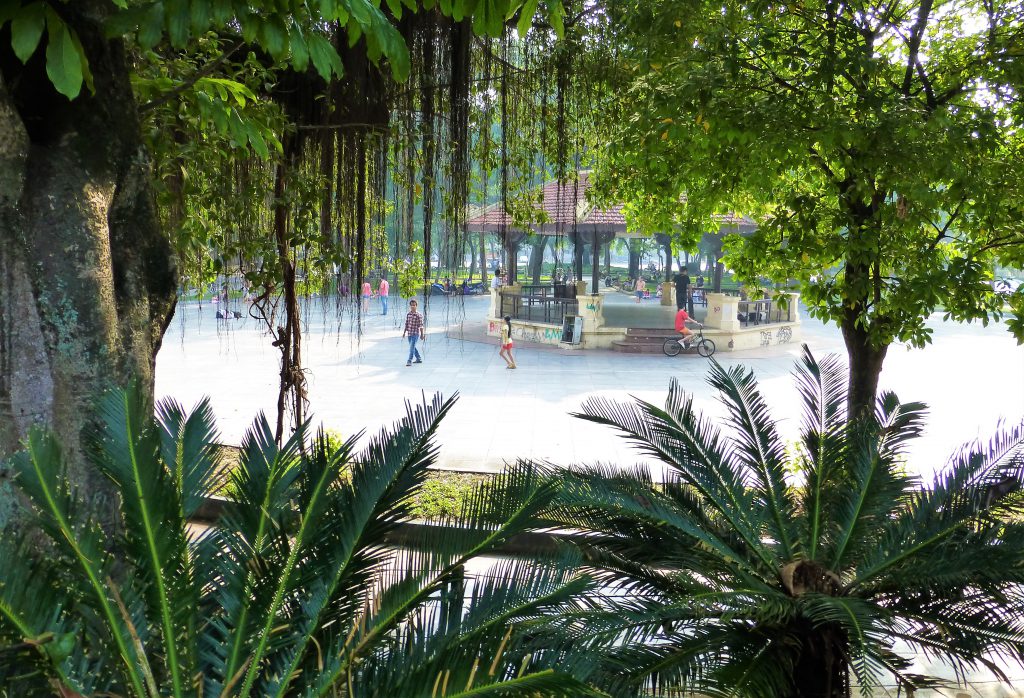 Walking on I came to the other side of the Hoan Kiem Lake and saw again lots of people working out. In the centre of Hoan Kiem lake you've got Turtle Tower (Tháp Rùa) I believe there is nothing in there anymore but it used to be the fishing site of the former king Le Thanh Tong.
Nice place for that activity ofcourse!!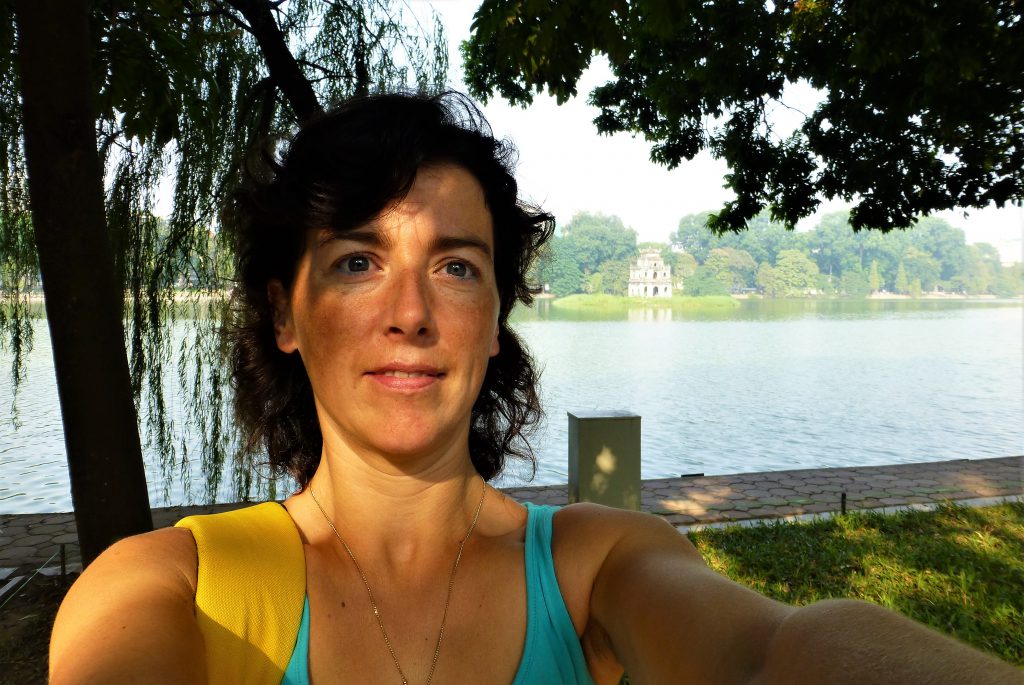 You see the Turtle Tower behind me?
Walking on I finally saw what I was hoping to see. A man working on his Tai Chi!! This is the image I imagened when I went here. And there it was!! I sat down for a while and watched his slow Tai Chi form. I loved every move he made. It was contolled and it seemed so peaceful. He wasn't looking up and I don't know if he knew that I wasn't the only one looking…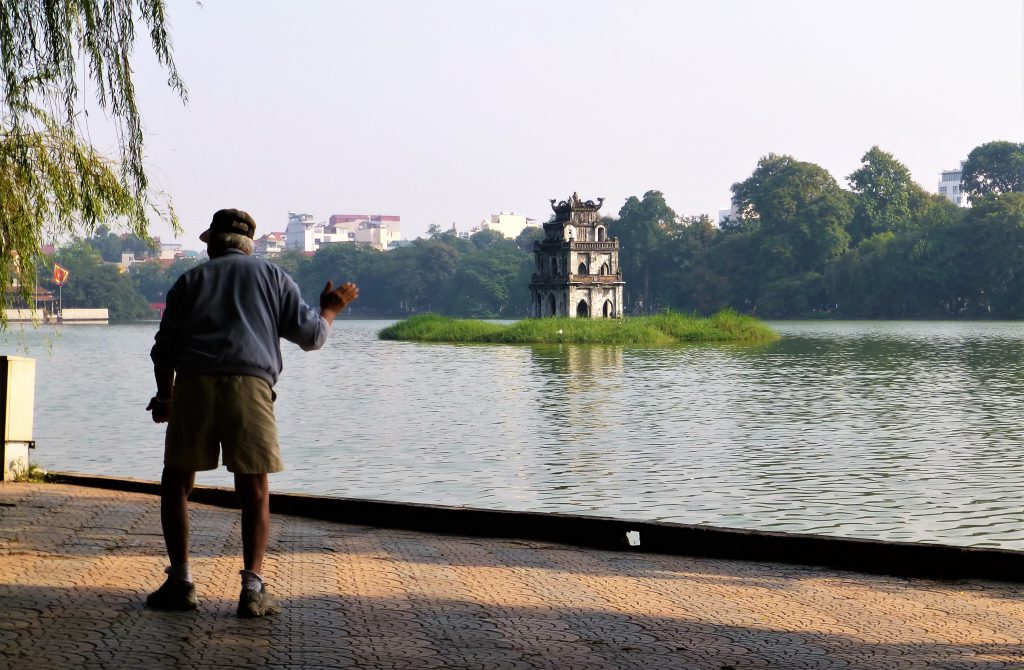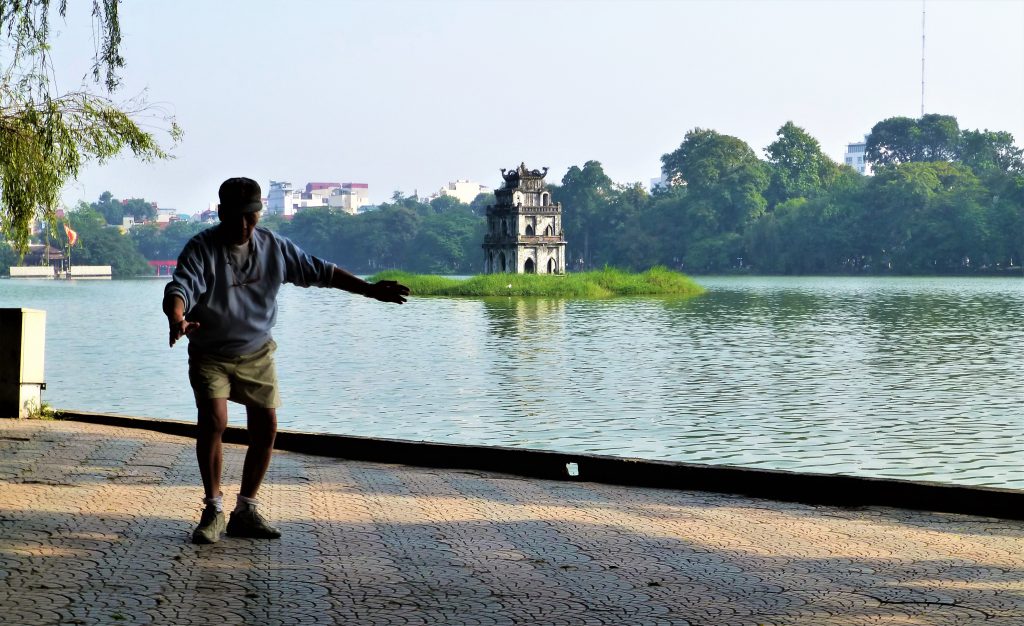 He was doing great!! Don't you think?
Early Morning activities at Hoan Kiem Lake, Hanoi Vietnam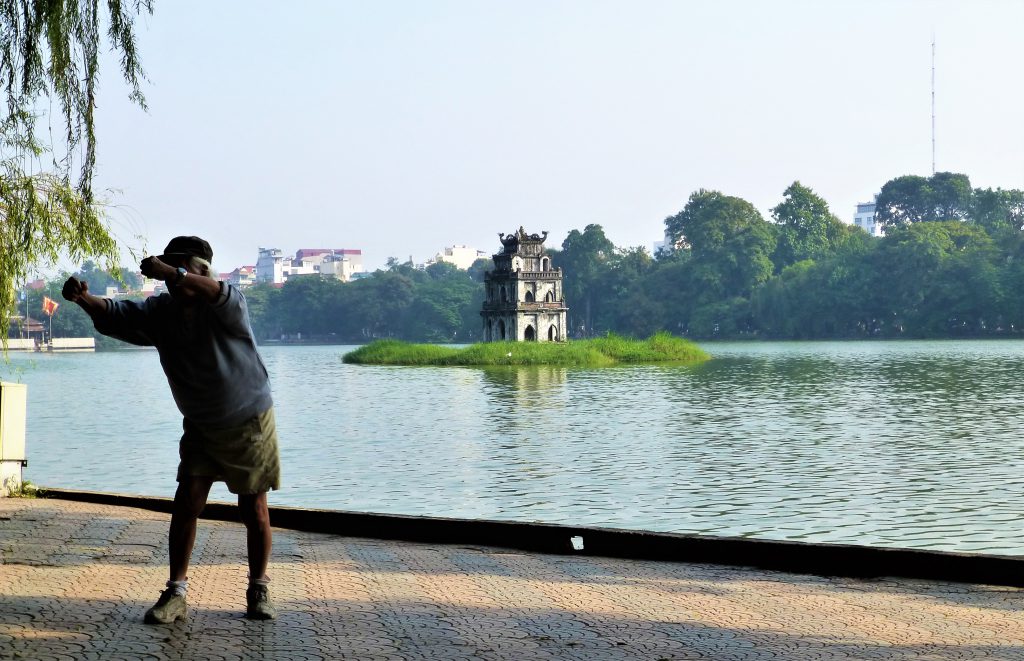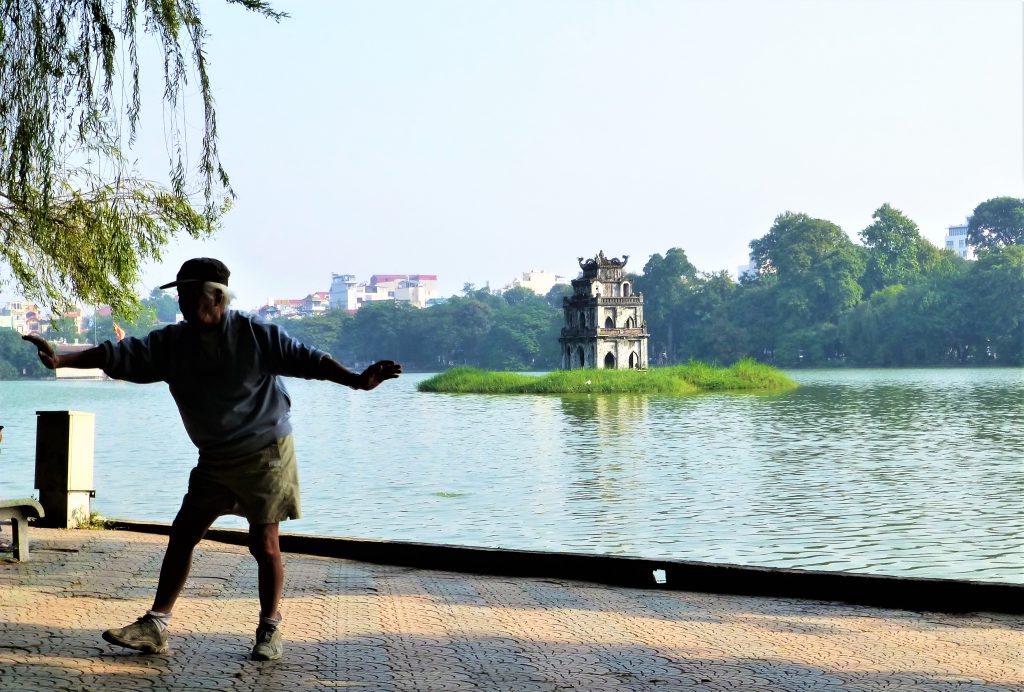 I sat here for a while. And loved every minute of it. It was exactly how I thought it would be. Isn't that great? That things turn out the way you hoped them to be? I felt so happy to be on my first solo travel for a longer time!!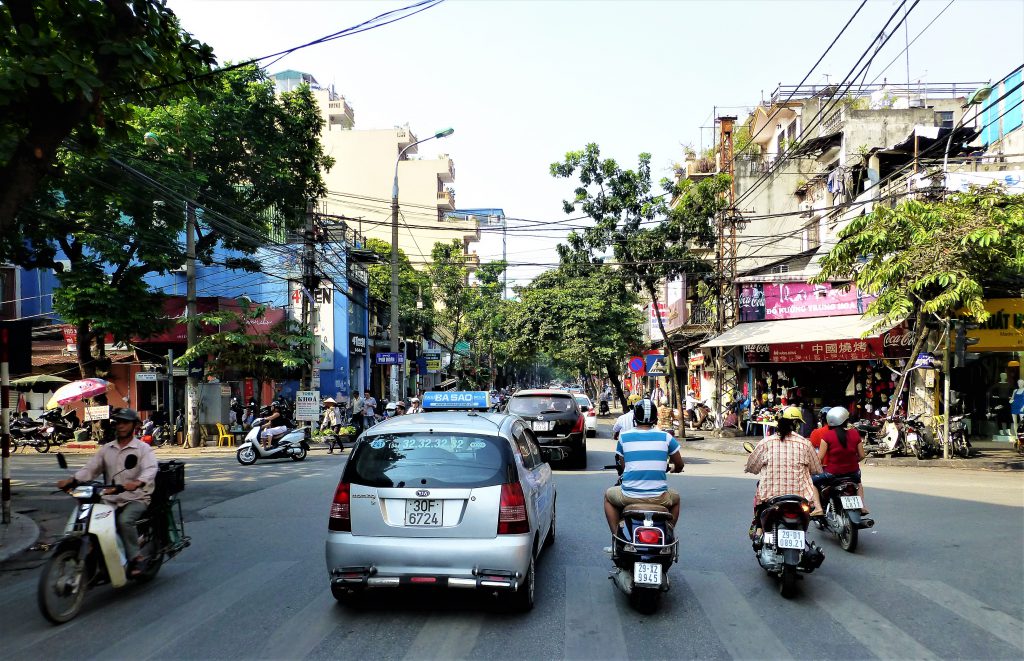 When I walked back, into the busy Hanoi traffic, to my hotel I really felt like the happiest person on the entire earth!!
Can you tell me when you had that feeling?
Being the happiest person on this world?
Love to hear from you!!
—
If you liked this post, will you share it too?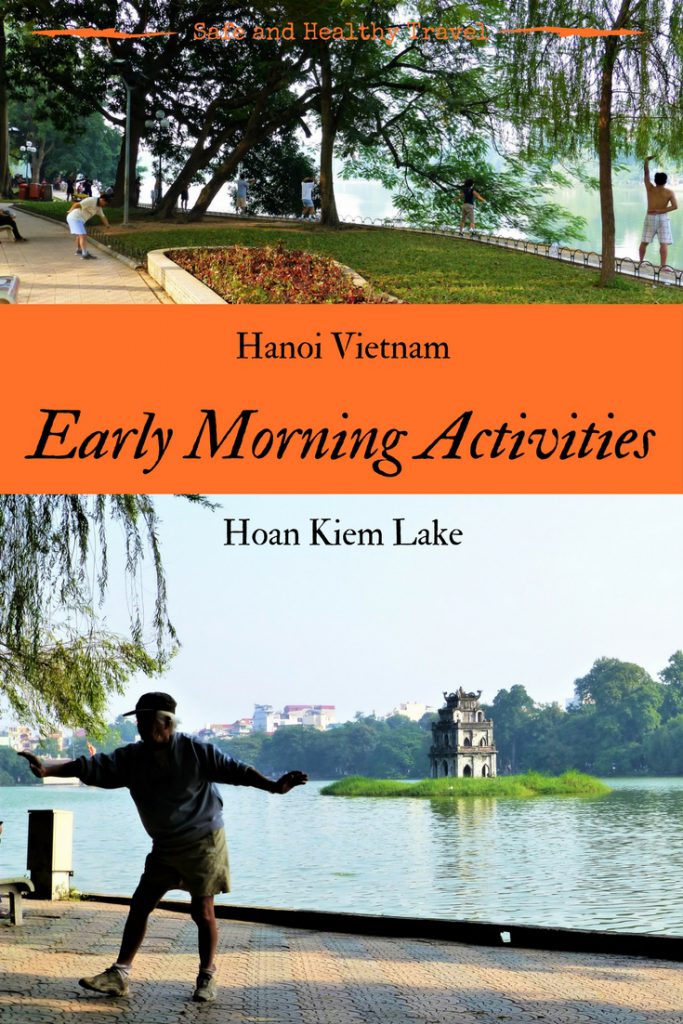 Do you want to see some more about my Vietnam travel?
The Fairy Stream and the Sand Dunes at Mui Ne
Or what do think about:
Holy Puja on the beach of Papanasam in Varkala, Kerala – India
Hitchhiking on a Shabbat in Israel
Or can I inspire you to go traveling in the Philippines?
Hope you love this world as much as I do!!
#Safe #Travels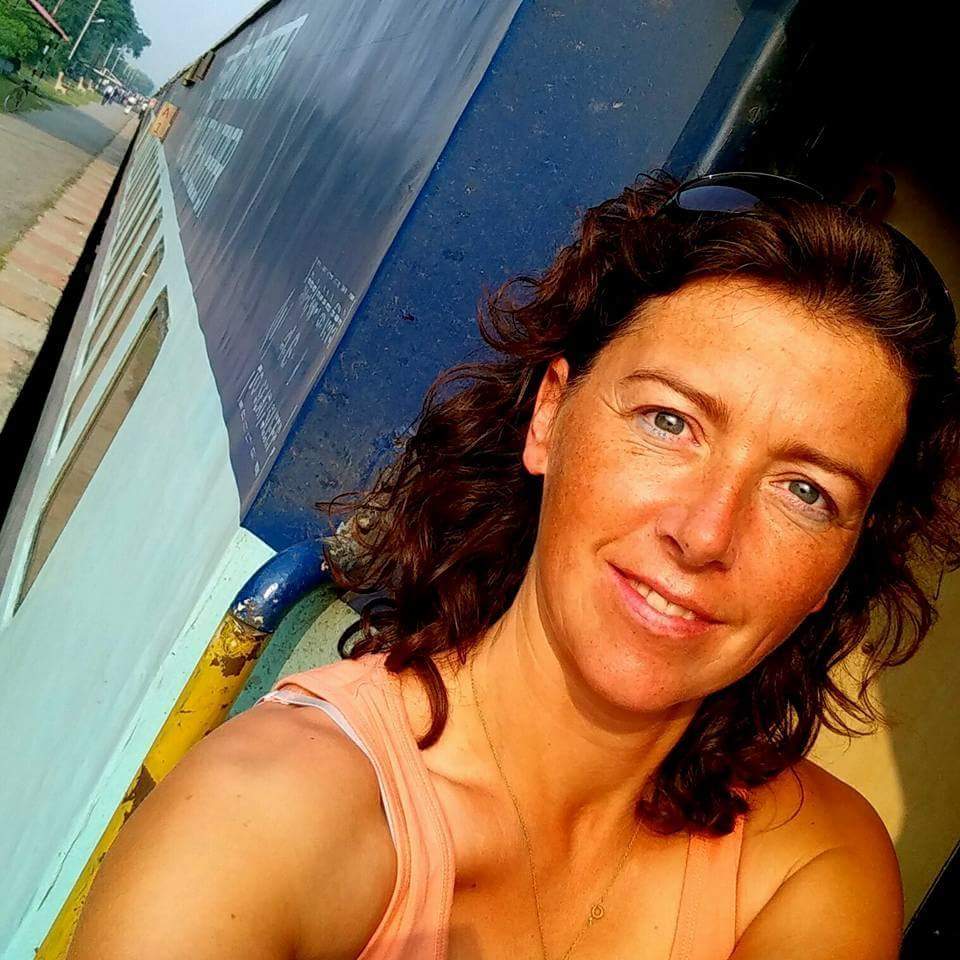 Jacomijn is een politieagent uit Nederland die jou graag laat zien hoe je veilig, actief en gezond de wereld kan over reizen. Safe and Healthy travel is a MUST