Cycling the Kattegattleden along the West Coast of Sweden
|
A couple of weeks before I went to Sweden I was cycling on a highway for bicycles in Germany and now I saw myself cycling in the Swedish landscape of Halland, a province on the west side of Sweden. The first cycle highway was called the R1 and now I was cycling the 370 km long Kattegattleden. Never before I thought about cycling long distances abroad but there are some ideas rooting in my mind…
Maybe I should cycle in Europe for a month or more sometimes… Bring my own tent.. #adventure
Voor de Nederlandse versie van Fietsroute Kattegattleden langs de Westkust van Zweden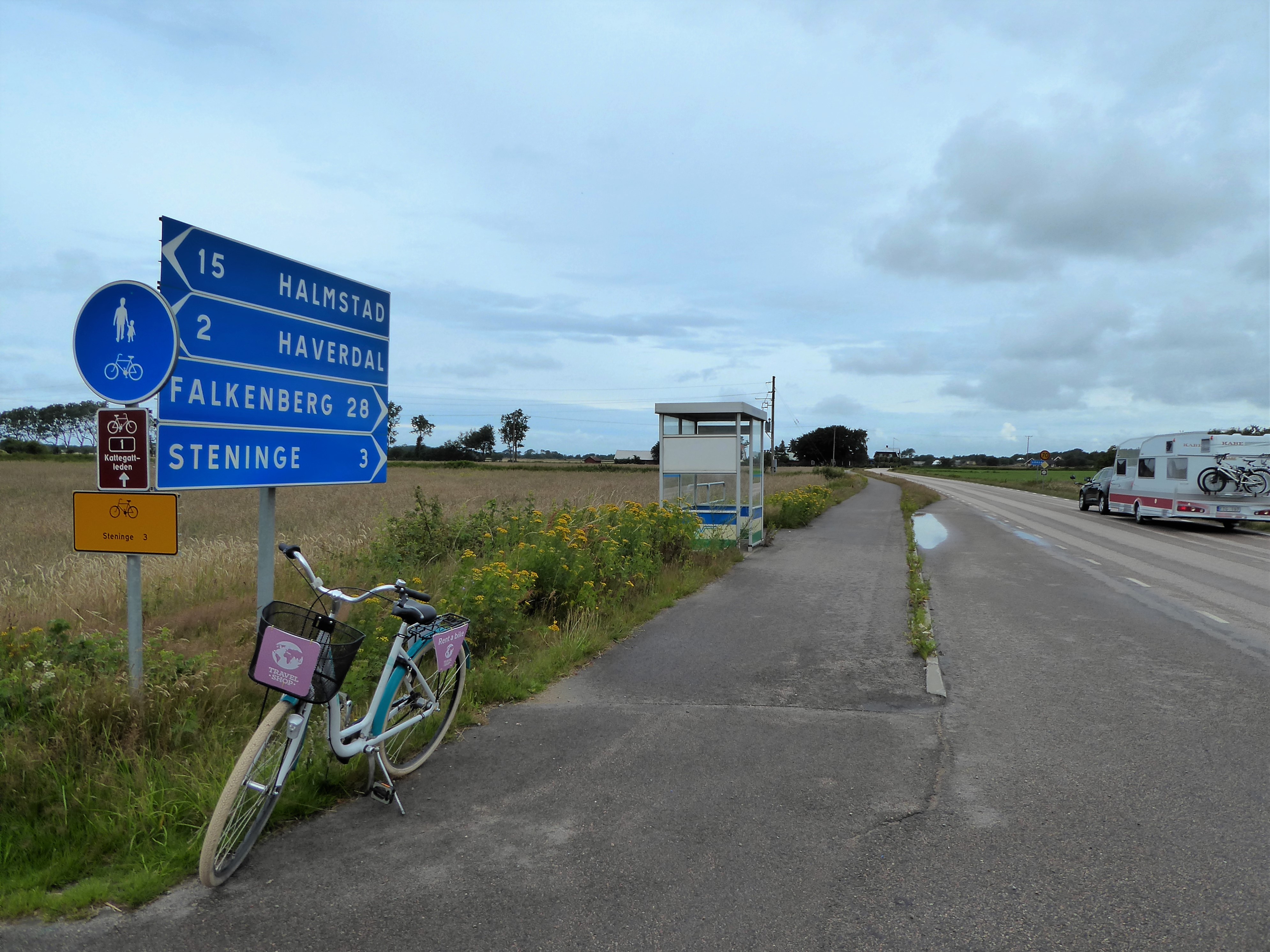 Cycling the Kattegattleden in Sweden
I got this trip offered through TBEX (Travel Blogger EXchange) in July and I was eager to except it! I love cycling in another country and experiencing the landscape and the country in that way. We started this cycle tour in Halmstad. Halmstad is a city in the province of Halland on the west coast of Sweden.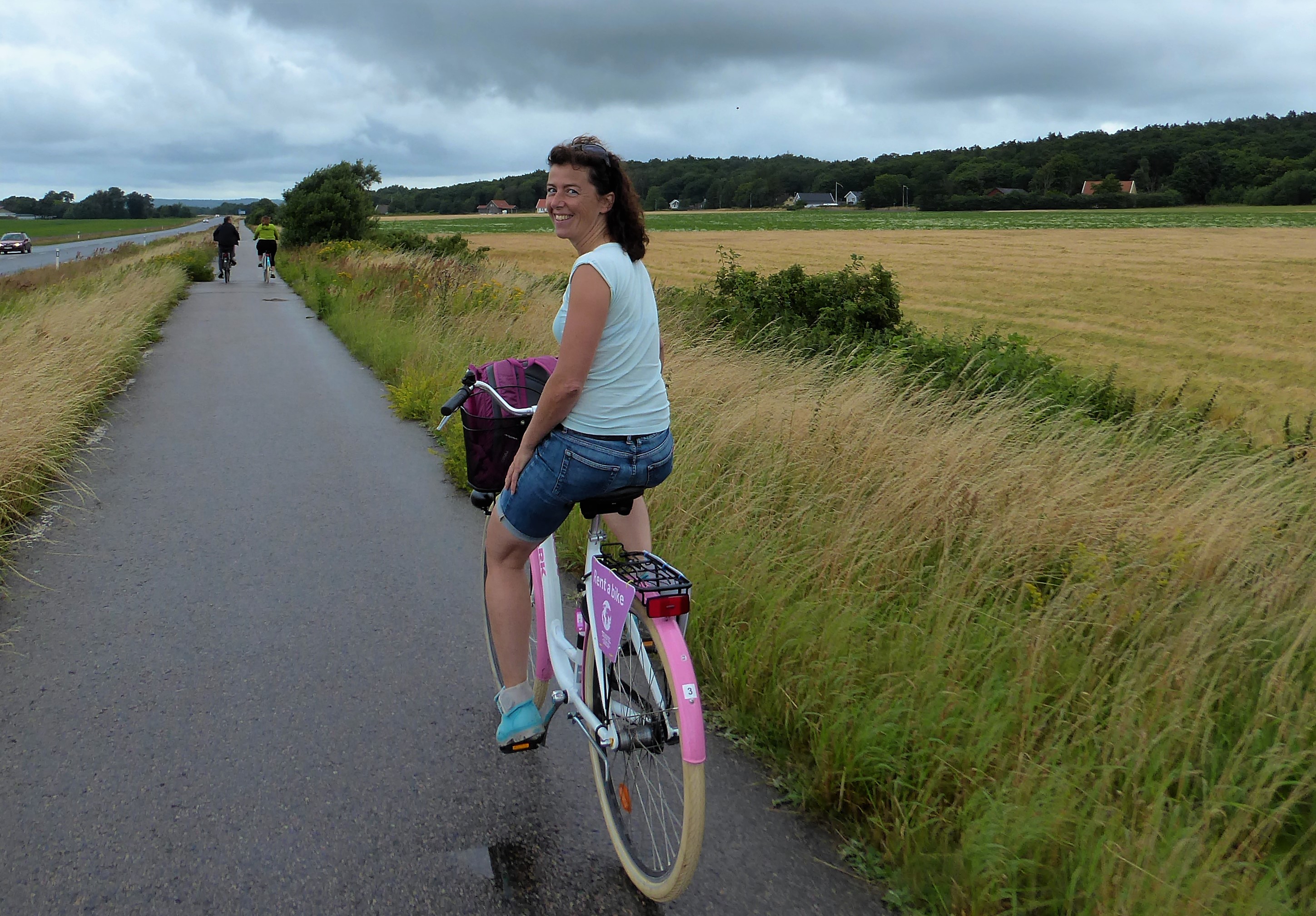 The Kattegattleden
The Kattegattleden is a cyclepath what leads you along the coast of west Sweden. The whole route is 370 km (230 mi) and will take you all the way along the coast of Halland, the province on the west coast of Sweden. If you would cycle the whole path you start in Helsingaborg and it will take you all the way to Gotheburg. All the way along the route are signs to take you the right way and it is possible to cycle it without even having a booklet with you. Although I would recommend one because there is a lot more information available and I find it nice to read the night before. Knowing what to expect and what the cultural sighting might be. You can buy these for 150 kr online, that is almost $17.
They have parted the route into 8 pieces so you don't have to cycle to much a day and know where you will go and stop for the night. The longest part is 70 km and the shortest only 20 km. If you want to do the route ih 8 days it is a good possibility.
Cycling the Kattegattleden, 370 km in 8 days!!
The cycling paths are good recognizable and most of the time they are not a part of the road meant for motorvehicles. So you have the road to yourself and the other cyclists. There are also walkingpaths that are seperate from the cyclepaths, so it is quite safe to cycle in Sweden. In summertime we have long days in Sweden so if you want to cycle till around 9pm it is possible. But there is a lot of streetlighting everywhere. They are used to short days of course in wintertime when it gets dark really early.
Safe cycling in Sweden – Kattegattleden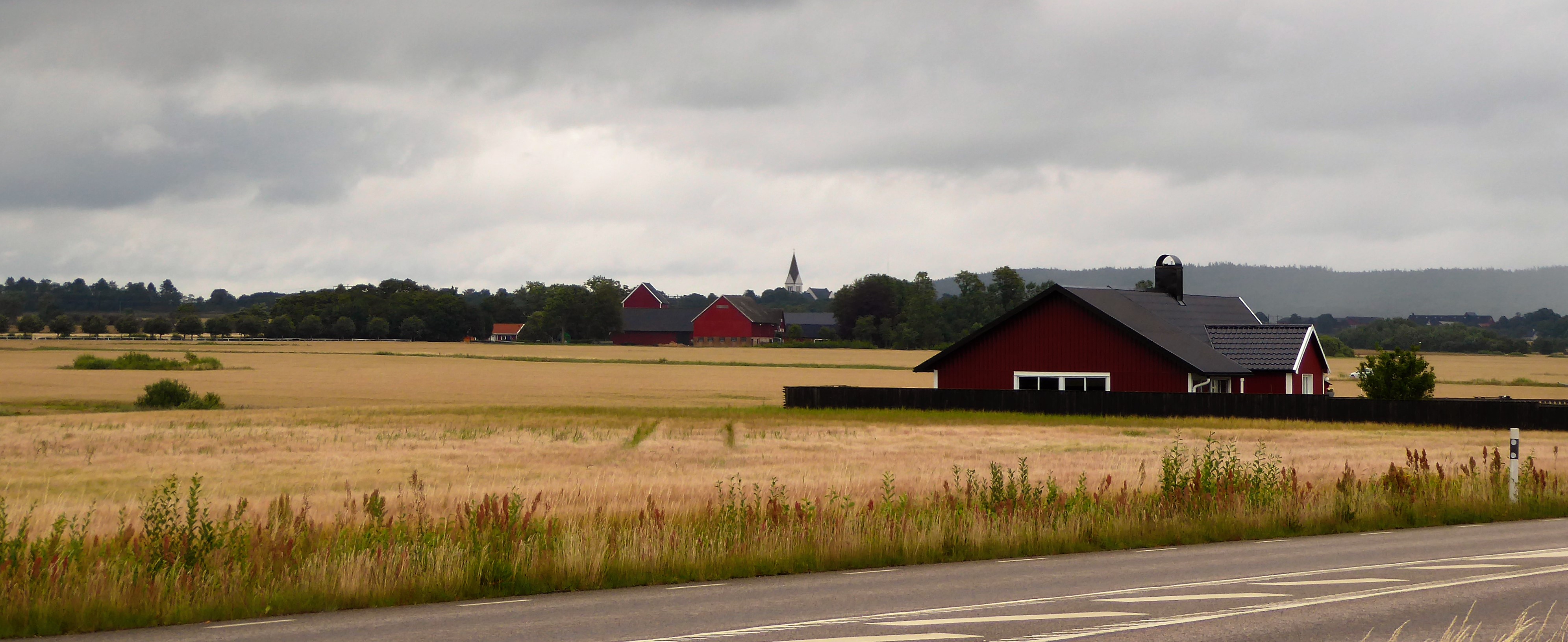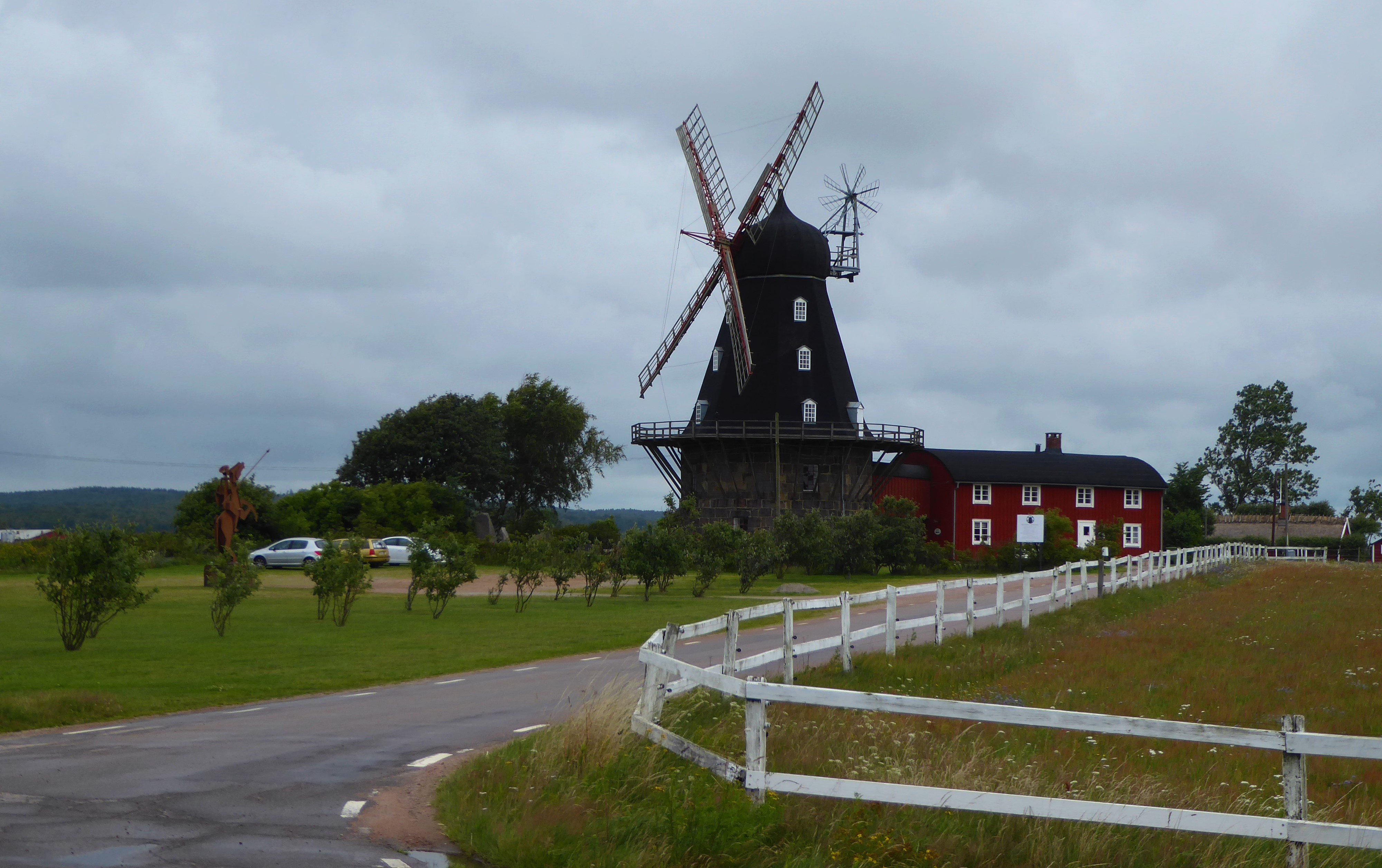 Nature along the Kattegattleden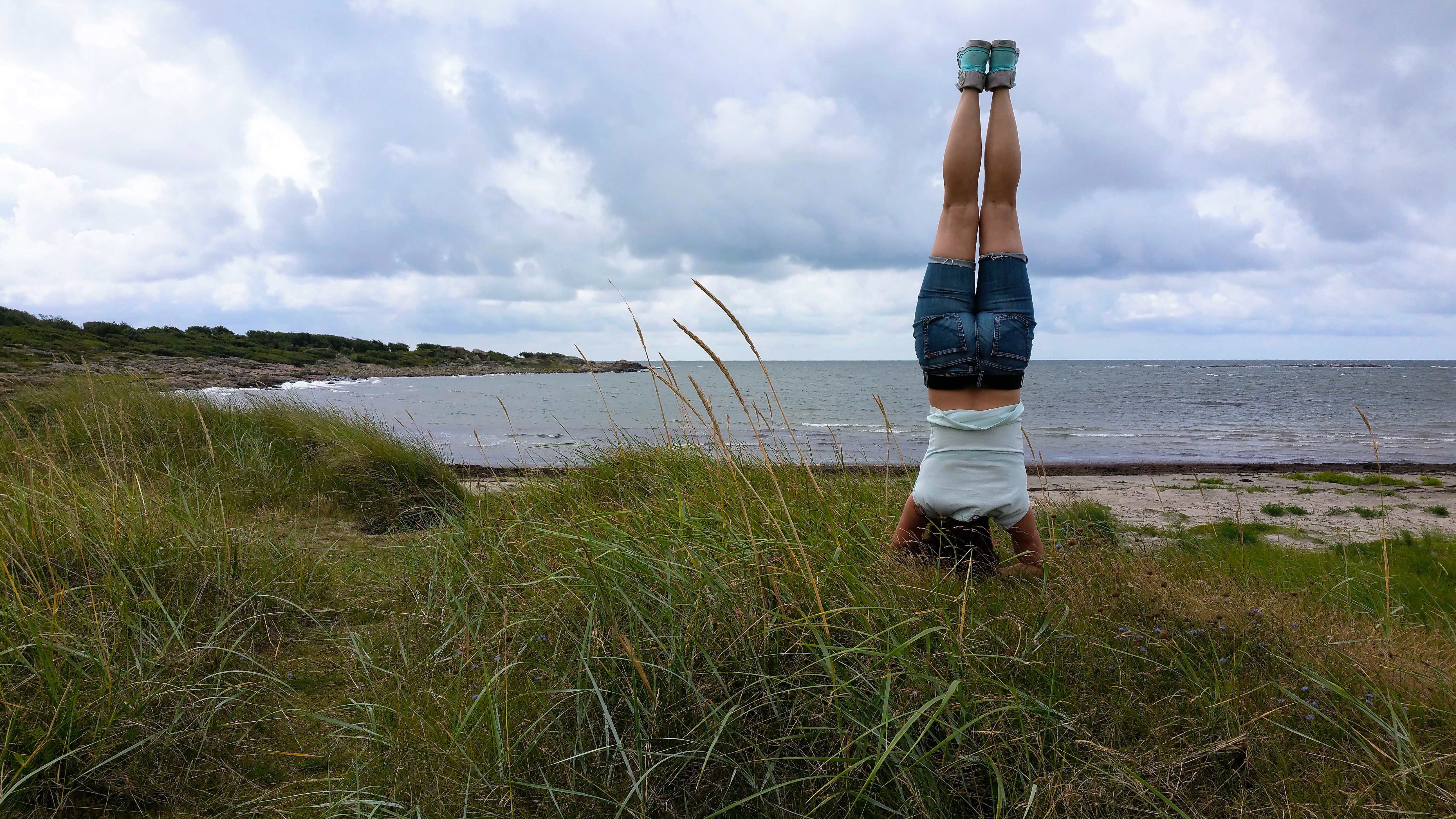 Along the Kattegattleden there is great nature to be seen. There are lots of protected parts to visit and so going off the route is a good idea. We did a mountainbike tour near Haverdal.
First we stopped at this great and lovely Bed and Breakfast. It is more a hostel only meant for cyclist and so not especially for the youth. It is called Steninge Vandrarhem, it has a great location and the house itself is wonderful decorated in the style of earlier days! I loved it! I will write a blog about that later 🙂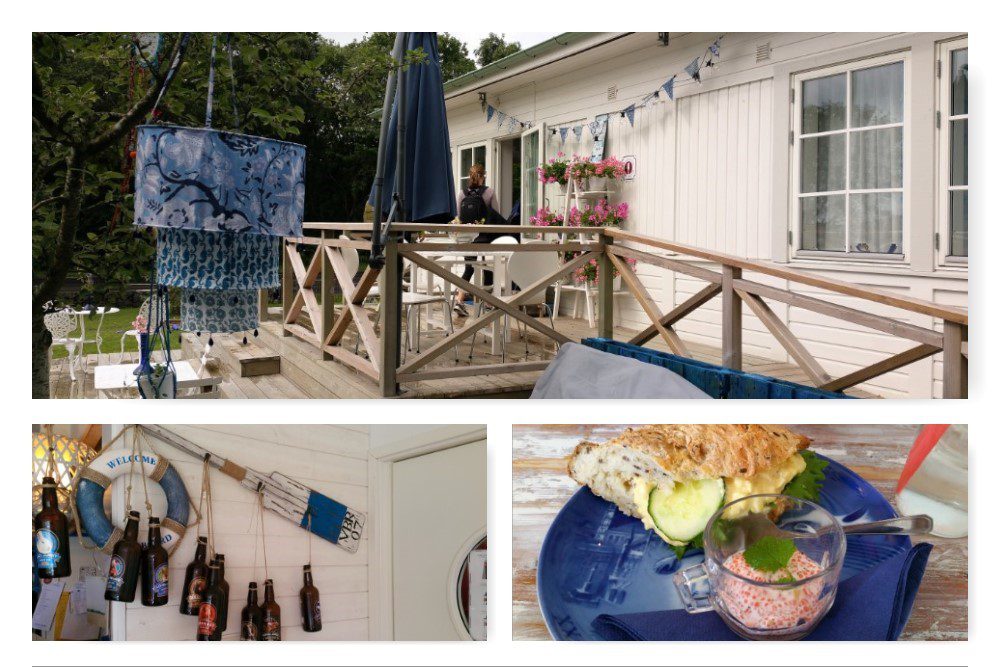 After a delicious small lunch we went for a mountainbike tour in the area. We went along the coast at first and then landinwards through meadows where the sheep and cows were gazing. I really liked this! To stop for a day and spend a night at Steninge and explore the surrounding, forest and beach, area is a great idea!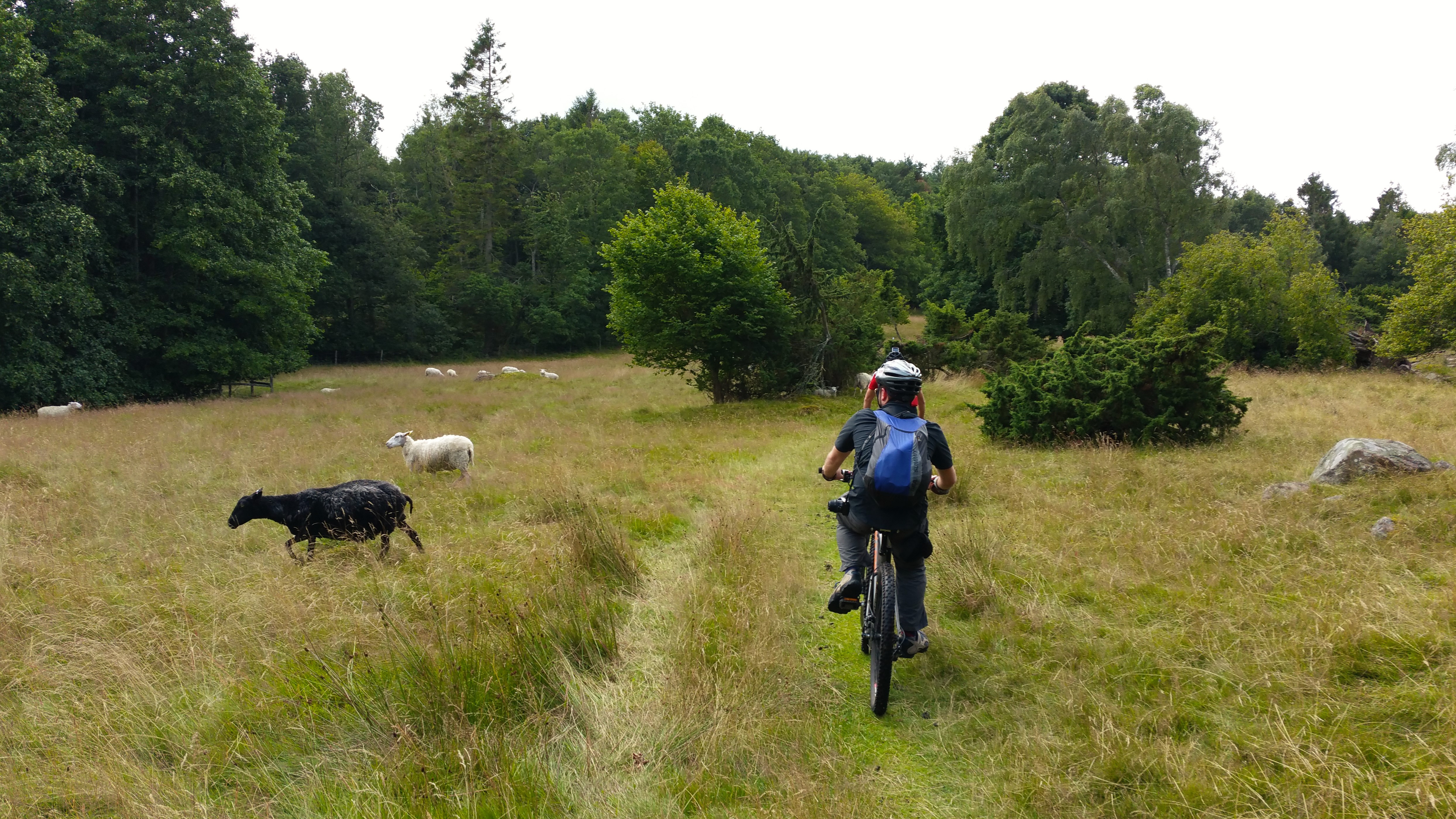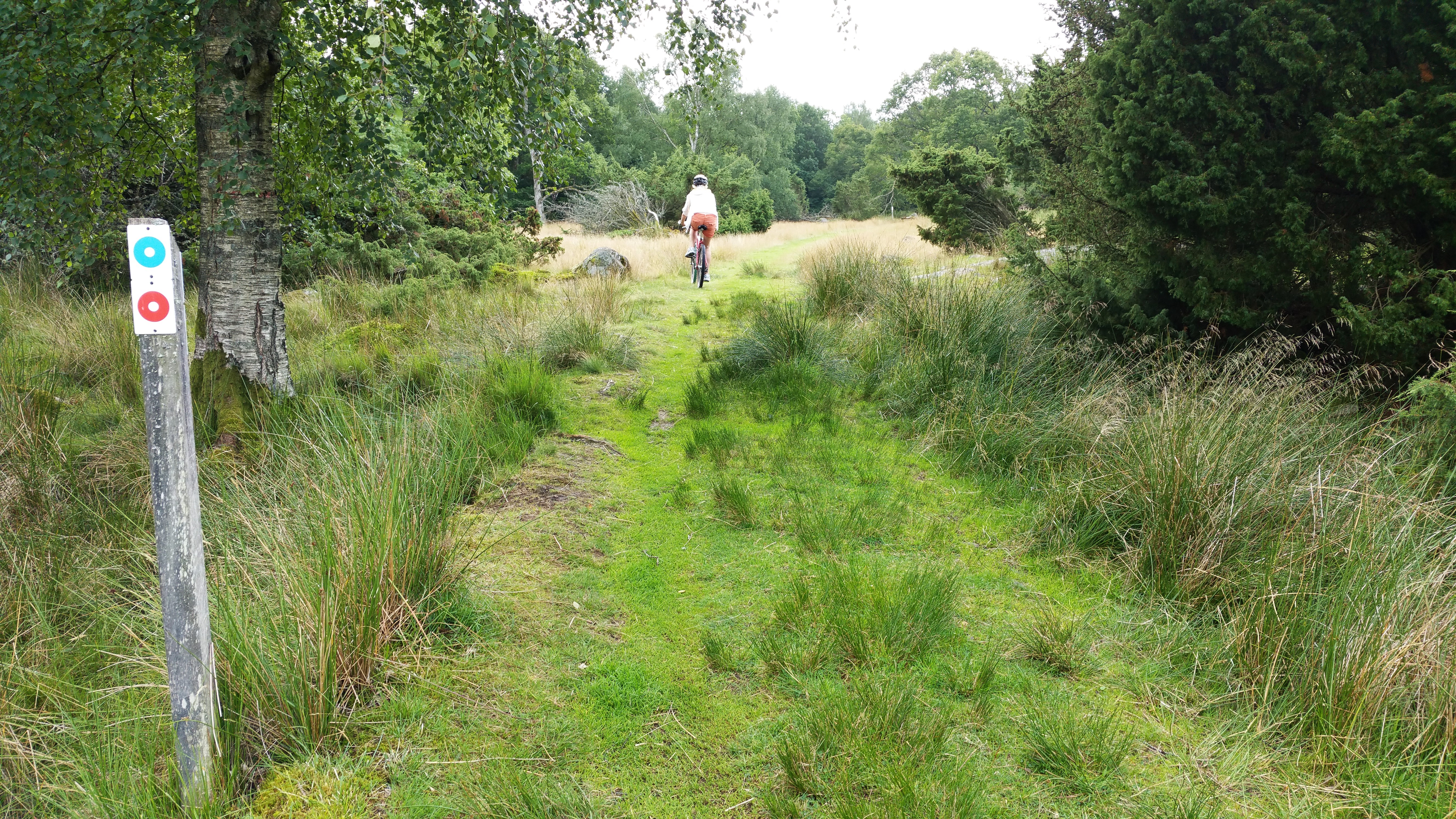 How to spend your night along the Kattegattleden
I heard about the allemansrätten in Sweden. This is a word I, as a Dutch girl, can totally understand. It means: the right of every man. So that means that every body can walk, cycle or use a piece of community land if they want to. And so…you can put up a tent somewhere for a night. It can only be done for 1 night…you can not stay there for a week or so… So it is great for using as you cycle along this route and you want to sleep out in a tent! You can also make a BBQ, I heard..as long as you do it safe!!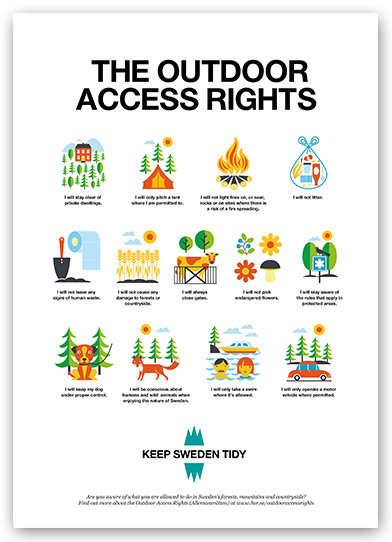 Click here you want to see the image better and read more about the allemansrätten
I do see myself doing a trip like this in the future. Going to cycle for a couple of weeks and taking a tent with me for most nights!! Of course it is comfortable to take a hotel once in a while 🙂 But being totall selfsupporting is a challenge to me!
I also saw all kinds of campingsites and places to park your camper. You can also use these sites when you travel with a tent to shower and do some laundry!
Hotel Tylosand
Along the coast are a lot of great hotels where you can get a good night rest after a couple of night ih a tent 🙂 Just to get your skin soft again 😉
We had a night in Hotel Tylosand in Halmstad.
A great hotel & spa and also the biggest Art Gallery of Sweden!! Co owner of this hotel is Per Gessle, I know him of one of the biggest hits they scored in my youth… Listen to Your Heart of the band Roxette. He was the male lead singer. I understand that he invested his money in art and exposed it in this hotel… making this the biggest art gallery of Sweden!!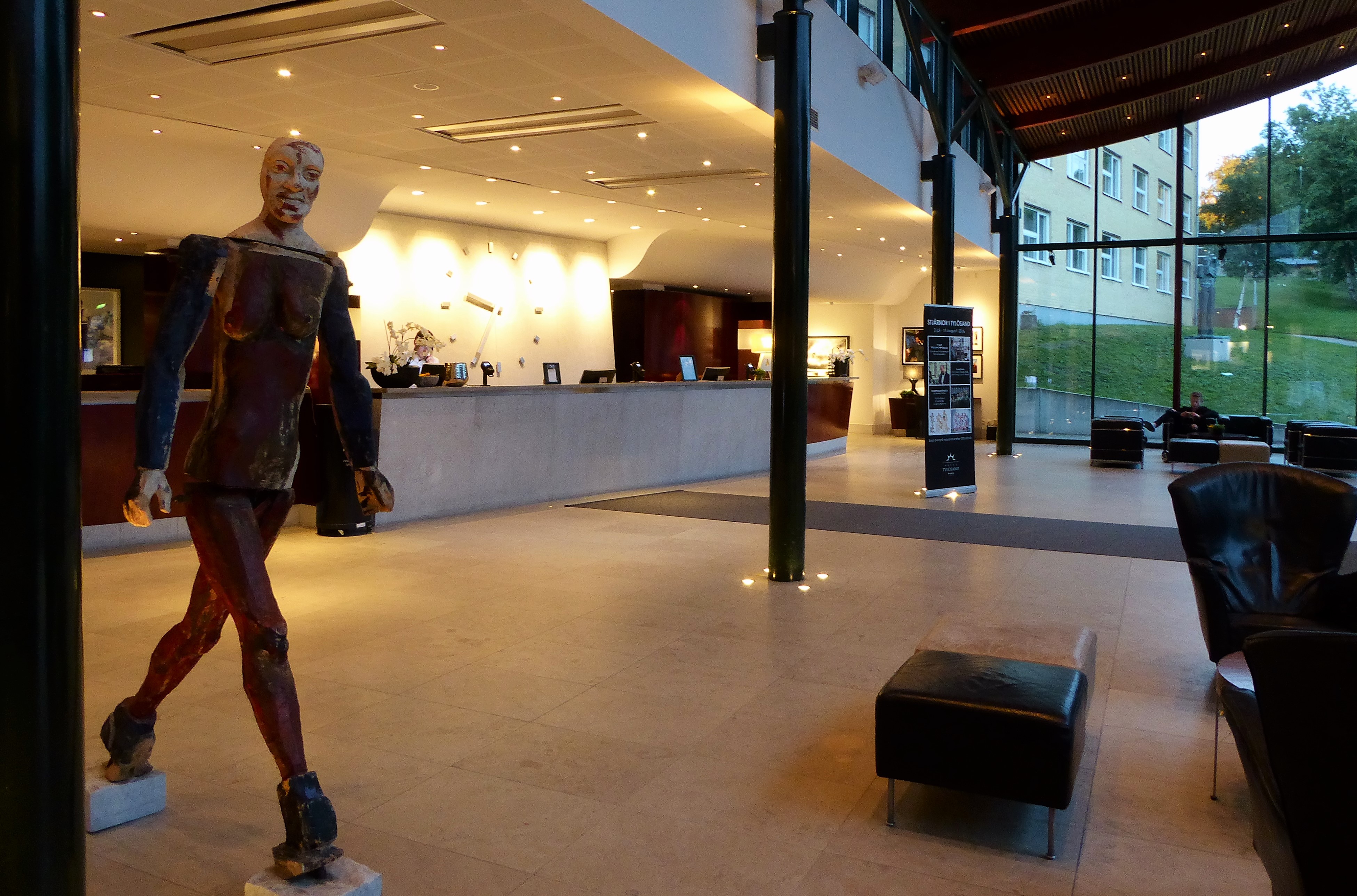 Reception of the hotel…with of course great art exposed!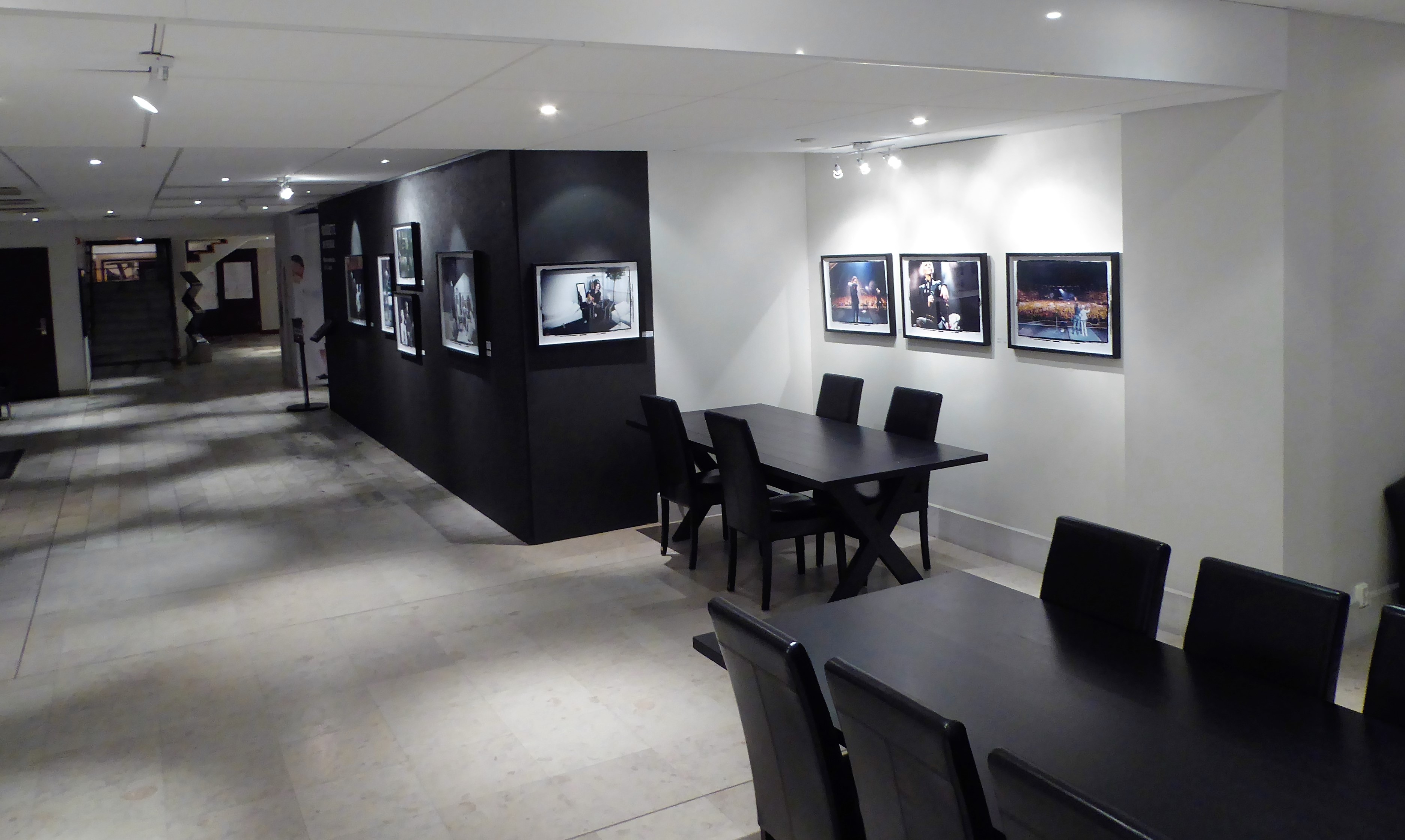 All kinds of paintings along the many walls of the hotel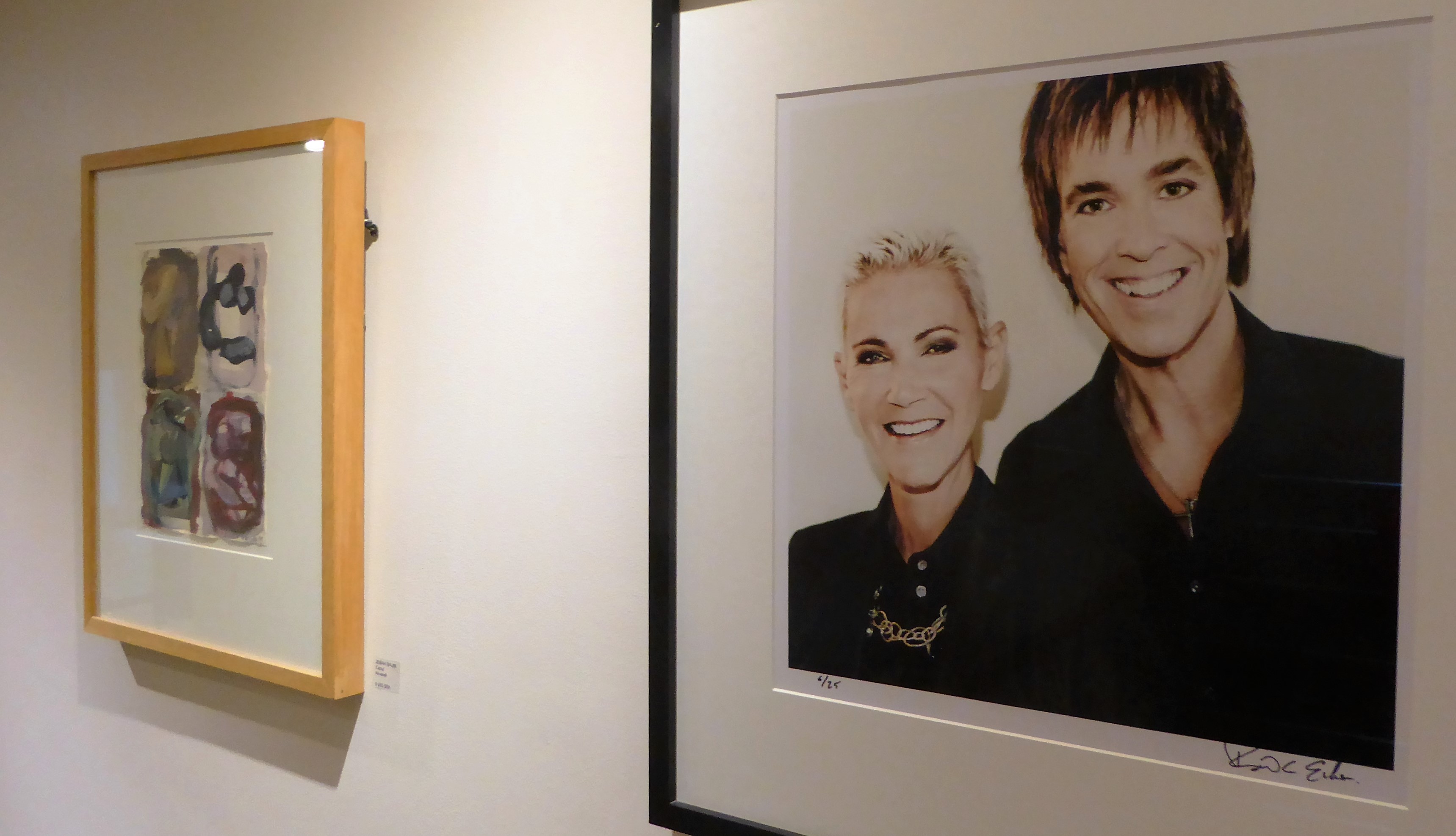 And of course a portret of Roxette!!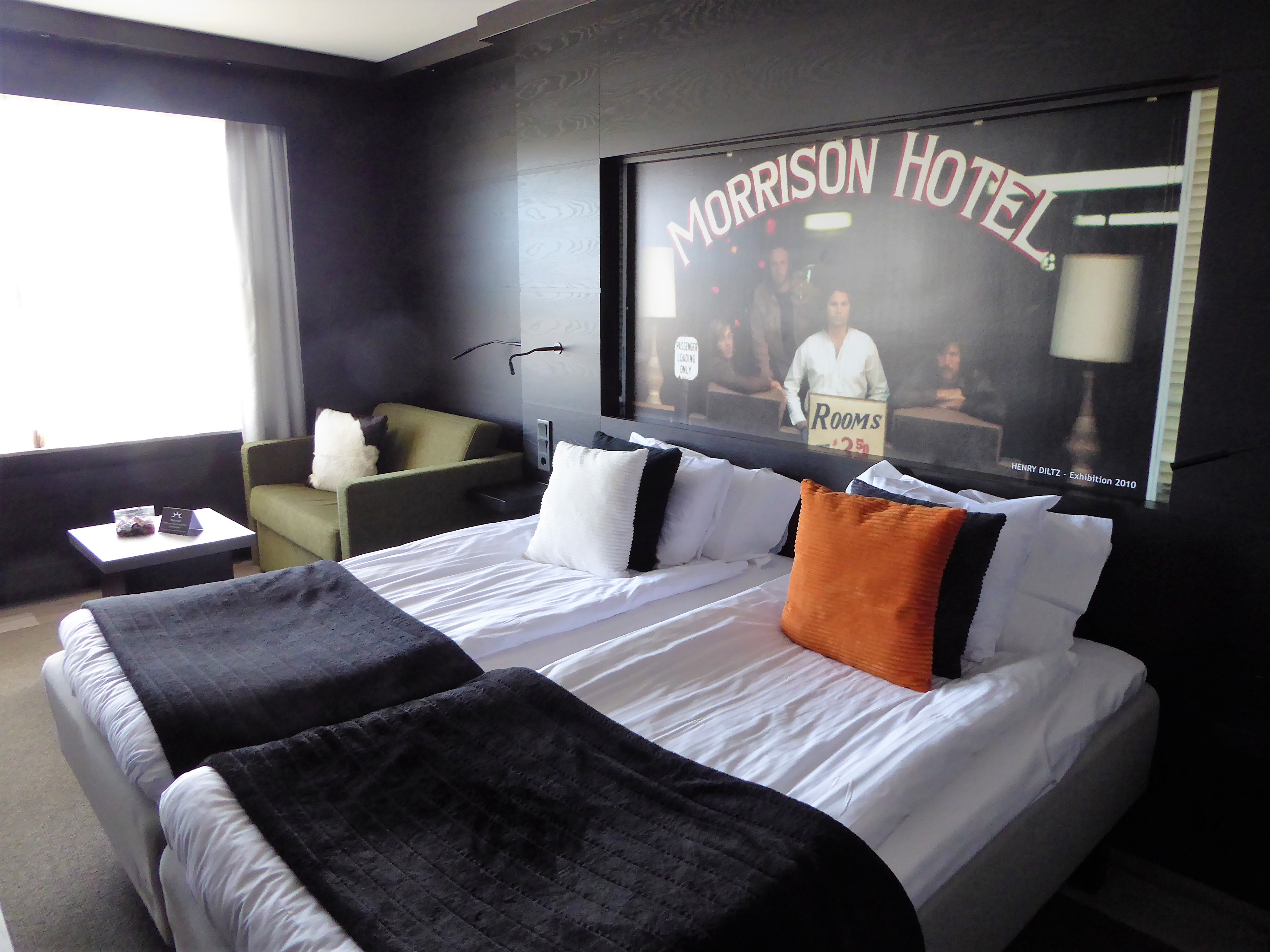 And what about my hotelroom? Also in style! I loved it!
In the summer season they have concerts every day, isn't that great? During the afternoon there is a free concert and in the eveningtime they have one free for guests and paid for the neighbours!! I really loved this! The terrace of the hotel goes right to the beach so you can stroll along the beach, having a great view from the dunes and listen to the music.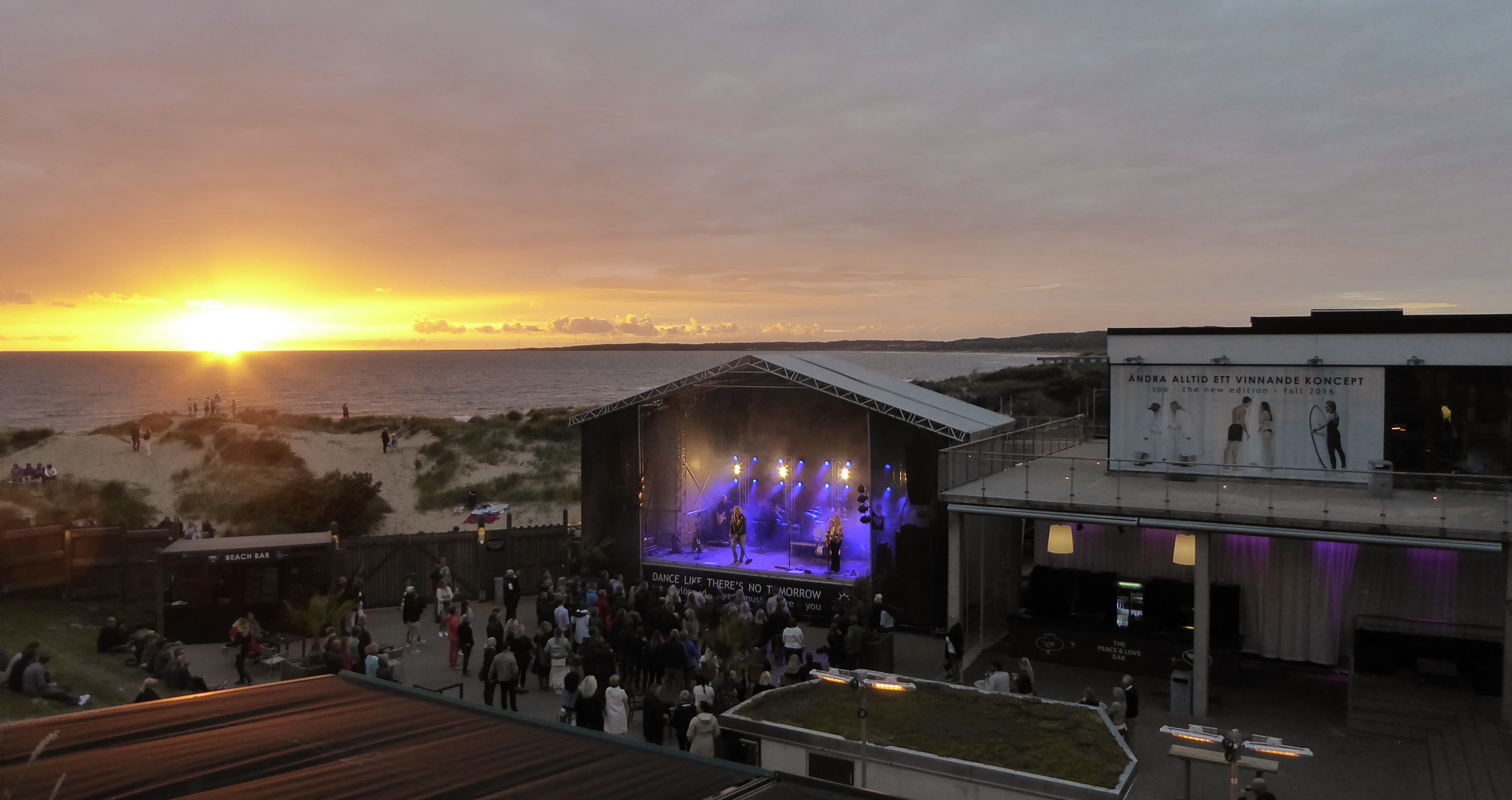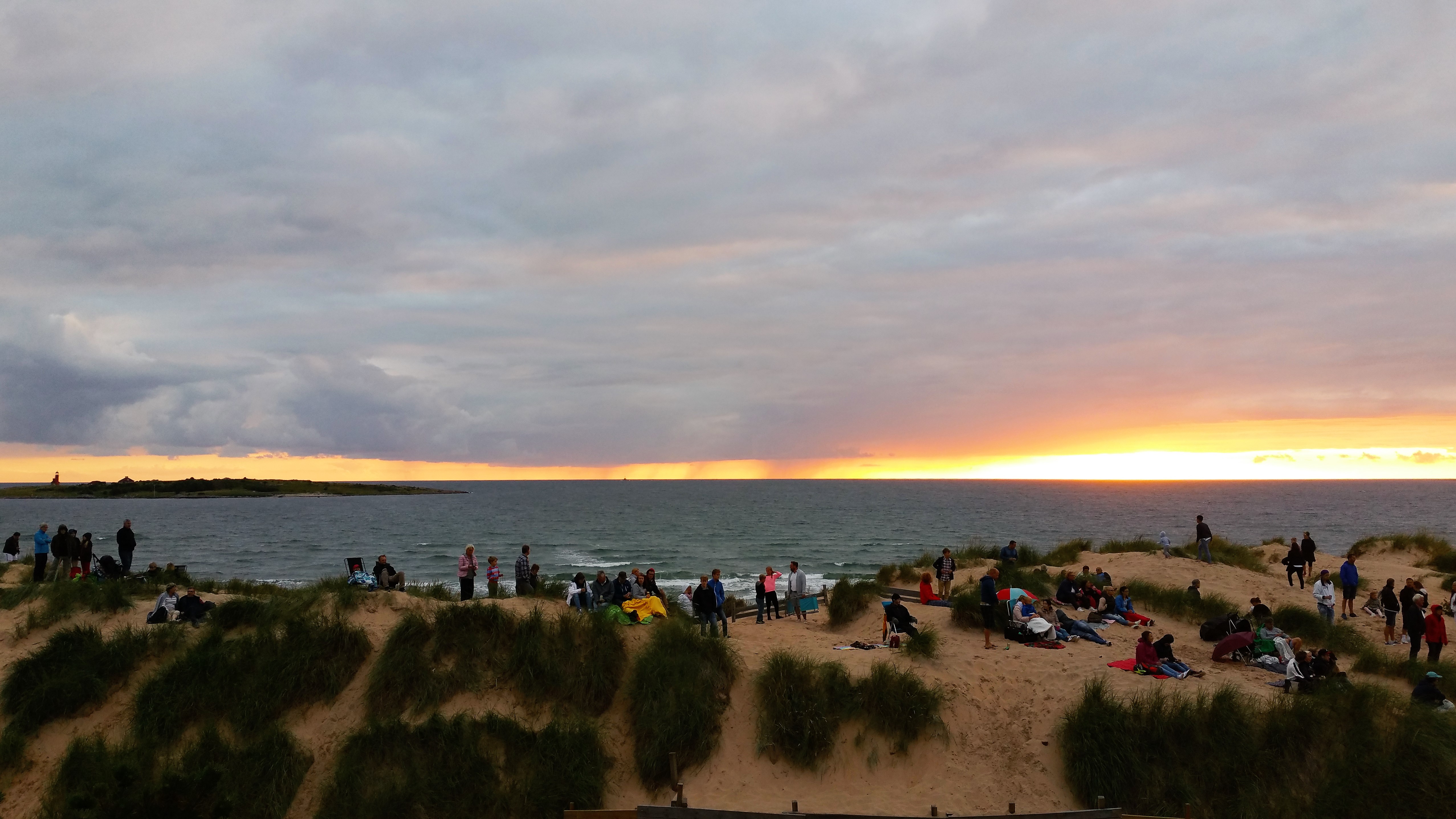 What a great night!! Every body was enjoying the concert and the great sunset!!
What a great way to end a great summer day in Sweden!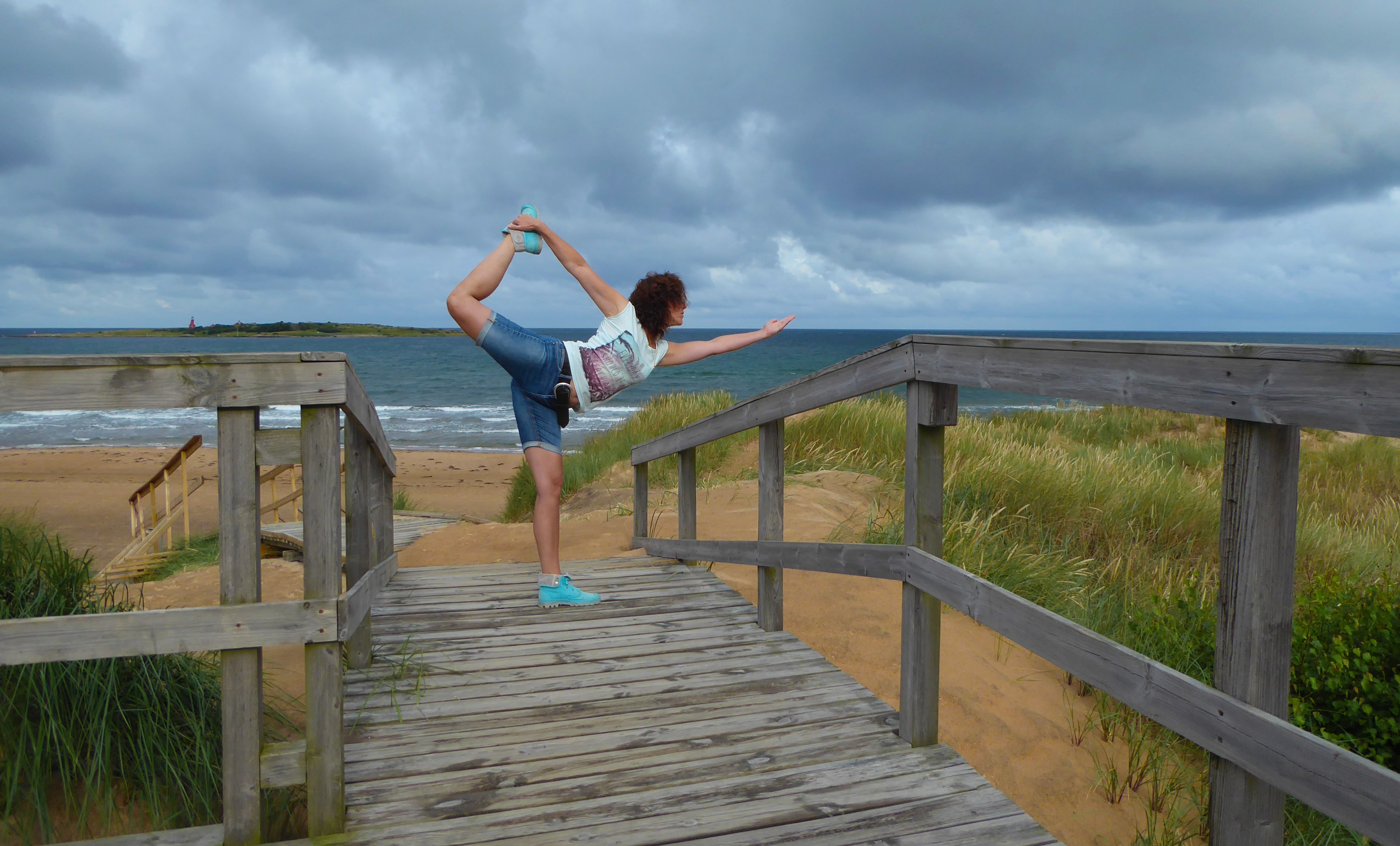 And what about the start of my next day?
Doing some relaxing and stretching with this great view!!
Kusthotell Varberg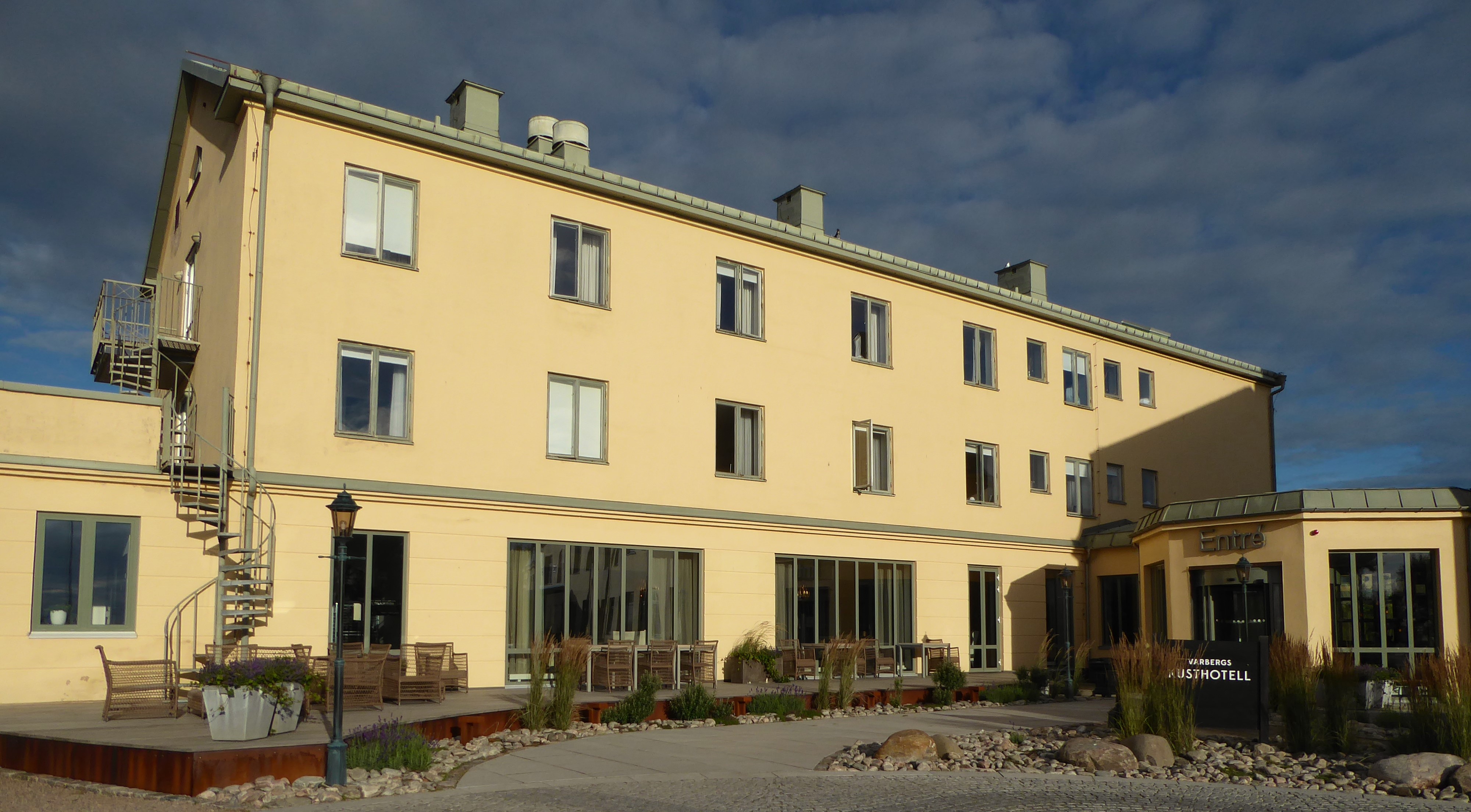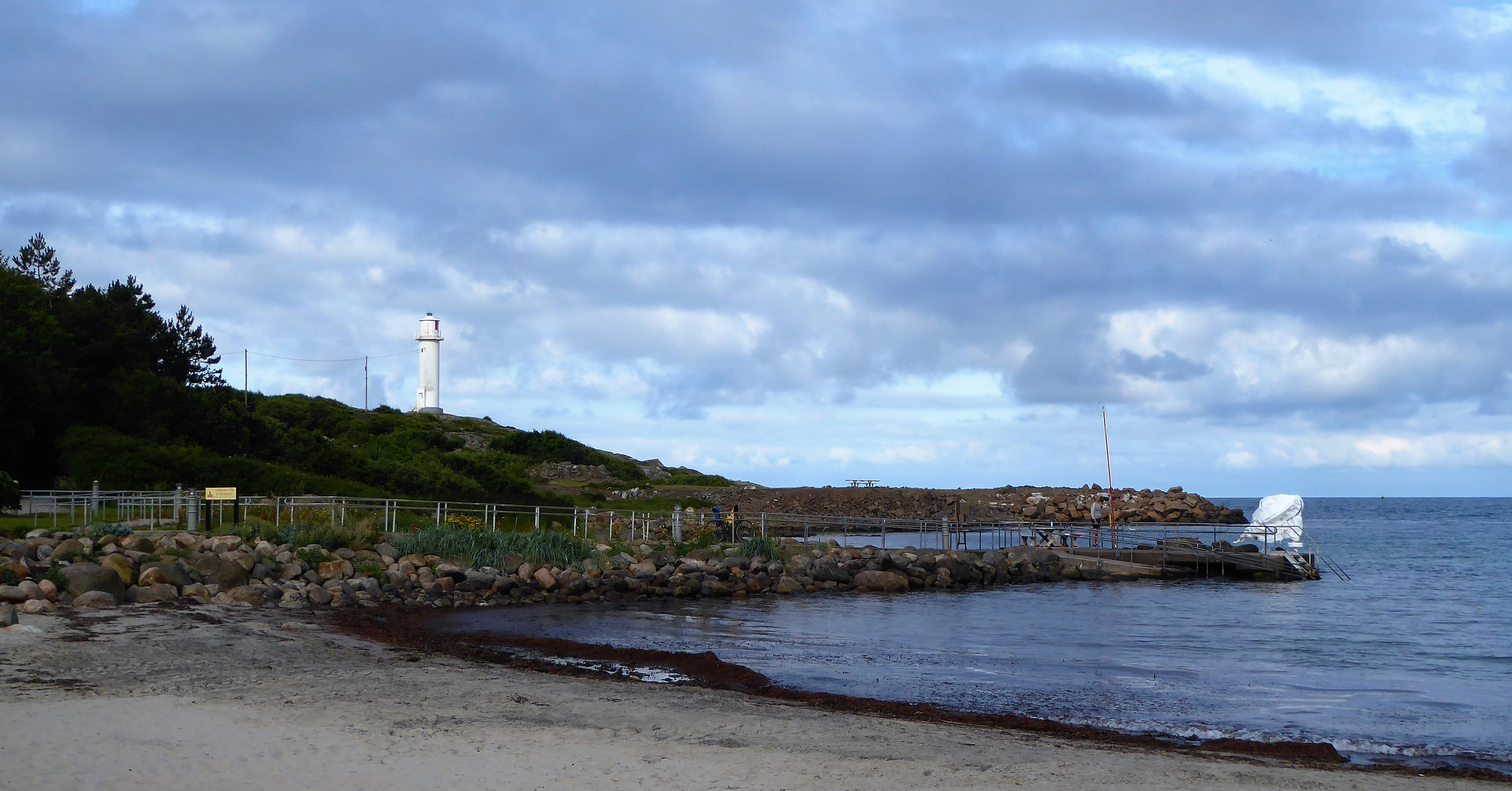 Just as the name: Kust hotel, it is situated along the coast and has a small, intimate beach to it!!
We also had a night in Varberg, a great Spa: Kusthotell. They are situated in an old sanatorium, a TB hospital. They have a swimmingpool and a sauna and you can get a Thalasso Therapy. And we got a Thalasso therapy set to enjoy in the pool and the sauna and we had a great, relaxing time in there!
They also have a great space for exercising outside. You can do a lot of strength skills and really work your body. I love to do that and of course I tried some of those workouts and it felt great! The place looks like you can do a bootcamp, great!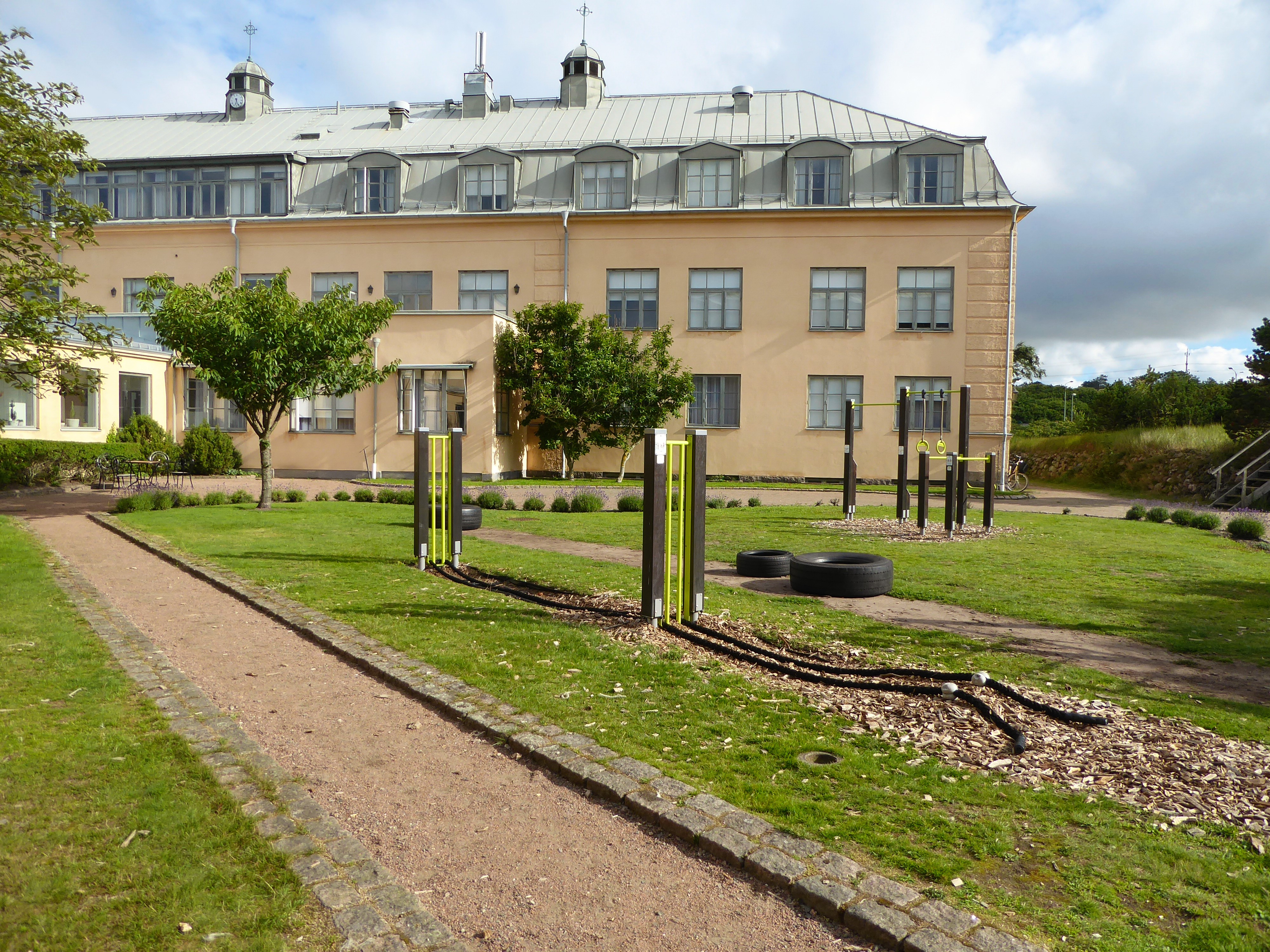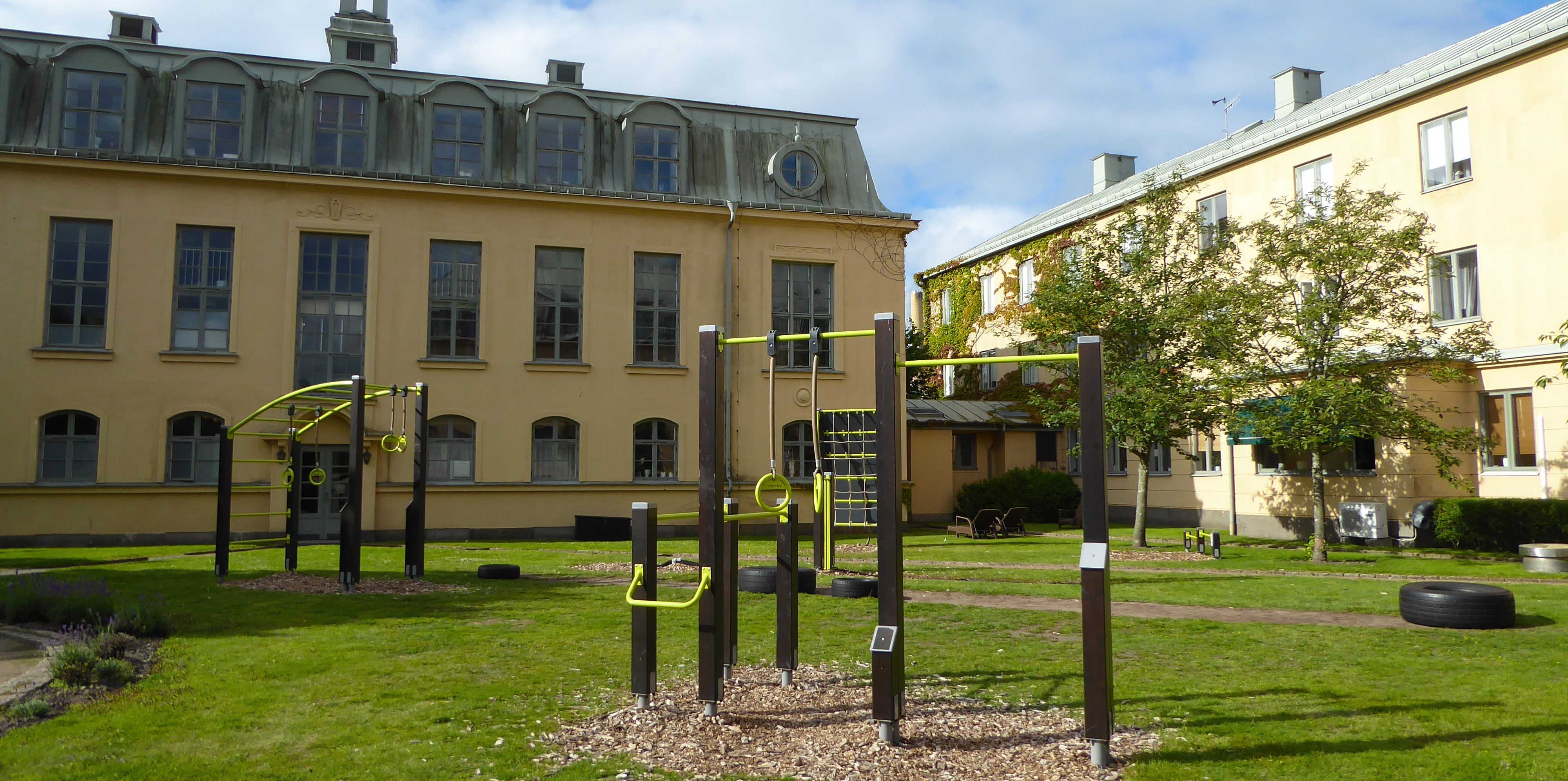 And we got a chance to do a Yoga class so of course I took that offer.
They offered one early morning and after a great breakfast me and Kaley went for a class. We were very happy to see that they gave the class on the beach, how relaxing!! The best view with great weather early morning while doing soothing yoga poses. The Best Way to Start your Day!!
Cities and Villages along the Kattegattleden
Cycling along the coast you cross a lot of cities and villages. I only cycled a small part of the route and so I didn't got to see that much but the ones I saw where defenitely worth visiting!!In Halmstad I only saw the central station but I really was interested to see more.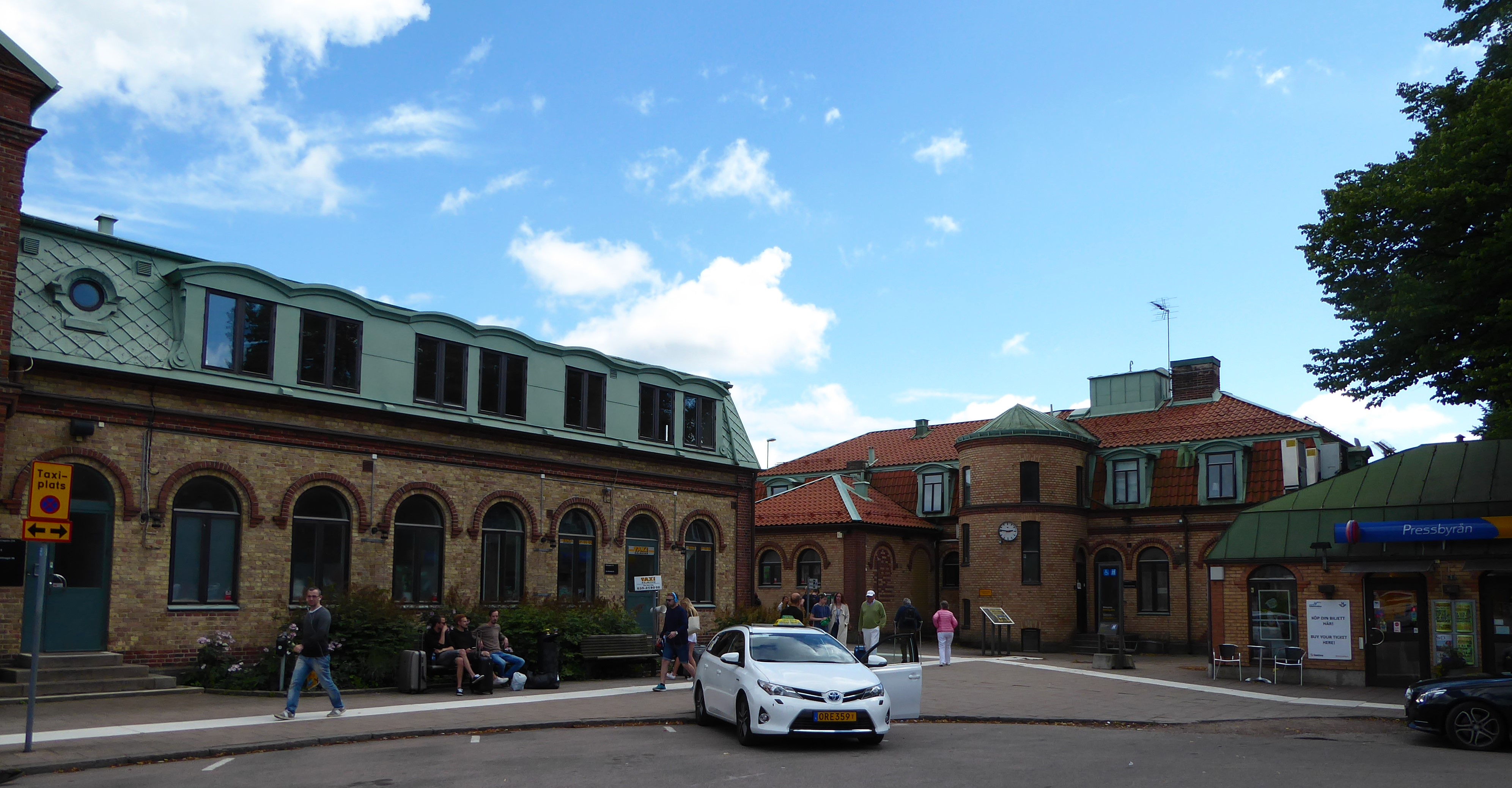 The view at the coast and at the hotel Tylosand was just great! It had that small island just in front of the coast with a lighthouse on it. That just gave the best images…but too far a away for a great picture 🙂 I visited the local bay watch heroes. The told about how they work and that they are all volunteers that work here in their holiday! He was very enthousiastic and told about it with passion. They educate the coastguards here for several scandinavic countries as Denmark and Norway. How great is that?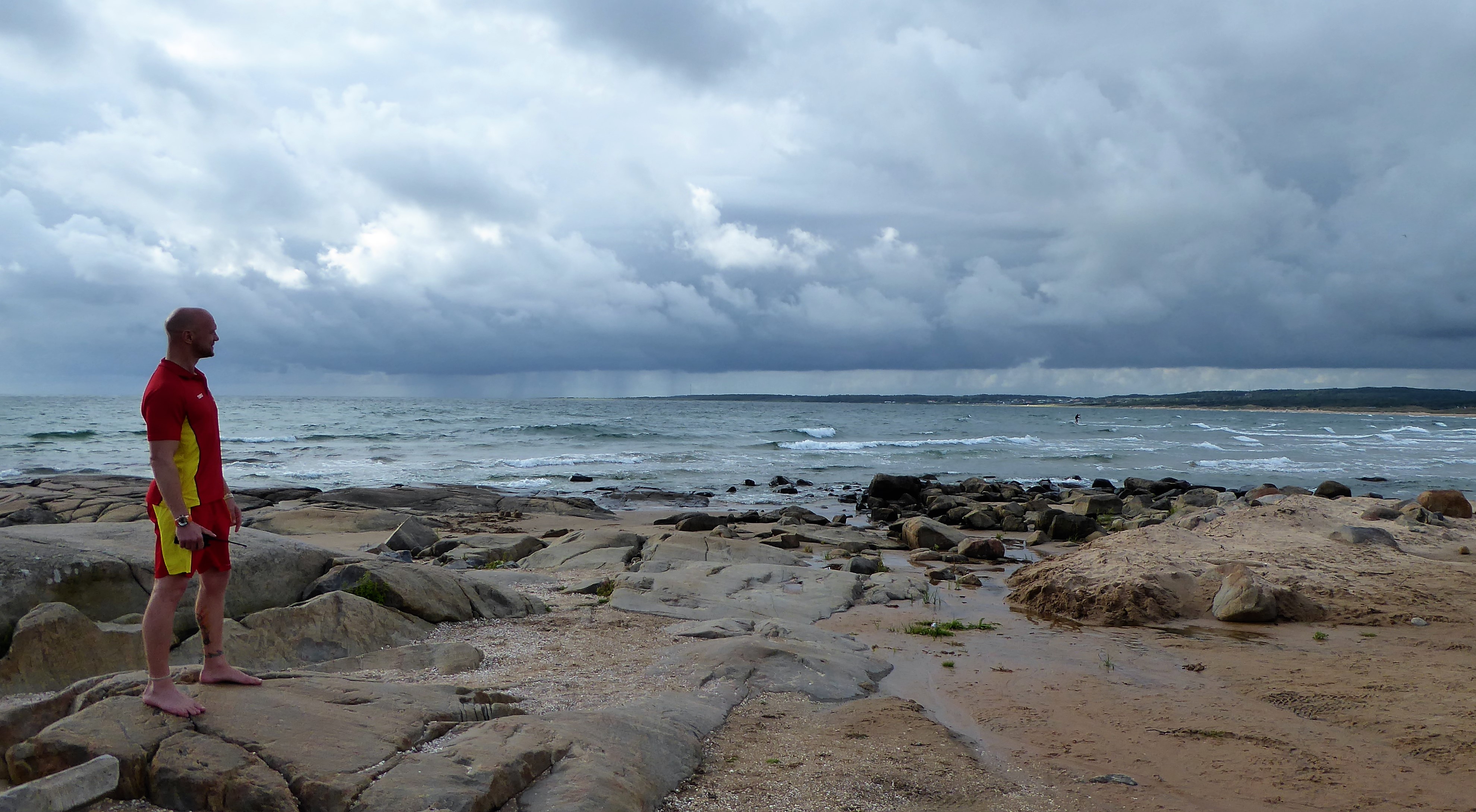 We also stopped at Varberg. Along their coast is a great beach. It is famous for its sportsactivities like windsurfing, kite surfing and all kinds of activities. The beach is the best for these activities from the whole of North Europe!! You really feel that beach/surfers vibe here and for the best atmosphere you should defenitely visit Surf Saloon. They really got a great place there, a relaxing bar and restaurant with a real surfers attitude! The children at the side of the Saloon were busy practising their skills while parents were enjoying a refreshment! The terrace on top of the restaurant has a great view over the beach and sea!! And of course give you the sight of all the activities at the seaside!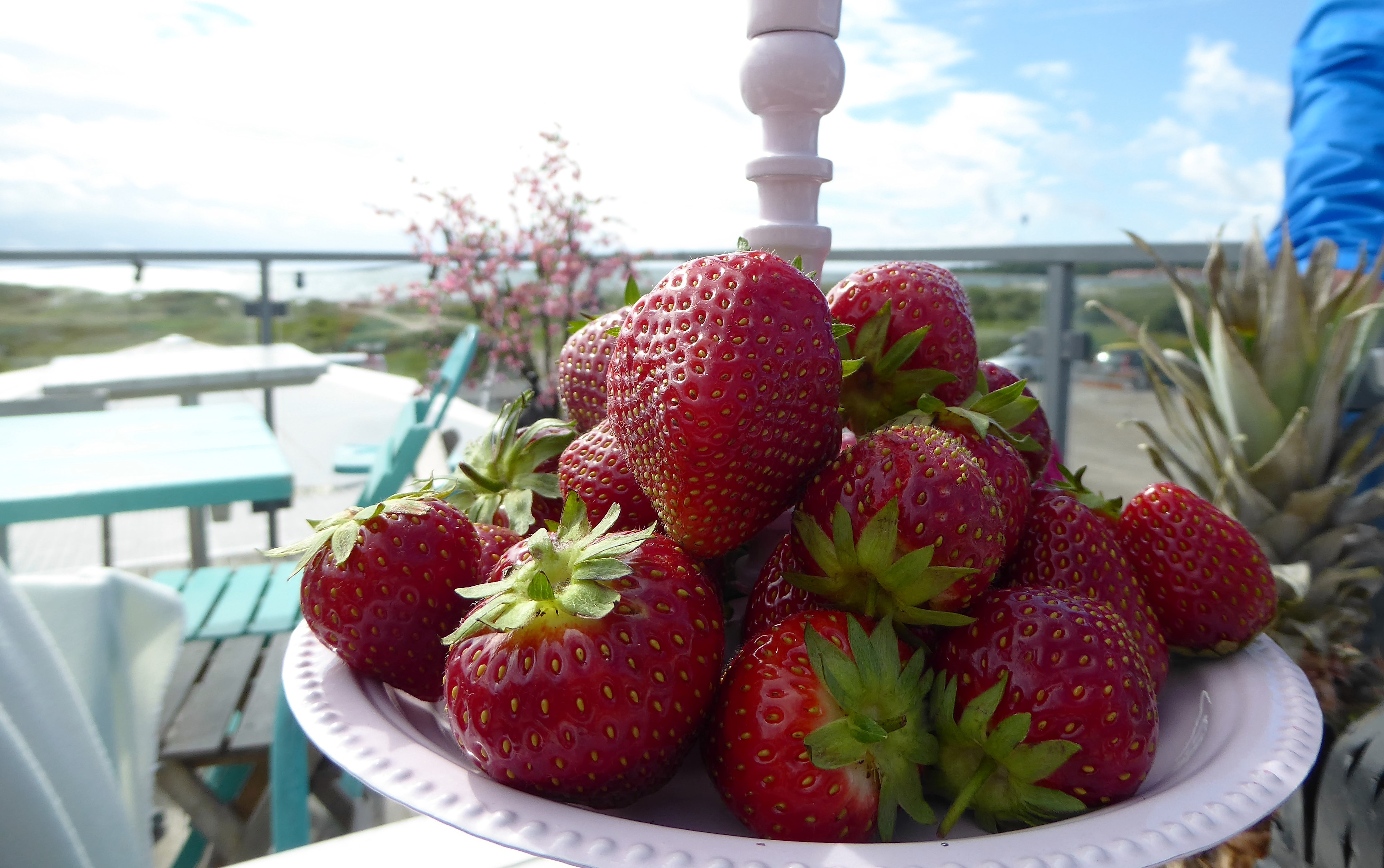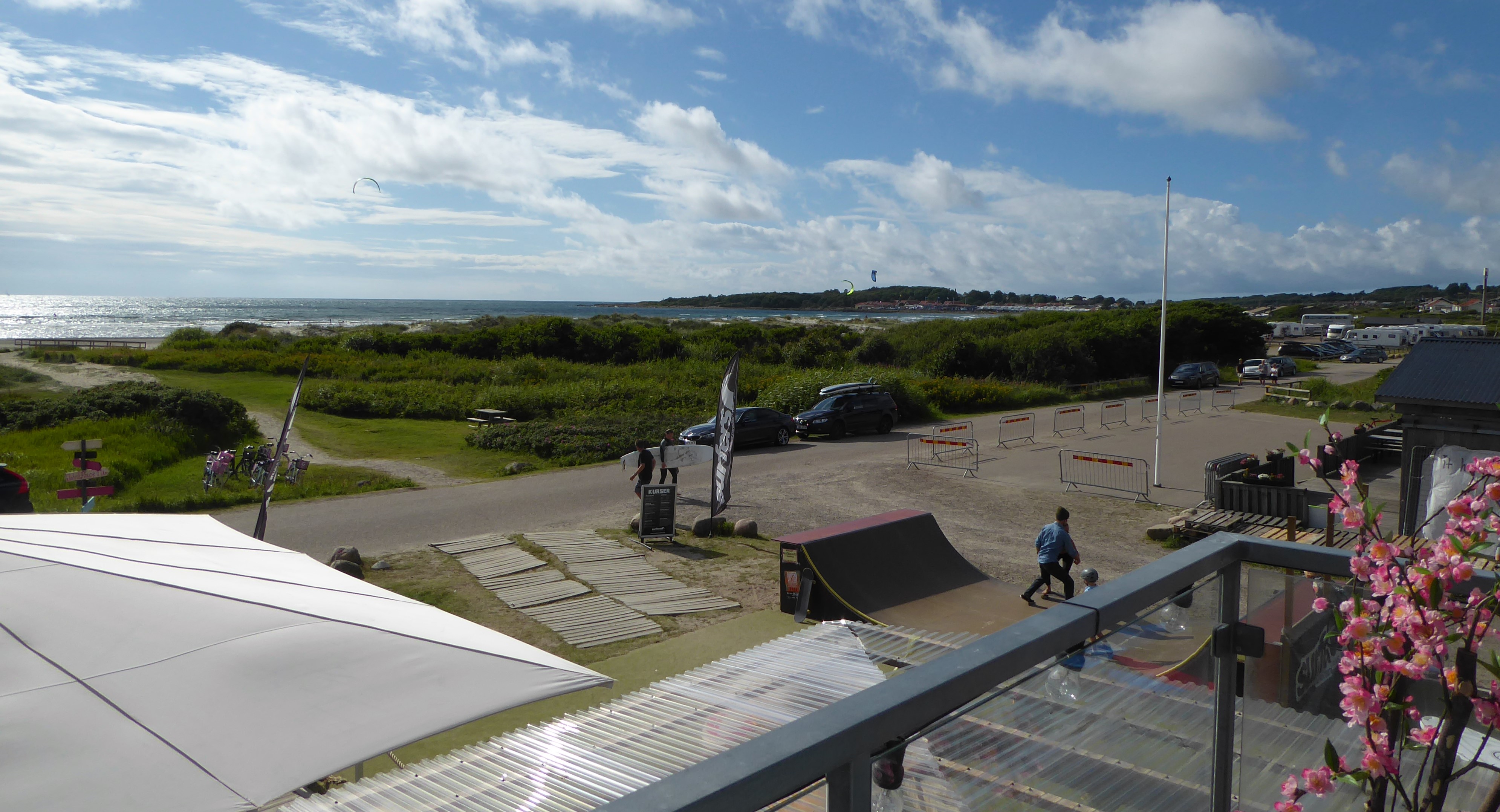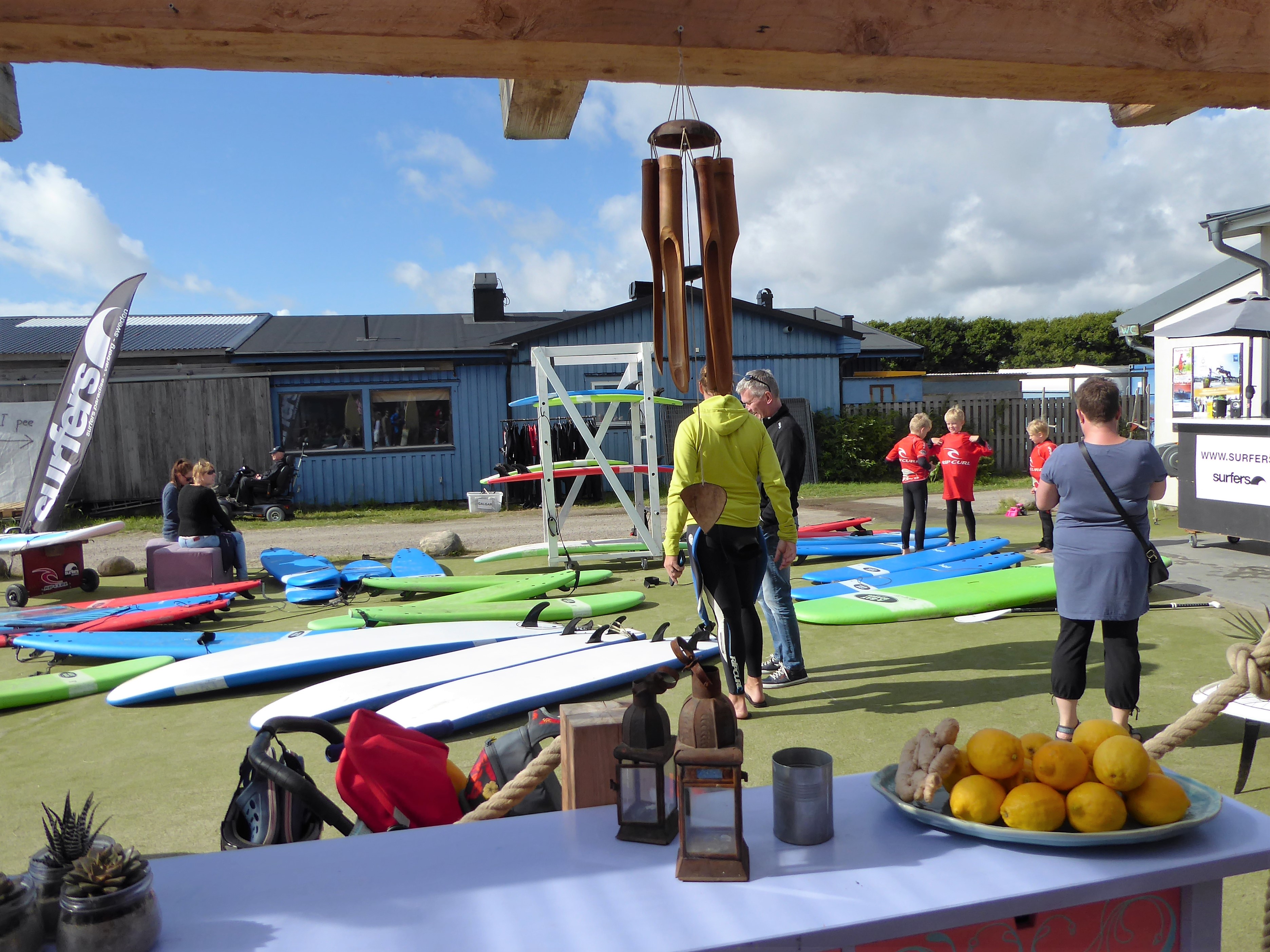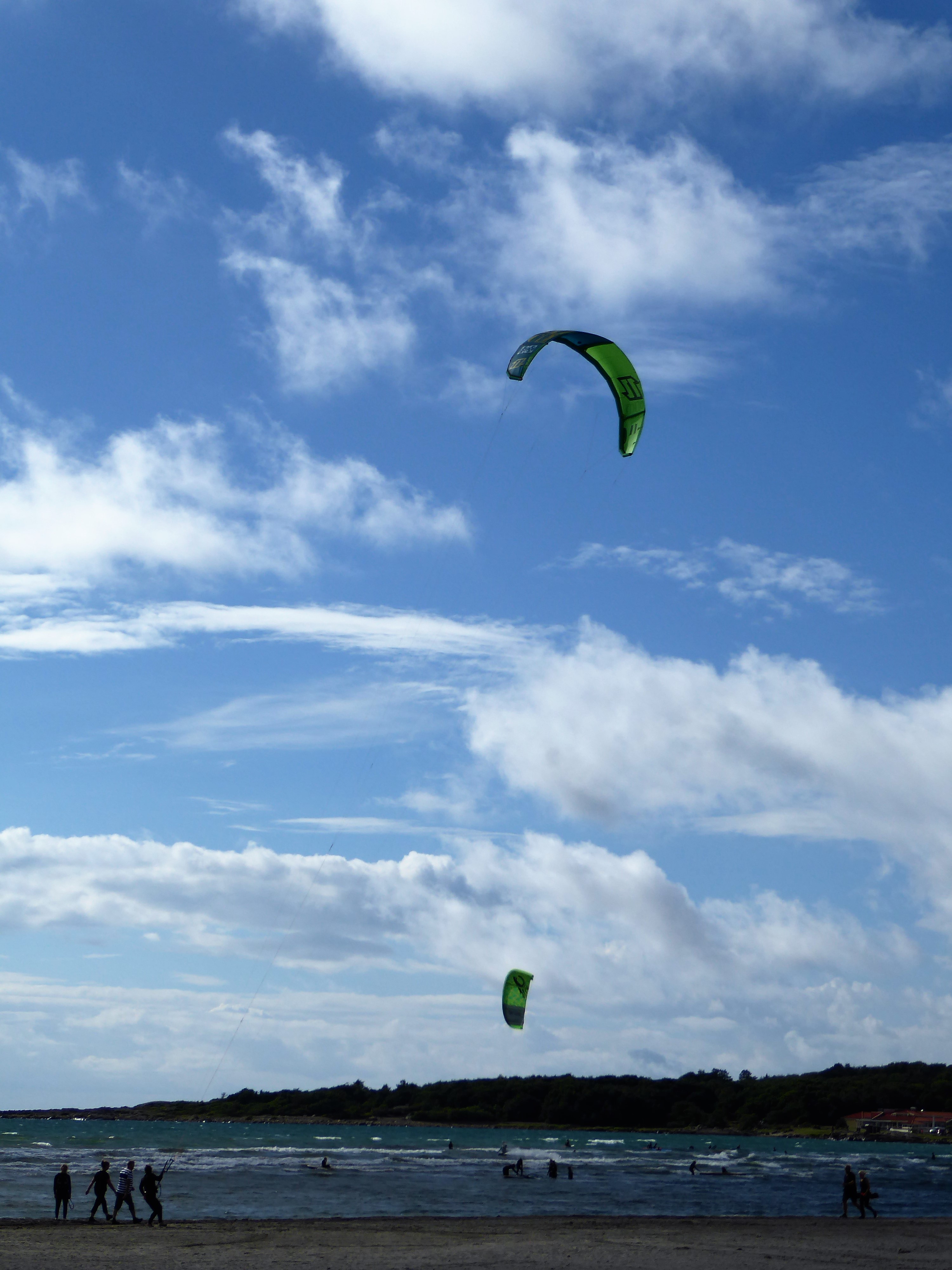 Doesn't that look great?
—
Disclaimer: I got this three day trip offered by TBEX Europe. But all opinions were ofcourse my own and not influenced by that fact.
If you  liked this post do share it with others too!!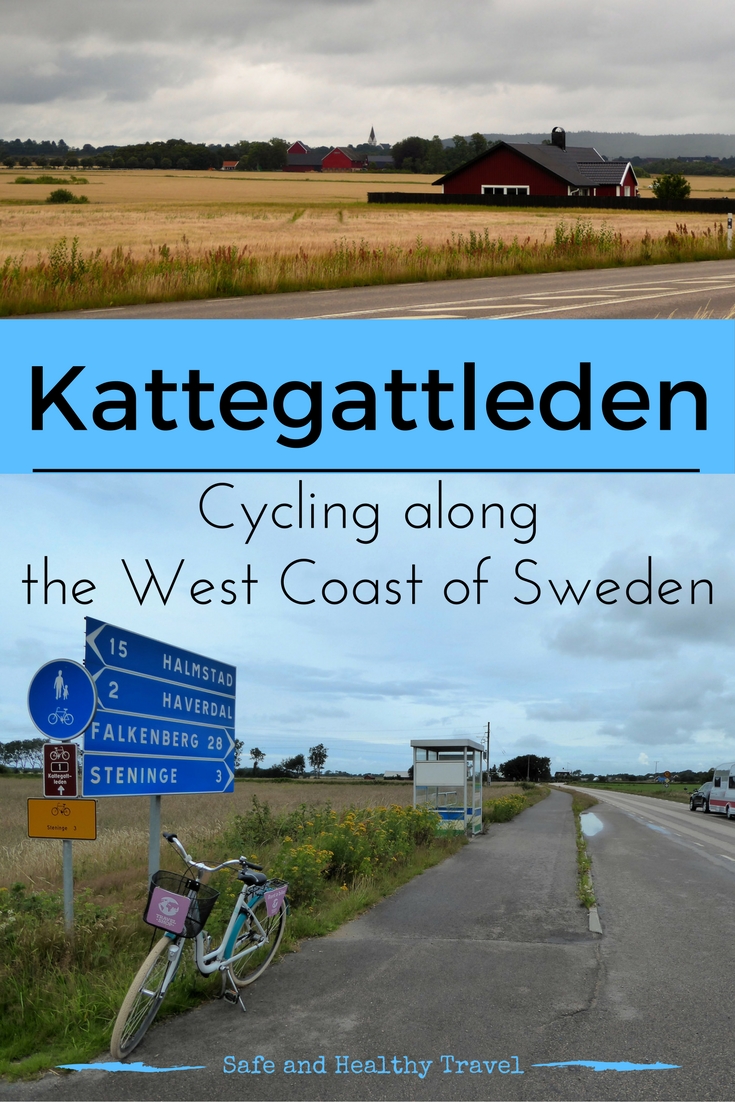 Want to read more about Sweden?
HotelDjurönäset  in the Archipelago of Stockholm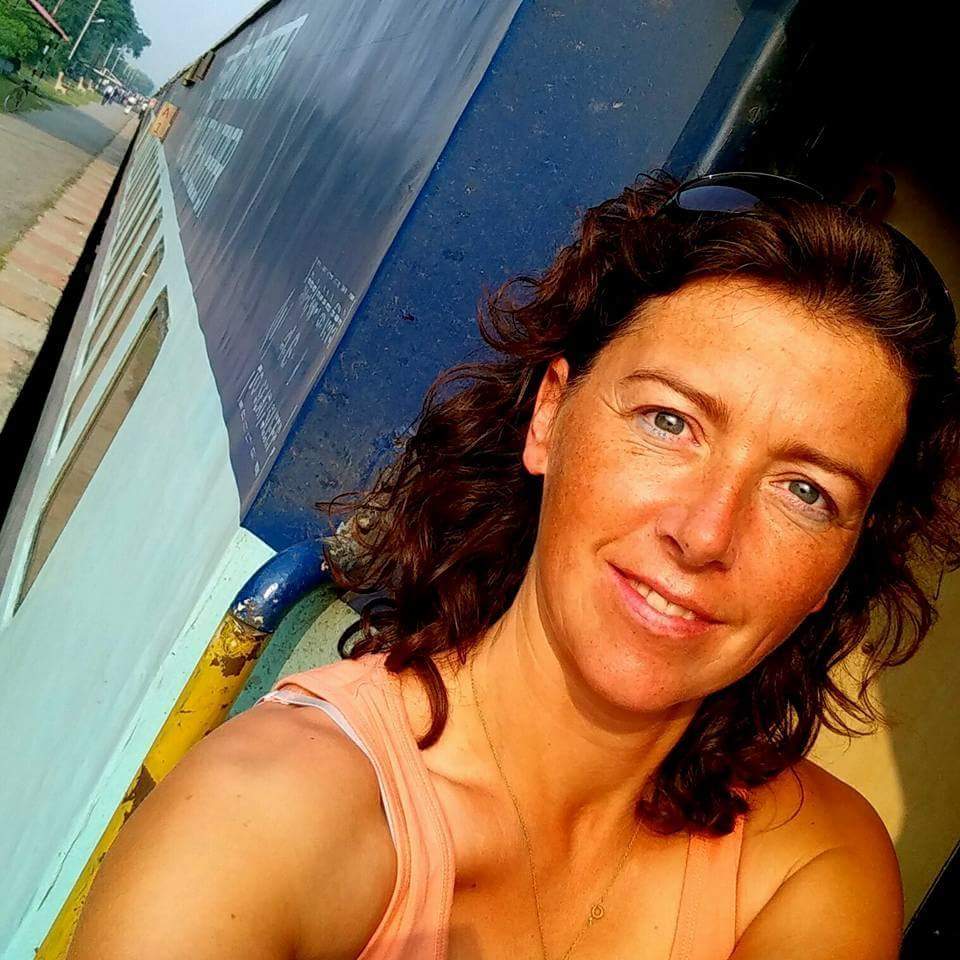 Jacomijn is een politieagent uit Nederland die jou graag laat zien hoe je veilig, actief en gezond de wereld kan over reizen. Safe and Healthy travel is a MUST