Keeping Active and Traveling the World
It can be a bit difficult if you want to keep fit while traveling.
You use your time differently and this effects your day rhythm. I take a lot of trips and excursions, and those days fly by. I use my evenings to write down my experiences so I remember more later on. And I need time for internet, social media and my family and friends who I want to share my adventures with. So also the evenings seem so short.
Keeping Active & Travel the World
Als je deze post in het Nederlands wil lezen, klik dan hier
And there are days you hardly get any exercise. Like the day you travel, when you're on a bus, car or plane the whole day. To get some exercise and stay in shape, you need to make sure to do some sports every now and then.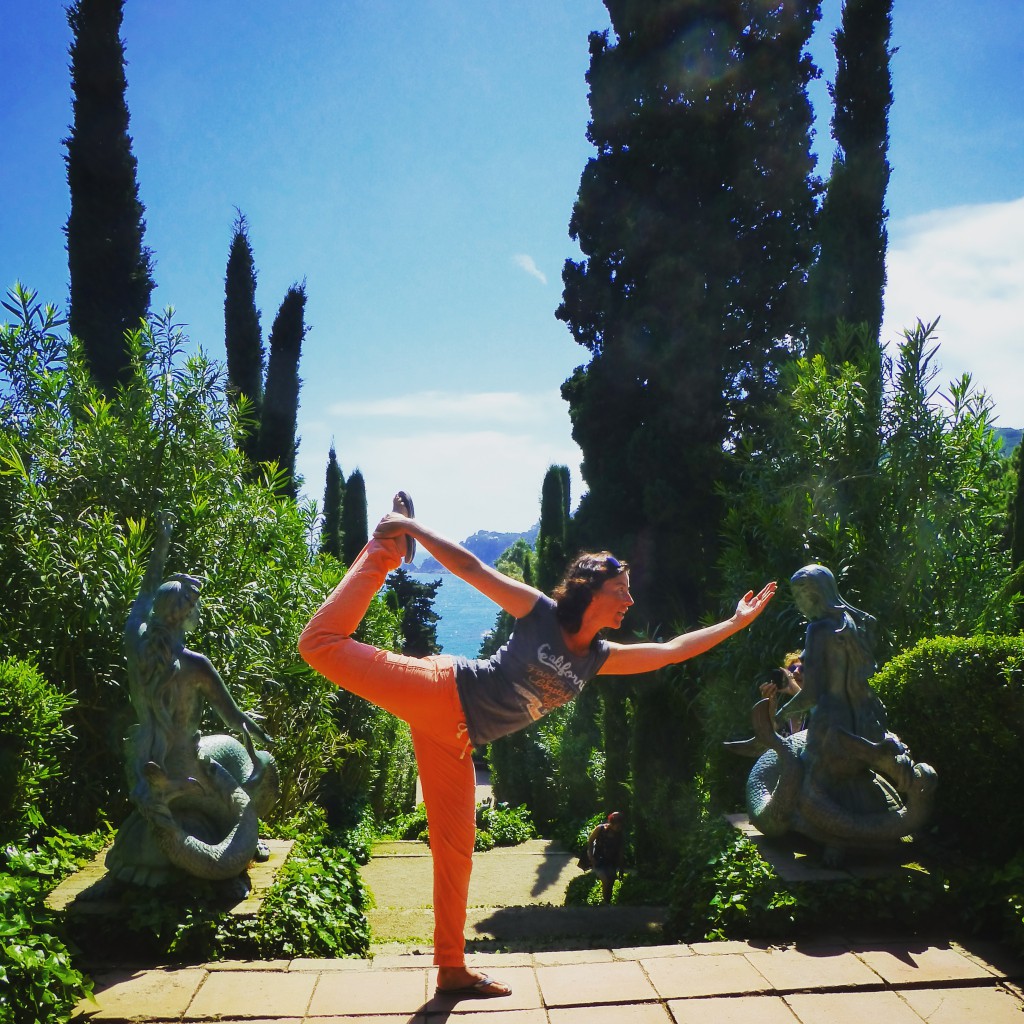 Jardin Sant Clotilde – Lloret de Mar, Spain
When I travel for a extended period, I always make sure to bring some clothes and equipment for sporting.
Keeping Active
What kind of clothes do I take?
Shorts
These will make your exercise feel better and movements go smoother. Often I travel in warm countries, so for me a pair of shorts is enough. A workout shirt will be nice because of its fiber: it will regulate sweat and damp more then a normal shirt. For me, a cotton short or tanktop is enough.
Sport Shoes
I will bring these even if I don't exercise because when I take an active trip or go walking all day it is good to wear these too.
I always carry a training jacket/ shirt. A shirt that is not tight…as most of my shirts are. Just to give me the space to stretch and workout. The jacket of course, it's for after training when you cool down, but also on daytrips I have this item with me.
Which equipment is practical?
I always carry a rubber resistance band. You can use this for strength exercises. You don't need any extras with it: just apply it on a door handle or hook of come kind in your hotelroom, and you're ready to go. In your backpack this takes hardly any space. Also to stretch my legs for that dancers pose… it is easy to get it higher up as an extension on my hands.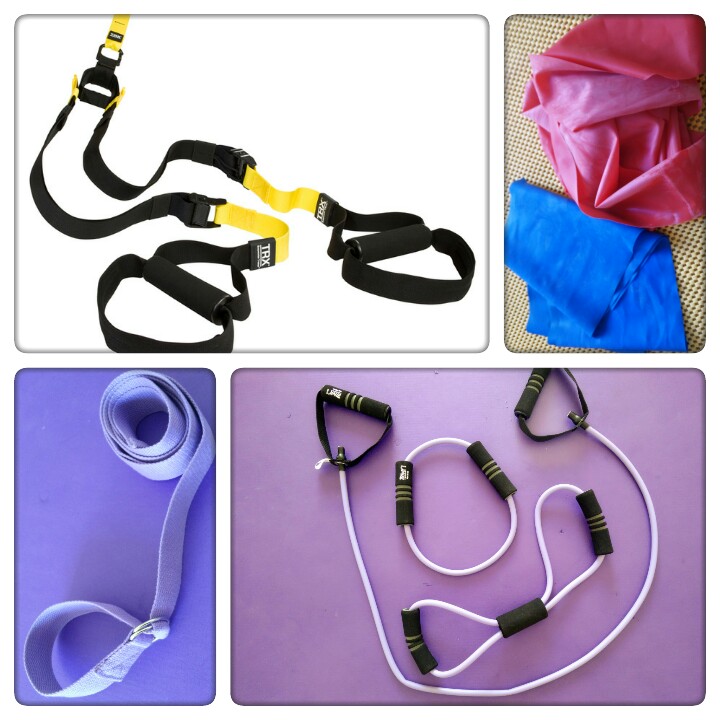 There is more and more simple sports equipment for sale. I've got some in my exercise room at home. You can do so much with it, if you're creative. Search the internet for practise and training. There are hundreds of examples on YouTube that will help you find suitable exercises for you.
TRX
Another blogger told me a while ago that he carries his TRX suspension trainer with him. I love the TRX. When you travel longterm and have no home base this thing is ideal. I have it in my exercsise room and work out with it a lot. With the TRX you have so many possibilities and what is great about it you can easily increase how hard the work out is.
The TRX is easily tied to a door in your hotelroom and from then you have lots of exercises to pick from. It takes a bit more space in your backpack but when traveling longterm, I really think it is worth the space in your backpack.
Yoga mat
A thin yoga mat is something you can think about taking along. I don't take it with me because I sit down on a towel or sarong or just on the floor/ground. But then again, I'm not a real Yogi. If you do practise Yoga on a daily bases, I can imagine you should bring your own mat with you. You can tie it easily to your backpack so it takes no space inside it.
Keeping Active & Travel the World
Without equipment
You can always do some practices without equipment while traveling. I often do some abdominal exercises by lifting my feet of the ground when I'm in a car or airplane. You will strain your whole body by doing this a couple of times and each times strain your body for a couple of mintues, you do get some exercise and feel better. This is good for the blood flow during long travels.
You can also press your hands together to strain you chest muscles. And do it the other way around: keep your hands together and pull outwards. Try to be creative and you'll think of all kinds of exercises that you neighbour won't even notice 🙂 I do love exercising like this and using that lost time for a good cause!!
Where can you sport?
Exercise inside
You can be active in your hotelroom. If you're in a city and haven't seen a park yet this is your place to train.That rubber band or the TRX is great for small rooms. You easily attache this to the door handle or door itself and you're ready to go.
In many hotels they even have a fitness room for you to use. I usely stay in cheaper hotels so I can't use those 🙂
Keeping Active
To do Yoga you don't need much room
I also like to do some Yoga. You can create a spot in seconds in your hotel room by placing a towel on the floor do your exercises. You could also sit down on your bed, but I prefer a firm foundation.
I set a goal for the end of this year, I want to be able to do a handstand. Not just a handstand, but a steady one, for maybe 15 seconds: a steady handstand. To be able to do this, I need to practise daily by standing on my hands. I haven't yet had a problem finding a wall in a hotel room. There is always enough room for that.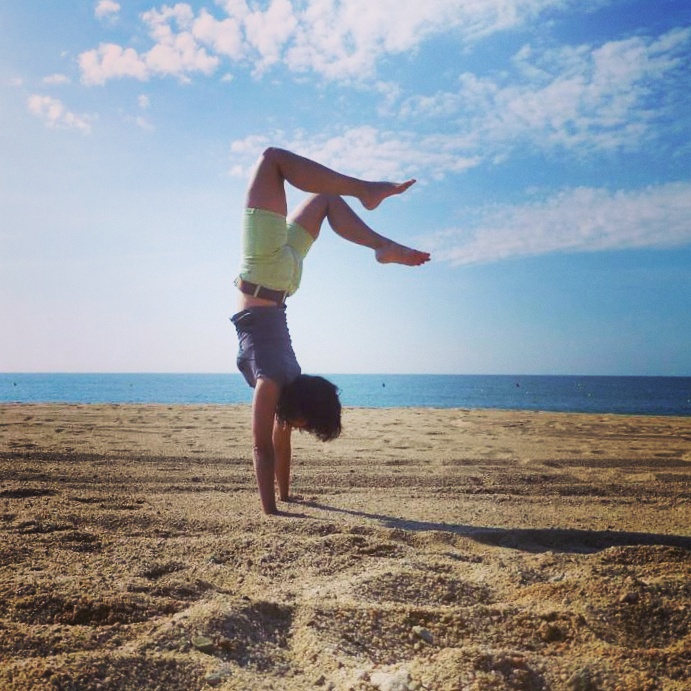 But outside in a park or at the beach is so much more fun!
And what about the best spots in the world to do your favorite poses?
Exercise outside
I see here in Holland that the public areas are being used for training, mostly running and cycling but more and more bootcamps and so on. In other parts of the world, like Asia, they use these public areas much more. At first I felt a bit strange being active and doing sports in public, but you're not the only one. To get in contact with fellow athletes, local people and travelers, this is also a great spot to do your exercises.
Keeping Active while Traveling this Beautiful World
I also saw a lot of fitness equipment in public parcs in Asia. The Asian people use them a lot. Every morning and every evening it is crowded in those parcs and people are doing sports! Also great, you see a lot of Tai Chi and other similar sports. I love the sight of that!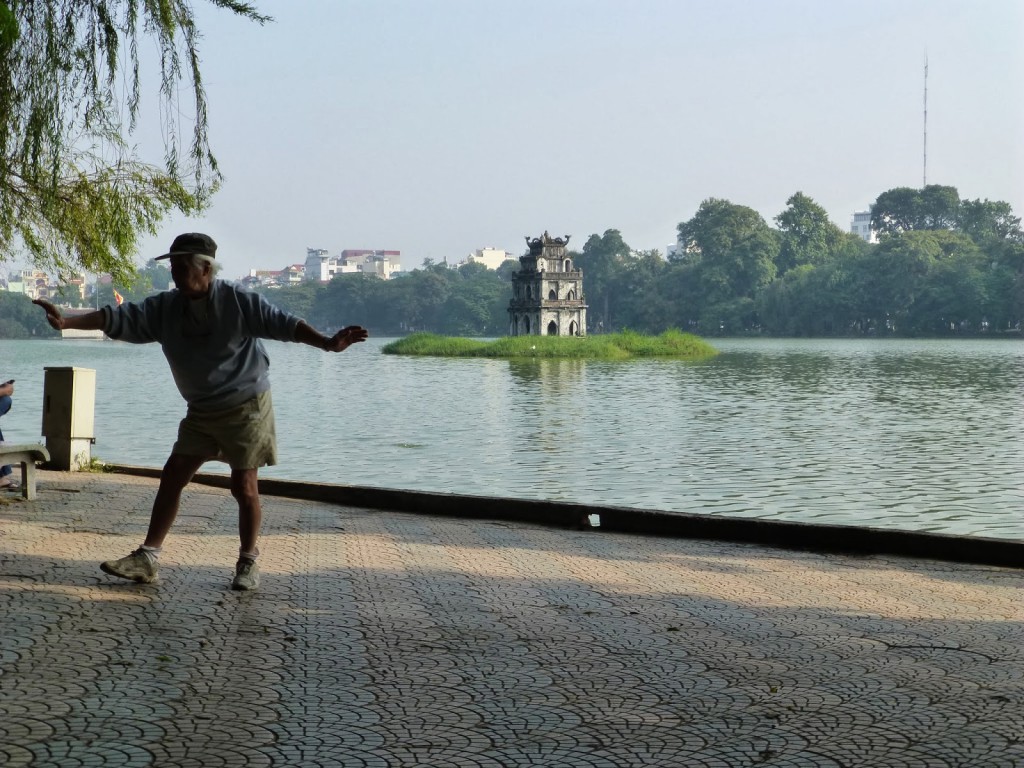 Hoan Kiem Lake, Hanoi – Vietnam
The beach is also a great place to work out, especially to do some Yoga poses. The beach is soft but can be firm at the coast so you can do all kinds of poses. To practise my handstand it is a great place! In the morning, it is a quiet spot and you can do what you want without people staring at you 🙂
Running is something you can do everywhere. Near a beach there is often a boulevard, a long straight road good for running. But there are always long straight roads in a city or village which you can use to run a couple of miles. On the internet, there are lots of sites which will help to find a route the number of miles you're searching for.
Keeping Active
By Keeping Active while traveling I got some of my best pics!! Look at this post and share you greatest pics around this world with me!!
Sharing is Caring
If you liked this post you would make me happy by sharing it 🙂
Would you like to read some more Healthy inspiration?
Cycling to the Beach – Trinidad, Cuba
YogaPoses and Walking the Camino
Cycling the Kattegattleden – Sweden
First 200K of the Camino Frances – Spain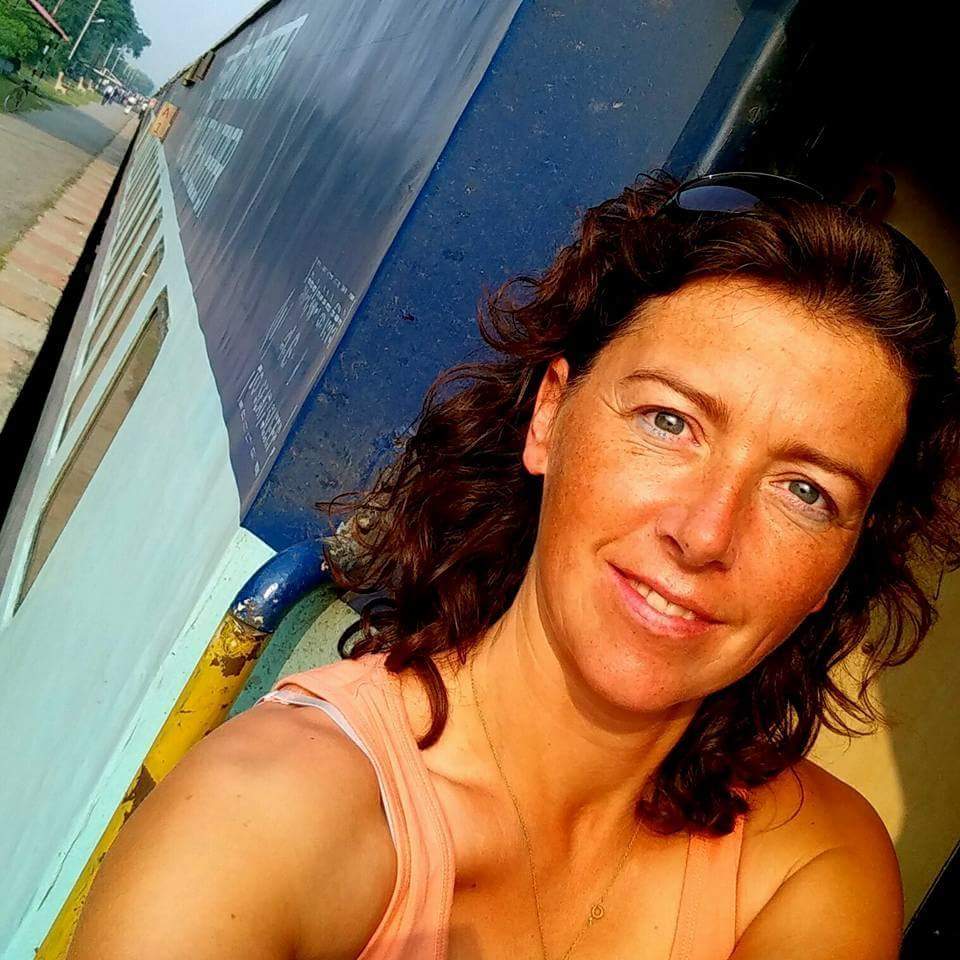 Jacomijn is een politieagent uit Nederland die jou graag laat zien hoe je veilig, actief en gezond de wereld kan over reizen. Safe and Healthy travel is a MUST