Hiking to Osmena Peak Cebu – Philippines
|
The Philippines is the number 1 destination for a relaxing holiday. So after travelling for almost 2 months in South East Asia I wanted to go for some relaxing time and sun at the beach. A good reason to go to the Philippines and I choosed the island of Cebu. After some searching and being informed by a local tricycle driver I found a nice resort at Panagsama. I ofcourse did some diving, sunbathing and swimming at the pool but also this great hike to Osmena Peak!!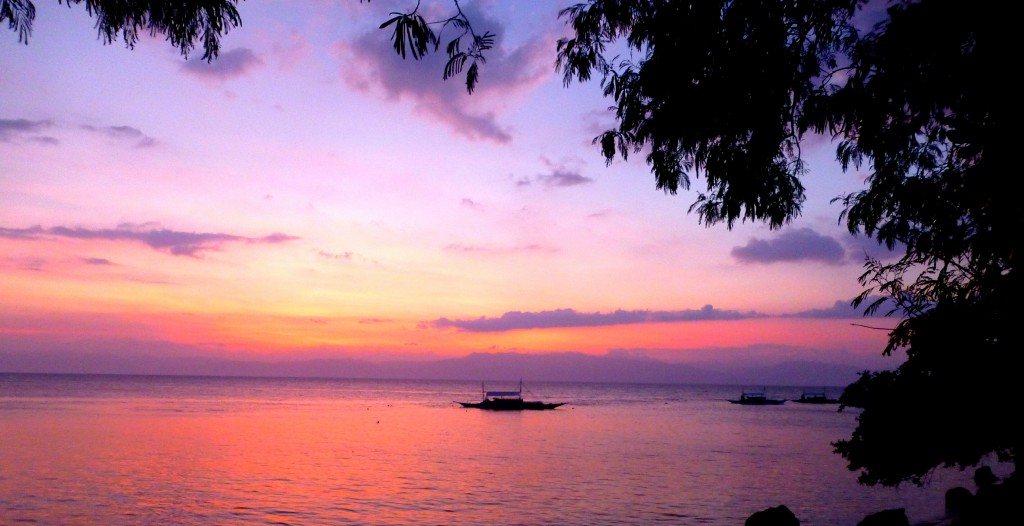 I'm not the kind of person to do nothing for days so soon I got anxious to explore the surroudings. A bit down the road I had seen a travel agency which offered active trips. One was appealing to me, the hike up Osmena Peak. When I tried to arrange the trip I was the only one. But because the guide wanted to go, he was bored too, he got persmission of his boss and we went on his scooter.
Normally you would be going with a 4 wheel drive but being with just the two of us that was too expensive. When we were almost there we got onto a motorcycle, the last bit would get us a bit higher. There were three persons on the motor 🙂 I had the middle seat!! This was a first for me. Being in Asia…you see whole families sitting on scooters but I hadn't experienced this yet!! Another local experience for me 🙂
Three on a Motor, Asian Style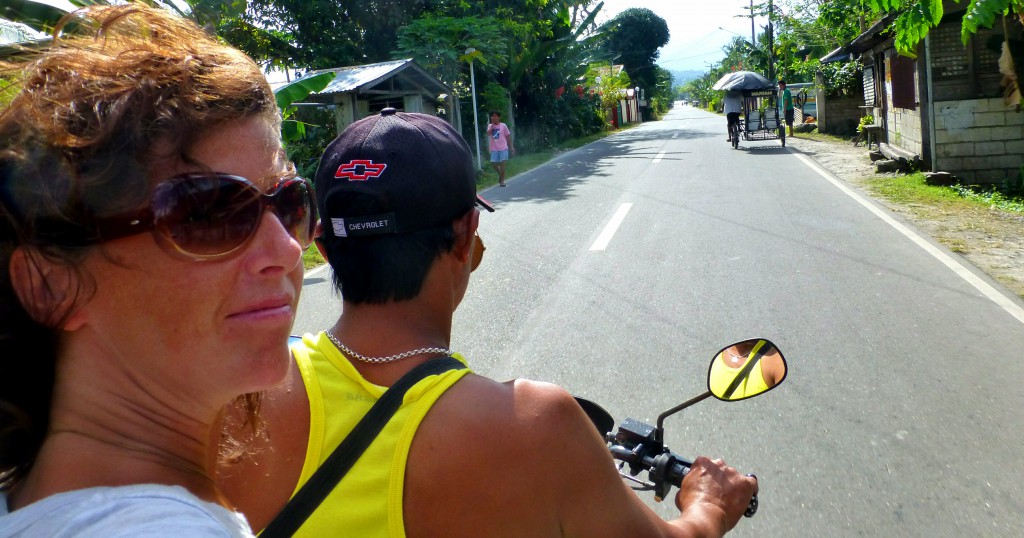 I didn't dare to take a photo when I was in the middle 🙂
We were dropped somewhere in the middle of nowhere and there didn't seem to be a path.. Well I was right there wasn't.. We just went in the jungle and after a while there was a path and we started to follow that. On our way to Osmena Peak! It was a warm day and I thought I was lucky to have brought enough water because within a half an hour I was getting hot and thursty. We were walking in a fast pace and I needed to keep my eyes on the path in order not to trip and fall.
Climbing Osmena Peak – Philippines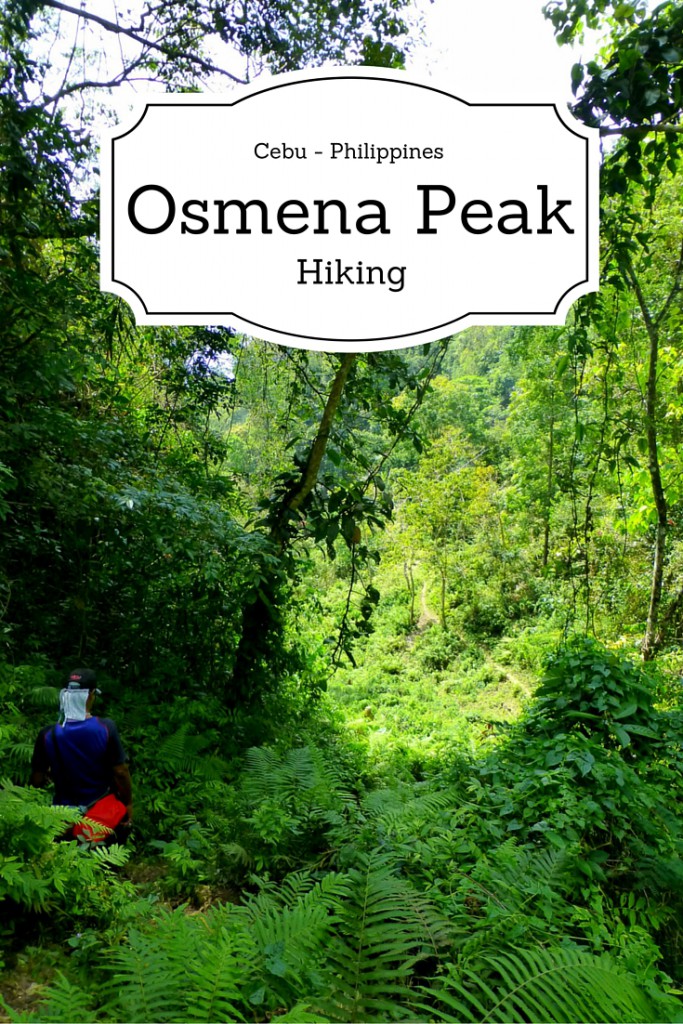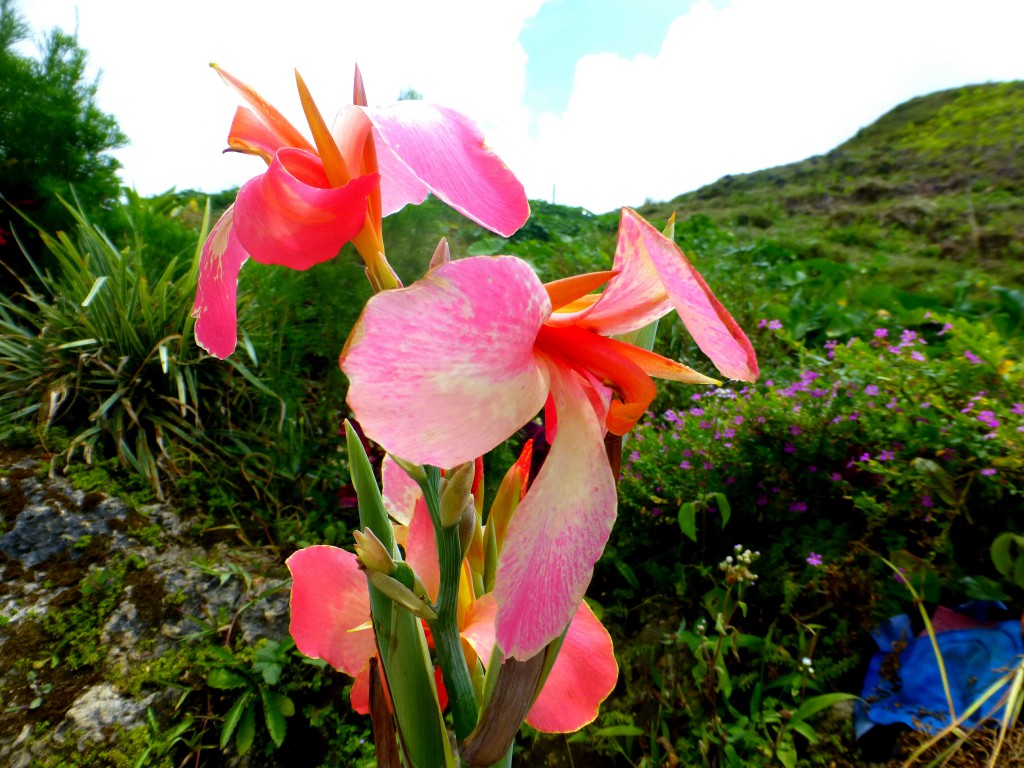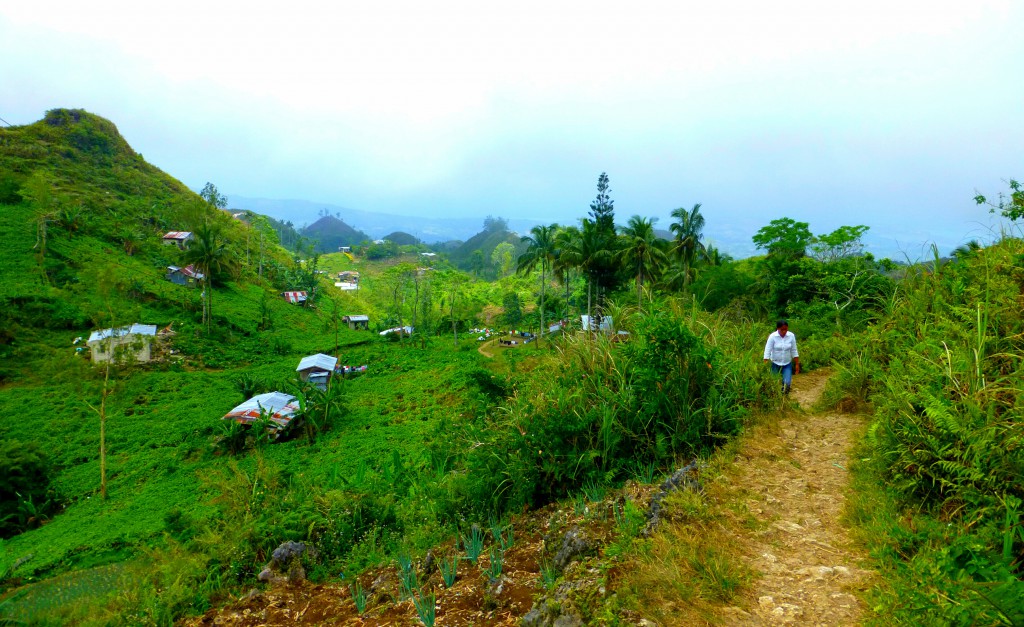 The Rugged Area of Osmena Peak – Philippines
The path brought us through a wonderful area. Sometimes my view was less then a couple of feet but a second later I had a panorama view over the island. I saw the rugged range which we were passing and sometimes we saw some houses standing in between the green. At some point I  heard some music, it was Mariah Carey.. Just a minute later I saw a small local house where the music originated from. There was only one person to be found….a little boy. He looking at me from out the door.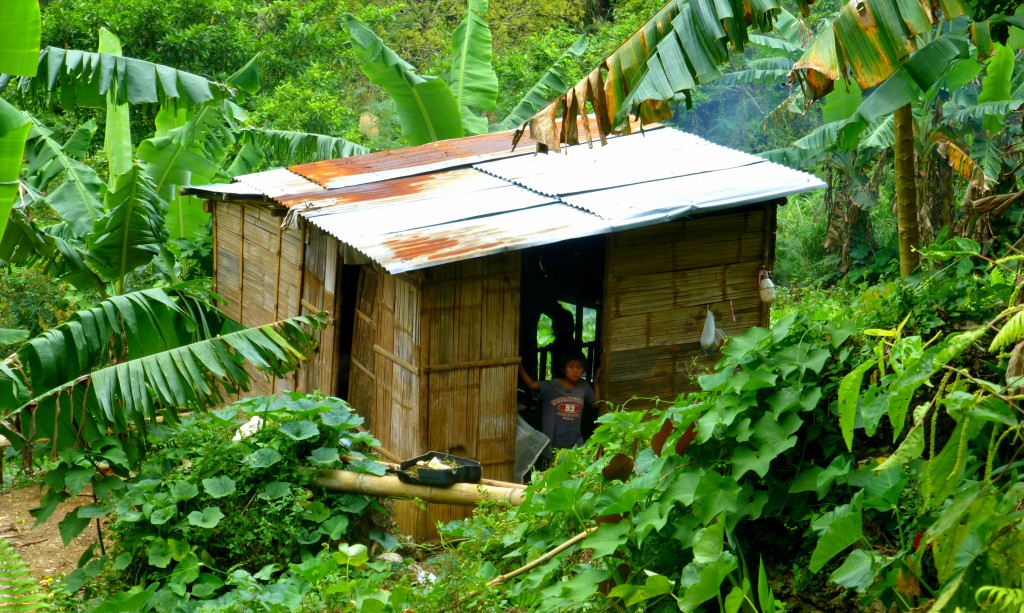 We got higher and higher. It was really hot and it was getting heavy. The views were getting better and better!! Do you know the chocolate Hills on Bohol? An island of the Philippines. These hills were similar only these hills are more cone like. This gave the view an untamed and wild appearance. I thought it was great!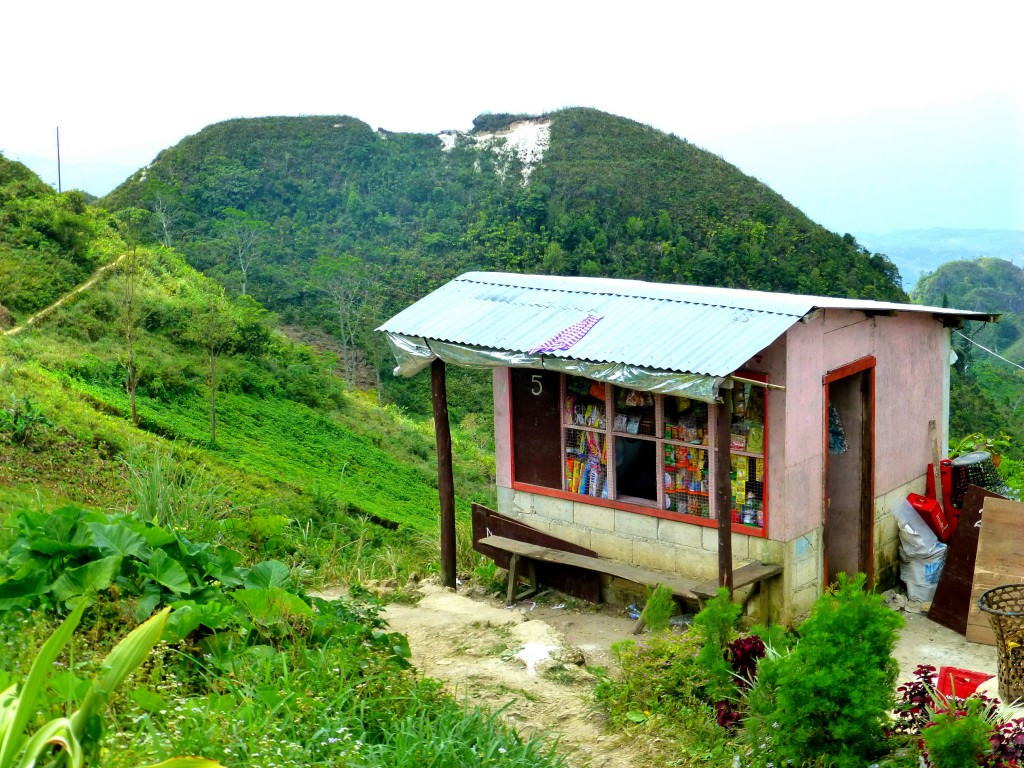 Local Supermarket – Osmena Peak – Phillipines
At this local supermarket we bought a coke just before entering the top of Osmena. Aren't those little shops great? I do think it is a shame that the local community throws away trash at the side of the road. You see the plastic items in the shops window? I saw them everywhere walking up Osmena Peak. Even if there would be any rubbish bins they probably wouldn't use them..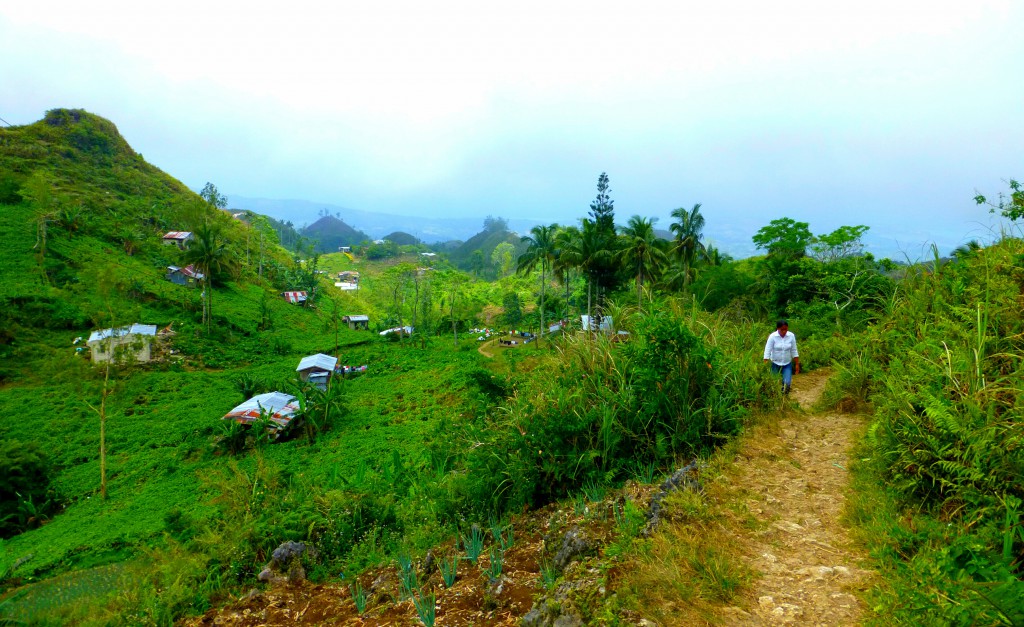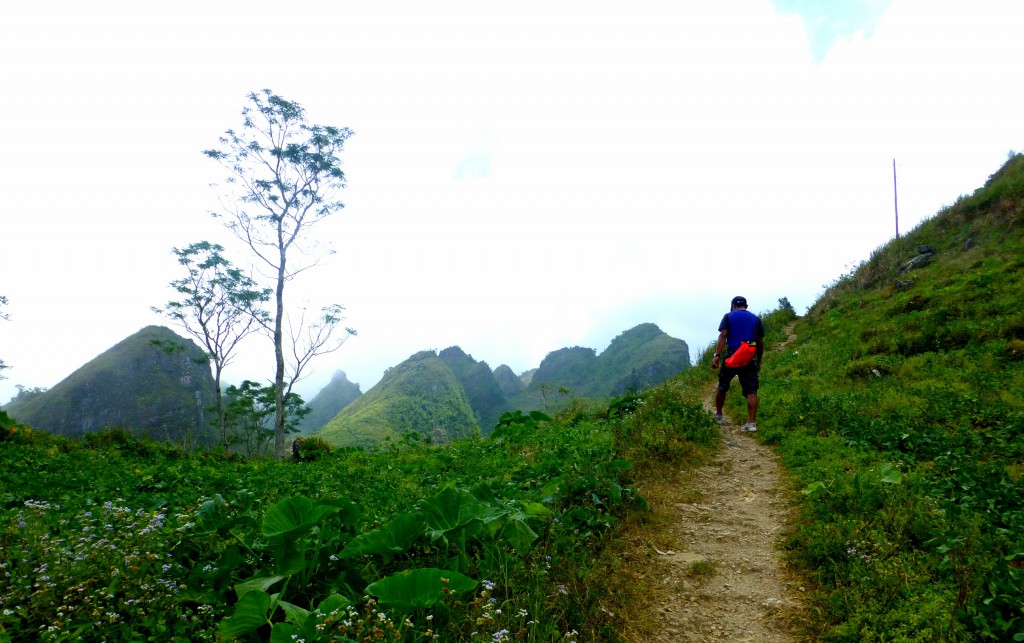 When we got on top of Osmena Peak we had this wonderful view over the island. On a good day you could even see Bohol island but this day was cloudy. But because of that I've got some great pictures with coulds, I love those!!
Hiking to Osmena Peak
Cebu – Philippines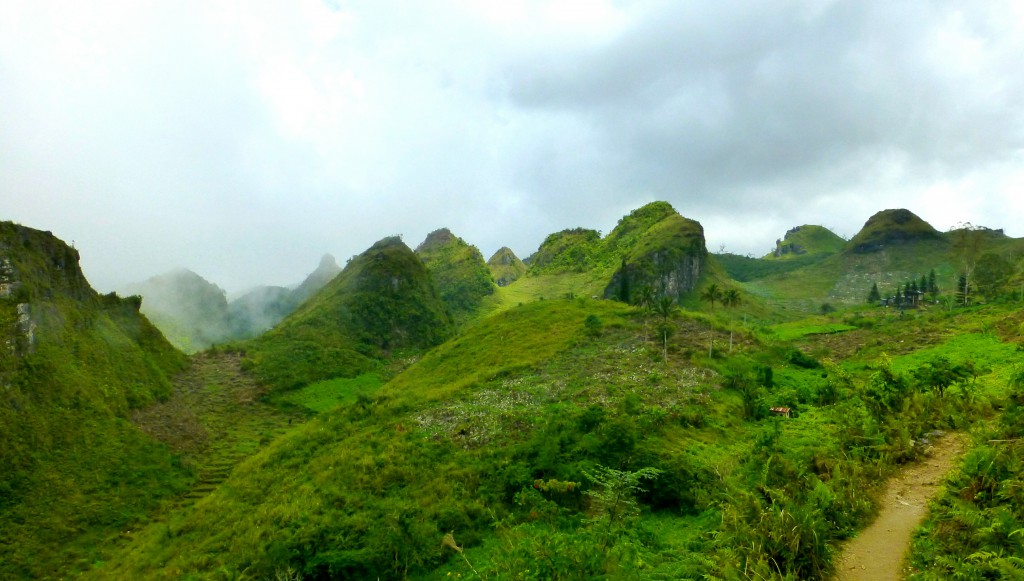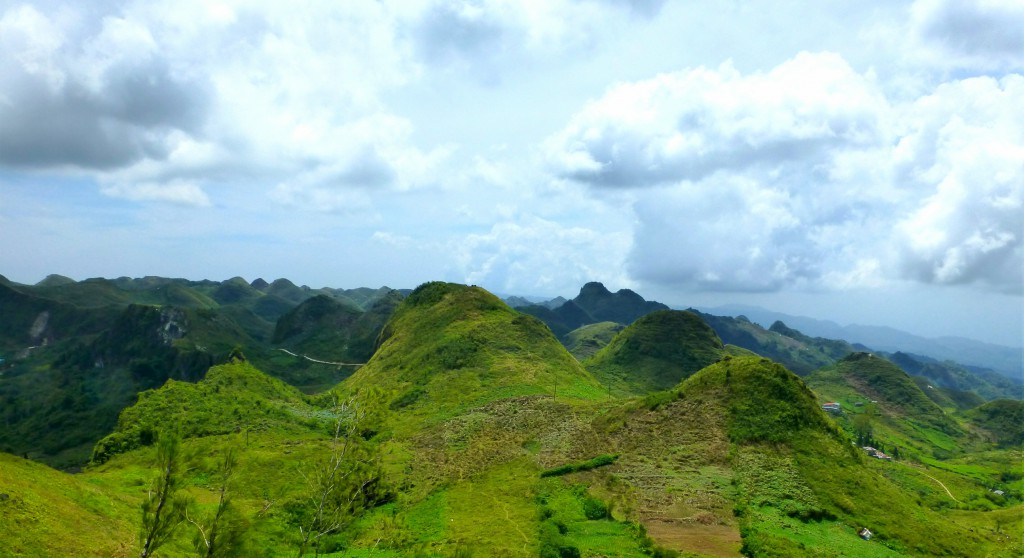 After a lunchbreak on the highest point of Osmena Peak and cooled down by the breeze we started to walk down again. We walked for about 5 hours and at some pionts it was quite heavy. Heavy because of the heat and because we walked a high pace.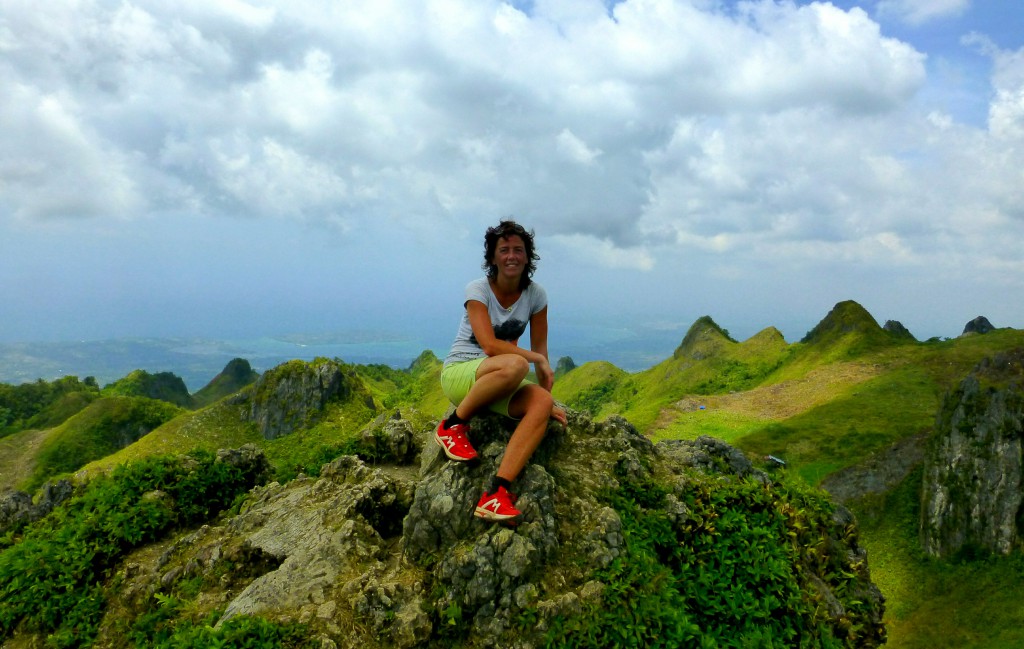 Information and Duration
I booked at
Planet Action Adventure
, a local travel agent. They offer all kinds of activities, most of them are active and adventurous.
This hike had a duration of at least 5 hrs. I think that when you are in a group it will take the whole day.
The lunch was included. My guide brought it up. He had a sandwich, a snack and drinks.
Liked this post? Please share it with the world!!
More about the Philippines?
Walking the Ancient Old Riceterraces of Banaue – Philippines
Daytrip on Bohol – Philippines
Things to do in Baguio – Summer Capital
Hiking to the summit of Mt Pulag
Island Hopping in El Nido – Palawan
Or what about safe travel in The Philippines?
I hope you love this world as much as I do!!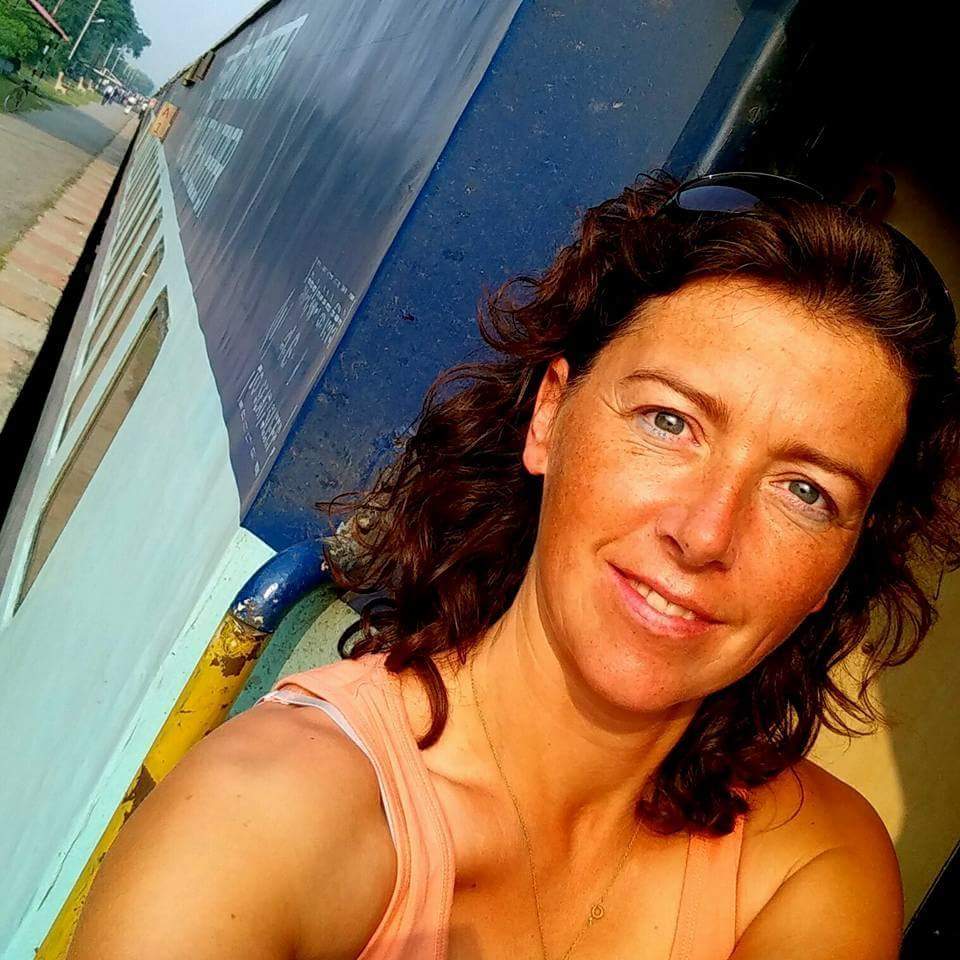 Jacomijn is een politieagent uit Nederland die jou graag laat zien hoe je veilig, actief en gezond de wereld kan over reizen. Safe and Healthy travel is a MUST