Yoga Pose while Travelling – Favorite Yoga Pictures from Around the World
|
If you are following me for some time now you know I like to pose… Not just to pose for a picture…but to take a Yoga Pose while Travelling on all kinds of great places I visit around this lovely world. The more I do it the more I start to love it.
Once at home I look at those pictures and start to mesmerize again on how I felt standing there… Looking at the world from a different perspective…
Yoga Pose while Travelling
Do you sometimes see the world from a different perspective?
It is not only standing on my head and seeing the world up side down. But also to take time, to stand still…to get my mind at eas.. to get that pose, to be steady and focus on my body. At those moments I feel more connected to the world surrouding me. I focus on my body but at the same time I see the world as a still-life painting.. It is there for me to absorb.
I recently wrote this blog about all the benefits you will experience from doing a handstand on a daily bases. If you ask me that is a must do practise!!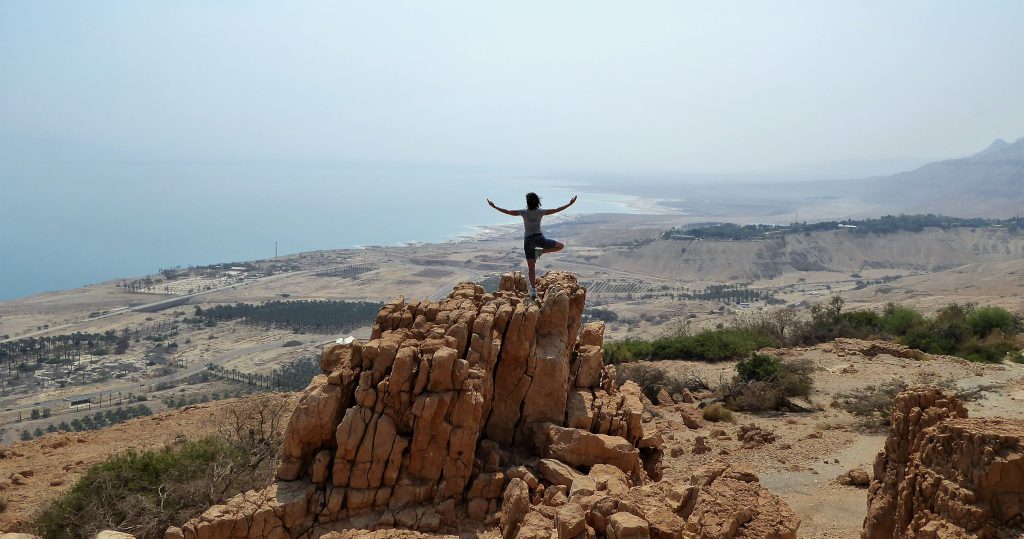 Yoga Pose while Travelling in Israel while looking at the Dead Sea!!
I also like the fact that some people are getting inspired by me. Trying to get a picture like this too!! I will never go to dangerous spots to get a picture. Safety is always a first and then getting a great picture!
I do love seeing people trying to pose like me. Certainly not saying I have a perfect pose….not at all!! I need to work on perfection… Need to do that for the rest of my life, I think 🙂 Well…when is it perfect right? It is all about who are you looking at as your model. Mine are perfect to me and it seems that I am good for some too.
I must say it makes me very happy to be an inspiration for some!!
Yoga Pose
– Inspiration –
It makes me work again to achieve my goal!!
Well…drifting of of my topic for this post. I was just trying to show you some of those great pics from all around the world. Since a couple of years I am taking them and it got me some nice panorama pics … with me in them .. doing a Yoga Pose 😉
On my last trip to the United Arab Emirates the pics were so great so I'll be sharing them first… I am so happy with those!! We had the best trip in the desert. We were crossing those great dunes, our driver Malik was the best to give us that exciting feeling in our stomach!
Yoga Pose while Travelling in the United Arab Emirates Desert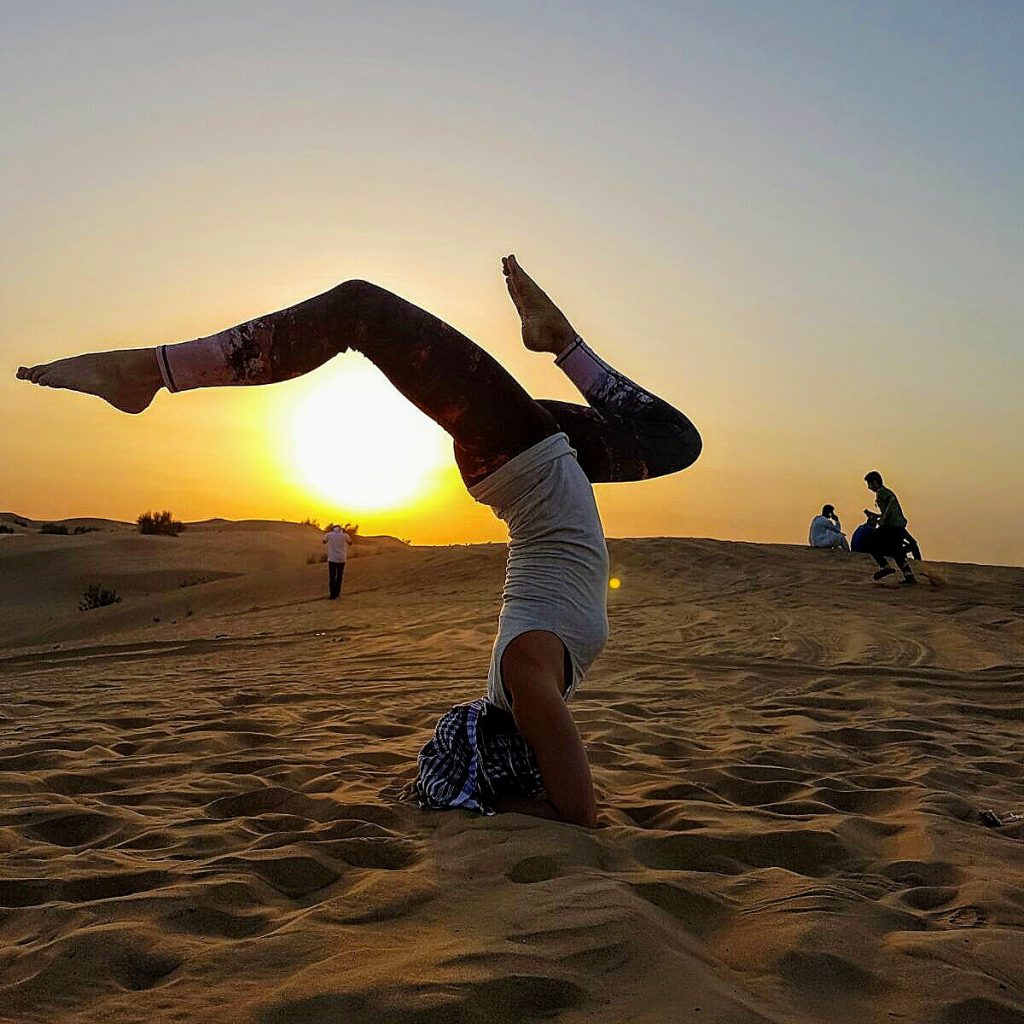 Yoga Pose at Sunset in the Desert
—  United Arab Emirates   —
Just the right place at the right time!!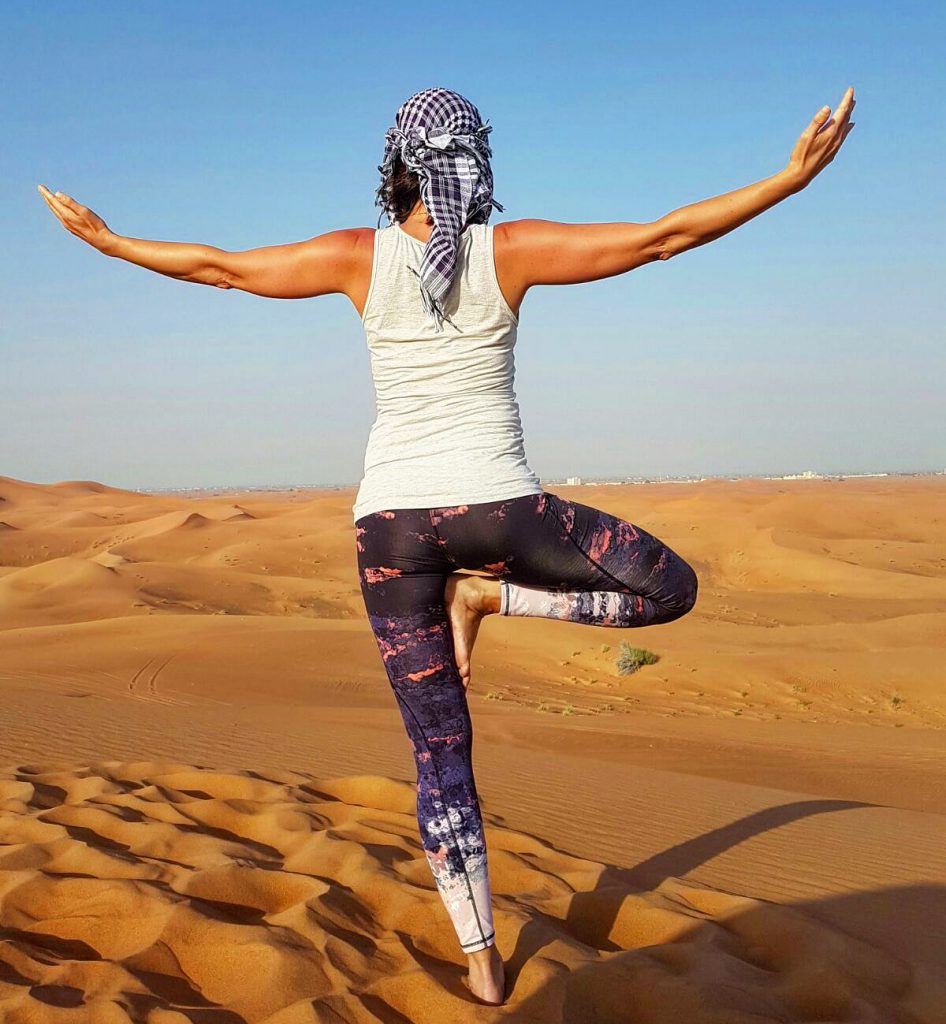 Wouldn't you love to be standing there too…looking into the wide desert…the hot wind brushing along your arms?
Check more pics from the desert in UAE
Yoga Pose in Sweden
And last year visiting Sweden I got some nice shots too!! In Stockholm I secretly took this one by myself.. Most of the times I ask someone to take them because of the timer on my camera is only 10 seconds. I don't want to rush it 🙂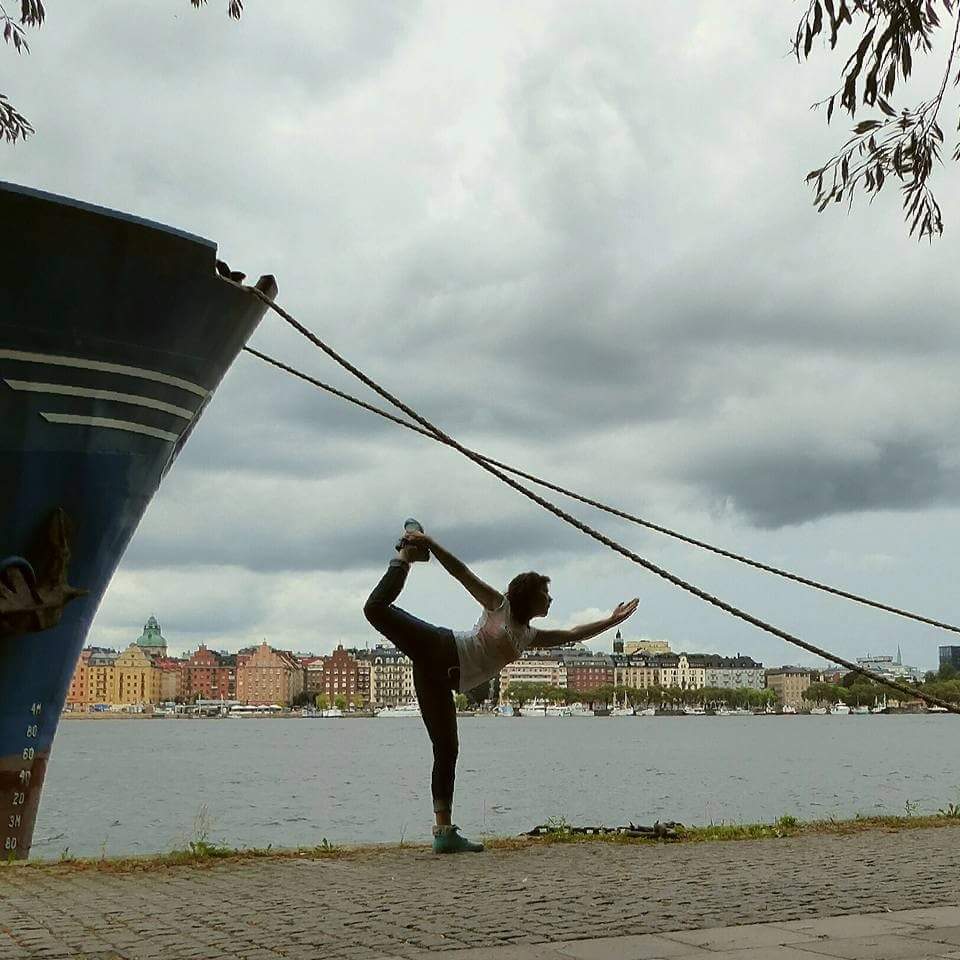 And then on the other side of Sweden, on the west coast, I cycled some K's of the Kattegattleden cyclepath. This year I will go cycling the whole path, really excited about that!!
I hope You get Inspired too!! #Yoga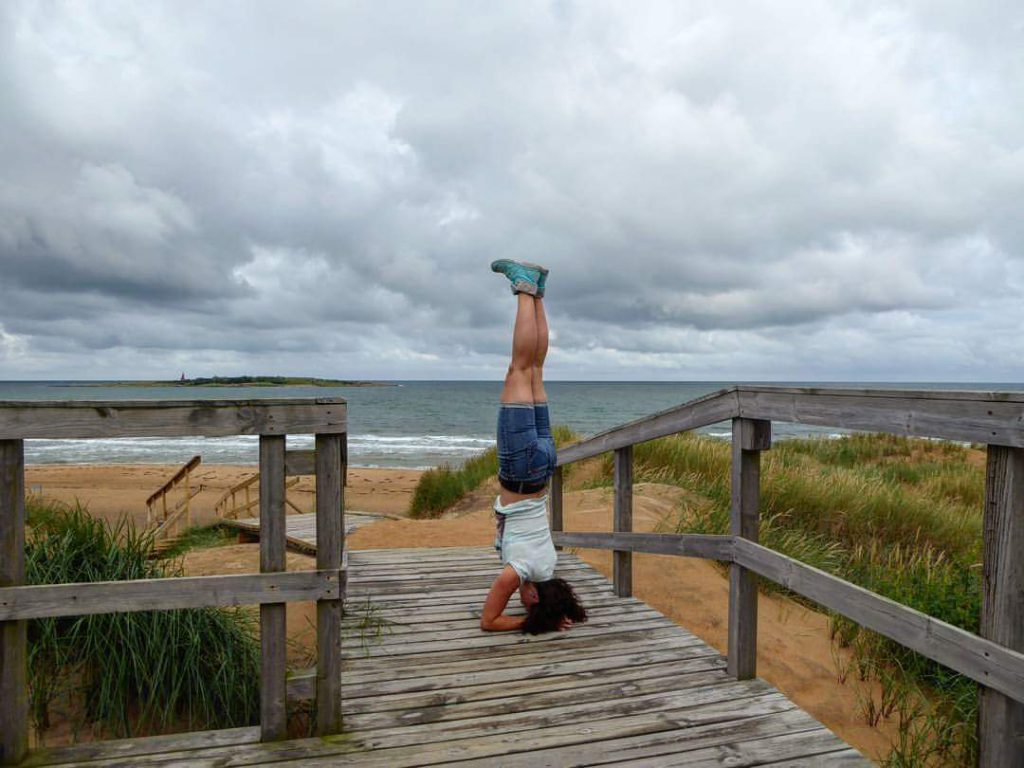 Yoga Pose while Travelling in India
When I went traveling with my dad to India we visited a friend in Kashmir because he invited me to celebrate a festival with his family. Ofcourse we wanted to see that!!
Also exploring that great area was great. The nature is impressive and the mountains are beautiful! So we climbed the Thajiwas Glacier. I still have to translate that blogpost but just look at those pics!!
My guide that hiked all the way up with me after my dad sat down for a cup of tea at stage 2 took this pic of me. I still love this one a lot!!
Just look at those huge mountains in the background!!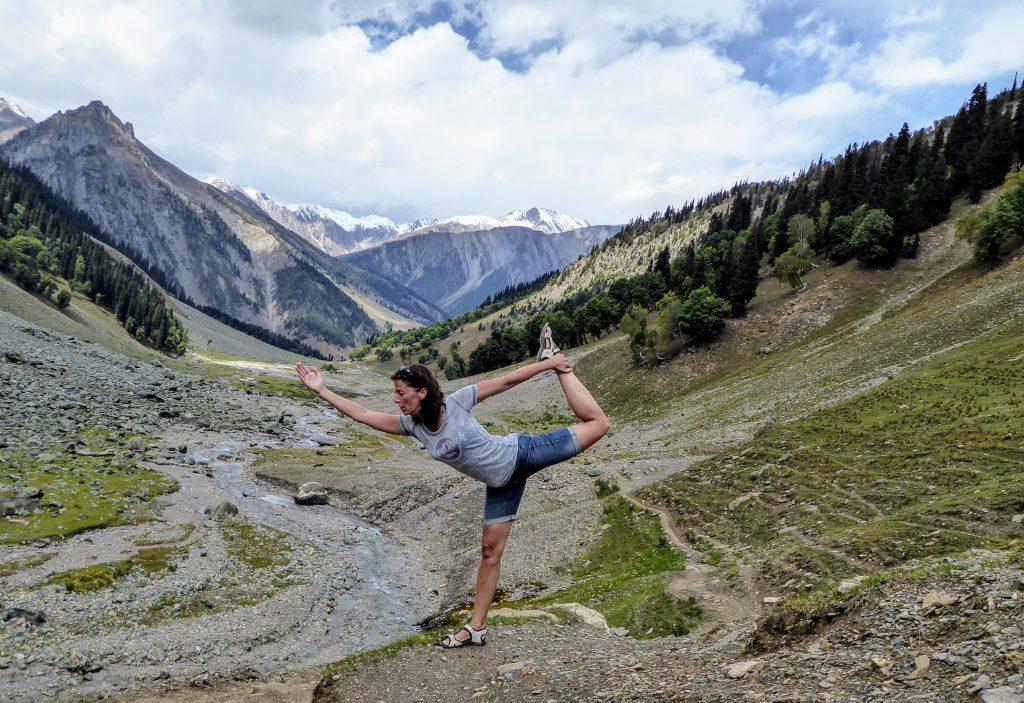 We stayed on a houseboat on the Dal Lake in Srinagar. It was such a relaxed week. The evenings I enjoyed all the boats with locals and tourists that came by. Some came by to sell scarfs and such 🙂
In the meantime I had all the time to practise some headstands ofcourse!!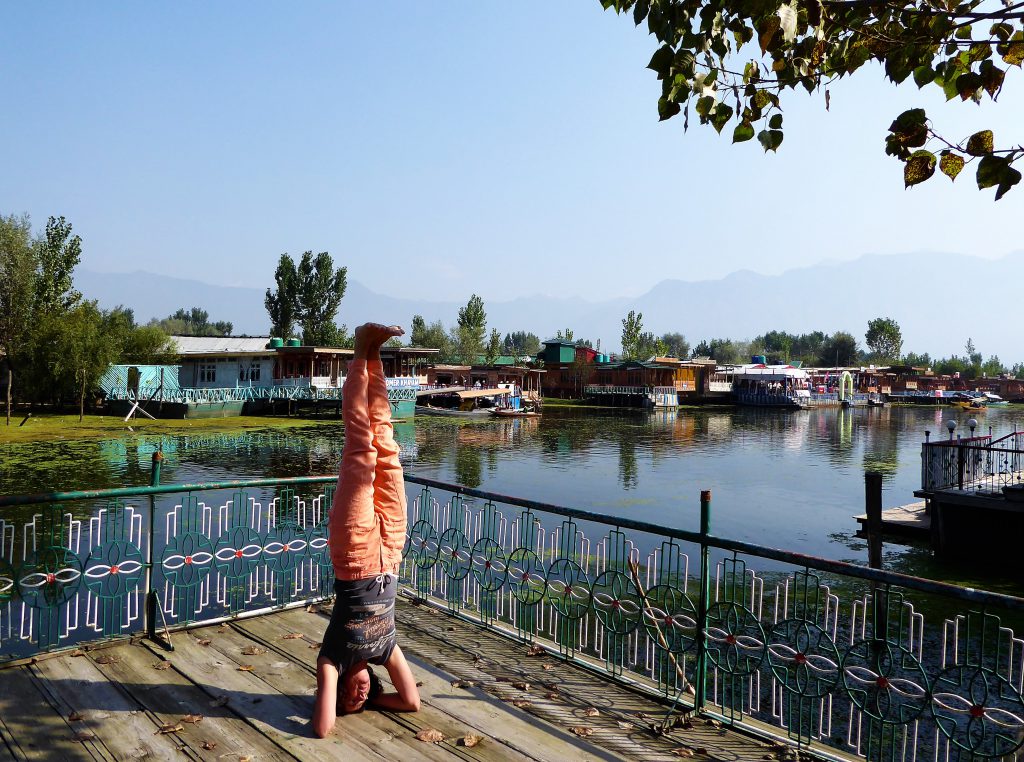 KL – Malaysia
This last year I even celebrated newyears in Asia! I was very happy to celebrate it with a family from Holland. A colleague of mine was traveling long term too with her family and we connected a couple of days after christmas in the great complex of Regalia Residence. We had the great view over KL and onto the Petronas Towers when it became 2017!!
I loved it!!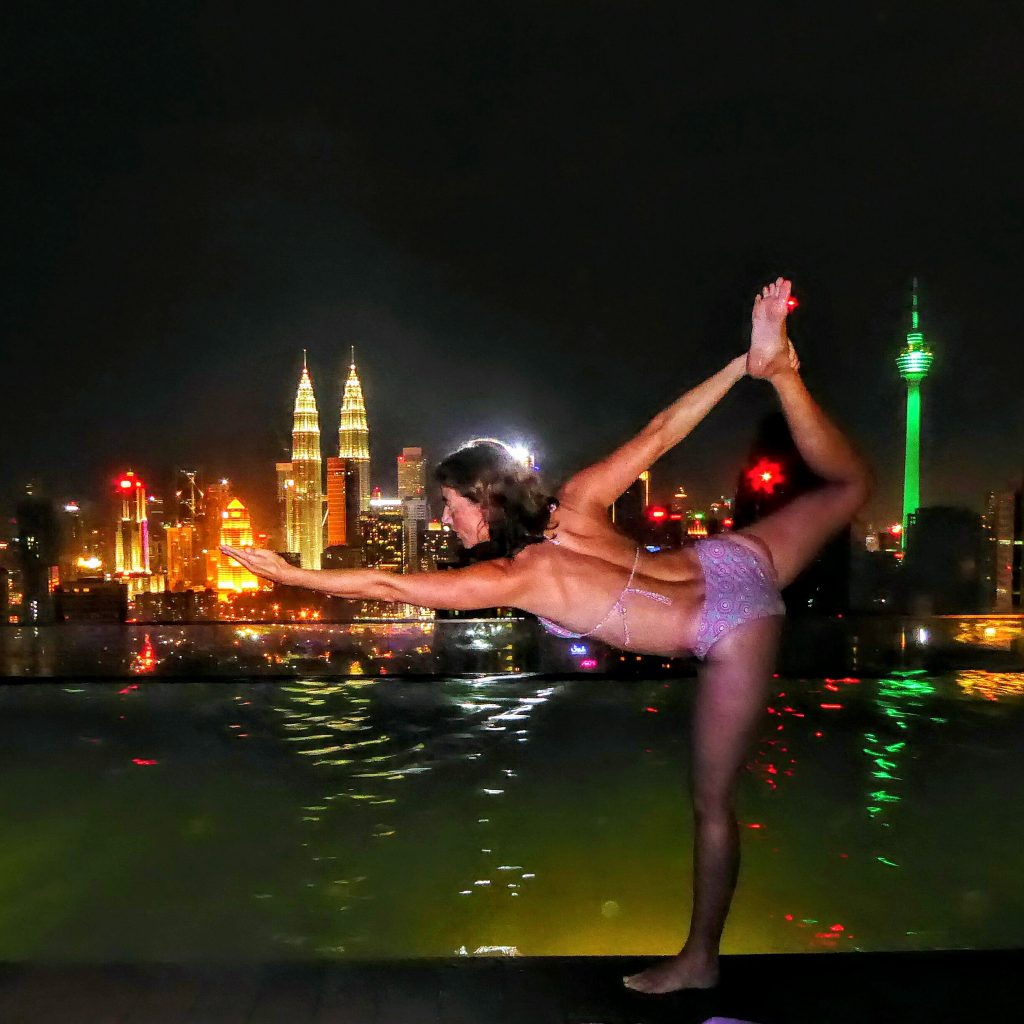 Look at those great Petronas Towers in the background!!
And from the warm Asian landscape we hop on to Iceland!! What a great destination to be driving around in that white winter landscape! I really loved it and stopped at several locations along the way to enjoy that view!
Sometimes people think I only travel in Asia. It is not true…but I do love Asia and have spend a lot of time in that area the last couple of years.. Who doesn't love the culture, food and people of Asia??
But I did go to Iceland in 2016 and really, really loved it!!
Yoga Pose while Travelling in Iceland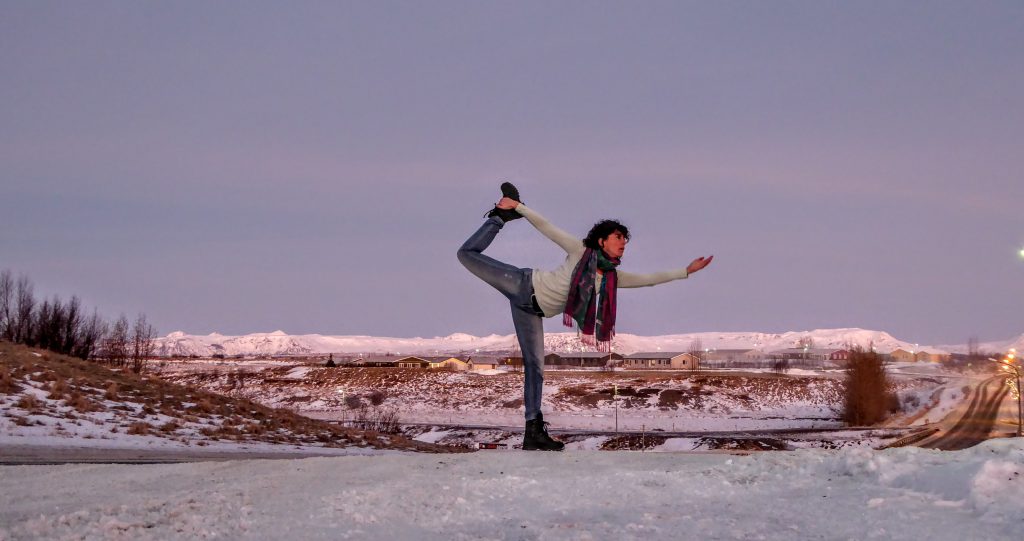 Early morning pose near my hotel in Fludir, near the secret lagoon.
Great spot to relax in the evening time!!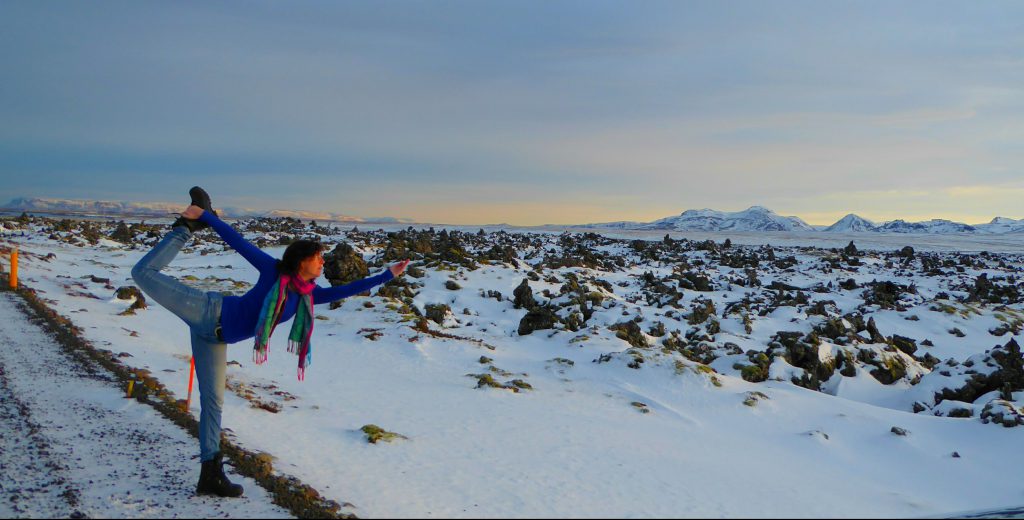 The plus on driving your own car around the island is being able to stop at beautiful places.
My Favorite Yoga Pose while Travelling
Yoga Pictures from Around the World
When traveling a lot you shouldn't forget to enjoy the beauty of your own country. And Holland has got some beautiful spots!! How do you like this one?
Really!! It is worldfamous….but if I ask a lot of my Dutch friends…
they don't even know this wonderful place!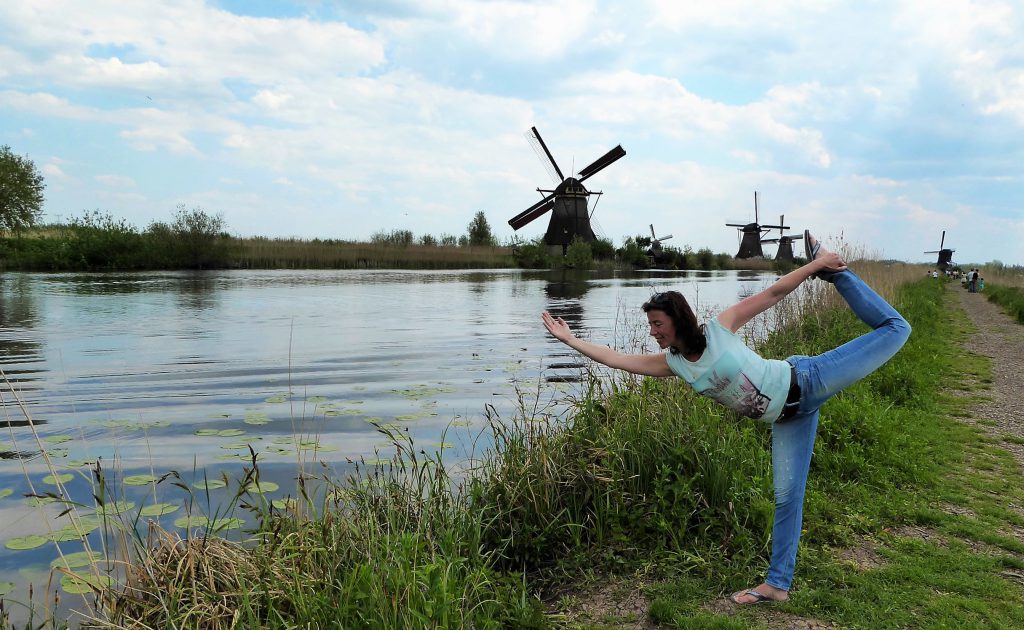 How do you like this spot in The Netherlands?
I loved Kinderdijk!!
Yoga Pose while Travelling in The Netherlands too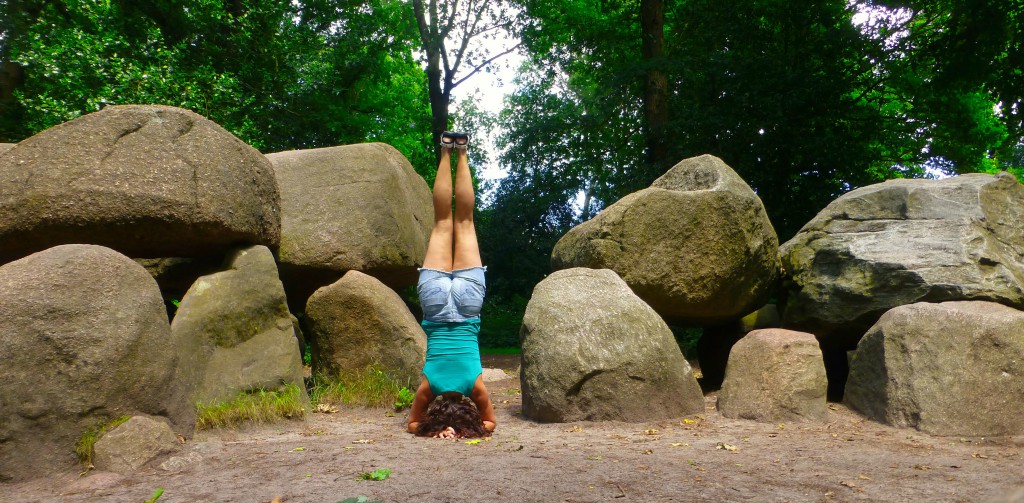 I also visited these ancient old Dolmens in Drenthe, it was great driving around that area in search for these stone formations!!
The Best Pictures of my Yoga Poses
Also Yoga Pose while Travelling Sri Lanka
Then there was this nice hotel in Sri Lanka!!
The roofterrace was great for practising some poses!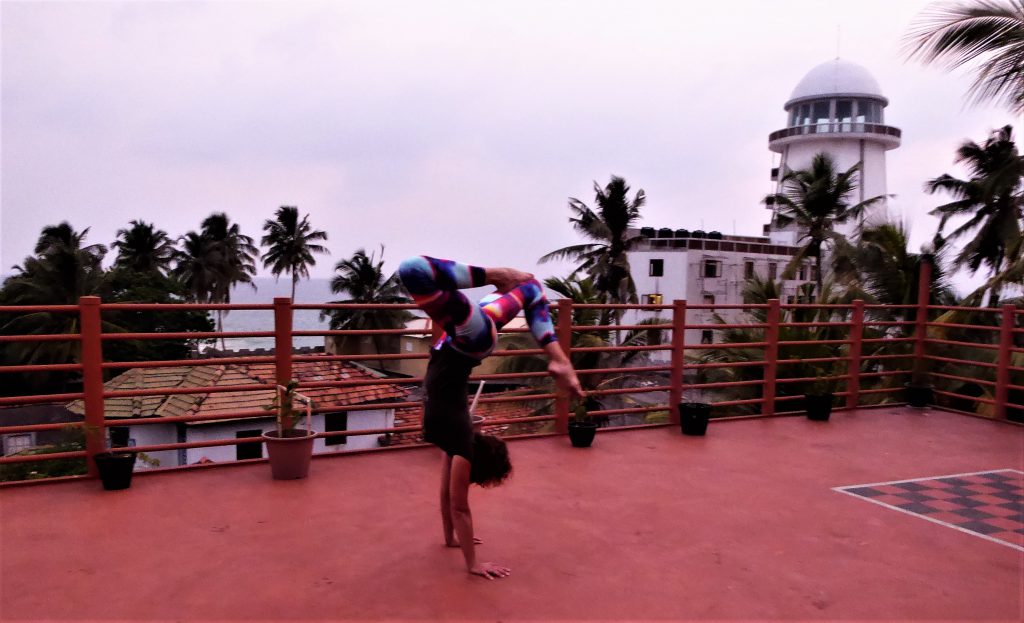 Enjoying the fresher evening breeze and taking some time to stretch and relax!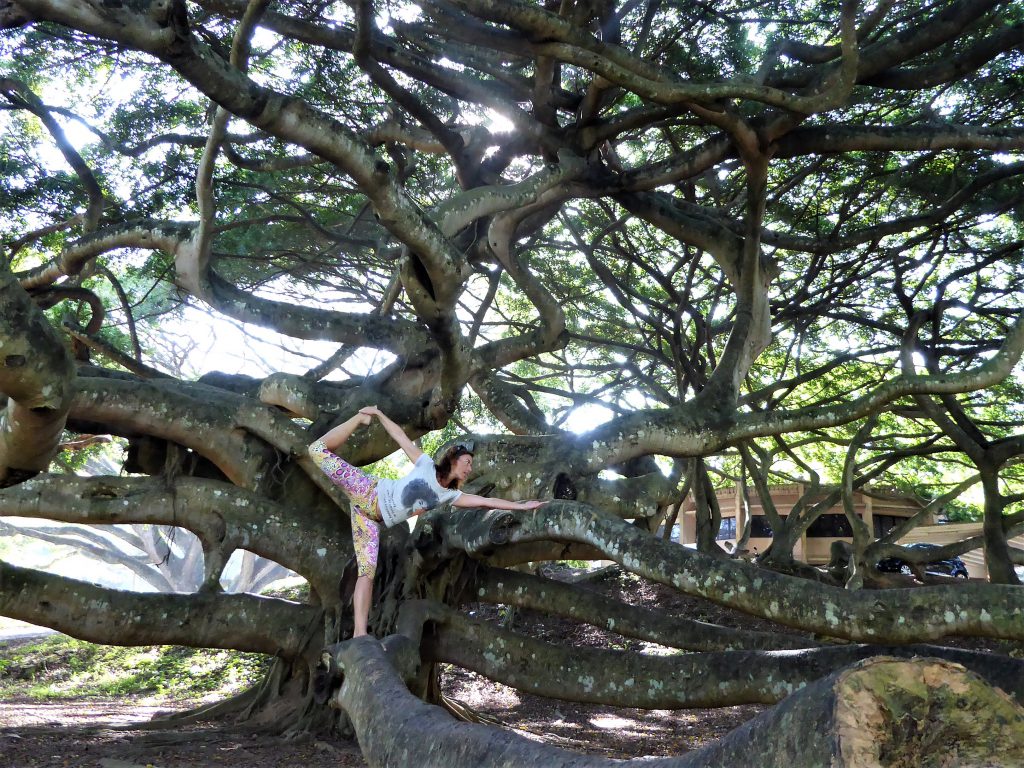 And how do you like this huge tree? We saw it driving from Kandy to Nuwara Eliya and  I just had to stop ofcourse and pose on it!! Since I had a private driver I could stop where ever I was. And….I had a photographer with me to take the pictures!!
Yoga Pose while Travelling Europe
Germany – Warburg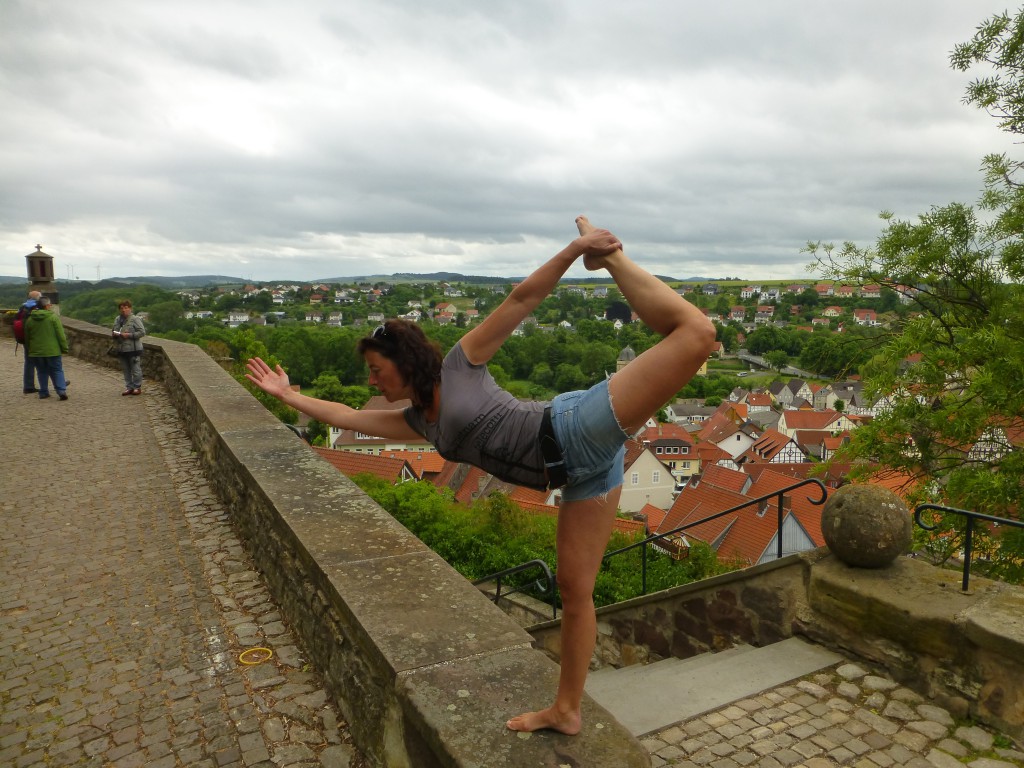 See me standing on the ancient old citywall of Warburg!! Also the surrouding area is great for visiting. The history is wonderful and nature is welcoming you!!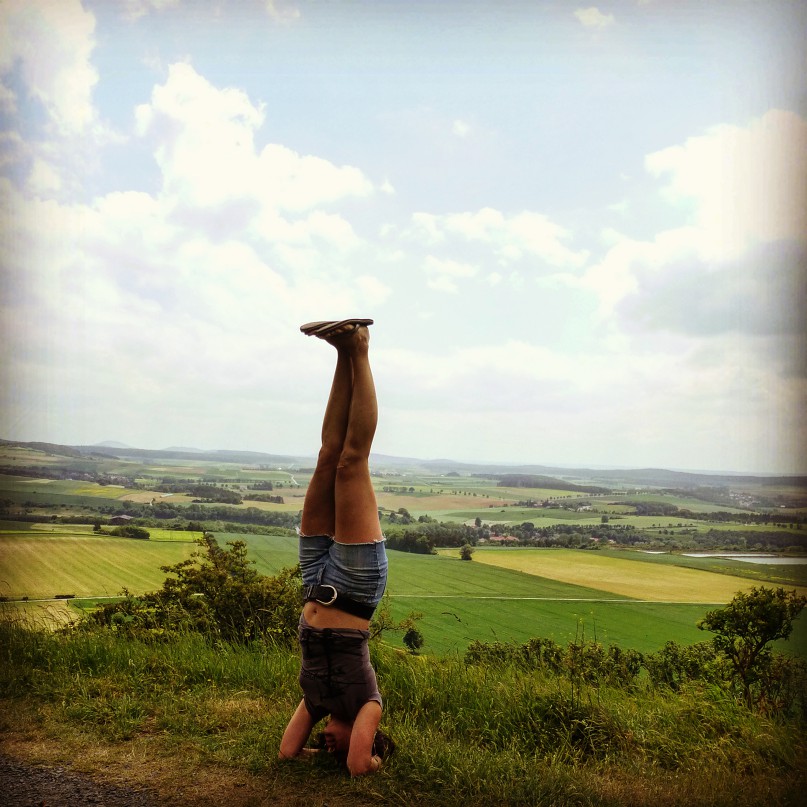 Headstand on the Desenberg
The Great Holy Country :  Israel
I started with that great picture in Israel, looking from the Ein Gedi National Park over the Dead Sea and even seeing Jordan in the distance. I loved Israel, I was so surprised by its kindness of the locals. They were so kind to me, as I travel alone I do love to talk to others too some times 🙂
One evening in the Desert of Israel underneath the impressive Masada mountain I took in how blessed I was. I took extra time in the desert… I mean, as a Dutch girl…how much time do I get to spend in the desert anyway? Soaking up the air, the heat of the desert….but also the evening breeze .. getting colder and dark…loving each moment of it!
Meditation and doing a yoga pose while travelling in the desert….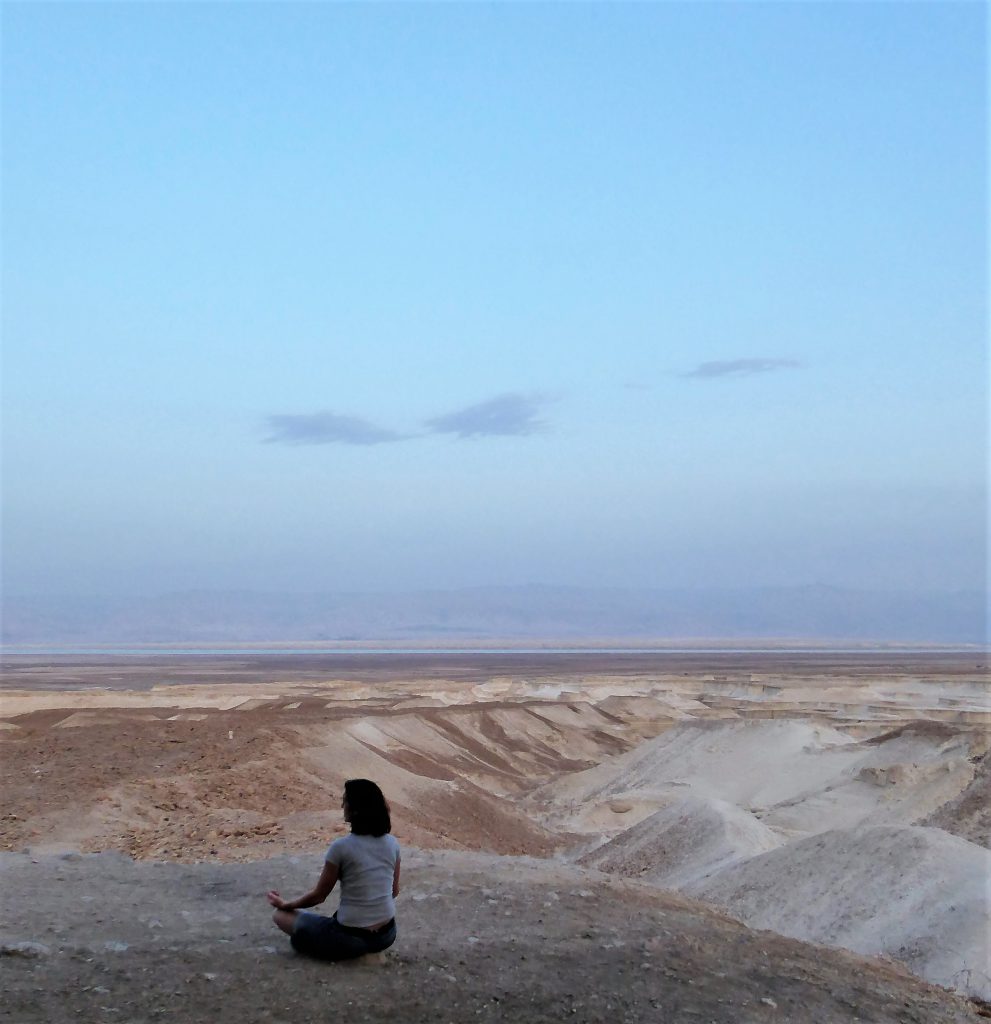 Taking some Q time in the Negev Desert – Israel
In the background you see the mountains of Jordan, how great is that? Wouldn't you want to sit there too?
Yoga Pose While Travelling
Favorite Pictures from Around the World
How about doing some Yoga on a beach Cuba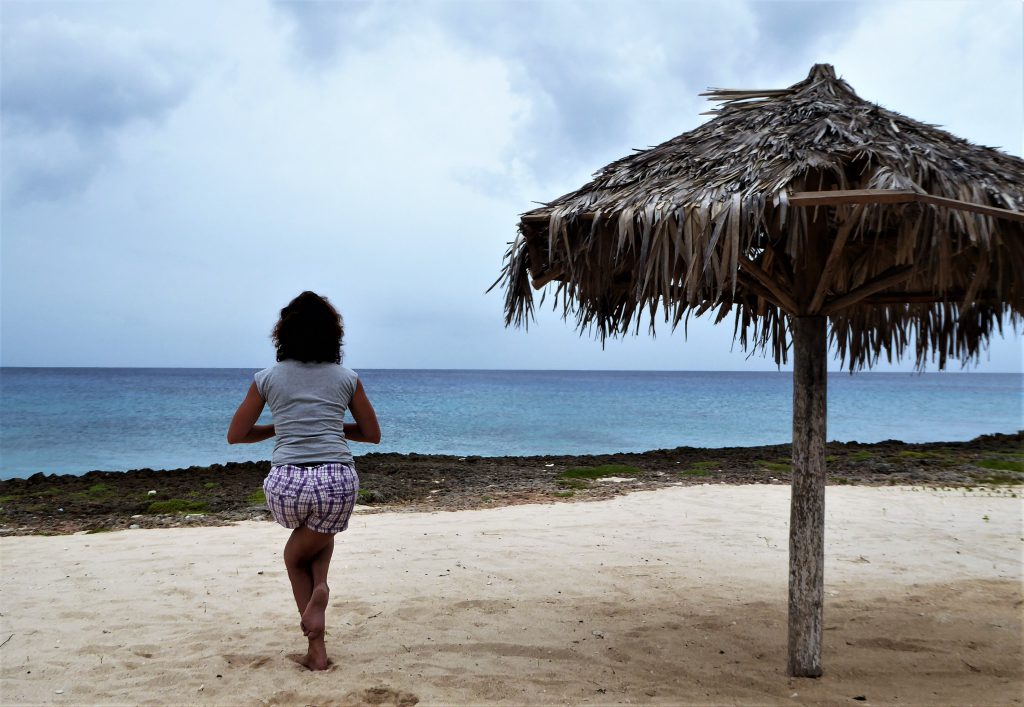 While visiting the great city of Trinidad I rented a bicycle and went cycling to the beach of Playa Ancon. I didn't want to cycle in a straight line so I first went to La Boca. From there I went along the shore to Playa Ancon. It lead me along some remote beaches and yes…I used one for some relaxing Yoga Practise!!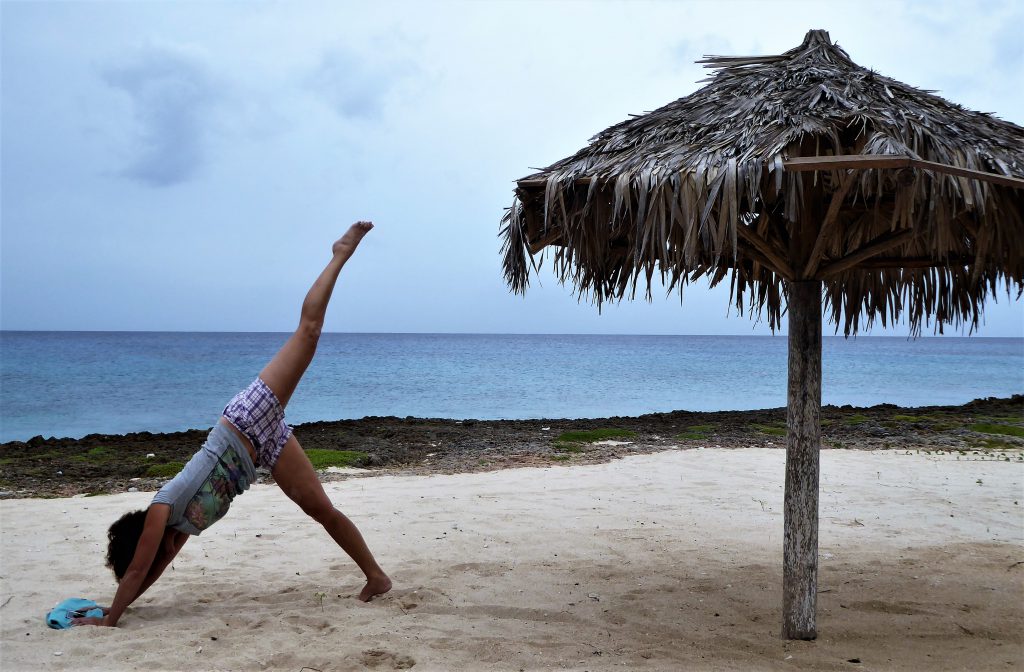 My Favorite Yoga Pics
Yoga Pose while Travelling Thailand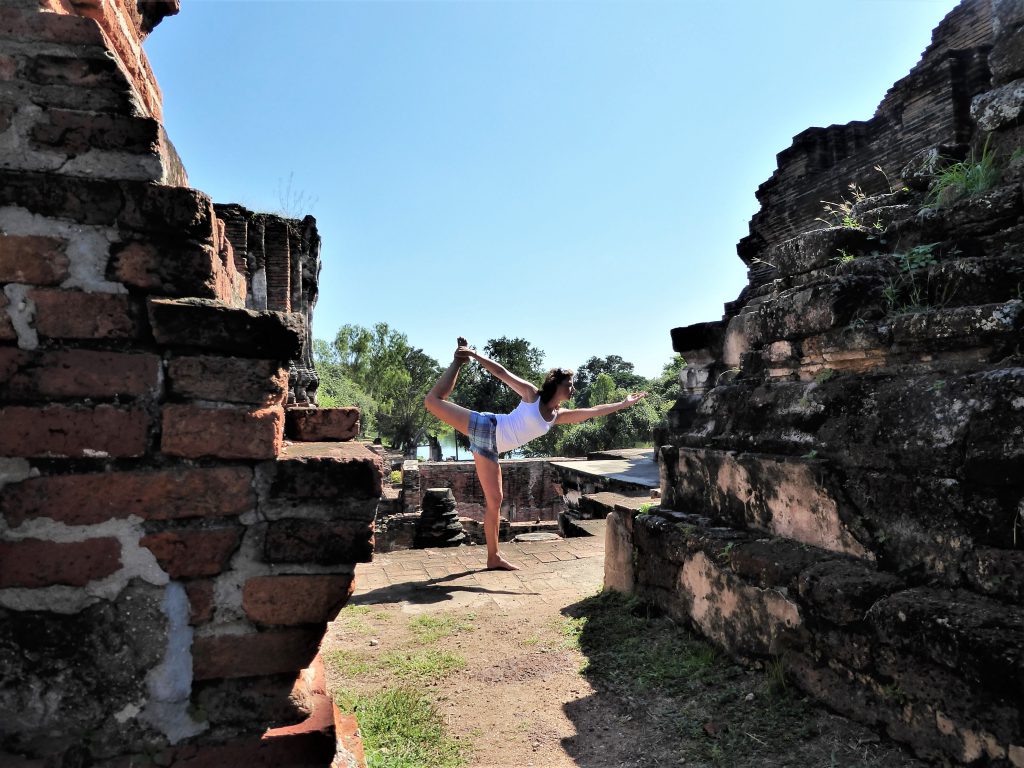 Visiting Ayutthaya early morning gave me the time and courage to take poses on the ancient old temples. I felt great and taking time to do some yoga at public spots is good. It is nice, relaxed and the best way to start a day cycling around the many beautiful temples!!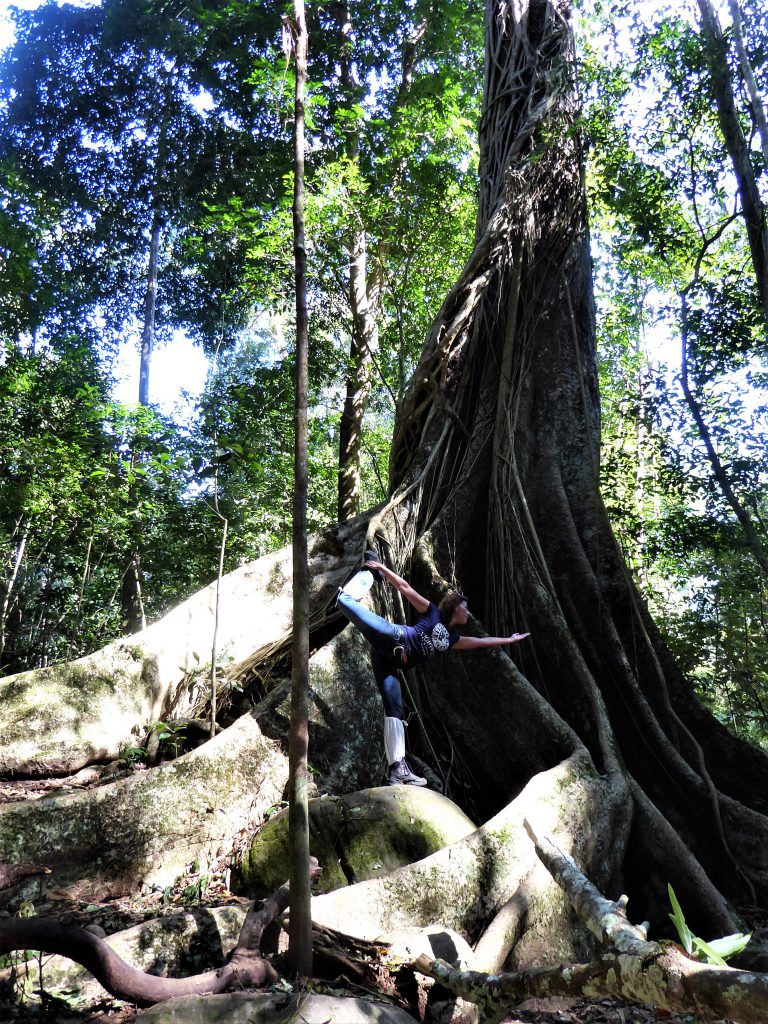 Visiting Khao Yai National park in Thailand. I was hoping to see some elephants ofcourse. Unfortunately I didn't got to see those but our guide showed us snakes, scorpions and spiders which I loved too!! The best colours and shapes!!
And in one of the many great spots in the middle of the jungle I had to pose ofcourse!!
Yoga Pose Pics Around the World
In the future I hope to make a lot of these kind of pictures. I just turned 43 a couple of days ago (2017)…I need to add that I still feel like somewhere in my 20's!! But I'm still going strong when it comes to Yoga and being active but when you age you never know what is going to happen 🙂 I will do my best to stay flexible and strong. It's good for health ofcourse but also really good for the mind.
I do feel young and want to stay feeling young. In order to keep that going I have to keep active on a daily bases. And as every body else…one day I am more inspired and determent to practise then the next day. But until now it's good…if I may say so myself 😉
—
2018
In 2018 I visited Kyrgyzstan and went horseback riding for 6 days!
Look at that view behind me!!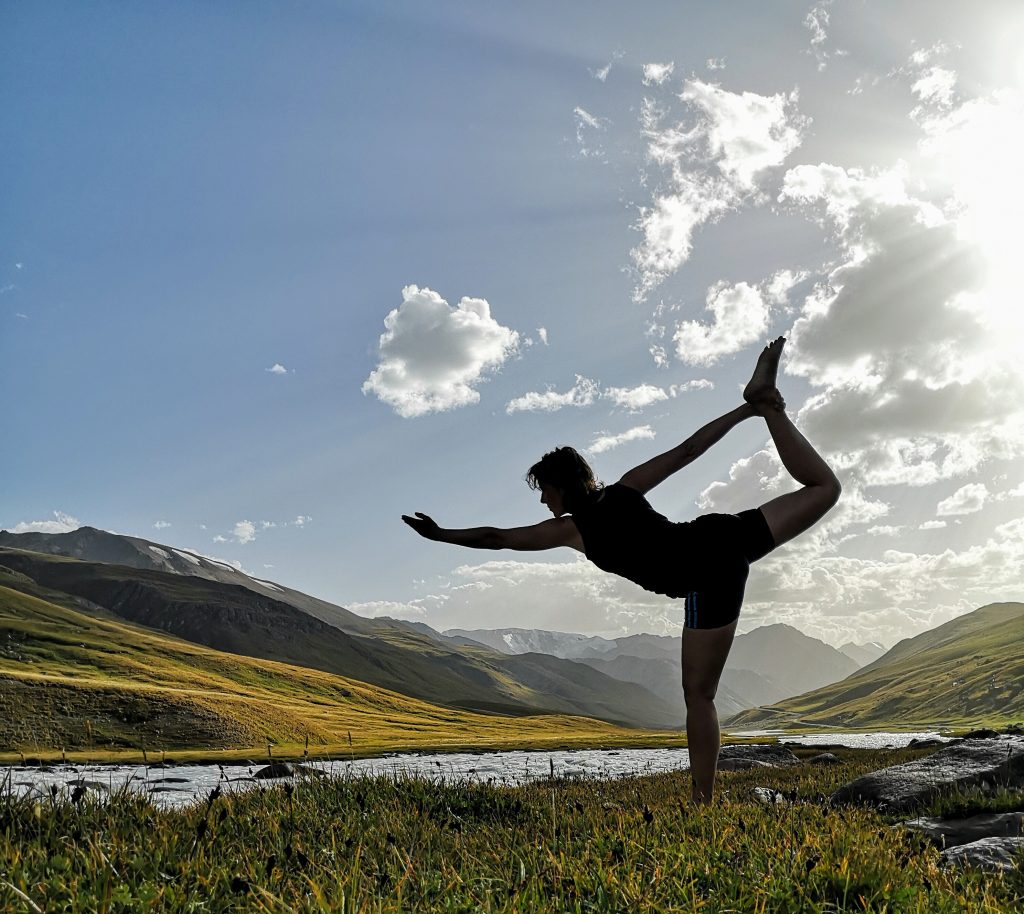 Yoga pose while travelling Kyrgyzstan
But also posing while working as a ranger in Kenya that same year!!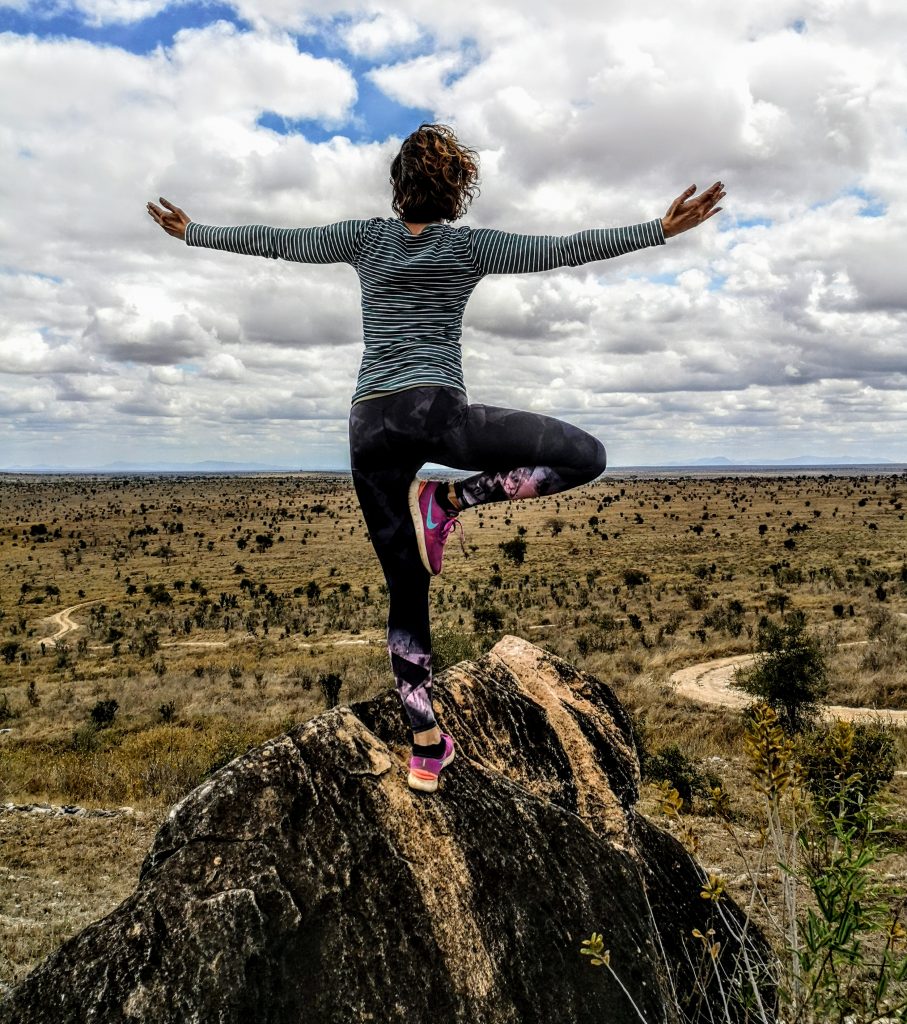 2019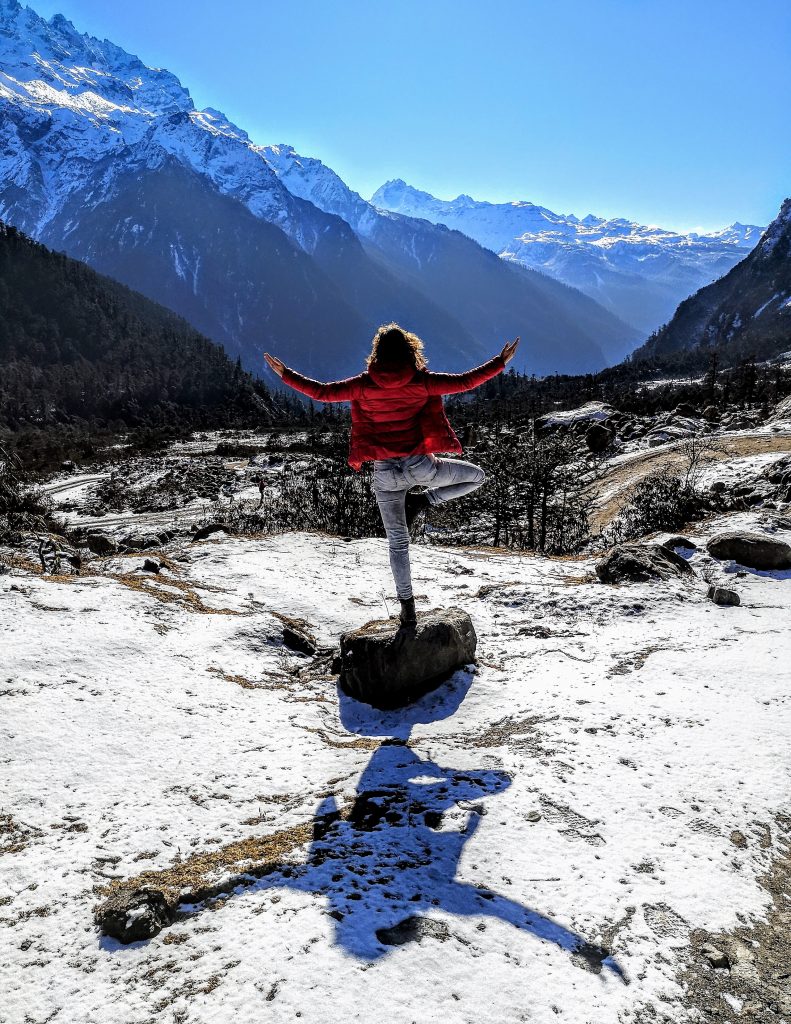 January '19 I did a 10 day tour in Sikkim. It was just the best travel with great company! They were glad to take my picture and knew I was doing yoga poses while travelling so they even expected me to do some!!
Read more about my days in Sikkim, India.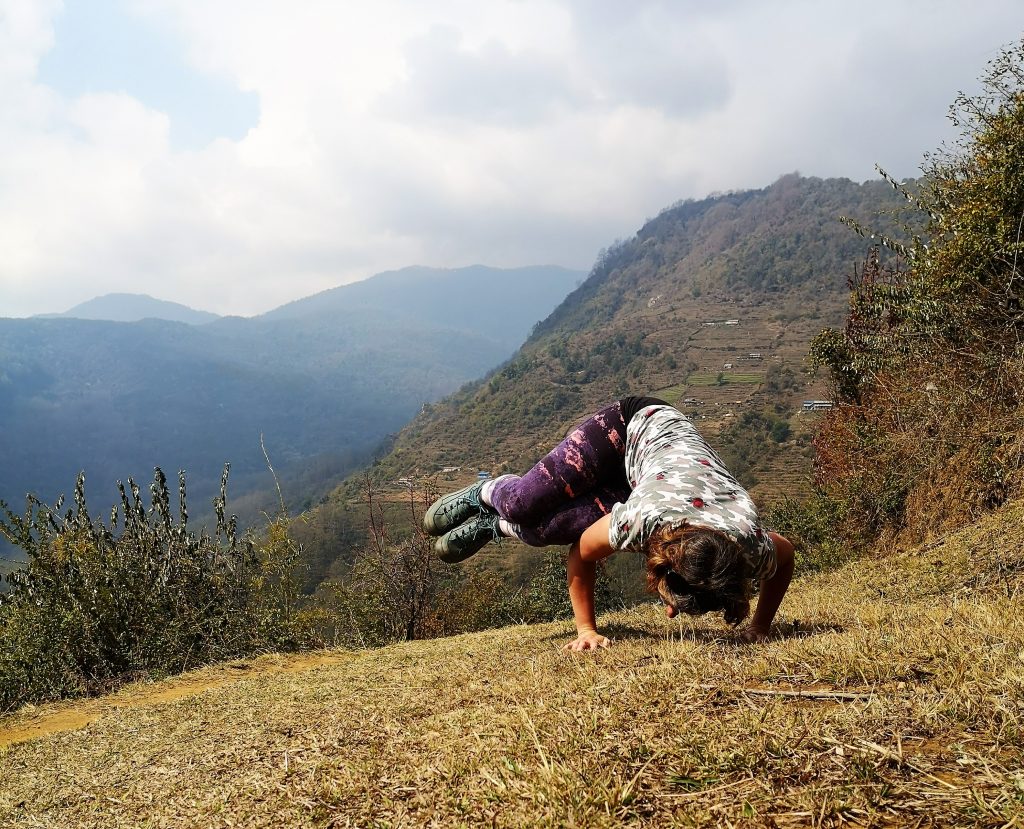 Later that year I went for a trek into the Himalayas!! Something I wished for a long time already. Finally it was time to do so and I loved every single day of it. I am sure that I will return for some more hiking in that area. It's a beautiful world and I need to see more of it! I did several yoga poses while travelling nepal… Almost every day a great spot to find in those Himalayas!
Read more about my Poon Hill Trek!
2020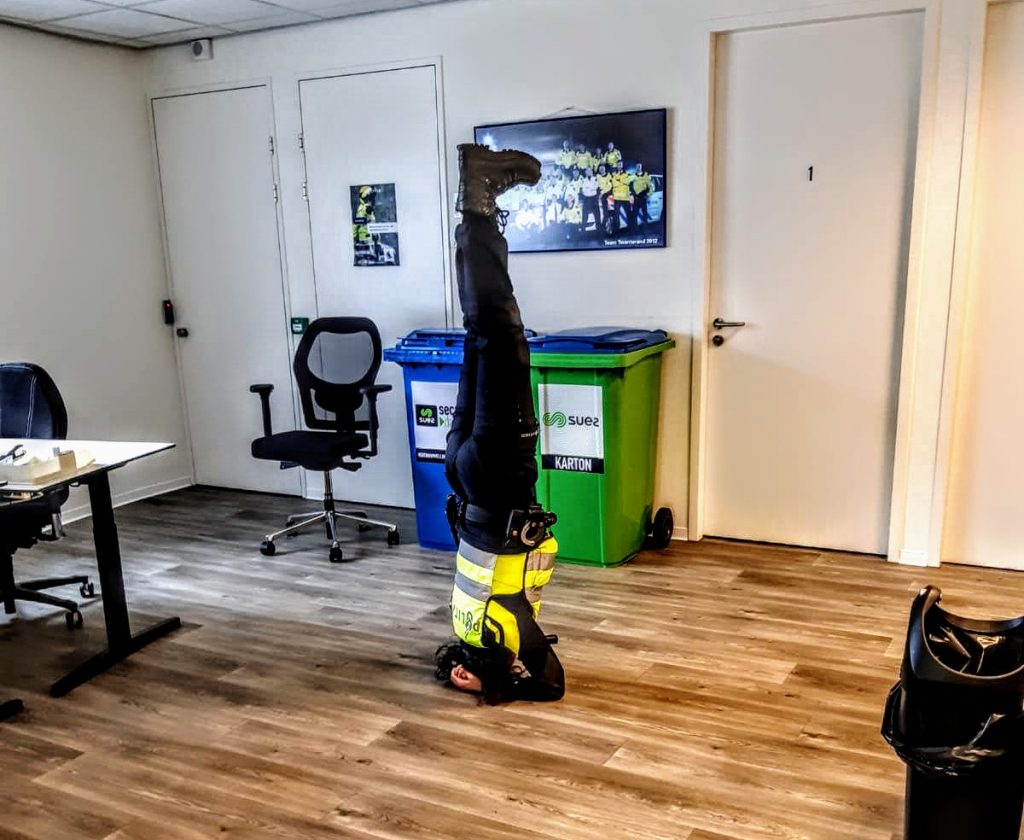 In 2020 we have Corona… So not much travelling right??
I did go hiking in The Netherlands and also did some multiple day tours. On one of those tours, in the Dutch Dunes I did some yoga practise too!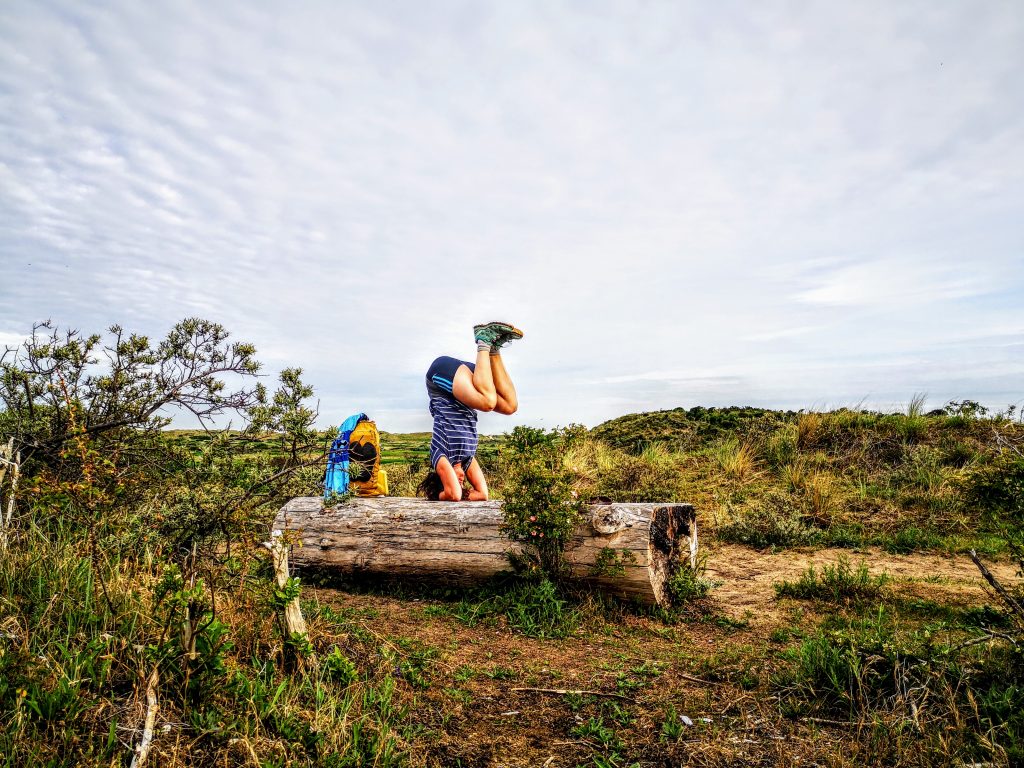 Where are you doing your Yoga?
Where do you get your inspiration?
I love to hear from you!!
If you liked this post you would make me happy by sharing it for others!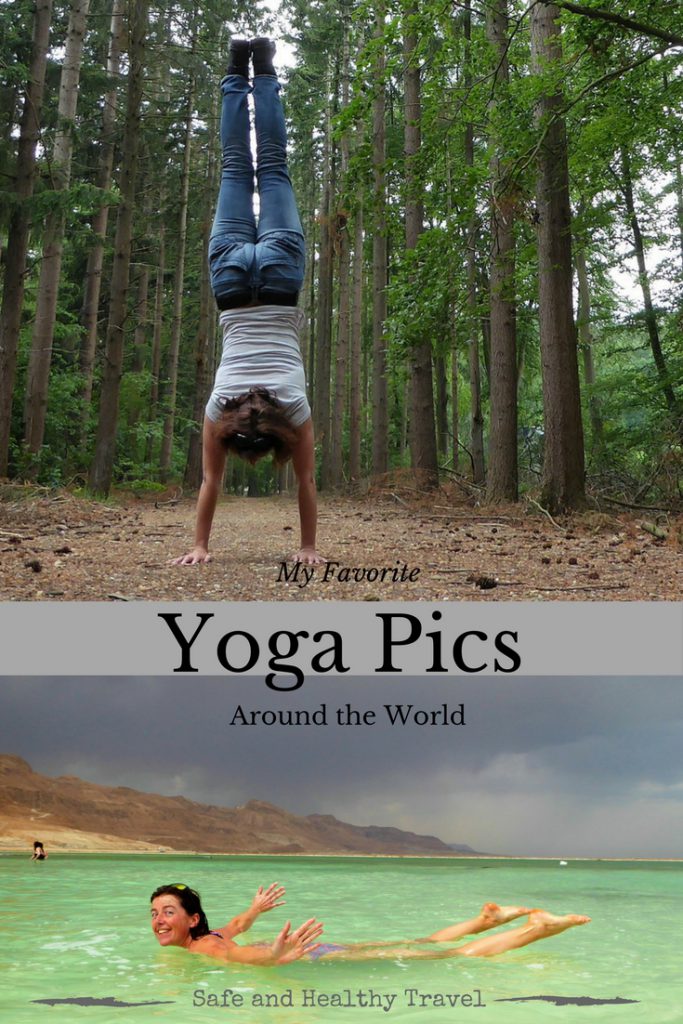 Do you want to read more about my inspiration?
Yoga Poses and Walking the Camino
Running and Walking at the same time
My World is still Positive and Great
Also read about my RYT200! I learned so much!!
I hope you love this world as much as I do!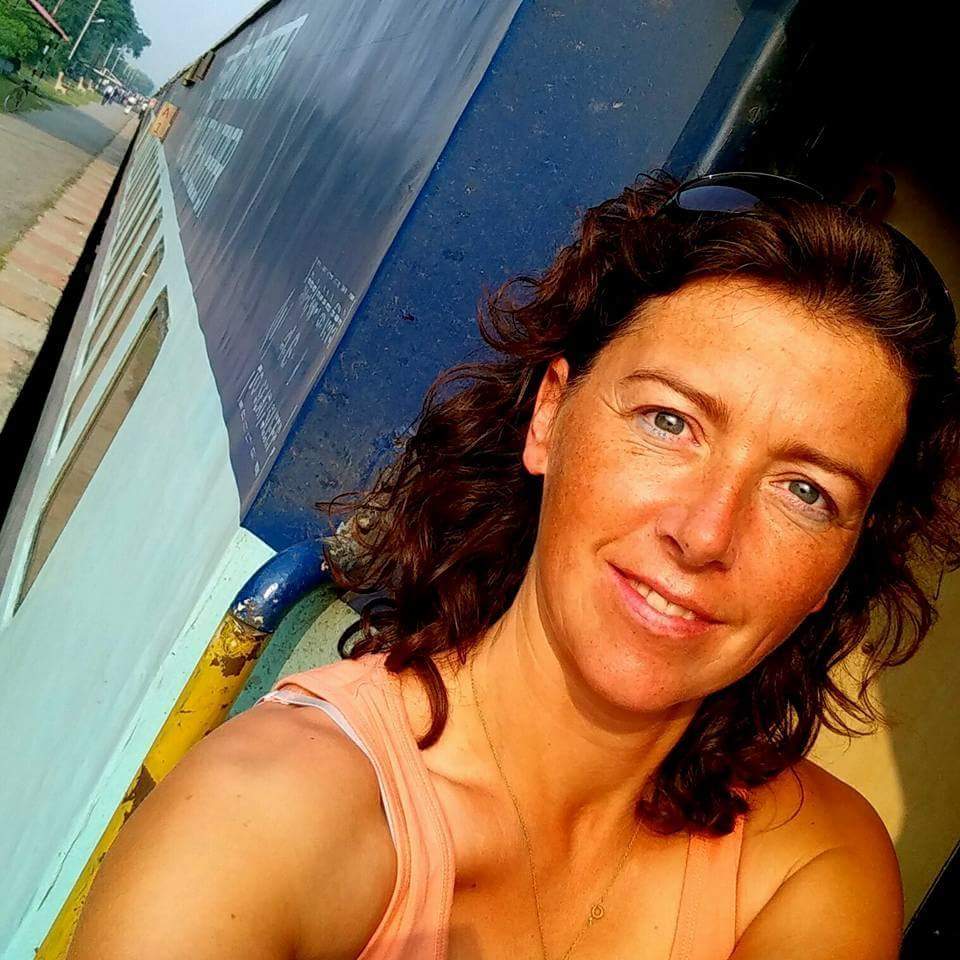 Jacomijn is een politieagent uit Nederland die jou graag laat zien hoe je veilig, actief en gezond de wereld kan over reizen. Safe and Healthy travel is a MUST