People are always saying… Love will come when you are not looking for it..
I'm not looking for love…and love never showed up on my doorstep but then this happened 🙂 I will tell you the whole story… right from the beginning of my pilgrimage in september of 2016.
I started my wonderful journey; the Camino in Saint Jean Pied de Port on the third of September 2016. Walking those great streets on the 2nd, wandering around and exploring the old city.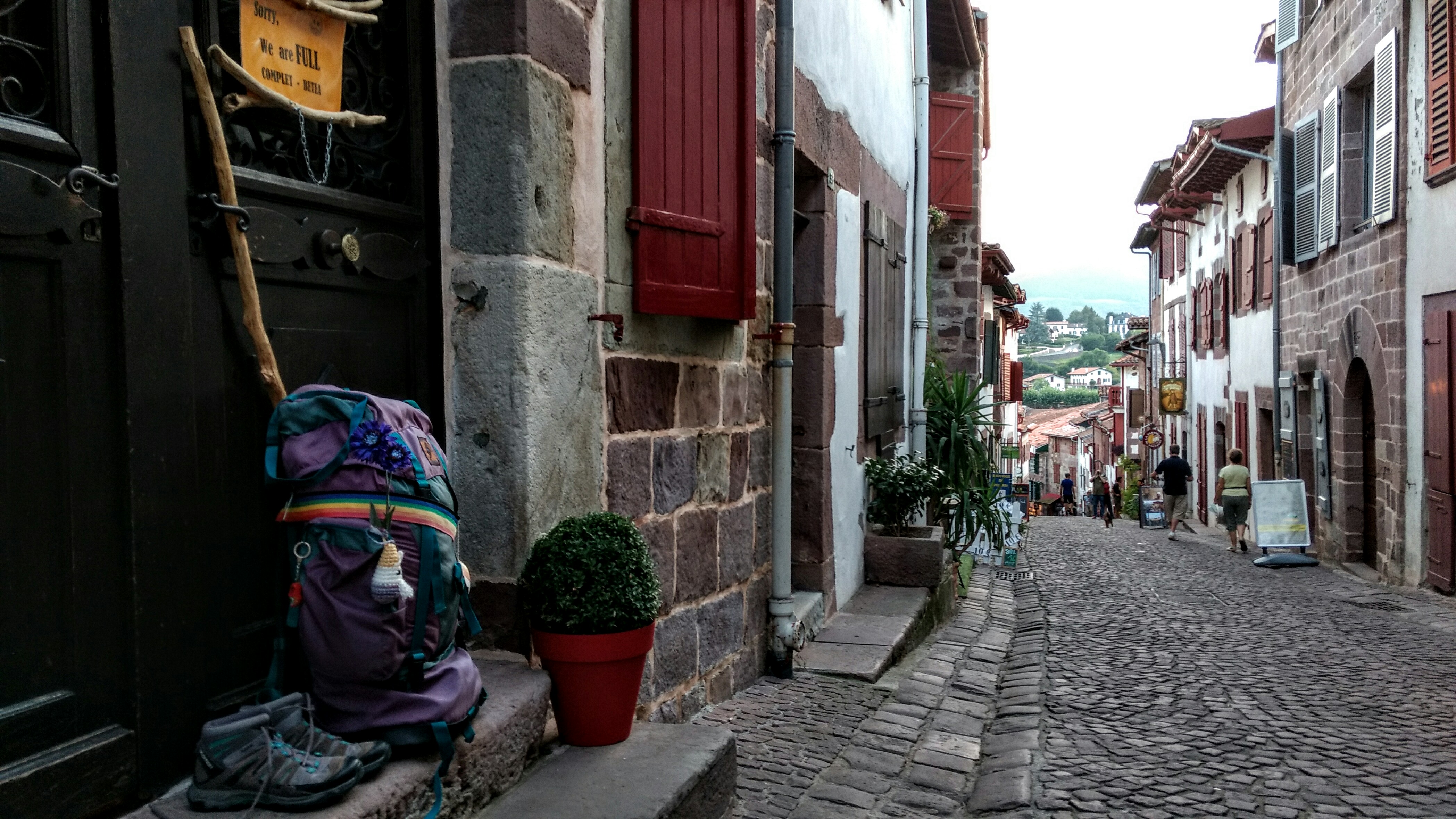 ' He saw me standing there and wanted to talk to me… '
 At that moment I was approached by these three men. They said; "You must be Dutch!!" I was very surprised about that!! How could they know? They told immediately that they were in the same albergue and we're behind me when I checked in. They asked me to take a picture of them, I did and they took one of me!!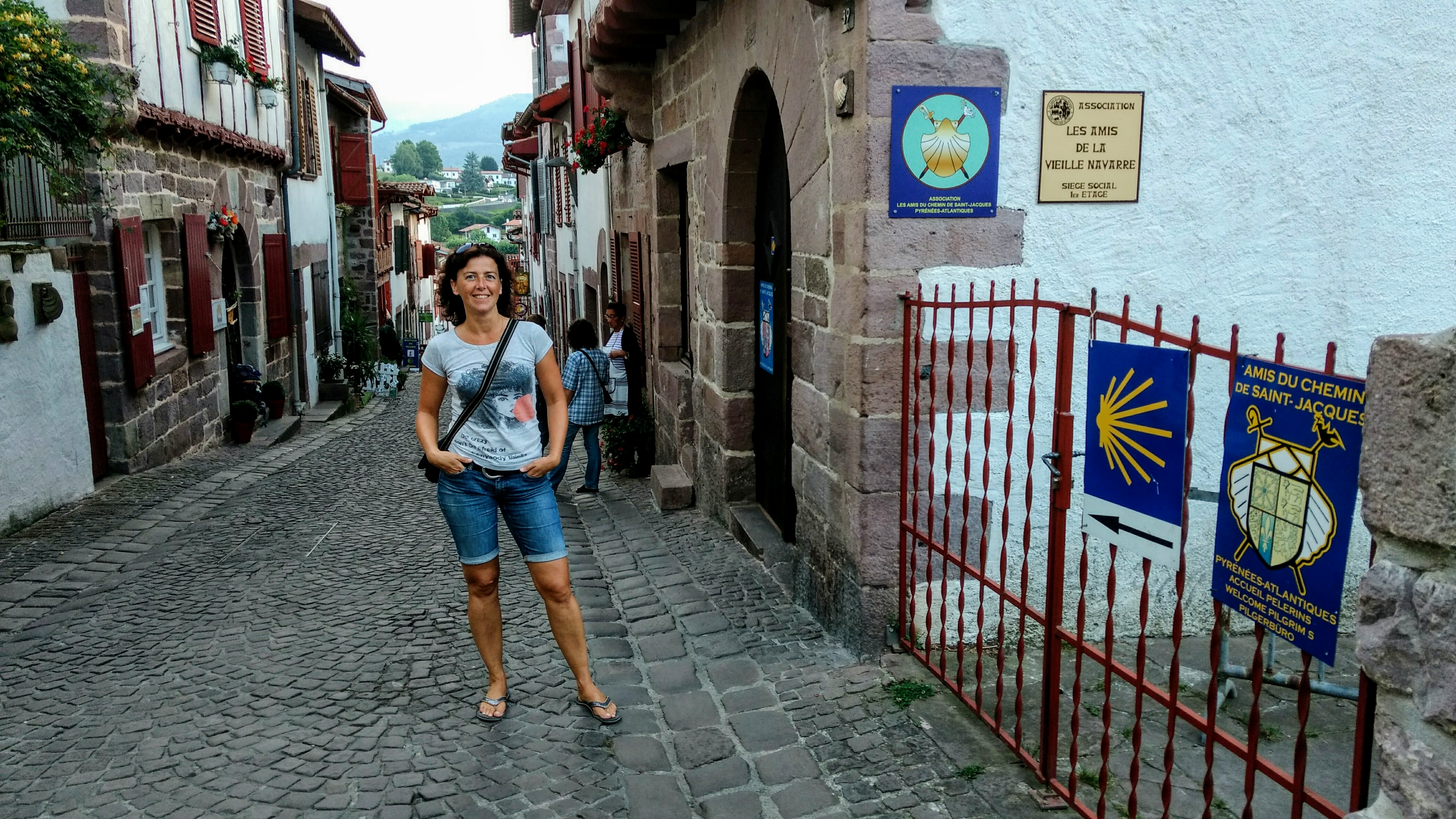 ' He saw this happening…his moment was interrupted…he walked on … '
The next day I walked with Claire and Jean Marcel all the way to Roncesvalles, what a wonderful and great walk! I was so happy that they took me with them, I learned a lot from them! They had booked a hotel and I went to the big monastery in Roncesvalles. I got bed number 206…
' He saw me on the bunkbed under his.. He was so surprised.. we met again '
I put my sleepingbag on the bed, my bag in the locker and took a shower. Quickly after I went to the hotel where Claire and Jean Marcel stayed. They would leave tomorrow to France. They were walking the Camino del Norte route and I wouldn't see them again ..
Is there  place for Love on the Camino?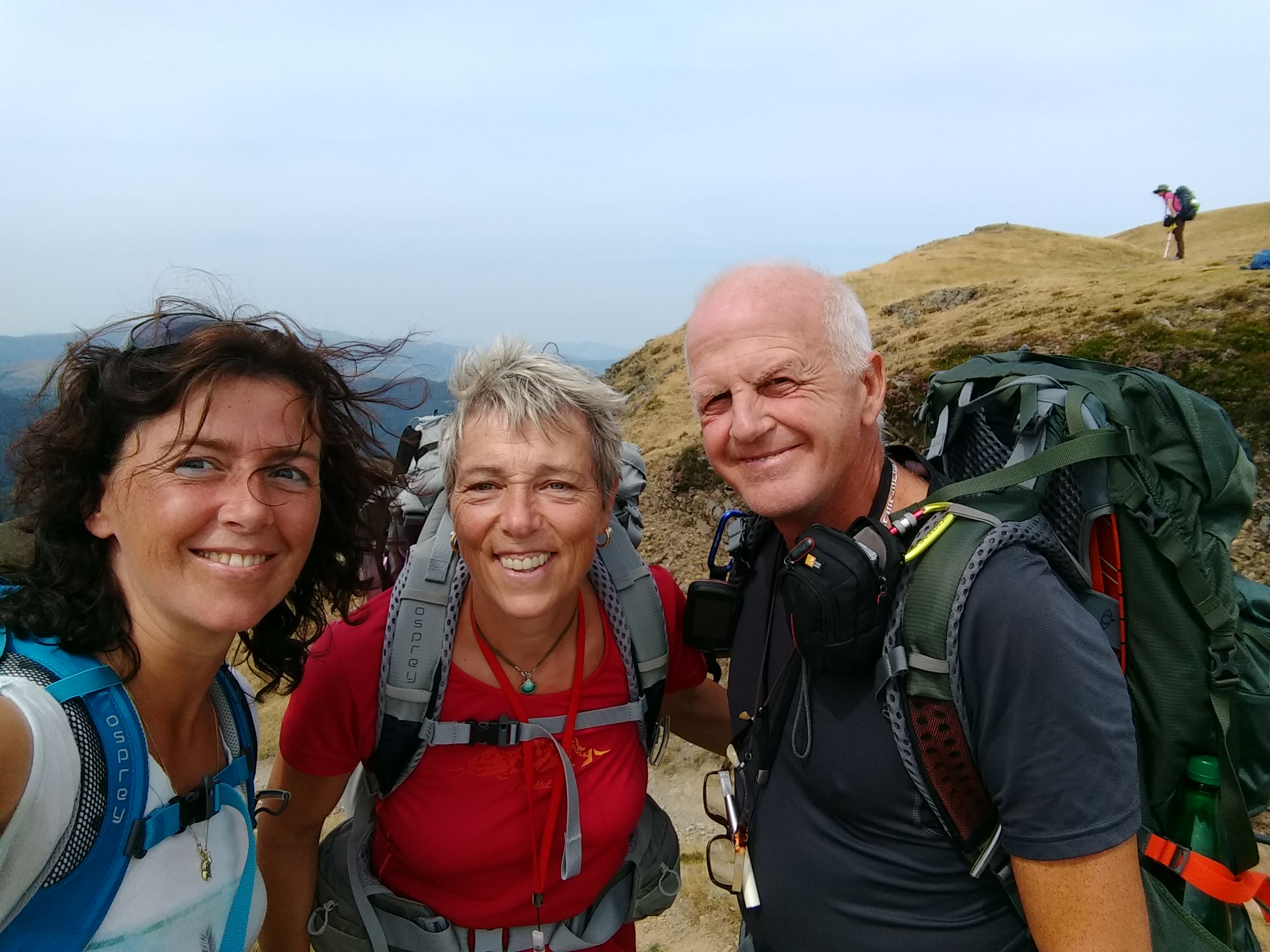 Just before entering Roncesvalles on that first day walking the Camino with Claire en Jean Marcel
' He saw me and I seemed busy.. He didn't want to interrupt me.
We would see eachother again… '
The afternoon I spend on the terrace with Claire and Jean Marcel. The evening I had my dinner at the restaurant and had a good night of sleep to start the next morning with a breakfast and walking away at 8 o'clock sharp!!
Love on the Camino
—
At some point I started to see this guy… He was in a group of loud Italians… But he wasn't like that. He was calm and had a friendly smile. We exchanged smiles a couple of times on the Camino…at coffeebreaks…
Just before San Juan de Ortiga he came walking next to me. We talked a bit and he said me to go on to Ages. San Juan was not a nice place to go.. I thanked him for the advice! I'll do that! He walked alone by now and we exchanged a smile again.
What was he thinking here?
Did he give the advice so we could meet later? 🙂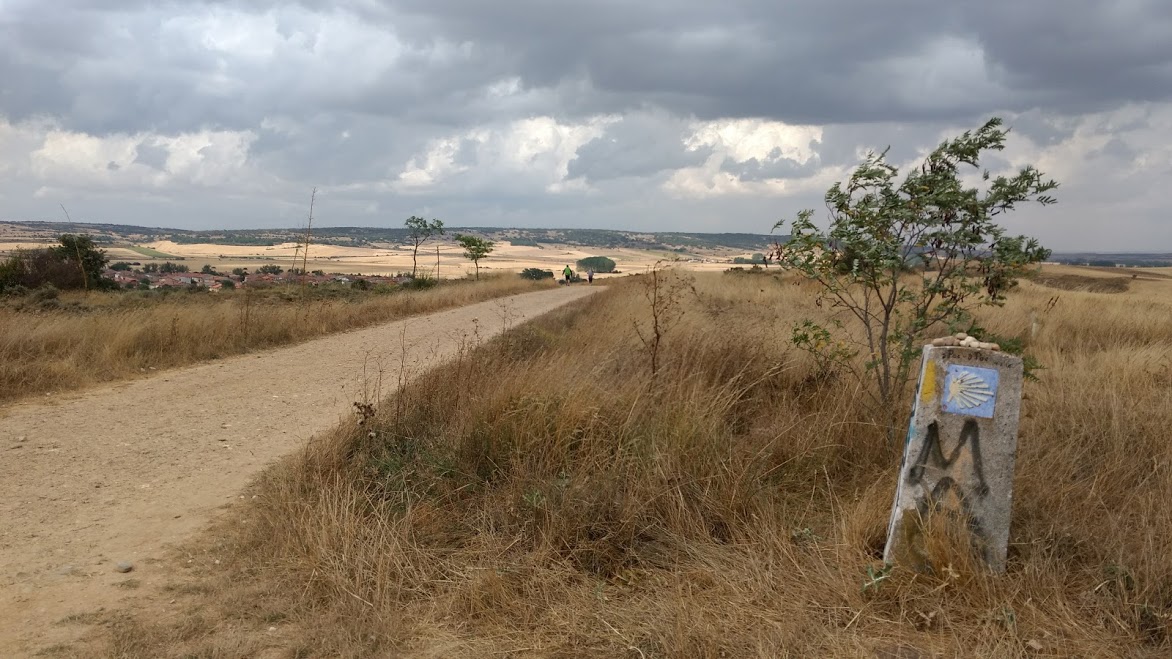 When we entered the village and came to the Albergue, Phil from Seattle was happy to see me and was waving at me from the terrace of the second Albergue. He told me to come at the 2nd albergue and I did.
He checked in at the first…
I now knew he was Spanish and lived in Barcelona 🙂 Shortly after it started to rain…heavy rain!! First rain on my Camino and I was in a nice Albergue and dry 😉
Love on the Camino
Shortly after I walked in to the village of Santo Domingo de la Calzada and I had already decided not to enter the first Albergue anymore because it was always crowded and at this time had a line of people waiting .. I saw him in the line too.. He welcomed me. I said Thank you and smiled.
' He saw me entering the city and felt happy. We met again!! He saw me walking up the same line he was standing in. He welcomed me to the village. I smiled and said Thank you. He saw me getting my book out of my backpack and walking to the next Albergue.. '
I decided not to wait in this line. I got my book out and looked for the other…it was a bit down the street…closer to the centre 😃 Coming there at the big albergue Casa de la Cofradia del Santo, I saw Phil from Seattle there again. I knew he would be there and I we were going to have dinner together again.
For days… For over week… I didn't saw him on the Camino..
 —
Is there place for Love on the Camino?
And then in de great old Church of Sahagun.. He was making his own food. We talked shortly…I complemented him on his Catalan toast with tomatoes and olive oil. It looked great! I was with Jerry and Terry… Later that day I saw him sitting outside, drinking a coffee on the opposite terrace of the Albergue.. I made pictures of the surroundings…the old church that was the albergue and was enjoying the sun!!
Why didn't I go sit with him on that terrace and enjoy a coffee with him?
' He saw me walking.. what is she doing?
Why doesn't she come sit with me here on the terrace?? '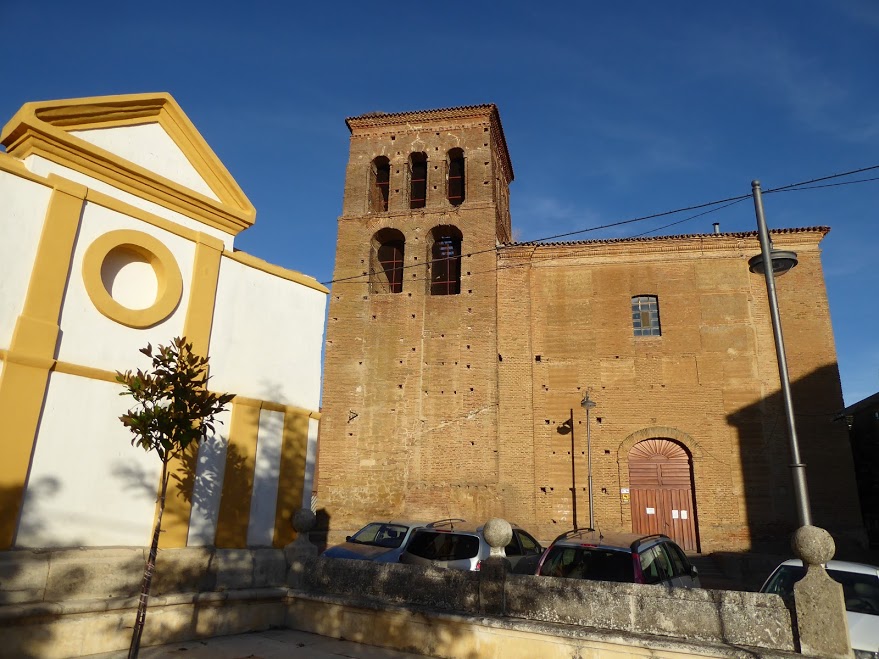 I saw him again when I checked in the municipal albergue of this small village:  El Burgo Ranero
He had done some groceries and cooked his lunch, we only exchanged smiles… Later that day I saw him taking a picture of the door of the Alberque.. That was a good idea, I thougt..the name was visible and so it was good for remembering later where I stayed that night.
'He saw me taking the same picture of the entrance of the Albergue as he did.. He thought…you do the same as I but don't talk with me??'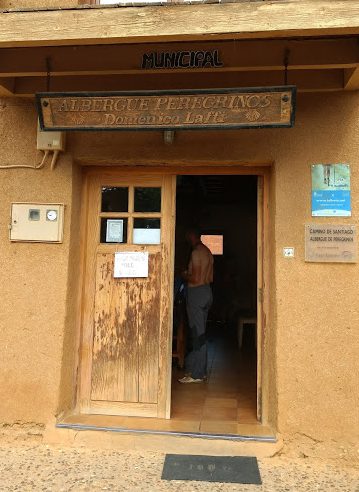 After that day it again took days…
Even more then a week and a half before I saw him again..
It was at lunchtime almost 7K after Portomarin.. I walked alone again and skipped Portomarin and wanted to get lunch just after that city … But that took 7k..
When I finally walked in I saw him standing up and saying 'Hi!!' We gave eachother a hug and a kiss.. That was good! He recognized me and we started to connect!
He asked where I was going. When I told him, he again said me to walk a village pass that one…that would be a better place. He would go there too..
' He saw me again, just walking in…alone… He said Hi, didn't know my name anymore… Only knowing it was a difficult one.. He asked me to walk with us but she said no… Hope she walks the extra k's too … '
I ordered my lunch. He asked me to join them but I just ordered my lunch. When I started to walk again I thought about his words…I'll definitely go the 2 extra K's to that village!!
Walking into that village I checked at the first Albergue, but it was completo.. Trying the next one.. That's where I saw him standing in line with the older men he was walking with. Nice! And there was a bed for me too..
For diner I sat down with Irish Sean who I kept meeting, an American guy and French woman. He sat behind me with the older men.
' He saw me sitting outside later at night. He came to me and asked me my name, excusing himself for not remembering. '
Don't worry…it is a hard one I told him. Just call me Jacky as I let everyone call me being abroad. He asked to exchange numbers so we could contact in the next village, I would probably walk faster and longer and he was walking with Barclay who was not that fast.
I gave him my card and we connected on social media. He liked to travel too, he told me. He had traveled for the last three years!! What? He is a traveler too? He would love to do more on the Social Media but needed some advice.. we talked for a while and connected!!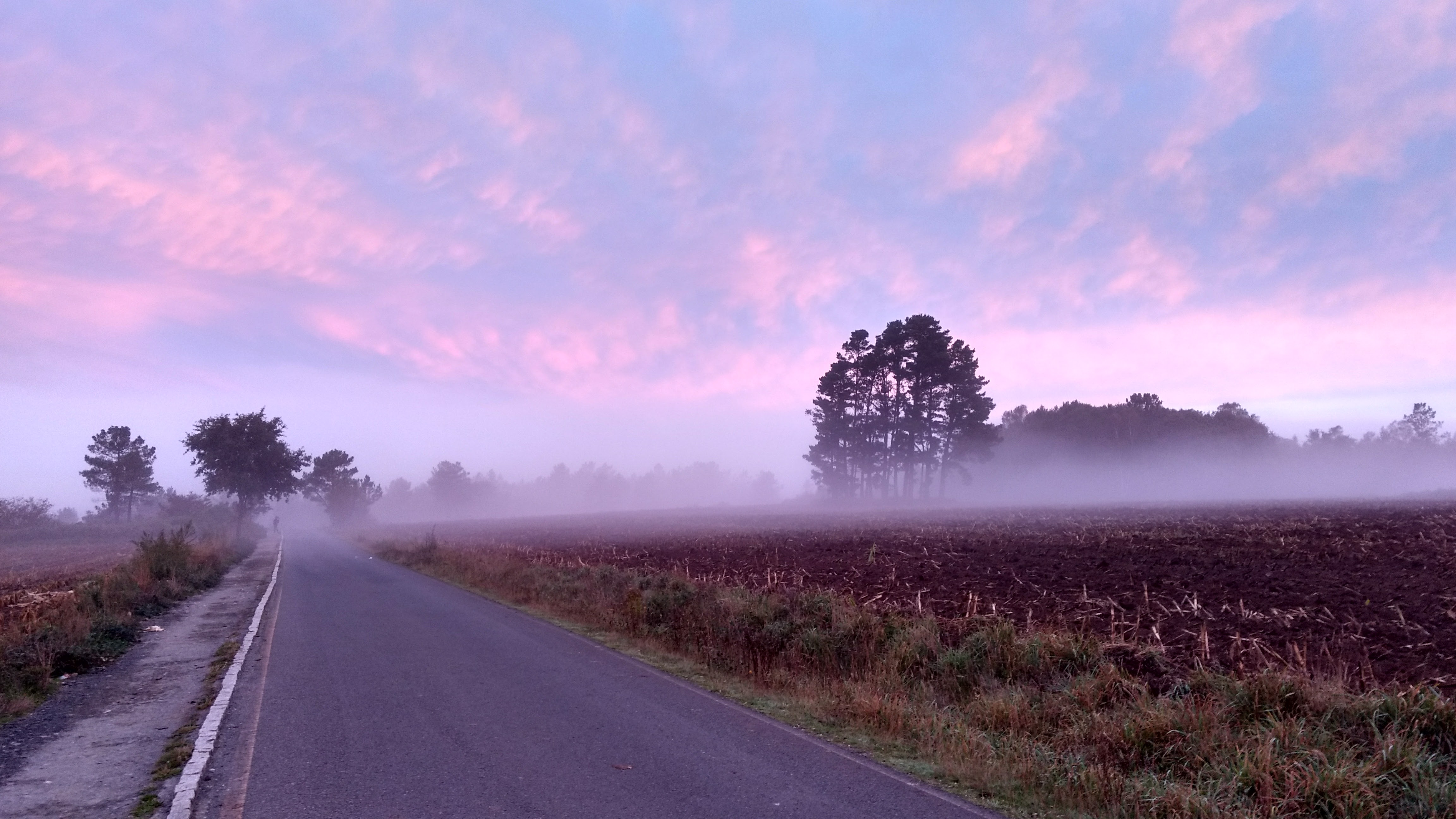 Every morning in Galicia we had this great foggy scene!!
That next morning I left earlier then them and would probably walk more. . But that evening I got a message. Ignasi walked to Melide too with Barclay, the older man. He asked if I was into some Pulpo.. Melide was the Pulpo town of Spain and I had to try. I don't like octopus that much but I wanted to go eat with him….so yes I'll join!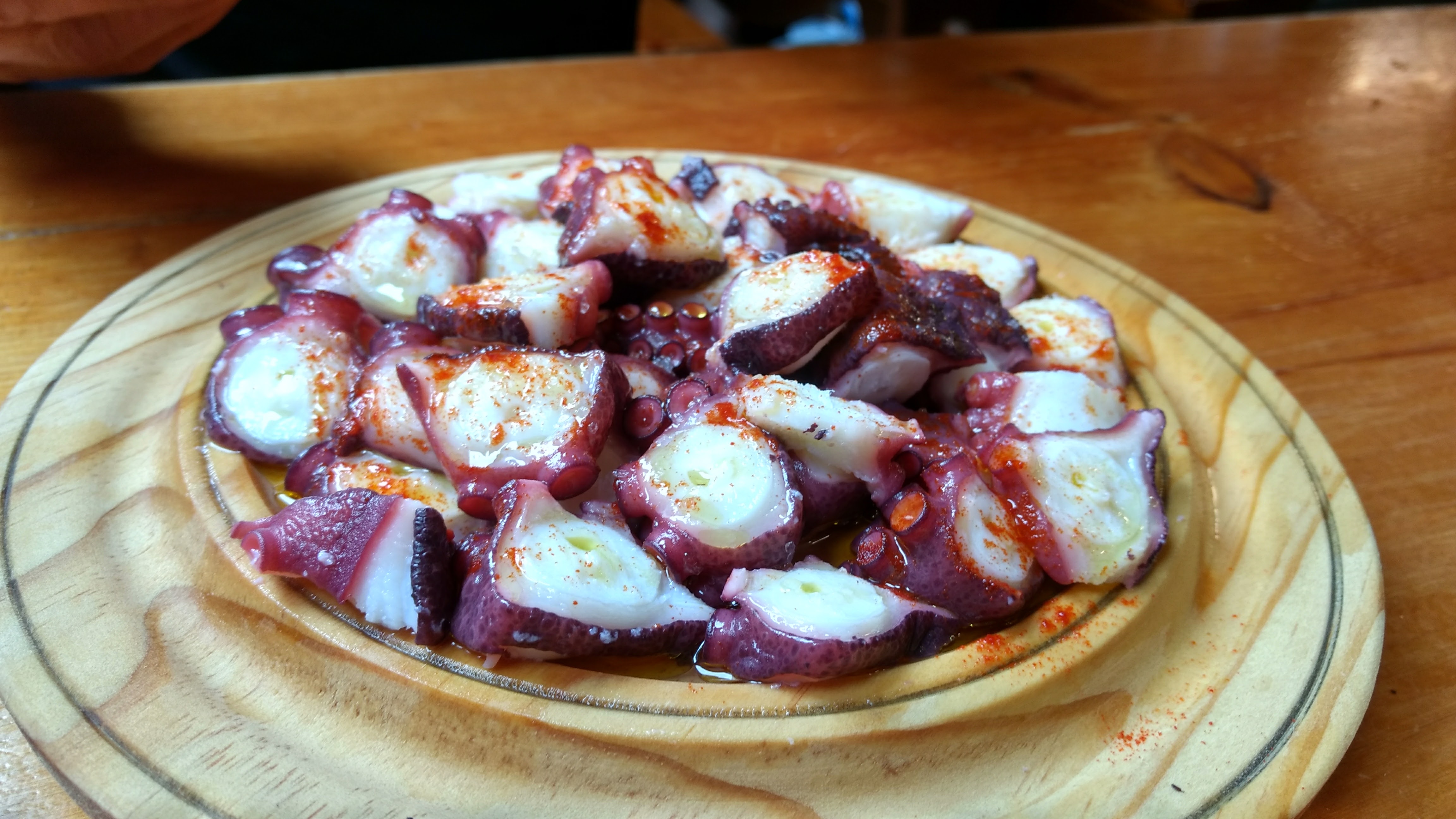 The same evening we had dinner again with a whole group and the next day I would go walk more K's then Ignasi and Barclay so we said goodbye!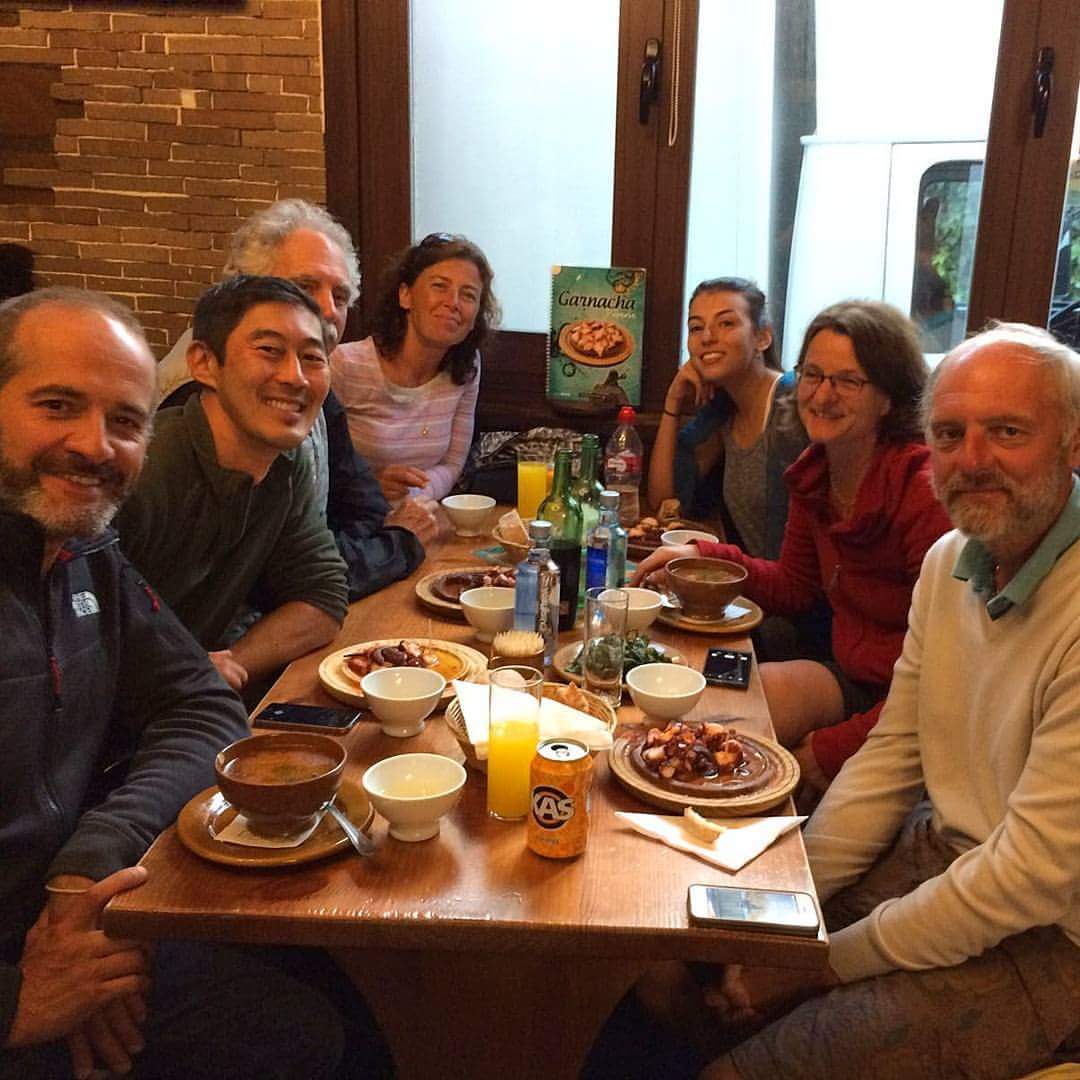 The next morning Ignasi send a message that he would be walking alone… After about 5K I saw him sitting, eating his breakfast along the Camino…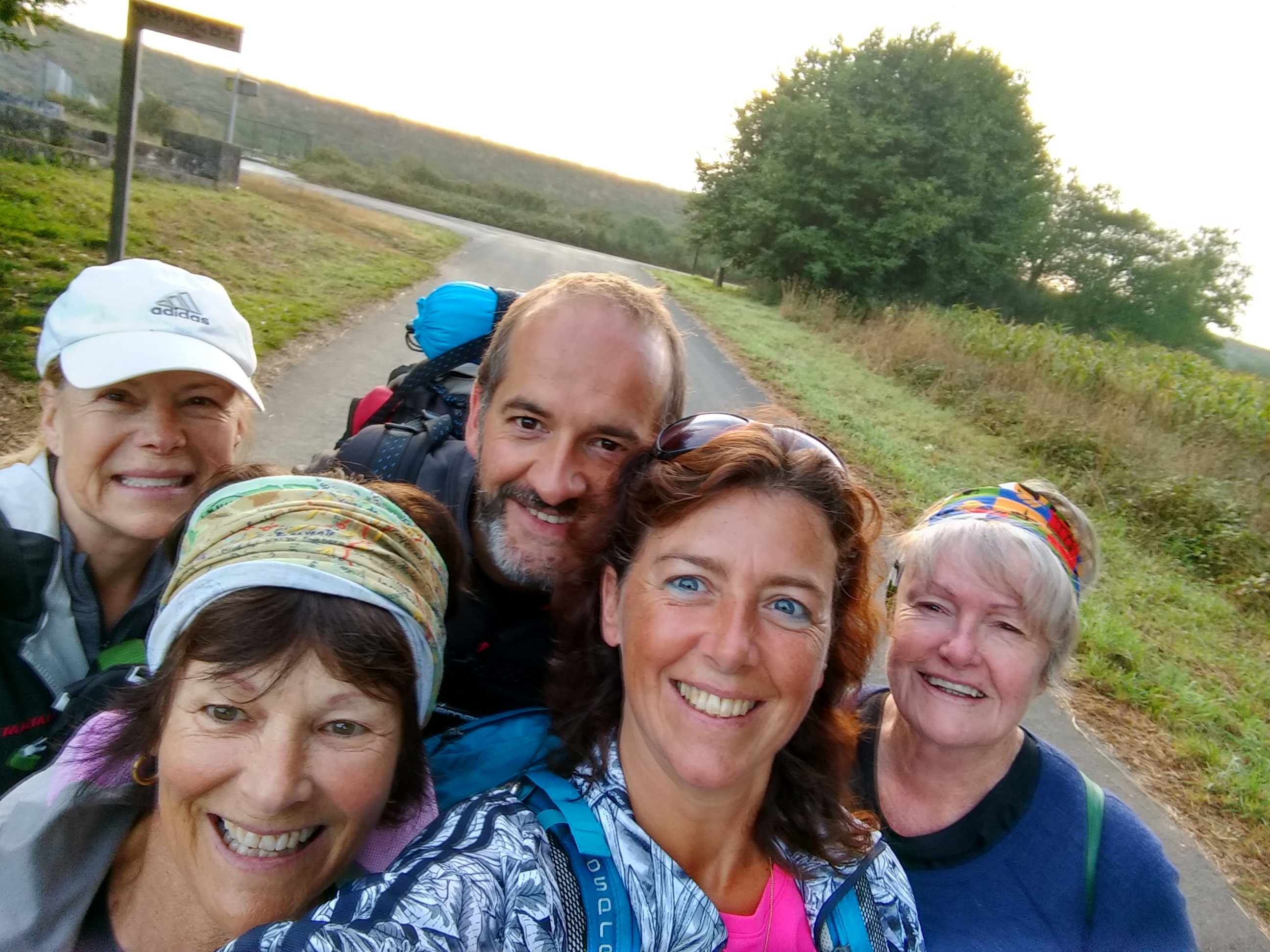 Walking the Camino you are never alone!!
Since then we walked together and also made it to Santiago together!!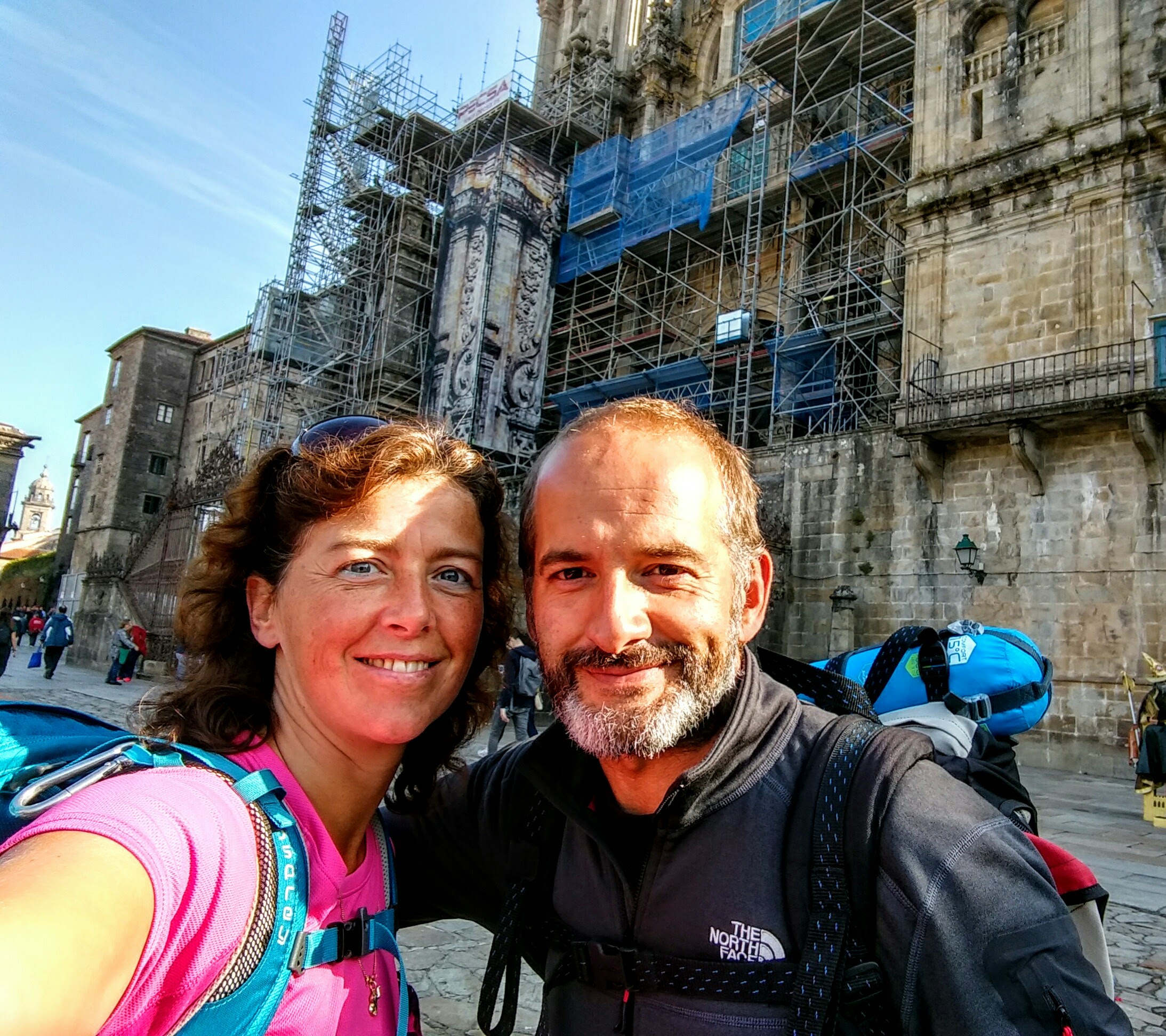 Ignasi and I in Santiago de Compostella, just finished!!
And we connected 😉
 And stayed connected for a while 🙂
—
If you want to read more about my Camino Adventure:
Walking the First 200 K of the Camino
Walking on: 200 to 400 K on the Camino
If you liked this story you would make me happy if you share it too!!
—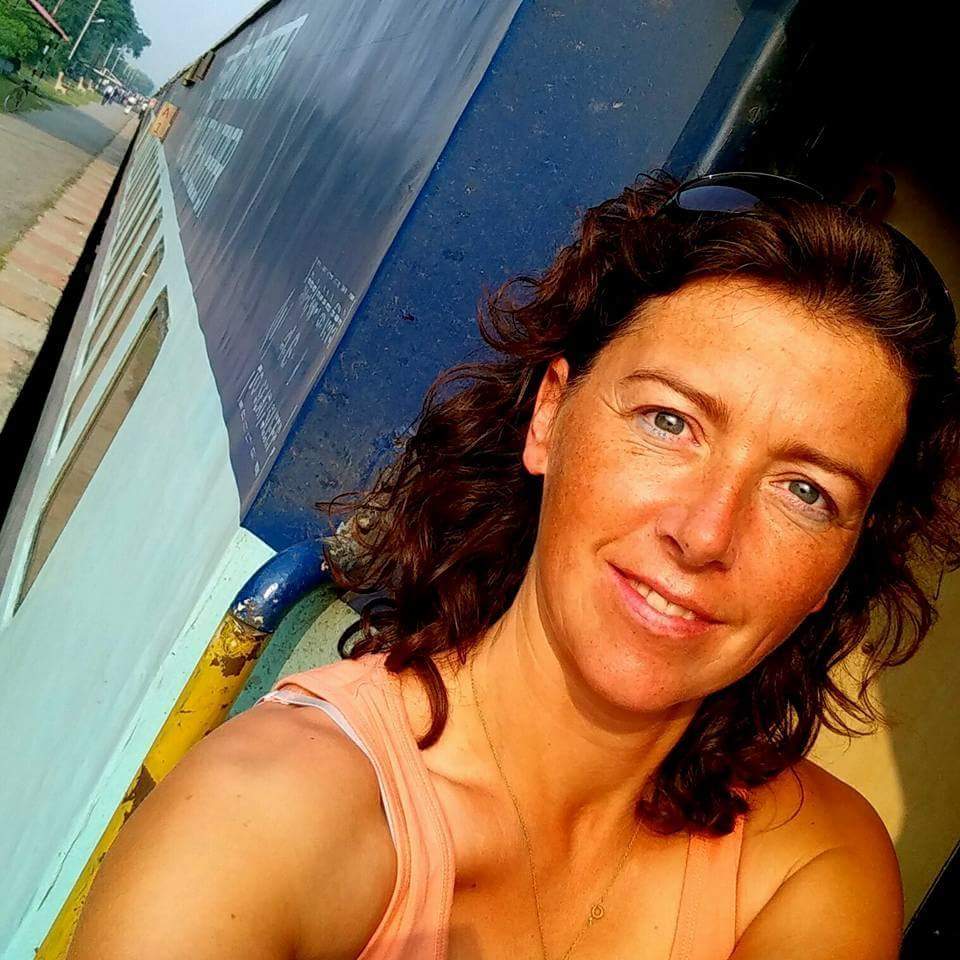 Jacomijn is een politieagent uit Nederland die jou graag laat zien hoe je veilig, actief en gezond de wereld kan over reizen. Safe and Healthy travel is a MUST