Co van Kessel Bicycle Tour – Bangkok By Bike – Thailand
|
What do we Dutch people like more than cycling? Yeah… the challenge of cycling in a foreign city 🙂 So the Co van Kessel Bicycle tour is perfect for us Dutch! Seeing Bangkok by Bike!! That is why the Dutchman Co van Kessel started this little company in the heart of Bangkok over 30 years ago! Unfortunately Co van Kessel passed away in 2012 but the company, which of course is growing fast, is continued with a lot of passion!
If you choose for a Co van Kessel Bicycle Tour then you have a choice of different bike tours! You can cycle half a day (3 hours) or a whole day (5 or 9 hours)! If you choose to go longer than 3 hours there is also a piece of boat or train. How nice is that!
Co van Kessel Bangkok Tours aims to let its customers experience a unique cycling tour in Thailand. All our tours are based on Co's extensive topographical knowledge of Bangkok and its immediate surroundings, as well as his keen eye for the interesting and special sights. Things you don't see from a tour bus or if you on the other hand stay on the beaten track.

Source: Co van Kessel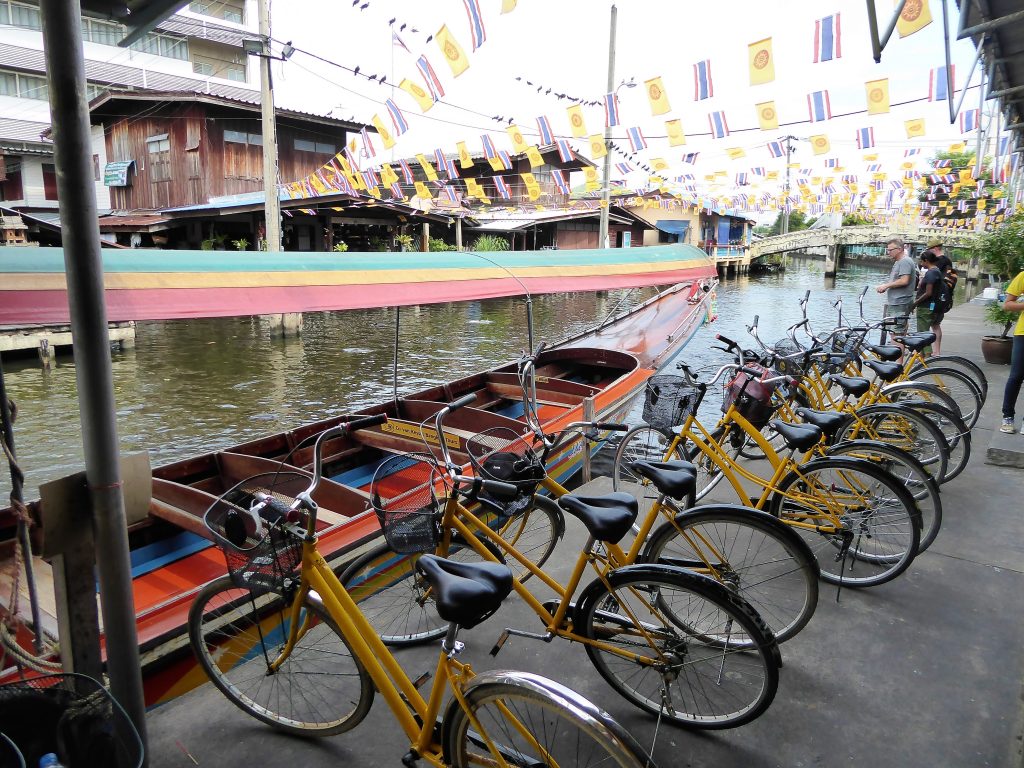 I opted for the Co Combo, a 5 hour bike ride that included a boat ride to get out of town.
Cycling through the city but also the suburbs seemed like a great day spend in Bangkok!
Bangkok By Bike – Thailand
We start the day early, I'm expected to be ready for the start at 7 o'clock in the morning. A bicycle is dropped before me with the question if it is suitable. I sit down and feel that I can sit upright on it, you know…just like with such an old-fashioned grandma bike. I already saw myself exploring Bangkok by bike on this one! I approve it and when the rest has a suitable bicycle as well we get a short explanation.
We have to stay close together and not stop without saying something, so we stay behind in one of the small alleys of Bangkok 🙂 If you stand still for a moment and the group cycles on…yes then it can go fast. We are also reminded of the fact that there is a lot of cooking, frying and baking in the streets. This means that the boiling pans are also on the street. Of course we have to be extra careful with this.
Good warning at the Co van Kessel Bicycle Tour:

Watch the food stalls on the side of the road. Of course you don't want to knock over a pan of boiling soup with your bare legs on a bicycle….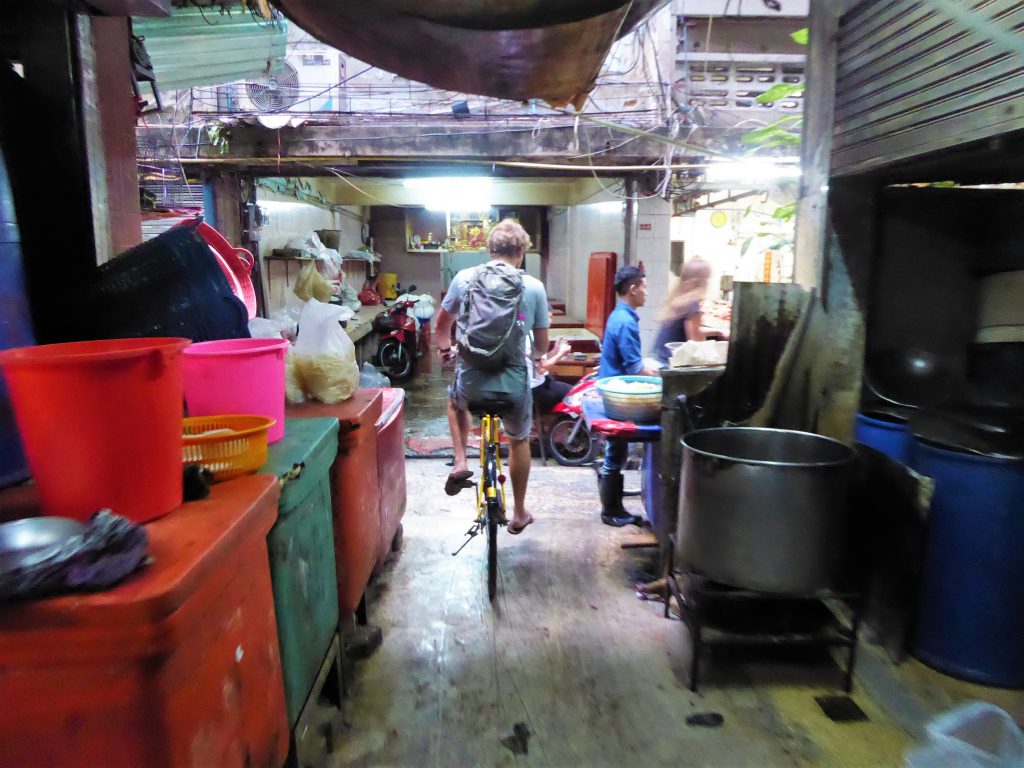 Shortly after this we cycle away and soon disappear into the Chinese quarter of Bangkok. Despite the warnings to stay together it doesn't take long before we've lost half the group…haha! After waiting for a while and the guide who's cycling back a little bit, we're complete again and get on our bikes again. In the meantime I was able to take some pictures of the surroundings.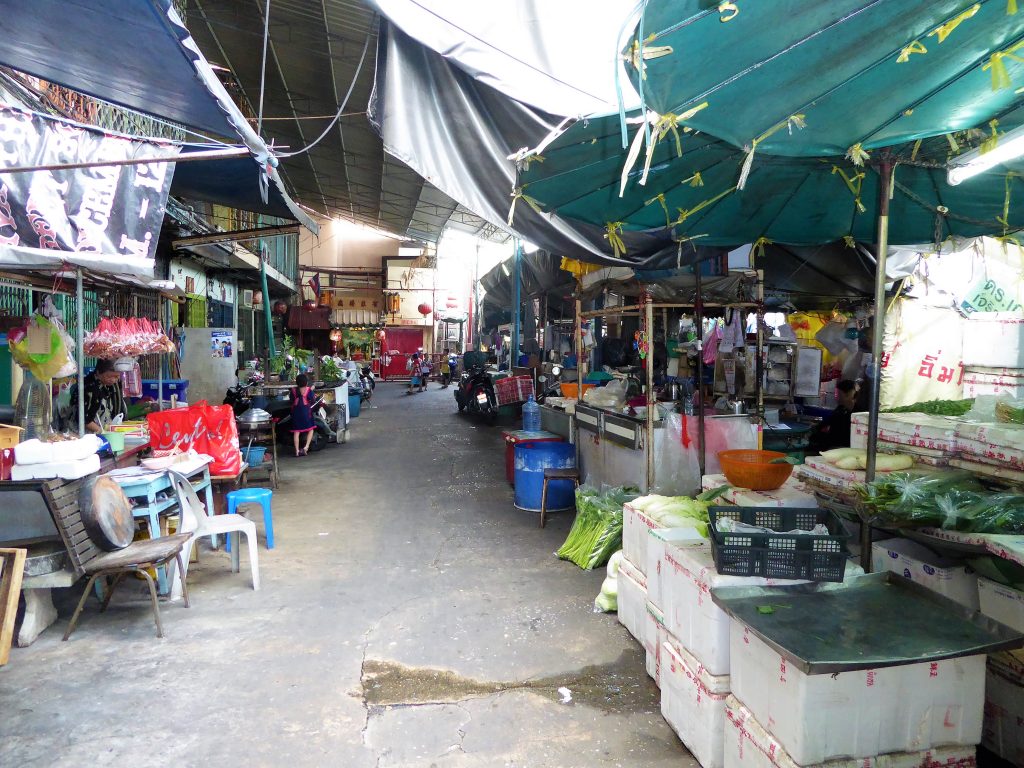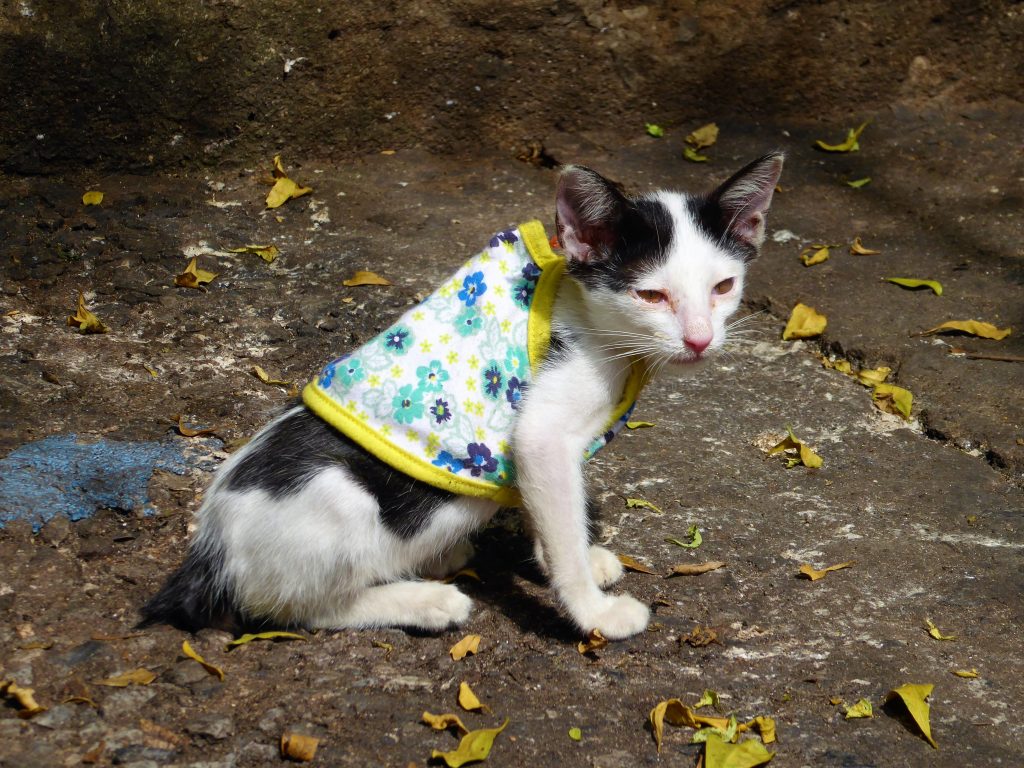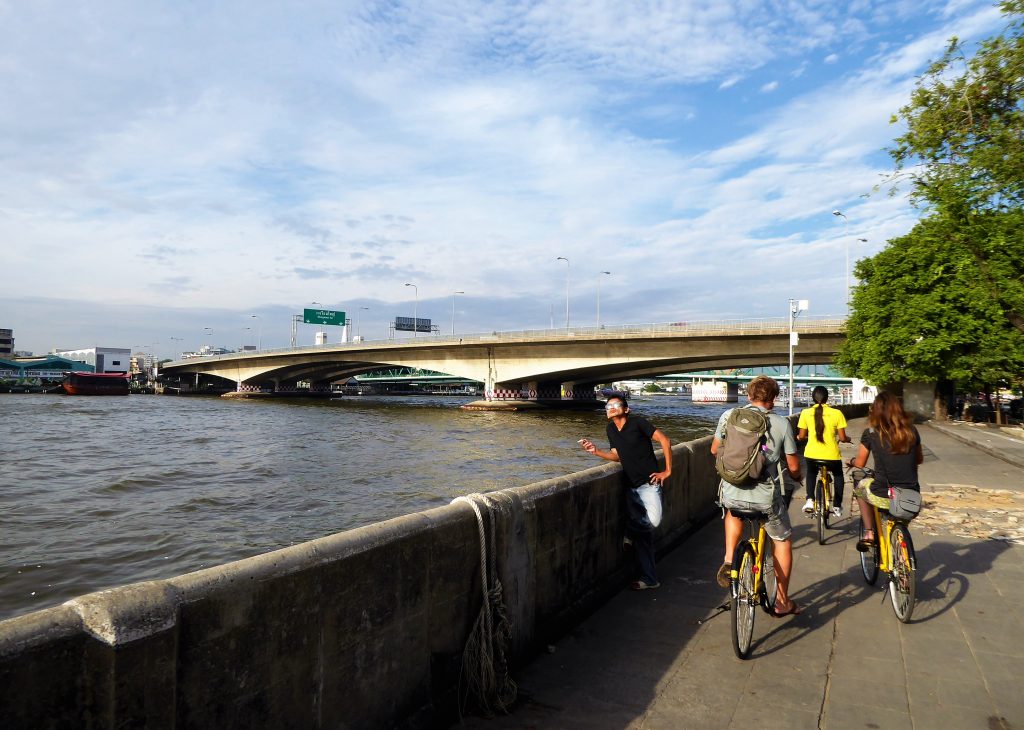 Bangkok by bike also includes a short boat trip
We cross the river Menam near Yodpiman River Walk with a boat, our bikes fit in nicely and when we're over we all get back on our own bicycle and get back on our bikes. We cycle to Wat Kalayanamit. A temple that belongs to the royal family. It's great that this kind of excursions are also part of the Co van Kessel Bicycle Tour. You learn something about the surroundings but also about the history of Thailand.
And if cycling is not your greatest hobby or passion then you have enough stops along the way 🙂 During the Co van Kessel Bicycle Tour we cycled no longer than 20 to 25 minutes in a row. Then we got another explanation about where we were or what we saw.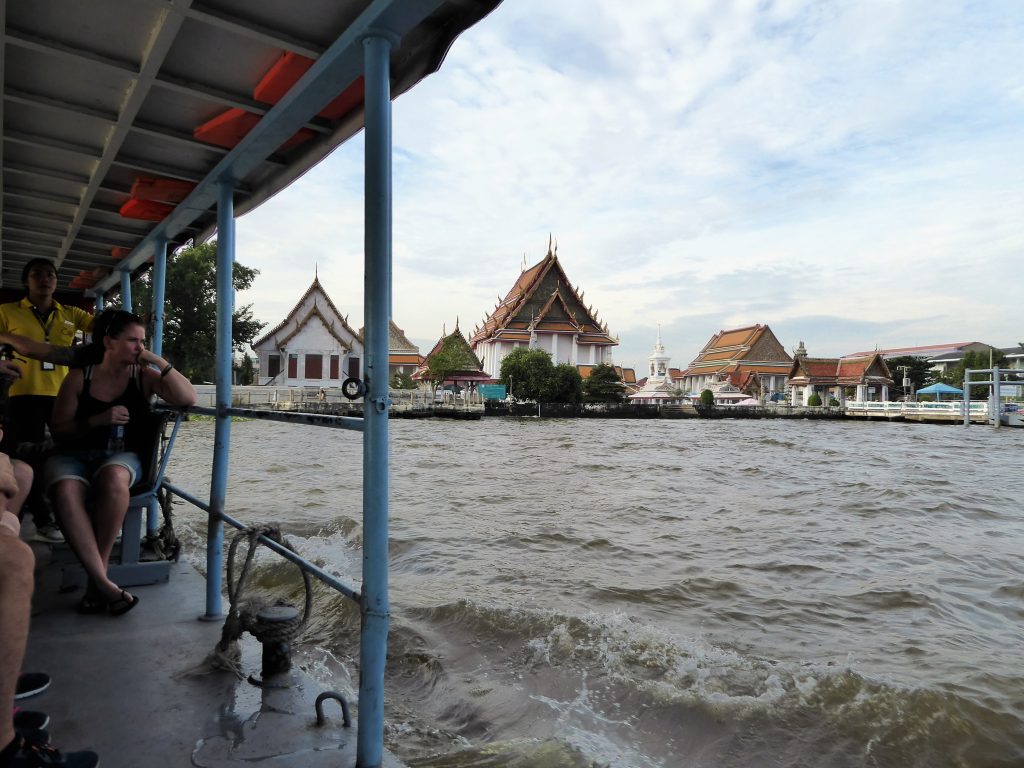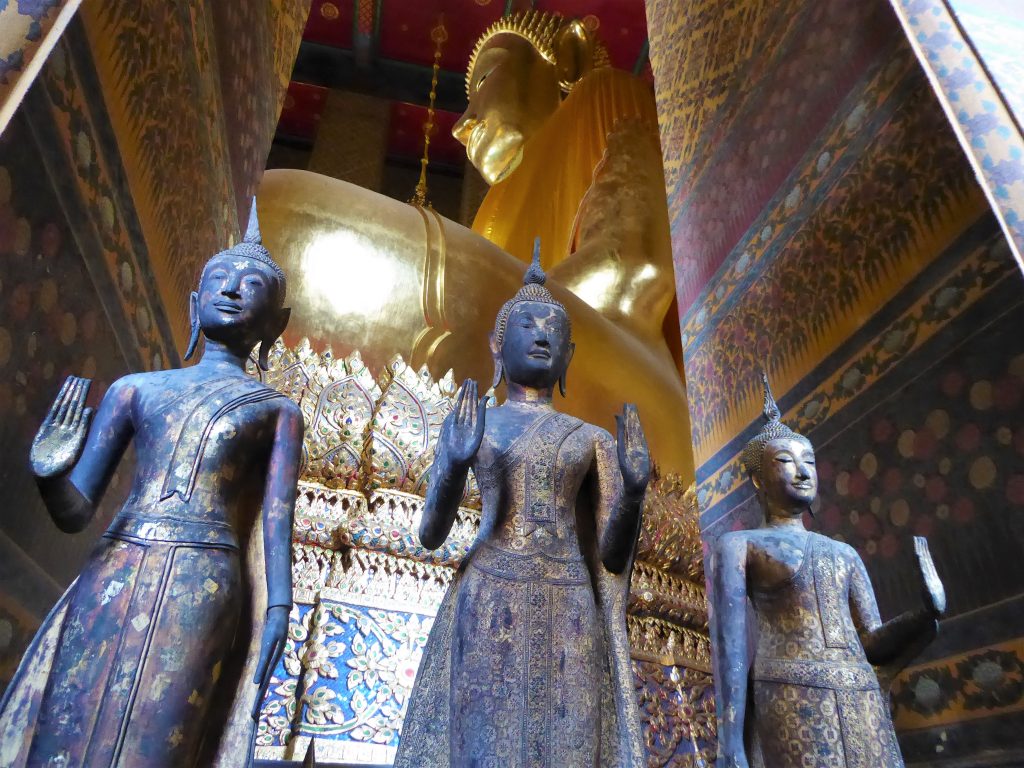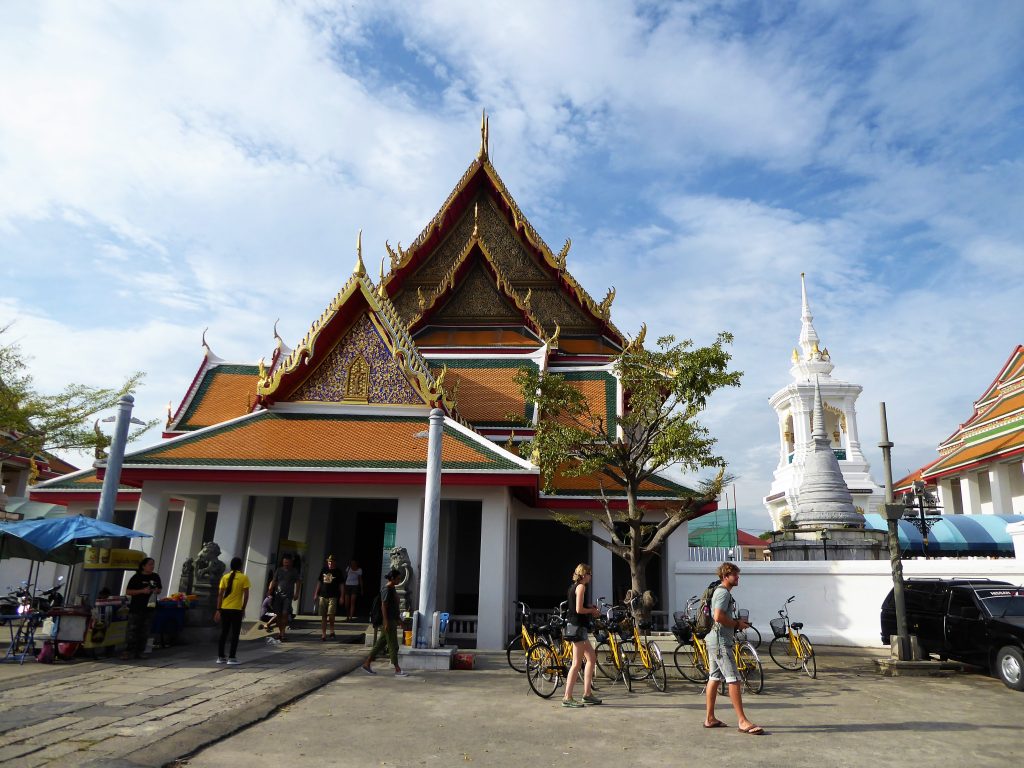 When we cycled on to the temple it was after 20 minutes already time to get into the longtail boat. This trip took us to the outskirts of Bangkok and gave us great views along the waterfront.  Namely the local houses of the Thai at the river…and the visitors they have from nature! You must be wondering what I mean by that… I saw many monitor lizards lying on their porch. And not those little ones! There were a few of them at least 1.5 meters!
Seeing Monitor Lizards during the
Co van Kessel
Bangkok by Bike tour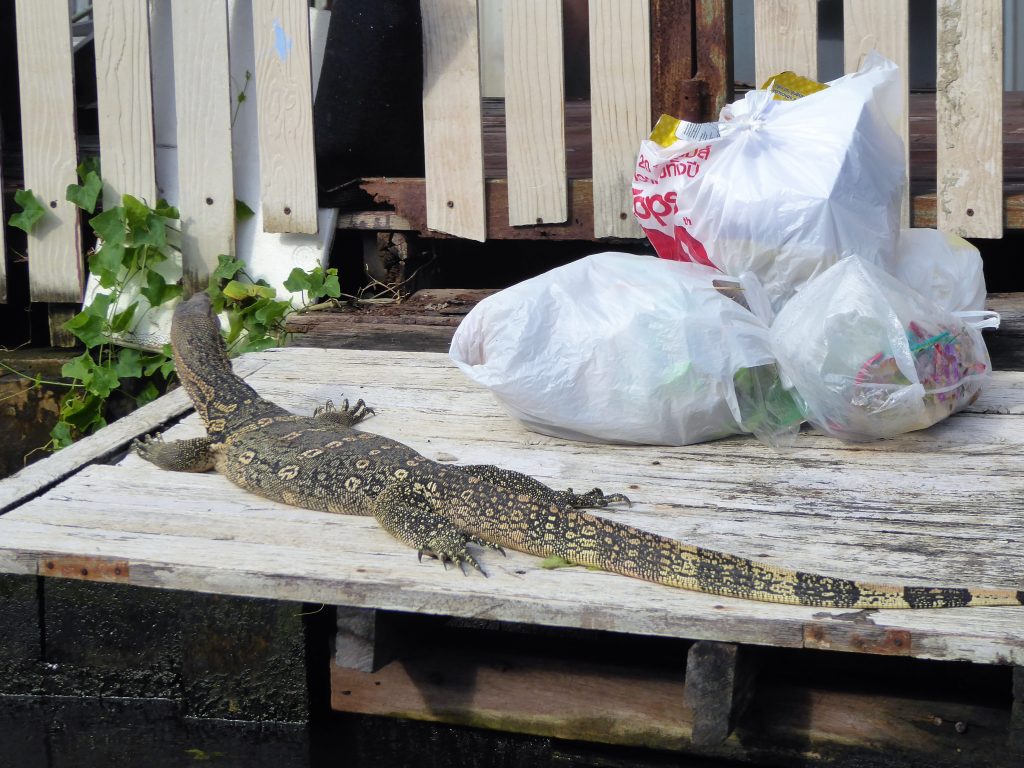 They're pretty skittish so you don't have to worry they'll attack you. I also saw a giant monitor lizard walking in Queen Sirikit Park a few years back… Of course I wanted to take a picture of it but I couldn't because it disappeared in the water or sewerage…

He was gone!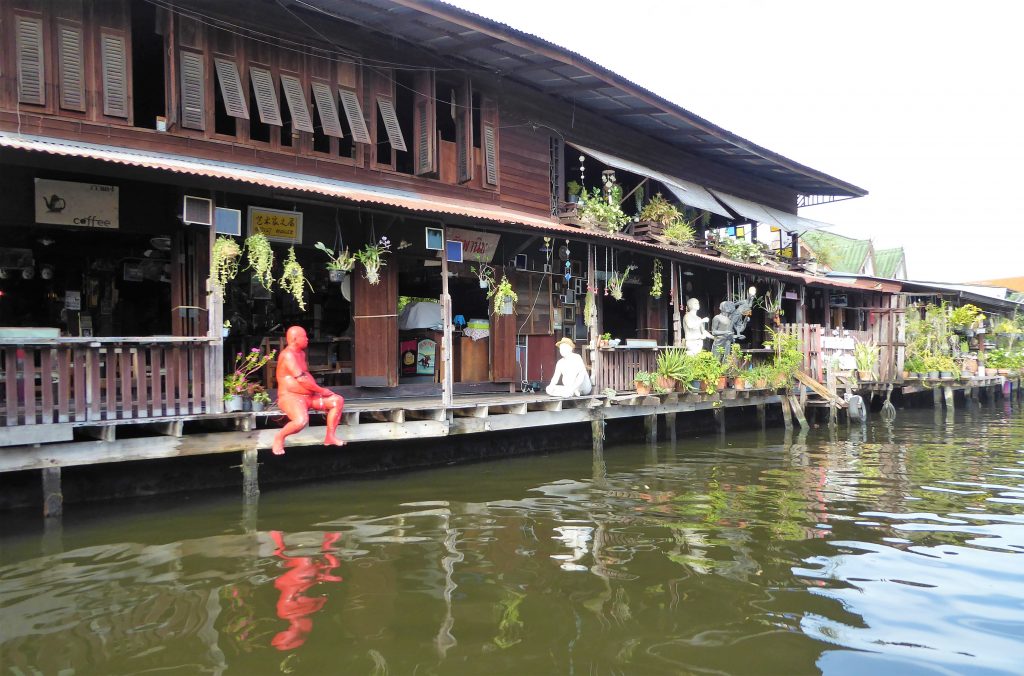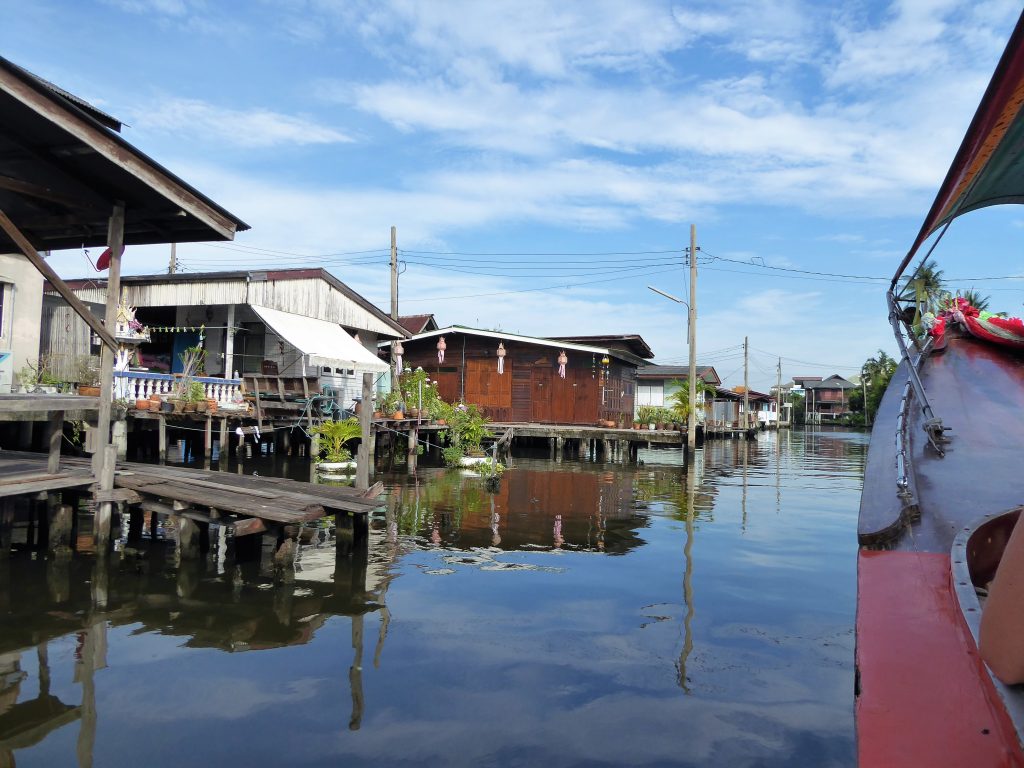 After we got our bicycles back we got on our bikes again and cycled through a completely different part of Bangkok. We were away from the busy city centre and even came through the rice fields. Lovely to be in the fresh air for a while. I remember the first time I was in Bangkok, 2005… That night I washed my face and the white towel of the hotel almost turned black….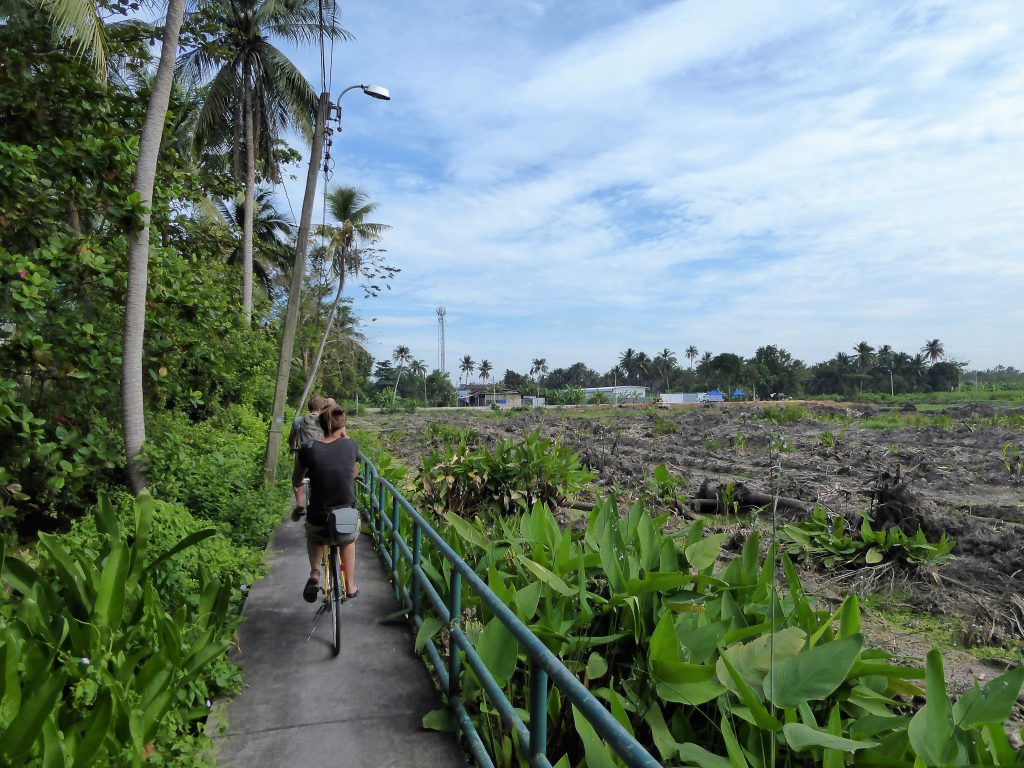 Bangkok By Bike – Thailand
After a nice trip with some nice curves where you really had to be careful not to fall in the water we ended up at a floating market. Something that in my mind really is part of Bangkok, same for you?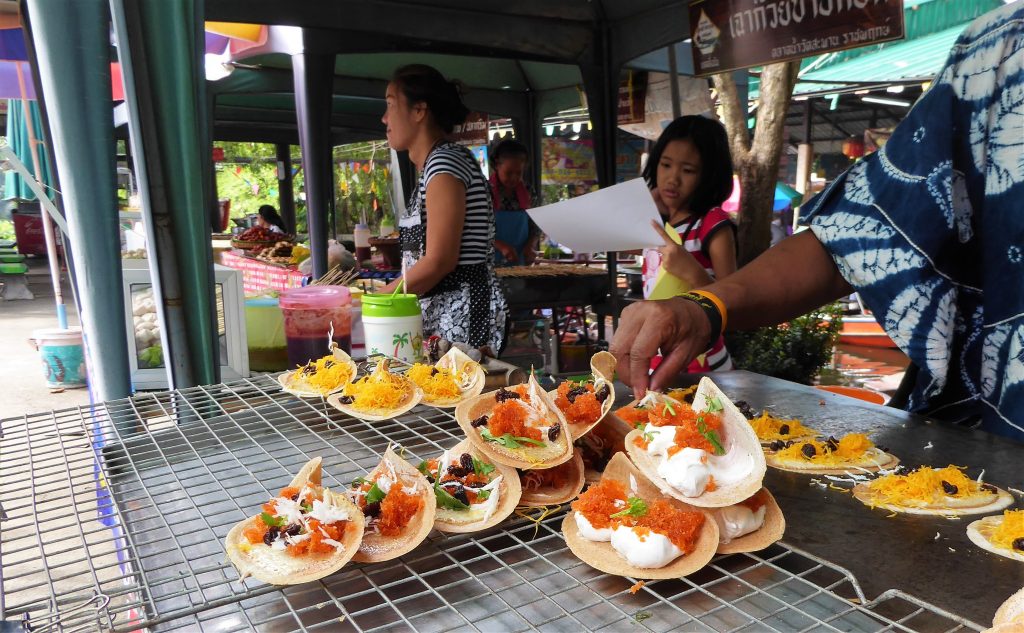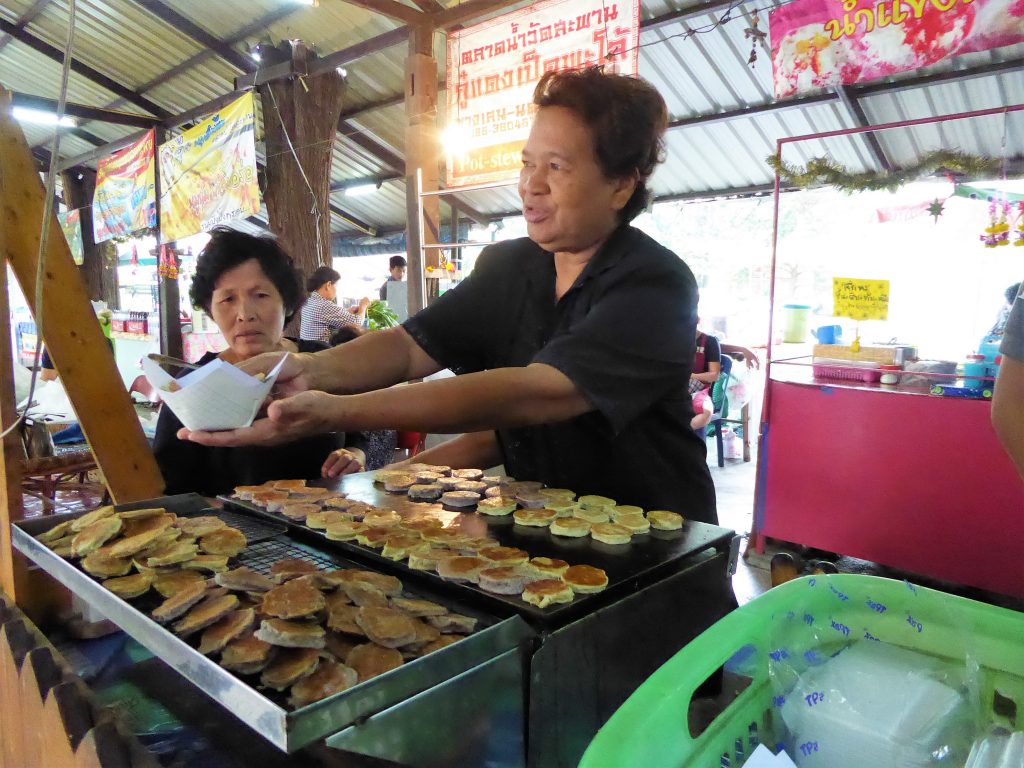 We were treated to some nice foods and I bought some delicacies myself. Of course it always remains a great sight when you see people cooking and baking on their longtail boat! It is unbelievable what is possible when it is necessary.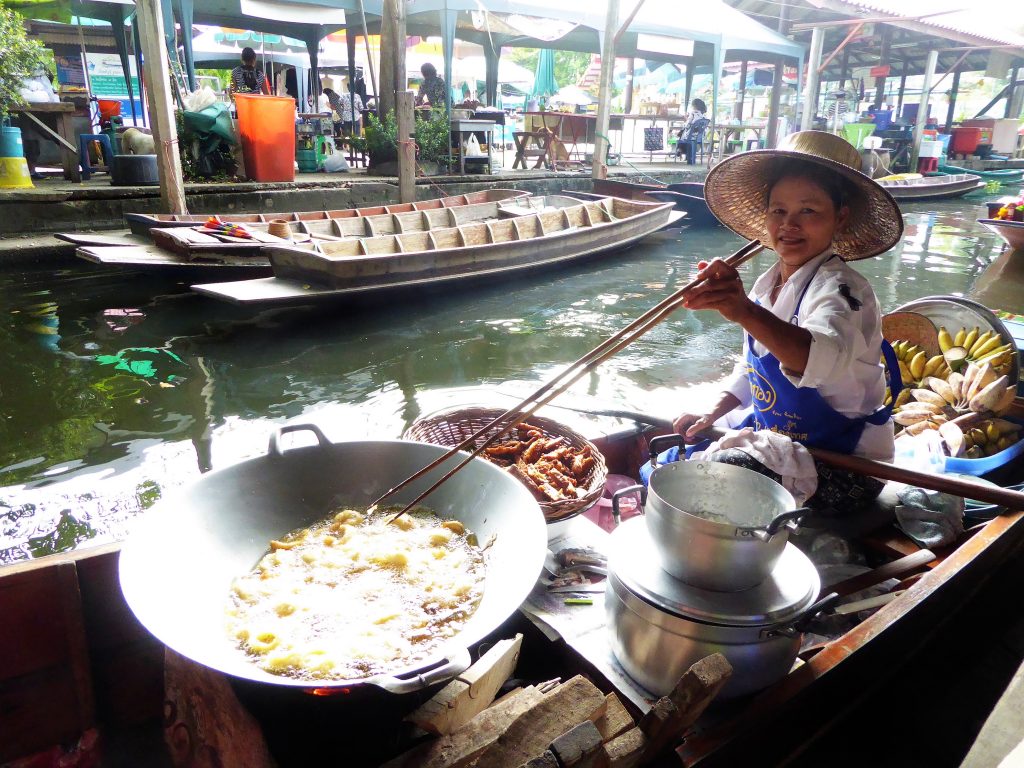 I already find eating with those short Chinese chopsticks difficult!
Watch her skillfully bake everything!
After this it went already towards noon and so we went out for lunch. It was told that we were going to eat at a good friend of Ko's. A part cycling, a part by boat… and then have lunch on another boat.
What a wonderfully varied morning we had!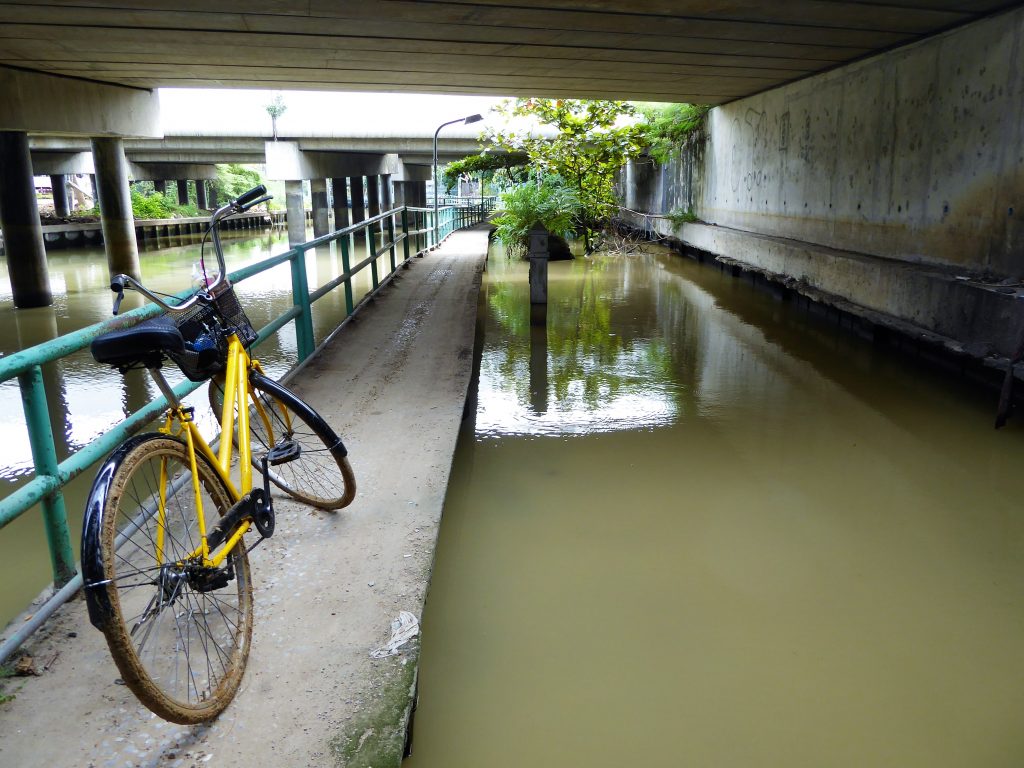 But don't think the whole trip is easy because look at those tires on my bike… Some of them didn't come home with clean shoes 🙂 Surely a little challenge is part of it!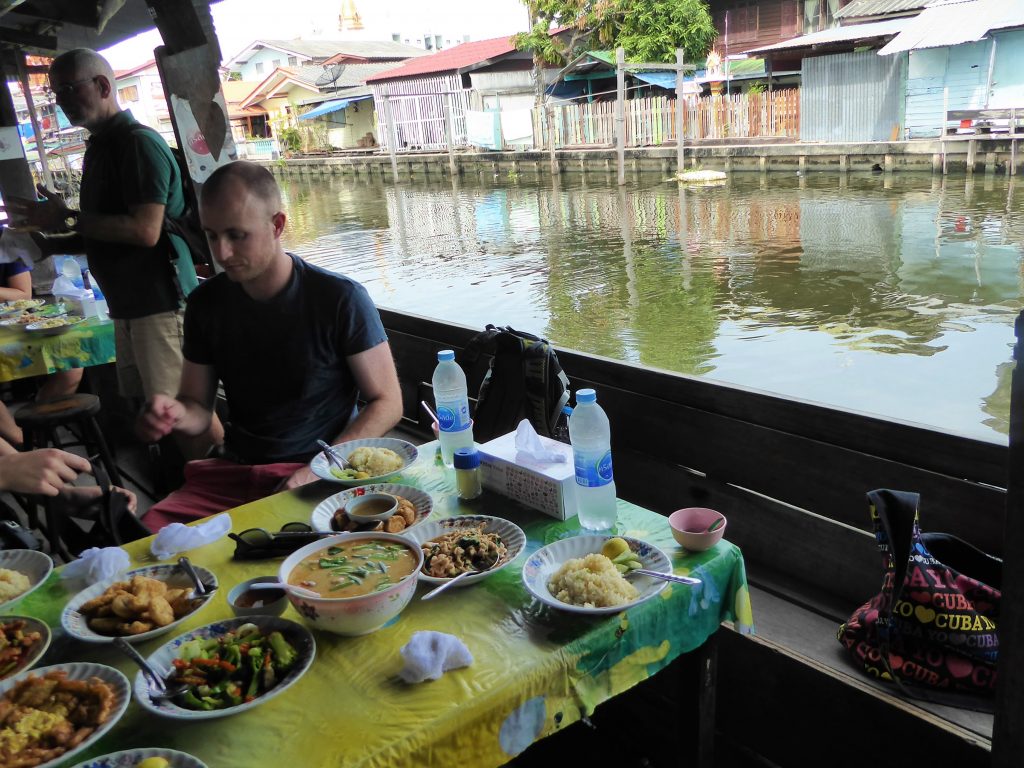 After lunch we went back to the starting point of this trip, at River City Bangkok Complex where Ko van Kessel's office is located. Here we said goodbye to each other and because I was very inspired by the start of our trip I walked the first part again on foot. I dived right into China Town, lovely to see all those little streets and all the activities that take place on the square meter!
China Town – Bangkok by Bike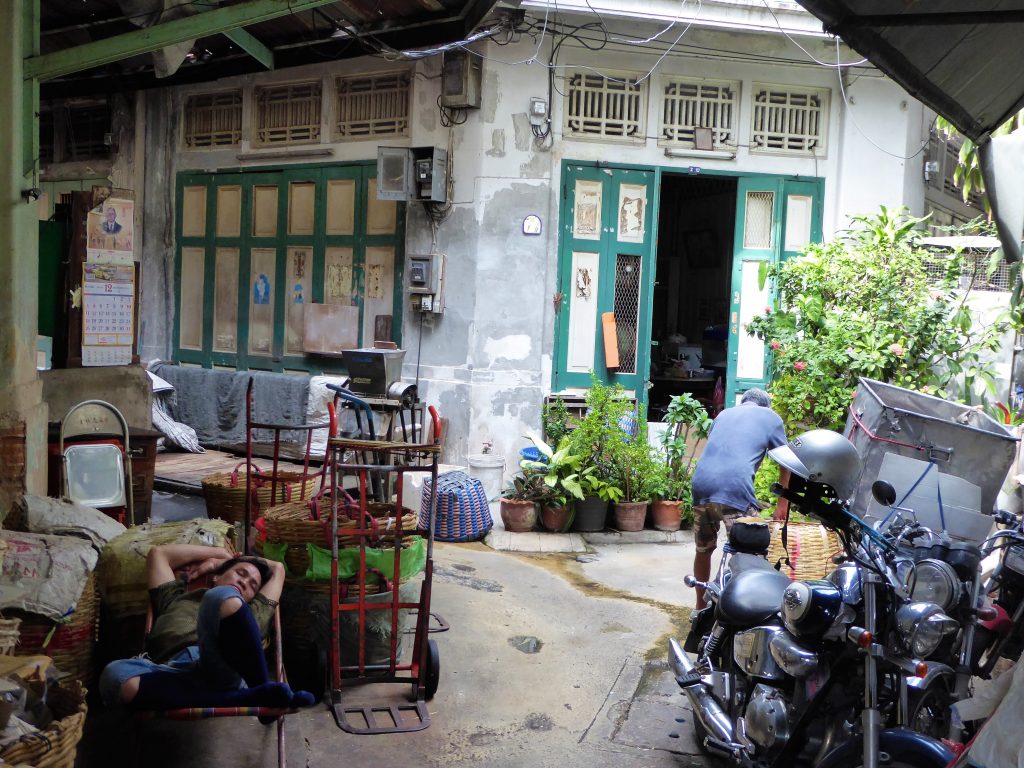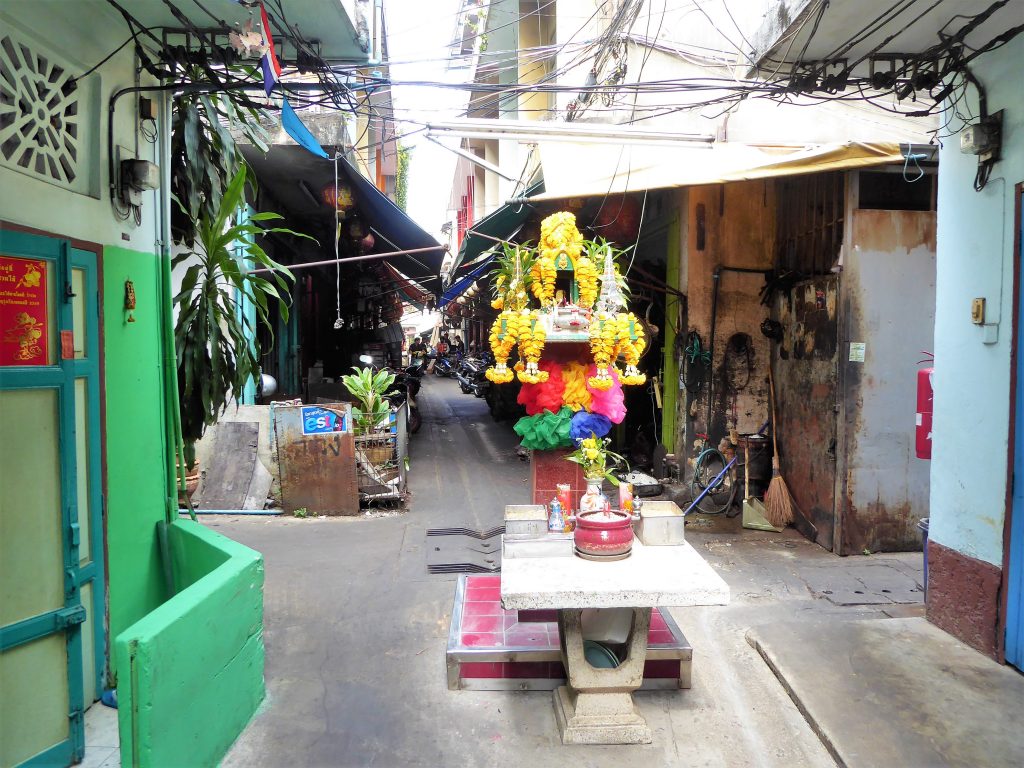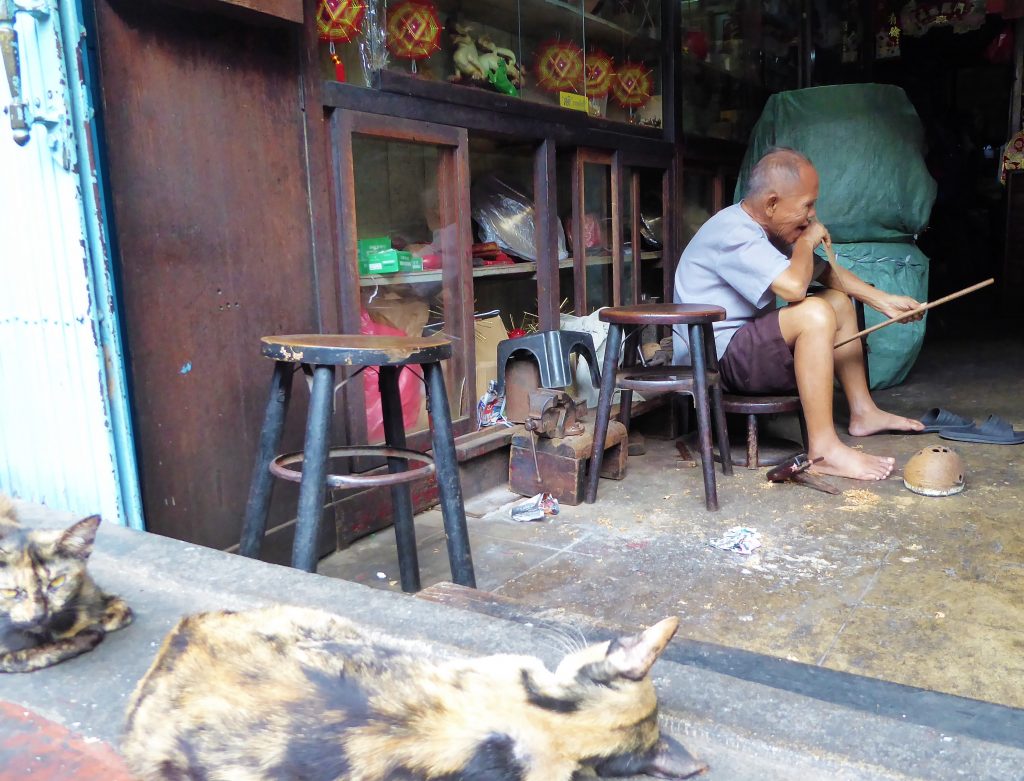 Where & How to book?
If you're looking by google for this bicycle tour you'll soon find the website of Co van Kessel and the many other tours he offers. Through the site the bicycle tour is easy to book and you have a nice overview of the bicycle tours but also boat trips or a walking tour they offer.
I booked the bike tour of Co van Kessel via an app on the phone. Could be the TripAdvisor app. It's always easy to take a look at what's on offer in the area and before booking you're simply redirected to a site.
Bicycle Tour Co van Kessel – Thailand
I paid around 50 euros and thought it was quite pricey, but afterwards I thought it was definitely worth it! I loved to cycle through another part of the city and if you consider taking the boat a couple of times, get some goodies on the floating market and a lunch… Seeing Bangkok by bike was great! So it was money spent well!
If you have decided to book this tour as well, you can report to their office at this address: River City Bangkok, Charoen Krung Road, Soi 24, Bangkok, 10100
Did you like this tip?
Then I'd love it if you shared it for others!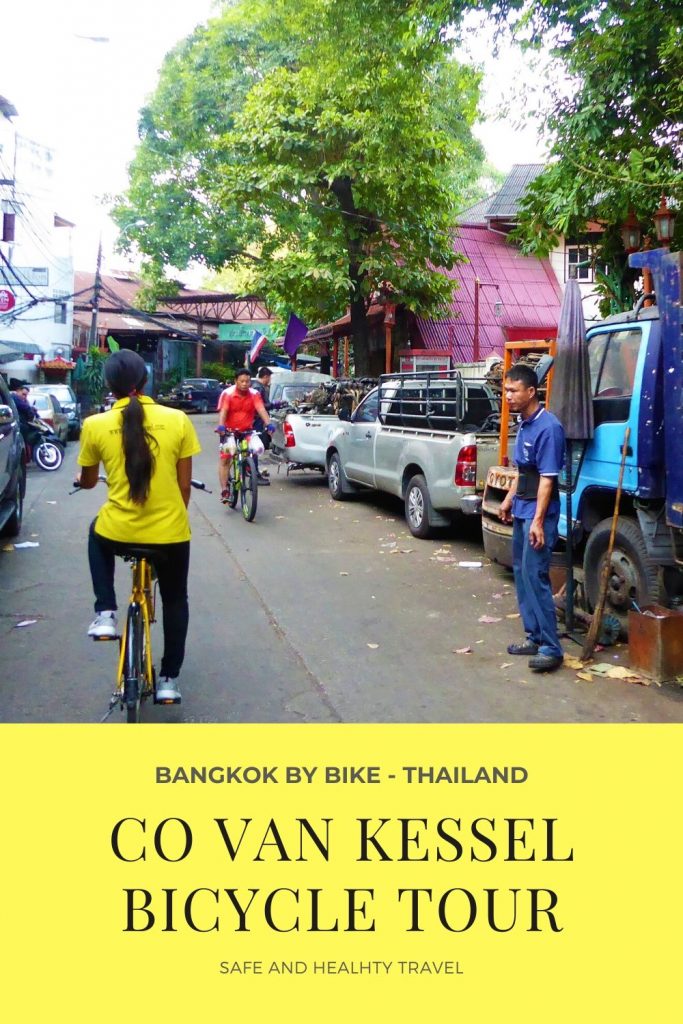 I haven't shared all the nice pictures I made yet so below is a nice impression of my Co van Kessel Bicycle Tour.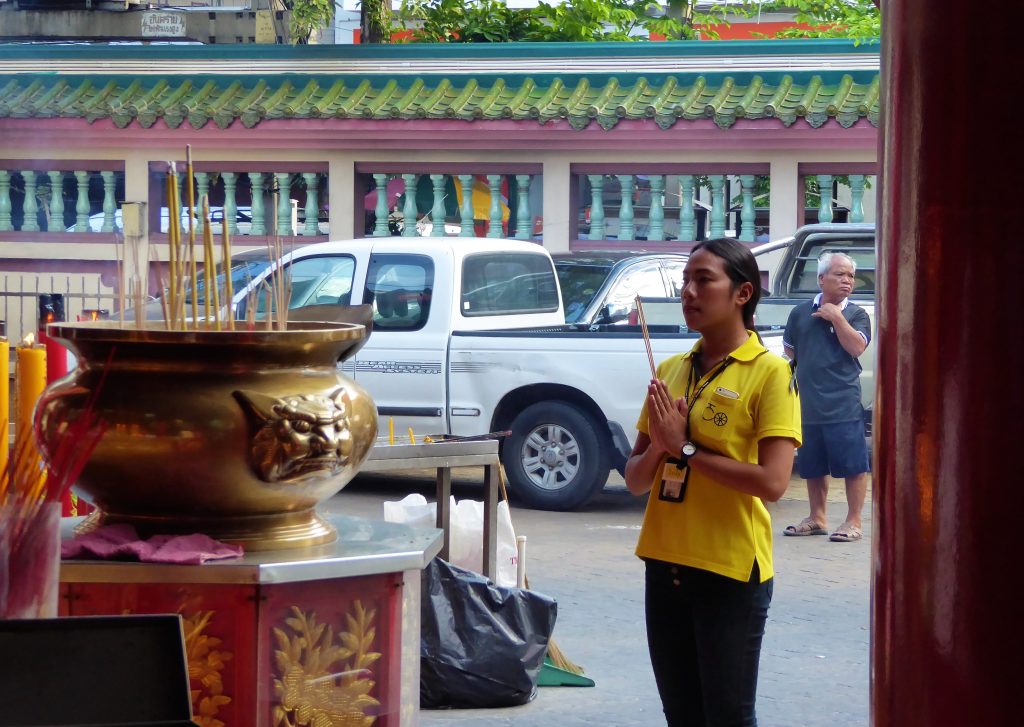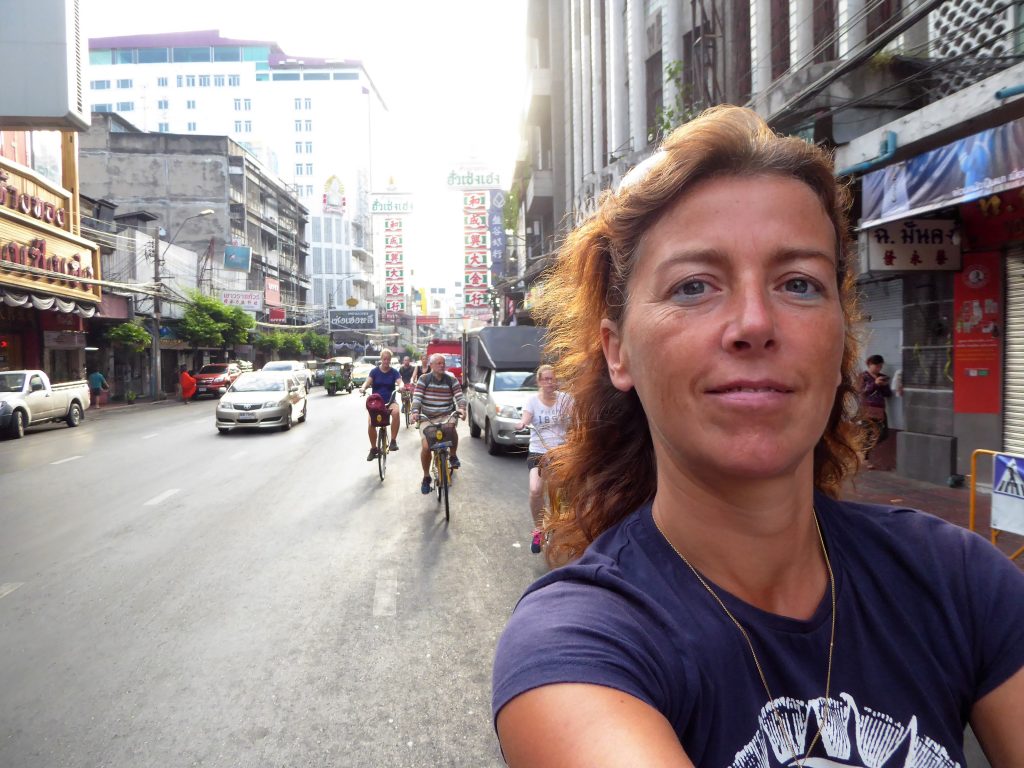 Bicycle Tour Co van Kessel?
See Bangkok By Bike – Thailand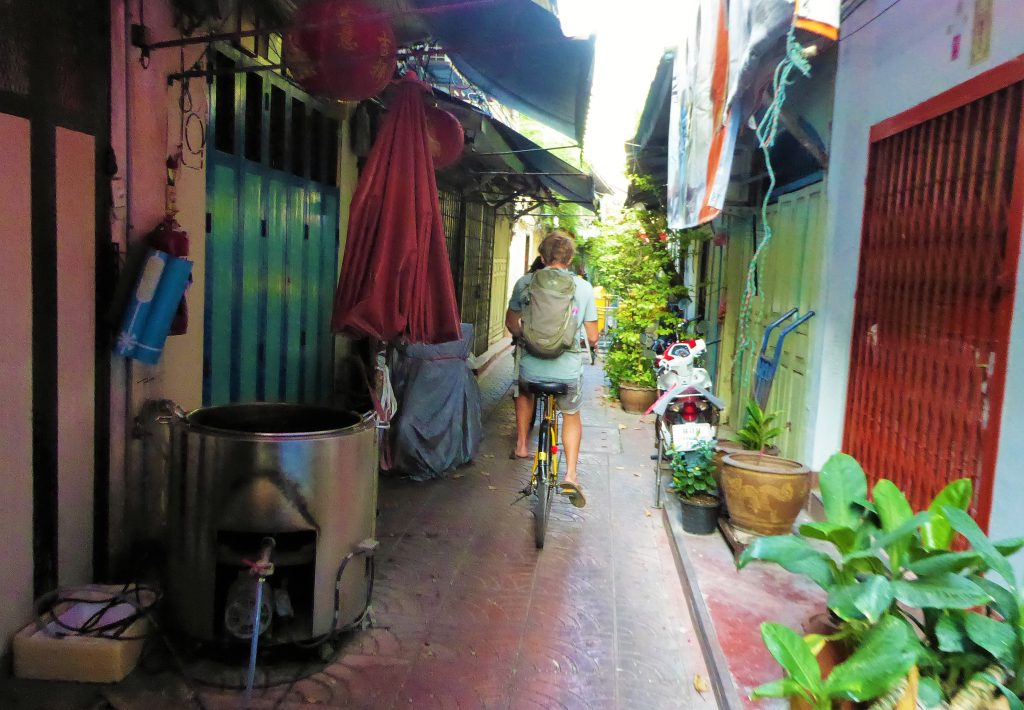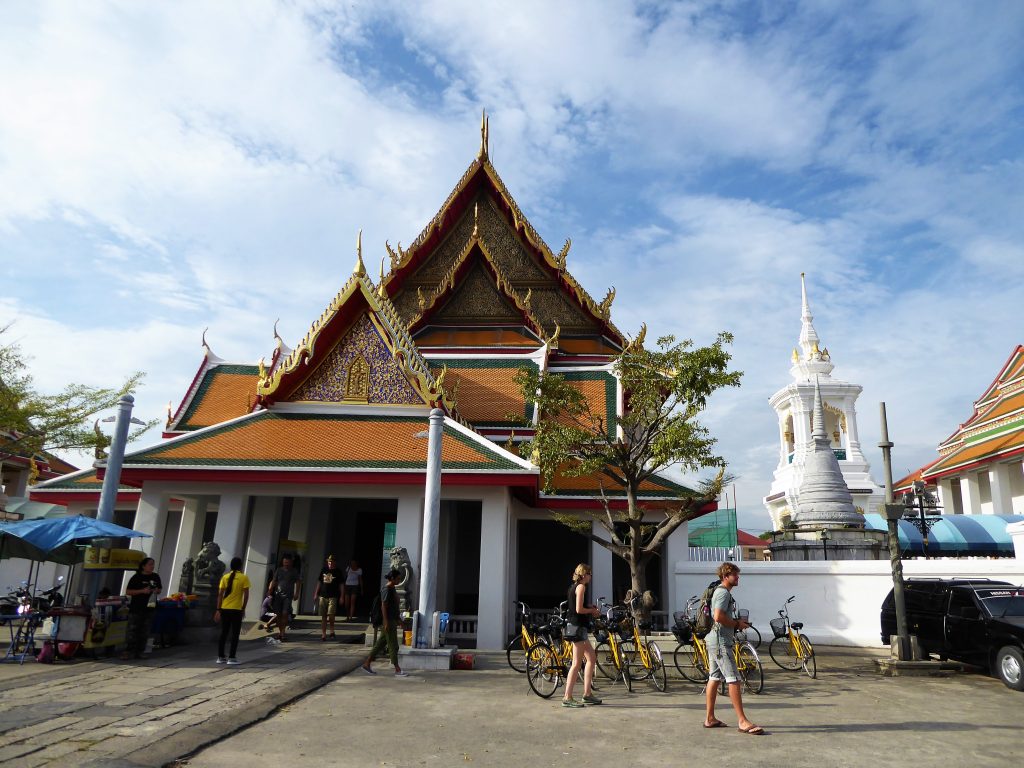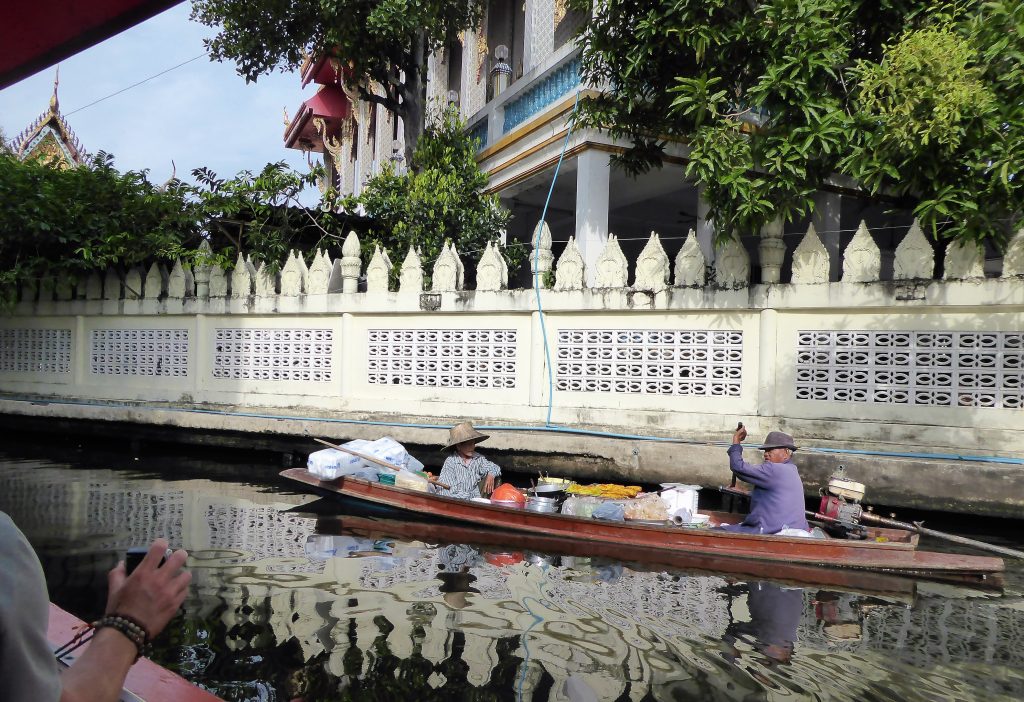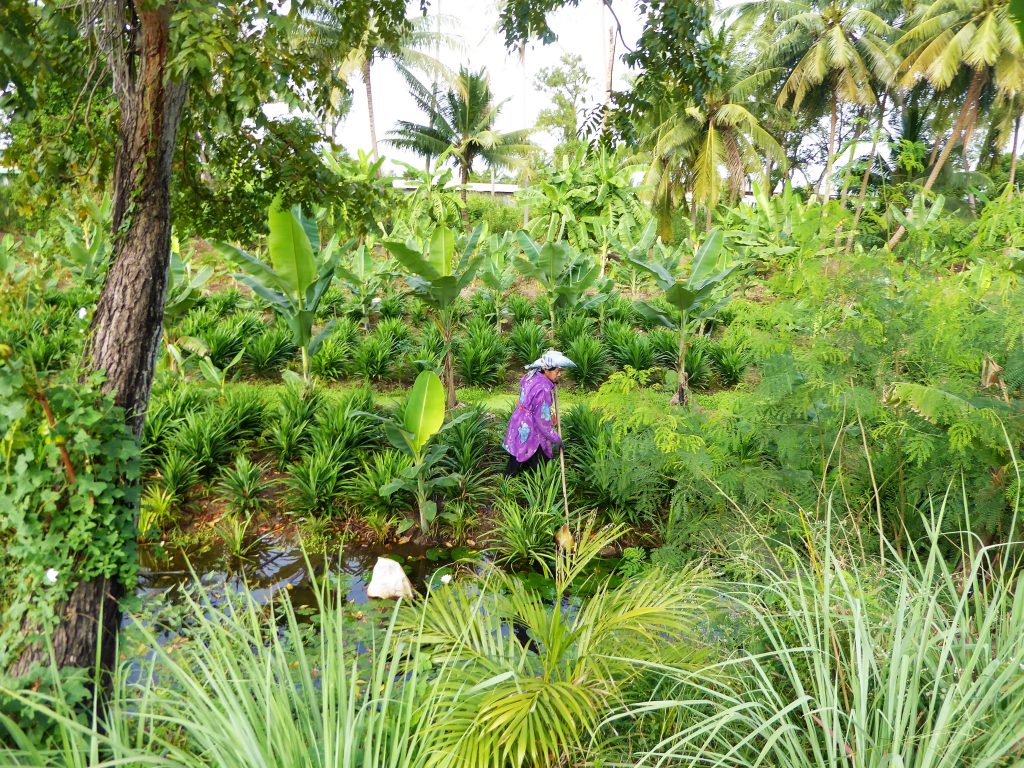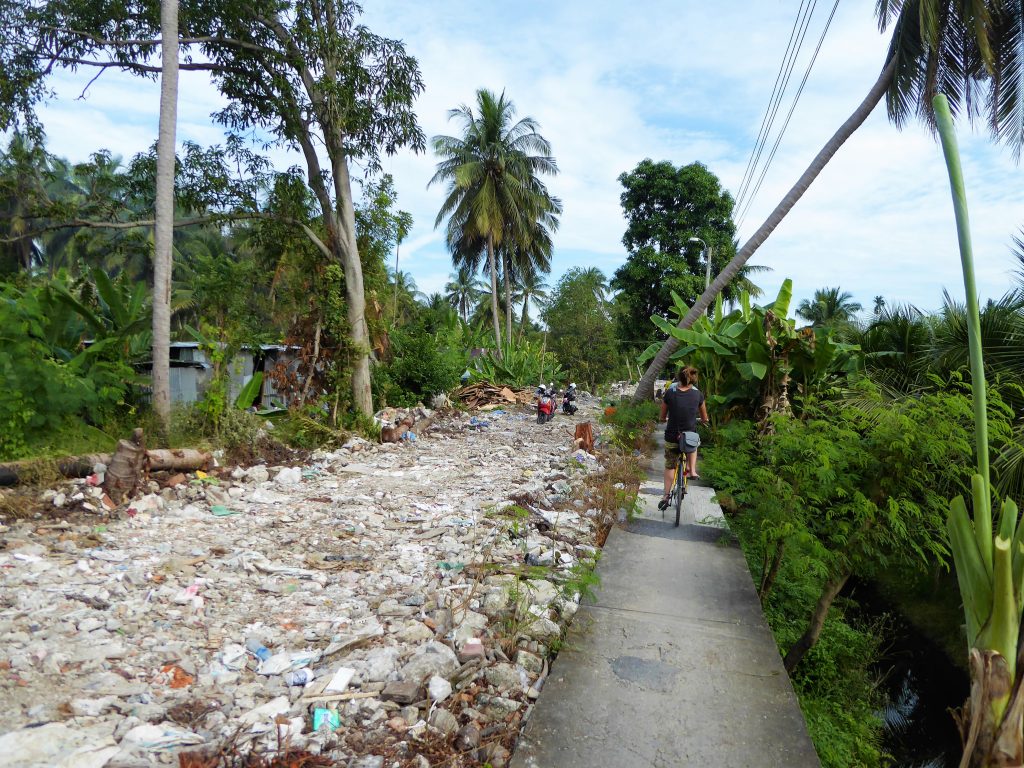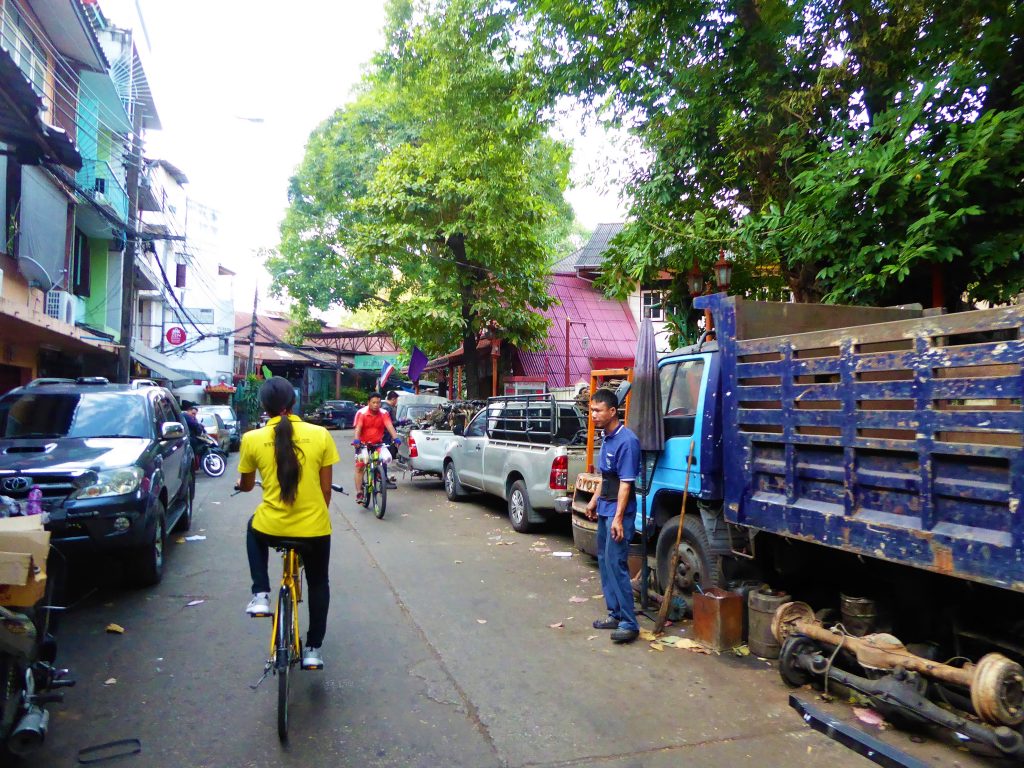 Bicycle Tour Co van Kessel – Thailand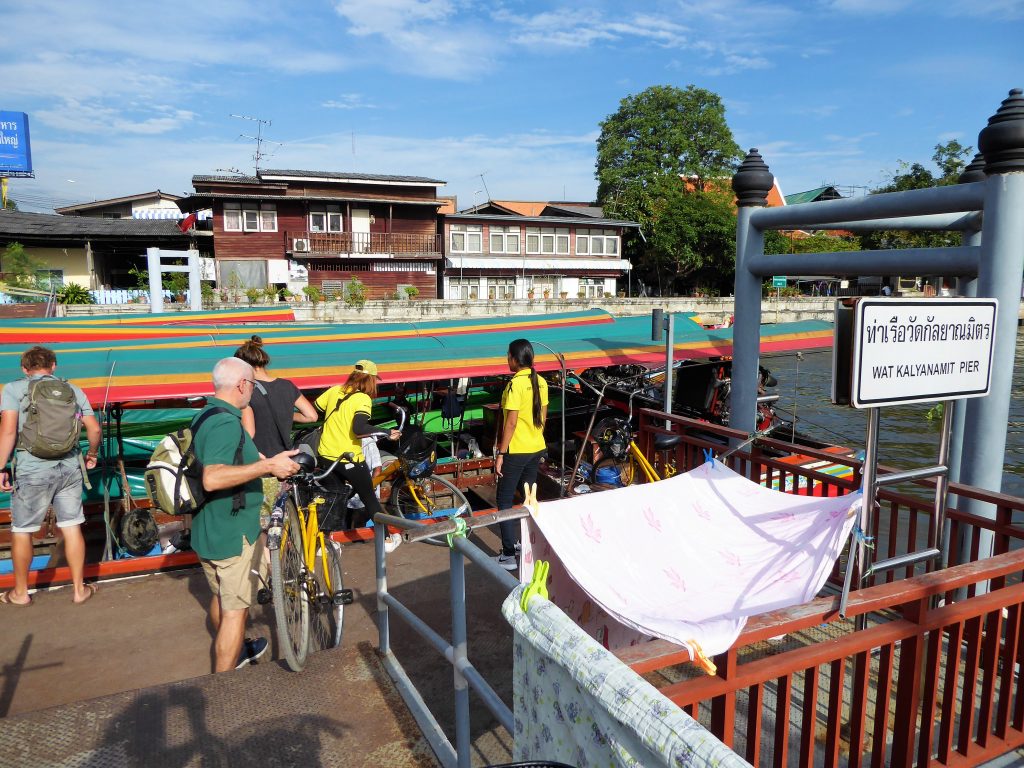 Want to see more about Thailand?
3 days exploring the Khao Yai NP
Cookingclass at Silom – Bangkok
A Session of Healthy Pain – Foot Reflexology
Sometimes all you need is a good hotel, right?
During a long trip I pay attention to the money of course, but every now and then a swimming pool and a nice shower in your own room are really necessary 🙂
I hope you love this world as much as I do!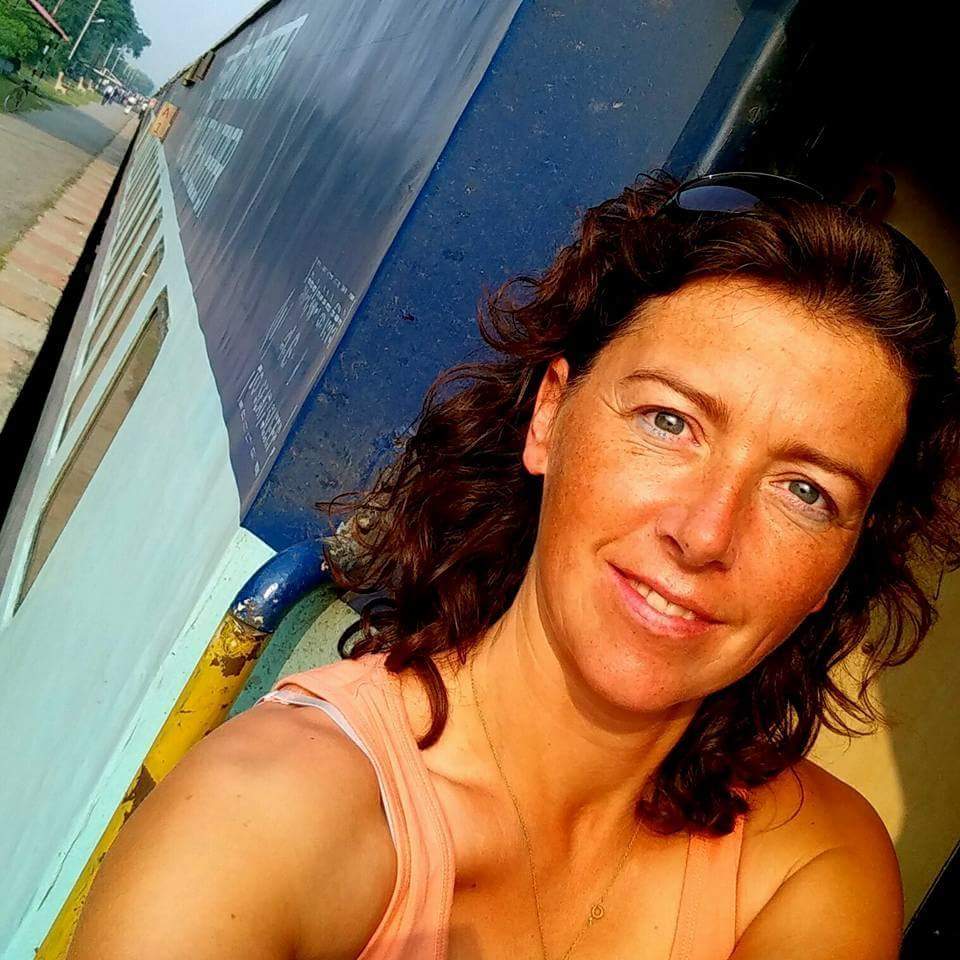 Jacomijn is een politieagent uit Nederland die jou graag laat zien hoe je veilig, actief en gezond de wereld kan over reizen. Safe and Healthy travel is a MUST