Sierra Subbetica Highlights – Andalusia, Spain – Go Off the Beaten Path and discover Sierra Subbetica natural park
|
Go off the beaten path and read about all the Sierra Subbetica highlights and plan your next trip to Andalusia! For example, do you know where the world's best olive oil comes from? I do! Since my tour of Sierra Subbetica Natural Park, I know that the best olive oil is made in the hilly countryside of Sierra Subbetica in Spain. The olive oil Rincon de la Subbetica wins the award for the world's best olive oil year after year.
Go off the beaten path and discover Sierra Subbetica Natural Park
This National Park will surprise you in its versatility. Go cycling along the Via Verdes, hiking on a stretch of Camino or the other many footpaths and of course what should not be missed on your trip in this area is olive oil tasting.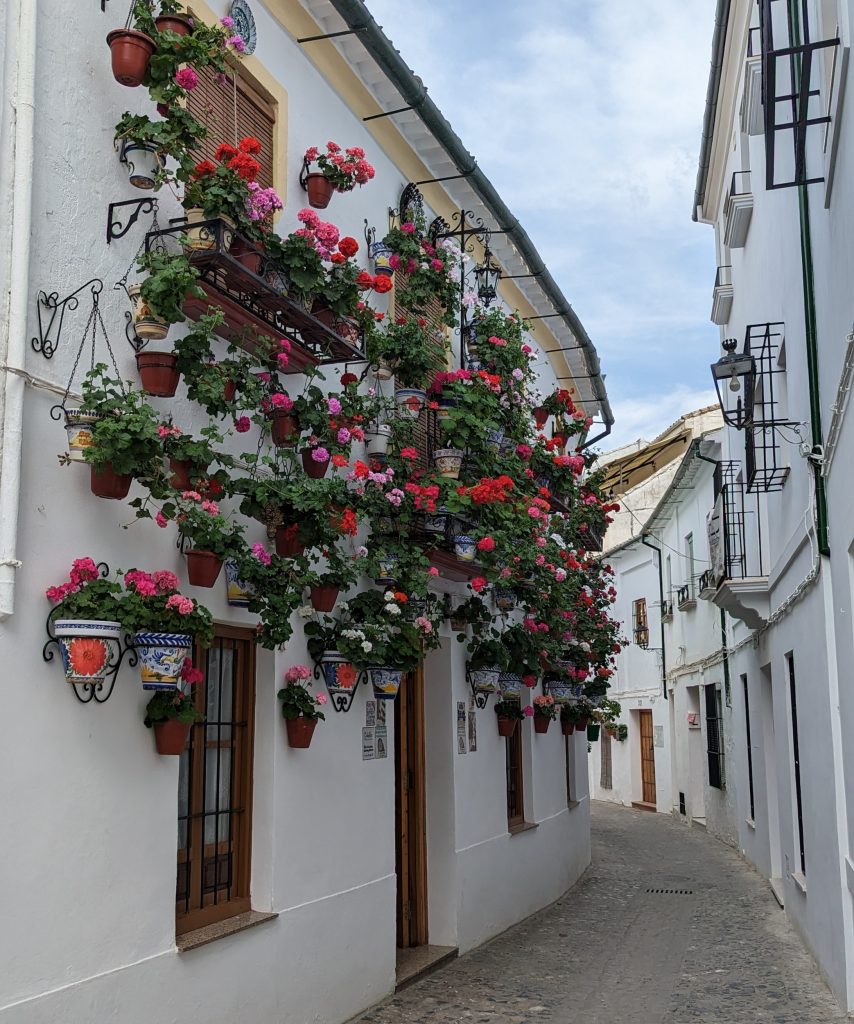 From Malaga, you can drive to Priego de Corboda in an hour. You will then find yourself amid olive plantations and in the centre of Sierra Subbetica Natural Park. An ideal starting point for your tour of this unique and authentic National Park in the region of Andalusia.
Highlights Sierra Subbetica – Andalusia, Spain
When I was invited to explore the highlights of the Sierra Subbetica in a few days, I didn't think twice and eagerly accepted the invitation. I am very excited about the versatility of the villages, the area, the olive plantations and the history of the Sierra Subbetica Nature Park/Geopark.
Hiking through an oliveplantagion and tasting olive oil
Surely the highlights Sierra Subbetica starts with learning about olive trees and what makes the region's olive oil so special. If the best olive oil in the world is made in Sierra Subbetica then you need to know more about it right? Learn how to recognise the best quality Extra Virge olive oil. In fact, before this trip, I didn't know what the olive had to meet in order to bear this name.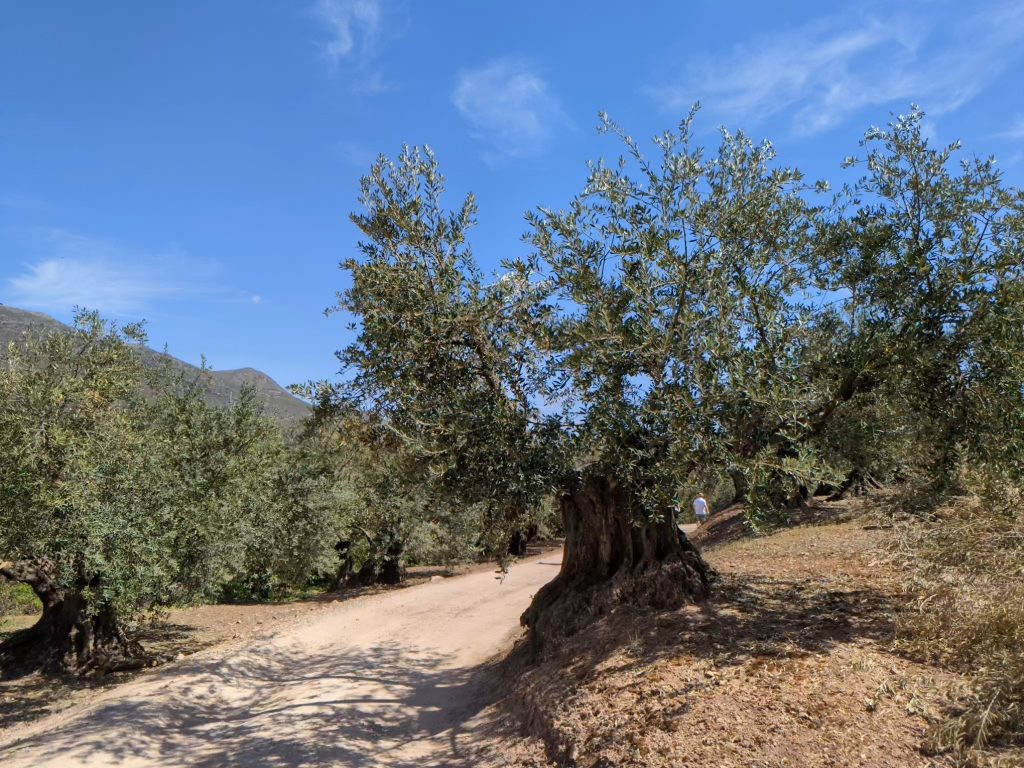 Some olive trees are hundreds of years old.
The olive tree you see me doing a yoga pose in front of in the collage below is no less than 400 years old!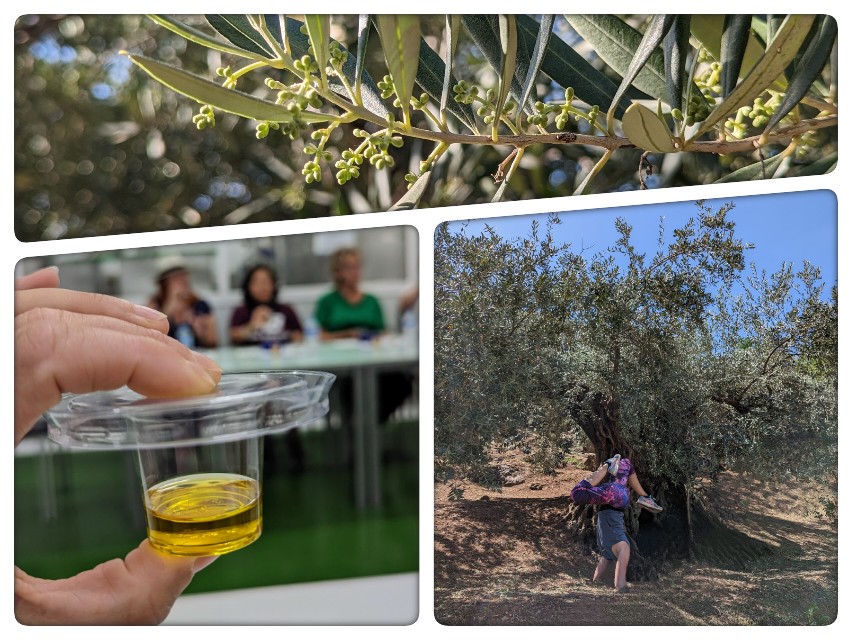 Biking / Hiking on a Via Verde del Aceite
A Via Verde is a cycling or walking path over an old railway line. These railway lines were used in the past to transport goods, crops or merchandise. This Via Verde is obviously named after the area: Via Verde del Aceite – The Olive Route. The olive route is 128 km long in total.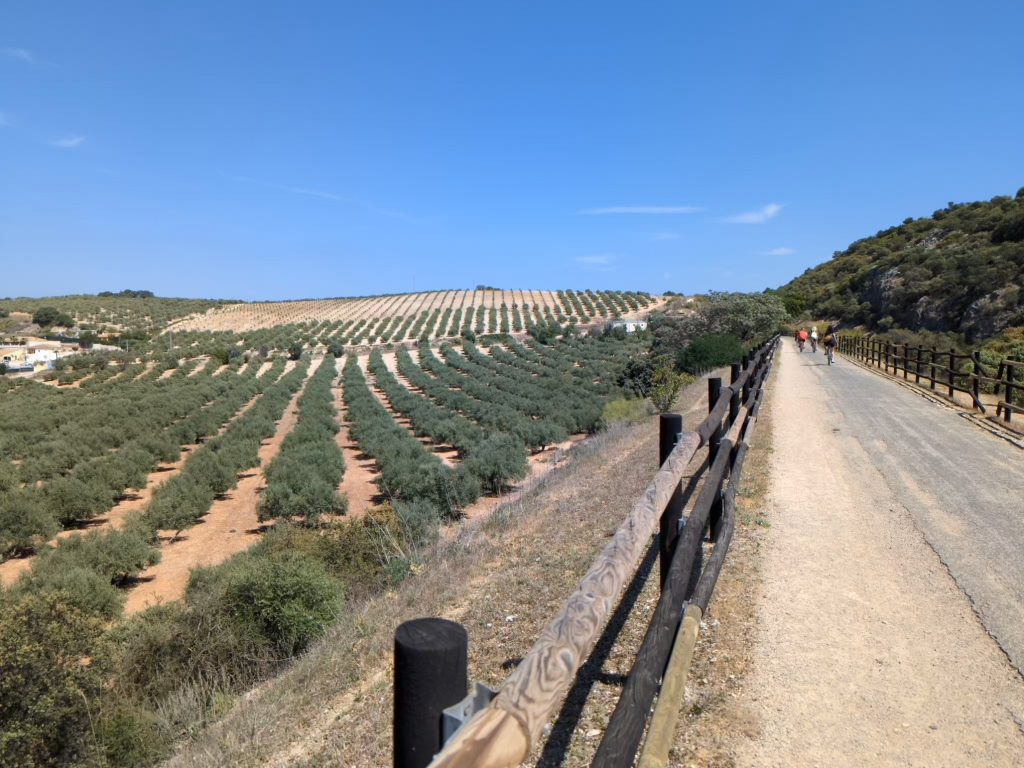 In this hilly area, cycling is fairly flat. The gradients are mostly no more than 4 degrees. The trains with loads couldn't handle more in fact. So this brings with it that it is lovely cycling while you can look around you in the valleys with some beautiful mountains of the Sierra Subbetica in the background.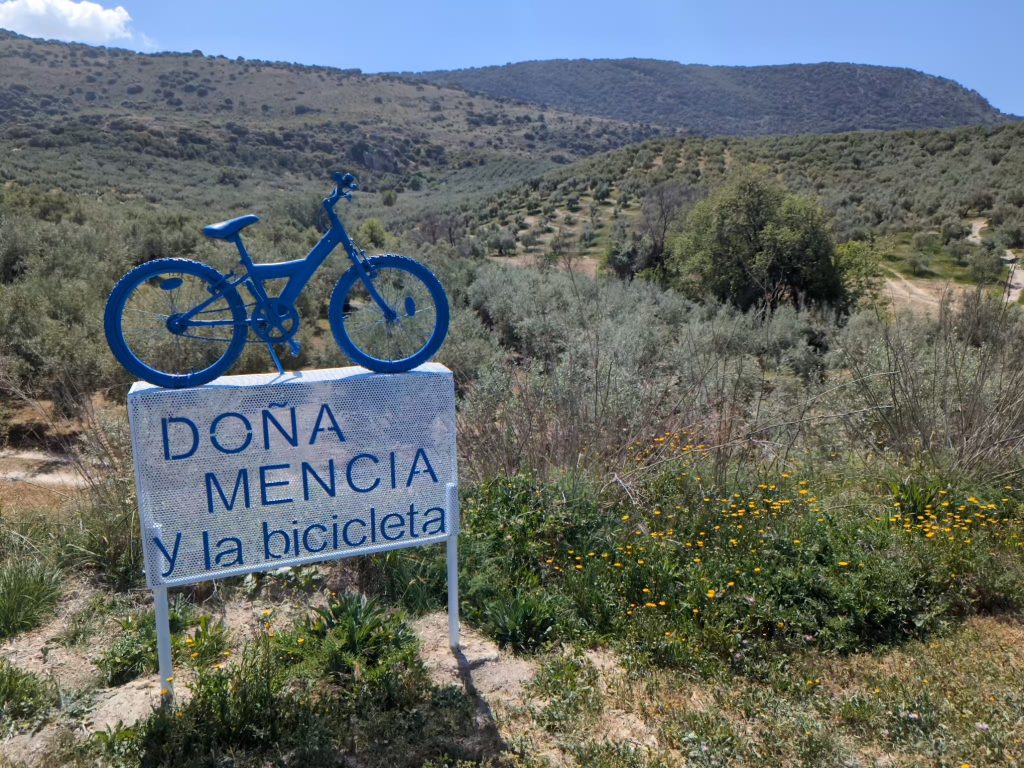 I stayed one night at Hacienda Minerva. A beautiful location exactly on Via Verde. They have a super pool there and you can eat well. The rooms are slightly dated but I understood there is a new owner on it so hopefully that will improve in the future.
Highlights Sierra Subbetica
Vast olive plantations, the most beautiful patios & Via Verdes
Hiking in natural park Sierra Subbetica
There are many hiking routes marked out through the Sierra Subbetica area. Everywhere I saw signs for the walks with varying distances. And so sometimes you actually walk across olive plantations and among the centuries-old olive trees.
There are all kinds of walks to be found in varying distances. For example, the Sendero del Río Bailón of 14 km from Cabra to Zuheros or the Ruta La Tiñosa near Priego de Cordoba of 16 km or the Sendero de la Ermita near Cabra of about 10 km.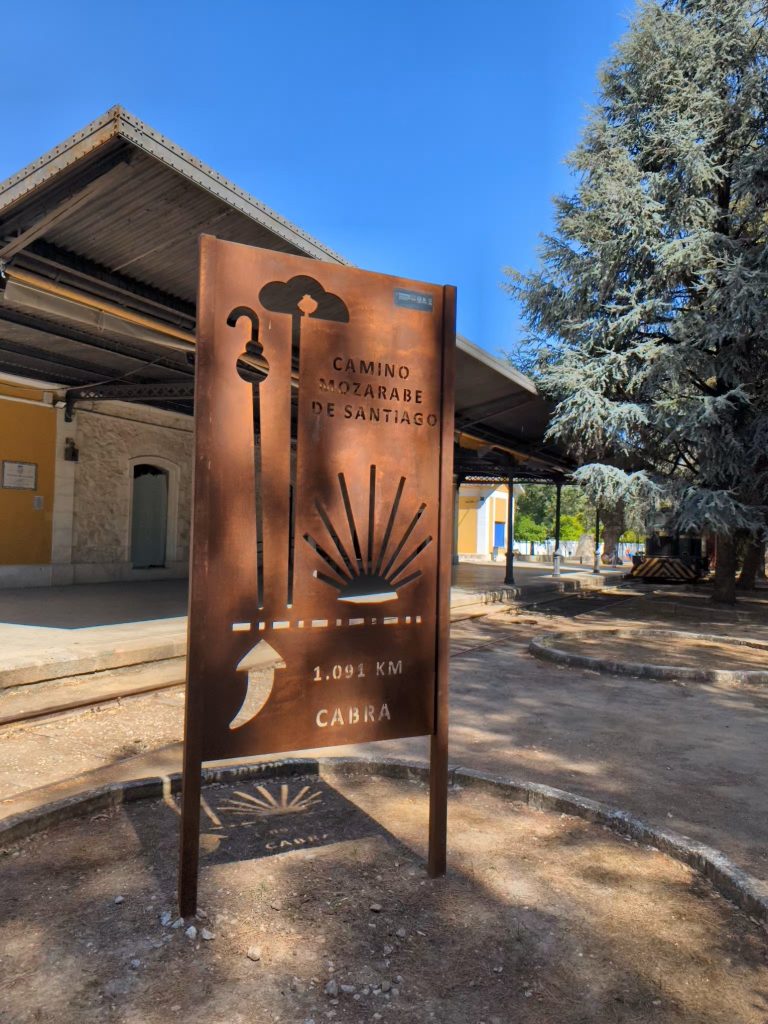 But what about a real camino? Part of the Camino Mozarabe walks this way through the Sierra Subbetica Natural Park. I did see the yellow arrows and st. Jacob shells on the Via Verde del Aceite. I'm really into hiking more days at a time, I love it. It puts you into a slowdown that is so good for your mind and body. But also letting everything around you sink in, slowly digesting everything you see, smell, hear and experience.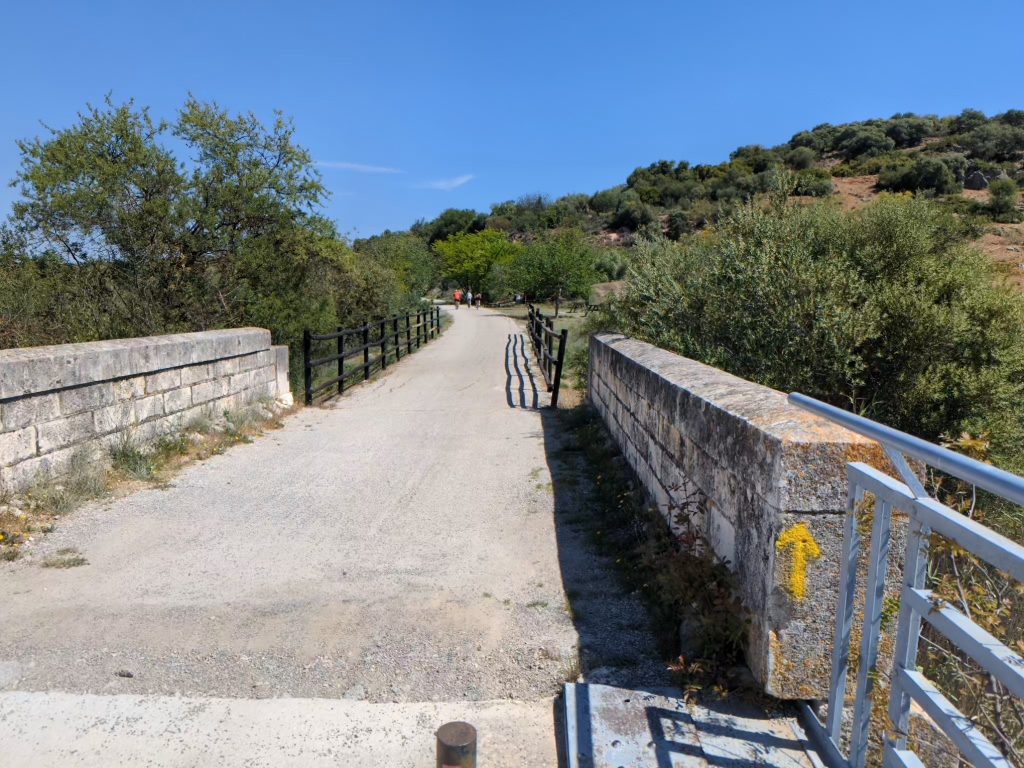 Full enjoyment of Sierra Subbetica highlights – Andalusia
Soaking up culture in the small villages
Of course, city and village walks are also highly recommended. The many small villages (Cabra, Zuheros, Rute, Iznájar, Priego de Cordoba etc) in the Sierra Subbetica are really worth a visit. Each has its own unique and authentic atmosphere. Many of these villages are largely painted white, which gives the whole thing that fine Mediterranean feel. In spring, the streets are full of beautiful flowers that decorate almost every house. And then every time you see those patios with fine places to have a coffee or those little courtyards of the people themselves.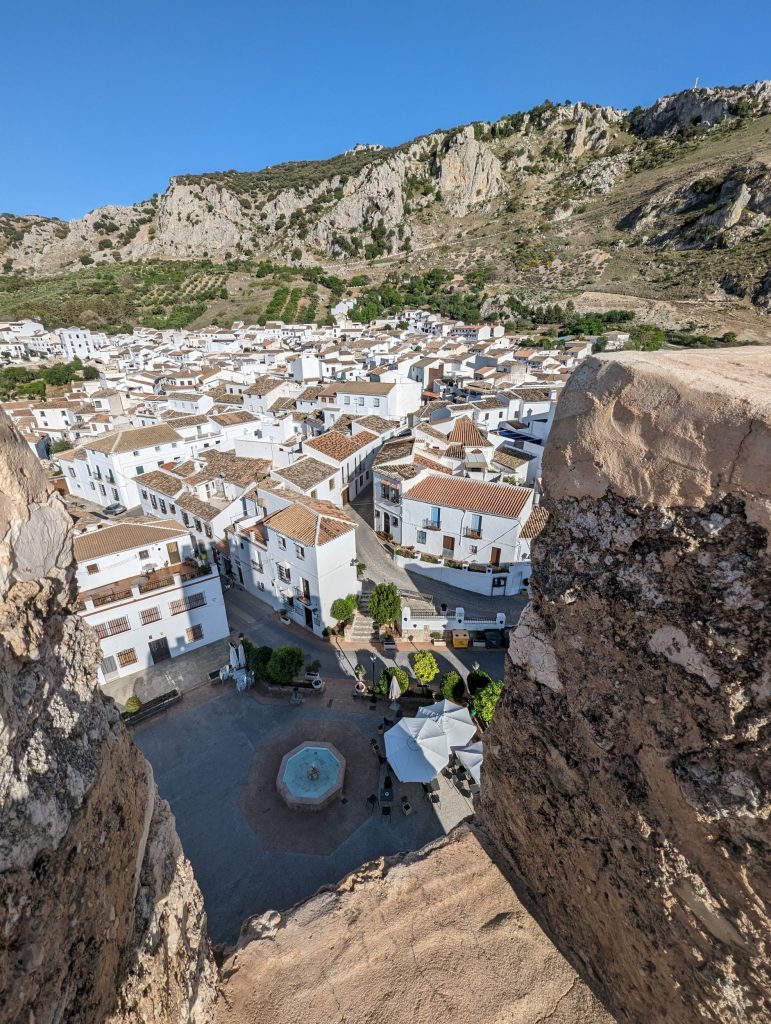 Did you know that in May there is a most beautiful patio election in many towns in the Sierra Subbetica? So around that time you will see the villages at their most beautiful, people try very hard to make the beautiful flowers bloom. In Cordoba, for example, there is a patio festival.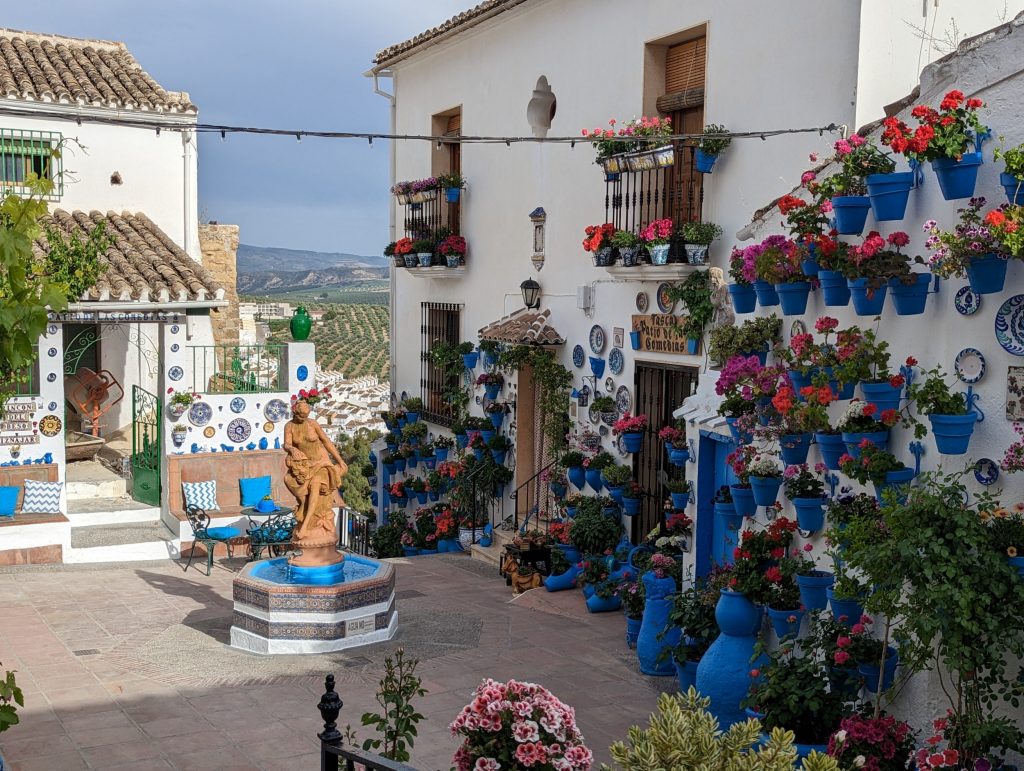 In Iznájar, I also had a great hotel. It was situated a bit outside the village but nice and close to the lake. From my room I looked straight across the pool towards the village and thus to the castle on the mountain. What more could you want? This was Caserio de Iznajar, and no this is unfortunately not an old castle with great stories…. Although your owner would love to tell you one. It is a newly built beautiful building in the beautiful old style.
Tasting Anise liqueur
I actually hardly drink any alcohol, those 2-3 times a year can hardly be counted right? But while touring the Sierra Subbetica Natural Park, you will definitely come across local wine and anise liqueurs. Many wines are manufactured in the Sierra Subbetico. In the town of Rute, you can visit a number of factories and museums where you can learn more about the wine and liqueurs made here.
Go for a guided tour to Machaquito anis y licores or visit the amazing building of the Museo del Anis where you may taste many different liqueurs during a guided tour.
Tip. If you visit Rute from mid-September to mid-January, the whole town is in Christmas spirit.
And while you are in Rute, you really should also visit the region's most beautiful patio!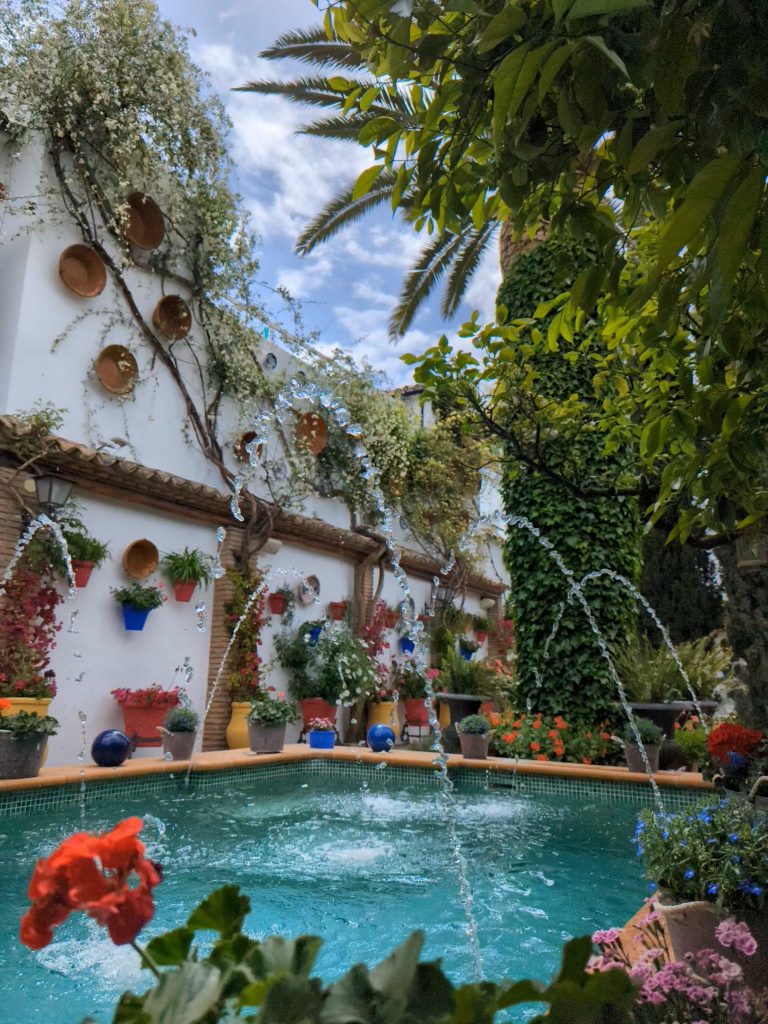 Strolling through the narrow streets of Priego de Corboda

The amazing town of Priego de Cordoba is located roughly in the middle of the Sierra Subbetica Natural Park. So it would serve super well as a base for exploring the Sierra Subbetica. I spent some time wandering through the narrow streets there and found it a really great little town. One part is super old and small in layout. The narrowest street is maybe a spacious metre wide, how cool? Until you live by it maybe. But to walk through it several times as a tourist, really super! This ancient part is called Barrio de la Villa.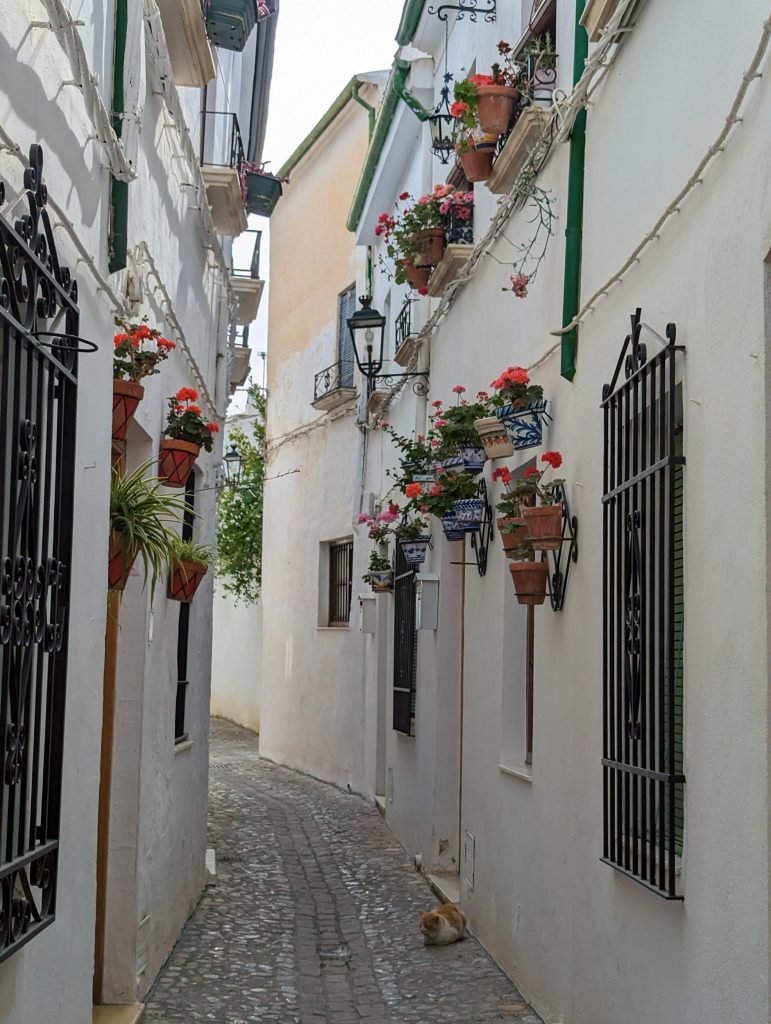 The narrowest street emerges at the edge of town, on the so-called balcón de la Villa. Here you look out over the olive plantations from a great height. It is a long street that you can stroll along. Along the way, you will come across this cute little statue.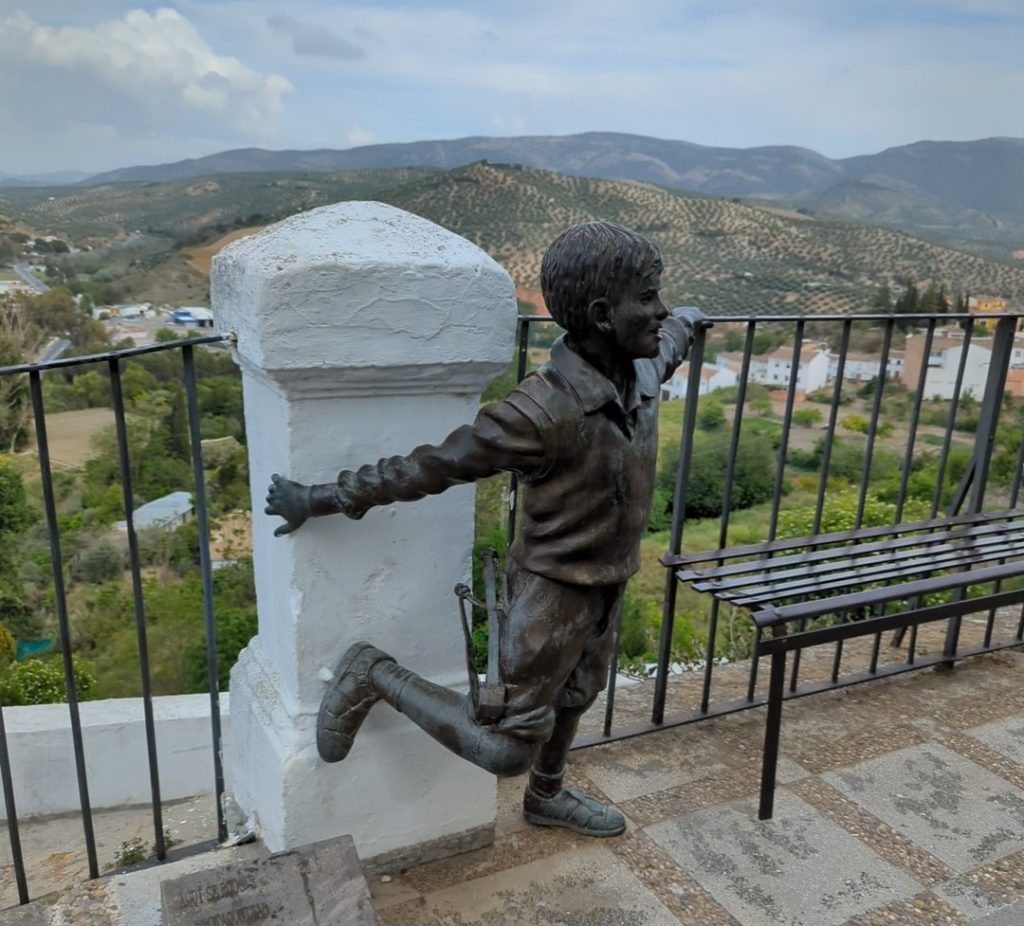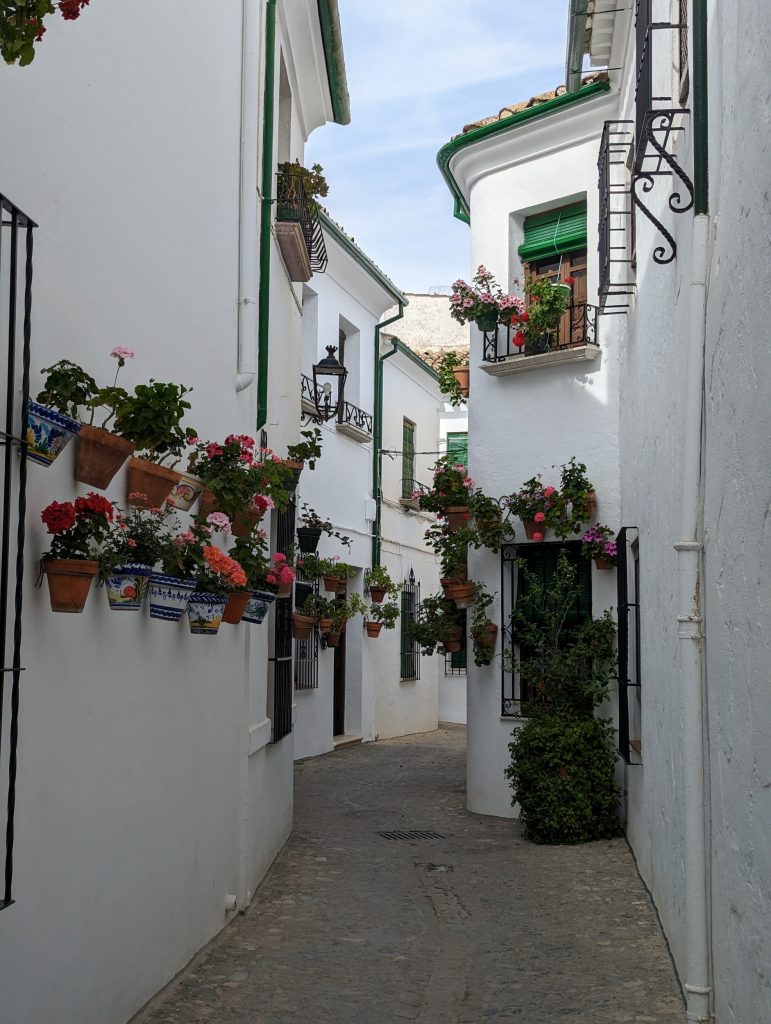 What I also really liked about this city is that the centre is built in a totally different style. You walk as you enter the shopping street into a different theme, namely the art deco style. No more little bricks and white walls but smooth white, brown or beige walls with accents of marble. And a beautiful, wide shopping street laid out in the same style.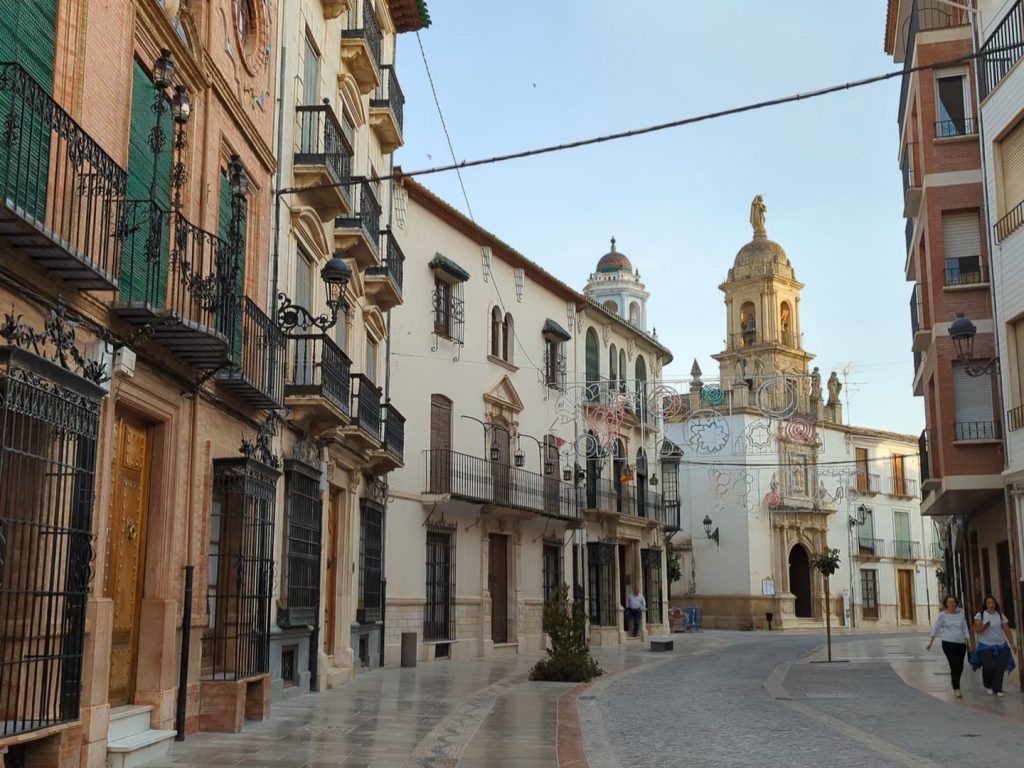 In Priego de Cordoba, I stayed at Casa Banos de la Villa. What a super nice place and hotel again. I can definitely recommend this one too. Right next to the old small streets in Barrio de la Villa and from the roof terrace a view of the rooftops of the imposing Catholic church in the centre.
Highlights Sierra Subbetica – Andalusia, Spain
Deep into the cave of Cueva de los Murciélagos
Over the town of Zuheros is the largest cave complex in the province of Andalusia. The cave is home to a large bat colony; murcielagos doesn't mean bat for nothing. In summer, they are in a higher part and you will definitely see them if you enter the cave. I didn't see any during my visit in spring. I think it will be an impressive sight if you can see them fly out in summer.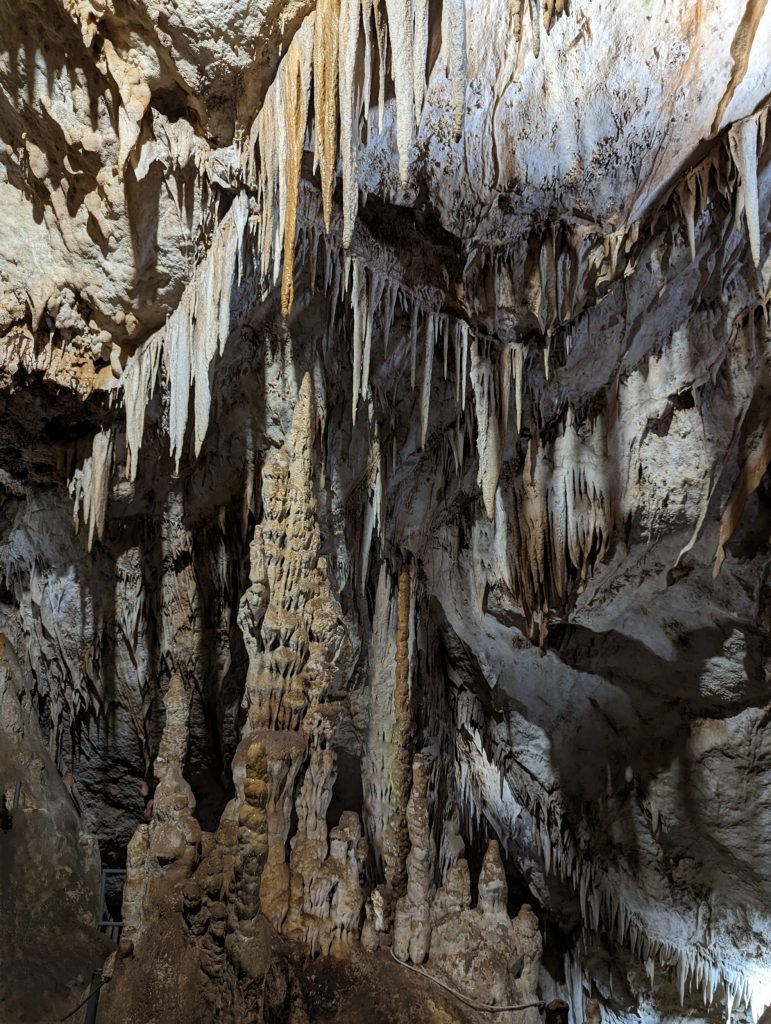 In the cave, a staircase has been built in the accessible part, you may go down 350 steps, descending to a constant temperature of around 10 degrees. And then you may go back up just as many on the other side. It's easy to visit the guide teaches you some interesting facts about the history and origins of the many stalactites and stalagmites.
There has been found human skeletons dating back 7200 years. So for that reason, we know that people lived there in prehistoric times, middle Palaeolithic times. The skeleton itself is still buried there and is not accessible. The skull they took away at that time is now safe in a museum.
Tip: At the Ecomuseo de la Cueva de los Murciélagos you will also find an observatory. Ask at the museum if you can drop by one evening to watch.
Visit the reservoir at Iznájar
The main source of water for the inhabitants of this area but of course also for the olive plantations is the reservoir at Iznájar. Do visit the museum to learn how it was built and that three villages and several small hamlets had to make way for it. Those villages lie in the lake and at low tide, church towers sometimes rise above the water or other high roofs.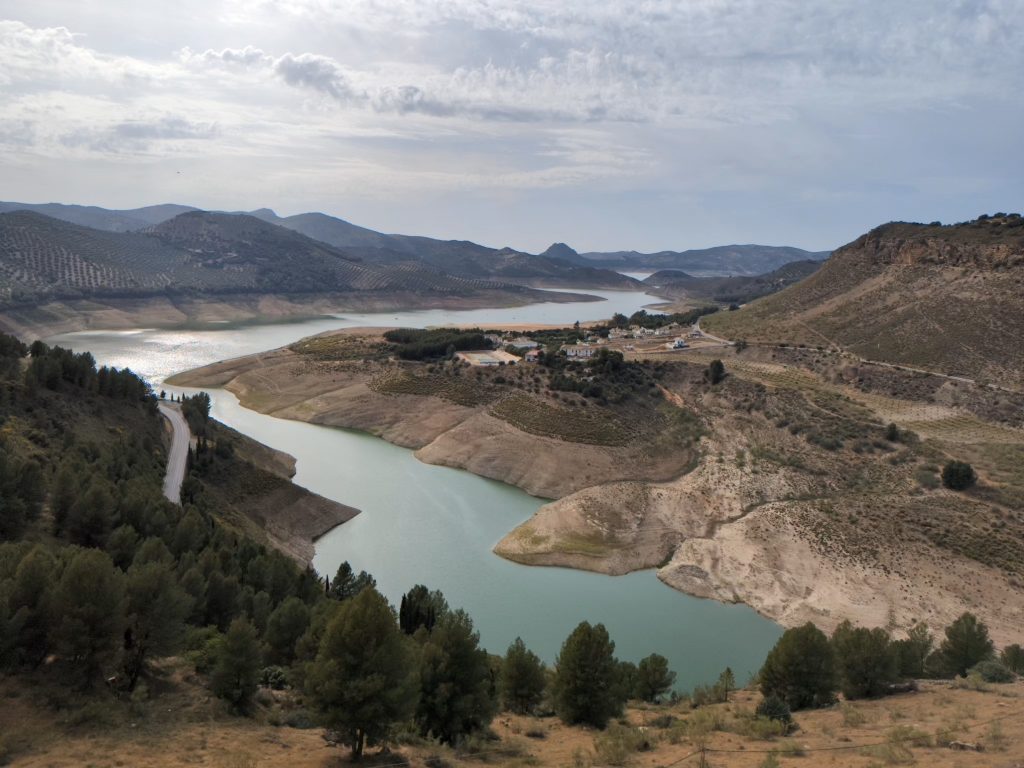 Did you know that the lake was created in the 1950s-60s and in 1969? Dictator Franco opened the reservoir.
This lake also naturally attracts tourism, they have lovely beaches to lie on the big lake in summer. And then, of course, you can supp, kayak and cruise the 32km-long lake by boat.
And of course, there are also some lovely hiking trails along this huge reservoir.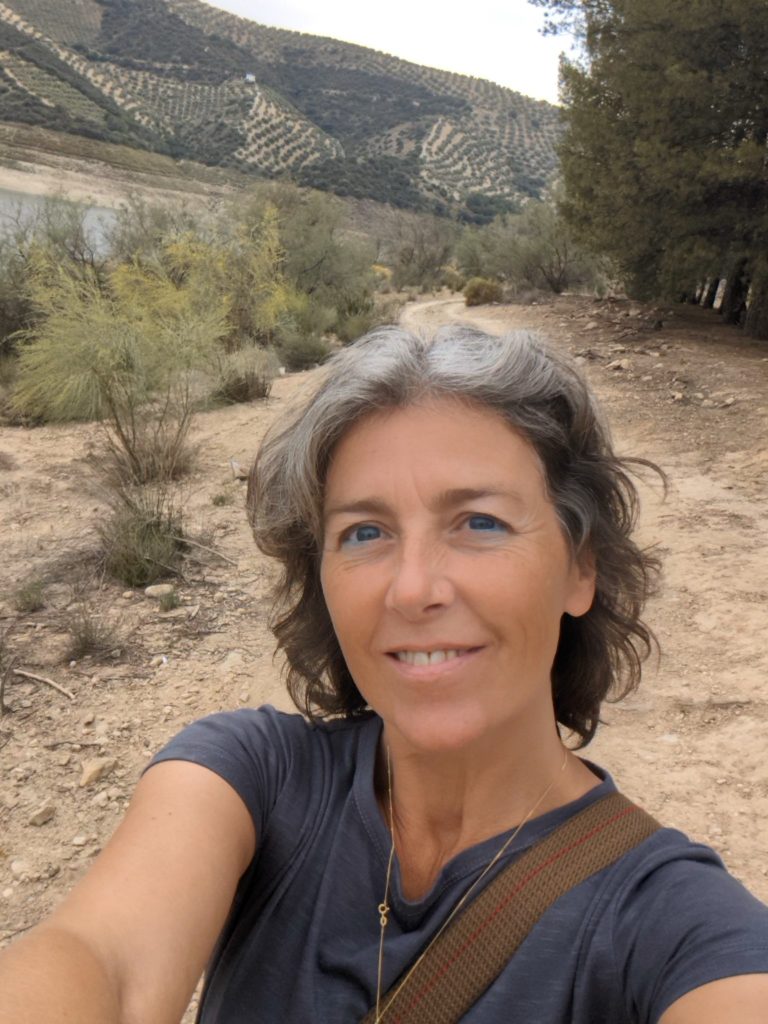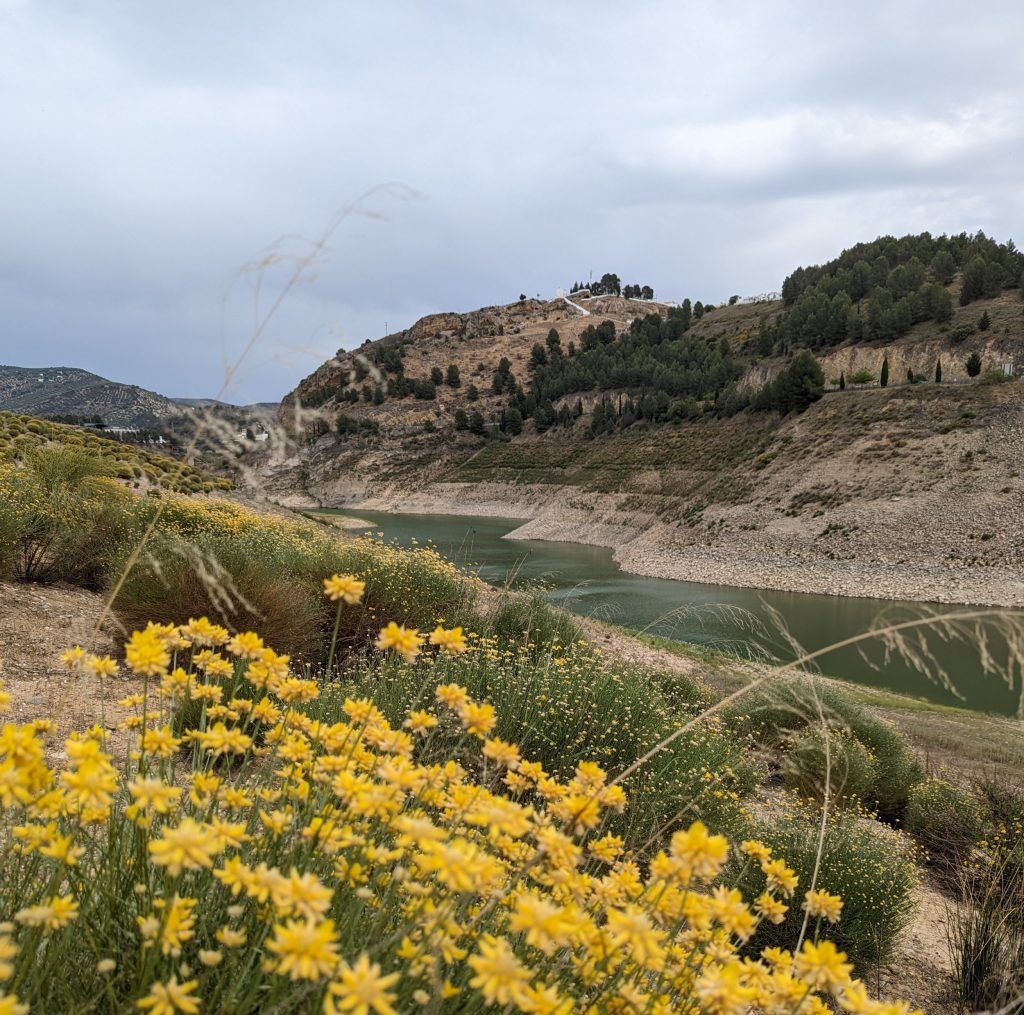 Want to know more about this region?
Then take a look at the Destino Subbetica website.

Save these tips to your favourites for your next trip!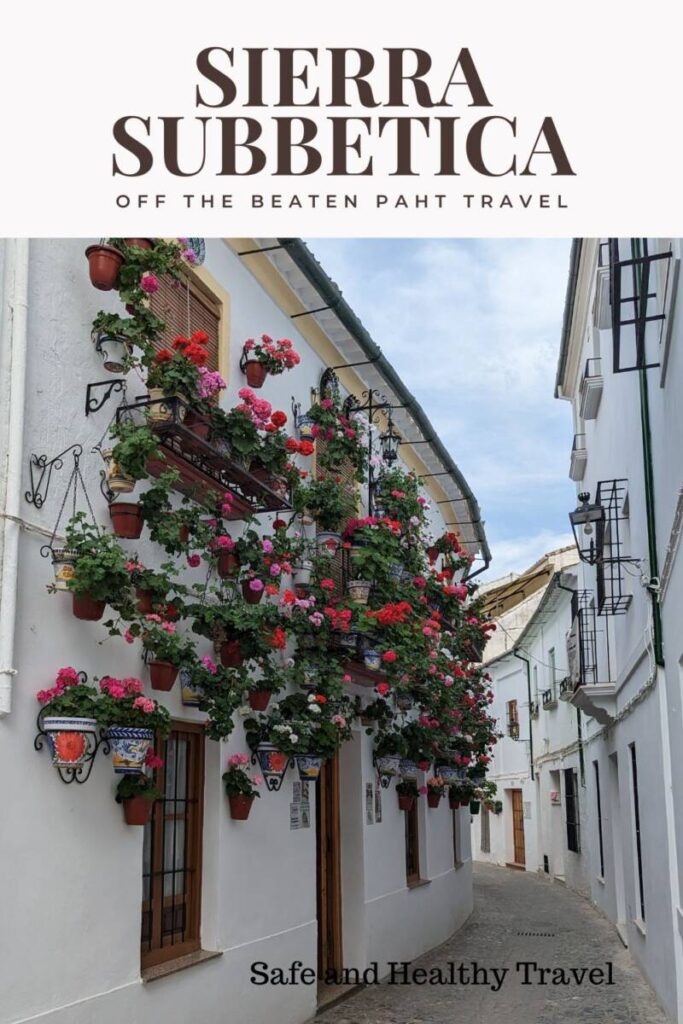 Want to read more about my Spanish travels?
8 days pilgrimage on the Camino Frances
Or would you want to walk the whole Camino Frances?
Discover the Spanisch island of Ibiza and Formentera
Or go hiking in neighbouring Portugal on the Historical Way
Safe and Healthy Travel on the Rota Vicentina – Historical Way Portugal – Stage 1, 2 & 3
I hope you enjoy this beautiful world as much as I do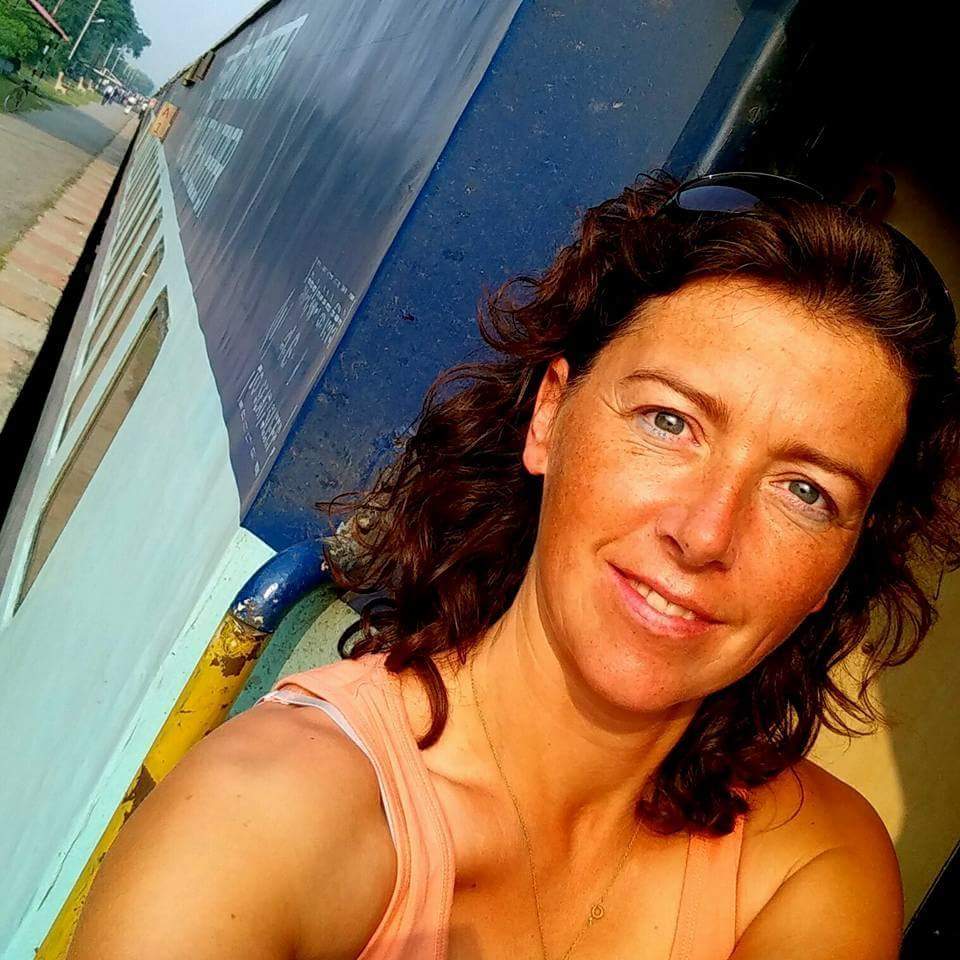 Jacomijn is een politieagent uit Nederland die jou graag laat zien hoe je veilig, actief en gezond de wereld kan over reizen. Safe and Healthy travel is a MUST