Safe and Healthy Travel on the Rota Vicentina – Historical Way Portugal – Stage 1, 2 & 3
|
For some time I had been seeing the Rota Vicentina pass by and more and more the idea attracted me not to walk up in Portugal to Santiago de Compostella but down to the southernmost tip of Portugal. When the trip to Oman in late Nov/Dec fell through, I saw my chance and started planning. Plans for the Historical Way Portugal were getting real.

Safe and Healthy Travel on the Rota Vicentina
Enjoying a few days of being outside, getting out into the fine sunshine and being in motion. Meaningful Travel is what I call it, and with this Meaningful Travel on the Rota Vicentina, right? I wanted to do the Fishermen's Trail. I bought the booklet and started reading more into it.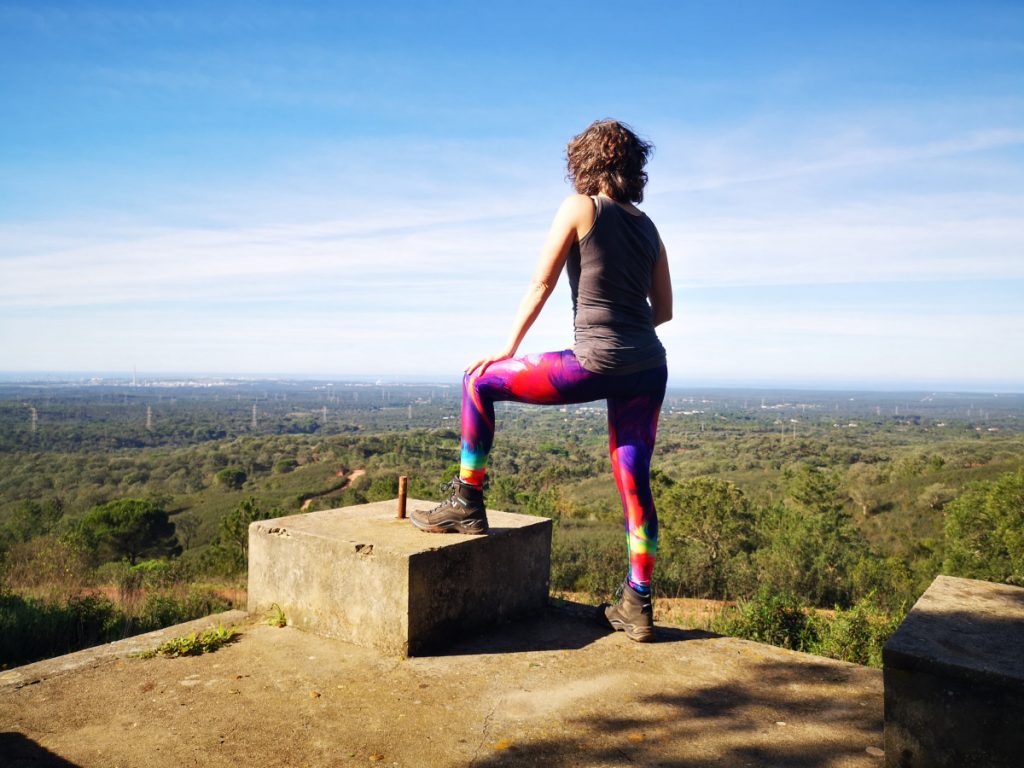 The Rota Vicentina is more of a walking network and has several routes. The booklet I had bought showed me that I would start in Santiago do Cacem, well a name that also appealed to me. This was then on the Historical Way, though. This Historical Way then takes you in 3 stages to the starting point of the Fishermen's Trail. I was able to add some more days from overtime I had and so I just had 2 weeks to do both routes. Because. The Fishermen's Trial, after the southernmost point… continues on to Lagos. And yes, of course I wanted to do that one then too!
How do you get at the start of the Rota Vicentina – Historical Way Portugal
By Transavia, I flew to Lisbon from Amsterdam where I spent a night at Bluesock Hostels. Very nice hostel and also a nice place to stay. Close to the Avenida metro station where I went from the airport. (First the blue line all the way down and then on red line 3 more stops) Within an hour I was at Bluesock Hostels. The next morning I left there around 6.15am to walk to Sete Rios, there is also Rede Expressos and there I could buy a ticket for the bus to Santiago do Cacem for 14 euros. This ride takes just over 2 hours so I took the first one at 07.30. There is also one going at 10.30 and another later in the day.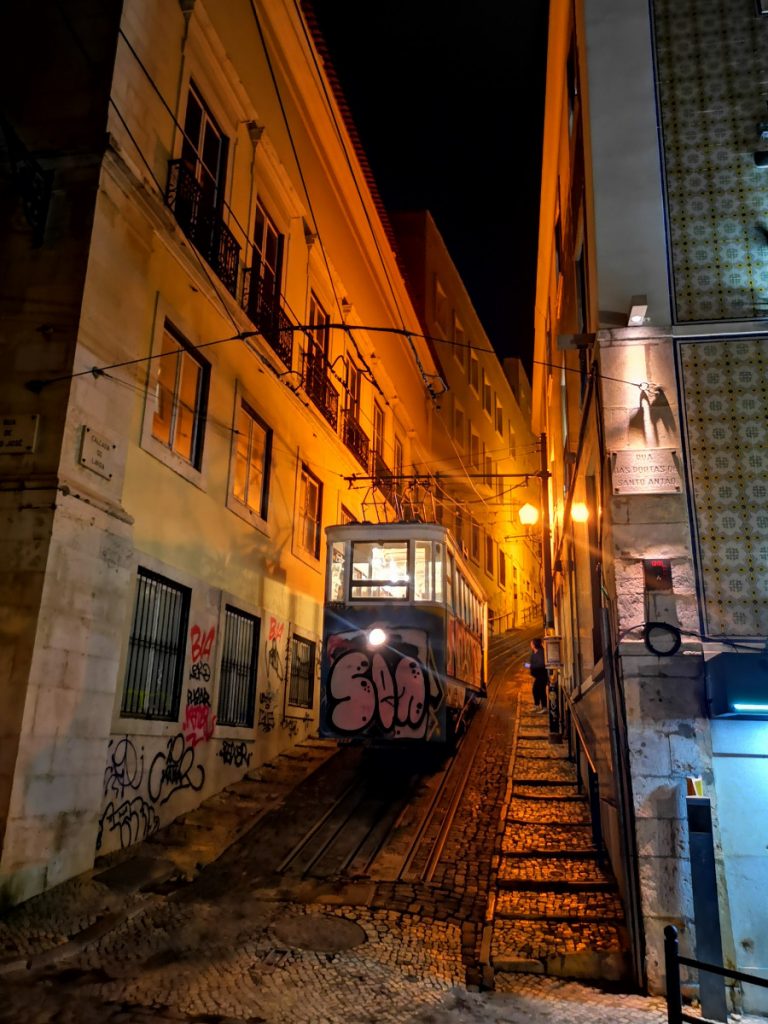 After having a fine cup of coffee near the bus station, I went in search of the starting point. My booklet indicated near the bus station. Well, I found nothing there but I did read a street name and a park so I went looking for that. I found that with 10 minutes and there I did see the signs announcing the Rota Vicentina. This always makes me happy. I partly read the description, look at the pictures and the surroundings. Looking at the surroundings, I saw red/yellow markings.
Hmm…followed that for a bit but I soon had a wrong feeling about it. So looked in the booklet to see what the next point in that description was. A church, the Igreja Matriz de Santiago de Cacém. There I found the red/white marker I was looking for, which I was going to follow for the rest of the day and which would also give me good directions from then on.
Safe and Healthy Travel on the Rota Vicentina
Historical Way Portugal- Stage 1
So… In Google maps it's best to enter Igreja Matriz de Santiago de Cacém then you're done in one go. The road to it is beautiful, the view there is super and then you can follow the signs and walk right out of Santiago de Cacém.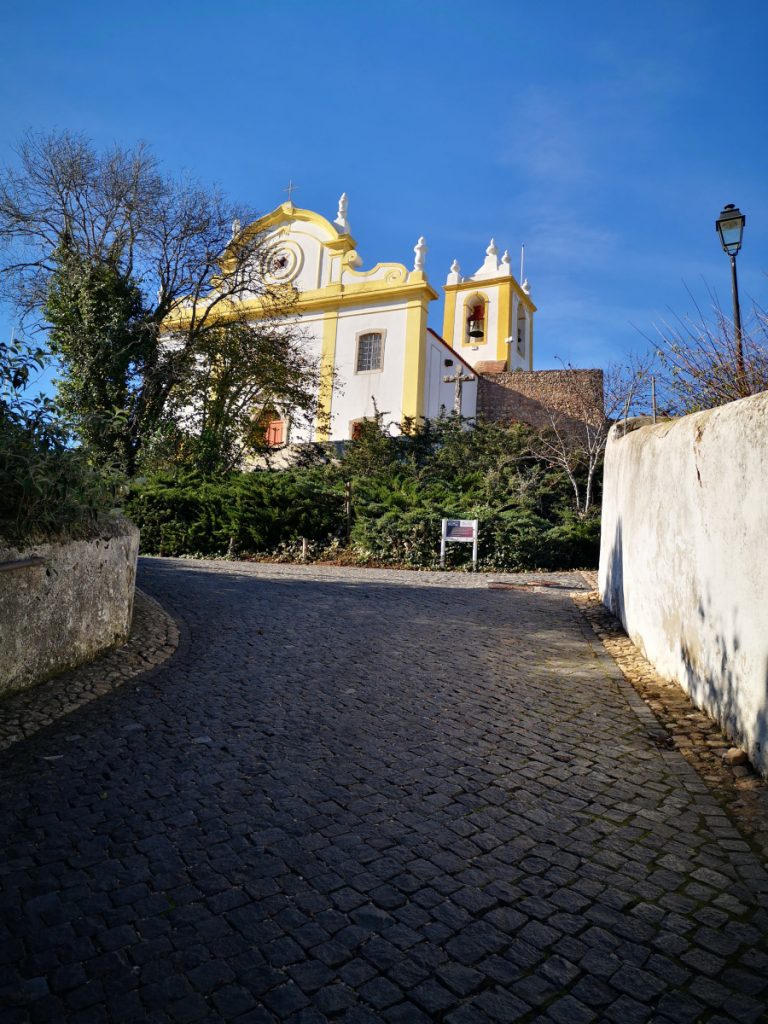 Stage 1 – Safe and Healthy Travel on the Rota Vicentina
Stage 1 is described differently. The info board says it is 18 km and from Santiago de Cacem to Vale Seco. But my booklet indicated Moinhos do Paneiro and so that's where I'm heading. That brings me to about 23 km for today.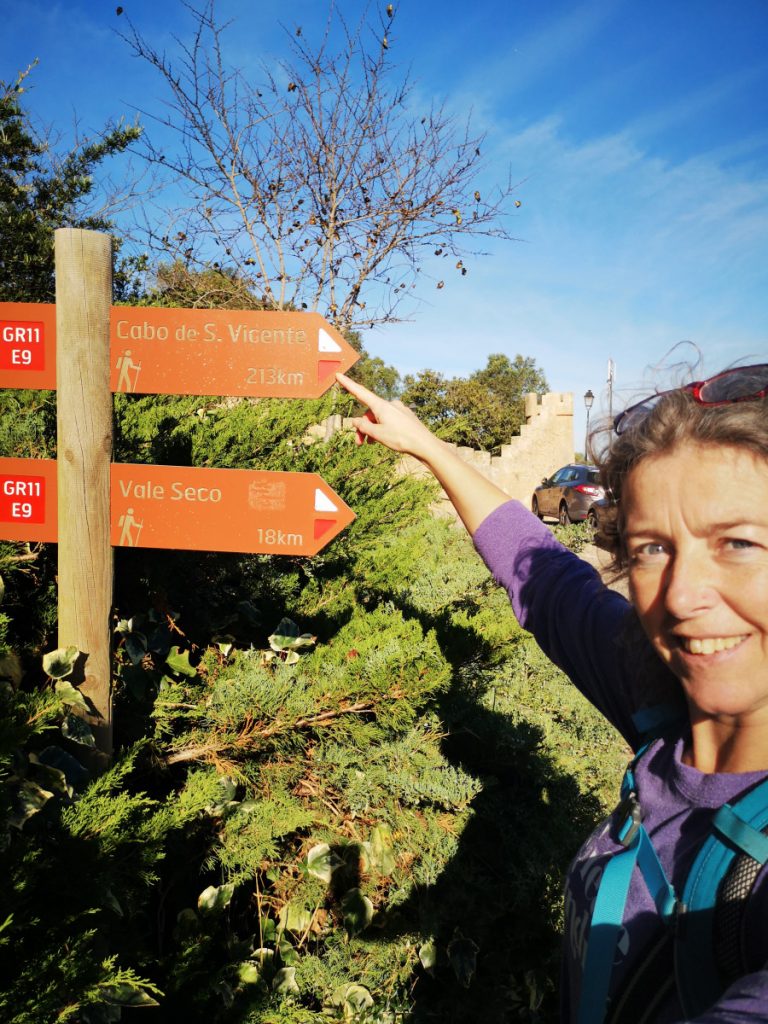 I am soon walking in greenery, going up and down hills. It really is a very beautiful area. At first, it's really a eucalyptus forest and lots of plane trees, really planted and so no fancy to it. Really straightforward. A little later, I enter a more beautiful area and walk among the cork trees. That is also a strange sight. At the bottom, the crack, the cork is cut off and then black trunks remain. Above that, there is then cork and leaves. I find it very beautiful to see and also the trails are super!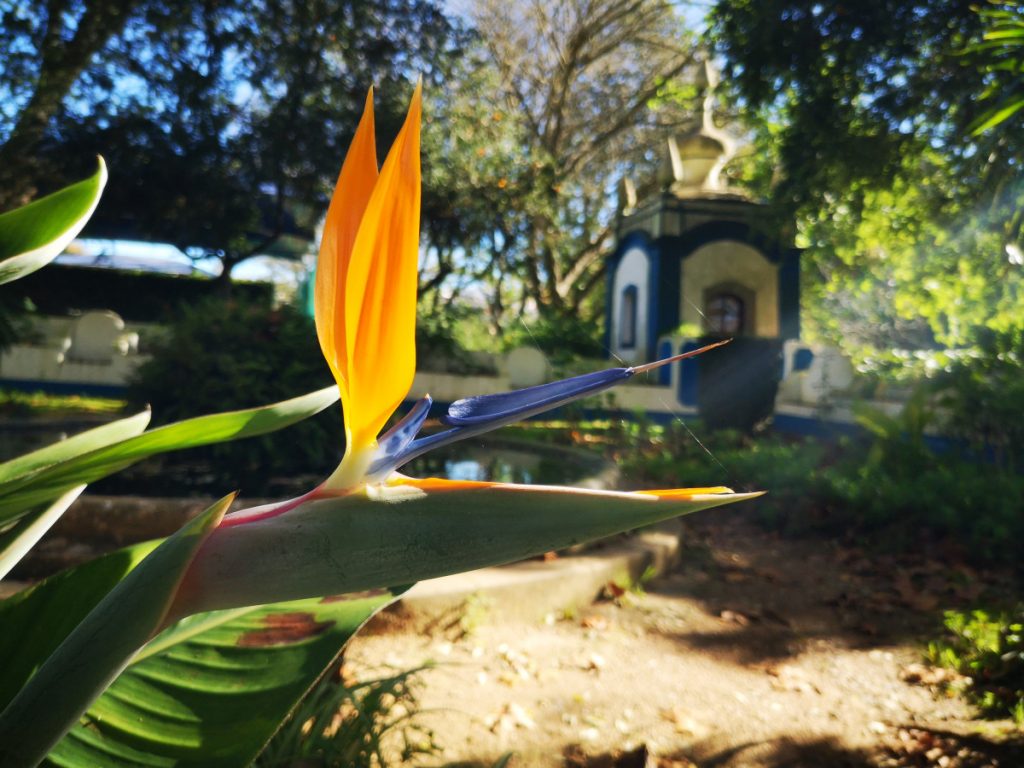 Pretty early on, I then have a brief view of the sea on my left but later I am really walking in the Portuguese landscape. At one point I hear bells and some goats. As I get closer, I see that there is a goat high up in a tree and some other goats below it. One of those goats has huge long horns, I haven't seen that before. I also see a woman working in the garden further along and as I walk on I see that I am at the ruinas do Conventa de Nossa Senhora do Loreto. These date back to the 15th century.
There are two dogs guarding the place well, fortunately tied to a rope, and as I can't see the flags for a moment I walk past them again. Then the elderly woman, with at least three teeth still in her mouth, comes over to show me the little flag. It's just hidden behind some greenery, so just keep to the right there.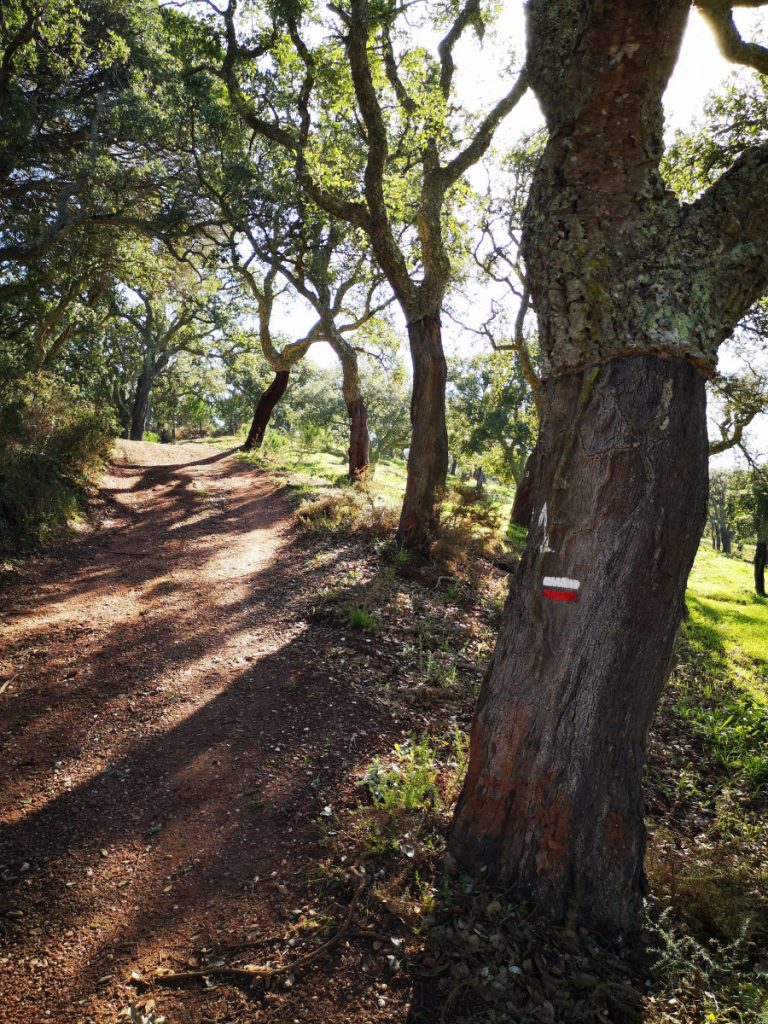 Hiking the Rota Vicentina – Historical Way Portugal
I walk for quite a while among the eucalyptus and then among the cork oaks. I had actually never seen them up close like this before. The crack is just cork, I broke off a piece and it is soft as cork is. How special huh? So a super natural product that just needs to be cleaned and then it's already good it seems. The cork forest does look strange, so the undersides of the trees are black, dark in colour because the cork has been removed.
I hear it takes about 9 years for it to grow back and you can take cork off the tree again. People at dinner were saying, you can be a lazy farmer here….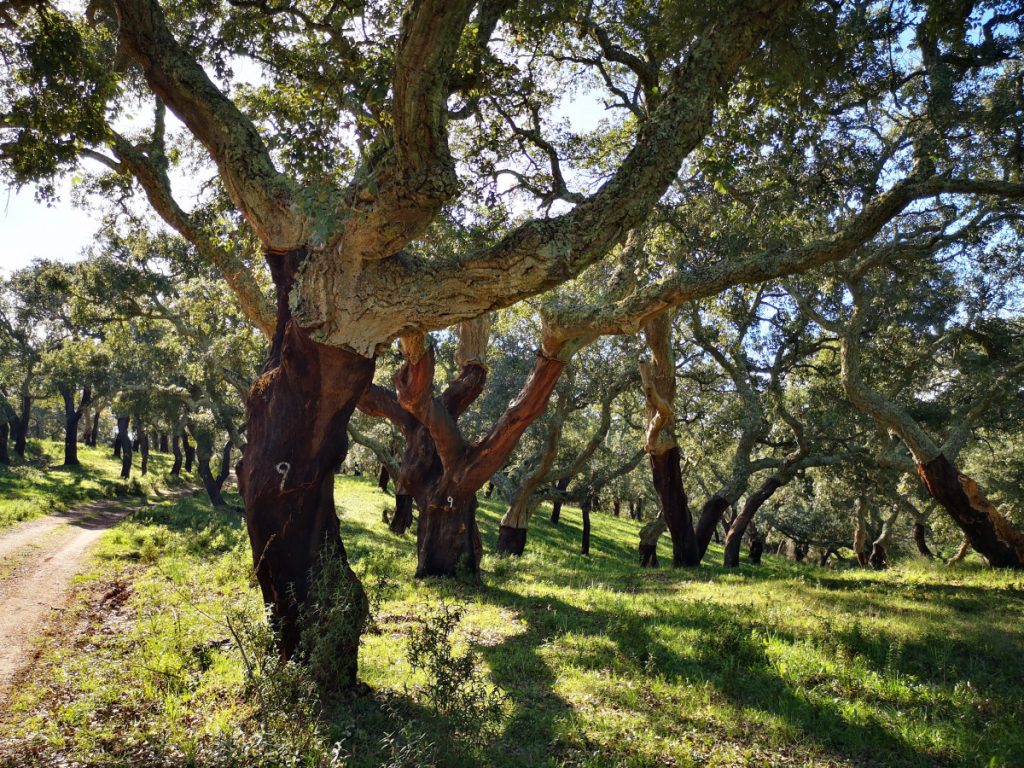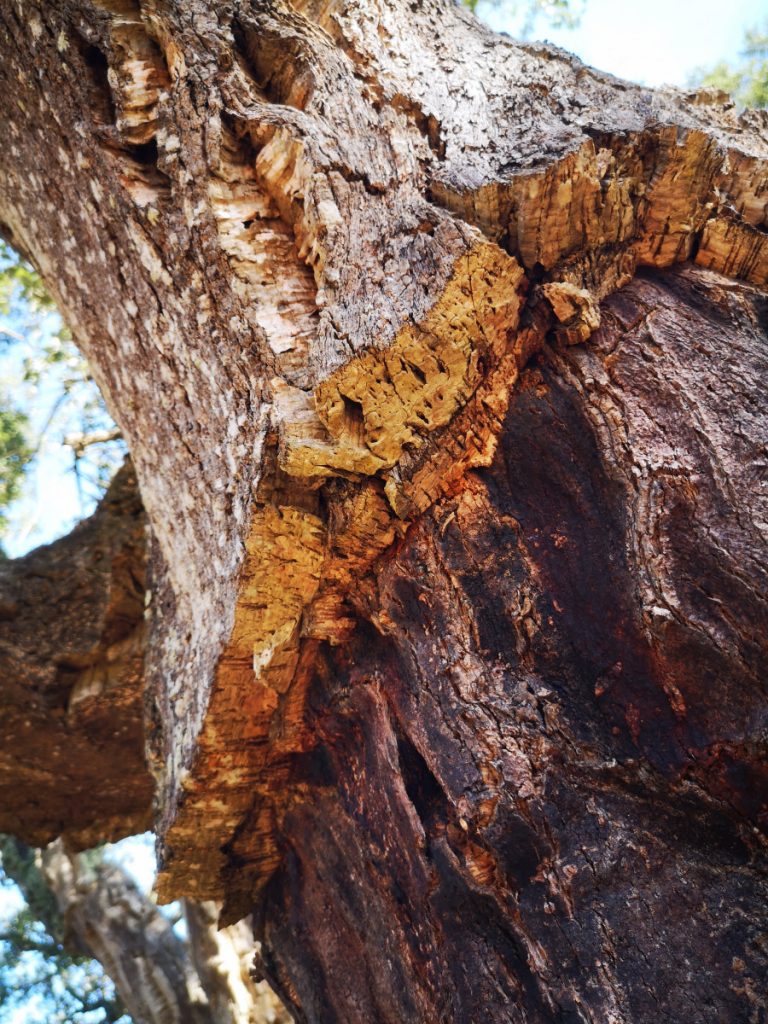 My body is protesting against 15 days hiking the Historical Way Portugal
I start having trouble with my knee after that. An ailment I contracted during the Nijmegen Four-Day Walk. It actually started yesterday, my calf was bothering me, I had some cramps. This while I had just travelled quietly and hadn't done anything crazy before that. I do recognise it from my body, it goes into resistance and makes me feel things like pain. I recognise this from my 3x 10-day Vipassana, your body makes you feel things, experience things worse than they are. Just because it feels sorry for itself…wants attention…doesn't want to be here…. So strange.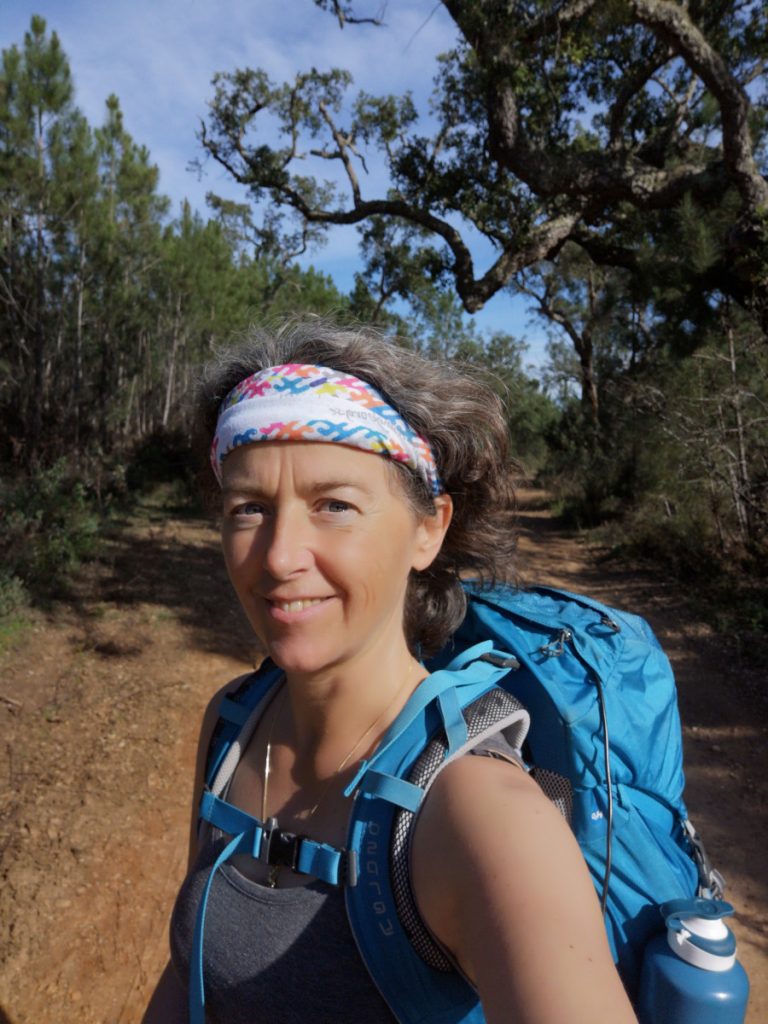 And so it did today, for quite a few km it bothered me…quite a few it didn't. Then it worked again, downhill without pain, and a little later I almost stumbled because I didn't want to bend the knee. So when I arrived at Vale Seco I had done 18km and was very happy to see that I could sit down for a while. Shoes off, feet dried and taped (big toes) and coke and a cheese sandwich. How delicious!
Rota Vicentina – Historical Way Portugal – Stage 1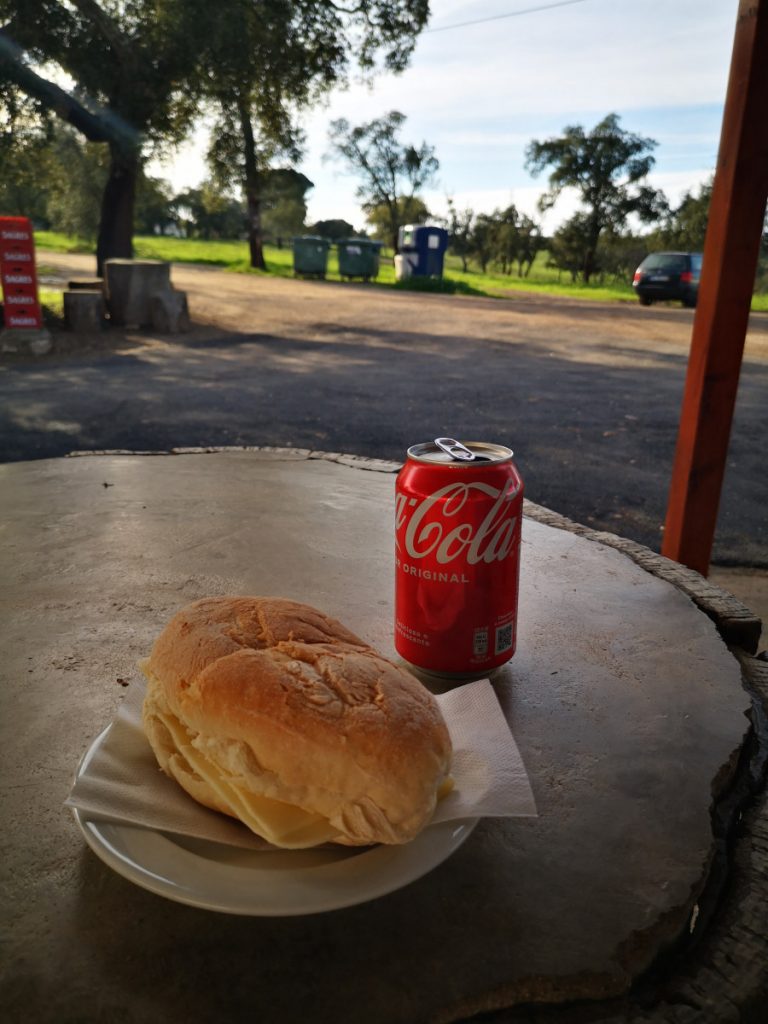 After that, it's another 3 km or so of walking. I pass some farmhouses, old cottages it seems more like. You don't see real farms here. They do some gardening and sometimes have goats or something. From a distance you can often hear them…but this one was different. This was a huge pig, what a beast. I made a video of it, as it was also very curious about me 🙂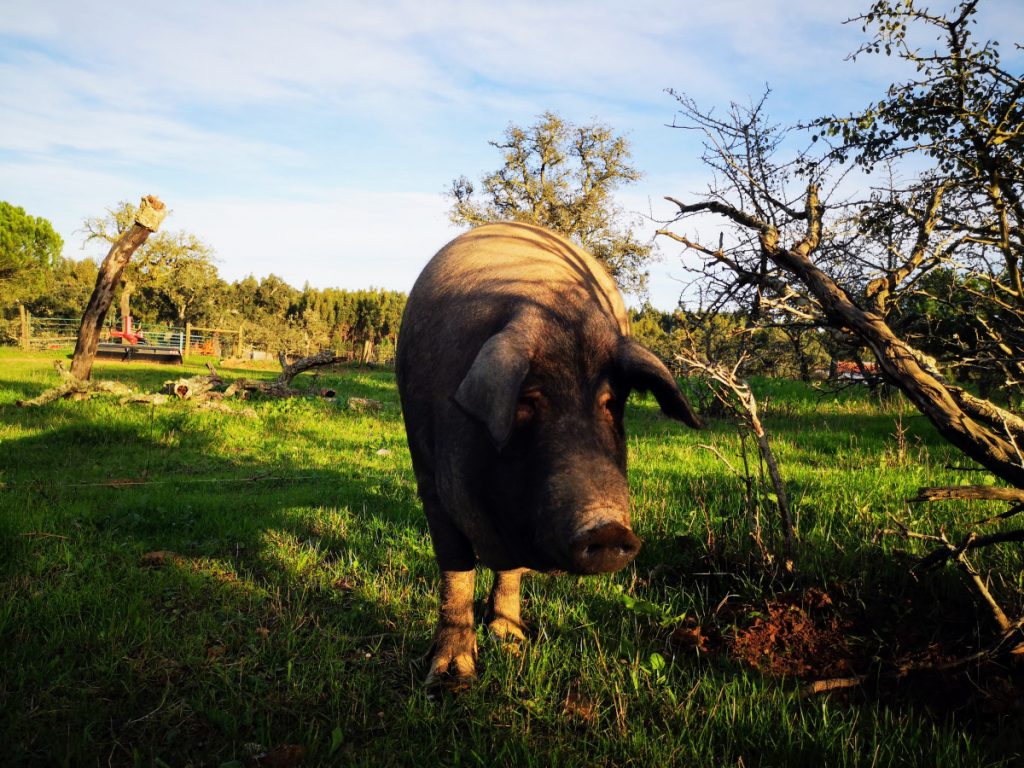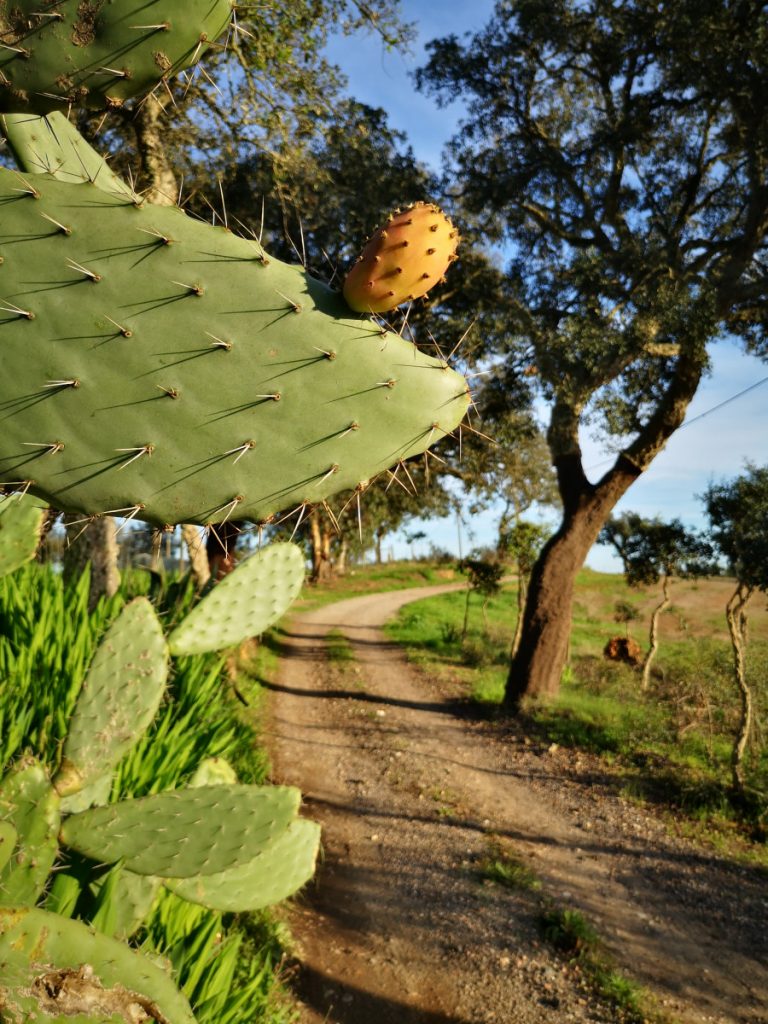 I'm sleeping at the mills tonight, the old Moinhos. There are two more and there is a Bed and Breakfast next door. That's also the only thing in the area, you're really in an undulating hilly landscape in the middle of Portuguese nature. Fortunately, they were prepared for that and so they also make dinner. Quite by chance, there was a Dutch family living partly in The Netherlands and partly in Portugal. So we had dinner together.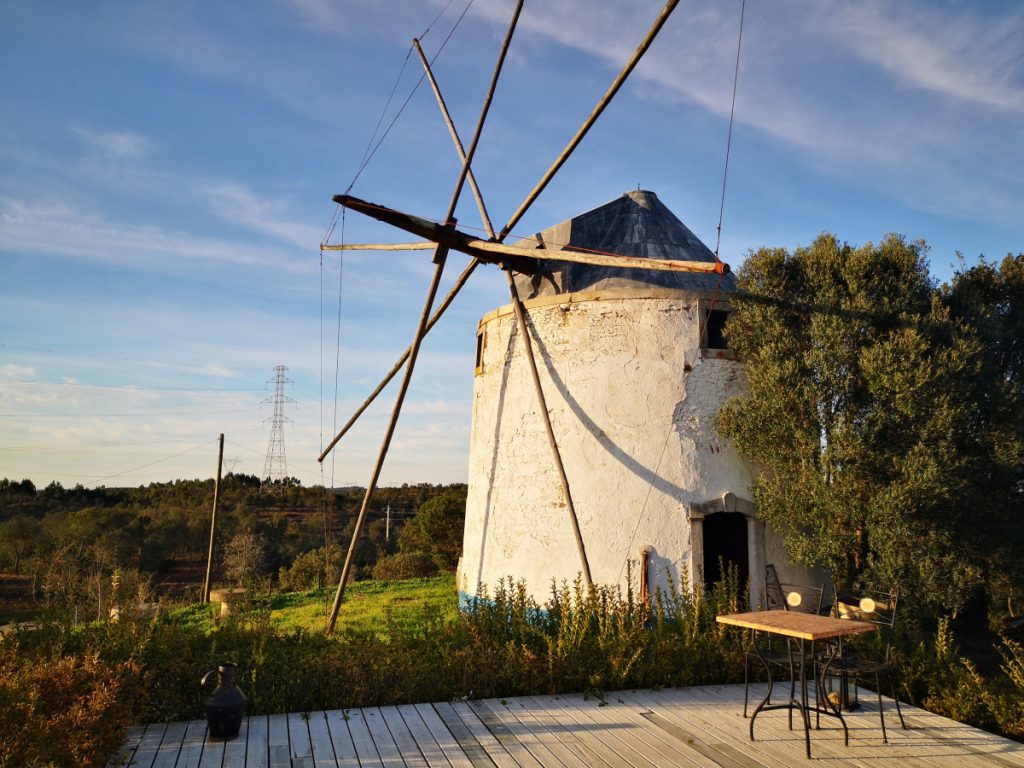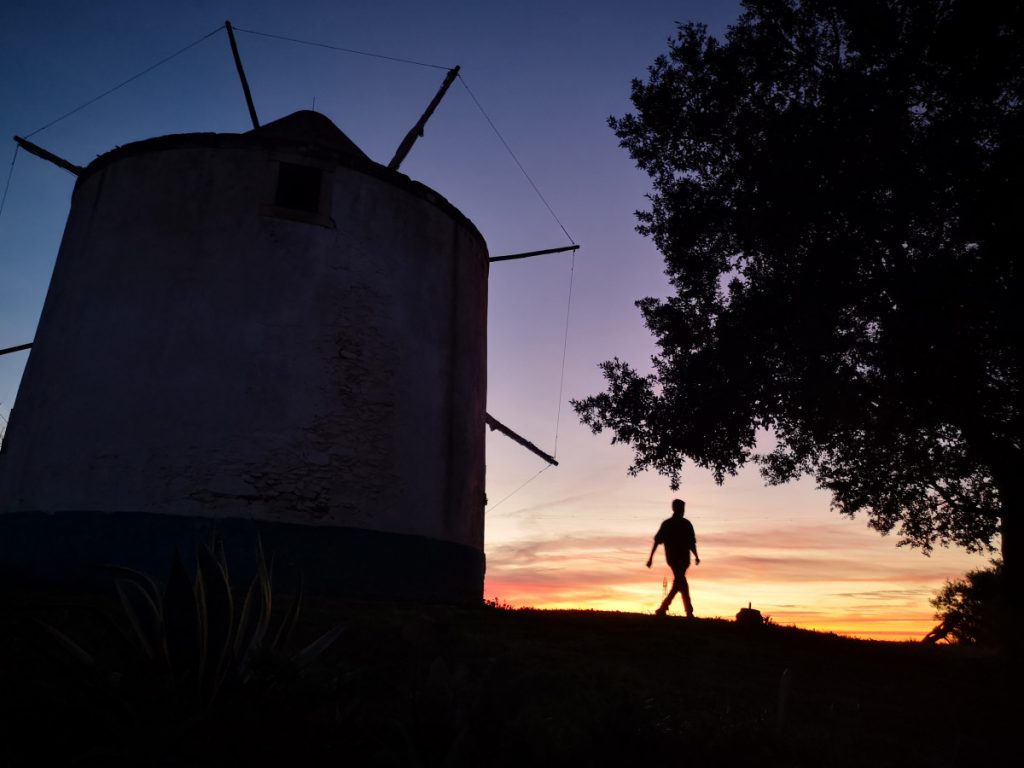 That was a really successful first day. Now I do hope my knee will behave better tomorrow. I now have a roll of towel under the knee so it doesn't sag. Walking to and from the restaurant section was still painful…. Last year or the year before in Austria this was also the case and then it was over by the next morning…So we'll go with that!
Stage 2 – Historical Way Portugal – Moinhos do Paneiro to Cercal do Alentejo
This morning I started with a nice breakfast at Moinhos de Paneiro. My knee felt reasonable, not pain-free but also no longer hurting right away with every step. I resolved to walk slowly and take my time. The sun was already shining nicely and I only put on a shirt, thin jumper and short yoga pants. Super right?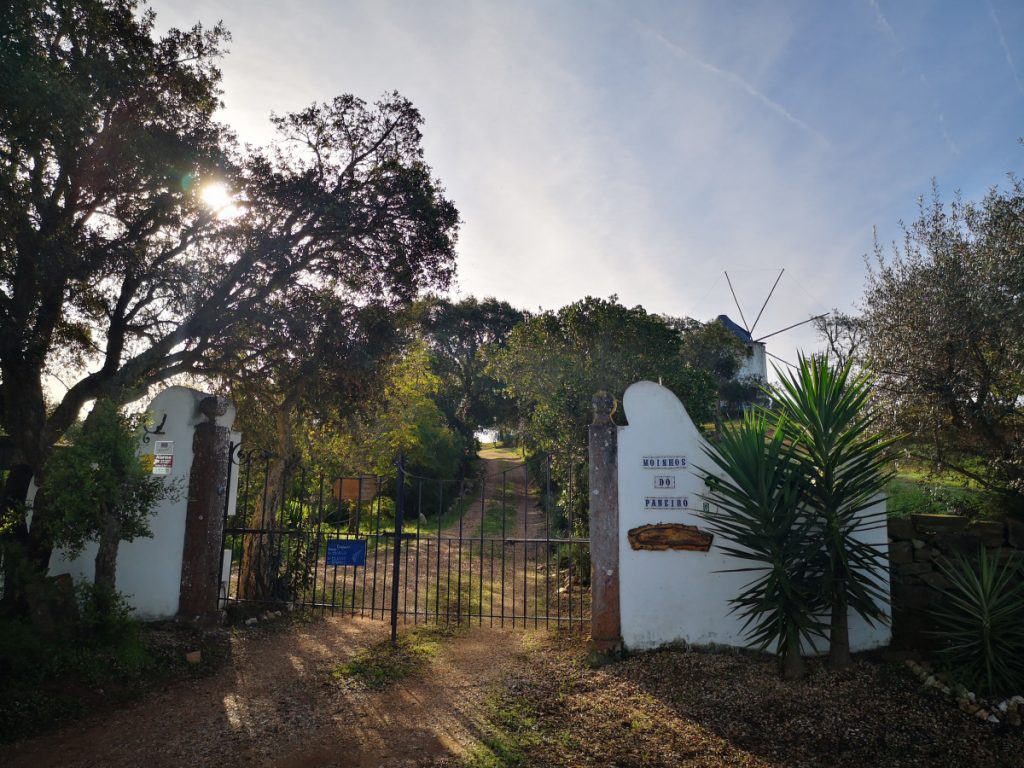 Immediately I walked back into what my fellow guests from yesterday called fairy landscape. The cork tree plantation…I think it has more of an ominous feel to it. Those black trunks at the bottom and the shapes the trees have. A very distinct and individual atmosphere this landscape of Portugal has. And with that, those reddish-brown roads….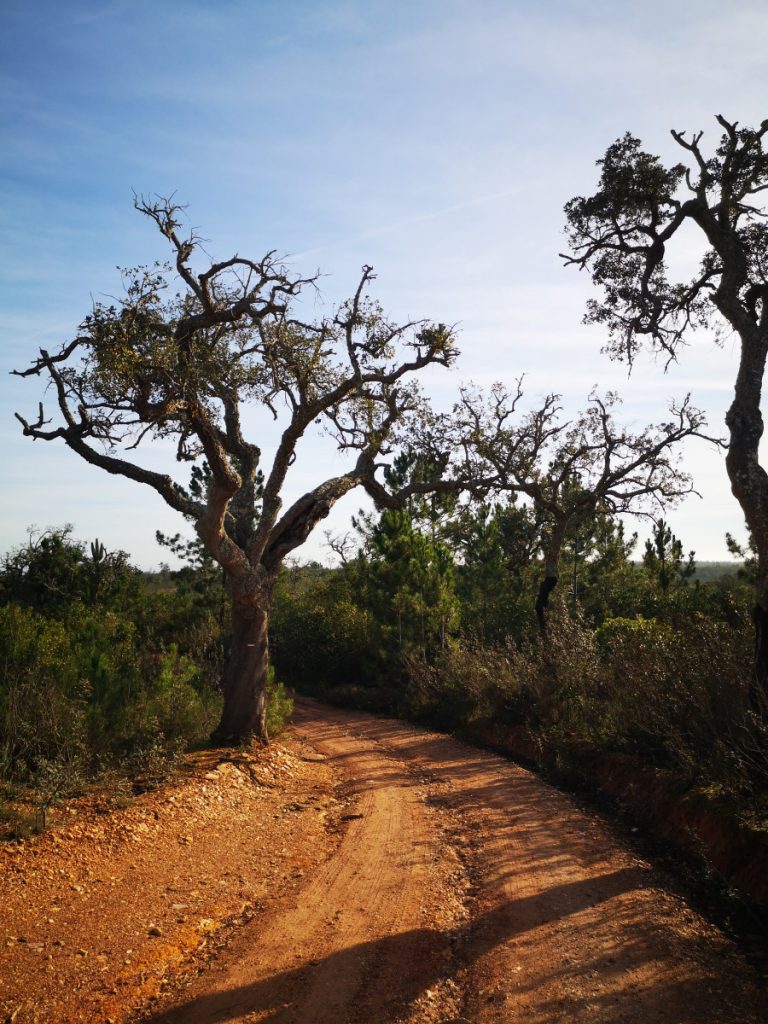 Since my knee was keeping me pretty busy, I put on some music and since I don't run into anyone anyway, I could sing along nicely.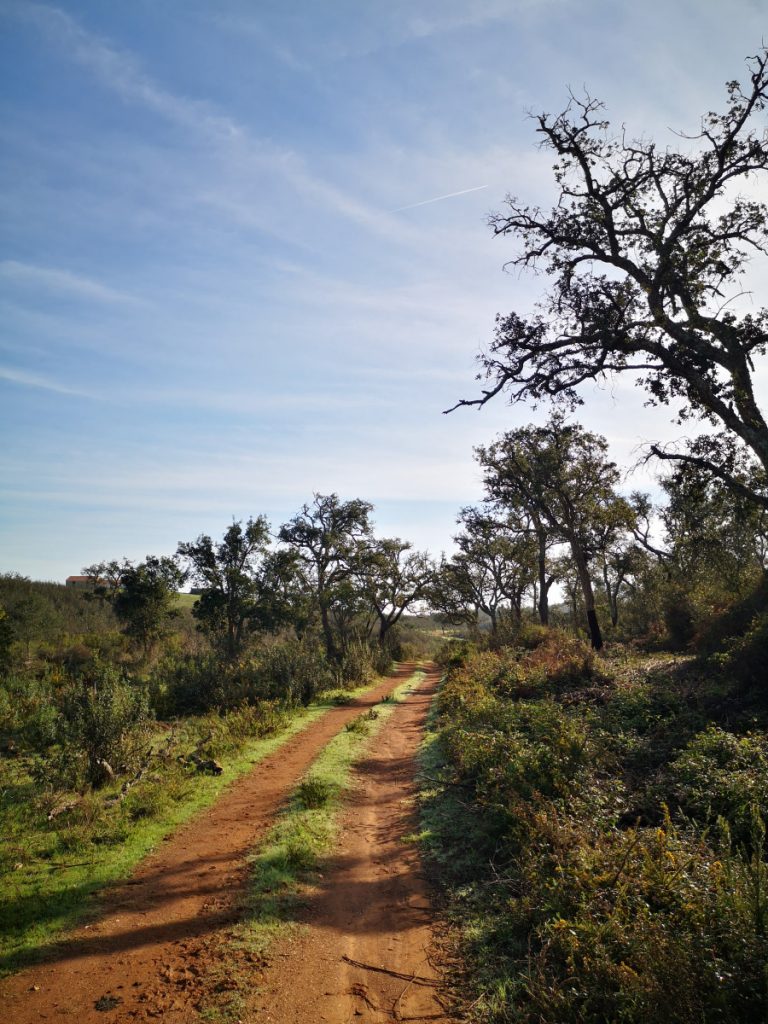 After more than 5km, I arrived at a small village (Vale das Eguas) and there I sat for a while on the terrace in the sun with a cup of coffee. Shoes off, socks off and legs high.
Coffee break on the Historical Way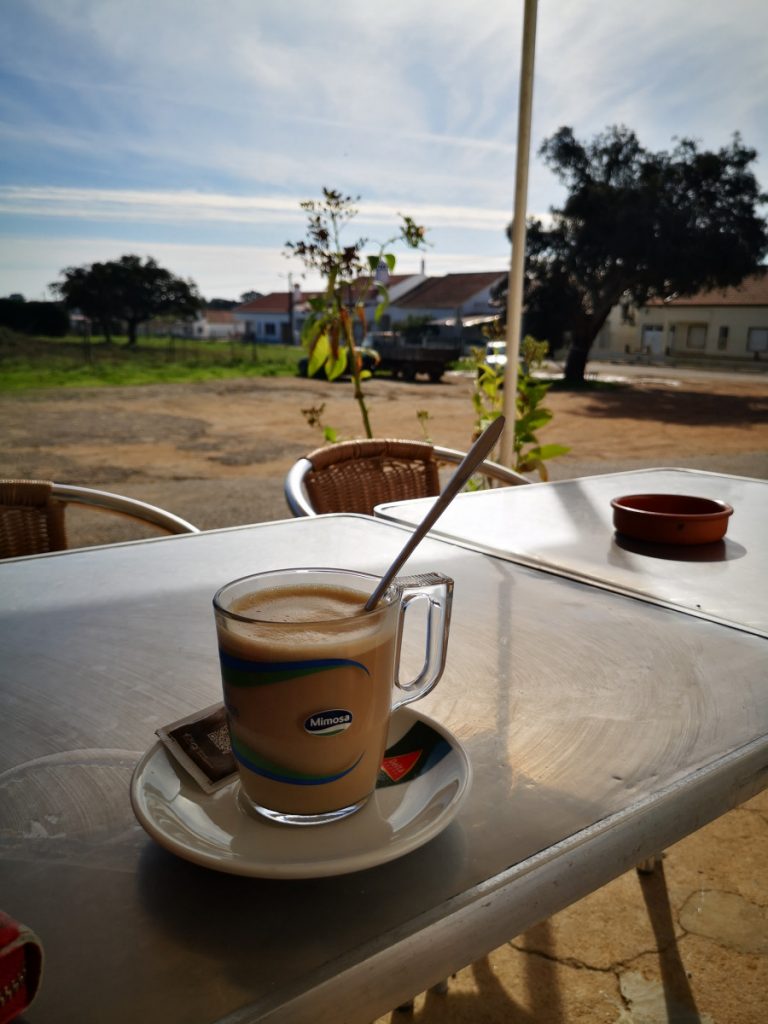 After this, I found myself walking among the vast meadows for a long time. Largely on dirt roads but also a stretch on asphalt. This difference was just right for my knee. A different load, not askew but straight. Then down and up again, I walked very quietly and took my time.
At one point I was allowed to cross a bridge and had a view over a vast landscape containing a kind of river? Only it wasn't a river but some kind of lake, dam? When I look it up it turns out to be called Barragem de Campilhas and it was a dam. The bridge will be the dam I guess, only on 1 side was the water. Totally different part and a nice bit of walking again.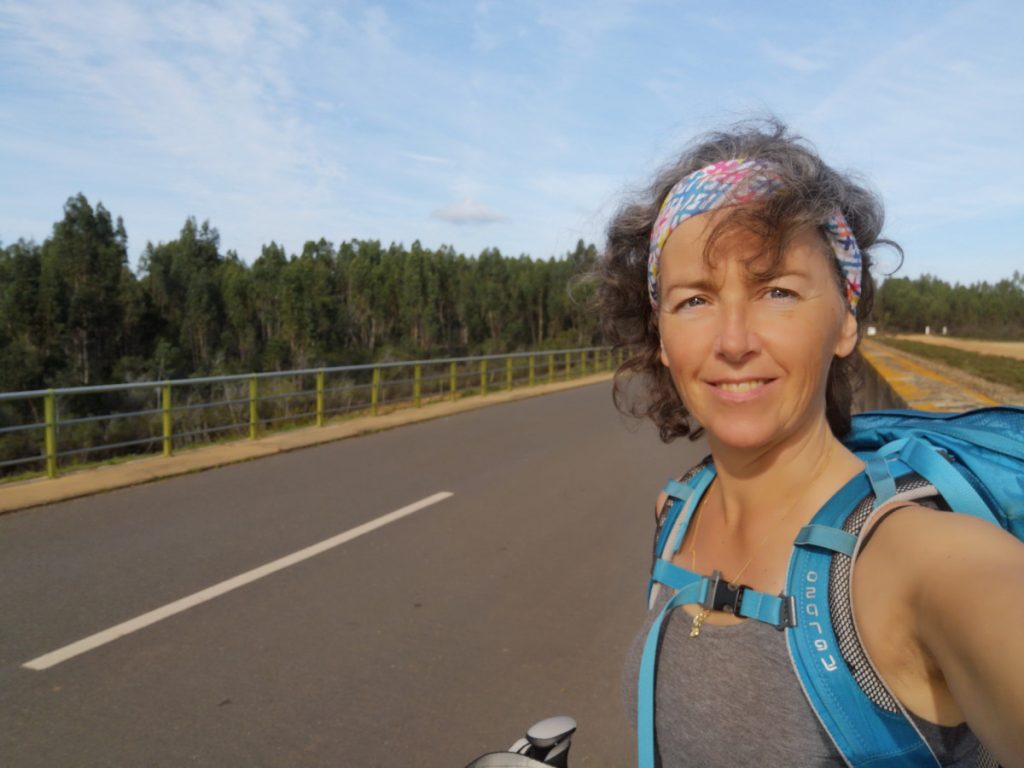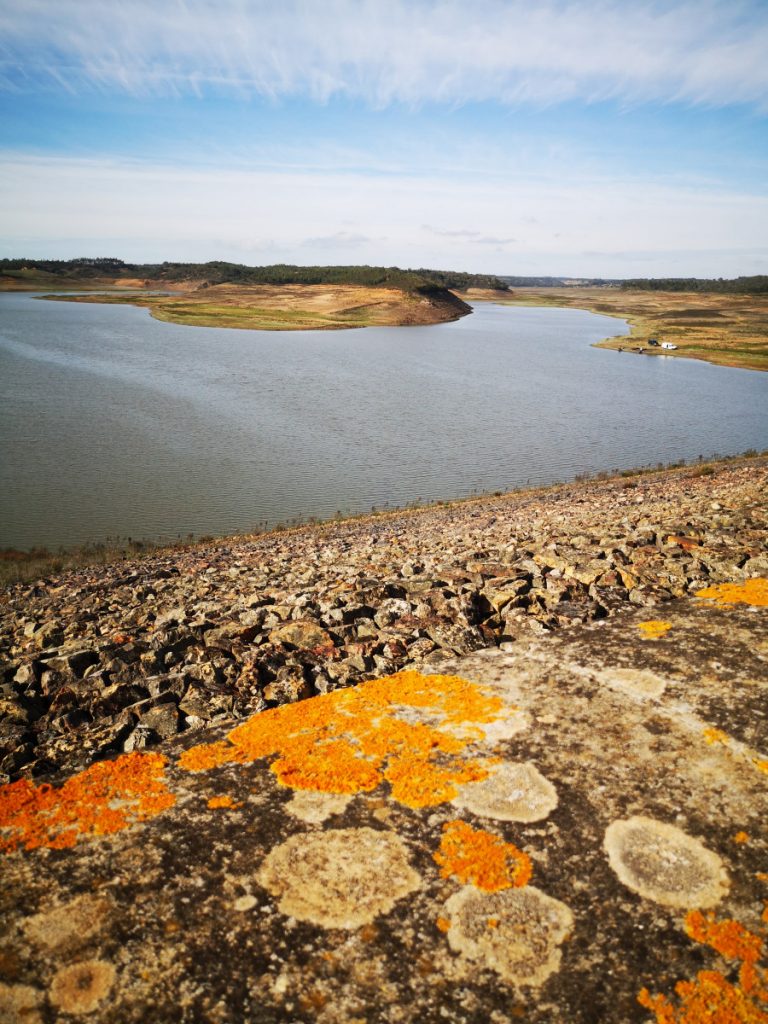 Rota Vicentina – Historical Way Portugal – Stage 2
Again today I saw the same kind of animal I saw yesterday. Low to the ground, quite a long tail and now just googling it turns out to be a mongoose. They also live here. Yesterday I saw one from the dirt road looking at me and quickly fleeing into the bushes and today I saw one sitting in the grass and it fled from me too. So no photo but already spotted twice. Nice! Is also the only wildlife I have seen…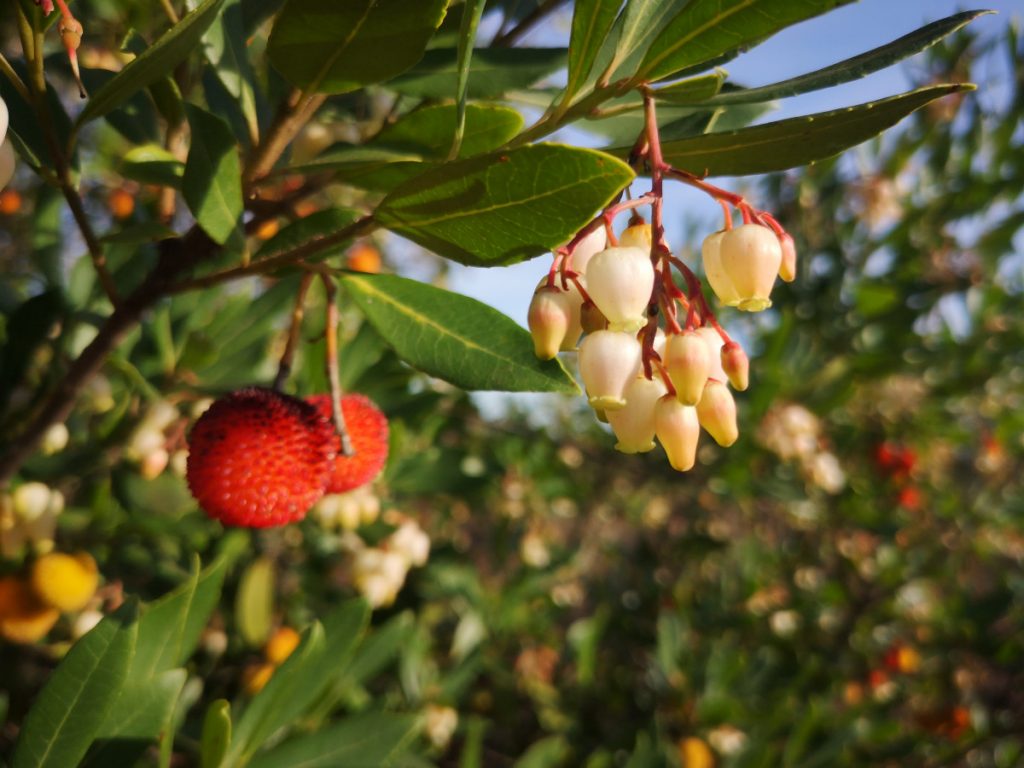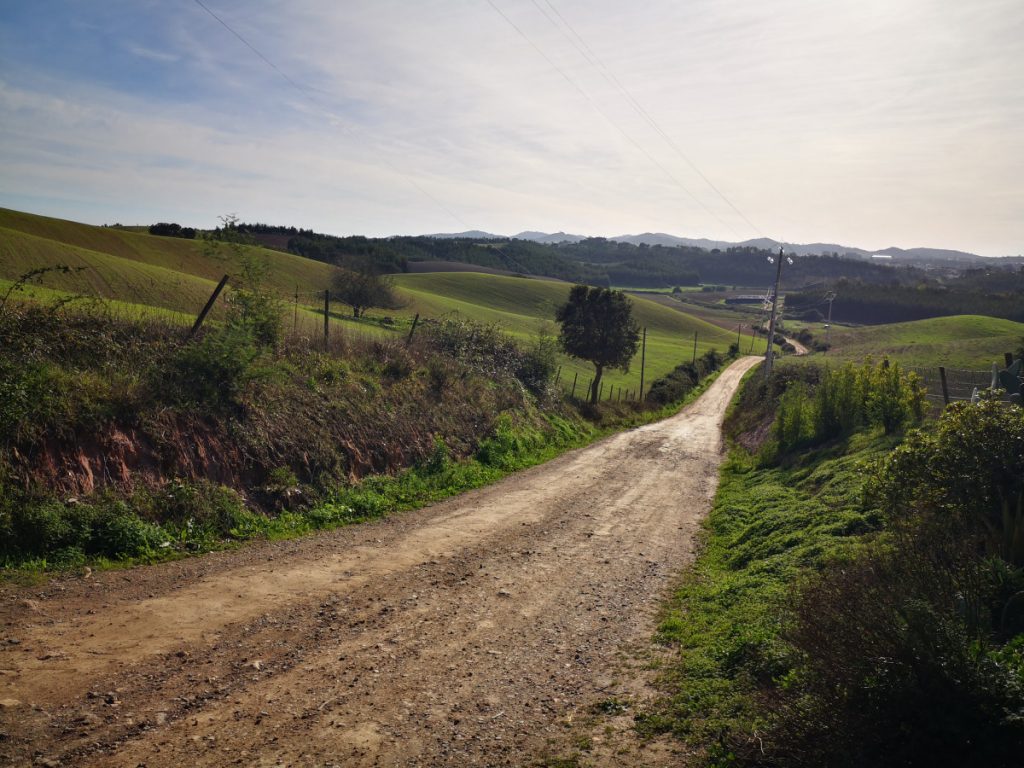 After about 20 km, I arrived in Cercal do Alentejo and was able to check in and take a nice hot shower. At the roundabout, I saw the sign of the Historival Way Portugal, also the man I saw yesterday during my break, and quite a few restaurants. There I had a quick bite to eat and then crawled into bed in time to write this now but also to rest my knee further.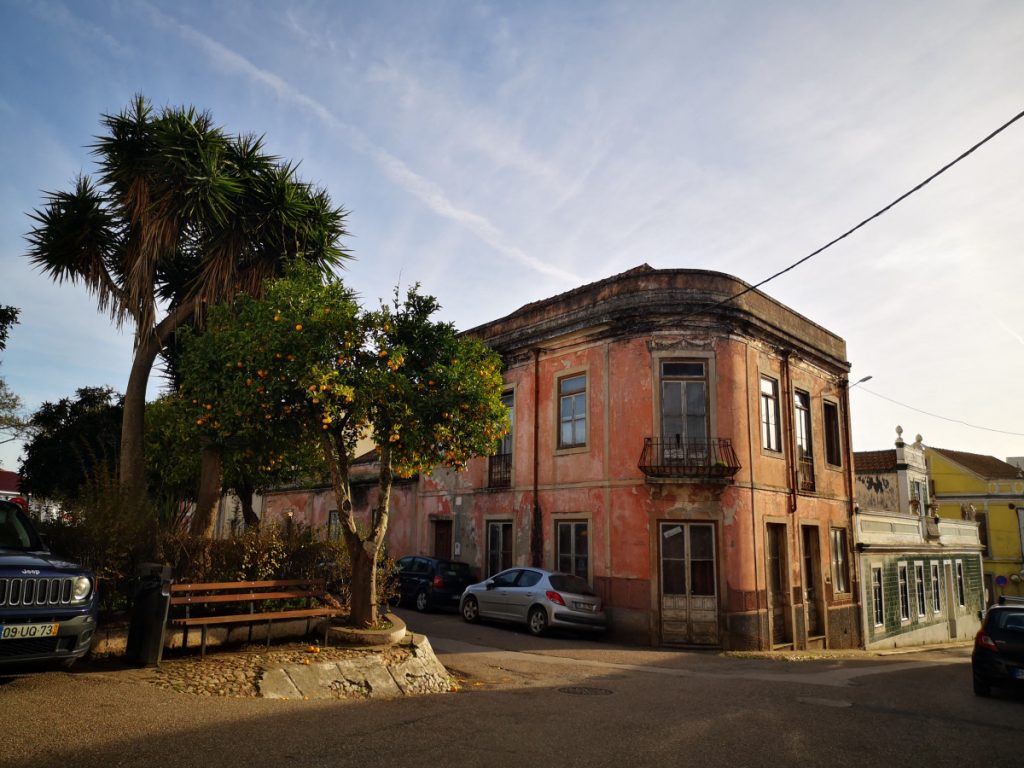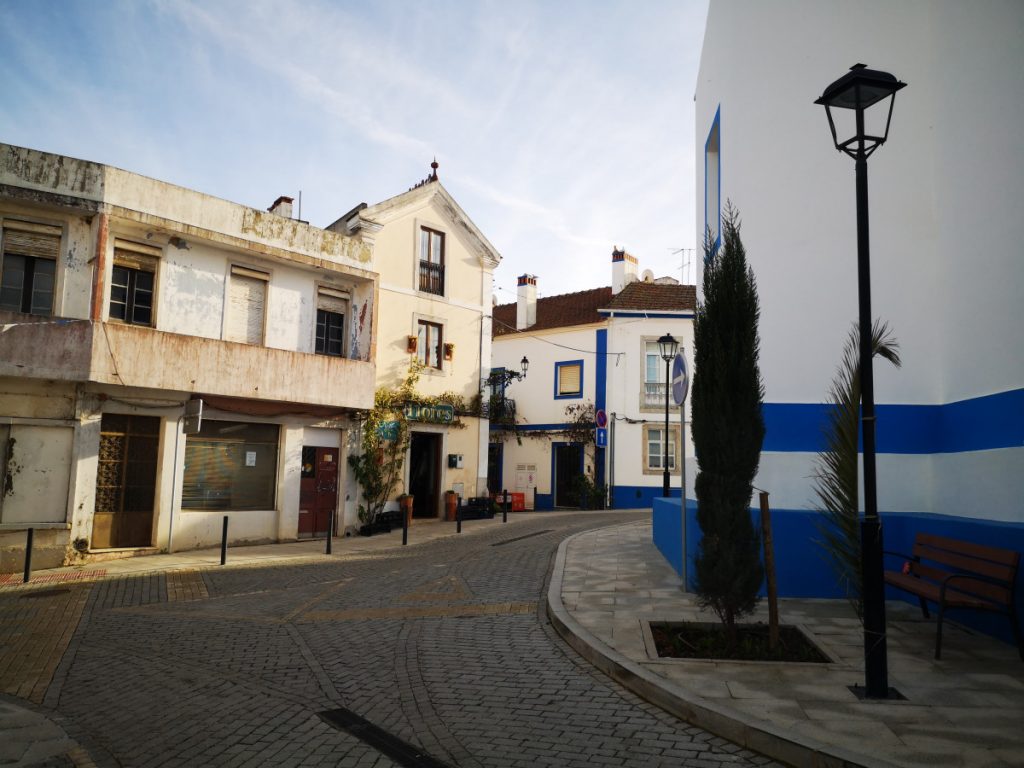 I will expand this blog tomorrow with stage 3 🙂 This 3rd stage takes me to the starting point of the Fishermen's Trail.
At that point, I get off the Historical Way Portugal and continue along the coast.
Stage 3 – Cercal do Alentejo to Porto Covo – 16.5 km
After a long night in a nice bed, I walked out of my little hotel around 8.30 a.m. I didn't see anyone there and had checked in online and paid for everything. Around the corner, at the roundabout (the focal point of this village) I had another nice dinner. Yesterday when I came in, it was packed with people, there are quite a few restaurants next to each other. And this morning people were already sitting there drinking coffee again. Yesterday I went in at no.2 now at no.1, bit of fair distribution right?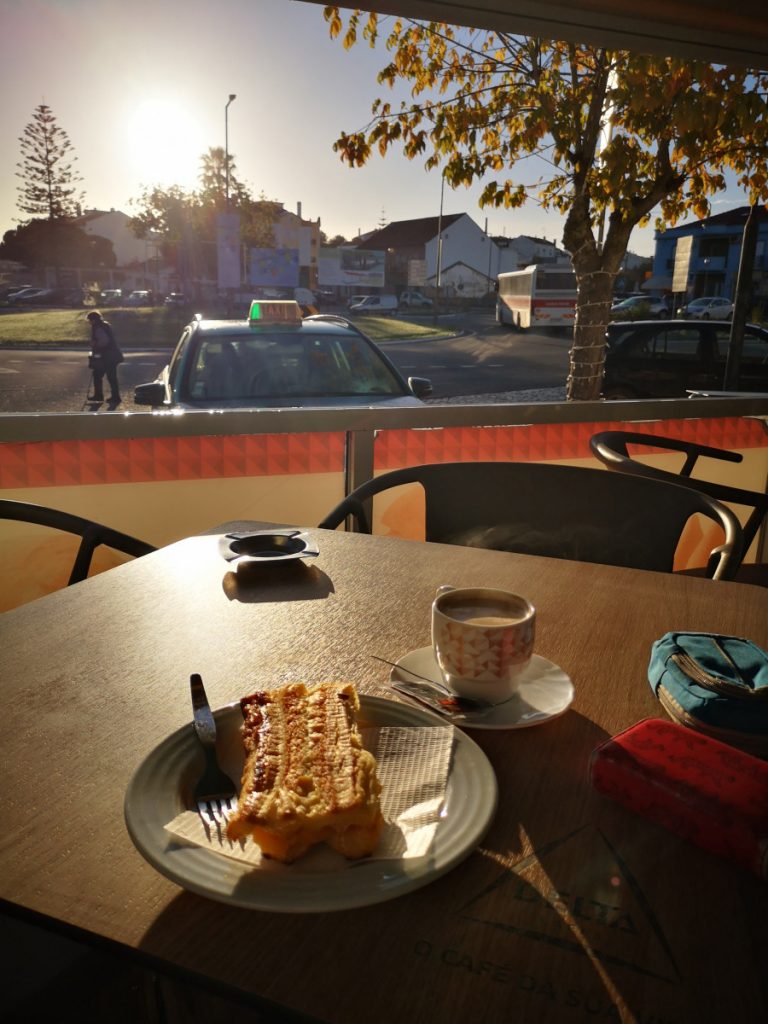 I bought a fine cup of coffee with milk and a sweet roll. That sweet roll was really big though and when I saw that it could easily be cut in half too, I asked for half…. She looked at me strangely but gave me what I asked for. It was a delicious sandwich!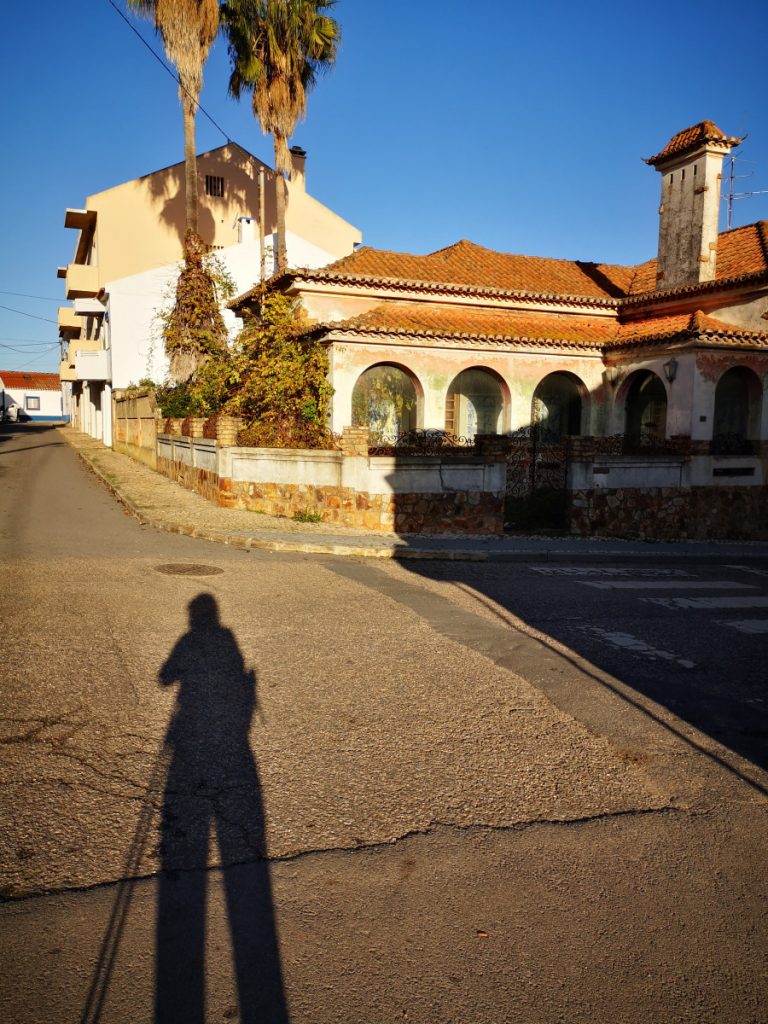 Safe and Healthy Travel on the Rota Vicentina
Stage 3 – Historical Way Portugal
Then I started walking, the route leads you past the church again where I was yesterday and then out through the village. Between meadows and country cottages. You can't call them farms and in a lot of these houses nobody lives anymore. Where some do live, a dog barks at you from afar. Fortunately, they are always on a leash or cannot leave the yard. They do seem to be real guard dogs as they sound. I am not afraid of dogs but some here are really huge!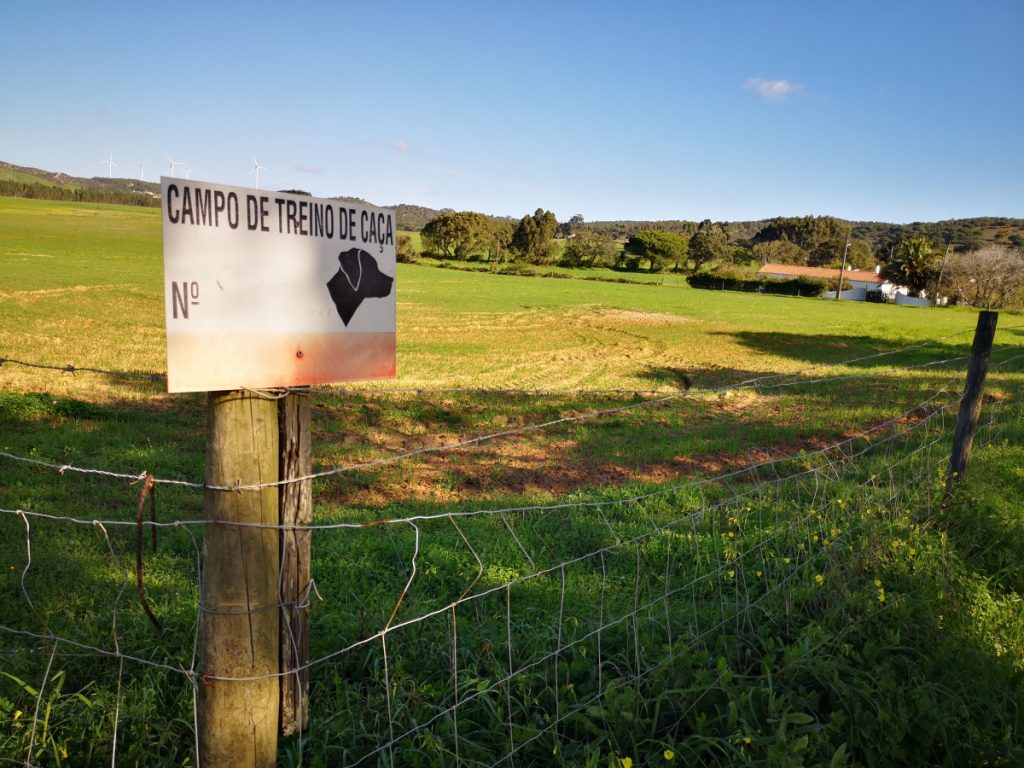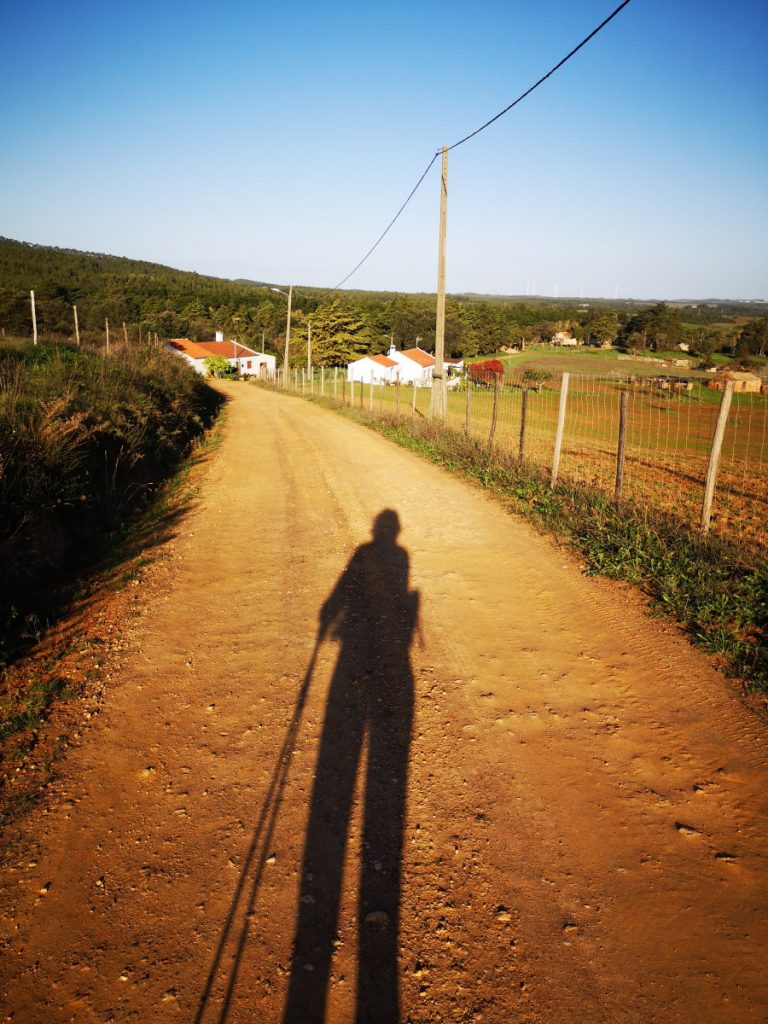 I walked quite a bit through a eucalyptus plantation. Lovely smell all over. I spoke to a man who knew good English and how coincidental…they were picking for the Netherlands. There it is used for flower arrangements but also to make oil from, he told me. How nice! So did he when he found out I was from the Netherlands.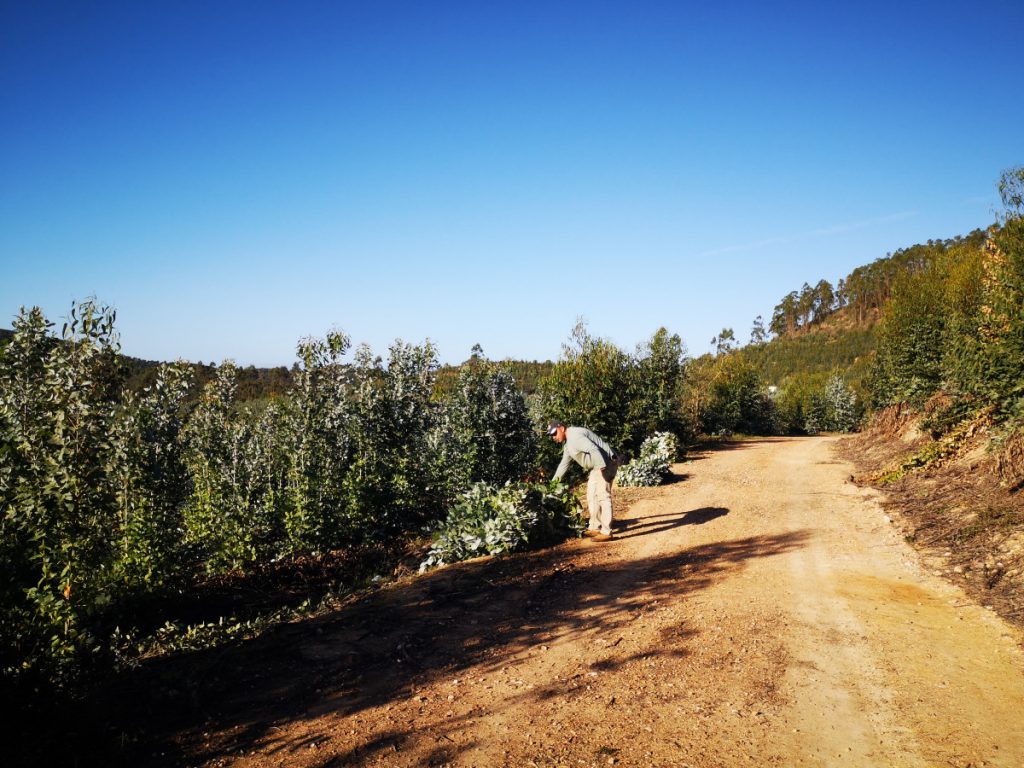 I walked uphill again and saw the strawberry trees, cork oaks and eucalyptus past me when I was at the top of the mountain I had a view of the sea. Where I was going today and will keep walking past for the next 2 weeks or so! Slowly, I started the descent again. When I had to cross a big road oer I could also sit there on a sheltered terrace and of course I did. My lunch today consisted of cafe con leche and a huge piece of arretjes cake! Break spots are scarce on the Rota Vicentina so when one presents itself I take it.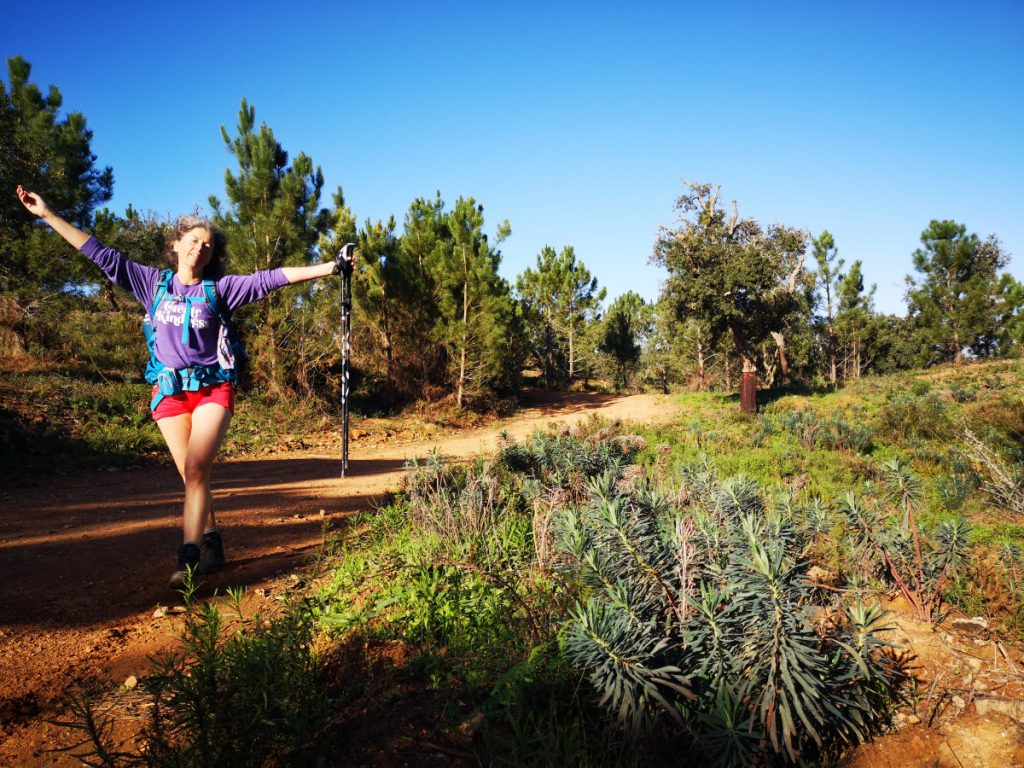 After this, I walked for another hour or so through the Portuguese countryside. I came across two more cars with elderly men in them and two motocrossers. I didn't see anyone else today. The walker I saw yesterday and the day before yesterday I did not see today. I know he is there because the man from the eucalyptus plantation told me I was the second hiker 🙂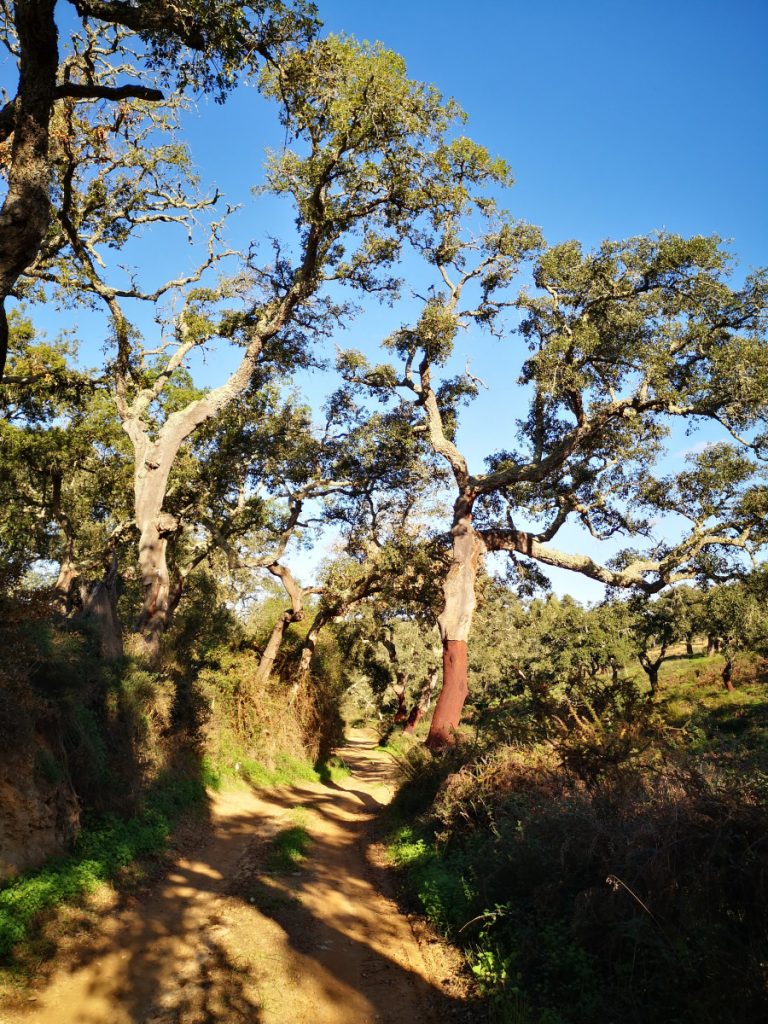 Porto Covo is a nice town, a bit busier than the other towns even though most of the shops are closed. A number of terraces where people are sitting and where I can start choosing where to have my dinner. First I visit the hostel Mute. There I meet the South Indian . Lost his name again. He also starts tomorrow with 4 days of hiking on the Fishermen's Trail. Nice!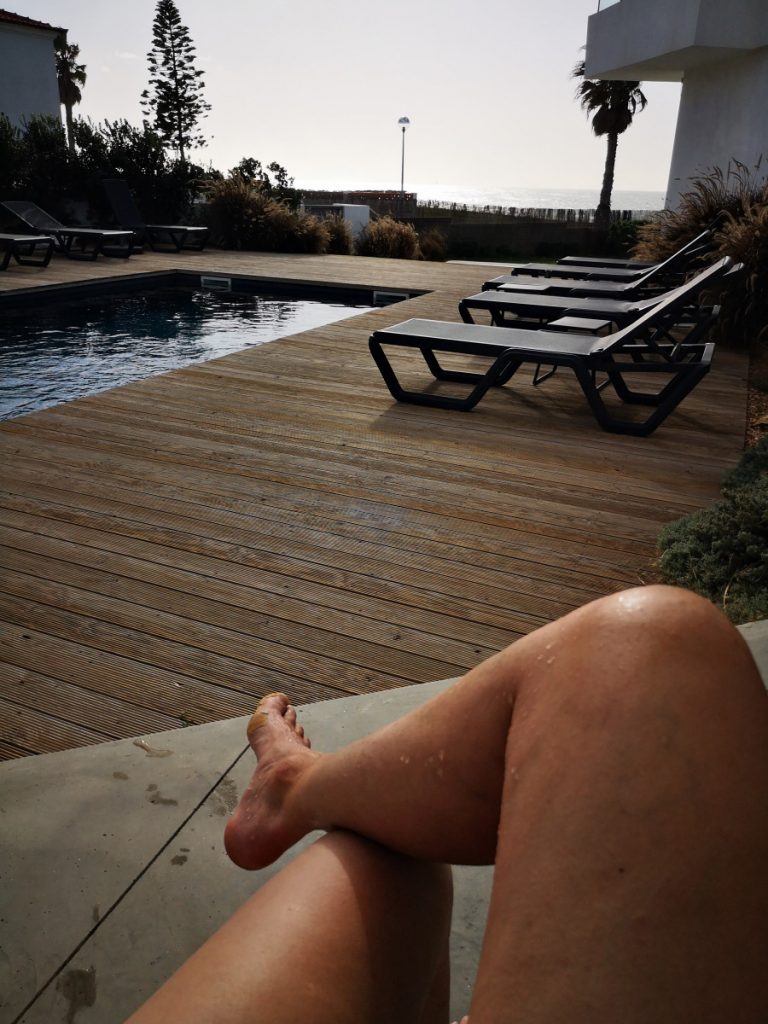 After freshening up, I go to the seafront for a while and then eat on the terrace with a nice sunshine. I eat a garlic soup that has an egg, bread and fish in it. It's really delicious! Alongside it, I get two more pieces of fried fish. It's 4pm when I finish it but I don't know if I can finish another meal tonight 🙂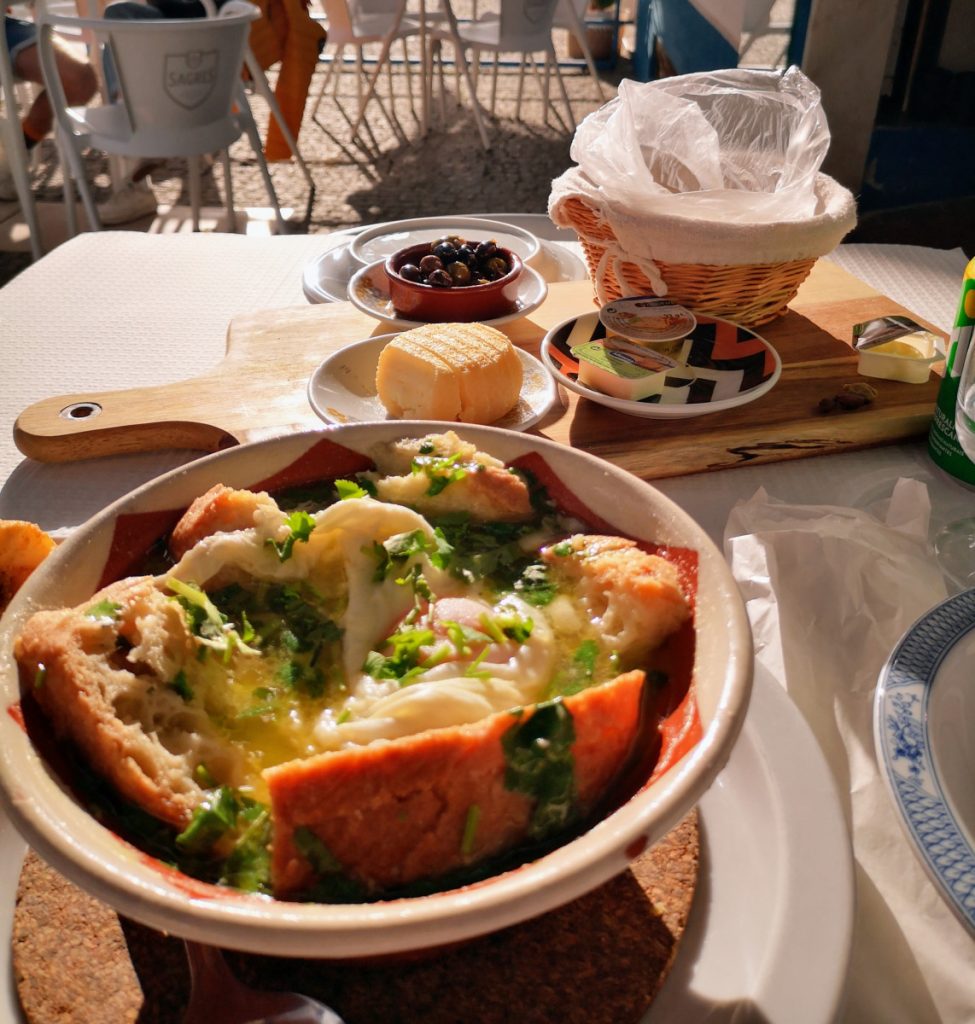 My body still protesting a little…
And then a word about my knee. It went pretty well today. The pain did change slightly, it is now frontal below the kneecap. Also, the hollow of the knee is still a bit thick. Very strange. I don't actually know this 'pain'. Also strange is that sometimes I really don't feel it for a few km and then for a while I do. I did find out that if I massage the knee, it usually goes away again.

Safe and Healthy Travel on the Rota Vicentina – Historical Way Portugal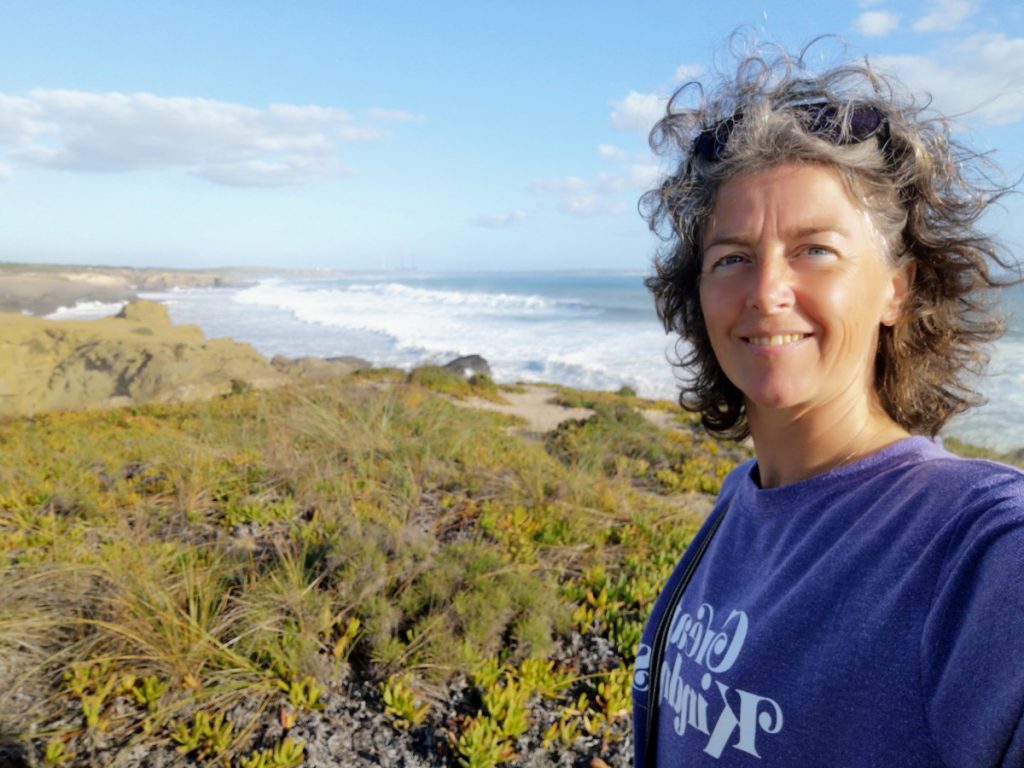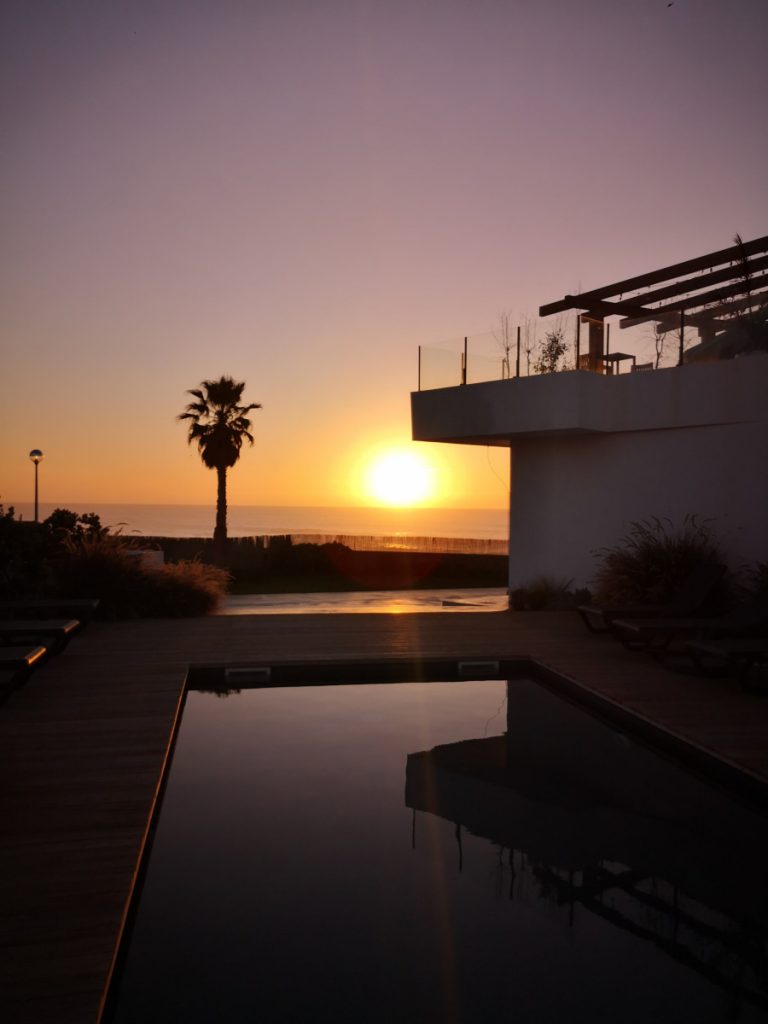 For now, I will close this blog and open a new one tomorrow for the Fishermen's Trail.
I will try to update that one every day as well.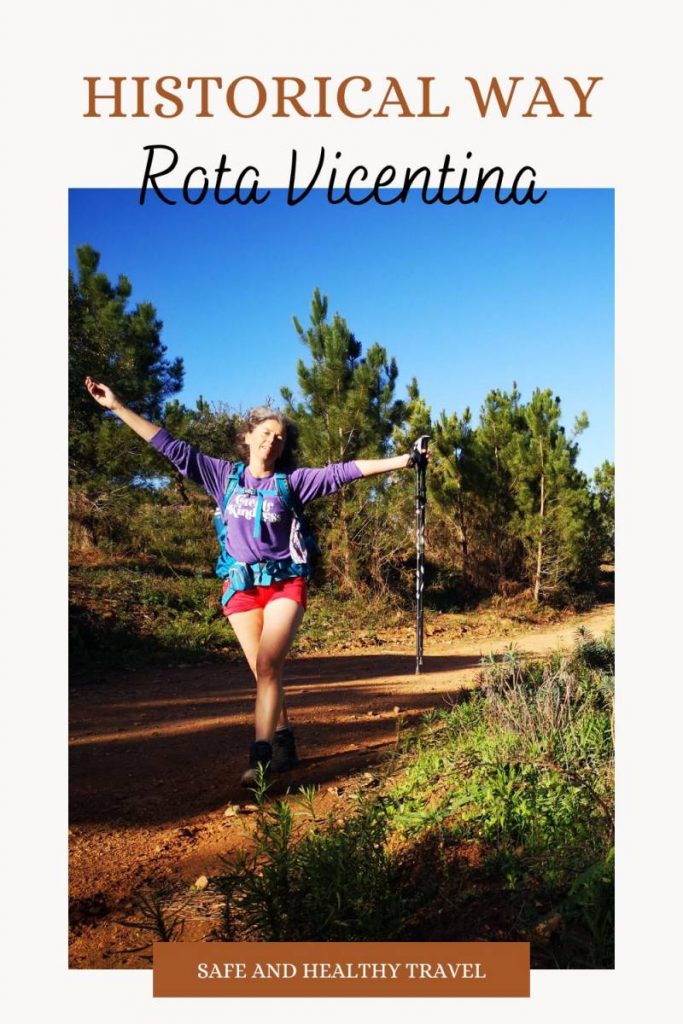 Want to read some other hiking inspiration too?
Go hiking in Turkey – Love Valley in Cappadocia
Take a Pilgrimage in Spain – Pros and Cons for Summer & Winter
Hiking the Alpe Adria Trail – Stage 7 to 11 – Austria
Hiking a Wadi in Oman or Jordan
Or are you looking for a different kind of ADVENTURE?
Rickshaw Challenge MumbaiXpress – 3 women, 1 autorickshaw and a 2000 km ride through 5 states of India
I hope you enjoy this beautiful world as much as I do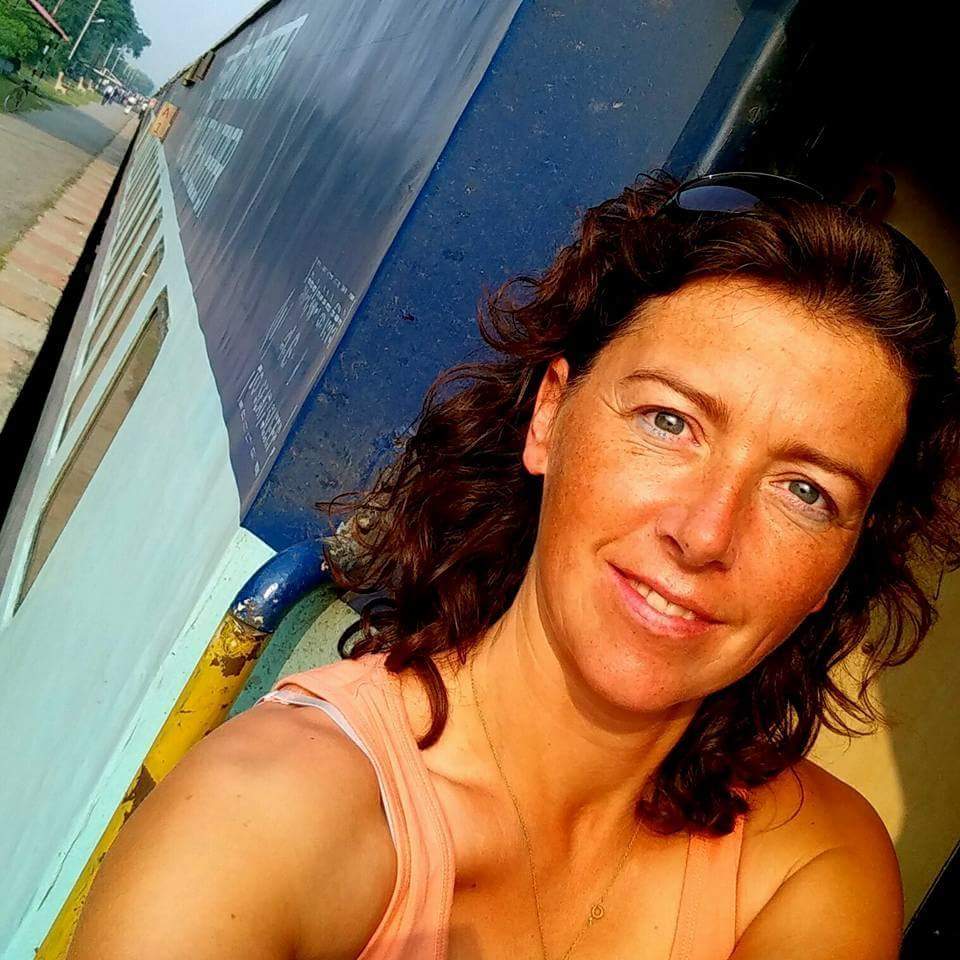 Jacomijn is een politieagent uit Nederland die jou graag laat zien hoe je veilig, actief en gezond de wereld kan over reizen. Safe and Healthy travel is a MUST