Travel Guide Luang Prabang & Best Sunset in Luang Prabang
|
While traveling there are lots of sunrises and sunsets from viewingpoints which are recommended to go see. On many trips being offered the sunset is included to see at a certain point. So that's why I saw the sunsets at the
Wat's
in Cambodia and at the
Sand Dunes near Mui Ne
in Vietnam. So in these travel guide Luang Prabang I will also share the spot to get the best sunset in Luang Prabang – Laos.
When I was in Laos they recommended to go see the beautiful sunset on
Mount Phu Si
, also written as Phou Si. The hill is located in the middle of this great little town of
Luang Prabang
you definitely must visit in Laos. It is easy to find as it is located on the main street. 
It is a 100 meter high hill and is a local religious site. 
On the hill are several Buddhist shrines and offering spots to find when climbing this mountain.
Beautiful Sunset on Mount Phu Si
If you're looking for other tips for Luang Prabang scroll down the blog or click on the name in the table of contents above. Make sure to visit at least a couple of these places to make your visit worht your while!
At the other side of the street is the Royal Palace and ofcourse a Buddhist Temple. This temple is called Haw Pha Bang The afternoon I spend on visiting the Royal Palace and the Temple.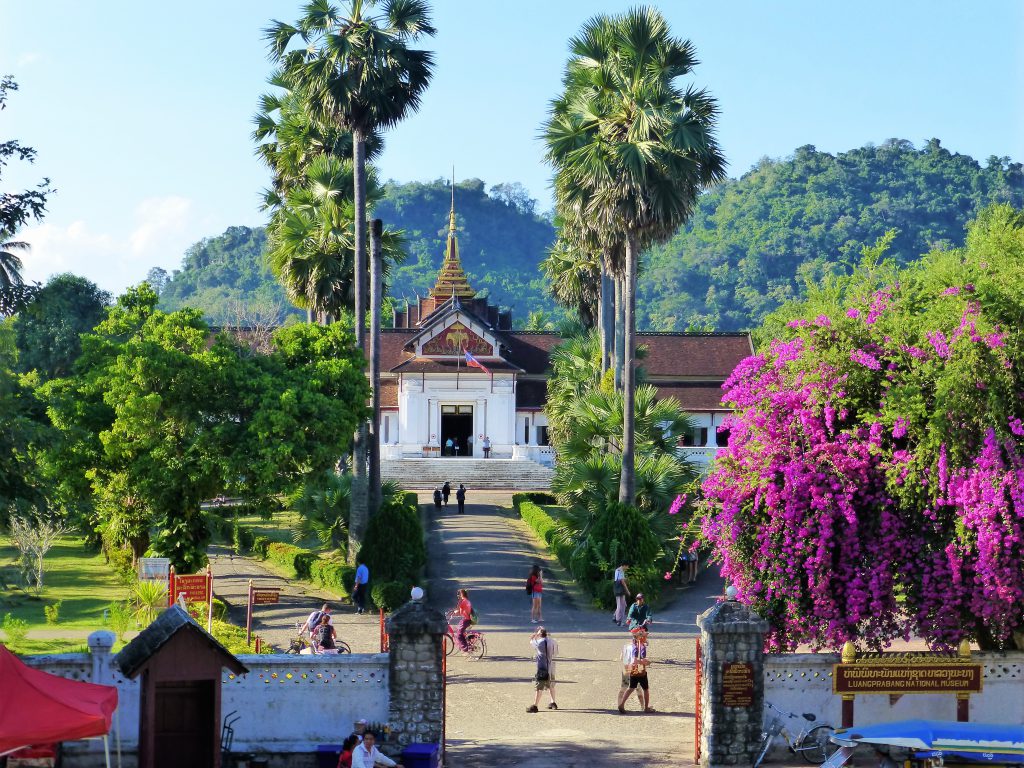 Royal Palace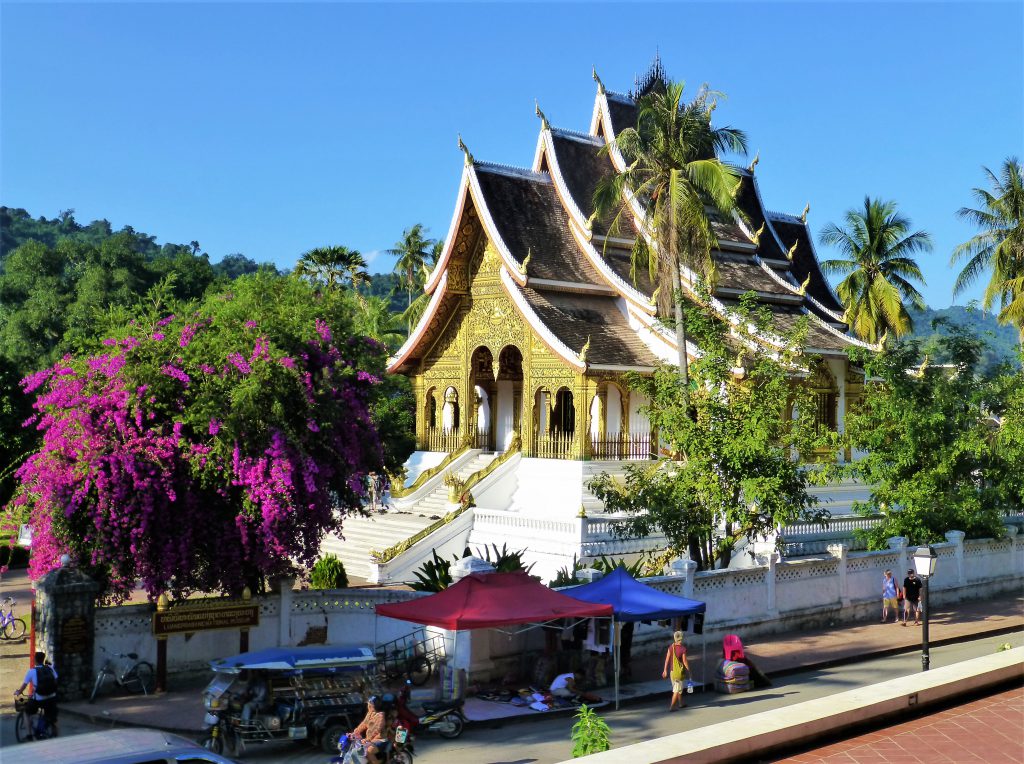 Buddhist Temple Haw Pha Bang
At the end of the afternoon I bought a ticket to go up the hill. The ticket costs 10.000 Kip, that is the equivalent of 2 euro's.
 Beautiful Sunset on Mount Phu Si
&
Travel Guide Luang Prabang – Laos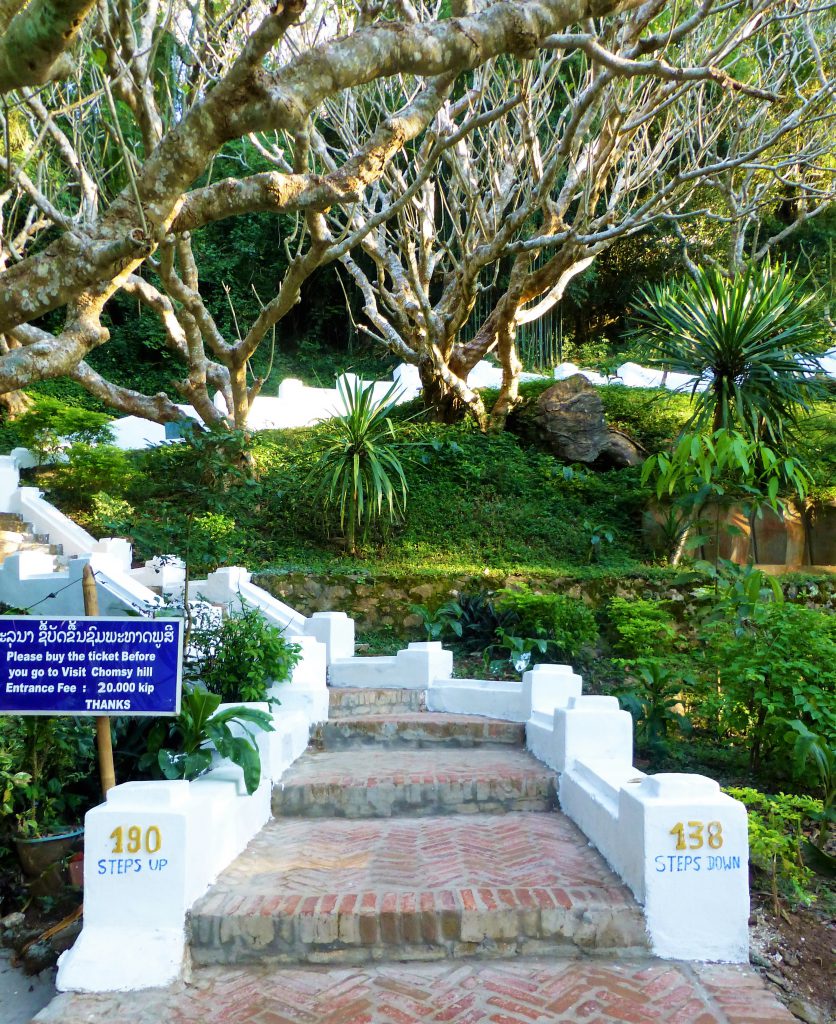 #HealthyTrip

The first stairs is 138 steps and from there you have a nice view at the palace and the temple. Then you have to take 190 steps up to get to the top where the a temple is located. It is called What Chom Si and is also a tourist attraction.
On the other side of the mountain is a second stairs up which should have some great views over the surrounding area!
Travel Guide Luang Prabang
I was there early so I had the place to myself. Not many tourists were that early. So I got myself a nice place to see the sunset. I was overlooking the Nam Khan and Mekong river and saw the mountains behind it. It was a nice view, even without the sunset 🙂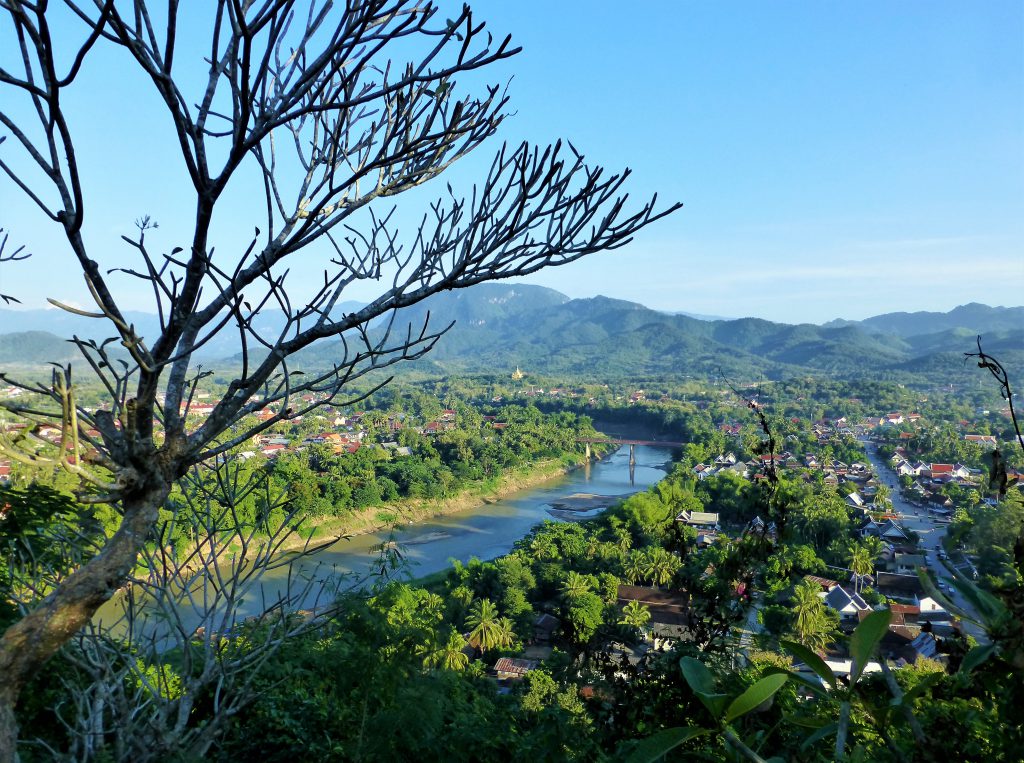 Nam Khan River
Do know that this isn't a spot where you can enjoy a calm and relaxing sunset without any other tourists surrounding you. It is a busy and touristic place at that time of the day. Maybe early morning is better?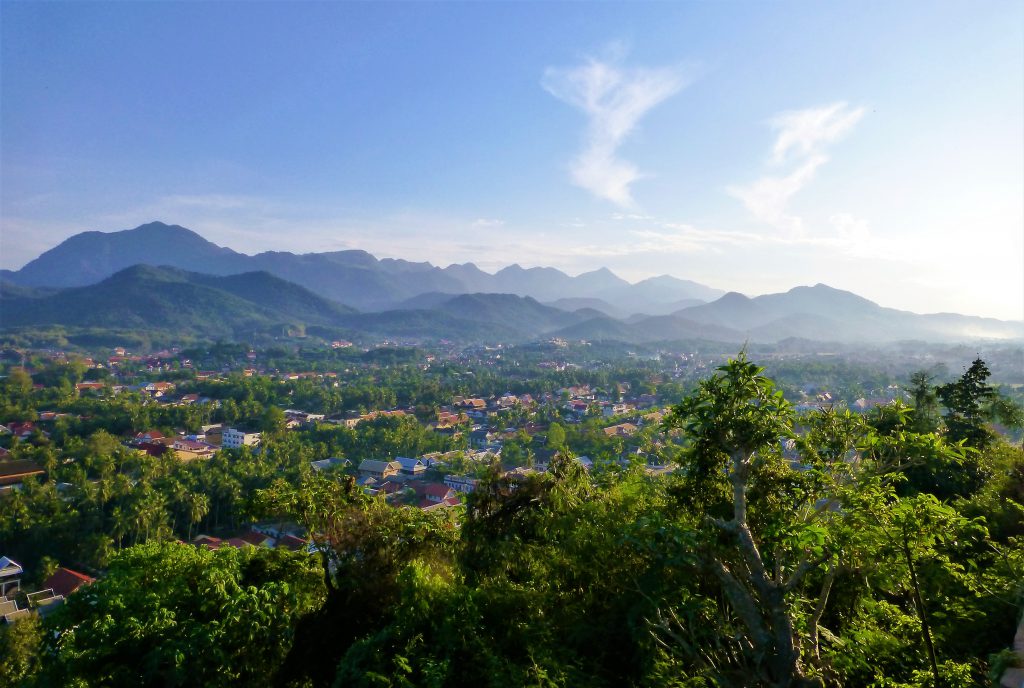 I was a hour early so had to wait for a while. I didn't mind sitting here and enjoying the panorama view I had though… Do take into notice that there isn't a shop and you need to bring some water and maybe some food to enjoy. While I was waiting people kept coming up. At some point the whole hill was crowded. Everybody was waiting for the sun to sink behind the mountains.
When it happened it gave a beautifull view.
You heard the camera's click and click.
I took some real nice photo's too I think!!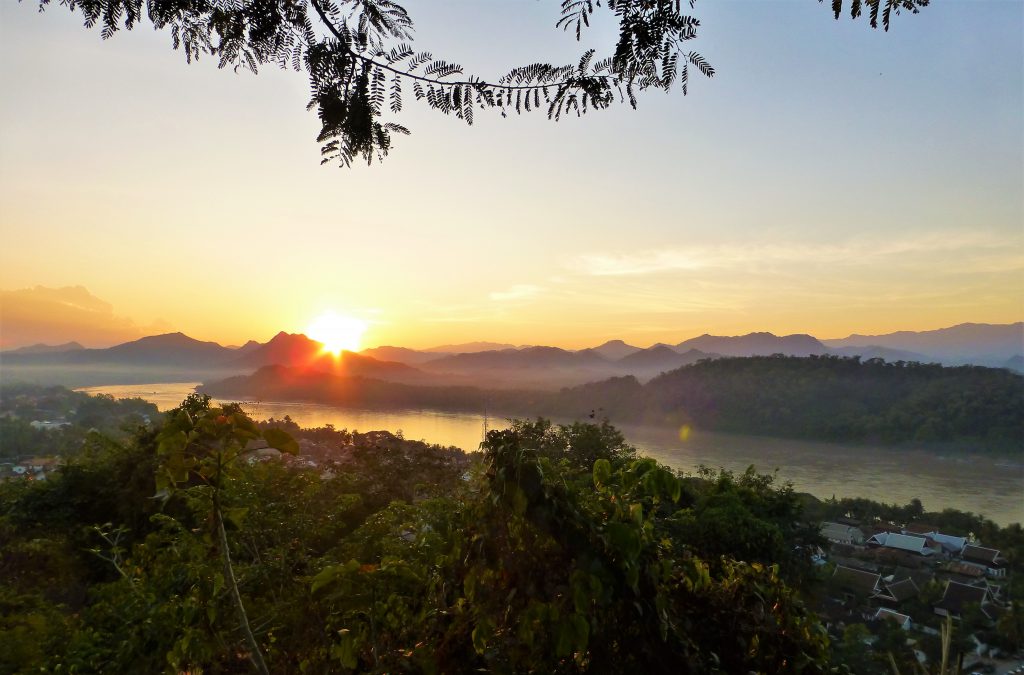 The Beautiful Sunset on Mount Phu Si in Luang Prabang
I think it was really worth the climb! It is not that high but the temperatures were about 35 degrees so you want to take your time and don't get all too sweaty by walking up:)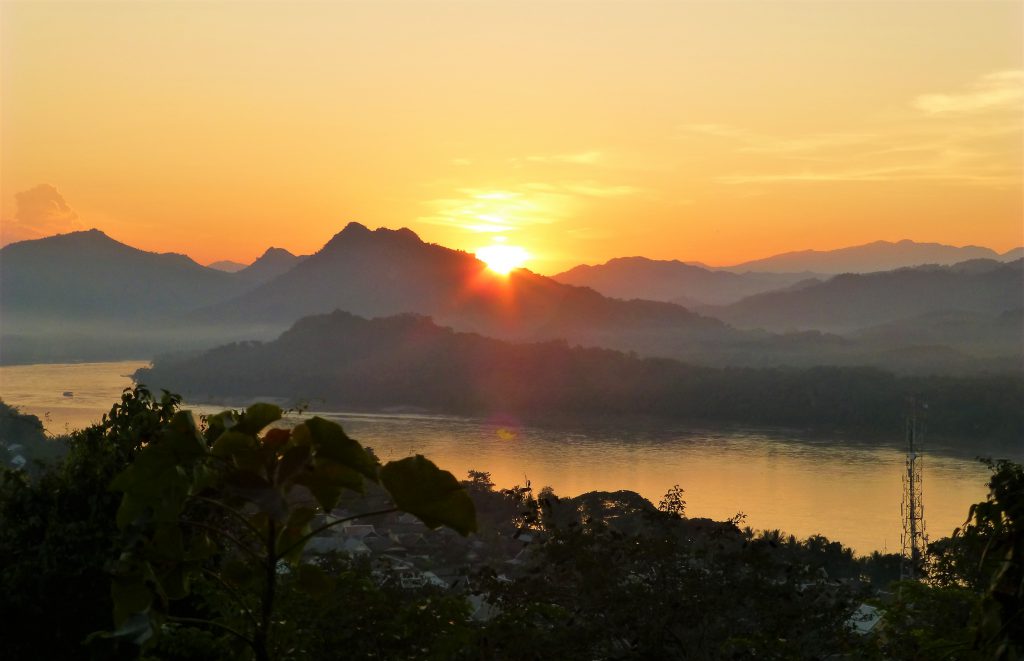 The temple was also nice, not that impressive but it had certainly a great location. From within the temple and looking out the doorway, you a great view over the Nam Khan River. I couldn't catch that view right on my camera unfortunately.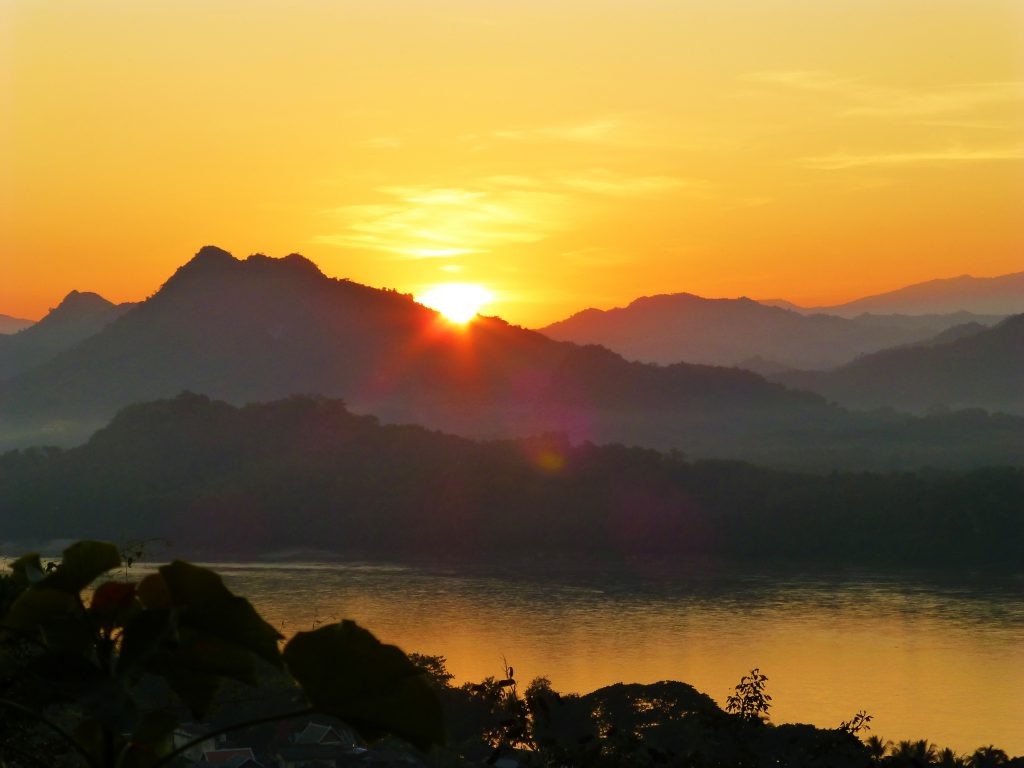 Great way to end a lovely day spend in Luang Prabang.
Tip: Go up in time to get a great spot.
As you see it gets quit busy 🙂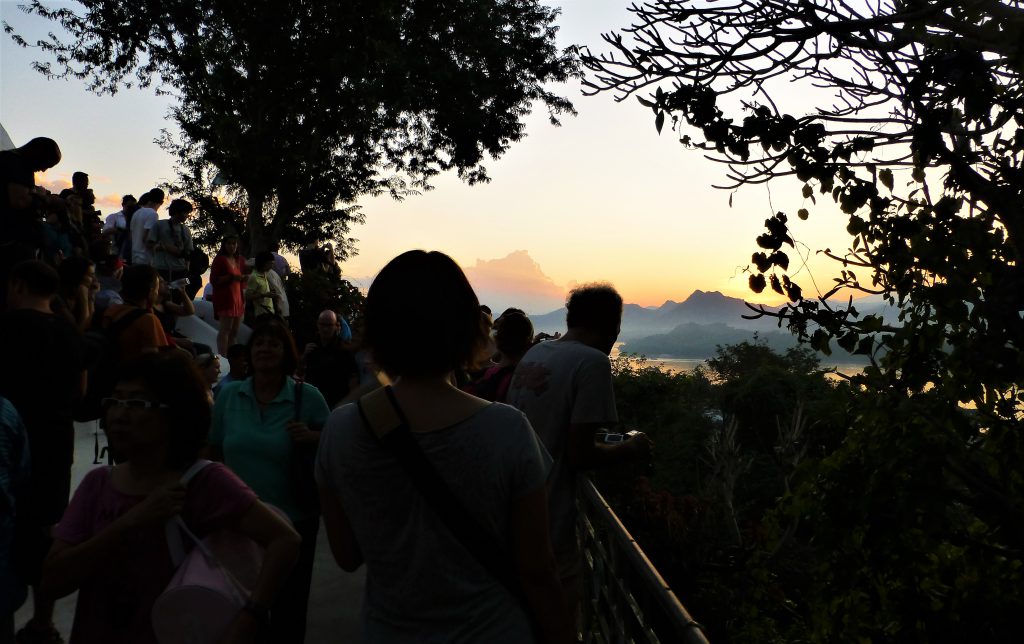 Lots of tourists still watching the sunset
At this point I started on my way back down..
My tip: Don't wait untill everybody is ready to go down.. This way I had the way down more to myself and it felt a bit more relaxing 🙂
Do you like this sunset?
Share it on you social media and pin it to remember!!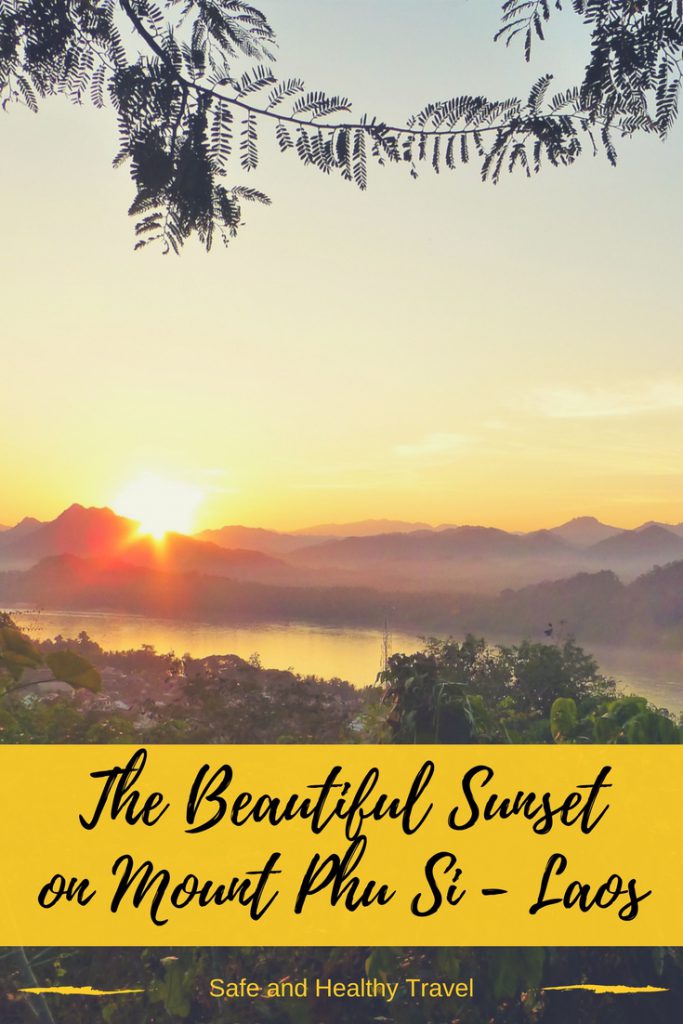 I do get when you need some tips for Luang Prabang!

Checkt out this Travel Guide Luang Prabang!!
Cookingclass at Tamnak Lao
My first recommendation in the travel guide Luang Prabang is taking a cookingclass. It is always a good thing to indulge yourself in some good Asian -Laotion food!! You learn about the local products and you get some insight on how to use them. From all the lessons I took I use some in my cooking at home. I love that my way of cooking has evolved in some combination of all kinds of cultures.
At this cookingclass you also get to take a book home with all the receipes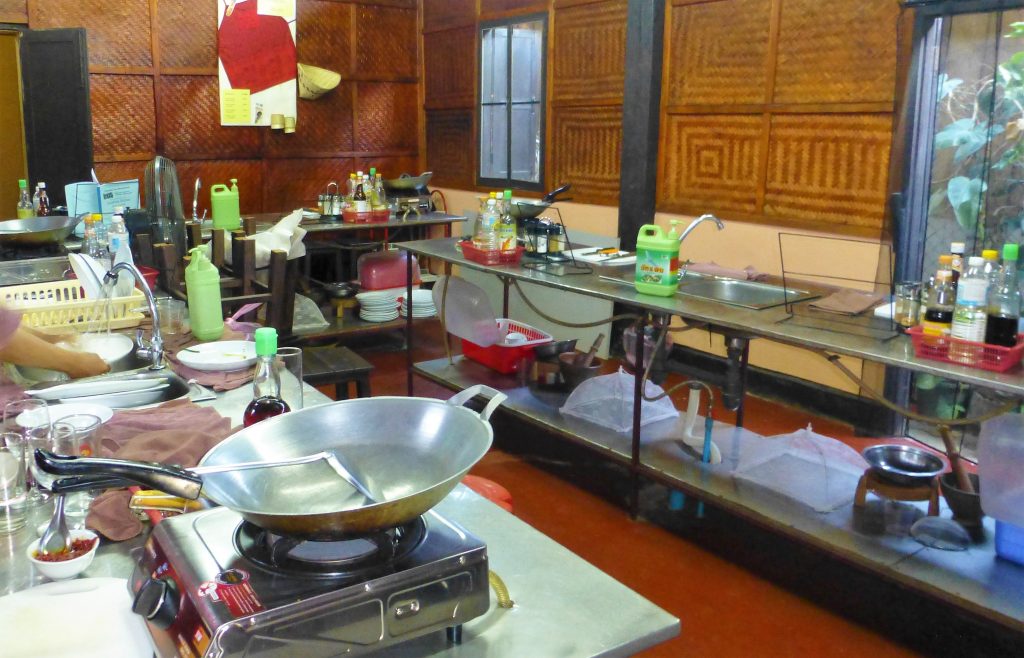 Travel Guide Luang Prabang!
Take a cookingclass at Tamnak Lao Restaurant! I learned a lot and it was fun too!
Pak Ou Caves
Take a boat on the Mekong river and within a half an hour you'll find these caves. Being on the river for a change is great but to find that the caves are filled with lots of buddha statues makes it a great afternoon triip if you ask me!
Kuang Si Waterfall
This is the famous bright blue waterfall near Luang Prabang. It is defenitely worth a visit. I visited it in the morning and it was chilly … And do you know why the colour of the water is that beautiful? Because it is freezin' cold!! So I didn't dare to dive in 🙂 But walking around it and looking at the colour was amazing!
But I can imagine you wanting to swim here on this great spot near Luang Prabang!
See more of this great waterfall: The Bright Blue Kuang Si Waterfall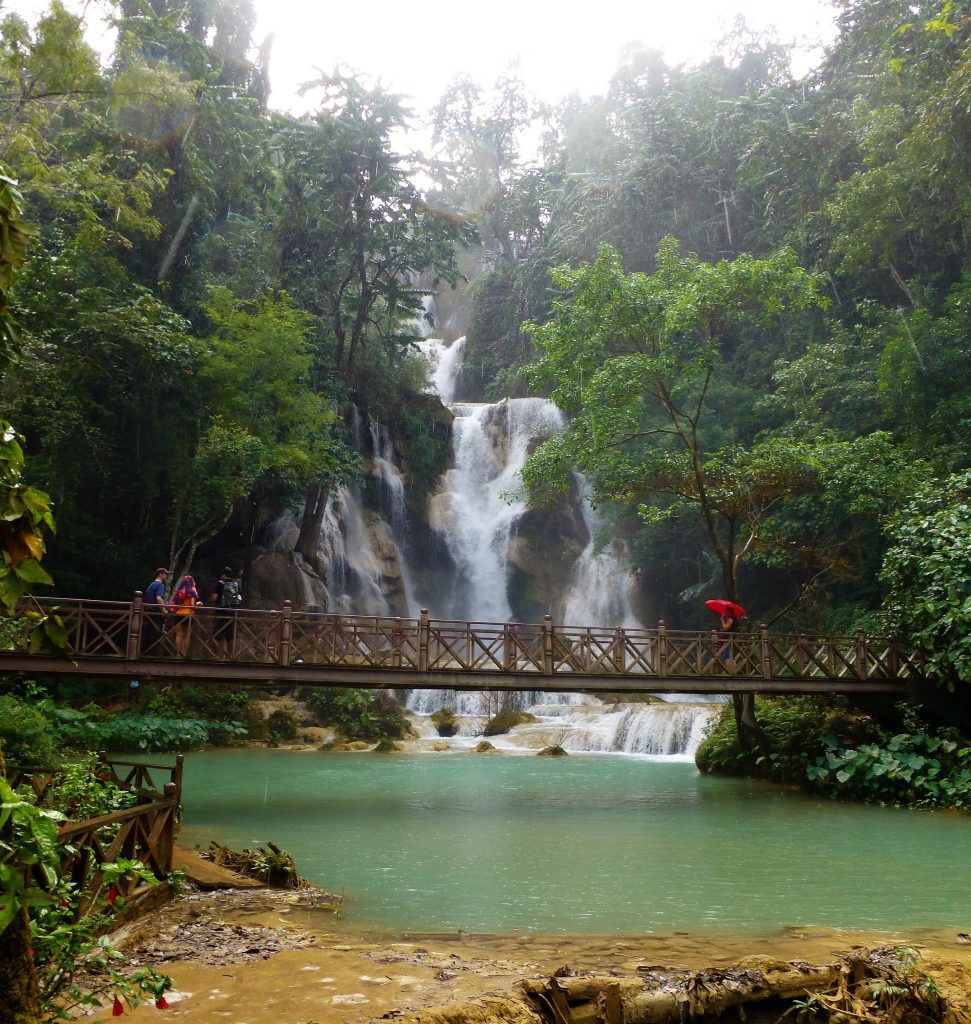 This must be included in the travel guide Luang Prabang
Luang Prabang Market
There is ofcourse the local morning market. It is always worth a visit if you like to see how the locals get their vegetables and meat!
Also you've got the eveningmarket for the tourists. I visited that every evening to go for dinner in a side alley and buy a plate full of delicious food!!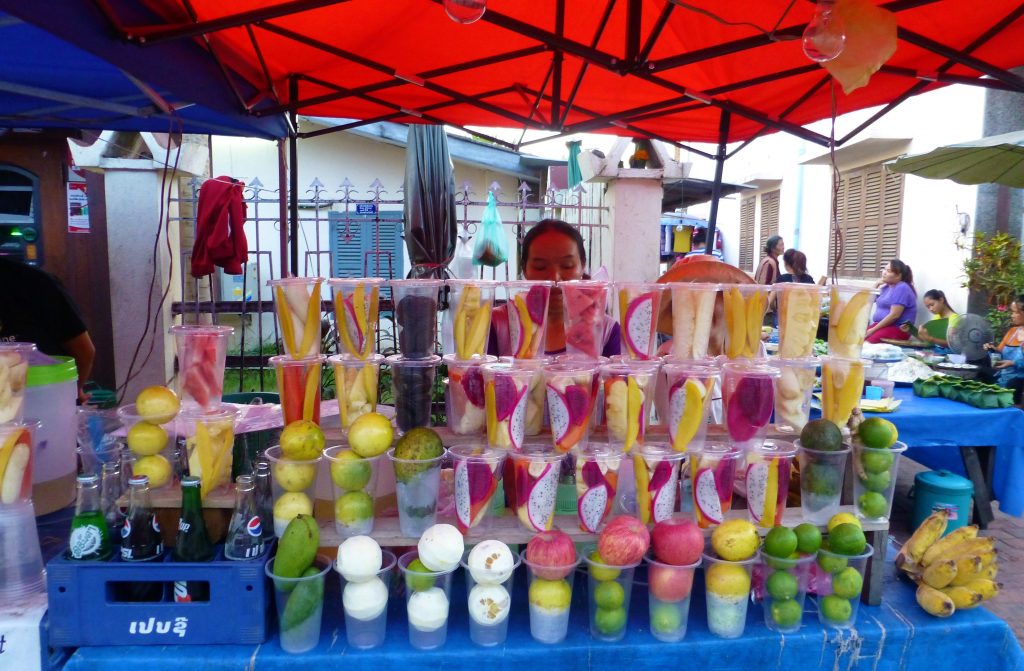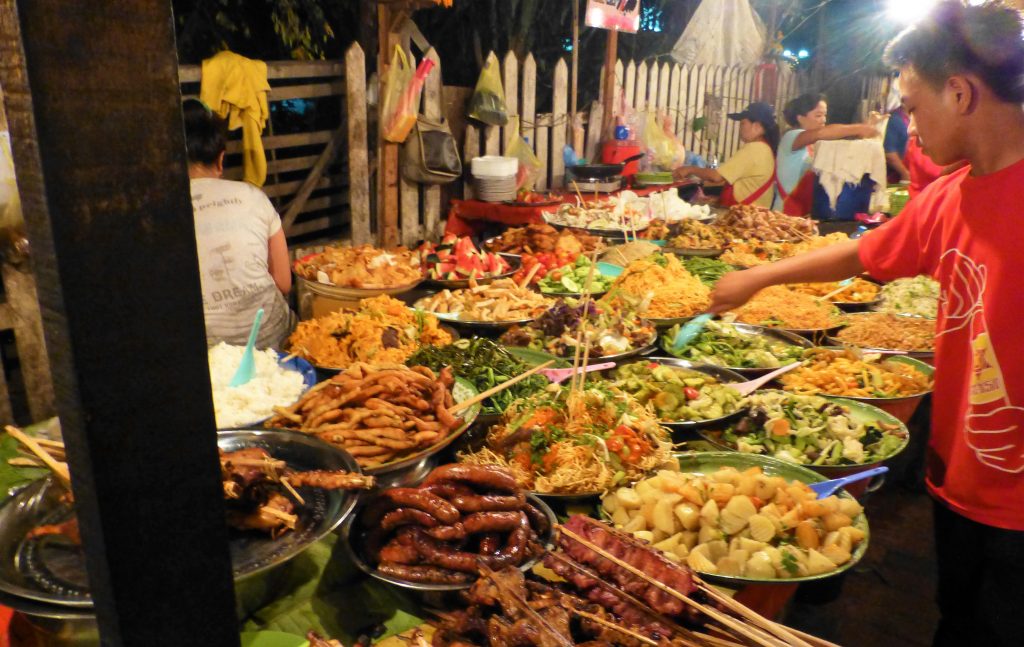 Early Morning –  Travel Guide Luang Prabang
Tak Bat – Monks early morning
Every morning the monks are walking the streets in Luang Prabang in search for their alms. The locals give them something and it is impressive to see.
If you go and look for them make sure that you are not bothering them. It is part of their religion and they don't want a picture with you! you can ofcourwse make a picture from an appropiate disctance and make sure not to flash.
There are many temples to be visited. Some are visible from the mainstreet ofcourse but if you go roam the area you'll find many more that are worth a visit. You can start across the street from Phu Si where you have Wat May Souvannapoumaram temple.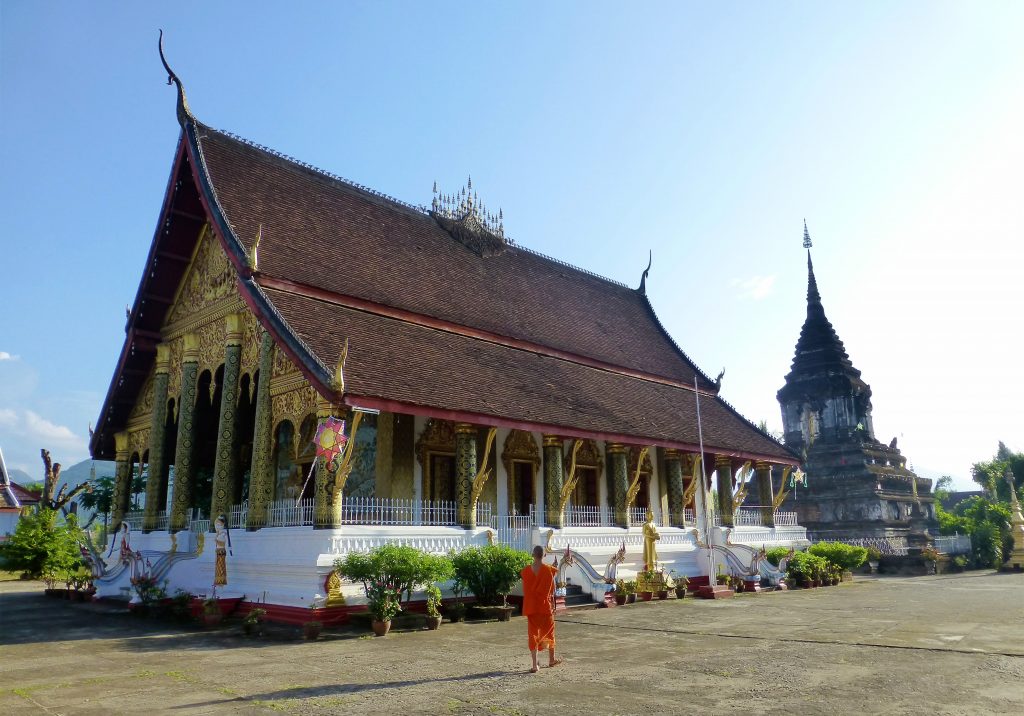 This temple was found a bit of the mainroad.
Als across the street from Phu Si Mountain is the impressive Royal Palace. It is defenitely worth the visit to get to know a bit more about the royals and their way of living in Laos.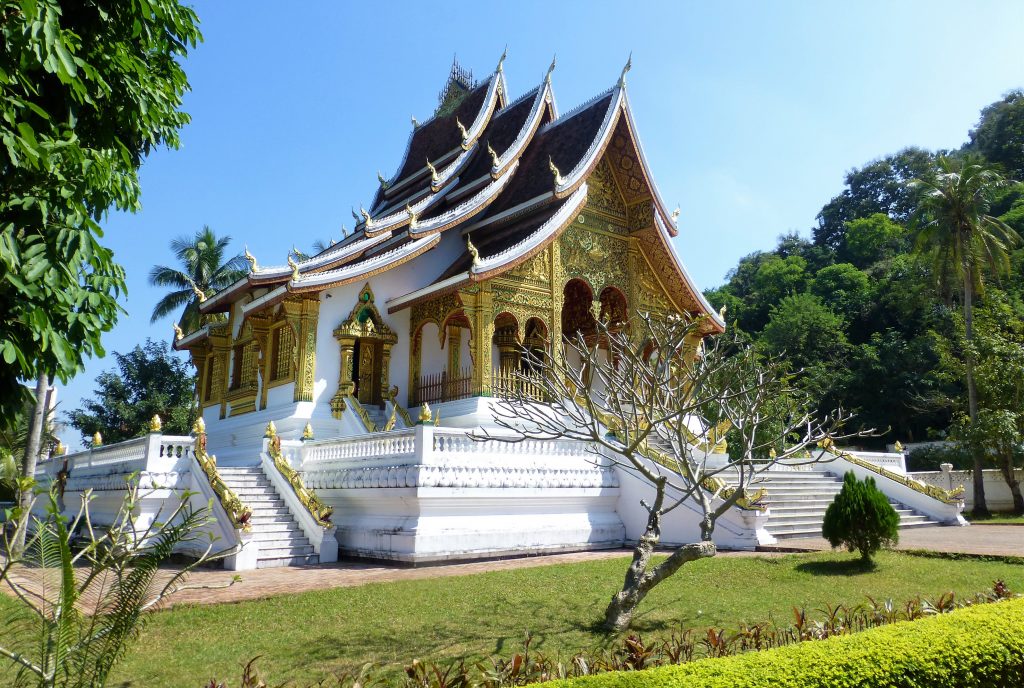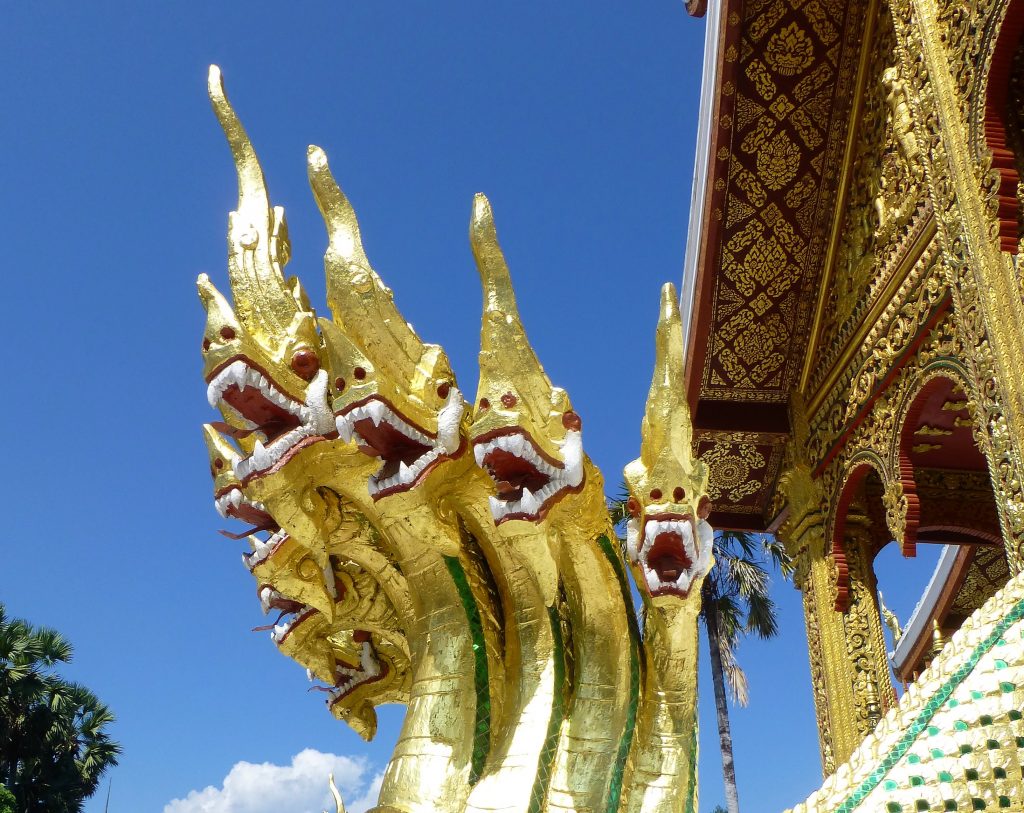 —
Want to read more about Laos?
The Mysterious Plain of Jars – Phonsavan
Or can I inspire you to go canyoning the neighbouring country of Vietnam?
I hope you enjoy this wonderful world as much as I do!!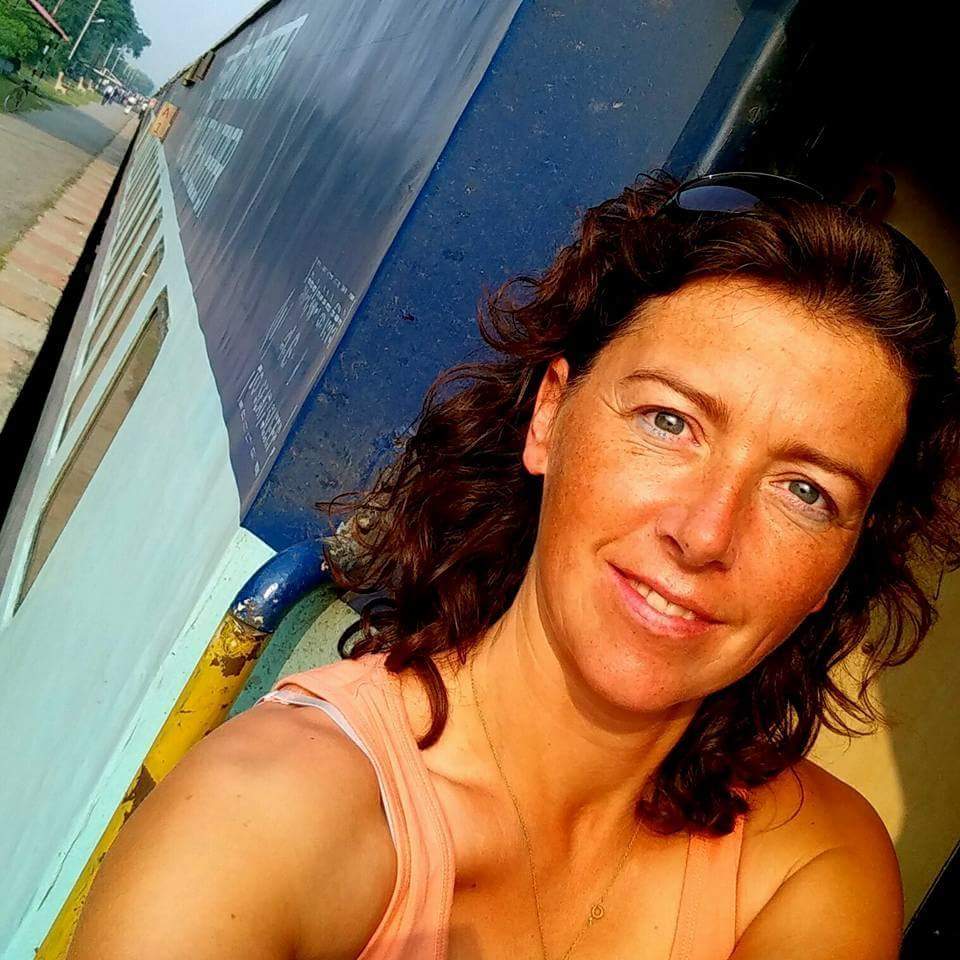 Jacomijn is een politieagent uit Nederland die jou graag laat zien hoe je veilig, actief en gezond de wereld kan over reizen. Safe and Healthy travel is a MUST