I met Sunil – Trust your feeling
|
He came walking next to me and asked me if he could help me with what I was looking for. I looked and saw a dark Indian man, he had a nice and playfull smile on his face and had a small moustache. Not such an enormous moustache you see a lot with Indian men. He had long hair and was wearing it in a tail. I saw he was wearing a western shirt and a jeans. Maybe he might have seen me wandering around the streets of Kochi. 
I just came back to the festival ground and thought of eating there. I had wandered around but couldn't really find a good looking restaurant, I had searched the internet for an address but finding that was too difficult.
Trust Your Feeling – I met Sunil
I told Sunil, I later found out was his name, that I needed to eat and walked around in search for a restaurant. He walked with me to a good restaurant which was connected to a hotel near the temple where the festival was going on. He ordered a Massala for me, it was a puffed bread kind of thing with massala and some other vegetable and sauces. It tasted great! Sunil ordered a cup of chai and sat down in front of me. We started to talk and had a good time. He could tell me about India and its habits.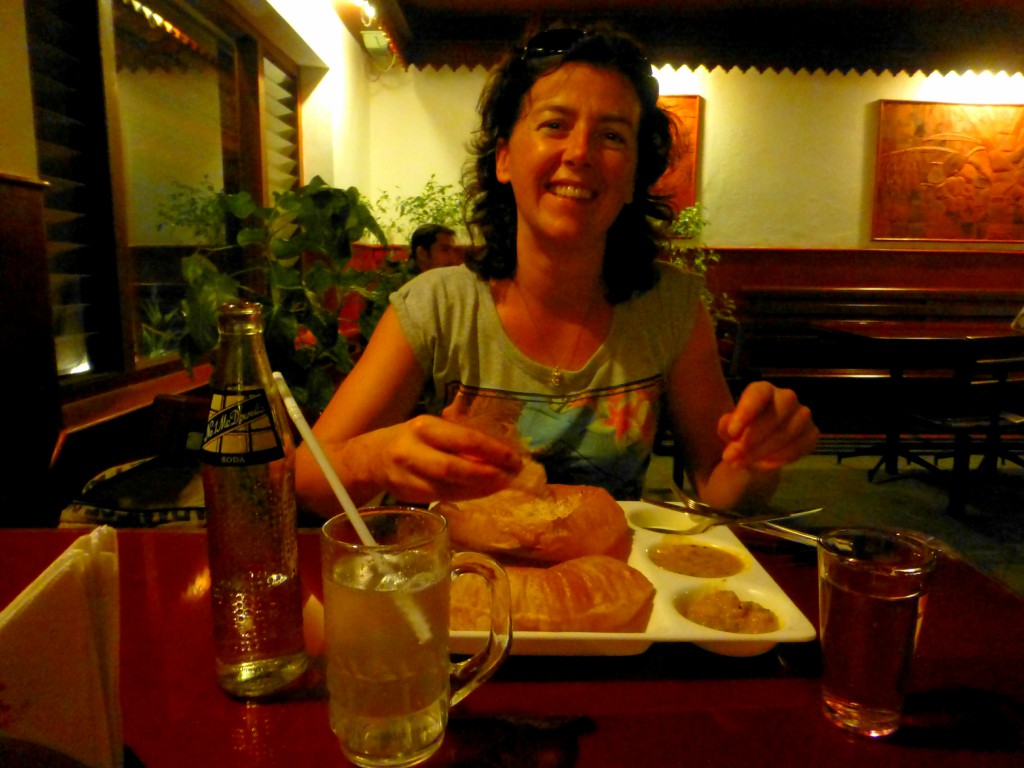 I soon learned that Sunil wasn't the average Indian man, he had seen a big part of this world. He too was a traveler, he had traveled around South America and had visitied most Asian countries. He had been to Europe too and had visited Holland. I'd liked talking with him, he knew my questions and understood what I needed to hear to understand the Indian way better.
Trust Your Feeling
After diner we walked to the festival and Sunil showed me several rituals and explained them to me. And some point he told me he had a motorcycle and he could show me the boulevard by night. He asked me if I would like that and looked at me with a playful smile.
I of course reacted reserved. I hardly knew this man for an hour. He seemed nice, we had a great and entertaining time while eating. Everything he showed to me was honoust and sincere.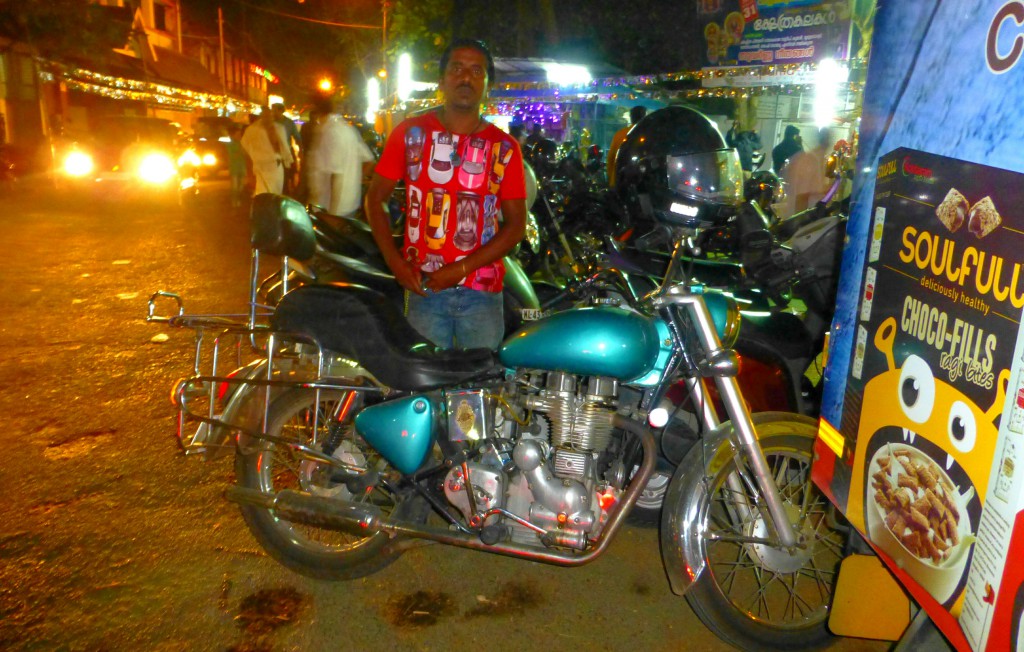 In the end you  need to trust your gutfeeling, that feeling has never left me hanging. And at this point it said to me that this guy was oke and so I went along.
Trust Your Feeling – Cruisin' the Boulevard of Kochi
He had an Enfield motor, a common brand in India. A great, green motorcycle perfect for touring and cruising, I could see that right away. He started it and I heard this great dark roaring sound. I got on the back and we went off. Through the busy traffic of Kochi, India, on the boulevard, wind through my hair and my focus on infinity.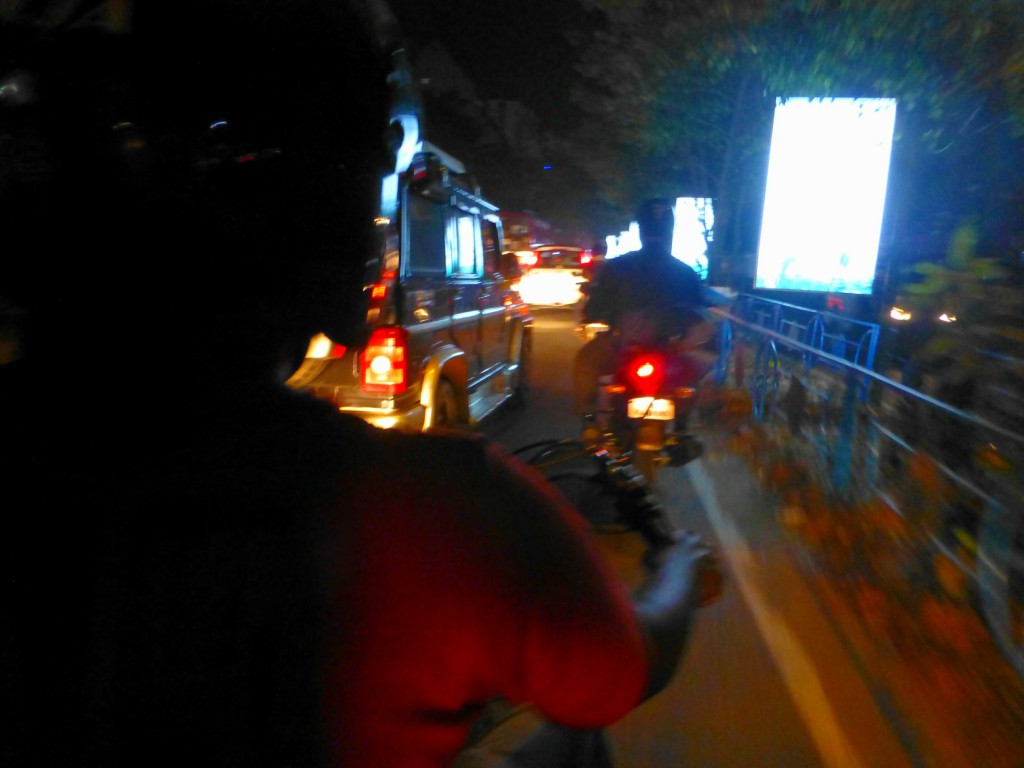 It was great! Sunil showed me some old catholic churches where we ofcourse stopped so I could take some pictures. It was dark and unfortunately they aren't good but you get the feeling. Sunil told me about the history and asked if I wanted to go to yet another old church, it was a famous one. It was on the other side of the brigde…ofcourse we went!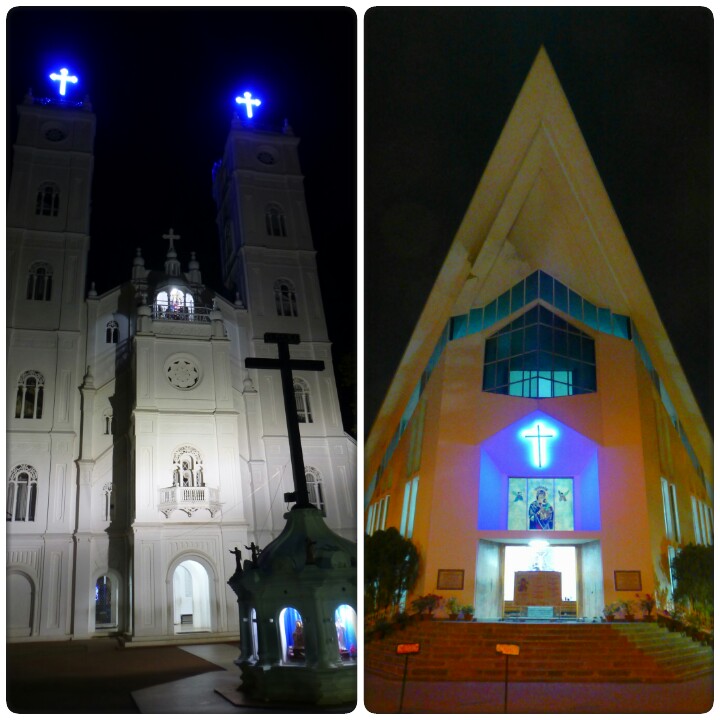 On the bridge we had a great view and at that moment fireworks were lighted!
Trust Your Feeling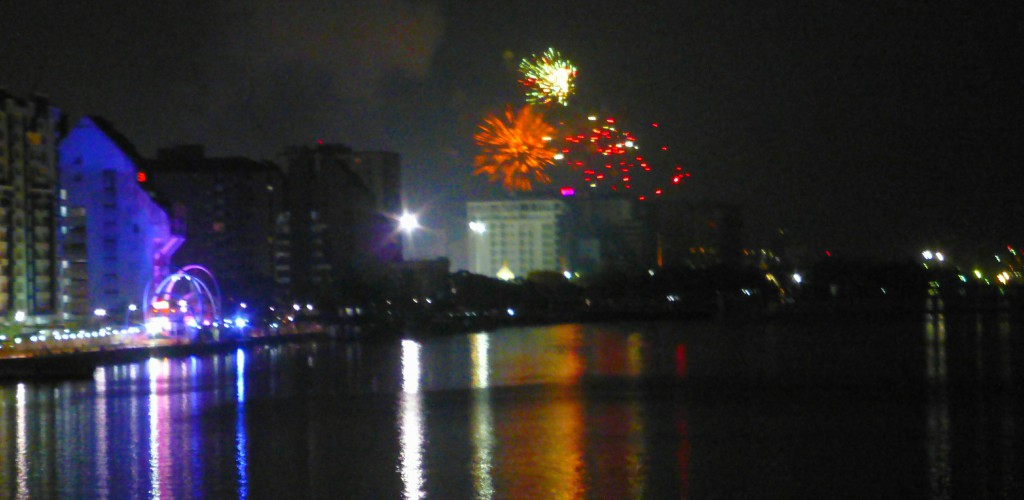 I can imagine that everybody says or thinks that I was crazy.. I maybe am 🙂 But still I trusted my gutfeelings, they won't let me down. If I would've had some doubts about the honousty of Sunil I would've never gotten on that motorcycle. With a couple of solo travels and maybe my work as a police officer has given me the confidence, sense and notion to see what kind of person is standing in front of me. If I would've had any doubts what so ever I would've never done that!
Trust Your Feeling – Leave No Doubts
The next day I met him again and we had diner together and went to the festival. At that festival Sunil made sure to get a great picture of me and the Godess Sarasvati, the wife of Brahma.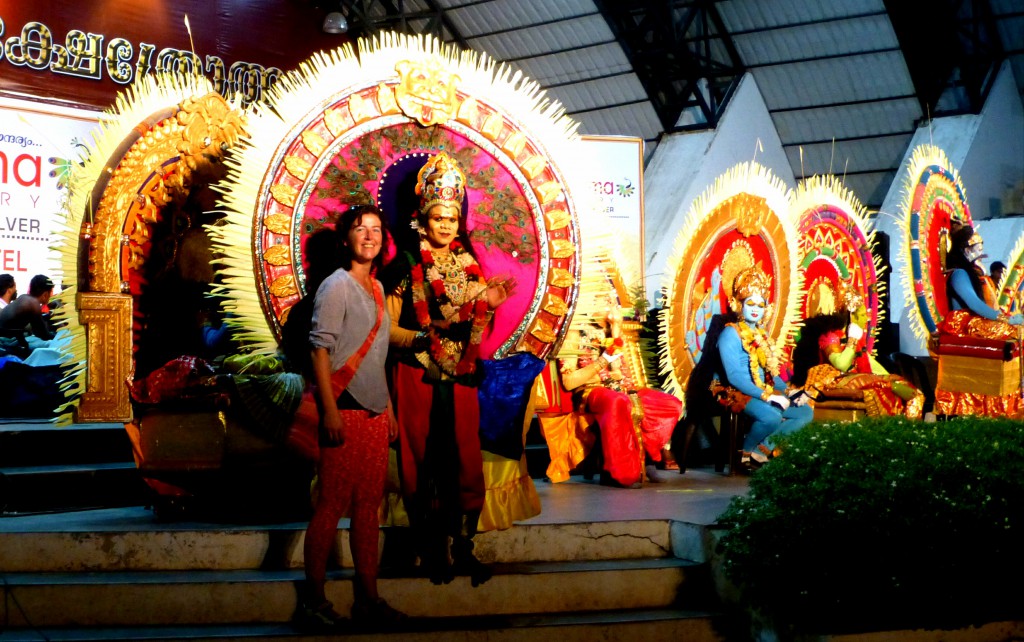 And until today I still have contact with Sunil!!
—
If you like this story you would make me happy by sharing it!!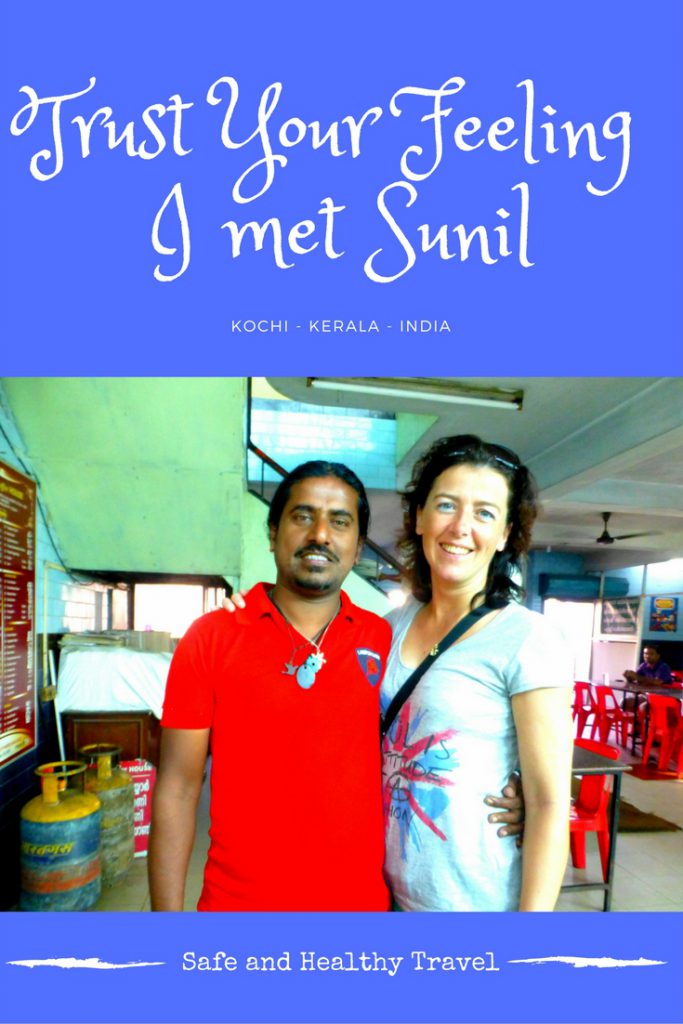 Would you like to read some other stories?
Tips for Woman – Travel Solo in India
Volunteering at Juara Turtle Project – Tioman Island
Hiking to Osmena Peak – Cebu Island, Philippines
Intertidal Walk through the Waddensea – The Netherlands
Floating in the Dead Sea – Israel
Or can I inspire you to go walking? Read about my pilgrimage Camino Frances
—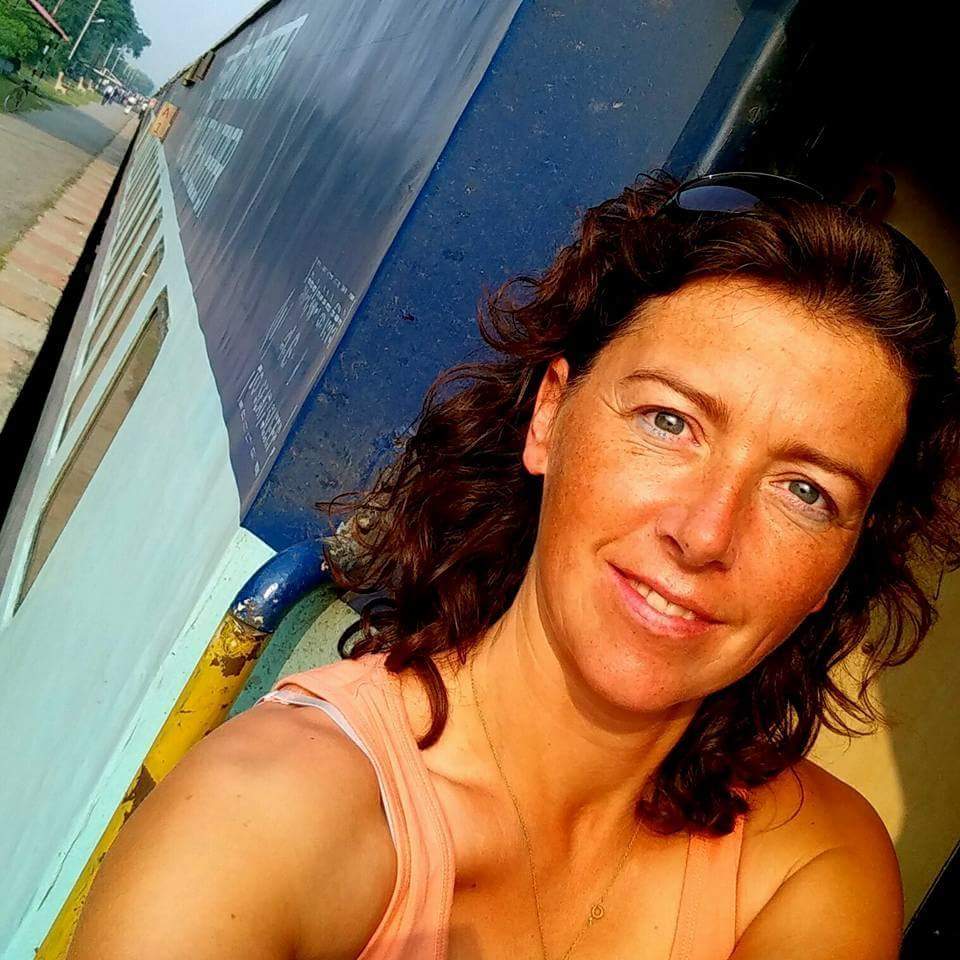 Jacomijn is een politieagent uit Nederland die jou graag laat zien hoe je veilig, actief en gezond de wereld kan over reizen. Safe and Healthy travel is a MUST