Rickshaw Challenge in India – Driving your own Rickshaw through crazy traffic!
|
The ultimate challenge: The Rickshaw Challenge in India! That I am looking for something that challenges me in my life and my travels is obvious. Maybe I am looking for them on every level as well? I've been meditating for 10 days in a row or volunteering for 10 days as a ranger in a national park in Kenya…. Or 6 days of horseback riding without encountering just 1 toilet in Kyrgyzstan…. But how about this great challenge? The Rickshaw Challenge in India, we crossed 1000 km through Indian traffic ourselves!
Discover India by stepping into the famous autorickshaw … By driving yourself through the chaotic traffic … but also through the amazing landscape that South India has to offer you!

Get in touch with the people along the road, stop where you want to and drink your cup of chai along the road with all the beautiful Indian people!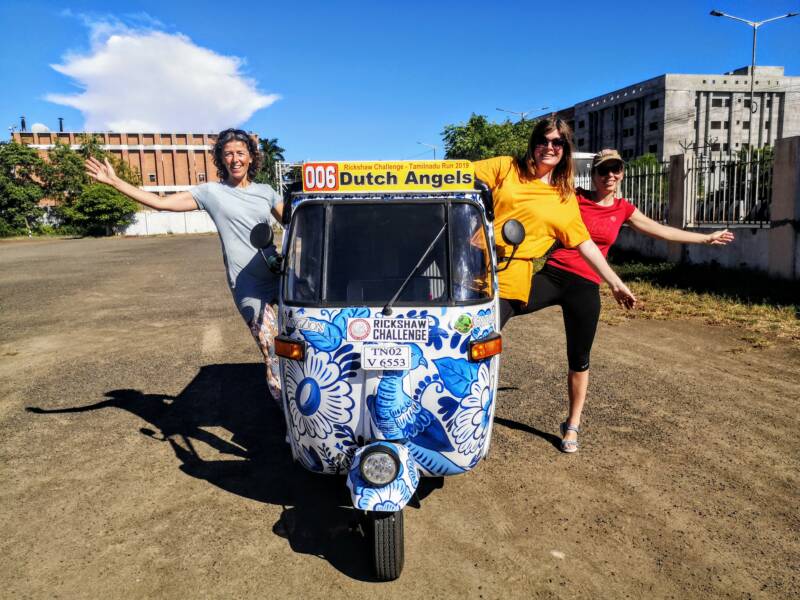 For a couple of years I was looking for someone, or 2, who would go with me to take up this challenge. Every time it didn't work out, people didn't dare, India didn't seem to be what they would like to visit or whatever reason there was. Until I thought, you know what? I don't really care anymore who goes with me … I just want to do that rickshaw challenge in India!
So I just placed a general call in a group of travel bloggers. I thought I would have the best chance of finding supporters and daredevils there. And I was right about that! Travel bloggers Aniek and Diana dared to do it and about a year later we took on this ultimate challenge.
The Tamilnadu Run – Rickshaw Challenge in India

The Challenge that would take us 1000 km around Chennai

We chose the 1000 km Rickshaw Challenge which would lead us into the southern state of Tamil Nadu around Chennai. This took 6 days and was planned for October 2019. The Tamilnadu Run has its starting and finishing point in the capital of the state of Tamil Nadu: Chennai. I had been there before and personally I don't think it is the nicest city in India. I did the Vipassana there for the first time in 2016, in the Dhamma Setu center just outside the city. But as the beginning and the end of such a challenge it is very fine. We could do the last shopping there for the challenge and relax in the hotel by the pool.
I just came to India from Abu Dhabi & Dubai and had done a 5 day tour with Dave in Oman. This Rickshaw Challenge that followed was also welcoming challenge!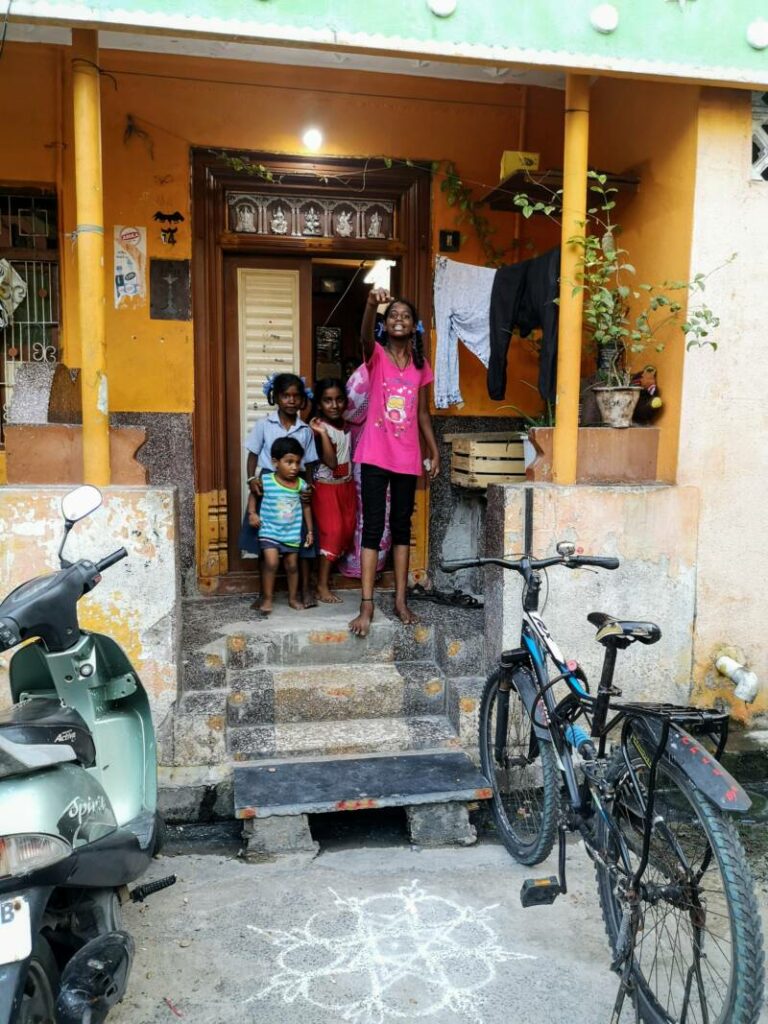 Tamilnadu Run – Rickshaw Challenge
There were 6 teams from all over the world and so we competed against 5 other teams. Also nice to mention is that we were the only women's team…and also the only women of the whole Tamilnadu Run Rickshaw Challenge in India 2019. I can't say that this is a disadvantage 🙂 Of course, if we needed help, we got it at all times!
All teams had a lot of fun with each other! There were 3 teams from Australia, there was a combined team from Germany / The Netherlands and two teams from England. And we all had a great time!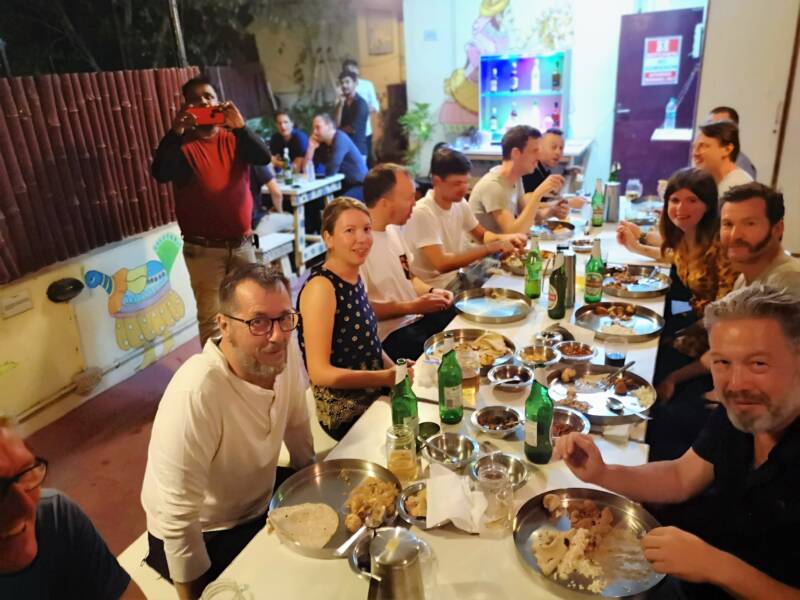 All about the Rickshaw Challenge?
The Rickshaw Challenge in India is a challenge where you, in a so-called autorickshaw, you know them: Those Indian cheap cabs, will travel a certain distance. Because you have to go from point a to b, probably about 100 or maybe almost 200km in one day, you don't drive alone. So you have to have a buddy or two so you can alternate and help each other navigate through the busy Indian traffic! In the meantime you will get some assignments and you have to make sure that you come across safely. You do this for a number of days in a row and a winner will emerge in the course of the days 🙂
I can assure you it sounds scarier than it is in the end! The Rickshaw Challenge in India is really the ulimate challenge you can do under supervision in a country where nothing is predictable! Isn't that what you want, too?
Driving your own Rickshaw through crazy traffic!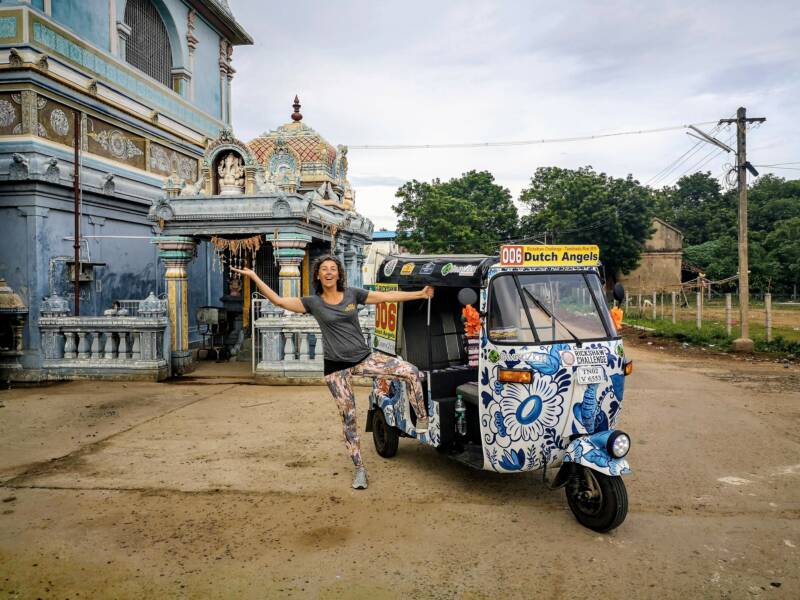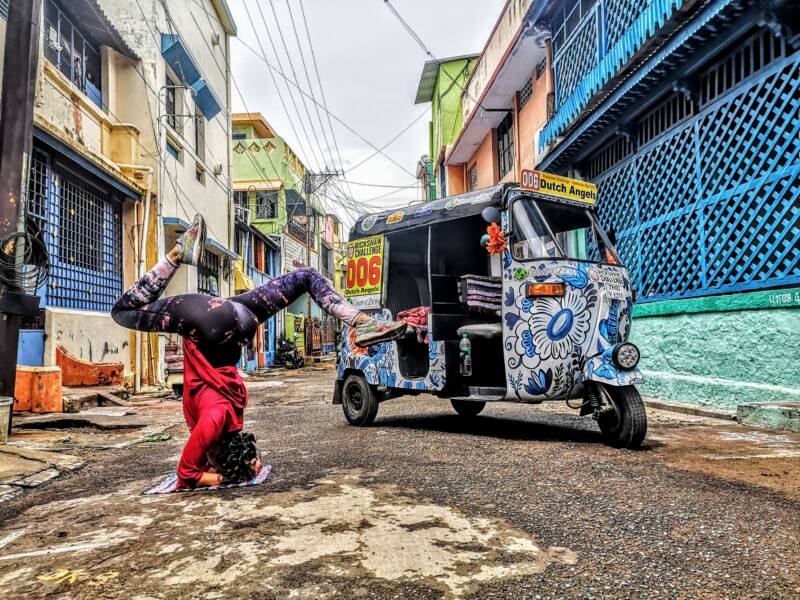 The day before the challenge starts you will be assigned your rickshaw in a parking lot just outside Chennai. You will get an explanation on how to start it, how to change gears (at the wheel!!!) and how to refuel… And then you may cross the large parking lot to feel how it goes. How fast it goes… How do you take the bends… If you think you've practiced enough (and you have the code of your wifi) then you can go into they busy Indian traffic and head for your hotel!
Keep in mind that in India, just like in England, they drive on the left!
When do you win or loose? What are the rules?
There are a number of rules you must follow to win the Rickshaw Challenge. What's built in in terms of safety is that they want you to be inside before 6 in the evening. It gets dark then and they don't want you to participate in traffic, very logical. Once we have been just in time, or maybe a few minutes late.
At that time it was really getting dark and in the already cluttered traffic it is even more cluttered of course. Not everyone drives with the lights on…and in the same direction (ghost drivers). With my driver training from work I have just a little bit more insight and that's nice. I look far ahead and estimate what the traffic will do. I have noticed this by the number of unforeseen braking moments that I had and that my fellow challengers had 🙂
Do you want to win or do you go just to drive
the chaotic Indian Traffic?
You also need to fulfill an assignment each day.
This could be that you had to answer a question about the environment like: The temple in that and that place is dedicated to which god? Or which work of art can be found off the coast at that and that place. So along the way you still have a number of assignments to fulfill. Very often you also had to refuel at a certain tank station. That makes it a fun quest and you also get to other places than just the road from point A to B.
We also had the assignment on the first day that we had to change in style of our team. We quickly bought some blouses so all three of us were wearing the same. Some others would have been more exuberant!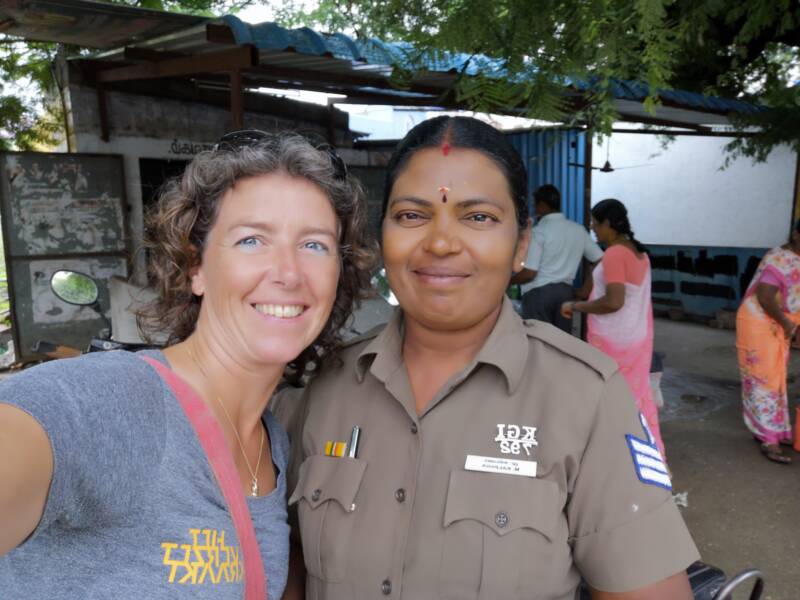 One day we also had to take pictures with policemen!
Of course that was a piece of cake for us!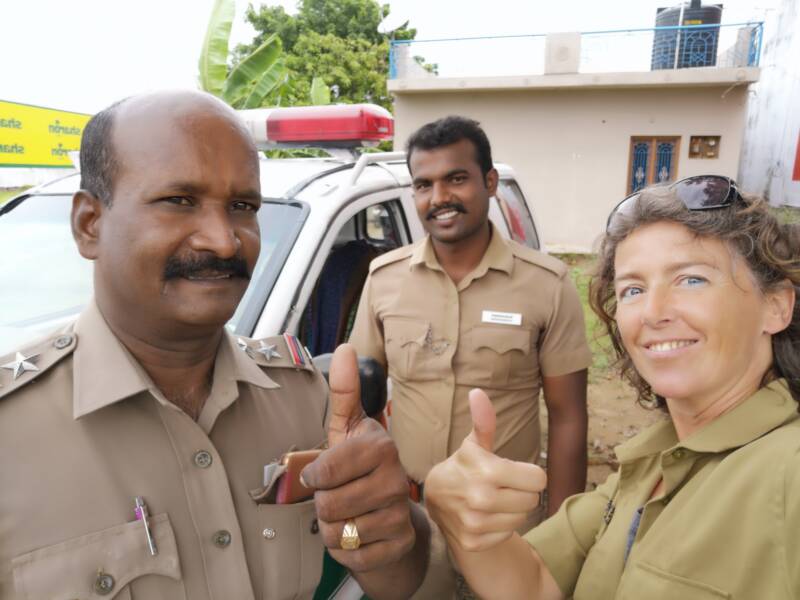 In addition, what to think of when you sign up for the Rickshaw Challenge:

Of course, you need to have insurance that covers you when you are abroad should you cause damage that is not so negligible. You must be in possession of an international driver's license. And apply for your visa to India in time.
Rickshaw Challenge in India
Driving your own Rickshaw through crazy traffic!
Of course you can choose to just cruise these 1000 km with the safety of having a contact person and helplines on the way! This is, of course, an ideal way to gain this experience. You'll hear more and more of backpackers buying a rickshaw to travel around with!
But if you also take on the challenge of doing all the assignments, you can win 995 euros... To collect the 995 euros you'll have to book a new rickshaw challenge at the Travel Scientists!
They also offer a lot of other challenges!!
How luxurious do you make your Rickshaw Challenge?
There are several packages you can book. We did book the most luxurious (with fine hotels) and so everything was arranged. Even if something would break of the rickshaw it would be made by their garage. There were teams that didn't book this so they had to pay for the parts themselves or they had to go to a local garage. That is of course also a nice challenge …
In the end our rickshaw stayed good and we didn't need anything. Every evening the rickshaws were checked by the garage that was arranged by the organization of the Rickshaw Challenge. Ideal! They had a big bus in which they had all the necessities to repair the rickshaw on the way.
The Rickshaw had internet via wifi, so we could contact the garage at any time and give our coordinates if we needed help. So you're not really left to your own devices. In addition, you could also look up a nice restaurant on the internet or just check what you should see as a tourist on that day's route.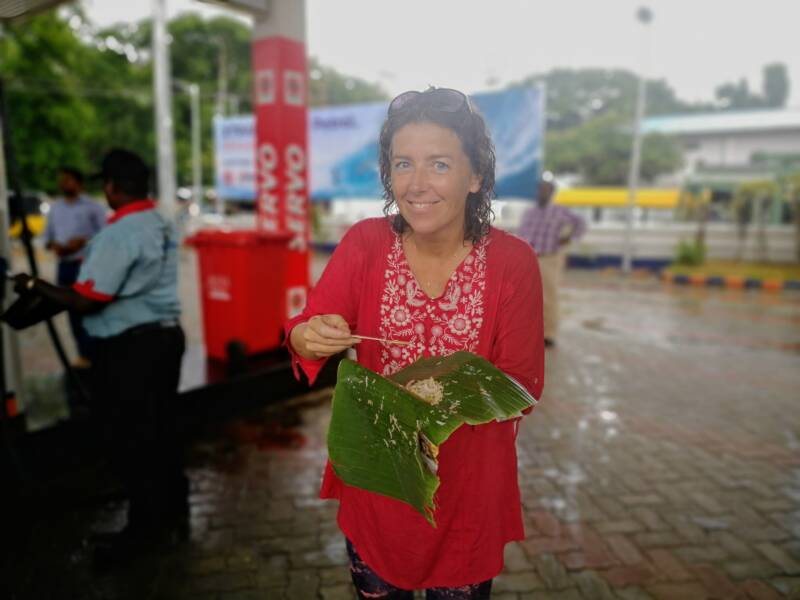 On the way we often ran into the garage and luggage van once or twice a day. Then they caught up with us or we caught up with them 🙂 Of course we also met the other teams. Either we were doing a chai somewhere and a honking rickshaw passed by or the other way around. It was just the best experience!
Travelling luxurious in India with a Rickshaw
And then of course you can choose in which price range hotel you want to stay, or that you would like to stay in a hostel. I didn't really care about the price, divided with 3 challengers. Especially when you consider that if you have been driving all day in the chaotic Indian traffic you still have to look for a place to stay. Or that you don't have your own shower with your team… No ..then I am starting to become a luxurytraveller so we booked the most luxurious package. Everything was arranged for us.
We also saw every team every night and so the others had the same opinion. And so in the evening we often went out for dinner with one or more of the other teams. It was a great collective experience!
How will your Rickshaw look like?
If you book the most luxurious package then your rickshaw will be pimped the way you want it. As purebred Dutchies we had of course chosen the theme Delft blue. And leave that to India to make a super real and authentic rickshaw!
I was proud to be able to cruise around with such a beautiful and unique rickshaw!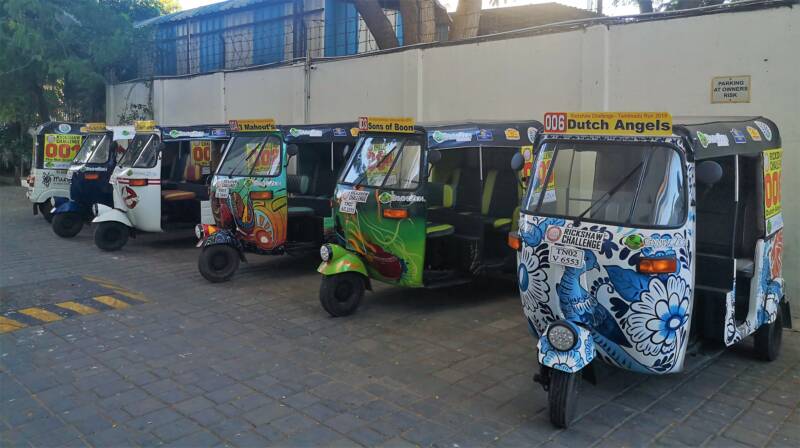 And of course you'll have a lot of fun along the way!
We as a women's team attracted lots of attention of the local people, of the local rickshaw drivers and everyone who caught up with us on the street and happened to look into our rickshaw. That brought nice surprising moments, nice encounters and nice conversations!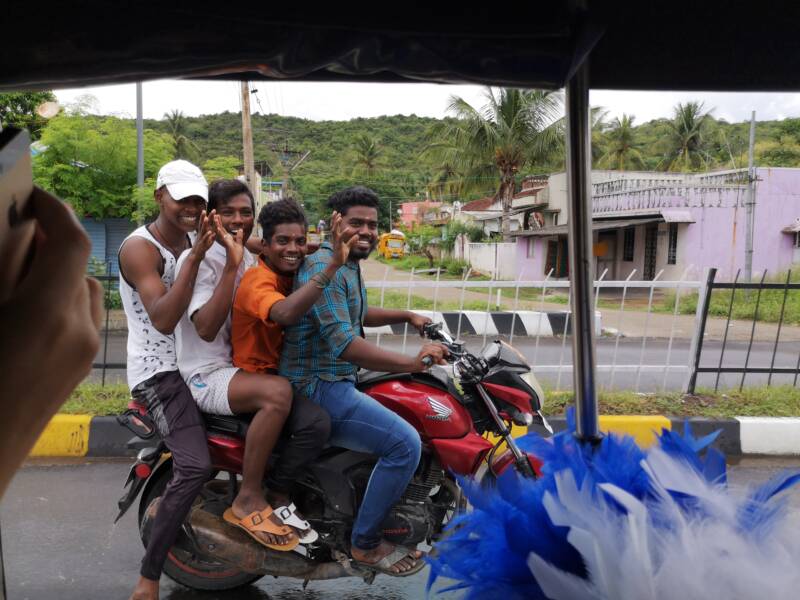 Safety in the Indian Traffic
Although the traffic is very chaotic, we didn't have any accidents. Unfortunately the British team did… and that already on day 1. They were flanked by a motorcyclist and fell over with rickshaw and all. You're in the rickshaw without a seatbelt and so it could happen that one of them ended up underneath the rickshaw. How much bad luck can you have, huh? He was quite injured…. A broken collarbone and a piece of his ear was off. You can imagine that the road is not clean and so the wounds needed to be taken care for a long time after…
The next day another team had a very small collision but that was negligible. A small dent we find here very bad but in India it is just everydays business …
Do read my tips to drive safely in foreign traffic
Driving your own Rickshaw through crazy traffic!
Here and there we took some breaks. A chai on the way was a must! But buying a banana from the local women is also great. You also get all kinds of things like a bag of super fresh peanuts right out of the ground! We are sometimes just as interesting to the local people as we find them. Nice to learn from each other and to look at each other with equal interest.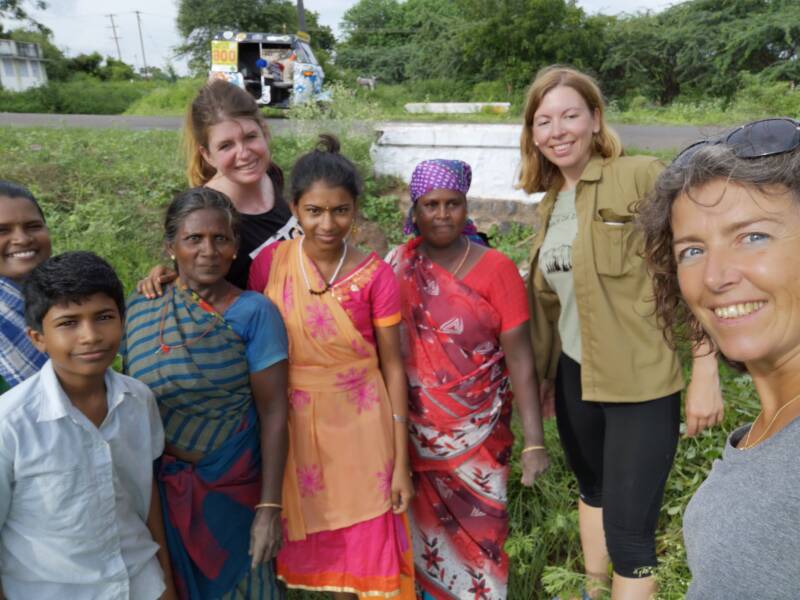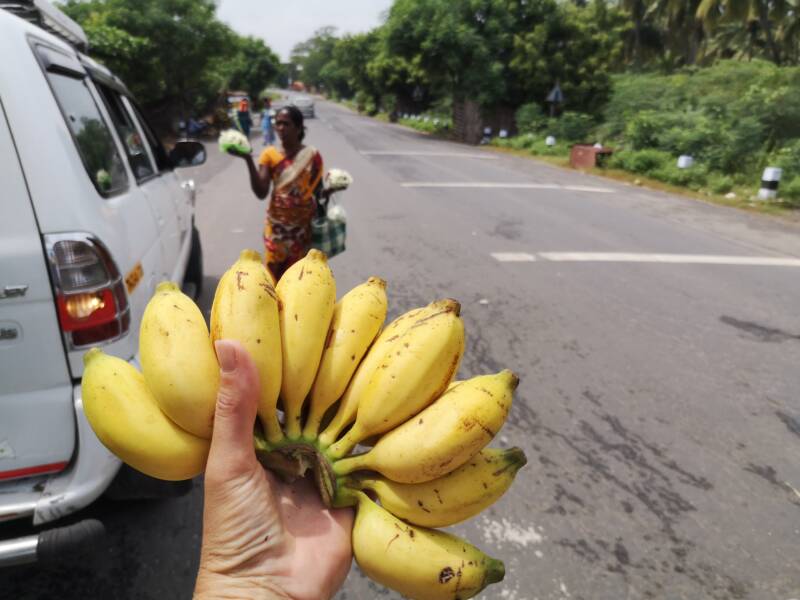 Because I thought it was a super adventure and some female colleagues of mine also thought it was a super challenge we had signed up for the Mumbai Xpress…. this year. Of course we had to postpone this to 2021 because of corona… But I will take on this ultimate challenge again!
Would you like to take this challenge too?

Take a look here because they have even more options! Or do you know the Rickshaw Run? They have the same challenges only under a different organizer and also different routes and different countries!
Do you dare to book a Rickshaw Challenge in India?
Share the Rickshaw Challenge
&
Inspire someone else too!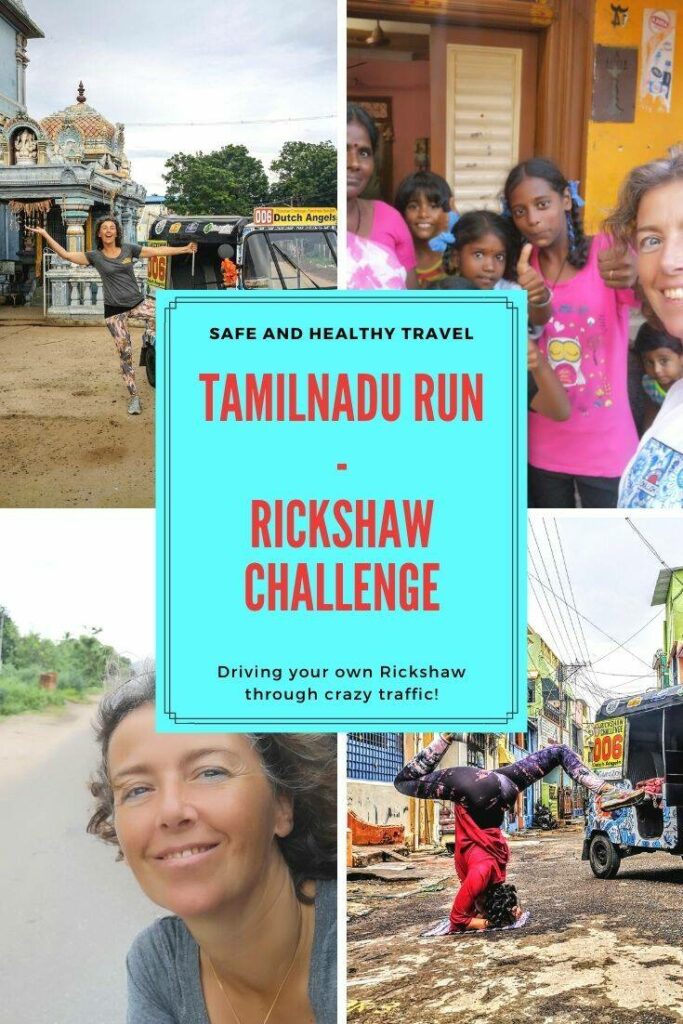 Tamilnadu Run – Rickshaw Challenge
We have been on the road for 6 days on this wonderful challenge in Indian traffic and with the Indian people we met along the way. So you can imagine that I would love to share some more photos with you! Enjoy everything we encountered along the way in the southern state of Tamil Nadu!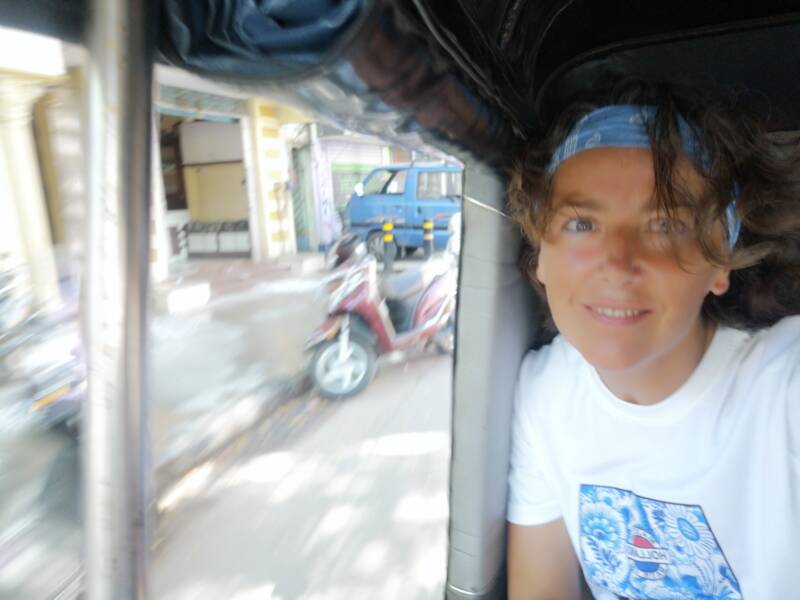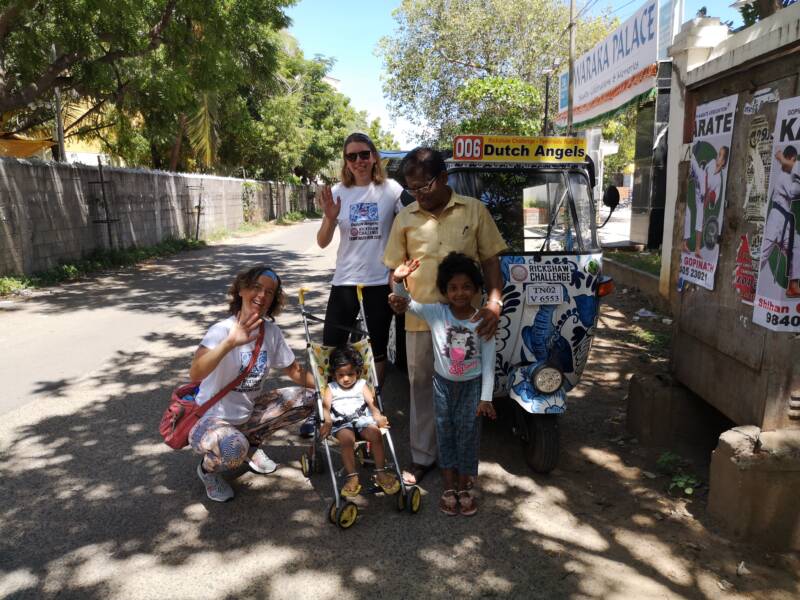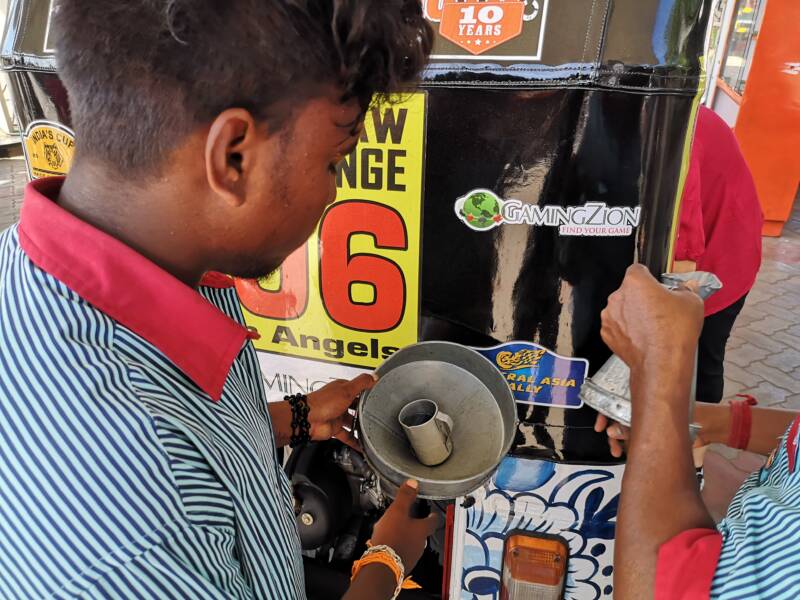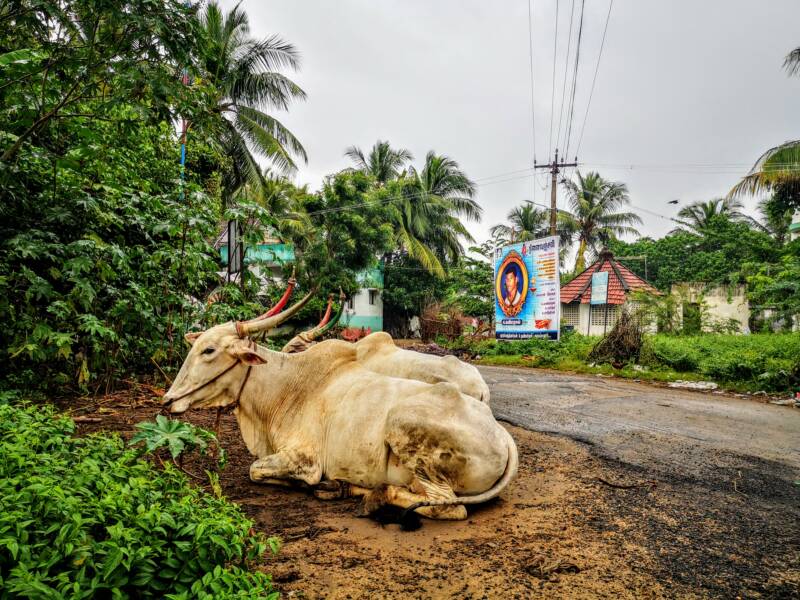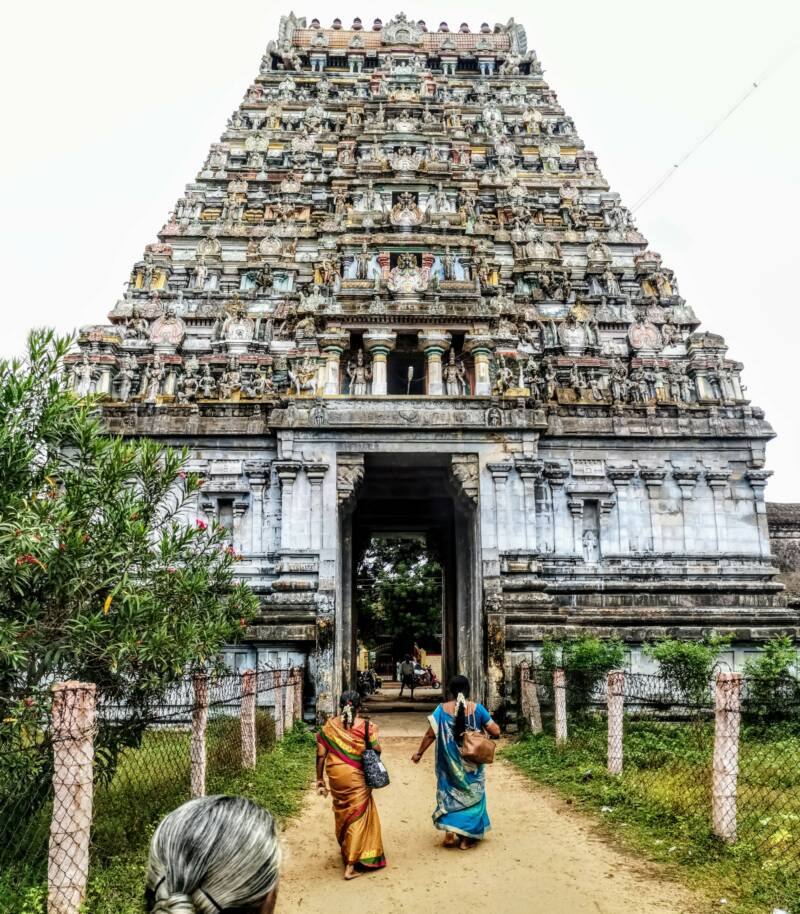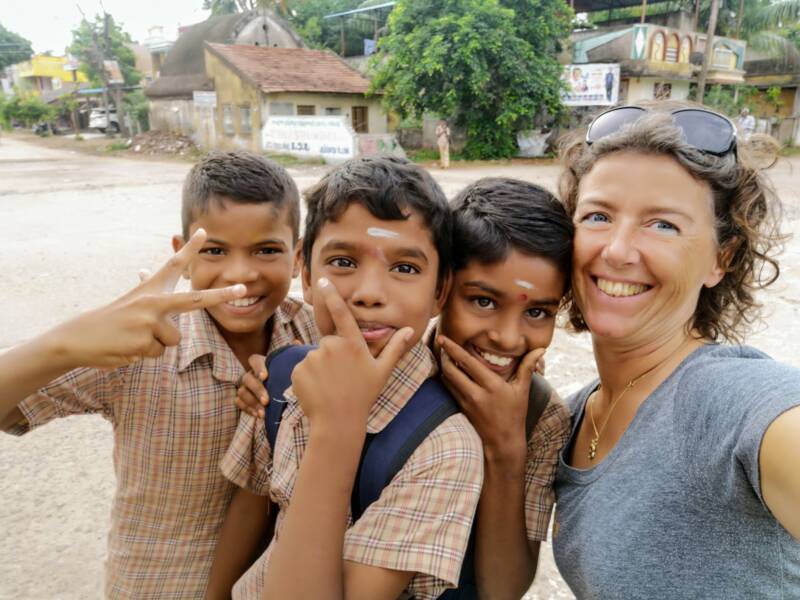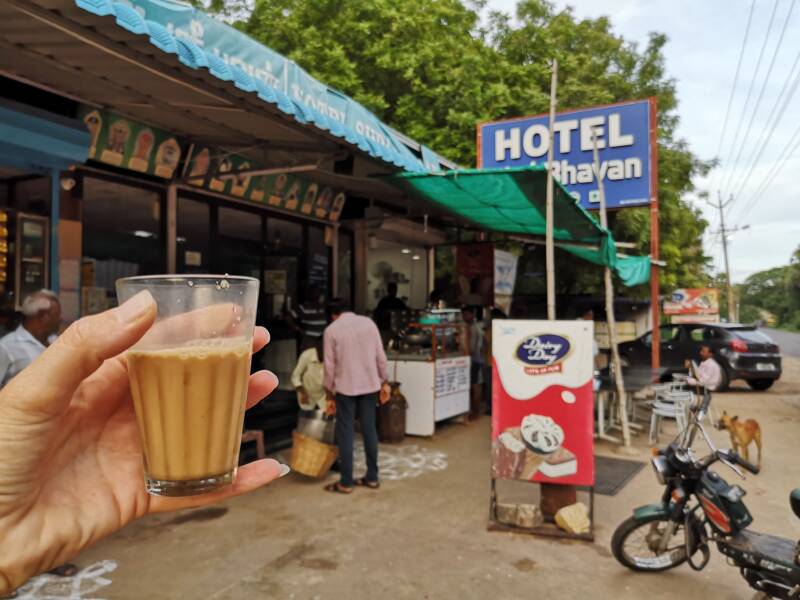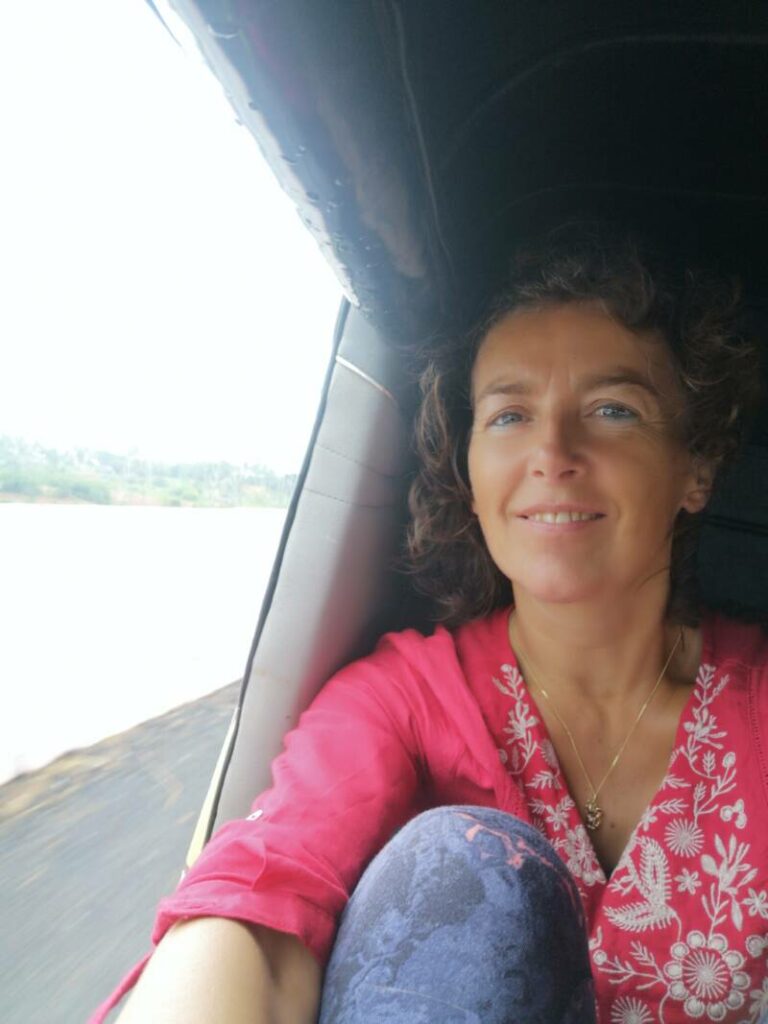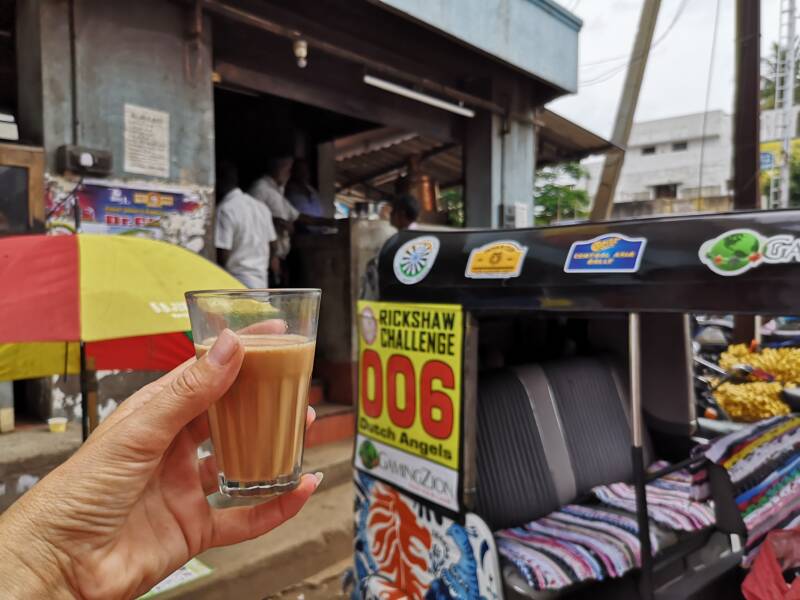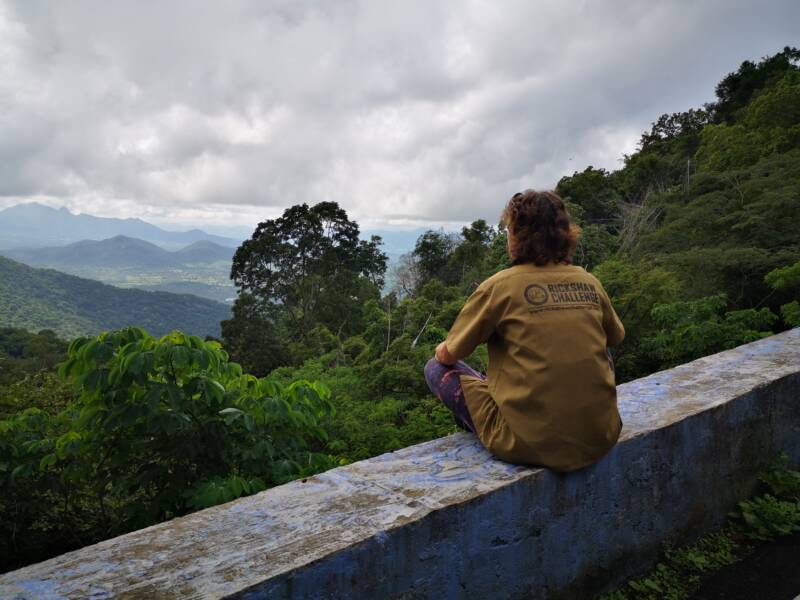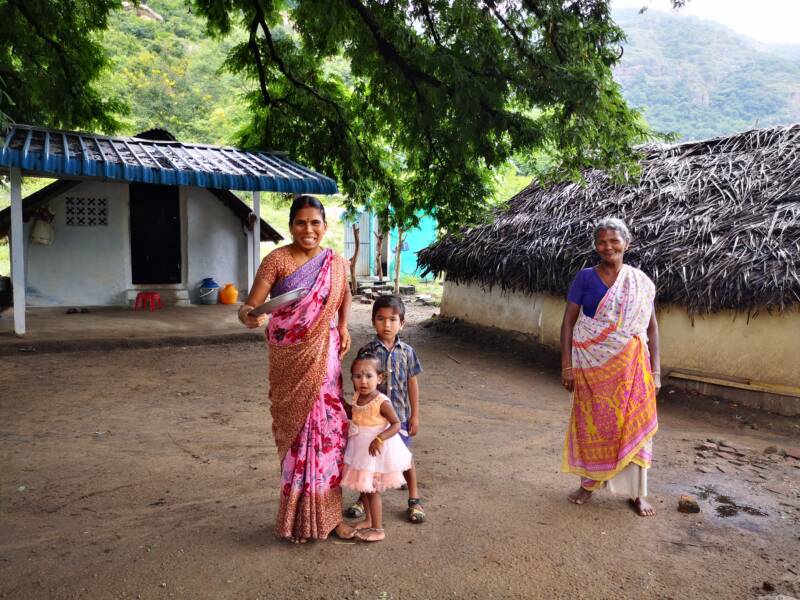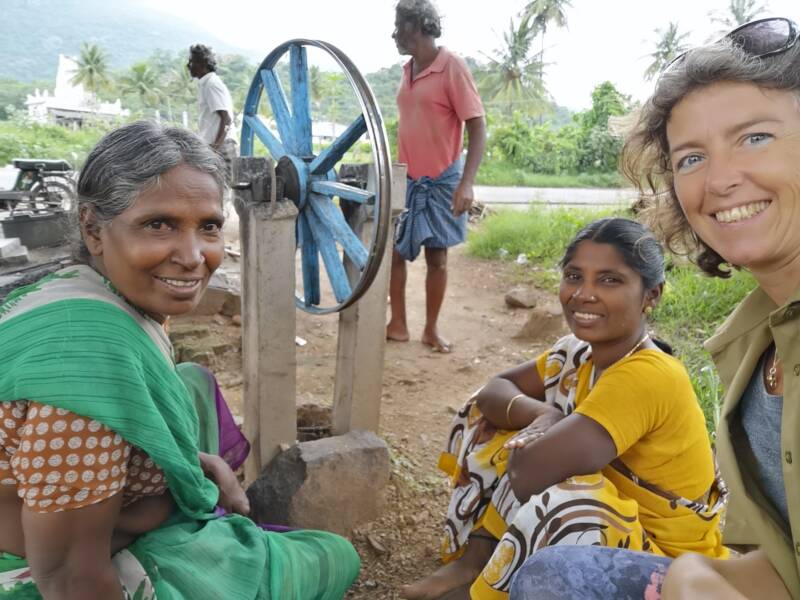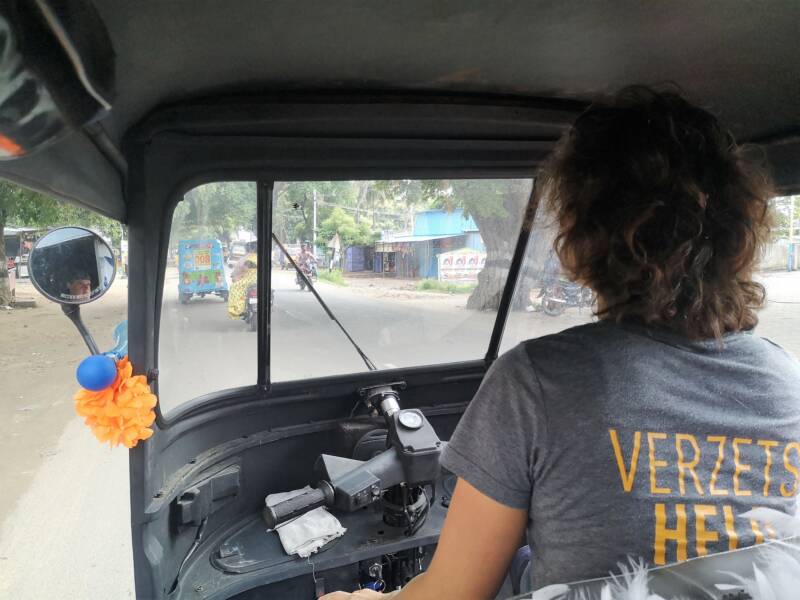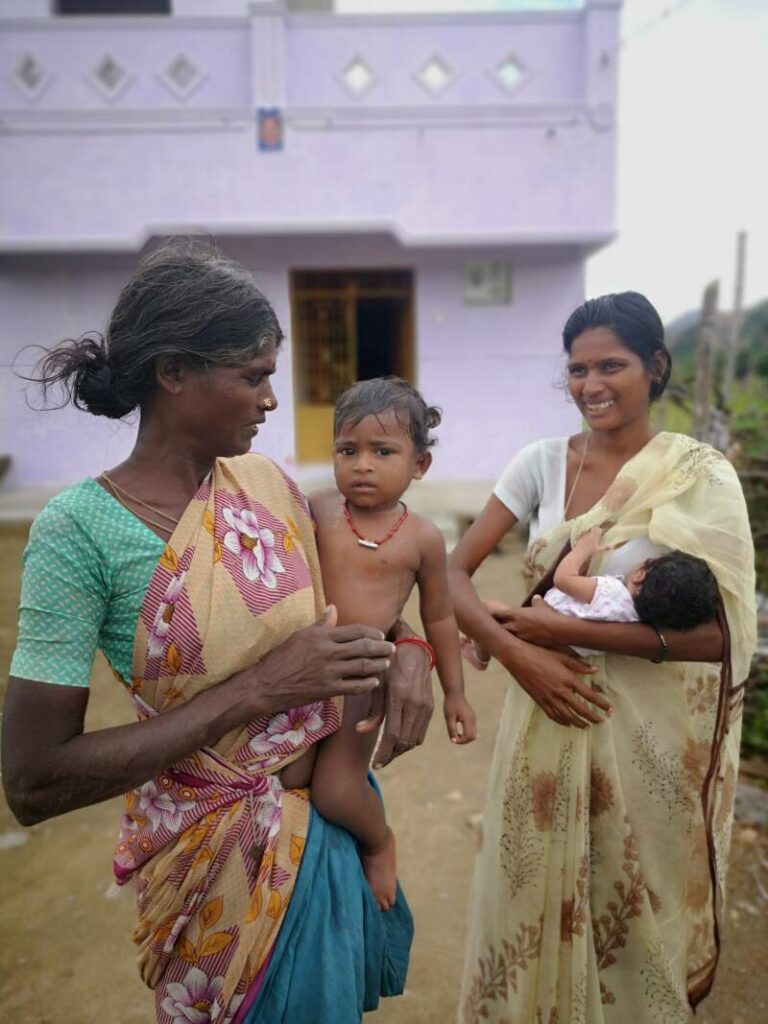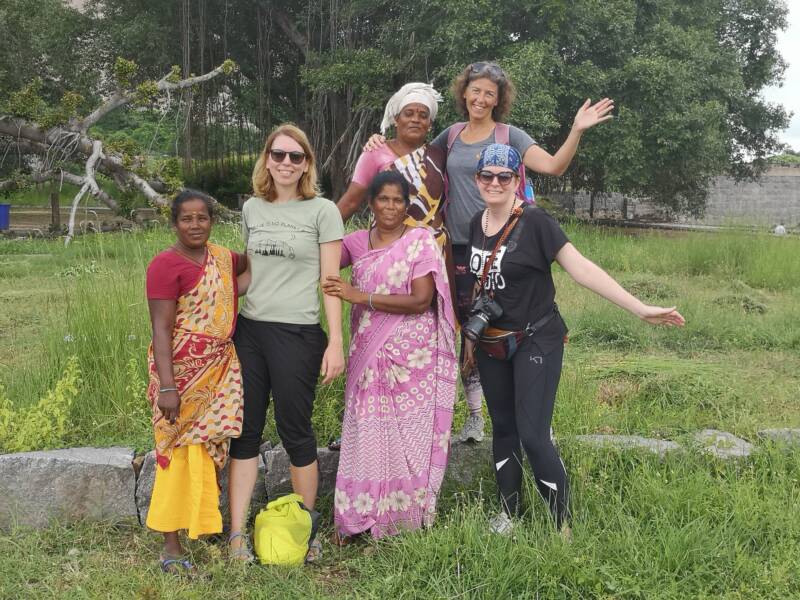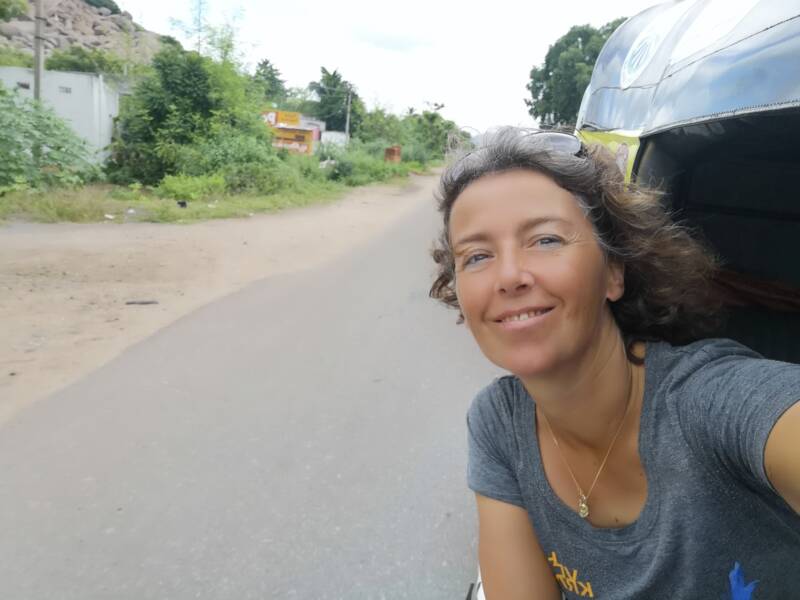 And so I can share a lot of photos! I have wonderful memories of the 6 days we were on the road. And what do you think? We won the Tamilnadu Run!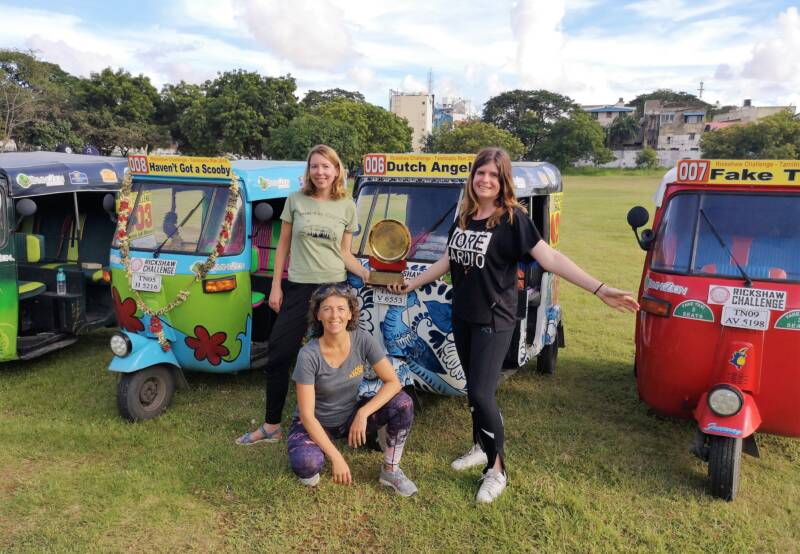 The winners of the Tamilnadu Run 2019 – India!!
Rickshaw Challenge – Tamilnadu Run
How would you pimp your Rickshaw?
Would you go for a Dutch style or just for Colorful India?
Of course there are many more challenges and beautiful trips to make!
How about these?
Sleeping in a cave in the Harau Valley – Sumatra, Indonesia
Lunchen at Ram – Pushkar, Rajasthan
Poon Hill Trek – 8 days in the Himalaya – Nepal
Go Swim in crater lake Toba – Sumatra
Do you also want to discover India?
Book your own tour in Rajasthan through me!
I do hope you enjoys this beautiful world as much as I do!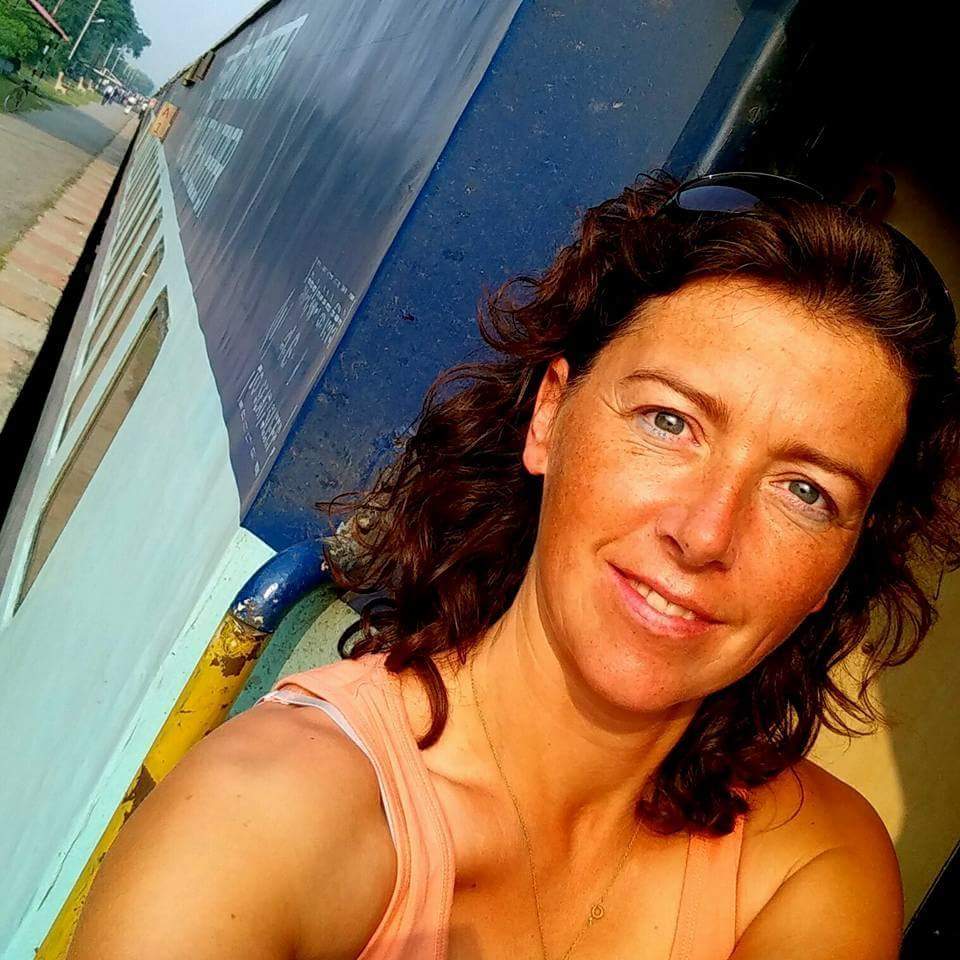 Jacomijn is een politieagent uit Nederland die jou graag laat zien hoe je veilig, actief en gezond de wereld kan over reizen. Safe and Healthy travel is a MUST