All you can Wish @ Viewdeck Cottages El Nido
|
A night all you can wish for..  Viewdeck Cottages El Nido is great place! If you go to El Nido you immediatly start dreaming of the beautiful bay and the great views you get with those great rocks, the sun setting and you swimming and relaxing to the max!!
I booked a room at Viewdeck Cottages El Nido and ofcourse was hoping to get such view. When I got there I saw that they are very unlucky with their neighbours. They are building higher hotels, new buildings, that take part of their view… But they are lucky to have the whole hill!! They have more space and have some of their best cottages on top of that hill … so still that great view on the bay of El Nido!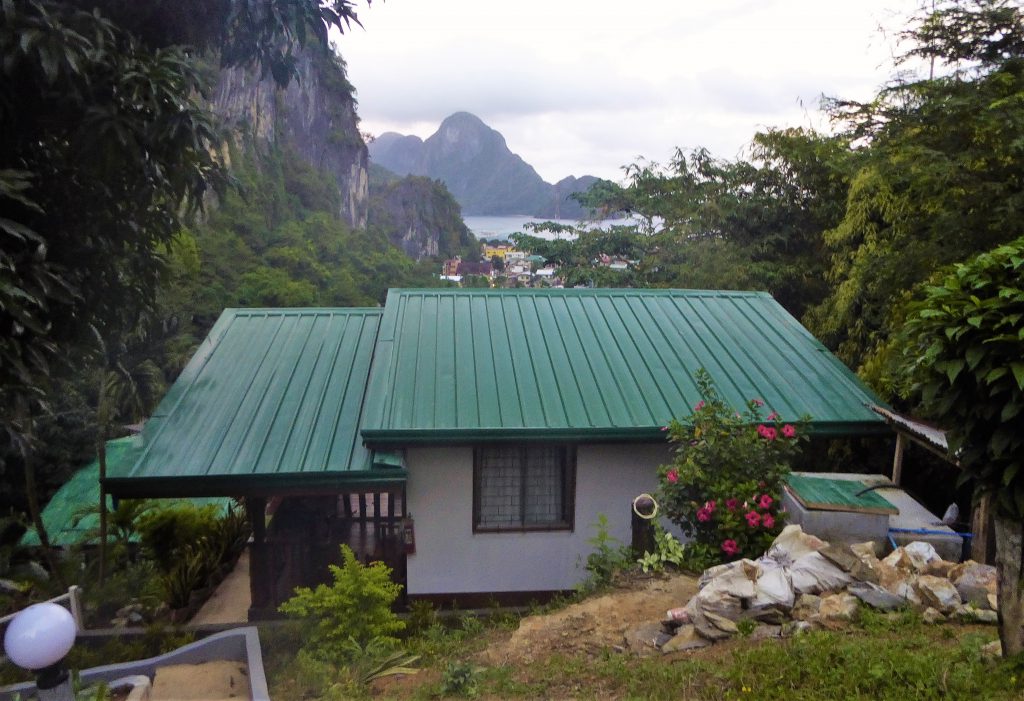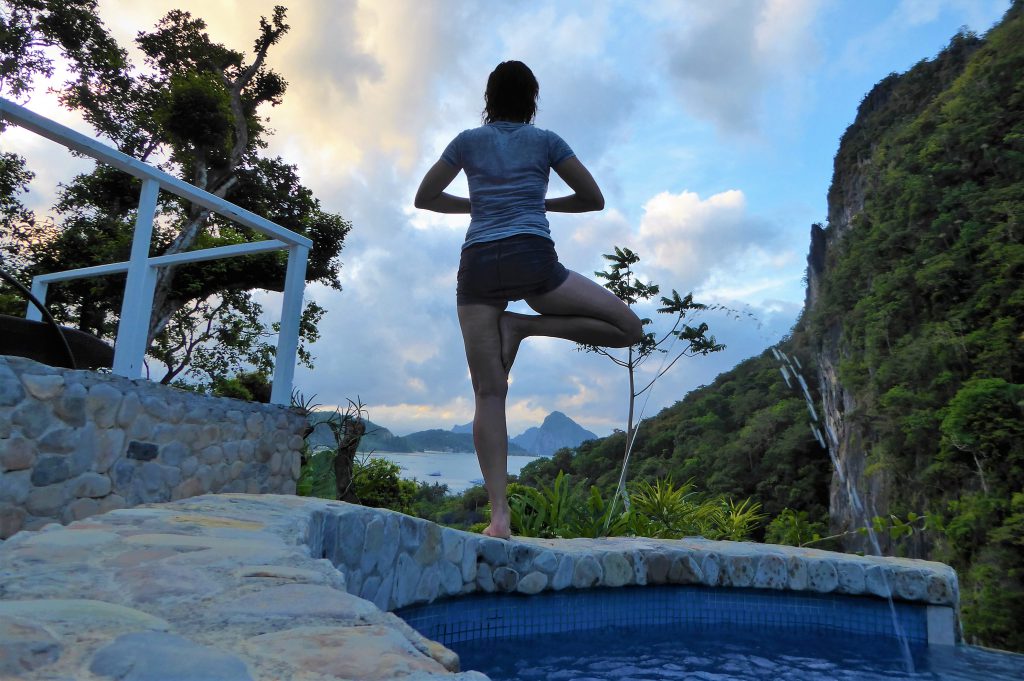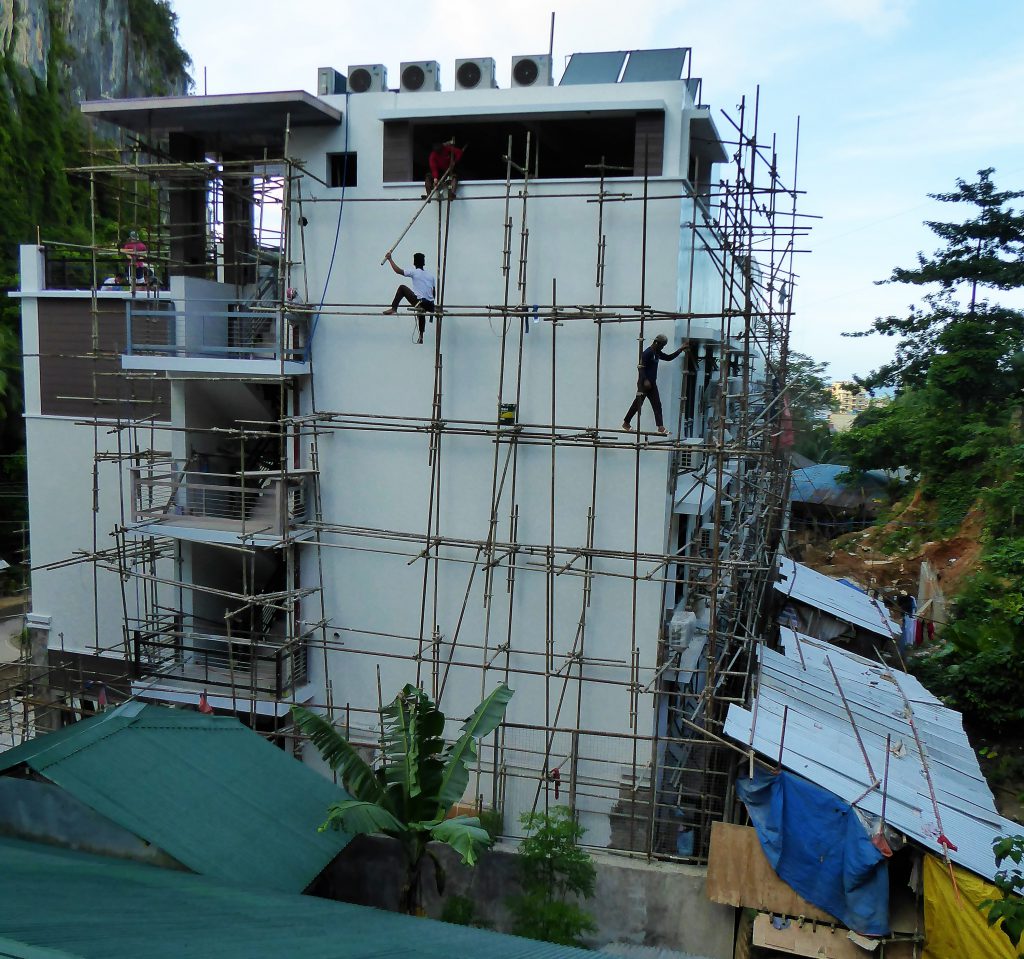 The higher your cottage is situated on the hill the more you pay ofcourse. You do need to climb for that view though 🙂 My first room wasn't that expensive (around 30 euro) and so my view was being blocked by the newly build hotel. But when I mentioned my blog and the fact that I would write a review for a great experience owner Samson rebooked my room to one of those great cottages for a night!!
Well…I do love to write about spots like these!!
All you can Wish @ Viewdeck Cottages El Nido
Viewdeck Cottages El Nido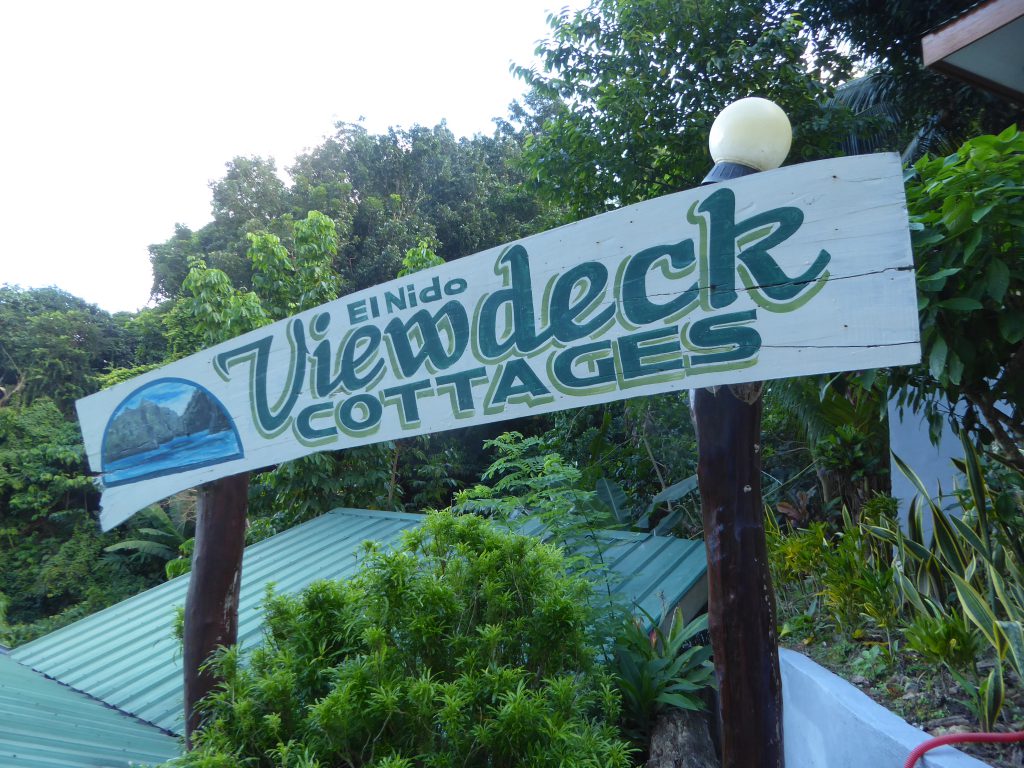 Viewdeck Cottages is situated just outside the busy centre of El Nido. It is calm & peacefull and there is lots of green and nature which I really loved. The busy centre is about a 10 minute walk with lots of restaurants to pick your dinner at. It is just one street down to the great bay and to soak your feet in the South China Sea.
When you walk to the opposite side you'll reach Corong Corong but you should take a tricycle. It took me about 10 minutes too and I paid around 30 pesos for it.
In between El Nido and Corong Corong is a huge mountain and right behind that one is Viewdeck Cotttages El Nido.
On the hill of Viewdeck Cottages is lots of nature!! Walking to your cottages you'll pass lots of plants and flowers. I felt like being in the jungle. In the morning you'll  hear all kinds of jungle sounds and you really feel like being part of nature! I really loved that about this place too.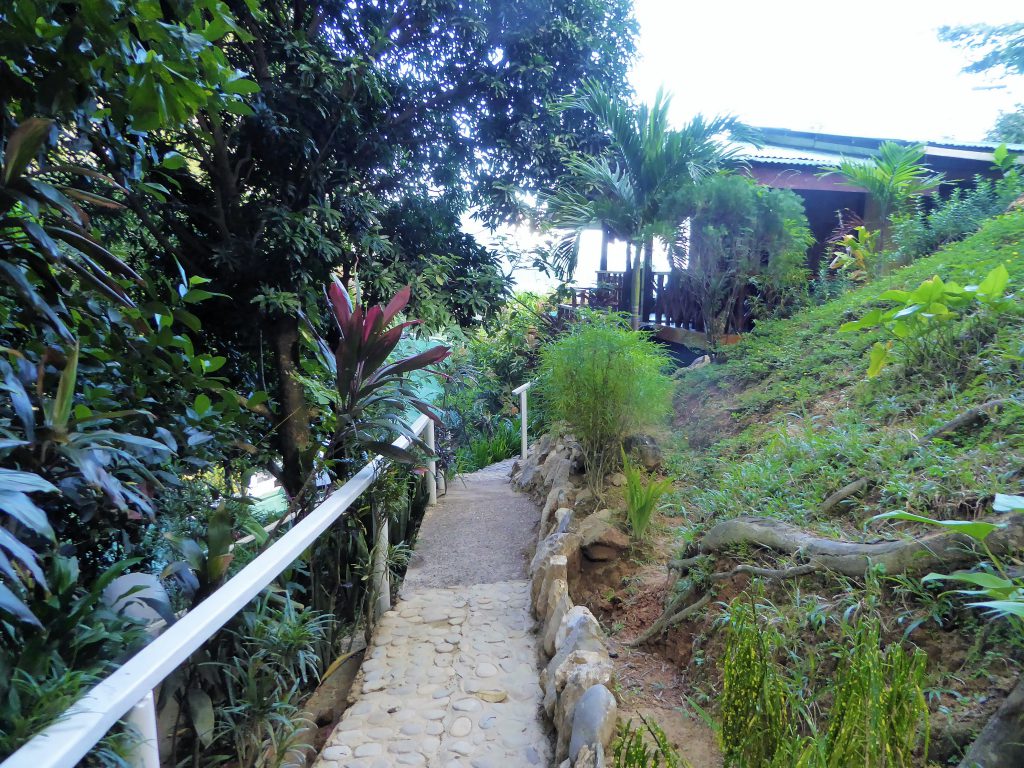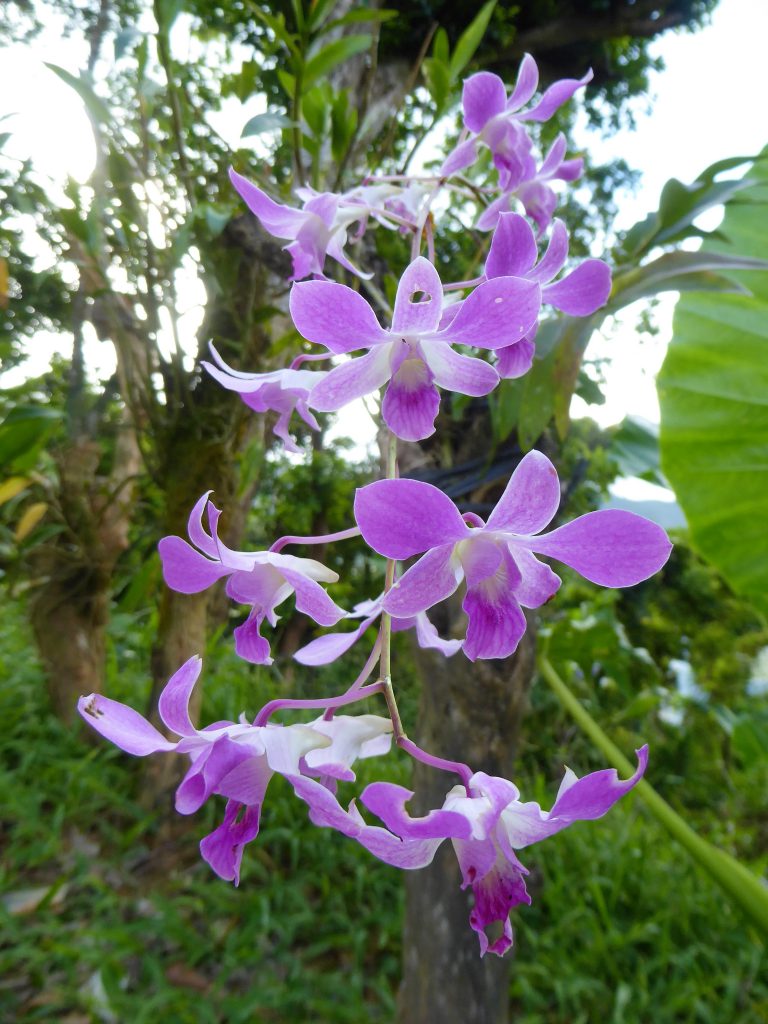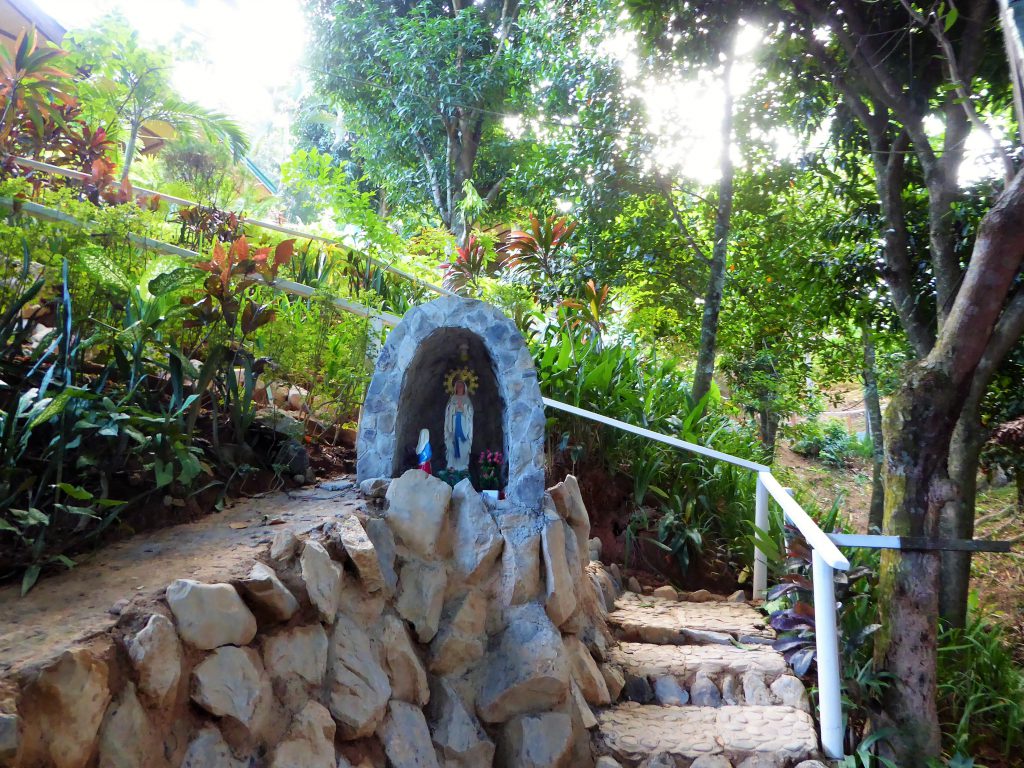 Views @ Viewdeck Cottages El Nido

I hear you thinking… behind a big mountain? How do you still have that great view?
Well… that is the part that's the best about this spot! They have views on both bays, El Nido and Corong Corong. I got cottage 3 and when I was sitting on my balcony of the cottage I had the view on El Nido  but the best view was on the bay of Corong Corong. When swimming or lying on my deck chair on my private terrace I was enjoying that great view! How do you like that??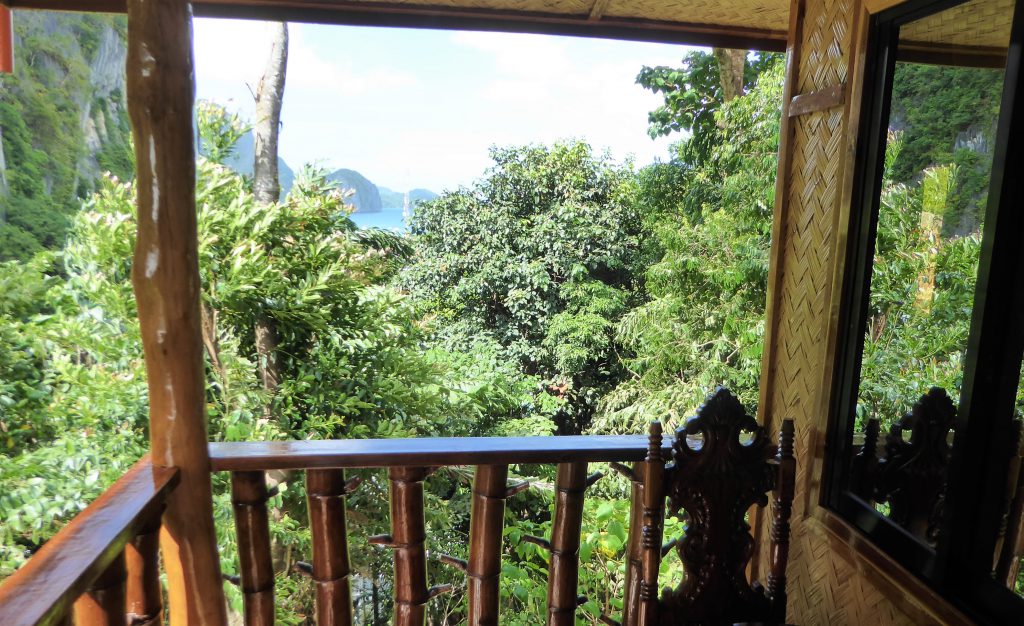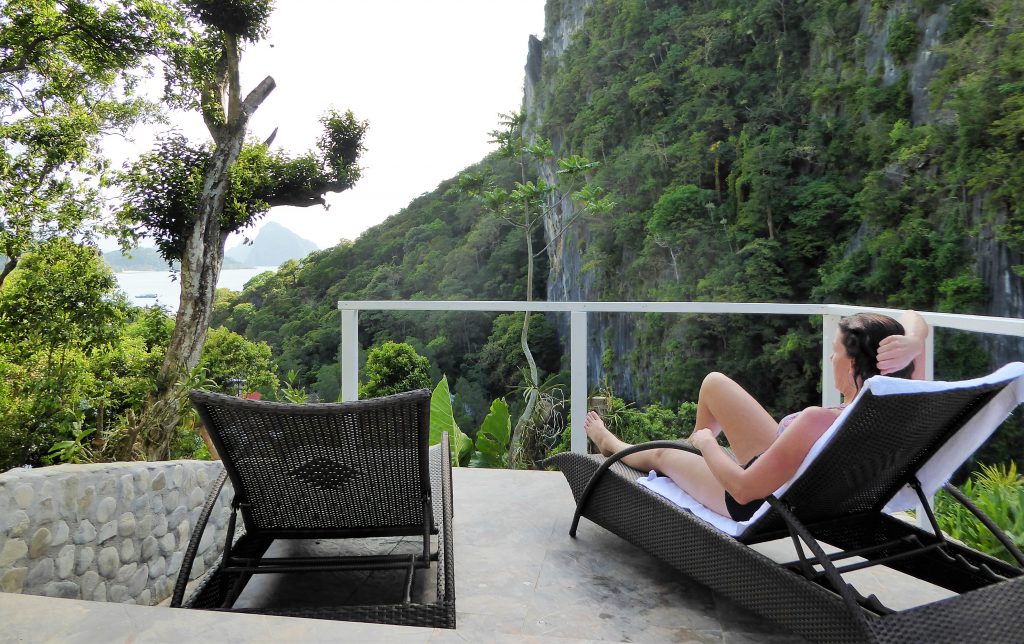 Cottage number 3
The cottage has all the luxury I could wish for. A great bed, a nice corner to sit down and what about this great view from my window on my private swimmingpool!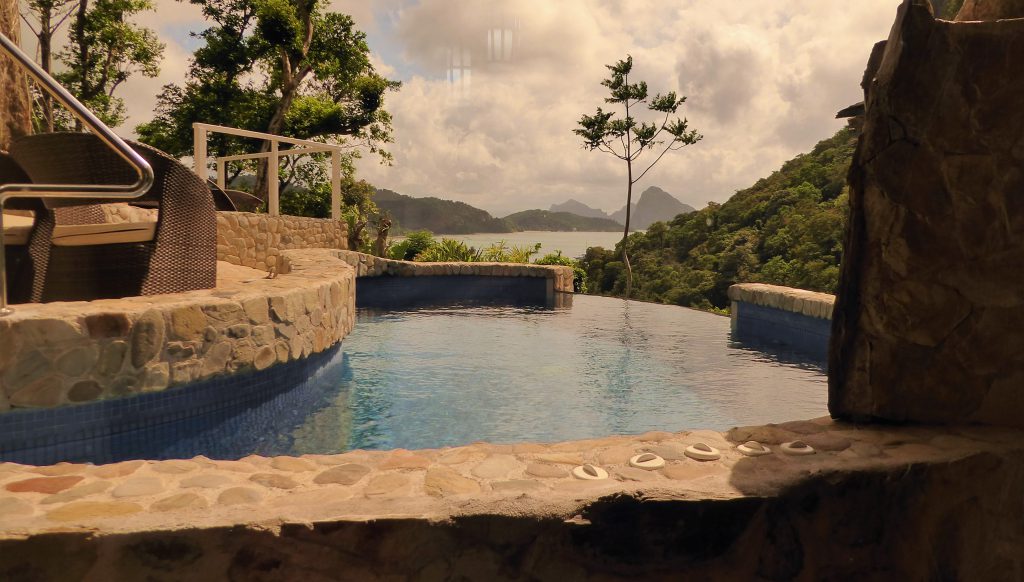 How about the bathroom that is just outside your room? I walked onto my balcony on the backside of my room and there was a door to the bathroom. I do liked that combination because of the airco working in the mainroom which I don't need in my bathroom. After taking a nice hot shower you can slowly work you way back into the fresh room! Taking a nice break to dry my hear and enjoying that view onto El Nido Bay on my balcony 🙂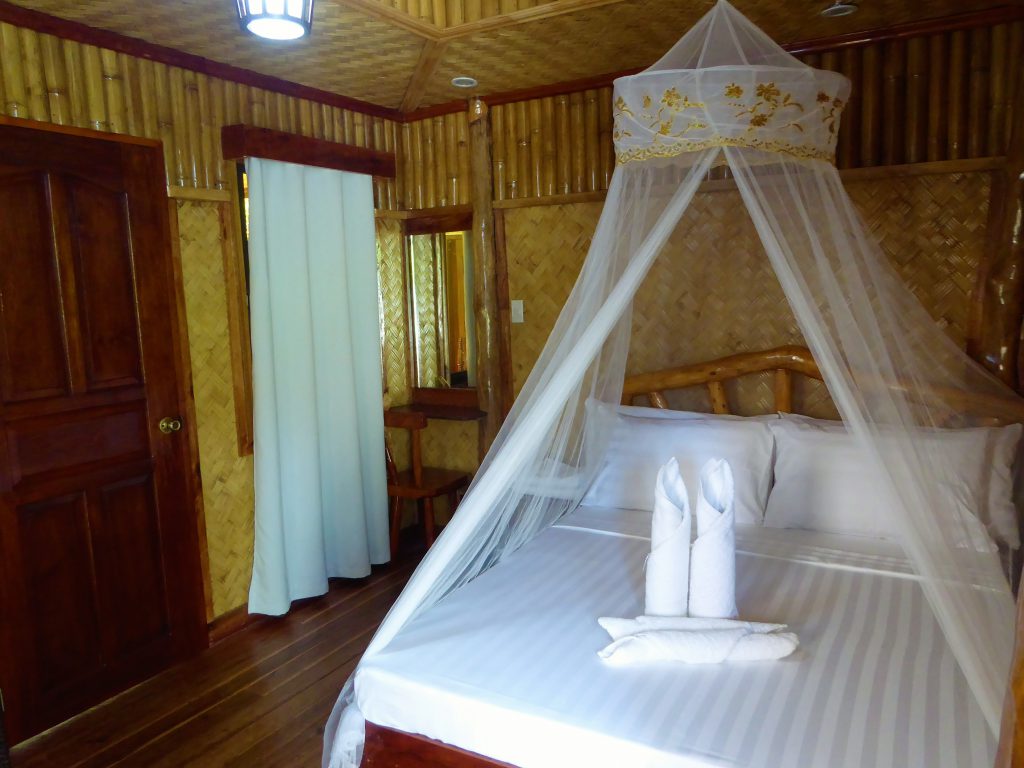 There is also a small place in the room where you can look into a mirror so you don't have to go back into the bathroom. So convenient… Just check your hair and make-up before leaving and ready to go out!!
  Your private swimmingpool @ Viewdeck Cottages El Nido

In the morning I had booked a diving trip and the afternoon I spend at my private swimmingpool!! I really loved the great view and enjoyed the water falling down on my shoulders. I just had the best afternoon! A swimmingpool is always a good idea when traveling but when you don't have to share it with someone else… How great is that? I could stand underneath that water as long as I wanted, nobody was waiting to give their shoulders a much needed massage too 🙂 I fully enjoyed my time in luxury!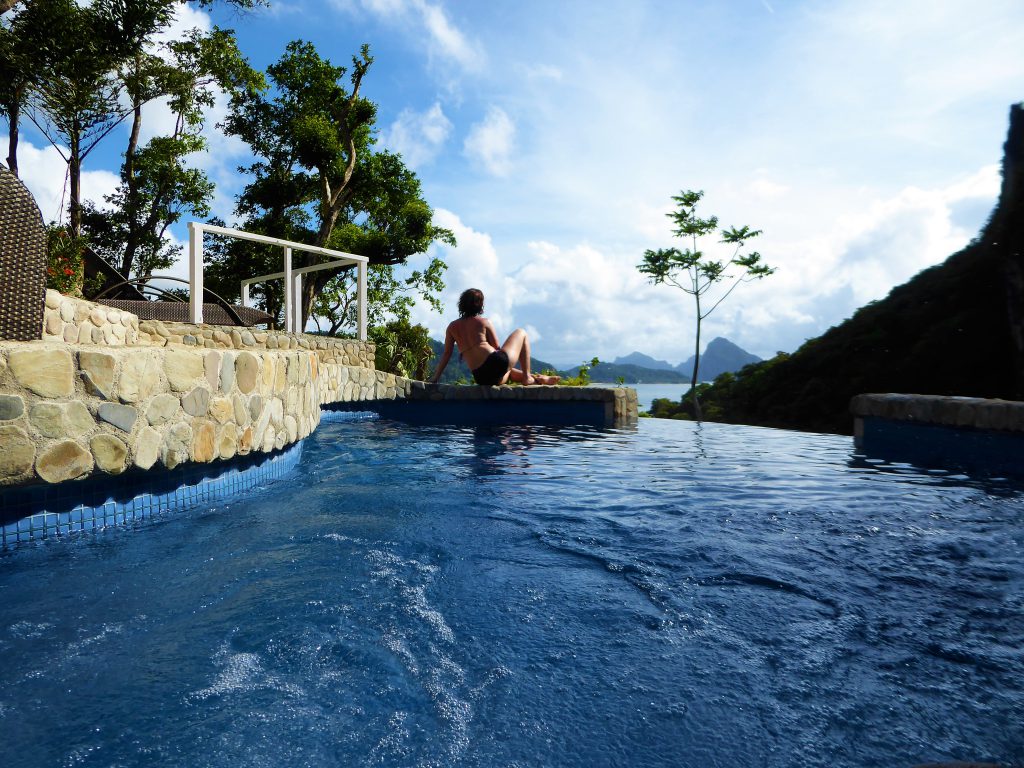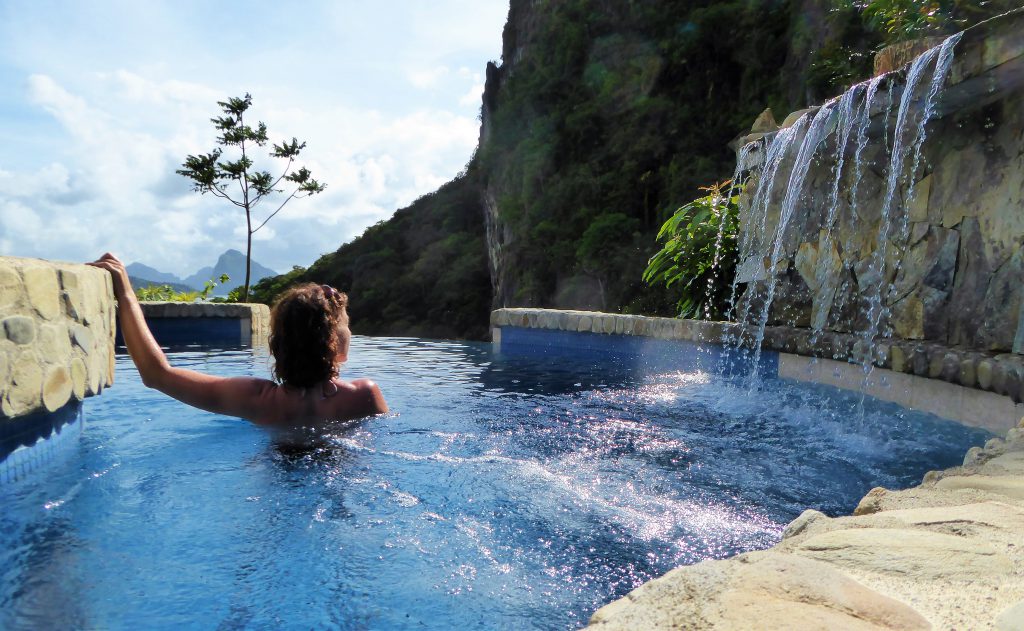 Isn't this a great swimminpool??
 Only for you to swim and enjoy!!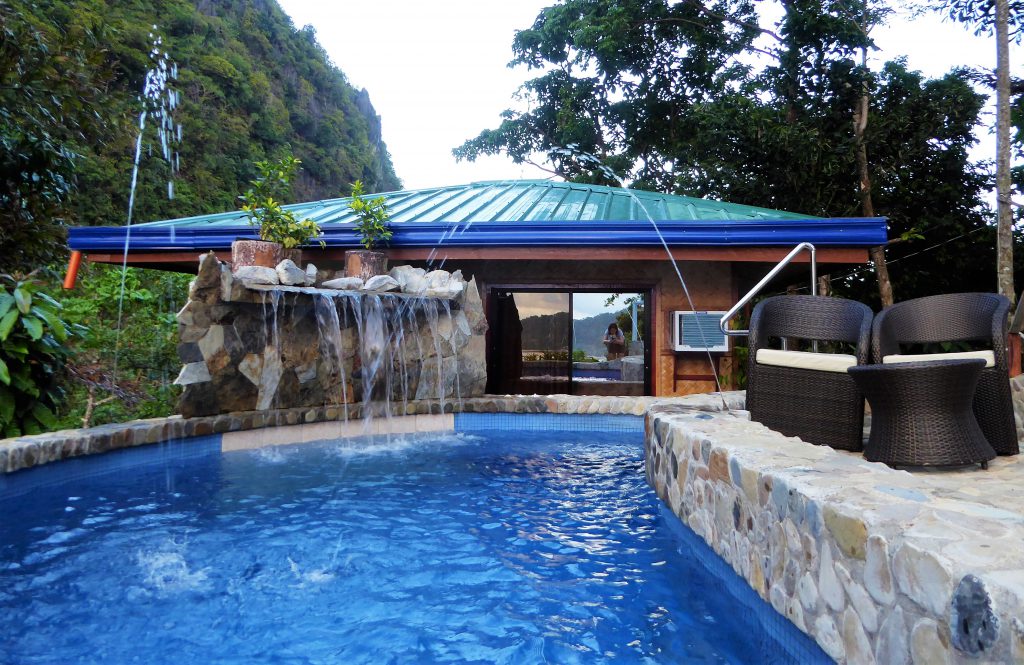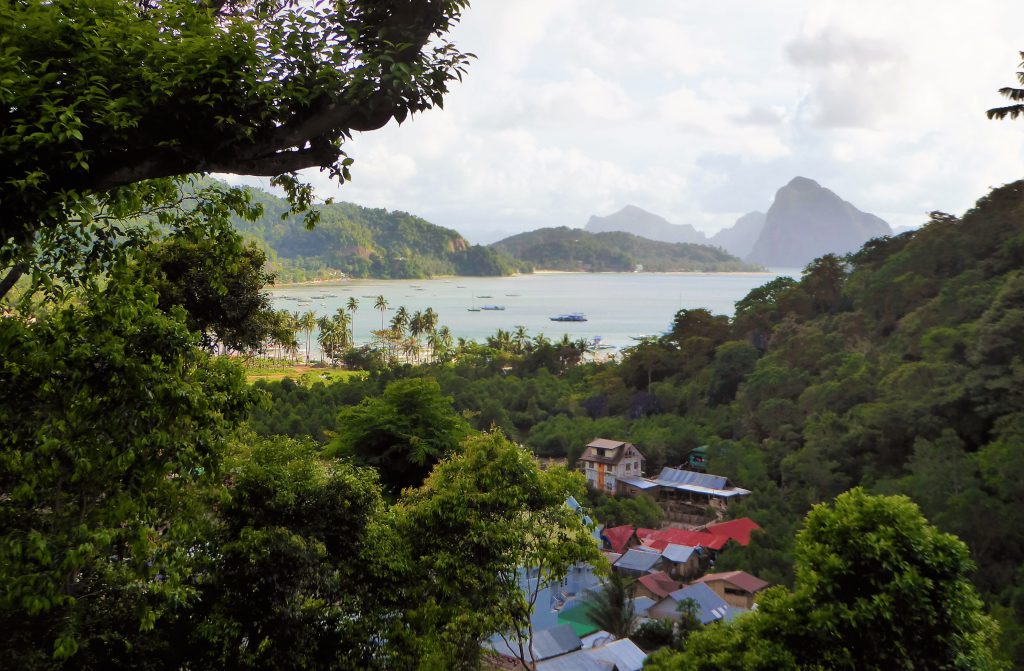 With the best view on Corong Corong bay
Viewdeck Cottages El Nido
And also a great private terrace with the best view ever!!
After swimming it was great relaxing on those lounging chairs they have on the viewingpoint that comes with this cottage. I fully enjoyed that view and loved the day that I spend at this cottage.
At moments like this I do feel like I'm the luckiest person on earth!! You always do things in life that makes you be at the point in life where you are… And this point is good!! I do like what I can do and what I did for it took energy and much effort… But yes!! It was worth it!!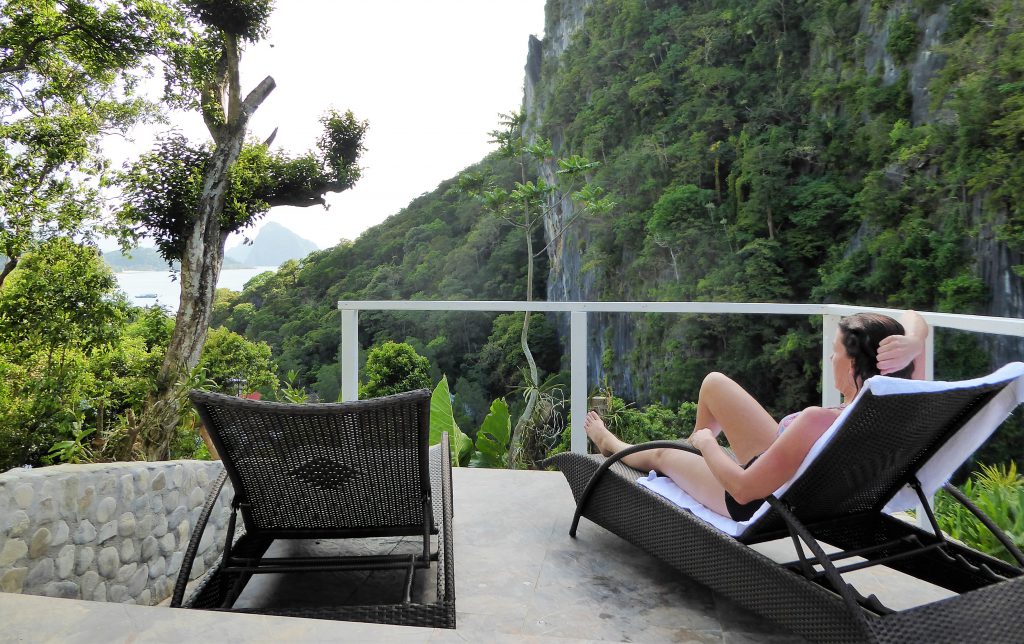 Breakfast @ Viewdeck Cottages El Nido

The breakfast is served in the restaurant. You have all kinds of choices like pancakes and eggs all kinds. The fresh bread they serve with the eggs is really fresh and tasted great! I also tasted the pancake and with some corn honey it tasted really good!! And they ofcourse serve both with some fresh fruit.
WiFi Viewdeck Cottages El Nido

The WiFi is not available on the entire hill. The rooms close to the reception and the restaurant has WiFi. Samson told me that he's working on getting the WiFi all over Viewdeck Cottages so maybe when you visit in the future you can Instagram your picture right from the private pool!!  I would have loved to work on my blog on that lounging chair with the best view ever!!
Booking daytrips @ Viewdeck Cottages El Nido

At the reception they offer you the island hopping trips you need to do when visiting El Nido. They are happy to help you and arrang your trip. You can choose, as you can everywhere in El Nido, tour A, B, C or D. They will pick you up the next day at the reception and everything is included for a day of fun and sightseeing in El Nido Bay!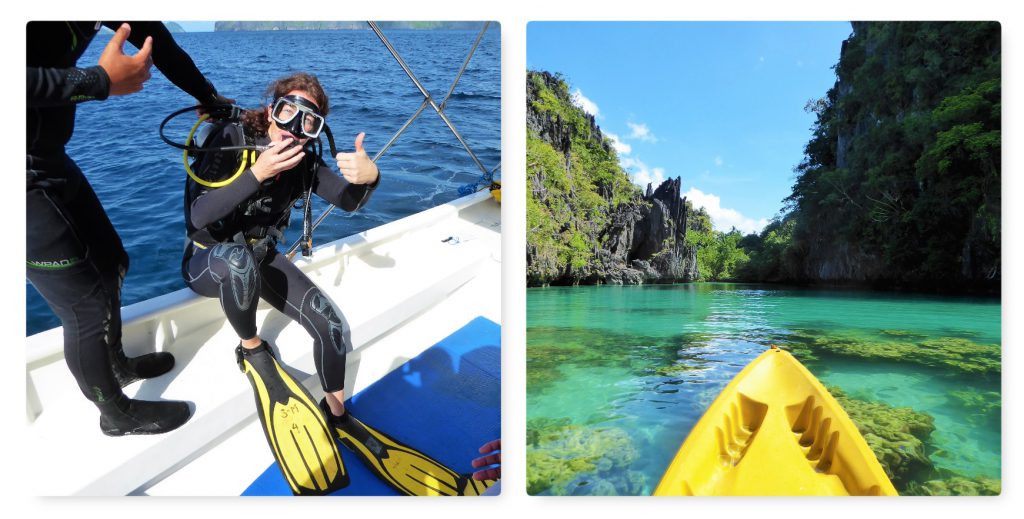 I booked a diving trip too. They had some connections they called and within the hour they had a place for me to join a diving group the next day. I booked a tricycle to the diving school in Corong Corong to fit my divingsuit. I had a wonderful day on the South China Sea and took 2 great dives.
Other rooms @ Viewdeck Cottages El Nido

As I mentioned before… My first night was not in a cottagge. I had the room next to the reception, nr 11. The room was clean, neat and had everything I needed.  Look at that bed! Isn't that a great one? The bathroom was small but everything I needed. I did have great WiFi which I really like!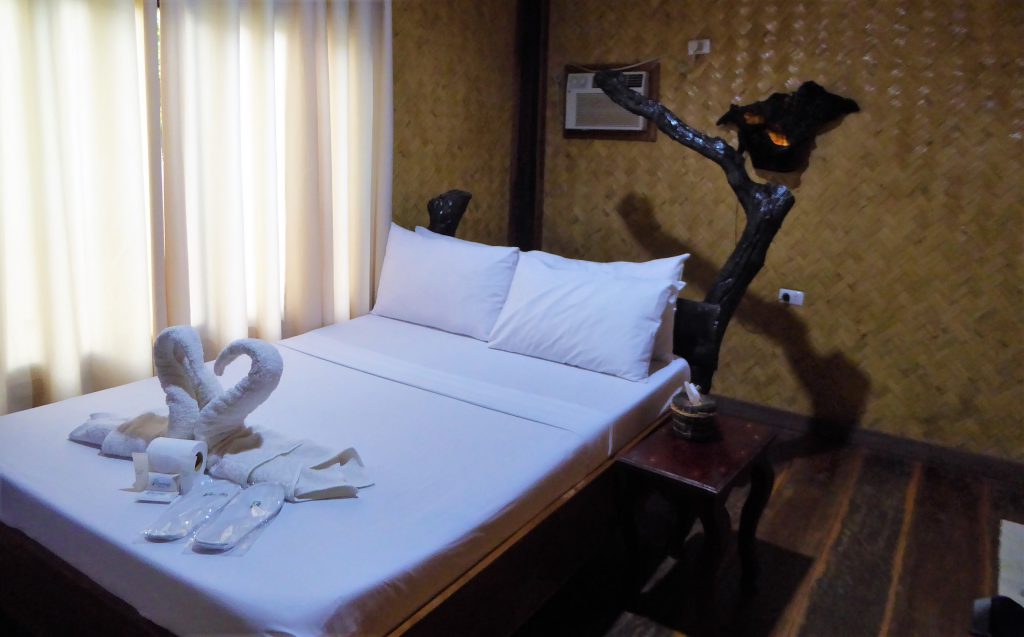 I also had a small balcony next to my door. When they were not building that hotel you had a great view on the bay from here as well.  Now you are in between hotels. When it's starting to get dark I heard the Tokeh. It was at my balcony… I started to look for it and did find it 🙂 There is this superstition that when you have a tokeh near or in your house it will protect you and your family.. Or was it that the tokeh had to make his sound for 7 times? I don't know but I really liked the sight of it! Isn't it a great and colourful animal?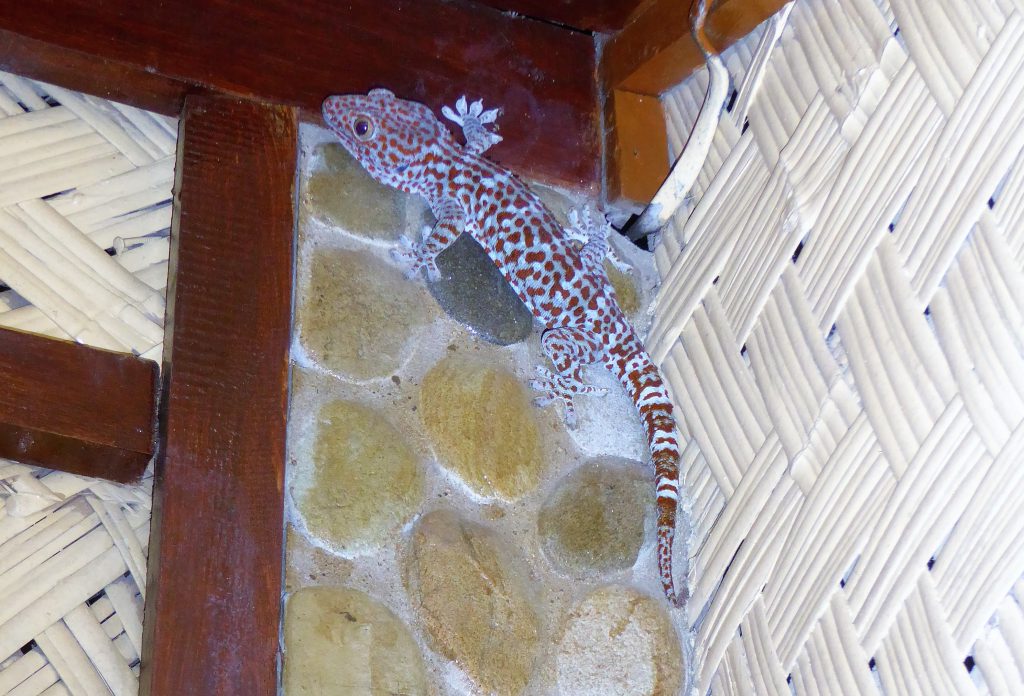 Well there are a lot of cottages in between the room at the reception and all the way on the top and having a private pool. As you see you can see the bay from over the newly build hotel when using these cottages. You don't have a swimmingpool but you have a cool terrace to sit in the evening and enjoy the sunset and that great view at the bay of El Nido!!
All you can Wish @ Viewdeck Cottages El Nido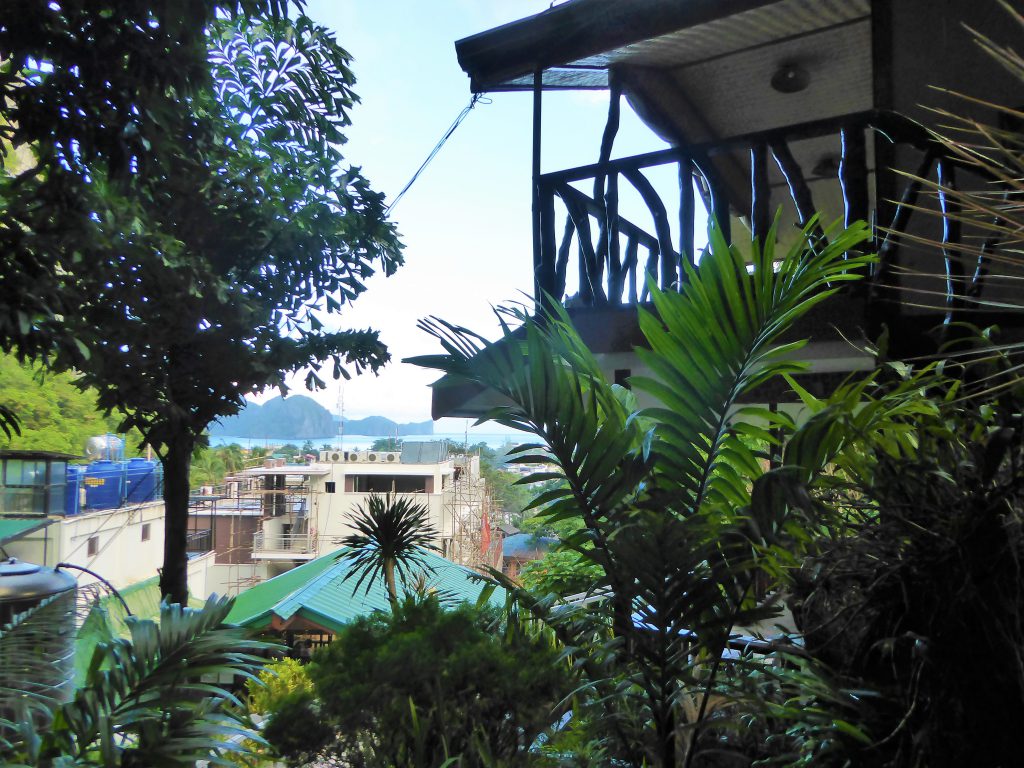 I think it is a must visit when you go to El Nido. You can go and get a hotel or hostel in the busy centre of El Nido ofcourse if you don't want to walk for 10 minutes to get to the bay. The other side is the noise and all the hustle in the streets right outside your door. At viewdeck cottage El Nido you can walk around and feel like your deeep in nature and really get your energy back as it should when you are on a holiday!!
Check this clip which I took when I was in Viewdeck Cottage enjoying my morning. Also a walk through my cottage!! Unfortunately I didn't make it in English…but you'll get the picture 😉
Wouldn't you love to stay in a cottage like this too?
Check the website of Viewdeck Cottages for info!
If you like this spot as much as I did safe and share it!!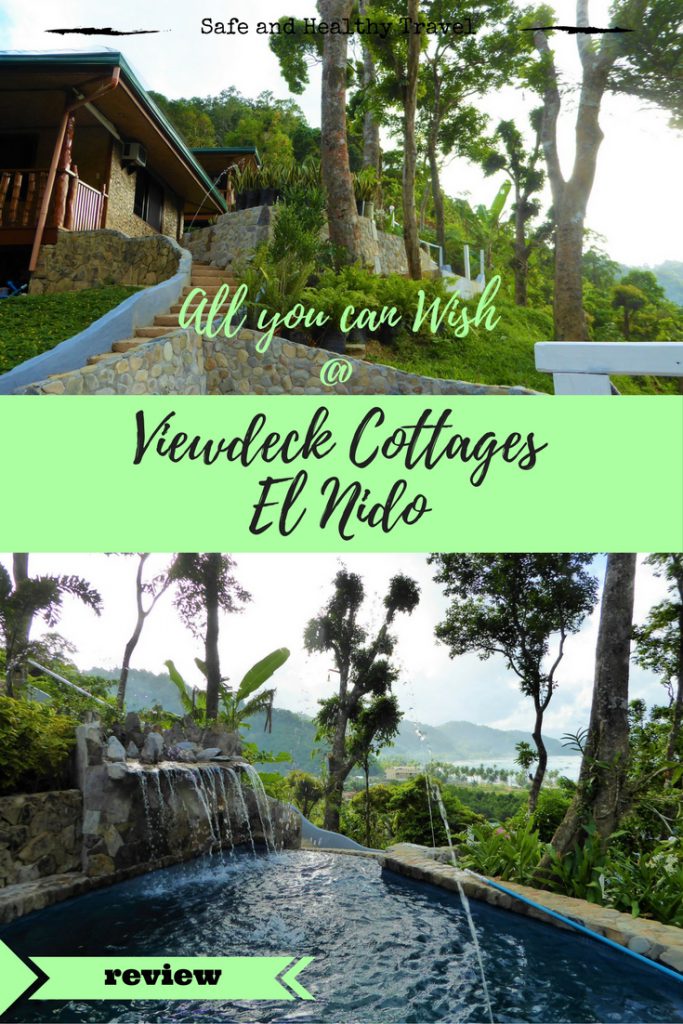 Or would you like to read some of my other travels?
Walking in Colourful Trinidad – Cuba
Floating in the Dead Sea – Israel
Sunrise at the Taj Mahal – Agra, India
Or would you like to read about my time as a Pilgrim on the Camino?
I hope you like this world as much as I do!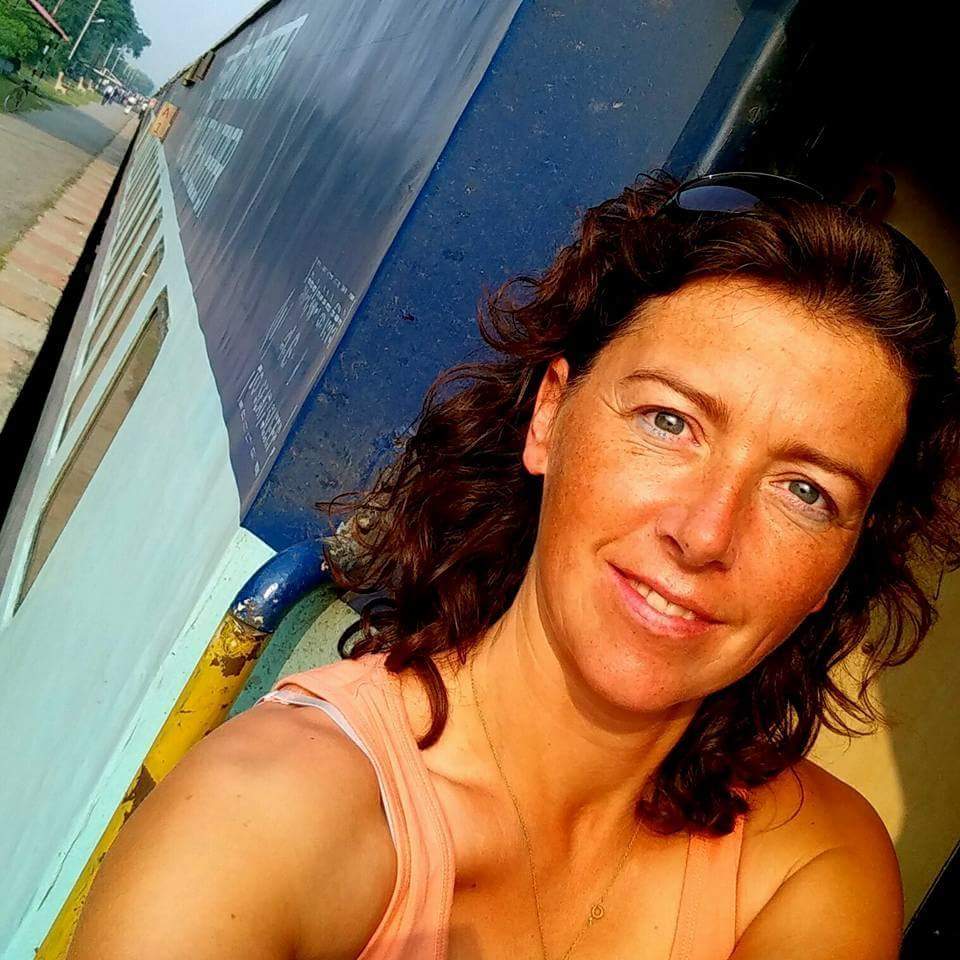 Jacomijn is een politieagent uit Nederland die jou graag laat zien hoe je veilig, actief en gezond de wereld kan over reizen. Safe and Healthy travel is a MUST