Best Pizza Ever!! L'Antica Pizzeria Da Michele in Napoli
|
They always told me that you could eat the best pizza in Napoli.
So when I went to Napoli this year I was eager to find that out.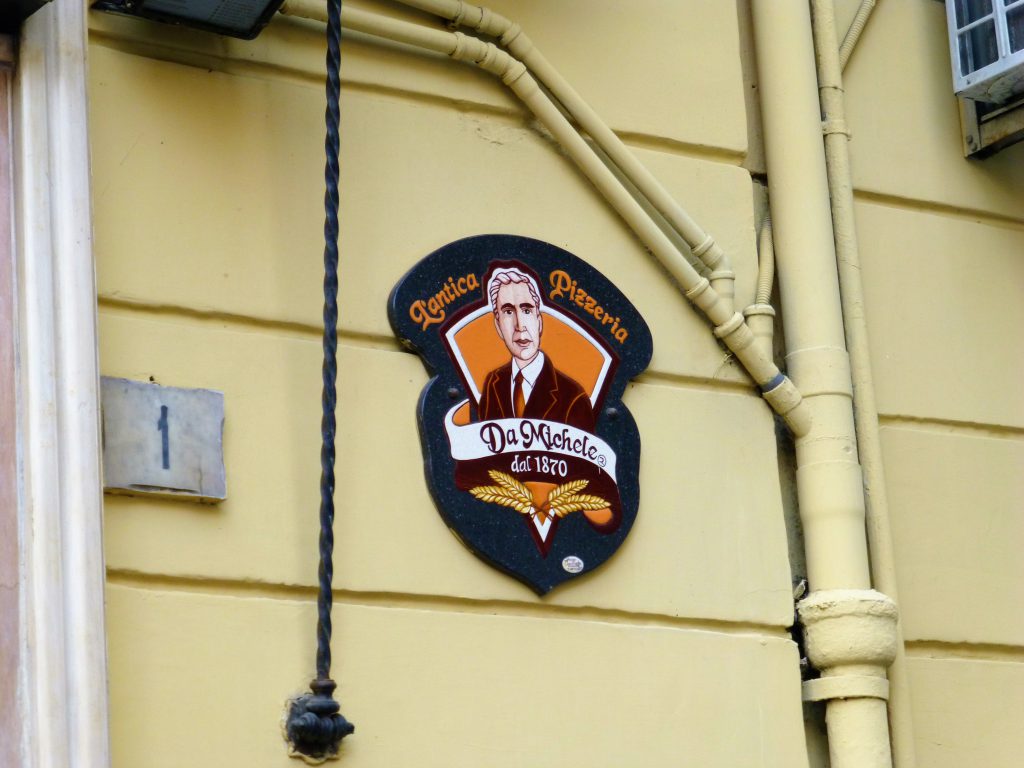 The second day I was there I took the Hop on Hop off bus and met a couple from Australia. They told me about a place where I really should go and eat the best pizza of Napoli. They had read about it in the Lonely Planet. It would be a small restaurant and very busy but really worth the wait.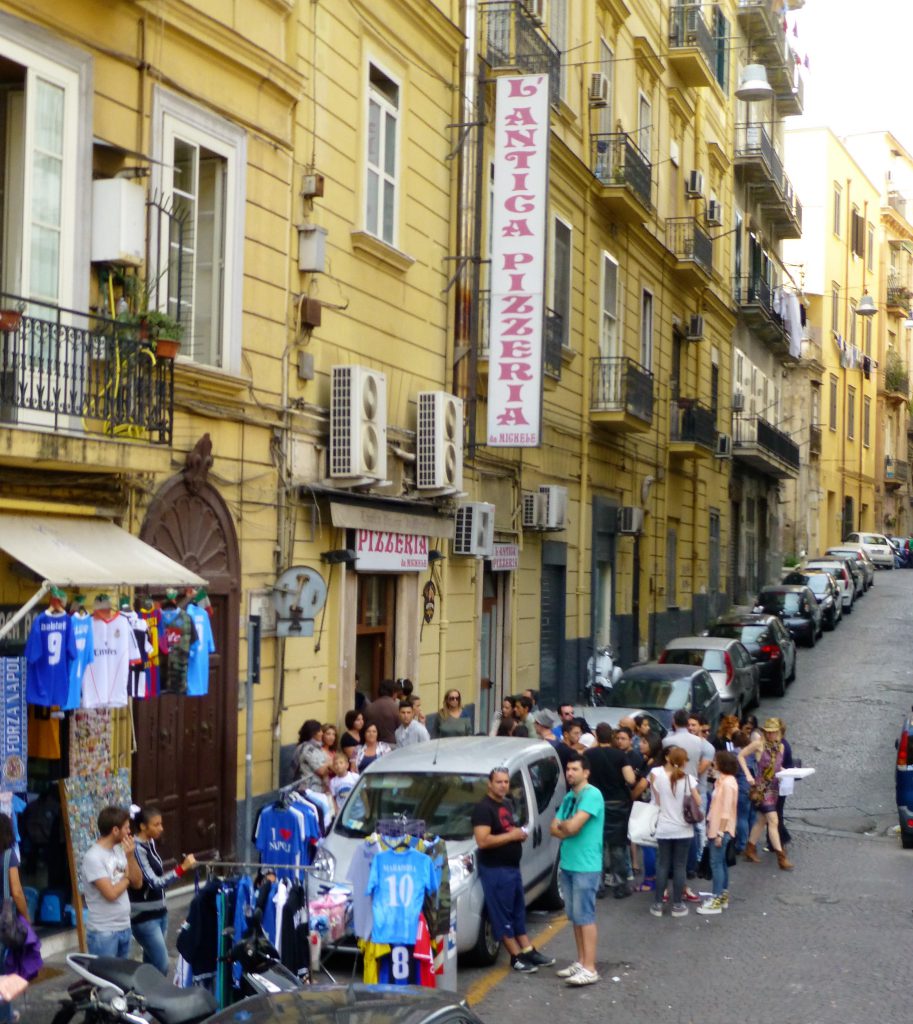 Line seen from the bus in front of restaurant
That same afternoon all of a sudden we saw in a small street lots of people standing before a shop. They stood in line for a door of a small restaurant. When I looked better I saw a big sign above them: L'Antica Pizzeria Da Michele.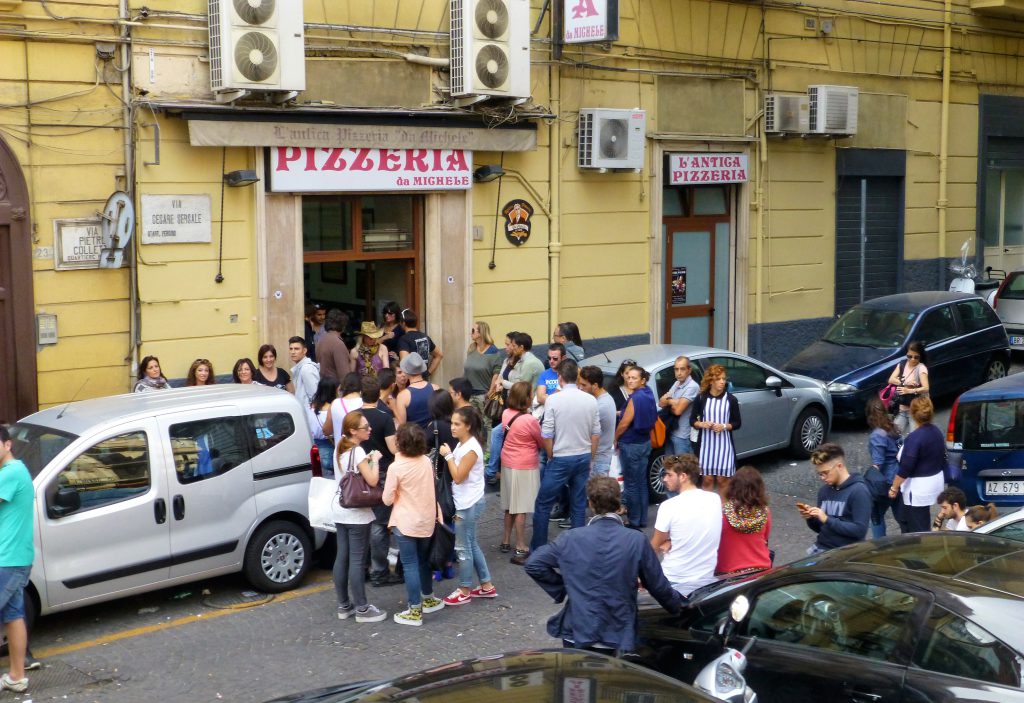 Waiting in line for that great Pizza
This was the pizzeria the couple told me about.
I remembered the street and after two more stops we were at the end/beginning of the Hop on Hop off busroute and I got out. I immediatly walked back, I did felt like eating a pizza after riding the bus for a couple of hours. I did two of the three tours, so I saw a big part of the city that day.
When I got there the line in front of the restaurant was as big as before. And I got in line too. I heard people talking and figured out that when I wanted to sit inside it took about an hour but when you ordered take away you'd have a pizza within 10 minutes. So ofcourse I took the takeaway. I was hungry…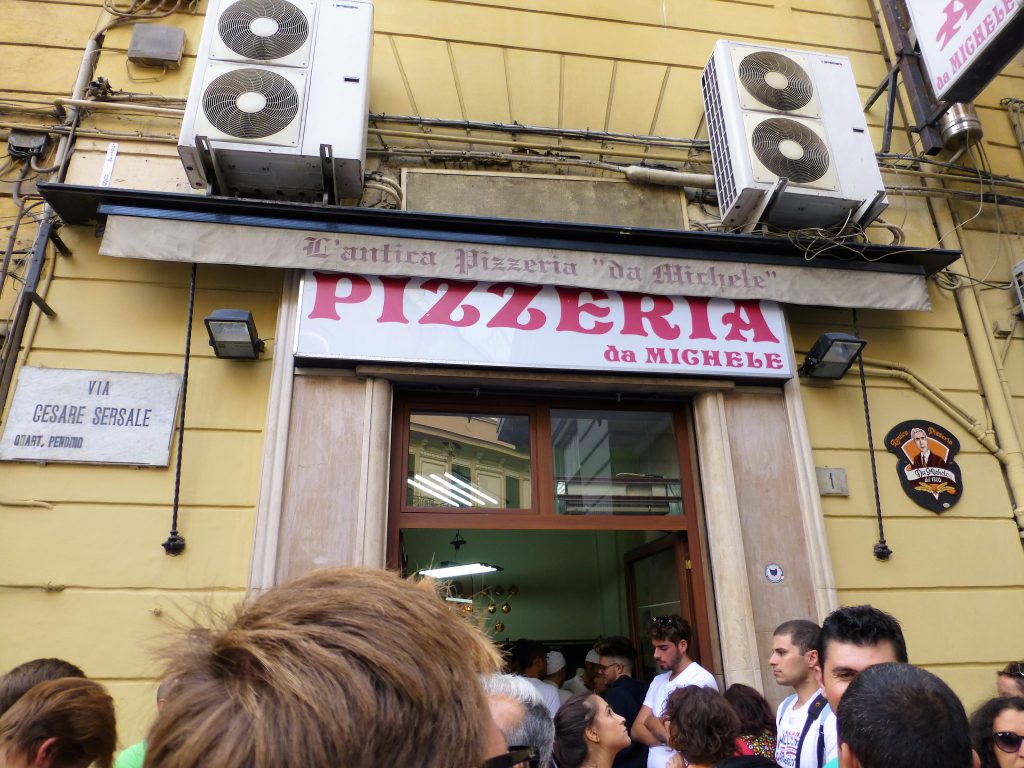 So I went through the waitingline, ordered my pizza and said that I would take it with me. I had the choice to take a Marinara or a Margherita. They only serve two kinds of pizza, you can choose size and extra cheese. I took the Marinara because I thought the margherita was to simple 🙂
They told me I could stand inside if I wanted while I was waiting, that is what I did.
Inside I saw a simple restaurant, many tables and chairs, all taken. It was a white painted room. On the wall I saw many old pictures from the history and the family of Da Michele. In the back they were working hard. I saw a big oven and next to it I saw lots of wood. It was a plain, simple kitchen but clean and everything they needed was available in that small area.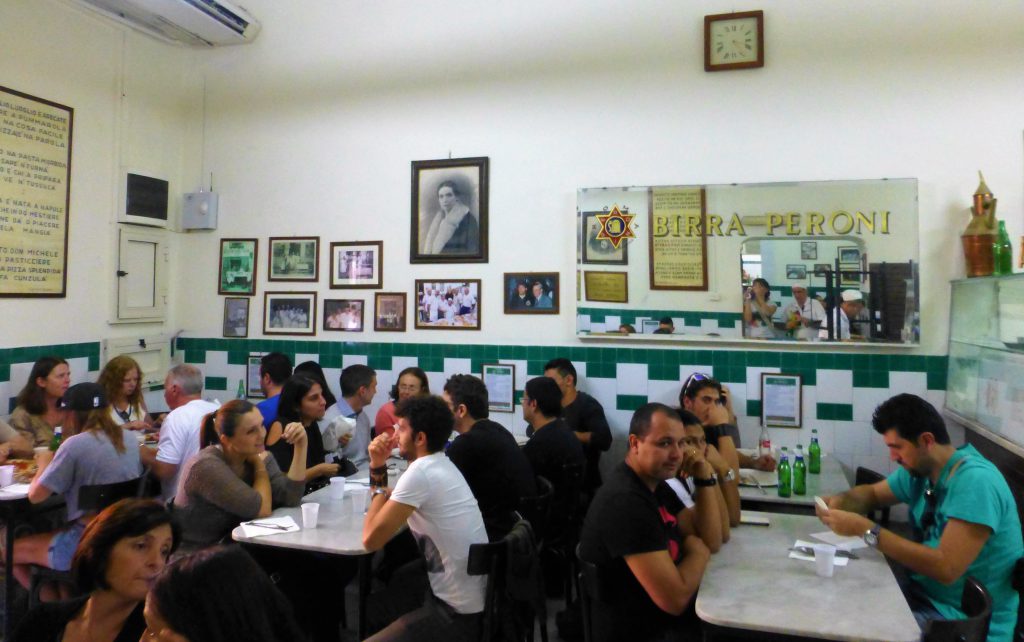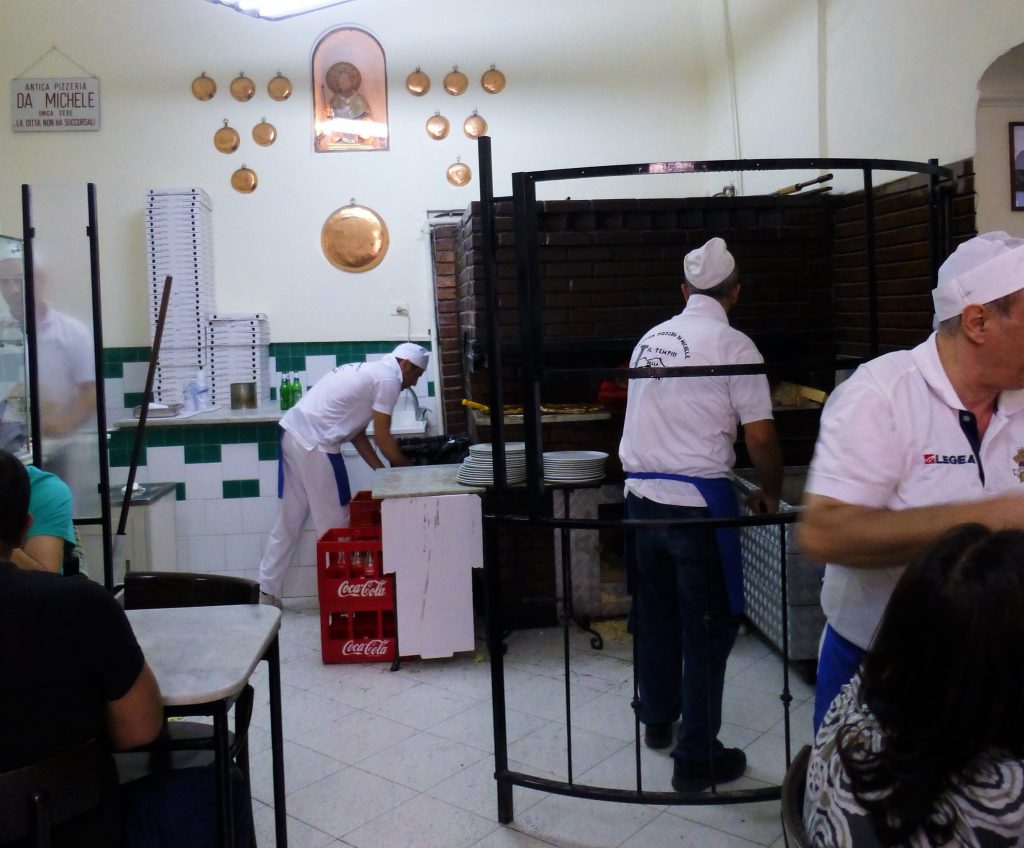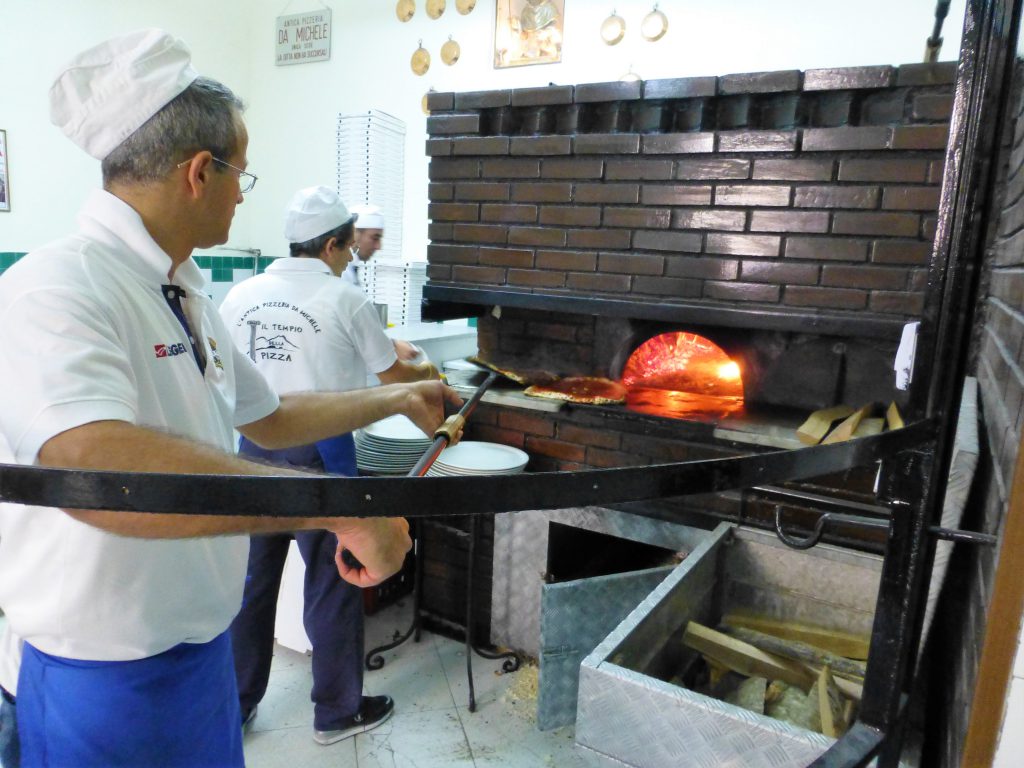 Next to the counter I saw a sign with the price list. I saw that they also listed on there the ingredients for the pizza. So it is not a secret how they make this best pizza! I think that is great, no secret ingredients. Maybe I will try to make it once at home. But you know…it'll always taste better at the place of origin.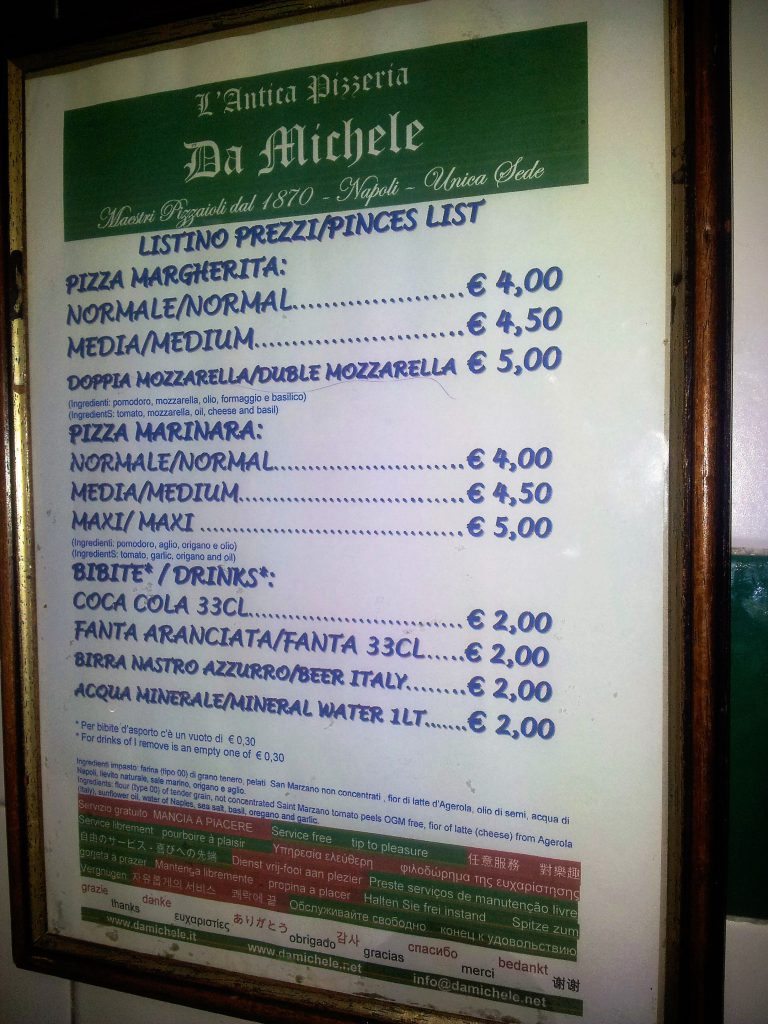 Pricelist with ingredients
I saw a second room and even a third room with tables. So there is more room inside which is not visible from the outside. I thought is was just that first room 🙂  In there you could place 20-25 persons. But with those other rooms with it, you could easily triple it.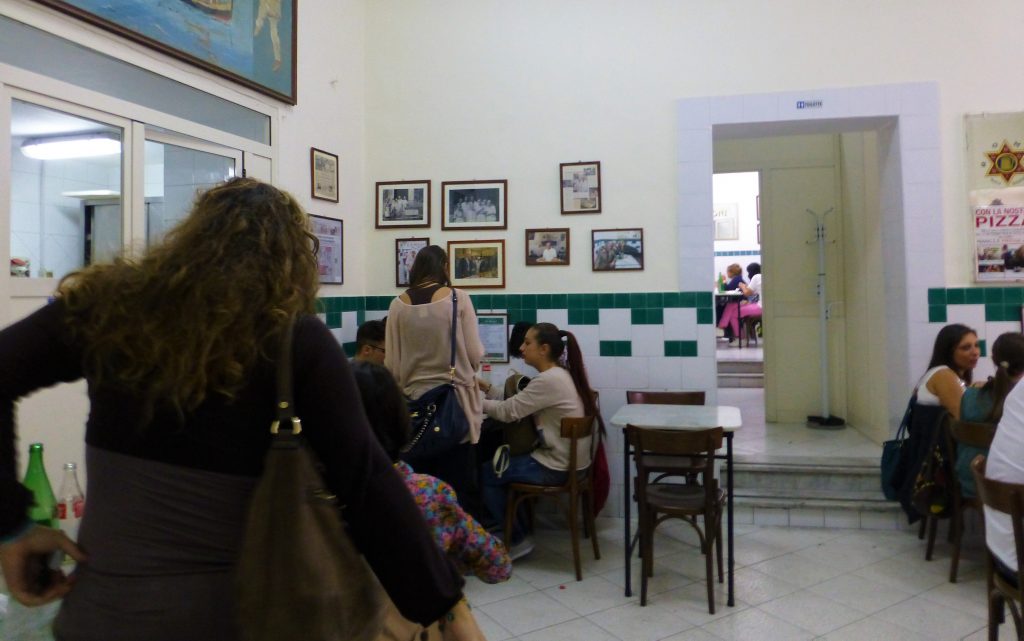 Second and third room in the back
Taking some pictures and before I knew it my pizza was ready and I could step out and find a space where I could eat my pizza. I was very curious about it and I stepped out of the restaurant and I set down on the sidewalk on the other side of the street. It was in front of another restaurant, imbarrising for that place… But I think they are used to it 🙂 I wasn't alone in doing it like that, when I entered I saw people sitting in the street and eating their pizza.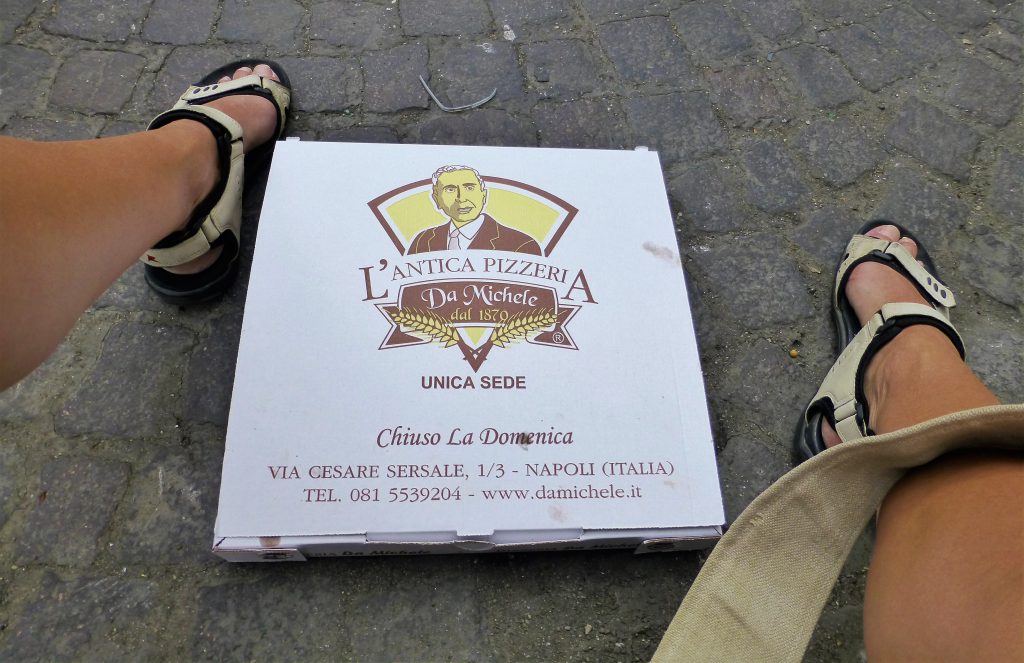 Eating my pizza on the sidewalk just outside the restaurant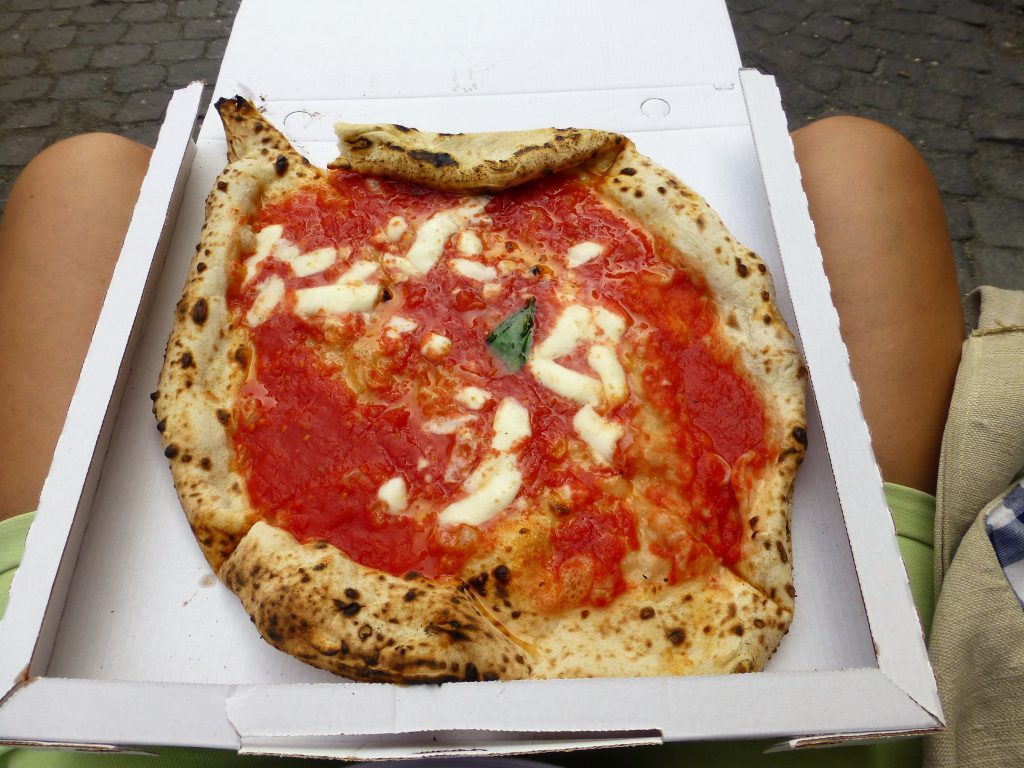 The Marinara, it was delicious!!
I started to eat, the pizza was great!! The crust of the pizza was great! It was some kind of solid bread with a flavour I had never tasted before. I really liked it. The tomato sauce and cheese was also great. It looked so simple and tasted so good!!
I can honestly say that it was the best pizza I had ever tasted!!!
The last day I was in Napoli I went to L'Antica Pizzeria Da Michele again. This time I went around 19.00 hours I knew, at this point, when it was lunch and diner time in Napoli, so around 15.00 hours and 21.00 hours there is a line in front of the restaurant.
And that was right, I came there and could go right in and had a seat in the first room so I could see them working on the pizza's. When I got mine, this time I did order the Margeritha, I asked the waiter/baker of the pizza to take a picture of me. He gladly did and put the sign of the shop on the picture too 🙂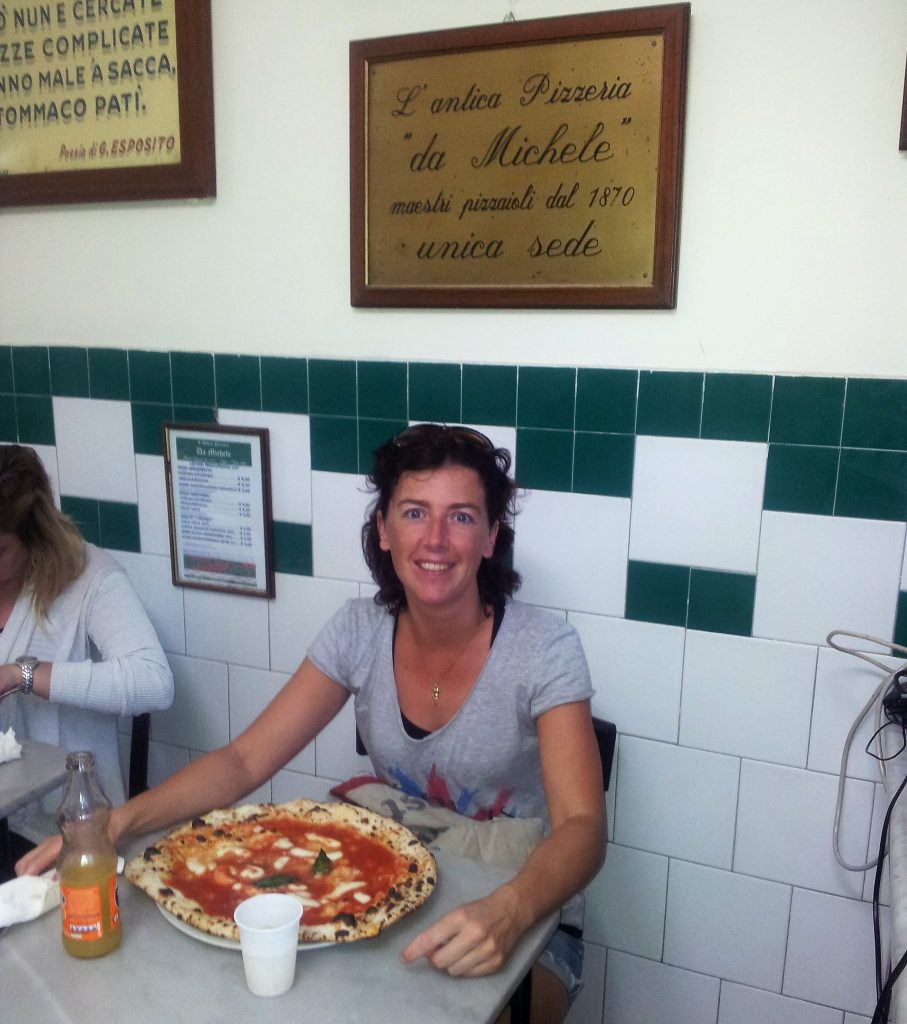 Last day in Napoli, again to L'Antica Pizzeria Da Michele 🙂
My advice?
When you go to Napoli you really have to try a pizza from this restaurant!!
The ingredients, seen on the pricelist, for this best pizza ever are:

Flower (type 00) of tender grain

Not concentrated Saint Marzano tomato peels OGM free

Fior of latte (cheese)  from Agerola (Italy)

Sunflower oil

Water of Naples

Sea salt

Basil

Oregano

Garlic
Want to see more about my Italy travels?
Cycling just outside of Rome – Exploring Bracciano and Martignano lake
Climbing the Vesuvius – Napoli
Or can I inspire you to go sail in The Netherlands?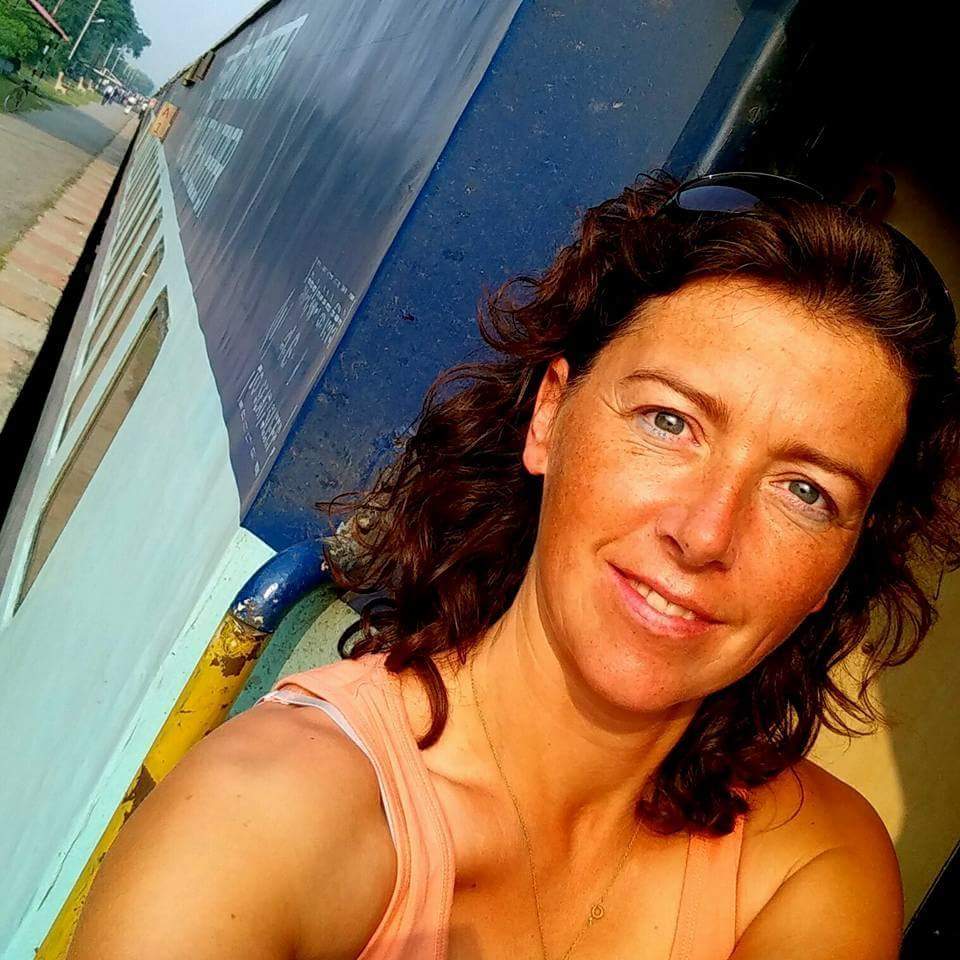 Jacomijn is a police officer from The Netherlands who loves to show you how to travel the world Safe, Healthy and Active!! Safe and Healthy Travel is a MUST!