Daytrip on Bohol, The Philippines
|
The Phillipines is a great holiday destination. You can dive in the divine blue sea and enjoy the sun, sea and beach but it's also full of history. I really love that combination and so I went to the city of Cebu to see some history and nature after a couple of days relaxing and diving in Malapascua.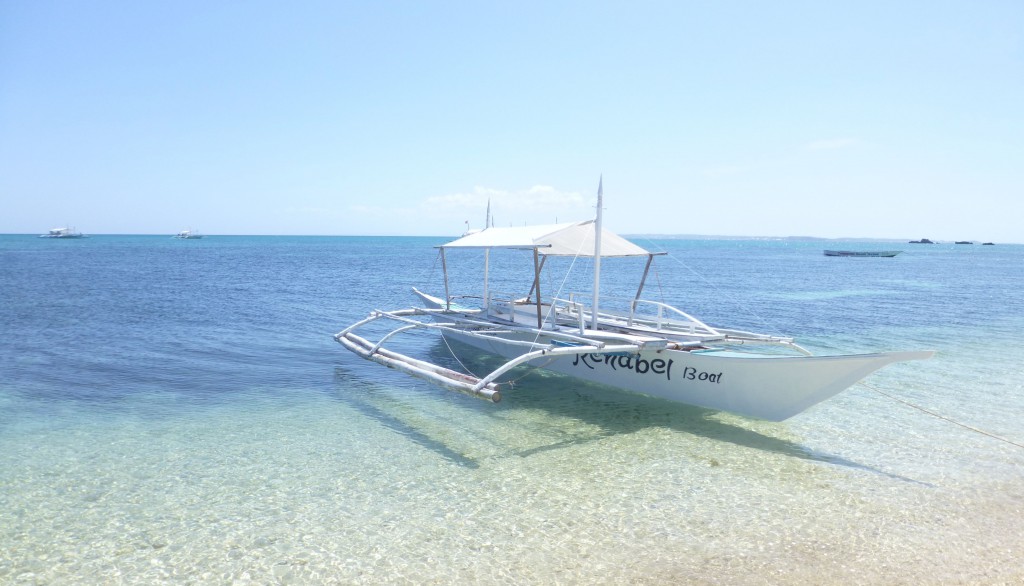 Daytrip on Bohol, The Philippines
From Cebu City I went to the Island of Bohol with the ferry. Bohol is a small island and it's great for a daytrip. The island has almost 200 km white beach and has a lot to offer like jungle, ricepaddies and coconut palms, surrounded by mangroves and pearlwhite beaches.
When you should ask a Philippino what they would say as their greatest island, they would say Bohol. 
 I got  the ferry early morning because it took almost  3 hours to get to the island. If you want a whole day on the island it's necesary to take the first one. On the boat I did closed my eyes for an hour or two 🙂
 The Tarsier Monkey – Bohol
When we got to the island I saw several guides standing on the parking lot to offer trips to all the tourist from the  ferry. I didn't see a group where I wanted to share with, most of them were young and in a big group. So I booked my own trip with a guide and we went off. The first stop was at a forest with the Tarsier monkey in Corella.
It's a really small monkey with a strange appearance, they also call it ghostmonkeys. I can imagines how they came up with that name. It has big eyes and has long boney fingers 🙂
The Tarsier monkey is mostly awake during the night and so has big round eyes in its small head. After paying an entrance fee I was escorted by members to the several huts in the area. They made those little huts for the Tarsier monkey, and most of them were occupied.They were sleeping in there. What a strange little animal!!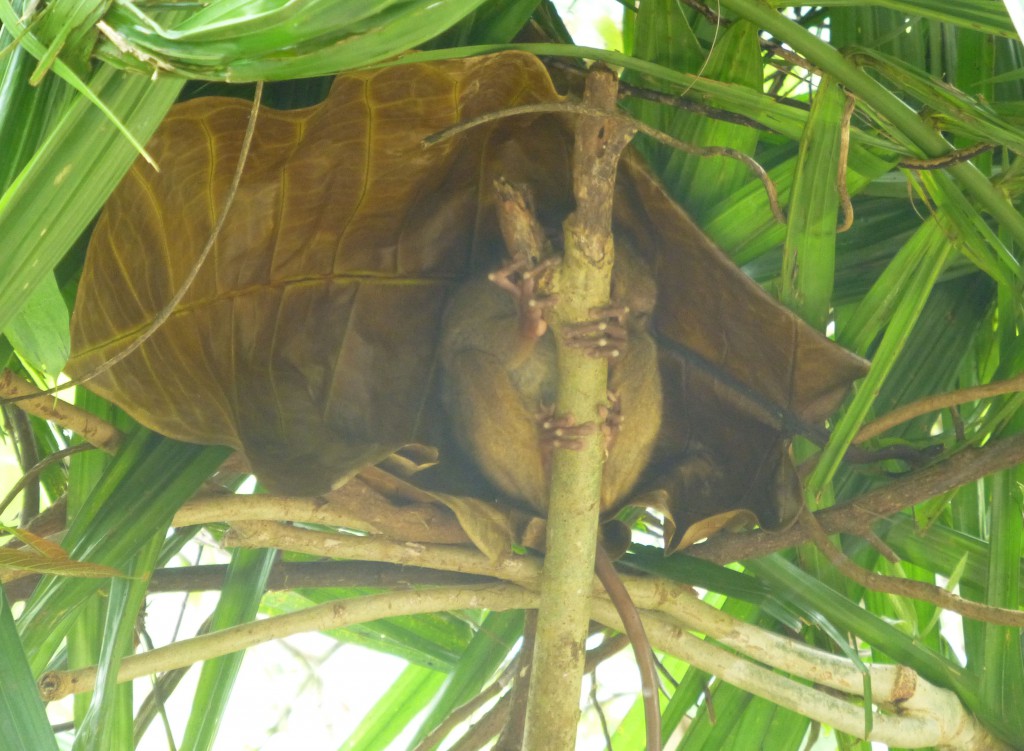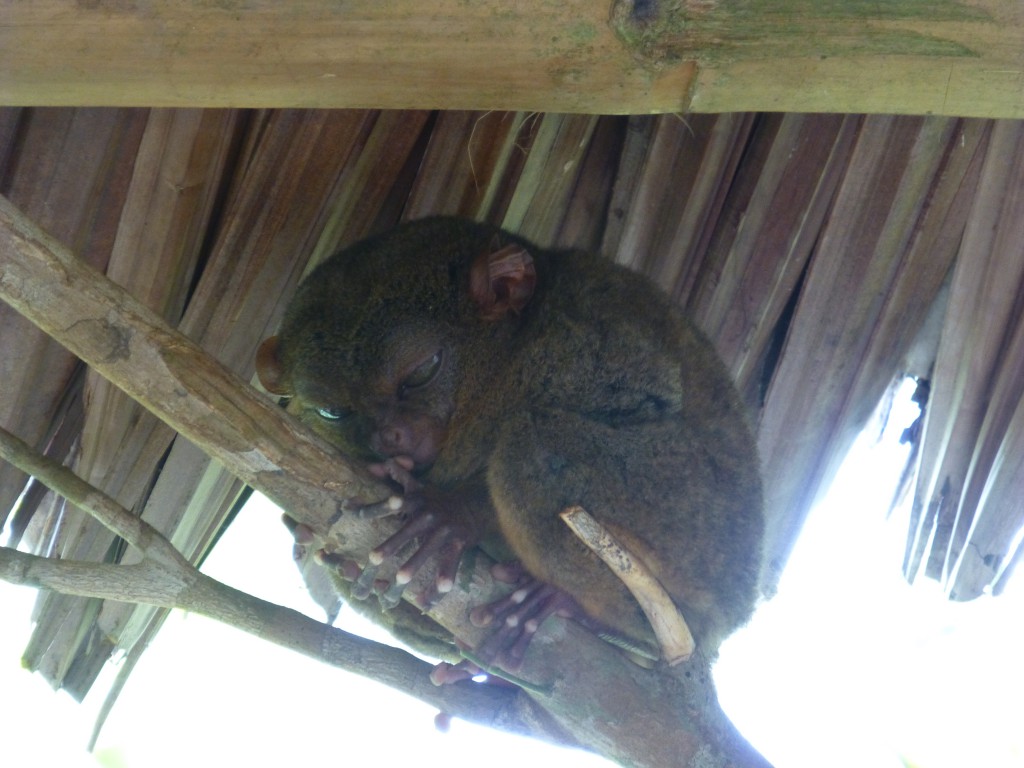 After this visit we went on to the chocolat mountain. On the way we came through a man-made forest. It is a forest as the ones we see in Holland…It is planted and so the trees are lined up in rows.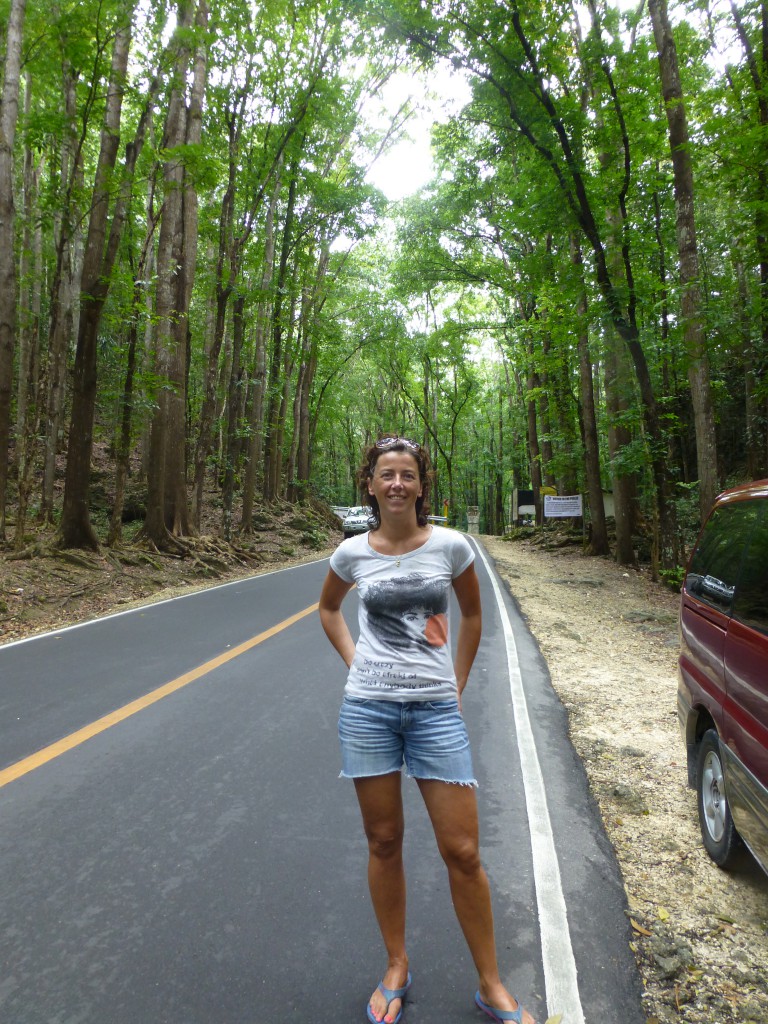 Chocolate Hills – Carmen, Bohol
After this man-made forest the landscape was flat and I saw mostly ricepaddies. And I did see some round hills in between those ricepaddies. Those looked already like the chocolate hills. It was a great view, but hard to capture from out of my car.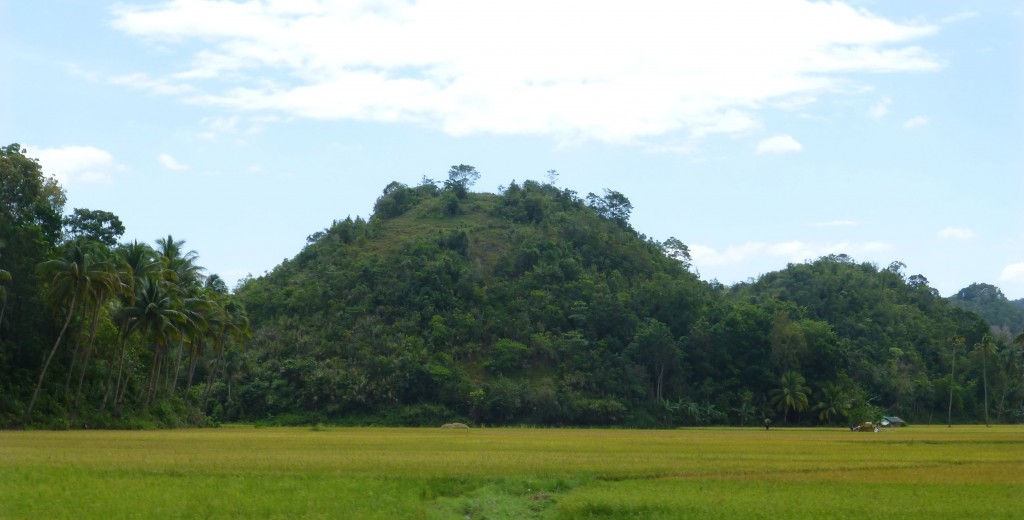 After a while we came in an area what was filled with those round hills. My driver brought me to the highest one and there was a stairs leading up to a great view. What a strange appearance! I was early in the year so it was still green but I can imagine that if you are in mid summer or later they will be brown!
And yes, they will be like the name says, Chocolate Hills.
These cone shaped or dome shaped hills were beneath sealevel behore and that why they are limestone. It has only a small layer of ground where the grass will grow on but when it's summer you can imagine it will dry up fast and turn brown. When the counted the hills again it turned out to be 1776 hills!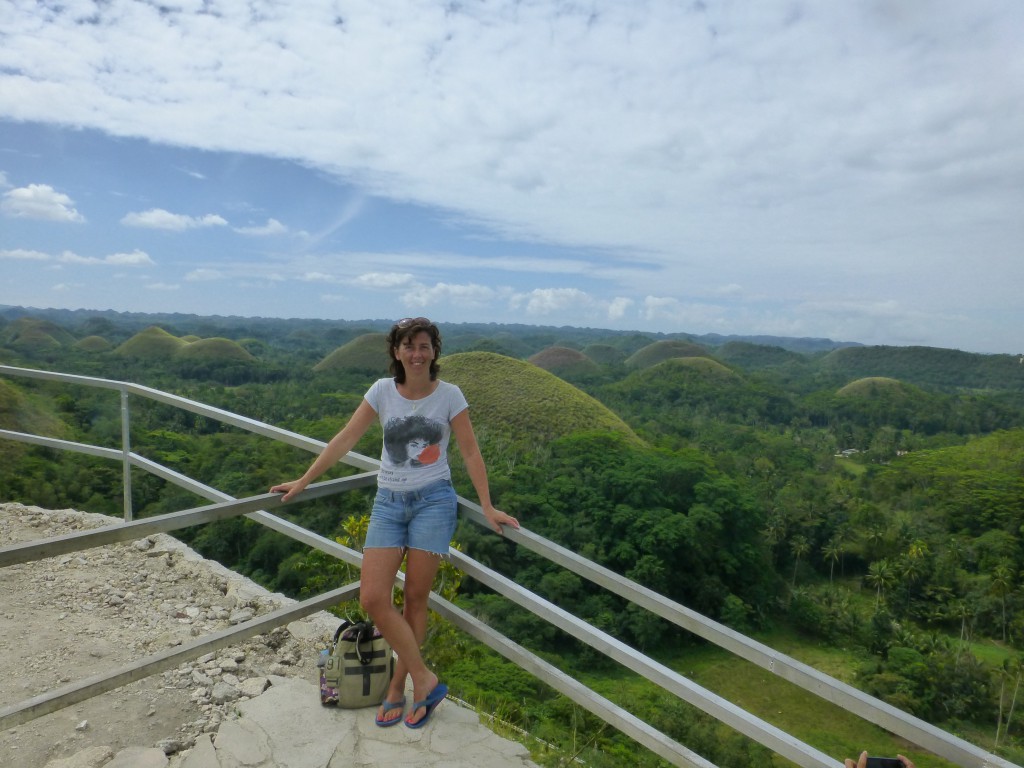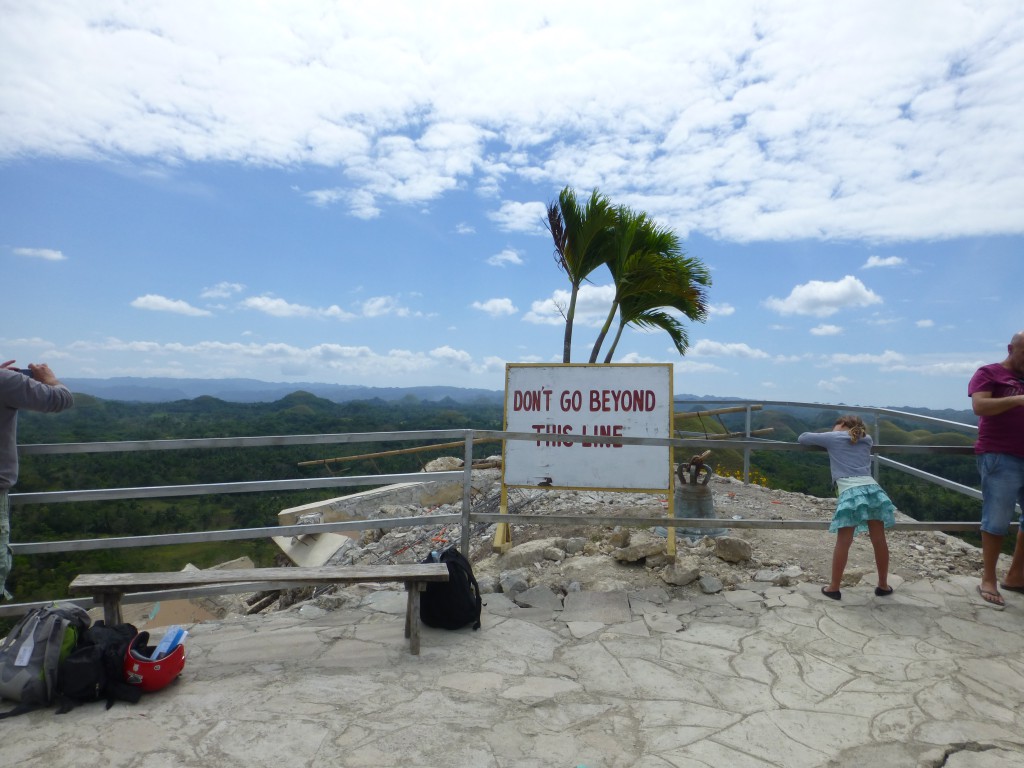 On the horizon I saw some hills that were shifted, they  weren't as round as they used to be. That was the result of the typhoon of 2013….it has destroyed so much in the Philippines. Also at this viewingpoint you see the damage f the typhoon.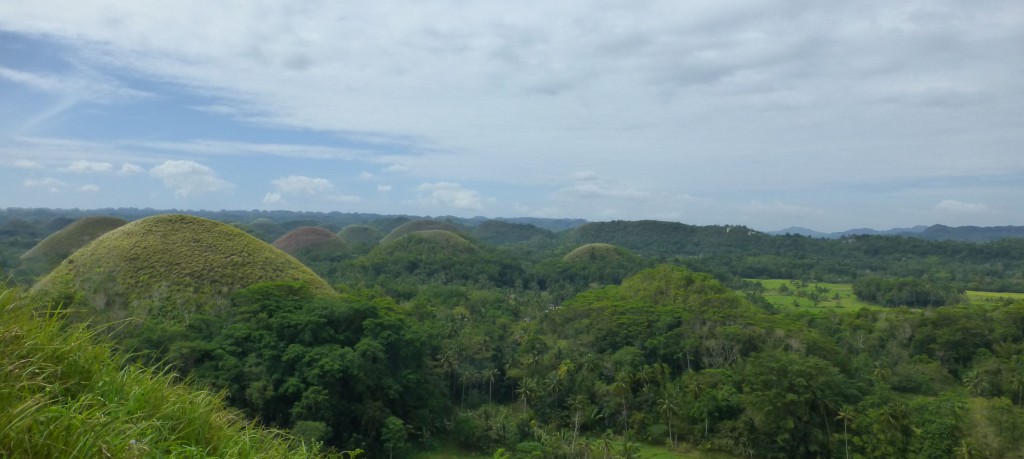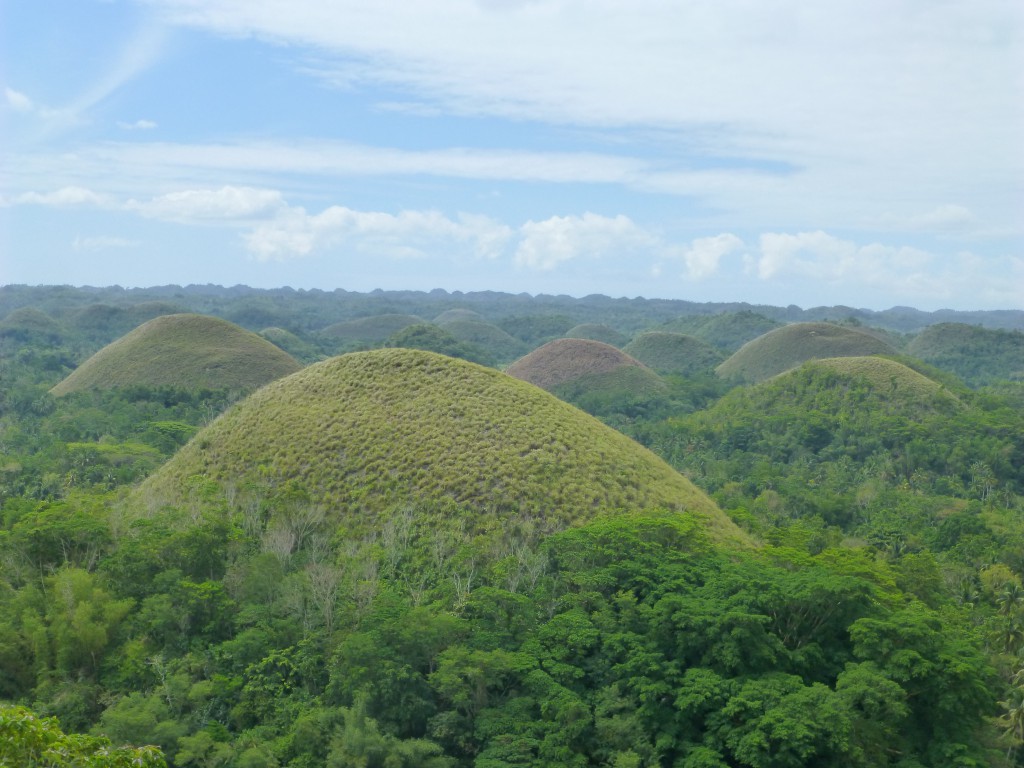 Butterfly Farm – Bohol
On our way back my guide brought me to a butterfly-farm. It wasn't the season for butterflies but I did see some nice ones. And also to see how they work with the butterflies and the flowergarden was nice!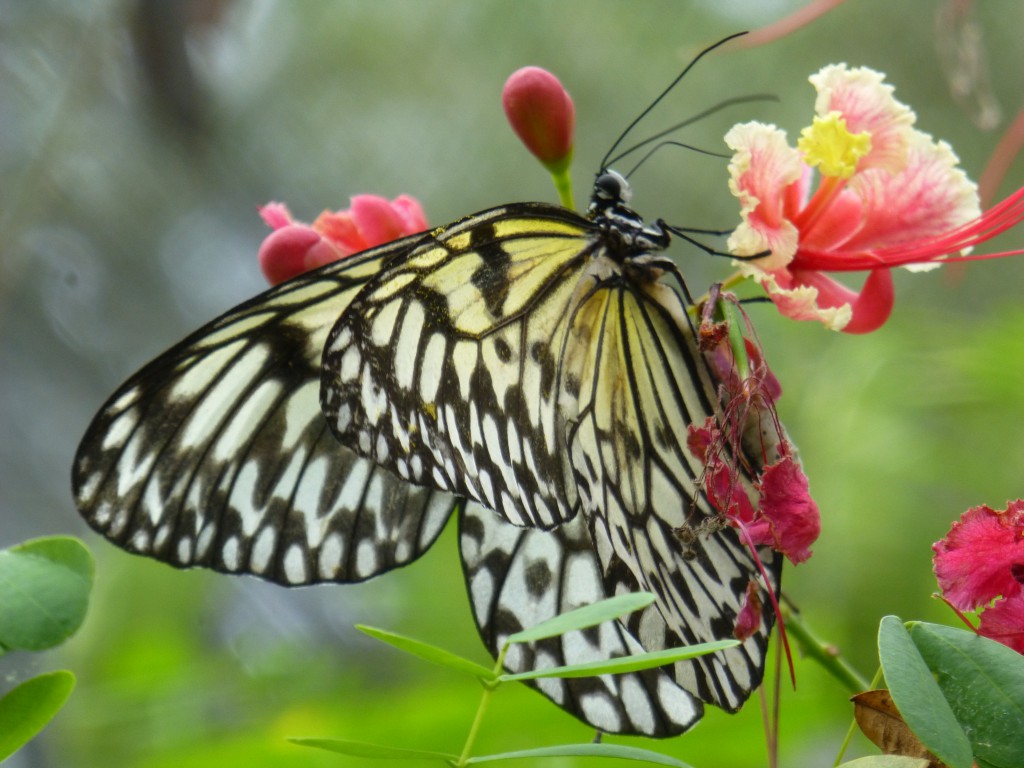 Zipline Adventure – Bohol
When we went on again my driver told me about a adventure camp where you could take a zipline, well that was something on my bucketlist!! I didn't hesitate and took the invite. We went to the Loboc Ecotourism Adventure Camp!! It was in the area near the most beautiful blue river I had ever seen!! Immediatly booking a trip and they showed me the way up to the starting point. They instructed me and before I realised was I was going to do, and how high it was and how long….I was ready to go.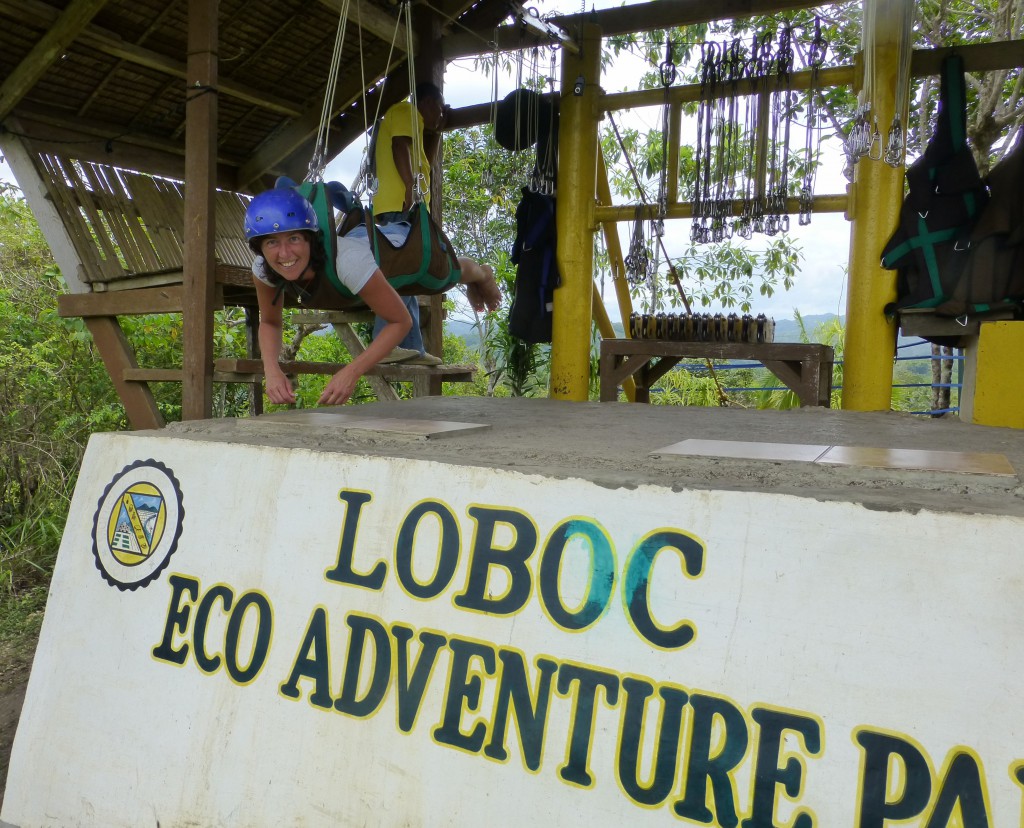 Holding my camera in my hand to make some pictures….and they gave me a push and off I went. I was looking ahead….then I looked down….my breath just stopped…. it was so high!! It went so hard!!! I couldn't really think and was in awe.. What an thrill, it was so scary but in the same time so wonderfull!! I enjoyed the speed, the view and the rush!!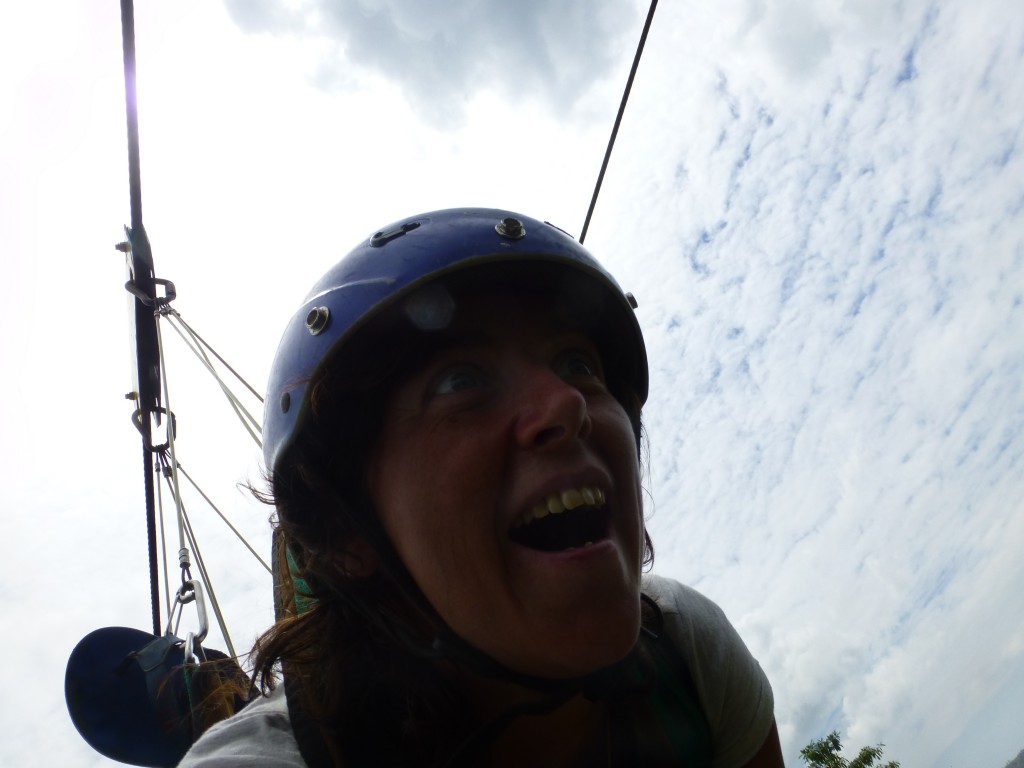 During this first zipline you can see that I'm only watching… mouth open…. I pushed the button of the camera but that was it!! I couldn't really think….just feel 🙂 At the second zipline I could think a little and look around!!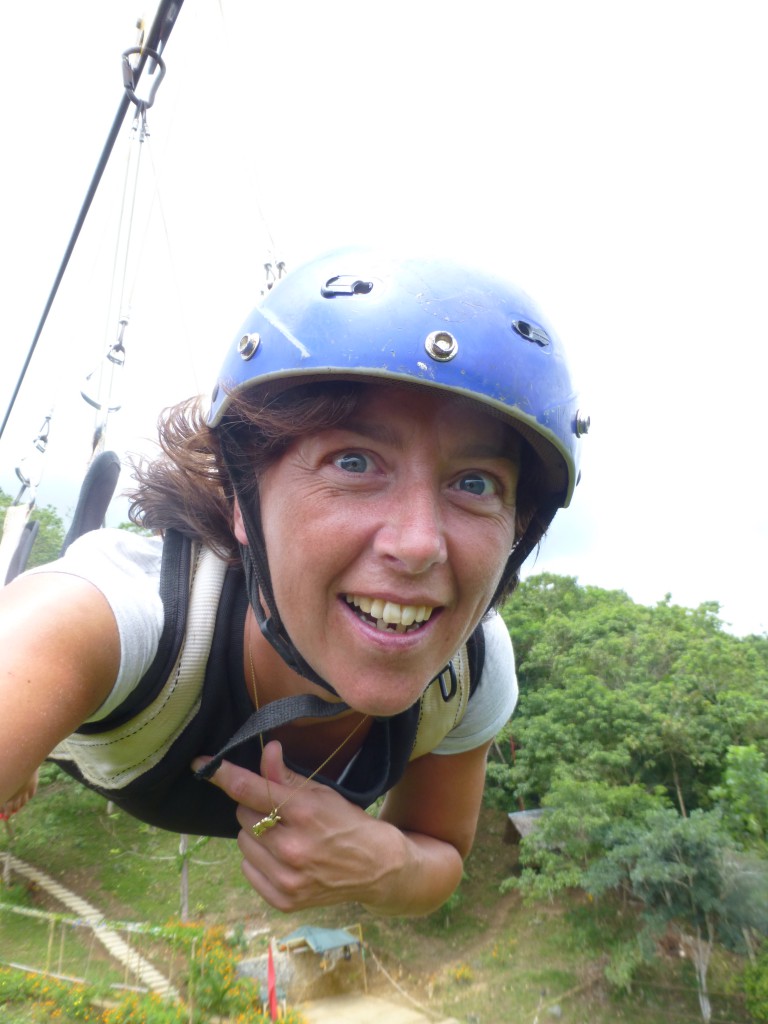 They unzipped me on the other side and showed me to walk up the hill. There was the second starting point! They zipped me in again to go again. This time I was prepared for the rush and could look around me while zipping over the river. What a wonderful and strange feeling! I really loved the experience! The first zipline was 520 metres and the second was 460 metres, they were 120 metres high and going down to 100 metres.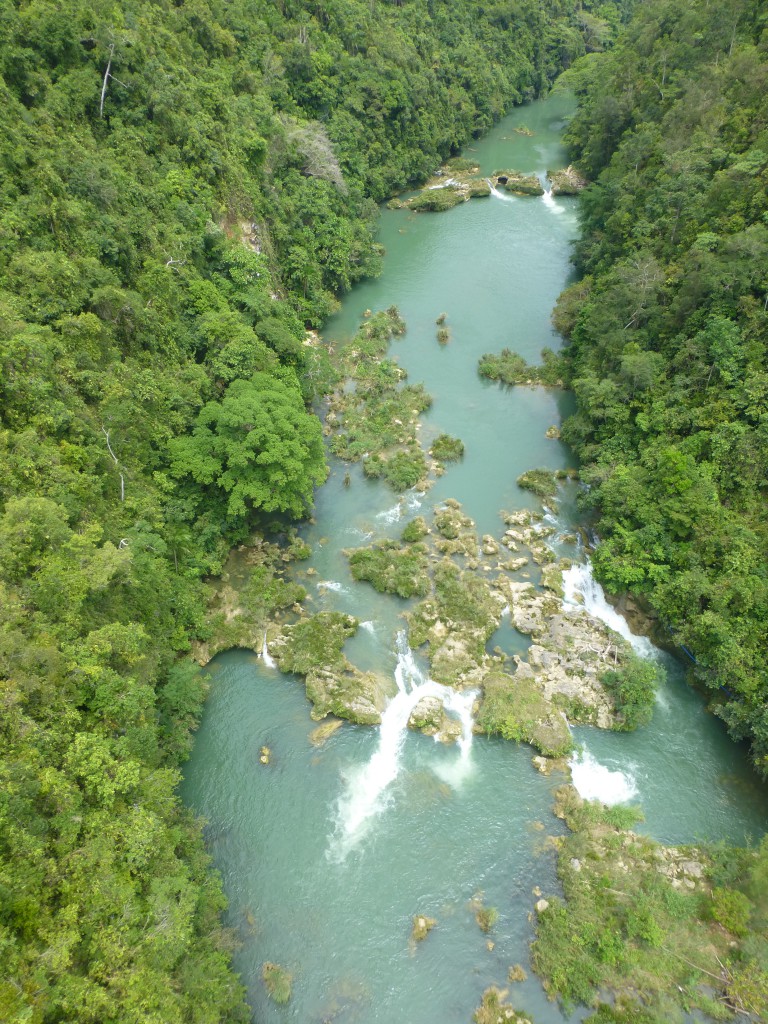 Lunch on the Loboc River – Bohol
After this great experience my driver took me  to a boat that will go down the river Loboc while eating a great lunch. I was seated with a couple from  Holland and it was nice chatting with them while eating great food and enjoying the surroundings. Half way down the river we were treated with a traditional dance, always nice to see! After this the boat turned around to head back.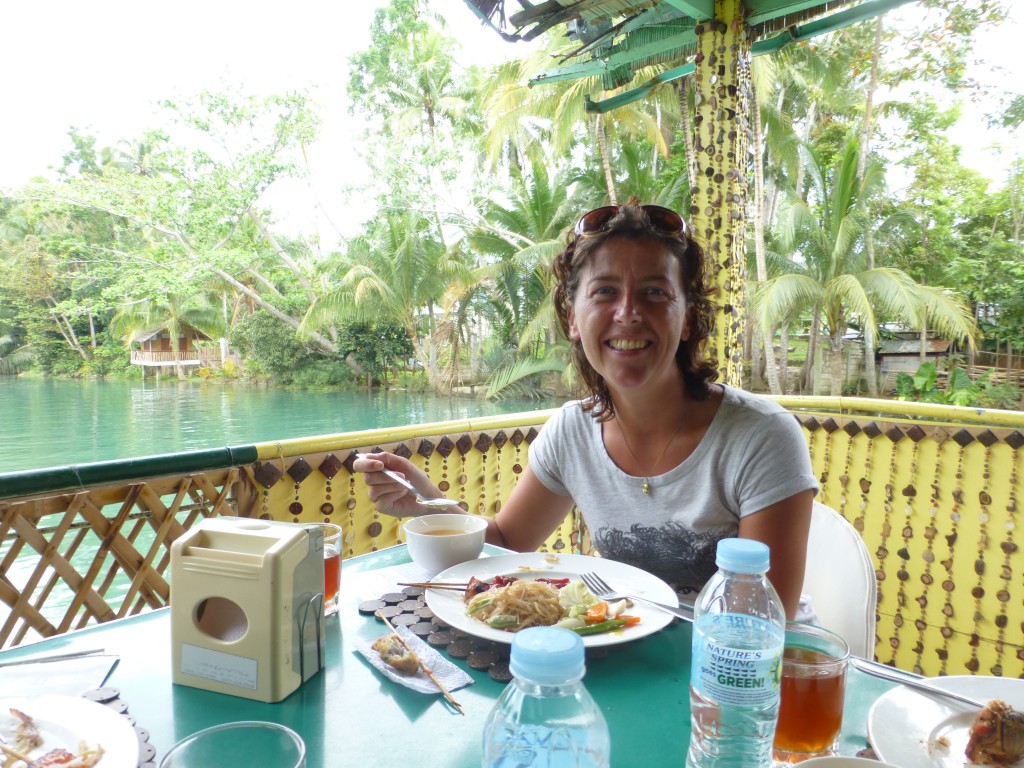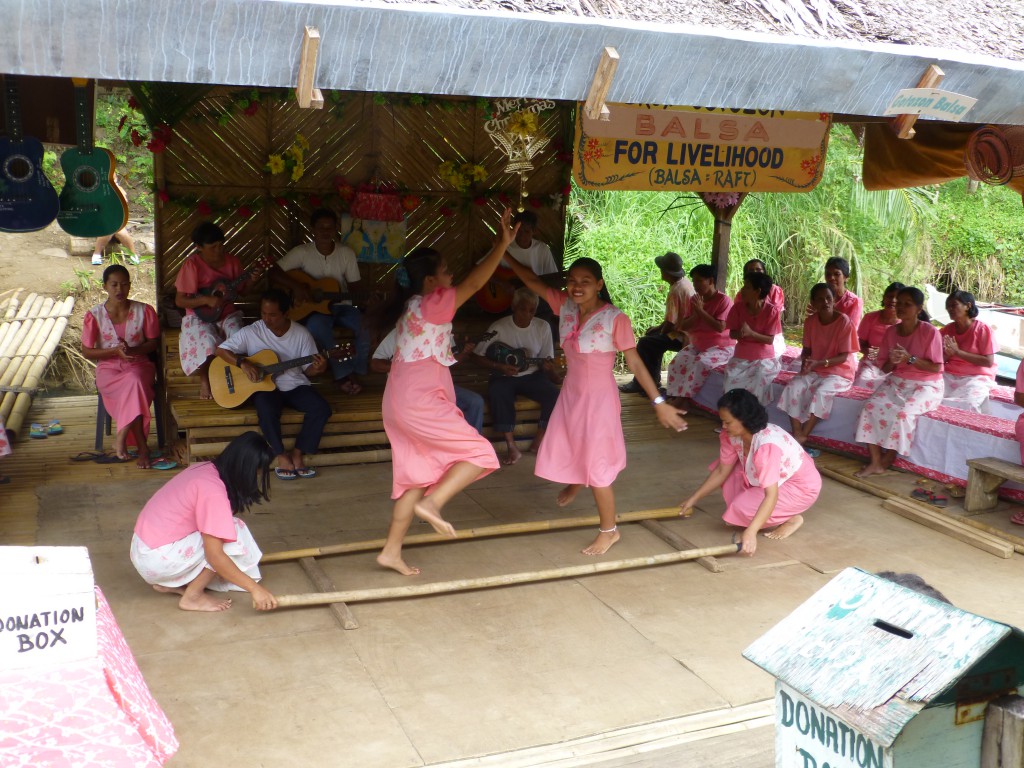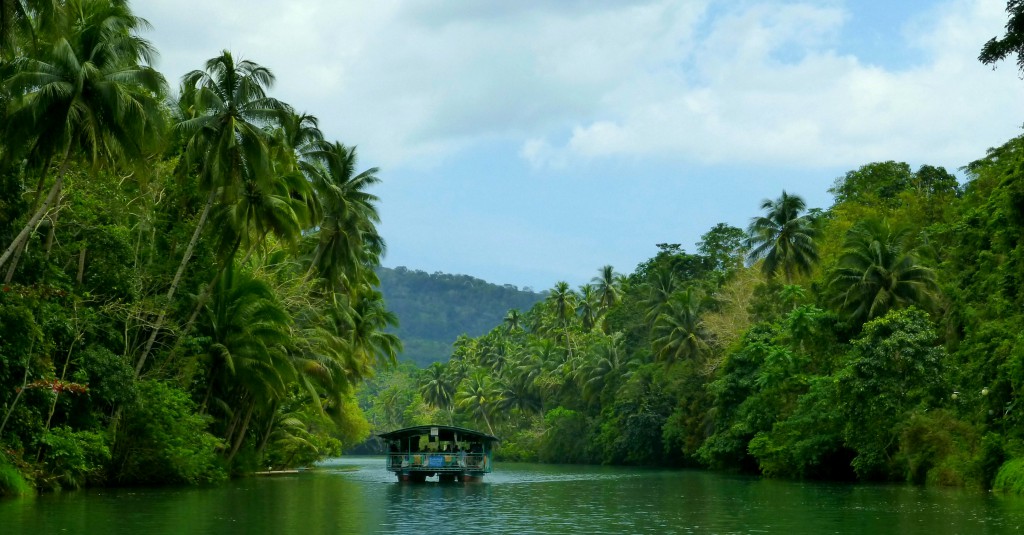 After this lunch my driver told me he would take me back to the harbour. On our way back I asked him to stop at a church. It was partly ruined by the typhoon but you could visit. There was a museum and a part free to visit. I did write a blog about the Typhoon Haiyan, I did see a lot of construction/rebuilding and red cross helping points when I stayed in Malapascua on Cebu.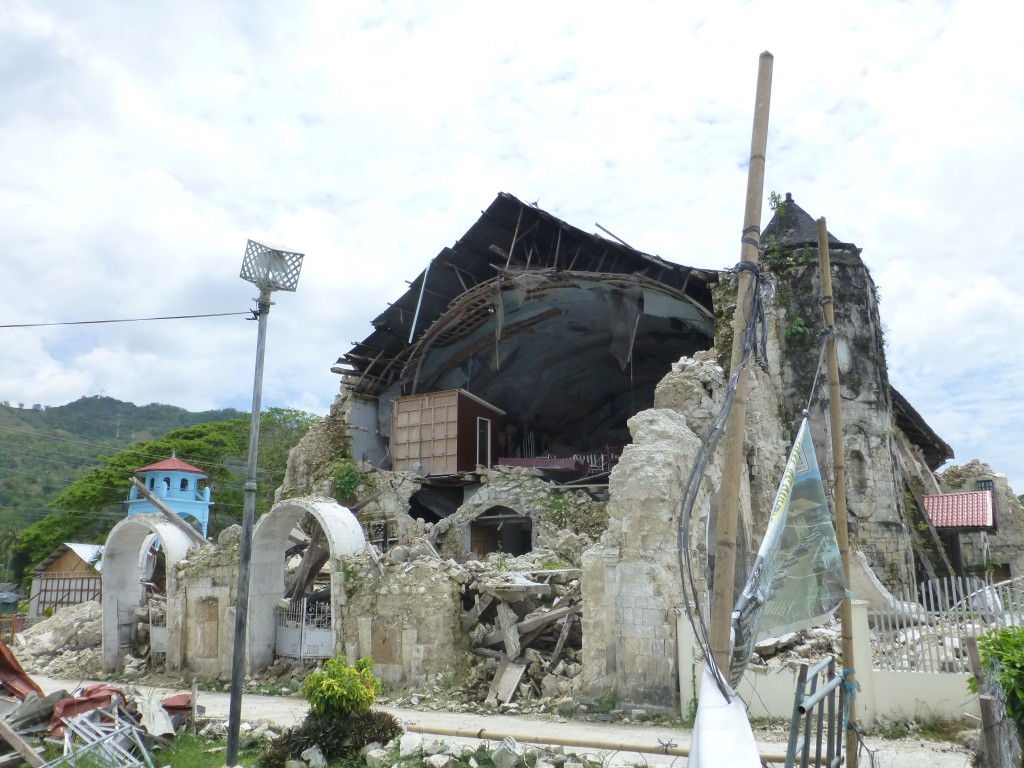 This church near the river Loboc, also destroyed by the Typhoon.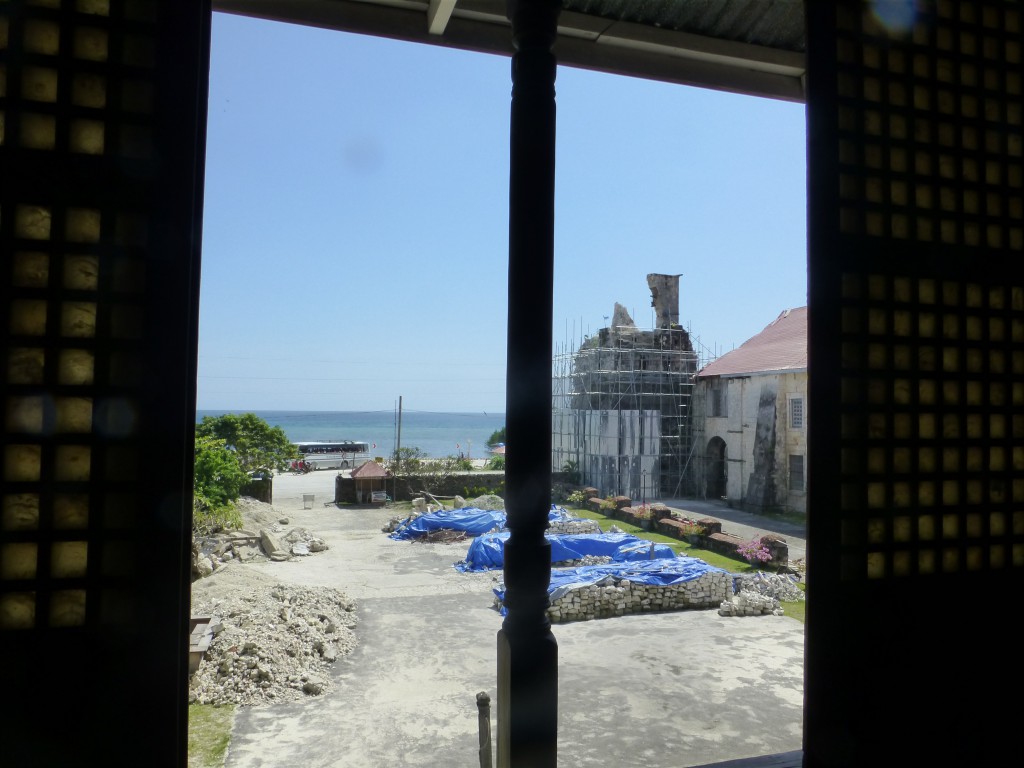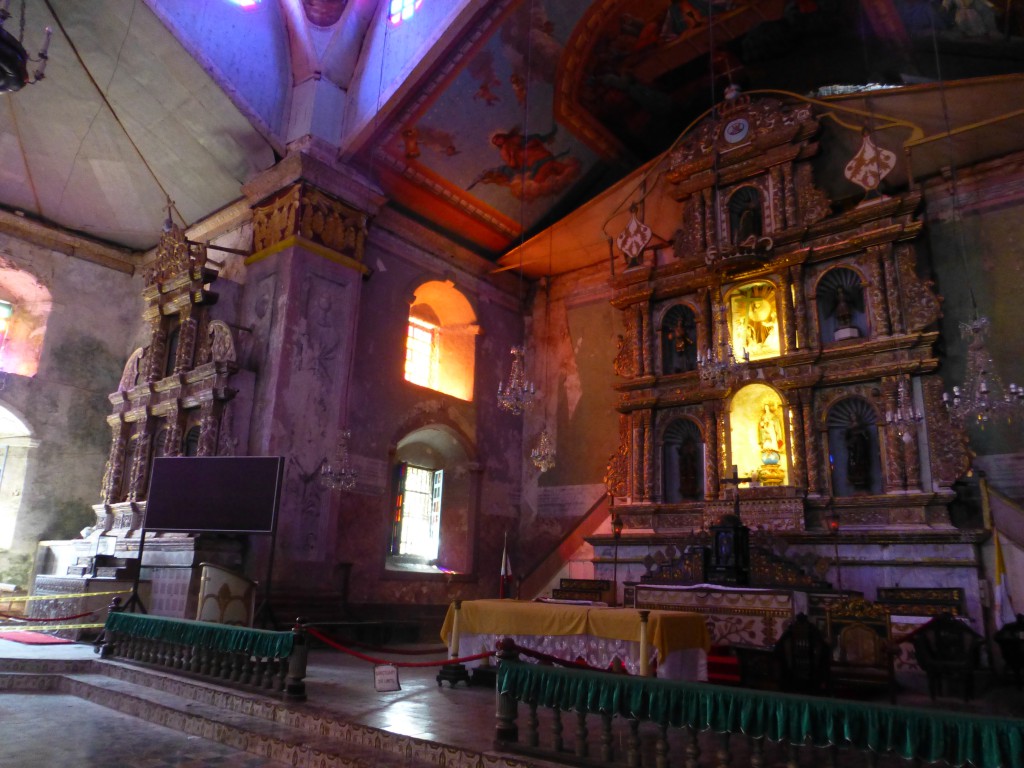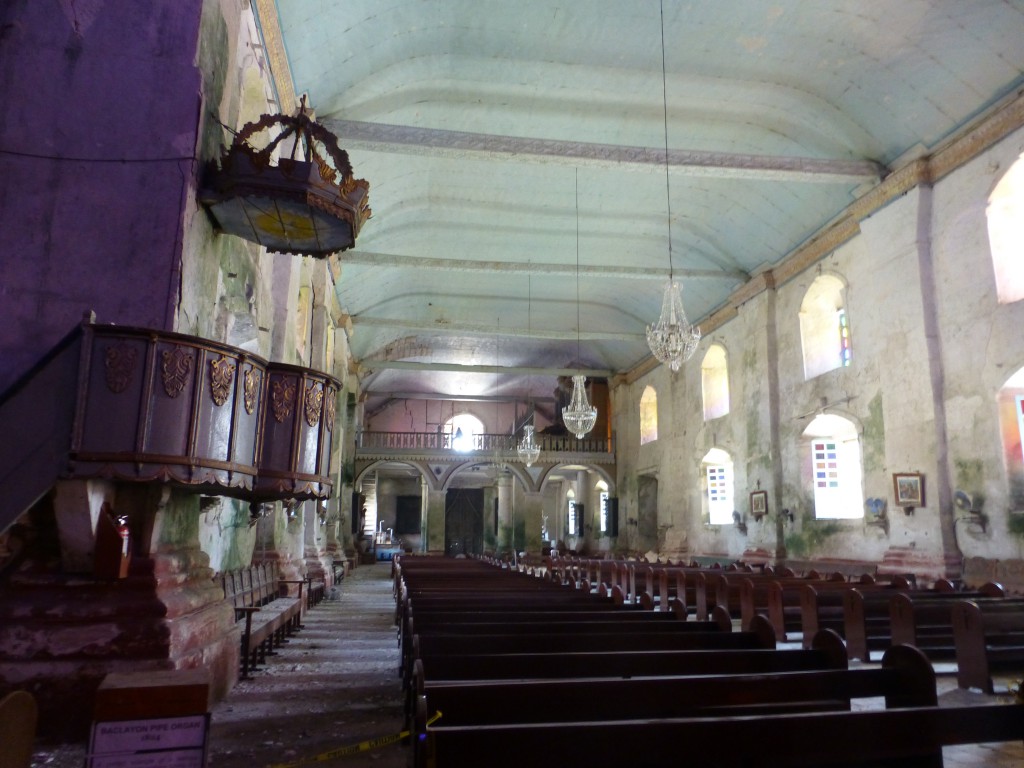 The church I visited on my way back. partly ruined by the typhoon, they were busy working on recovery. The church itself was standing but its tower needed some repairworks.
Sandugo Shrine – Blood Pact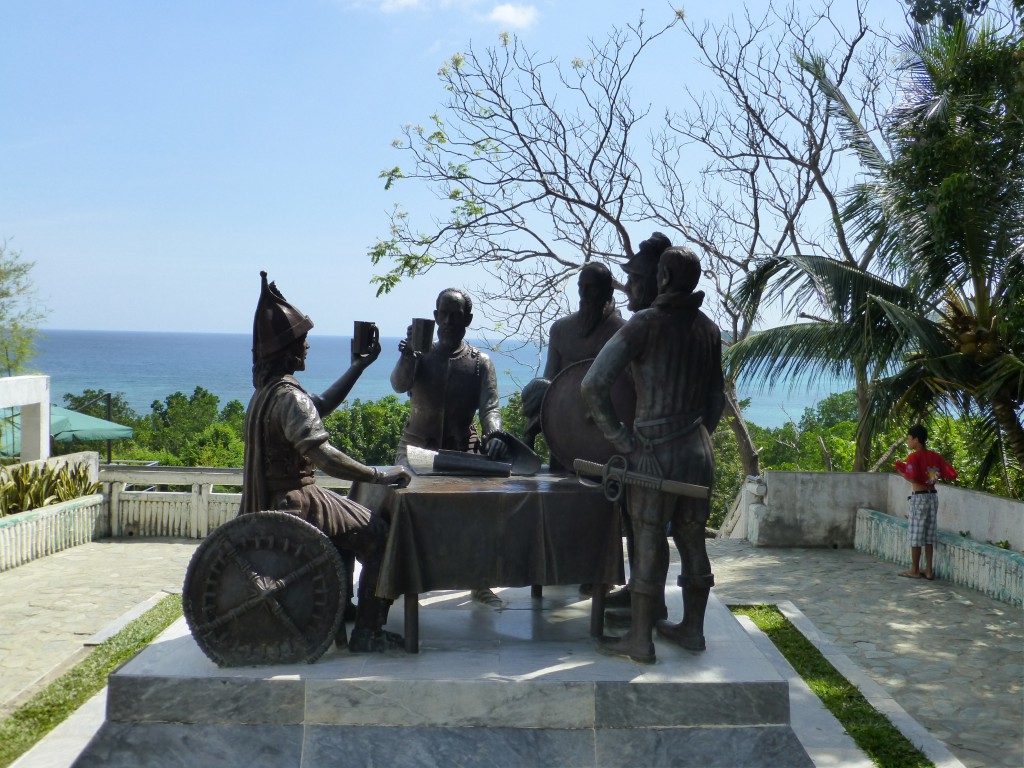 The Sandugo was a blood compact, performed in the island of Bohol in the Philippines, between the Spanish explorer Miguel López de Legazpi and Datu Sikatuna the chieftain of Bohol on March 16, 1565, to seal their friendship as part of the tribal tradition. This is considered as the first treaty of friendship between the Spaniards and Filipinos. "Sandugo" is a Visayan word which means "one blood".
I loved my day full of adventure on this island! It was a long day but totally worth it!
If you liked this post show it by sharing it on social media 🙂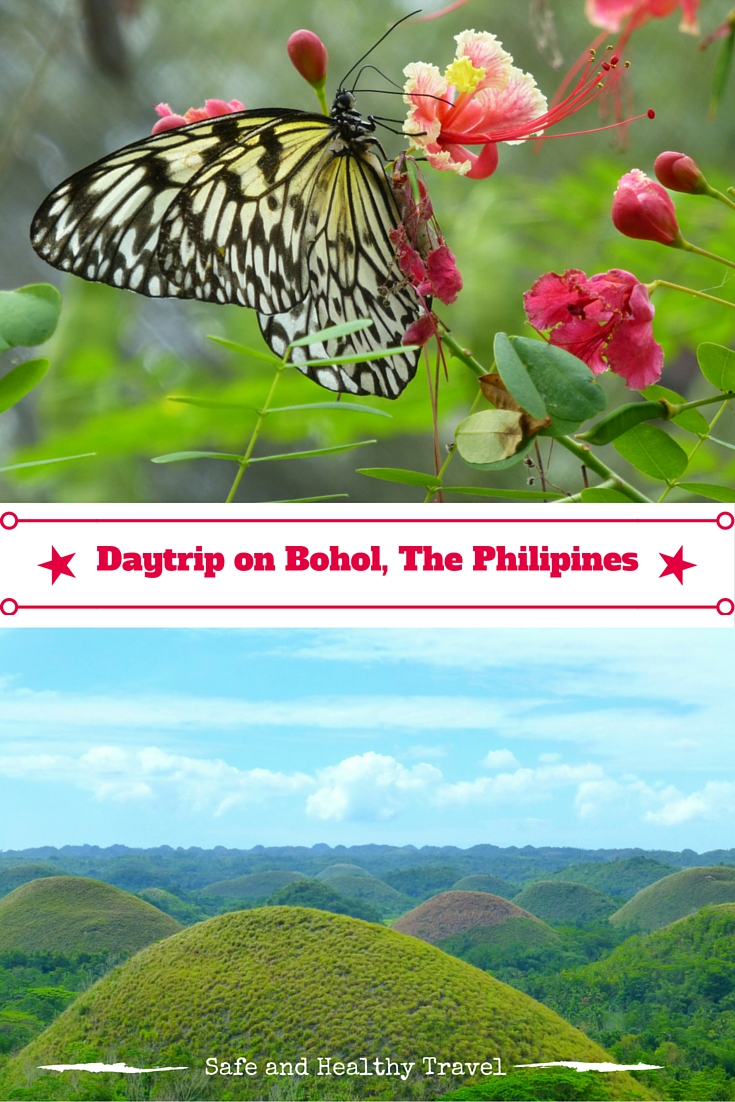 Want to read more about my Philippines travels?
Hiking to the Summit of Mt Pulag
Things to do in Summer Capital Baguio
Ancient Rice Terraces of Banaue / Hapao
Do read some tips on Safe Hiking
I hope you enjoy this beautiful world as much as I do!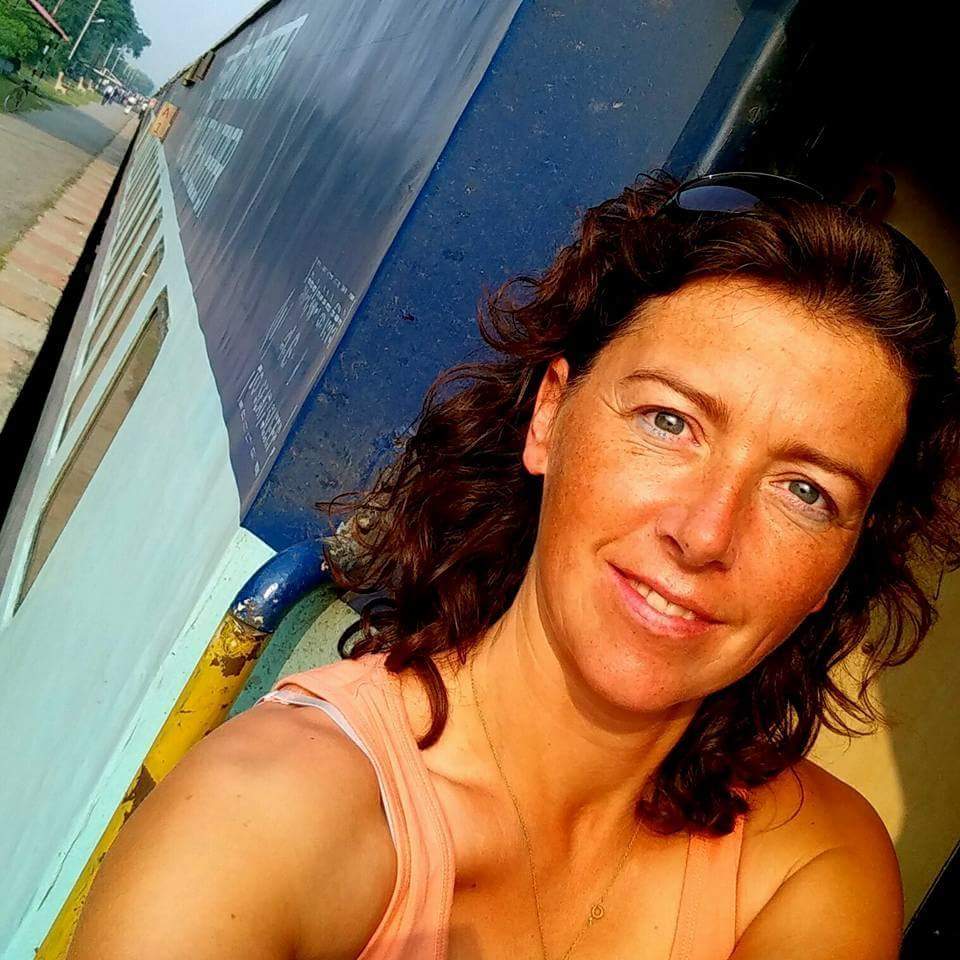 Jacomijn is een politieagent uit Nederland die jou graag laat zien hoe je veilig, actief en gezond de wereld kan over reizen. Safe and Healthy travel is a MUST