Volunteering at the Juara Turtle Project, Tioman Island – Malaysia
|
Because I went traveling for 3 months I figured I could work for some time as a volunteer. I found the Juara Turtle Project on Tioman Island, Malaysia and worked for a week. At the beginning my intentions were to do it for two weeks but my itinary for the rest of the travel didn't allow it.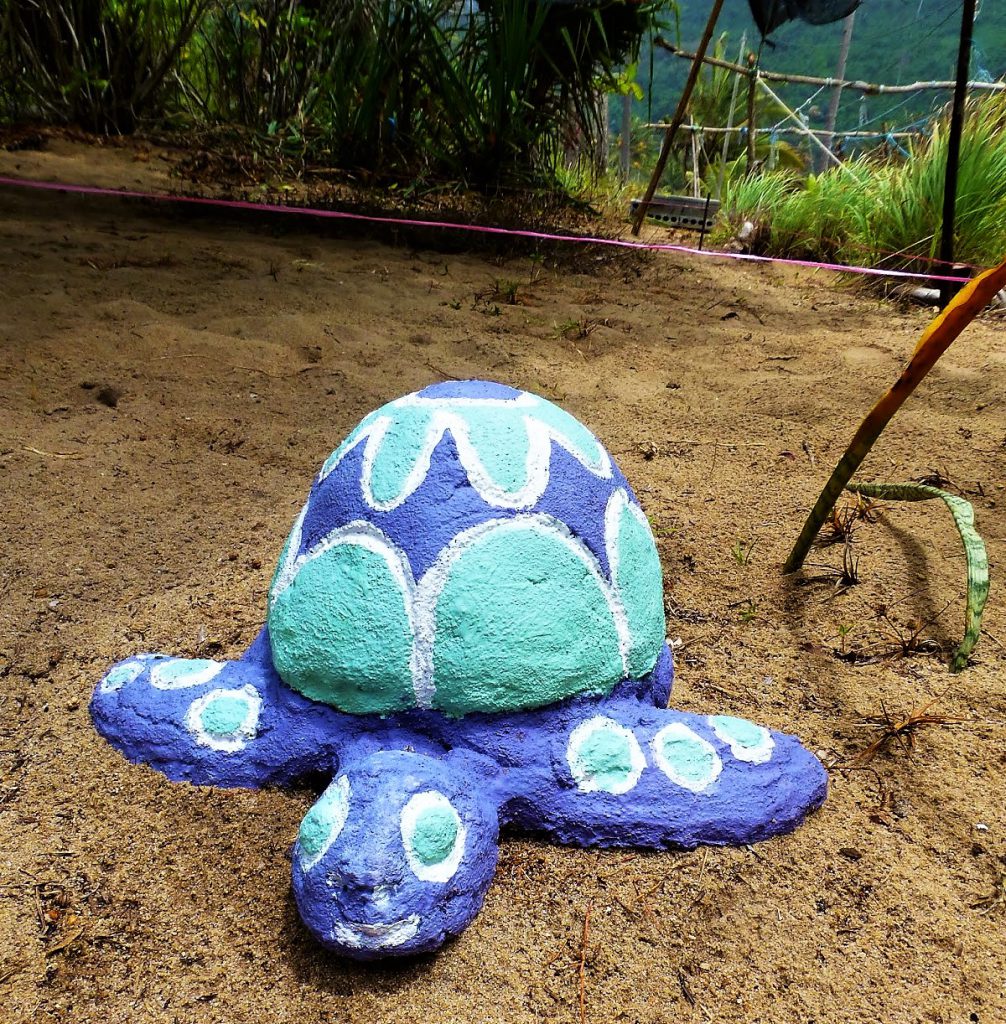 Arriving at the Juara Turtle project
I came on a saturday night and the next morning I enjoyed a really nice breakfast. There was this lady and she made the best pancakes with banana in them. Everybody loved them. When you volunteer at the Turtle Project you pay for your stay and you get breakfast and lunch. We were there at that moment with 8 people. That morning there was a extra activity, they would go to a waterfall in the jungle. I didn't go because I wanted to learn  the 'turtle talk".
Juara Turtle Project – Tioman Island, Malaysia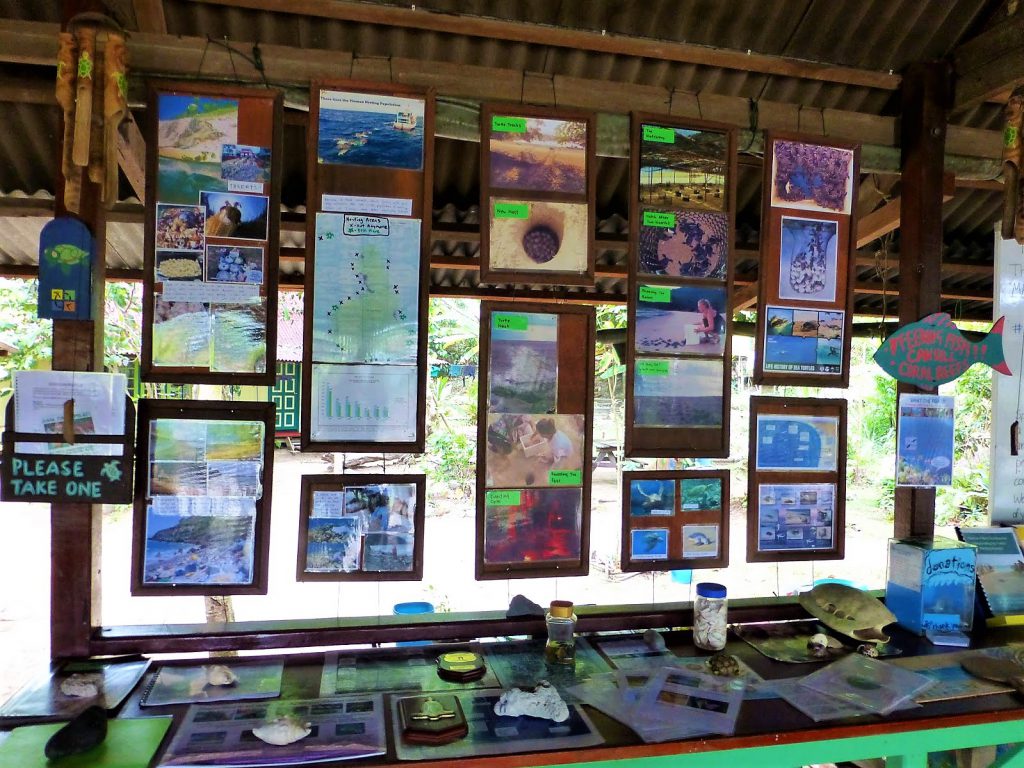 Juara Turtle Project – Tioman Island
The Juara Turtle Project is a non-profit organization and is therefor reliable on gifts and donations of tourists that will visit and / or maybe fund this programm. The tourists which are on the island and do a tour will usualy come by the project. When they are here we give them a tour around the project and tell them about the turtle, what is going on here and why is it important to support the turtles in any way we can.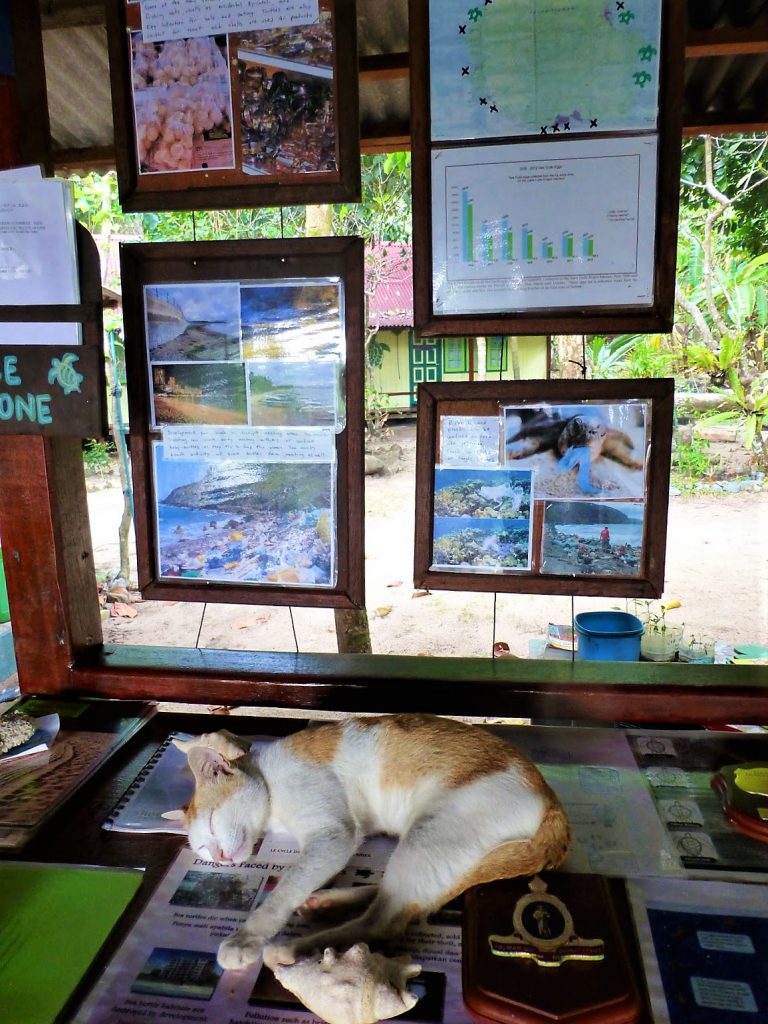 Threats to wildlife in sea – Juara Turtle Project
There are several threats that we tell about. The garbage that humanity produces. In many countries they will not collect it as we, in most western countries, are used to. In the Asian countries which I have traveled I see many locals just throwing there plastic, garbage or anything that is of no use anymore away.
When I was hiking in The Phillipines to the highest point on Cebu Island we saw so much garbage lying around those little remote villages. Those plastics and garbage will end up in the ocean. The turtles like to eat jelly-fish and if you have ever seen a plastic bag under the water you know that you can easily mistake it for a jelly-fish. The same thing happens with the turtle and so they eat the plastic bag. The will either sufficate from it or will get big problems with it in their stomach.
You also have the fishingindustry, they still use big and long nets to empty the ocean. Those nets could reach up to a several miles long emptying the ocean behind a boat. When a turtle get stuck in a net it probably will drown. A turtle is a reptile and therefor needs to go up every 20 – 30 minutes to breath. When it's stuck in a net and it is not capable to come to the surface to breath it will drown.
Information – Juara Turtle Project
And you still have got poachers. People who will steal the eggs from the nests. The eggs are suppose to have special healing powers so they are sold for lots of money. One nest can hold up to 100 – 175 eggs.
The poachers could also go for the shell of the turtle, it is used to make jewelry or other souvenirs.
And at last we tell about the light polution. The beaches needs to be dark at night. When a turtle comes out of the sea to lay their eggs she wants to go to a dark place. She will dig a hole with a front flippers at first and when it is big enough she will dig the last part the other way around, with her back flippers. She will then lay eggs in the nest, this can be from 100 up to 175 eggs depending on which kind of turtle.

After she's done she will go back to the light, this is supposed to be the sea. The land is dark and the sea with all the stars and the moon will be the lightest at night. When there are resorts build on the beach and they have lith everything the turtle can be distracted and go wander to the wrong side.
The little turtles hedges they are 'programmed' to go to the light as soon as possible. Once they are in the sea they will swim for up to a week to a save area. The most danger for a small turtle is on land and near the shore.
When the sea has not the most light the small turtles also can go to the resort and end up  between the houses or on the streets, they probably will not survive.
To show this there is a wall with pictures, also easy as a leadingboard for your story 🙂 There is also a jar with little dead turtles, they were already dead still in the egg. It gives a good image of how the turtles look like in different stages. There is also a jar with egg shells. The egg shell is a bit leatherly, it is not like a chickenegg.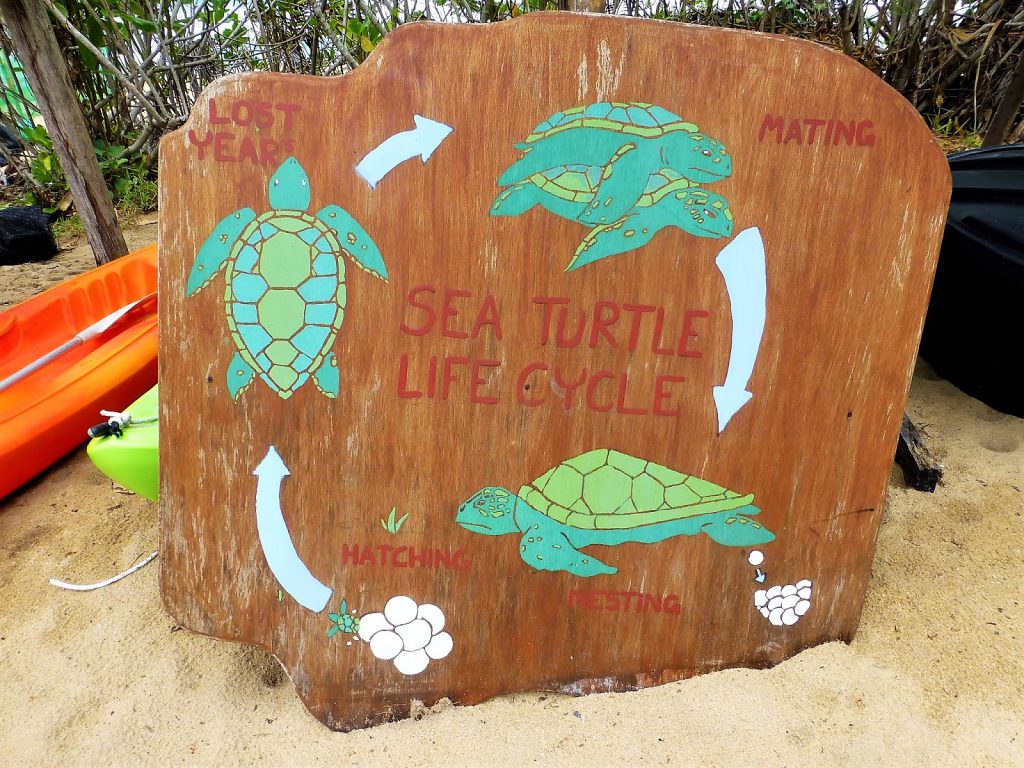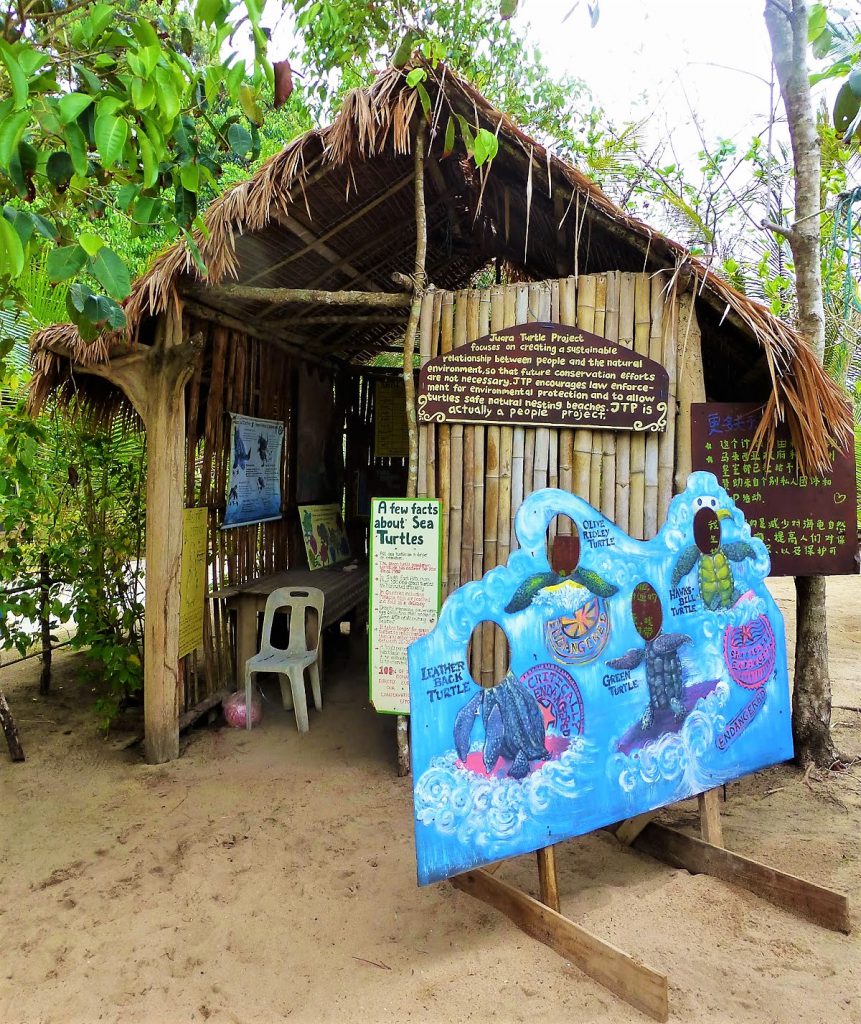 Education Material
After telling all this we will go to the other side of the road where we do have a turtle. Many people ask if we also have little  turtles. The reason we don't is allready written above. The little  turtles are programmed to go to the light and therefor to go into the sea and to swim for up to a week to go to a saver area for them.
If we would keep them here the natural instinc will fade away. Many projects will keep them because they think that when they are bigger they can take better care for themselfs or the danger or threats are not that big anymore. We think that we should mingle as less as possible in the lives of the turtle so we release them as soon as possible. The best is to do it the same hour that they hatches.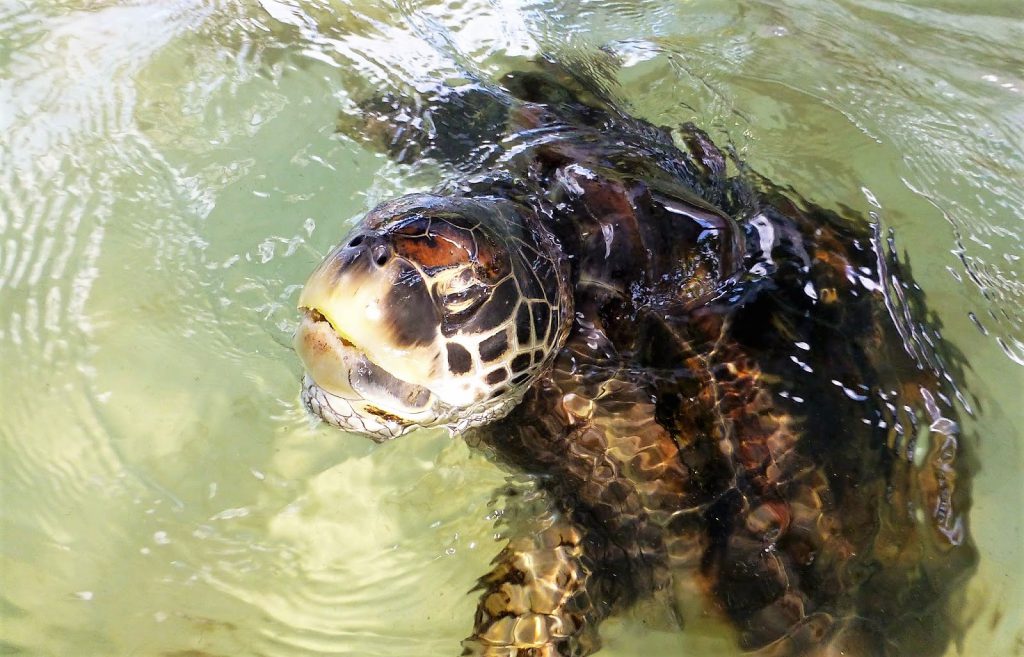 Blind Jo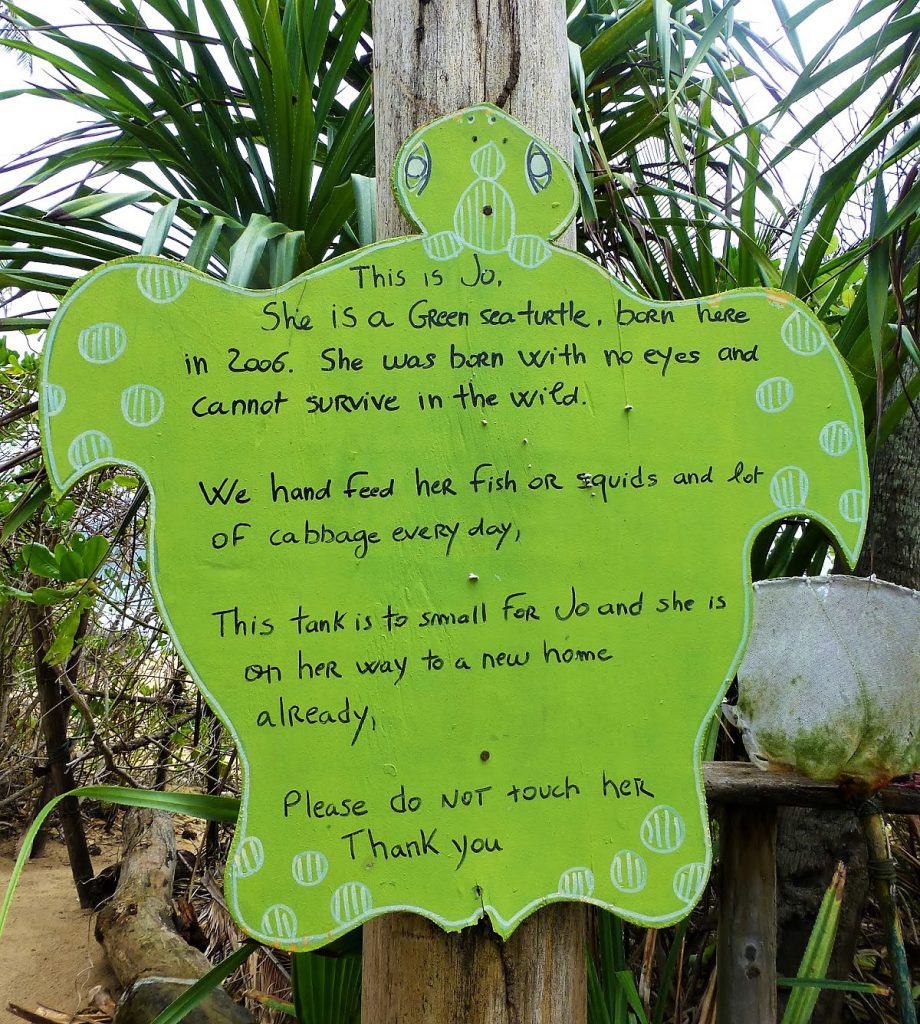 Jo, the blind Green Turtle of the Juara Turtle Project
So why do we have a turtle? Our turtle is named Jo and she is blind. When she was released she was going in circles around the beach. She didn't went to the sea, so after the rest was gone they took a better look at her and saw that she had a injury on one of her front flippers. But after seen that they saw that she didn't developed eyes, she was blind and couldn't go to the light. She would defnitily die in the sea and so the project kept her.
In time they build a basin for her to live in. At the  moment of my visit we were building a new, bigger basin. Jo has become a big turtle. She 'hatched' in 2006 and this year, 2014, she will turn 8. When a turtle in the wild will be 7-8 years it would not be that big but Jo is fed every day. In the morning we will feed her some sardines with gabbage and in the night she will get some more gabbage. Jo is a green turtle so she eats vegetables. They have given her all kinds of vegetables and she seems to like gabbage the most. It is difficult to feed her. She obviously doesn't see it so you have to touch her face. When touched she will snap with her mouth in that direction. So you really need to look out with you fingers. You really can get injured by her when you finger will end up in her mouth.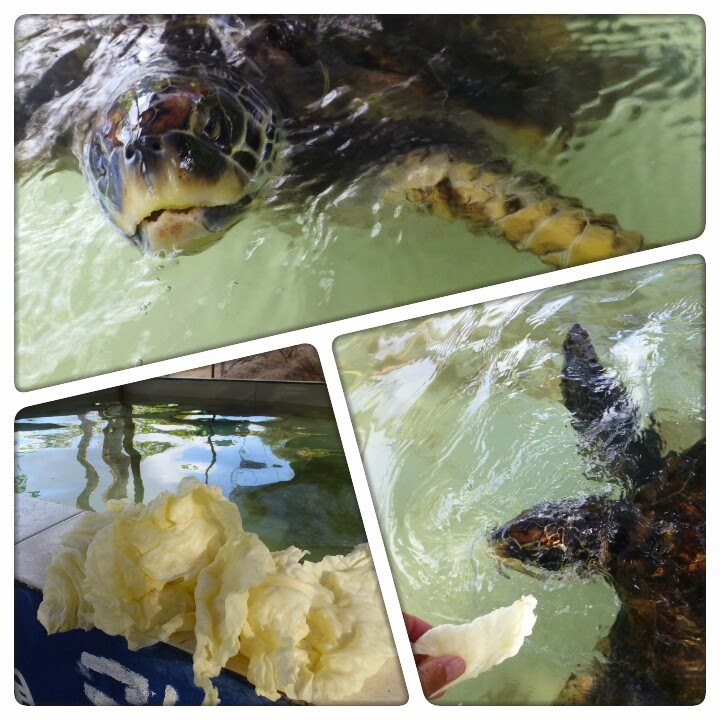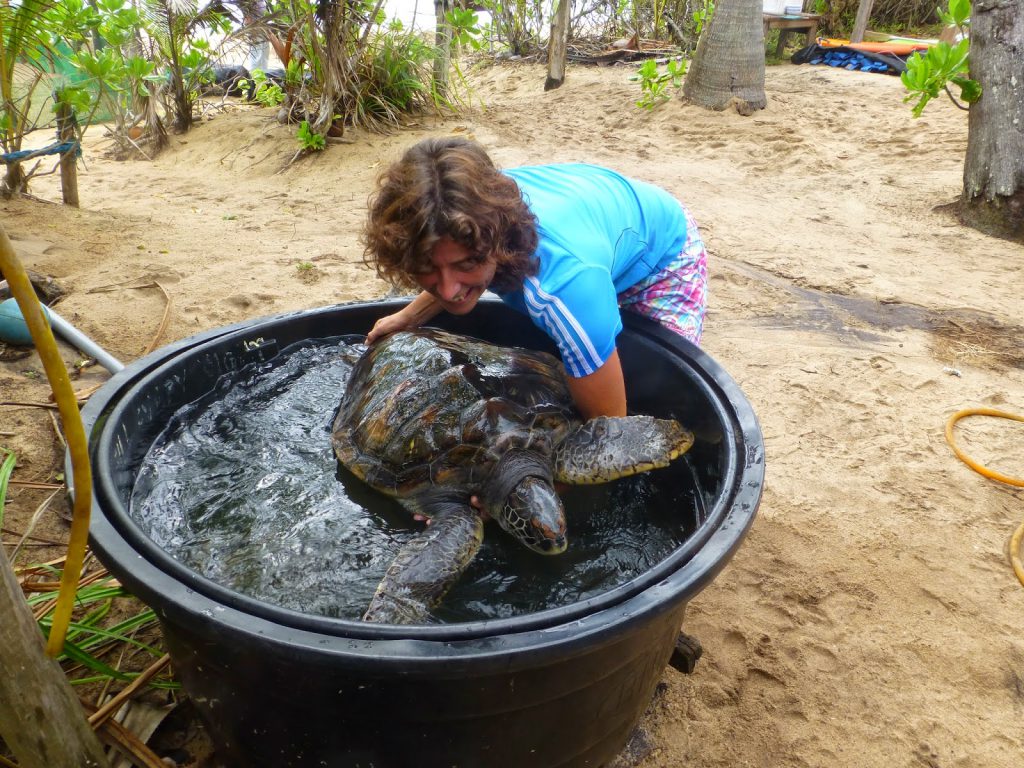 Jo's Basin at the Juara Turtle Project

Turtles don't have teeth like we but they have sharp edges which looks like teeth kind of  things. The mouth, teeth, are made of the structure/material where our nails are made from. It is not bone but it is really hard. I was lucky to have not been bitten by her but have fed her a couple of times. We feed her in a little tank because that is easier to get a hold of her head to tap it with food. Also to keep the other basin clean from food. But to get her in there you should lift her out of the basin. I tried to do that but she was to heavy for me.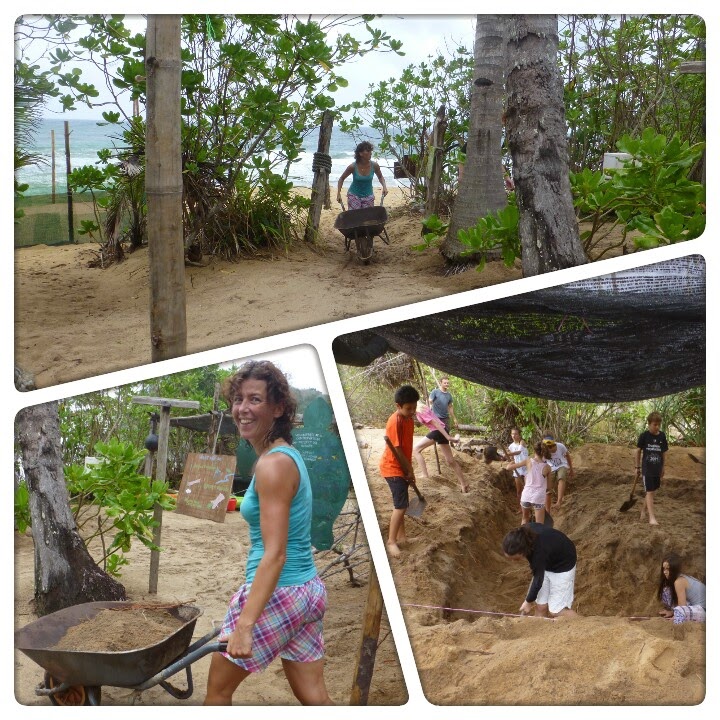 Making a new Basin for Blind Jo
The basin was getting to small for her and because of that they are building a new one. In the week I was there they were starting it. We had help of some 140 kids from an International School in Singapore who did the digging work. They really worked hard an within 3 days the big hole was almost ready!!
The small basin Jo still lives in needs to be cleaned every 3-4 days. So I did that 2 times while I was there. First empty the basin, then rub and sweep the inside with water and sand for about a half an hour and it looks a bit better! After it has to be filled again with salt water from the sea. Charlie has a generator with a long hose to do that. It takes almost half an hour to fill it again. But after Jo is put back in the tank you can see she is happy with the clean water!!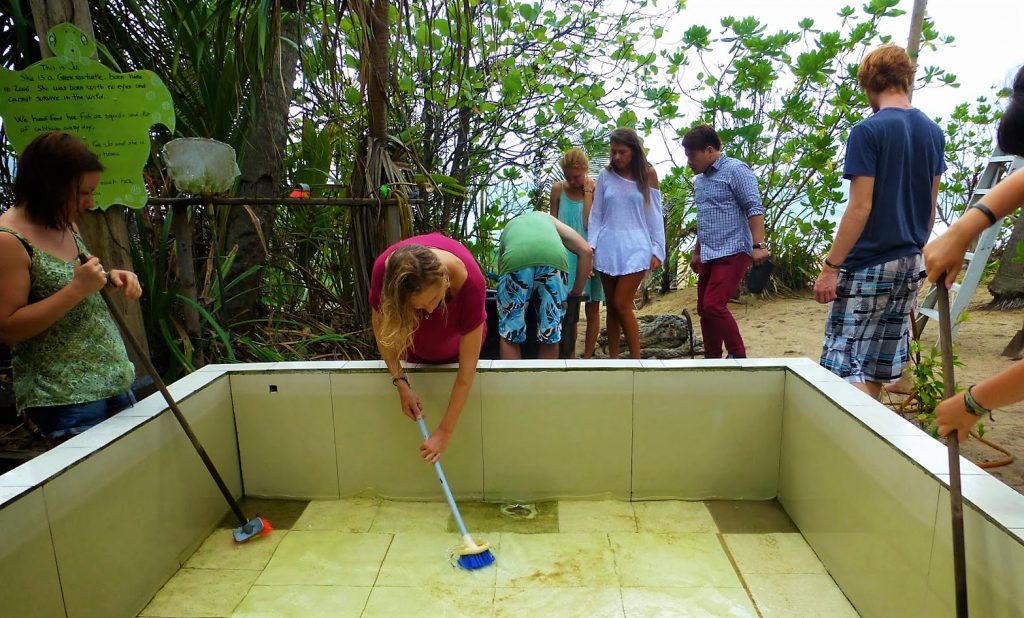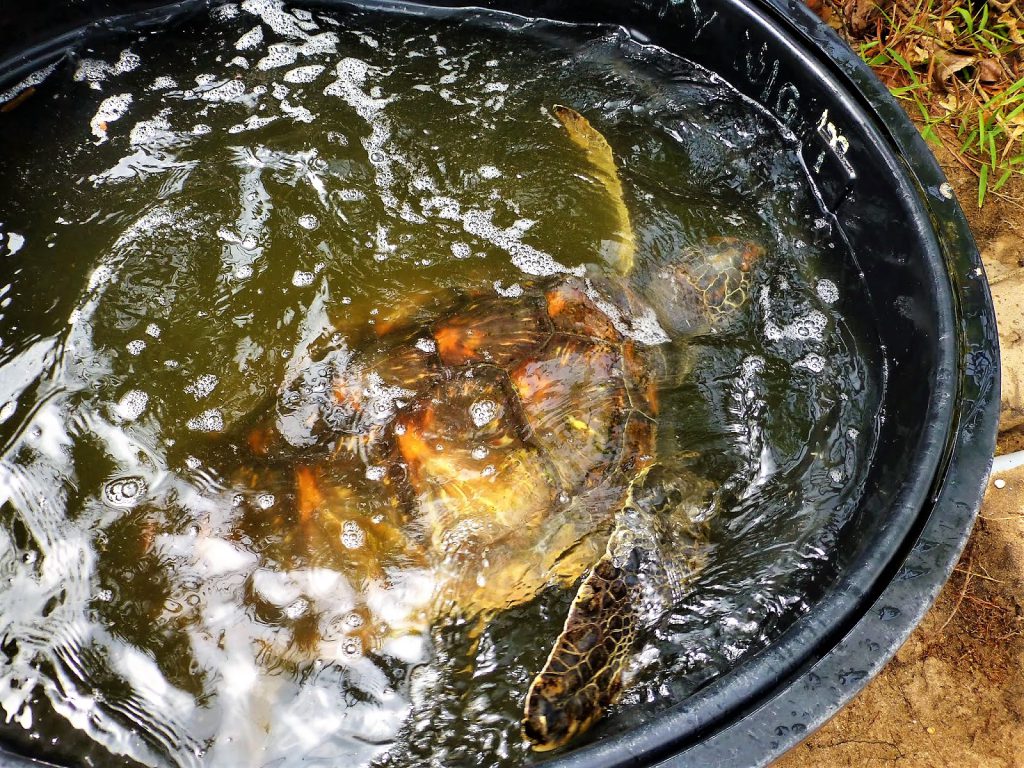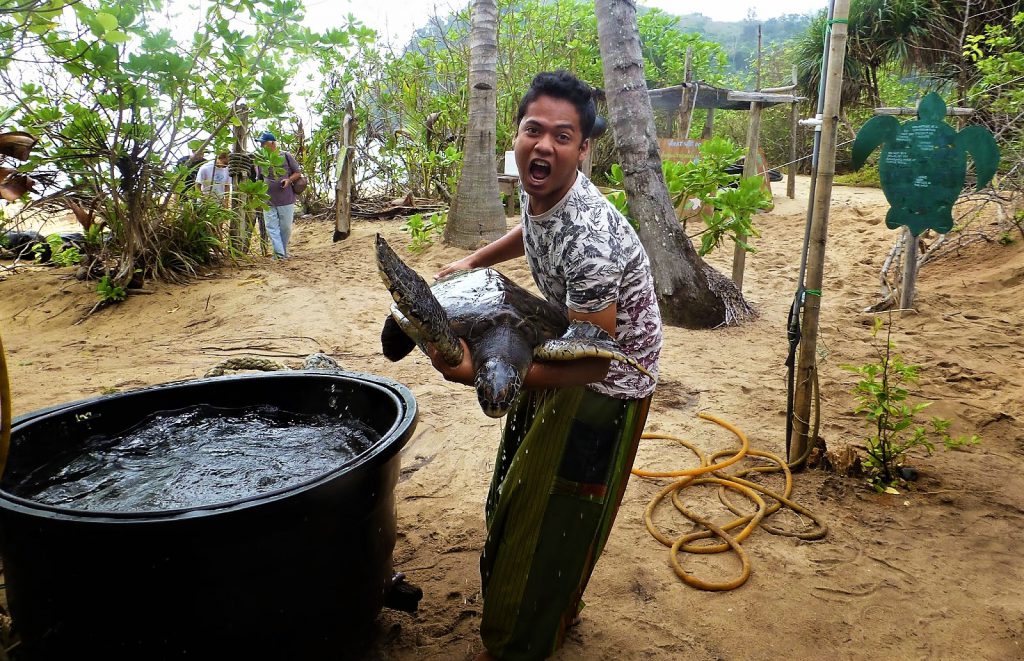 The Hatchery @ Juara Turtle Project
After we showed the tourist the basin with Jo we walk on to the beach where the hatchery is. In there were two nests and in front of it were another 4. Those were already been laid by a turtle before the hatchery was put up for this year. The first nest of this year is about to hatch around the end of March, so just after I left 🙁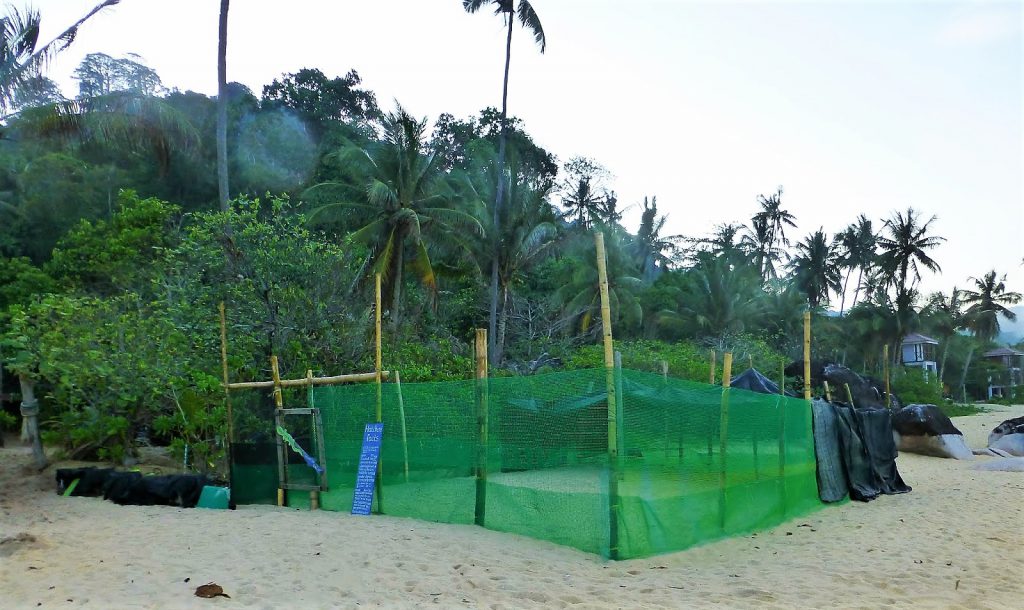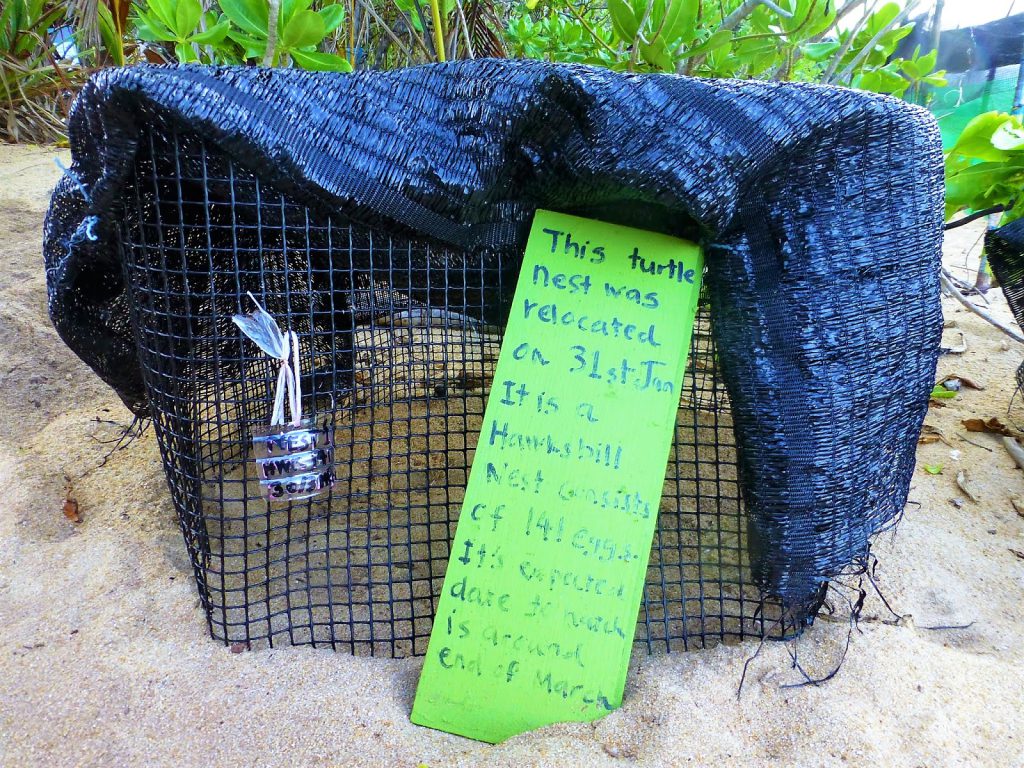 Cleaning the beach @ Juara Turtle Project
The time I was there and had no other tasks I cleaned the beach. Every day I collected 1 to 4 garbage bags full of rubbage from the beach and the bushes at the top of the beach. My back was hurting after the second day but on the fourth day we went on the beach with 4 people and almost the whole Mentawak beach was cleaned in the week I was there. I hope this will be kept clean because if you do a bit every day it is not that much as it was now. It gave me a good feeling to do and that is important also.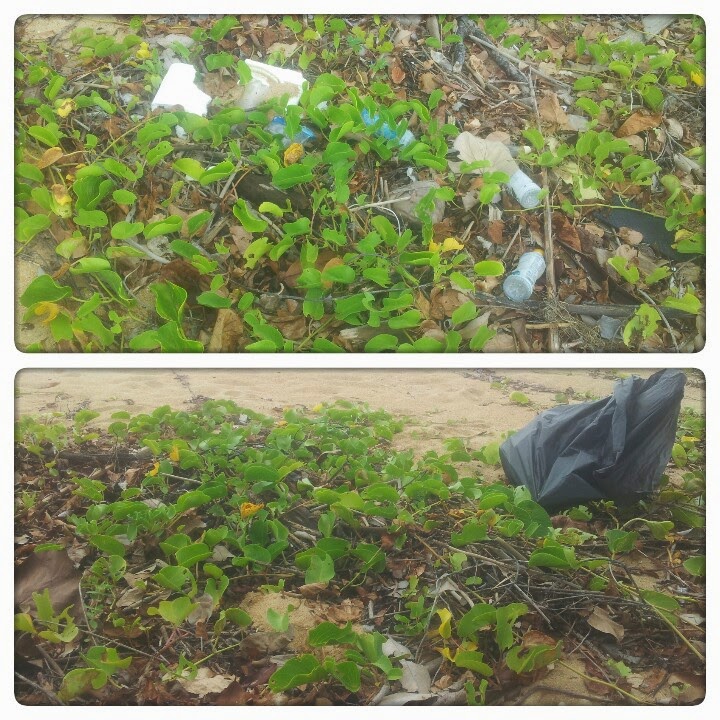 What can you do to help Juara Turtle Project?

You can sponsor a nest, it will cost you 200 Ringgit. That is around 40 Euro or 60 Dollar. When you do so you will get information about the nest and pictures from the nest and from the little turtles when they hegde and when they will be released and go back to the sea. See here my post about the results of my sponsored nest.
See for more information the website www.juaraturtleproject.com
My place for a week 🙂
If you want to volunteer yourself at the program you are very welcome to do so. They would like it if you would come for at least 4 days because you need to learn the turtle talk and get to know the tasks. Mail to: contact@juaraturtleproject.com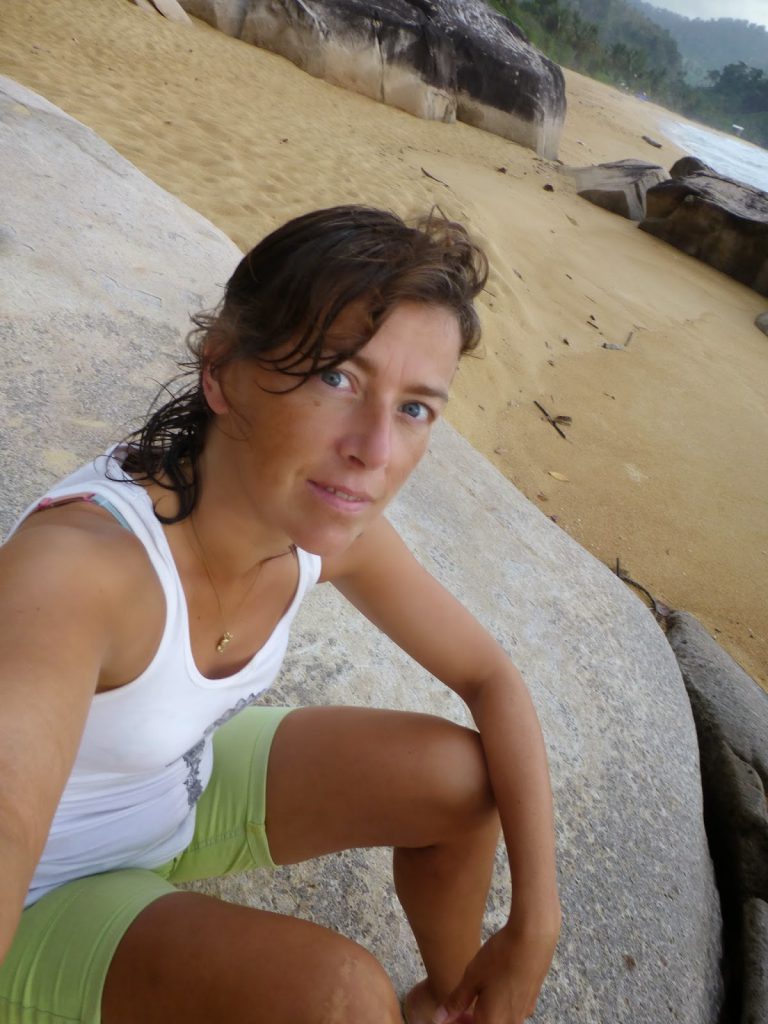 Early morning relaxing at the beach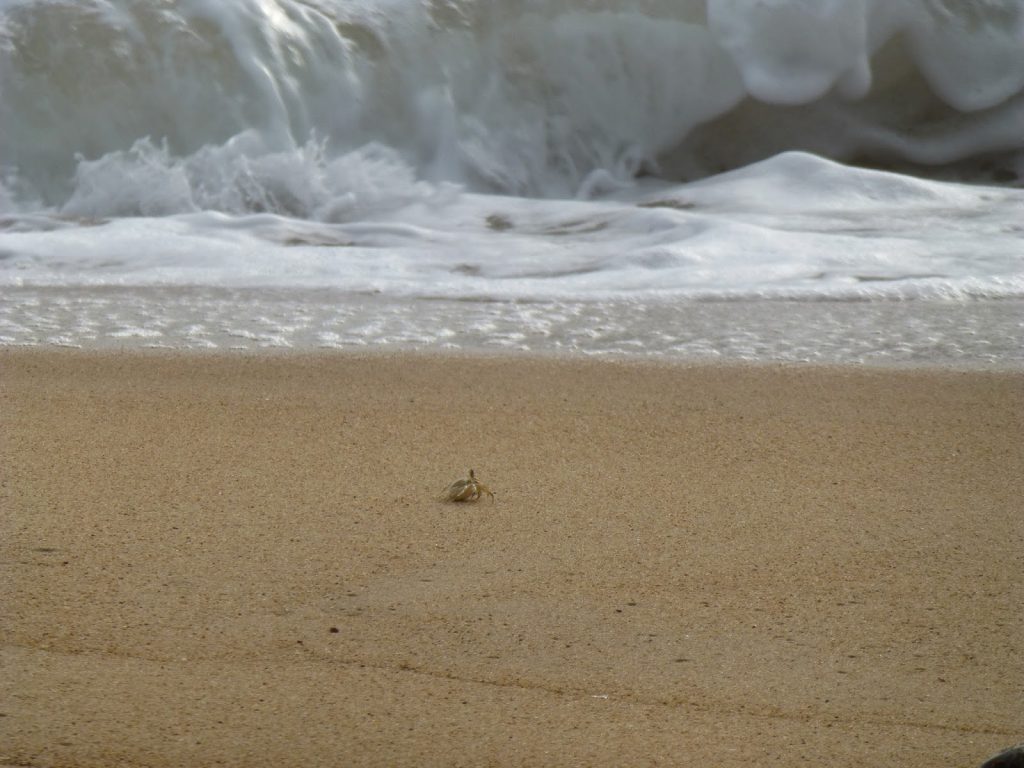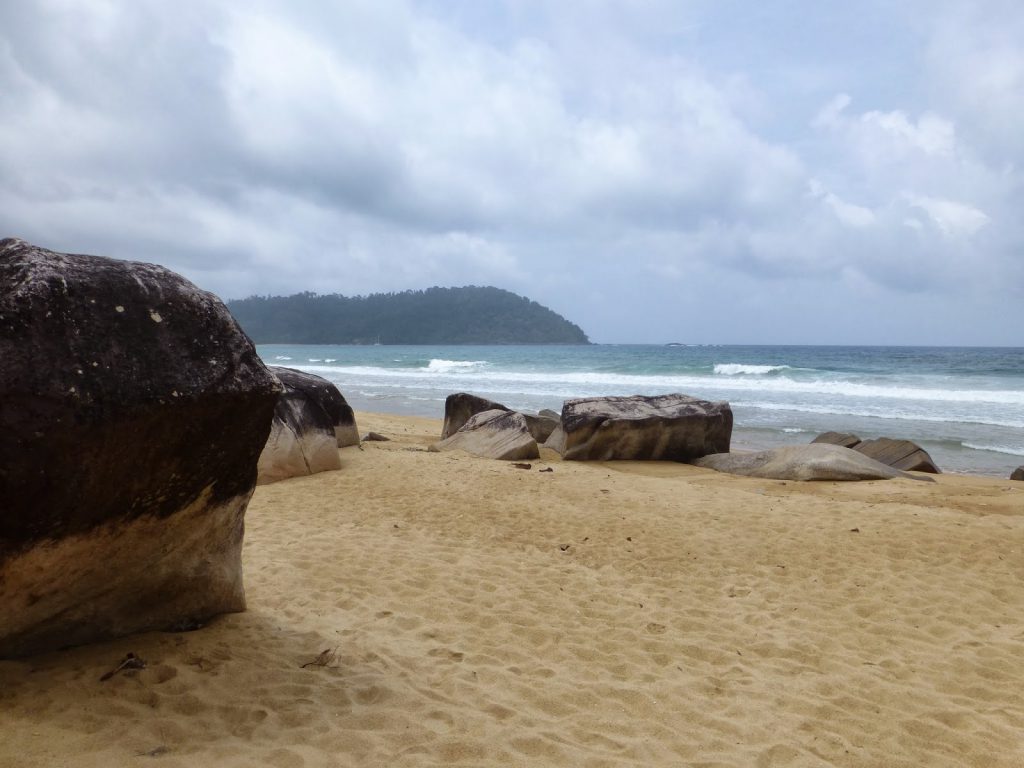 Mentawak Beach in front of Juara Turtle Project
I sponsored a nest too ofcourse and months later I did got an email with the cutest pictures of all the small turtles that ran to the ocean!! Check that out too!!
—
Do you like this Volunteering oppurtunity? Pin it and share it with others!!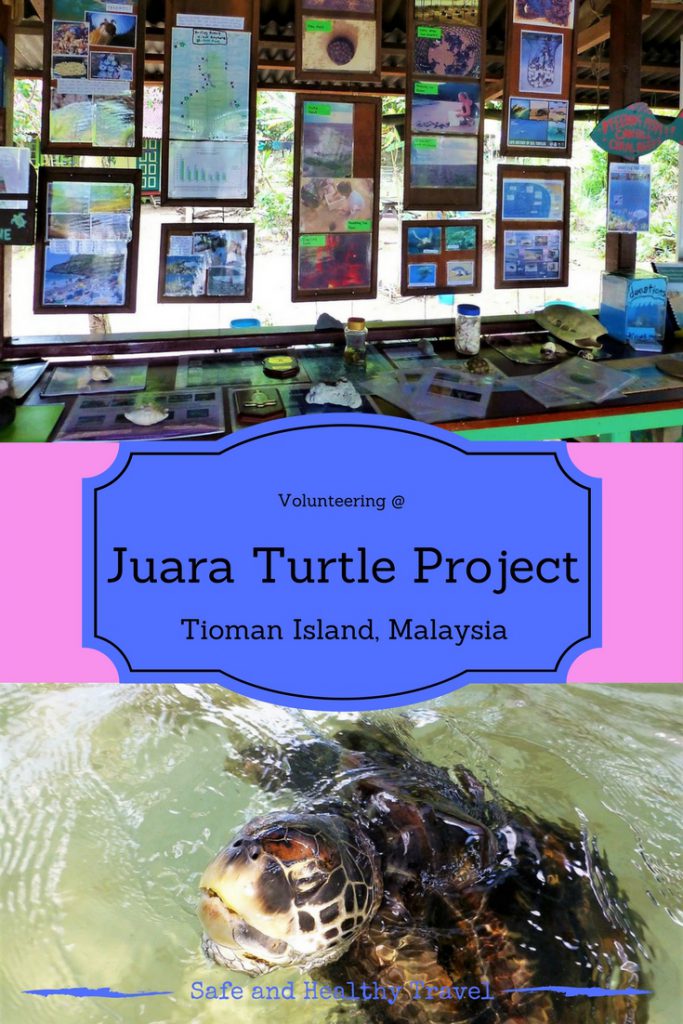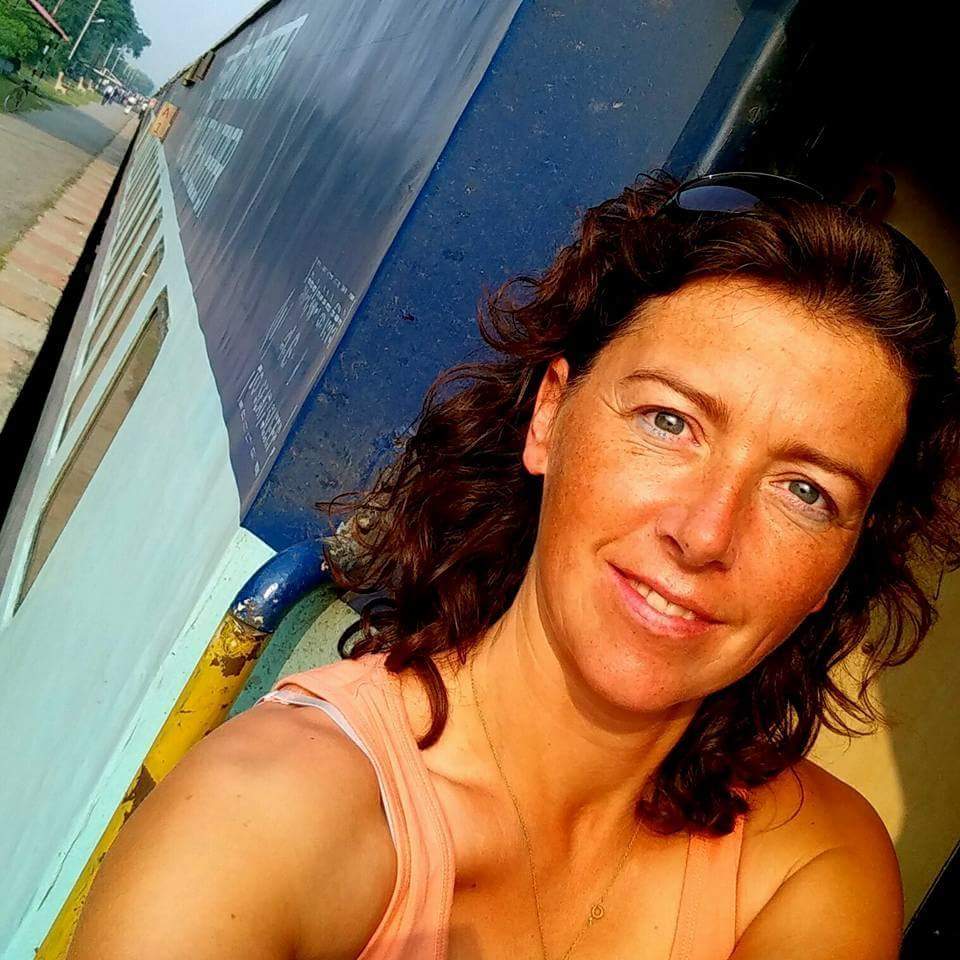 Jacomijn is een politieagent uit Nederland die jou graag laat zien hoe je veilig, actief en gezond de wereld kan over reizen. Safe and Healthy travel is a MUST