2 day & 1 night trekking near Hsipaw, Shan State – Myanmar
|
When I came to Hsipaw it was allready dark. I  didn't feel like bargening much with the scootertaxis when they told me that the hotel I was saying was allready full so I got on the back of a scooter and we went to Mr. Charles Guesthouse.
Mr. Charles Guesthouse
for a trekking near Hsipaw!!
I had read about it in the Lonely Planet. They have rooms available from the cheapest untill very expensive. You can choose from a whole range of luxury styles. When I came there they told me they only had one room left, the cheapest. I really didn't feel like that but it was the Chinese Newyear, probably everywhere it would be full. So I took  the room. It was room  without a window. It only had a bed, a table and a lightbold. Where the lightswitch was there was also a contact to recharge your phone, tablet, camera etc 🙂
At times like that I am so happy with my sleepingback. It is from silk/cotton, so it is very  thin and light. I wouldn't want to go lying in a bed like that…
Because I was hungry after a long bustrip the staff got me a noodlesoup from a restaurant nearby. They came back with it in a plastic bag, they all carry food and drinks in plastic 🙂
He poored it in a cup for me and I could eat a good vegetable noodlesoup. I went to bed early so I could speak to the guides early in the morning about which trip I would be taking.
Two day and One night Trekking near Hsipaw
There was only 1 guide that morning, normally there would be a couple. There were a couple of tables in front of the guesthouse where they would be sitting normally. The reason of their absence was that they all had be celebrating the Chinese Newyear last night. So the guide who was there told me that I had 1 option and that was a 2 day and 1 night trip.
So that is what I did.
2 day / 1 night Trekking in the Shan State
I did a hiking in the Shan state. I went on this trip for 2 days and 1 night, in a homestay. There were 4 other persons that booked this trip so I would be joining them. It were 2 couples from Prague, Tjech Republic.
Trekking near Hsipaw
Shan State of Myanmar
Before leaving I had a half an hour to get some breakfast and pack my back for the coming two days. My backpack could be stored in there saferoom for the time being.

First Day Walking
Half an hour later I was ready and we were going. We started walking.  I heard that we would be walking for 8 hours this day. I was very glad about taking my runningshoes and wearing them on this hike. At first we went out of the village, walked by the cemetary and walked into the forest. We saw that many trees were cut away. The guide told us that the law was strange in Myanmar, once someone had cutted the trees somewhere the land belonged to him. So people are cutting trees to get land. And maybe in the future they will grow something there. Although it is not really land for harvesting because it is on a hill and the roads are slim.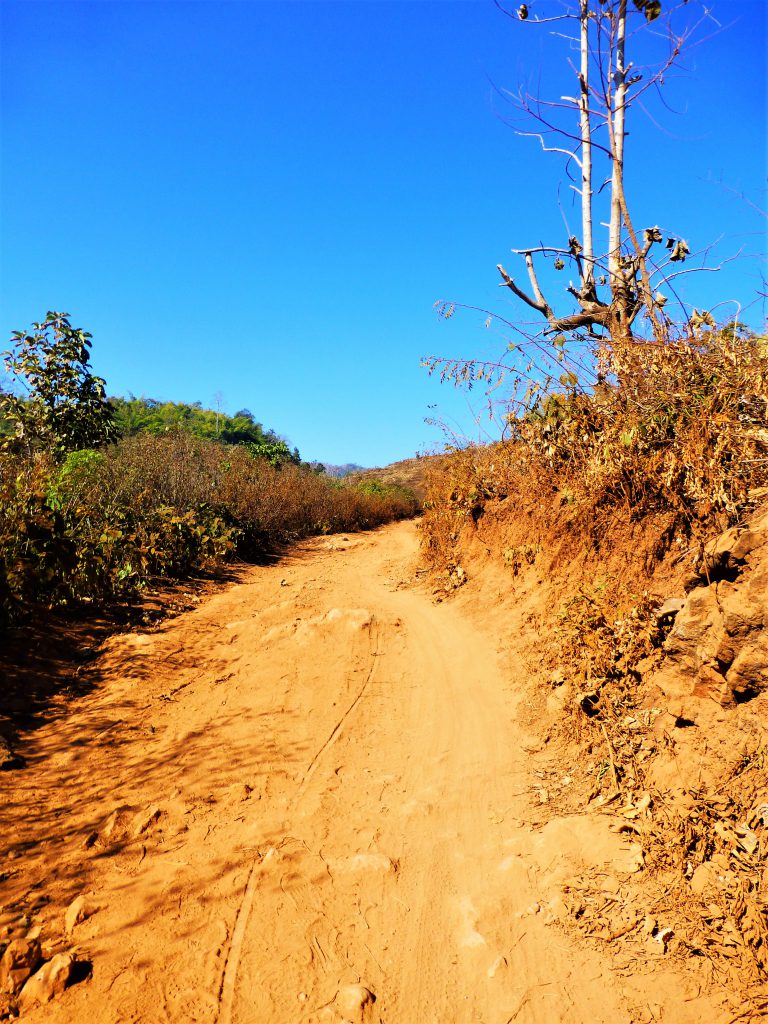 Dont you just love this?
You see this local man walking behind me?
Lunch at the Chief's house
After walking for 4 hours we got into the first village. We saw some houses along the way but not a village. We would be going to eat our lunch here too. We were at the house of the chief of the village, he wasn't at home but his wife had prepared lunch. While another couple was going after having a great lunch we sat down. I took of my shoes. Could allready feel my feet I would get a blister on my left ankle. Could feel it allready after 5 hours.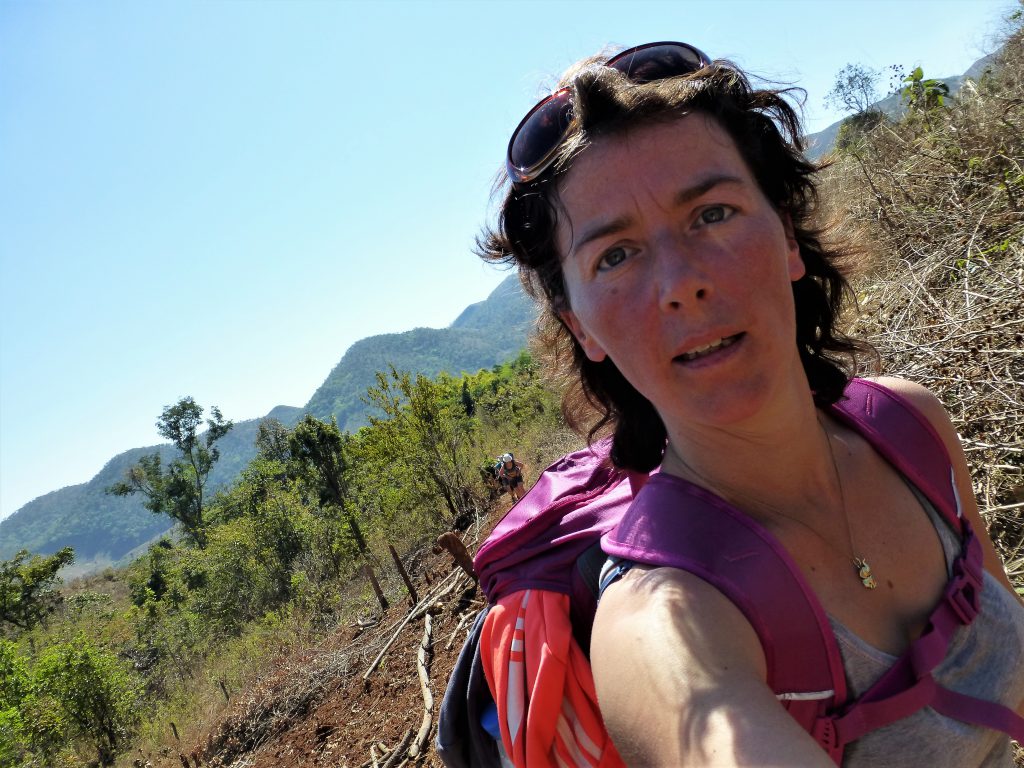 It was getting kind of hot at some point!!
Trekking near Hsipaw – Myanmar
Lunch was great. We had cauliflower with a really nice dressing, also eggplant/aubergine and a mix of corn with spices. All that to eat with rice. And you always get a sour soup on the side with that. She had also a spicy mix to add if you wished. It was all great, it has a big range of tastes when you have it all together on your plate. I Love Myanmar food!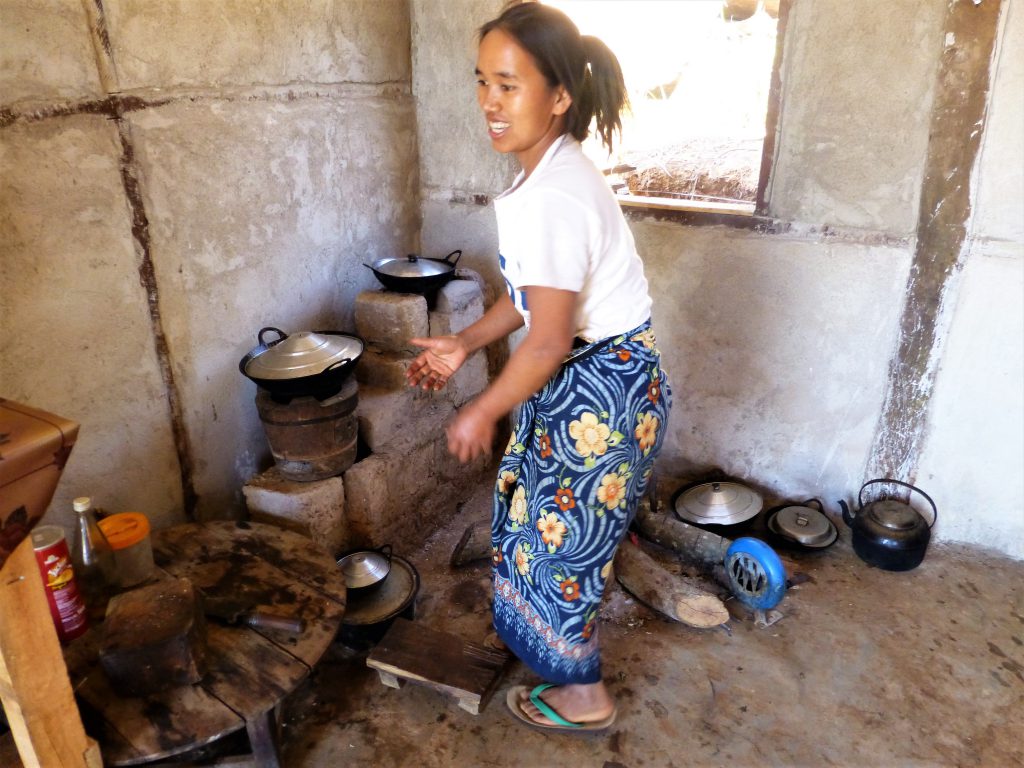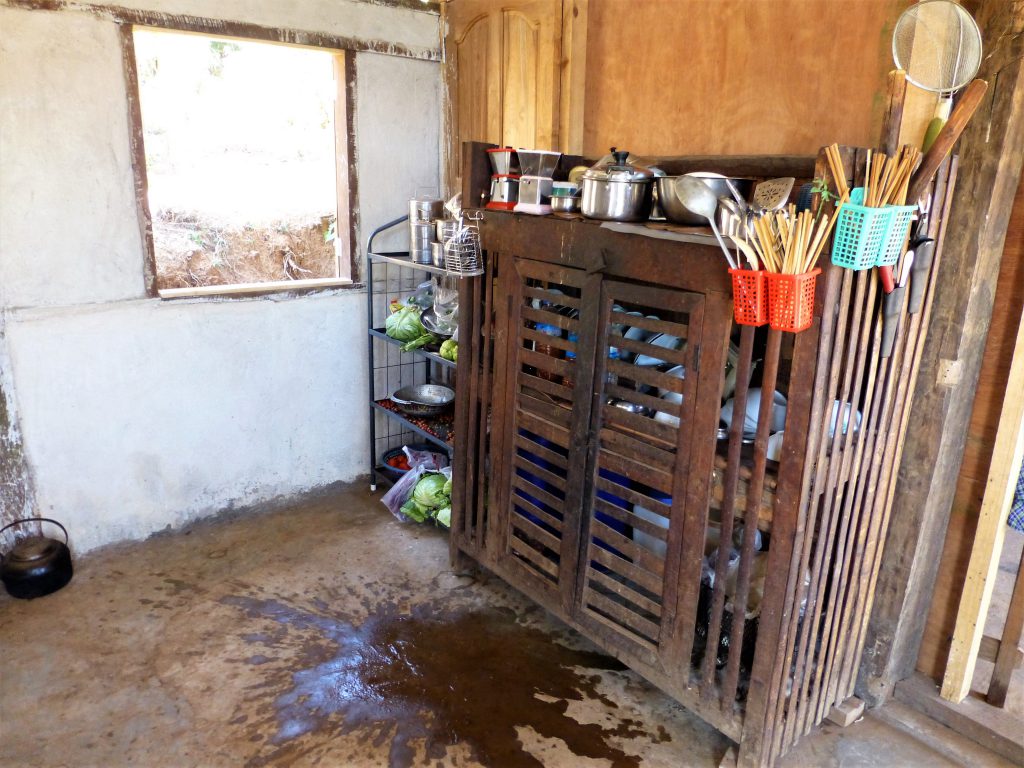 The Kitchen where our great lunch was prepared!!
Homestay near Hsipaw
After lunch we hiked to another village where we would stay the night. We hiked for 3 hours. We came at the village and the first thing we entered was the water/washing place. The whole village is washing themselfs at that place. The water they use in  their homes comes from that place. We had to use it too if we wanted to refresh ourselfs.

We walked on and met the family where we would be staying for the night. They had the local supermarket in their home. So it was a busy place. People coming and going, buying food, drinks and the gas for their scooters.
Our Room –  Adventure 🙂

Trekking near Hsipaw – Myanmar
We were shown our room. It was some kind of a bungelow on their land. In it was nothing but a platform so you didn't lay on the ground. We, the  women would be sleeping there, the two guys would be sleeping in the other building. There were also students sleeping. The village had a school where other village nearby didn't had that so the kids stayed over during the week. It was all so primative. The toilet ofcourse was that small building in the back of the garden. It where those holes in the ground kind of things. Starting to get used to it by now suprisingly.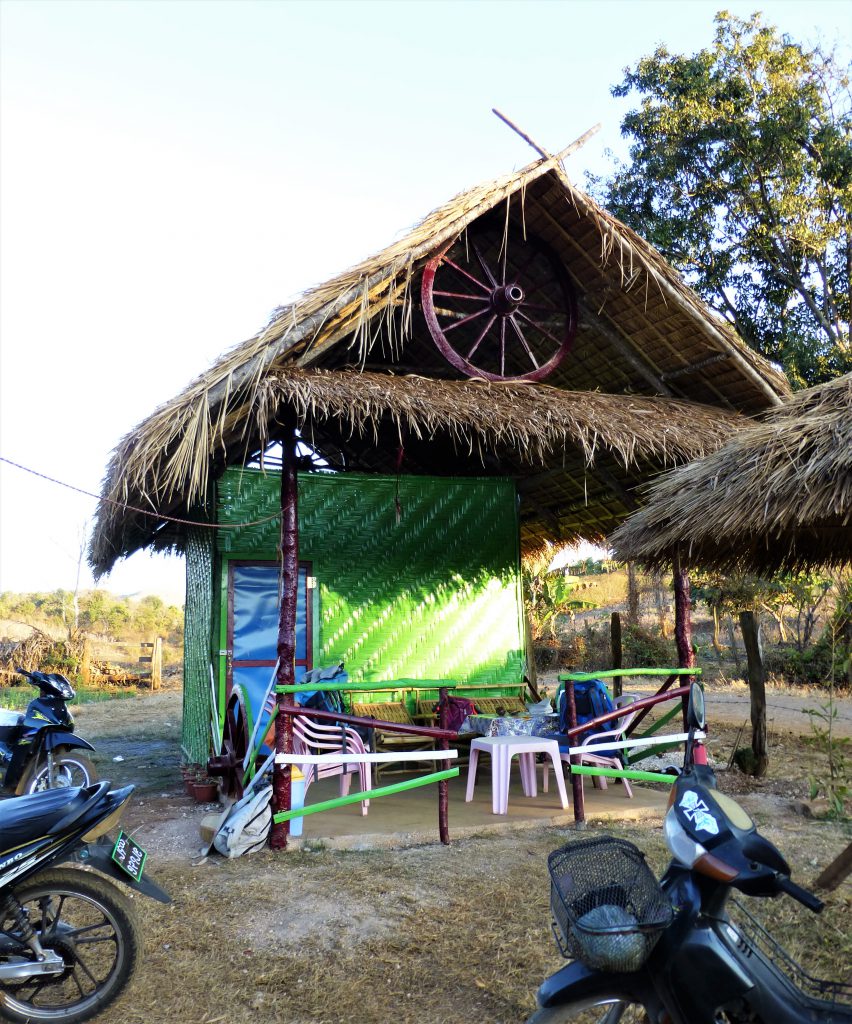 Our place for the night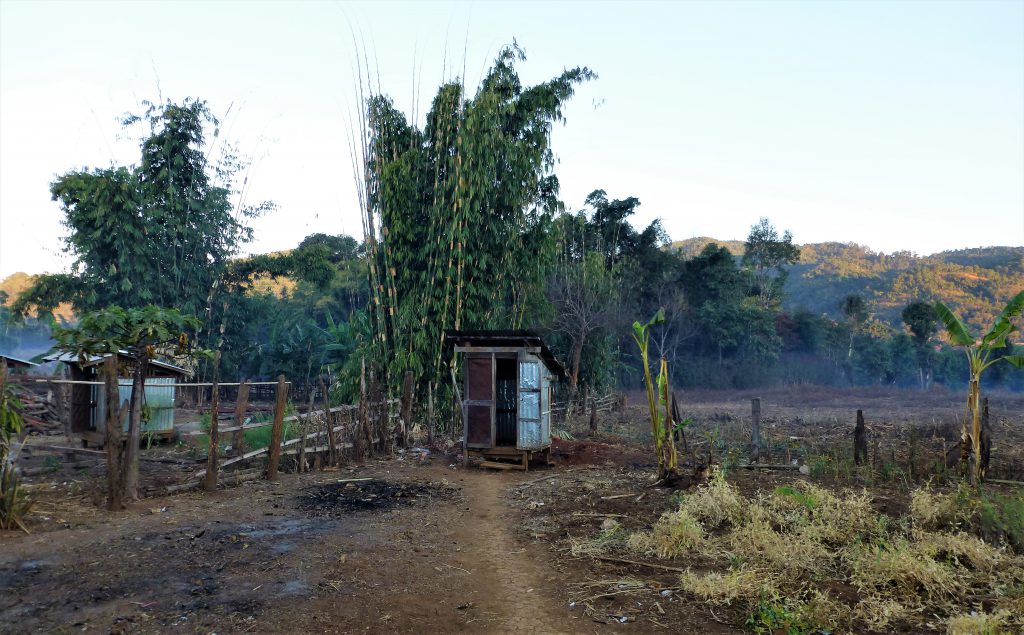 The toilet 🙂
Trekking near Hsipaw – Myanmar
To refresh ourselfs we went to the bathing area of the village. There was a man washing himself so we waited a while, but other woman didn't mind and just went there and did there thing. So we did too. We had to wait a while before they let us use it. They were just doing there thing, didn't mind us and walking by as if we weren't there. So there was no standing in line here. I just went standing in the used stream of water to wash my feet. After that I saw a way to get in to wash my hands and face. They didn't mind, they just work their way around you 🙂
Evening view over the Shan State
After that we went up the hill to a stupa. We had a great view over there. Took some nice picture from the colour in the sky, sun was allready set by then.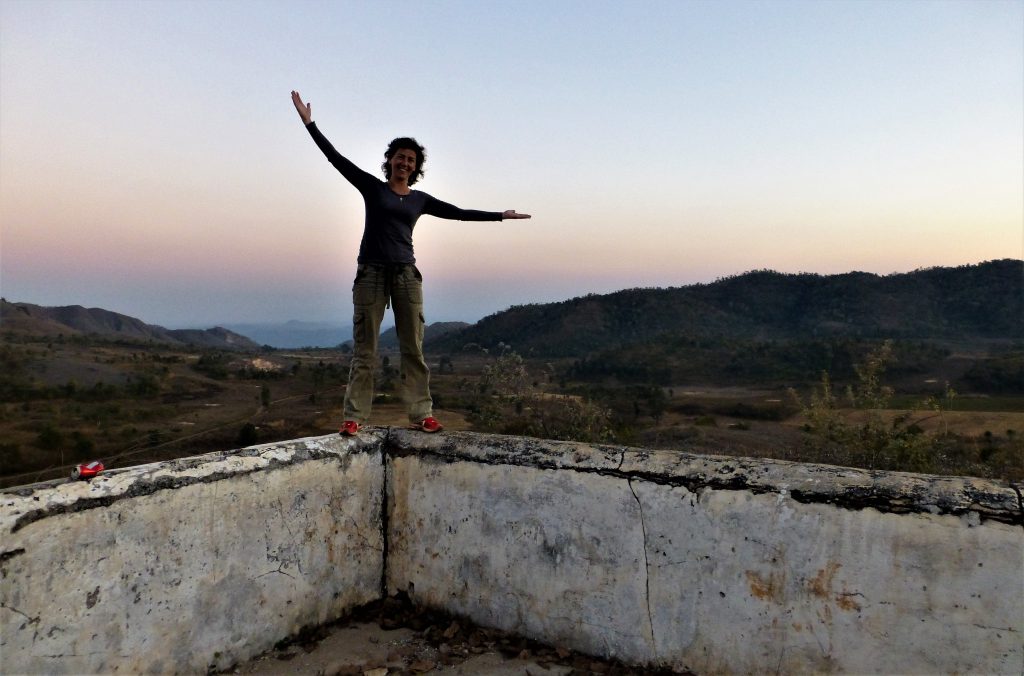 On top of the world 🙂
After we got diner. Inside their house/supermarket they have a table with a bank and some chairs where we sat down. We got french fries,it were baked potatoes nicely carved. Real good! And the cauliflower and vegetables mix based on cole. And ofcourse the sour soup and the rice. It  was great again. Like the combinationthey serve in Myanmar very much.
We sat down for an hour and after we went to bed. We had a long day and upcoming a day with a couple of hours walking again.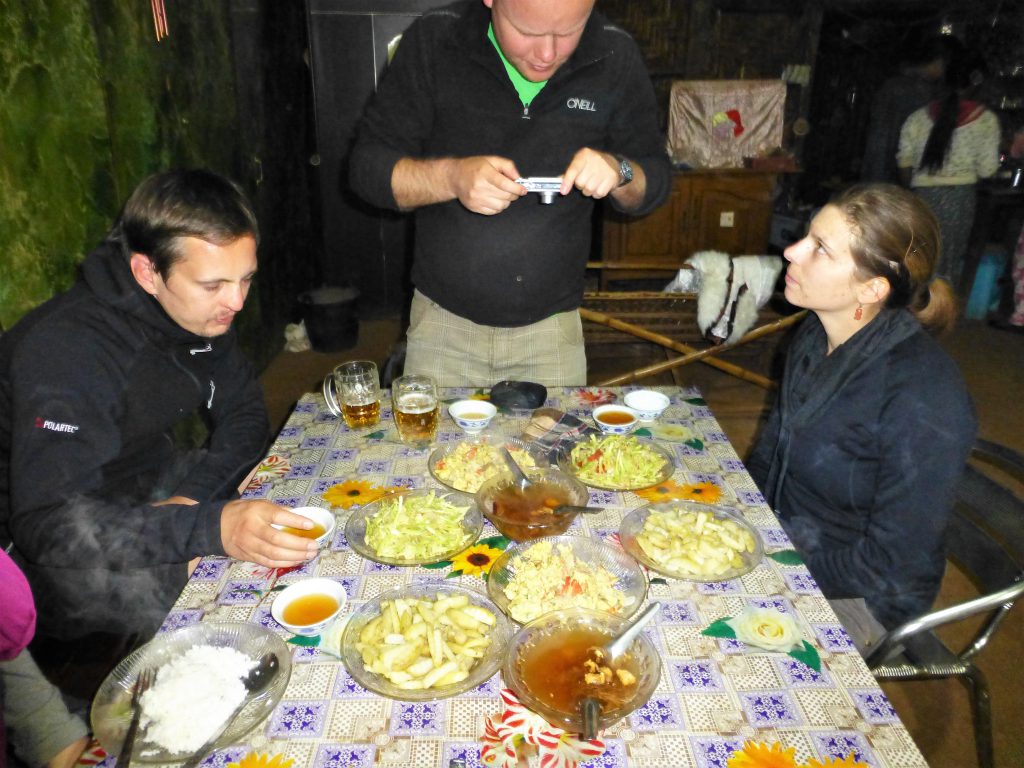 Goodnight
We went to the place where we would sleep, we had already seen them carrying in some blankets and matresses. The matress was like  3 cm thick and the blankets almost the same. I had my silk/cotton sleepingbag with me so I obviously used that one. The other woman had also a bag to sleep in.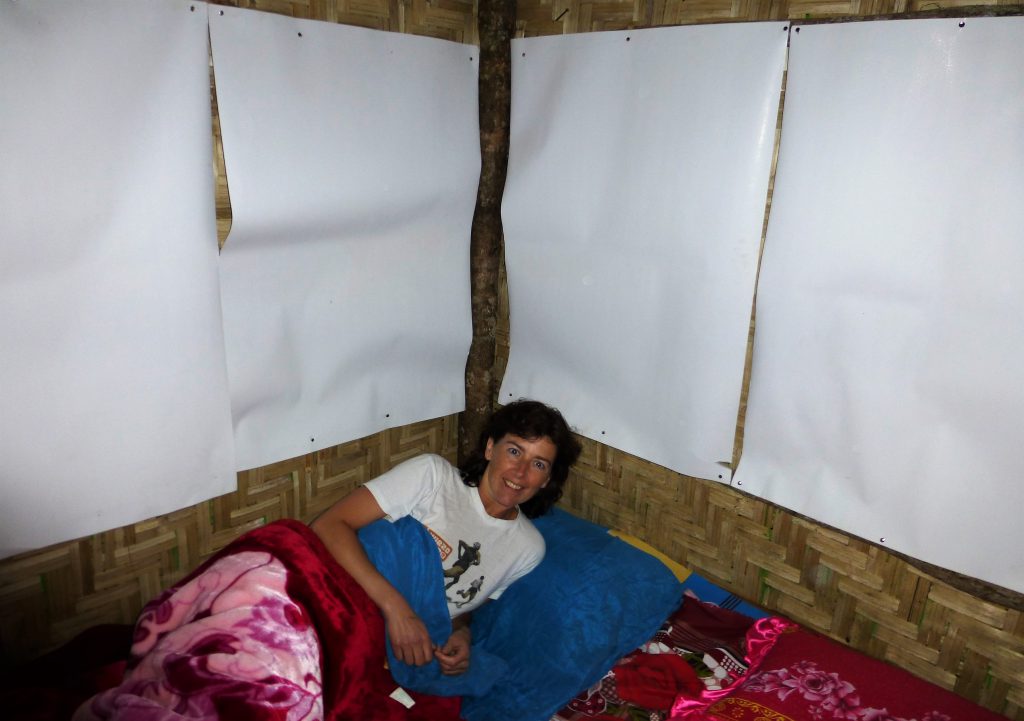 I couldn't lay down good, it was very hard on top of that wooden surface. It was really cold but after a half an hour I was warm. But then the sounds I could hear kept me awake for a while.. A cat at first. Wanted to get in, I think. After a couple of dogs, having a fight with who knows what? Then I heard also the waterbuffelo or the cows. All night through you hear noises you can not explain.

In the morning I heard that the other ladies didn't slept well either. One told me she had strange dreams all night.
Trekking near Hsipaw
Breakfast
Well I started the morning by going to that building at the egde of their land…the toilet. They kept it really clean I must say. I didn't thought of it like a nightmerry going there.  The feeling I have on almost most of them. I'm getting more used to it by now I guess.
After we had breakfast, again rice with vegetables. I didn't like the tea so I bought mocca coffee out of their supermarket and they made  that for me. I really enjoy my cup of coffee in the morning!!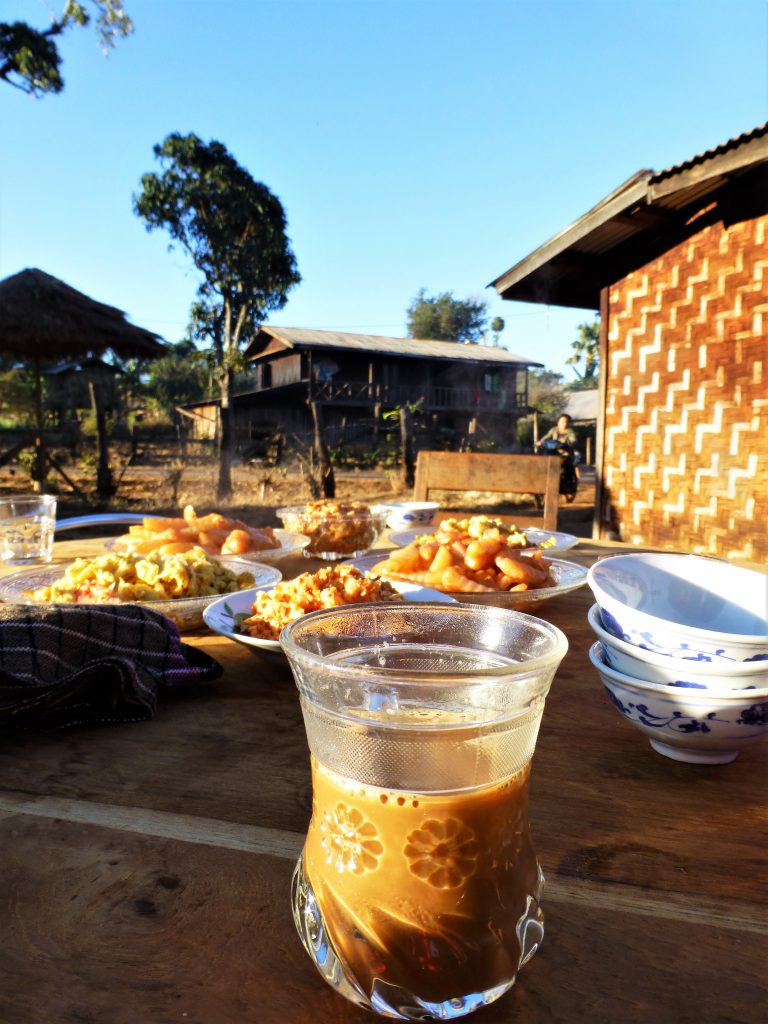 Second Day Walking
After we started walking again. I could feel my feet from the  day before but it was do-able. We came upon this great Banyan tree. You can't hardly imagine how big that was! I felt so small sitting on those roots 🙂 I guess you need to look at it twice to even see me sitting on the treeroots, do you?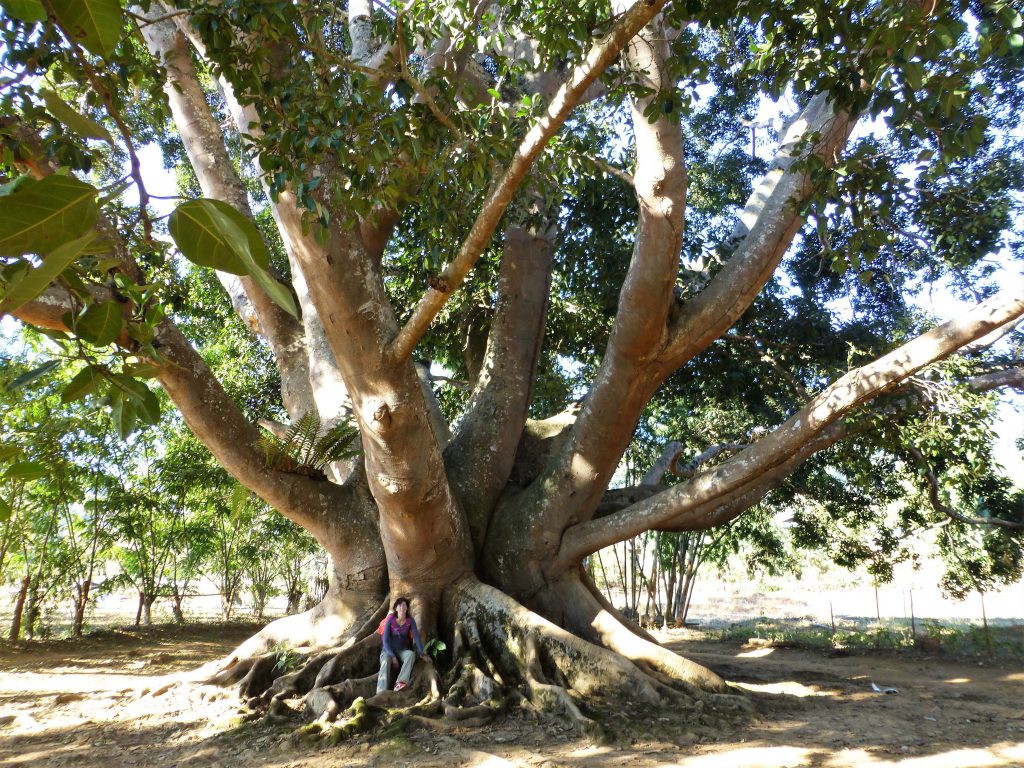 After 5 hours walking again through great areas we were at our taxi point and  being brought to our lunch. This time noodlesoup, Shan style. Really nice soup!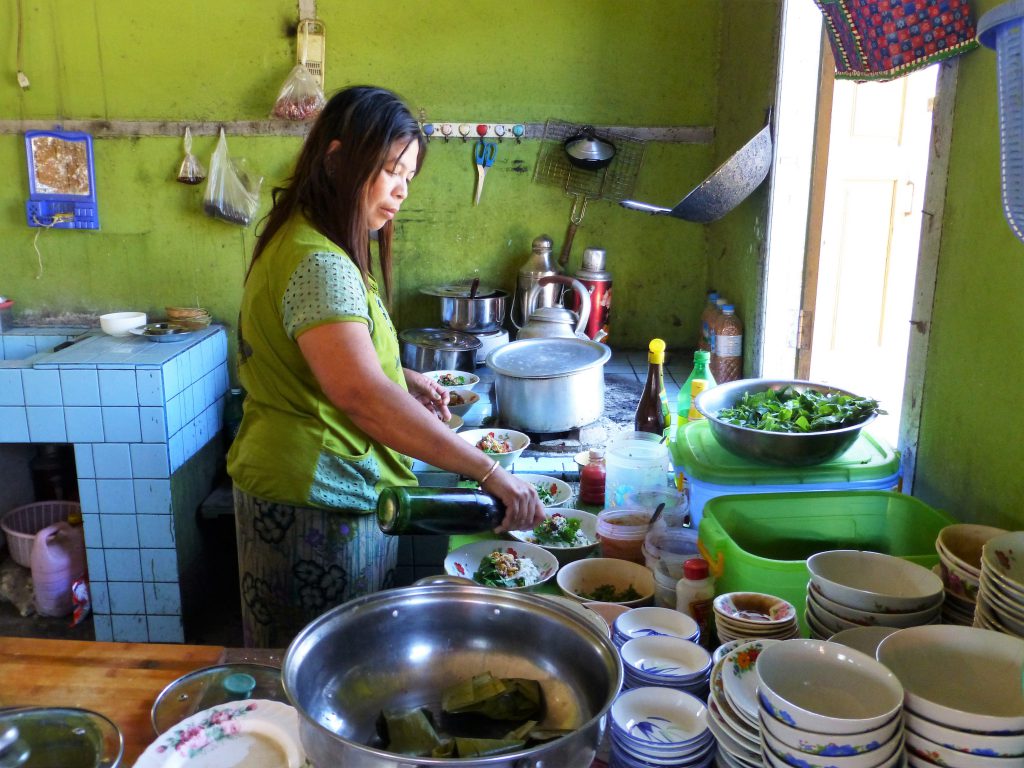 She prepared the Shan soup in that kitchen 🙂
It was a very good experience, but also it was very tough for me. Also because of my condition in my intestines I felt a bit less energetic. I later found out that I had a bacterial infection.. I can really reccomend everybody on doing this. You really get a good sight of how people still live in this time and age.
Two Day and One Night Trekking near Hsipaw in the Shan State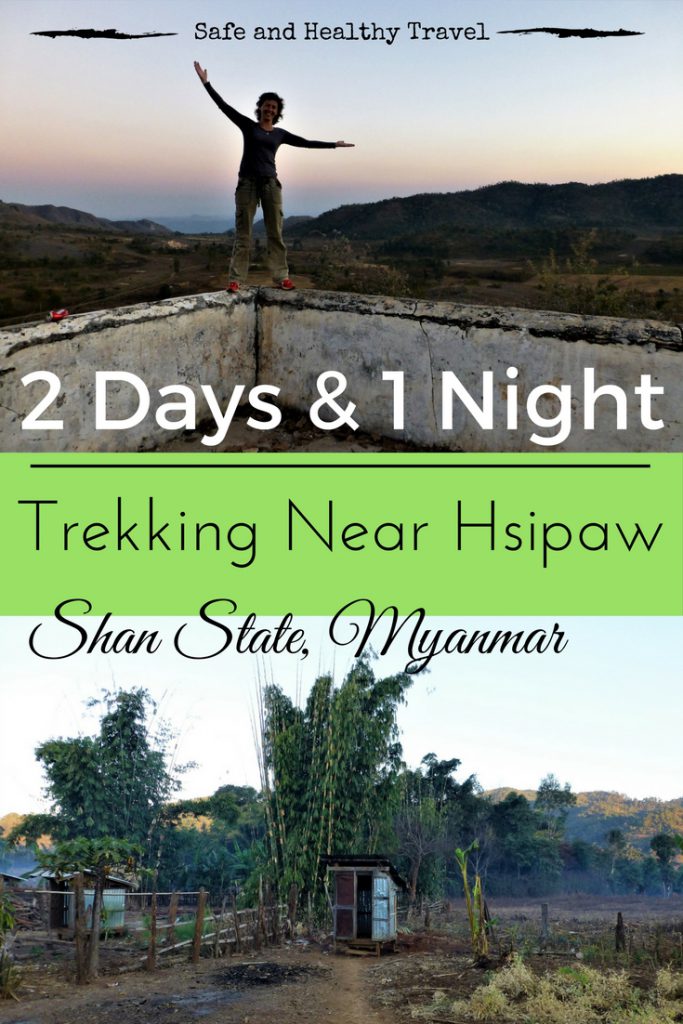 Want to see more about Myanmar?
The Famous Legrowers of Inle Lake
Walking to my First Sunrise – Magical Bagan
Fishermen village near Chaung Tha
The Famous U Bein Bridge – Amapura
Or how about a multi day trek in Nepal?
Poon Hill Trek – 8 Days & 7 Nights – Nepal, Pokhara
I hope you enjoy this beautiful world as much as I do!!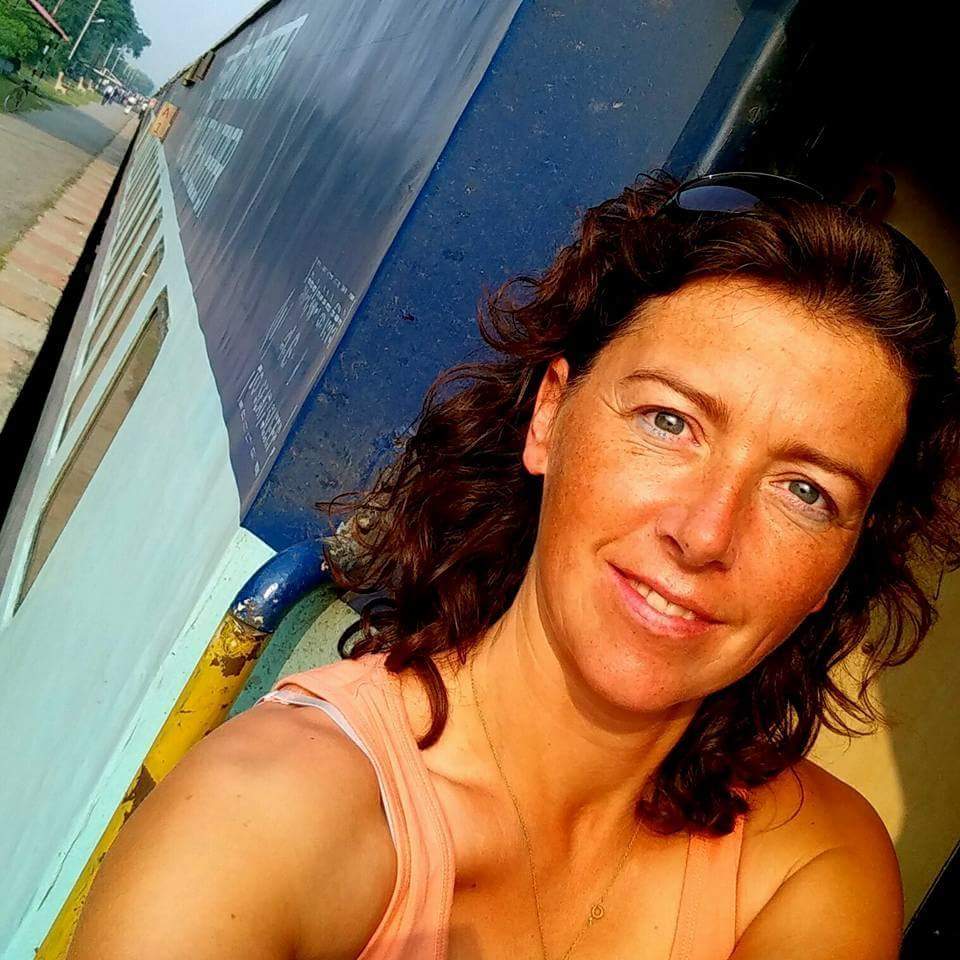 Jacomijn is een politieagent uit Nederland die jou graag laat zien hoe je veilig, actief en gezond de wereld kan over reizen. Safe and Healthy travel is a MUST