Hiking on Ko Adang & Snorkelling at Koh Lipe – Thailand
|
Thailand's islands are paradisiacal, surrounded by the clear blue Andaman Sea and Strait of Malacca and, of course, the smaller islets sticking out of the water like rocks. Everyone knows the beautiful pictures with the karst rocks from the beach…. Or the beautiful palm trees at the beach with a beautiful sunset behind them….Hiking on Ko Adang and snorkelling at Koh Lipe sounded as the best idea to spend my days there.
Hiking on Ko Adang near Koh Lipe – Thailand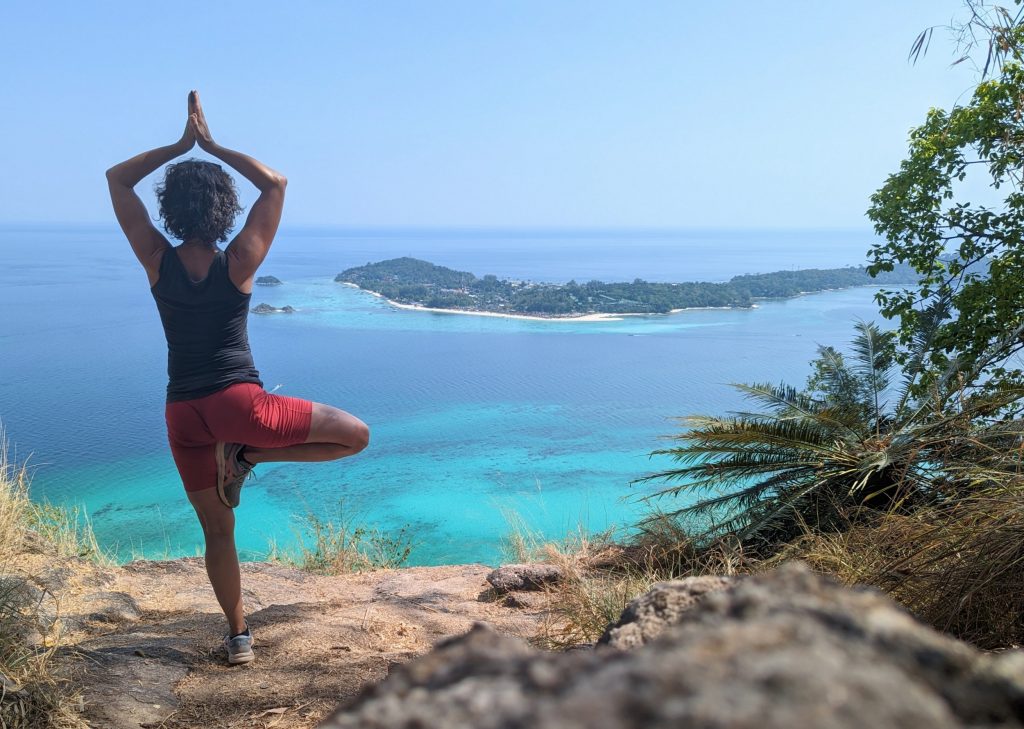 That is exactly what you get when you go to paradise Koh Lipe. It is part of the Koh Tarutao Marine Park and is a protected area. I was here in March 2023 and arrived on the island by ferry from Langkawi. This does provide an easy way to travel from Malaysia to Thailand. I will explain how this worked later in this blog.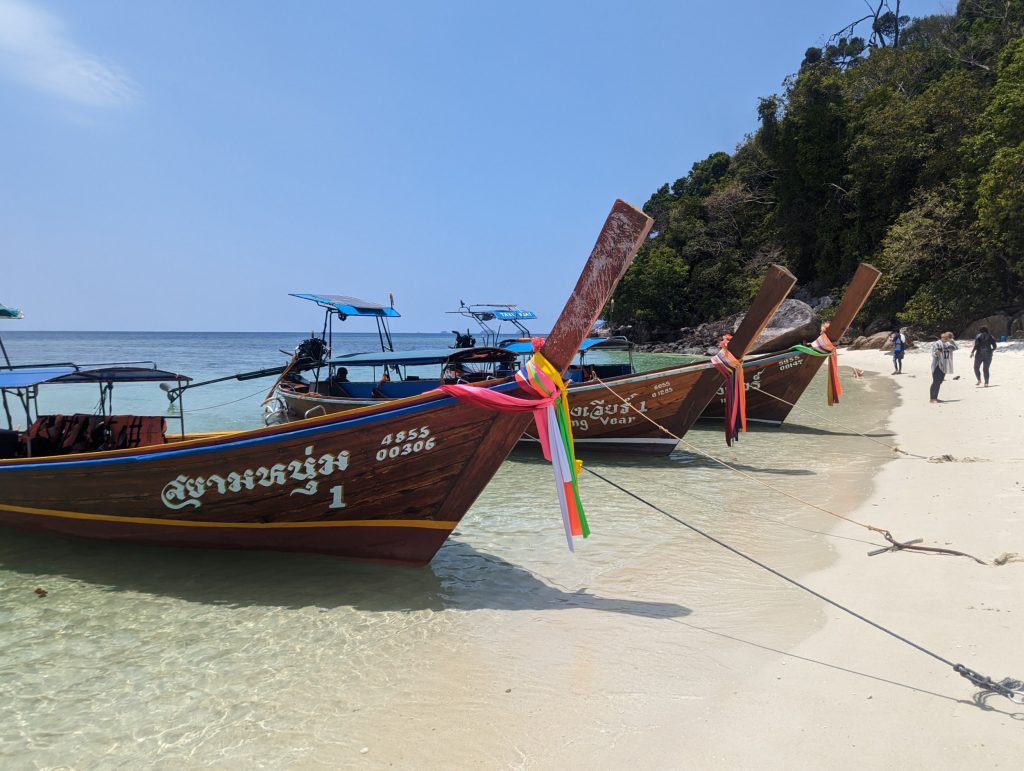 Once reunited with my backpack, I walked on the beach and looked for my hostel. For a moment I walked in the wrong direction, i.e. I turned left on the beach but if you arrive and then turn right you soon come to Walking Street. Here I had to go in and after a few hundred metres I had to turn left. Walking Street has dozens of shops, restaurants and travel agencies. If you want to arrange/book anything during your visit to Koh Lipe, Walking Street is the place to be!
Snorkelling in the Paradise called Koh Lipe – Ko Tarutao NP
After asking an employee in a shop for help, I soon found my hostel. I had a very small convenient single room in the hostel Seahorse. I will tell a bit about this later in this blog. First, I went to explore my new surroundings. I had a delicious lunch at Bloom's and checked out Sunrise & Sunset Beach. I also found out where I could rent a kayak, saw where I could book a snorkelling trip and enjoyed a delicious milkshake at Akira on the beach.
In total, I stayed on Koh Lipe for 3 days and undertook the following activities:
Hiking on Ko Adang
To get to go hiking on Ko Adang, you need to hire a taxi boat. Taking it from Sunrise beach will cost you 100 baht for a one-way trip. I also immediately agreed on a time for the return trip with the same taxi. There are not always boats out there and if you don't feel like having to wait, this is handy. I took my time liberally and agreed 3 hours later for the way back.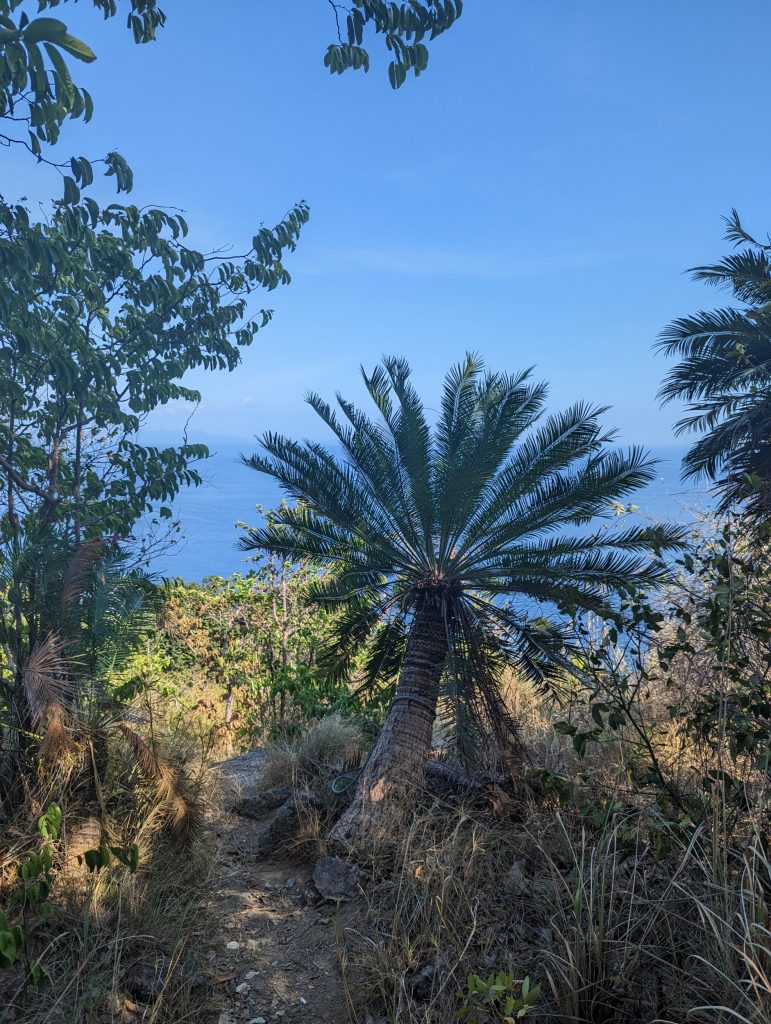 When I started hiking on Ko Adang I quickly walked into the information centre of Ko Adang and showed my permit there. I think if I hadn't gone in, I wouldn't have been asked for my permit anywhere. After this, seen from the sea, I walked to the right and there, after about 200 metres, I saw a path disappearing into the jungle. This was the path that would take me to the various viewpoints.
Hiking on Ko Adang – Koh Tarutao Marinepark – Thailand
The path slowly but surely went up steeper and steeper, and when I reached the first viewpoint, the sweat was visible on my forehead. It was around 2.30pm and thus about the hottest part of the day. I sat for a while enjoying the view but also the wind that I was just beginning to feel slightly here.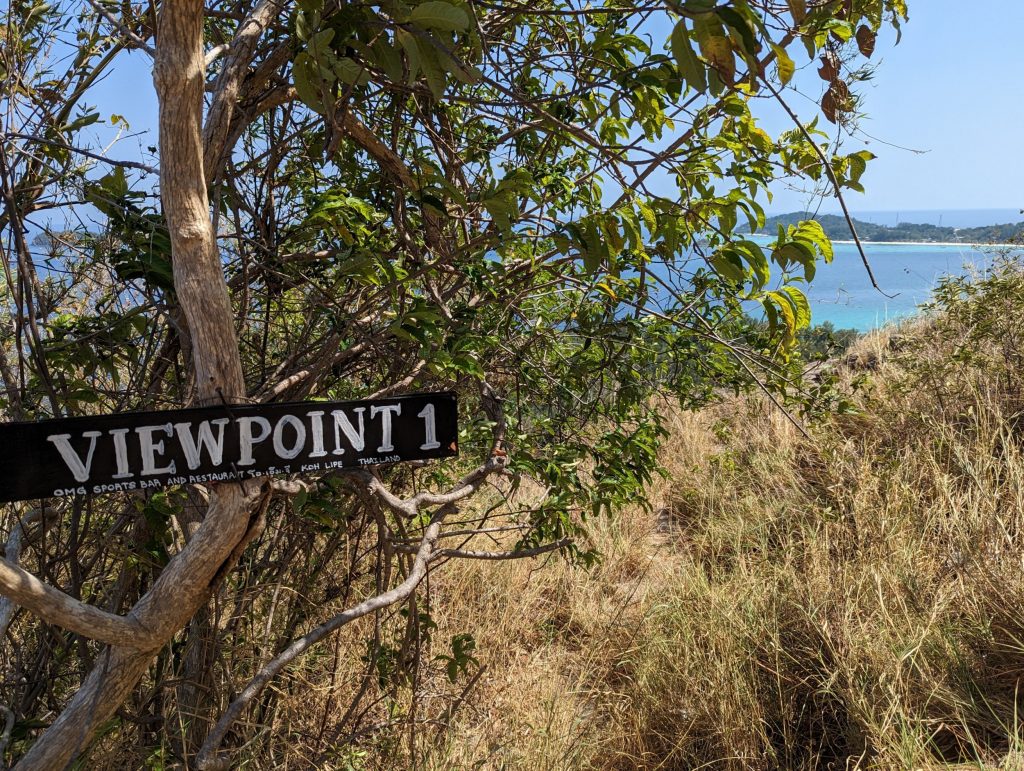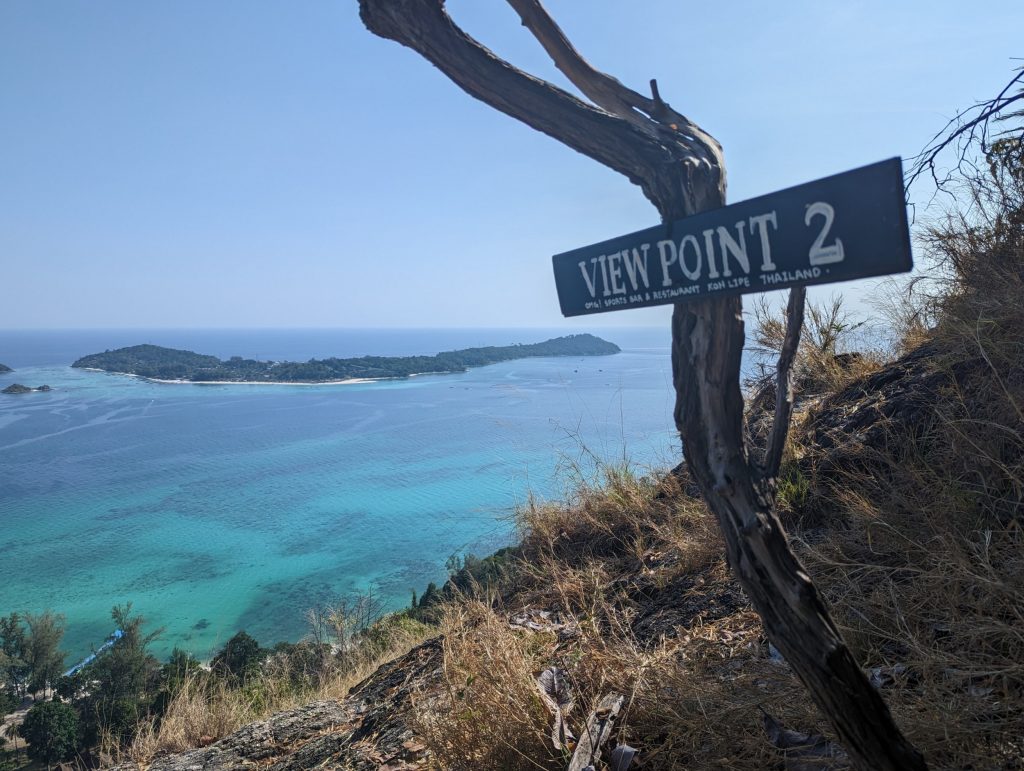 After this, I steadily hiked uphill on Ko Adang. Every now and then looking back to see how far I could already see. Sometimes I did not look towards the island of Koh Lipe, so I was curious to see how I would get the full view of the island later on. At the second viewpoint, I could already see the island in its full glory. What a beautiful sight, right? With that beautiful blue-green sea surrounding it?
Further up to the highest point and also the point where I could sit comfortably.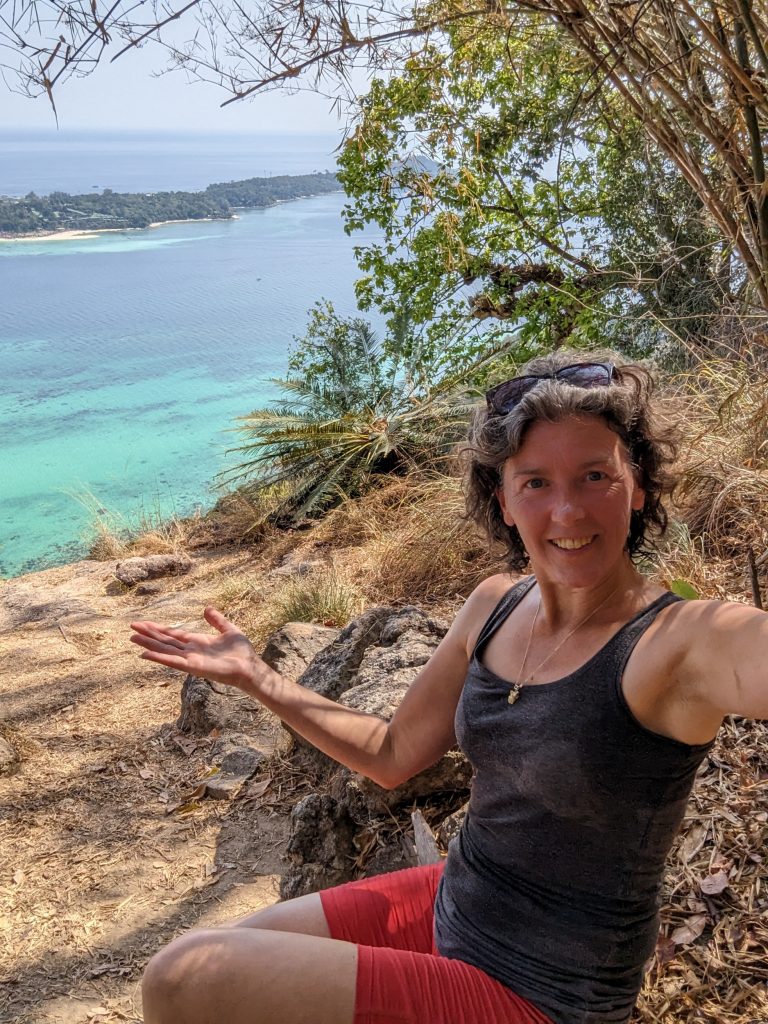 The highest viewpoint to get a great view over the smaller island of Koh Lipe.
Hiking on Ko Adang gives you the best views!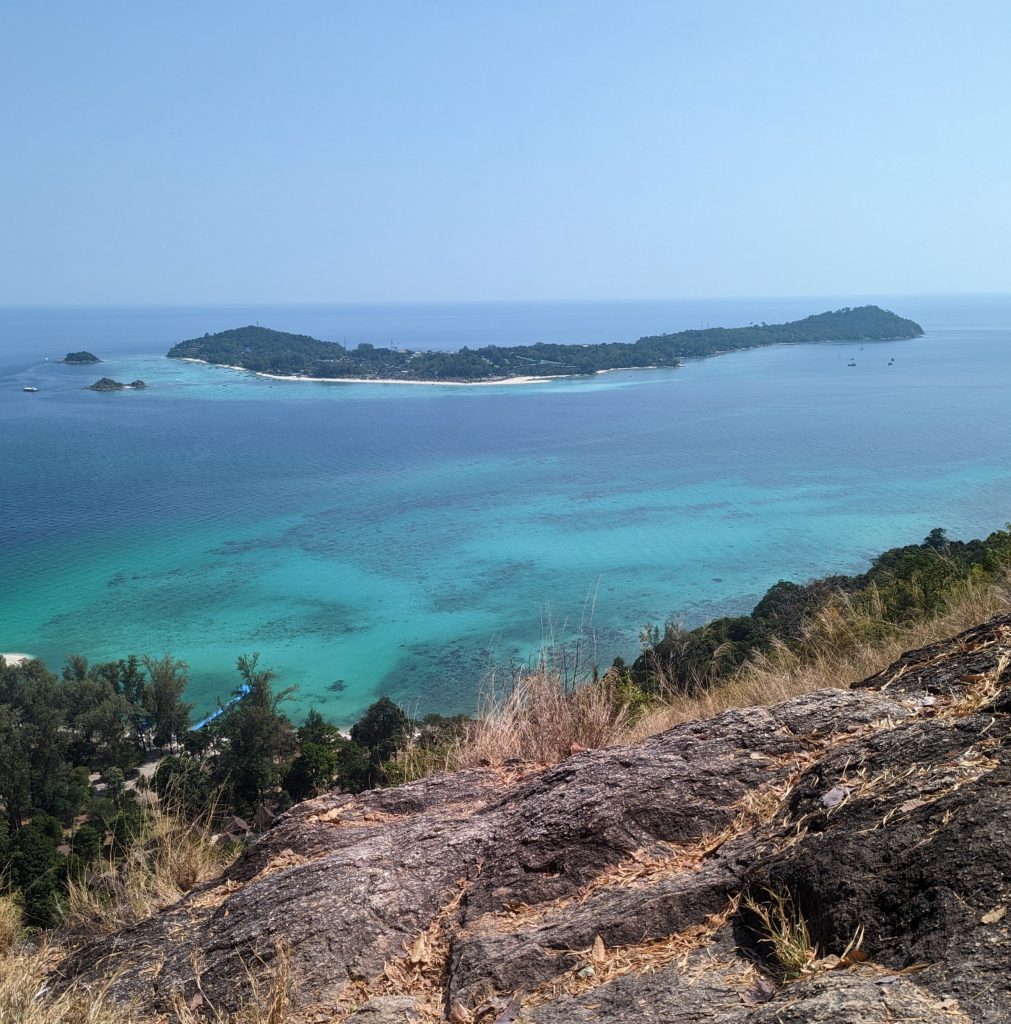 Costs: 200 Baht for the taxi boat
Snorkelling and kayaking Koh Lipe
On my first full day on the island, I hired a kayak in the morning. I did this at Sunrise beach because there are two small islands (Ko Kla & Ko Usen) off the coast. Then I had a nice goal to go to and do some snorkelling around these islets. I had my phone with me, in the case I bought at the Taman Negara a few weeks before and I was all set.
An island like this always seems very close, but it took me a bit longer than I thought. Not long at all, I think 15 to 20 minutes but you always think oh well…. 5 minutes and then you're there. So when I got there, I enjoyed dragging the kayak onto the small beach and taking off my life vest and trying out the snorkel set.
Snorkelling & Kayaking near Koh Lipe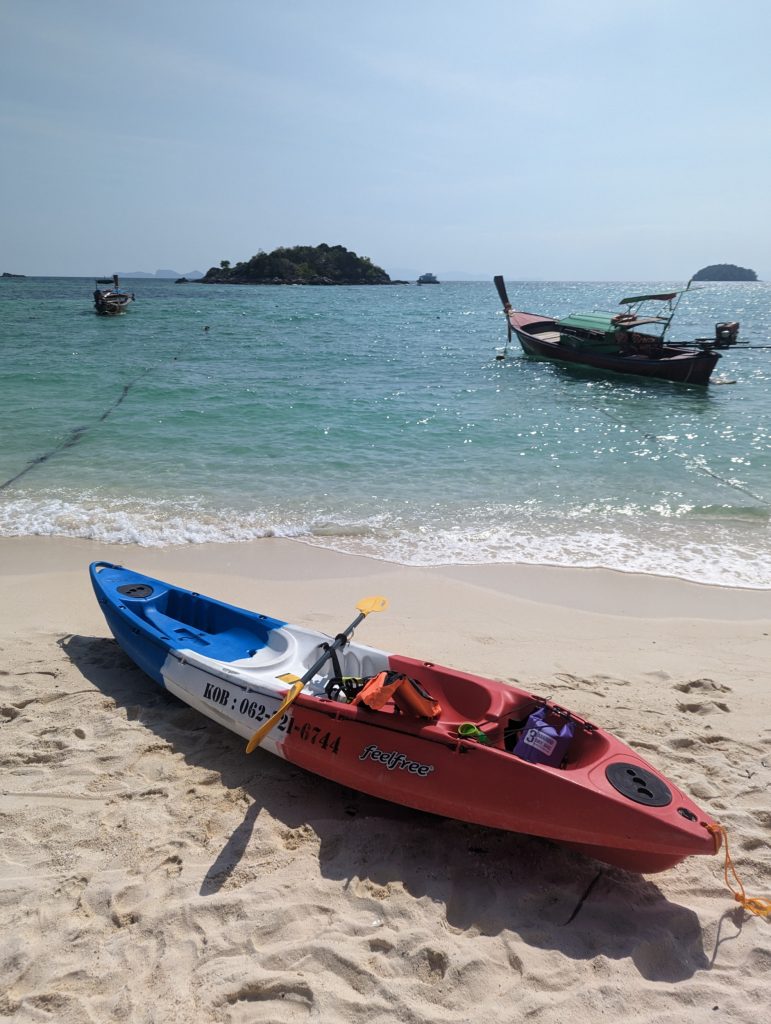 So how nice is it to see fish swimming right away? Nice and beautifully coloured fish right away too. When I was snorkelling, a fish suddenly came straight at me… and since I don't really like fish… (Just read this IG update) I was startled and wanted to get away a bit too quickly, so I unfortunately hit a rock with my foot. This caused a small wound on my big toe and I was done for a while. Back on the beach, I used some clean water to clean the wound for a while and climbed back into my kayak.
It was time to take a lap around the island and then kayak to the other island.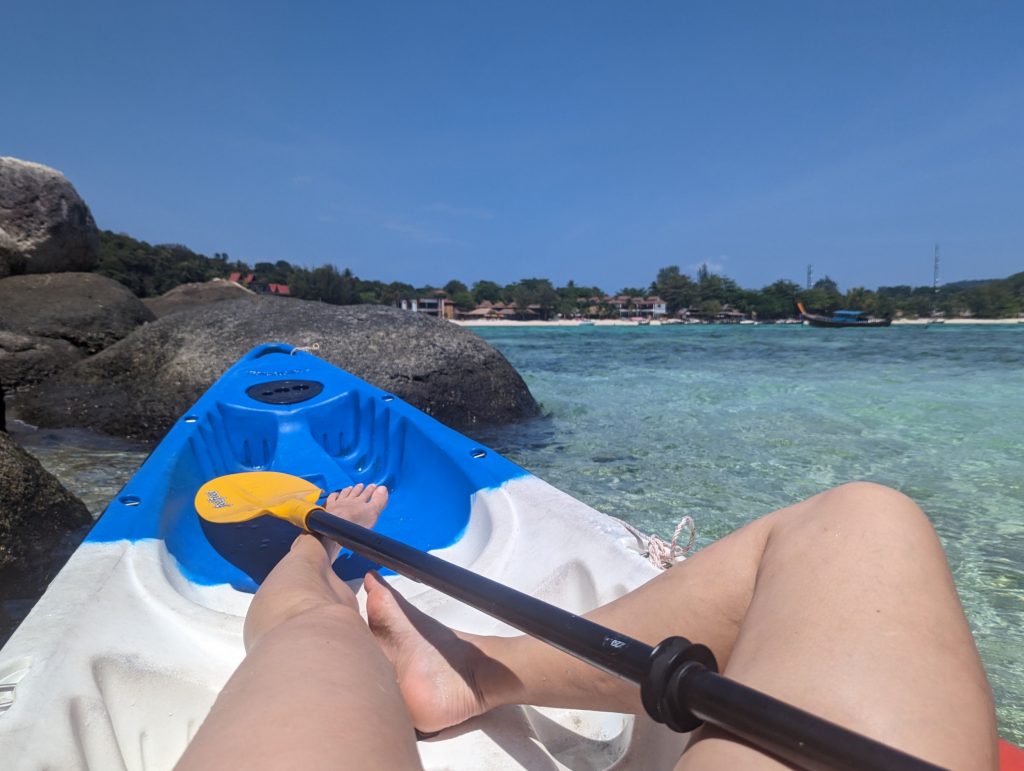 Kayaking to the other islet was over half an hour to an hour and so when I got there I took a break in my kayak in the shade. Below me I saw fish swimming and in front of the island several snorkellers passed by. The islet of Ko Usen is also easy to reach swimming from the beach and so it was a bit busier here. On the other islet, only a couple had been on a different beach from where I had moored.
There is no beach on this second islet but there were many people snorkelling around it. So both islets are very different in that respect. At Ko Usen islet, I also fixed my kayak again and snorkelled for a while.
After a while, I made the circle around the island. The current and also the waves at the back were considerable. I really had to pay attention to my feeling that I was leaving my kayak in the waves in the right way and that I did go in the right direction. A bit of work is always nice, I think. Bit of a workout for the muscles!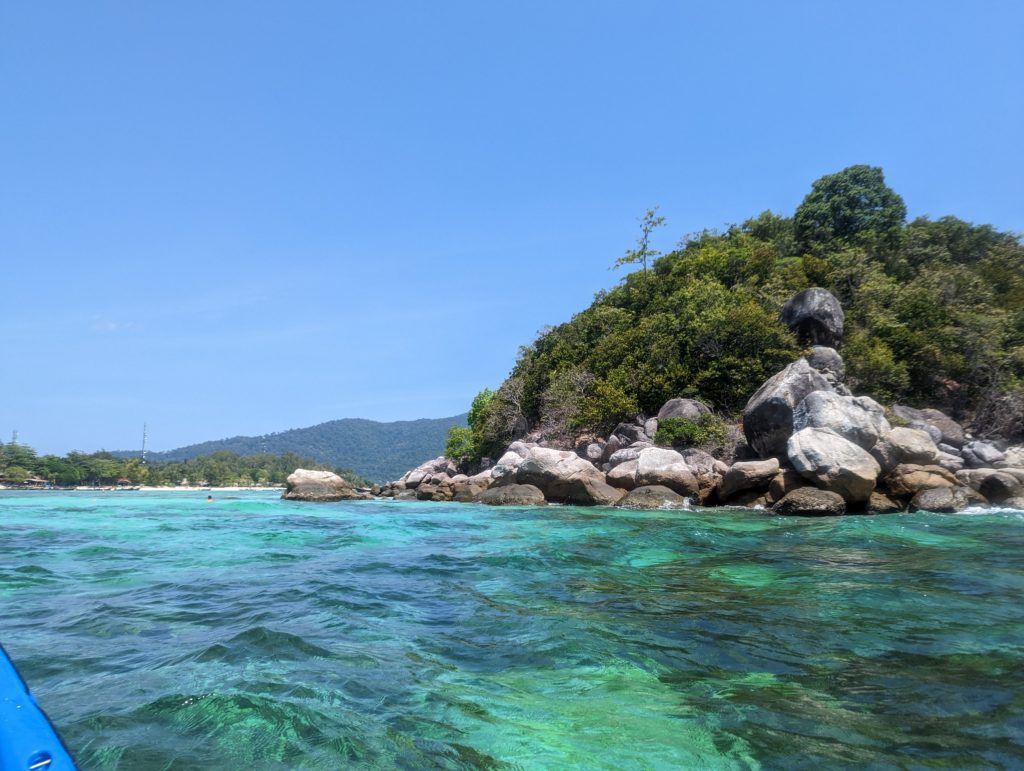 Cost 300 baht for 4 hours of kayak rental. I also rented the snorkelling kit for 50 Baht.
I snorkelled at Ko Kla and Ko Usen during my kayaking trip. If you are a good kayaker, you can go further out and rent the kayak for a whole day. Just know that on the water you are more likely to get discoloured…. er burn 🙂
Packaged snorkelling trip Koh Lipe
Book a snorkelling trip to 4 spots in the area for some great diving. You can book several trips, one will take you to 5 islands and another will take you for a few hours longer. I really enjoyed having a day out with some fellow travellers. They were 2 couples but also a girl from the USA, originally Chinese, with whom I snorkelled and talked a lot that day. Very sociable and educational.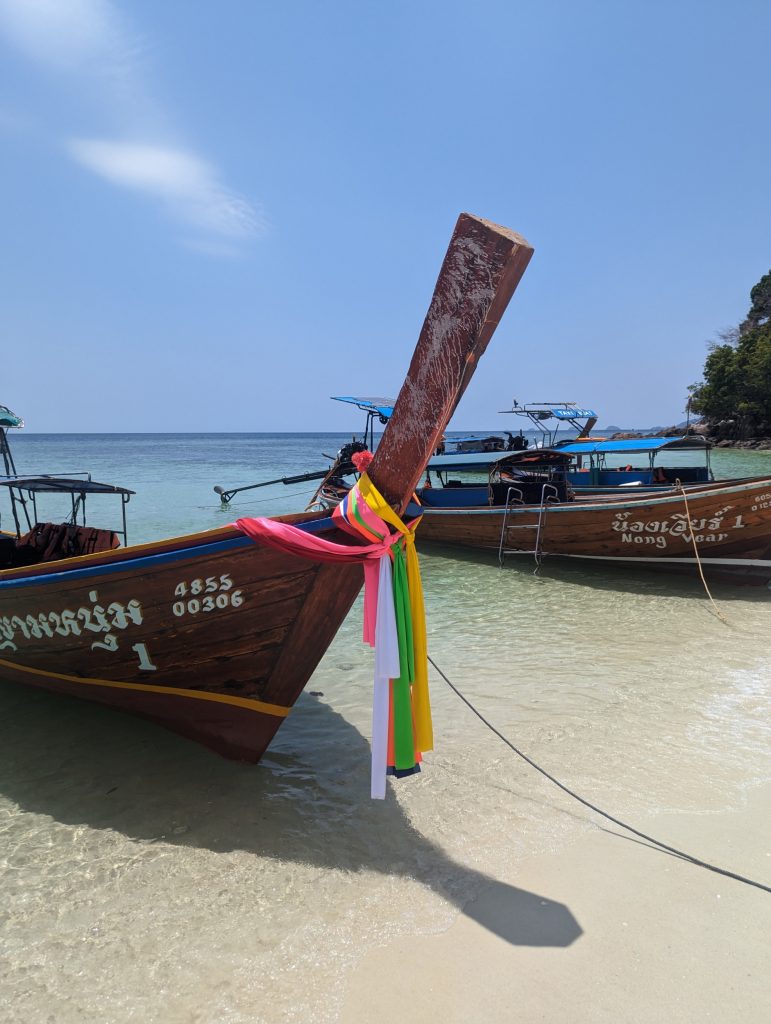 It's just nice to be in company again when travelling alone. The boat we were on was not particularly nice to sit in. The same boat used for taxi, so hard benches. We were taken to 3 different snorkelling spots (Ko Yang, Ko Ra Wi and Ko Adang and 1 island (Ko Hin Ngam) was for a quick look around.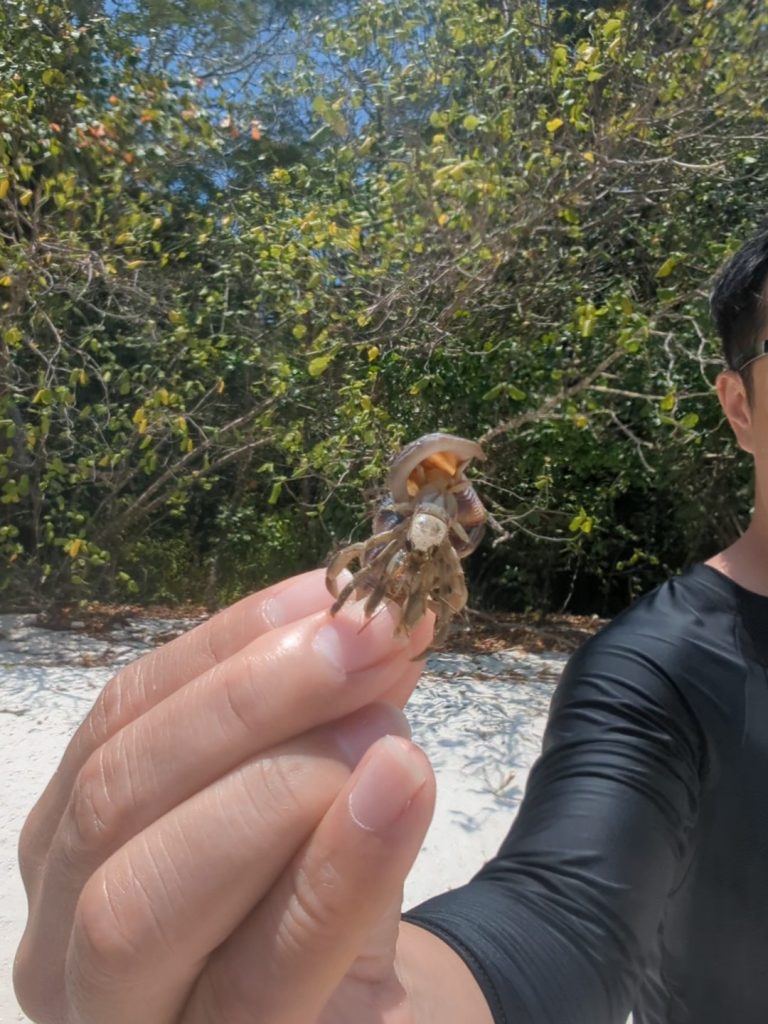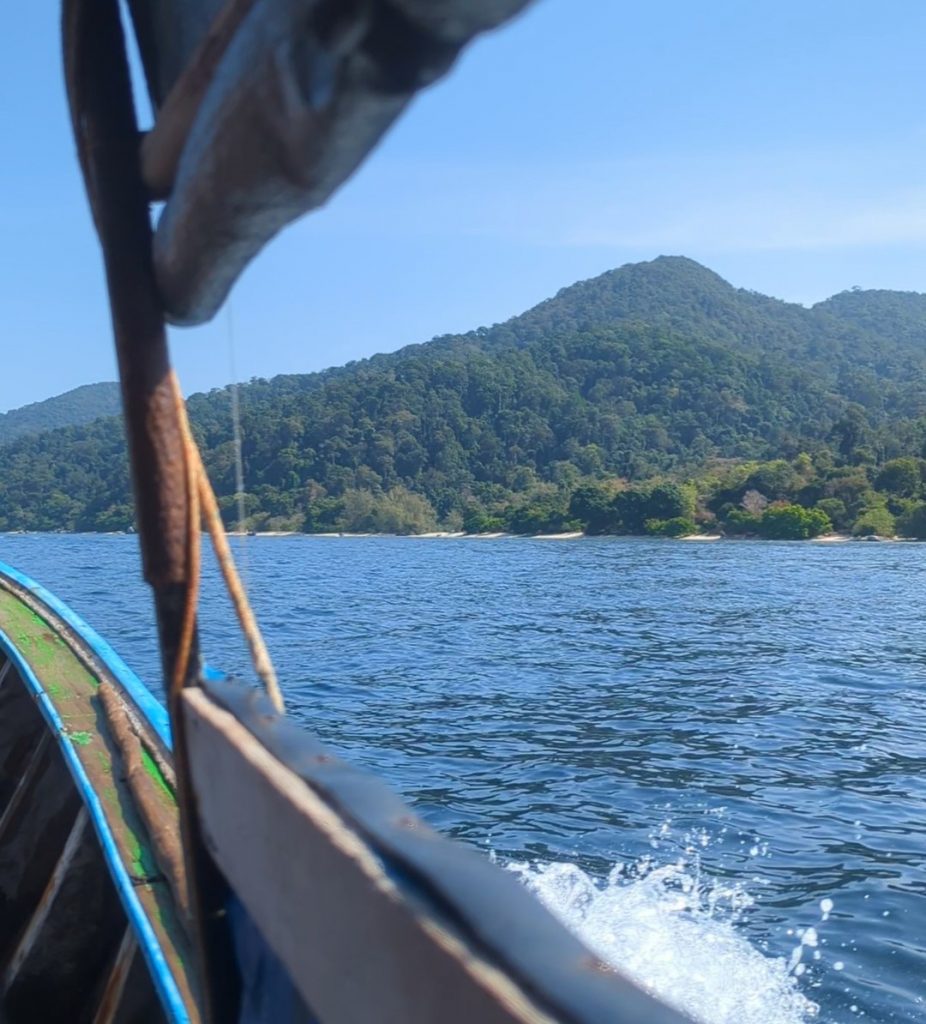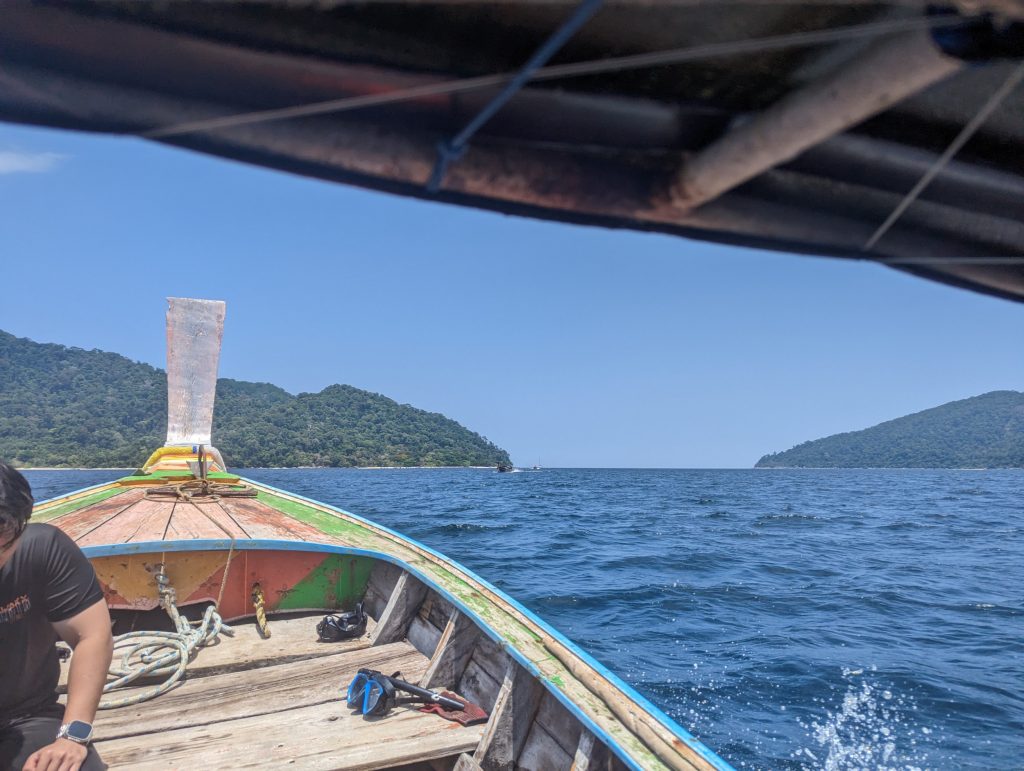 This last island, Ko Hin Ngam, had beautifully shaped round stones and it was claimed that if you took a stone you would find death. Or all kinds of other woes like fatal accidents, family life shattered, lost of property and fortune etc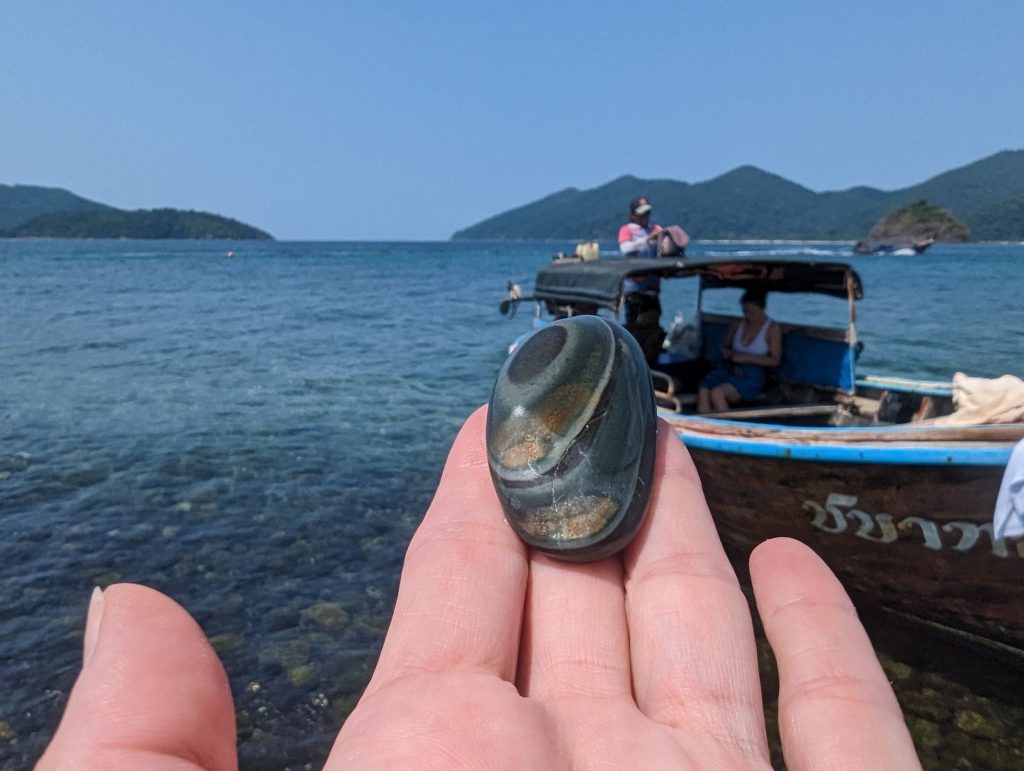 So I did not take this beautiful stone…
Cost snorkelling trip Koh Lipe 4 stops 550 baht (from 9am to 2.30pm)
This beautiful area is located in the Koh Tarutao Marine National Park. Because it is a unique nature reserve, the area is protected. Very nice and for that reason it stays neat, clean and well treated. The Marine Park consists of 51 large and small islands and totals some 1,500 km2. The word Tarutao is derived from the Malay word Talo Tera and means 'many bays' and I'm sure you can imagine that with the 51 islands the area comprises.
The best time of year to visit Koh Tarutao Marine National Park is November to May
Permit Koh Tarutao Marine National Park
On arrival in Koh Lipe, I had to buy a permit to be in the Tarutao Marine Park. You must have this with you at all times I was told. I put this card in my wallet and was asked about it once as I presented myself at the visitor's centre on Ko Adang. If I hadn't asked for it there, I doubt they would have asked for it.
Cost 200 baht for 5 days (for children 100 baht)
Where to stay at Koh Lipe – hostel Seahorse
If you go to the hostel Seahorse, you can get a room in two different rooms. One is air-conditioned, which I can really recommend and the other is not. The room is big but so it is divided into all small rooms. The little rooms are left from above so you are still part of the big space.
Still, you have a large double bed at your disposal, a small table next to your bed and some changing space. But there is no window. The air conditioning is in the corridor, so the cool air comes into your small room from above. The disadvantage of this construction is that you feel like you have your own room, but the neighbours can hear everything 🙂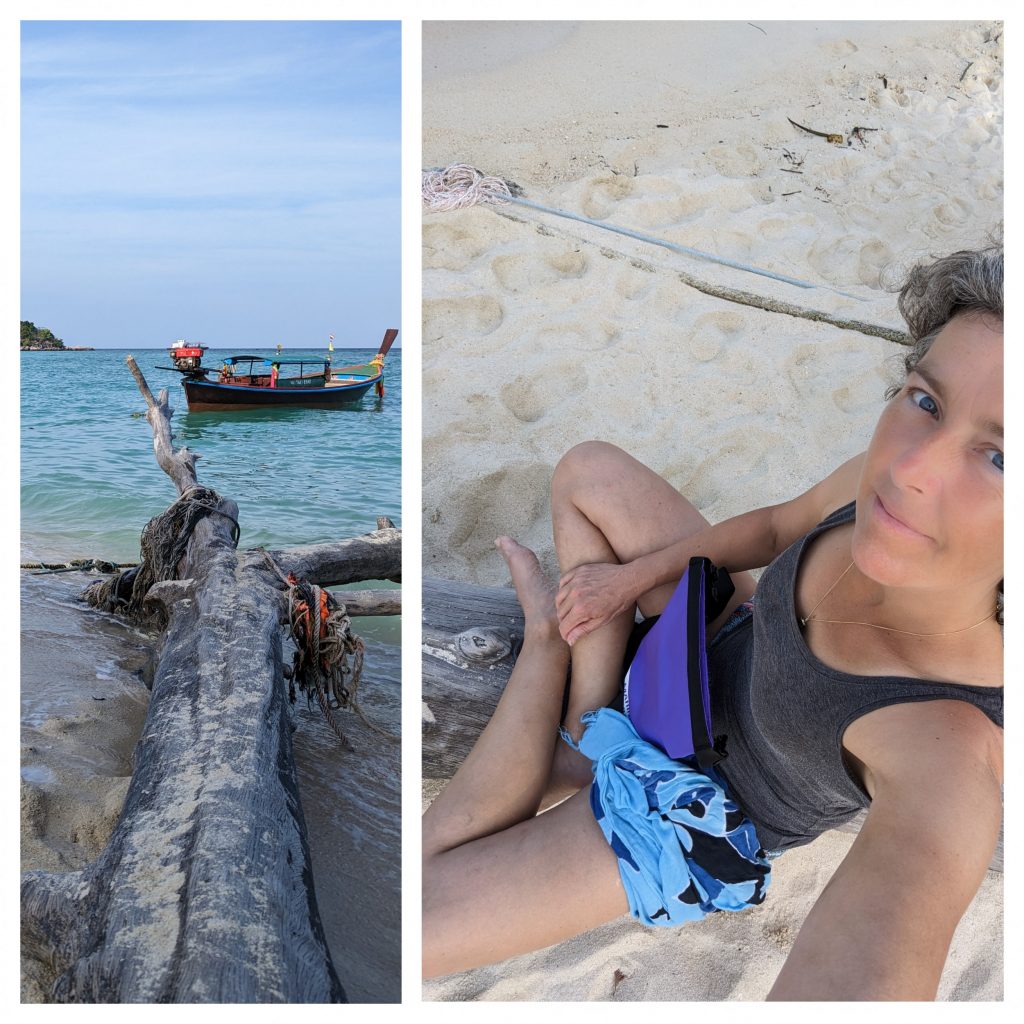 Yoga tip for Koh Lipe! I saw that yoga is taught on the island of Koh Lipe. I didn't take time for this unfortunately but did a little later in Khao Sok NP. But I can recommend doing it, always nice to unwind and take care of your body.
Food on Koh Lipe
Walking down Walking Street on Koh Lipe, it's restaurant after restaurant, so much choice that it's almost dizzying before your eyes. Everything is fine and looks really neat.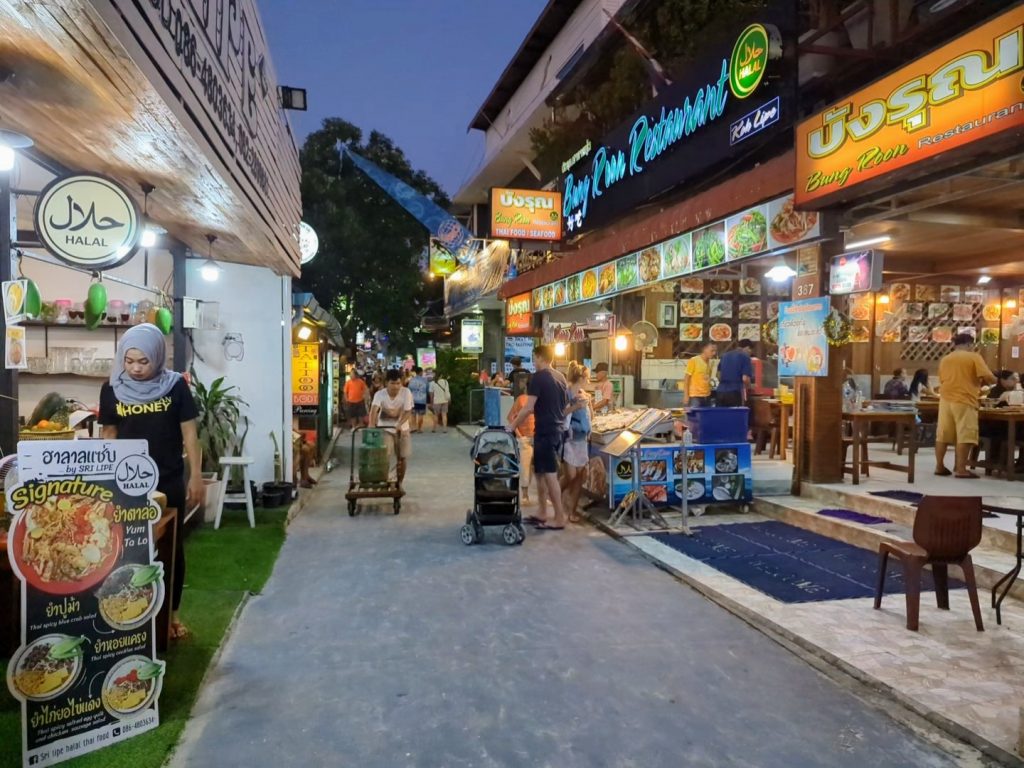 At different places, I had breakfast, lunch and my dinner. Each time I took my breakfast at a nice and spacious restaurant opposite Patt Market and next to Time to Chill. Ample choice and pretty smooth service so if you need to be somewhere on time, this is an ideal place if you ask me.
Coconut donut
Then, of course, you have some tasty snacks that you just have to have tried. One is the coconut donut for 10 baht. The man has been standing here for years selling the coconut donut with a song that is recognisable to many. You can hear him singing his merchandise from afar. And? Yes, it is very tasty!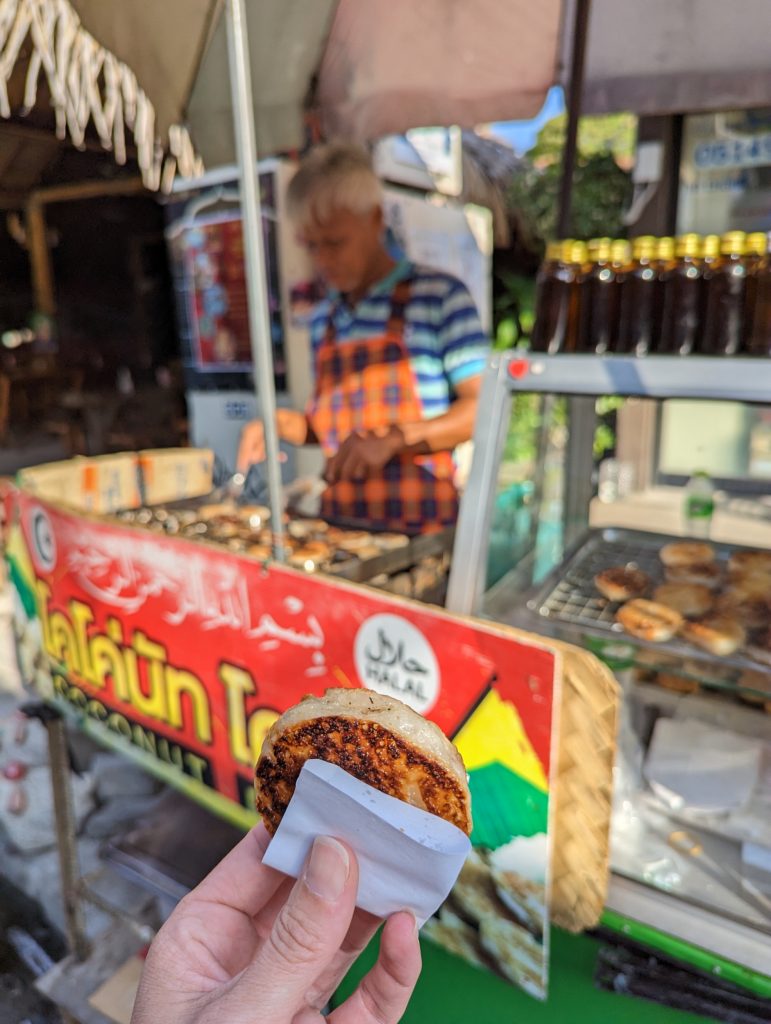 Coconut Pancake
Another tasty snack? How about the Coconut Pancake? You'll find this one on the same side of Walking Street as Coconut Donut man. Also a small street cafe which can be found there during the day. I found it delicious!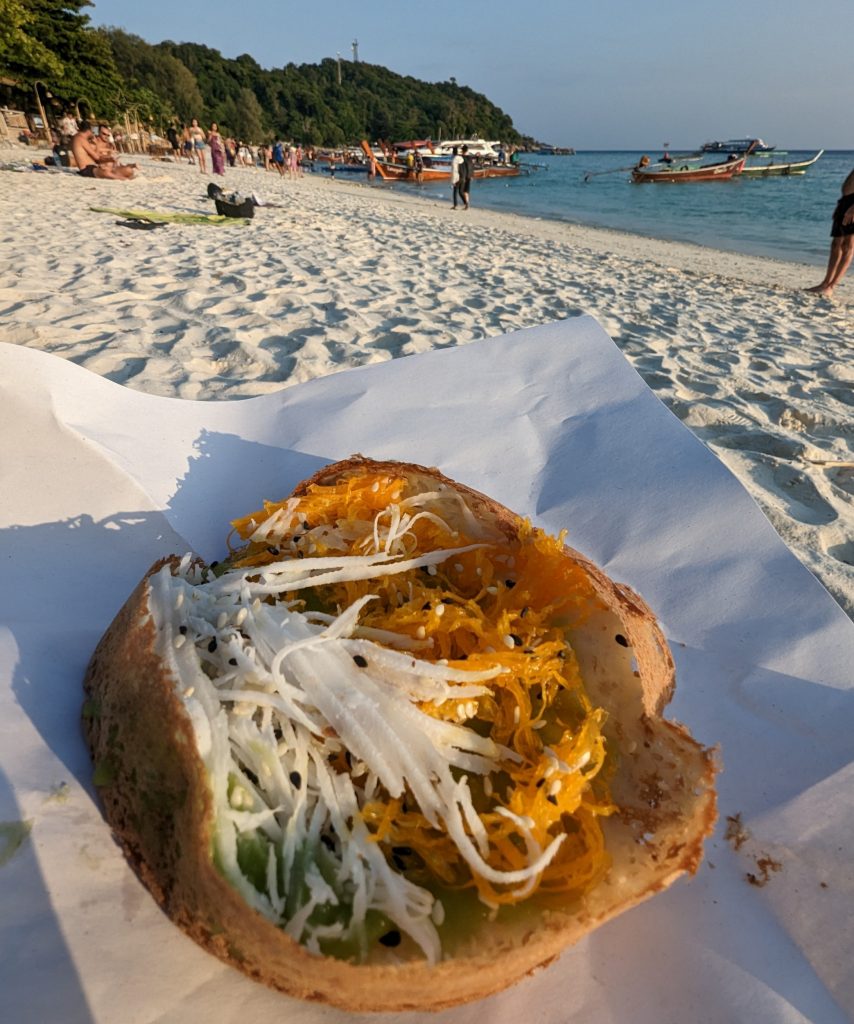 Bloom Cafe & Hostel
Looking for a good cup of coffee? Or a lavish lunch? Bloom Cafe is a great place to sit but also a very fine lunch. I had the pancake with ice cream and mango and the club sandwich. Both were delicious!
If you are looking for a hostel, this is a really nice place I think. I had already booked Seahorse when I saw this one pop up later. Seahorse is on the same side street of Walking Street.
Akira Lipe Resort
Every afternoon, early evening, I sat here on their terrace, next to the pool. They have a great place to lounge near the beach. Good internet connection, nice sofa with good cushions and nice view of the beach. Also a very nice place! A bit too expensive to stay but a lovely place to hang out for a few hours, dreaming away or reading in your book.
At the end of the afternoon, someone often starts singing live, playing along on guitar…. I really liked the atmosphere.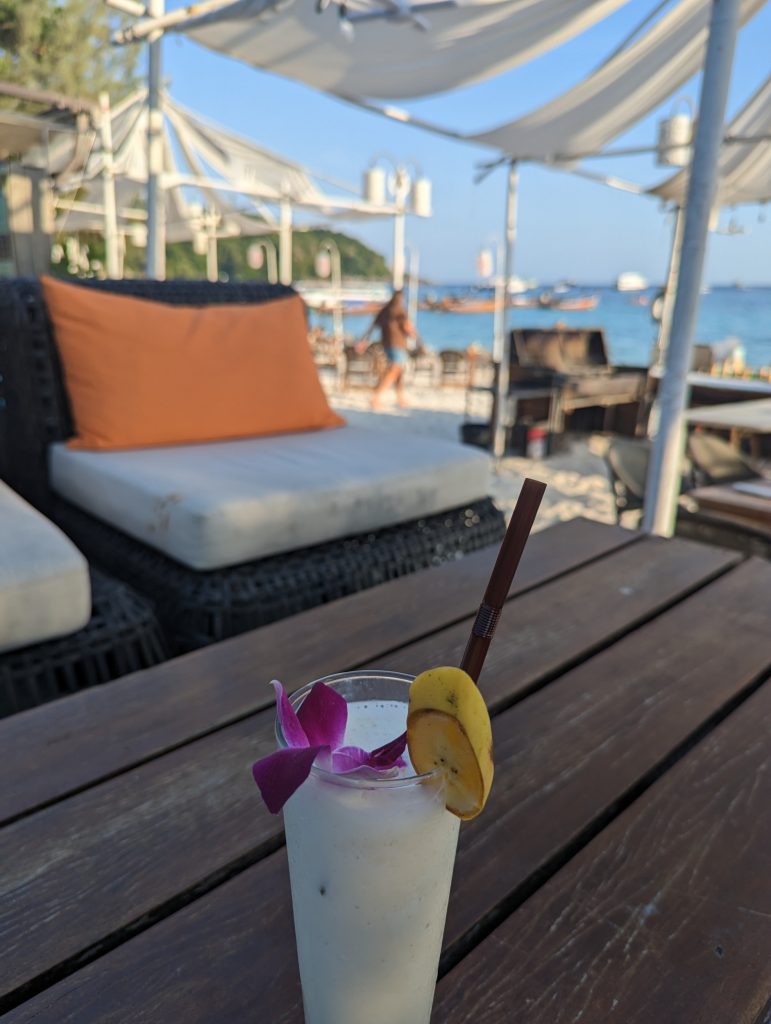 Travelling from and to Koh Lipe
To Koh Lipe from Langkawi?
It was a strange sensation to arrive in a country like that. Briefly, I felt a tiny bit like a refugee being 'stalled' somewhere. After all, you arrive on the beach after handing over your passport before your trip starts in Langkawi. Upon arrival at Koh Lipe's paradise beach, you have to take a seat on the beach to wait for your passport to be returned.
You will then be summoned and get your passport back so you pay for the stamp and permit for the Koh Tarutao National Park. But in the meantime, you are thus in a kind of impasse, you are not allowed to leave, you don't have your passport and don't know exactly how it will all work out.
A very strange sensation I found.
I paid RM161 for the ferry, I was charged €33.75. I booked this ticket online at Telaga Terminal on Langkawi. You can also buy a ticket online from Koh Lipe to Langkawi if you want to travel the other way round.
To Koh Lipe from Koh Mook?
I booked the speedboat to go from Koh Lipe to Koh Mook in a few hours. On the way, it makes some short stops at other islands and I found it a great way to travel. I paid 1350 baht / €36.75 for this trip and if you look around a bit everything seems to have a bit of the same price. It was a trip of about 2 to 3 hours.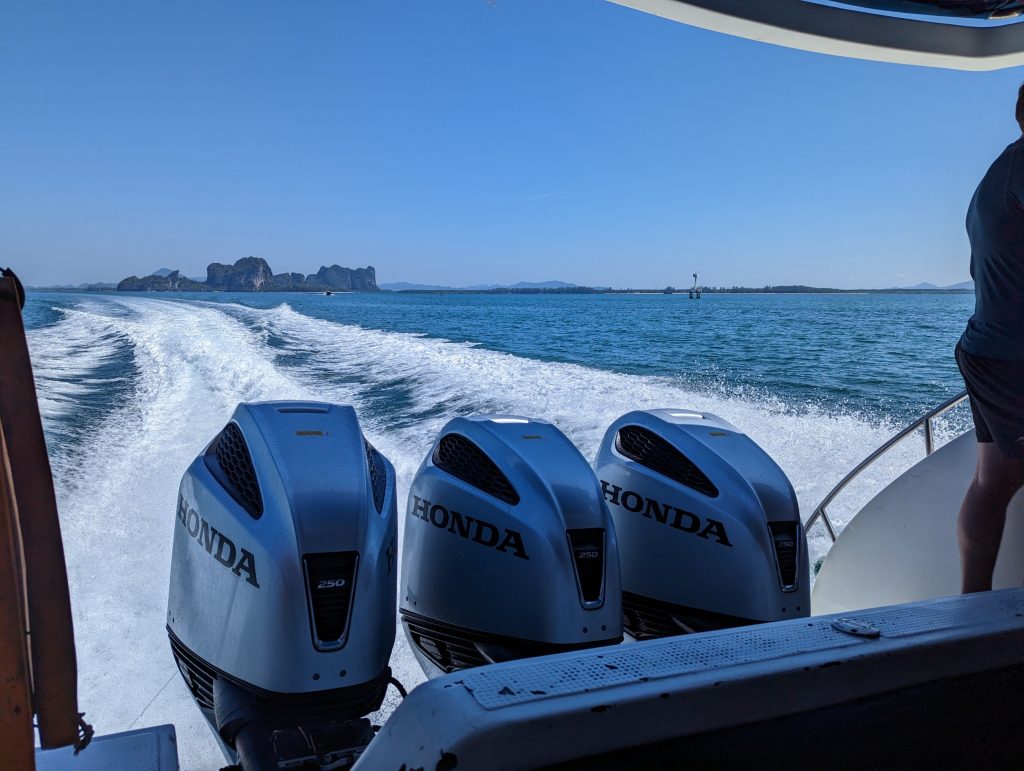 Would you also like to go hiking on Ko Adang and snorkelling at Koh Lpe?
Then save or pin this post to your favourites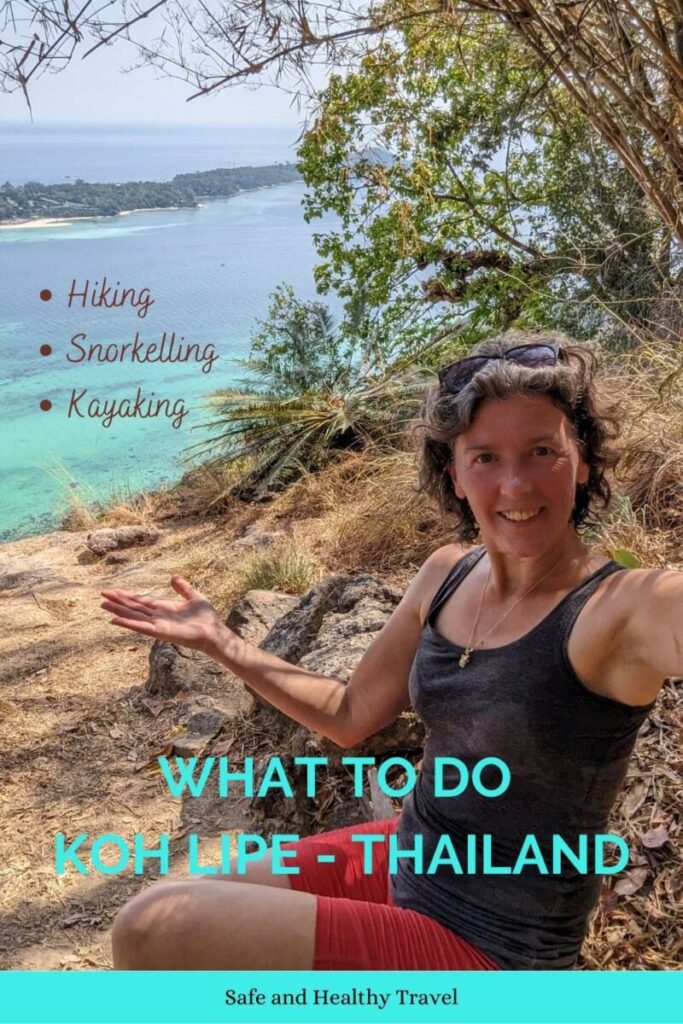 Read more about Thailand?
Exploring the temples of Ayutthaya by bike
3 days exploring national park Khao Yai in search for Wildlife
Cookingclass in Bangkok – Silom Cookingschool
Sunset Yogaclass at Khaosok Yoga in Khao Sok NP
Co van Kessel Bicycle tour Bangkok
Or do you head to Malaysia's neighbouring island of Langkawi?
Healthy Travel on Gunung Machinchang Langkawi, Malaysia – 2x Great Views – Hiking on Machinchang Trail or cable car to Skybrigde Langkawi
I hope you are having as much fun on this beautiful globe as I am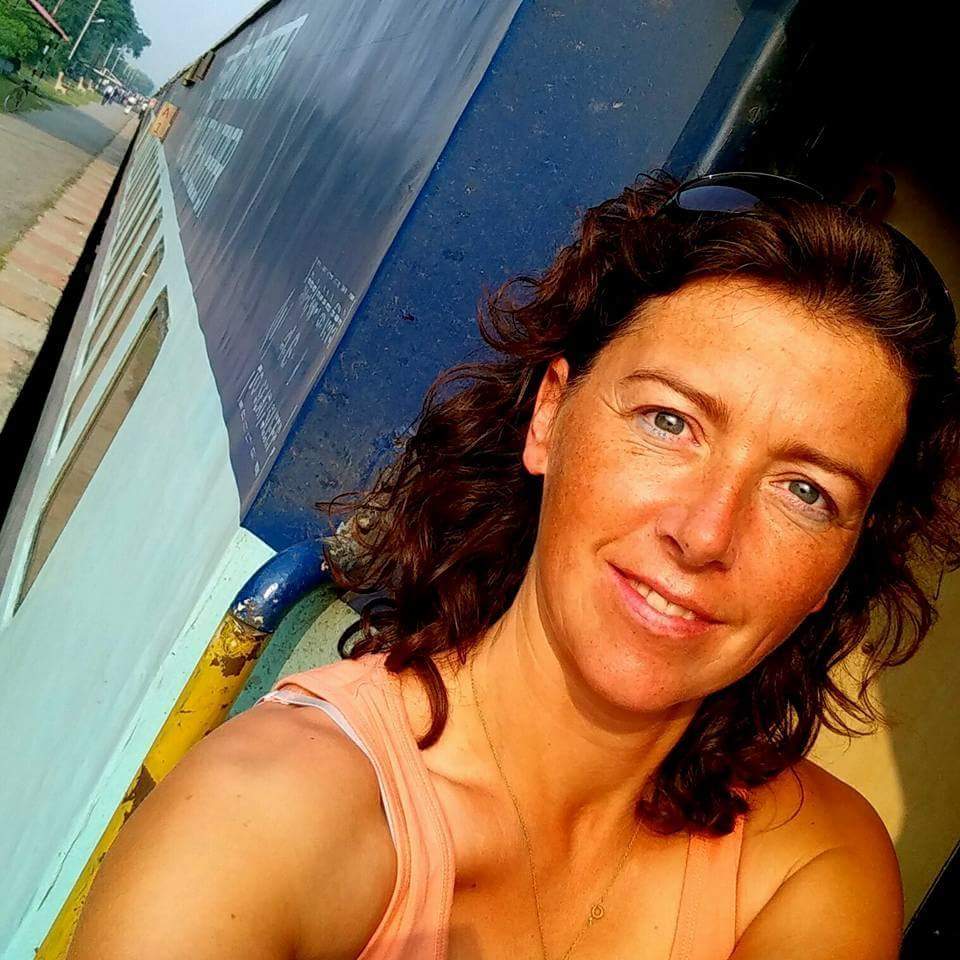 Jacomijn is een politieagent uit Nederland die jou graag laat zien hoe je veilig, actief en gezond de wereld kan over reizen. Safe and Healthy travel is a MUST