10 days in the lush green and clean Sri Lanka
|
In the past years I heard a lot about Sri Lanka and so I ofcourse needed to visit myself. They call it India Light… Well I love India so Sri Lanka must be great too!! 
My first impression was right away… It is sooo clean here!! It did kind of remind me of Kerala but nothing about the rest of India. I really can not see why they call it India Light as a matter of fact but I did loved my visit of 10 days to the green and clean Sri Lanka.
10 days in the lush green and clean Sri Lanka
10 days is just a short holiday so read on to see what can you do and expect to cover in that time!!
Most of my travels I travel alone and arrange everything maybe a day in front….but this time I came just out of a 10 days Vipassana course that I took in Chennai, India and I liked the fact that Denusha of DeniThruHolidays had arranged my itinerary and a driver for the whole trip!
Day 1
Driving from Negombo to Sigiriya
Driving through the Srilankan countryside I saw a lot of the green country already and it made me happy! Sri Lanka is clean, people keep the country clean! My driver told me that the fine is high for littering and it shows! Our first stop was at the Pinnawala Elephant Orphanage and at that moment they were bathing in the river on the opposite site of the street. That was a nice sight! I made a short clip of that!!
After that they walked back to the Orphanage. I walked around there and looked at the 80 elephants that stay there. They have a walking ground, some parts for the smaller ones that can not be alone in the big group yet and the seperated bulls… They can be very dangerous..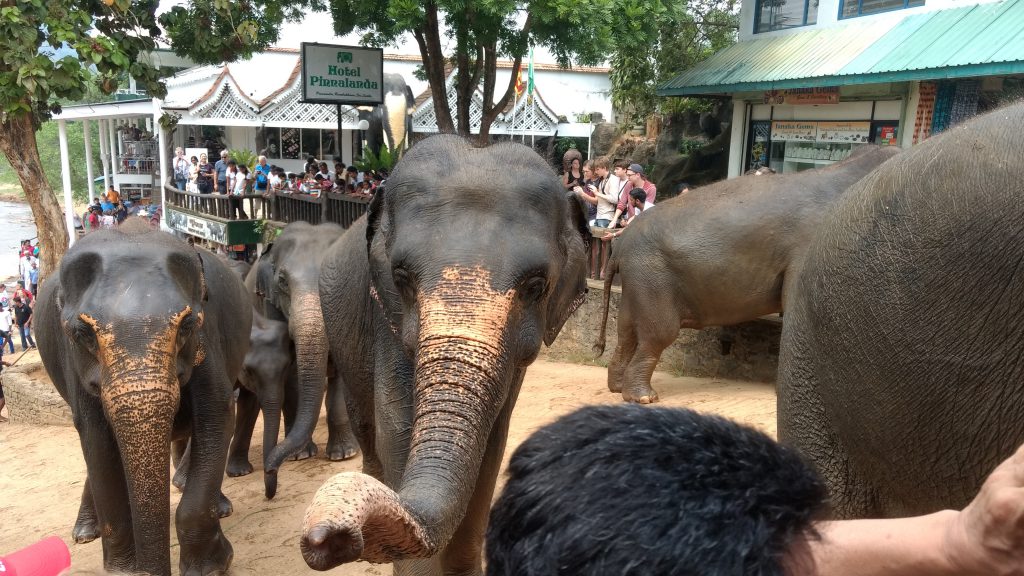 Day 2
Sigiriya – Climbing the Lion Rock
We went early to climb Lion Rock so we beat the crowd. First I walked the wonderful garden and after a while you come at the rock garden and then you start to ascend. It is a nice climb and the view you get is getting better and better. So worth while the effort!!On top of the rock was a big palace!! It is hard to believe how they build it all! Even in this time it would be very hard to get everything on top of that big huge rock!!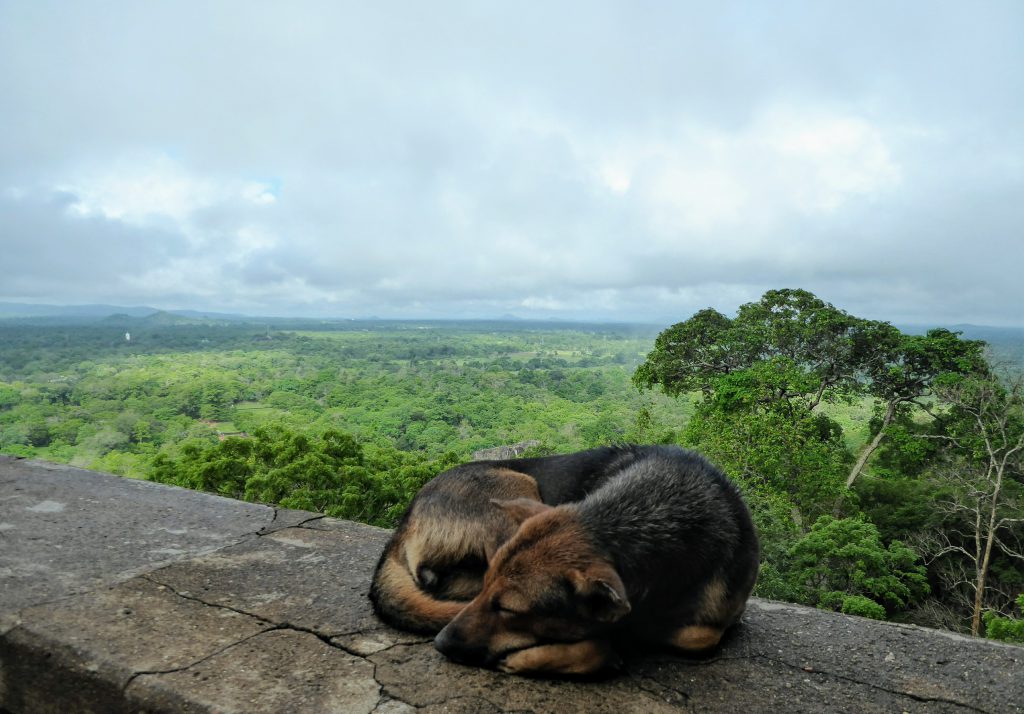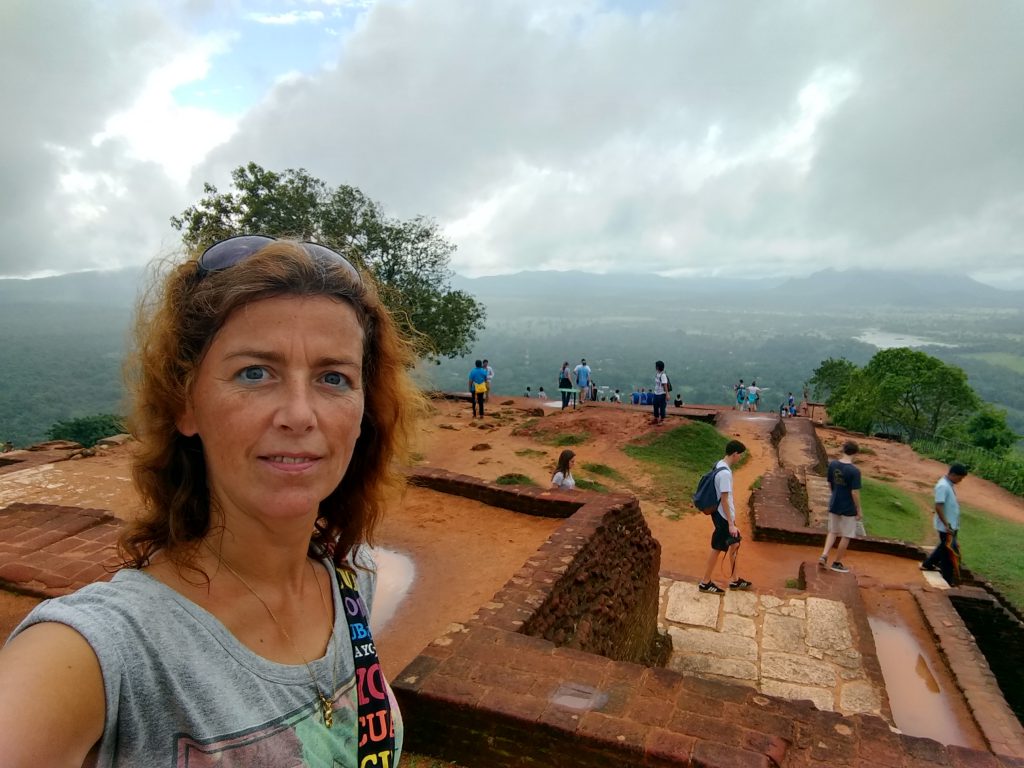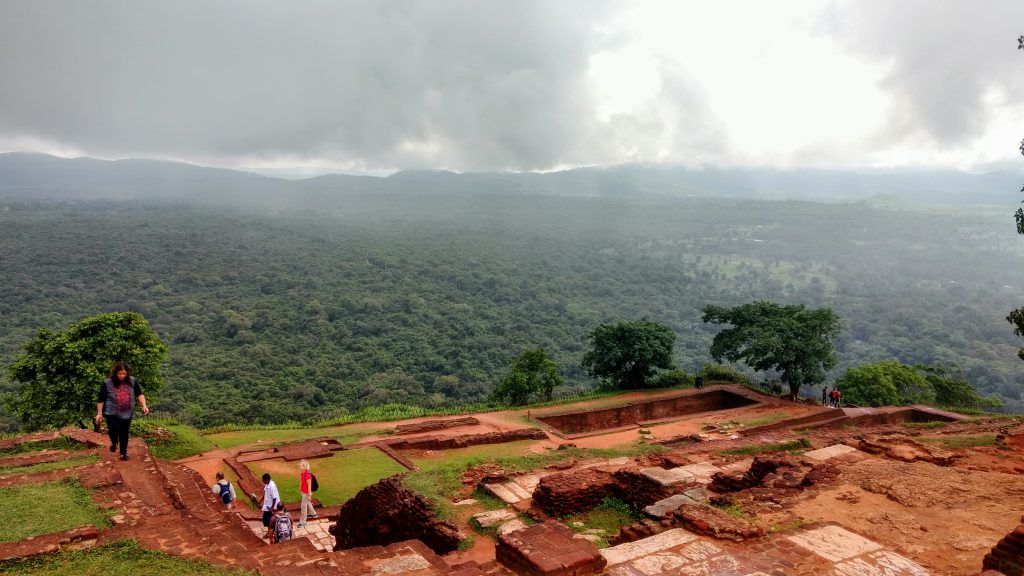 Safari  in Kaudulla National Park
Habanara – Sri Lanka
That same day we went on a safari in Kaudulla NP, which is part of the area Minneriya National Park. You go there to spot the elephants….and that was true!! So many elephants were at the drinking place. Loved seeing those!!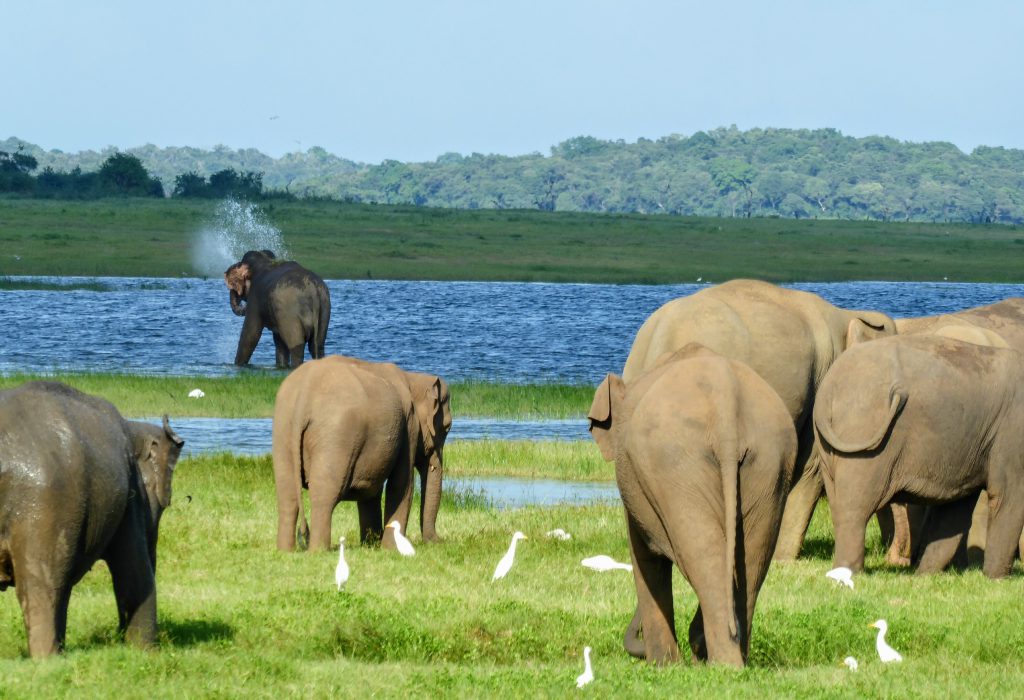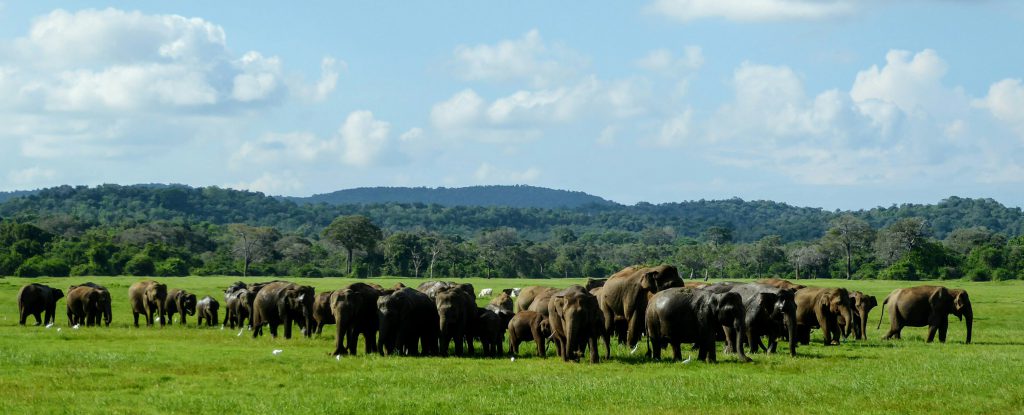 But there is so much more to see. There are not much more animals to spot, unless you're very lucky. There was a lot of hunting and a lot of the animals that life here are rare to spot. At least not while riding with a bunch of safari cars in this park 🙂 But there are a lot of birds and they can be very colourful! And I love to spot birds too! We saw these bee-eaters and white throated Kingfisher. We also saw a Lesser Adjutant, an eagle, a brahminy kite and other birds.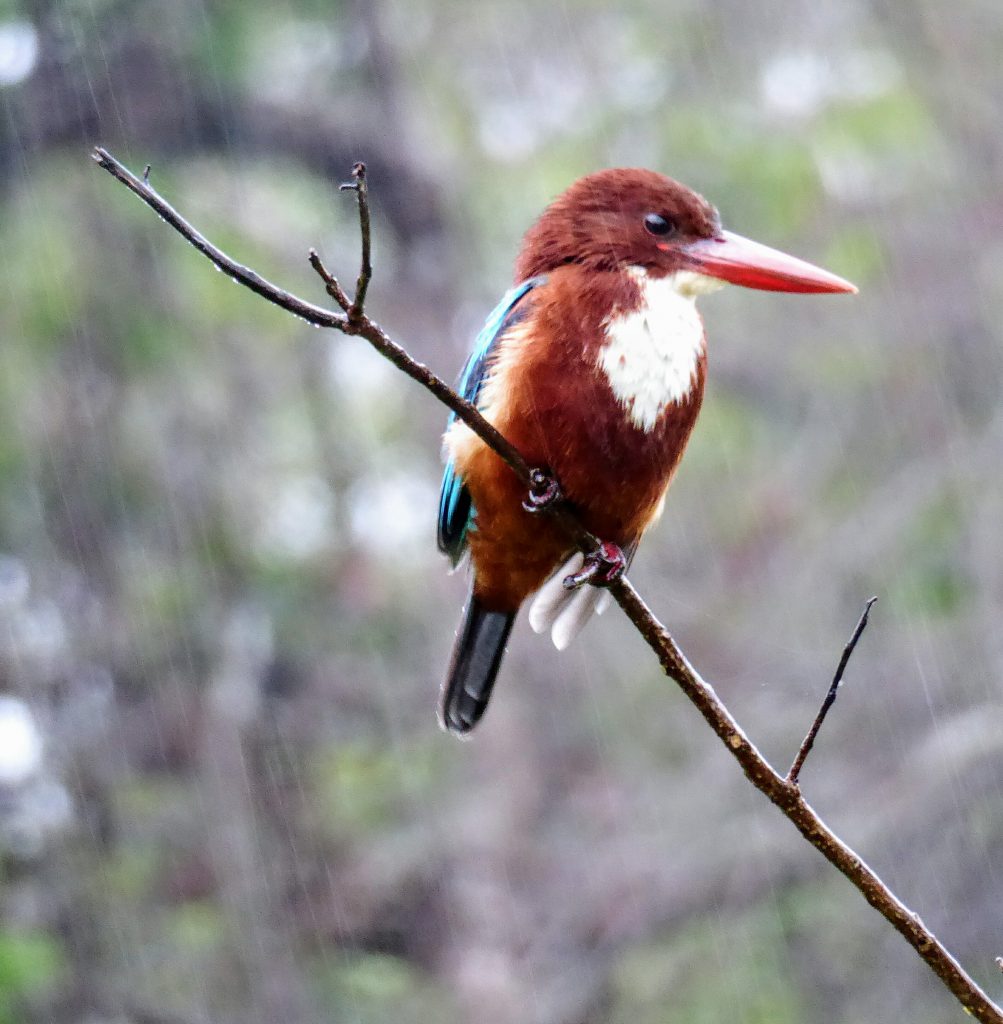 This day ended with a wonderful sunset!!
So far I love Sri Lanka!!

Day 3
Driving to Kandy – Sri Lanka
It was a long day driving but the views were great! Seeing this clean country and their people along the streets I got a good feeling about it! We stopped at a spice garden where I had a tour around the garden. They explained a lot about all kinds of healing powers of the various plants and flowers. I also had my lunch here in the jungle behind the garden.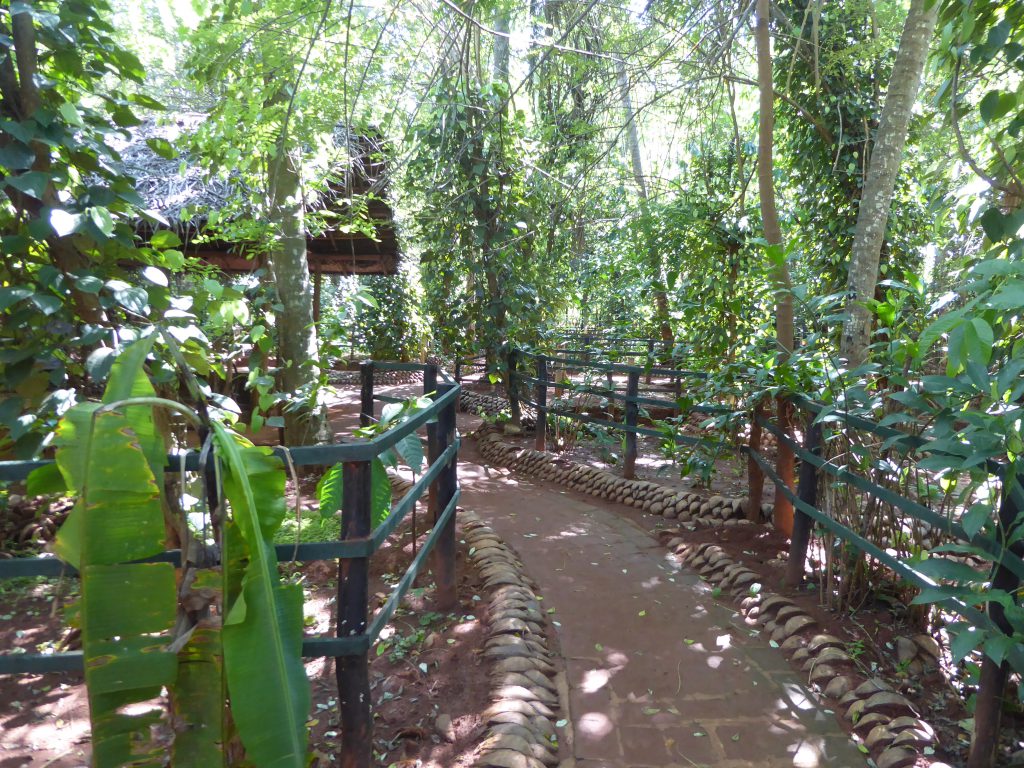 At Kandy I checked into my hotel. And just enjoying some rest and the great view my hotel gave me over the Mahaweli River for the rest of the day was all I needed!!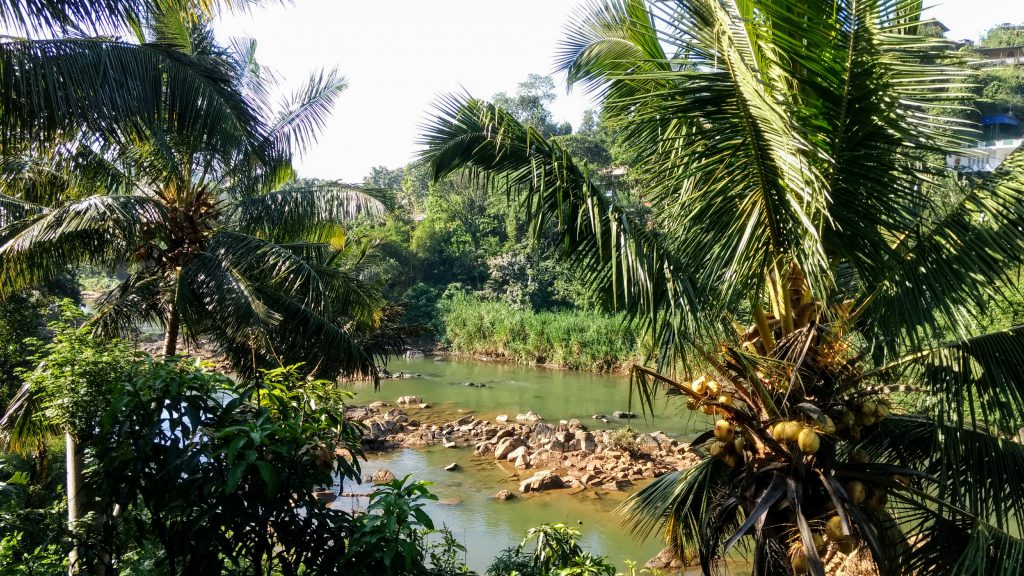 Day 4
Puja in the Temple of the Sacred Tooth Relic
This is one of the most famous temples in Sri Lanka and the reason is ofcourse that they have the Sacred Tooth of Lord Buddha in their temple!! Every day there are a couple of puja moments and the best moment to visit is then!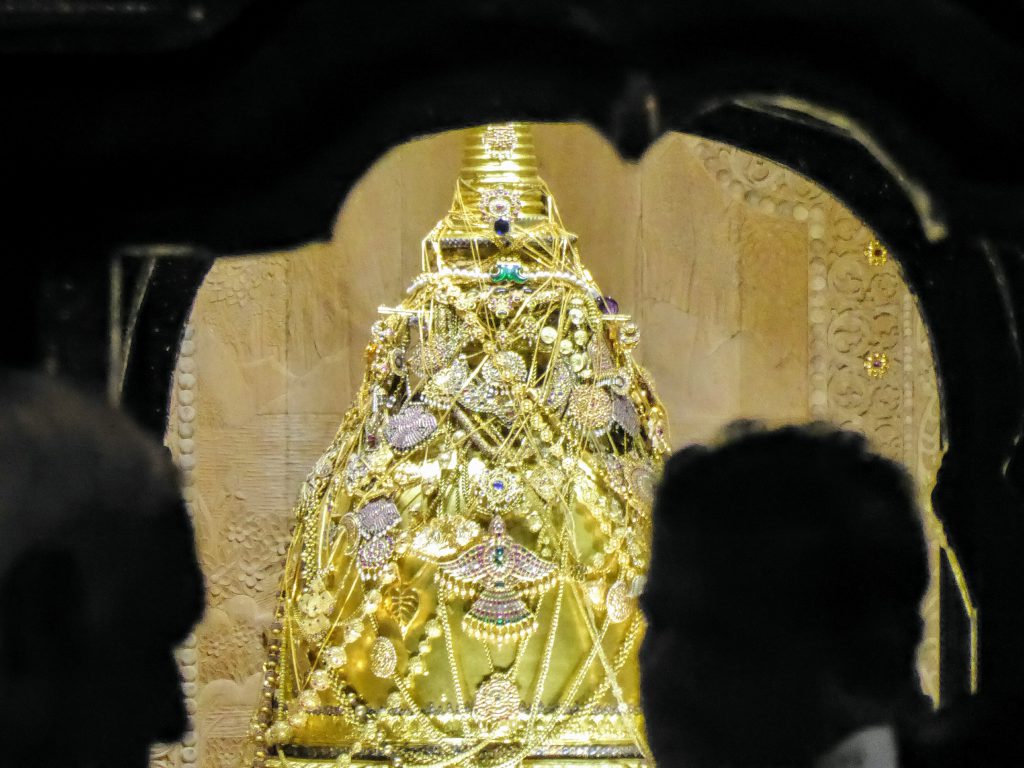 Heavily guarded …but visible for every one at Puja time.
The shrine that holds the sacred tooth of lord Buddha.
I went early morning because at that time most local people visit too. So to get the best local experience I advice you to go early too. But if you don't want to get out of bed that early, 05.30, you can visit in the afternoon or early evening.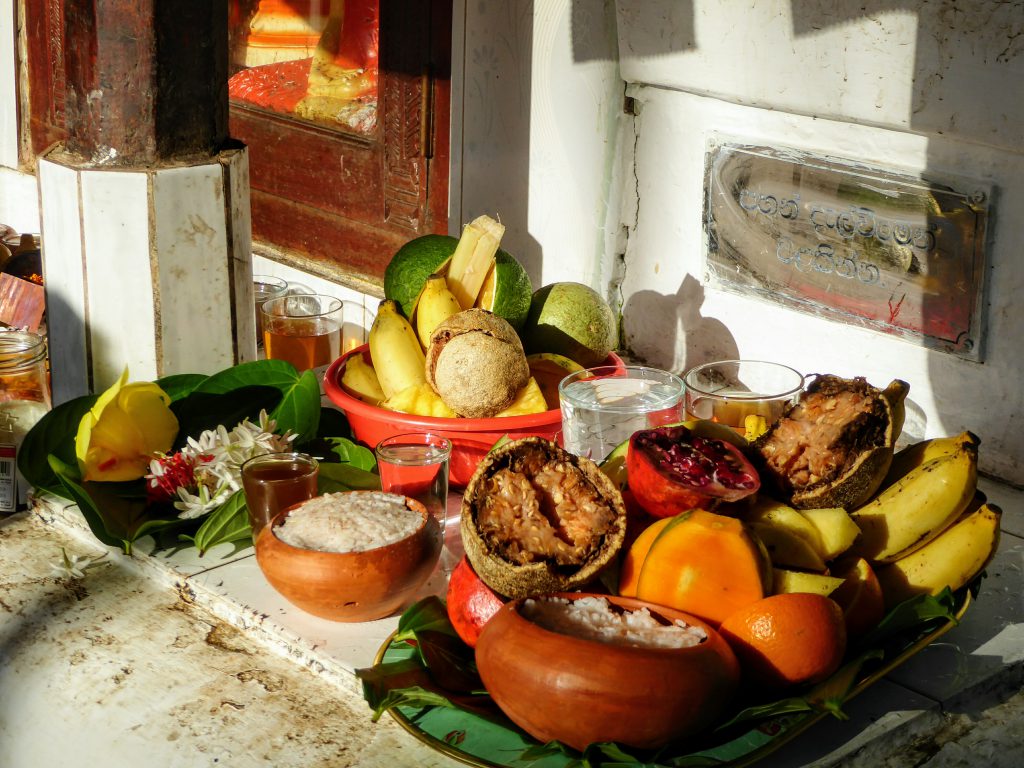 Botanical Garden – Kandy – Sri Lanka
I visited this great and huge garden in the hot afternoon. It was great and fresh in the green garden. So it was a great time to get out of the heat of the day and enjoy the calmness near the centre of this big city!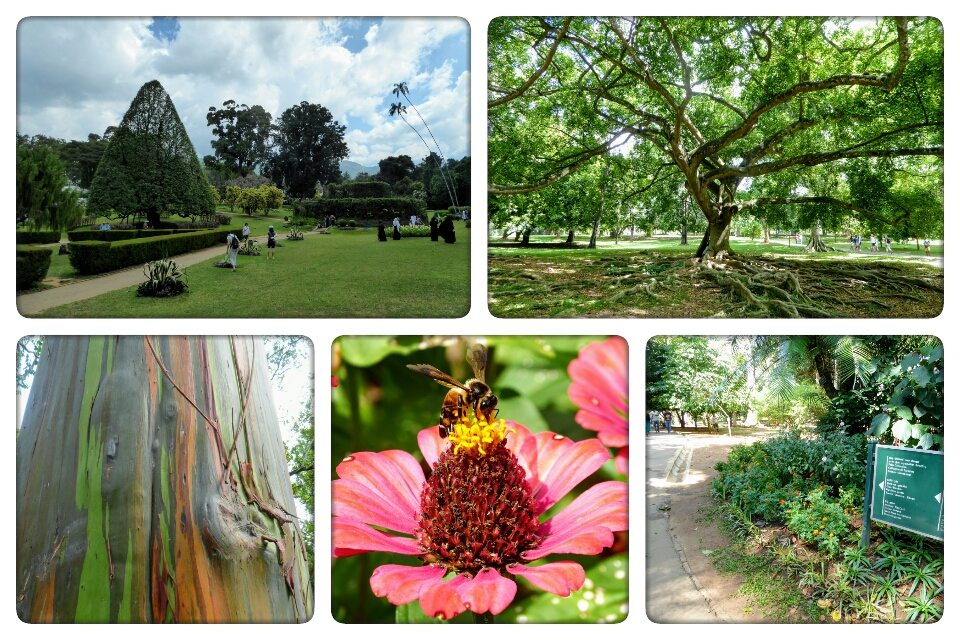 Day 5
Nuwara Eliya and the teaplantations
Sri Lanka
Slowly we went higher and higher, the temperature lowered a bit and it went greener and the views got even better! Teaplantations as far the eye can see, people working the plantations…and ofcourse tasting tea!!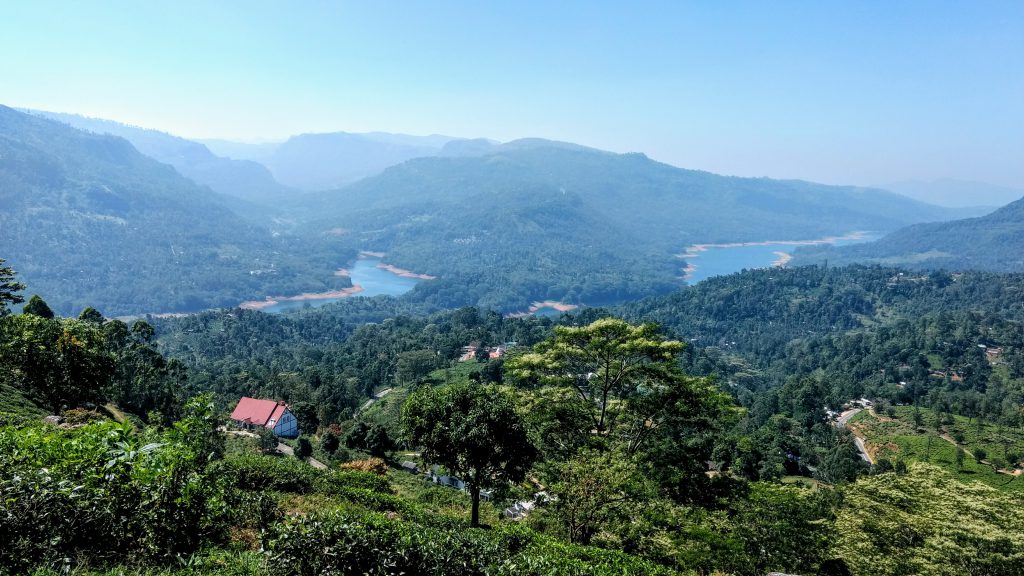 What a great view!!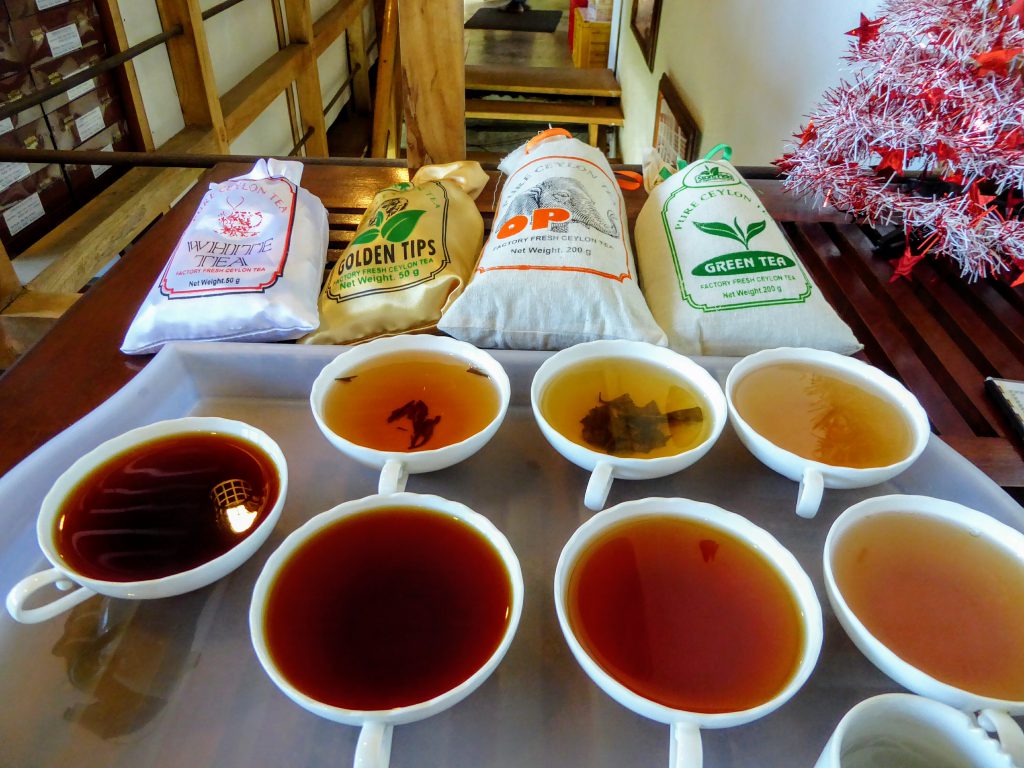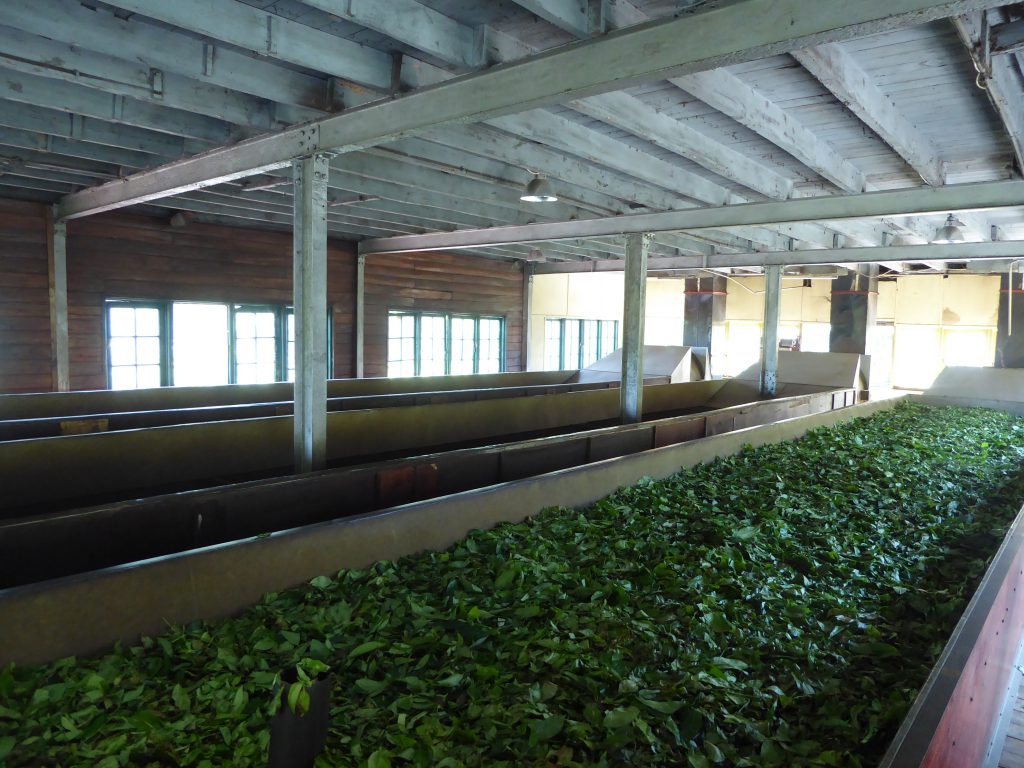 In Nuwara Eliya you can go to the highest point of Sri Lanka: Pidurutalagala (2524 metre high)
On our way there we couldn't stop the car and had to drive on because of the fact that leopards still roam the area. How exciting!! Who doesn't want to see that?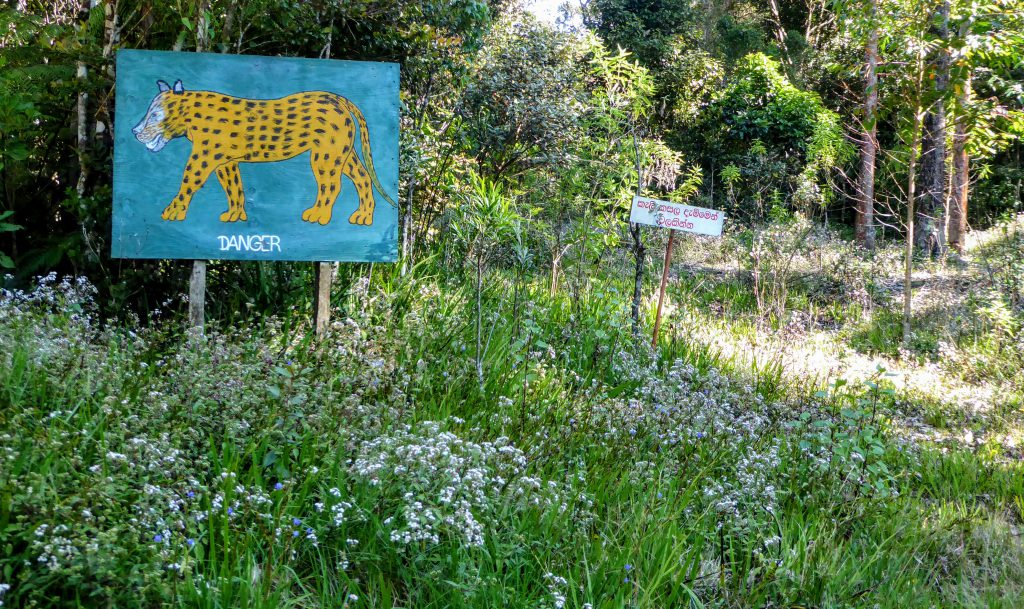 Oh I wish I spotted one, my eyes worked really hard all the way up.. The sign is a bit childly but was the closest to what I saw of the leopard 🙂
The view up the mountain is great. There is a spot that marks the highest point of Sri Lanka and the area is heavily guarded and you can only make pictures of the surroudings and not the army and its post up there.
Highest Point of Sri Lanka: Pidurutalagala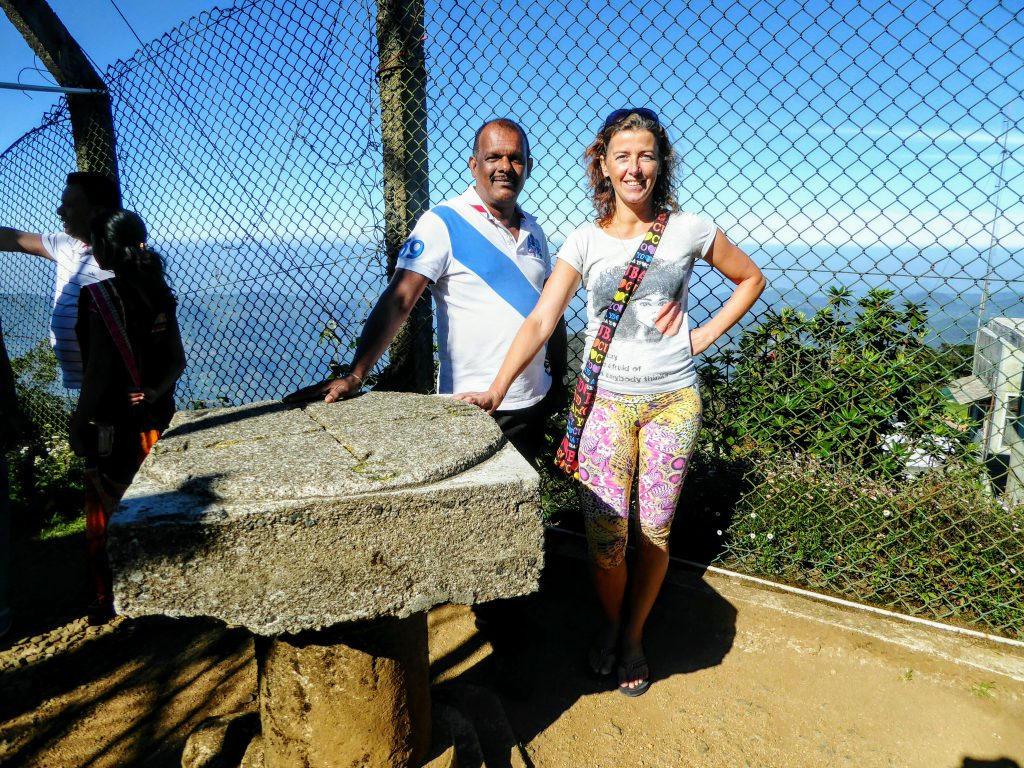 Ofcourse there is a photo moment up there 🙂
My driver Gamini and me
Day 6
Nuwara Eliya
And its beautiful surroudings!
Sri Lanka
I went to a farm in the area of Nuwara Eliya. A popular trip for the locals it seems. Seeing how they make real Dutch cheese…they had Dutch cows 🙂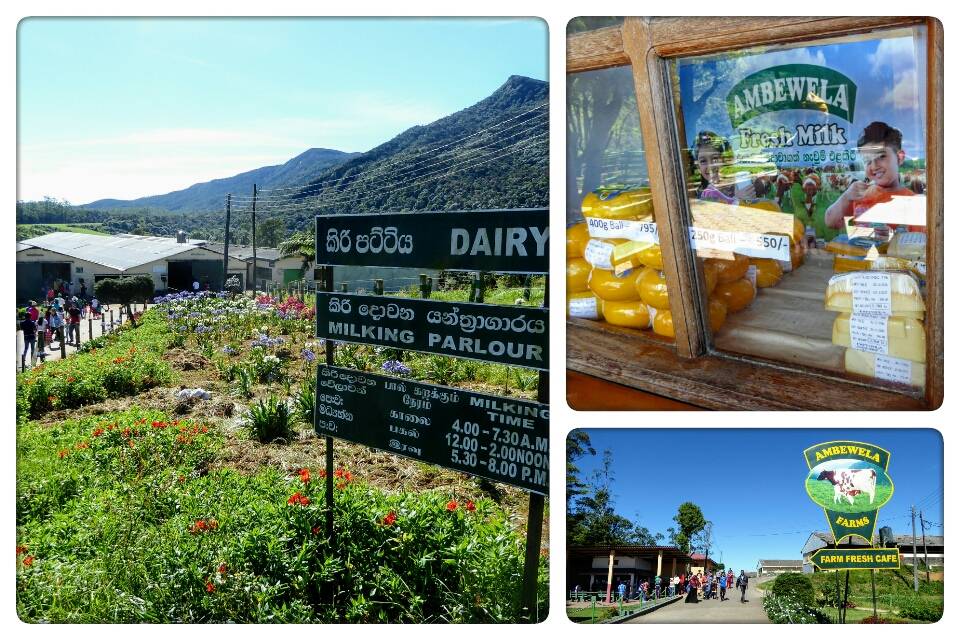 I would recommend you to go to Horton Plains National Park, this is a great area to hike and get some wonderful panorama views over the plains of Sri Lanka. Well….you can not visit it all!
What I did the rest of this day is also something you can not miss when you visit Sri Lanka:
The Famous train Journey!!
It is so cheap to go for a couple of hours trainride. I really recommend to include this to your trip through Sri Lanka. The views were great, all the panoramas you get…but also all the villages you go through and the people and daily activities you see is great! I love traveling like a local!!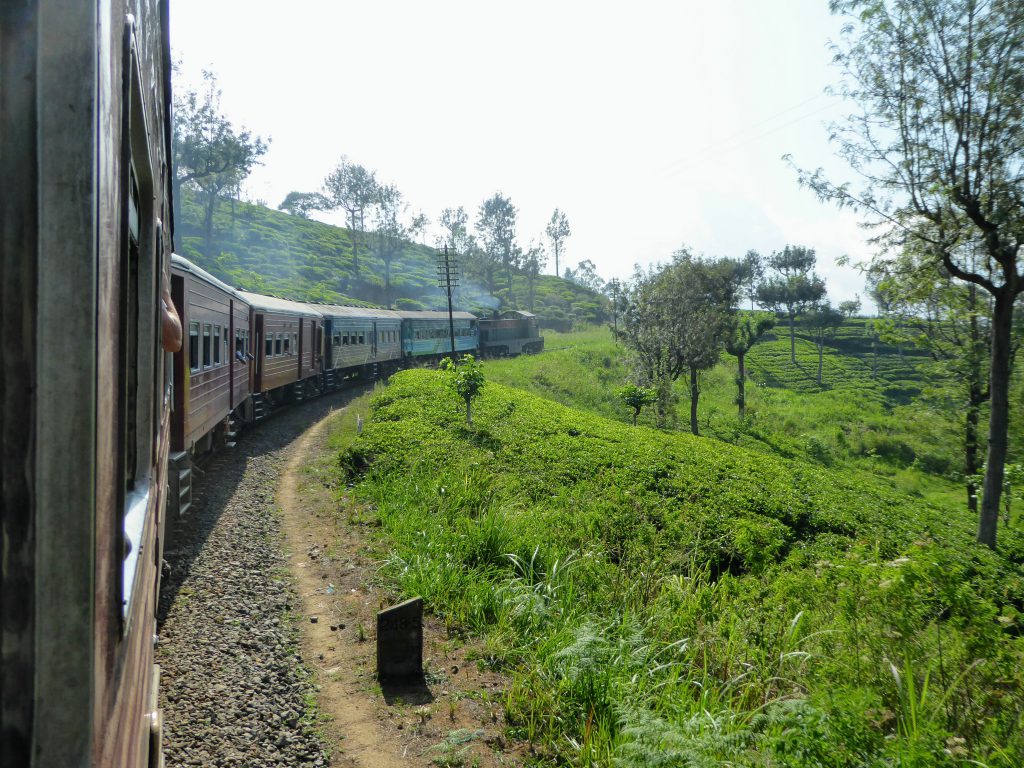 Day 7
Back to the coast of Sri Lanka
On my way down we went along a lot of companies that offered a wild water raft trip on the Kelani River! Great!
I love such activities so obviously I went!! This is something you should really do! It was not to heavy, just a nice trip down the river and a couple of rapids.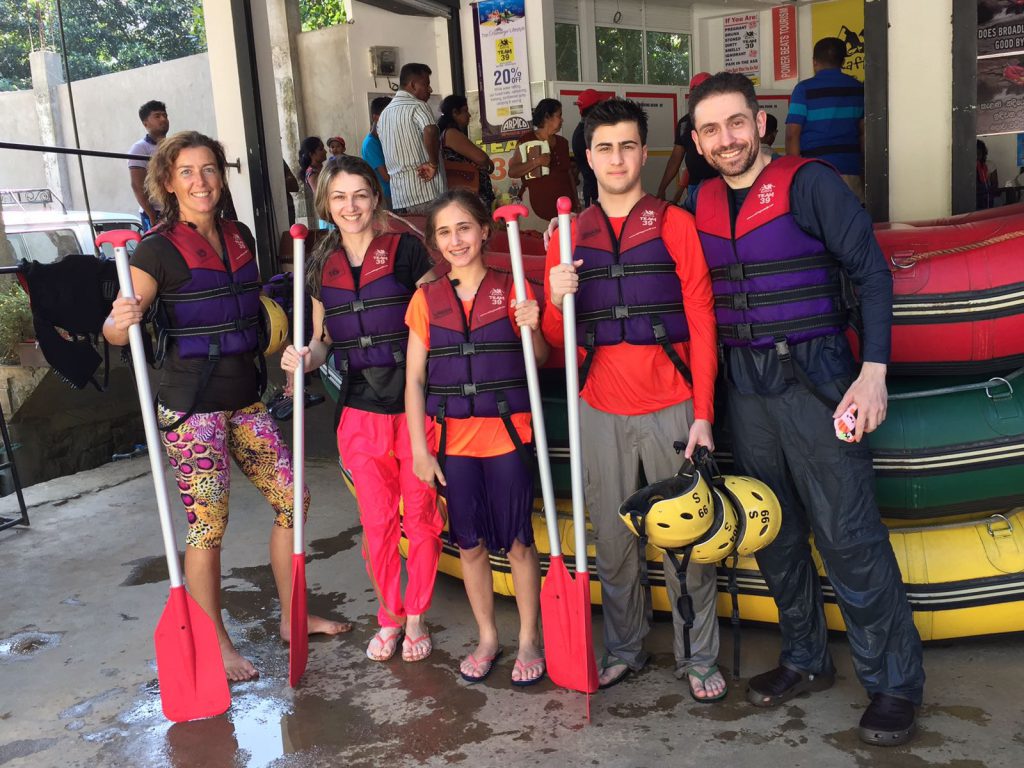 Day 8
Whale Spotting at Mirissa – Sri Lanka
Again it was an early morning but I got out with all my pleasure. Ofcourse I want to see the whales. I had see them once in South Africa in Hermanus Bay but this time we would go out into the ocean by boat. At Mirissa there were many boats and a lot of tourists…but yeah!! I want to see them! I sat down on the boat and got a nice cup of coffee, good way to start!
After a while we went out to the open sea.. and a small breakfast was shared. I must say it was really good, the sun was rising and the temperature got nice! I love my travellife!!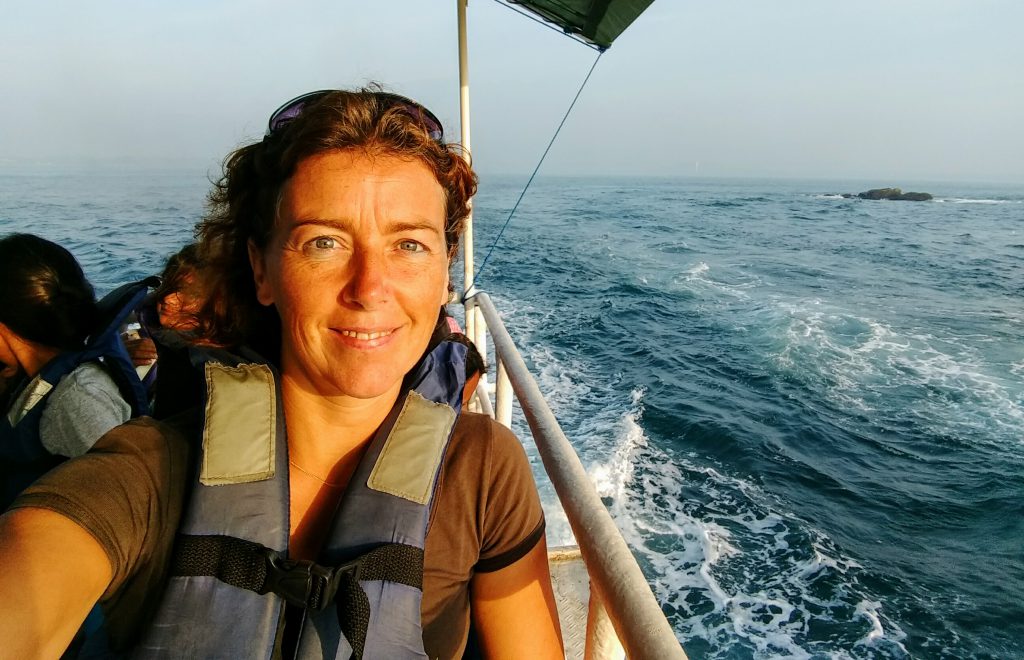 It took more then an hour to get to the spot where they most of the time spot the whales. So we started to walk and look and then all of a sudden…on my side of the boat.. A big, huge whale came up!! And went under….and came up again!! How big are they??? They are huge!! I loved that it was so close!!
We had a couple of these sightings!! Every time again it is special. You see the ocean….a big black sea of water.. And then a huge whale comes up out of that. You just don't know how many more there are…how many are even closer to you!! It is hard to comprehend what is going on underneath there. It is such big part of the world we don't know about!! (At least I don't 🙂 )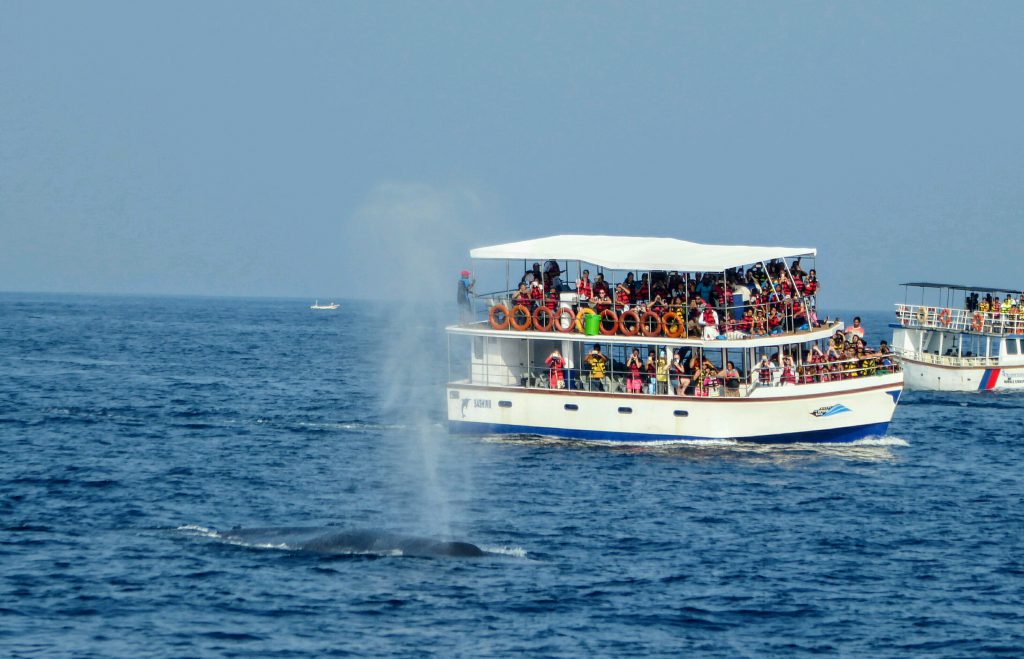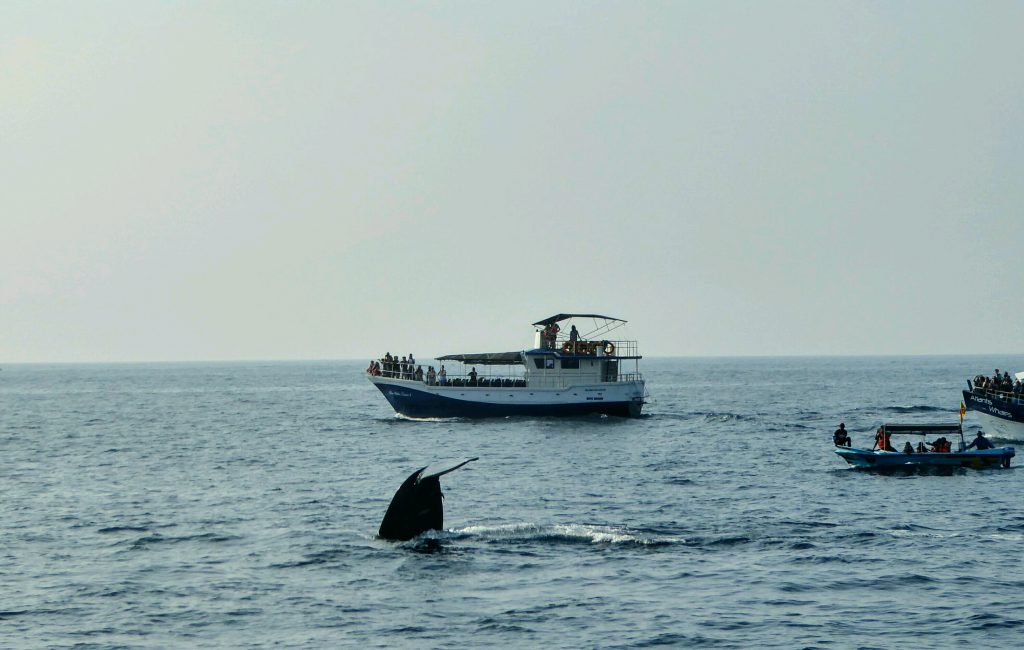 The former Dutch Colonial City of Galle
On the way back we ofcourse went to visit the great city of Galle. The whole city centre is like a museum. All the houses, shops and streetsigns are wonderful! There is a lot of Dutch history so I really enjoyed walking around there!!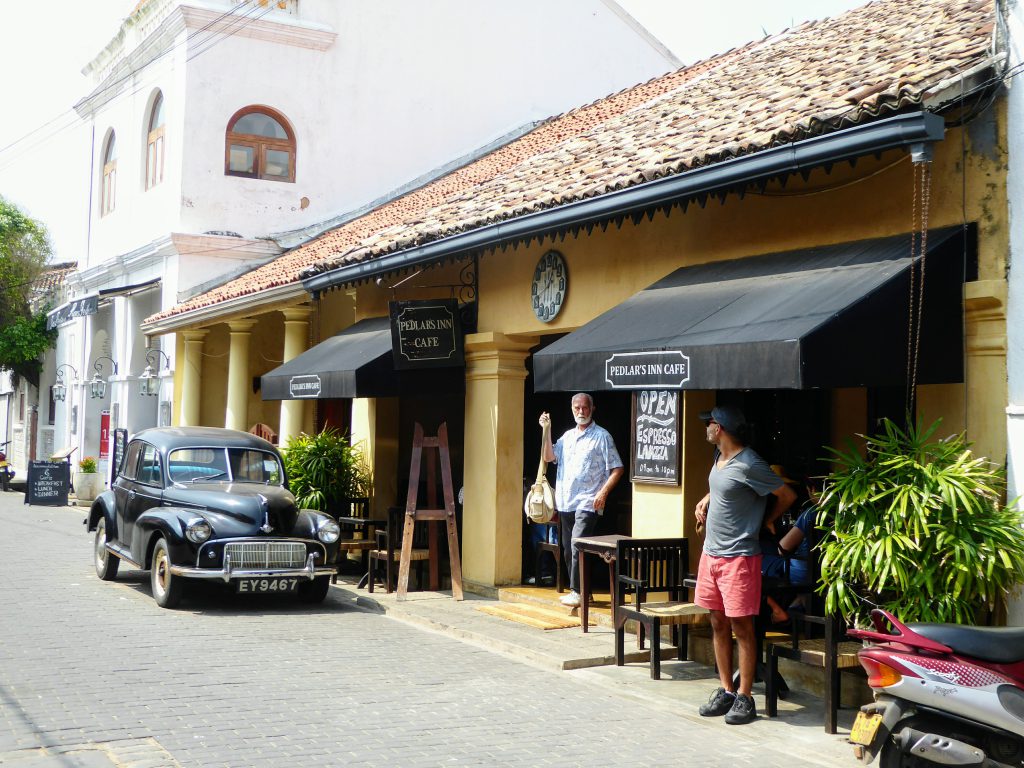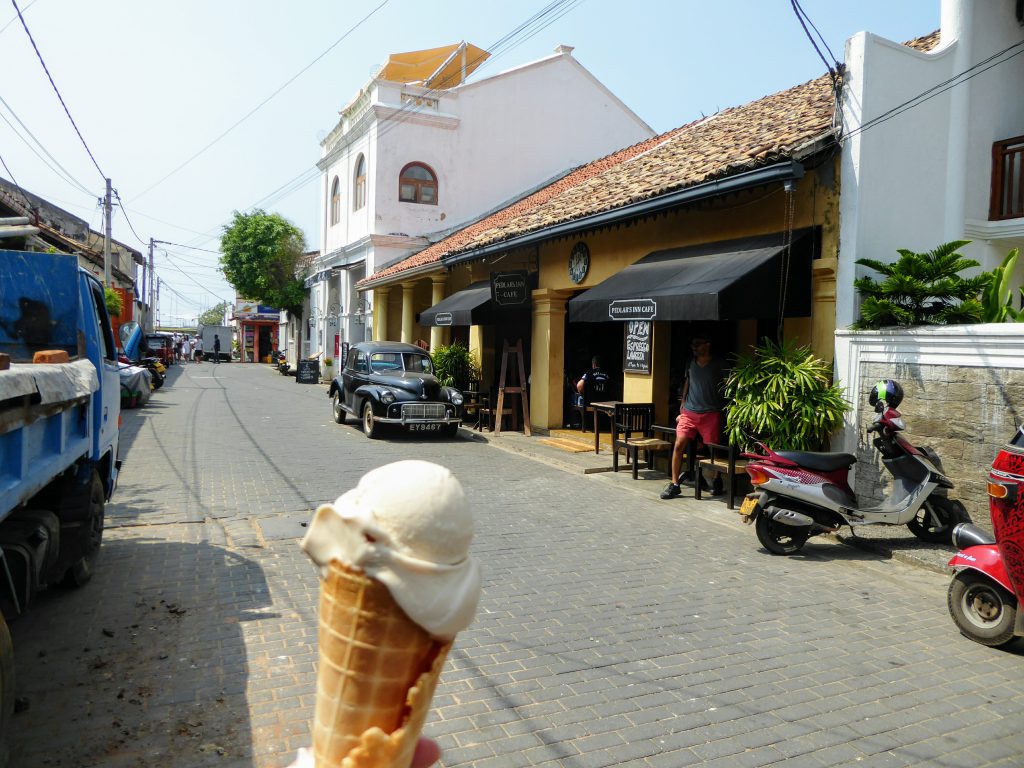 Sometimes you need to spoil yourself..I don't do this often but it was a great moment for it!!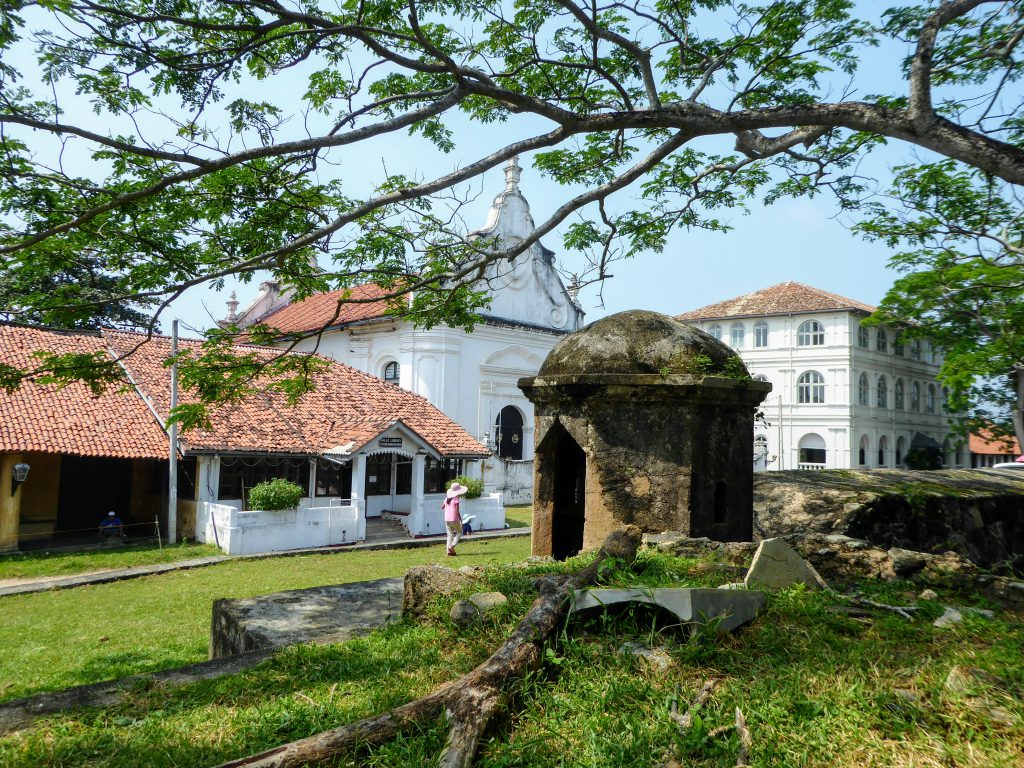 In the background you see the Old Dutch Church of Galle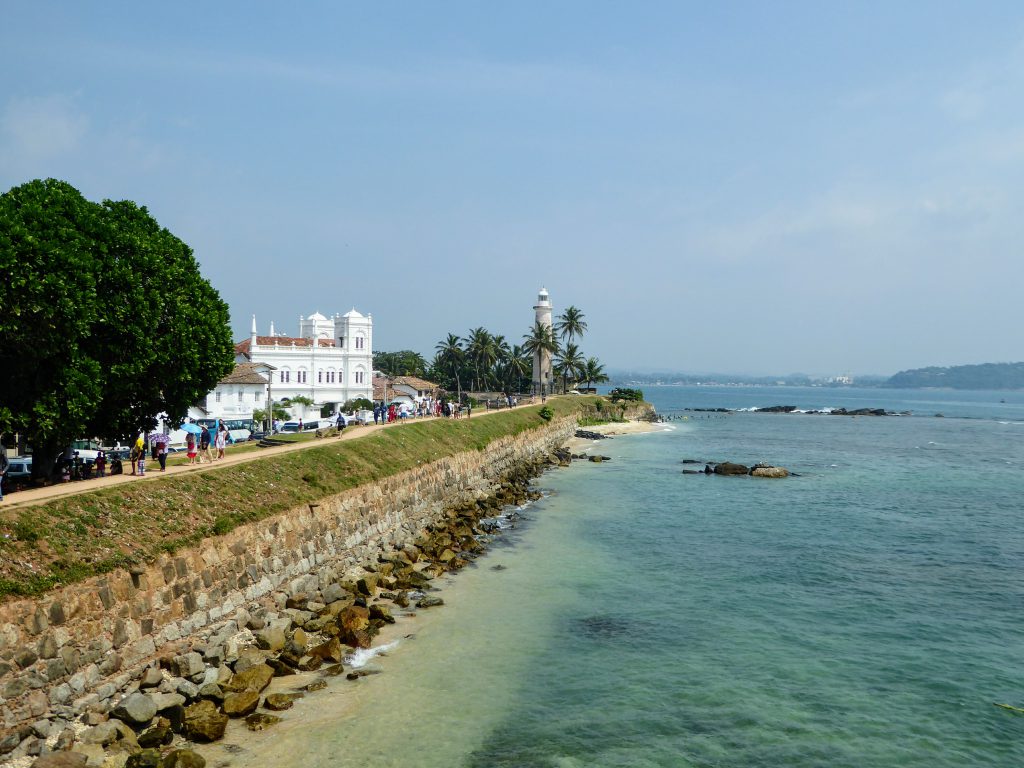 The Traditional Fishermen of Sri Lanka
Driving back to the hotel we saw some of these fishermen.  My driver Gamini warned me because they are only there to pose for pictures for tourist and get some money. He parked the car 200 metres down the road and I walked back. Sometimes I do pay for pictures….but I hate to do it like this. They can go work…but they just sit there…nothing with them to really catch some fish… And on shore there was another man approaching me. He wanted money. I didn't brought anything and said to him that I was just walking and didn't bring anything.
He smiled and gave me permission to make some more pictures 🙂It is a great sight!!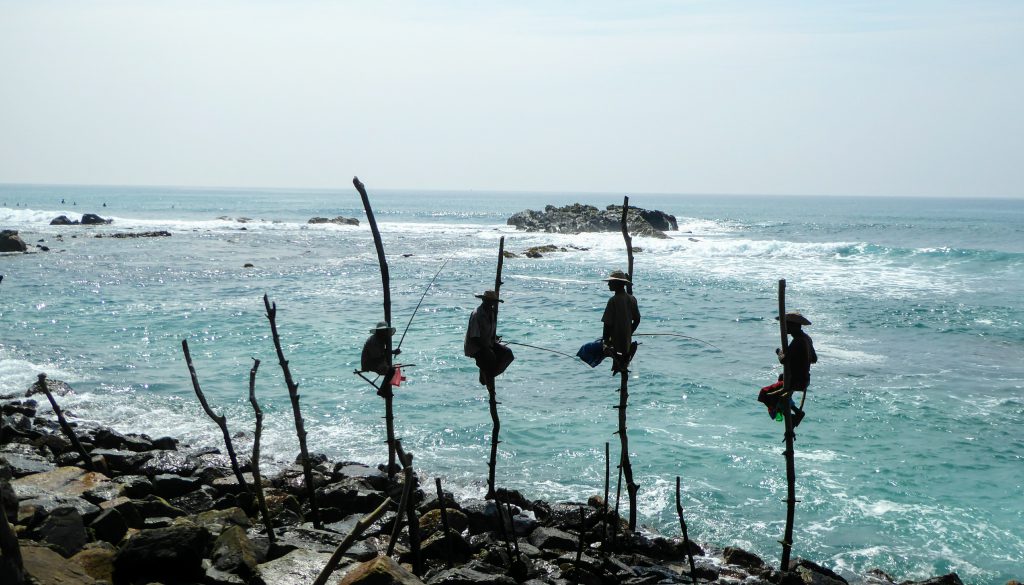 It happened at christmas 2004… Exactly 12 years ago..
I was here on the 26th of december.. So exactly 12 years after the big disaster..
The Tsunami destroyed a part of Sri Lanka
I ofcourse visited a local museum about it. It happen to be a museum that was founded by a Dutch lady called Jacky…as I let people call me while traveling too. I will write more about this impressive visit later on my blog as the lady that still lived there told me her story about that horrible day.. She had to run, with her father, mother and sister… She had never ran that harde, she told me with tears in her eyes.. All along the way I still saw the destruction of the Tsunami.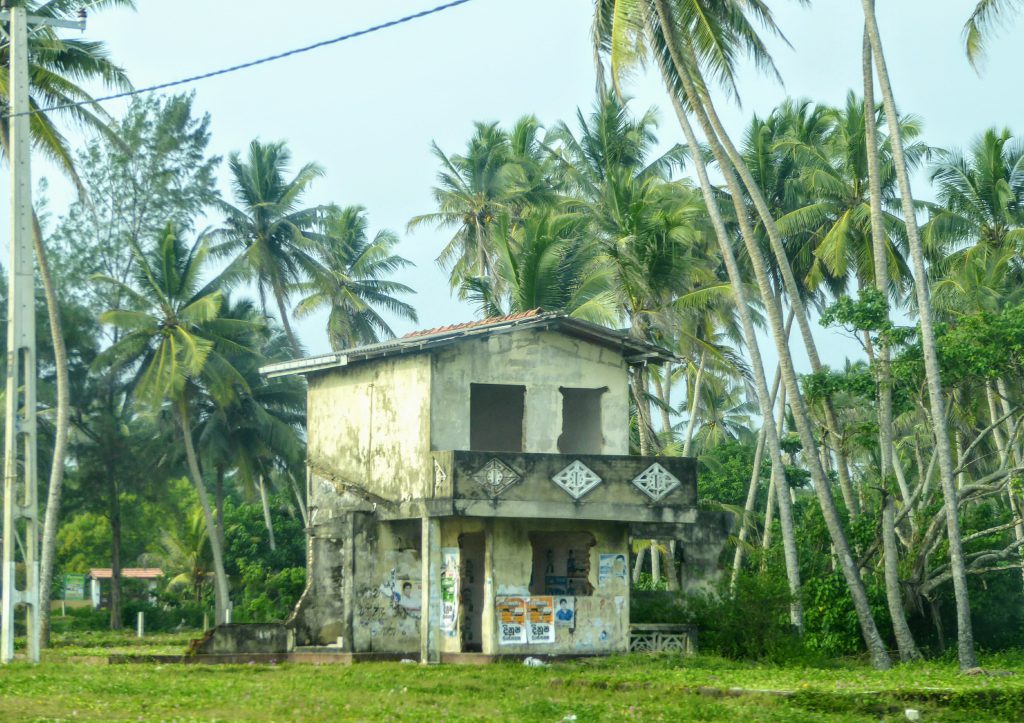 Day 9
Last day of my visit to Sri Lanka:
Boat Safari on the Madu River
I was welcomed by the Captain himself!! Doesn't he look great?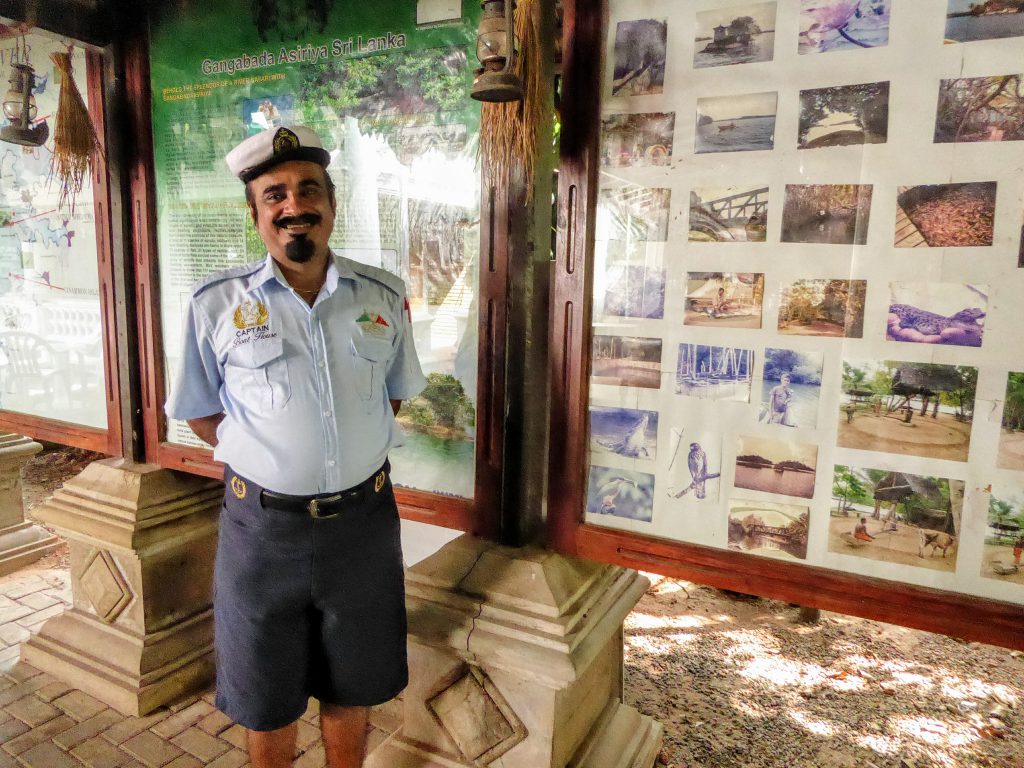 The bio-diversity of the Madu River is of monumental signification when considering the wide ranges of aquatic and avian life as well as wetland dwelling amphibians, reptiles, mammals that inhabit the environs of this natural treasure. A total of 11 species of agnatic mollusks and 14 land dwelling mollusks are found in this system. 70 species of fish, 31 types of reptiles, and 50 kinds of butterflies are just some of colorful array of wildlife that inhabits this abundantly bustling eco-system.
Bird watchers will be pleased to know that 111 species of bird have been identified in the mangrove formed environs of the river, and has been known to host several types of migratory birds. (source: the Captain)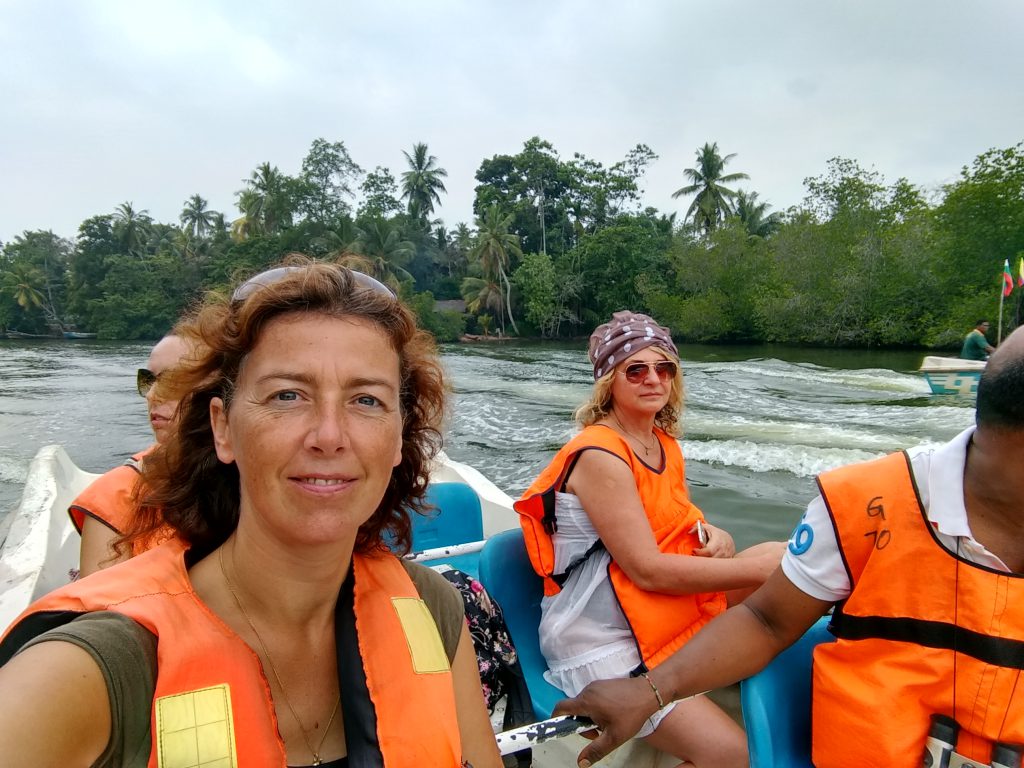 That was a great way to end a great travel through Sri Lanka.
This trip was all arranged – Sri Lanka
I always travel alone and make up what to do just a day or two before heading there. This time it was different. I had this all arranged by my friend Denusha. He made this program to fit me and for me to enjoy Sri Lanka to the fullest. To have some relaxed days after my 10 days in solitude… well solitude.. In totall silence…noble silence.. At the Vipassana Centre in Chennai – India. I will write about this wonderful experience later!!
I can imagine you want to go on a trip to Sri Lanka too
Don't hesitate to get in contact with Denusha
He would love to think with you about a great way to explore Sri Lanka as you would like to
All travels can be organized to fit you personally,
—
Or check his website because he has a lot to offer!
If you want to combine the great Sri Lanka with an trip to India?
or The Maldives you can arrange that with Denusha too 🙂
—
My experience are all mine and not influenced what so ever.
I would never tell you to go somewhere where I didn't feel at home!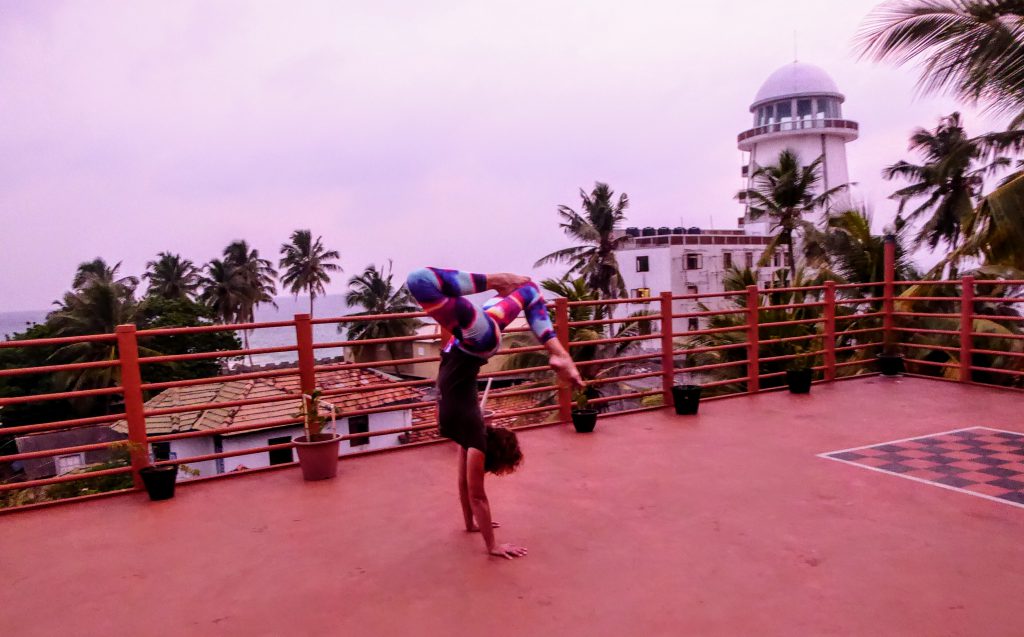 And if I'm comfortable enough to do some yoga poses you know I feel at home!! 🙂
Photo taken at the roofterrace of hotel New Shangrela Beach Resort in Ambalangoda.
If you liked this post please share it for others too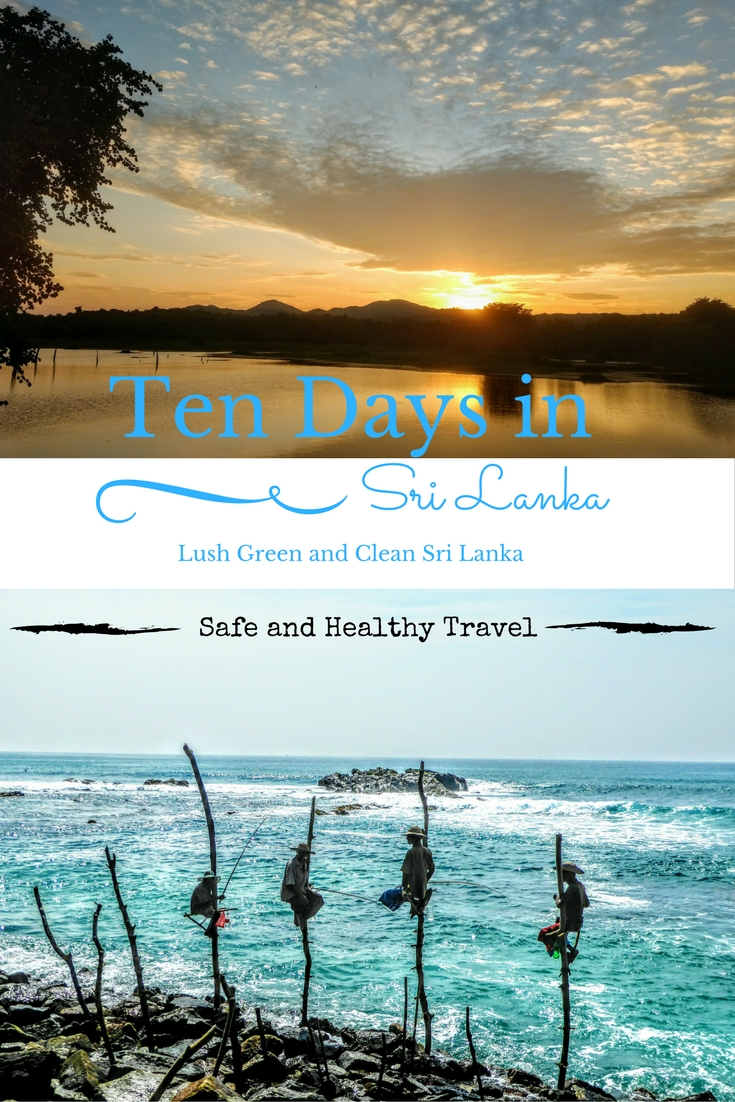 Curious about some other trips I took?
Couple of weeks to spend in Malaysia?
2 Week Travel Itinerary Sumatra, Indonesia
2 Weeks of The Philippines on Instagram
Or what about a mulitple day trek in Nepal?
I hop you love this world as much as I do!!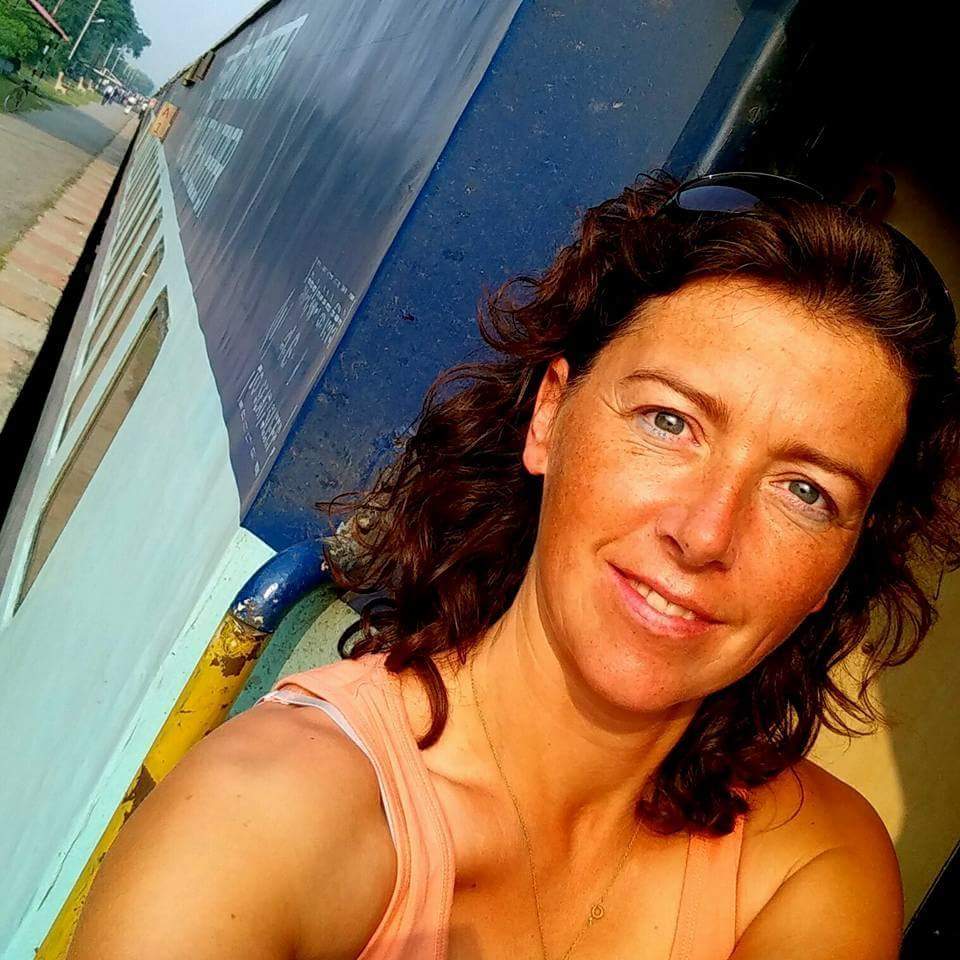 Jacomijn is een politieagent uit Nederland die jou graag laat zien hoe je veilig, actief en gezond de wereld kan over reizen. Safe and Healthy travel is a MUST