Elephant Safari Kaudulla NP -Sri Lanka
|
While travelling in Sri Lanka you have to take a jeep safari Kaudulla National Park. There are so many elephants to see and so a safari is MUST DO activity in Sri Lanka. When I was in Sigiriya I decided to take a jeepsafari, it was on the afternoon after I climbed Lion Rock. Earlier I saw an elephant walking in the distance and I was so curious to see the big herds I heard about!
So we went on a jeep Safari Kaudulla NP – Sri Lanka!!
Sri Lanka has a lot of National Parks where you can spot the elephant. Lots of them offer a 100% garantuee to see the elephant, Kaudulla is one of those. Kaudulla NP and Minneriya NP are next to eachother and you go to that one where the elephants are at the moment. Kaudulla NP is not a big park with 69 m2 but because it has a lot of water the herd elephants will come here on a daily bases.

Next to all this the park is a great spot to see a lot of different birds.
Even before we entered the Kaudulla NP we spotted the bee eater on the side of the road. I thought it was amazing! I really love to spot birds and animals, my guide Gamini was also in the mood for spotting birds and started to look for them too. Earlier this morning we spotted the White Throated Kingfisher sitting on a branch.
We took our time to spot some more!!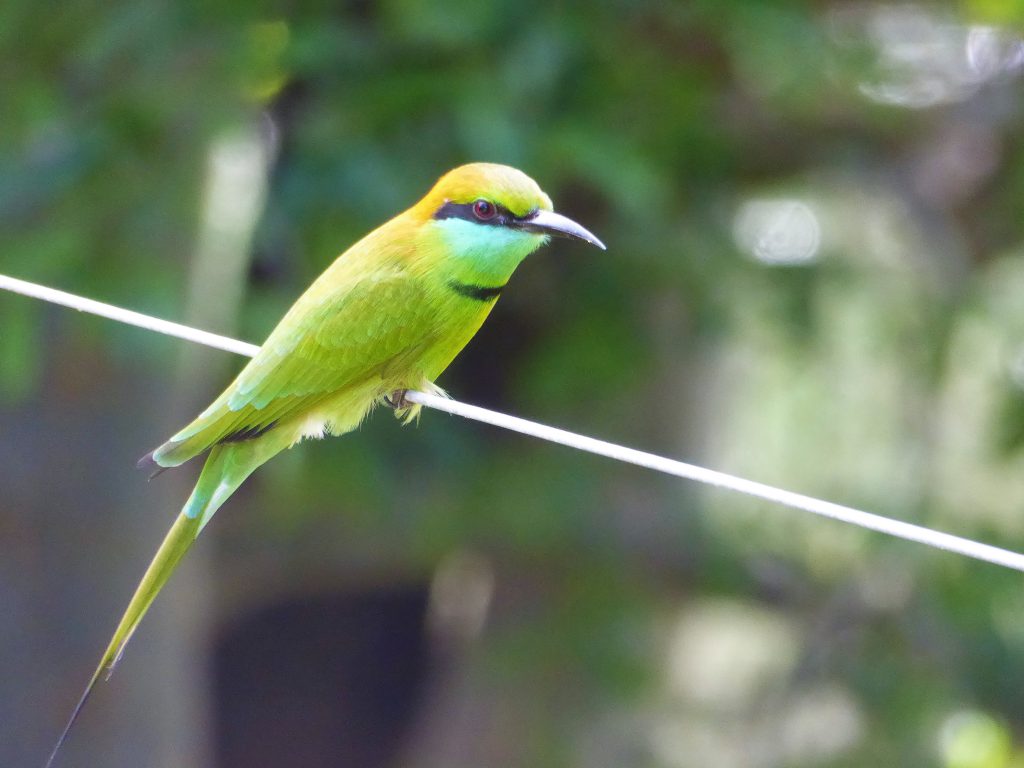 The pro of having a guide, and driver at the same time, Gamini arranged all kinds of extras for me. This safari Kaudulla NP trip wasn't in the original program but was arranged in no time when I said I wanted to do one. A local guy with a jeep (reguired to get into Kaudulla NP) was hired and the trip was a fact!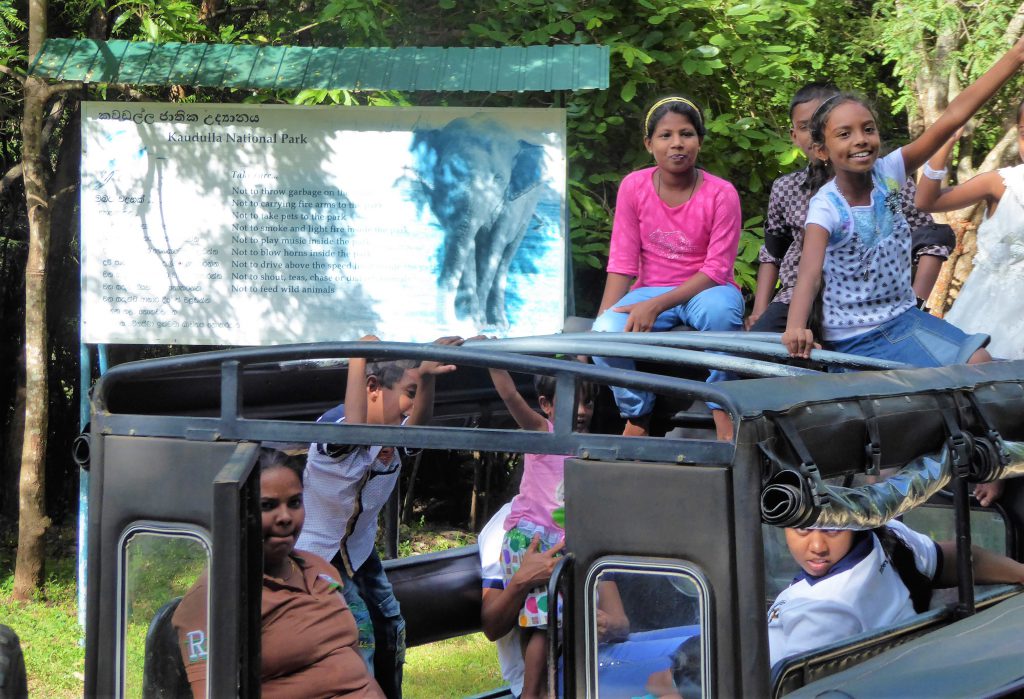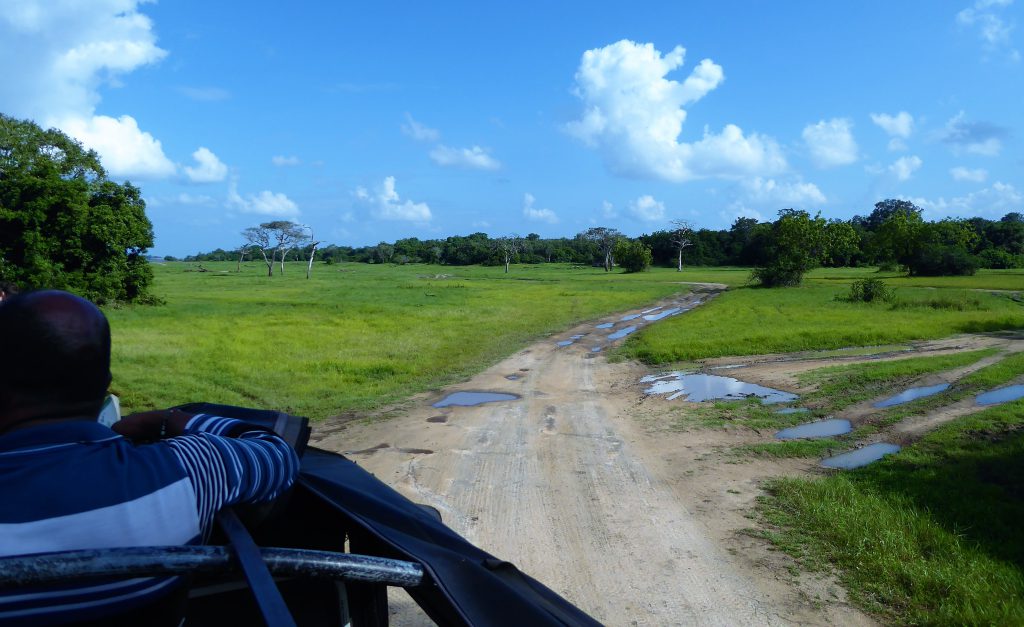 Together we tried to spot as soon as possible our first wildlife. Gamini was in the front and he loved it as much as I did! It was a sport for him to recognize the different species of birds. Gamini brought a book to show them to me so in the future I could recognize them too!!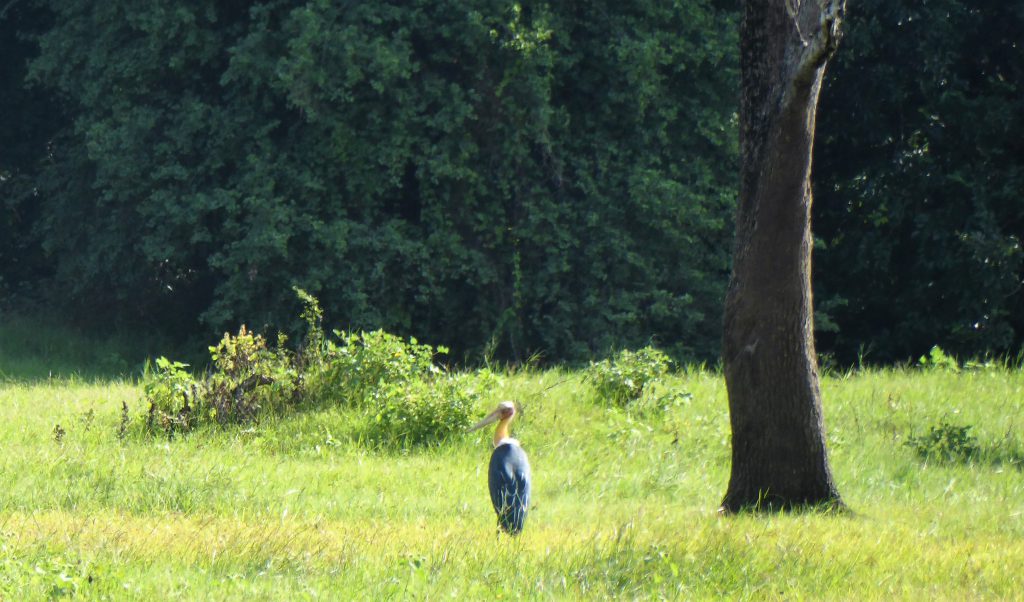 The first bigger one was the Lesser Adjudant stork.
It's bigger then I expected!
Going further into the Kaudullla NP wegot to the lake and so the spot to see the herd of elephants. I didn't expect to see a lot and I was so happily surprised when I saw at least about 75 elephants! They kept coming out of the bushes and didn't mind us standing there gaping at them! They actually passed us quit close!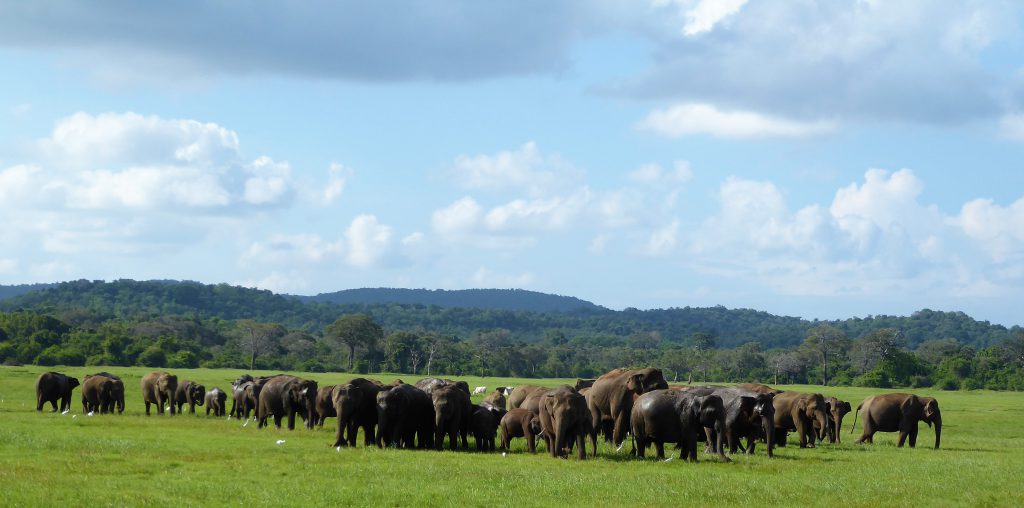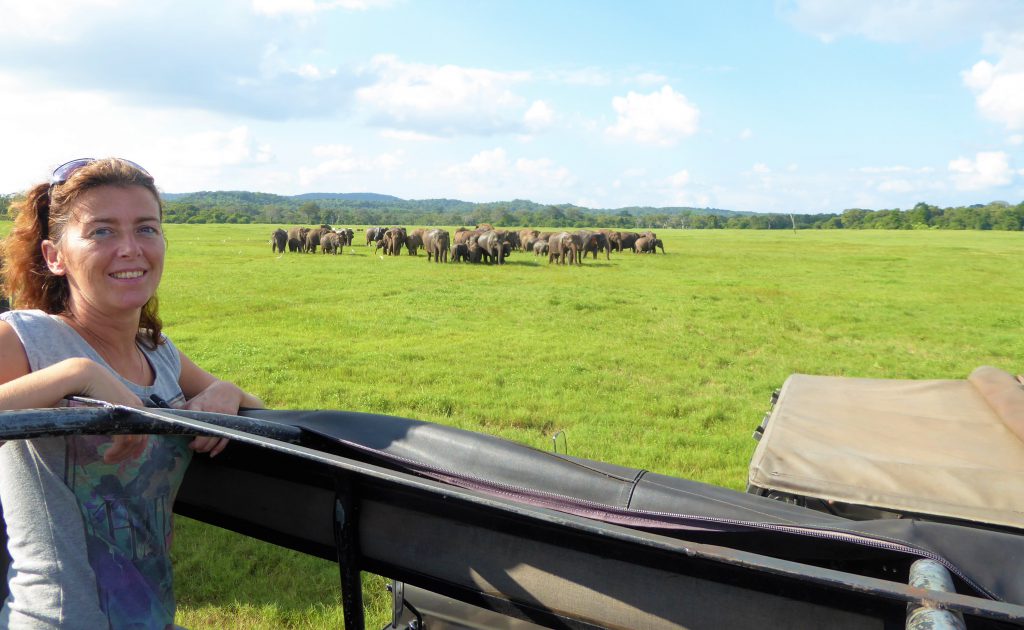 Jeep Safari Kaudulla NP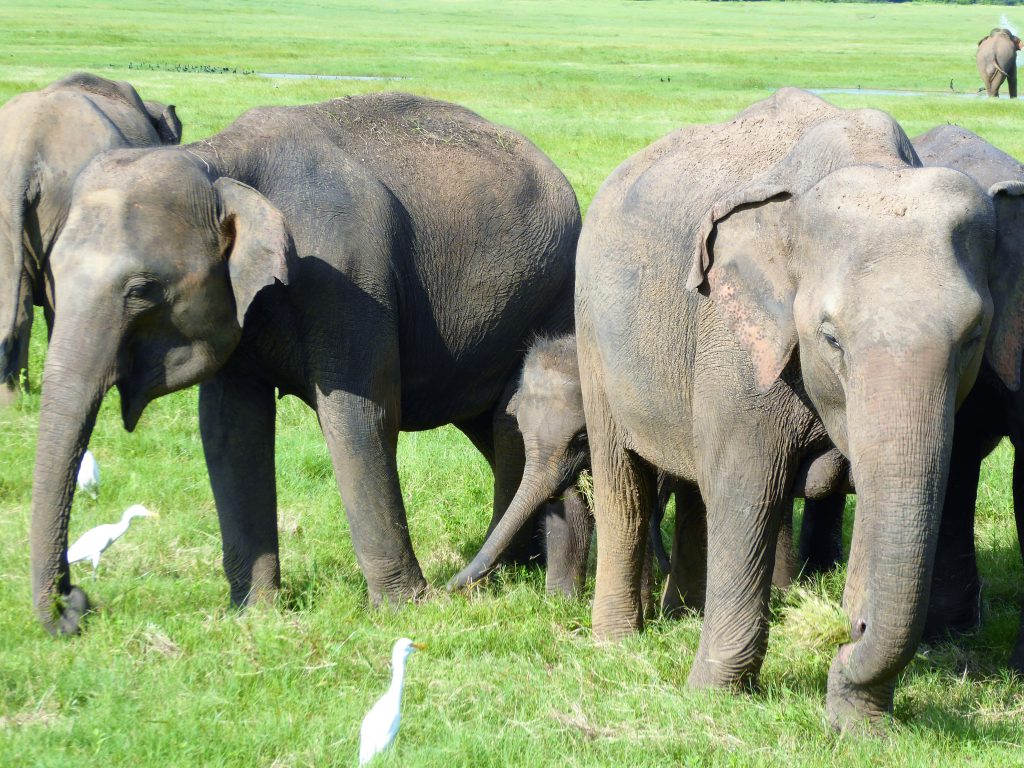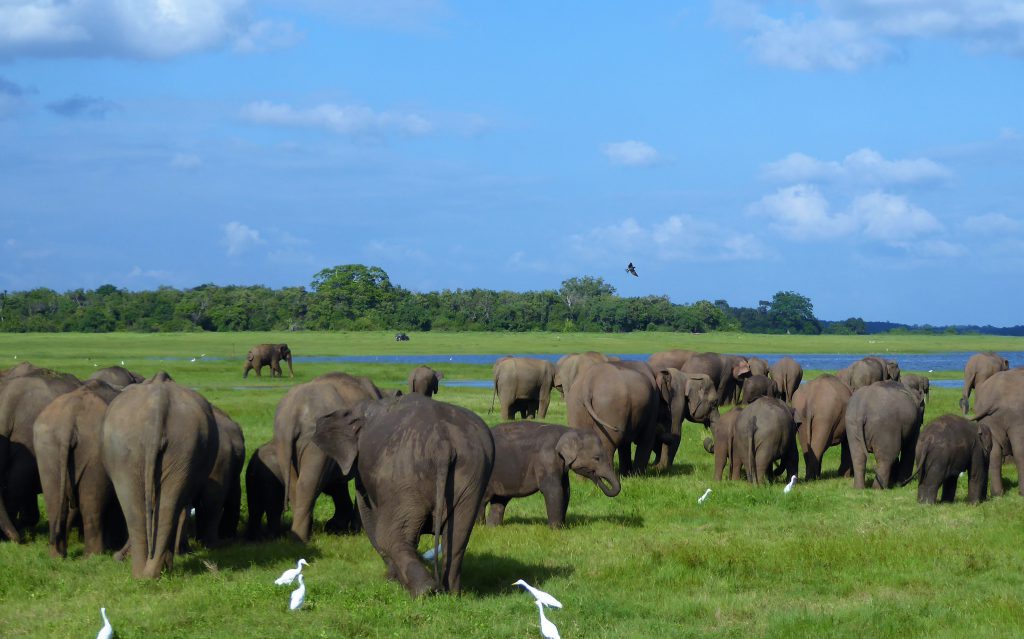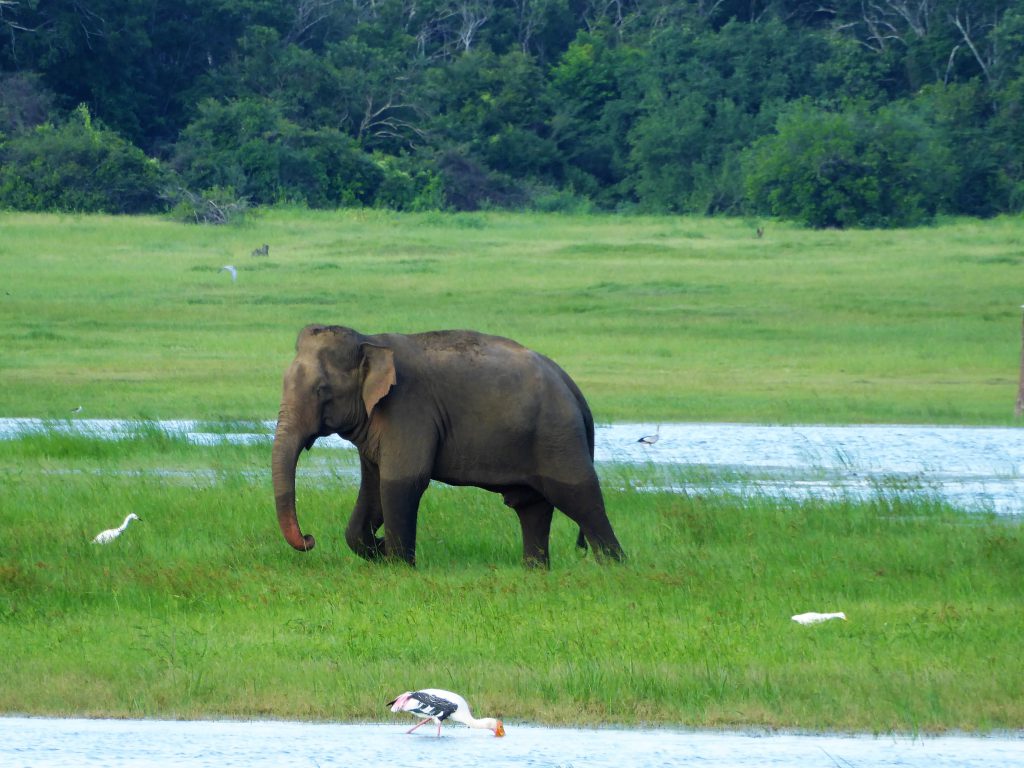 Elephant with a painted stork  🙂
After standing there watching the elephants for about 45 minutes I thought it was time to go on! The driver thought it was time to go back…but no!! I wanted to drive around the park some more in hope of seeing some more wildlife or birds. I wanted to get the most our of my safari Kaudulla NP. There was hardly any chance to see other wildlife they told me… but birds you can spot!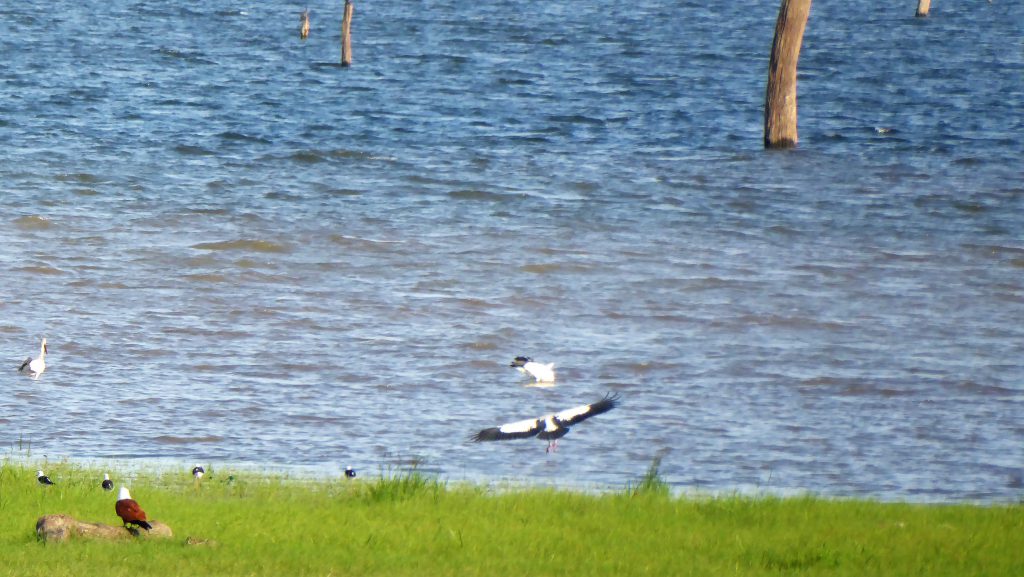 It is kind of difficult to get them good on the picture… I still have a small digital camera and for safari trips, making pictures on large distance, it's not the best one ofcourse. On the lower left side you see a Brahminy Kite. You do see them a lot in Sri Lanka!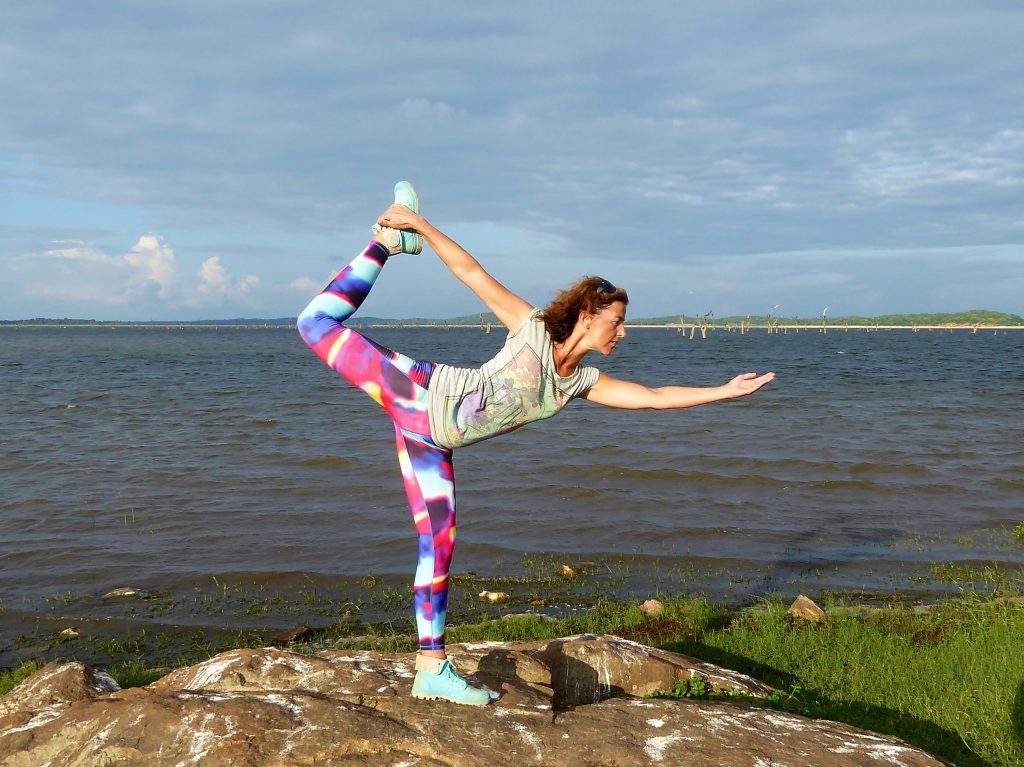 Now we had also time to go to a viewingpoint. There was ofcourse a line waiting here to make a picture, posing with the lake in the background. I think I was the only one to pose like this 🙂 When I later visited a friend I saw they had a picture on the same spot made here.
Only not posing like this 🙂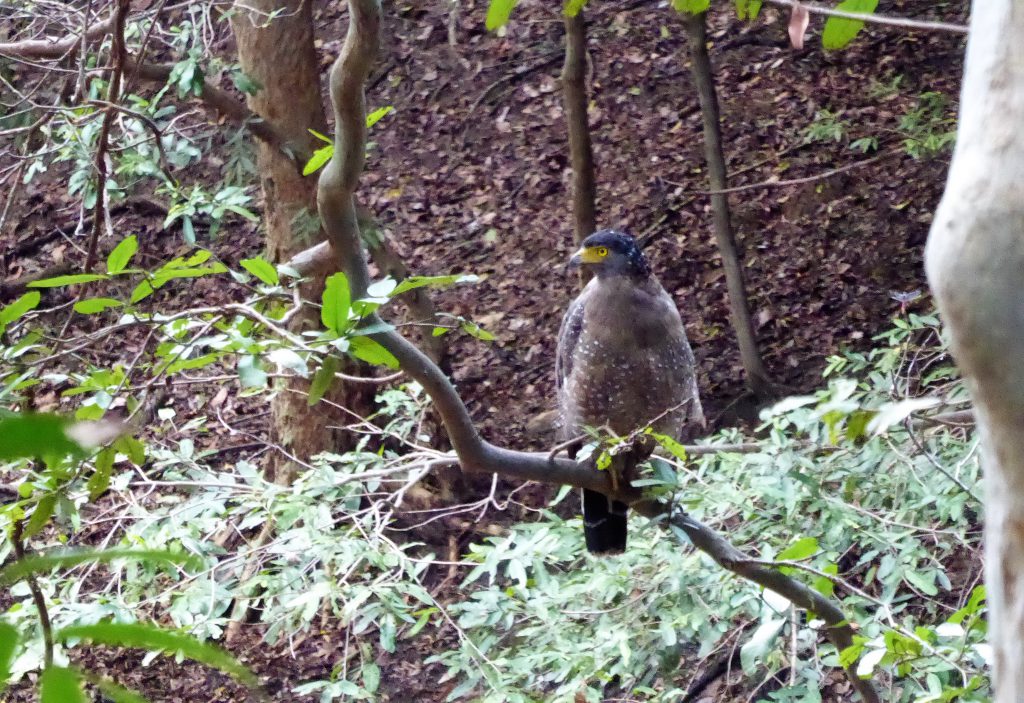 It started to get a little bit dark when I saw this big bird! These do make me happy! It's a Crested Serpent Eagle, quit big if you ask me! You see that my camera is not made for this…nog quit sharp anymore.
But isn't it beautiful?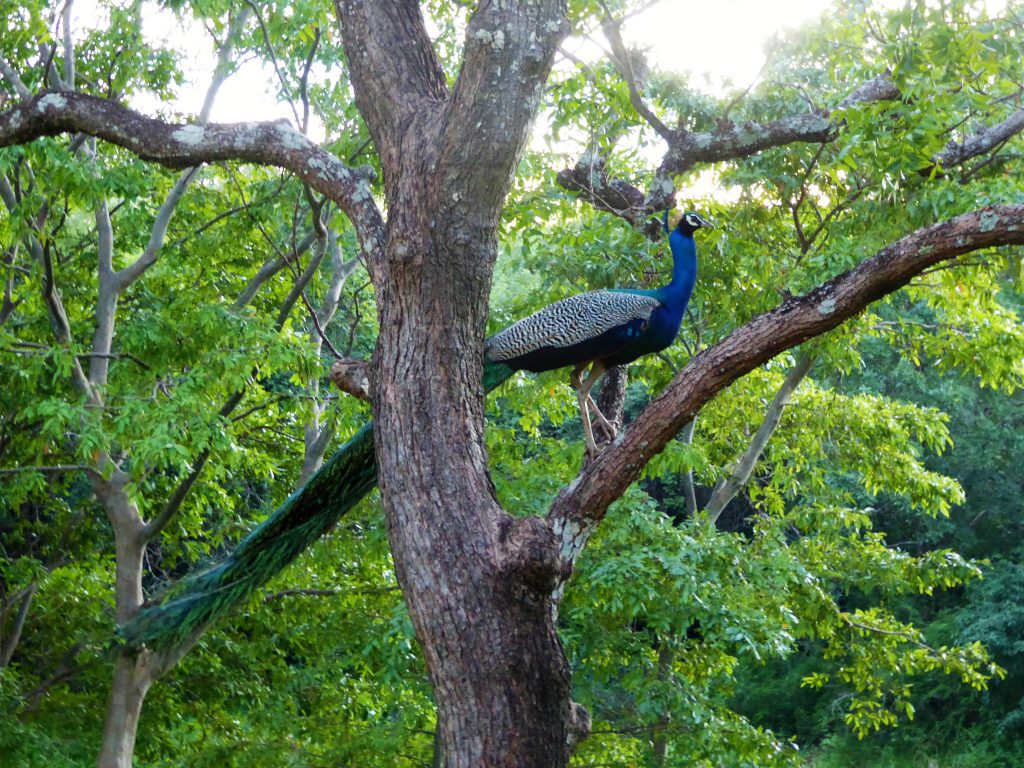 On our way back, outside the park, we saw some more colour!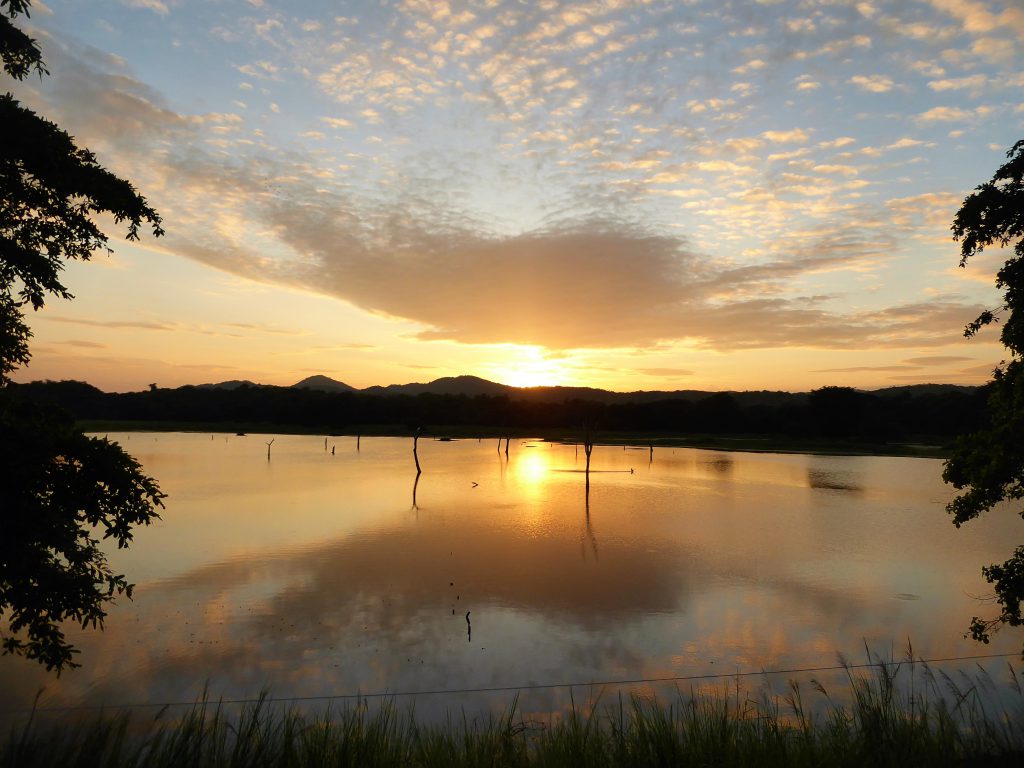 What a great way to end a beautiful day!!
Have you done a safari in Sri Lanka?
Which park did you visit?
My bubble on the net is not so big yet…

so if you would share it you'd make me happy 🙂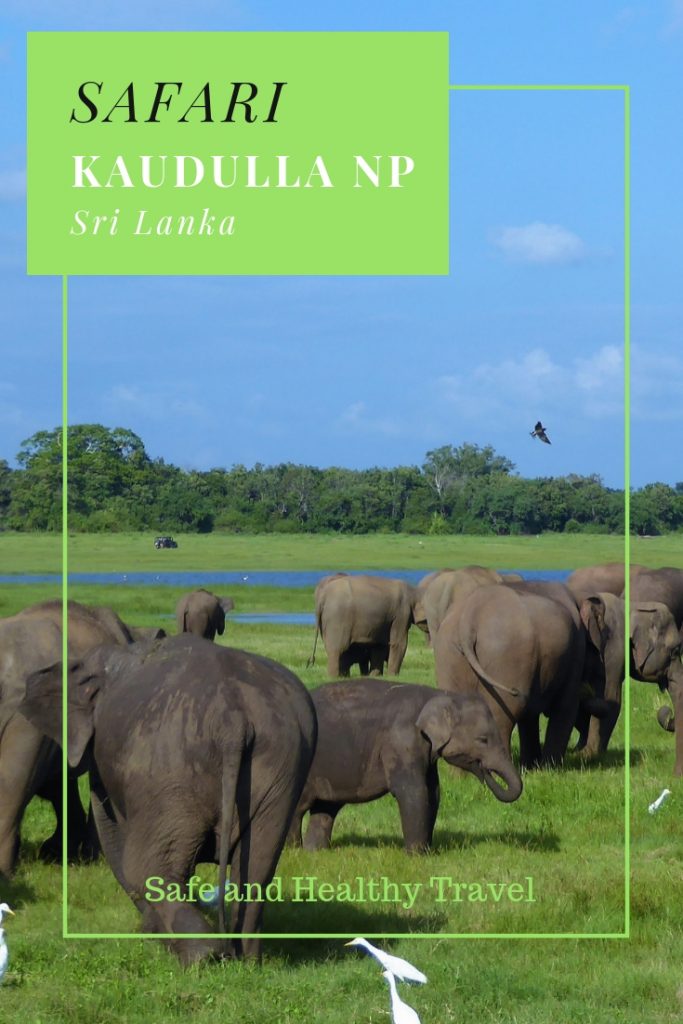 Want to read some more about my Sri Lanka journey?
10 days in the Lush Green and Clean Sri Lanka
The Horrific story of the Tsunami
Or how about these tips!!
I hope you like this world as much as I do!!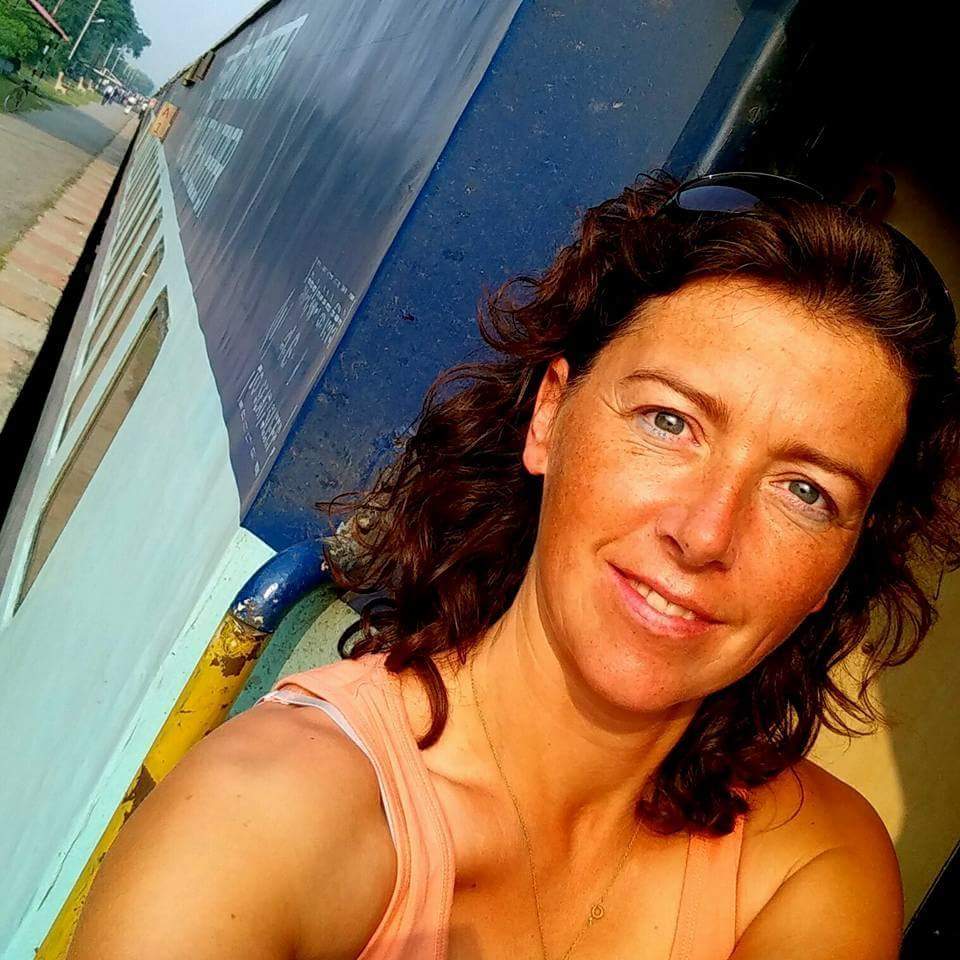 Jacomijn is een politieagent uit Nederland die jou graag laat zien hoe je veilig, actief en gezond de wereld kan over reizen. Safe and Healthy travel is a MUST