A visit to the local doctor at Nyaung Shwe, Myanmar
|
After more then a week traveling through the great and wonderful country of Myanmar I got sick. At first is was just some bad feelings in the stomach but at some point it got worse. So a  visit to the local doctor had to be done in order to get me back on track again.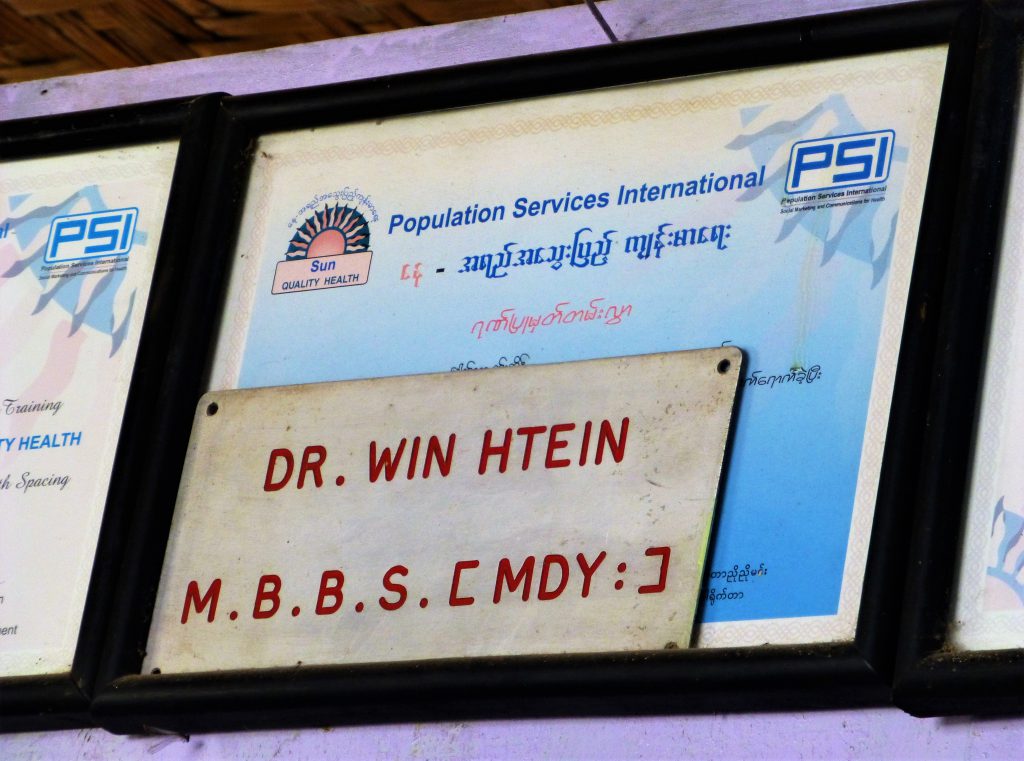 Local Medicine
It started allready a week before with diarrhea but it'll only got worse ever since. At first I tried some local herbal medicine I got from the lady from the hotel. They were so sweet for me! It didn't work unfortunately. I had to take two little spoons of the powder and put it on my tongue. I had to put some water in my mouth and I should mix it together in my mouth. It tasted really strange, at first I thought it tasted like salmiac but directly after it went to tasting like durt. I succeed to swallow it. I also got fruit and green tea, they are very nice to me at Hotel Brilliant in Nyaung Shwe.
 A Visit to the Local Doctor?
I didn't have a choice
So, now, after being awake for almost two nights it was really time to go to the doctor. The hotel staff arranged a doctor's appointment. I was picked up by a lady, the mother of the woman who works at hotel Brilliant. And I guess she is the owner.
Yes, this is the doctors office! It was a small wooden/bamboo building.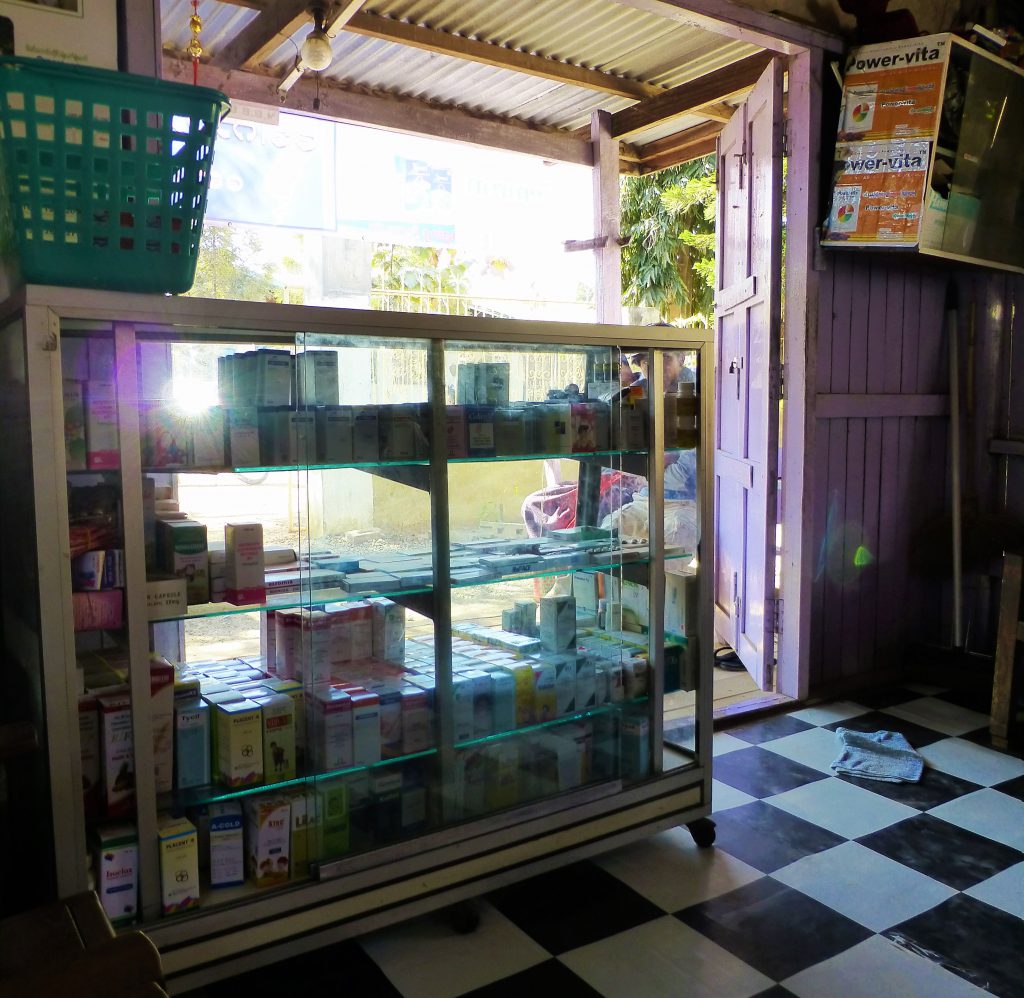 Cabinet with all medicines.
The Doctor's Office
We sat down in that room, slowly people changed their seats to the room of the doctor. I heard all kinds of noices. I saw some boy coming from back there and rubbing his behind, he got a shot appearently. They were giving shot here?? I couldn't believe that such a thing really was going on back there. There was no hygienic in the building or room or what so ever.

When I got closer to the room of the doctor I saw his assistent. She was very busy, she was packing medicines and I also saw her making a injection for someone. She stood in front of a open window. Everything that was rubbish she just threw out of that window. She opened little capsules by hitting them with a scissor and after filling the injection. The capsule was thrown out the window and also the package of the injection. Such a strange sight.
A Visit to the Local Doctor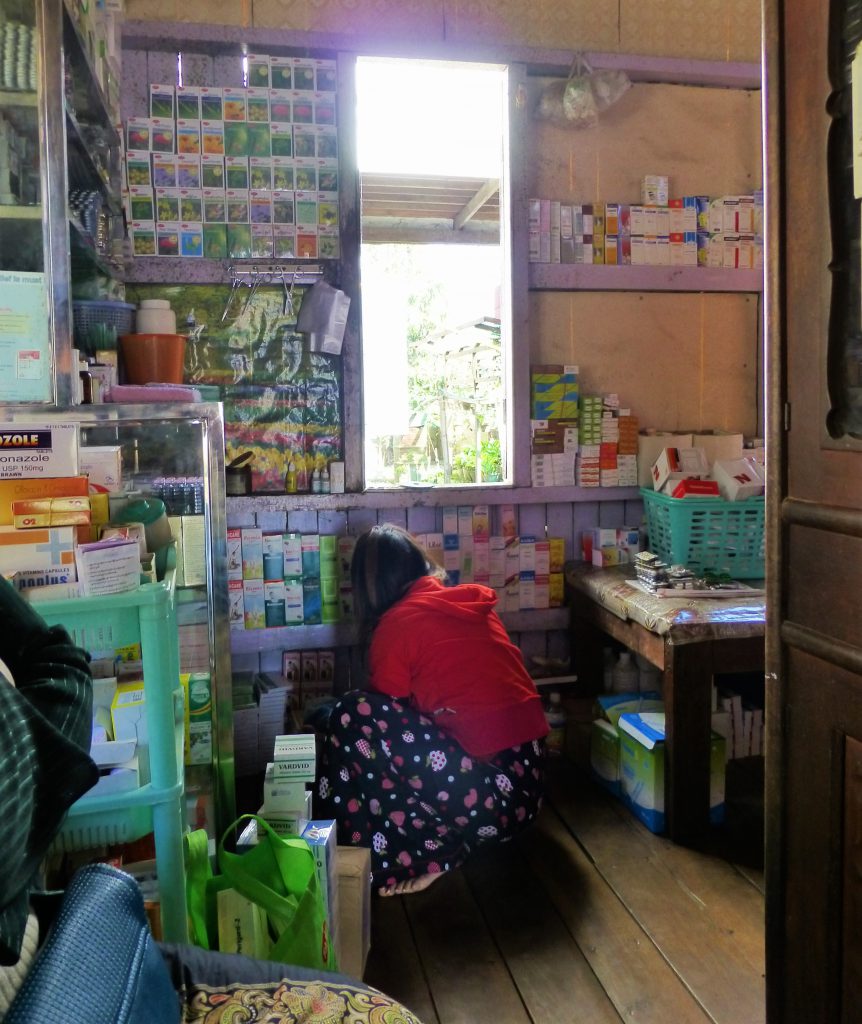 The Doctor's Assistent
After the patient in front of me paid his bill I could enter. I saw a man, he was small and he was wearing a thick winterhead. The kind someone would wear when you go skiing or iceskating in the snow. 🙂 you see many people wearing them in the morning or in the evening when it gets colder.
Seeing the Local Doctor
The doctor could speak good english and he had figured out quick what was wrong with me. At first I showed him the Malarone because I had a feeling that it was the origin of my problem. He said not to take that anymore because there was no malaria in this area, he also asked where I was. Also in the areas I visited were no malaria musquitos he said.
A Visit to the Local Doctor
Then he wanted me to lay down on his examin-table. I did but didn't feel comfortabe on it. There was a shmussy pillow where I should lay my head on and the rest wasn't all that clean to. Where in Holland the doctor would change the paper on the table each time  a different patient will lay down on it, here was the plastic at least a couple of years old. But I did lay down, he messured my bloodpressure and after he listened to my stomach and abdomen. He knew immediatly what the problem was, he said I had a bacterial infection in my abdomen.
Medicines
He said to stop using the Malarone and he gave me another medicine, Ofloxacin & Ornidazole tablets. I found out on the internet that's some kind of antibioticum. I should take 3 today and the days after 1 in the morning and 1 in the evening. He also gave me another medicine, looking on the internet it turned out to be a medicine against an itchy cough or something. That one I didn't take 🙂 Really don't know why he gave me that….or it was because I could pay for it 🙂
My problems were solved in 1 day. I was very glad to get a good night sleep after a couple of bad nights! FYI… I didn't stop using the Malarone 🙂
—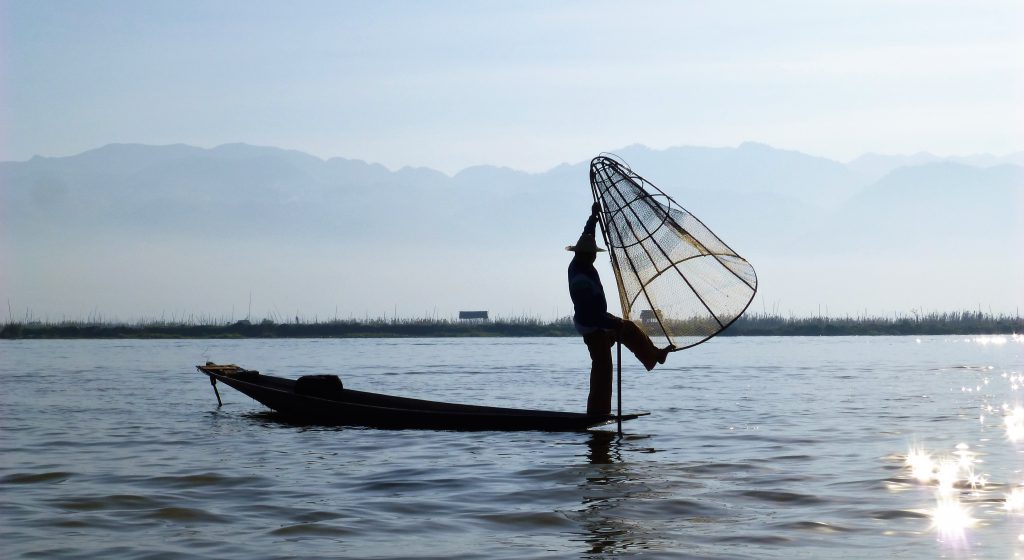 And I was back exploring the great surroudings of Nuang Shwe.. The Inle Lake!!
Would you share this post?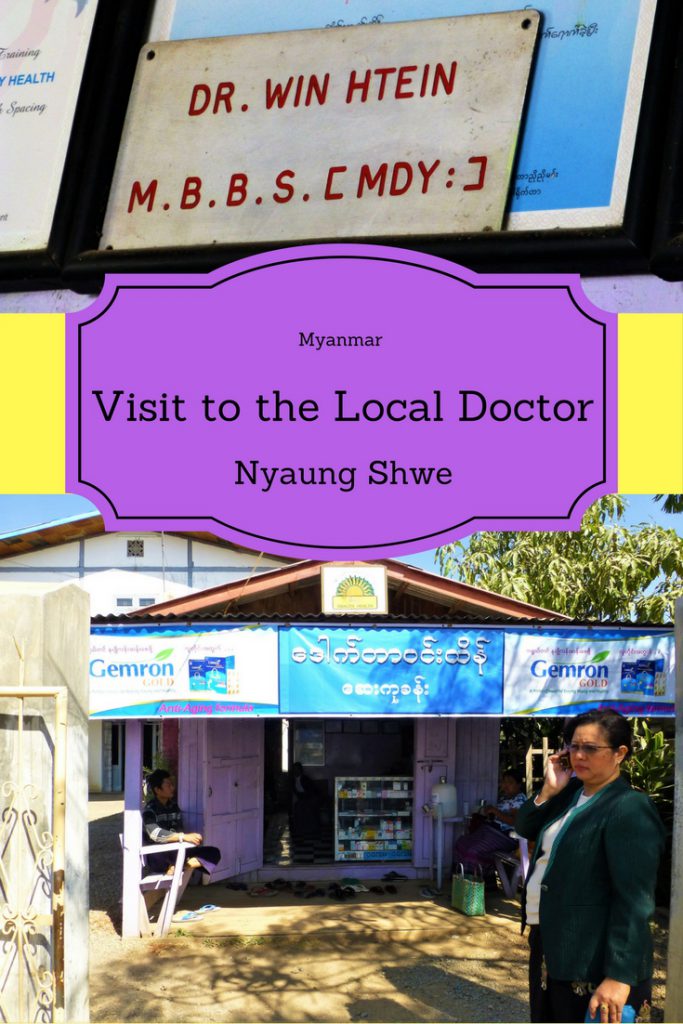 Do you want to read some more about my Myanmar travel?
The Famous U Bein Brigde – Amapura
The Famous Legrowers of Inle Lake
Climbing the 700 steps of Mt. Popa
Walking towards my First Sunrise at Bagan
2 Day / 1 Night Trekking at Hsipaw
Or can I inspire you to take a Yoga Pose at the most beautiful spots in the world?
I hope you enjoy this world as much as I do!!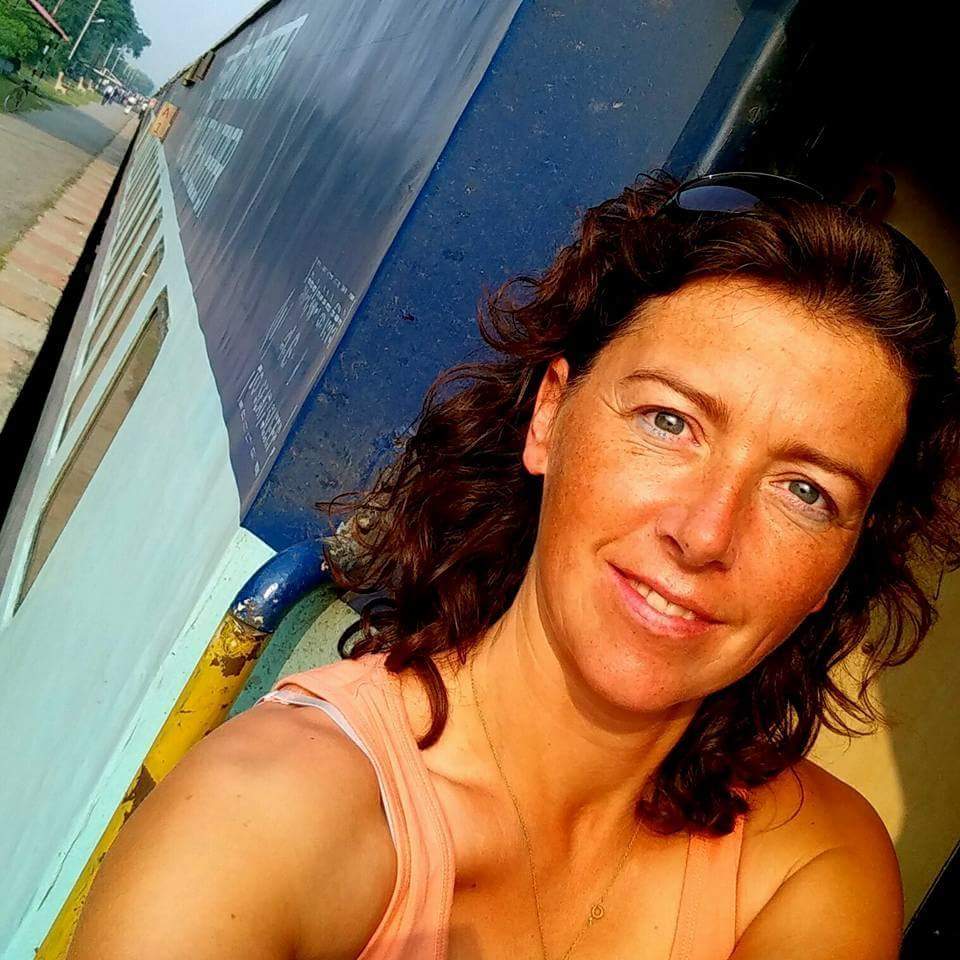 Jacomijn is een politieagent uit Nederland die jou graag laat zien hoe je veilig, actief en gezond de wereld kan over reizen. Safe and Healthy travel is a MUST