Delhi Food Walk – Chandni Chowk, New Delhi
|
You want to enjoy the Indian food as much as possible while in India but sometimes it is difficult to choose which street you can or cannot eat at as a tourist so a Food Walk Old Delhi the way to taste everything.
I booked a trip at Delhi Food Walks and was pleasantly surprised with the amount we were going to taste but also with the diversity in Delhi Food Walk Old provides. Besides the many small street restaurants Anubhav Sapra also took us to the Spice market and a Jain Temple to have a look inside.
So the cultural aspect of India will certainly get time for this tour.
Did you know that Chandni Chowk means moonlight street? There used to be water in this street so the street was lit up by the moon at night. It is a nice wide street and I can imagine it was well lit because of that. Natural lighting was created 🙂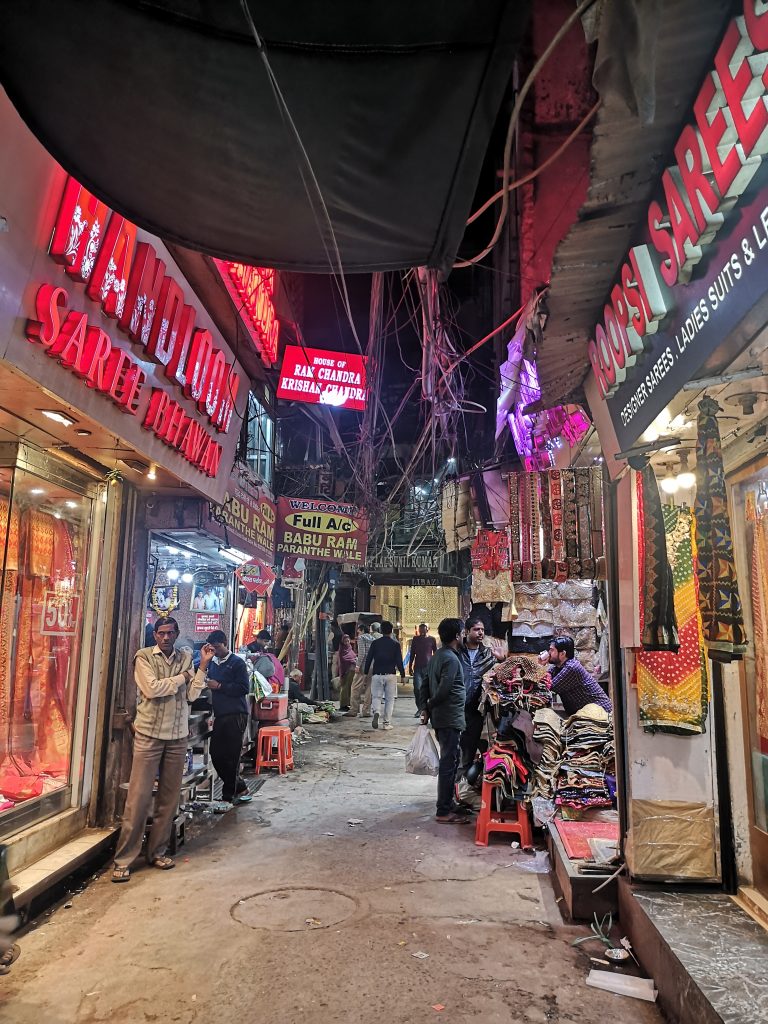 After this explanation we dived into the small streets of Chandni Chowk to go to the oldest and therefore best restaurants of this district! Those restaurants that have been around for a long time and where it's very busy every day with the locals!
Tip: If you're researching a new city and would like to eat locally, this is what you should pay attention to.

Do the locals eat there? Is it crowded? That way you know that you will find good local restaurants where the food is good and fresh.
Natraj Dahi Bhalla
We started this tour at a restuarant on the main road at right angles to the Red Fort. We got the Aloo Tikki. I also ate the day before the Dahi Bhalla but for this tour they explicitly opted for this variant to be incorporated as the Coriander Mint sauce has water in it and not every tourist can handle it so well.
Aloo is potato. So this is a potato dish. There is a mix of potato with herbs and some vegetables, this is fried and served with Tamarind Chutney. It just is a delicious snack!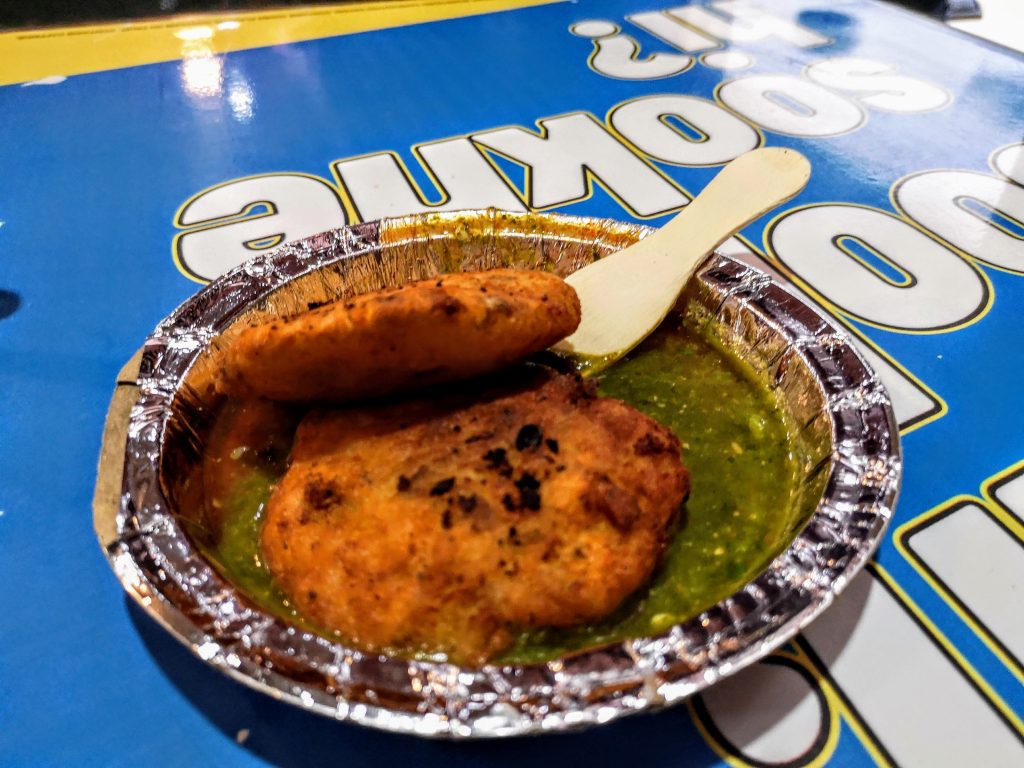 A great start fot the Delhi Food Walk in Chandni Chowk
Parante Wali Gali
After this we went on to a famous Parantha maker. Most streets in old delhi have a theme, this street we entered has the theme bread and is called Paranthe Wali Gali.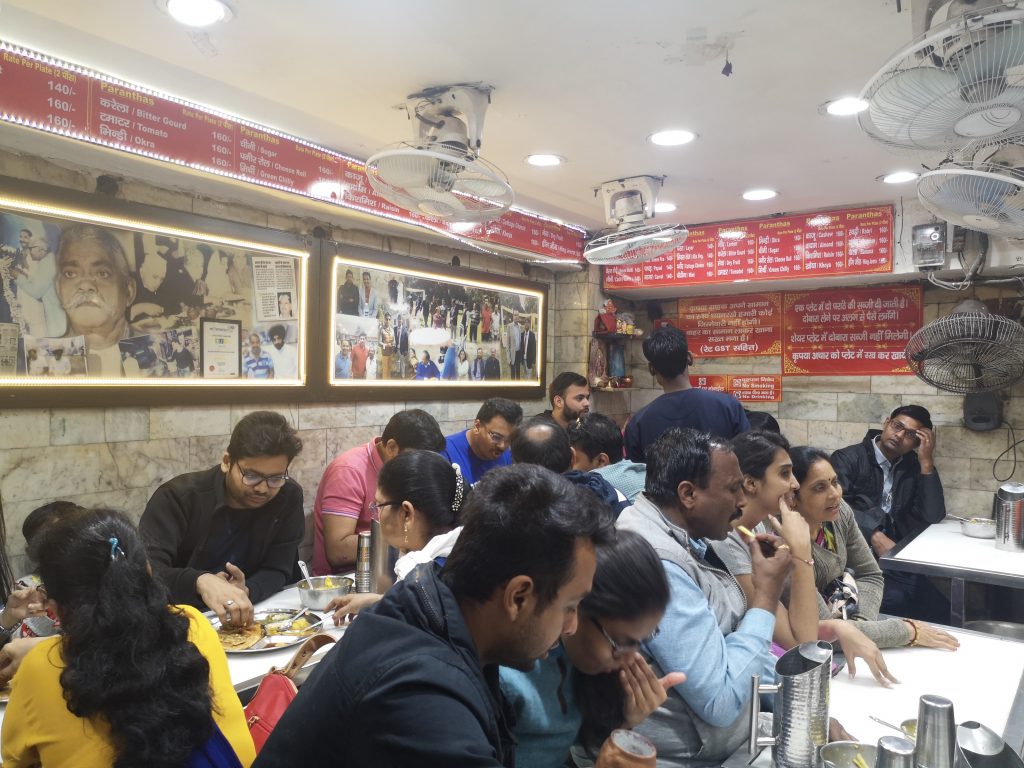 The restaurant we went to has been here since 1872, so you can say you're famous, right? It was crowded and the little restaurant was full! When some guests left we could get a table.
We were the only tourists in the little restaurant, how nice! They served us some paranthas to taste. There was of course some curry, vegetable mixes and sauces. In India the food is never boring and a dish will never be served without all kinds of extras!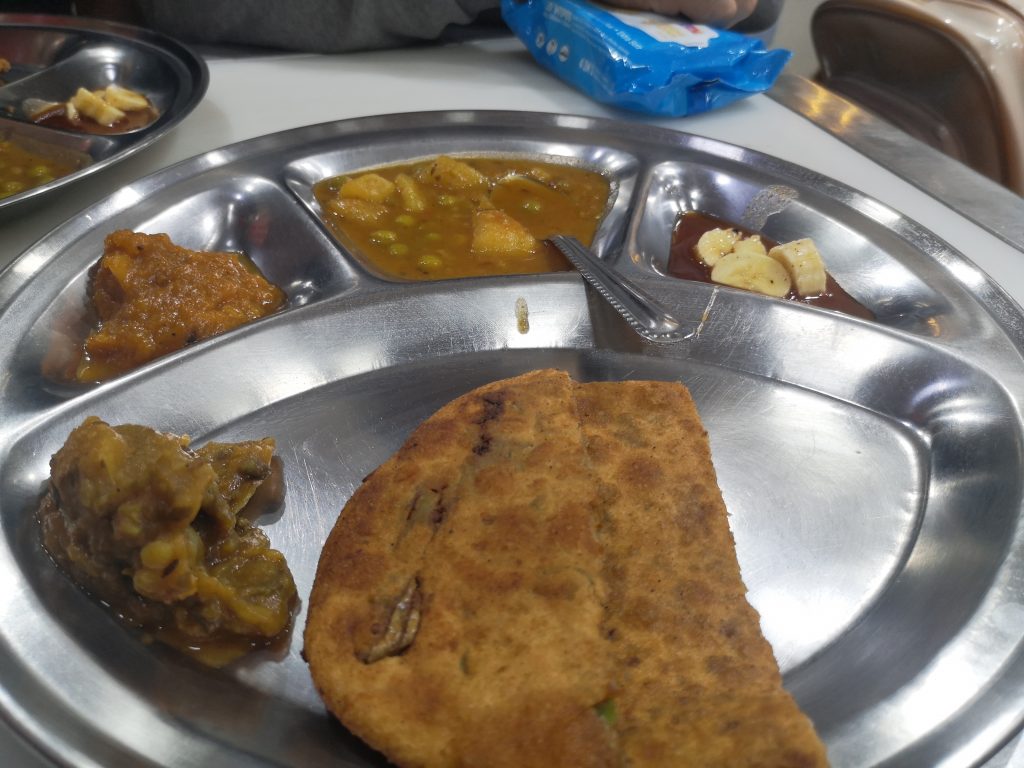 Via the Kinari bazar, wedding street, and the Dariba Jalan, silver street, we walked further into Chandni Chowk. On the way we got a quick dessert. Yes, don't pay attention to the order of how you get the food…just assume that you enjoy each time to the fullest!
Daulat Ki Chaat
This dessert is often offered on the streets in wintertime. In the summer it will melt immediately. It has the bases of milk and is whipped untill it is almost as light as snow and then made very sweet. I loved it and could easily eat a few of those trays. As soon as you put a spoon on your tongue it melts away … Lovely!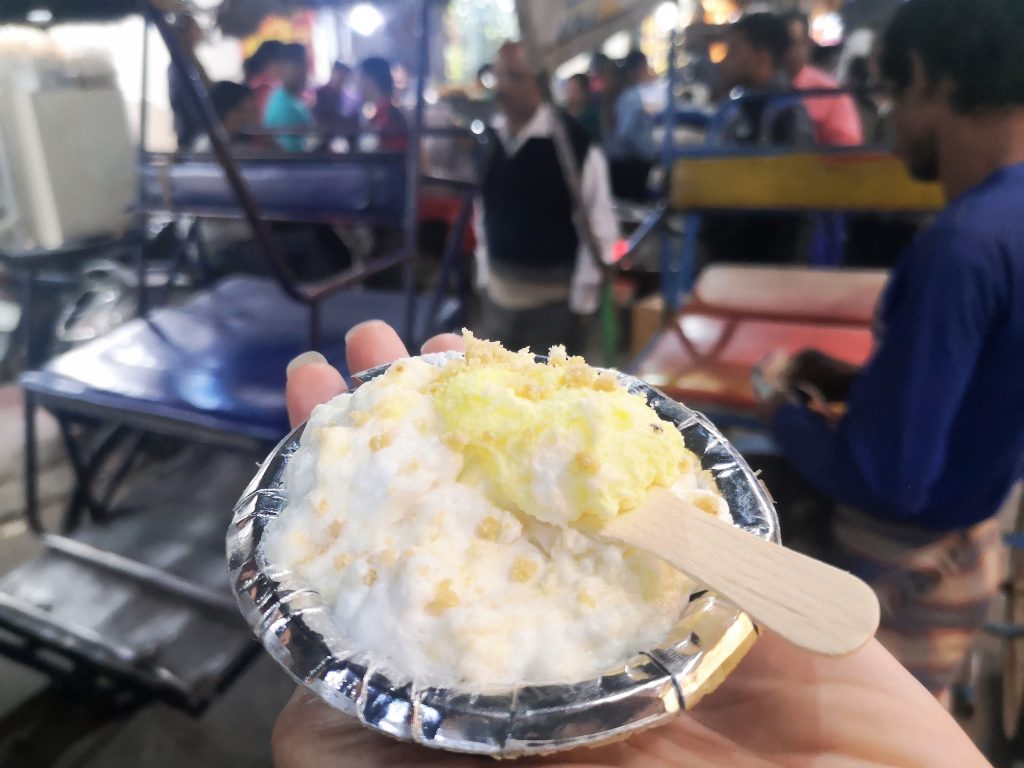 Old Famous Jalebi Wala – Dariba Corner
We had walked around in the old, busy part of Chandni Chowk and arrived back at the main street. At the corner of Old Famous Jalebi Wala, we went to taste the Jalebi of course.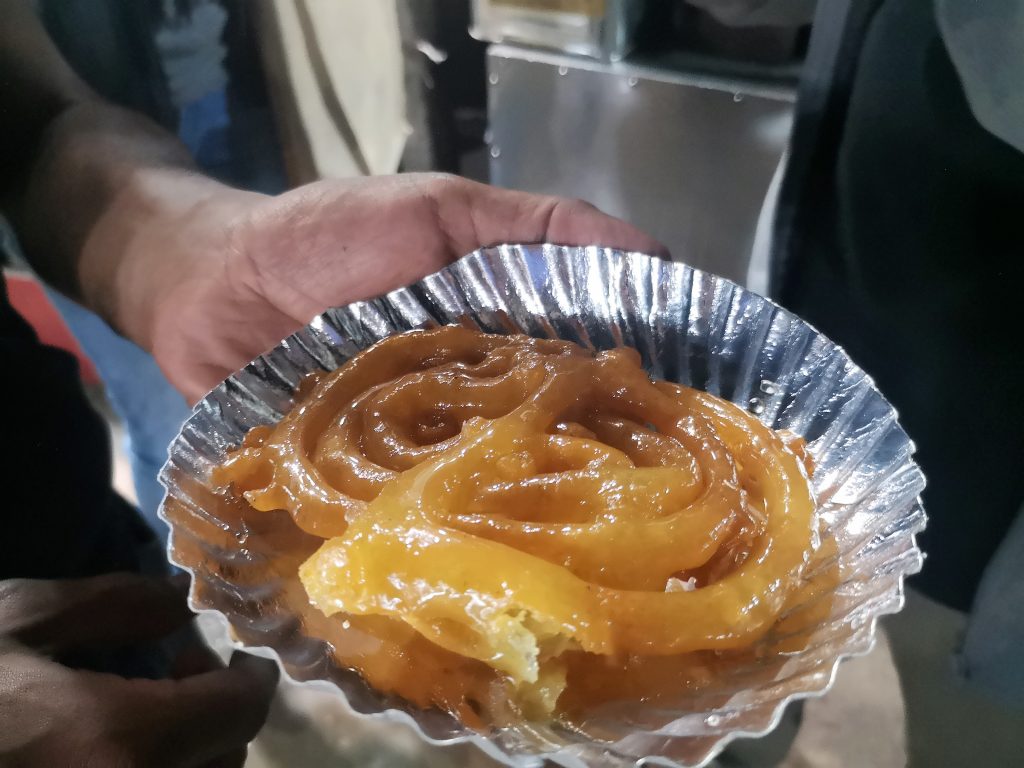 This is an oversweet delicacy. Indian people love everything in the plural…even sweet! This oversweet delicacy is made in front of you, it is deep-fried and served to you immediately afterwards in a sugar water layer. I do like it…only you shouldn't eat too much of it because it fills up enormously!
You can also get the delicious Samosa at the Jalebi Wala. I had one with a potato vegetable filling. I had the samosa a lot on my trip in Sikkim, fellow blogger Abhinav Singh was a big fan of it!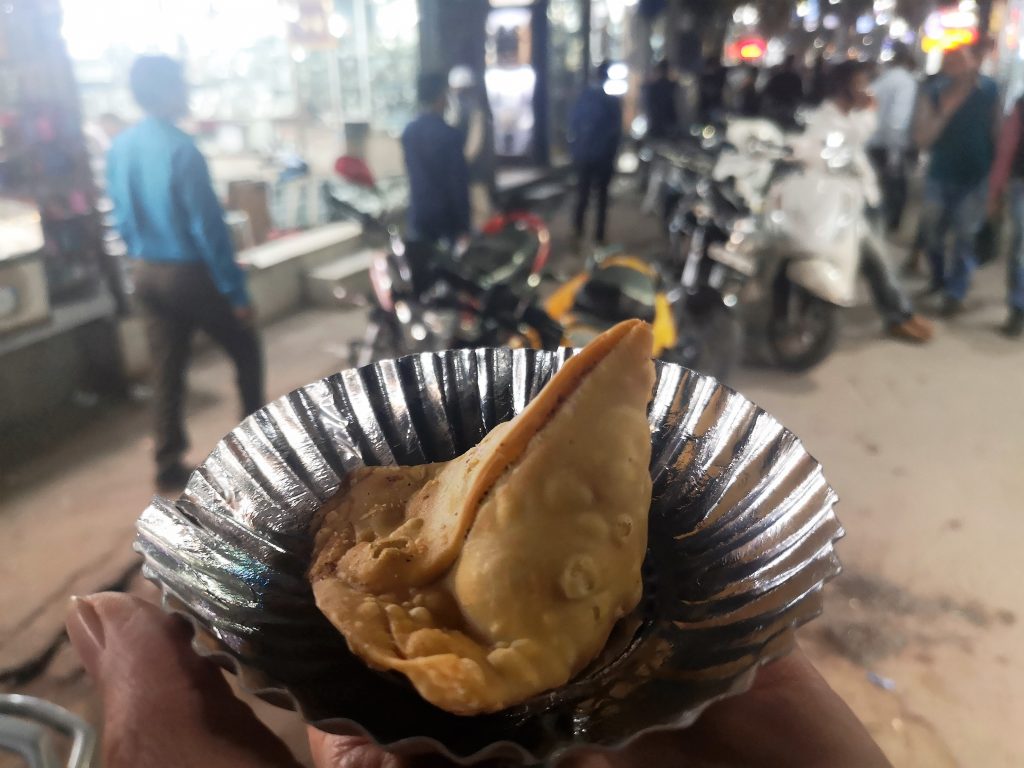 Delhi Food Walk – India
Because we had tasted quite a bit we got a short break and went to visit the Gurudwara Sisj ganj temple before we continued to another part of the district!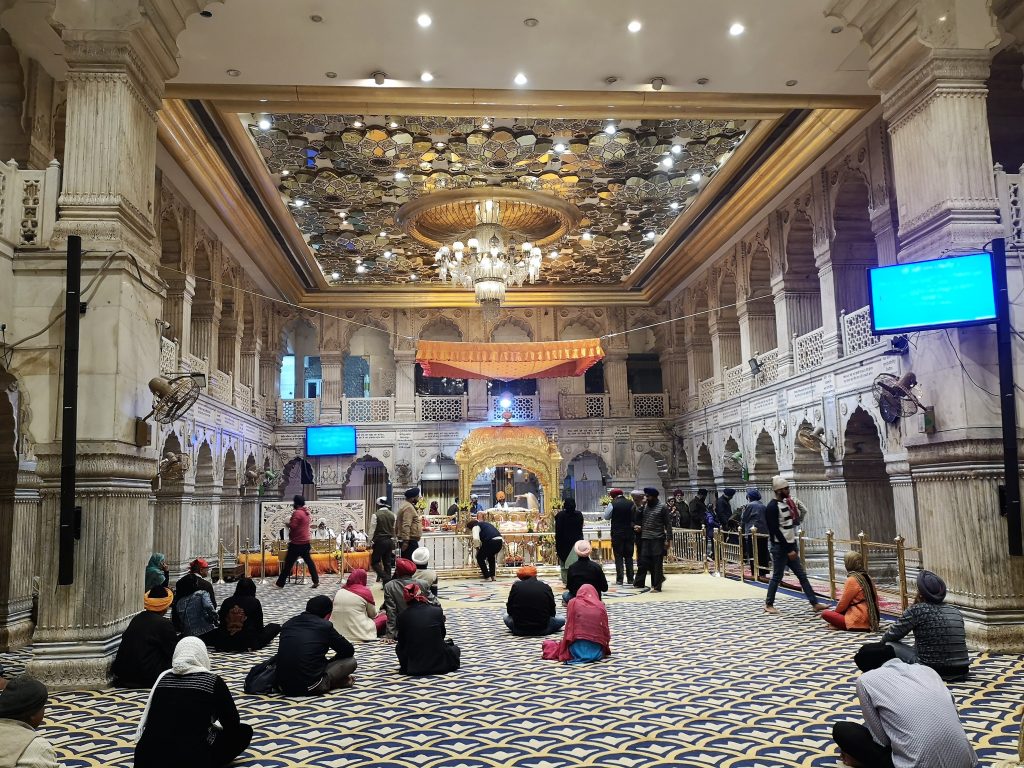 Visit to a Sikh Temple during the Delhi Food Walks
We took off our shoes, covered our heads, and walked through the temple where a prayer was going on at that time. We then walked on to the place where thousands of people are fed every day. I knew this from my previous visits. There are so many temples in India where several meals are served every day.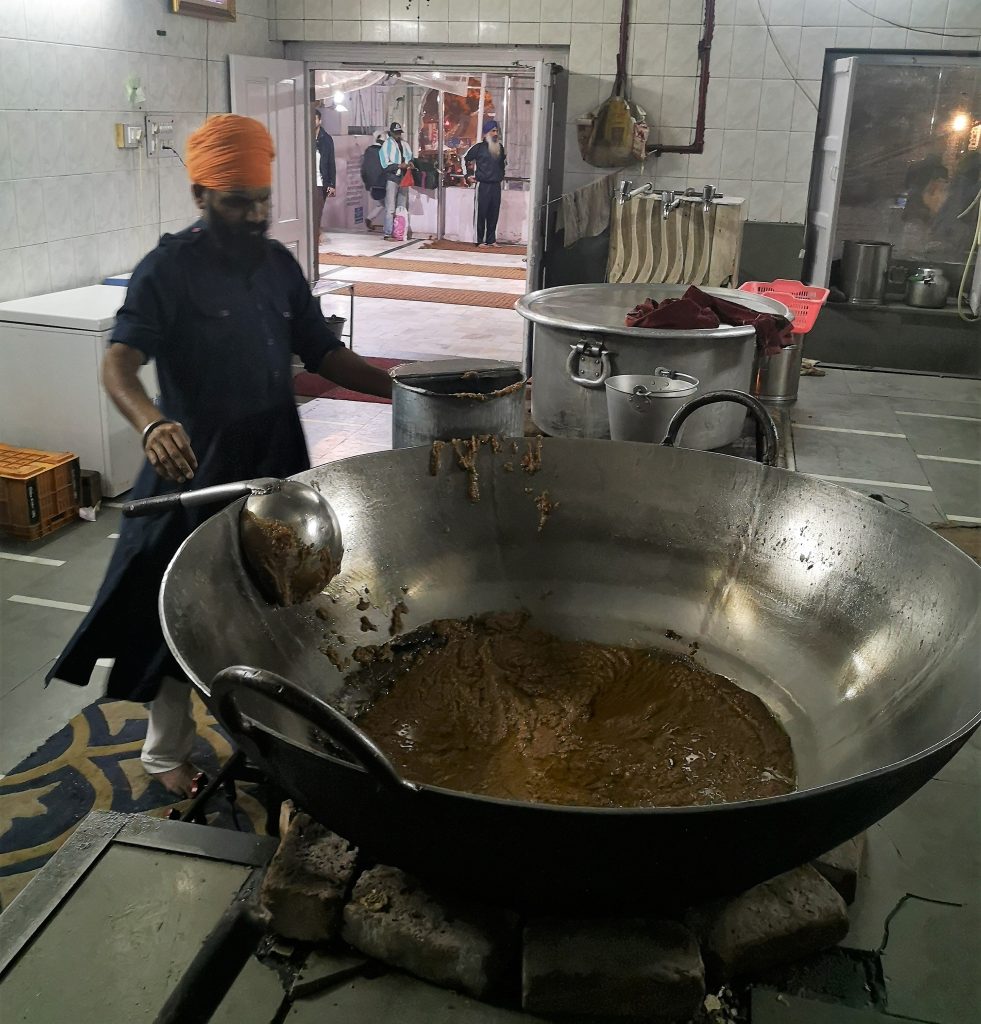 Abhunav told us about the huge kitchen they have and where every day a lot of volunteers helped to prepare the food. They make 3 meals a day, breakfast, lunch and dinner for about 25000 people! Everybody is allowed to eat here, from very poor to filthy rich. The beauty of it is that everyone sits on the floor, no matter who you are… You sit down and somebody else randomly sits next to you.
Regardless of your origin (caste)…
They want everyone here to have the same right and be treated the same way. To magnify this, they polish all the shoes that are handed in at the entrance. Everybody gets their shoes polished back and you don't know who polished them…but if you sign up to polish shoes that night, you don't know whose shoes you are polishing.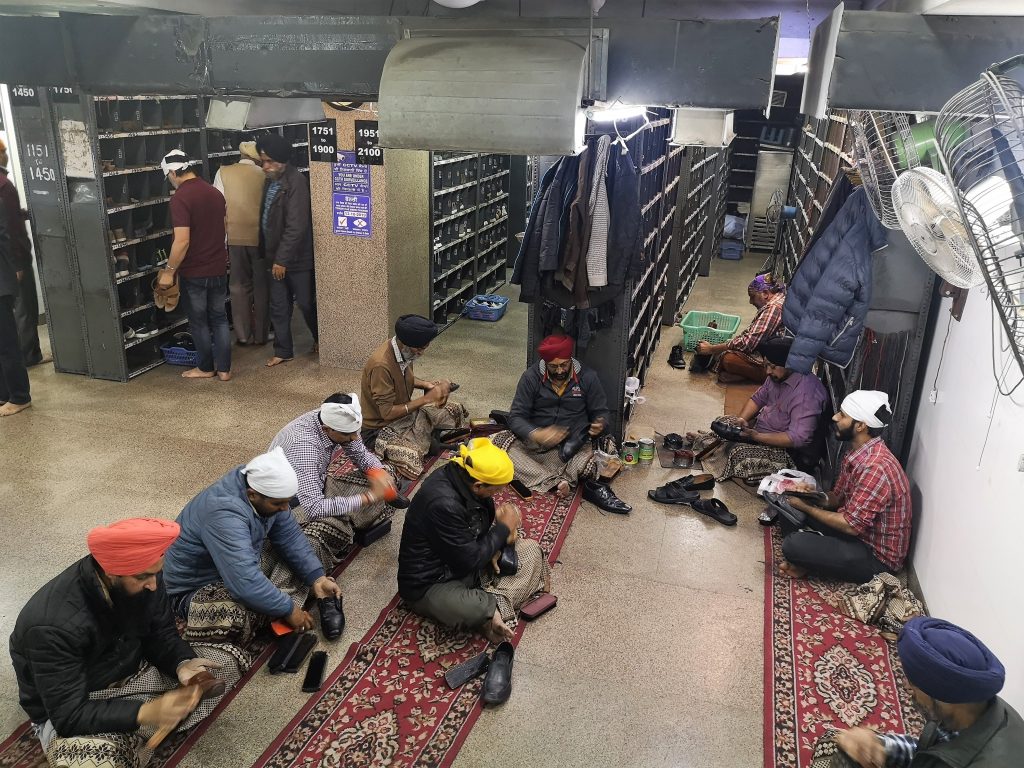 These are the things that make India so incredibly beautiful! There is the side that life can be so unfair but less than a meter away they fight so hard and clearly to make life good for everyone.
I love to see that!
I would also like to emphasize this. We in the West are quick to pass judgment on the Indian bad news coming through… But know that a lot of great and good things are happening! And people are working very hard to create equality in all kinds of areas!
After this we grabbed an autorickshaw and continued the Delhi Food Walk towards the spice market. The biggest spice market in Asia! And second largest in the world… The largest is in Istanbul. We walked briefly over the spice market and went upstairs to get a nice view over the surrounding streets.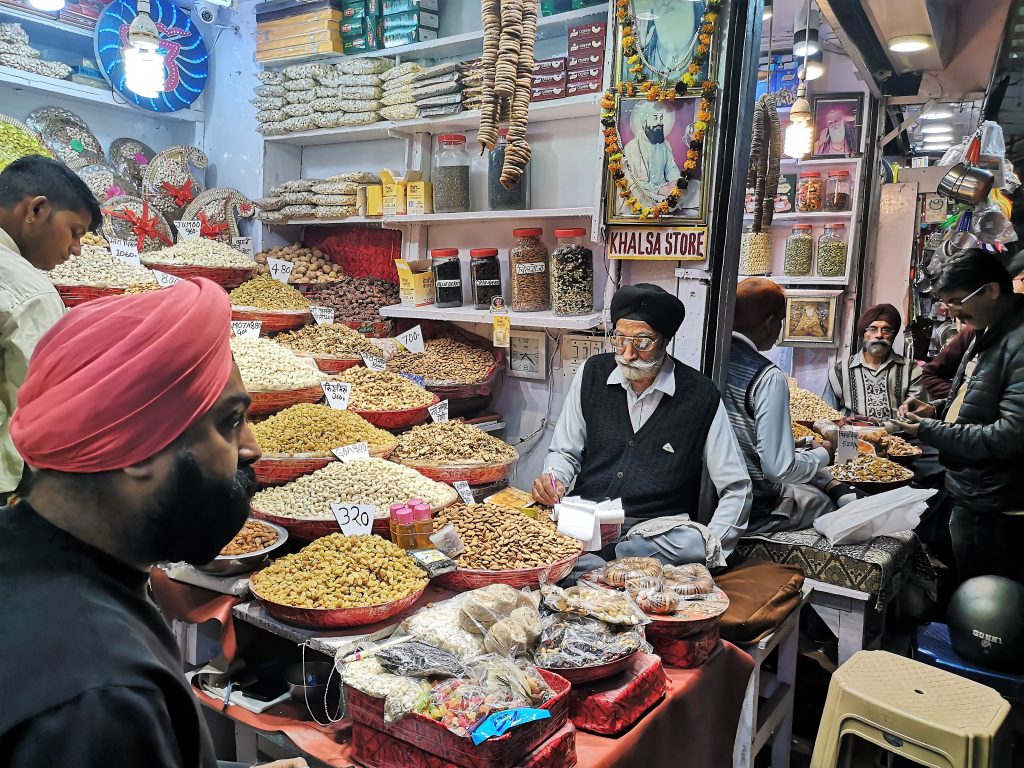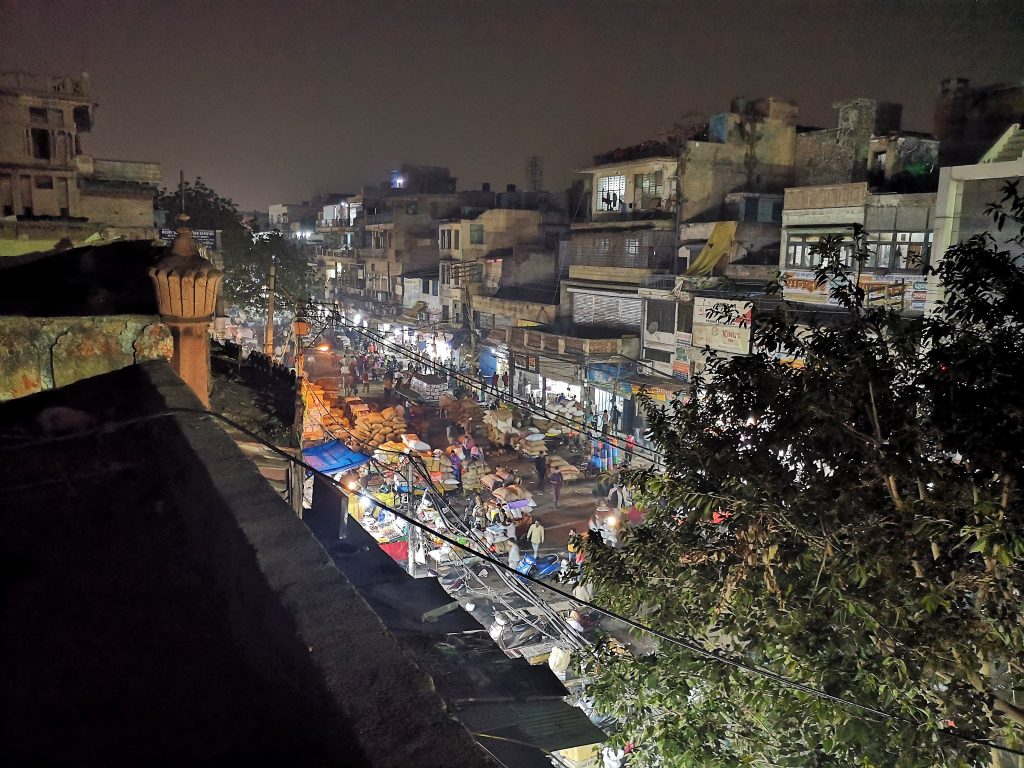 Massala Chai
For me, the best tea in the world…with herbs and milk, comes from India! I am really a super fan of the chai and again I got inspiration from India to imitate the tea I try to make at home. We walked to a small cafe which served the best chai from Old Delhi! The owner sat here year in year out just making tea… Well, then he can only get better and better, right?
It was indeed a delicious cup of tea!!
Khan Omelette corner
After this we continued walking to get to the omelette corner of Khan. From afar we saw a place in the street where it was super crowded. And yes, in that row we hooked up. There was 1 man behind a whole pile of eggs, he was baking and busy talking to everyone. He saw our group and laughed for a moment and went on quickly.
I saw that he pressed a white sandwich on the omelette he was baking. He folded the omelette around it, turned it over and cut it into four parts, served it on a plate to someone waiting. The next eggs went back into the pan and when you see what is put in it…that can only be very tasty!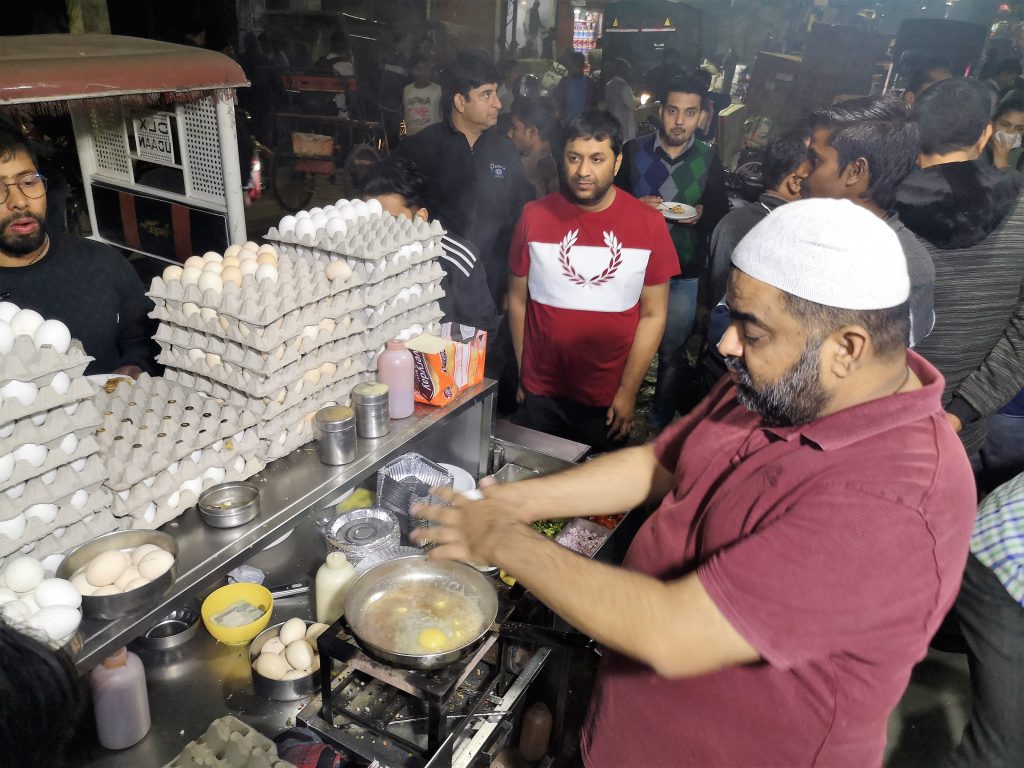 A scrambled egg was made for us… Of course with lots of herbs and cheese. It went out of the pan and then a boiled egg, cut into strips, came in to fry. That's something I've never thought about doing! #IncredibleIndia
Of course also herbs etc. were added… After a long time of baking/frying on a fairly high fire and a lot of butter, the scrambled eggs were added and a little later it was served to us on a plate with some fresh herbs and several sauces.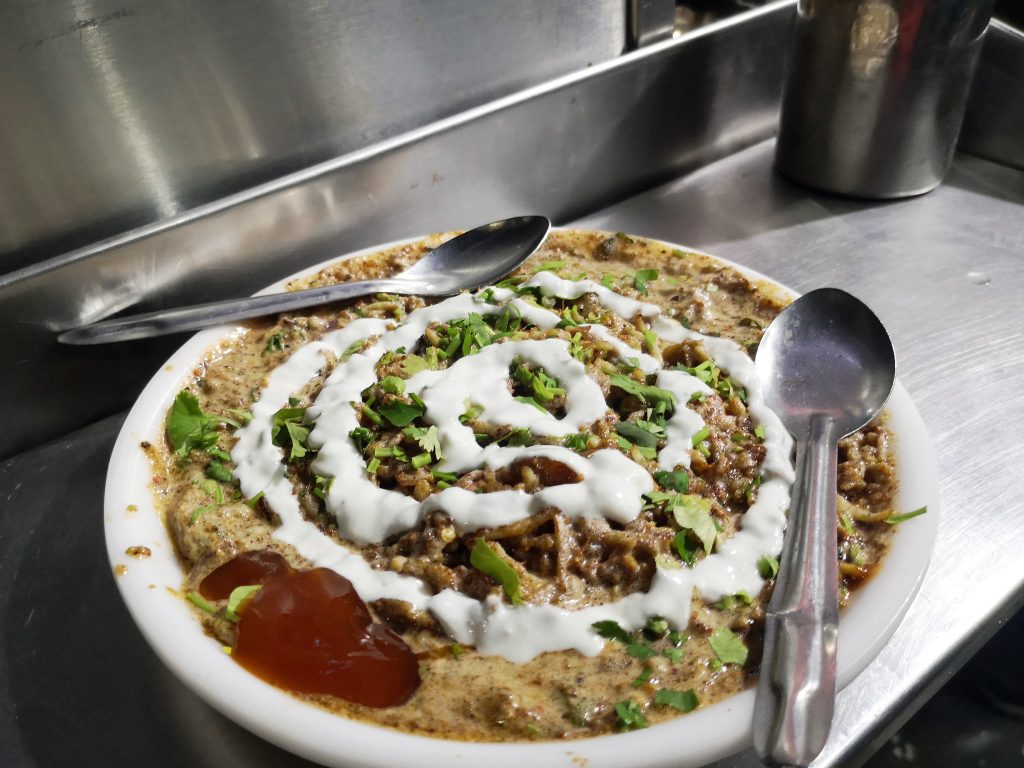 After this we grabbed the autorickshaw again to go to Karim's Kebab.
Karim kebab
This was the first meat stop for our tour. This street has been in this district since time men can remember. They have a small alley from the main street, right opposite the Jama Mashid, and when you walk in there the street becomes wider and there are just several restaurants. All of them belong to Karim and they are all full! There is meat in large numbers here, because this is the Muslim quarter.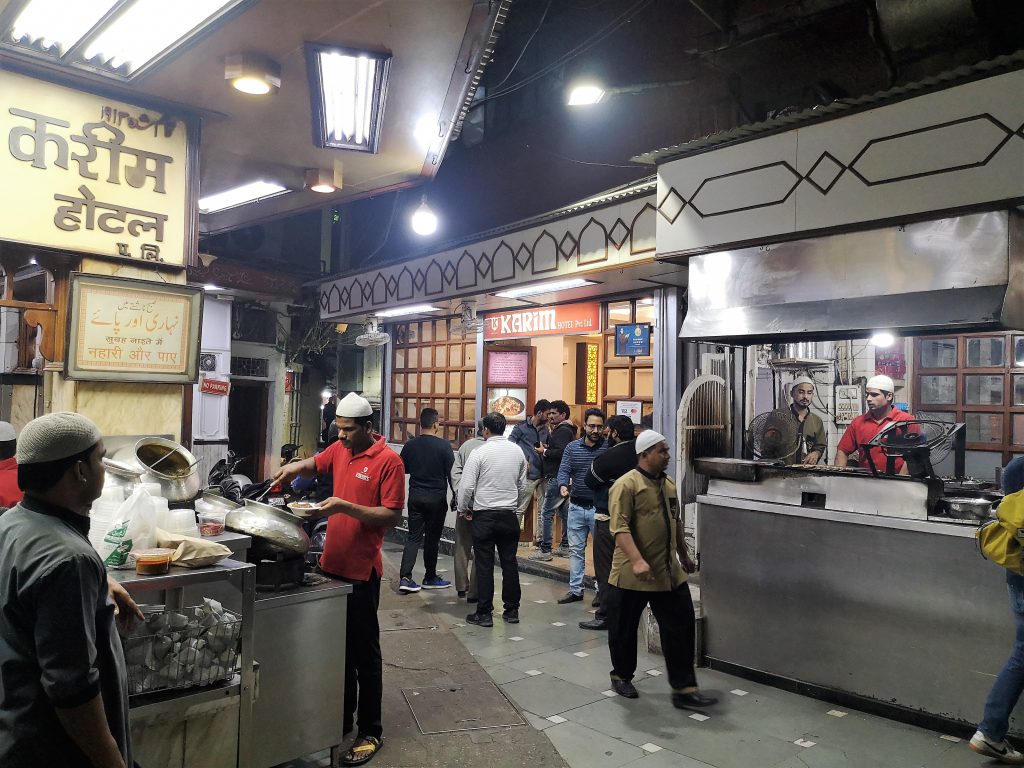 I had delicious fresh bread and Biryani. And I must confess that my stomach was starting to feel quite full 🙂
We walked for a bit in the street opposite the Jama Mashid and because of the wintertime coming soon dishes and drinks were changing. We got this warm milky drink also to taste. I liked it a lot but when this young kid was standing next to me I gave my drink to him. A bit later when we were walking on I saw him standing, holding the cup with two hands, drinking it!!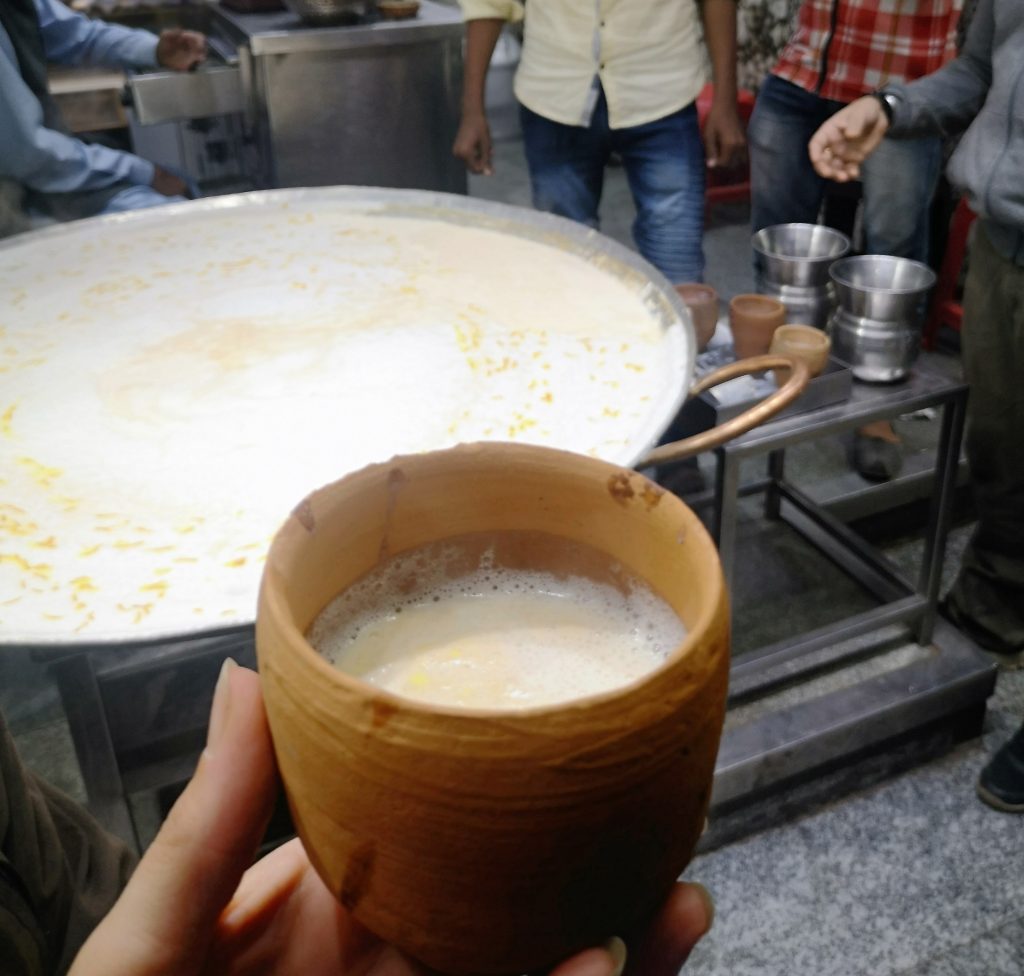 It wasn't finished yet as the dessert was yet to come. For this we got into the autorickshaw again, we went to Kuremal to taste some delicious kulvi.
Kulvi at Kuremal Mahavir Prasad
Kulvi is the Indian ice cream. They have it in all flavours and you can imagine a taste… it's there! Kuremal is again an old name and exists since 1906. The little restaurant where we were sitting had just opened new and Abhunav wanted to check it out. We started to taste the different flavors and were served a total of about 10 flavors.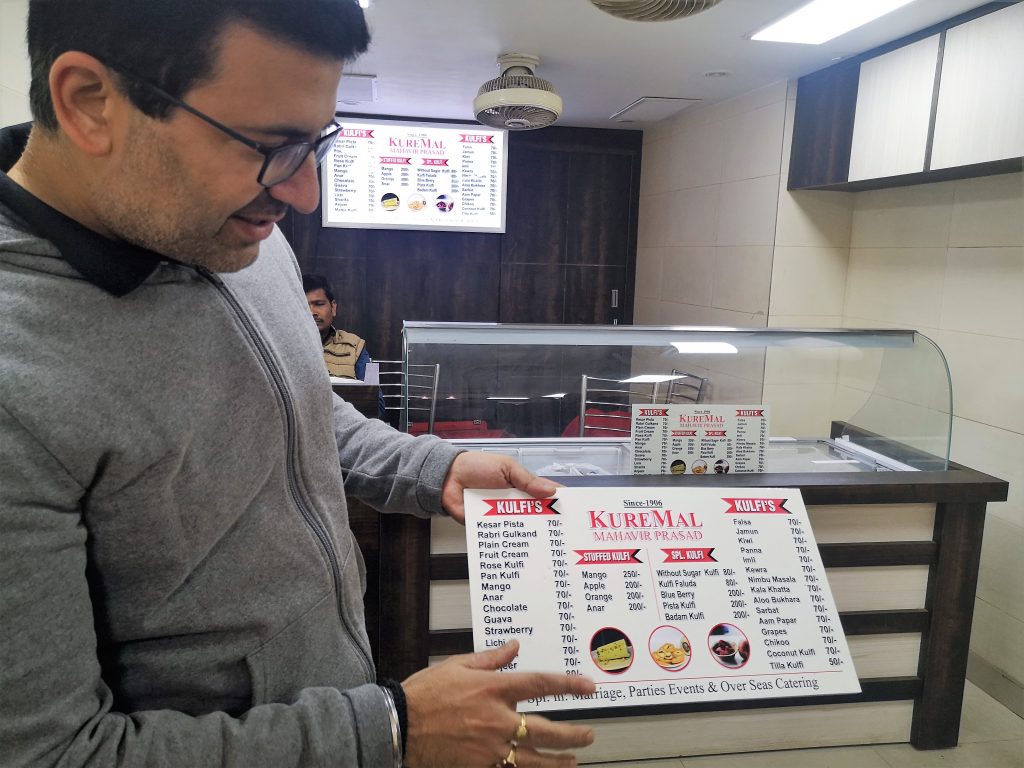 Then you may think of coconut, mango, guava, lichi, kiwi, pomegranate, and so on. We all agreed that the pomegranate was the most delicious. It had the fullest taste and was really delicious!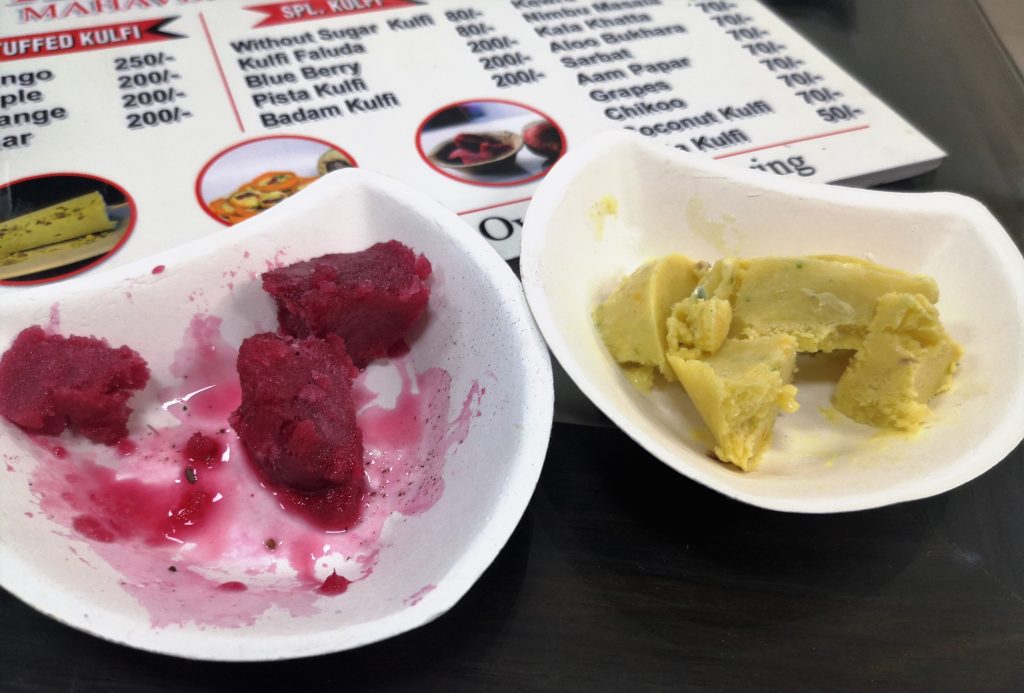 This was a great night for me. I tasted a lot of different dishes during the Food Walk Old Delhi. I also saw quite a bit of the city because we went to 3 different places: Chandni Chowk, the Jain Temple and the biggest Spice Market in Asia.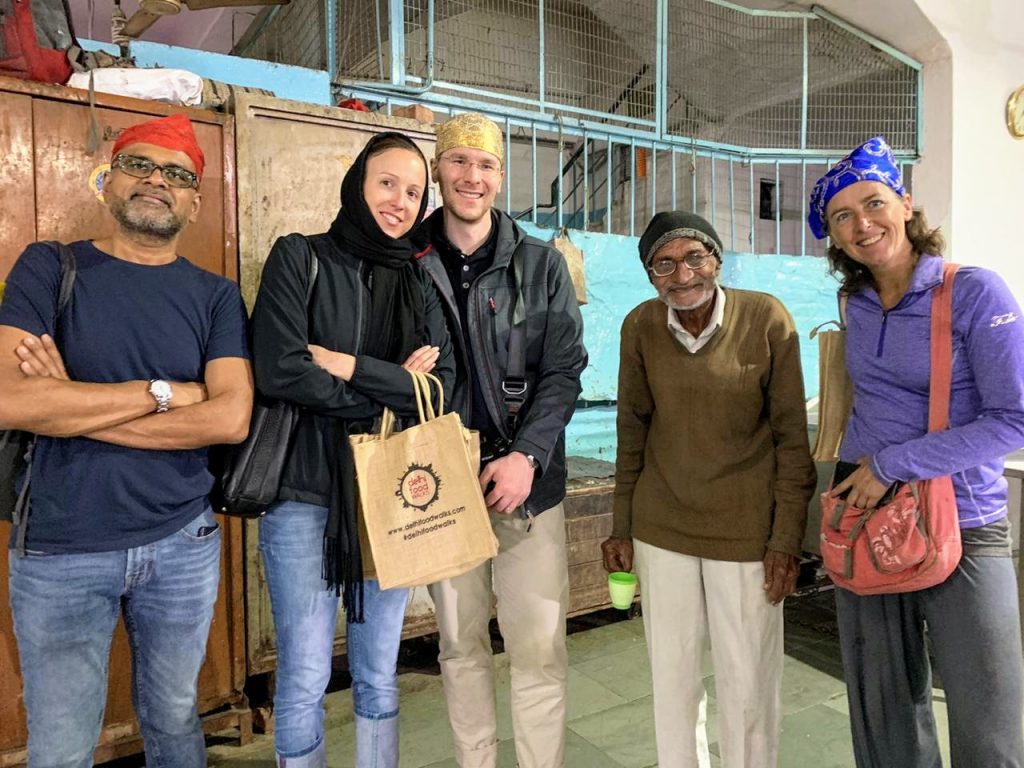 Did you like this Delhi Food Walk?
Then share it for others!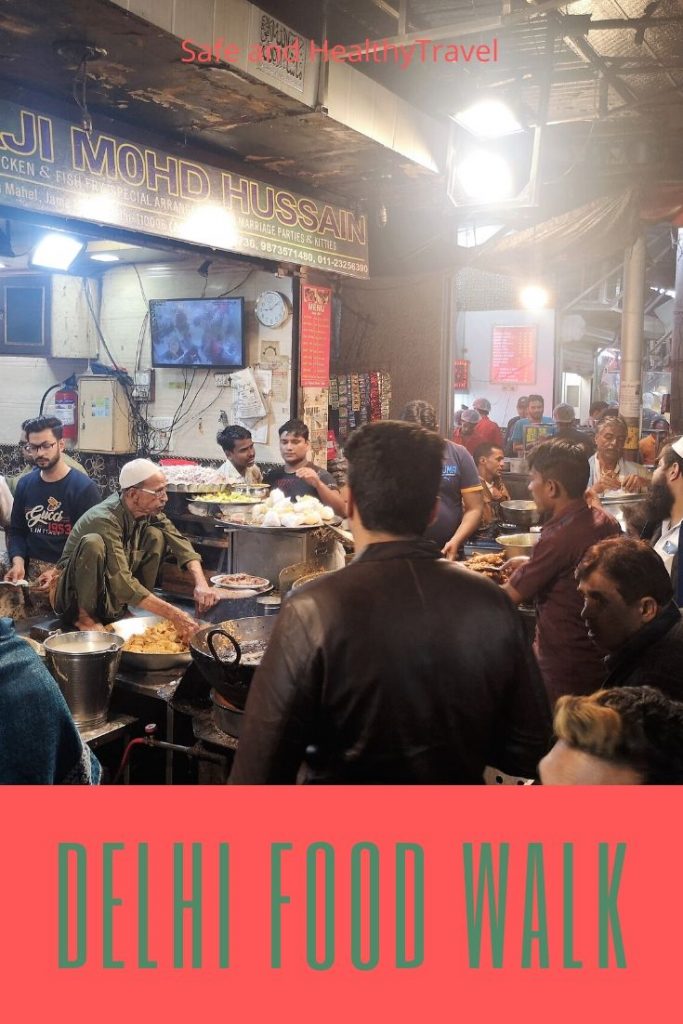 Want to read more about my India travels?
Lunch at Ram & Sarda near  Pushkar – India
10 journey through former Kingdom Sikkim
Morning rituals at the Ganges – Varanasi
In search for the Tiger – Periyar Tiger Reserve, Kerala
If you are going as a female solo traveler you might want to read my tips!
I hope you love this beautiful world as much as I do!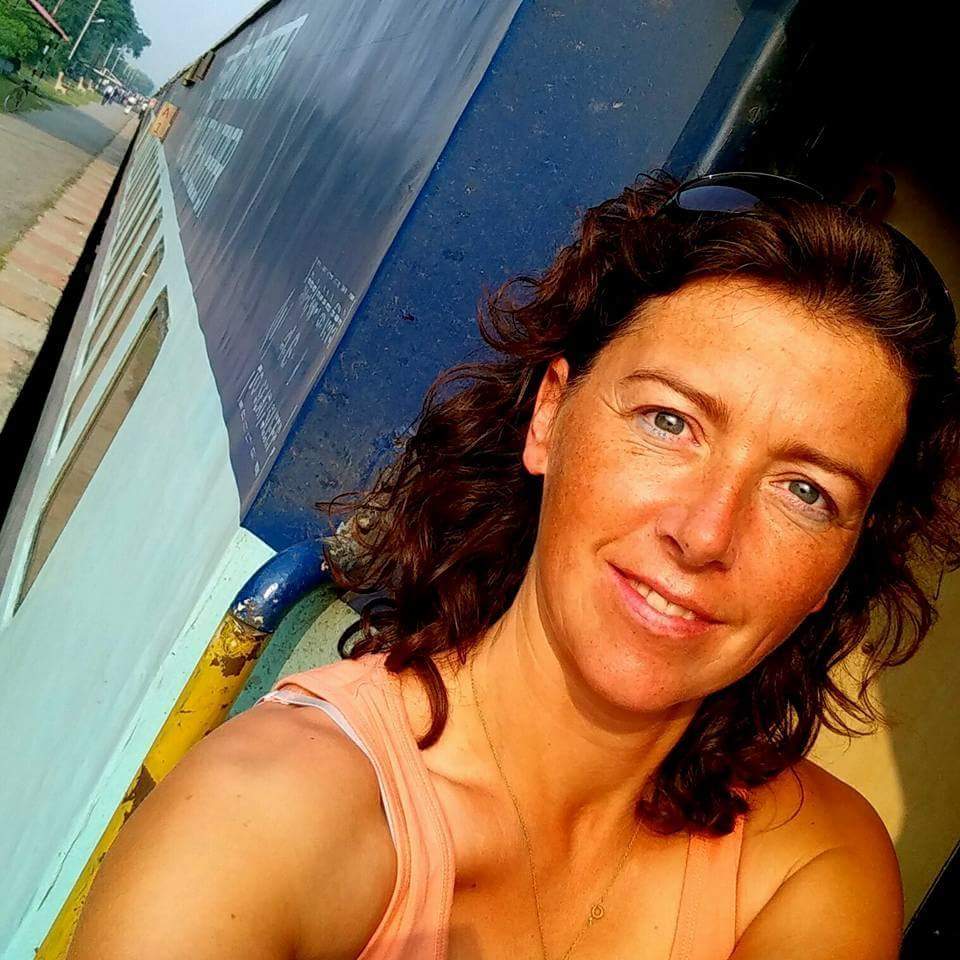 Jacomijn is een politieagent uit Nederland die jou graag laat zien hoe je veilig, actief en gezond de wereld kan over reizen. Safe and Healthy travel is a MUST