On top of Baiyoke Tower, Bangkok .. it was getting uncomfortable
|
I was for the umphteenth time in Bangkok, Thailand and still I hadn't visited Baiyoke tower again. The first time I didn't even took any pictures… It was back in 2005 and I was traveling with my dad and I just shooted a pic every now and then. But now…with this blog and all… I wanted you to show that great view over Bangkok!!
So when I was in Bangkok again I decided to go to Baiyoke Tower and get that view… at evening time. Hopefully I would get a nice sunset too! I was still deciding on what night to go at the rooftop swimmingpool when a French man asked me what to do that evening.

I suggested we went to Baiyoke Tower and enjoyed that view.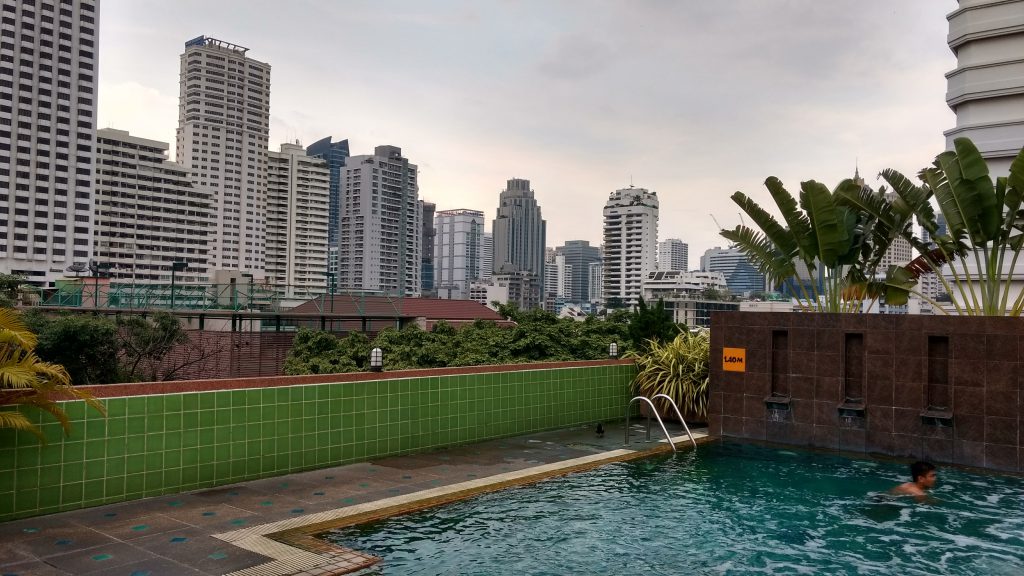 Always nice to enjoy it with someone else, true?
He thought it was a good idea and his son, around 20 years old, liked the idea too. His father could speak a little English but the son…He was really bad at English. So I only had the father to talk too but he seemed a nice man.
How to get there & what to book at the Baiyoke Tower
Through the app Grab I booked a taxi for us. It is a great way to get a local taxi, most of the time just an local man that earns an extra penny. It is the same as Uber only the Asian version. We went to Baiyoke Tower in time to see the sunset. We went right up when we got there, to the 77th floor to get that great view.
We also had a ticket for the sky deck to get that panorama view from outside, from behind a fence ofcourse. Afterwards we had a drink on the 76th floor.  There are different tickets, also with a dinner included but I didn't want an expensive dinner up there.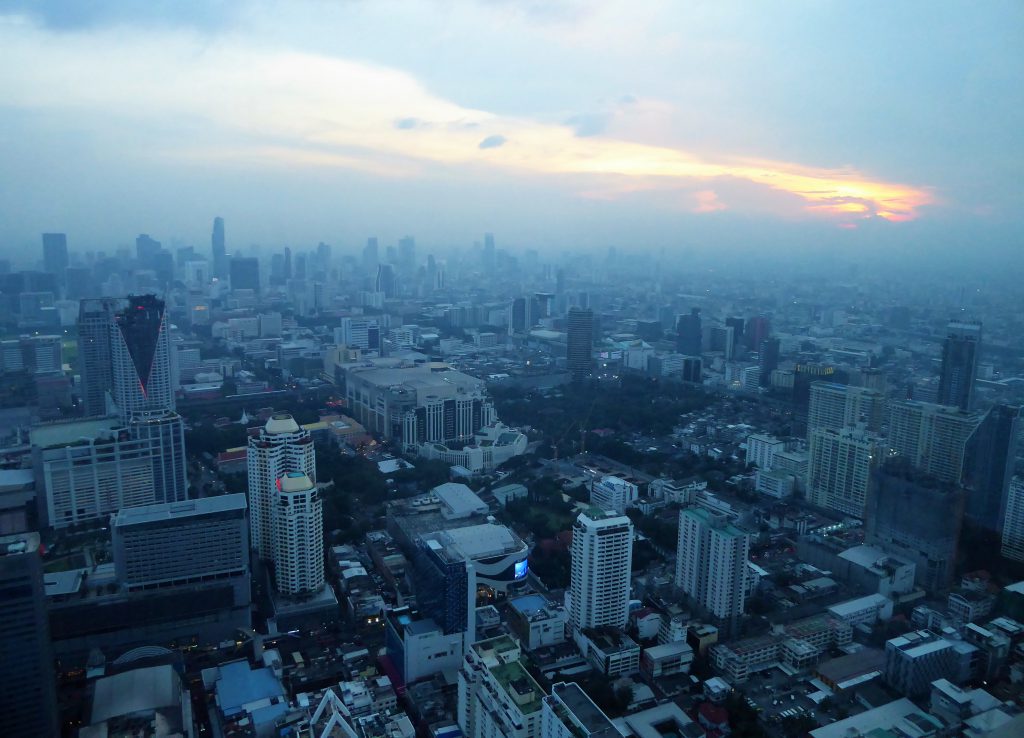 So we enjoyed the view. At first is was cloudy and hazy but when time passed a nice sunset was starting to show. I was busy making pictures, trying to get that best shot ofcourse. All of a sudden I started to notice that the frenchman was not that busy looking outside the building but he was checking me out..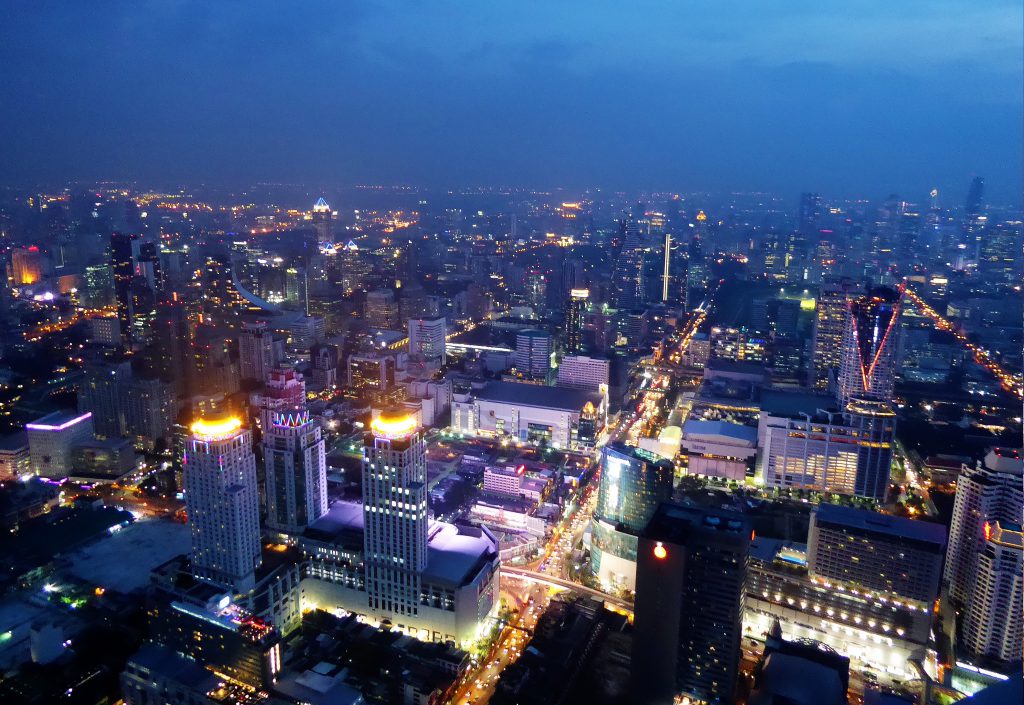 On top of Baiyoke Tower, Bangkok ..
it was getting uncomfortable
He had more attention for me rather then the view he had paid for. At some point we made a picture and he wanted to put his arm around me. I really didn't feel like that and got away with it by turning away and posing differently. You always hope that one will notice and start acting differently. He wasn't that kind.. It was getting uncomfortable.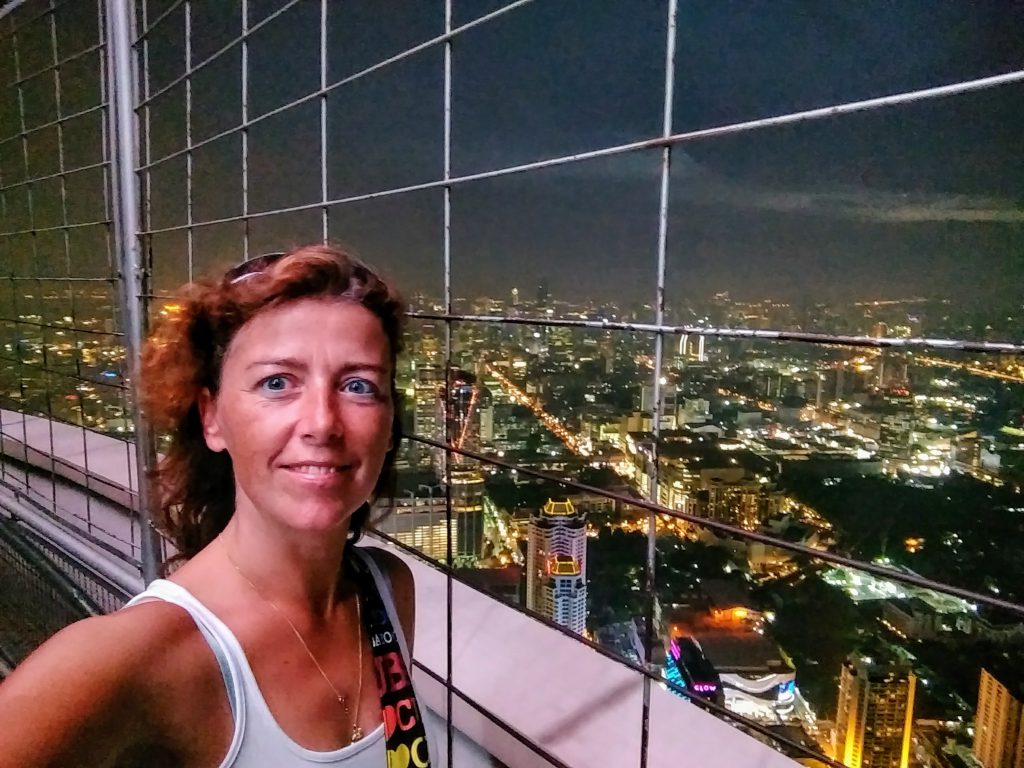 We went down for a drink and set there. He ofcourse made sure to sit next to me. I was starting to try to get some conversation going with his son. He could speak a little bit more English now he was getting used to talking with me. But still dad was interupting and trying to get the conversation to his side. He even put his hands on my knee twice…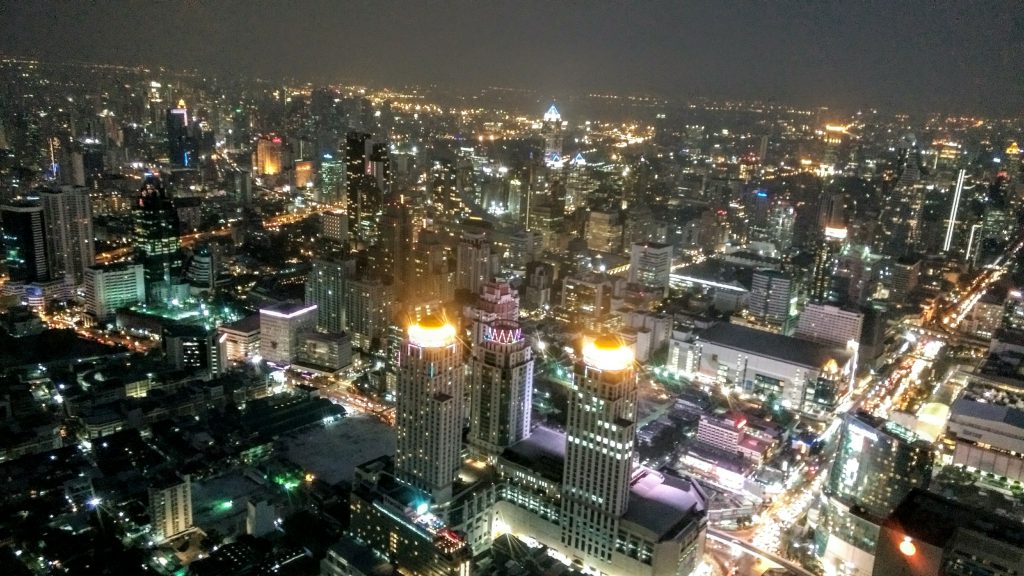 On top of Baiyoke Tower, Bangkok .. it was getting uncomfortable
WHAT JUST HAPPENED??
The first time I gently pushed his hand of my knee. It didn't took him long to find another reason to put it back there… I started to push it away again and turned my legs away from him. I thought it was very uncomfortable with his son there too. You don't want anyone to go flat down in front of his son.. If he was not there I would've said something and left him right then and there.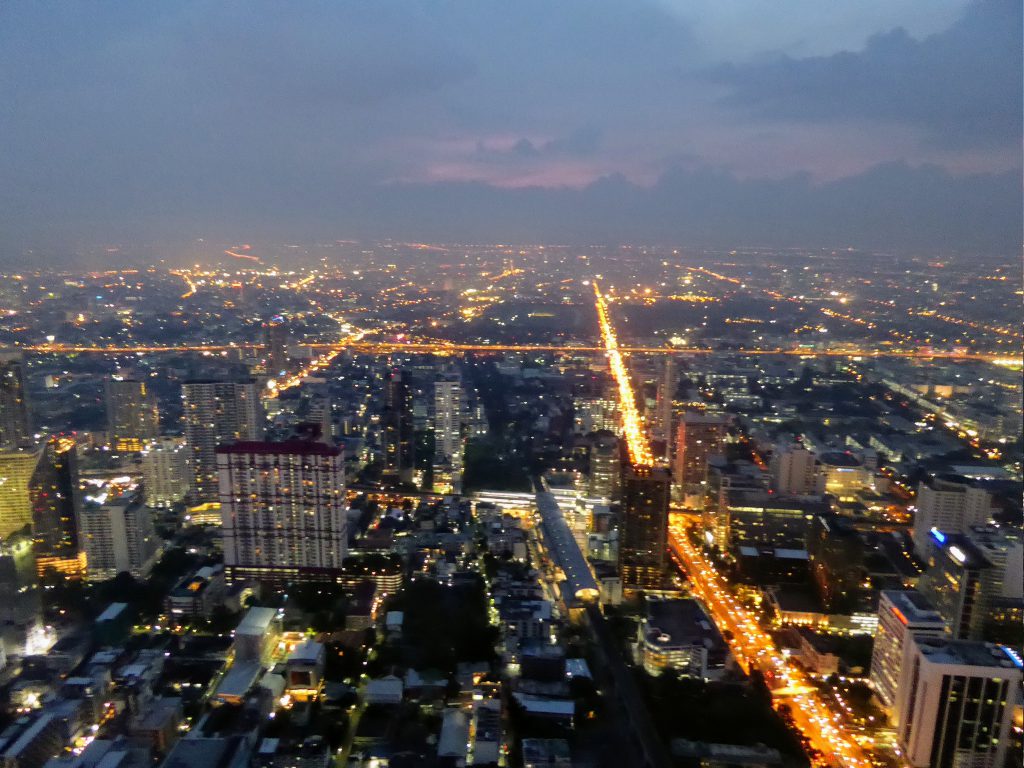 I did really loved that view though!!
Baiyoke Tower Bangkok Thailand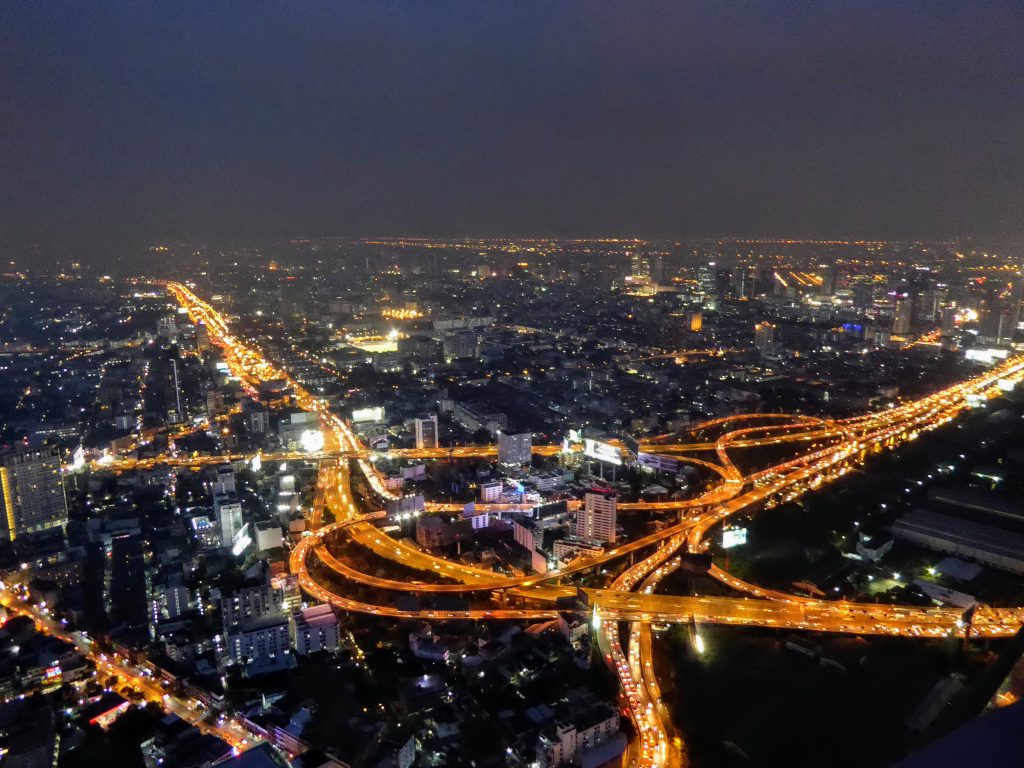 But it was getting uncomfortable.. really uncomfortable!!
Well… we got out of Baiyoke Tower and went into the street I had some dinner the year before and searched for a restaurant. It was nice…but the atmosphere was gone for me it felt tensed.
I didn't want to give him the impression I might be in for something so you get those awkward moments. Moments that you do laugh about something in the conversation but you don't want to be found attractive anymore … or something… Very uncomfortable!!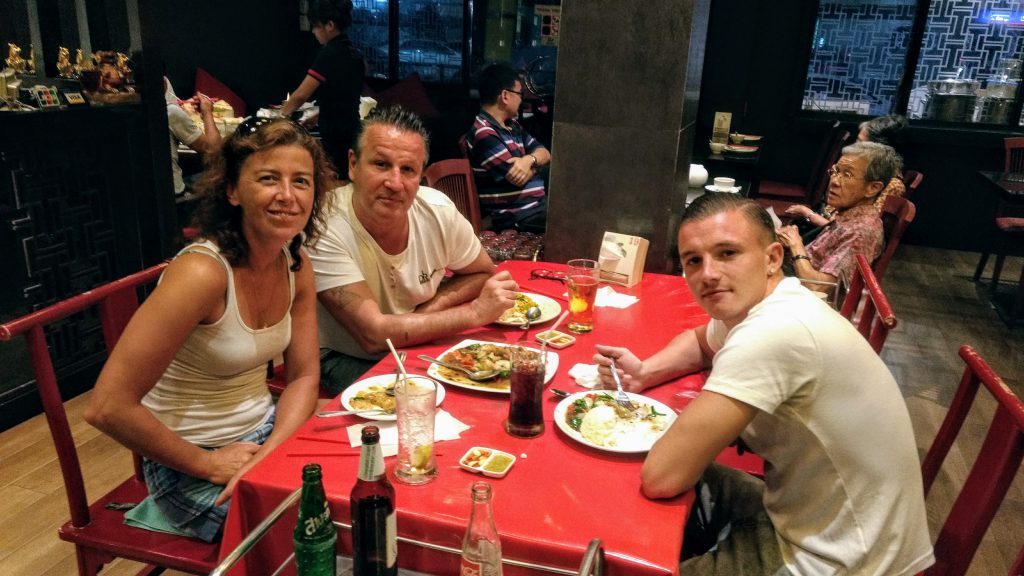 Hmm… I was not really smiling anymore 🙂
Baiyoke Tower, Bangkok ..
It was getting uncomfortable
When we were back at the hotel he started to send me messages. He wanted to go to the rooftop swimmingpool of the hotel and just sit there… Yeah right.. So he was still hoping on getting some?? Some men really don't see or feel what is going on!! I blocked him on whatsapp and didn't reply anymore.
The next morning they would check out and I had some more time so I didn't went down early hoping I wouldn't see him anymore. When I came down he was there already waiting for his cab to bring them to the airport. I don't know why but still I wanted to be nice and said goodbye and wished him and his son a good journey!!
Then he said to me that he was irritated that the hotel let him pay for a condom!! He had unpacked it  the other night from the carton… He looked at me and said… We didn't even use it and still I need to pay for it..
I really was flabbergasted and didn't reply on this.
I went to the breakfastbar and tried to enjoy the great Asian food..
He really didn't get it… Took me a while to get over this feeling of being totally not understood at all… I thought it was clear…pushing away his hand…twice.. Some men.. They must have a difficult live 🙂
Can you believe that??
If you want to share this story please do so #metoo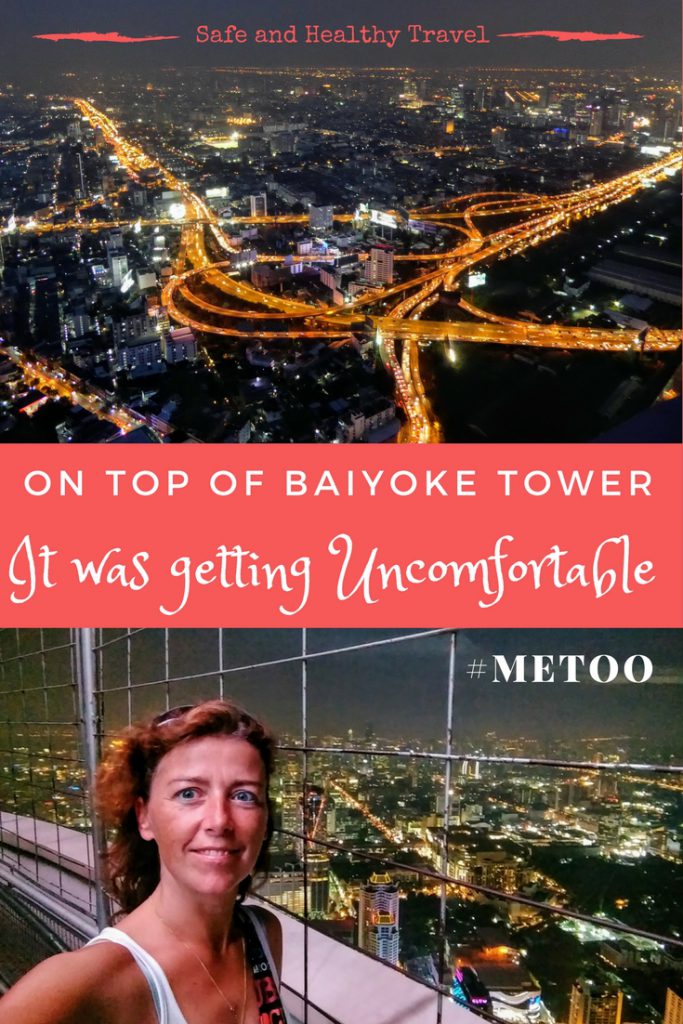 You probably have stories about situations when it was getting uncomfortable…
Have you shared them online too?
I would love to read them so comment and I will come visit!!
—
Do you want to read some more stories?
I couldn't believe what I heard… Similar kind of story…
Floating in the Dead Sea – Israel
10 Things You NEED to Know about The Netherlands
Or can I inspire you with this?
I hope your life is still positive and great too!!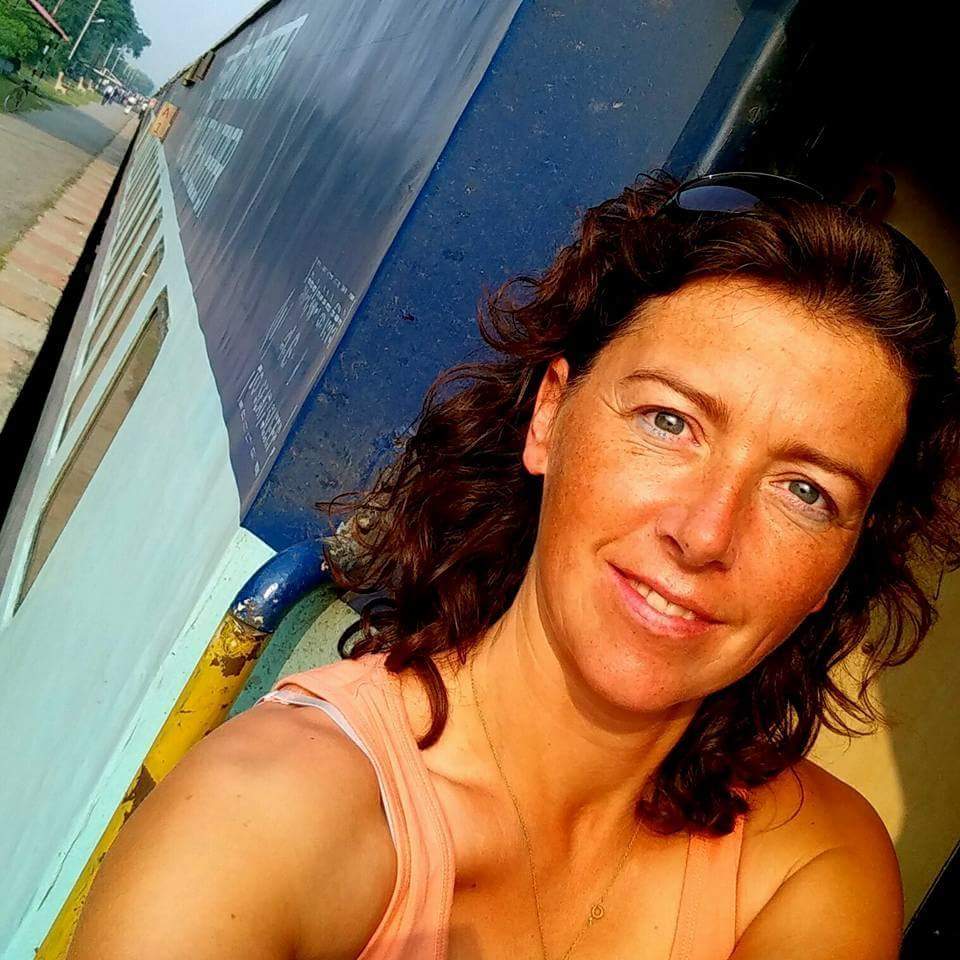 Jacomijn is een politieagent uit Nederland die jou graag laat zien hoe je veilig, actief en gezond de wereld kan over reizen. Safe and Healthy travel is a MUST