Discover Morocco in 4 days and 3 nights
|
I still had some days to spend abroad in december and I just had to use them for a last trip!! I found a ticket to Fes with AirArabia for 130 euro and because I loved the country when I visited Marrakesh I decided to go back!! A week in Morocco in december!
And then Dave from England said he wanted to come and visit me but when planning that became difficult because of work so I asked him to come with me to Morocco. It didn't take long before he said yes!! He loves a nice trip too! I met him while traveling in Cuba in 2016. In between we didn't have that much contact but in Cuba we had a nice time and so this week would be the same… we thought!

And it was!
We had a great time and I think we should do that again!!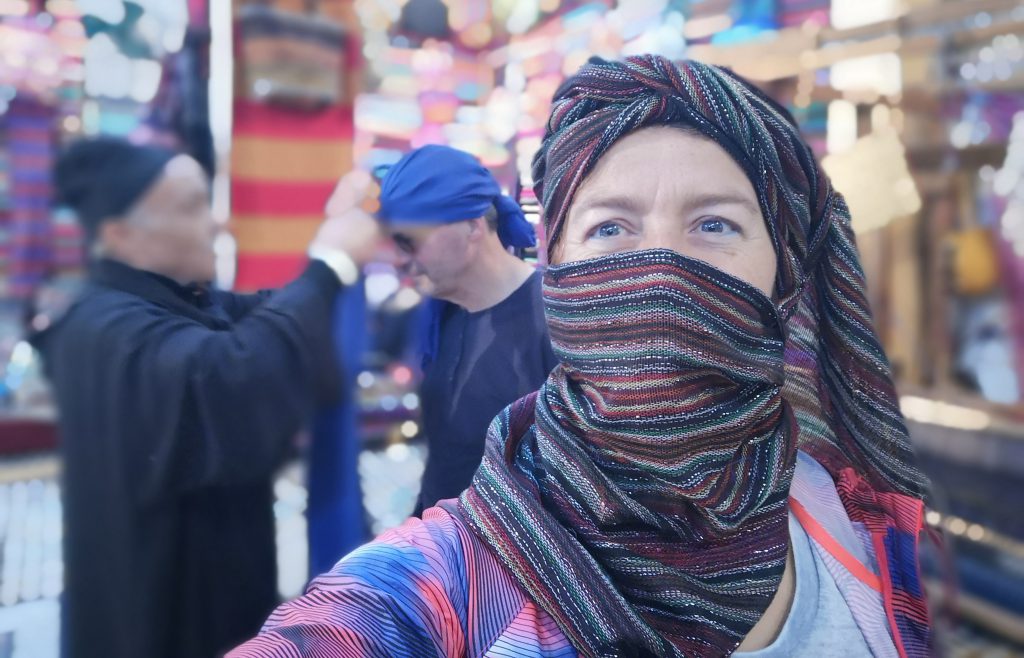 In Fes, or any other city in Morocco you will go to a tannery and go into shops where they want to sell you leather and scarfs 🙂
After spending a full day in Fes we booked a trip for 4 days and 3 nights to discover more of Morocco. I really wanted to go into the Sahara and see more of this great country. Many trips you can book are 2 days and 1 night but I wanted more. Lahcen of Fescooking  had connected with me on Instagram in the weeks before going to Morocco. I only looked up his site when I was in Fes and decided that he was a fit for us.
Lahcen could fit the trip exactly to our needs. Most trips from Fes and multiple days will get you to Marrakesh but we wanted to go back to Fes because of our limited time. In the end, on day 3 we decided to go to Meknes… And also that was no problem for Lahcen
Everything was good and Lahcen made the perfect trip for us! We booked it the day before departure.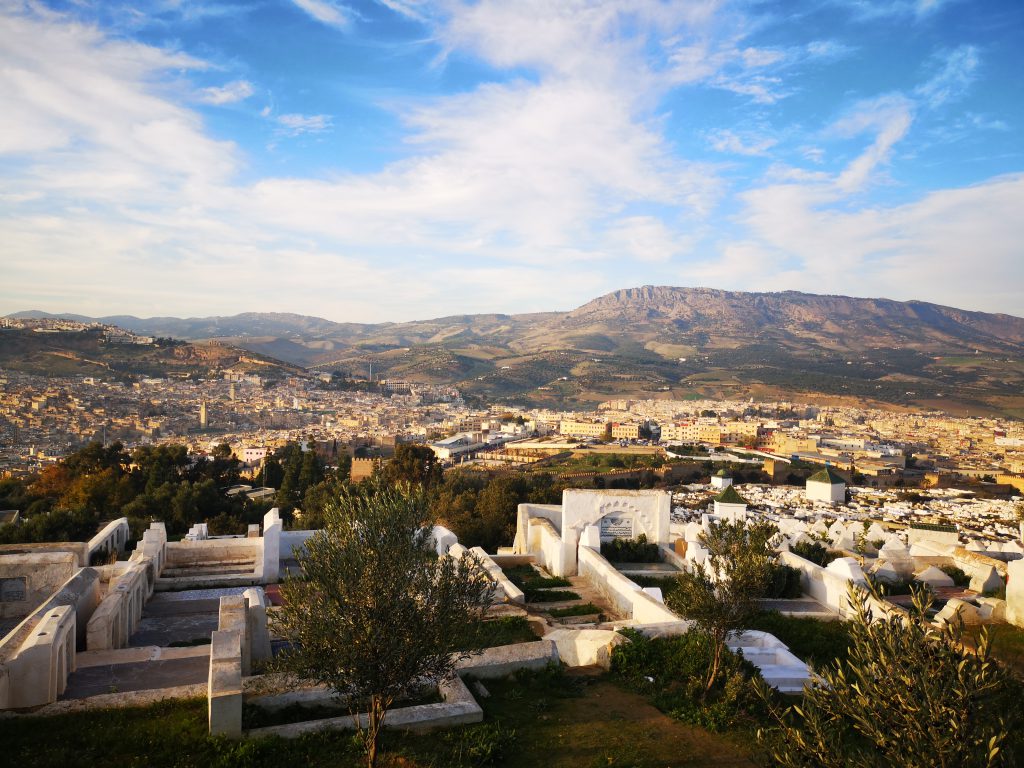 During a daytrip in Fes you will defenitely get a great view over the city
This one was at Borj Sud.
Discover Morocco
—
Fes to Erfoud
Day 1 Fes to Erfoud
Day one started around 9 in the morning from the medina in Fes where we stayed in the wonderful Riad Rcif. Also a must stay, wonderful place!! We started to drive out of the city and the world got green around us. The landscape started to stretch out and the views were the best!
On our way to the high sanddunes of the Sahara.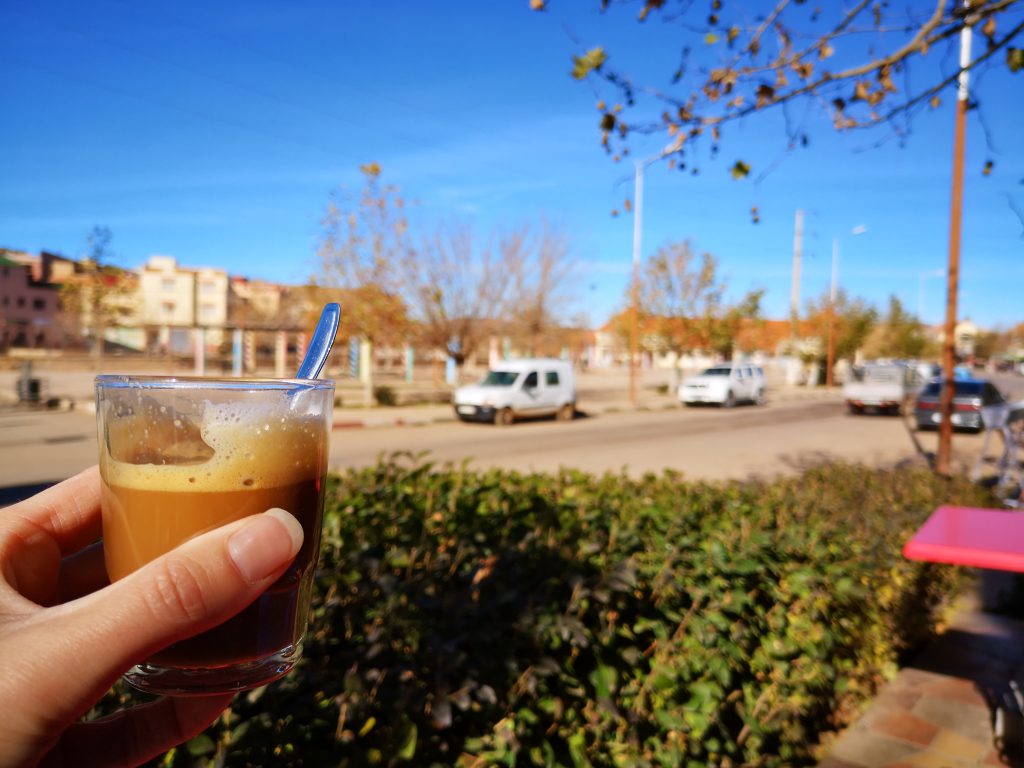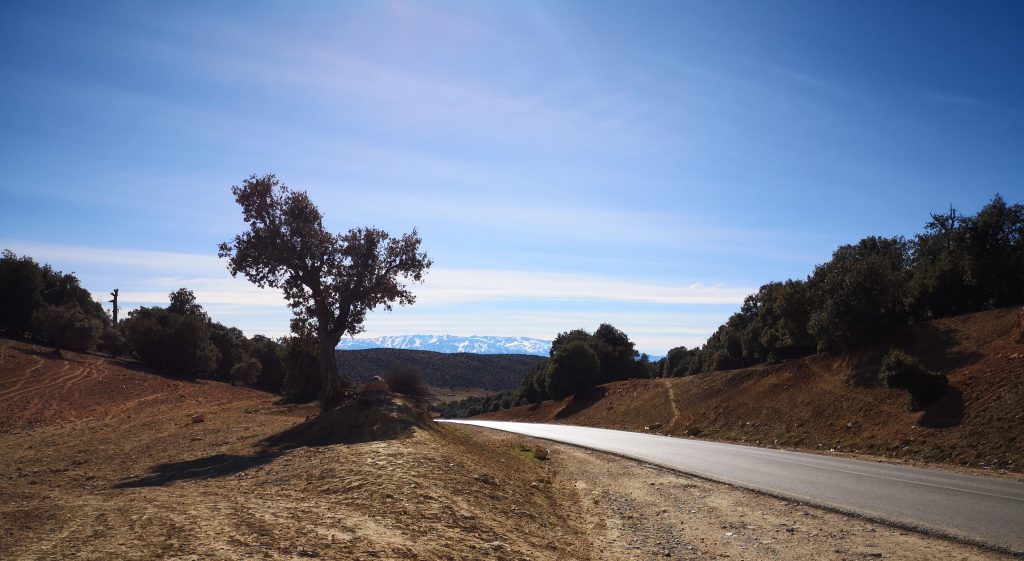 Do you also see those great mountains in the back? SNOW!! Our lunch was a local one, I love it!! For Dave it was the most local lunch ever 🙂 We had our lunch at the nomadic acquintance of Lahcen. Best lunch and most interesting one I had in Morocco!
We were in a kitchien, which was a different building. and we got some traditional Moroccan Mint Tea. Next to that they had the best freshly baked bread ever!! It was a bit warm still… We got some olive oil and some fried egg.
Look at this kitchen, everything you need is there.. in a mudclay cottage.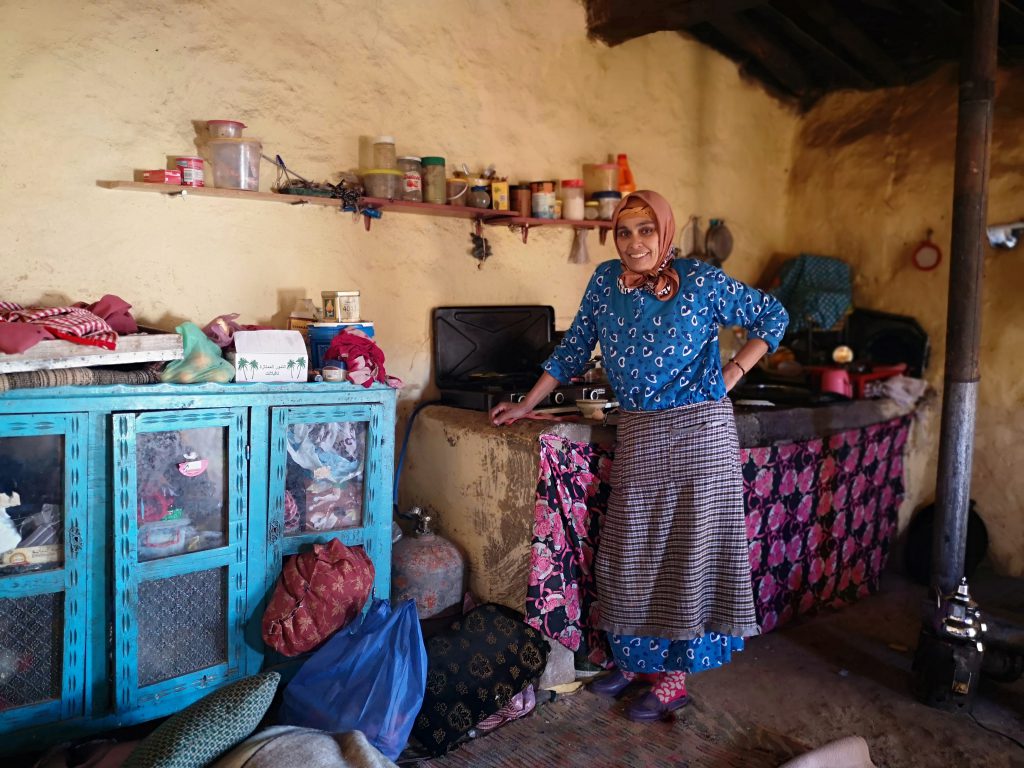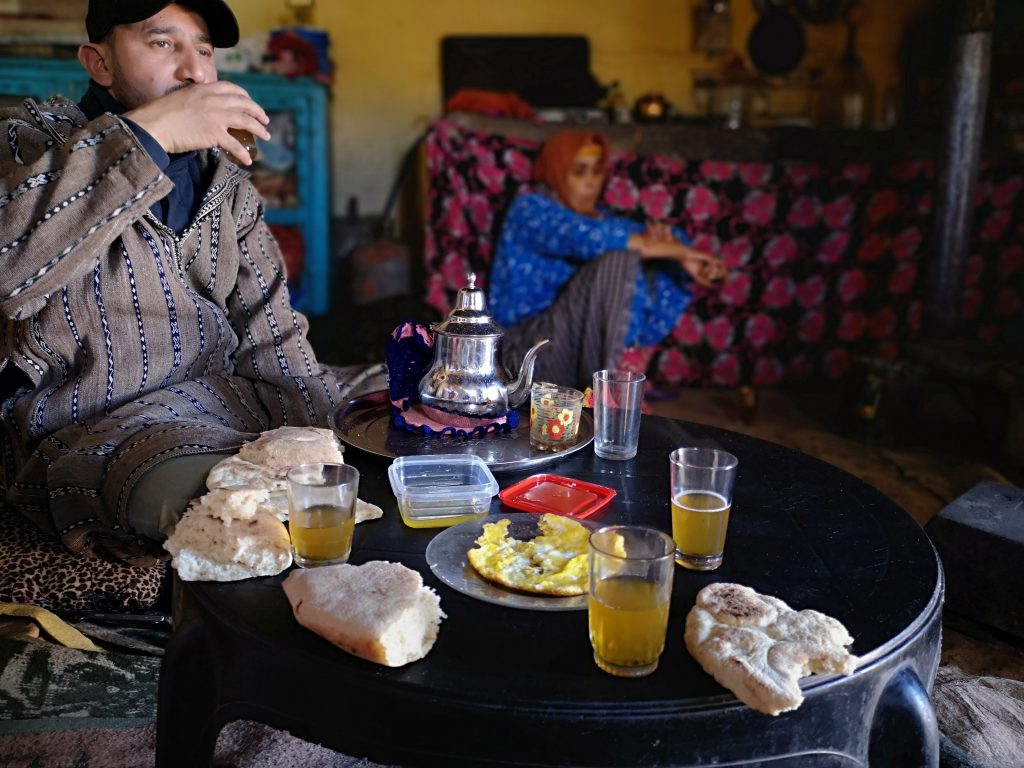 To make the scene complete this sheep came in… and some point more came in to see what was going on 🙂 In my youtube clip you'll see them better!!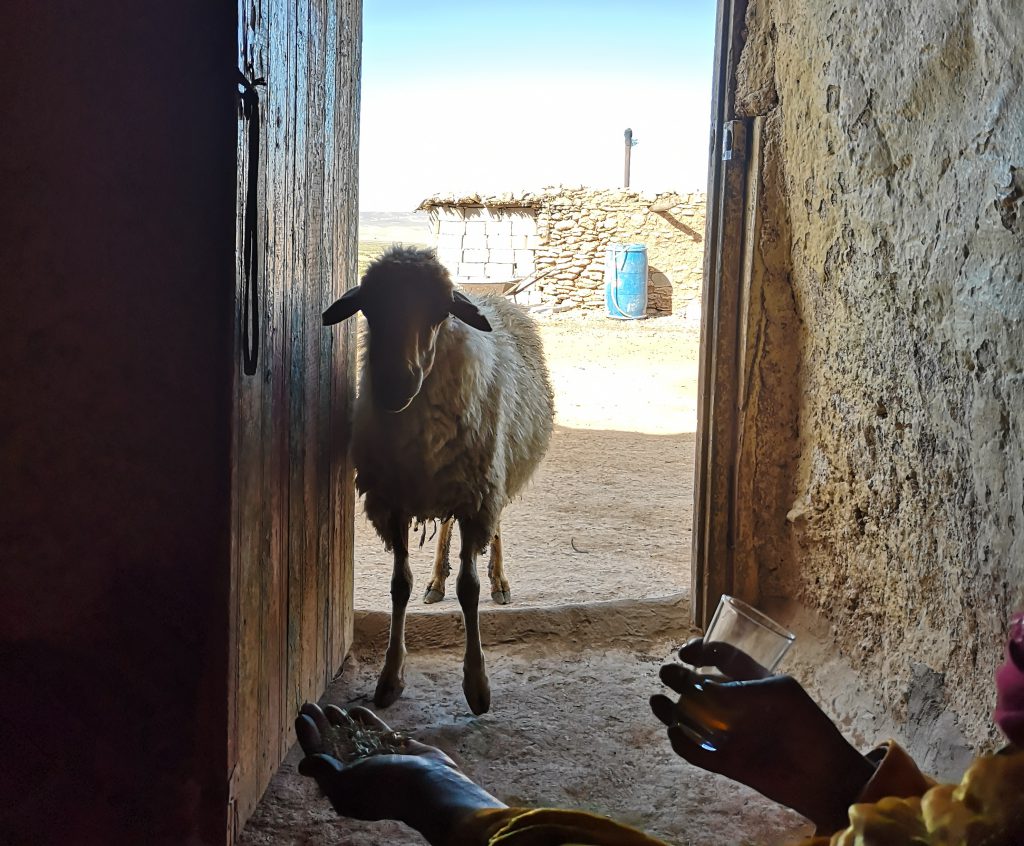 When the lady of the house was done with them she got my shoe in her hand and with one tap she chased the sheep, there were 3 at that time…  out of the cottage hahaa!!
We said goodbye and drove off in to the great landscape with those huge mountains that silhouetted our Moroccan horison.
Read also my post on Safe Contact with Locals
In Erfoud we were surprised with the great hotel and spa we were taken too.  We did some mini golf while the sun was setting… Wasn't that just the best day ever??
We also enjoyed the pool, not the outdoor one but the other one at the spa!! To top this great day we enjoyed the hamam too! I must admit that I did like the Turkish hamam more that I had years ago…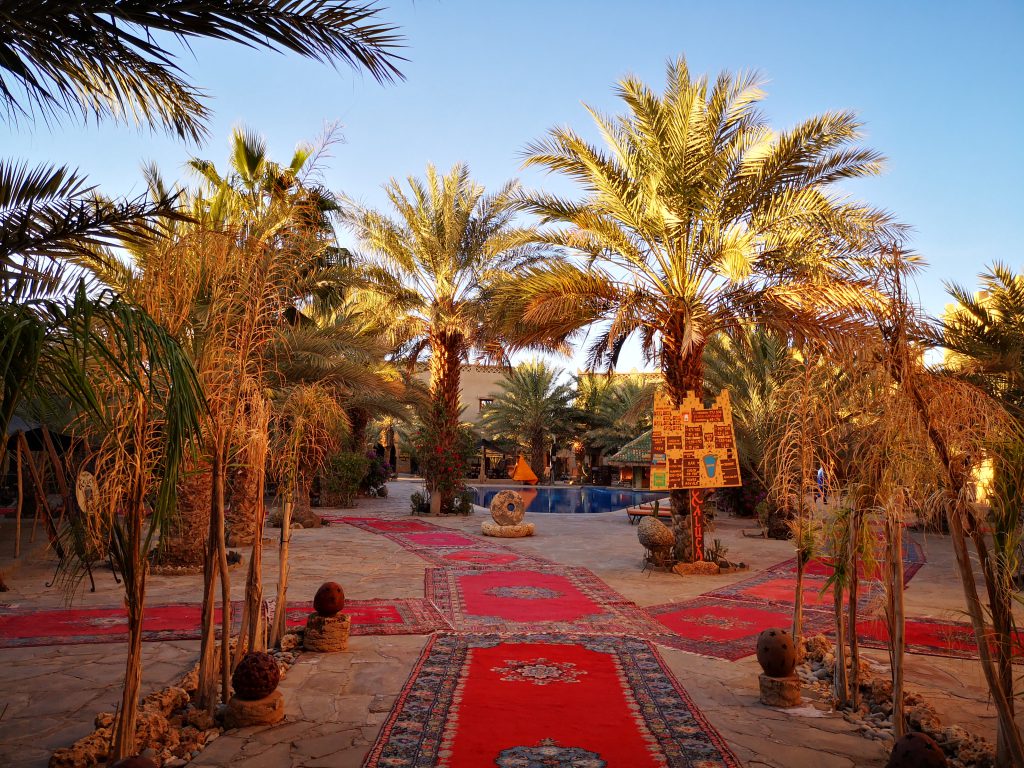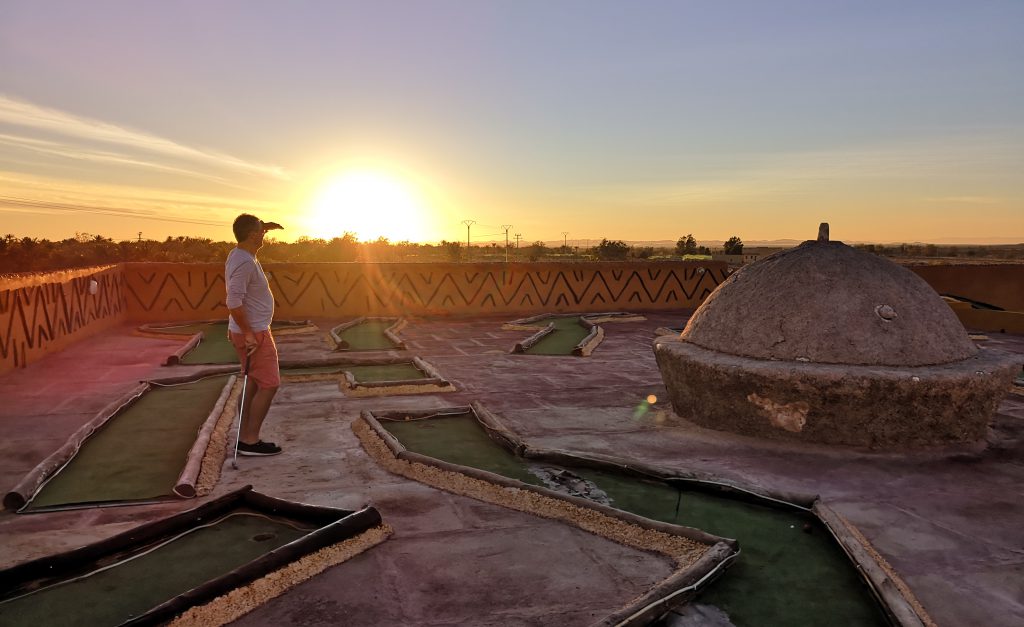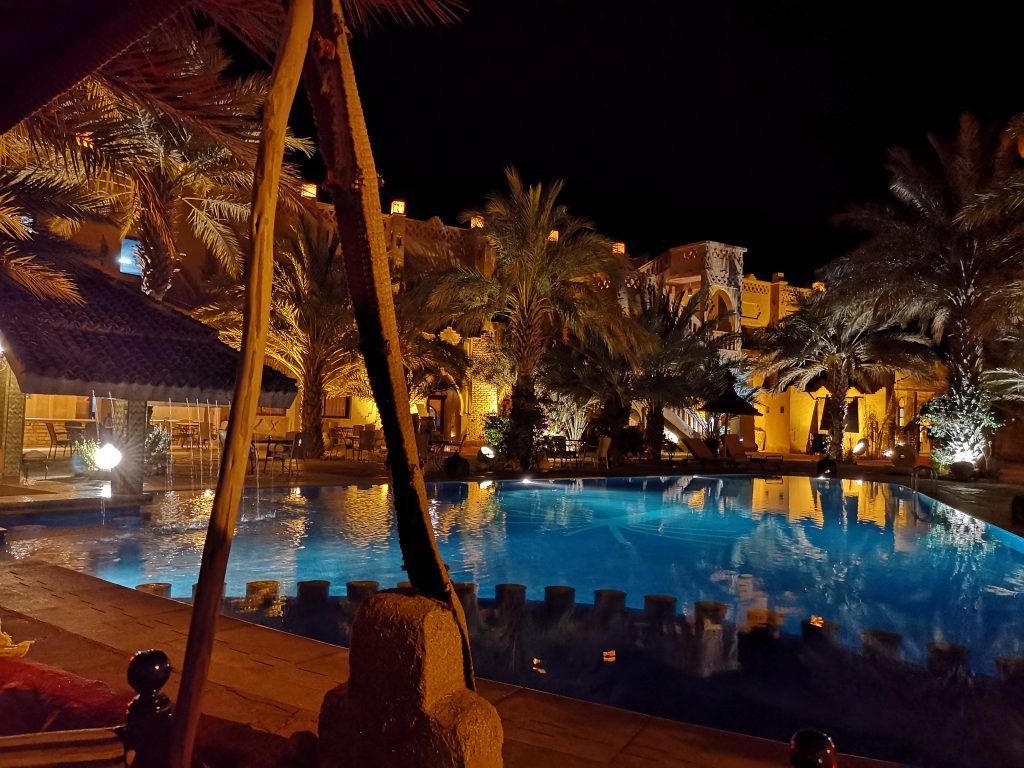 Discover Morocco
Day 2 Erfoud to Merzouga
We left not too early so we could enjoy the buffet breakfast at the Kasba hotel Xaluca. We went on and half way during the morning we were in Rissani to visit the local market.
We also went got a tour into the Ksar Abouam. That is a small community that lives within walls, within the walls of the city. I did like to see how the people live there, small community. They have shops too ofcourse… So if you need a souvenir or an authentic carpet you can buy one!!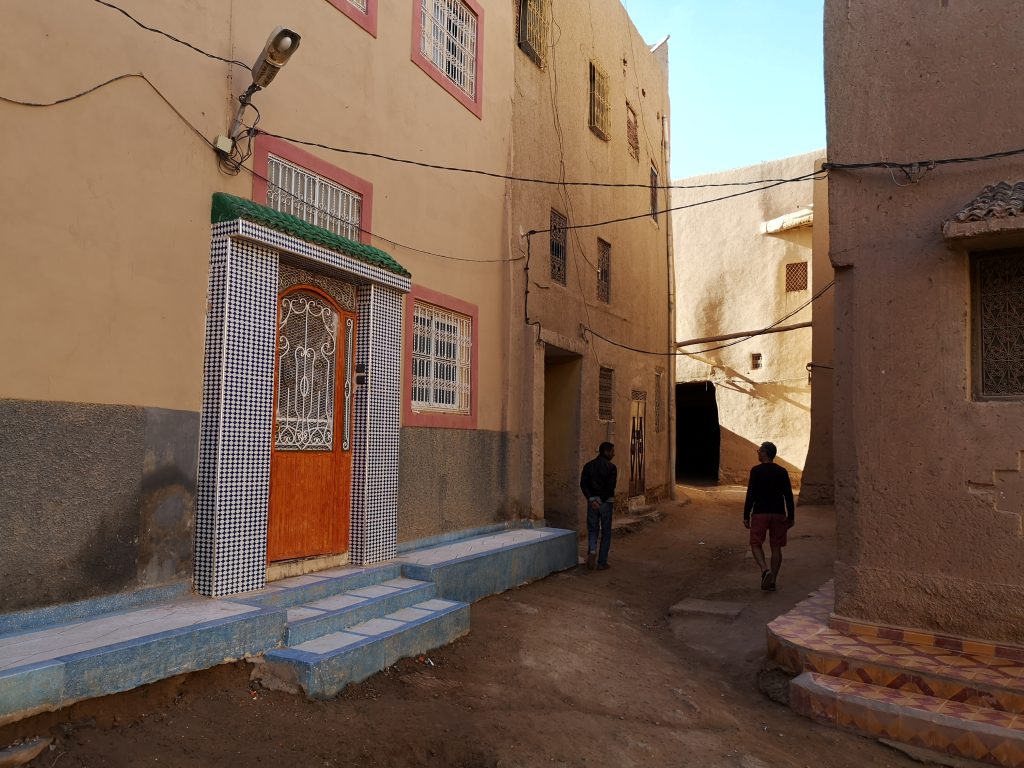 Want to selfdrive? Look at this post about a roadtrip through Morocco with kids!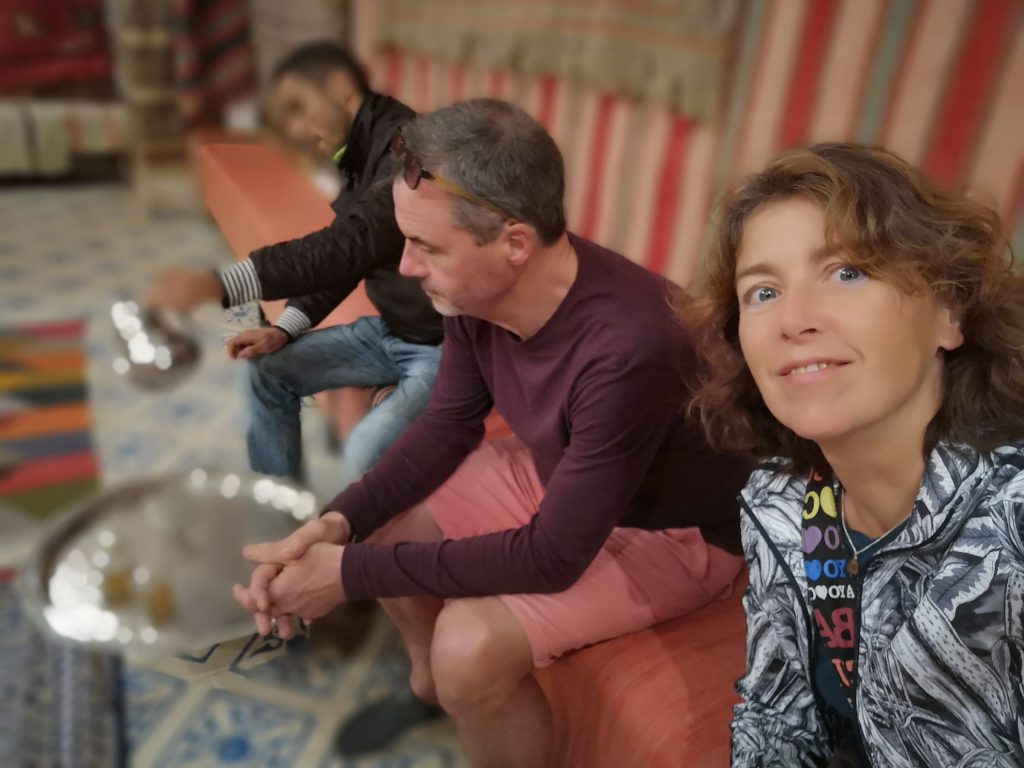 And a authentic Moroccan Mint Tea is always good!!
The tour was given by a local guide and he took us also to the animal market.. It always makes me said.. After that we went into the fresh fruit and vegetables market. It looked great but when we asked…it was not all natural. Hmm… I hadn't expected that here…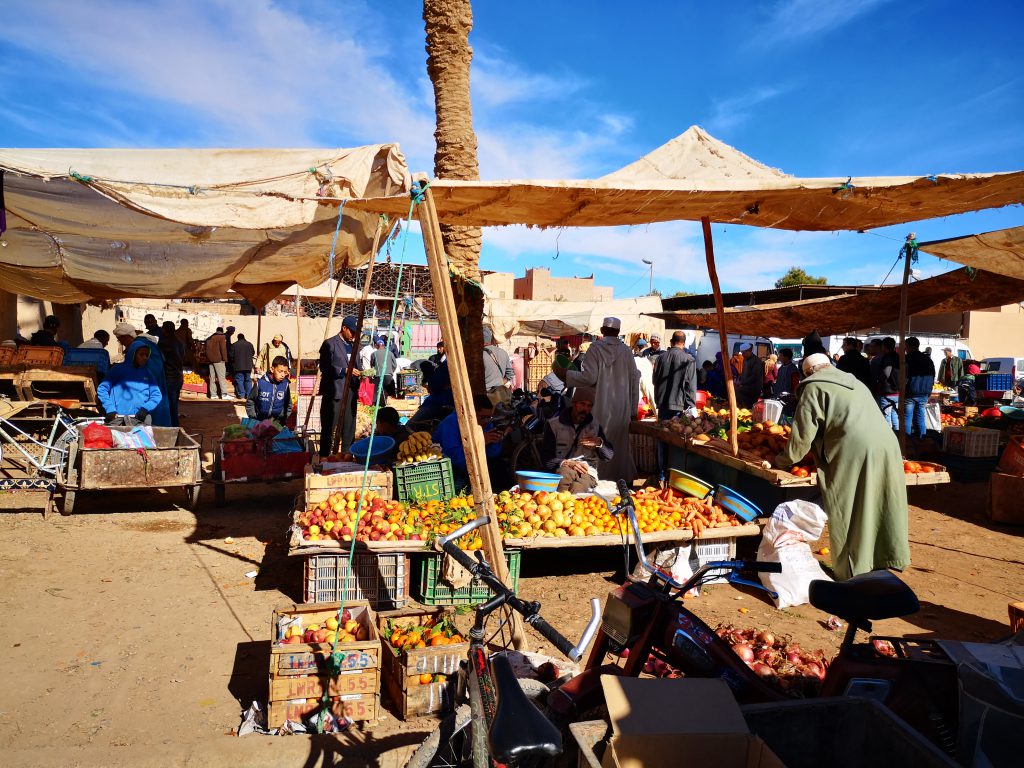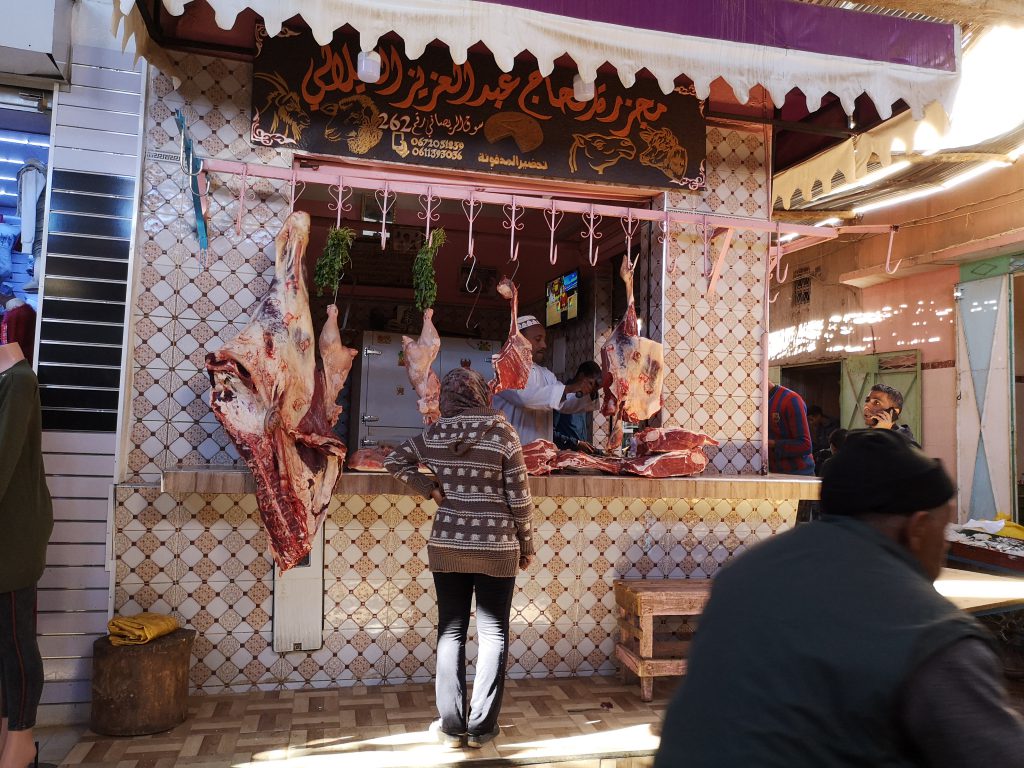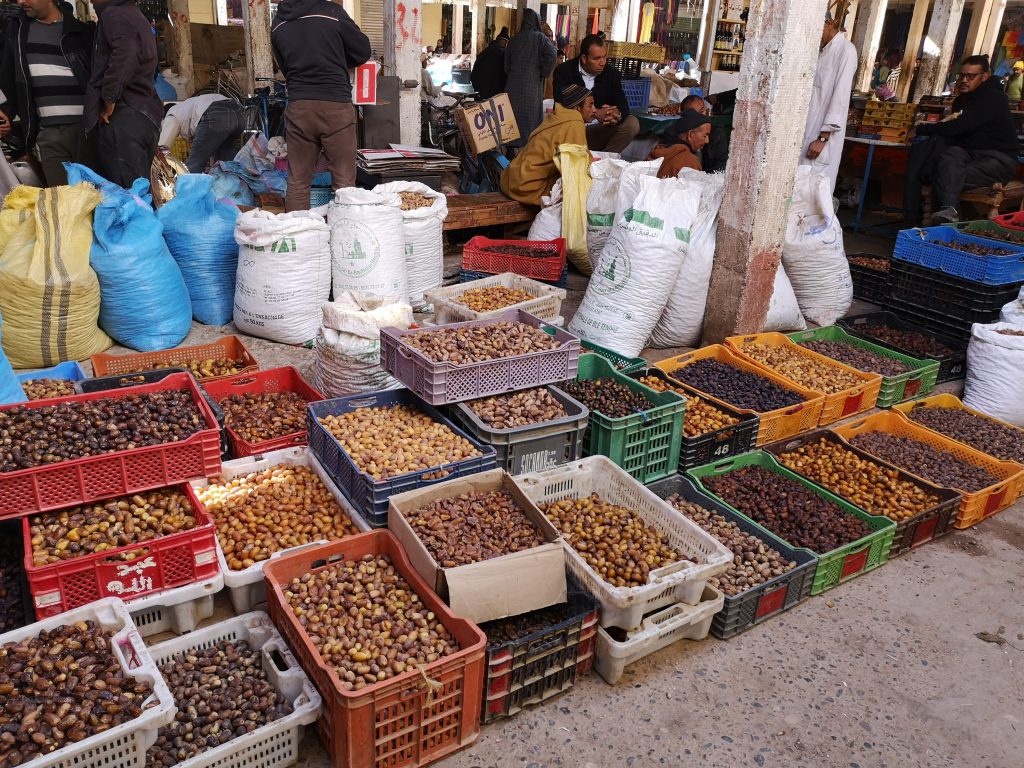 And ofcourse dates are here in abundance…
Still I was surprised that they have, just as we, cultivated fruits and vegetables. They also have a preference to only nice looking fruit and no deviant shapes…even thought they are just as good!!
We went on to Merzouga for our lunch. The view from the car turned into the one I was hoping on.. I started to see the sanddunes in the distance!!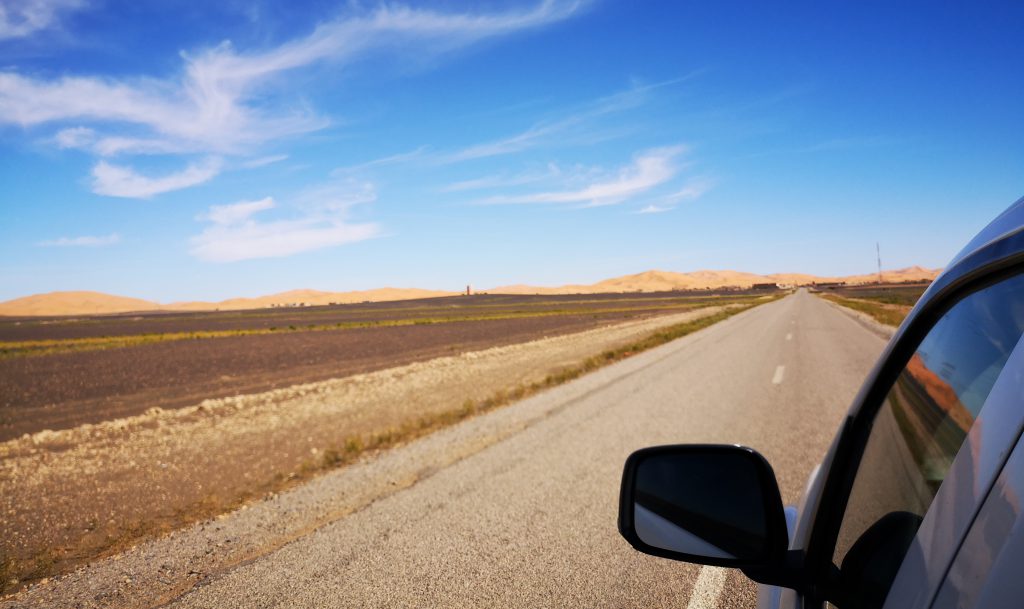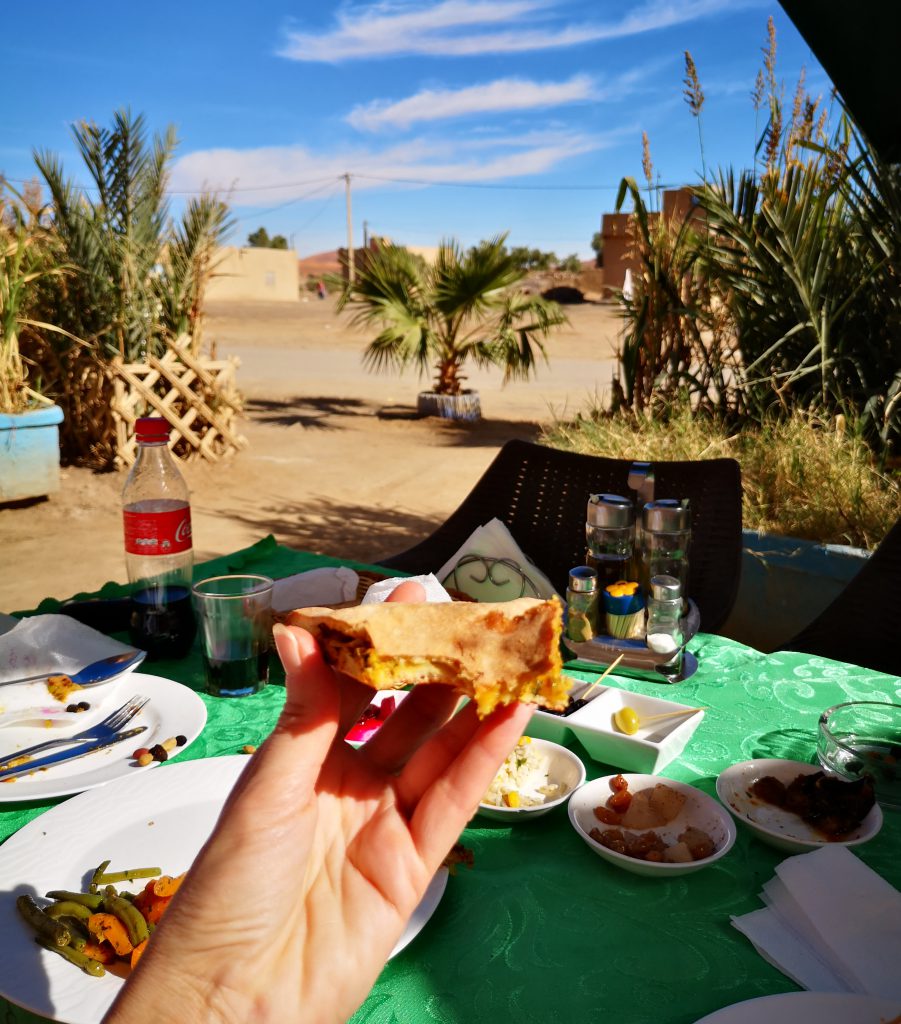 And they you are in the desert!! I love that sand colour, I love all about it!! And we started our visit with a good local pizza!!
Our trip to the camp in the desert was later that day so we had the afternoon free to spend around here. We decided to go to the desert because a friend of mine was there, sandboarding with some friends!!
We met eachother underneath that big sanddune at Merzouga!
The last time I saw Cynthia was in Kyrgyzstan!!
How about The World is Big??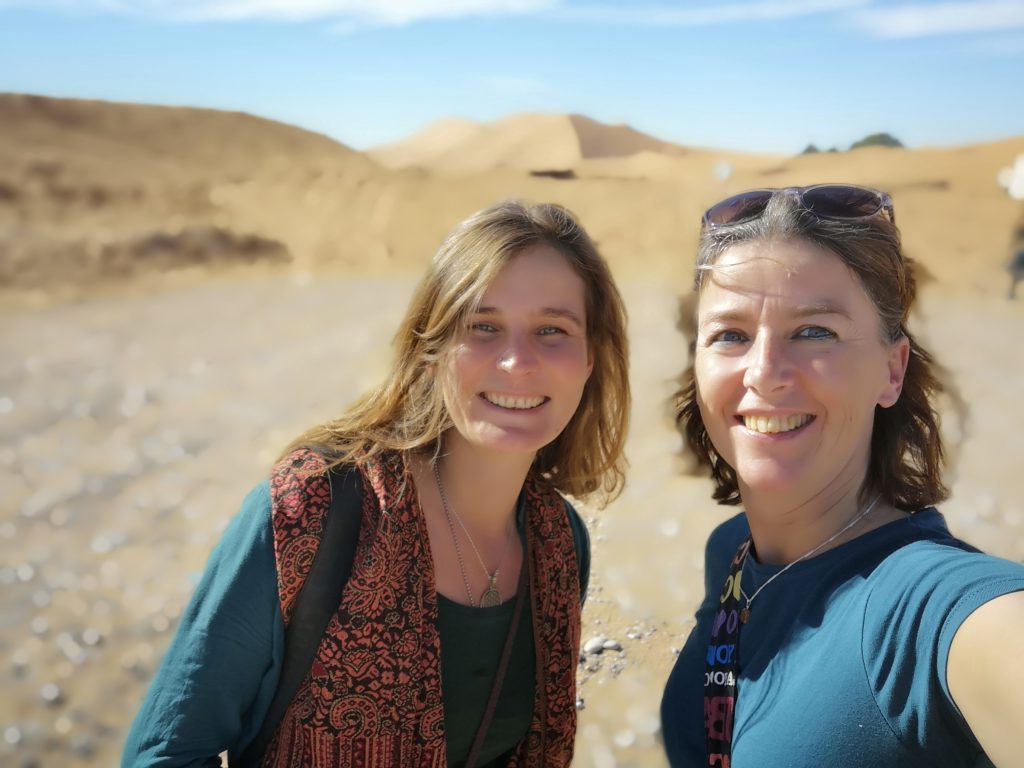 Cynthia of Journal of Nomads
She was already for a couple of hours busy and needed to stop but we just got there. We went into the desert to climb a sanddune!! In the desert there is a calmness, a great atmosphere… It is quiet.. The scene is easy on your eyes..
I LOVE IT!!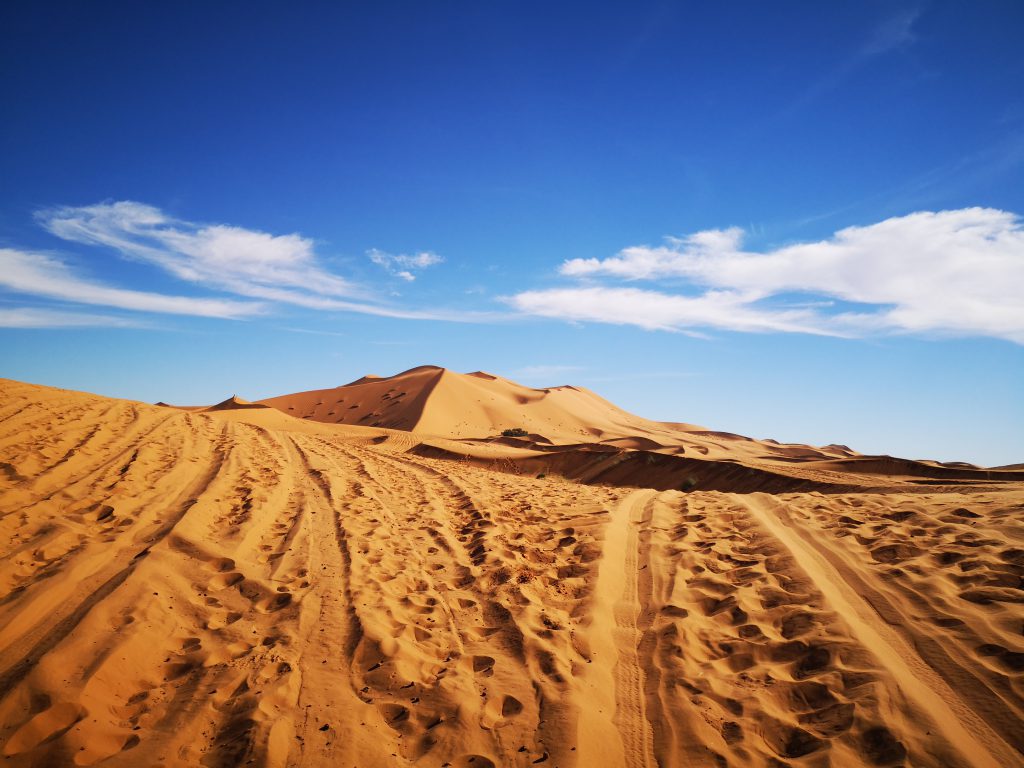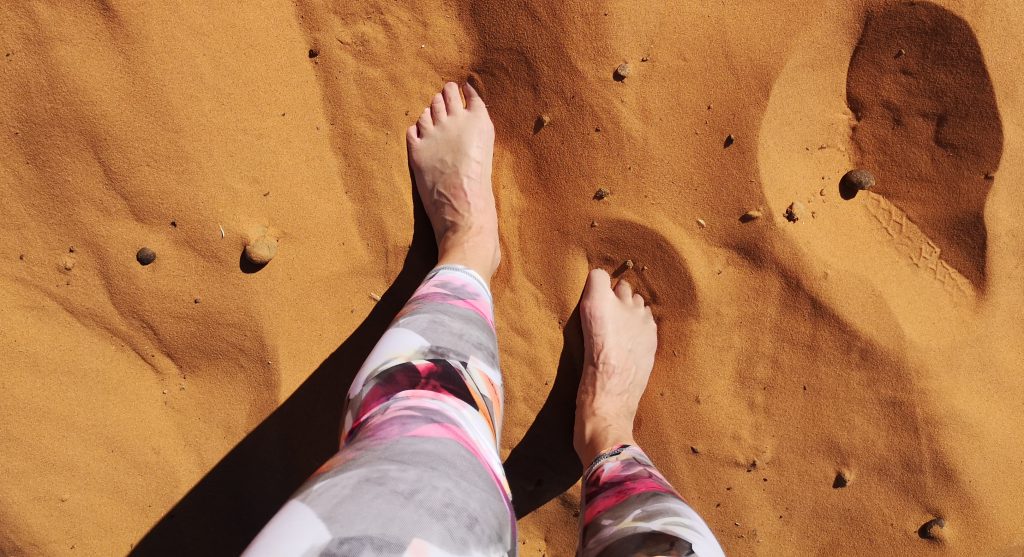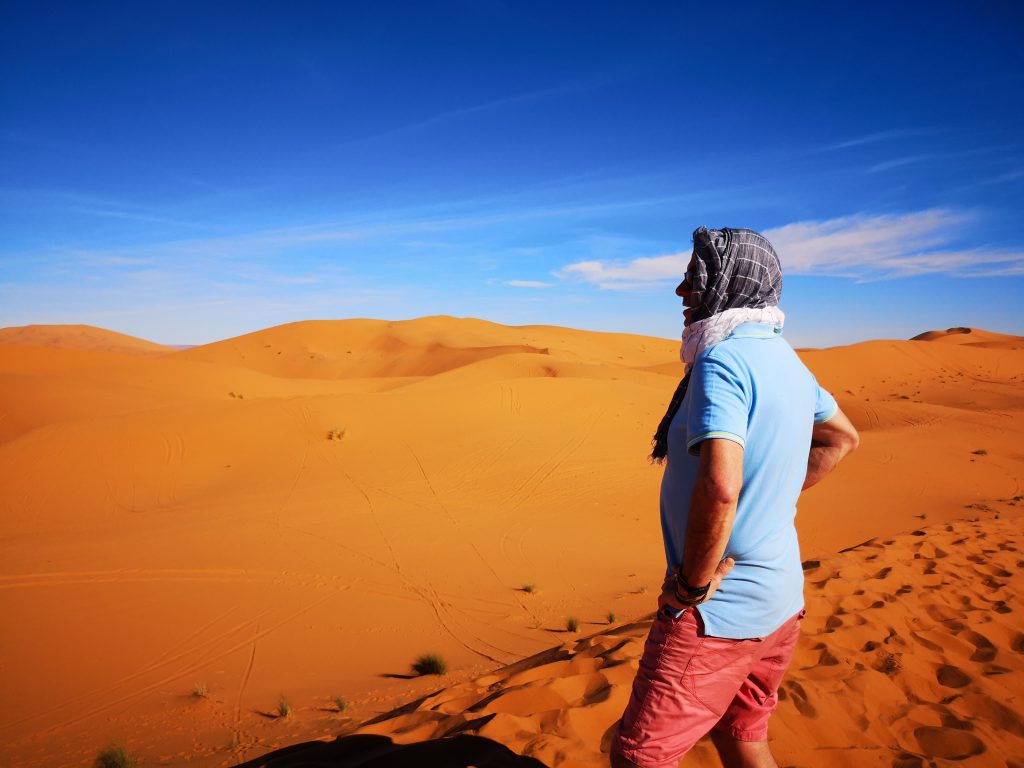 Isn't this just the best? That great brown sand colour with the bleu sky? I could roam this place the whole afternoon and climb sanddunes and relax with the sand in between my toes 🙂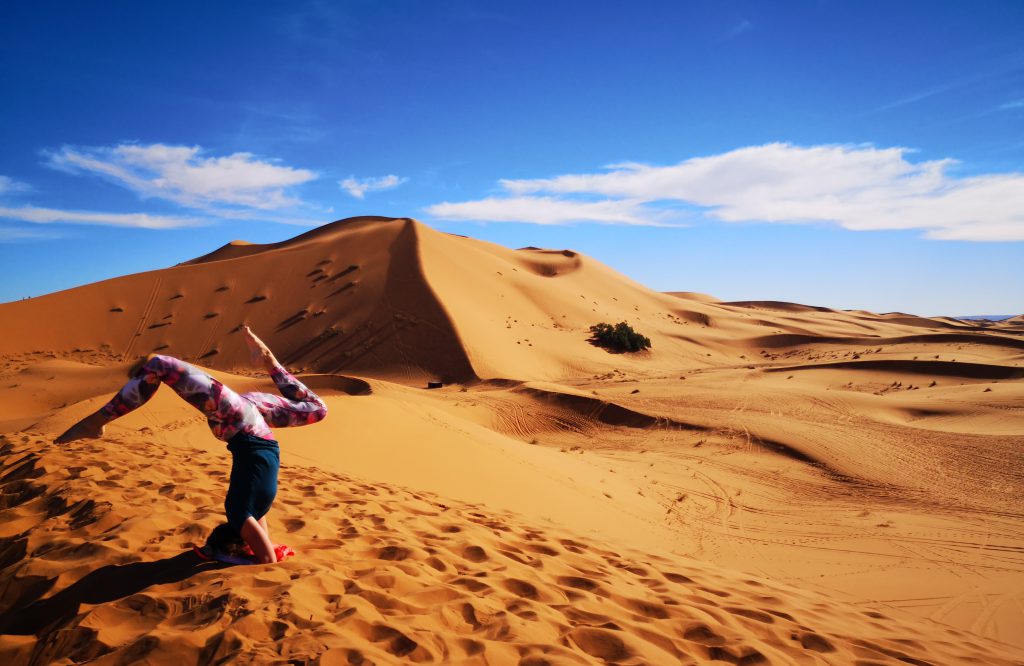 After a while we needed to go back because we would be brought to our luxury camp. And then I realised that I didn't thought it over all the way.. for us it was too late to change the programm..
I wanted to go by quad!! I would have loved to crossed the dunes! But now there were two dromedaries for us at the beginning of the desert. Well…camels..  No they are dromedary. I don't know why everybody says camel? They are not!!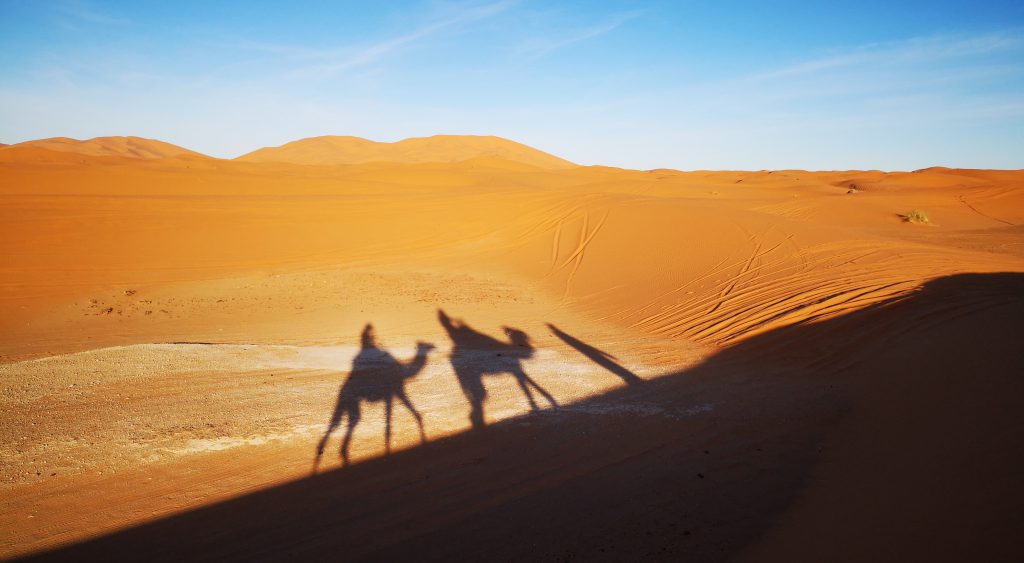 It was too late… I climb on them.. Sorry.. I do was really impressed by those big feet of them and how easy they walked in that sand in which I slipped constantly..
The way back we arranged the jeep so our dromedaries could go back to Merzouga instead of waiting the whole night. I did see some dromedary still there early morning with the saddle still on their back 🙂
So my tip for you!! Arrange this upfront. You can be brought by jeep but even better… You can rent a quad for an hour and cross the desert yourself!  Stopping half way for the sunset and enjoy your time in the desert!
Well we did enjoy the sunset ofcourse. And as always the guide had some great ideas for the best pics in the desert and with the sunset 🙂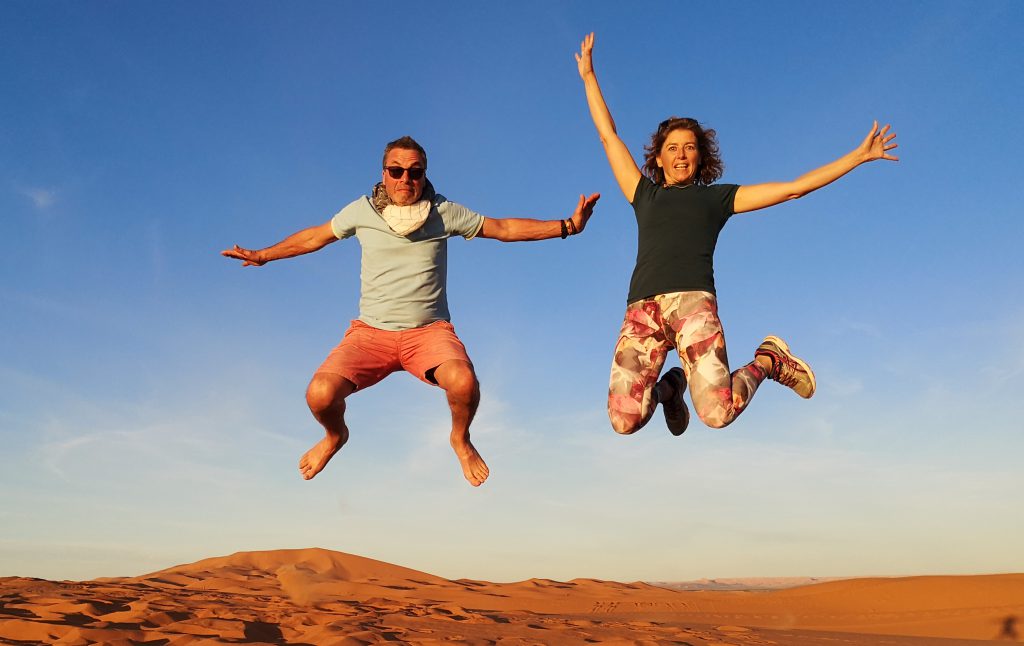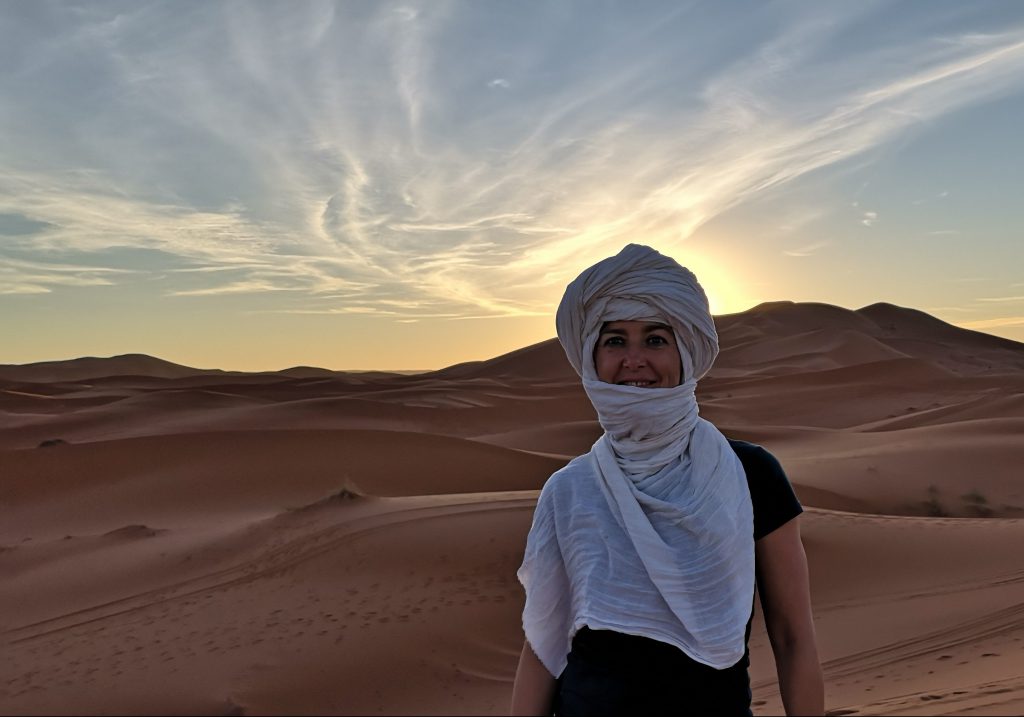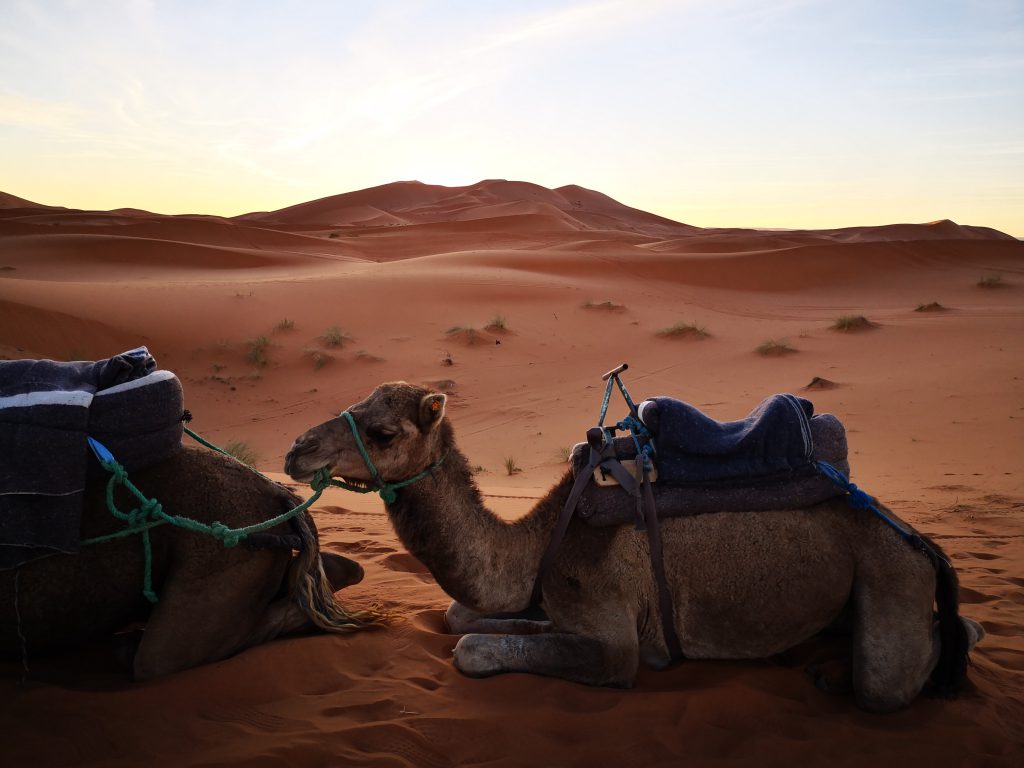 The desert is deadquiet… But still we did see all kinds of footprints. Small but also a bit bigger. There are foxes living here…but seeing them is difficult. I really liked seeing that!! The first one I saw was a beetle when we just entered the desert. I did my best to see another animal on the horison or behind a little bush… But unfortunately…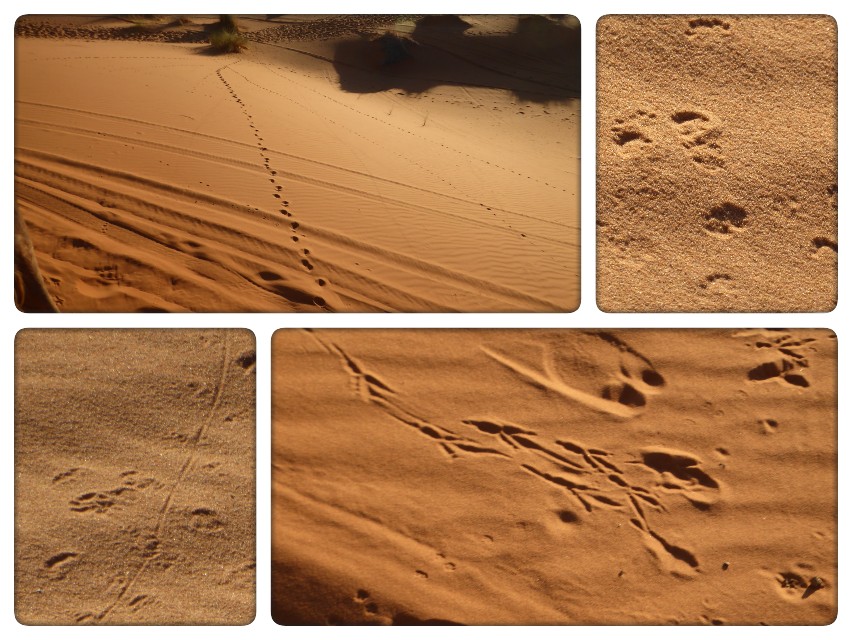 When we moved on we soon arrived at our camp. It was defenitely the kind of camp I hoped for.. How cool!! We would spend the night here in the middle of the desert!!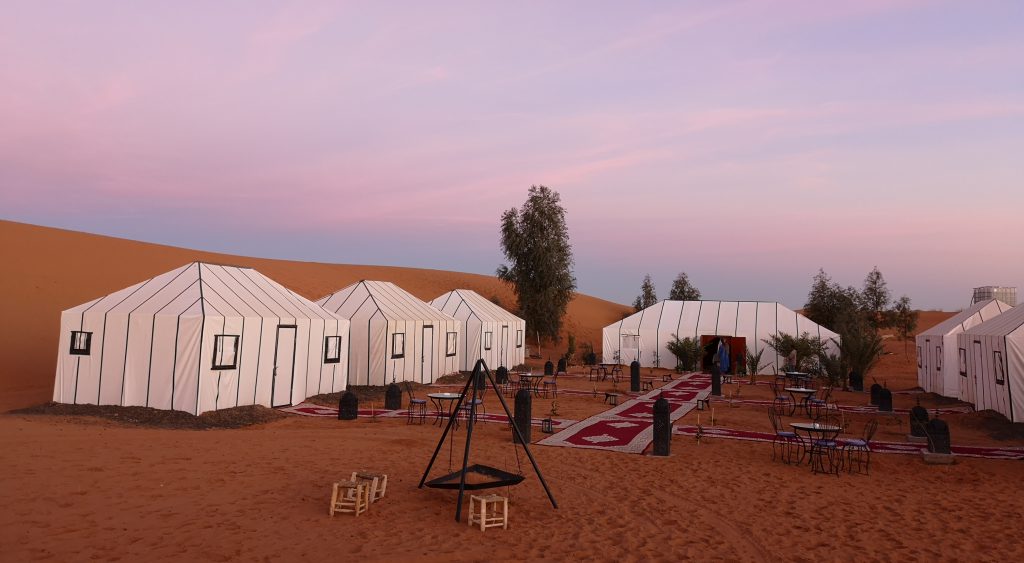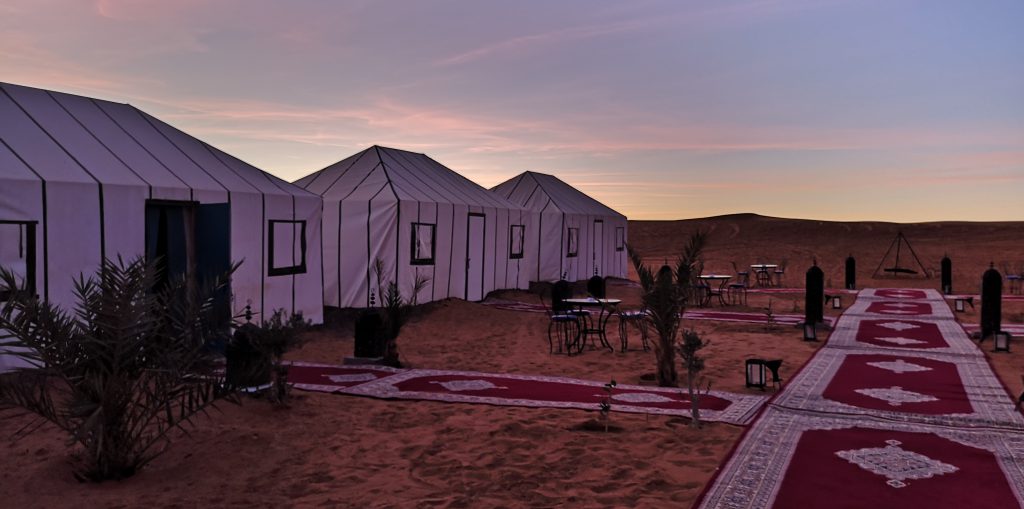 I see that I loved it so much that I didn't even made a picture of the inside of our great tent! I can tell you… It was a comfortable bed, a bit on the tough side maybe.. Electricity for the light but not to charge your mobile. (That can be done at the restaurant) And a great hot shower and a colourful sink that I would love to have here in my house too! They don't have a website but if you search for Hotel Desert Quiver Camp you'll see this camp!!
I really loved this place!! This was really a great spot to stay the night!
We had a good dinner, no devine food but it was good. We spend the night next to the bonfire and there was traditional music and singing. We even danced around the fire 🙂 It was good around the fire…it started to get cold in the desert!
Tip: If you want to drink something in the evening, other then water… You need to buy that before heading into the desert.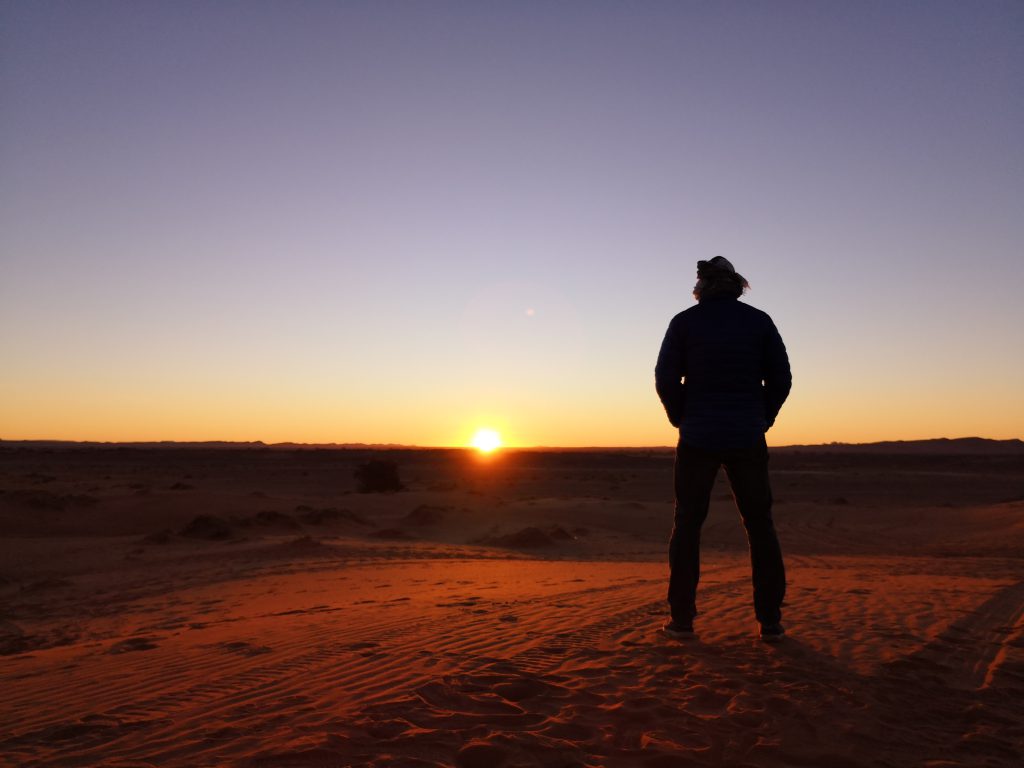 And ofcourse we should go up early to see the sunrise! It was around 6, 6.30 that it started to get light. We went out and we were standing out for at least an hour untill it was fully risen. I did love the serenity of the desert in the morning. I did see that our neighbours got waken up by the staff just before the sunset so you won't miss it 🙂
I loved the serenity of the desert!

Only some other tourists that also stand quietly enjoying this moment…

The rest is emptiness …   The Sahara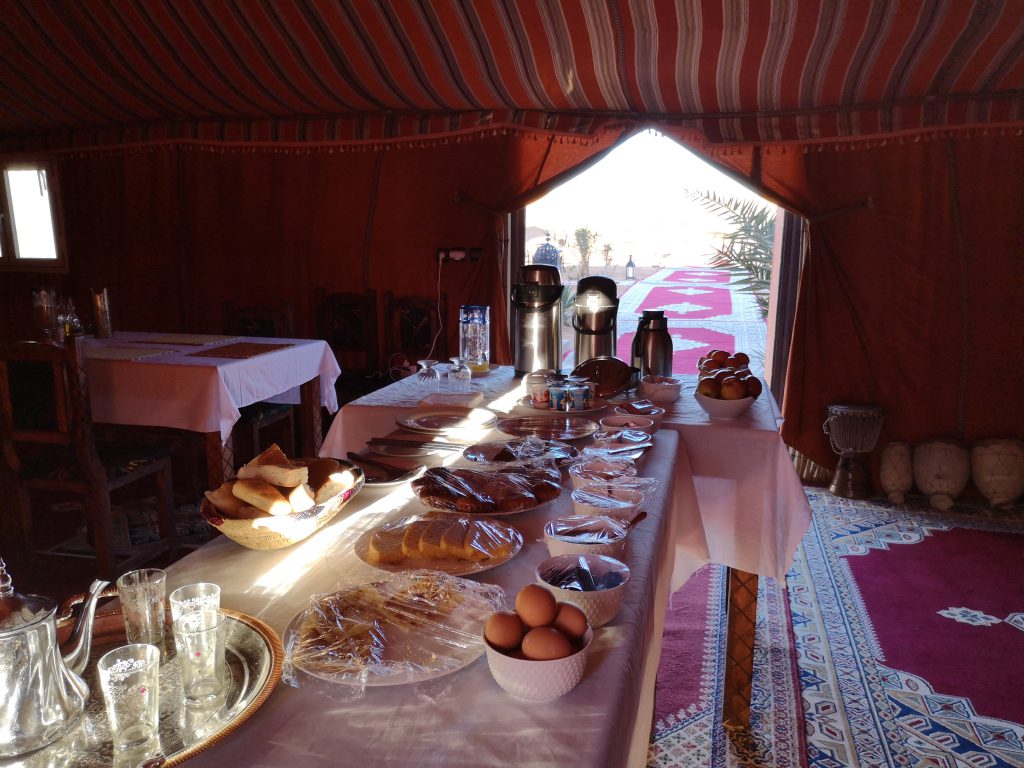 Discover Morocco – Africa
Day 3 Merzouga to Imilchil
It was time to head on to our next destination! We enjoyed a good breakfast, took a hot shower and went back to Merzouga by jeep. Our guide Lahcen was waiting for us with his car. We went to the great Todgha Gorge. 
This gorge is situated in the Atlas mountains and the rivers has passed this region till the end of times. So now there is this huge gorge for us to enjoy… The highest point is 160 metres and the narrow part is only the road and a river… let's say around 10 metres!!
But first we had to drive for some hours in the great landscape of Morocco. I really love the variety of this land, it's only a 3,5 hours flight away from home and you're in a totally different world!! The landscape takes you from desert to gras and forest… and the greatest views over the mountains!! And to top that all Lahcen showed us these undergrounds rivers…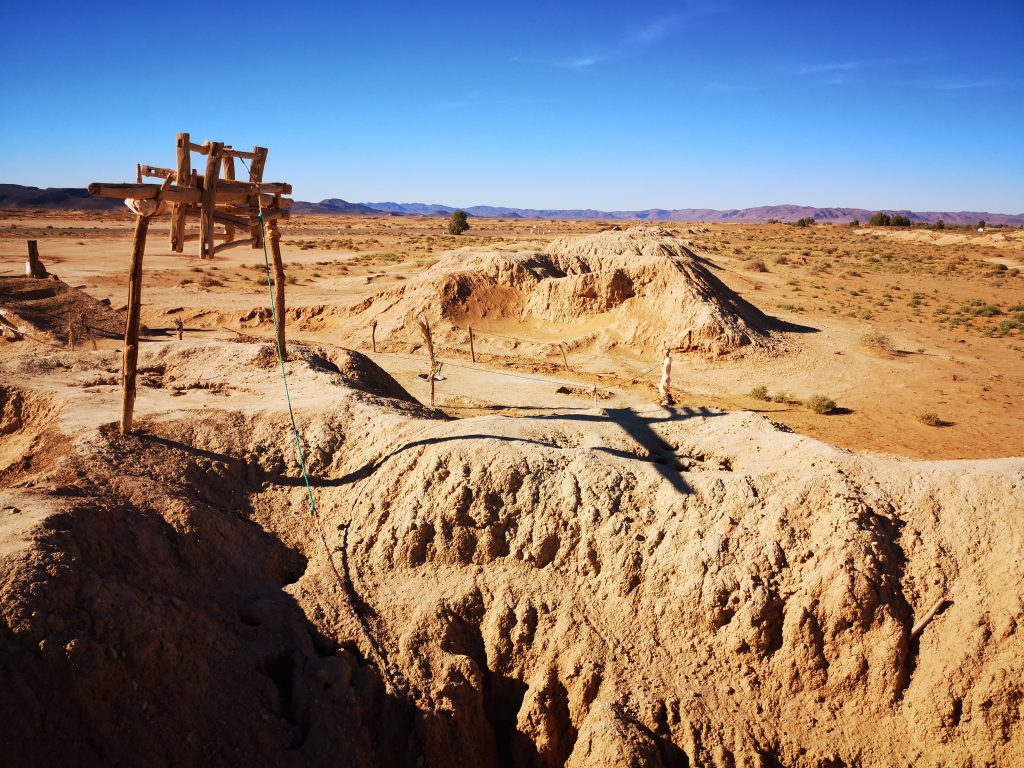 These are underground river oases where men use to get there water. On the surface you'll see trees so you know where to dig for water. Each tribe had its own river to use.
On this spot, called Ghris, you saw rows of spots where they had made wells. The rivers were dried up now and for us to see inside. Yes… We went down and saw the long stretch underground. What a great and divers landscape right?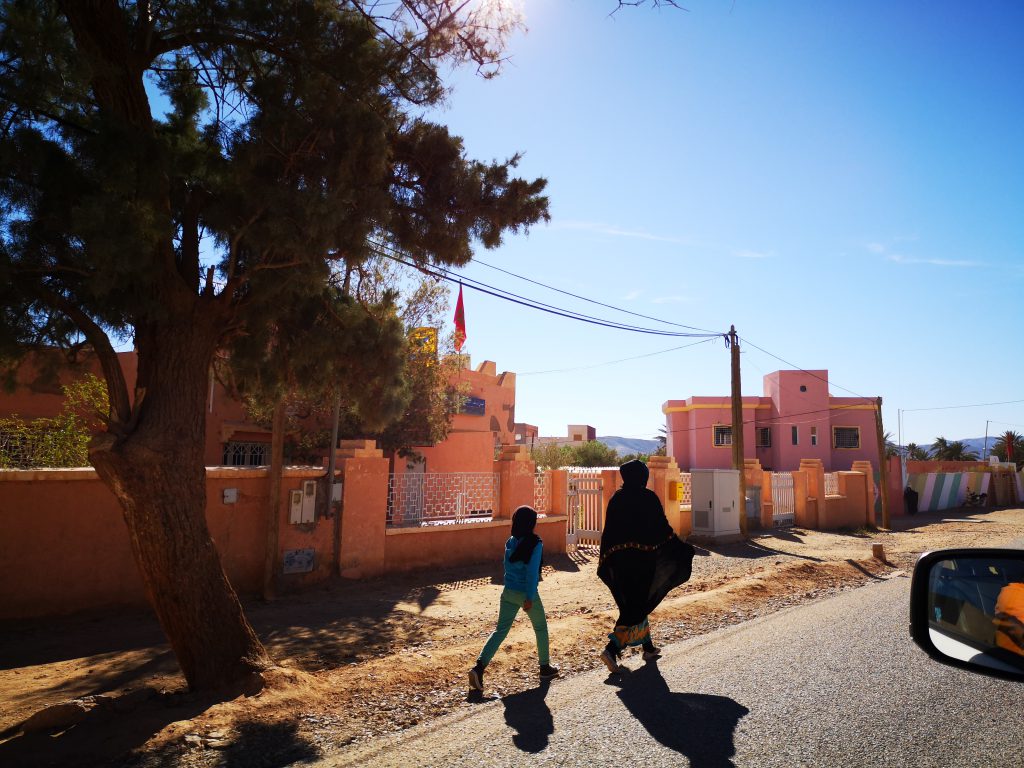 While driving you need to look around and see what you pass. I really love that too!! That is good if you have a long travelday ahead. But also a day where we saw a lot of the divers country!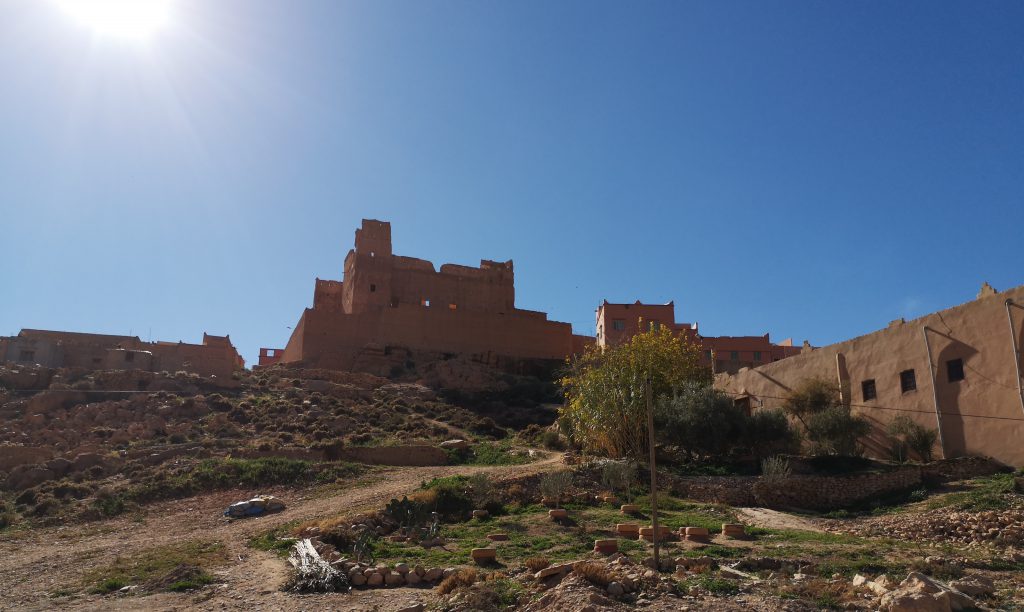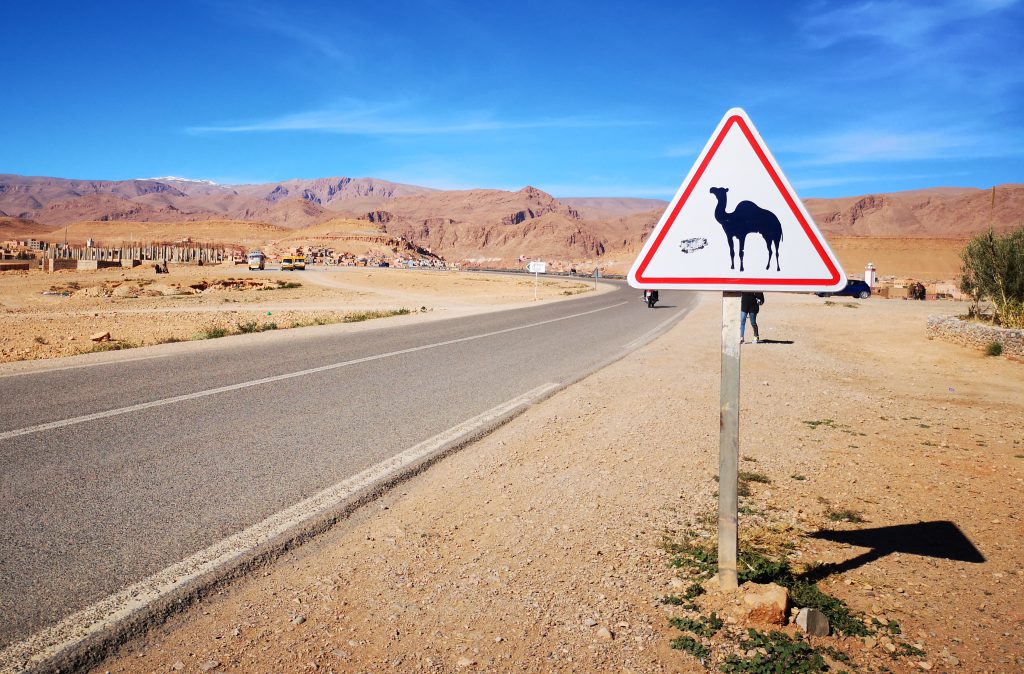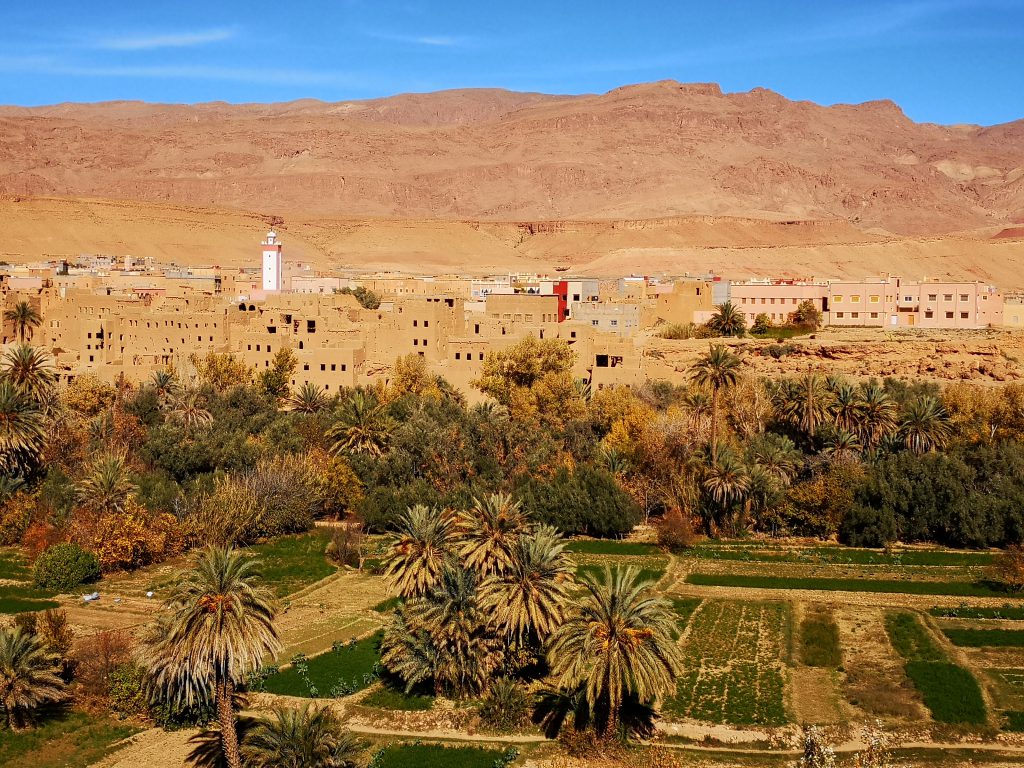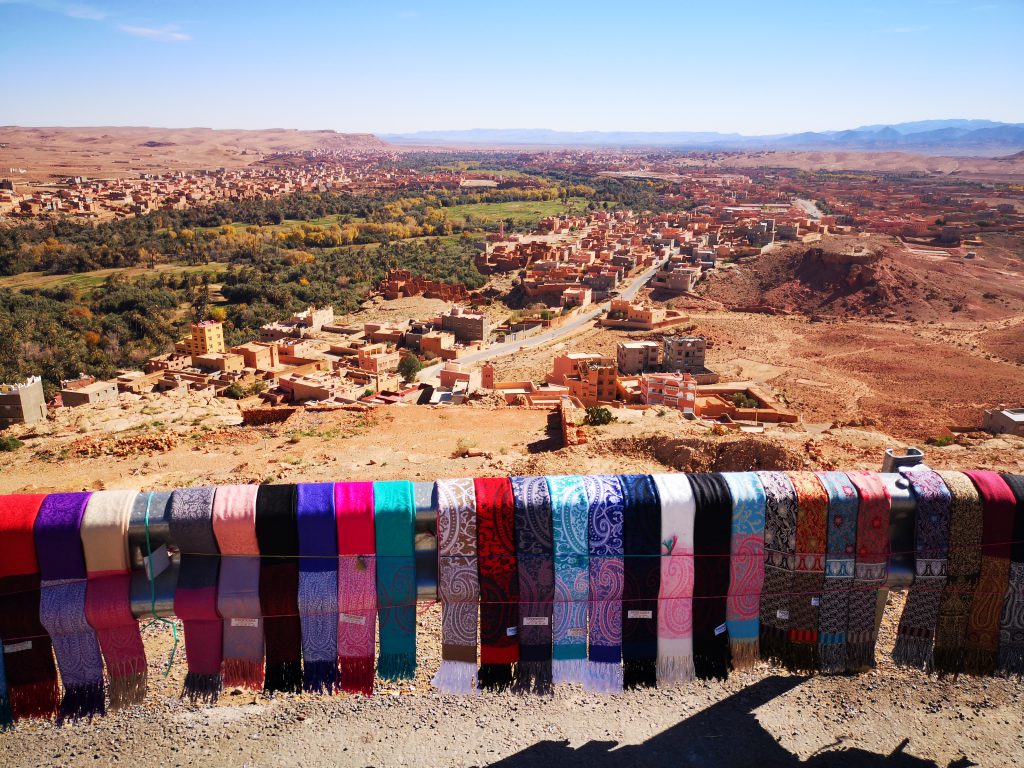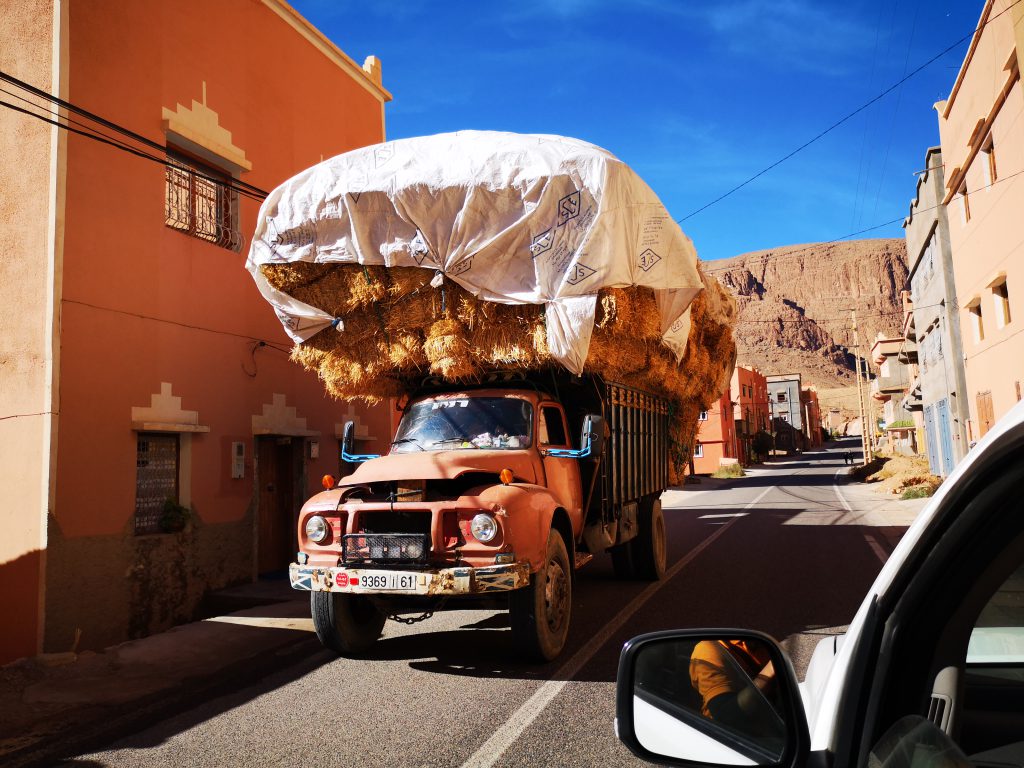 And what do you think about those huge trucks? You'll see them all around…and the load!!
At noon we had a stop for lunch. We arrived at the great Dar Ayour Guesthouse. I did love the view! Look at that huge mountain! (The guesthouse had a swimmingpool so good to stay too for a night 🙂 )
I enjoyed the rest, the view, the hot sun and the wonderful Moroccan food!!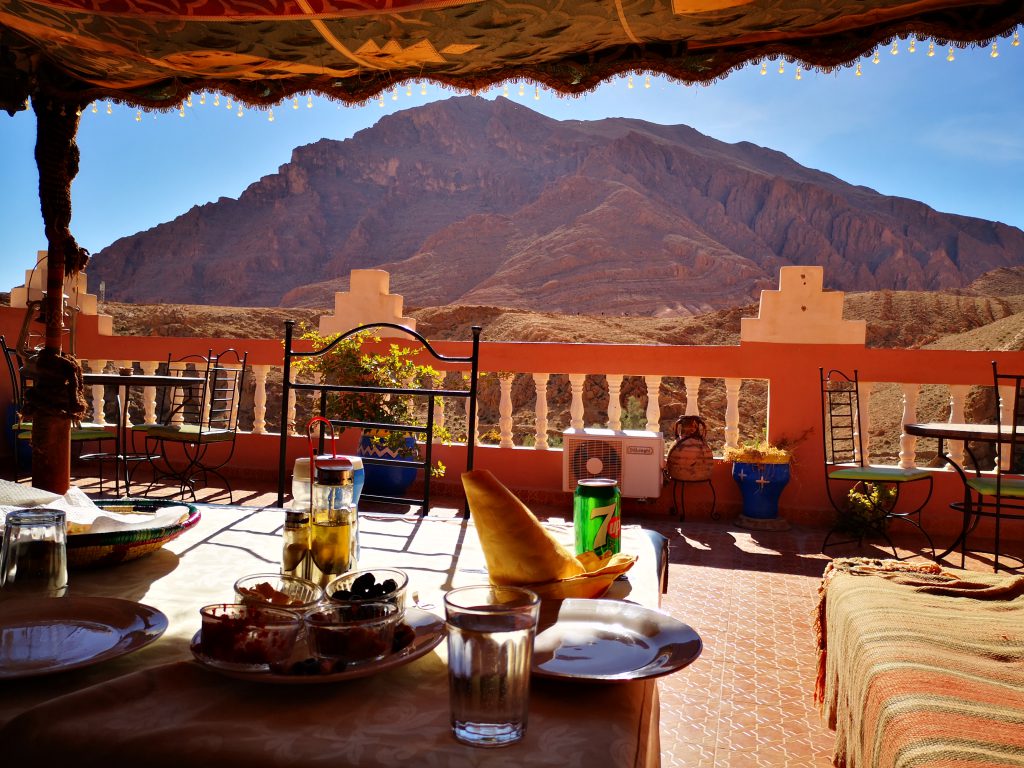 And when we went on Lahcen said us to get out of the car.. You really need to walk this part he assured us. The area where we were was just the best!! I was so happy to get out of the car and see the surroundings…and more..
I wanted to feel it!!
The Todgha of Todra Gorge
I see different names passing by on the internet… Well I can say you this: It is amazing!! We walked into this gorge and the world surrounding us was getting smaller and smaller… You really need to walk this part to fully experience that feeling!
I was so happy our guide got us out of the car but when he drove of he said.. See you in Fes 🙂 Ofcourse he was joking and was waiting for us on the other side of the gorge with a big smile on his face!!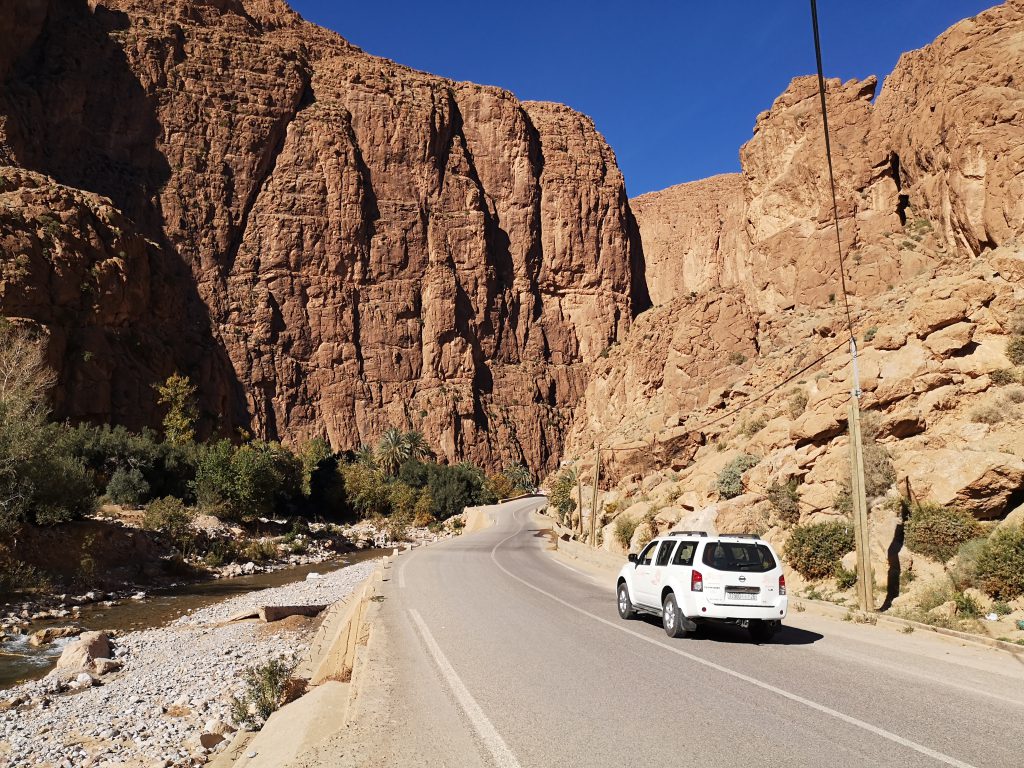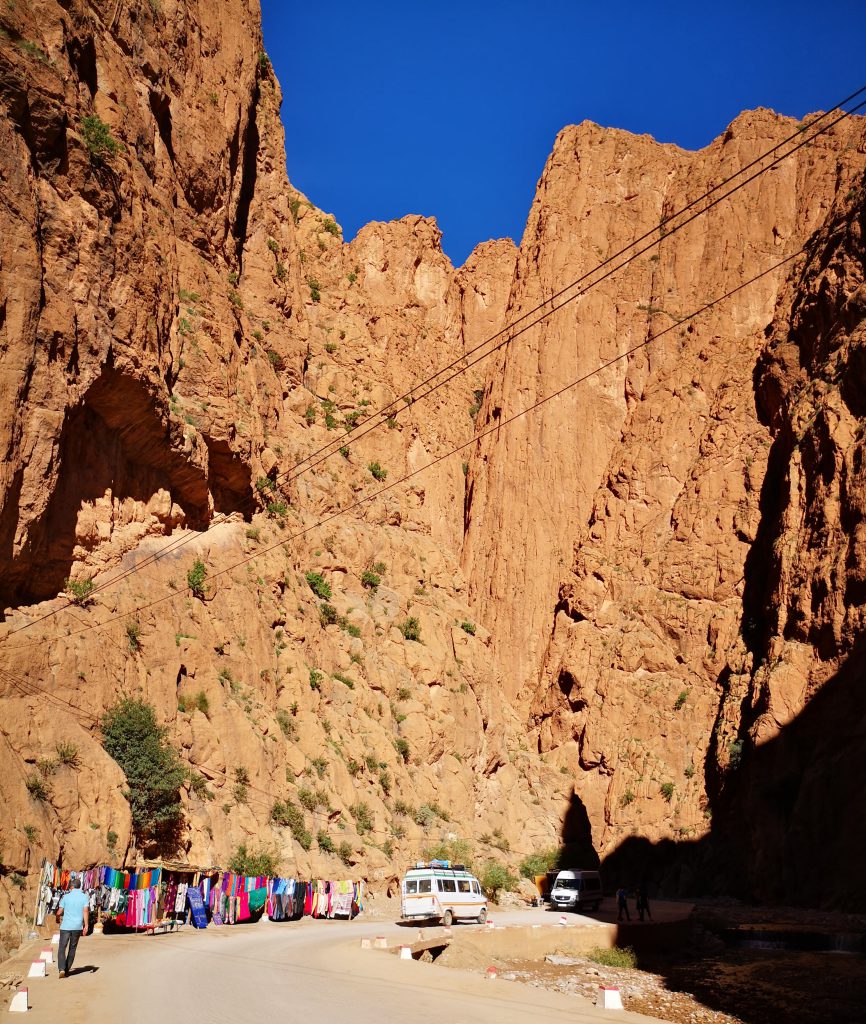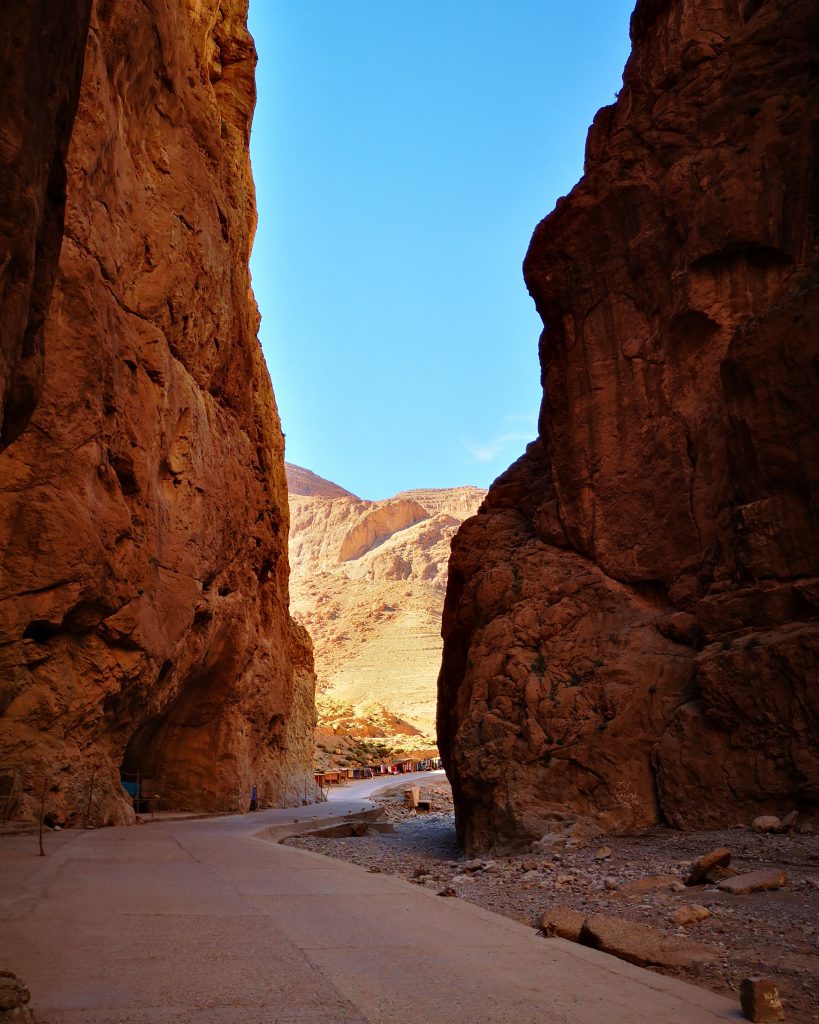 Isn't that just the best??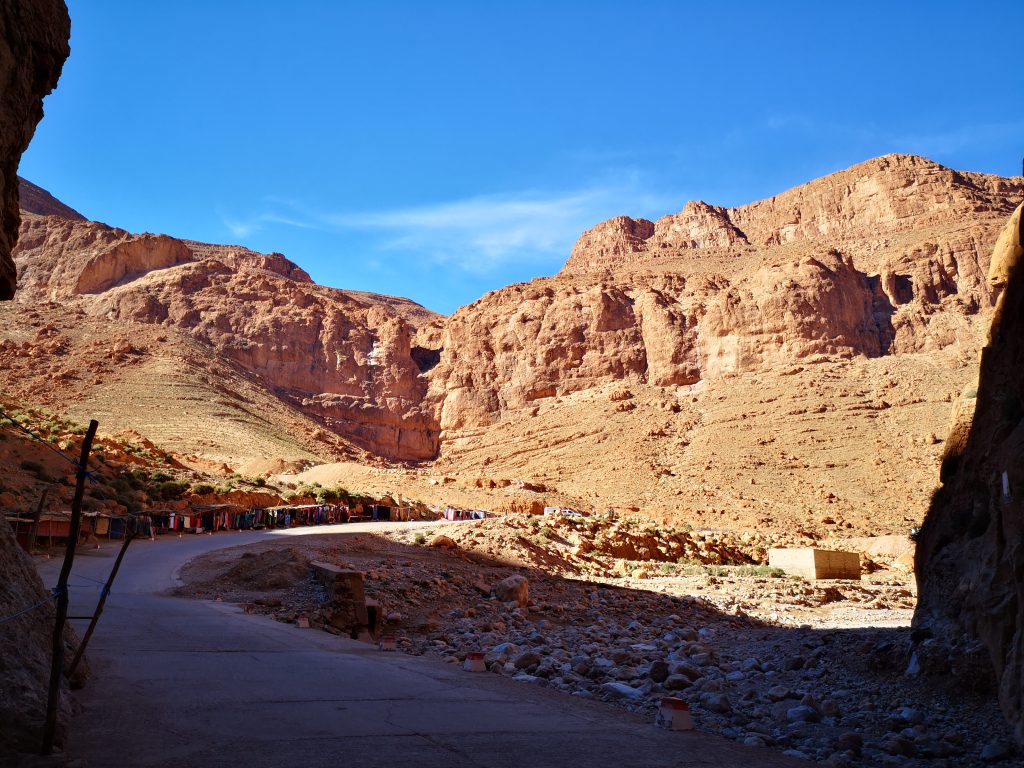 After this visit we drove on through the great Atlas to go to Imilchil. The next day we would go back to Fes and our last night was spend there.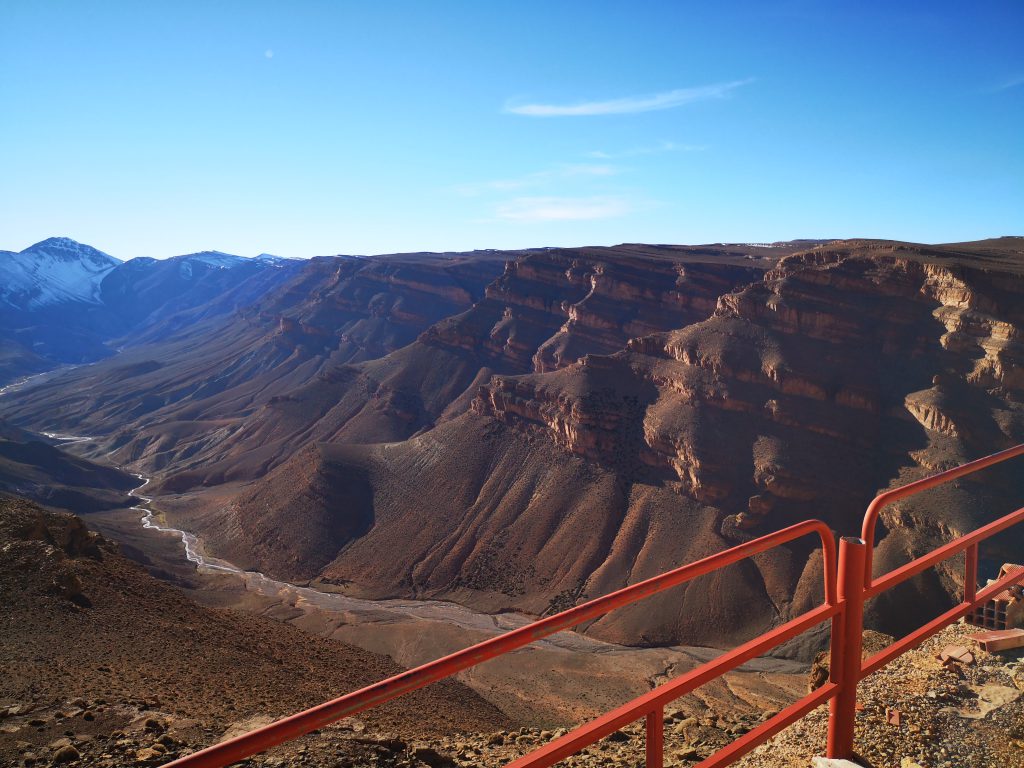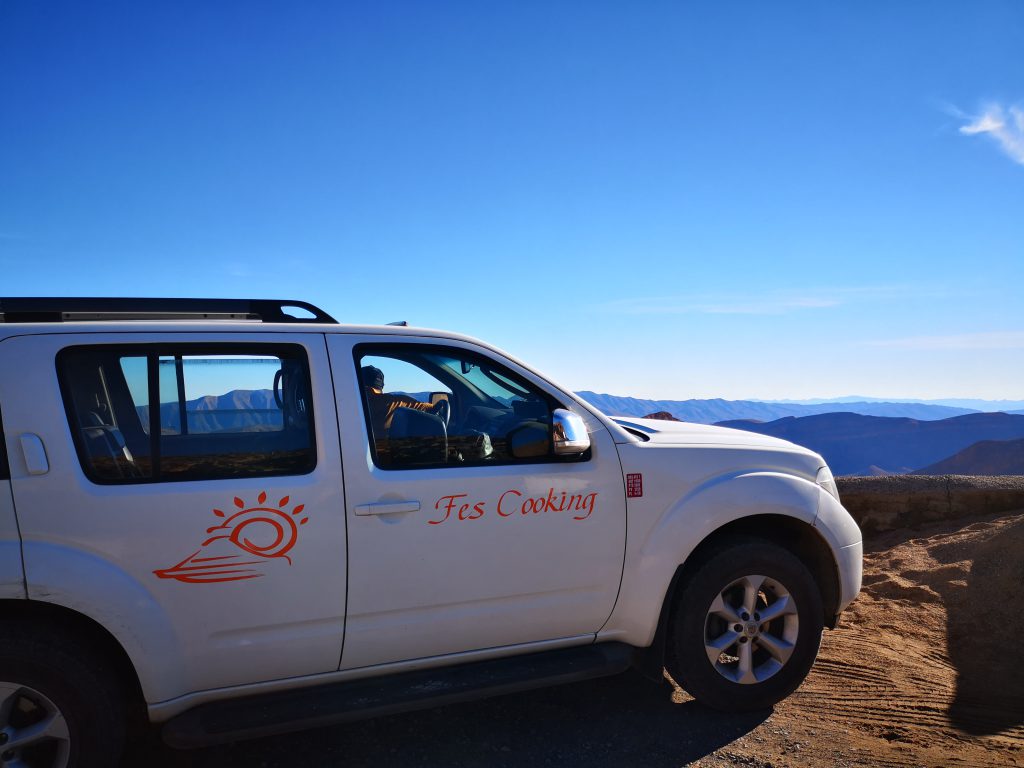 That evening we were walking the small village of Imilchil and really….you will be amazed on every streetcorner. The world can not be any more different then it is here….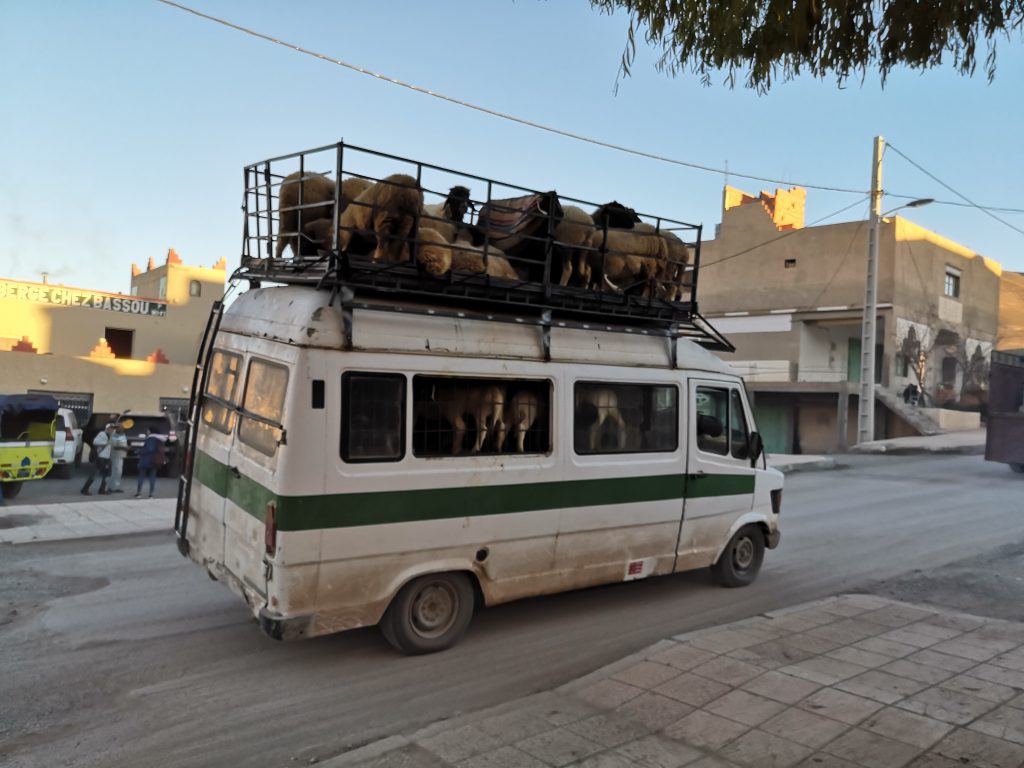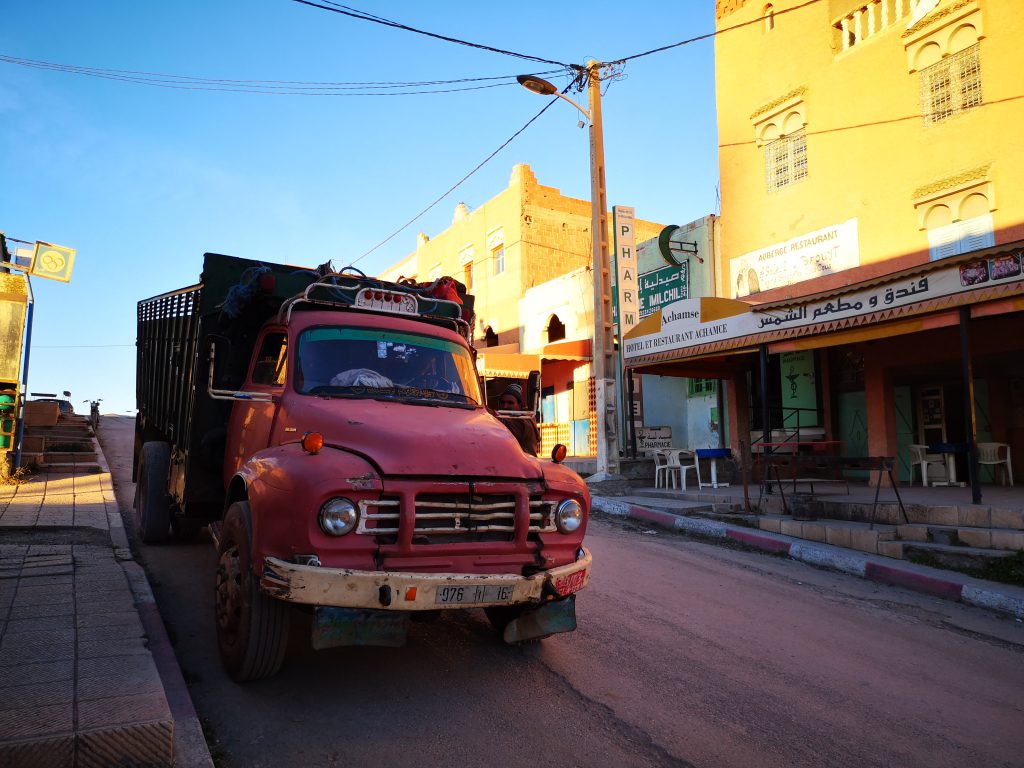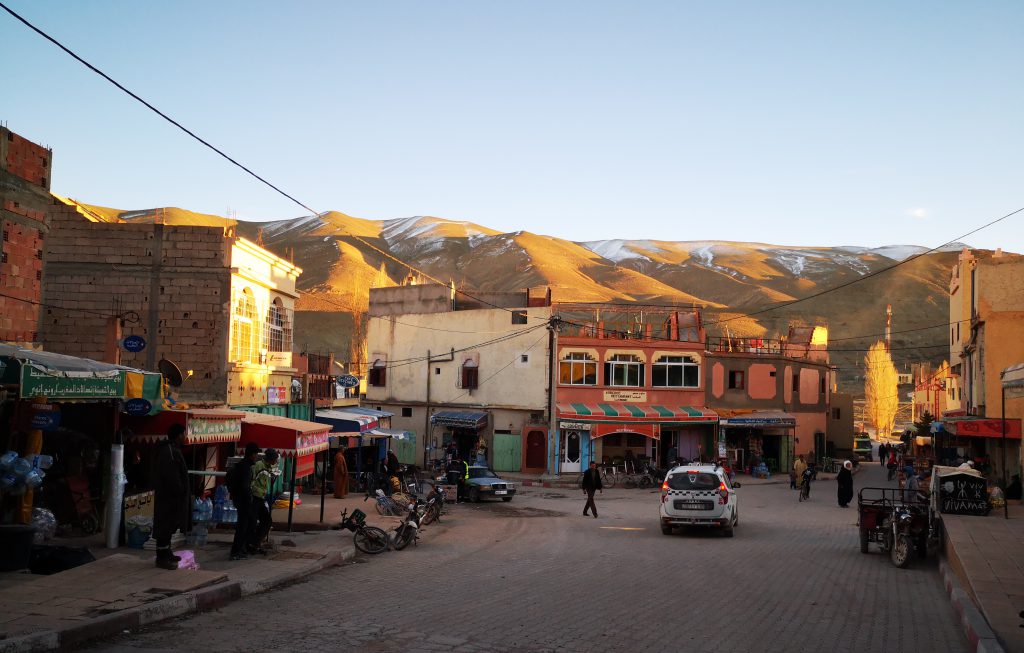 Discover Morocco
Day 4 Imilchil to Meknes
The next day.. after an hour driving I got this scary moment in my head… I suddenly remember the fact that we had to give our passports to the hottel lady… We didn't got them back yet!!! OH MY GOD! After an hour through the high atlas and lots of turns!!
Because we were in the middle of nowhere we couldn't get in contact with the hotel. But when we got the phone working it appears that they had found out just after we left. They had already fixed it by putting our passports on the local bus chasing us??
Haha really? It was the green bus… As if that made it easier??
So in the village where that green bus had its last stop we stopped. It was a place called D'Aghbala. We took a nice coffee and after a while we went walking in the village. There was a market and we had a great time in there. It seemed that we were the attraction for them instead of them for us 🙂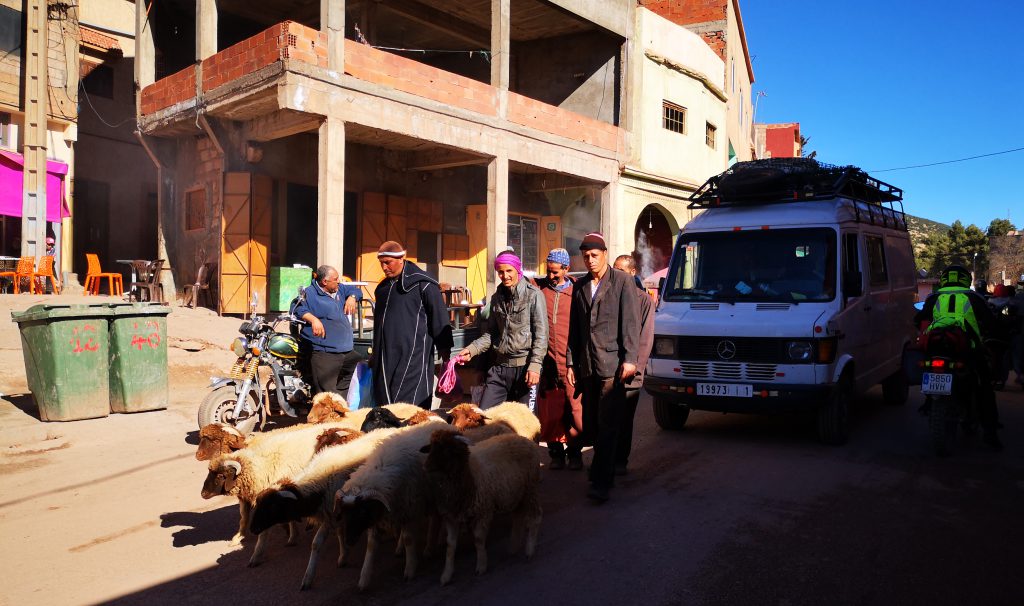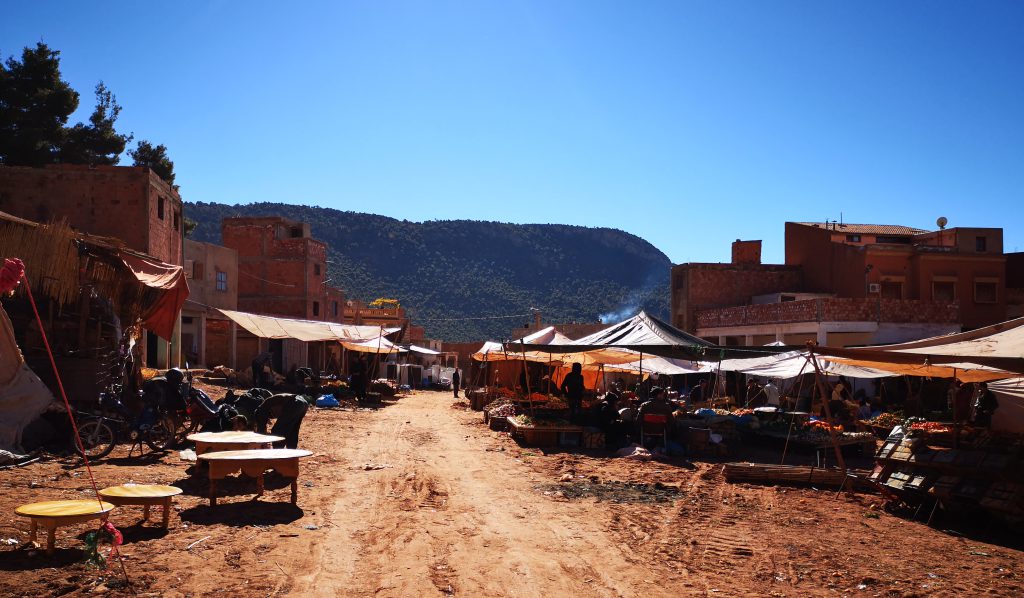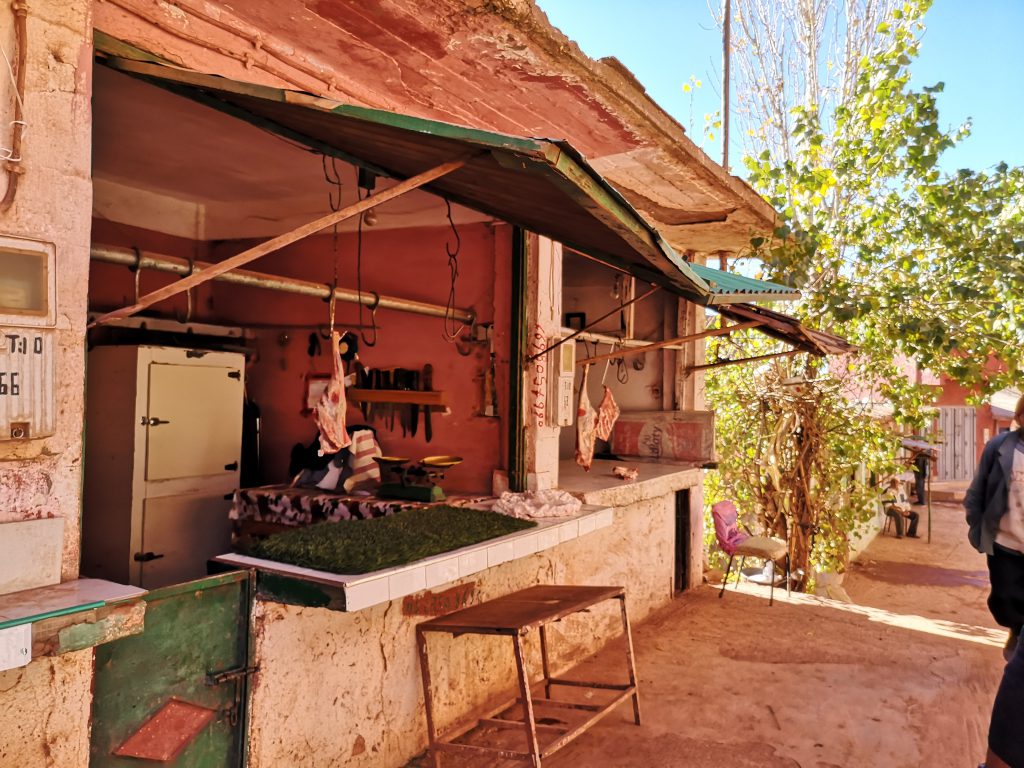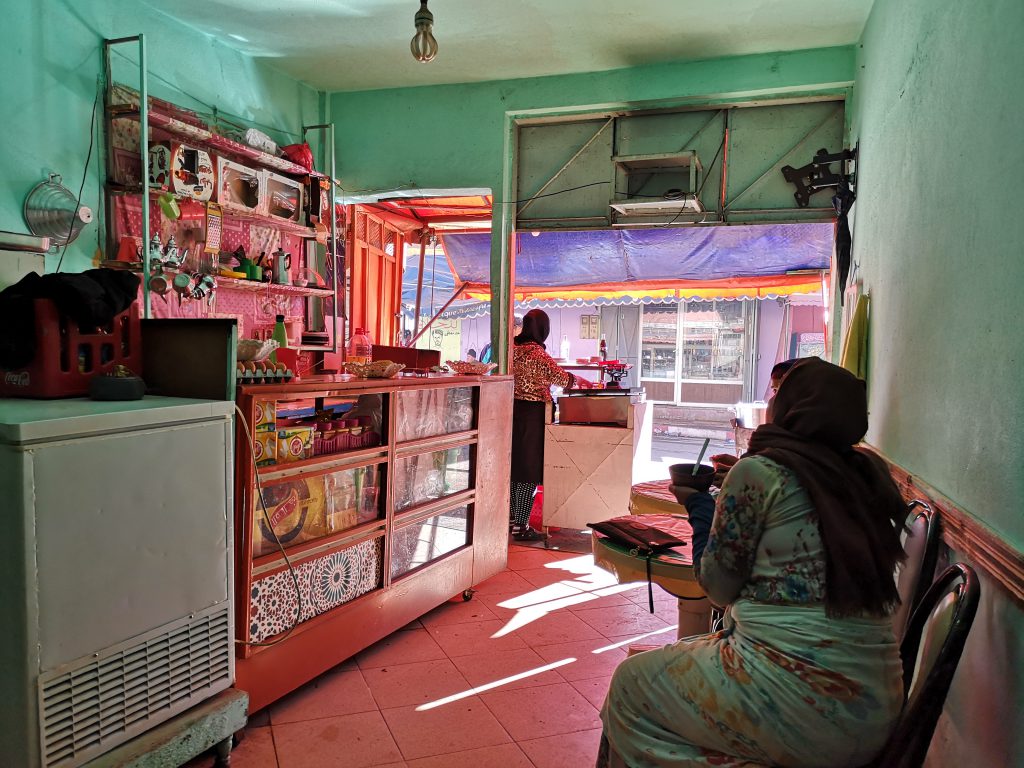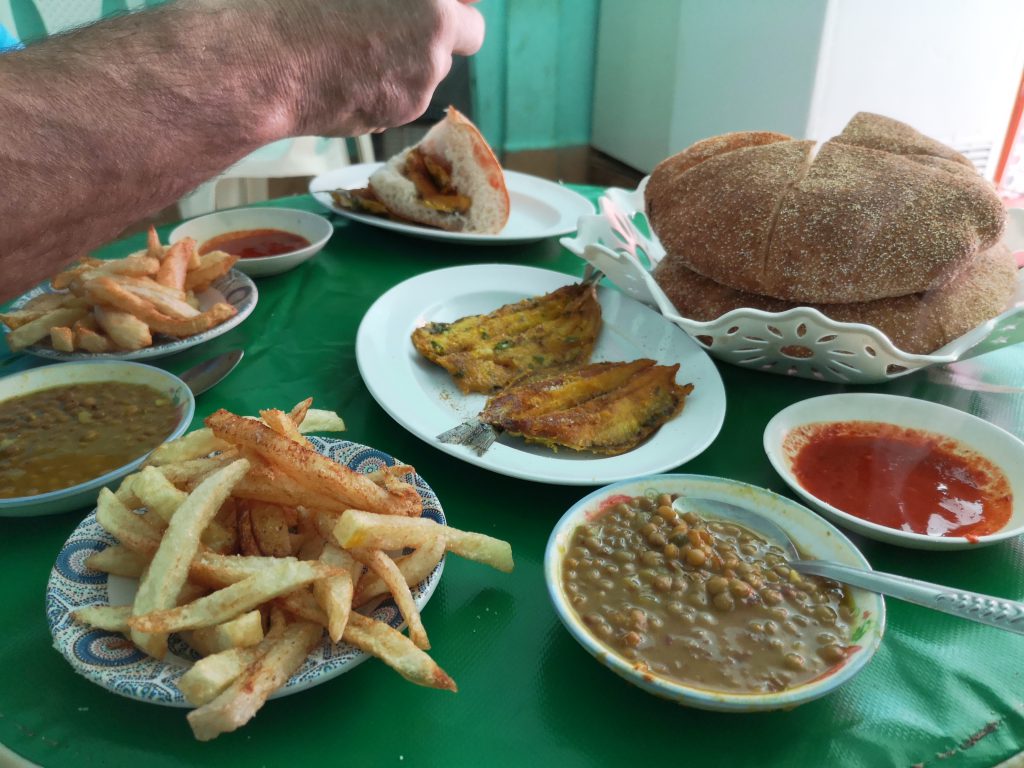 We really liked this stop even though the reason was a bit odd 🙂
After lunch the good news was that our passports were there and we traveled on to Meknes. Lahcen brought us to the rights gate to go into the medina to go to our Riad.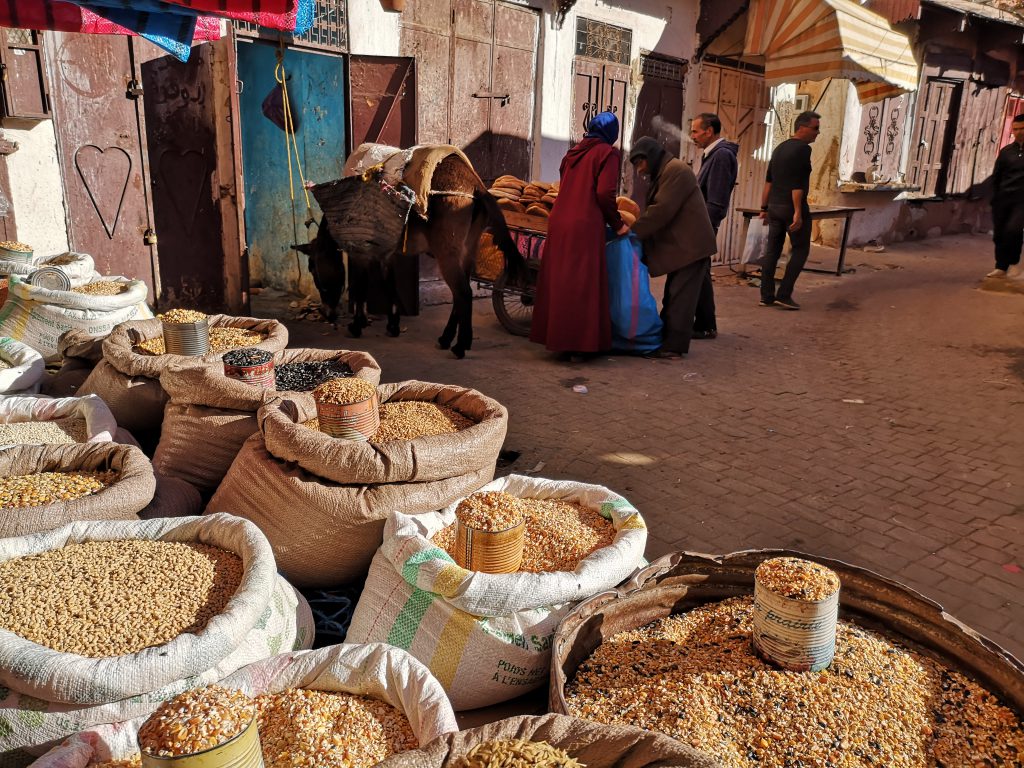 Discover Morocco in 4 days / 3 nights
What & How?
I booked this trip with Lahcen of Fes Cooking & Cultural Tours. He is really a nice guy and made a good business for himself. He gives also cookingclasses and I feel sorry I didn't took one!
He offers more trips. This was a short one, only 4 days. You can go on a trip of a week or longer with him. Lahcen made the trip fit our needs totally and that was great! instead of bringing us to Marrakesh, what most trips will do, we wanted to go back to Fes…but then on the last day decided to make it Meknes.. What was also good! Everything is possible!
Costs
I paid 370 euro / 4.000 Dirham for this trip pp. I really don't think that is expensive. The first hotel was just the best! Also our luxury camp, it was all I wished for!! The last hotel was improvised because of the change of trip and still was a descent hotel.
I can recommend Lahcen to the fullest. I haven't worked with him on this trip so, just as always, my opinion is not influenced by it.
Check my clip too!!
And if you are there….will you subscribe too?
Do you like this trip:?
Do share it with others!!
My bubble on the net is not that big yet so I would love it if you help me share the word!!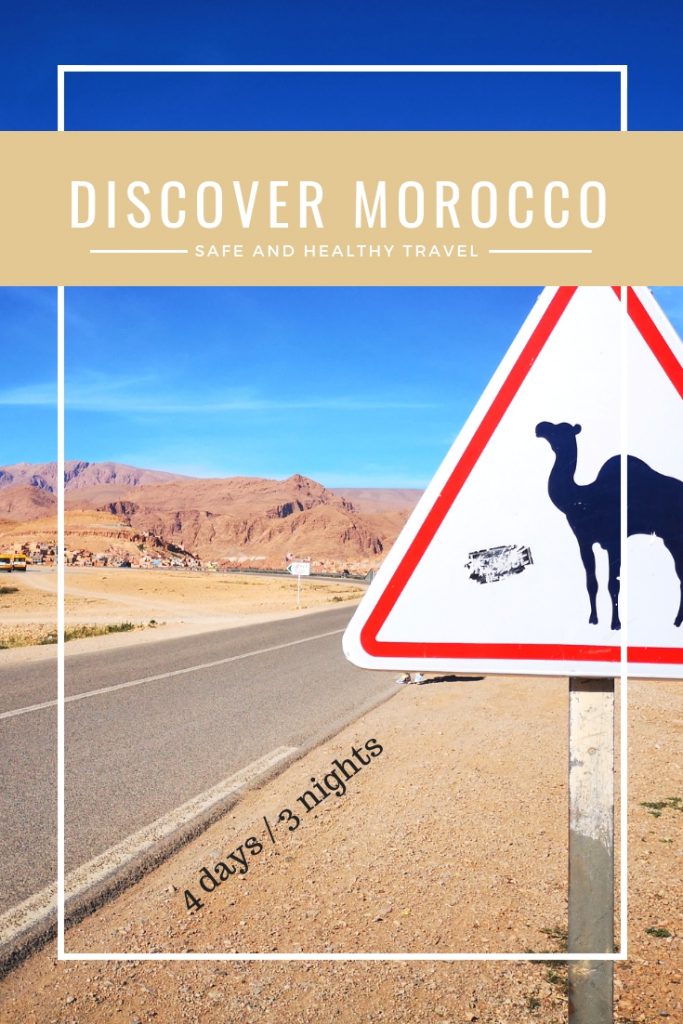 Want to read other adventures?
Biking In and Around the Old Souks of Marrakesh
Having dinner with the locals – ResiRest – The Gambia
Cycling to the Fish of Tanji – The Gambia
Spotting Whales at Hermanus Bay – South Africa
Or can I inspire you to do some volunteering?
I hope you love this world as much as I do!!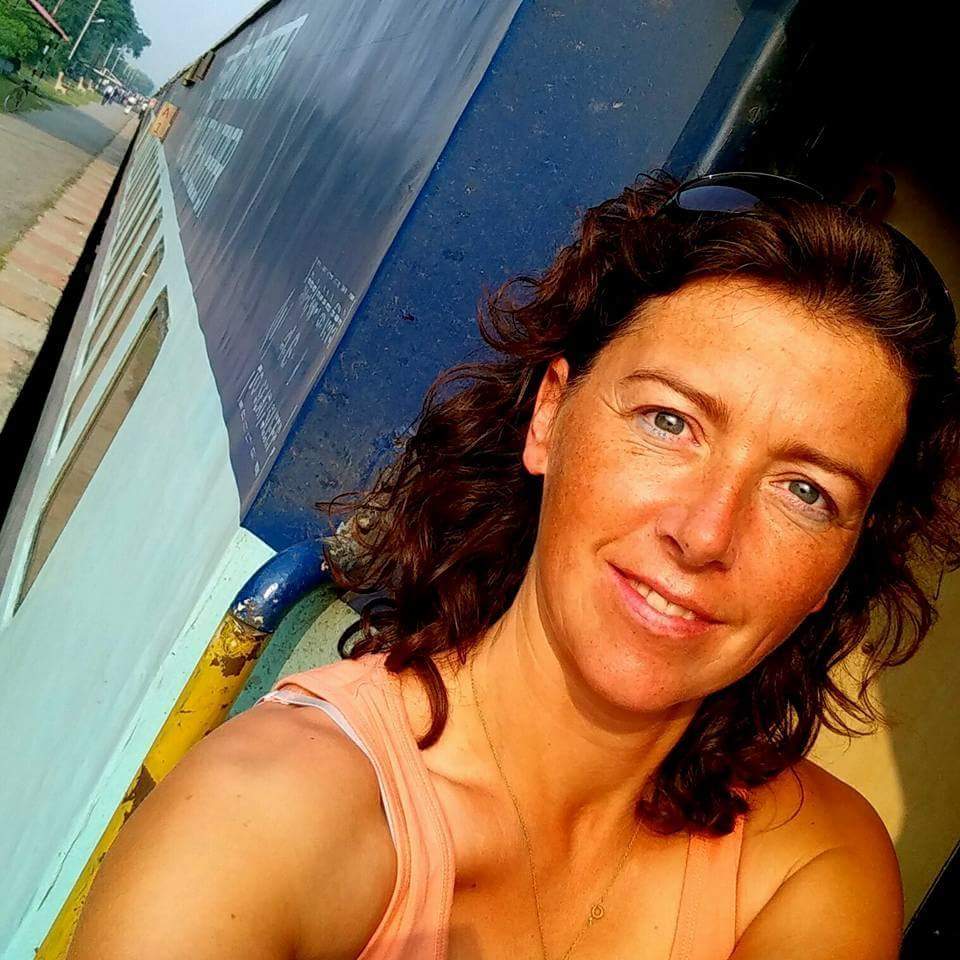 Jacomijn is een politieagent uit Nederland die jou graag laat zien hoe je veilig, actief en gezond de wereld kan over reizen. Safe and Healthy travel is a MUST