Exploring Bangkok – Thailand
|
Everybody loves Bangkok, the capital of Thailand! Most tourists will start their journey in this capital and so I think you need to know your way around for a bit! It is defenitily worth taking time! When I go back to such capital and know my way around it is so much better even!
Exploring Bangkok is the best thing ever! The city is big but you'll get your way around soon! Make sure to do it by foot, bicycle and boat!!
I always need to get to know a city to be able to enjoy it to the fullest and Bangkok grew on me!! I do love the city! I walked a lot, cycled through the suburbs and did some trips to know my way around and to be able ro roam the place by now without getting lost 🙂
Exploring Bangkok – Temples
Bangkok has a lot of Buddhist temples. The most famous ones you probably heard of, like: What Pho, Wat Arun, Wat Phra Kaew etc. They are a must ofcourse. I also visited some of those smaller ones you just stumble on. Those are beautiful too and I love the more local feeling about those!
I also did an evening/night tour and that does give the place that little bit extra!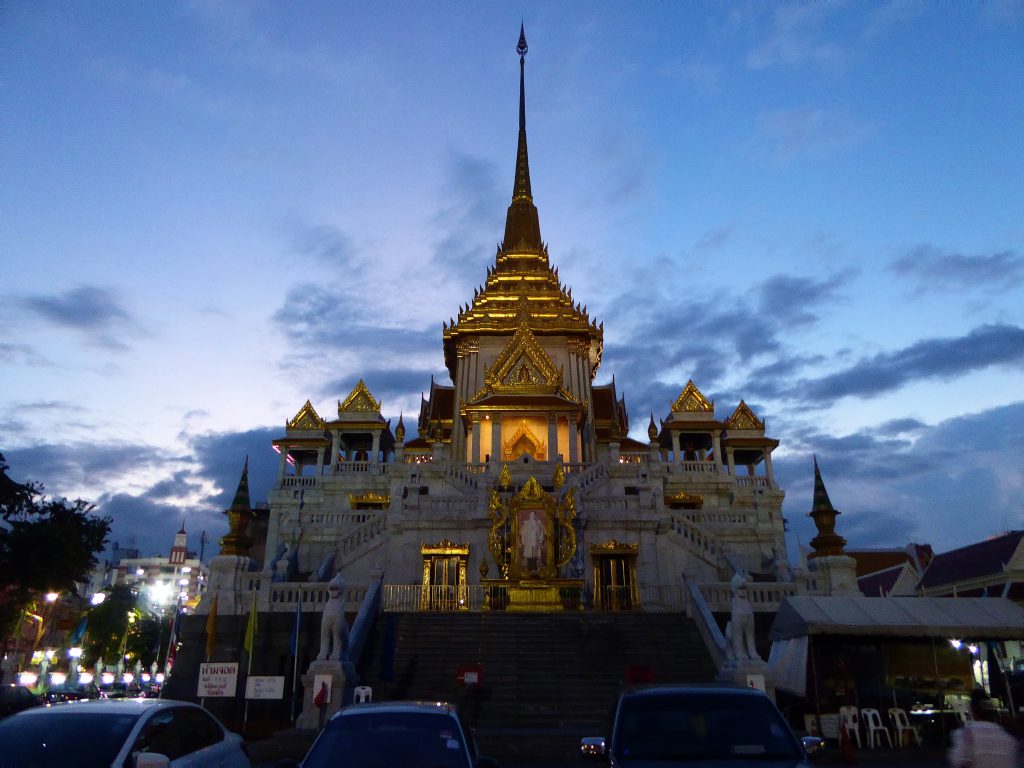 Wat Traimit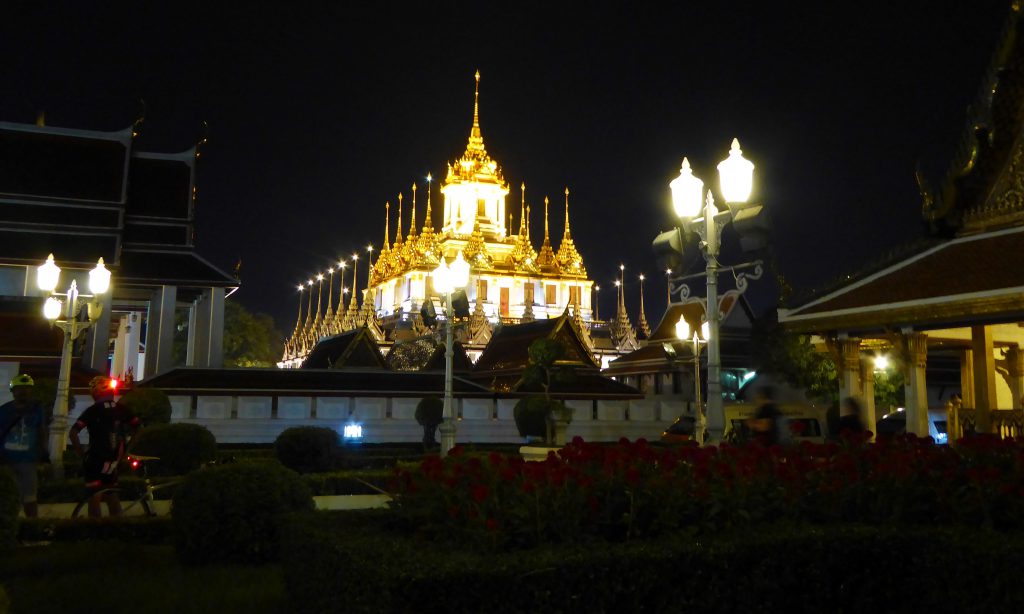 Wat Phra Kaew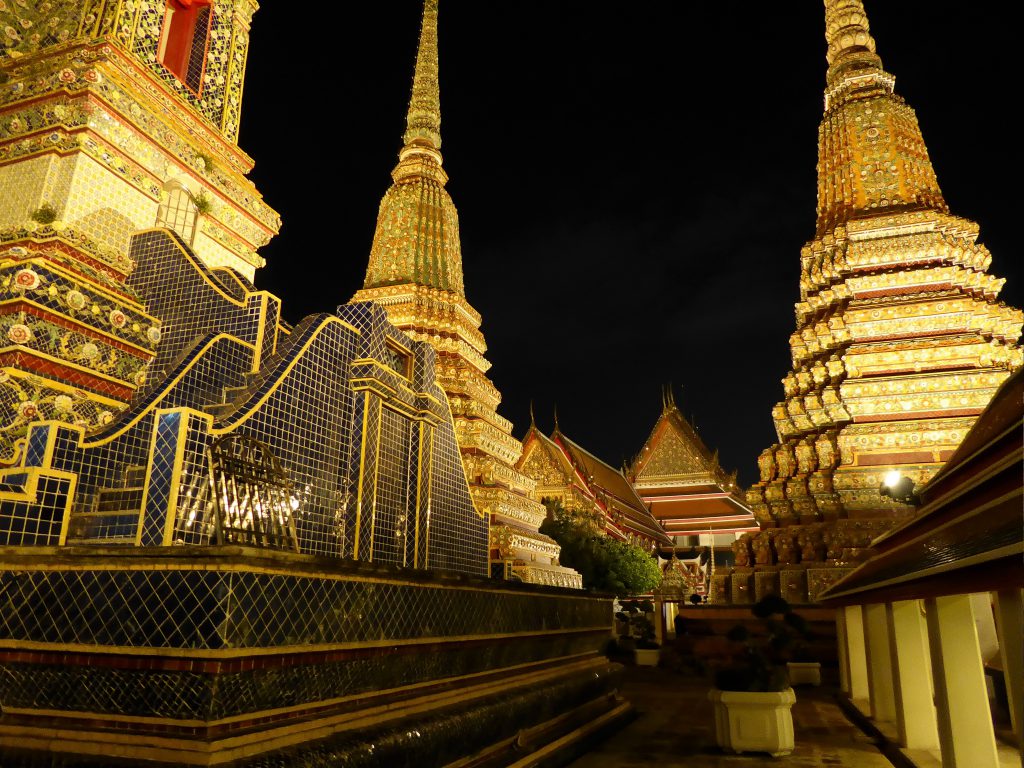 Wat Pho
Exploring Bangkok – Trying Streetfood
If you travel to Asia for the first time I can imagine that you are a bit scared to eat the food offered on the streets. My experience with Bangkok is very good, they are clean and hygienic enough to eat at. And the food is just the best!!
I came in B angkok after traveling through India and I was so surprised about how clean Bangkok was 🙂 I do understand that you don't have that perspective but believe me…when the locals eat at a certain place, it is busy? Go eat there!!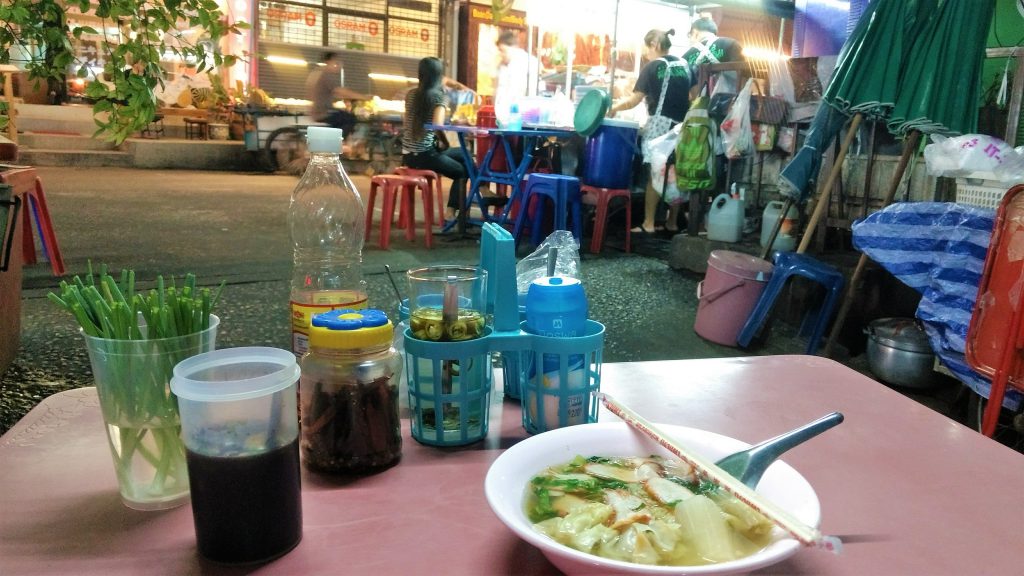 @ Sukhumvit Road
@ Khao San Road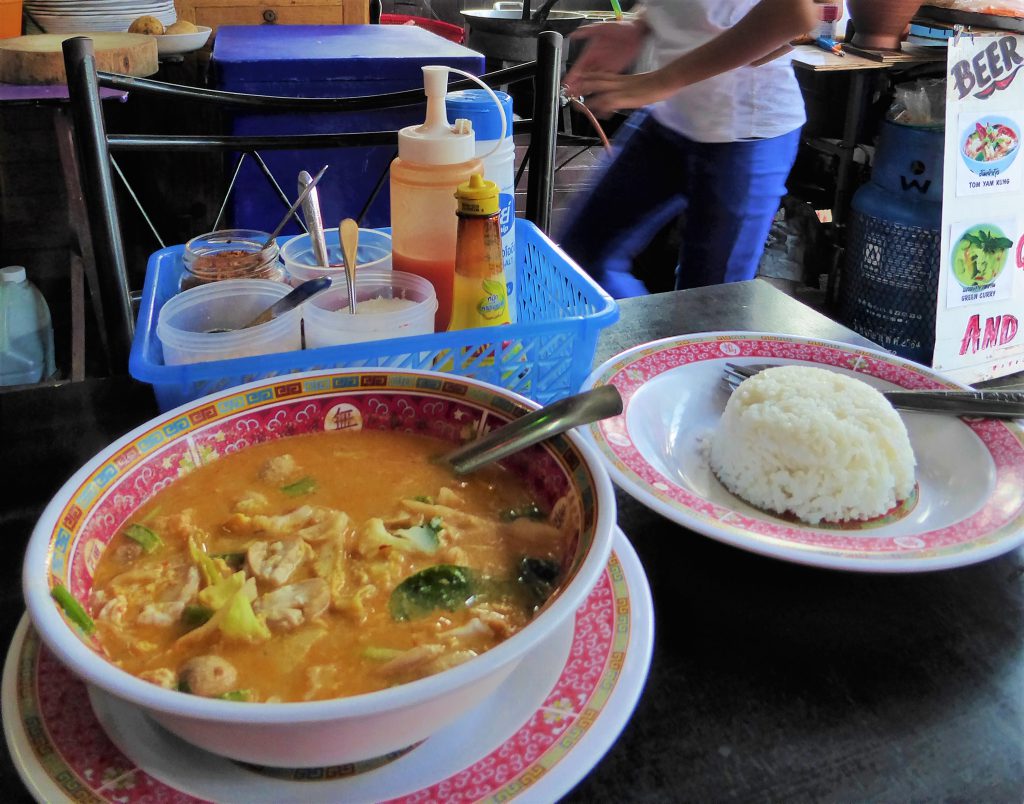 It is cheap and gives you the best local flavours!!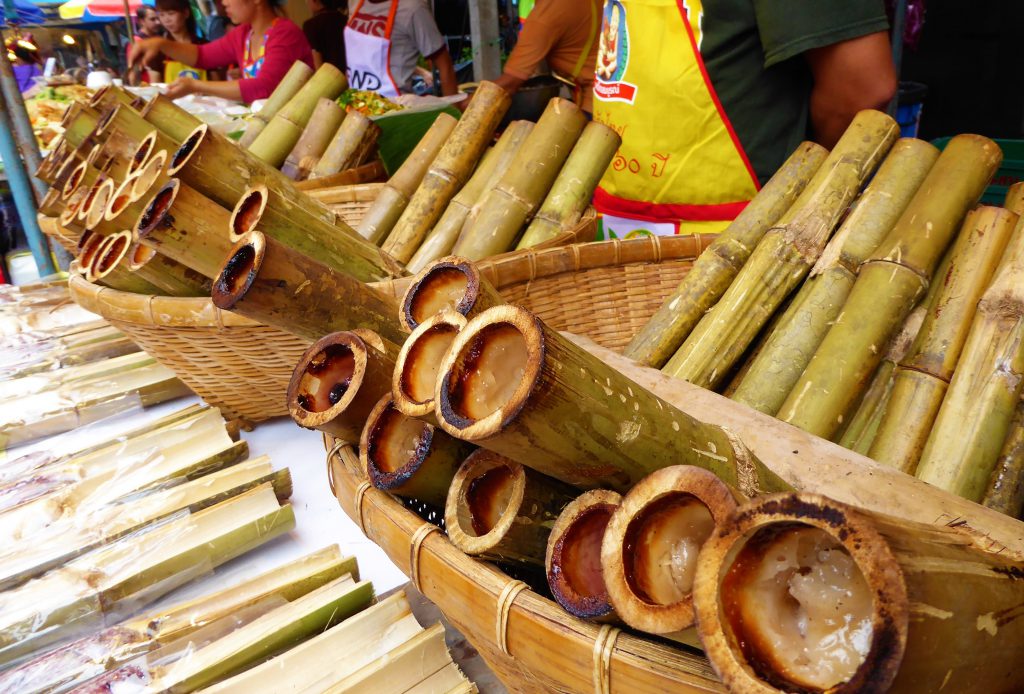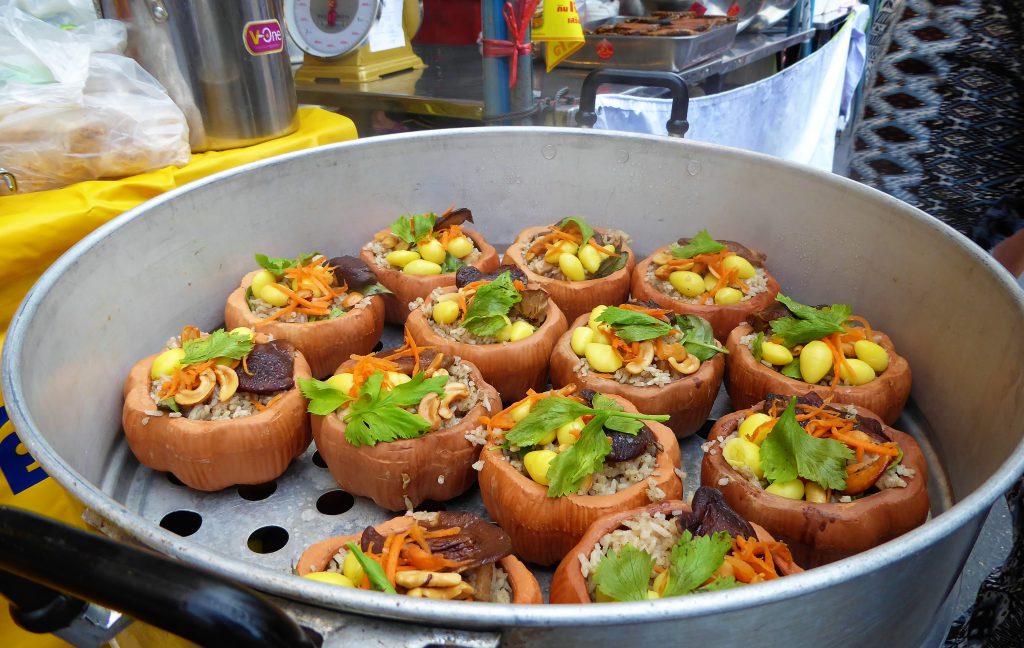 Exploring Bangkok – China Town
China town is alive and kicking in every place and so it is in Bangkok. I love the busy streets and the tasty food. Go walk around and be amazed!!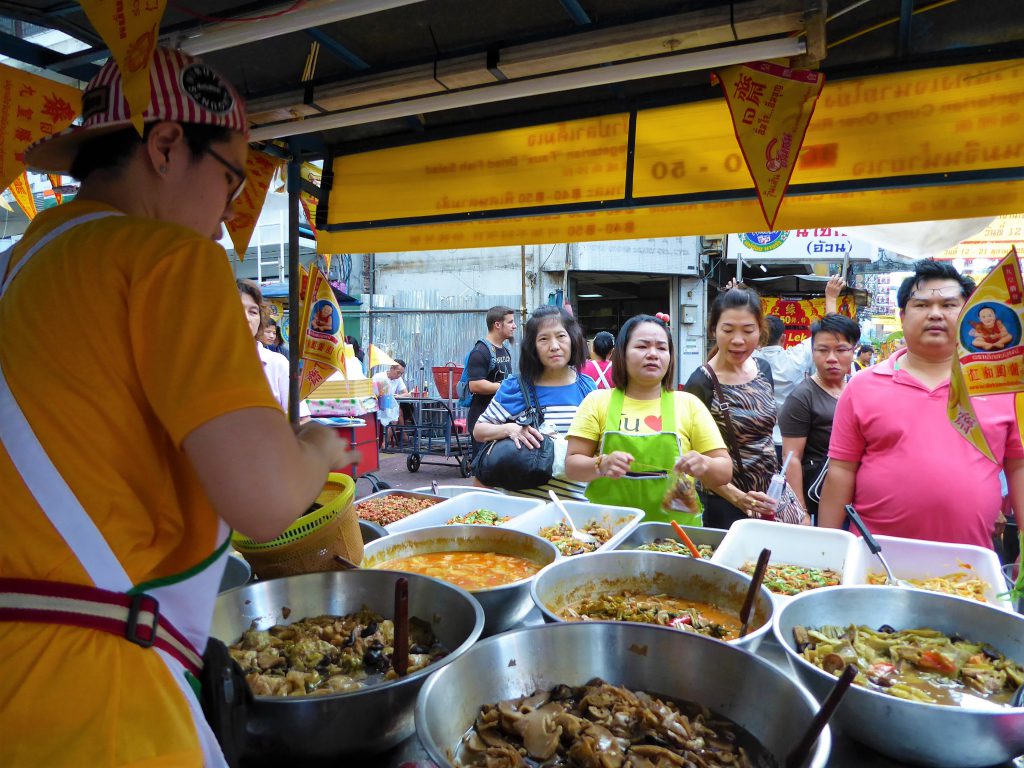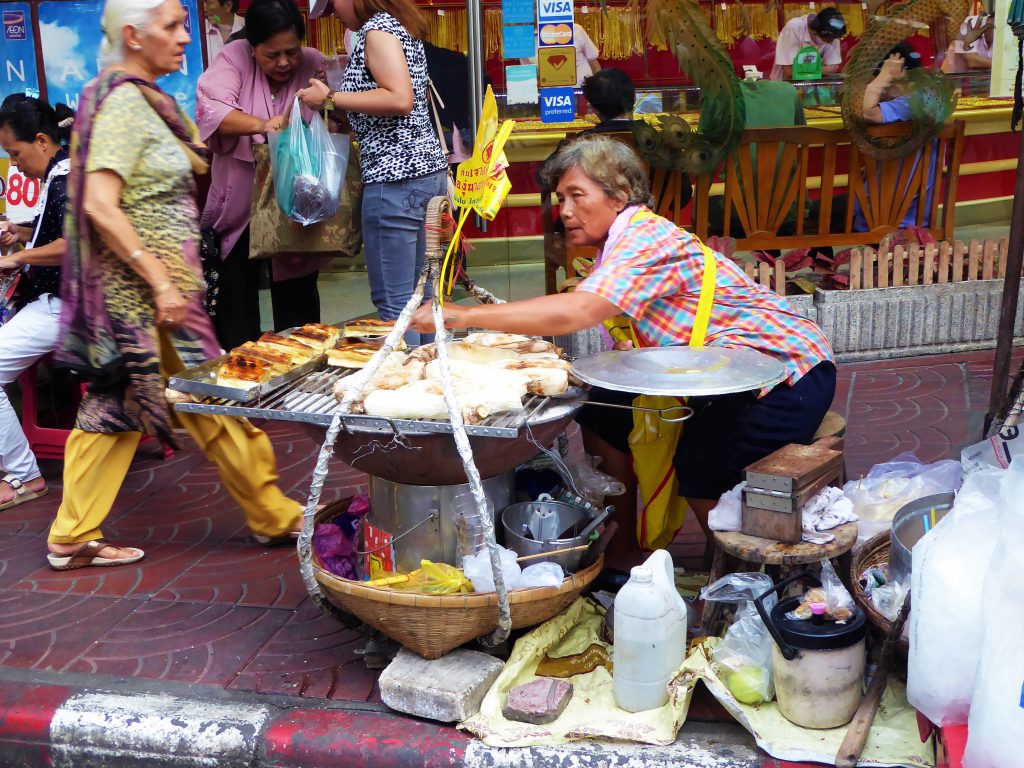 But most of all go wander in those small streets where only the locals dissapear in. It is not prohibited…it is just not a place where most tourists go look.. I do and I love that!!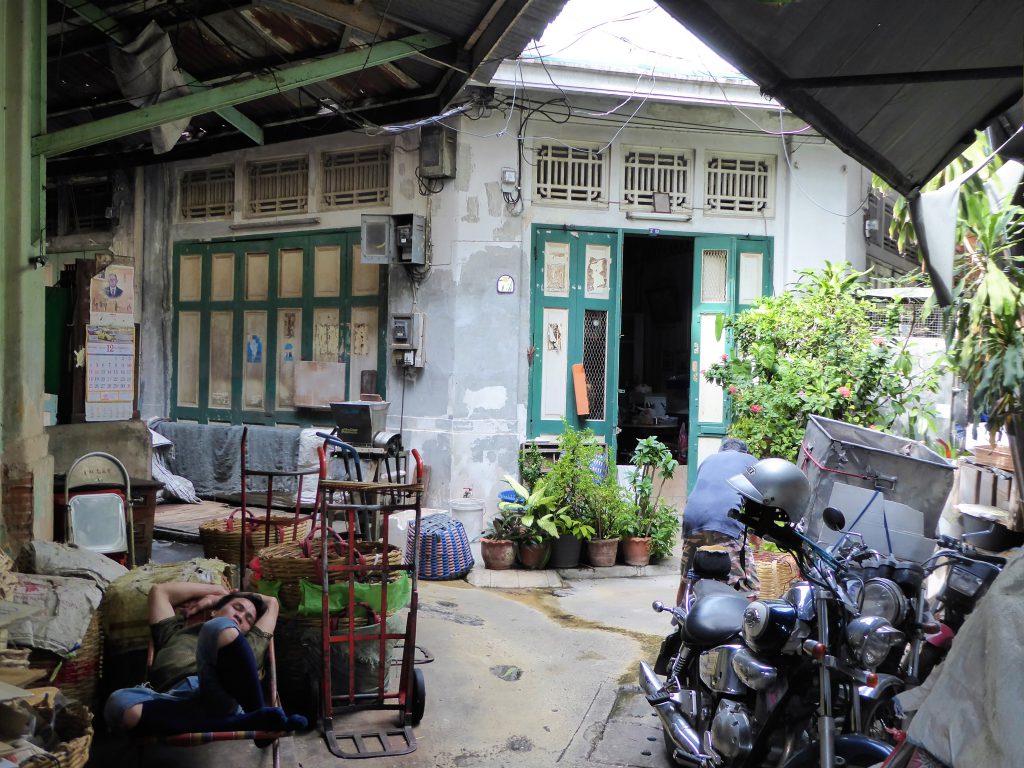 You'll get to see the real Asian relaxed afternoons 🙂

Just lying around and getting a nap!!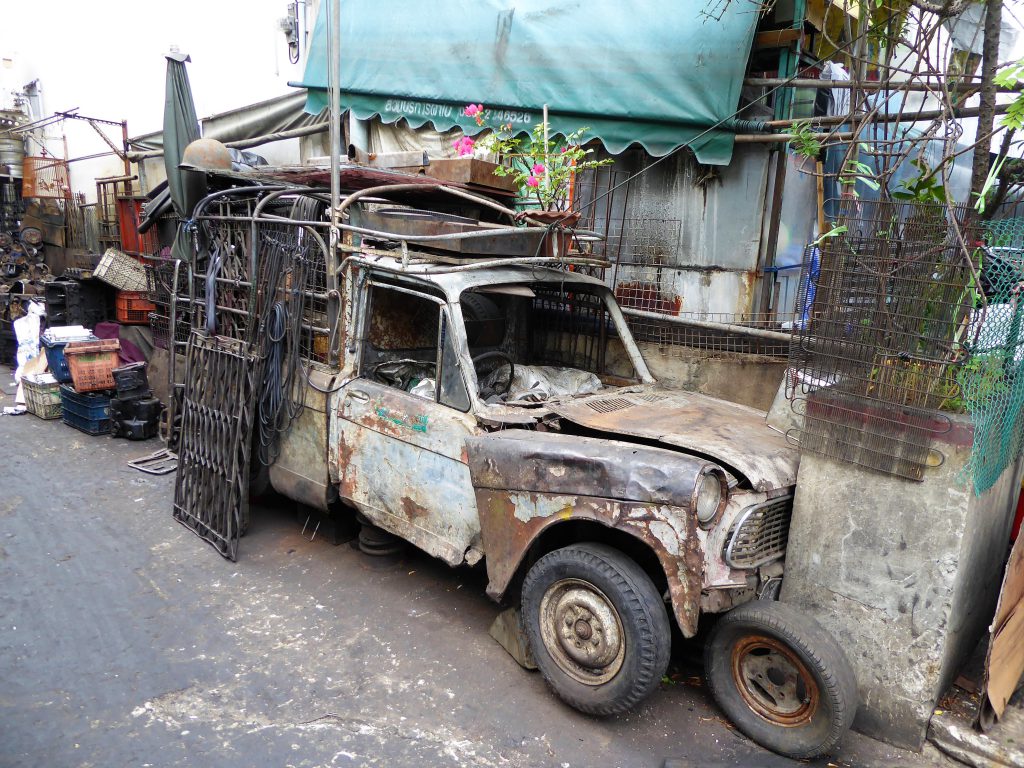 Exploring Bangkok – From the Khlong..
Looking at a city from the water is different. So I can recommend you to take a tour and use the boats to visit the Khlongs, see the local life! You will visit the suburbs you wouldn't come if you stay in the busy touristic centre, see some local shops and schools! You experience a little bit of the local Thai life. I think it is a must do in Bangkok!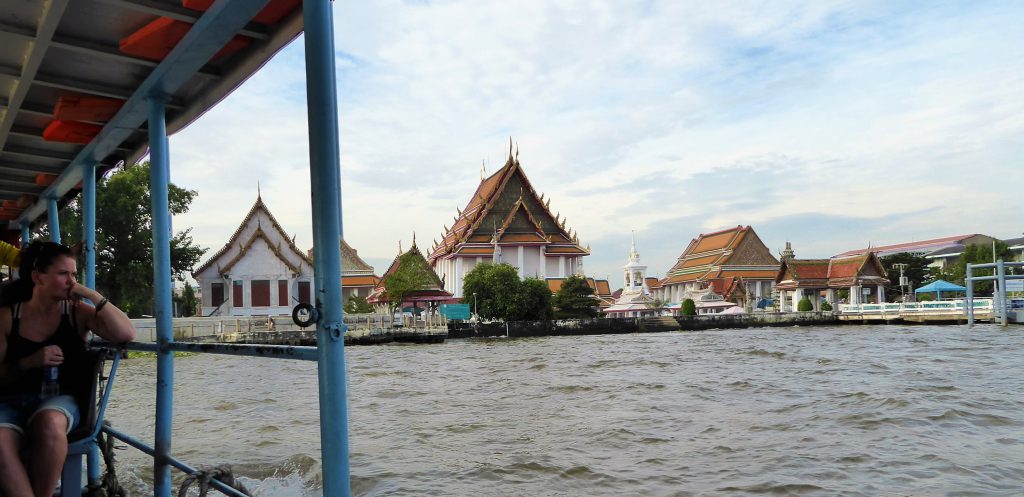 View on Grand Palace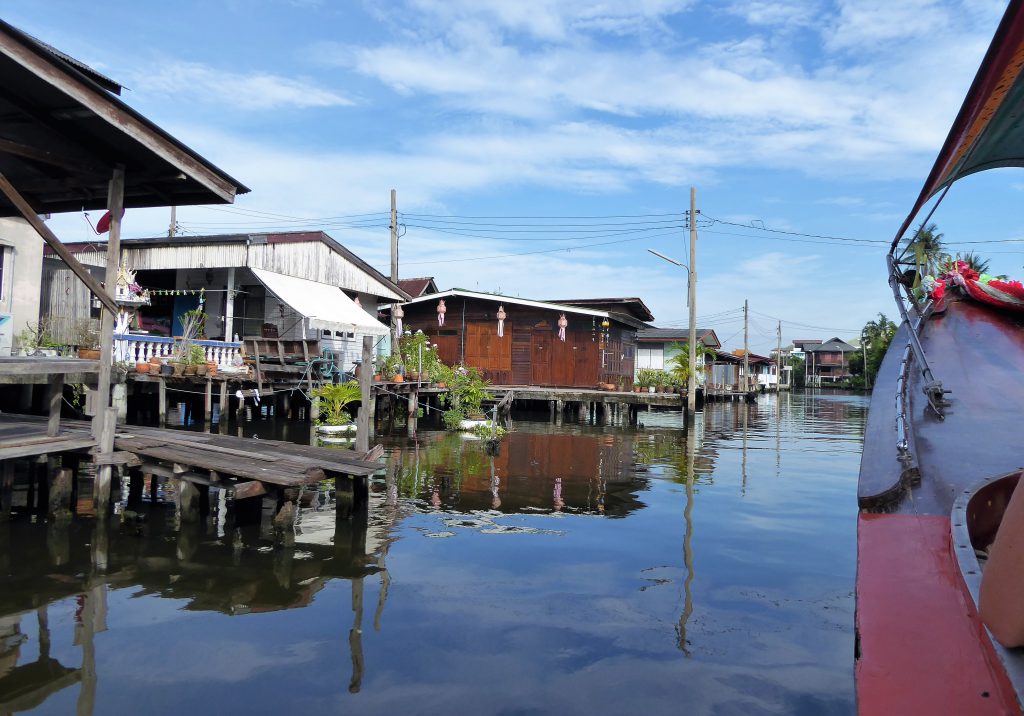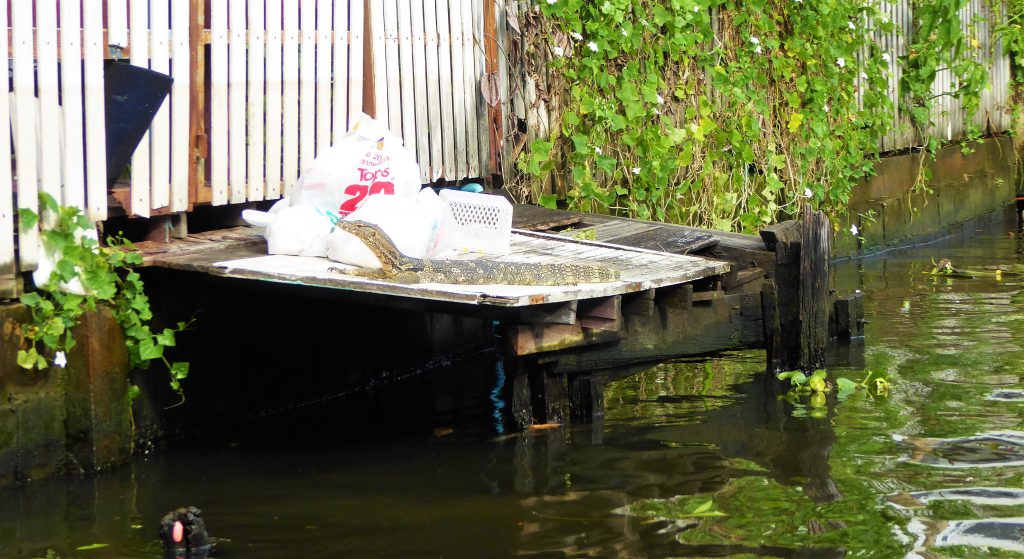 Look at this big varana, they are swimming or sunbathing all over the place! This was a platform at a resident on the shore. So yes, also in a big city as Bangkok you can spot some wildlife! And big also!! Couple of years ago I walked in Benjakiti Park, next to Queen Sirikit National Convention Centre and I saw a huge one swimming in the water. And that is in the middle of the bustling city centre!!
Exploring Bangkok – Baiyoke Tower
A great building to get a birds eye view on the city is Baiyoke tower! It has 84 floors and is 343 mtr high so you can imagine the view! On the 84th floor you can stand in open air to get some good shots. You won't be behind glass and just enjoy the wind, heat and view 🙂 If you get hot again just  lower to the 77th floor and walk around and look at some historical facts. After you can enjoy a drink or something to eat too. There are multiple options for tickets!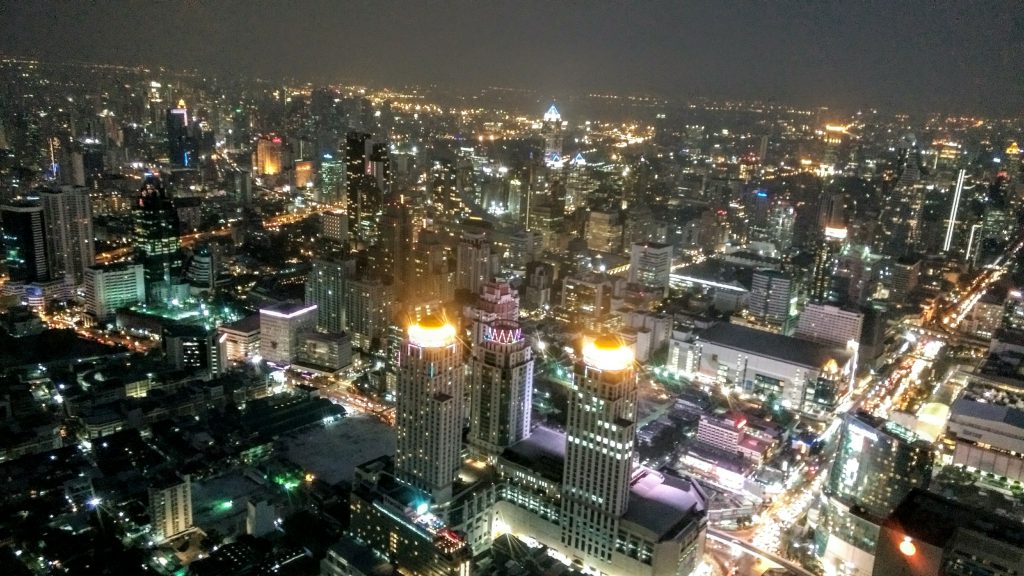 Exploring Bangkok by Bicycle
Cycling through a city is always good. I cycled on the famous yellow of Co van Kessel! Co has past away but he is still alive in the company through the imployees. He was a famous Dutch guy that started this company and they are still really happy with what he started. He started to explore the suburbs by bicycle and at some point he decided to start a business to show the tourists every day life as it was so interesting to see!! The Co van Kessel tour has a lot of option to go into the city, outside the city or going for specific area in the city. It is a great and fun way to explore the city of Bangkok and its locals!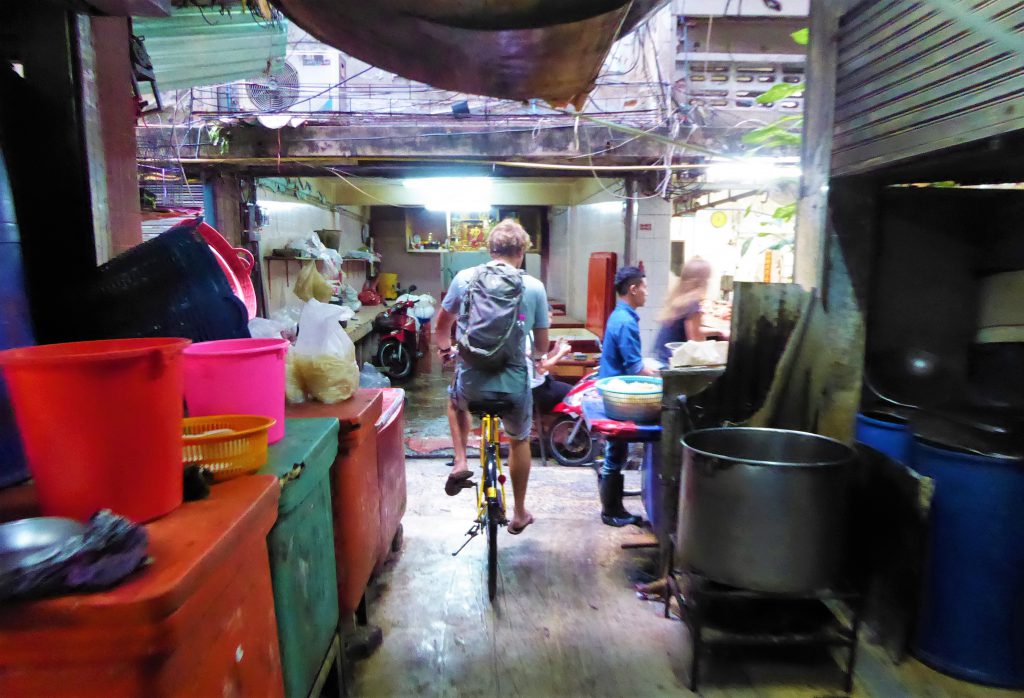 As you see you'll cycle in really narrow streets of Bangkok! And see that big pan? It is boiling! So look out for streetkitchens!
I think you'll skip these streets as a local …let alone that you will go in them on your bicycle!
I loved it!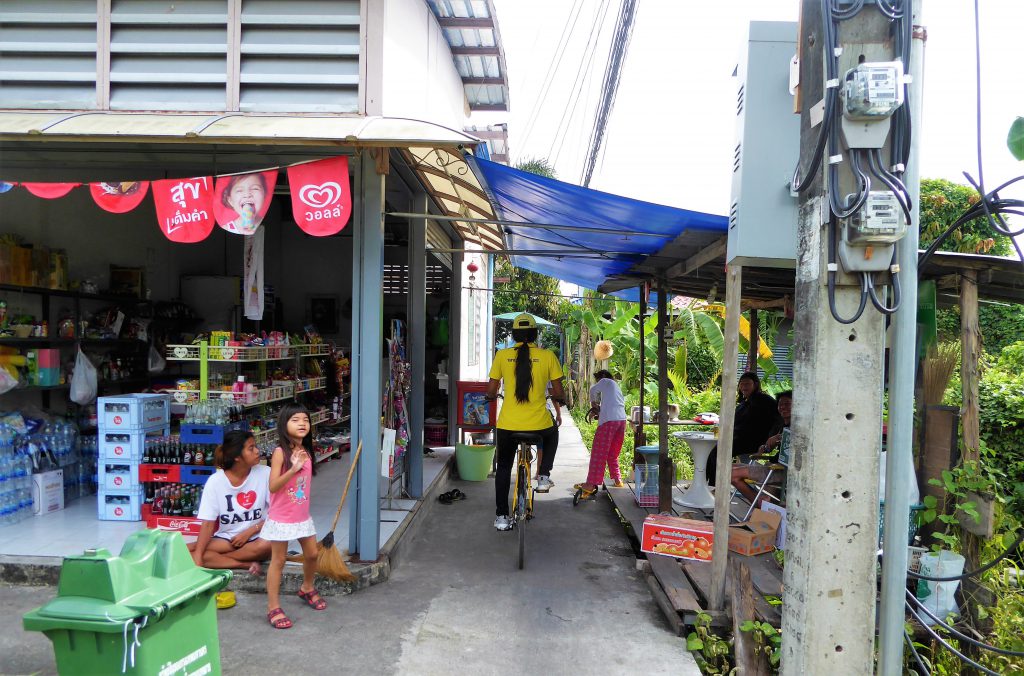 Exploring Bangkok – Grand Palace
Grand Palace is a must visit! Learn about the history of Thailand and understand its culture. If you stay in or near Khao San Road, where lots of backpackers are, you can go walk towards it. It's a 10 minute walk. The first time I visited Bangkok (2005) I went inside but when I came for the last time it was too busy. King Bhumibal had passed away and the Thai came to pay their respects. It was too busy for me to go in again.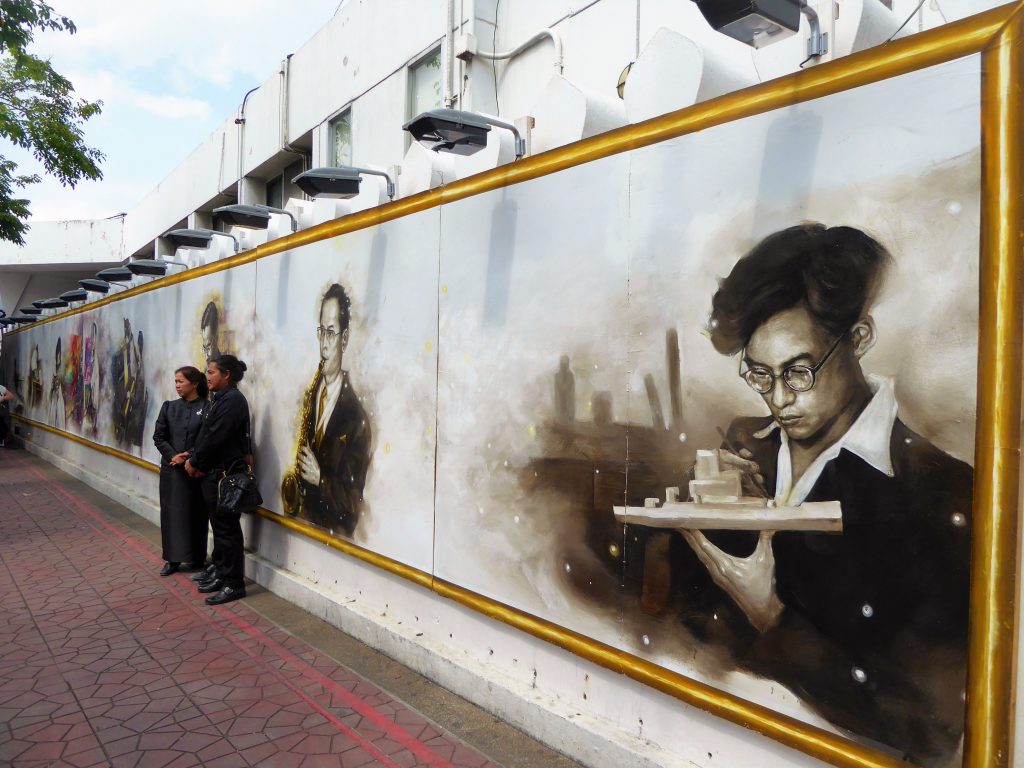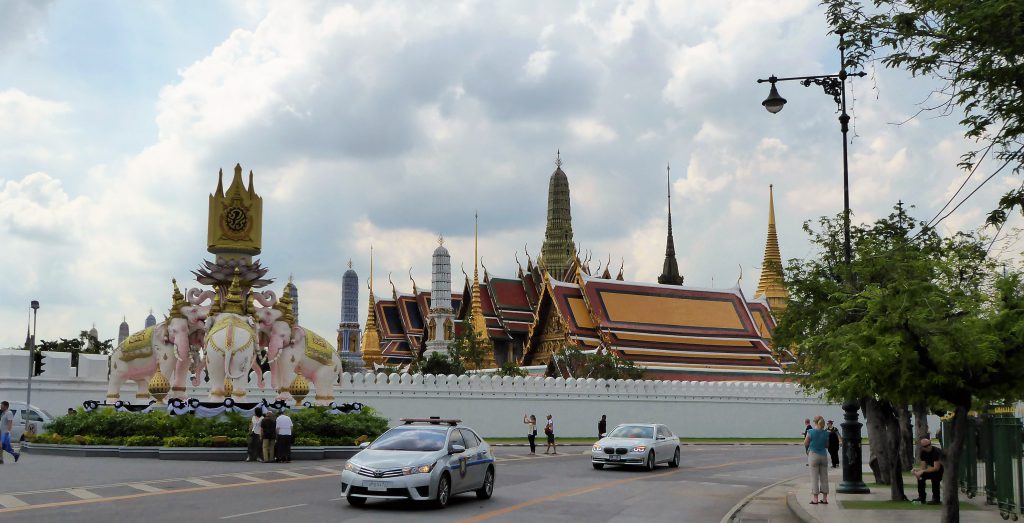 Exploring Bangkok – Sukhumvit Road
I love Sukhumvit Road, it is a great street. It is a bit more expensive and more luxurious in comparison to Khao San Road. You can find the best streetfood, restaurants and massage here. What else do you need while traveling?
Looking throug my pics I see I only enjoyed that to the maxx and didn't even made a good pic to show you the street 🙂 I stayed here for 2 times and multiple days 🙂 haha!! Believe me, it is a great street to enjoy your eveningstroll and get some great food!!
Exploring Bangkok – Khao San Road
Khao San Road is the most famous straat of Bangkok and a must visit because of that. I do like the surrounding streets more I must say. The area is a great to explore in an afternoon, shops, temples and before you know it, it is time for dinner!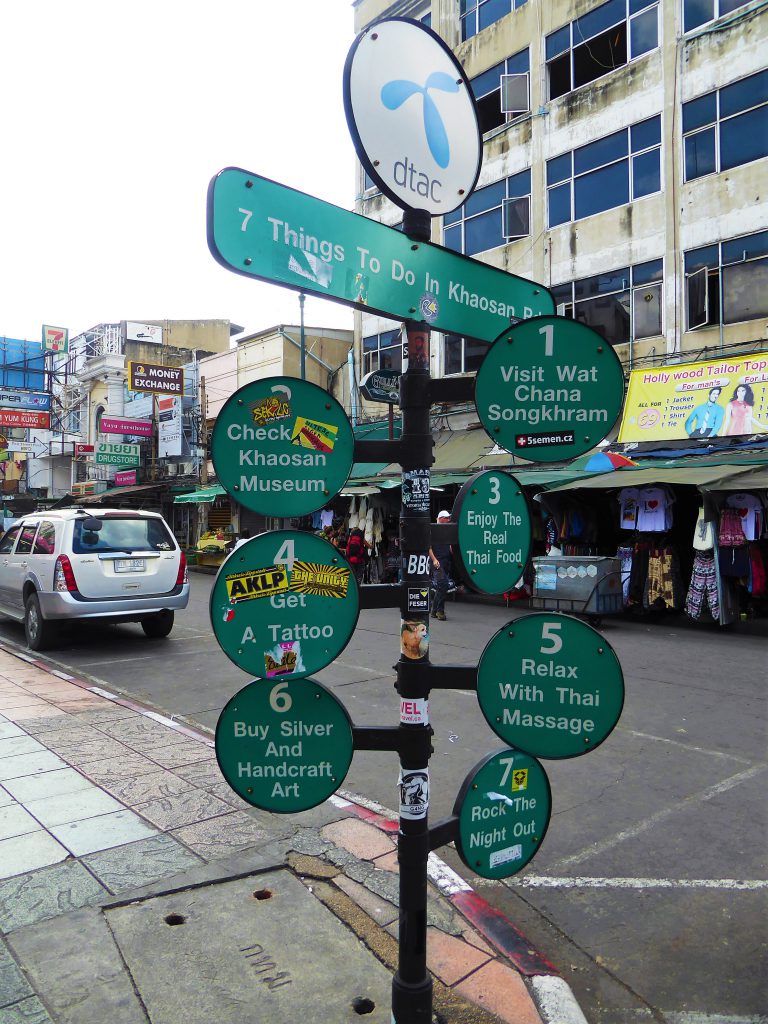 How to get around Bangkok
Metro MRT Metropolitan Rapid Transit / BTS  Bangkok Mass Transit Station Skytrain has great tracks around the city.
But how about sitting on the back of the fast scooter. I downloaded Grab and had choices between a car or a scooter. Being a solo traveler the best and cheapest choice is the scooter. And ofcourse also the quickest choice!! I loved it too!
Which hotels I liked – Bangkok
I stayed in this great hotel in 2015, it has doubled (or more) its price since. I can't, or more, won't pay the price now. But I really liked the room, sportsfacility and the pool in the garden!!
So when I came back later I booked Woraburi Hotel also with a great swimmingpool. It is a bit older and because of that not spotless. But it was great relaxing at the end of the afternoon before going out for dinner in Sukhumvit!!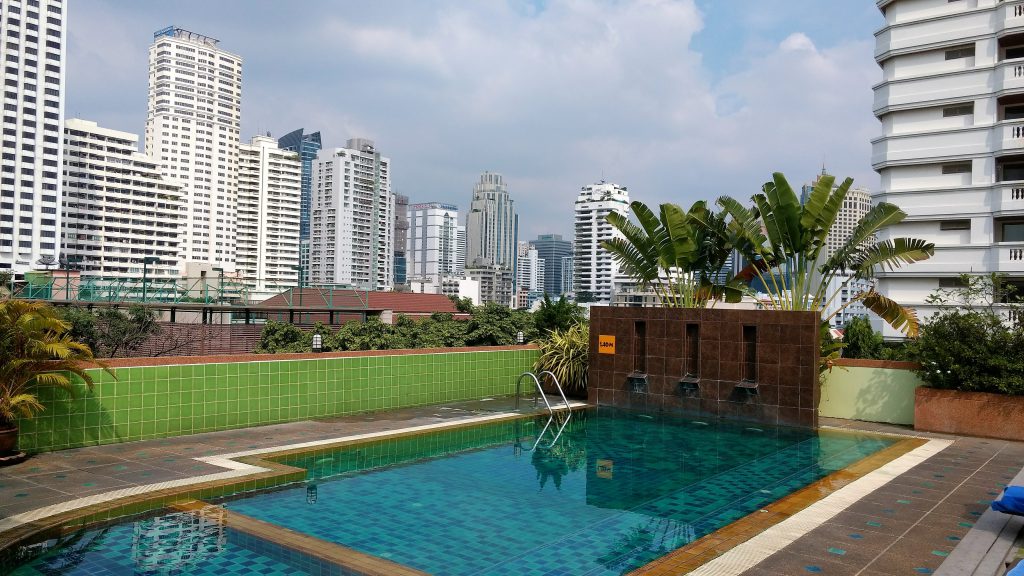 When I was in Bangkok again that same year I decided to chose another area. And I found Charlie House! I loved it! It has a great garden and swimmingpool! It is in walking distance of Khao San Road, passing the Pinklao Brigde with view on Rama III Brigde. The street walking towards the hotel is filled with shops and restaurants!! i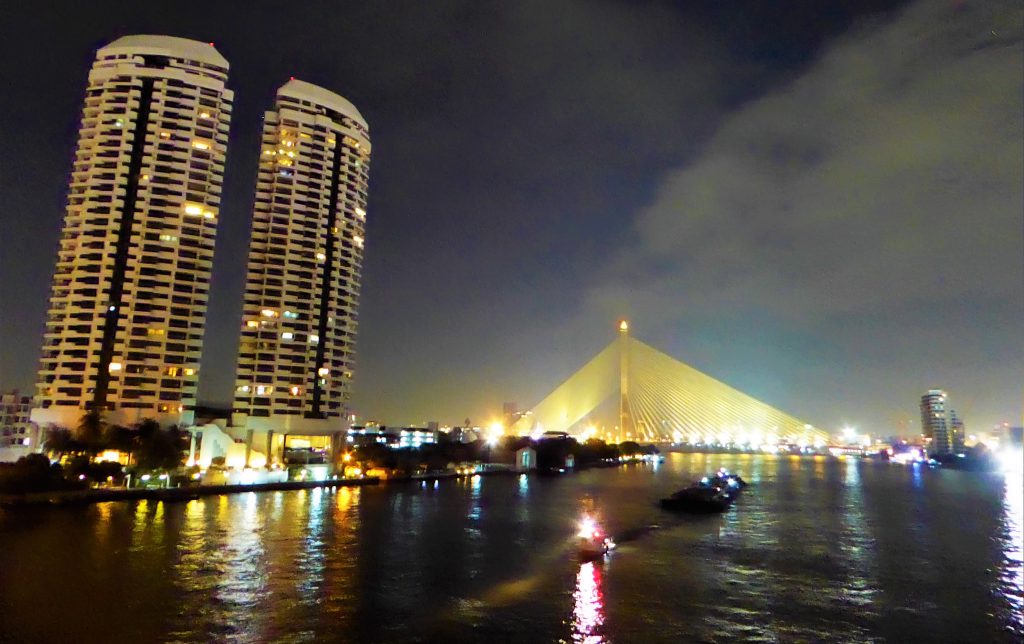 Poor quality…. But you'll get the picture right?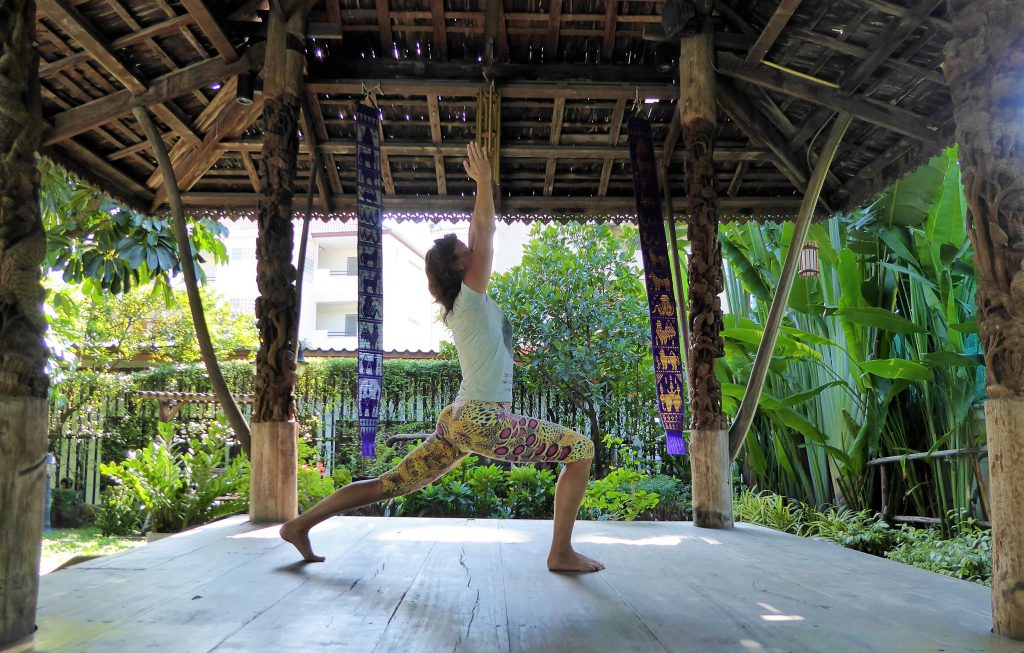 Just a small workout in the gardenhouse next to the swimmingpool!
Safe these tips and share with others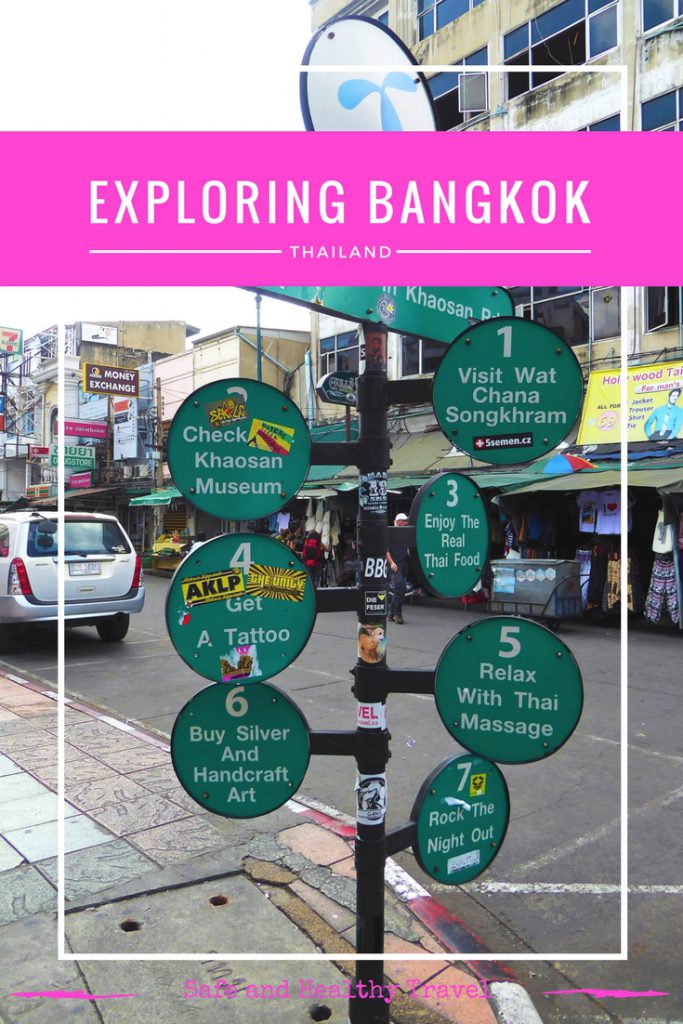 Curious about my adventures in Thailand?
Want to  make some great Thai food? Go to Silom Cookingschool in Bangkok!
Getting my Open Water PADI on the island of Koh Tao – Thailand
3 dagen in het Khao Yai National Park (only Dutch)
Do read some of my other adventures on the great earth!
Walk along the sights of Copenhagen – Denmark
Walking the Camino Frances – The first 200 K
The mysterious Plain of Jars – Laos
Early Morning Activities Hoan Kiem Meer in Hanoi – Vietnam
Or can I inspire you to go cycling?
I hope you like this world as much as I do!!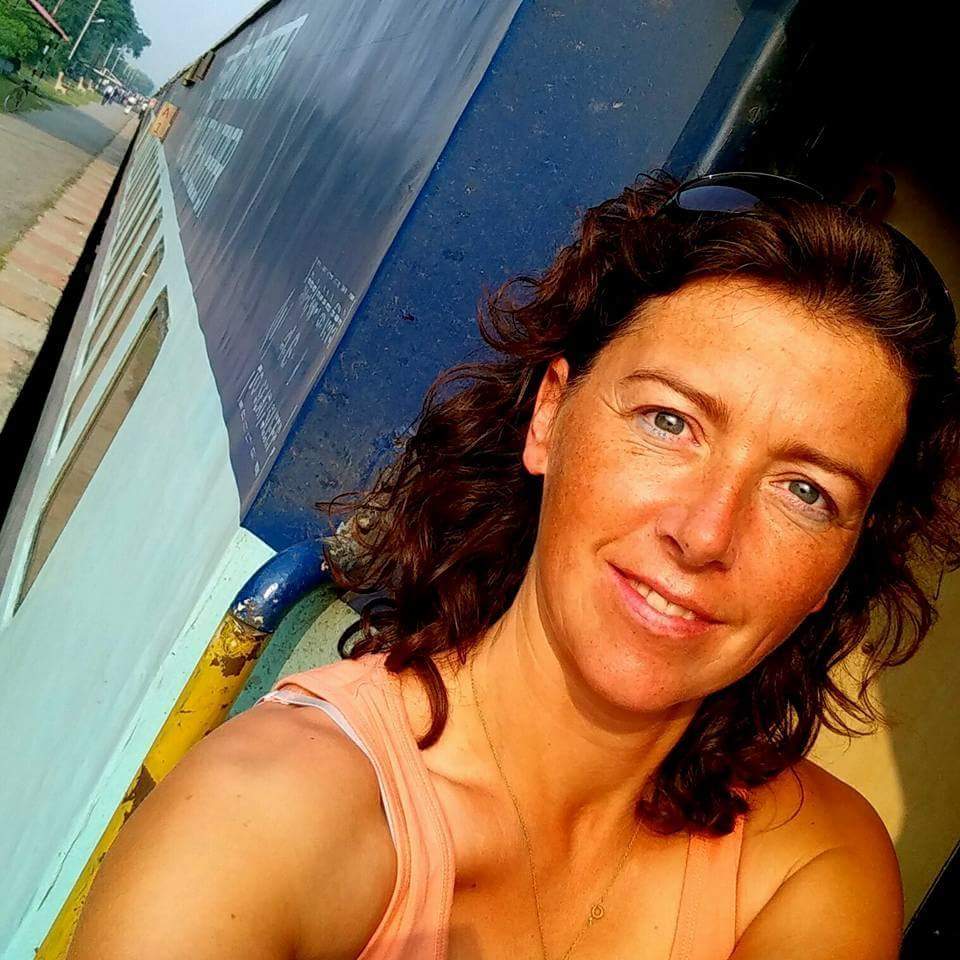 Jacomijn is een politieagent uit Nederland die jou graag laat zien hoe je veilig, actief en gezond de wereld kan over reizen. Safe and Healthy travel is a MUST