Hiking in the Wadi Shab – Sur, Oman
|
If you start searching for Oman on the internet, you'll soon arrive at great nature in the form of the many wadis!  A wadi is a river valley and that makes it great to hike and swim! I will take you on my adventurous hiking in the Wadi Shab in this blog.
For me it was the first time I was introduced to a wadi in Oman and it made me very happy! So after this I went to do 1 more: the Wadi Tiwi … and I'll give you
Read about that avdenturous travel in Oman.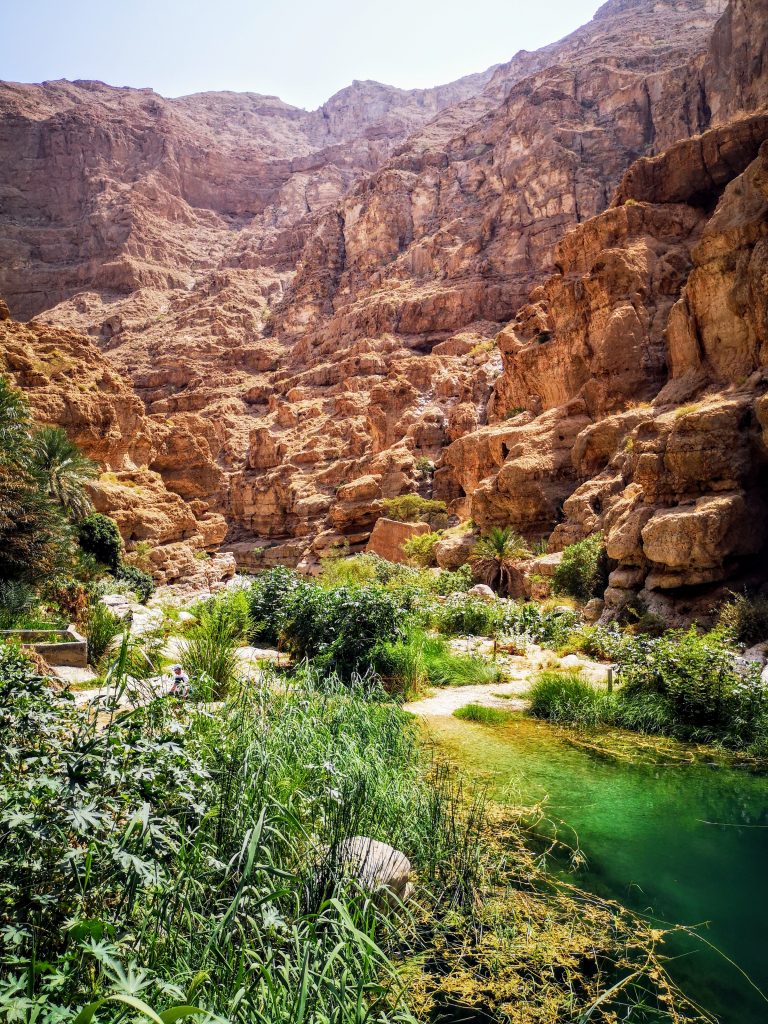 What's a wadi?

A wadi is a river valley that is largely dry for the year. In the wet periods there can be flash floods in the wadis and you should definitely take that into account. So it is always good to go into a wadi with a local guide.
That morning our guide Abdullah from Blue Skies of Oman told us we were going for a walk and we felt like it! That day before we had spent the whole day in the bus and car, so we could use some exercise. Just before we got there Abdullah asked us if we had our swimwear on.
Eh no? Did we have to?
Abdullah hadn't told us yet and I wasn't well prepared I found out. We were going to swim the last stretch in the wadi! Luckily we had all our luggage with us and we could change in a public toilet building. This one is close to where we took the boat across the water to start our hiking in the Wadi Shab!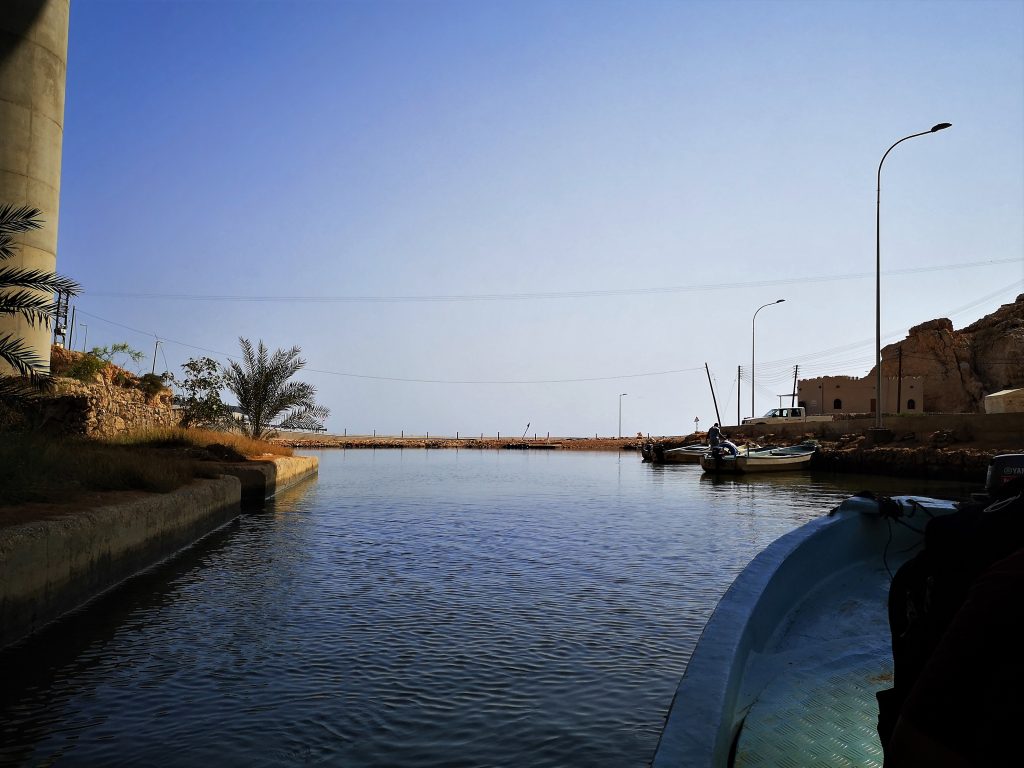 We had plenty of water with us, I had a waterproof bag with us in which we put our smartphones and our towels and then we were ready to go. We walked between two high cliffs and in front of me I saw a long path we were going to follow.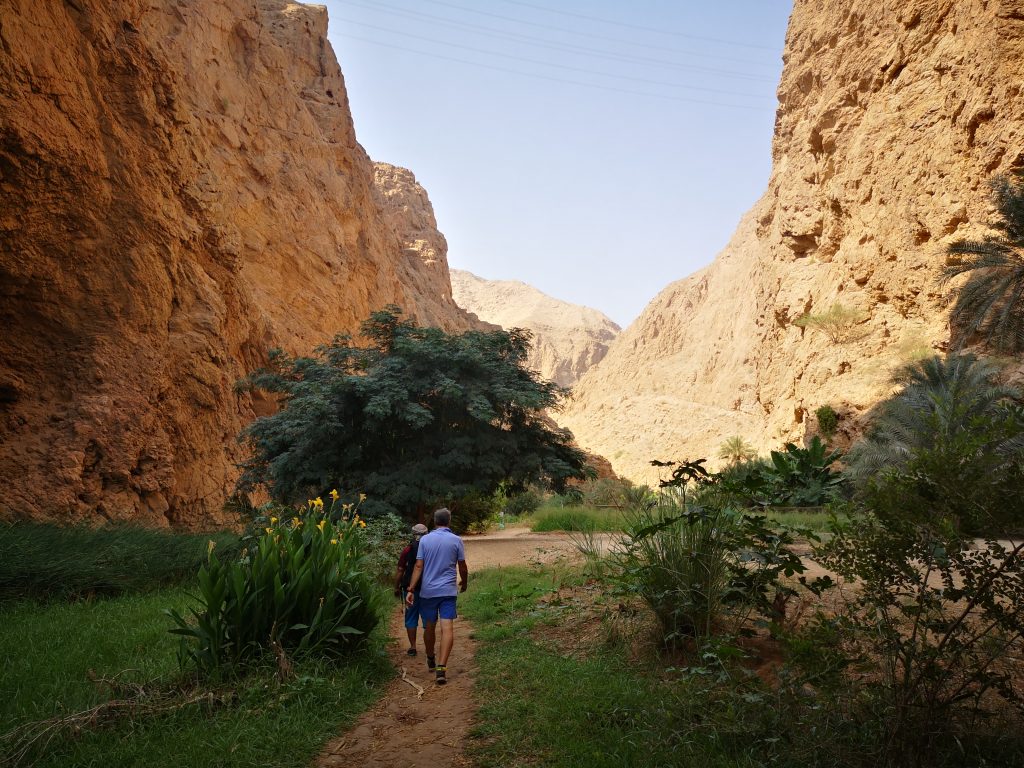 Hiking in the Wadi Shab
The path now ran past an orchard and I saw vegetables that were being grown but it didn't take long before we only saw all the shades of beige and brown of the earth with a beautiful blue sky in the background.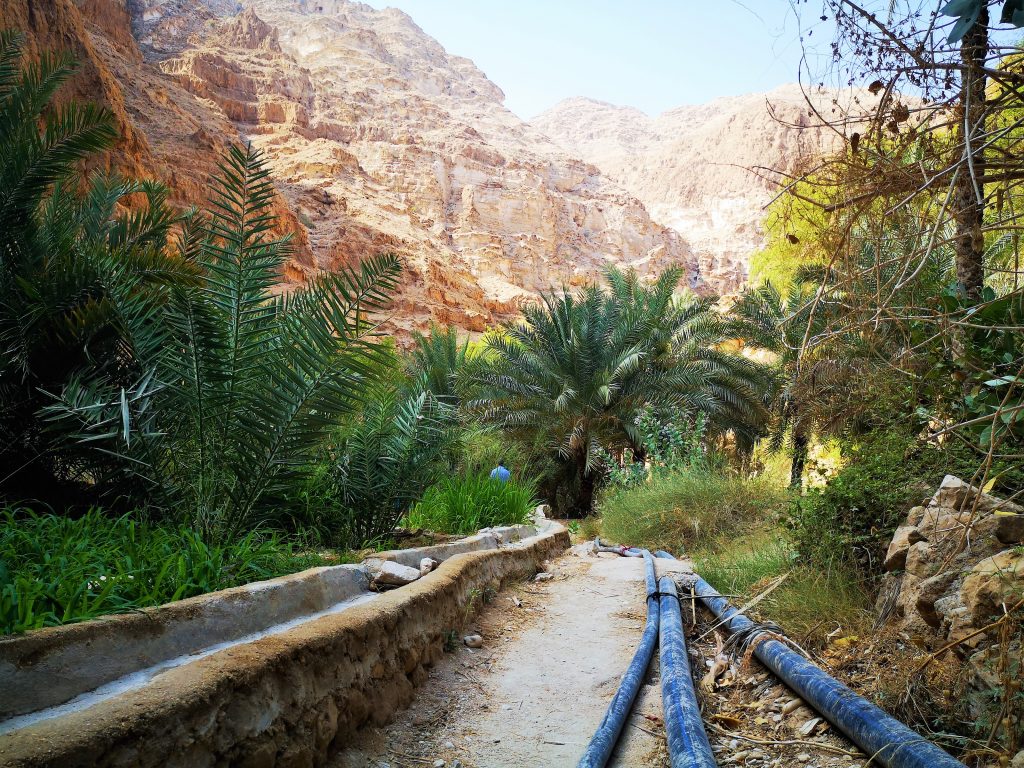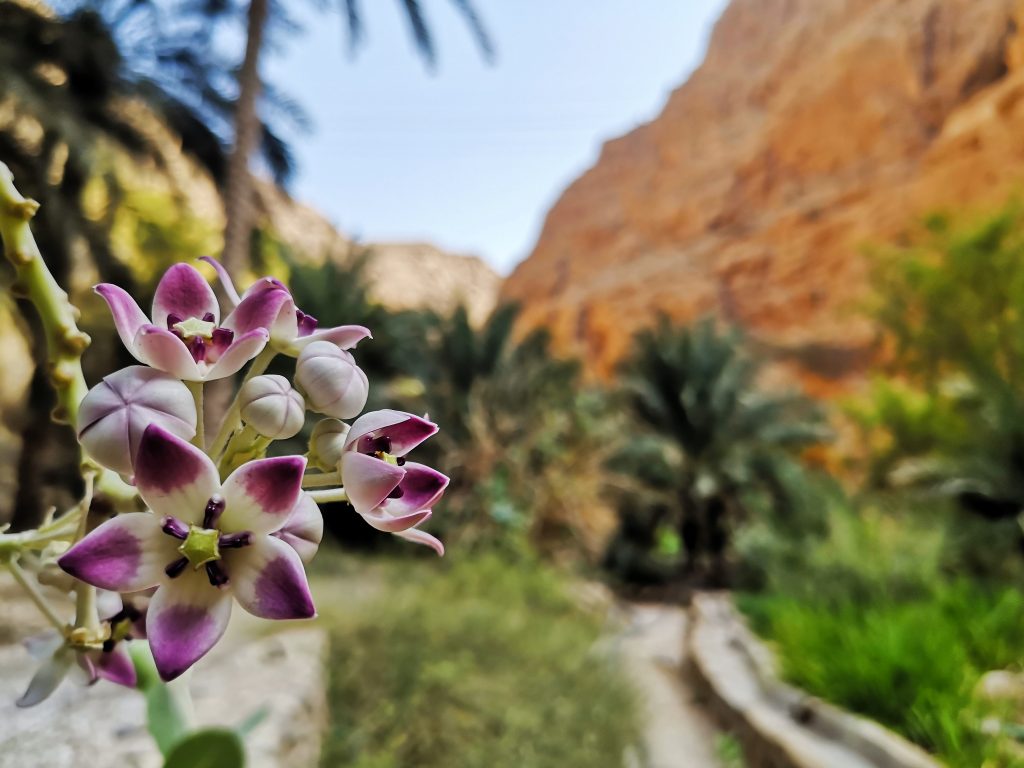 After about 25 to 30 minutes walking we came across the first clear blue / turquoise waterholes. What a great view! I am amazed at all the colours that are still here…even if only a few colours that show all the shades they have!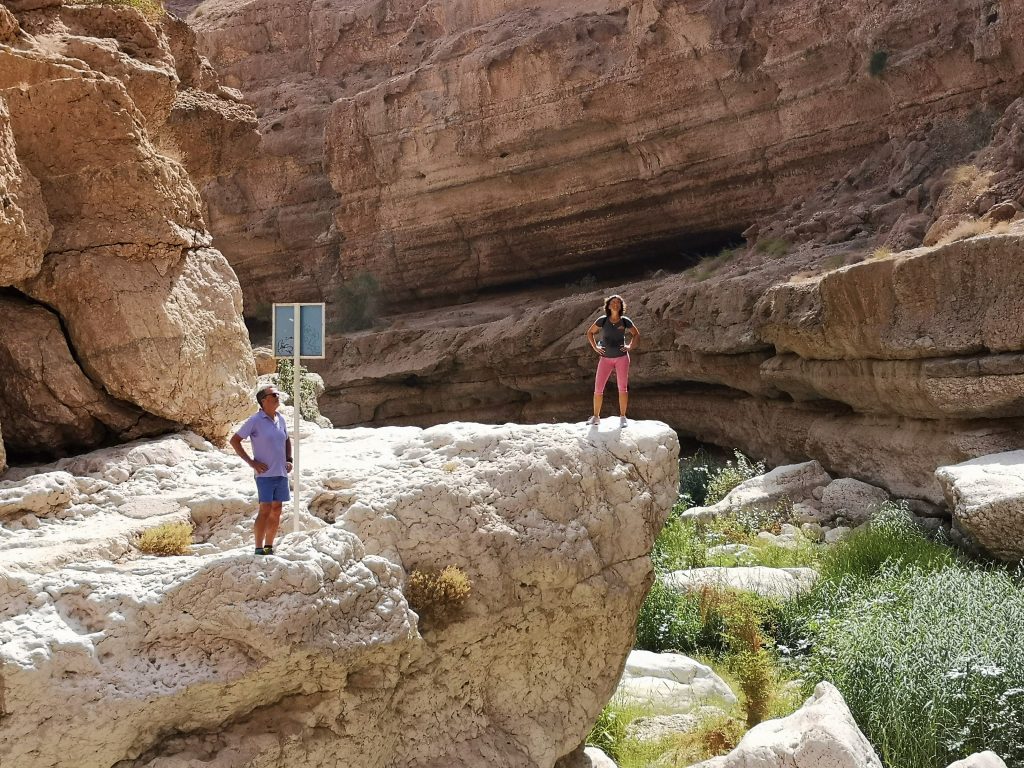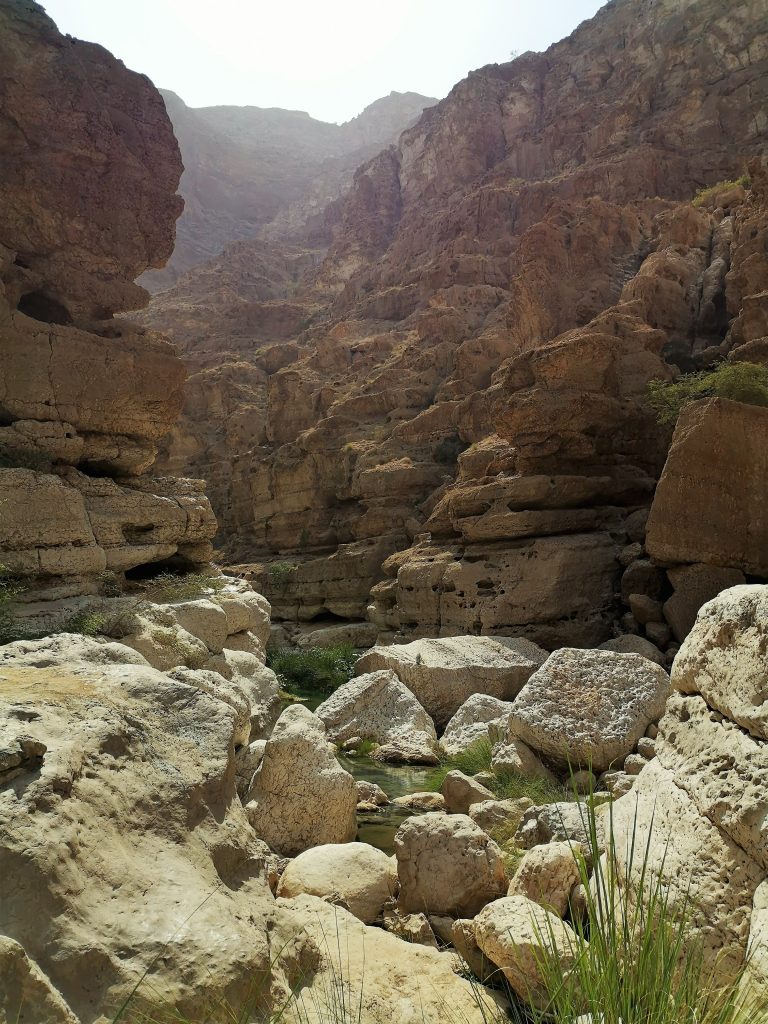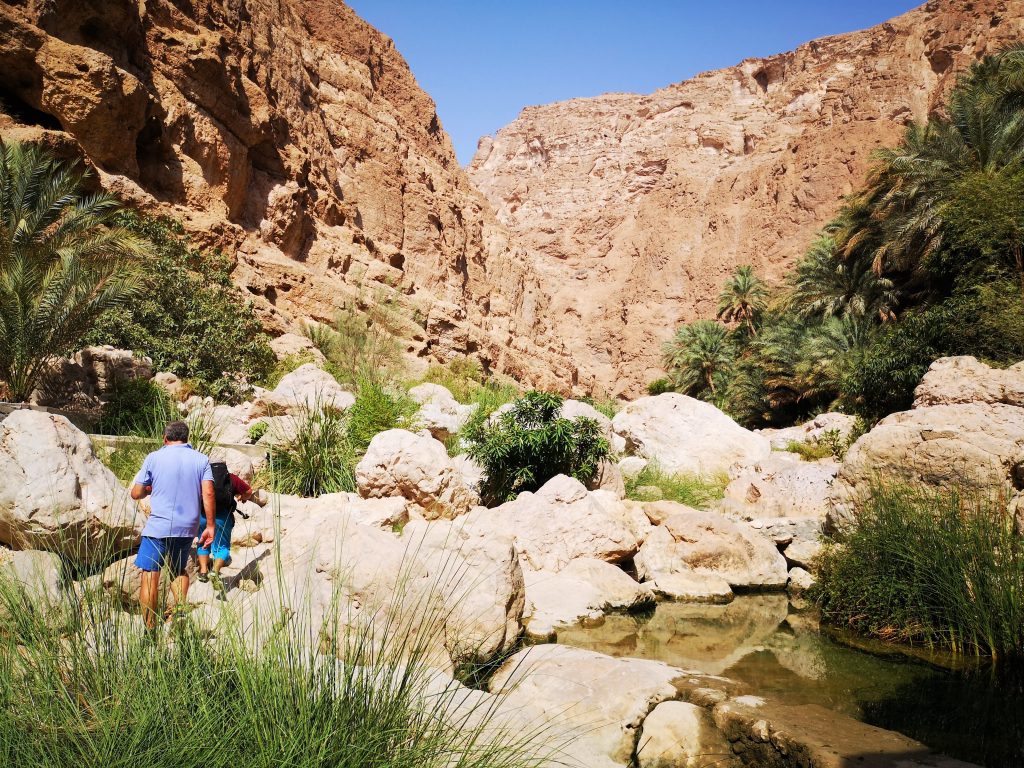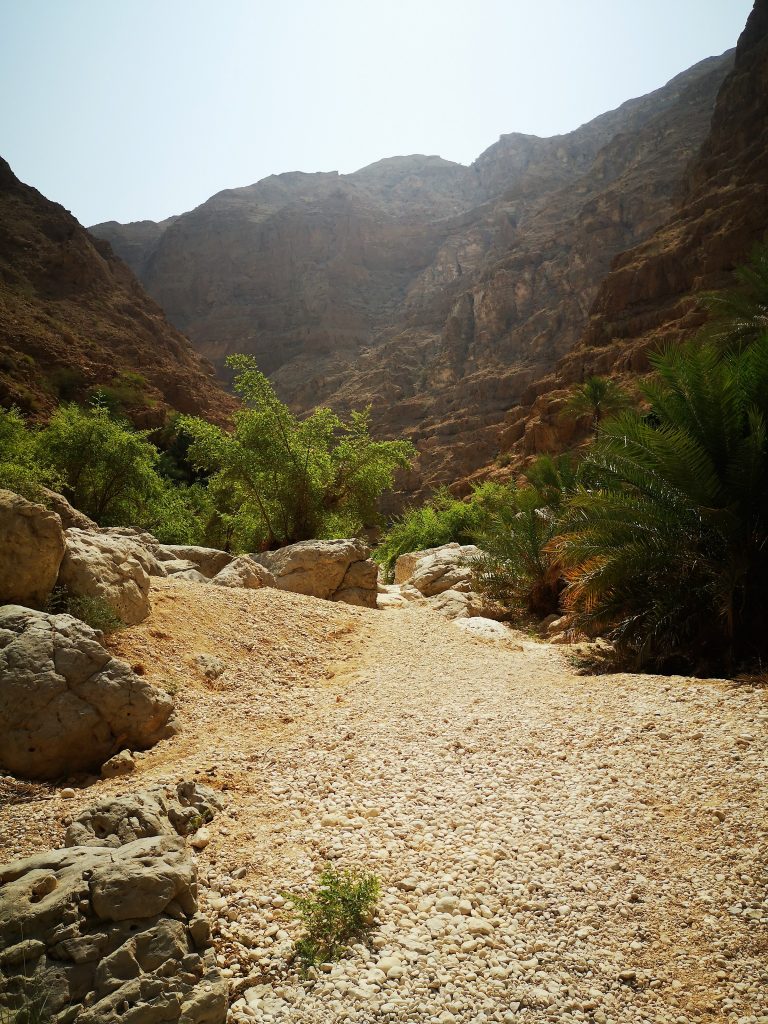 We walked a little further and then we saw some people sitting along the side of the water. They had been swimming and I understood from Abdullah that we were also going to undress here and walk the last part and finally would swim the last part!
It had warmed up quite a bit by now. We had started on time and before noon we had reached the water but in the wadi, where every now and then a breeze comes through, it gets quite warm and so I was very happy with this cooling down!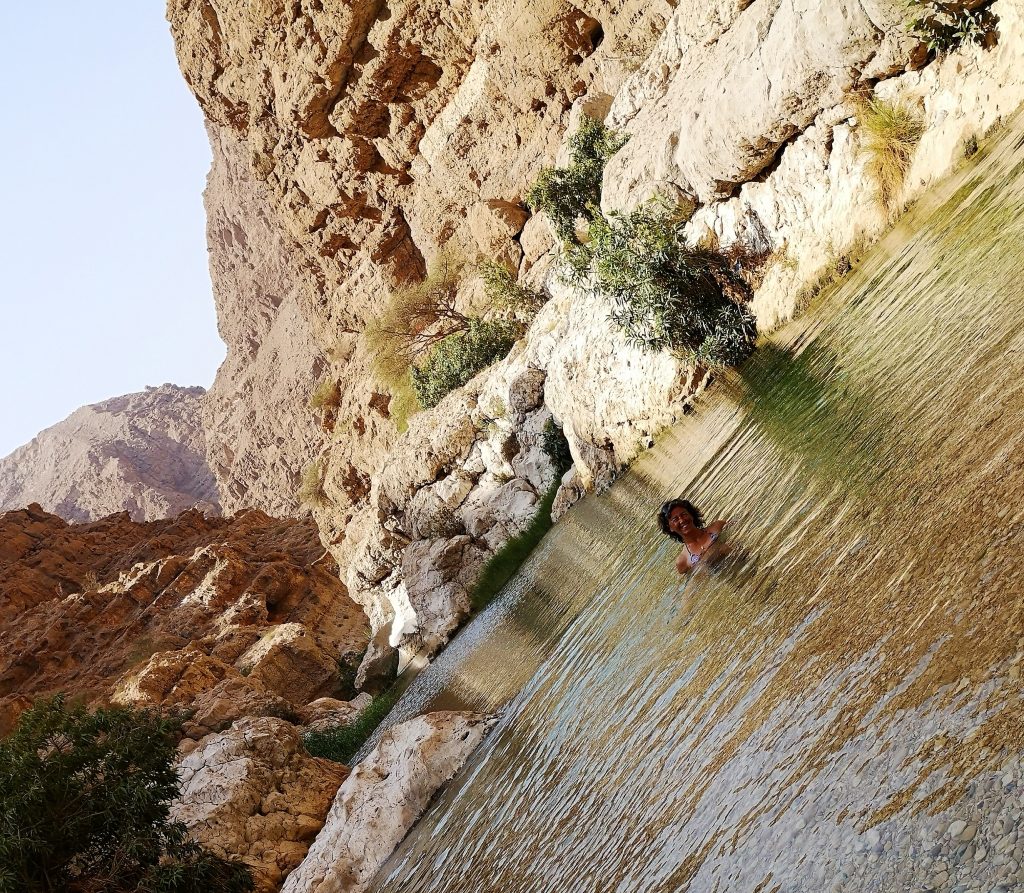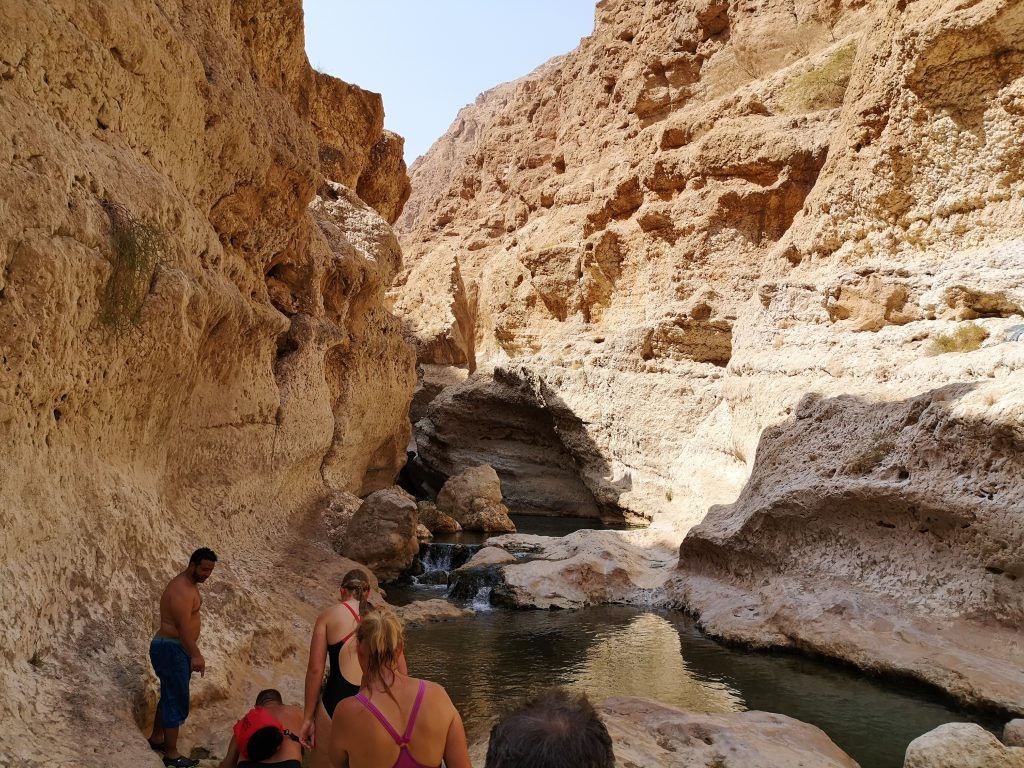 We started to walk and when the water reached our waist we started to swim. Bathing in the cooling water. I swam on my back for a while and looked at the enormous high cliffs along us.
I looked around me and saw along the edges of the turquoise water in which I swam the green high grass against the blue skies.

What a great picture!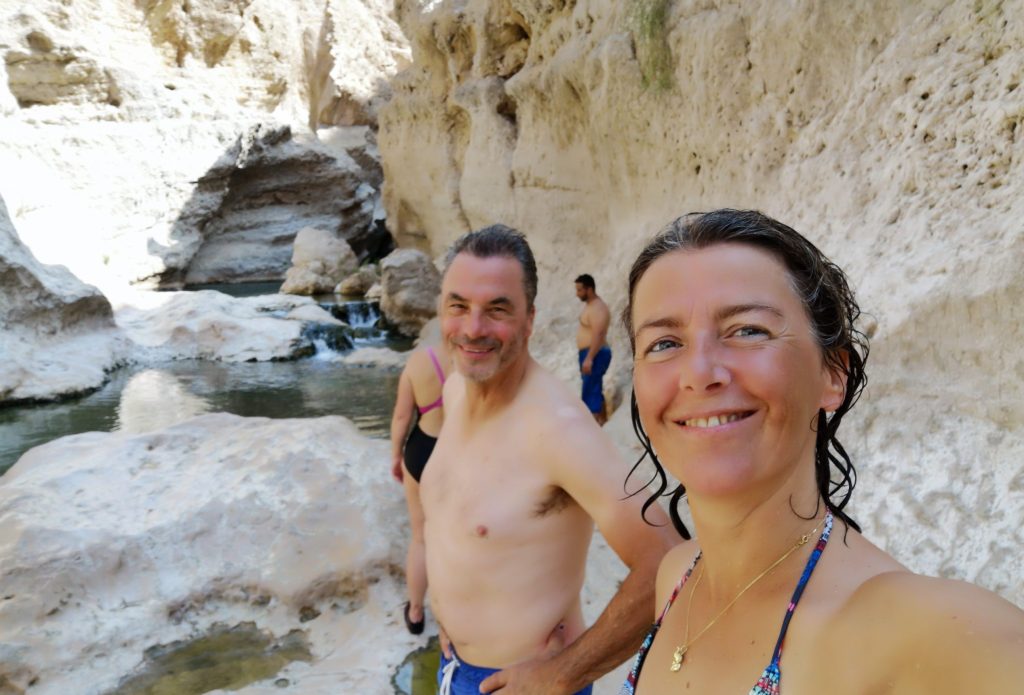 Cave with waterfall – Wadi Shab
We came close to the end, we couldn't stand anymore and swam in the direction of a high wall. I did see that there was a crack and I heard Abdullah say: don't be afraid, it's narrow but that's only a small part.
With our hands along the edge we disappeared one by one into the crack in the high wall. The water on the other side seemed to give light when I came through.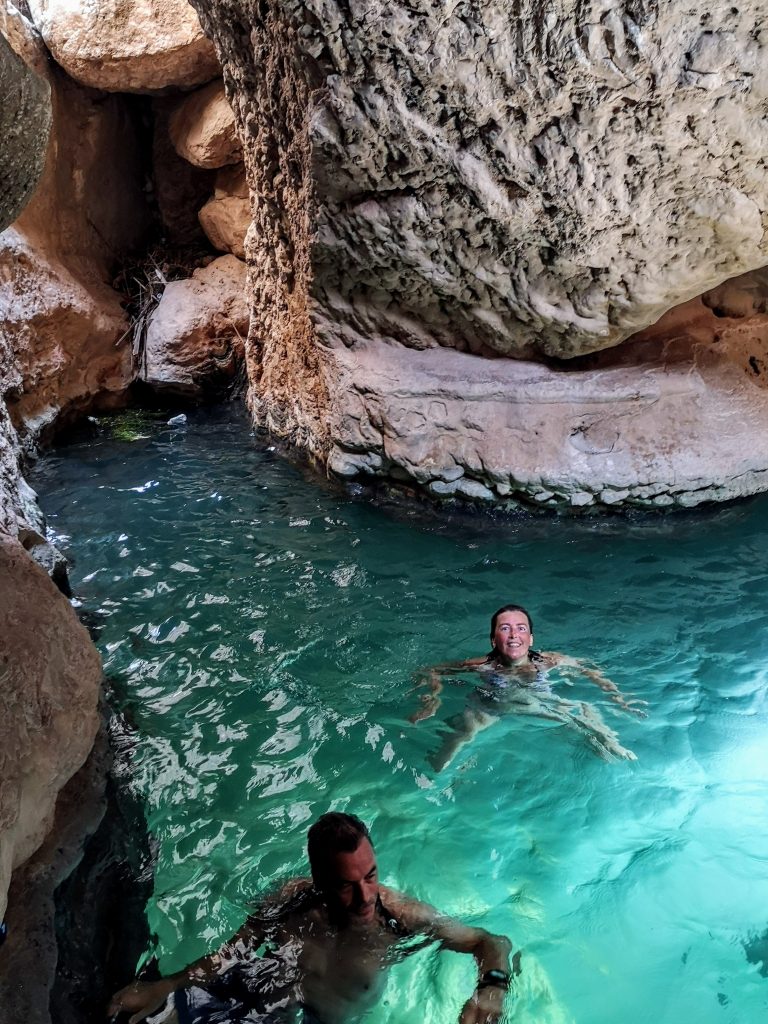 I saw a beautiful waterfall from which daylight came in. We were in a small room where you can swim in, hold on to the side and climb up to the waterfall to jump off!
I thought it looked magical with that light and of course I had to do a yoga pose there!!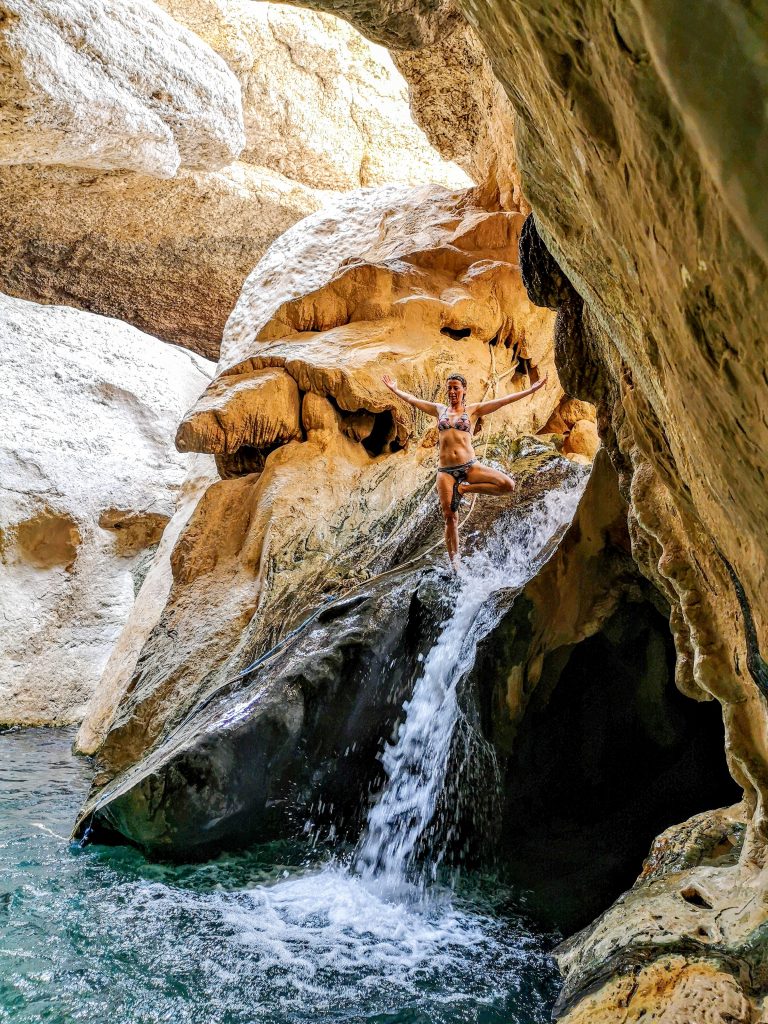 What a great place for the tree pose!
After jumping a few times I started to get a little tired. You have to climb quite a bit to get on the rock and after you jump you can hold on to the sides of the cave. If you're a good climber you can get on the side and sit down for a while. Or with some help you can manage 🙂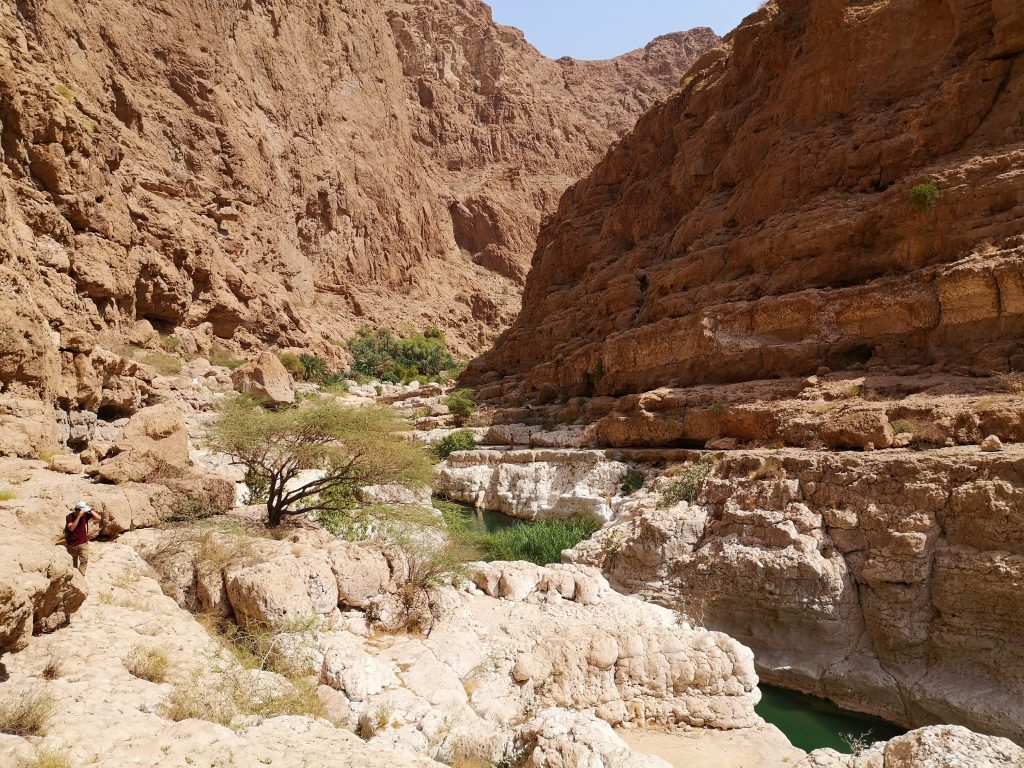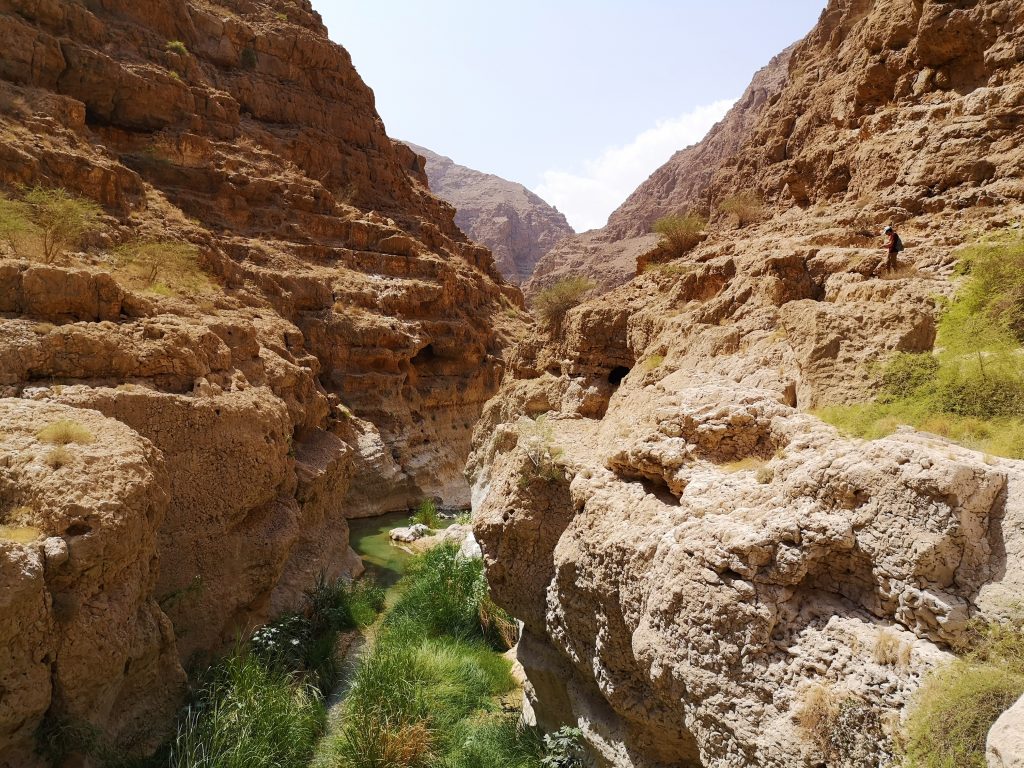 Adventurous travel
Hiking in the Wadi Shab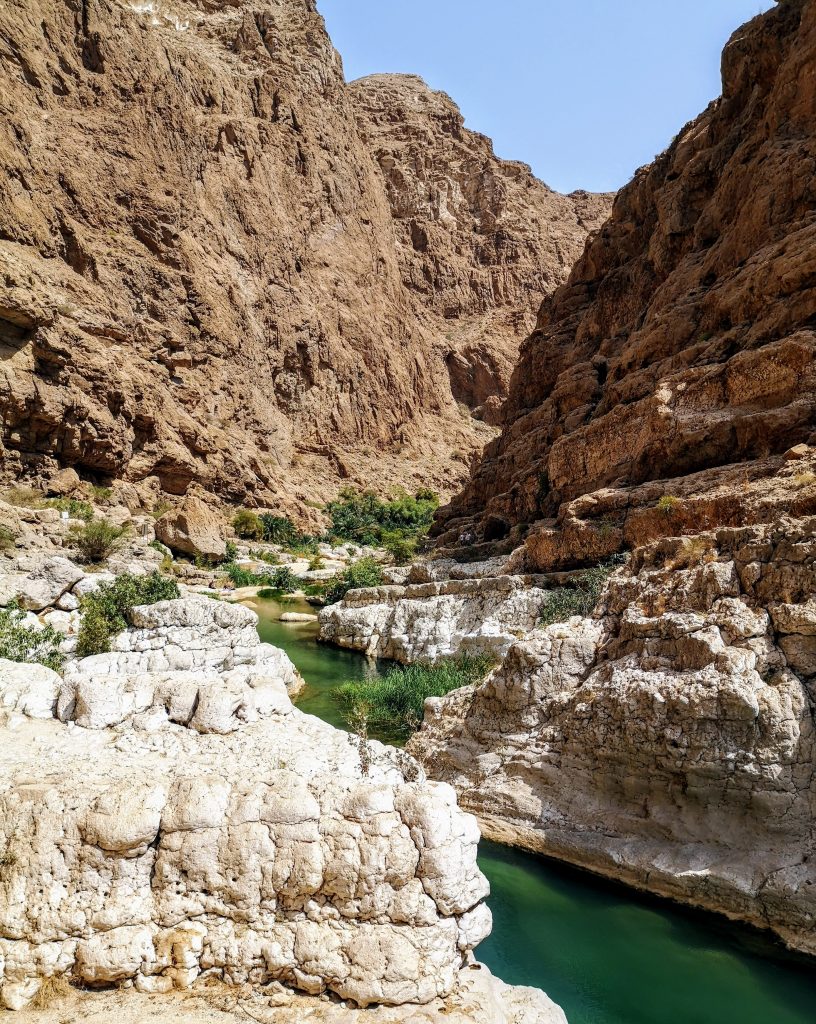 We started on the way back from the hiking in the Wadi Shab. Enjoying the views and the cooling water. Enjoy the sun for a bit, dry up and get dressed again and start on the way back. Lovely trip back our way out of the Wadi Shab with now some breeze in our face! How wonderful! Abdullah told us that he is going early in the morning because the trip hiking into the wadi does not give a breeze but on the way back he does.
This is because the wind is going into the wadi…
You can't feel it in your back… you can feel it in your face!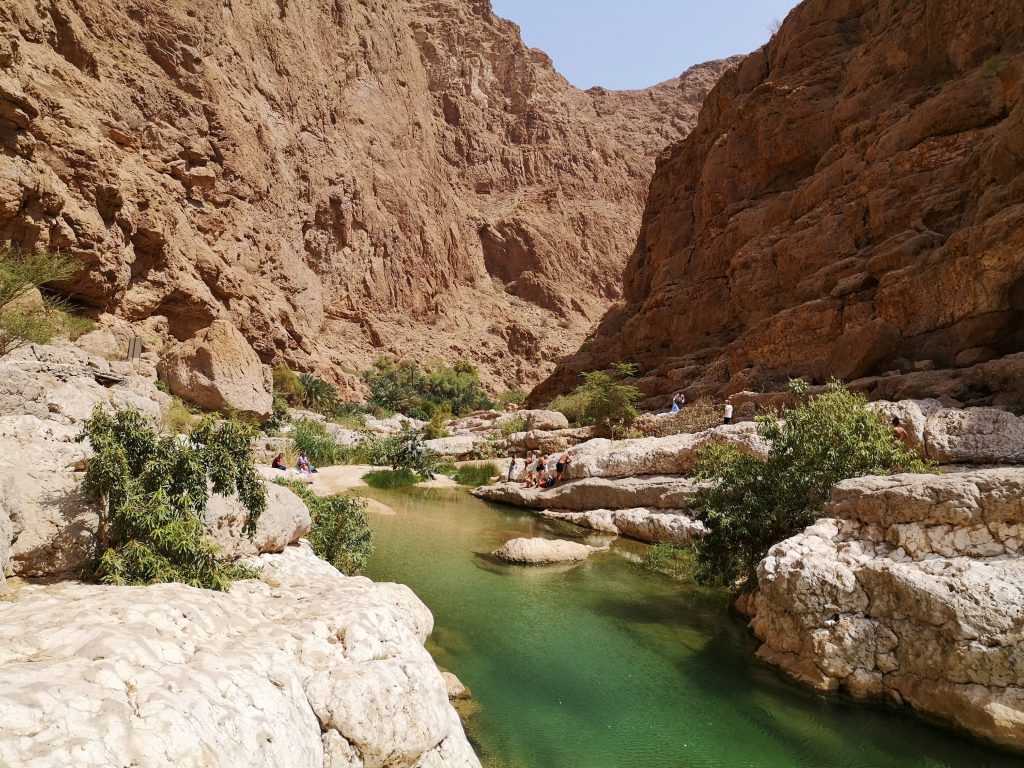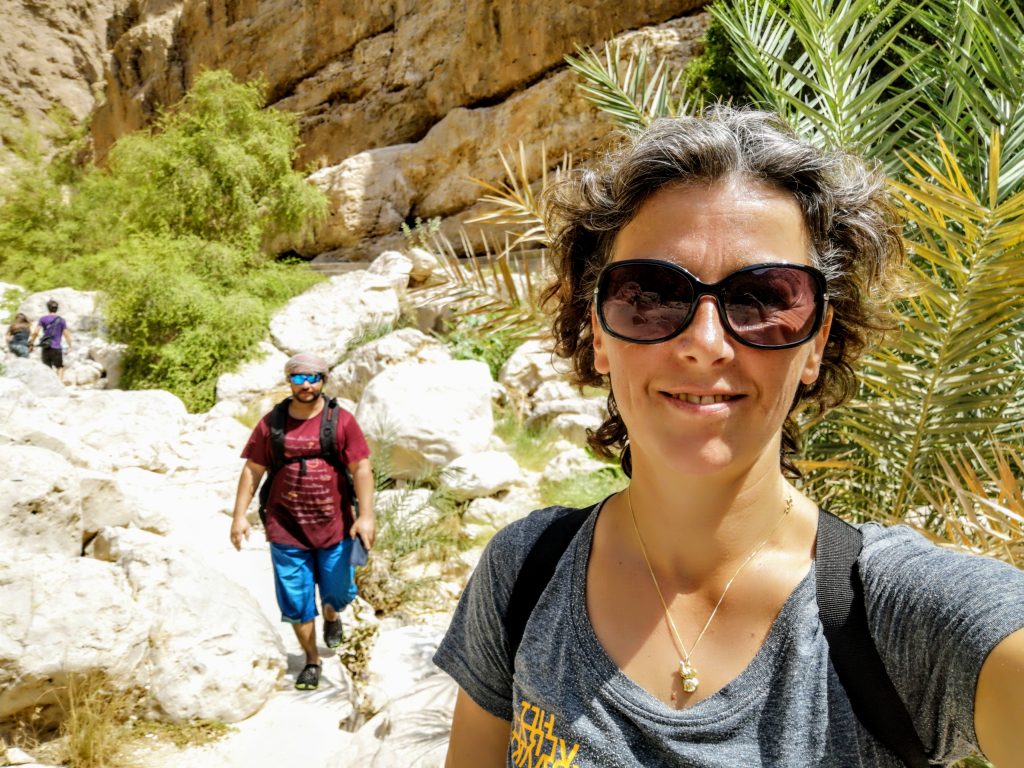 What a great day this was. And this was only my first introduction to Oman! I was super excited and like I said before, I'm going again to explore more of the great country of Oman!
Did you know that later this year (2020) I'm going on this adventure again with 5 adventurous women?
For the first time I will arrange things around this trip and I will partly act as a tour guide 🙂 What a super fun new challenge! We're going on an adventurous tour Oman for 10 days! And if I like that and find even more candidates I will go next year just 10 days with a group on a trip to Oman!
If you want more information about this, mail me or send me a message via one of the social channels!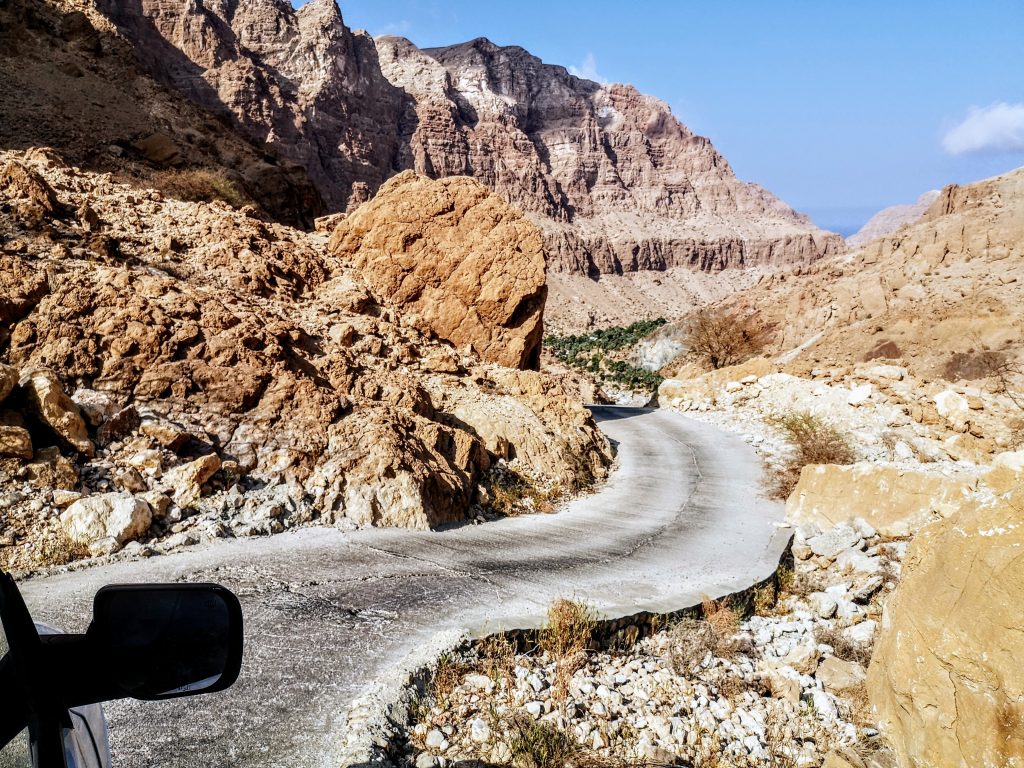 Now let me share some tips for your walk in the Wadi Shab. It is a walk of several hours so it is good to be well prepared! After reading these tips, you know where you stand if you are going to make the walk in the Wadi Shab as well!
Tips for hiking in the Wadi Shab
Go early in the morning. Then it's still pretty cool and you walk into the wadi during the cooler morning and when it's warmer back. When you walk out of the wadi you have a nice breeze in your face, this always seems to be the case. On the way there we certainly didn't have it and it was very welcome on the way back!
There's nothing to buy or get on the way. So make sure you have enough water with you. It's a long walk of 40 minutes to get in there and 40 minutes back. Swimming will also cost you some energy so it is a good idea to bring some food with you. If you suddenly get hungry and need energy it is good to have something in your bag.
Count on at least 2.5 to 3 hours for this trip. Walking alone is about an hour and 20 minutes. We lost about 45 minutes for swimming and in the cave. Then you want to enjoy the sun for a while and dry up after swimming and before you start the trip back again.
Bring sunscreen with you, wear a cap or hat against the bright sun. I would dress to protect your skin too, especially your shoulders. The sun burns quite quickly on your skin and there is not a lot of shade in the wadi.
Put on swim gear in advance or take them with you. There is always a public toilet in the area where you can change.
Make sure you have good water shoes. You walk a lot in wetlands and can easily slip. It's also nice to wear special water shoes so you don't have to wear wet shoes for the rest of your day.
Make sure you have a waterproof bag for all your valuables. It is easy to carry and so you can take everything with you into the water. You can leave some clothes etc. lying around when you go swimming but of course you want to keep your valuables in sight.
—
Would you take this walk when you're in Oman?
Share this tip for others!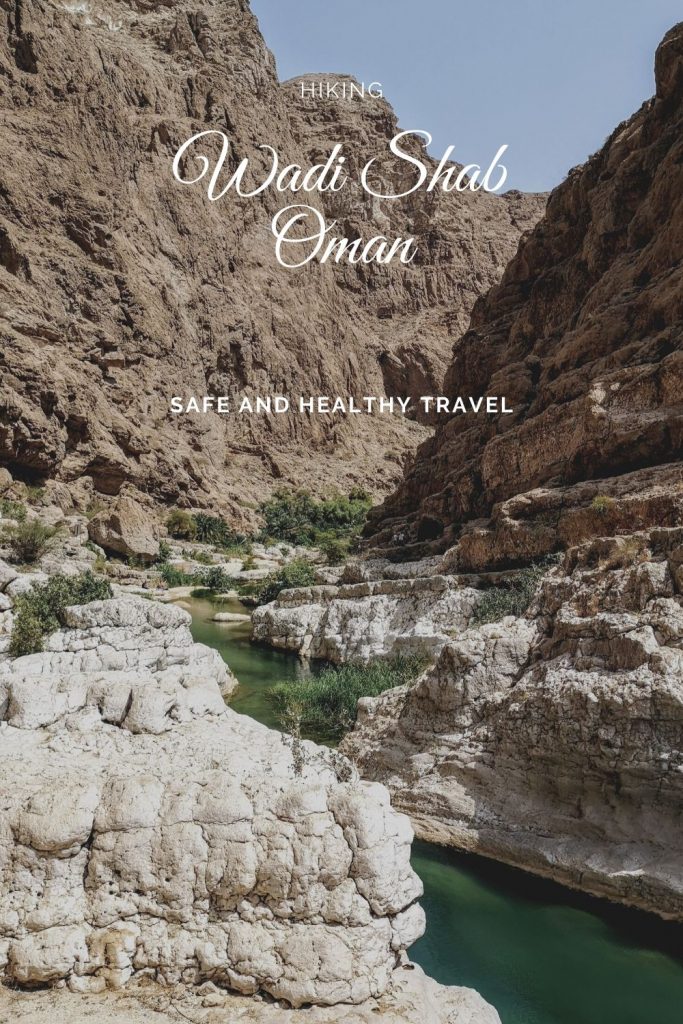 Looking for more inspiration for the Middle East?
Crossing around the sanddunes van de UAE
Travel Guide for Abu Dhabi & Dubai
Israel: Floating in the Dead Sea
Wandering around the Old city of Acre – Israel
Or check these tips!
I hope you enjoy this beautiful world as much as I do!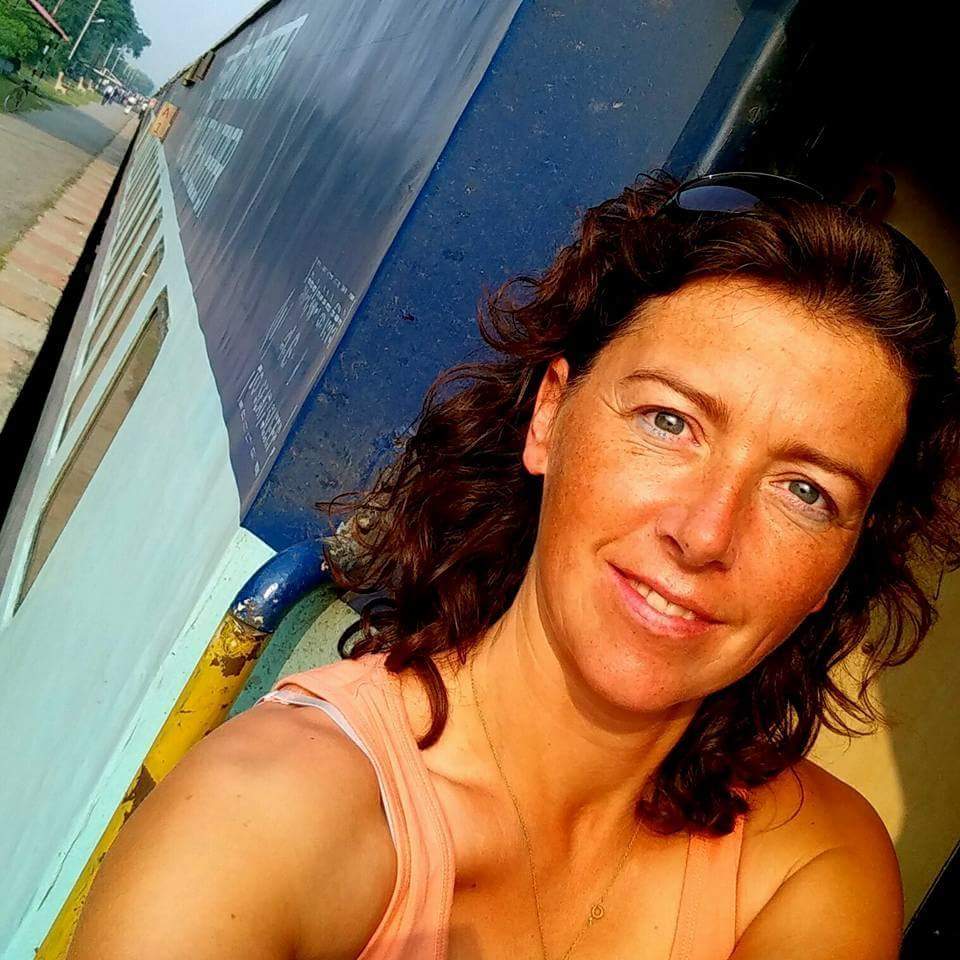 Jacomijn is een politieagent uit Nederland die jou graag laat zien hoe je veilig, actief en gezond de wereld kan over reizen. Safe and Healthy travel is a MUST