The Complete Travel Guide for Abu Dhabi & Dubai – UAE
|
As a world traveller, Abu Dhabi and Dubai are not to be missed on my list. I was there for a couple of days and can show you a complete travel guide Abu Dhabi & Dubai for your visit to these 2 intense world cities that do everything they can to give your visit a lasting impression.
You're not used to it from me but I also like to be in a resort and do nothing. Just a few days enjoying the sun and lying by the pool with a nice book!
For that reason I started my 2 month trip this time in the United Arab Emirates in Abu Dhabi. I had booked a lovely resort with a large swimming pool and a long beach and I would stay here for 3 nights!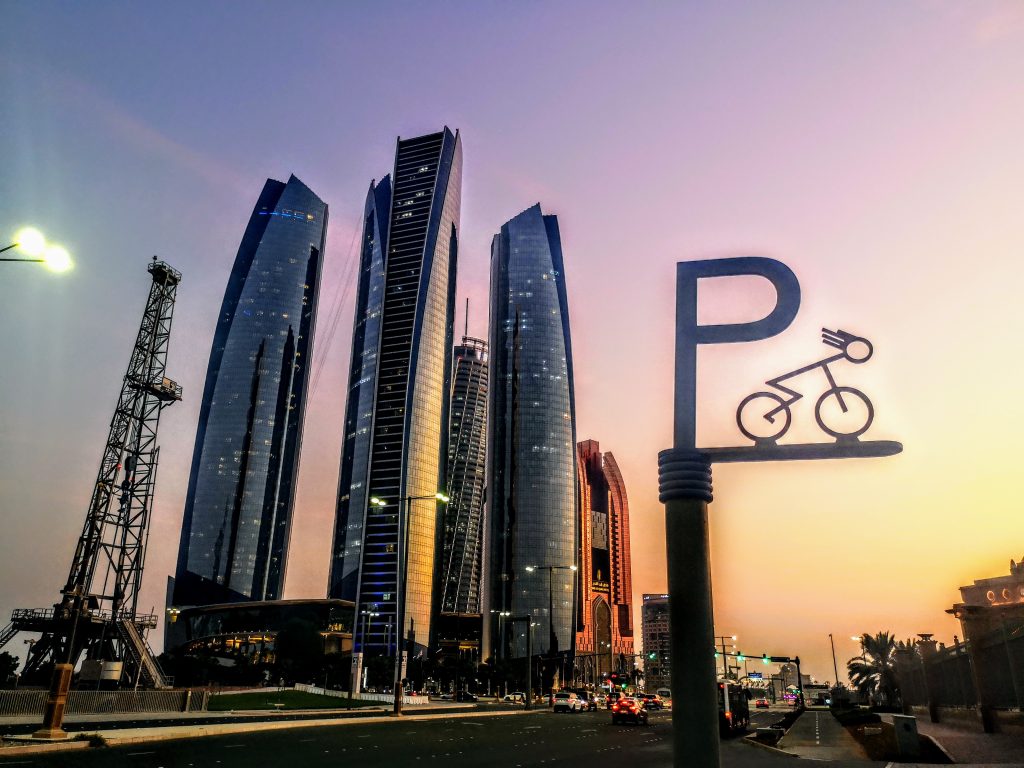 I had been to Abu Dhabi before, so I could force myself not to explore the city. Something you should defenitely do when you book a city trip to these two great cities.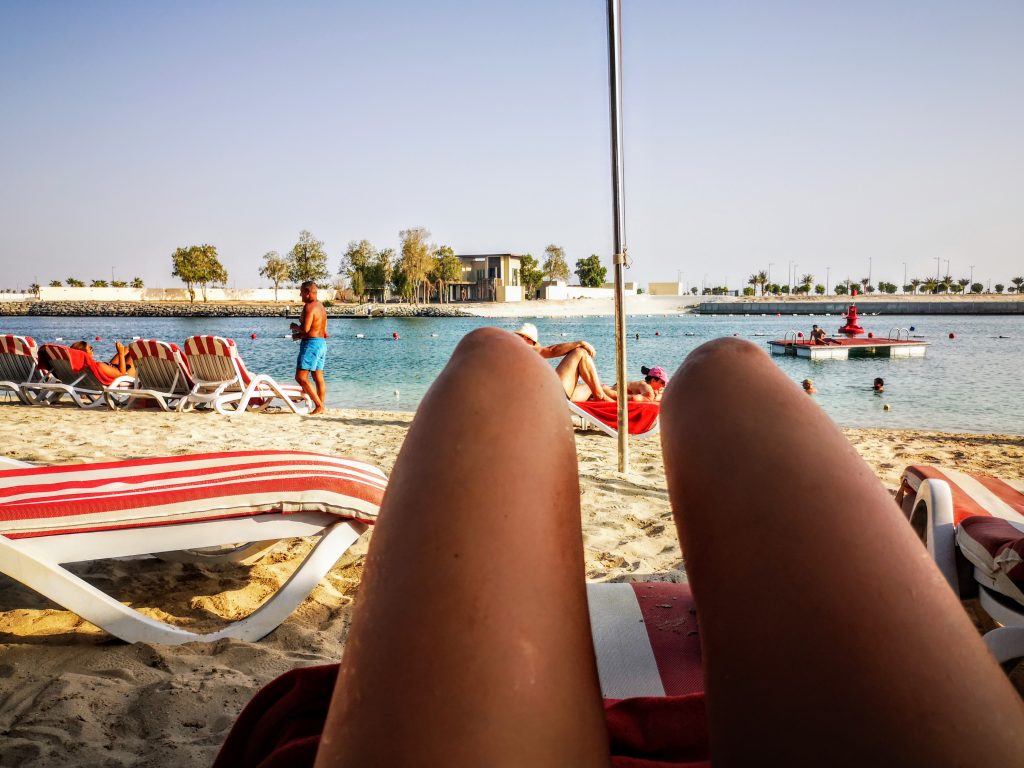 Abu Dhabi and Dubai are of course easy to combine and can be visited in a few days. I wouldn't stay too long in both cities because once you've seen it… Then it's all right and the challenge is gone for me. I don't have to walk in the Dubai Mall or Mall of the Emirates a few times. Then give me the souks… That's where I spent the last few days in Dubai. The Deira district, close to the airport and close to the old city of Dubai.
For your complete visit to Abu Dhabi & Dubai
Keep this Abu Dhabi & Dubai travel guide close as you visit these cities and know what not to miss!
I started my trip in Abu Dhabi this time so I will also highlight the highlights of this city!
Sheik Zayed Mosque
Really a must visit!! A very impressive building that you will have to spend at least a few hours to discover. The carved marble and the great stained glass windows give this building colour and charm on all sides.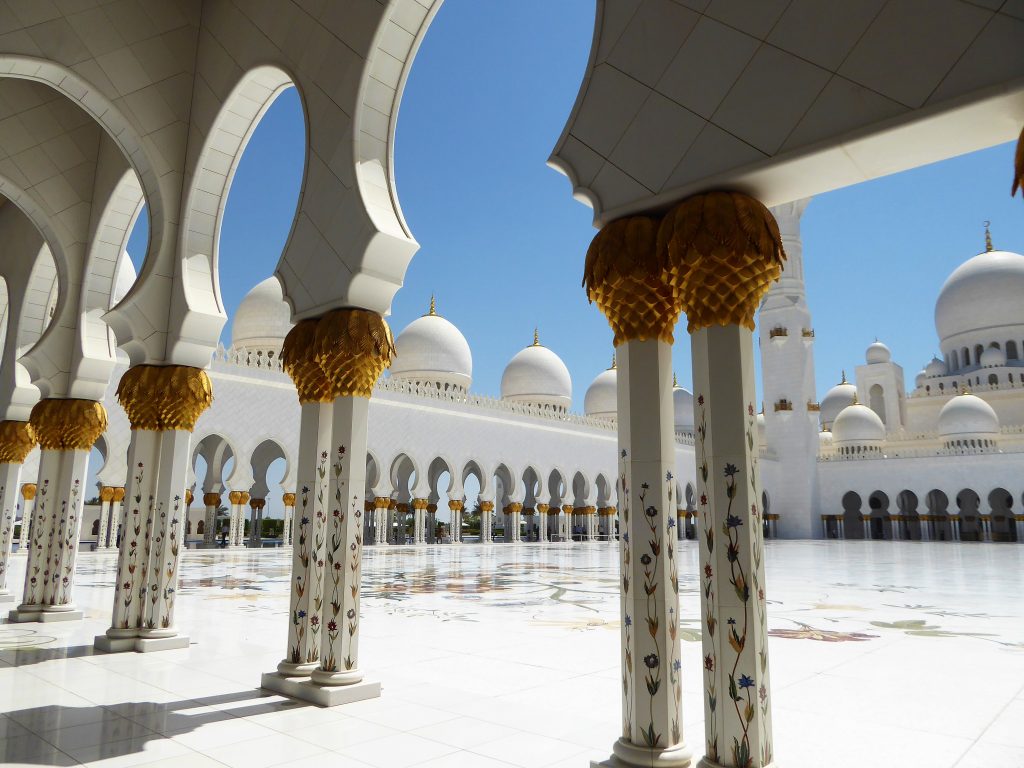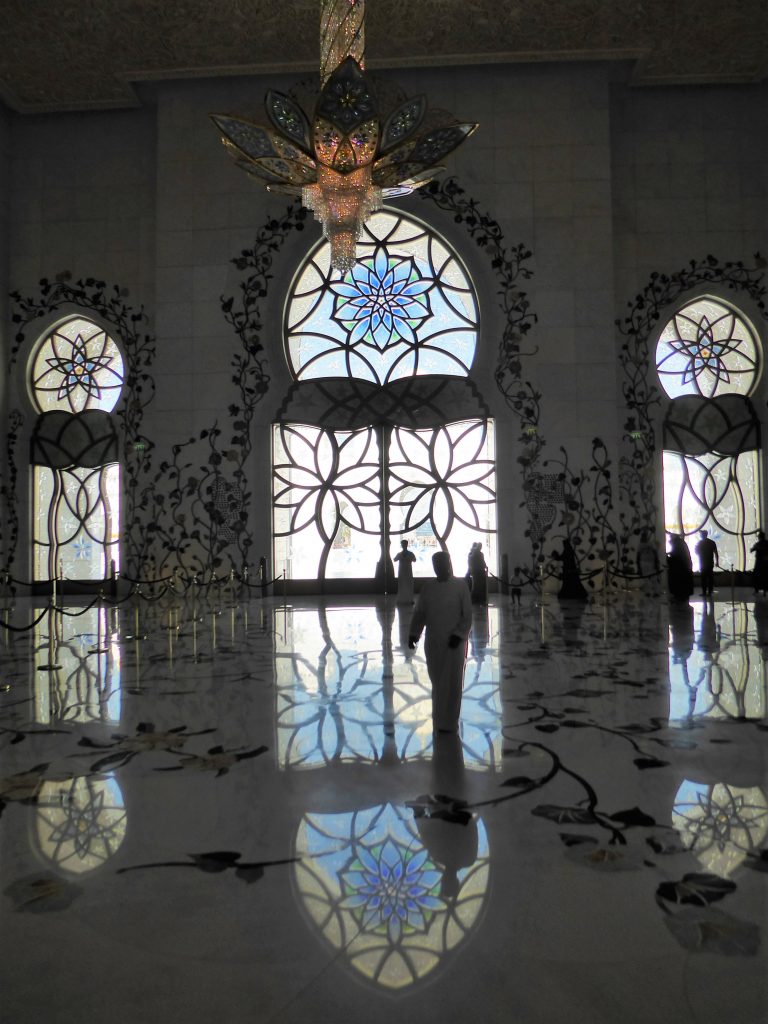 Clothing tip:
Make sure you have a scarf with you, dressed up to the ankle and part of your arms as well. If you don't have enough on or with you, you can always use some of what they have in stock at the entrance.
Heritage village
To get to know the local culture in the Emirates, it is a good idea to visit the heritage village. Not that you will find anything of this culture in these metropolises exept the Kandura. The white cloak men wear in the UAE.
You will soon notice that it is very westernized in the city and that the distribution of western clothing and traditional clothing of the emiratis is a nice change!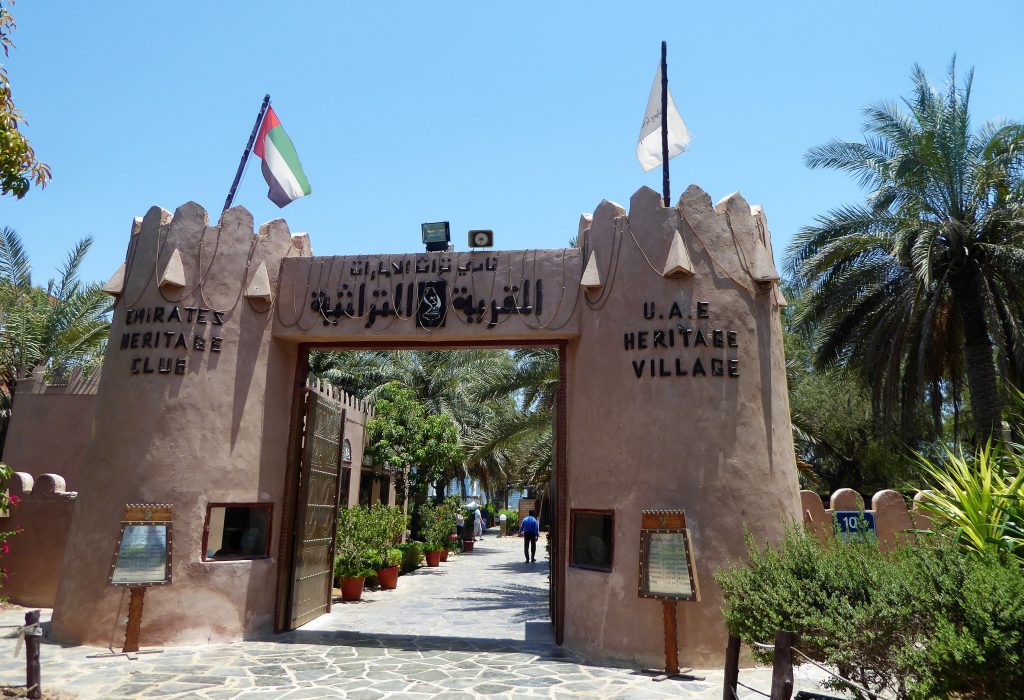 What I did on my first round trip in the Emirates was a boat trip off the coast with dinner. Very cosy and it gives you a nice view of the illuminated city. On the boat a diverse buffet is offered. It is quite touristic but not a bad idea for your evening!
Unfortunately the pictures of that evening are all blurry and bad… 🙂 But I think you can add something to it, can't you?
Presidential Palace
In the evening this palace is beautifully lit and the entrance is coloured to a different colour every few seconds. Nice to behold.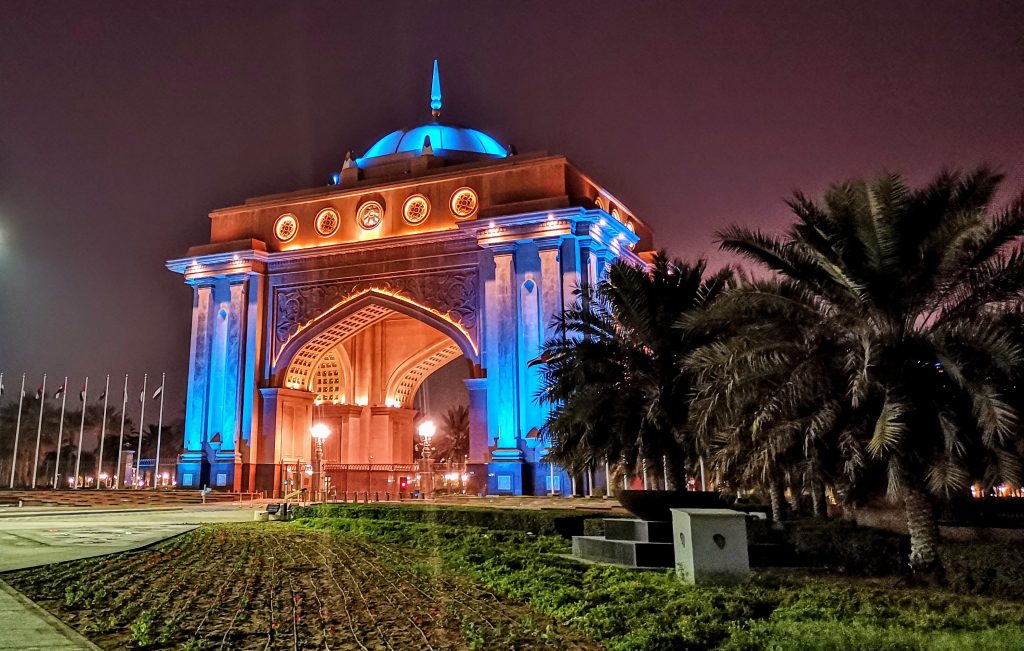 Qasr Al Watan
Qasr Al Watan is a beautiful palace that you can visit. There is a museum, a large library and of course a shopping mall. I only saw it on my last day, it is within walking distance of the hotel Khalidiya Palace.
The Founder's Memorial
Beautiful artwork with park right next to the colorful entrance of the palace. As the name suggests, this is dedicated to the founders of the state of Abu Dhabi.
-The coastline Al Bahar at the Cornice at Marina Mall was previously very popular, but that is now past glory. All small food tents are empty. Marina Mall is not worth a visit either.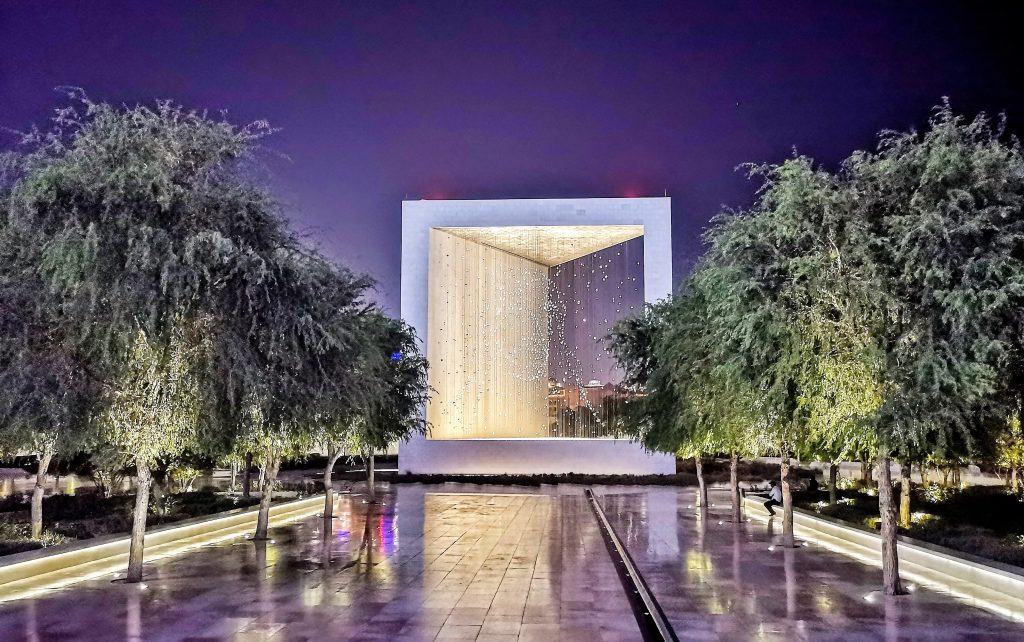 Yas Island Theme Park
If you like motorsport, you should come here. They have a Formula 1 circuit! There is also Warner Bros. and a Water World. The many hotels and restaurants can make your stay there very pleasant!
During my first visit in 2017 I made a boat trip along the circuit and enjoyed the sun more than the park 🙂 Everyone's preference!
Louvre Abu Dhabi
Yeah, you read it right. The Louvre which is located in Paris, the world famous museum also has a museum in Abu Dhabi. It is located a few hundred meters off the coast on the coastal island of Saadiyat. I did not visit this museum.
Furthermore, you just have to enjoy the sun and the delicious food and your swimming pool when you are in Abu Dhabi!
Where to stay in Abu Dhabi
Khalidiya Palace Rayhaan by Rotana
What I recommend for your stay in Abu Dhabi is the Khalidiya Palace Rayhaan by Rotana Resort. I loved it there! The room was perfect and the breakfast offered everything I could think of. In addition, you can fully enjoy the swimming pool and the beach on the grounds of the resort.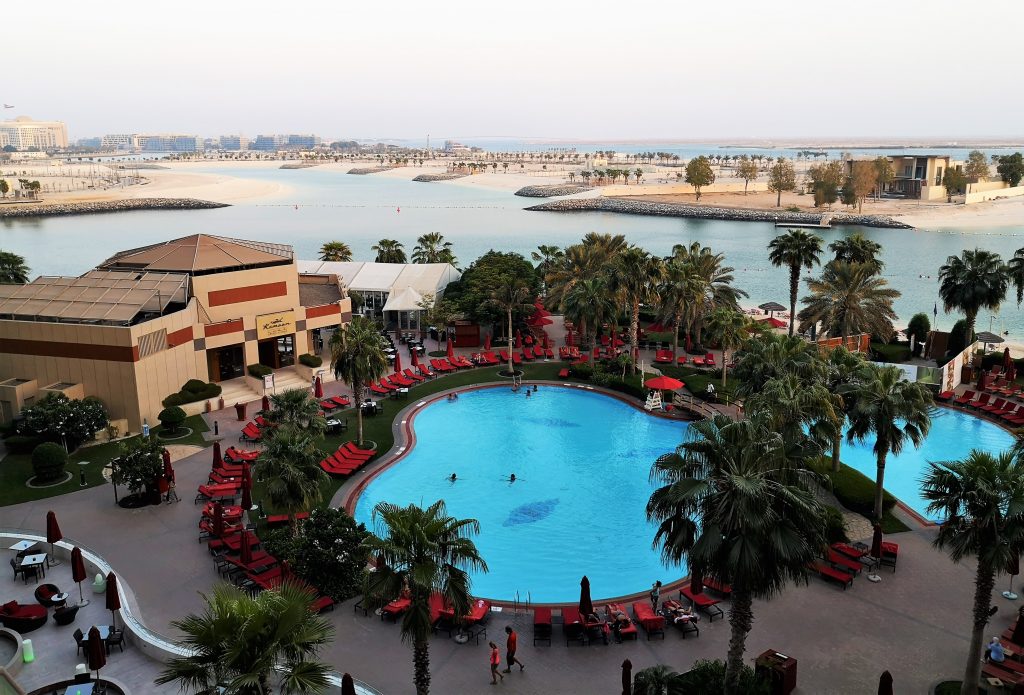 Grand Millennium Al Wahda
During my first visit to Abu Dhabi I was in the Grand Millennium AL Wahda.
Also not a bad choice 🙂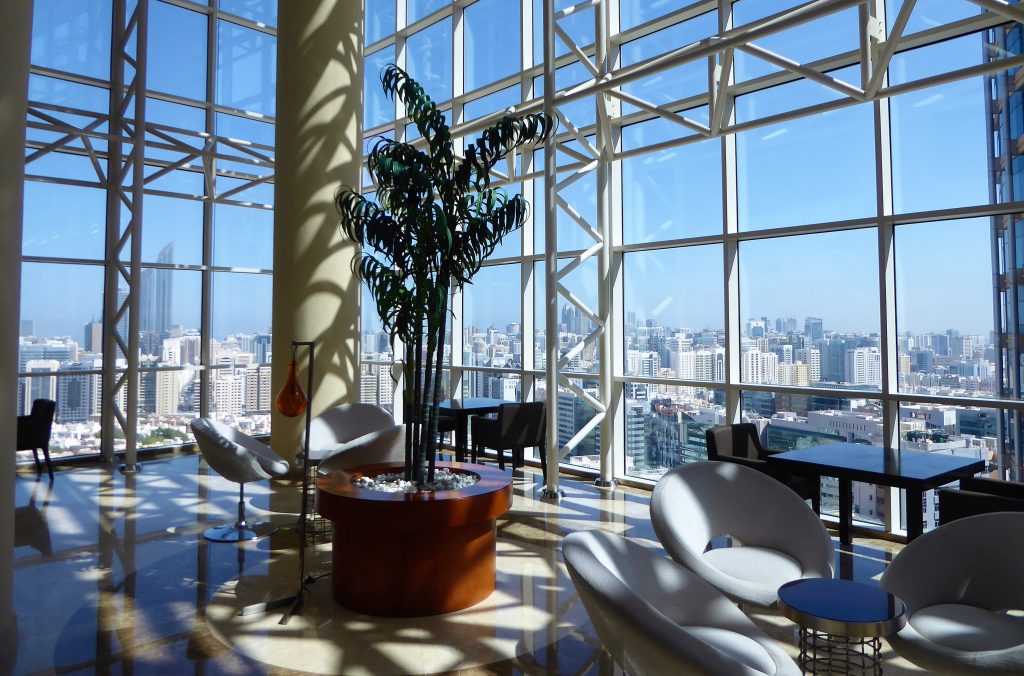 Public transport in the Emirates
Travelling by public transport is very cheap and very easy to do. I used the bus between Abu Dhabi and Dubai. After that you can easily switch to the subway. The only thing that is difficult is that there are several companies. You go from state (Abu Dhabi) to state (Dubai) and so here is another company that arranges the transport. You can easily and quickly buy a pass and put some money on it and you can continue. This is really cheap!
The 2 public transport companies are:
Hafilat in Abu Dhabi and in Dubai you buy a Nol Card.
Did you know that the bus stops on the side of the road in Abu Dhabi are air-conditioned? The subway in Dubai as well, of course, but you don't just step inside to cool off.
The full Travel Guide Abu Dhabi & Dubai
United Arab Emirates
Did you know that in 2020 the world expo will be in Dubai? That is of course an extra impulse to plan a city trip to this city.
I like the city of Dubai more than Abu Dhabi. This city has a lot more to offer you. So a 'simple' hotel, of course with a swimming pool, is more appropriate here. I didn't need a beach here. Everything in this city is bigger, better, more expensive or whatever is higher than anywhere else in the world. This is nice to see for a day.
Tip for the number of days in both cities
This travel guide Abu Dhabi & Dubai is largely focused on the visit to Dubai because there is much more to do and experience there. Keep this in mind when planning your city trip! You could book your plane ticket to Dubai and then be there for the first few days and come back before you leave to spend your last day in Dubai!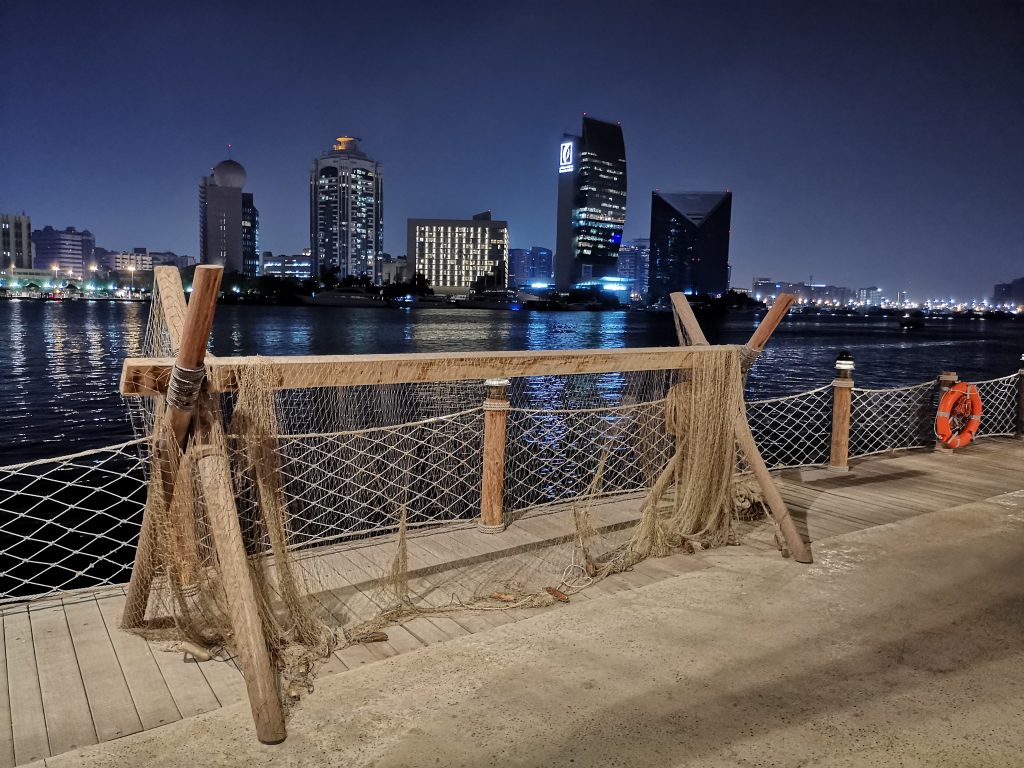 Did you know that the Emirates have 8.5 million inhabitants?
2.5 of them live in the Emirate of Dubai.
Hop on Hop off Bus
To explore the city quickly and easily I always find it fun and convenient to do the hop on hop off bus. This one also has an evening program and I did that but I thought it took too long. For 2.5 hours I don't have to do the whole route through the city which is lit up….  You could get off near a stop where there is a subway station and continue your way.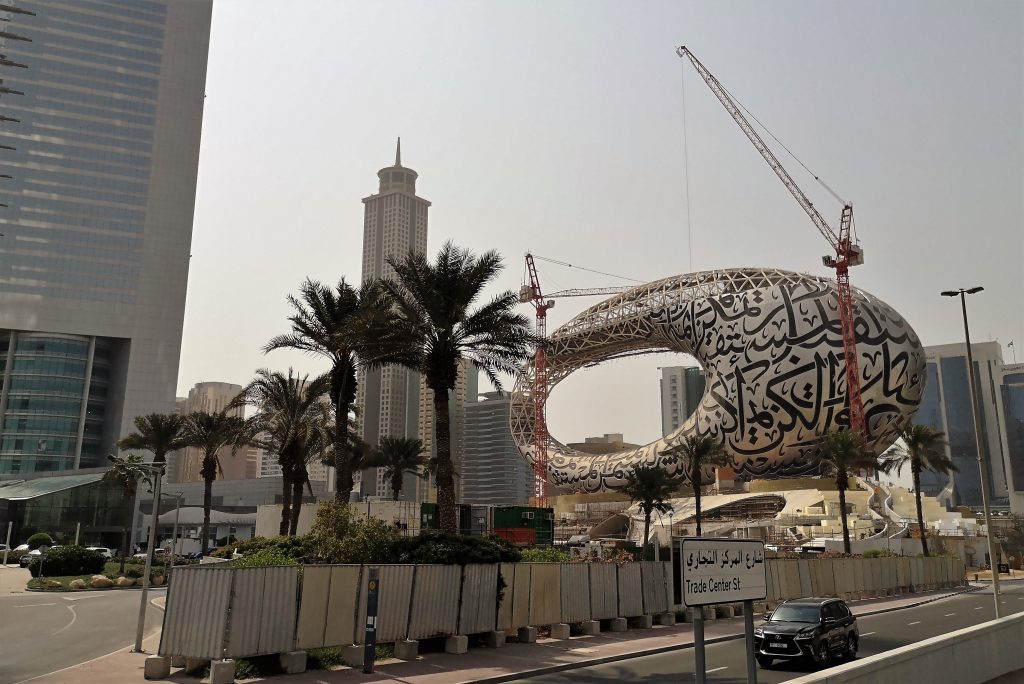 There are 2 options to do the hop on hop off in Dubai. I chose the lesser-known bus: Bigbus Tours. This bus is dark red and the other one is bright red as we know it from all the big cities. Both buses go along the highlights you need to see and you have to make a choice for yourself which one suits you best. (The pass gives you a few extras like the boat trip Dhow Cruise and the Dubai museum entrance).
Palm Island
That is, of course, a must visit. I just liked being able to make the print of Google maps with the blue dot on top of the island. The island is huge and is home to a lot of rich people who live in super houses on the branches of the palm.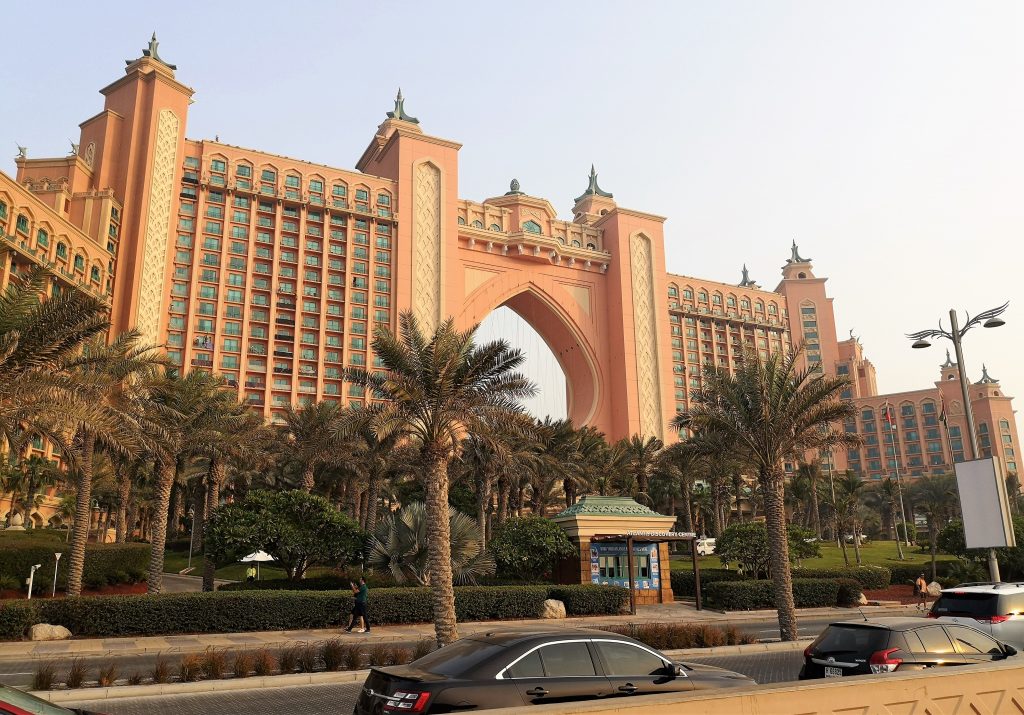 In addition, Atlantis The Palm is of course the most famous of this part of Dubai. It is a huge resort with a great beach and everything the customer could wish for…. In addition, there is a huge shopping mall with all kinds of shops and cinemas…. And they have a huge aquarium (The Lost Chambers Aquarium) which is a must visit while you are there.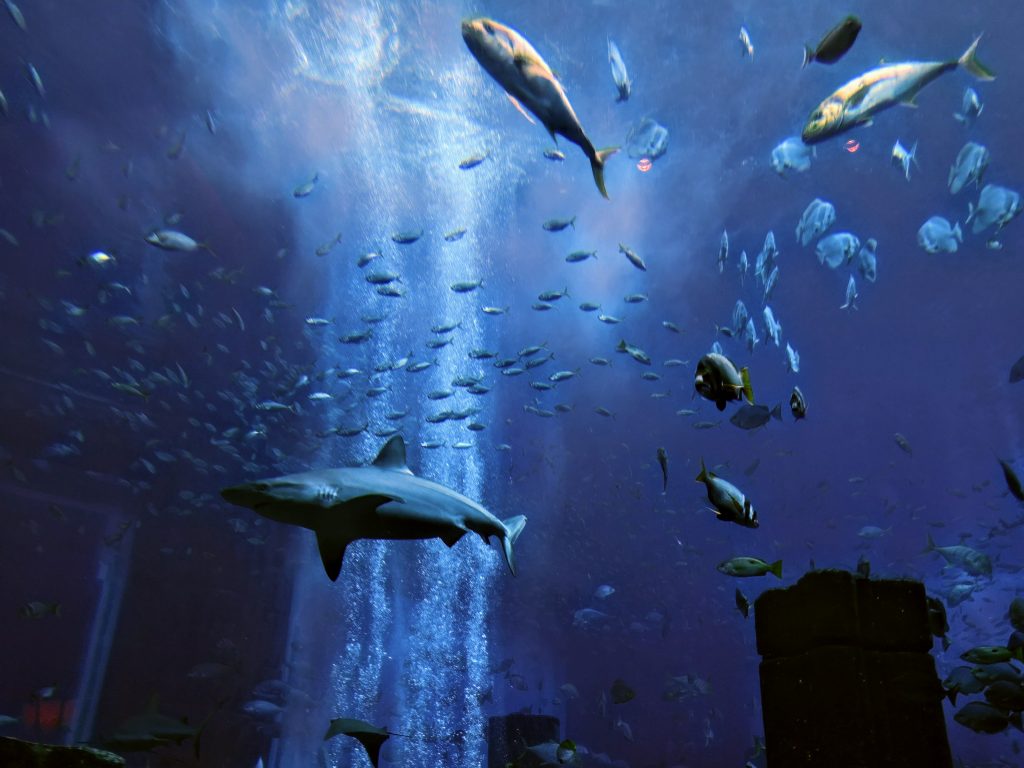 How to get here?
To get to palm island, take the orange line. At Jumeirah Lake Towers you switch to the yellow one and go to Palm Jumeirah with the Monorail over the water to go to the top of the palm tree. For the monorail you have to buy a separate ticket.
To get to the creek (souks) take the green line from stop 18 or 19. There are a number of nodes. An easy ticket is available at the subway stations and a picture is present at each station. I found it very easy to follow.
Mall of the Emirates
In the mall of the Emirates you will find a ski hall. So on the one hand you are sweating because it is often around 40 degrees and you see on the other side of the window people in thick winter clothes walk…. If you want to go inside you can of course rent those clothes.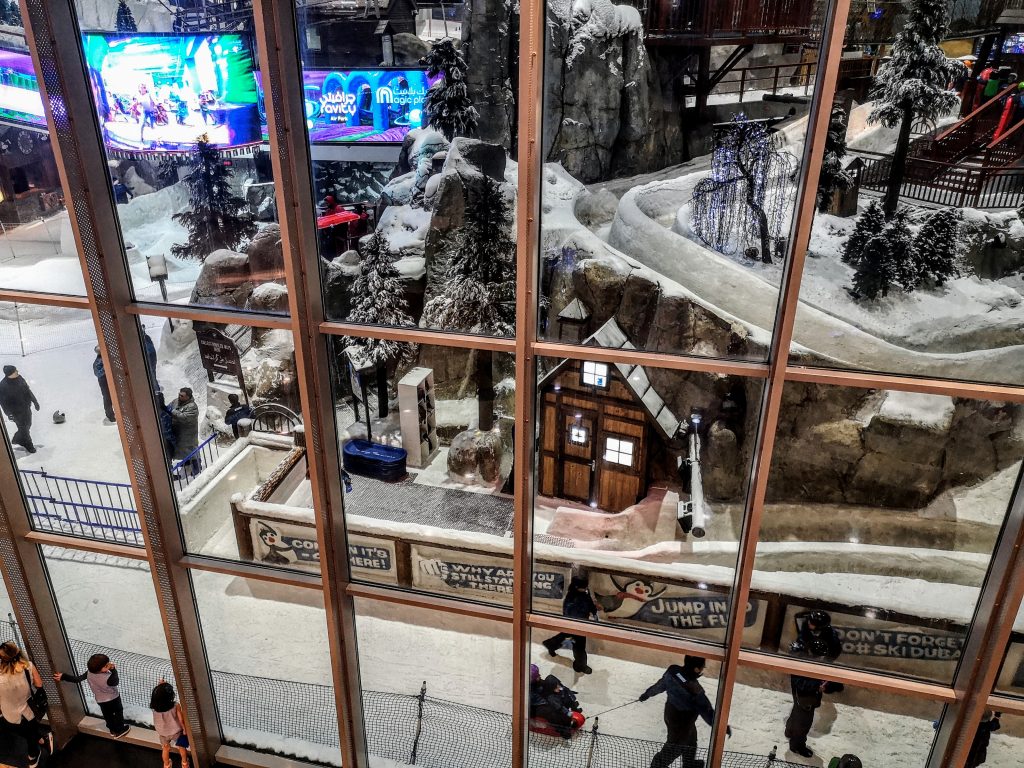 Souk Madinat Jumeirah
This souk is small compared to all other shopping malls and is based on the shape of the old souks. I liked this centre and with the water around it, which also offers a view on the Burj Al Arab, this is a nice place to get out of the hop on hop off bus for a while.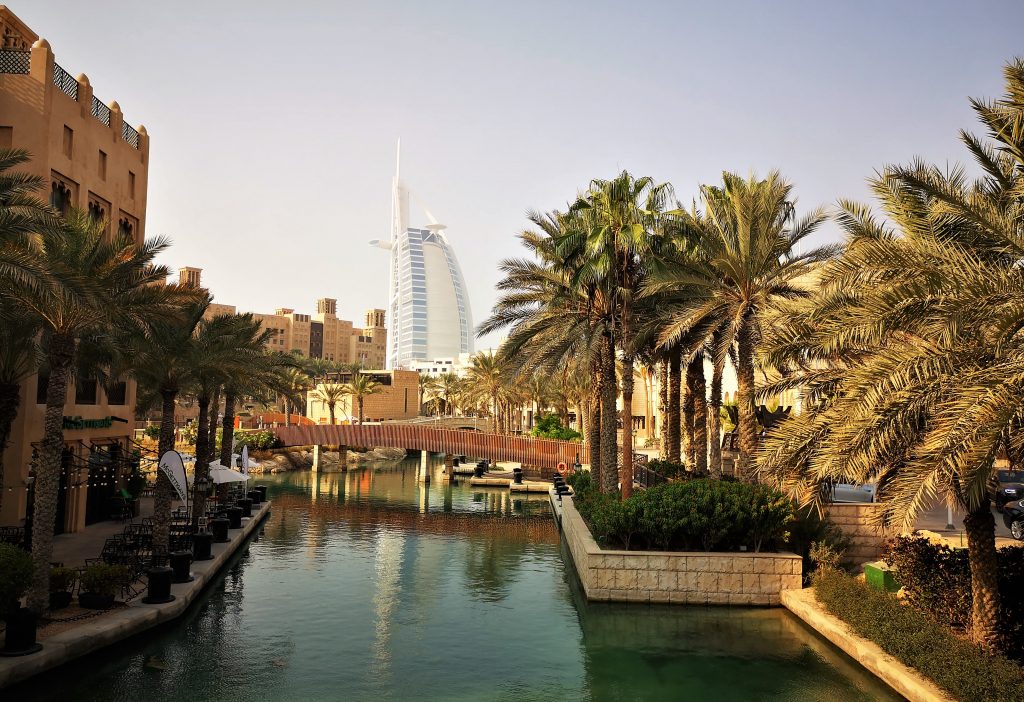 Dubai Marina
In 2017 I had a delicious lunch here with a view over the water. Super nice place to go for a walk. You are almost everywhere surrounded by skyscrapers and during your first visit here that felt really special. You keep staring up and being amazed by it!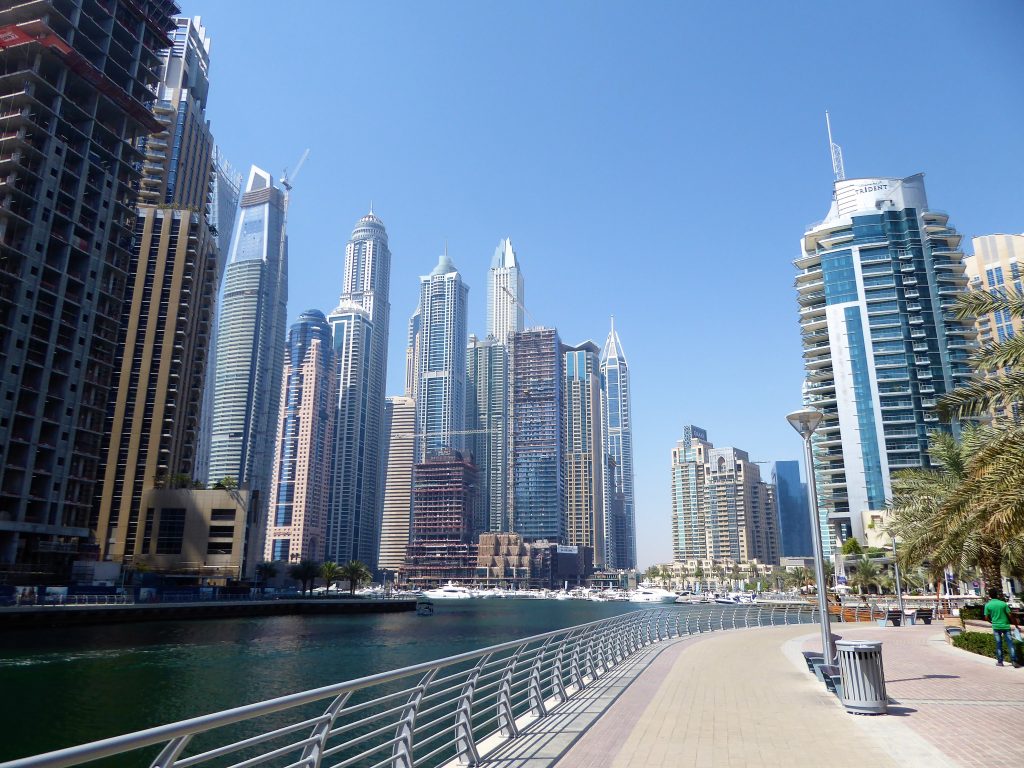 Burj Al Arab
A world famous building that you must have seen, I knew this from an old advertisement or a stunt by Roger Federer and Andre Agassi who were playing tennis on the helicopter deck.
Nearby is a nice beach which offers a nice view on the Burj Al Arab. Of course you can also go inside, if you book a room you will have to pay about 1.500 euro for a night…if you can't miss that, maybe you can eat some fancy meal at one of the restaurants?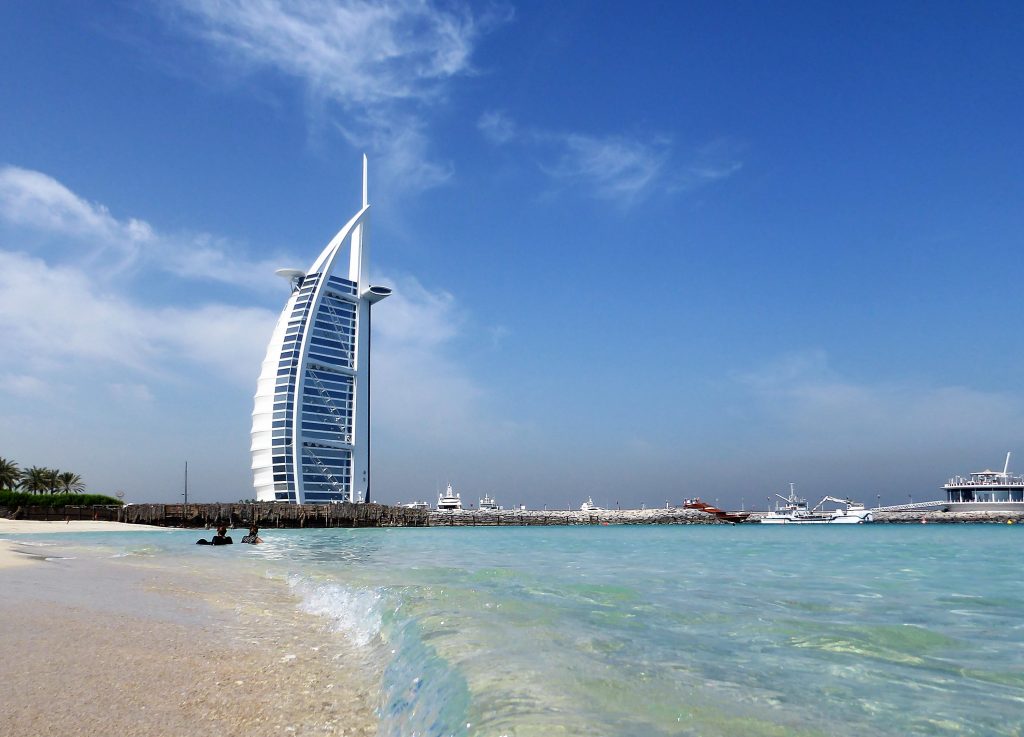 Did you know that the Burj Al Arab has an Atrium 180 metres high? This has earned them an entry in the Guinness book of records!
Burj Khalifa
But if you really want to see something high… Then you should go to the Burj Khalifa! This is currently the tallest building in the world with 828 meters!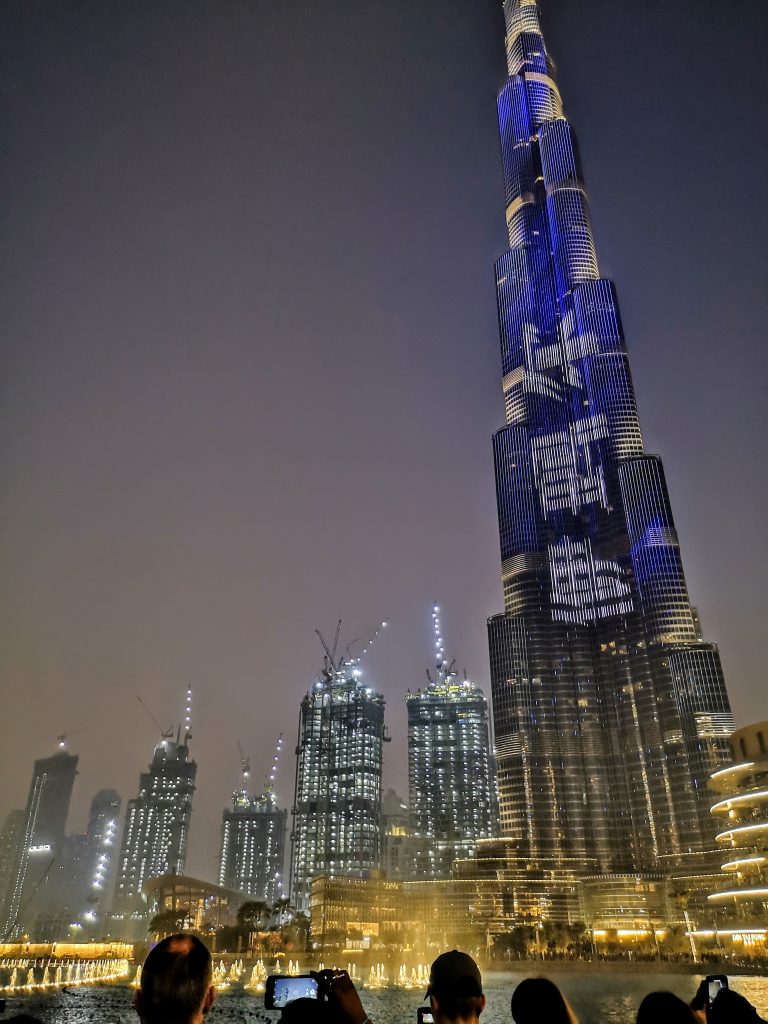 The atmosphere is really great. Even if you don't go for the fountain show you still have to be here in the evening hours. During the day it is too hot outside, it is boring and quiet near the lake. In the evening there are a lot of people, there are all food carts that sell all kinds of goodies and so the atmosphere is totally different and super cozy!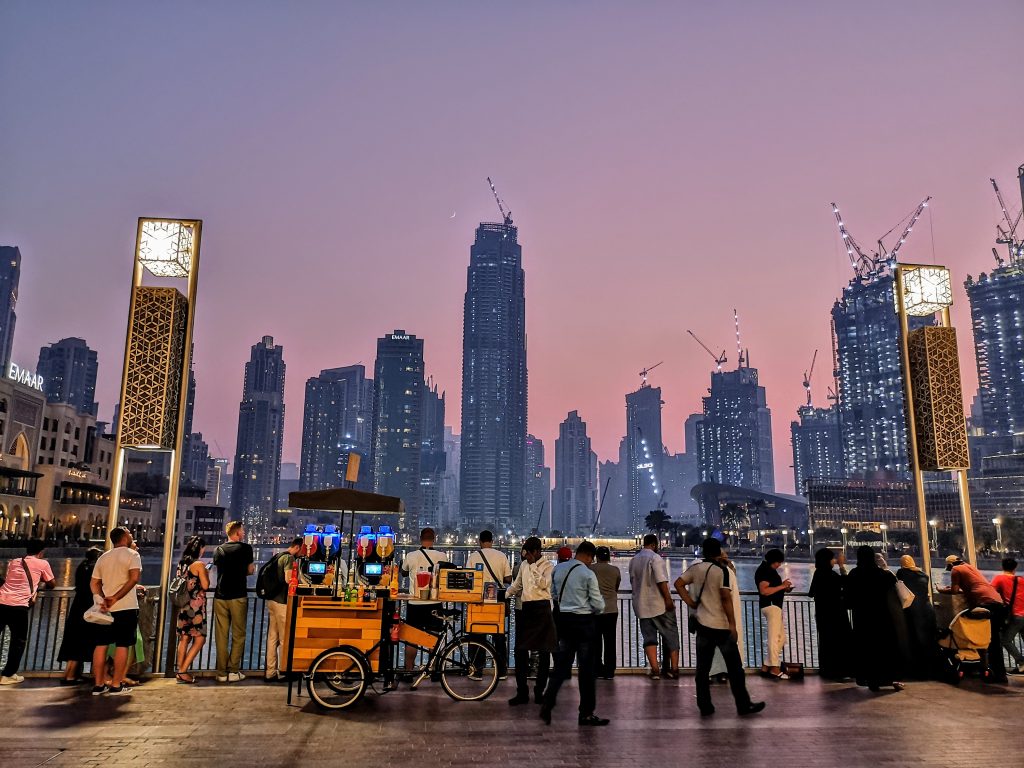 Dubai Mall
I like this mall, even though it's huge, cozy. It feels small, the floors are nicely made and each 'street / floor' has its own atmosphere.
Also in Dubai mall you will find a huge aquarium.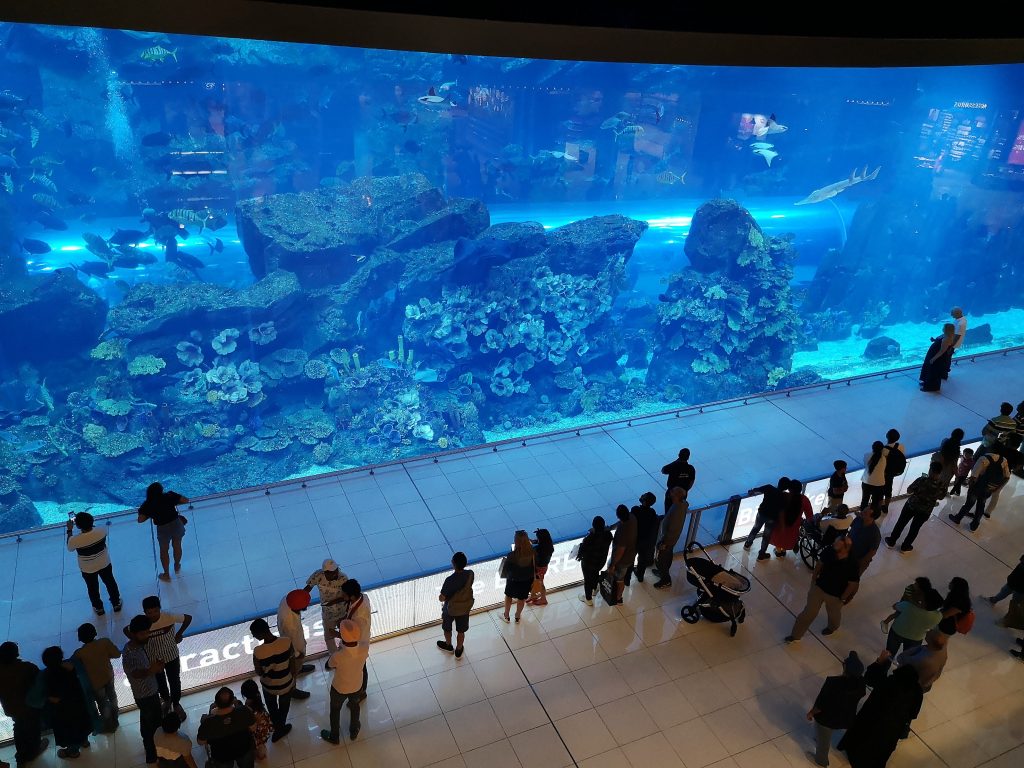 And they have an ice hockey field here, Dubai Ice Rink!! If you still want to experience the feeling of the old souk in a modern way, just walk to the other side of the Souk Al Bahar.
Dubai Fountain
The fountain show behind Dubai Mall with a view of the Burj Khalifa is not to be missed of course. Every evening from 6 pm and then every half hour there is a show of 5 to 10 minutes. Every show is different and gives the lake and its surroundings a wonderful atmosphere! It is clear and empty during the day but in the evening when the sun is gone it is nice and busy with many tourists of a western nature but also with a Middle East background.
Lovely mix of people!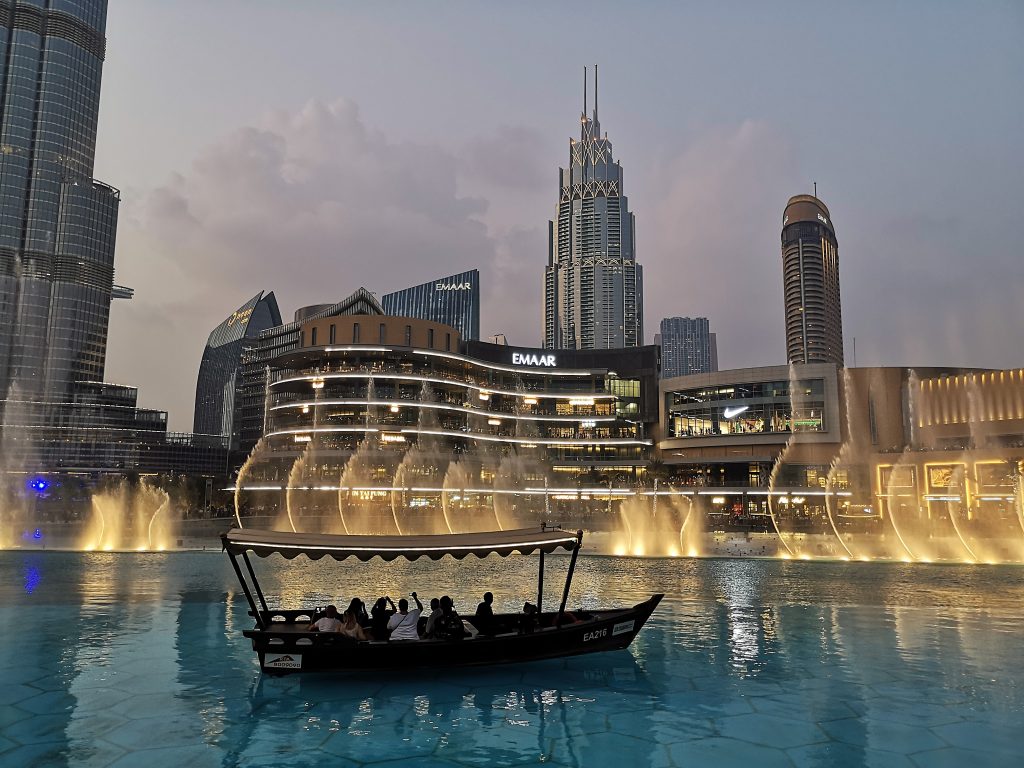 Spend time in old Dubai
Dubai Gold & Spice Souk
If you really want to experience the feeling of old Dubai then you have to go to the old souk. This souk is located on the edge of the Deira district. This district is separated from new Dubai by the creek. They have now extended this creek so that there is some more water, a river, in Dubai. In the old days the part of the new Dubai was desert and the part of Deira was the only 'city' that was inhabited…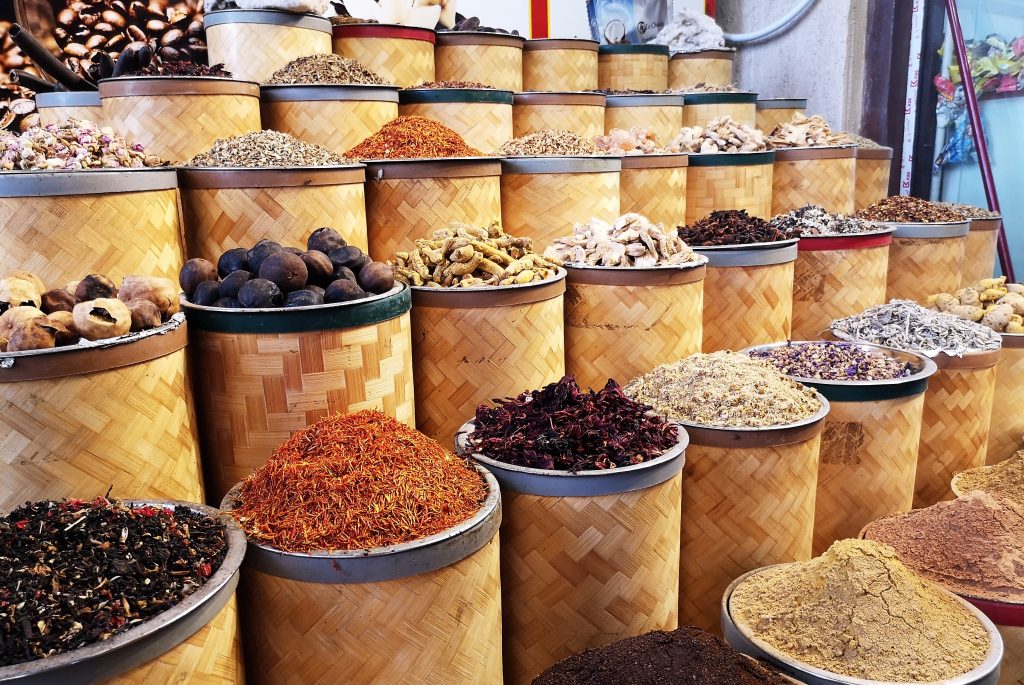 Dhow Cruise
A bit of sailing is always great! Take a Dhow from the spice souk and let yourself be sailed over the creek for an hour. Old and new Dubai pass by and enjoy a lovely breeze!
After your Dhow cruise, have yourself dropped off at the other side and walk through the old souks. Slowly these will turn into the new Al Seef souks.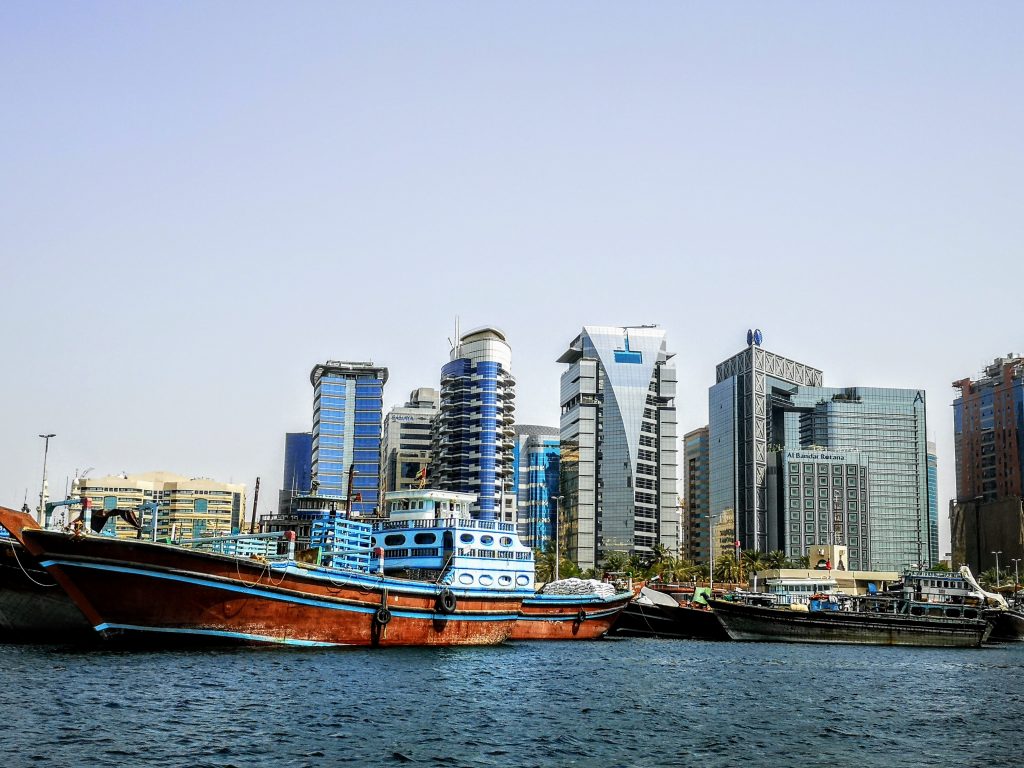 But first have to take a refreshing drink on the cool terrace of Bayt AL Wakeel. Take a look inside the old building. They like to let you enjoy the old history of their building through the many photos and artifacts that are there.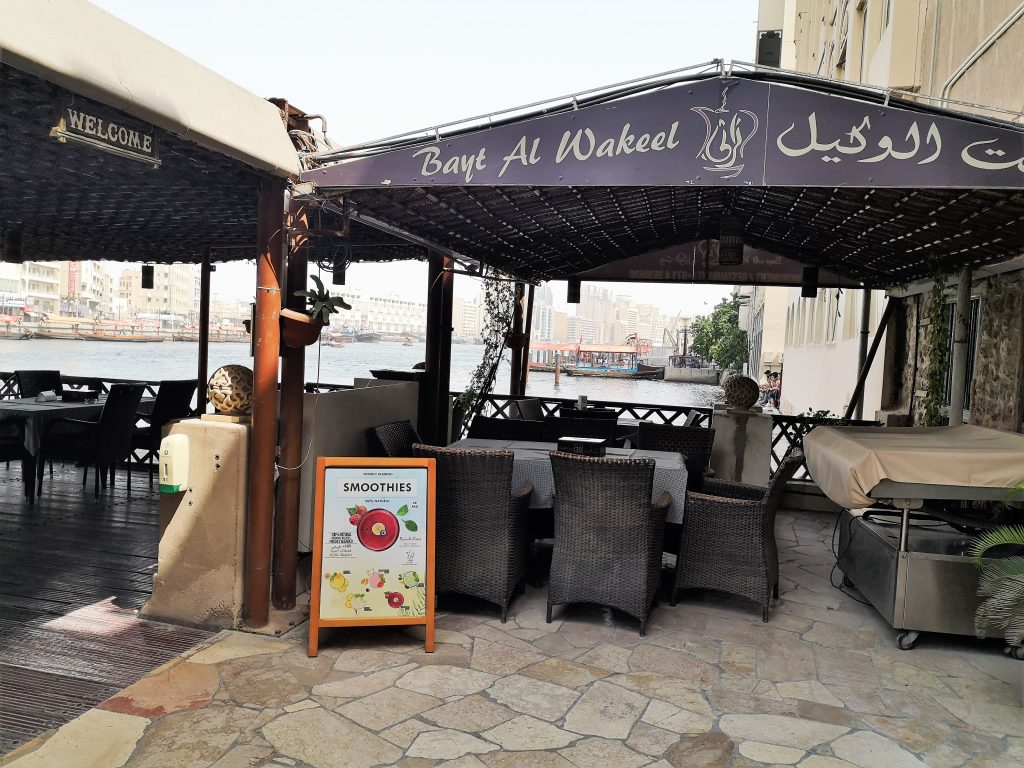 Al Seef Promenade
This brand new mall is really great fun. It was not crowded but it is nicely landscaped and makes you think in the old souk but then in wide scope and with new shops and super neat toilets. Spending an evening here is certainly not a punishment!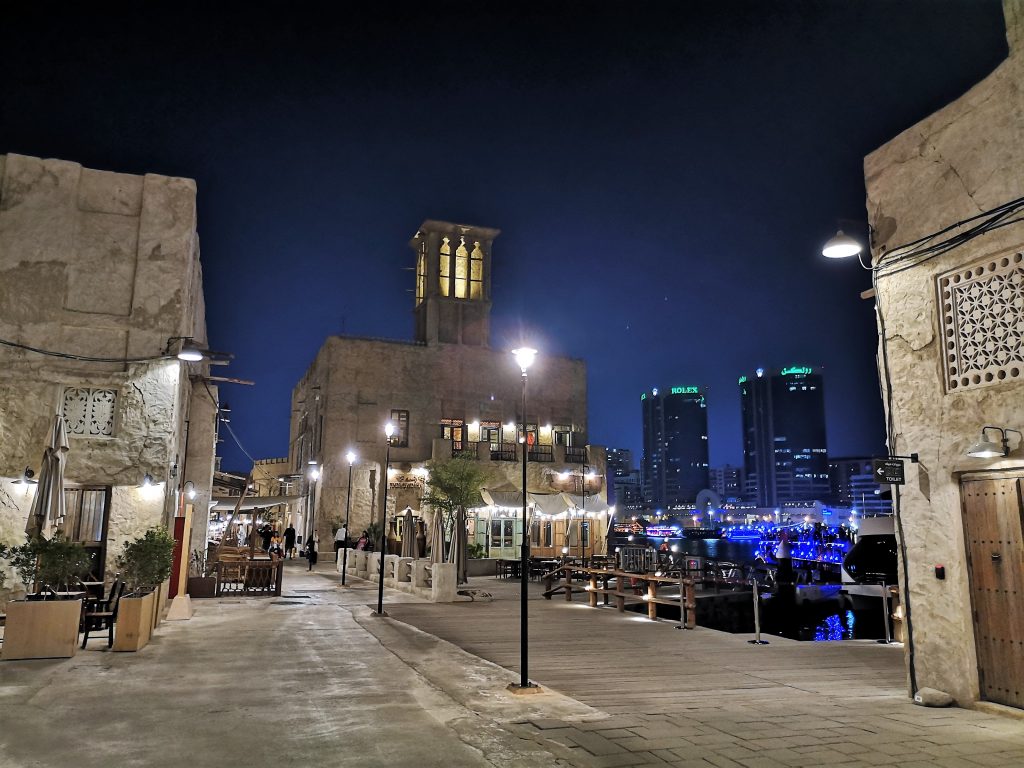 Dubai Musea
A small but nice museum to see what it was like in the Emirates. If you take the hop on hop off bus then this ticket is included in your day trip in Dubai. Walk inside and walk through the museum in 20 minutes.
Al Fahidi Historical Neighbourhood
This part is completely rebuilt and put here for the tourist. I did like a small walk in this neighbourhood. The best thing about this neighborhood is the museum, Alserkal Culture Foundation. They had great art but also souvenirs that you could buy. In addition, it is air conditioned and you can sit there and enjoy a coffee or soft drink!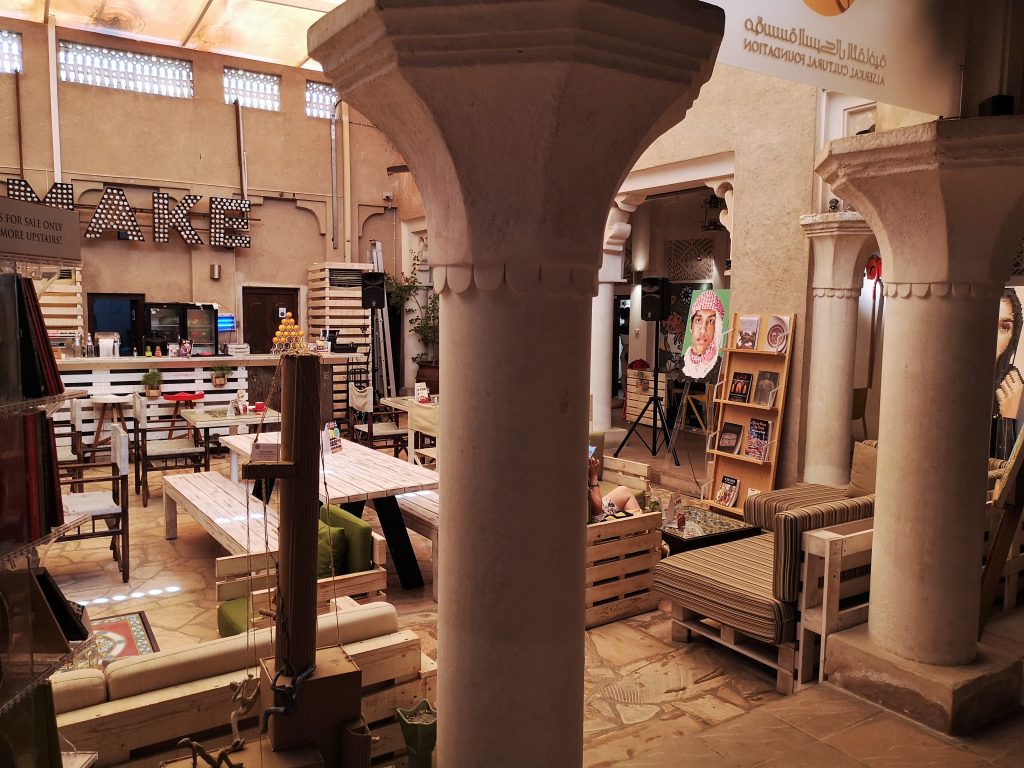 The Deira district
This is old Dubai. The higher buildings can be found here as well, but this is even more of a 'normal' city. Here you will find the Clocktower and many nice shops and street restaurants. The atmosphere is lovely on the street and the ordinary life of Dubai takes place here!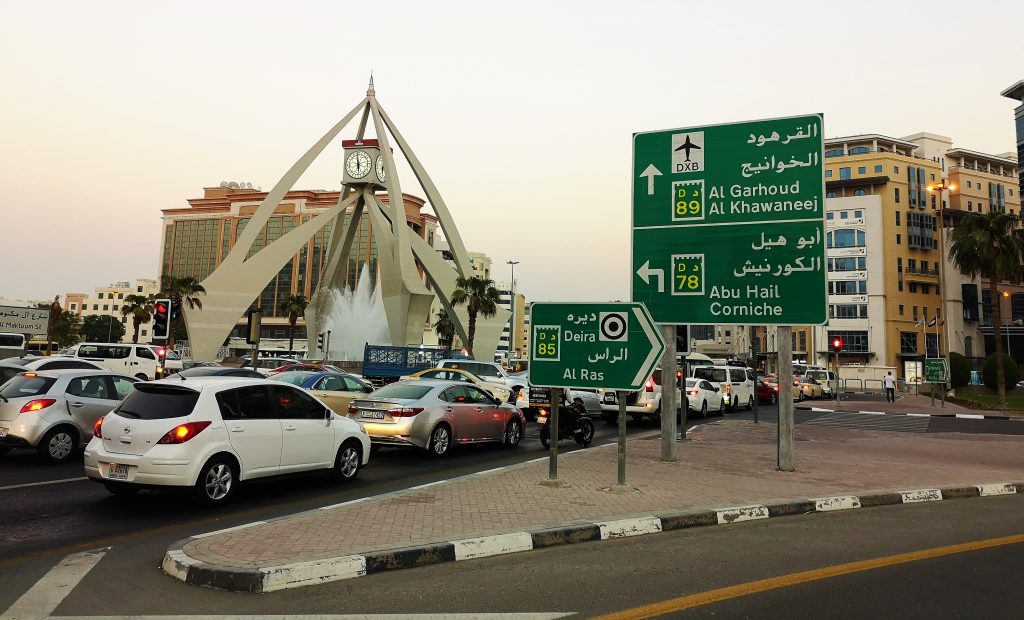 2nd of Decemberstreet (former Dhiyafah Street)
I spent 2 days in a hotel between the new city and the old city and that turned out to be a very nice part. A normal shopping street with many nice restaurants. Recommended are: Al Mallah with many super fresh salads, hummus and delicious bread! Or go to Sidra which was next to our hotel. A Lebanese restaurant with a huge choice of vegetables (raw, fried or cooked), hummus and the most delicious freshly baked bread from the oven!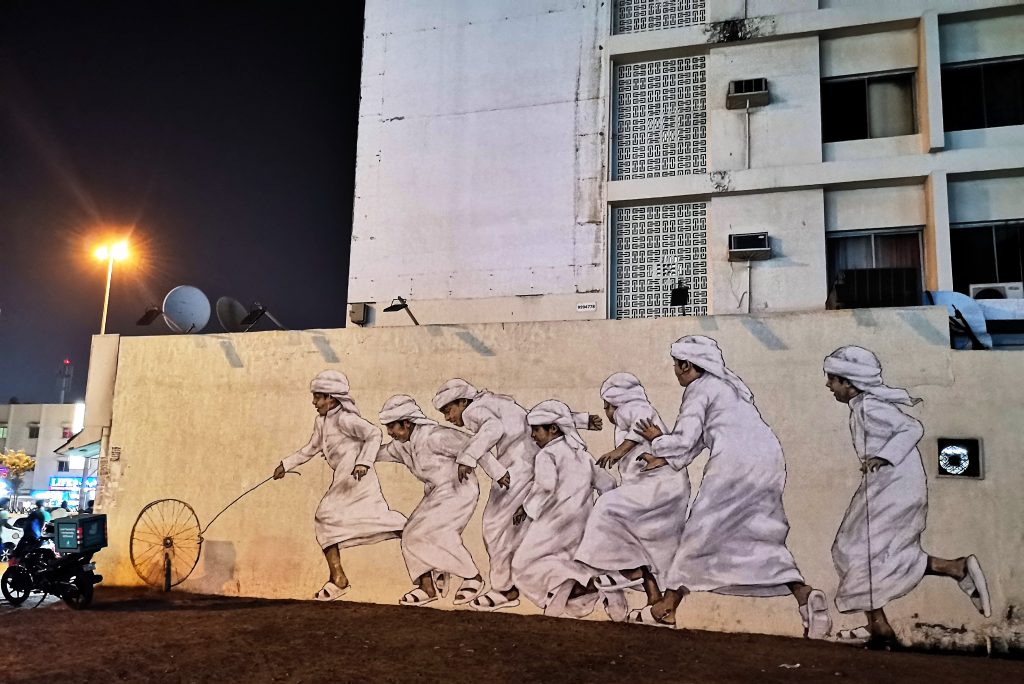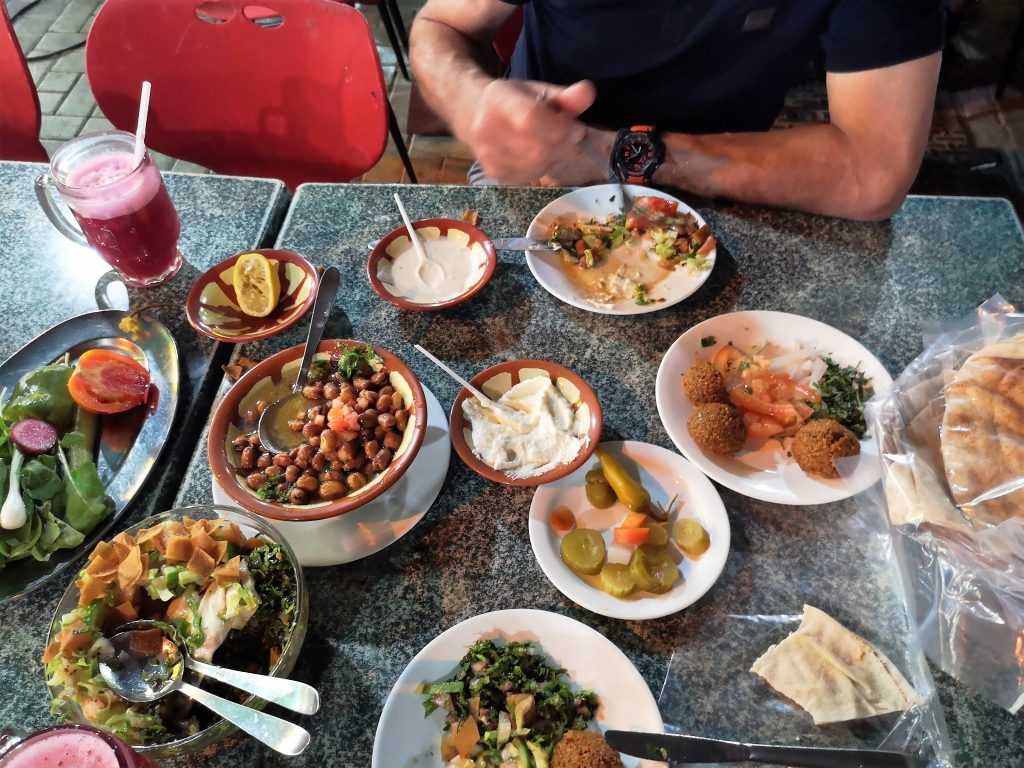 Travel Guide Abu Dhabi & Dubai
Where to stay in Dubai
I've got options in all price ranges as an extra on this travel guide Abu Dhabi & Dubai 🙂
At The Top Hostel
Nice place for a trifle. This hostel offers you a place on the 66th floor in The Biggest Block of Dubai. This means that this block houses the most skyscrapers per square meter. This hostel has a view of palm island. Unfortunately it was very foggy when I was there and on the picture you can't see much of it.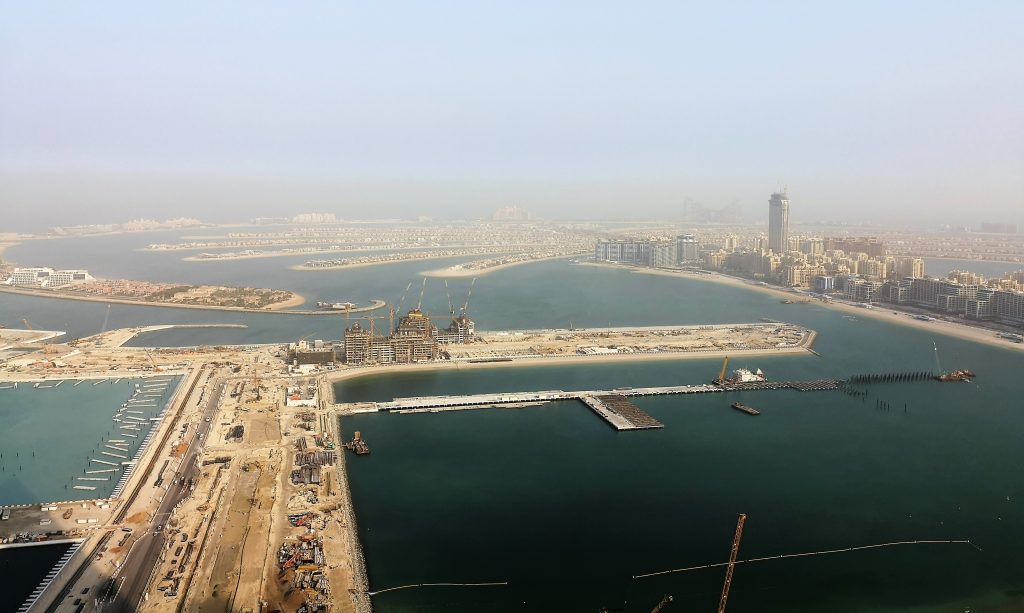 Time Grand Plaza
I stayed at the Time Grand Plaza during my first visit. Lovely hotel with super breakfast! Of course with a swimming pool as well, almost all of the slightly better hotels have swimmingpools and I can certainly recommend them for the temperatures they have there 🙂 A swim in the evening is just the best!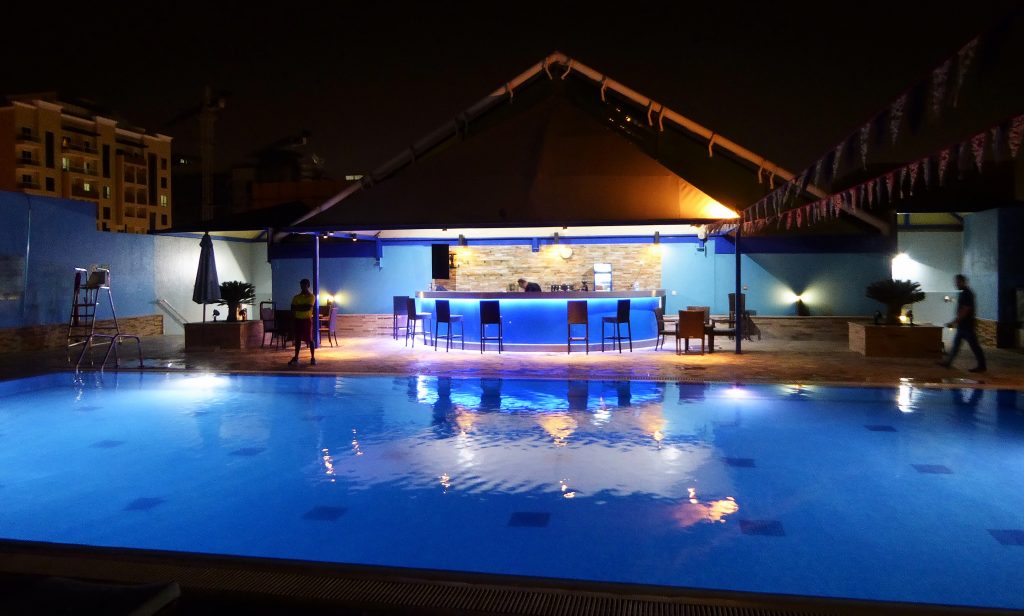 Jumeira Rotana – Dubai
Fine hotel with fine rooftop pool overlooking the Burj Khalifa from a distance. I thought they had a good breakfast with good coffee! This hotel was on 2nd or December Street and that was a nice street with nice restaurants mentioned earlier!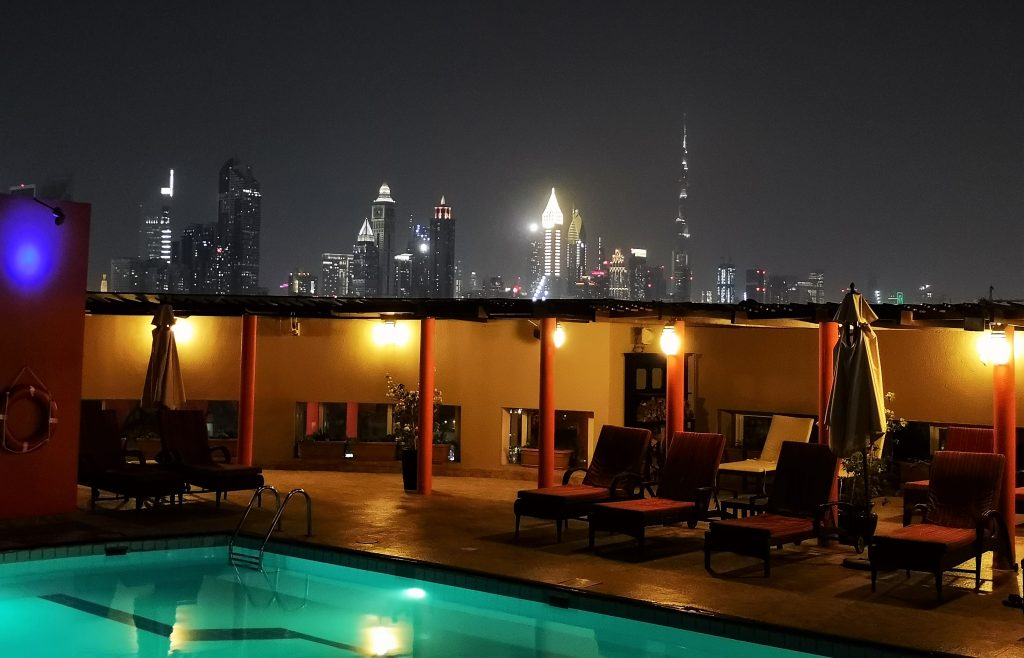 If you use public transport while staying here you must use the stop Al Jafiliya. From there it is a 15 minute walk to the sea… Nice walk through everyday Dubai.
Halo hotel (former Raintree)
Great room and bathroom and a nice but outdated pool on the roof. Breakfast was nothing to write about but enough. This hotel is 5km away from the gold souk. Walk there in the evening and see normal life on the streets of the local Dubai!
This hotel is 3 stops from the airport (terminal 3) and in the old Dubai, opposite the Deira City Centre Mall and therefore also close to the Deira City Centre metro station. Half an hour by metro to Dubai Mall/Burj Khalifa
And oh yeah… If you're going to have a (alcohol) drink in the bar of this hotel… be aware that you have to pay for it in cash. We only had just enough money with us to pay our bill.
Did you know there are three subway lines in Dubai. The red one that goes from Rashadiya to UAE Exchange. Takes a total of 1.5 hours if you do it all the way.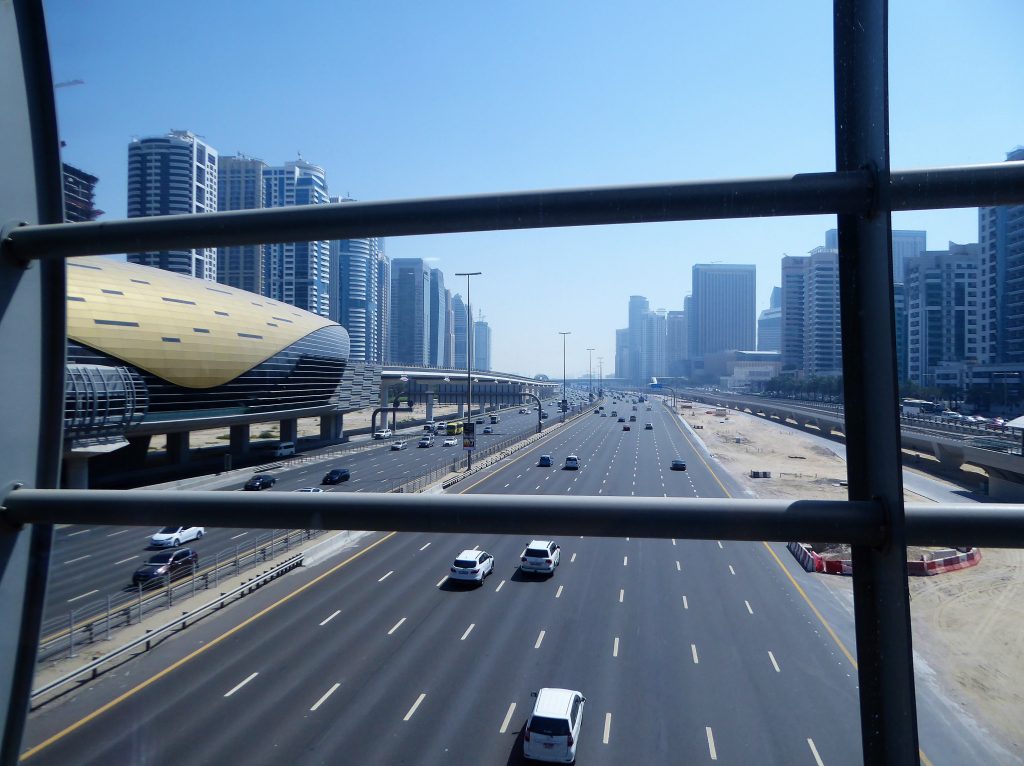 Do you have any time left?
Read these extra tips in the Abu Dhabi & Dubai travel guide.
Go to the other side of the country and stay a few days in the state of Fujairah.
Go snorkeling for a day in Oman
From Fujairah you can easily book a day trip to Oman. This is offered by every hotel or organization and is therefore easy to book. And how relaxed and enjoyable is it to spend a day on the boat, enjoying the sun, snorkeling and swimming?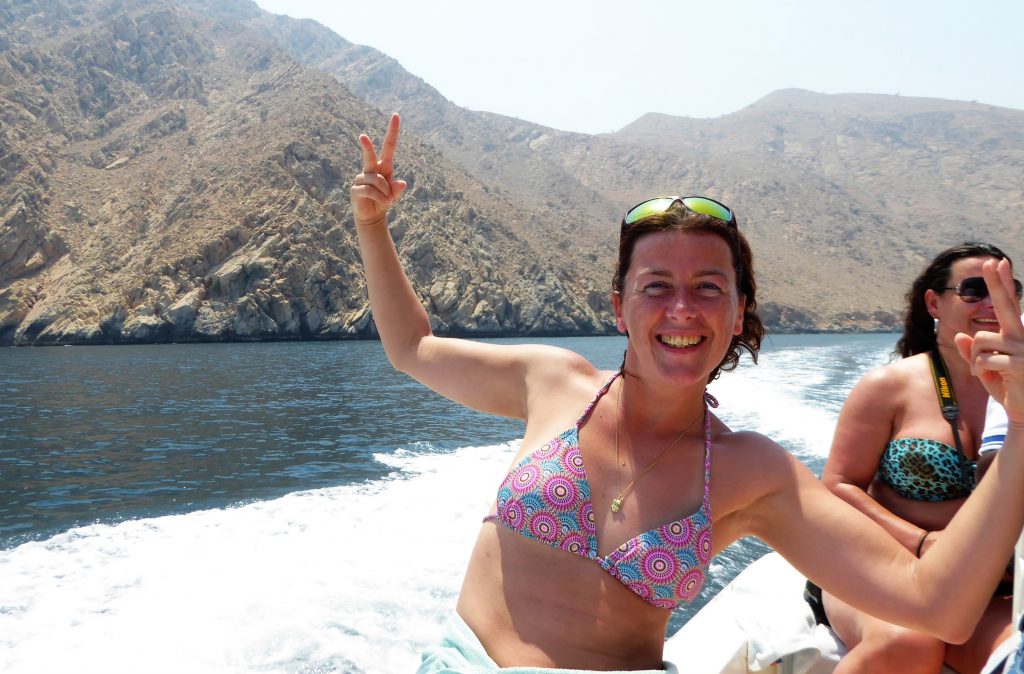 I enjoyed the snorkelling and the coastline of Oman to the fullest.
Dunebashing and sunset in the desert
A trip into the desert should not be missed during your visit to Abu Dhabi & Dubai. Go dunebashing and enjoy the sunset in a nomadic camp. This can be booked from Dubai or Fujairah!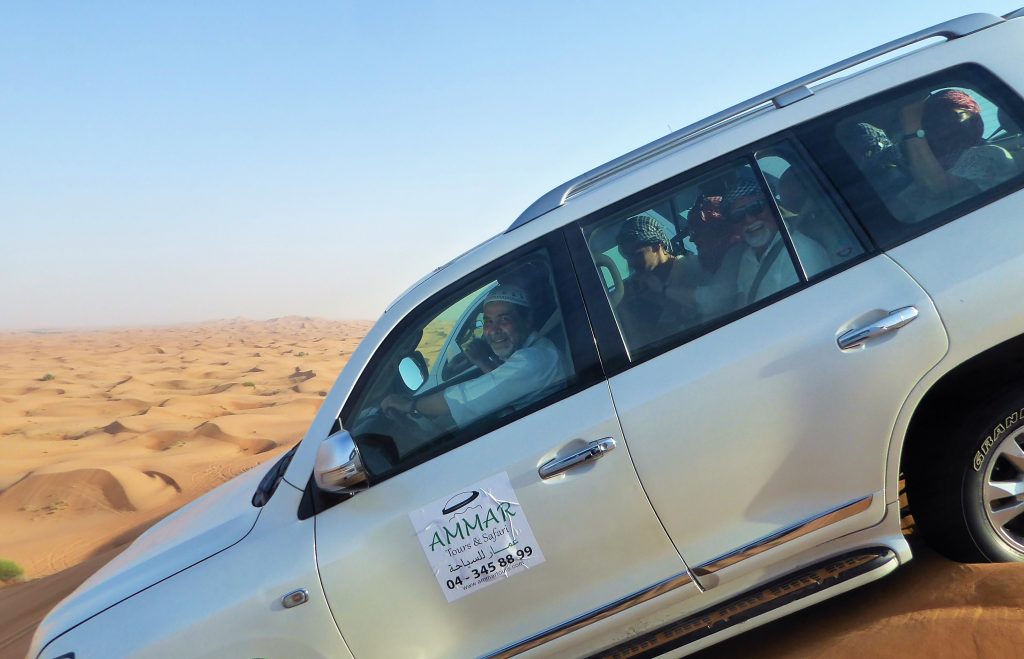 Of course I also went Crossing around the Sanddunes of the UAE during my first visit in 2017!
Extend your trip with a few days of Oman!
But a better option is to extend your trip by one week and really explore Oman! Go hiking in the wadis and watch the turtles lay eggs on the beach! Check out my blog about 5 days of nature, culture and above all lots of adventure!
Check how you can book your trip to oman with Blue Skies of Oman.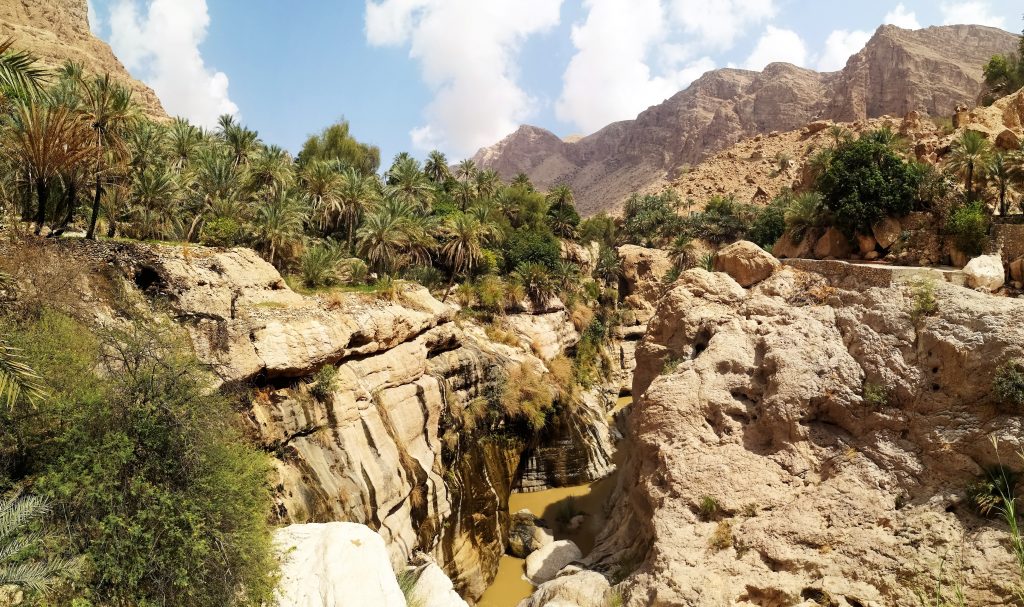 If you found this travel guide Abu Dhabi & Dubai useful, will you share it?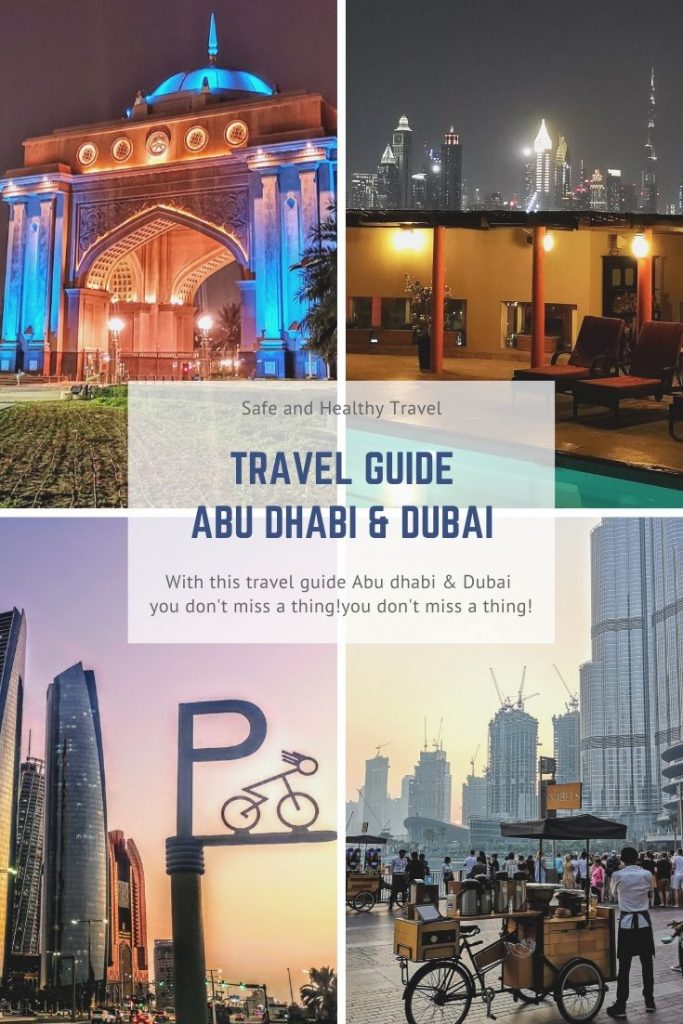 Want to read some of my other travels?
Kuala Lumpur Travel Guide – Malaysia
Poon Hill Trek – 8 day – Nepal
2 weed Travel itinerary Sumatra – Indonesia
Tips for Women – Safe Travel in India
Do like to give your journey that extra dimension?
I hope you love this world as much as I do!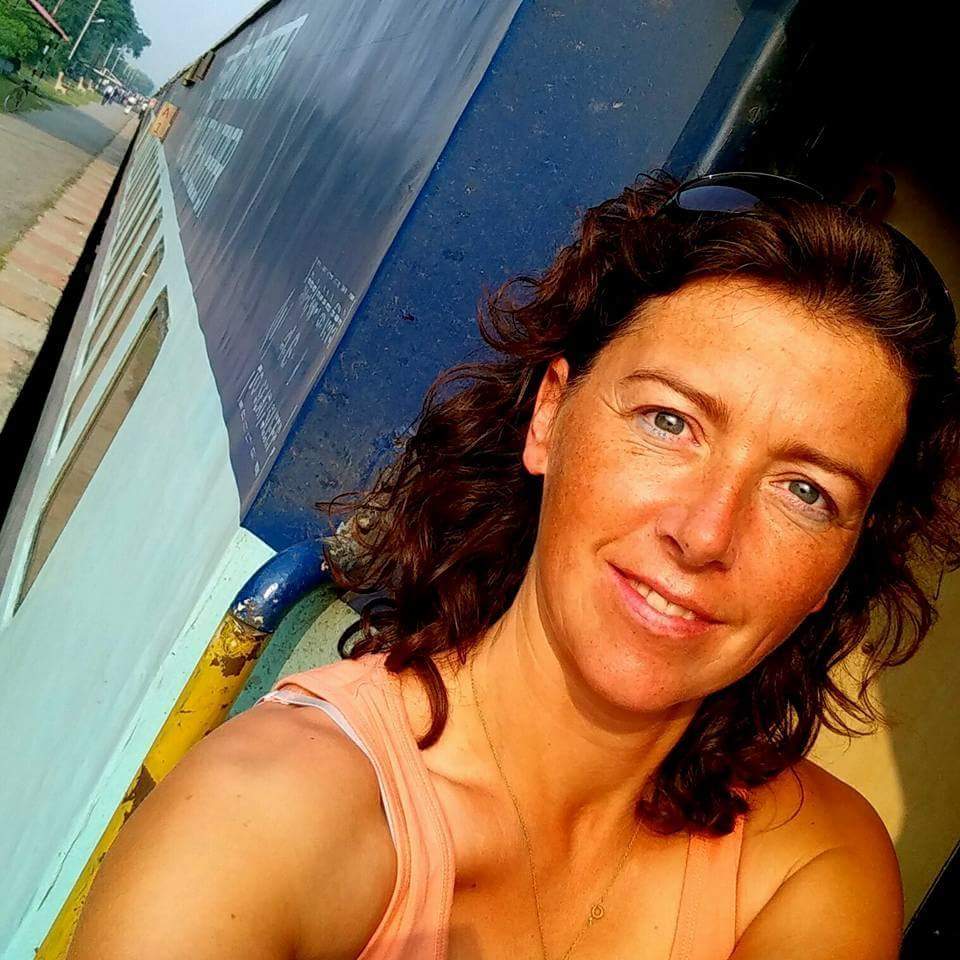 Jacomijn is een politieagent uit Nederland die jou graag laat zien hoe je veilig, actief en gezond de wereld kan over reizen. Safe and Healthy travel is a MUST