Visit the Jordan's Most Beautiful Wadi – Take an Adventurous trip into Wadi Mujib
|
Of course, I had read about the Wadi Mujib, the most beautiful wadi in Jordan. And surely I wanted to go on that adventure! So I made sure that I was still one day in the vicinity of the Dead Sea. The first time, I drove past it without being properly informed. I was then in Madaba and drove via the King's Highway to Kerak. When I drove back up after the visits at the bottom of Jordan, I made sure that I went to the Dead Sea to enter Jordan's Most Beautiful Wadi.
Visit the Jordan's Most Beautiful Wadi
Take and adventurous trip into Wadi Mujib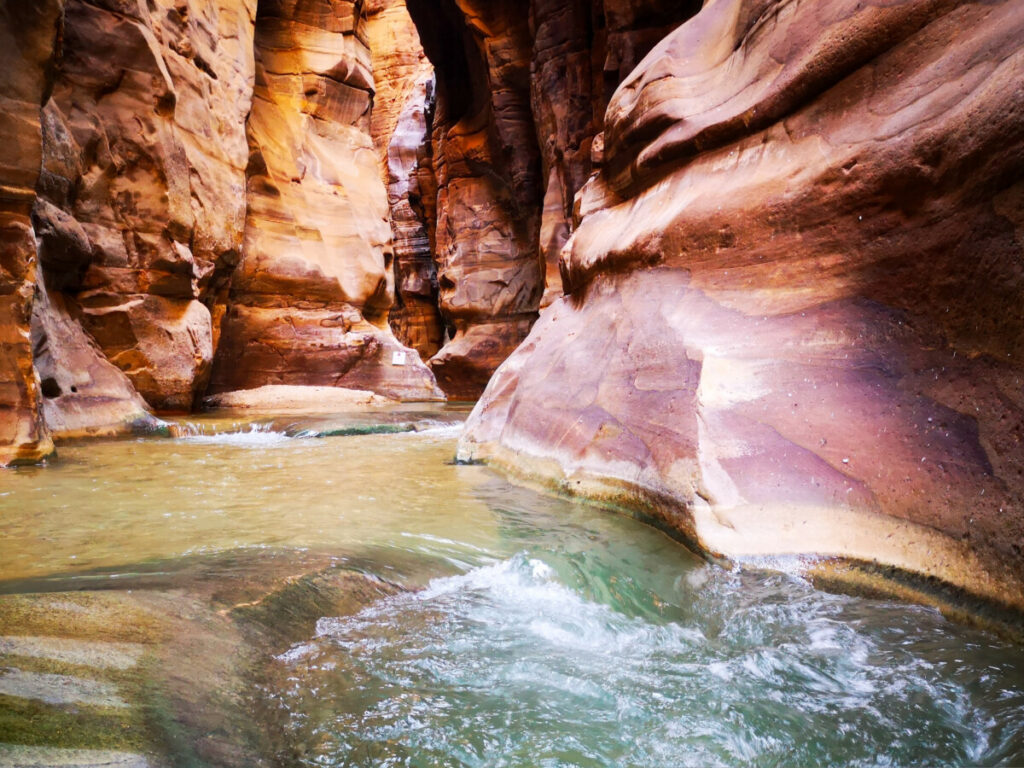 I was driving along a beautiful road that offered more and more views of the Dead Sea and slowly descended to the lowest point in the world. Once I drove past the Dead Sea, it didn't take me very long to see the entrance on my right. I parked the car and reported to reception. Fortunately, I could rent a waterproof bag and after paying the entrance fee for the Siq Trail and receiving a life jacket, I was allowed to continue.
If you have more time there are other options that also appealed to me. In this corona time it is too quiet and it is difficult to get a group together. But coming back again would certainly not be a punishment. I would like to do the Malaqi Trail. I like challenges and this seems to be the toughest and longest walk in this area. It is on my ever-growing list.
After I had put everything in my waterproof bag, I started walking. When you disappear around the corner and descend the stairs into the most beautiful wadi of Jordan, you immediately get a beautiful view of the gorge. The rock walls around you are already very high and you descend even deeper into the narrowing canyon. I start walking in the shallow water and feel the water and some sand crawl between my toes. I bought water shoes in Aqaba for 3 euros!
Ideal and they fit very well.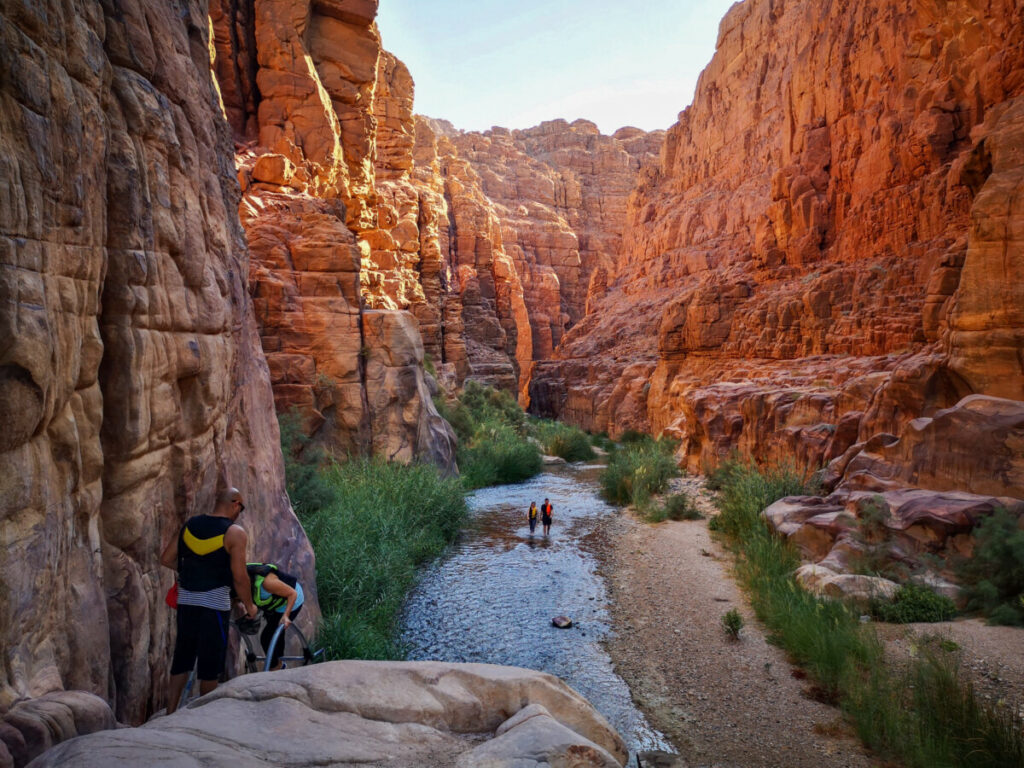 Take an adventurous trip into the Wadi Mujib – Siq Trail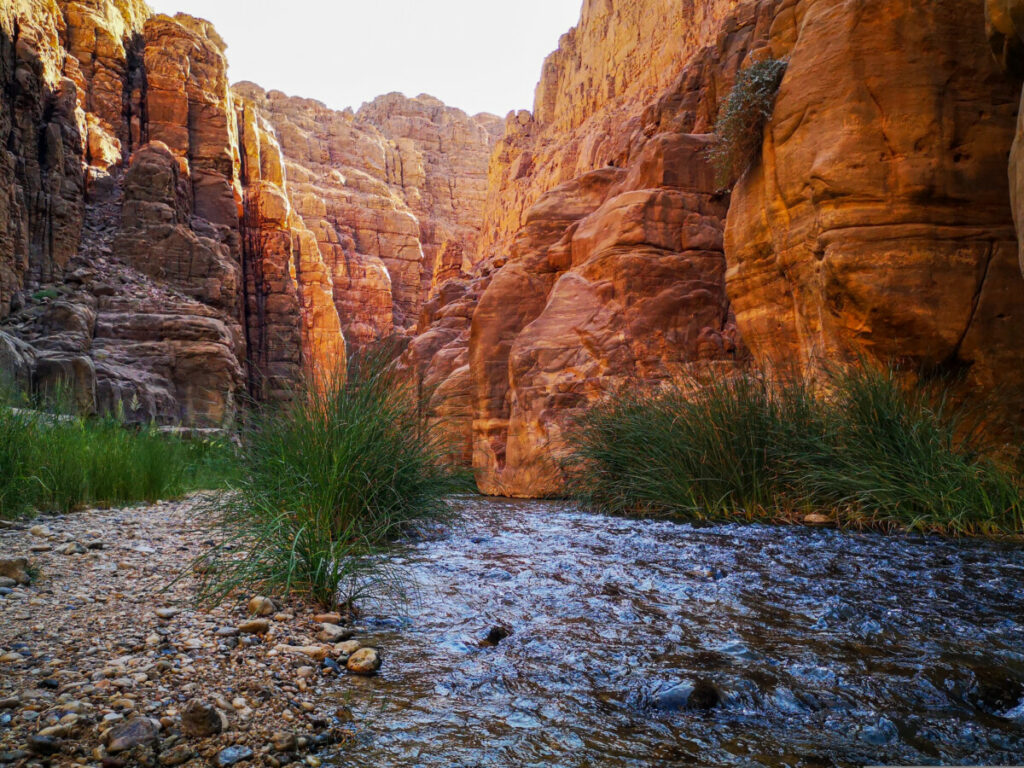 I have been walking through the water for a while and a few people are walking with me. I also meet a lot of people who are already coming back and they wish me a very good trip. In their eyes, I see the adventure glittering. Some of them also tell me that I will have a great time and that I should enjoy the slide!
I keep my phone, which I use to take all the photos, in the selfie stick. That way I have a better grip on the device and you have more to hold on to when you take the thing out of your bag over the running water. It makes me feel a lot more confident about taking the camera out of the bag in all sorts of places.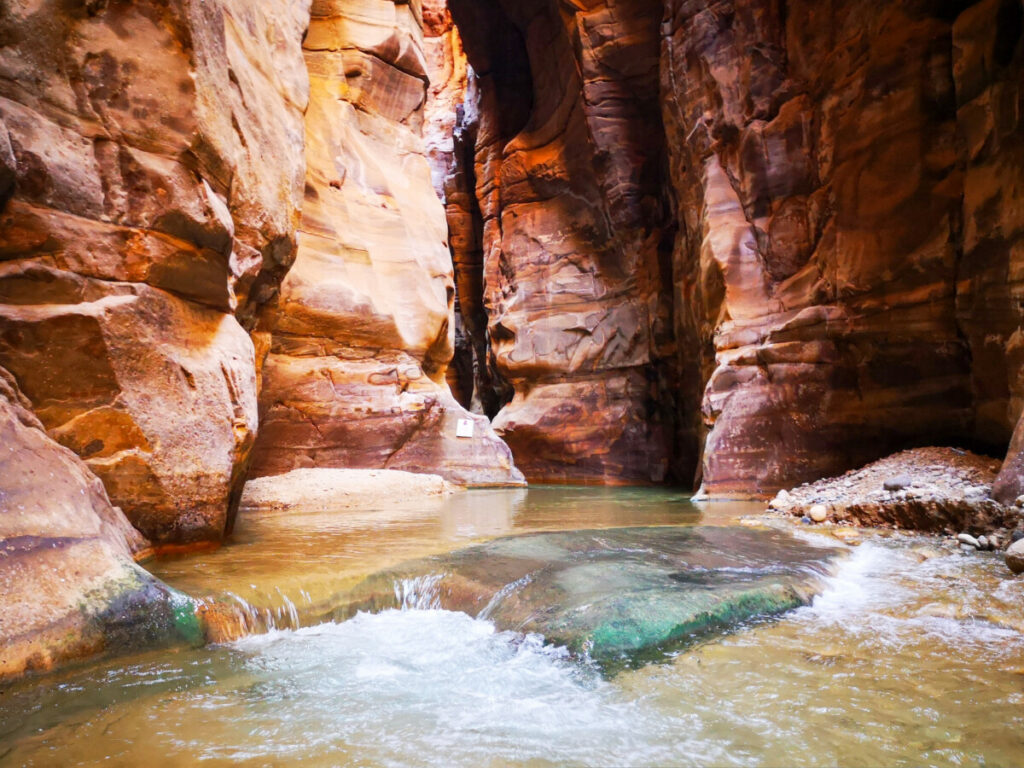 The water gets deeper, the walls seem to get higher and the stream I am wading through gets narrower. It gives me a special feeling. It is windless in the most beautiful wadi of Jordan. You can hear people in the background, you can hear the water flowing… but otherwise it is quiet. Far above you there is light and that sunlight shines into the wadi and illuminates it all. It is not very light, but the light that shines through, illuminates the water tremendously.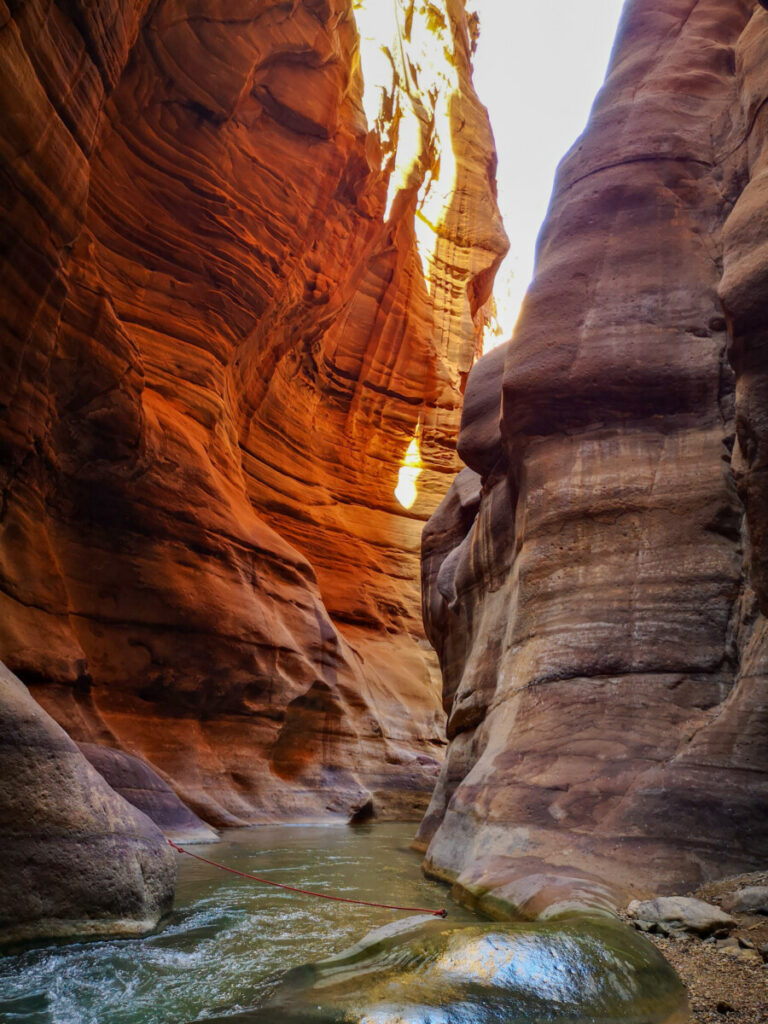 The most beautiful wadi of Jordan – Wadi Mujib
At some point you really have to go swimming, as there is a steel cable along the wall that you 'have to' hold onto. Everywhere I see warning signs pointing this out to me. At some places, especially a little further into the wadi, there is a strong current and it is certainly useful to hold on to it. When I come to a staircase for a rock that we have to cross, it is also nice that I can hold on to the steel cable. Not everyone is fast and agile in climbing the stairs and then stepping over the rock. In busier times, I can imagine that you have to wait a long time here.
When you think it is your turn, it may be that people are coming from the other side. They have also been waiting for some time and want to get out of the gorge again. It is two-way traffic in the gorge and where it is narrow it piles up, on both sides.
It's those narrows, those climbs that make it super adventurous and above all a real workout.
I love it!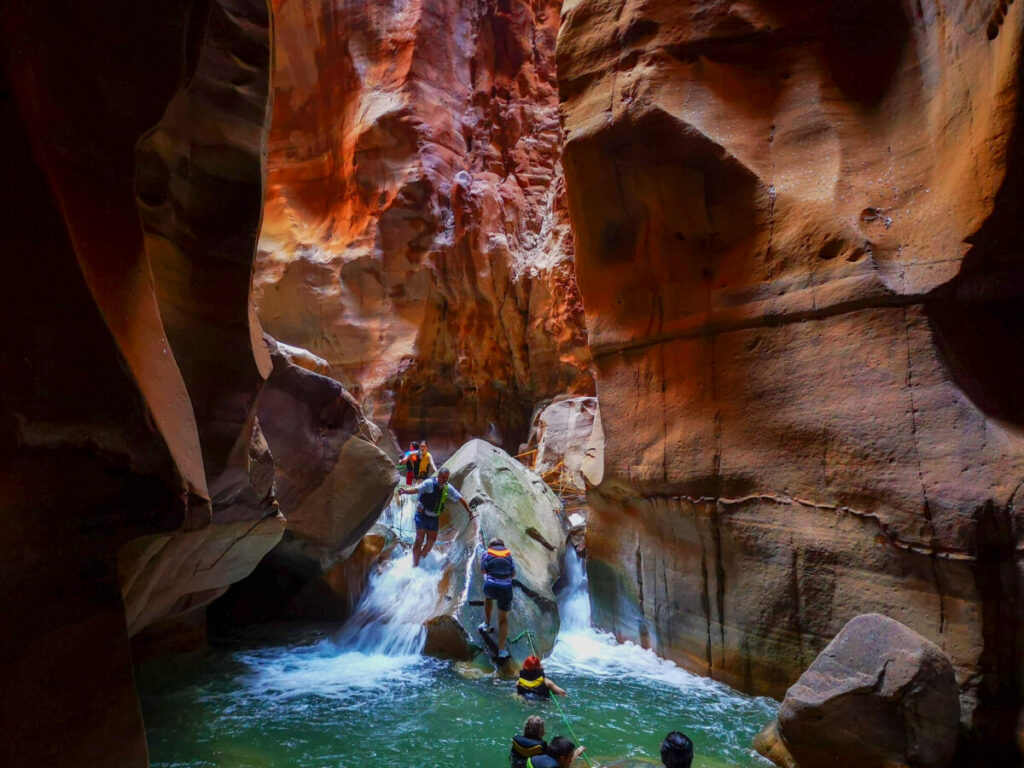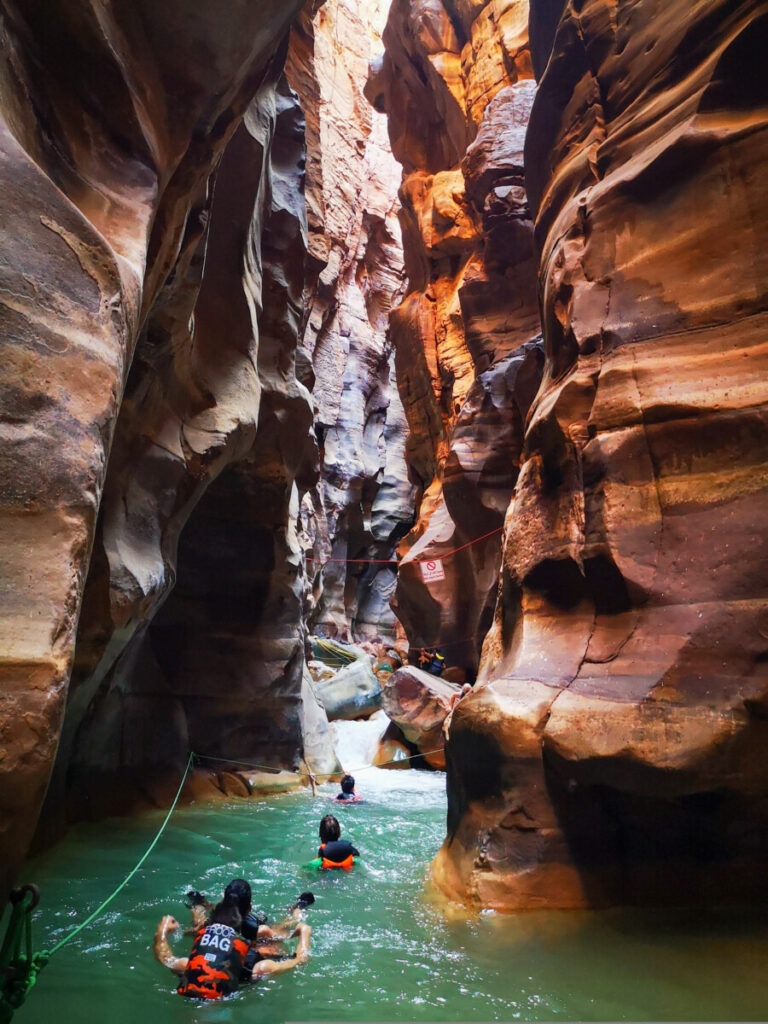 After some climbing and clambering, a few photo stops, I reach the end. I must admit that the size of the waterfall disappoints me… I had expected bigger and higher because the walls of the wadi can really handle higher… It is really too high to go any further but with a bit of help from some ropes, stairs etc you could go further. Everybody turned around here and so we all take a photo moment, so you have to stand there for a while if you want to have your photo taken with the waterfall alone 🙂
Do you also like a challenge?
Hike into Jordan's Most Beautiful Wadi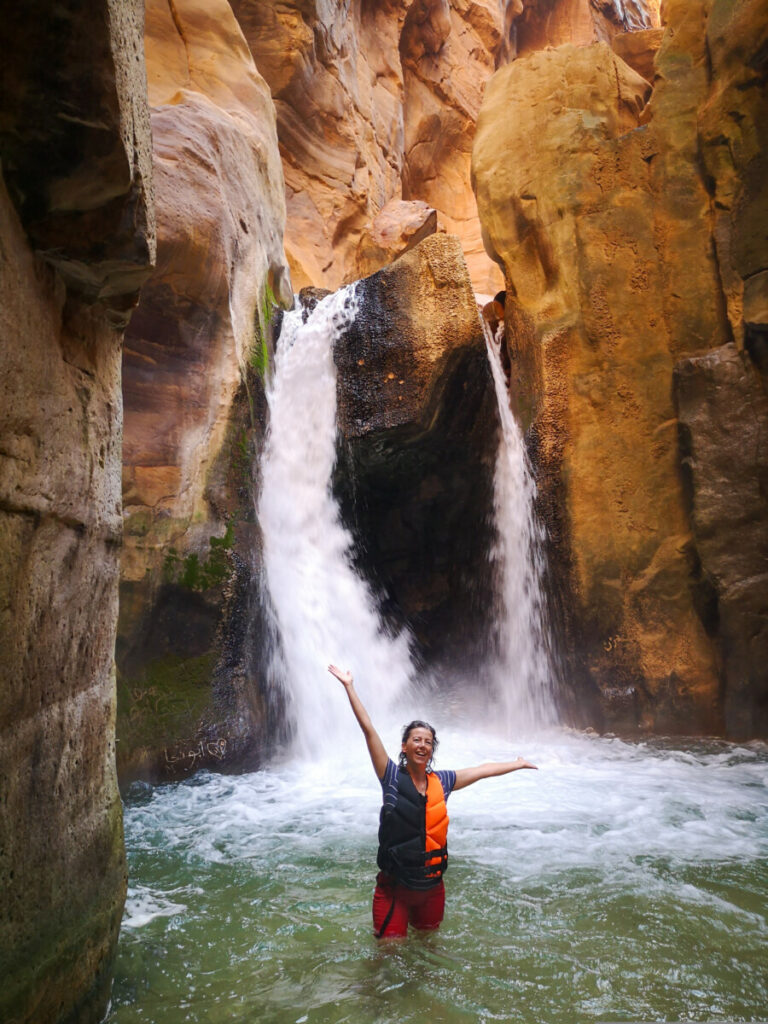 Nevertheless, I don't mind starting the way back. Especially with the water and the descents by the rocks, this trip is challenging and adventurous! There are men at the more difficult places to guide you if you don't see where you have to put your foot or if you don't see the slide. I was very happy that the man pointed it out to me because the person before me was using the stairs. When she looked back and saw me sliding…. I saw the disappointment on her face when I came back up.
It is only a short slide but the fact that it is just a natural phenomenon makes it so cool! The fact that you are speeding up and making a deep splash in the beautiful water is really great!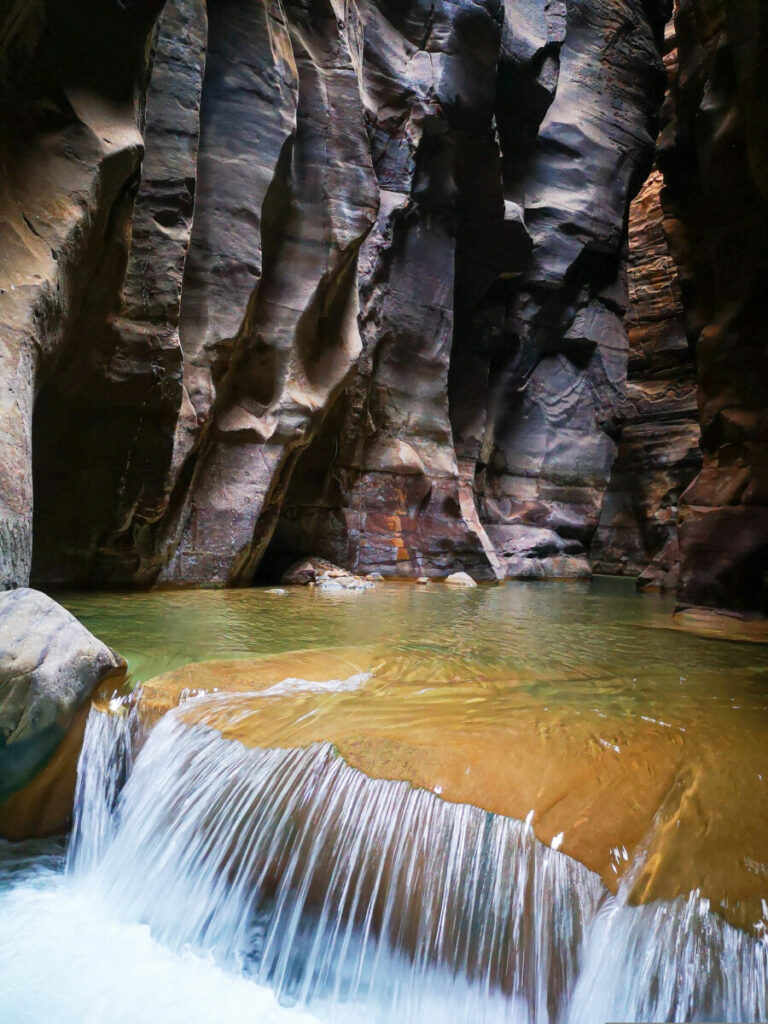 After this, I took my time on the way back. There were still some small steps and some rocks to climb over and I enjoyed the surroundings, the atmosphere in this Jordan's Most Beautiful Wadi. I had a wonderful morning and was very happy that I went back to hike this trail.
What you need to know for your visit to the Wadi Mujib
The Wadi Mujib Sig Trail can be walked without supervision. Along the way, there are guides who will help you if you find it difficult to make a particular climb or descent.
The Sig Trail will take about 2 to 3 hours. Take your time and enjoy the high walls. Before you know it, you can start your way back again.
Wadi Mujib is closed from 31 October to 1 April. Then there is more chance of rain and so the gorge fills with water. The chances of floods entering the gorge are too big and unpredictable and therefore all trails and activities are impossible.
There are several trails to book in Jordan's most beautiful wadi, e.g. Siq Trail as I did, but also the Malaqi Trail, Canyon Trail, Ibex Trail and the Al-Hidan Trail, but you can also have an adventure with a zipline. Visit Visit Jordan for more information.
Bring water shoes for this tour. You walk a lot through the water of course and the surface is not sand but stones. Bare feet is not an option. If you don't have water shoes, you can of course always use sandals that can be fastened properly or just your sneakers.
A waterproof bag is also recommended. You can rent one, but if you have your own, you can save a lot of money. Of course, renting such a bag is not one of the cheapest things.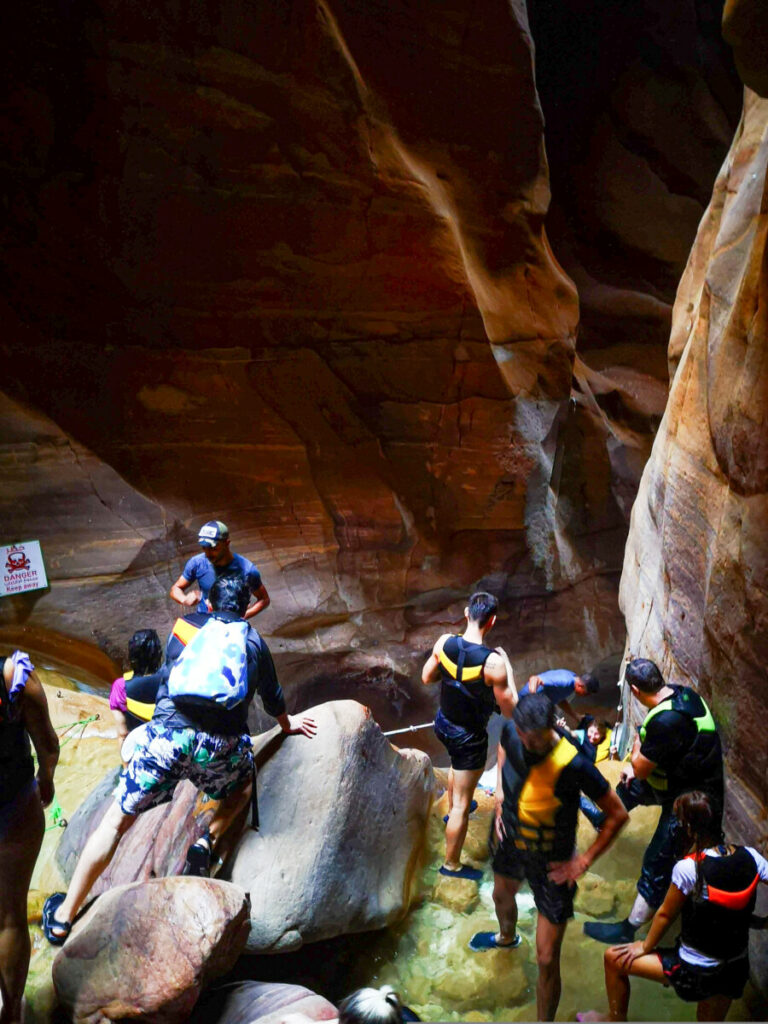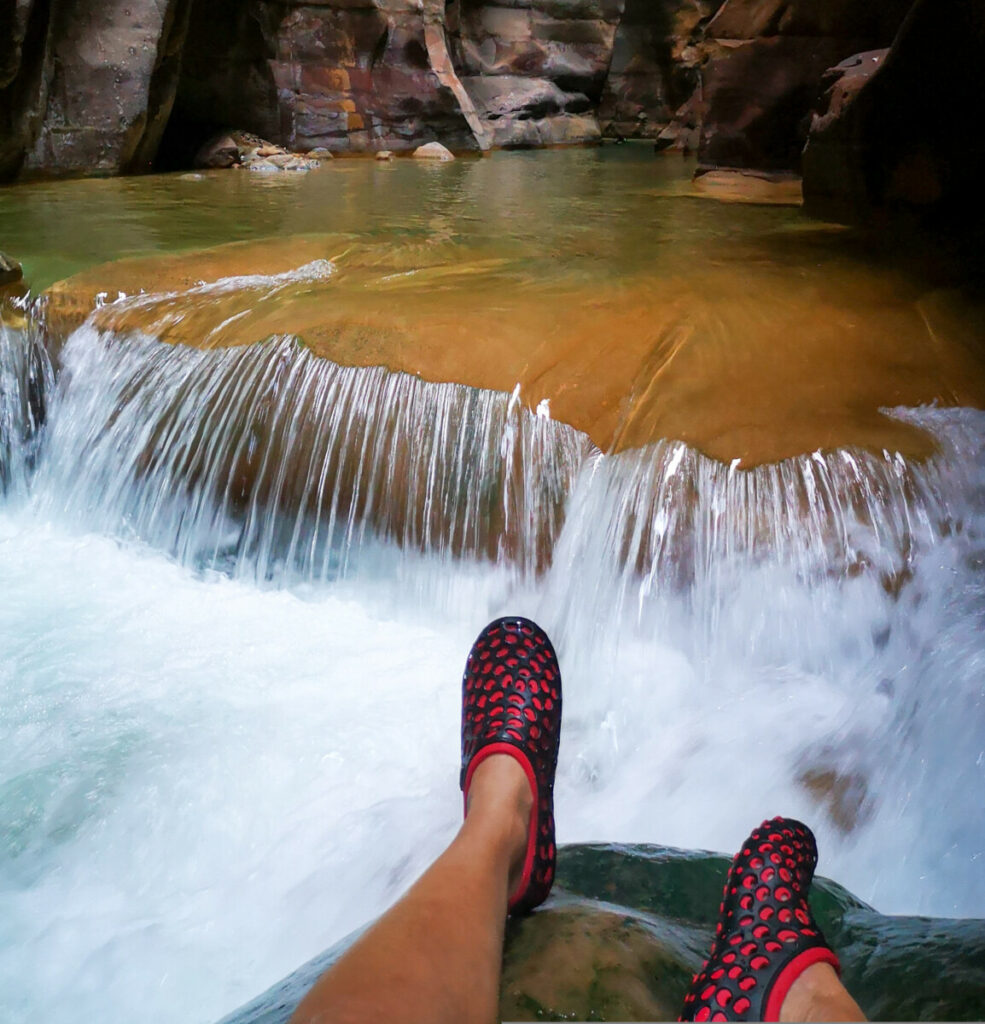 Save this cool walk or share it on your socials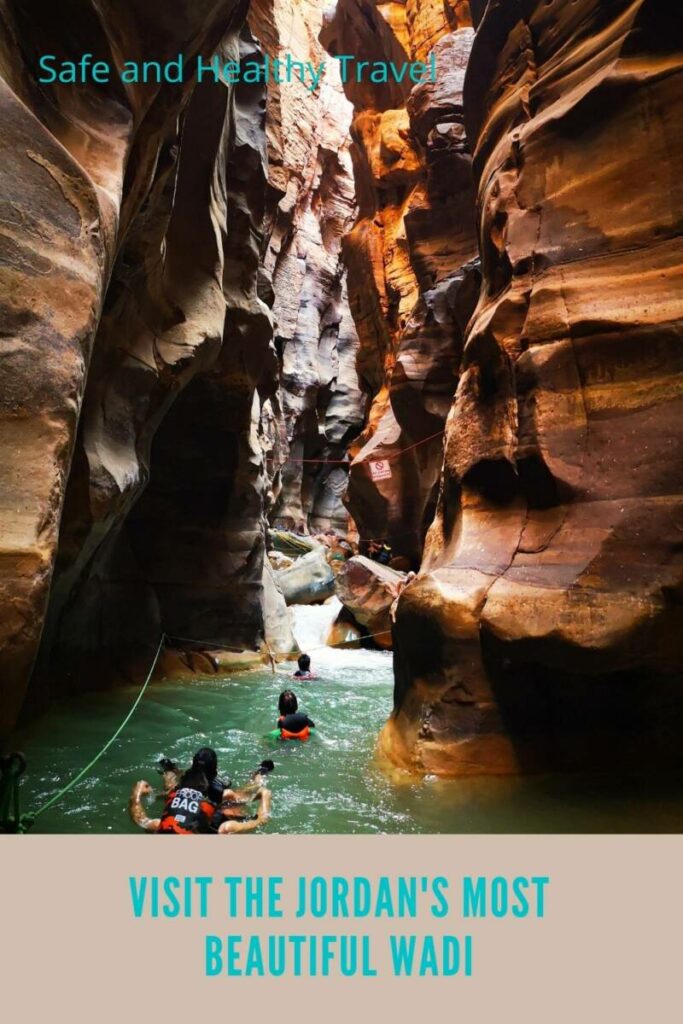 Want to read more of my middleast travels?
Hiking in the Wadi Shab – Oman
Floating in the Dead Sea – Ein Bokek, Israel
Give your travel that extra dimension – Safe contact with locals
Hitchhiking in Israel, travelling on Shabbat
Safe travel, read why I think you should not be in the streets at night.
Nightly Adventures – Why you shouldn't be in the streets when it is dark!
I hope you enjoy this beautiful world as much as I do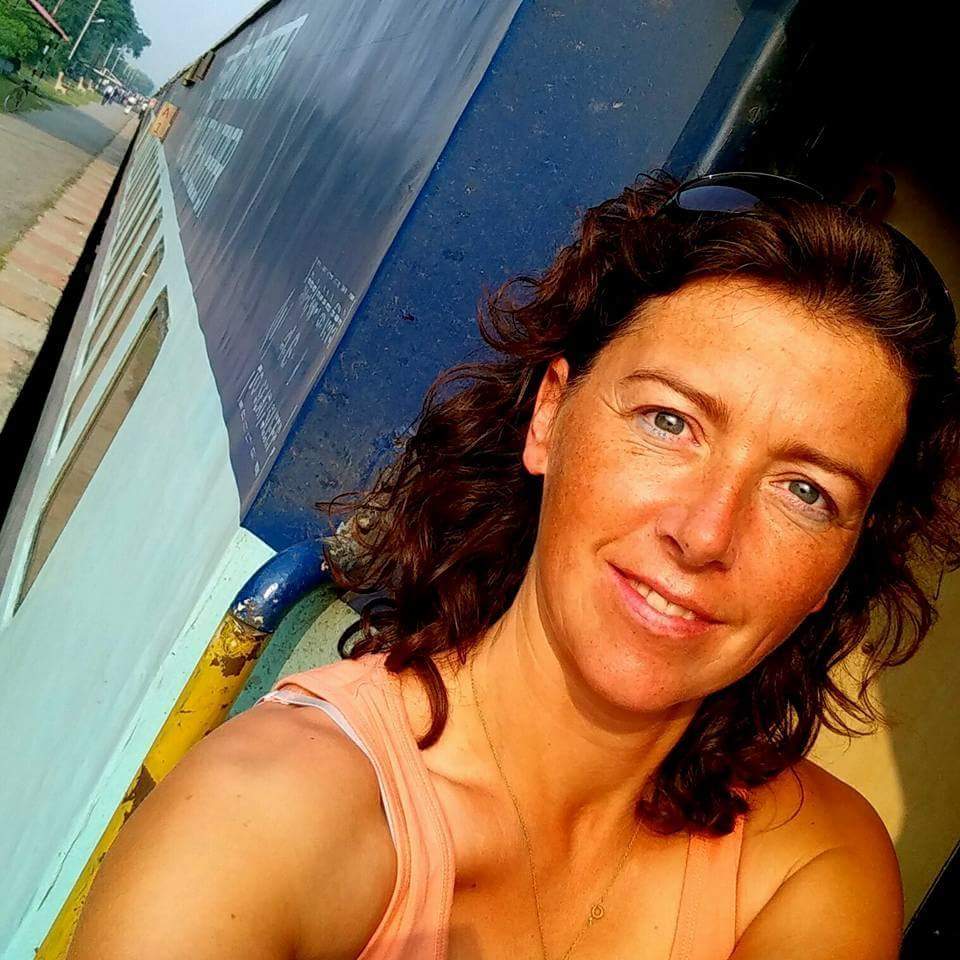 Jacomijn is een politieagent uit Nederland die jou graag laat zien hoe je veilig, actief en gezond de wereld kan over reizen. Safe and Healthy travel is a MUST