Java in a couple of days – Indonesia
|
Standing on top of this great temple, looking over the shoulder of this ancient old Buddha seeing green jungle and the bleu and white sky, I felt great! 
What a great view, what a great temple, what a great feeling!!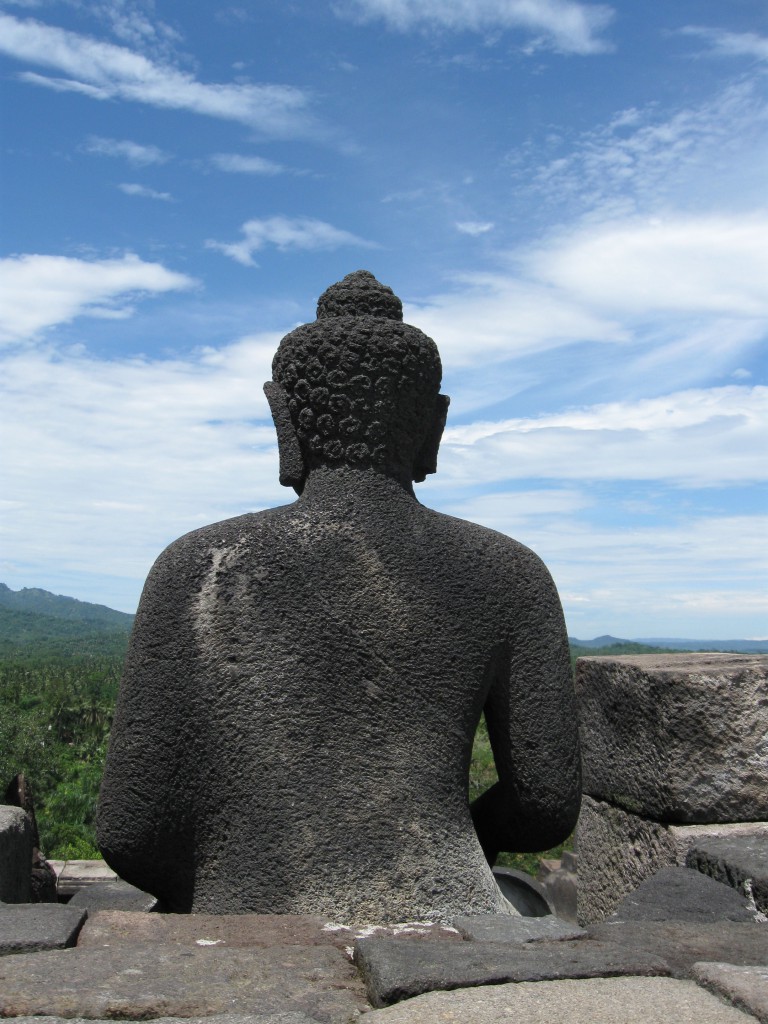 Borobudur, Java – Indonesia
Java is one of those great islands of Indonesia. It is a small island and good for a week travel! I visited Bali before coming here and went to Sumatra some years later. I love the Indonesian culture and can't get enough of their foods!!
On this travel I came from Bali to Jakarta – Java by plane. The plan was to travel over land back to Bali. I went straight to the trainstation to book a trainticket to Yogyakarta. I booked a ticket for the next night so I had one day to explore Jakarta.
I love traveling without a prebooked plan and this was the first time I tried that (2012). Everything was open and I could travel what ever way I wanted. Do you plan your travel like that too? Since this trip I travel solo so I've got the freedom to do what ever I want!

I ofcourse went to Sunda Kelapa Harbour as a Dutch citizin 🙂 I was a bit dissapointed by it because it was not really a place for tourists, what I expected. It is still a harbour in use and that is good, but the way to the harbour was great.
I didn't see much of Jakarta and only wandered the harbour area. If you have a bit more time do visit China Town, old town Batavia or visit the square Medan Merdeka.
I went to Yogyakarta the next day. The train, unfortunately, was not a sleeper. Maybe I could've gotten one…but it was my first trip to arrange for myself and I didn't thought of asking for it…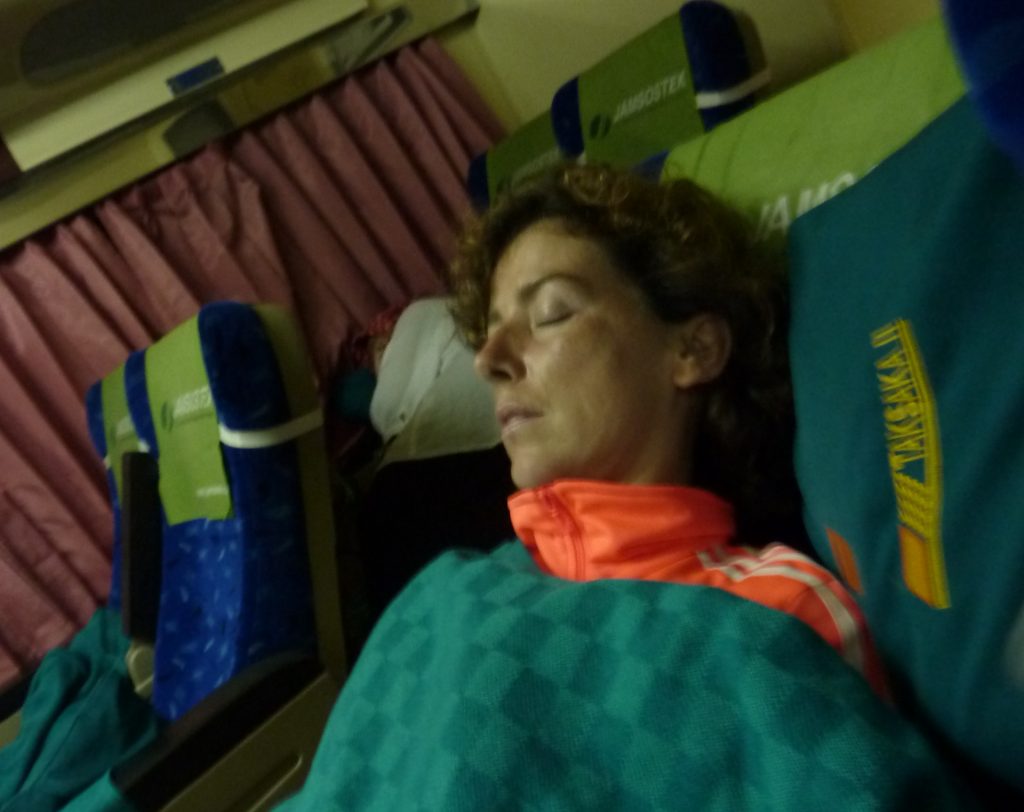 Yogyakarta (Yogja) is a  really nice town. We stayed near Malioborostreet. Defenitely a street you must see….especially in the evening, full of nice souvenirs and clothes to buy. Also a big shoppingmall where you can get a good cup of coffee 🙂
What else to do in Yogyakarta? Relax on Idrayanti or Wediombo beach for a day, there is a huge bird market or go search for the Beringin trees!
Or are you looking for some more adventure? Try climbing Merapi vulcano for a spectacular sunrise!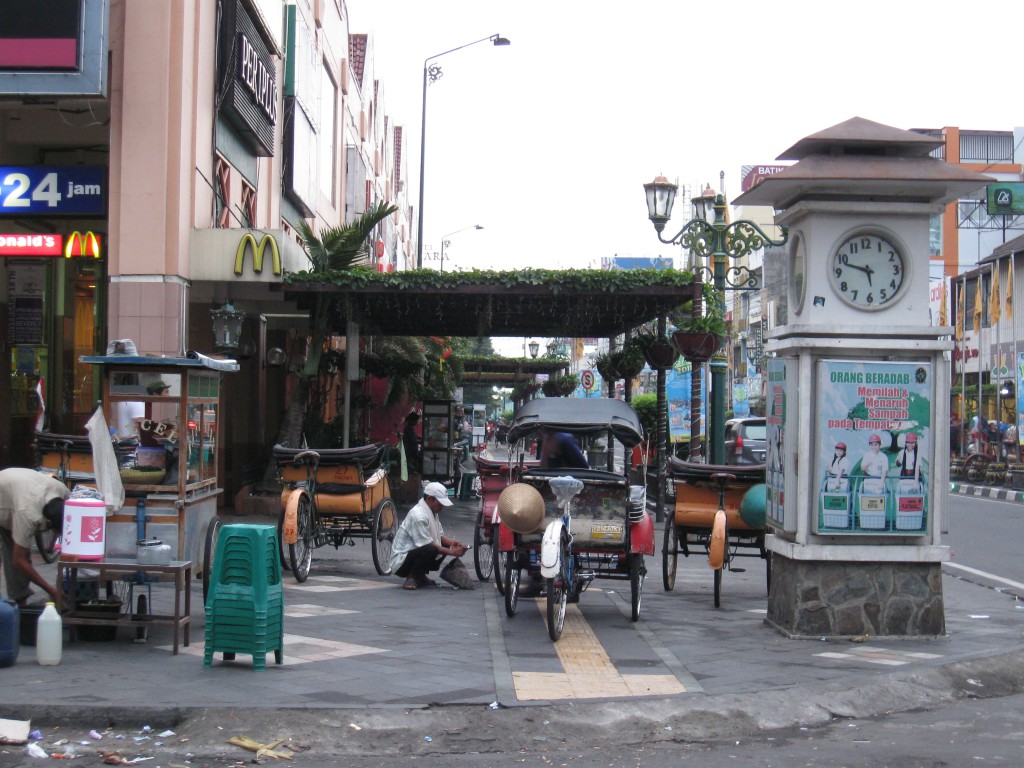 The intersection at Malioborostreet
From Yogja you can go to the great Borobudur as a daytour. Well can?…you have to. You can not miss this great structure when you are on Java!! It is build in the 9th century and is the worlds largest Buddhist temple! I really enjoyed walking around there!!
Borobudur – Java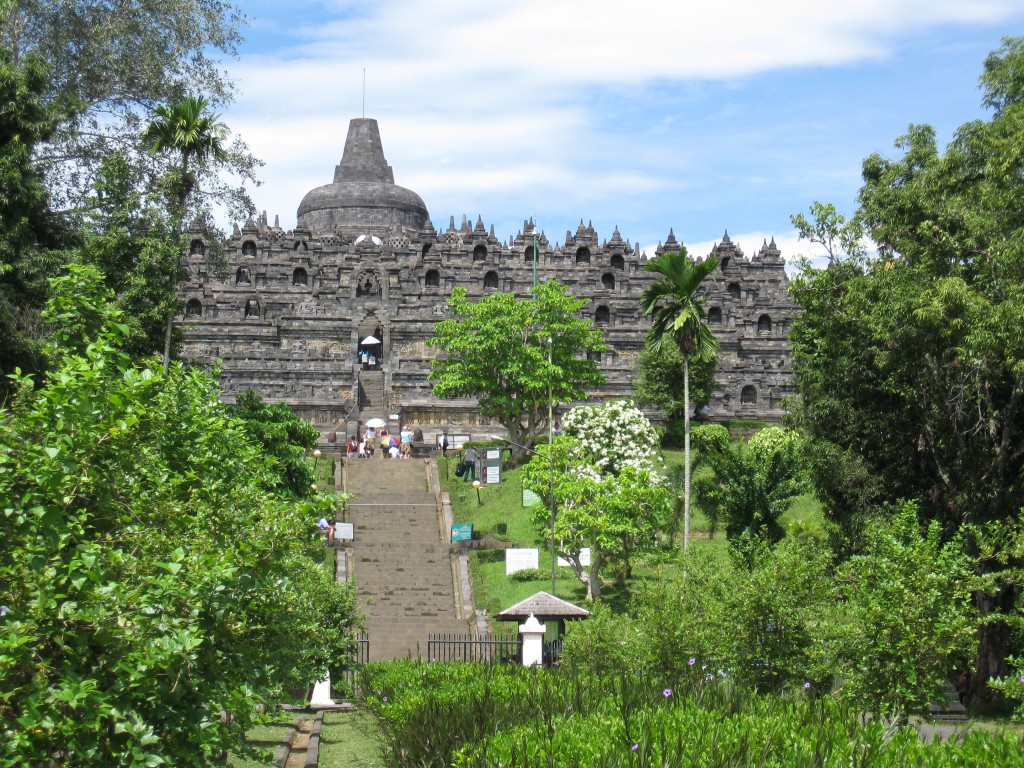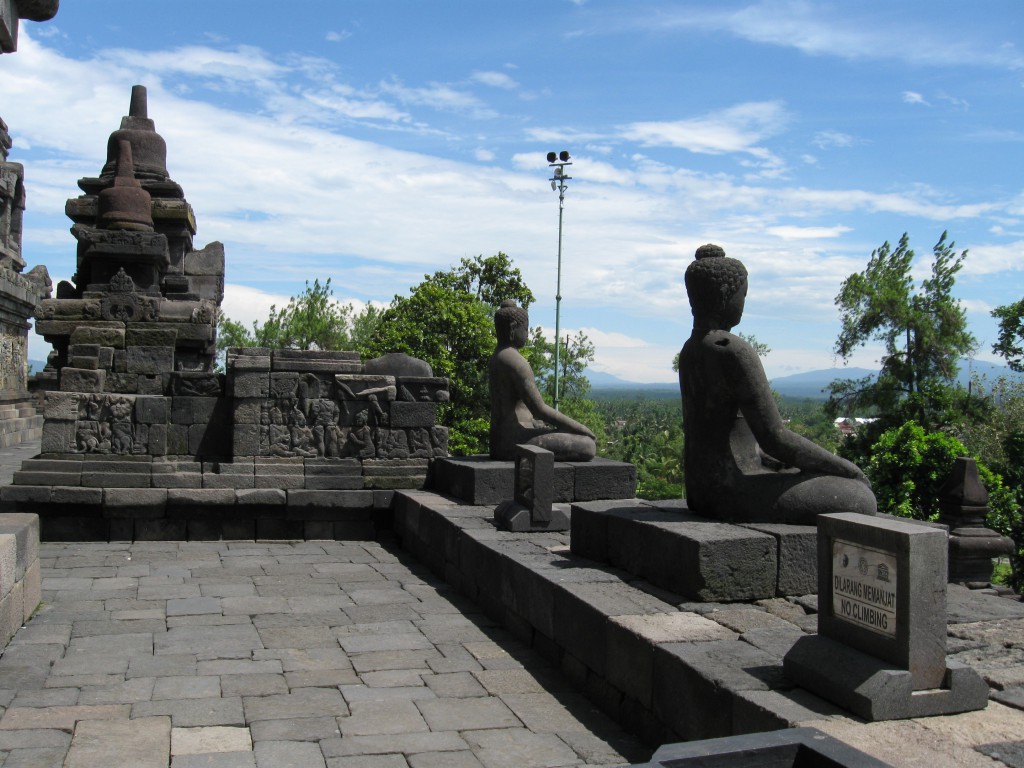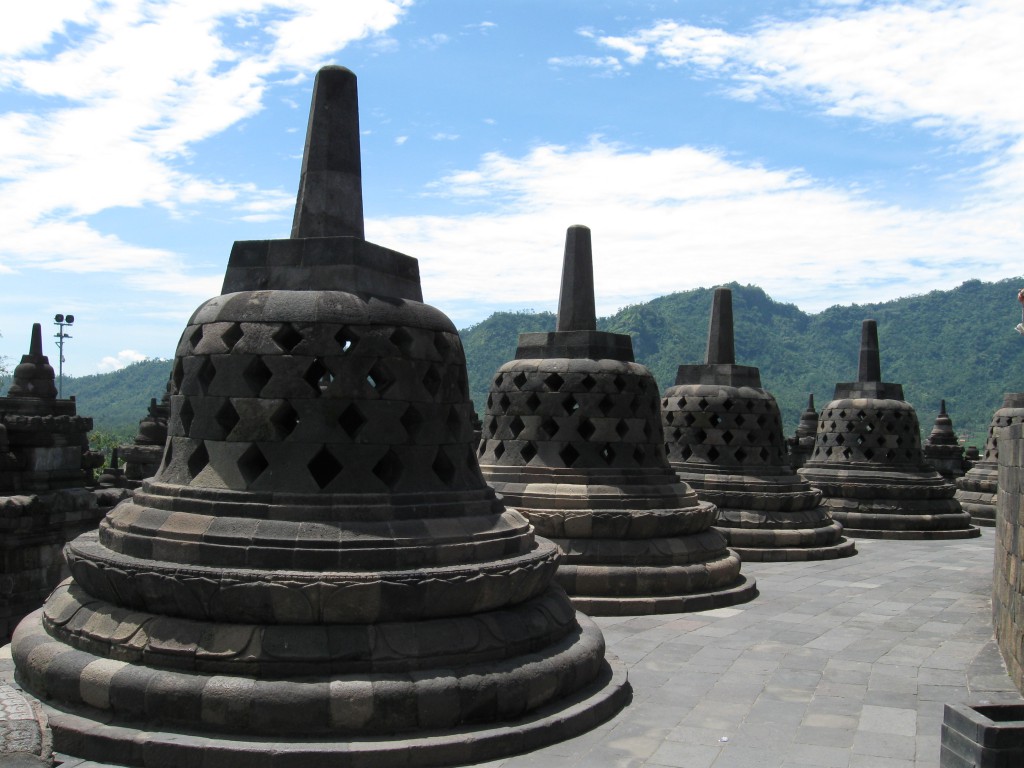 Did you know that in every stupa is a Buddha statue?
See more pictures of the Borobudur
Brambanan Temple – Java
Near to the Borobudur is another temple complex, Brambanan. It is as important in religious ways and historical ways. Even though it is not as famous as Borobudur.
When you're there you have to see that too ofcourse!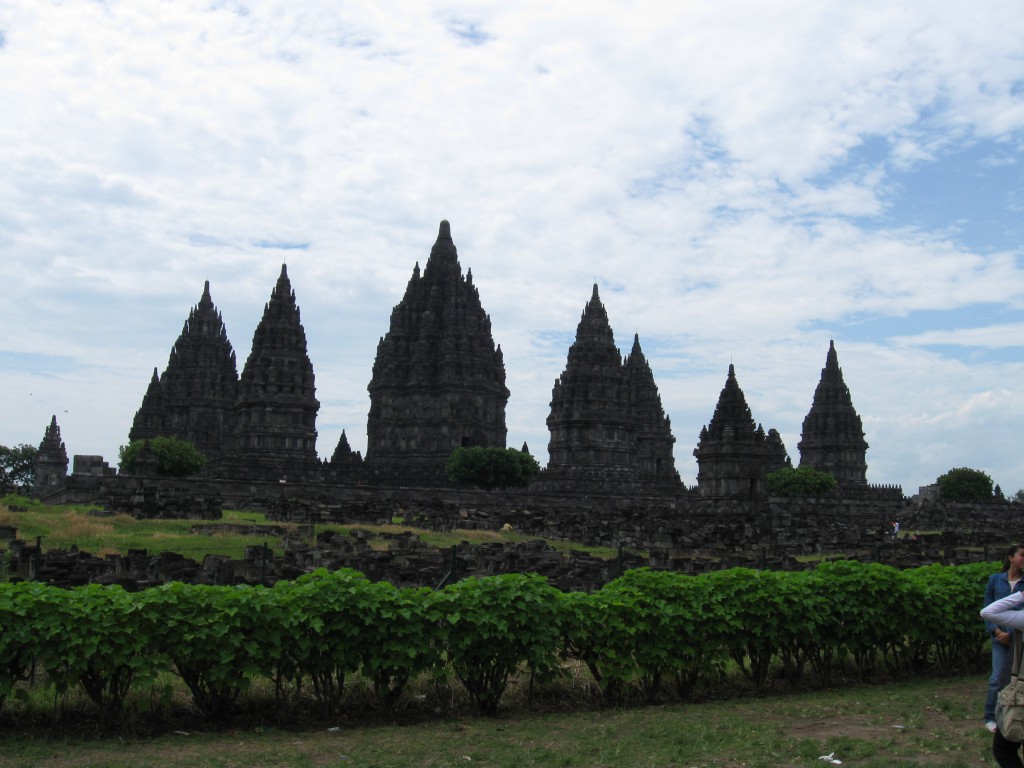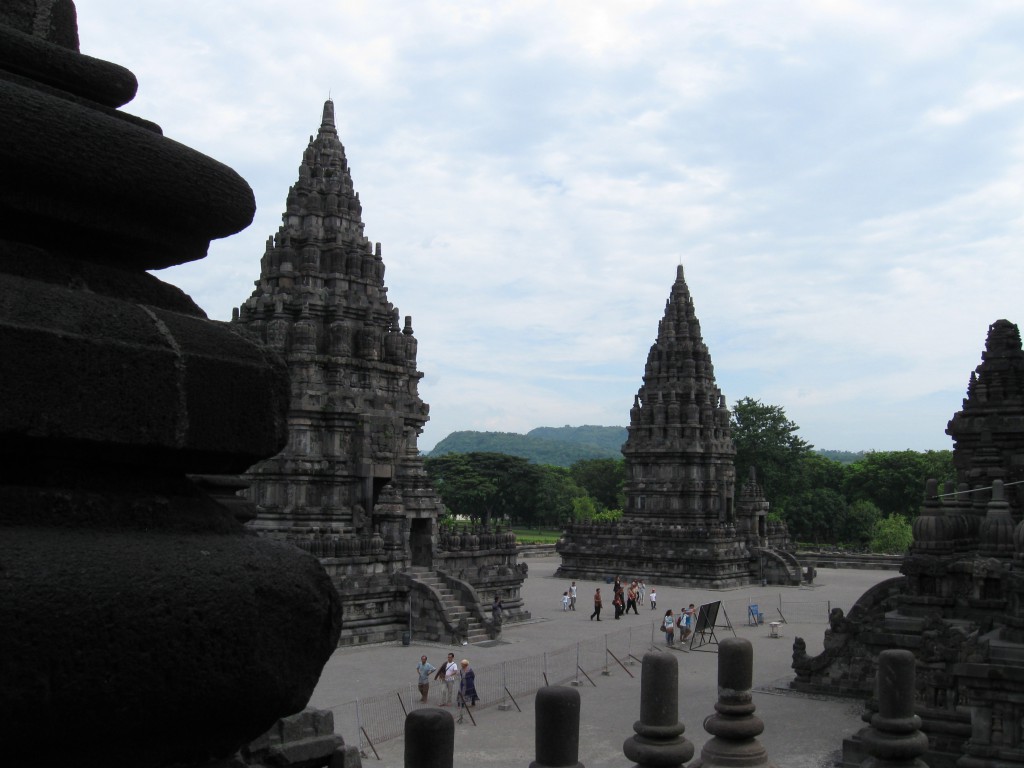 Dieng Plateau -Java
The next day we went to the Dieng Plateau. It is a plateau on a complex of vulcanoes. Underneath the plateau are more then 20 small craters and 2 stratovulcanoes (those are the ones we know, the coneshapes ones). There are also templecomplexes and a great lake that turns into several colours depending on weather and natural resources.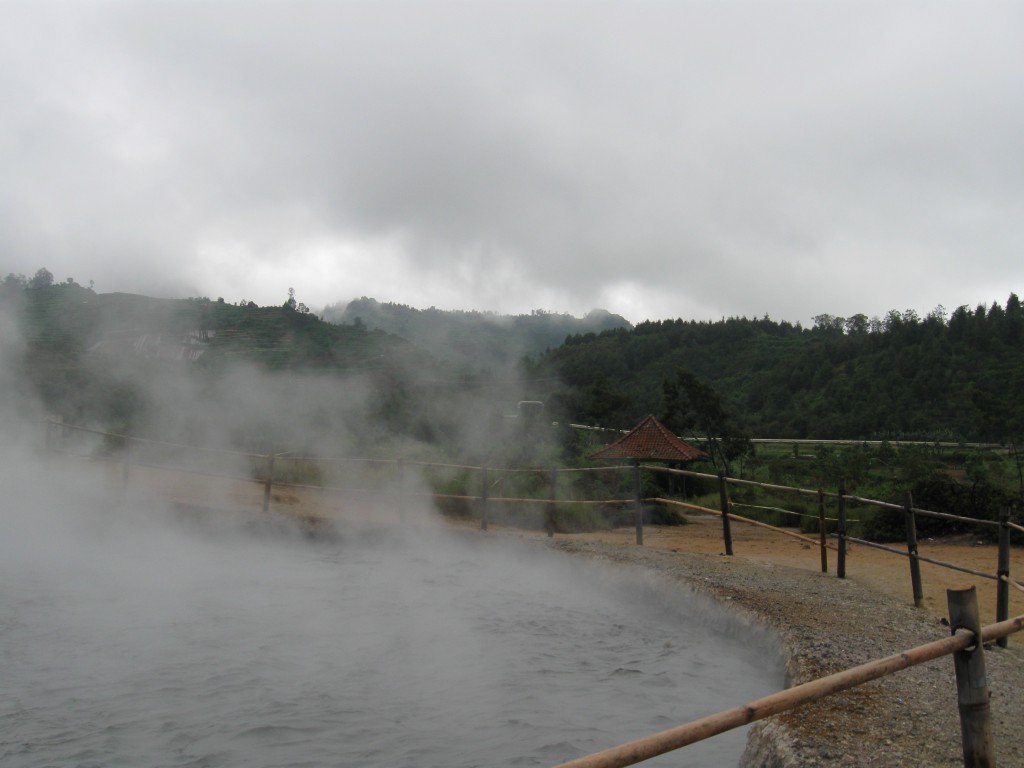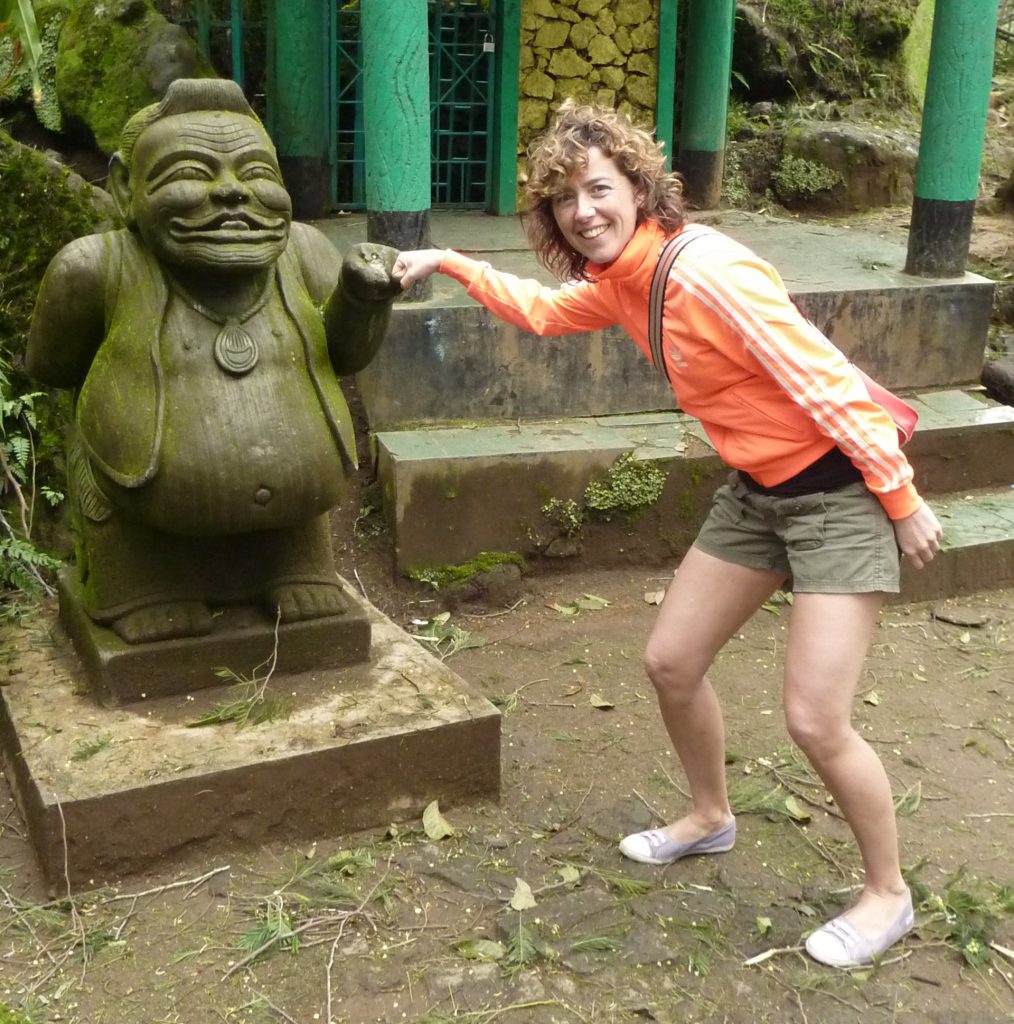 Near the entrance of a meditation cave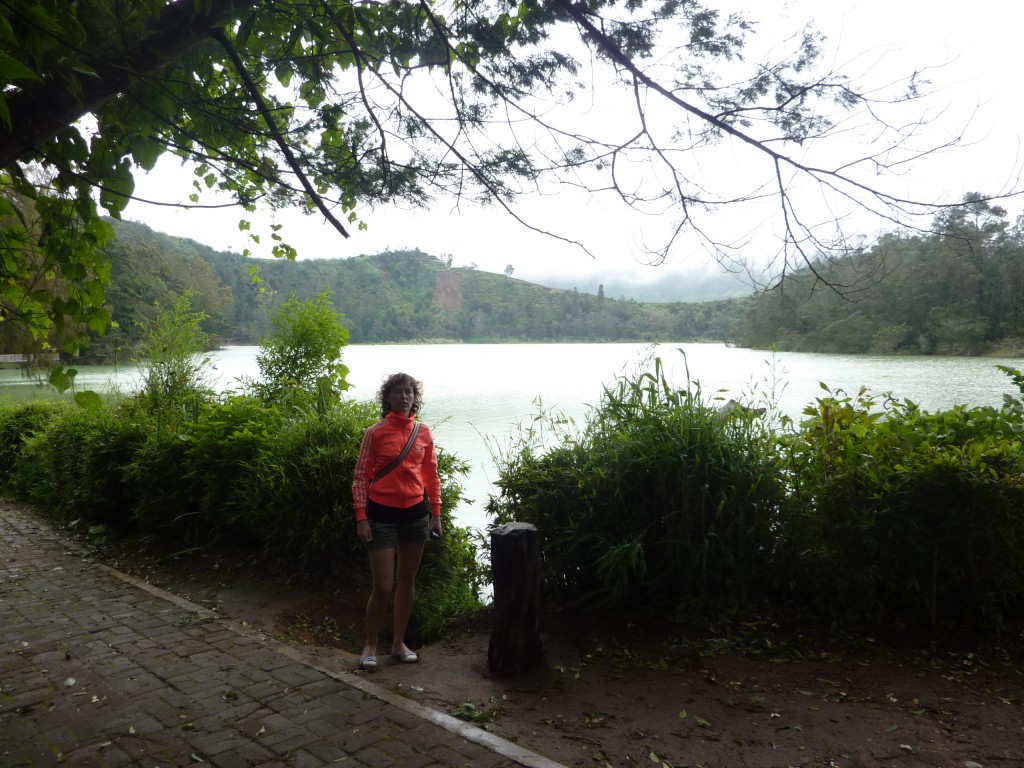 The weather wasn't that great…but the colour of the  lake was!
Unfortunately it doesn't show on this picture but check the one below 🙂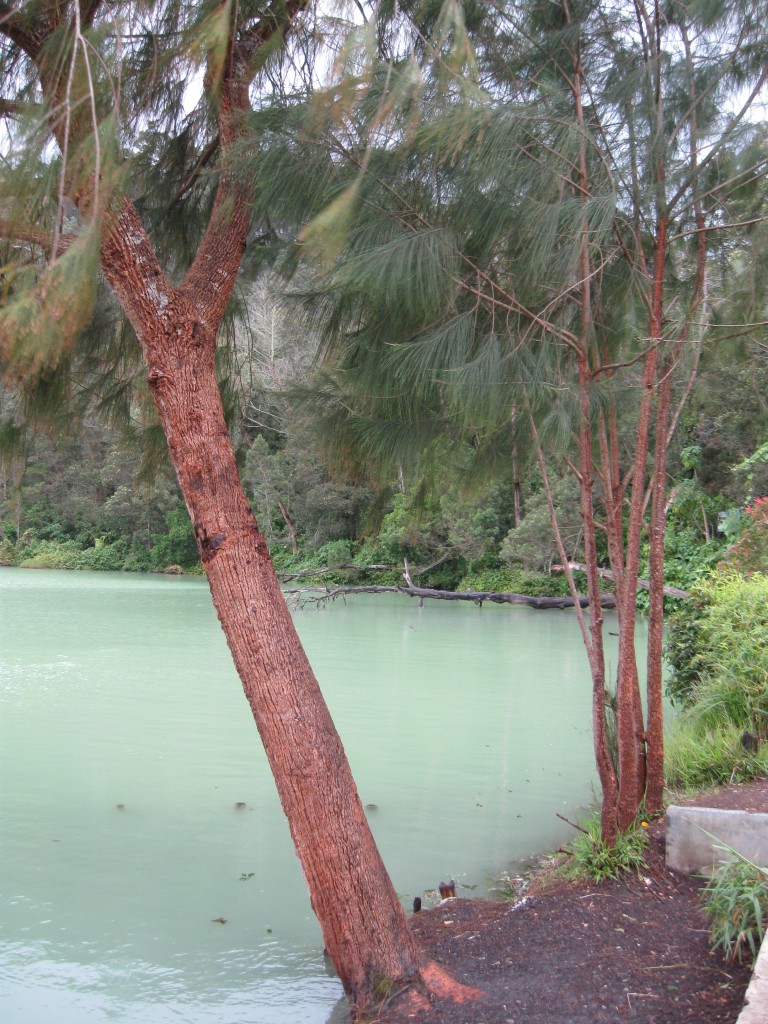 Mount Bromo – Java
 After this great visit we went for a long bustrip to see the sunrise at Mount Bromo. We had a night near the Bromo and could start really early in the morning on the climb up. We rented a winter jacket as we didn't took one on our trip and went up.
Unfortunately it was really clouded that day … so the sunrise wasn't in sight for us.   When we visited the vulcano afterworth the weather was great. We could enjoy the landscape that was formed by eruptions of vulcanos. What a strange …. moonlike landscape!!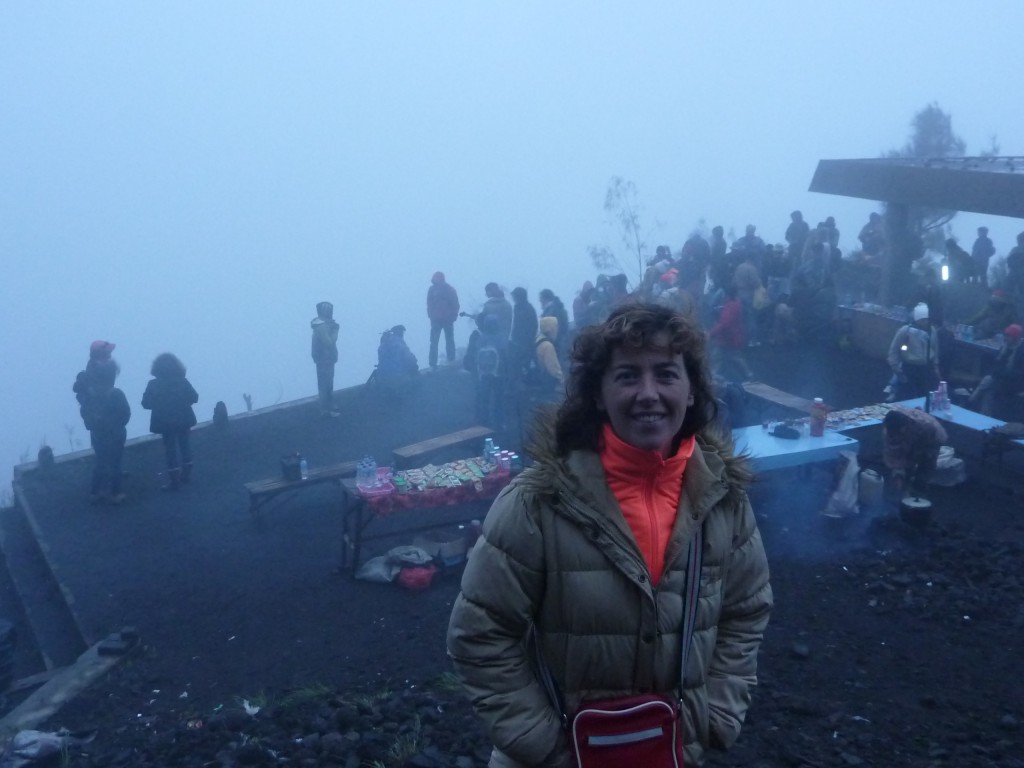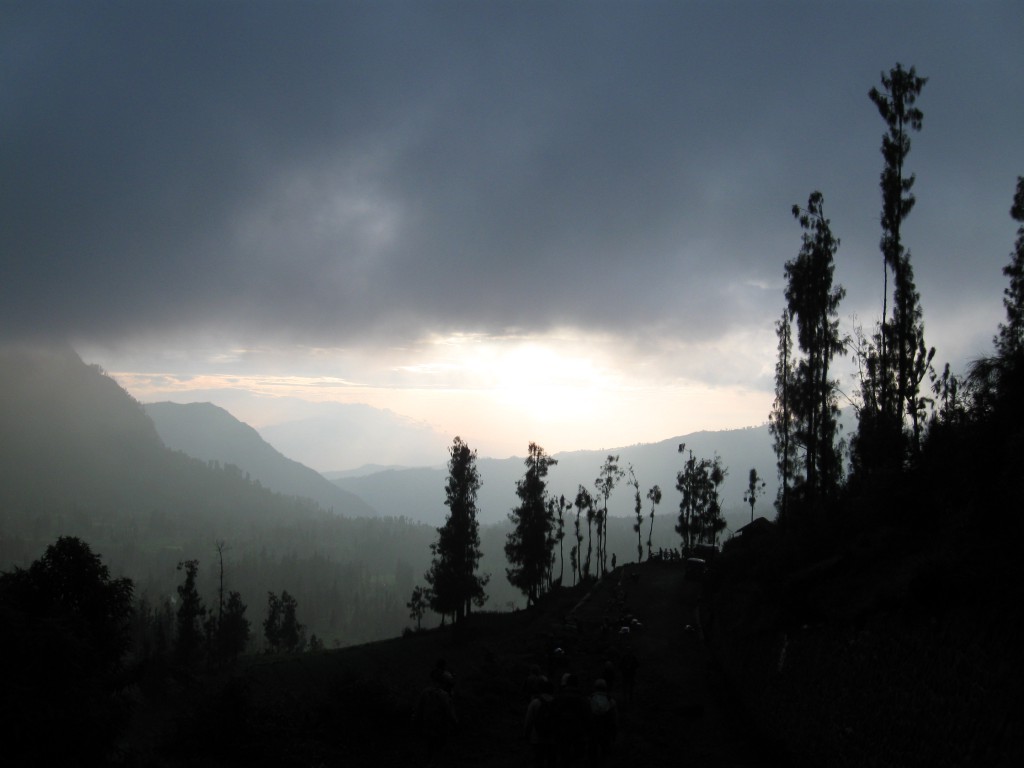 Just a little bit of sun 🙂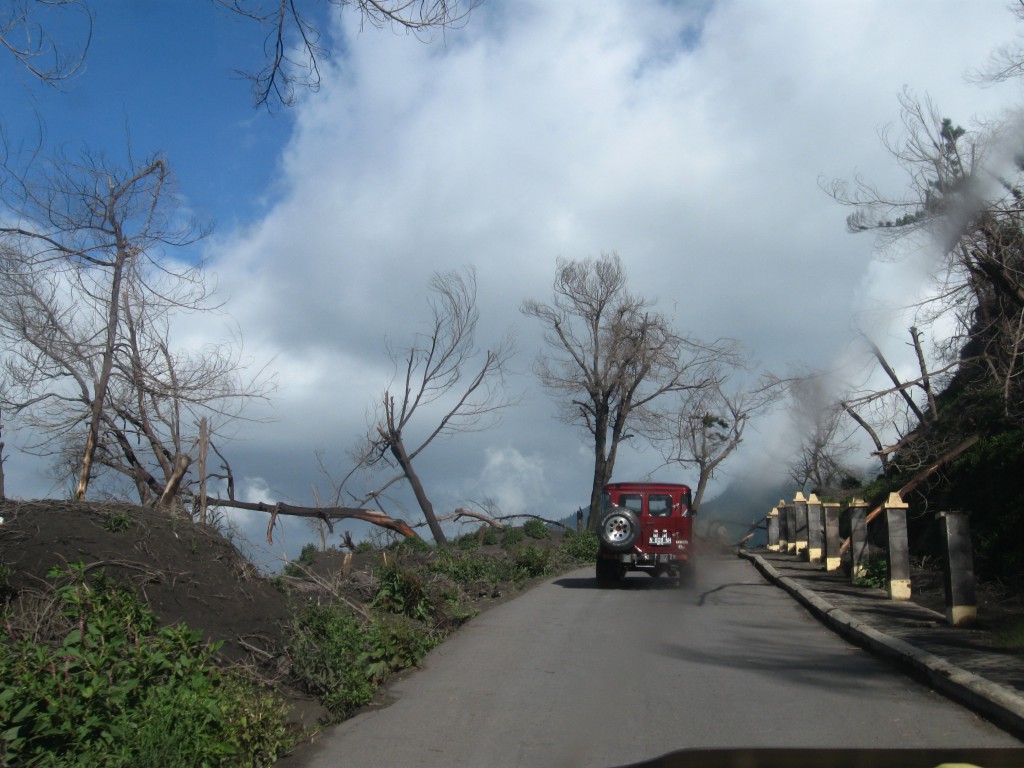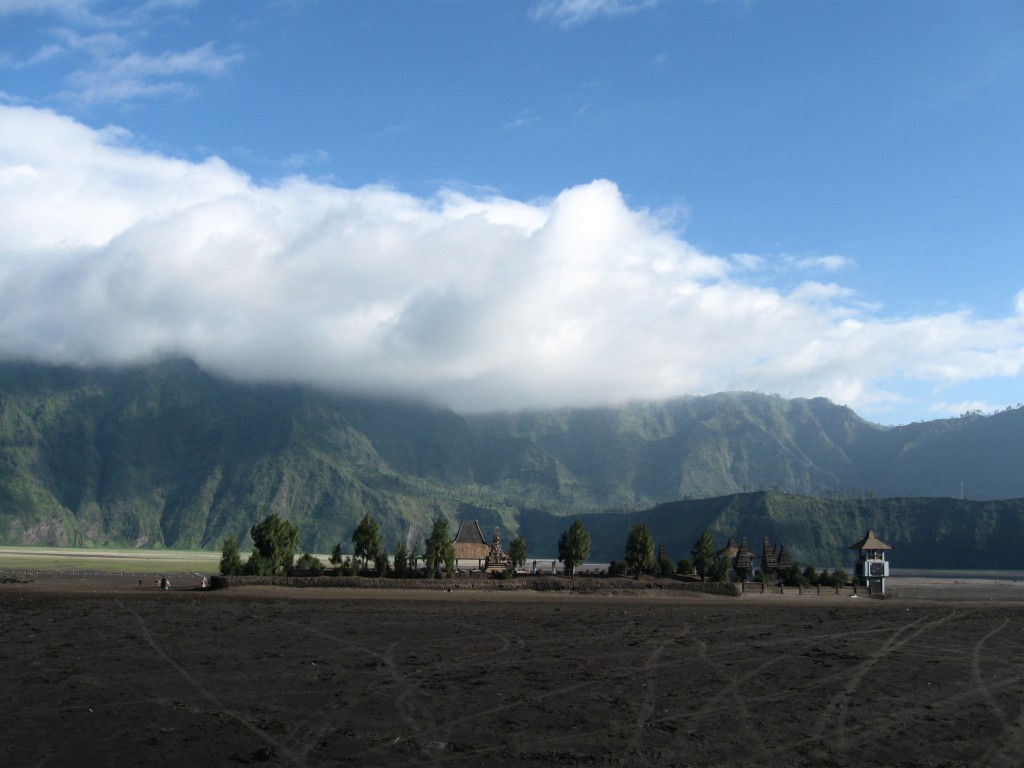 What a strange  landscape near the vulcano.
Made me feel like being on a moon like landscape. We climbed up the vulcano and offered some flowers to it 🙂 Nice to do in the culture of Indonesia and also sponsoring the local community by buying the flowers there 🙂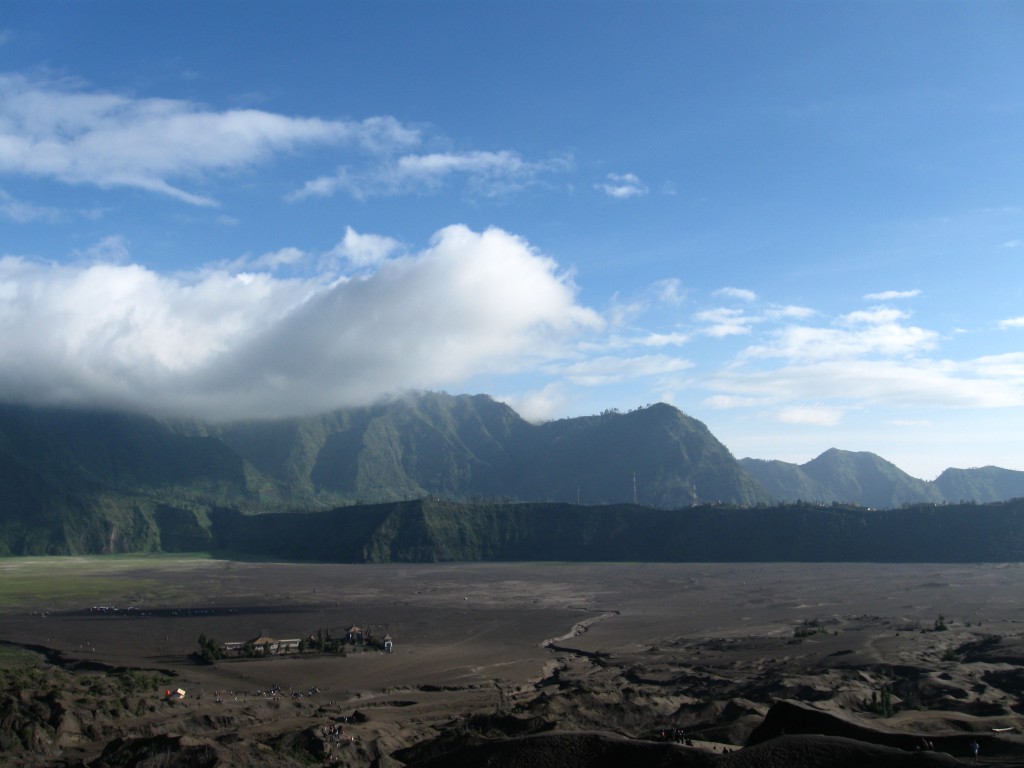 Next day we went straight to Bali again with the ferry. That took about 45 minutes. Our trip to Java already came to an end.
It was for me the best experience because it made me realise how easy traveling was and how easy things were booked local. And the fact that you pay the local community your travelmoney and not some western company gave me the best feeling. Ever since that moment I started to travel like this.
We relaxed for a couple of days on the beach of Sanur and had the best time!!
I do love Bali and all its Hindu shrines and offers on the streets!!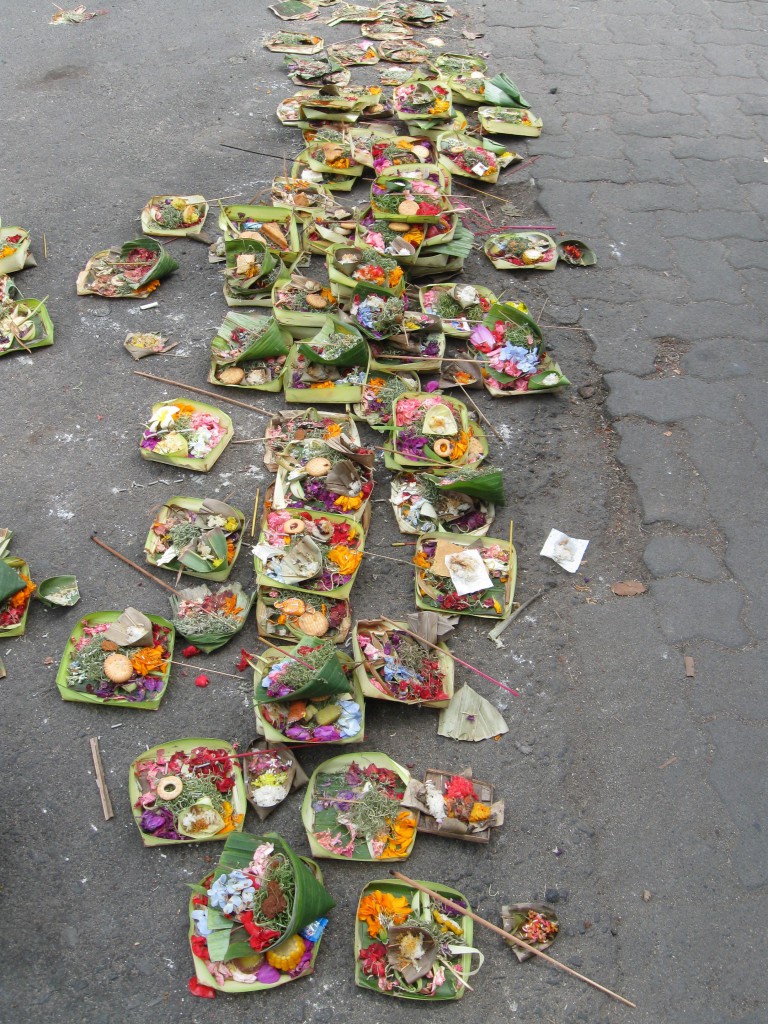 Kuta, Bali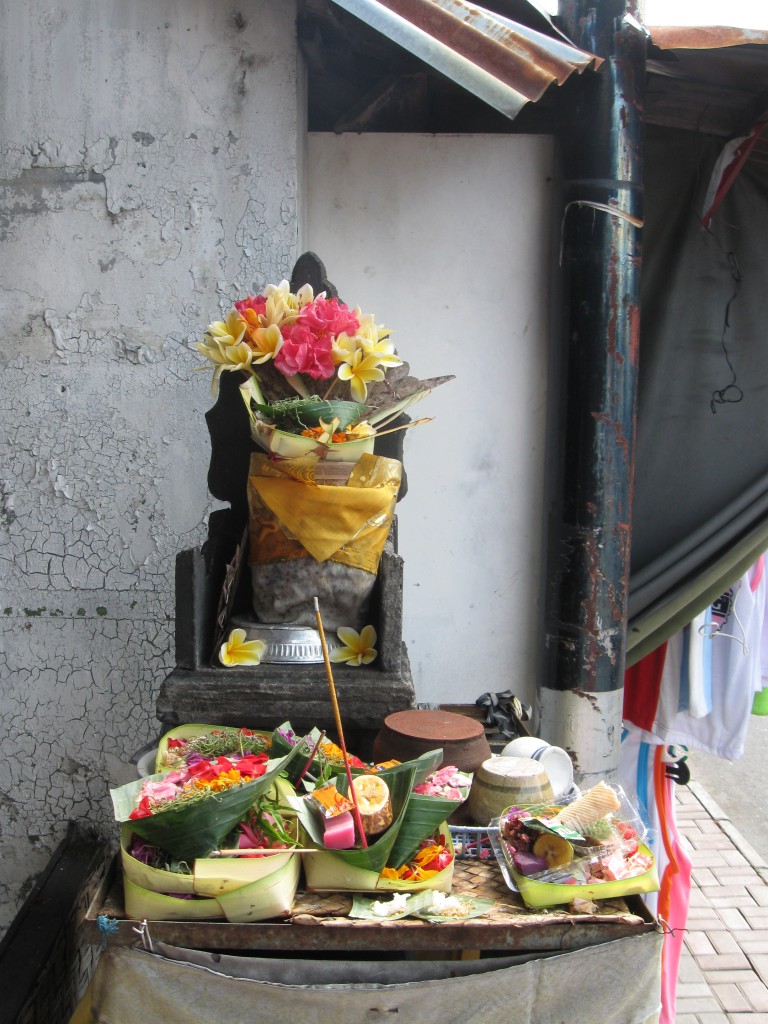 Sanur, Bali
Travelfacts:
Totall length of my stay in Java was just 7 days. I do think I saw the greatest highlights of Java. There are some other great cities/places that would be great to visit ofcourse if you have more days to spend! (still have a reason to go back:))

Java is a muslim island, just as almost the whole of Indonesia. So you need to consider this while dressing for the day.

If you'ld take some extra days you can do some more sightseeing/cycling tours (which I like) around Yogja or Jakarta. That would be great. I do think I didn't saw enough of the city of Jakarta.
This was a travel done before I started to blog about it…I can see that on my way of travel and the pictures I took 🙂
Looking for more Indonesian travels?
Touring the Harau Valley on the Back of a Motorcycle – Sumatra
Seeing the Orangutan in Bukit Lawang – Sumatra
Cookingclass at Juwita's Cafe – Sumatra
Or how about some Malaysia?
Diving at Sipadan – Borneo, Mabul
3 Days in the Kota Kinabatangan Jungle
Or what about a great trek in  Nepal?
I hope you love this world as much as I do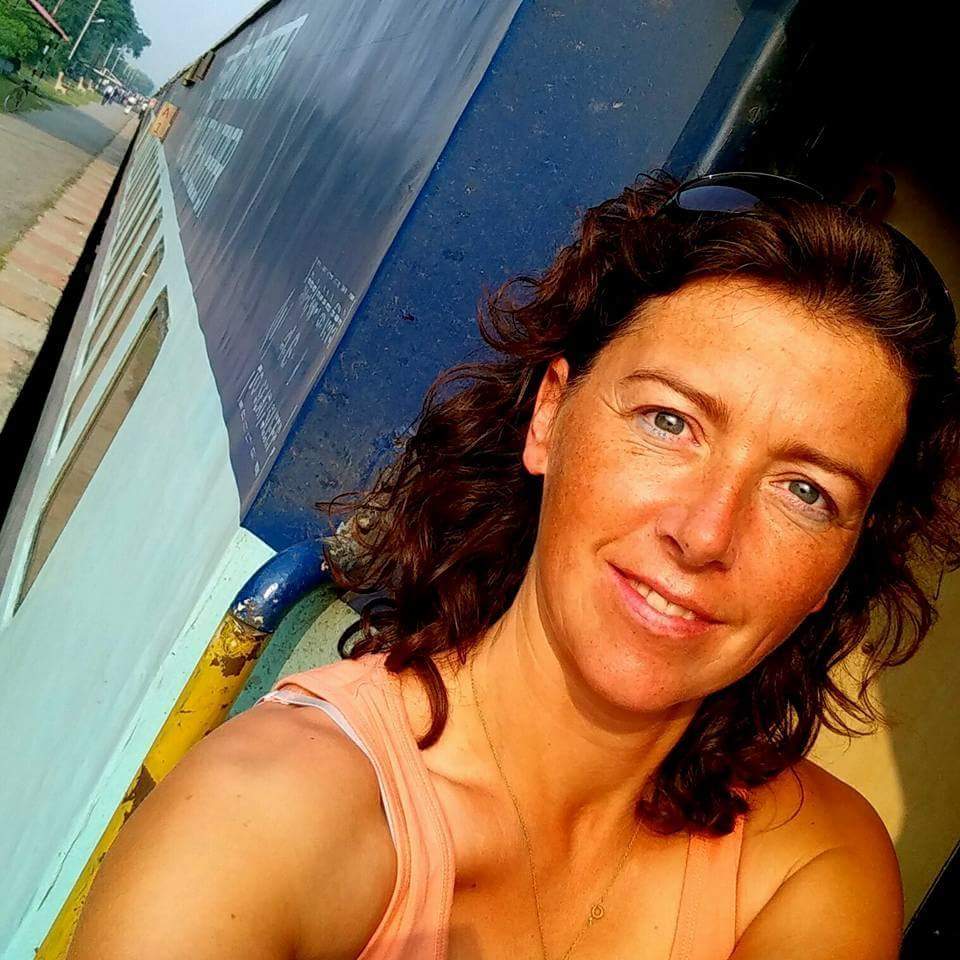 Jacomijn is een politieagent uit Nederland die jou graag laat zien hoe je veilig, actief en gezond de wereld kan over reizen. Safe and Healthy travel is a MUST