New Delhi Travel Guide – All Highlights for Delhi, India
|
If you're travelling to India you'll probably start or end your trip with a few days in New Delhi, so here's the complete New Delhi travel guide for you! I've been in New Delhi 5 times now and visited a lot of places you must see during your visit to Delhi!
I keep being surprised every time about everything I see passing by on the street. How everything hangs together and survives in the crowded streets of New Delhi!
In 2019 I got some tips from fellow blogger and friend Jitaditya of The Travelling Slacker and I will share them in this complete travel guide New Delhi as well so this travel guide will become a complete guide with all the highlights for Delhi!
New Delhi is the capital of India and with an estimated population of 29 million an immense city. Todays Delhi consists of several cities that seem to have grown together like Noida and Gurgaon. The city is easy to explore by public transport and in between with rickshaws.
I have to confess, I often get stuck in a few places… That is because a friend of mine lives there, Smriti and because I love Old Delhi, the Chandni Chowk district. From Chandni Chowk you can explore the city very well and is not a bad idea as a starting point. You do have to love the busy India….. Otherwise you probably want a hotel elsewhere in the city. Now that I make this travel guide New Delhi and encounter many more sights for Delhi I am already looking forward to my next visit!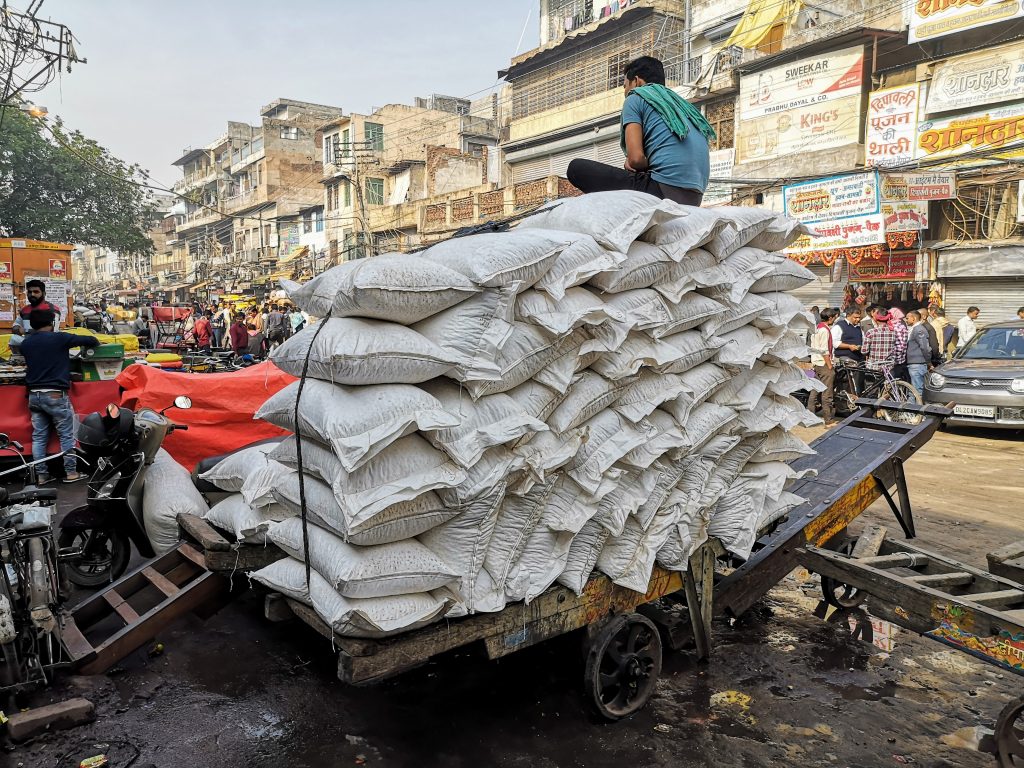 Did you know that the city of Delhi was created over a period of 1,000 years?

If you look back at its origins, you can see that different cities – names of cities – pass by in time. Each empire gives it a new name or builds a new city just next to the old existing one. About 7 – 8 cities emerge from research: Delhi is the 8th and the city we know today.
New Delhi Travel Guide
All Highlights for Delhi, India
Because I like the old center of Delhi so much, I also start this complete travel guide New Delhi with the old neighborhood Chandni Chowk!
This neighborhood shows you the old Delhi and let you experience that! It is crowded and hectic, exactly what India is known for of course! Stroll through the many small and narrow streets and marvel at the smallest shops and offices.
Sometimes 1 very small shop even has two floors! I saw this during my last visit to Chandni Chowk a shop in which a plateau was built. I saw somebody sitting on it who was making clothes. They shared 1 shop together and had solved this perfectly within their spacelimits.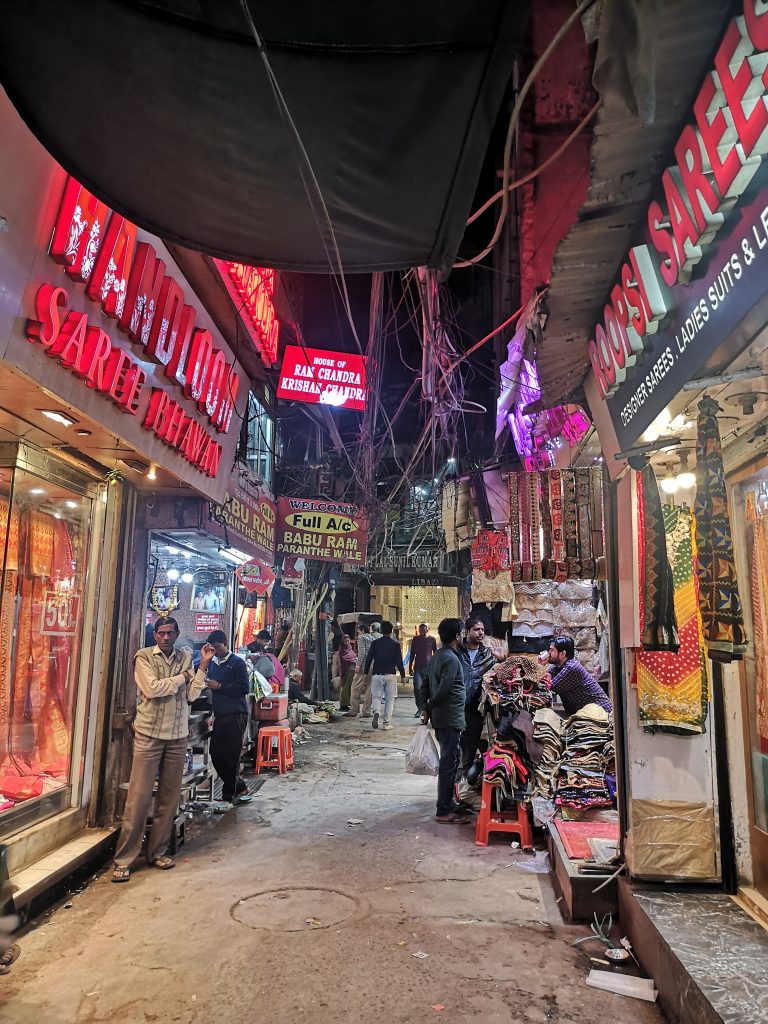 On your first visit to India this can be quite overwhelming but if you book a nice ride on a bicycle rickshaw they will show you the nicest streets and you don't have to walk through them yourself.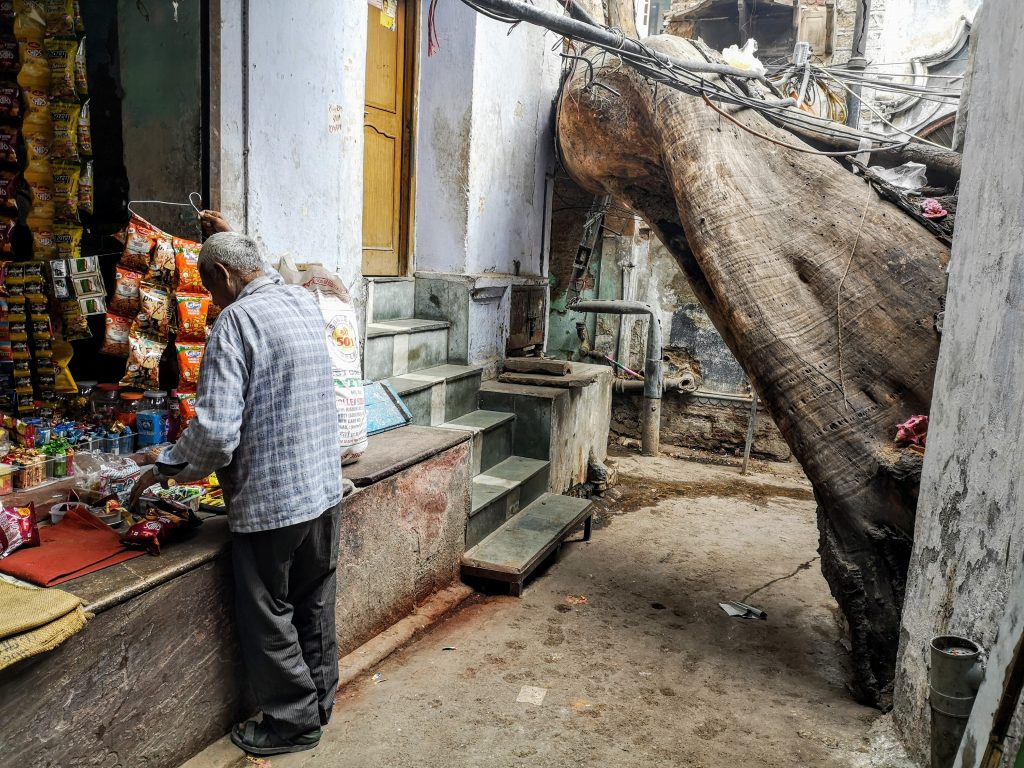 From this old quarter you can easily visit the following:
I always spend some time on the busy square and then I look at the impressive fortress but I've never gone inside. It's big, so it takes a lot of time but if I always read on the internet then it's definitely worth it!
One day I will too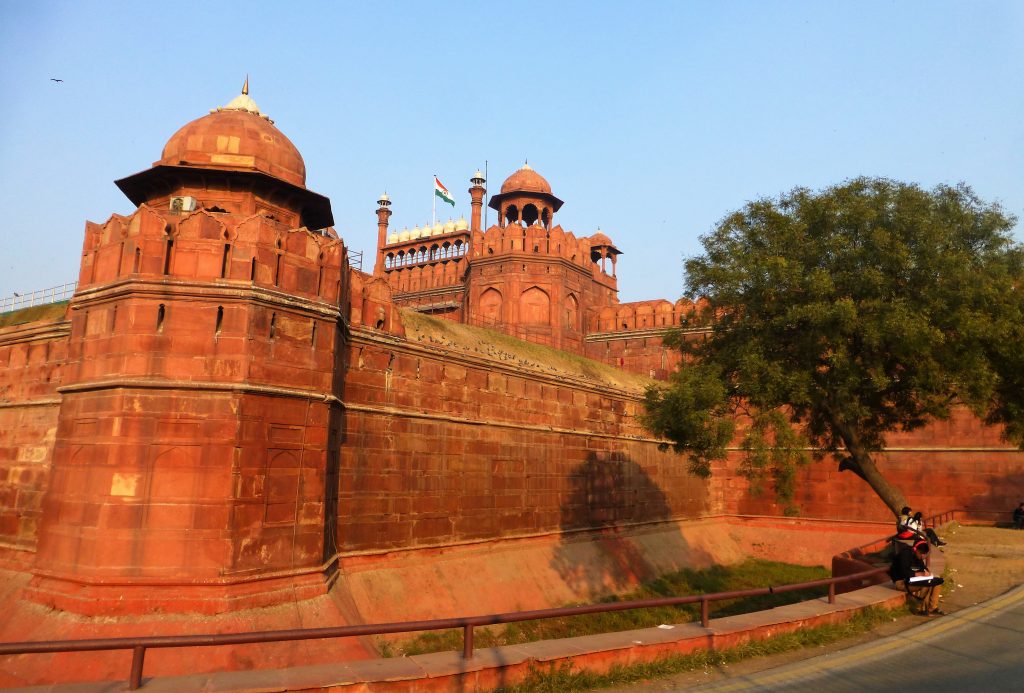 This largest and most famous Friday mosque is close by so you can walk there from the Red Fort on foot. Walk through the busy streets of the Chandni Chowk district because that's the most fun! Go inside and take a look at the huge square where 25000 people can sit at celebrations! Can you imagine that?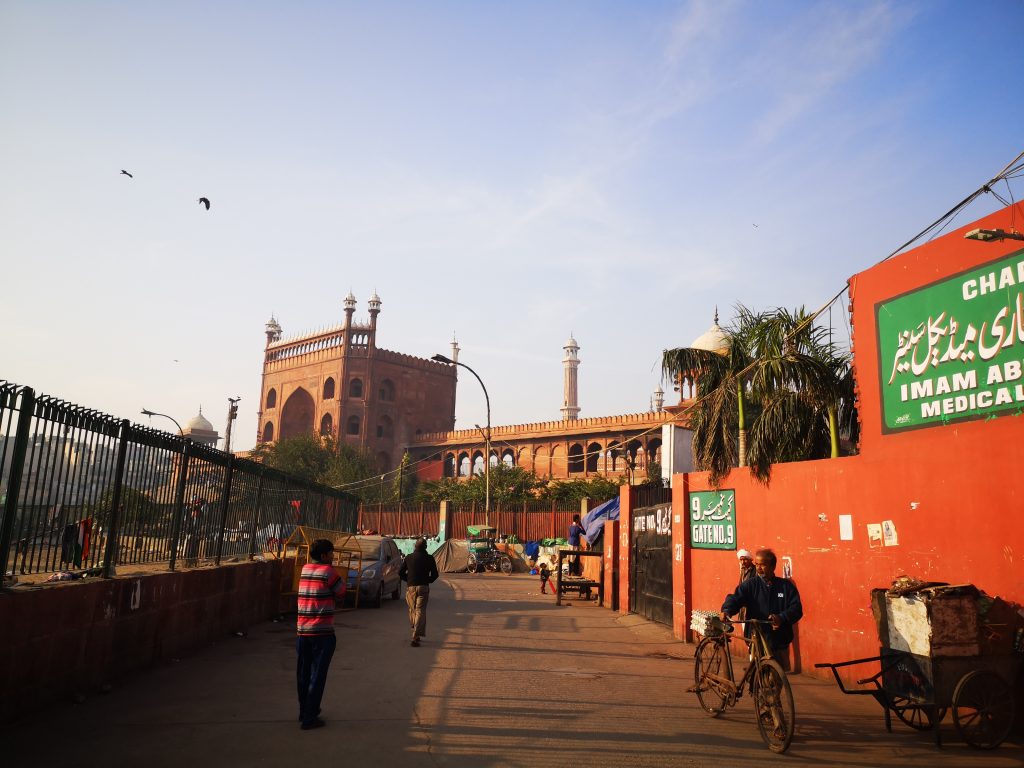 Delhi's spice market is the largest in Asia and the second largest in the world I understood. The biggest one is a bit closer to us in Istanbul! To walk around here and take in the smells and colors is definitely a must!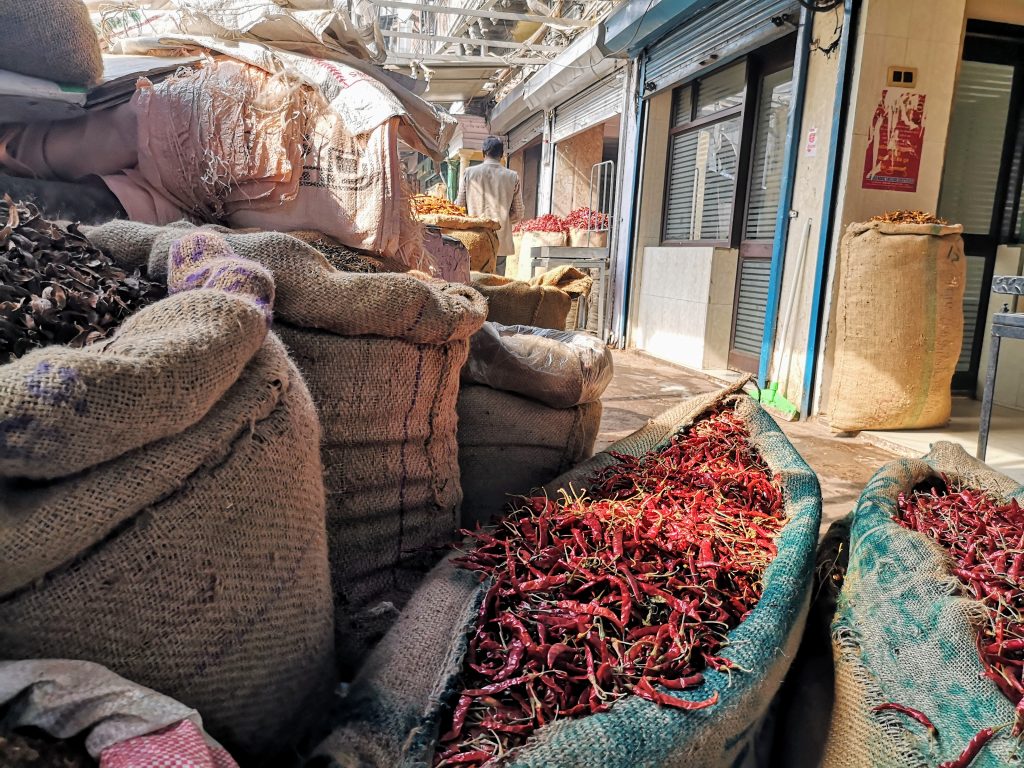 Another neighborhood I'd like to share is this one:
This neighborhood will show you the new Delhi. The heart of this district is a large roundabout with a park in it. Under this park is a shopping market, Palika Bazar. Also in the streets around this large roundabout there are large well-known shops for us. Are you still looking for clothes for your trip or would you like to have a cup of coffee at the Starbucks then you will find it here!
My travel agency which I usually use for long-distance taxis or to plan a trip is in this area.
A lively neighborhood that I will certainly visit during my next trip with an afternoon snooping around. I read about nice markets and streets. In addition, every evening there are Qawwali music sessions that I want to see of course.  The district is predominantly Muslim and the music sessions have their origins there as well.
Visit the Dargah hazrat which is the mausoleum for one of the Sufi saints named Khwaja Nizamuddin Auliya (1238 – 1325 CE).
Is of course a place you must have visited in Delhi. World famous… like the Gate of India in Mumbai. There is a park built around it and all kinds of things to see and do and all day a bustle with tourists and locals. Nearby is the National War Memorial.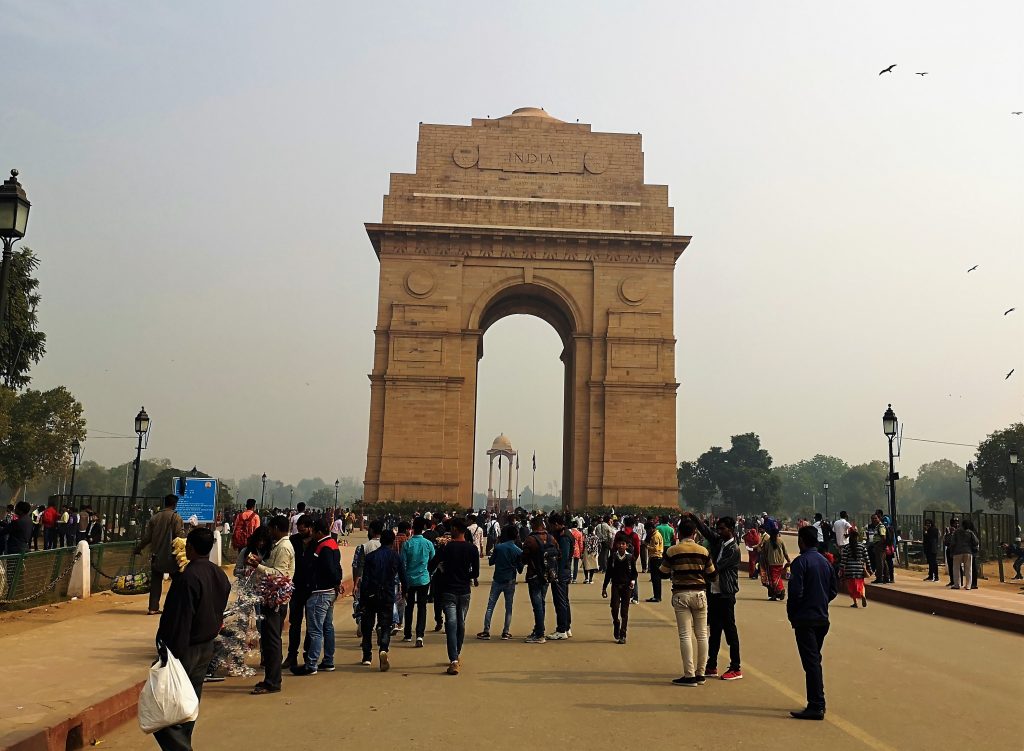 Rashtrapati bhawan
Most tours also take you to the official residence of the president of India. Right now that is Narendra Modhi. The road leading to it is enormous and you can imagine an impressive procession with heavily secured vehicles. Along this road there are a lot of large parliament and ministry buildings.
New Delhi Travel Guide
I only came here during my last visit and thought it was a really great park! I used to thought like I won't visit a park? That's not where I go for sightseeing, is it? But I can tell you, you should definitely go here. If you'd asked for admission, I could have imagined it. There are several tombs in the park that are in different states, but they're all really beautiful!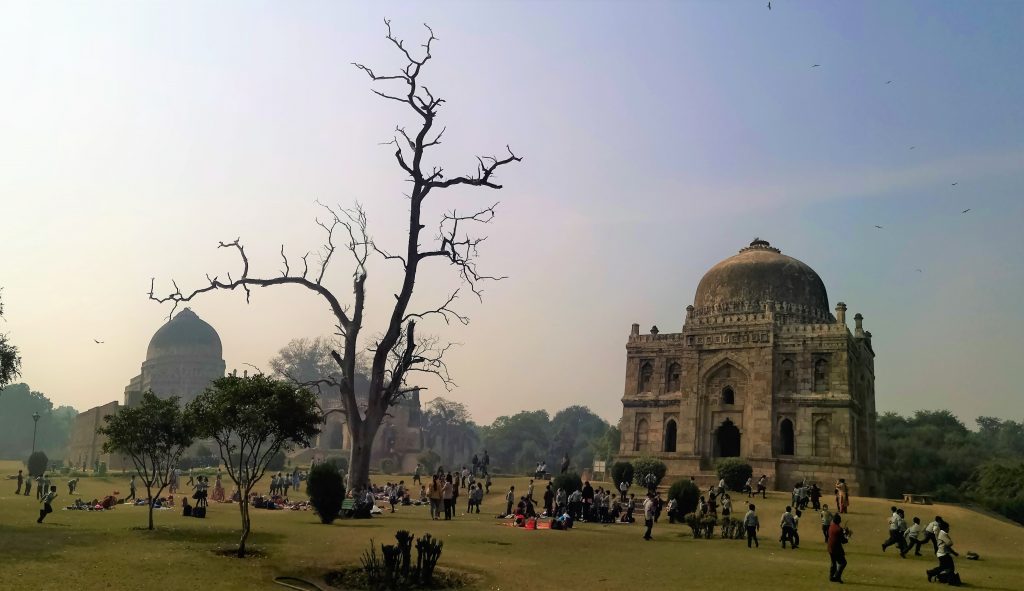 What's good is that it's free access and therefore just a park for the local people! When I was there there were several classes making drawings and answering questions next to the tomb above.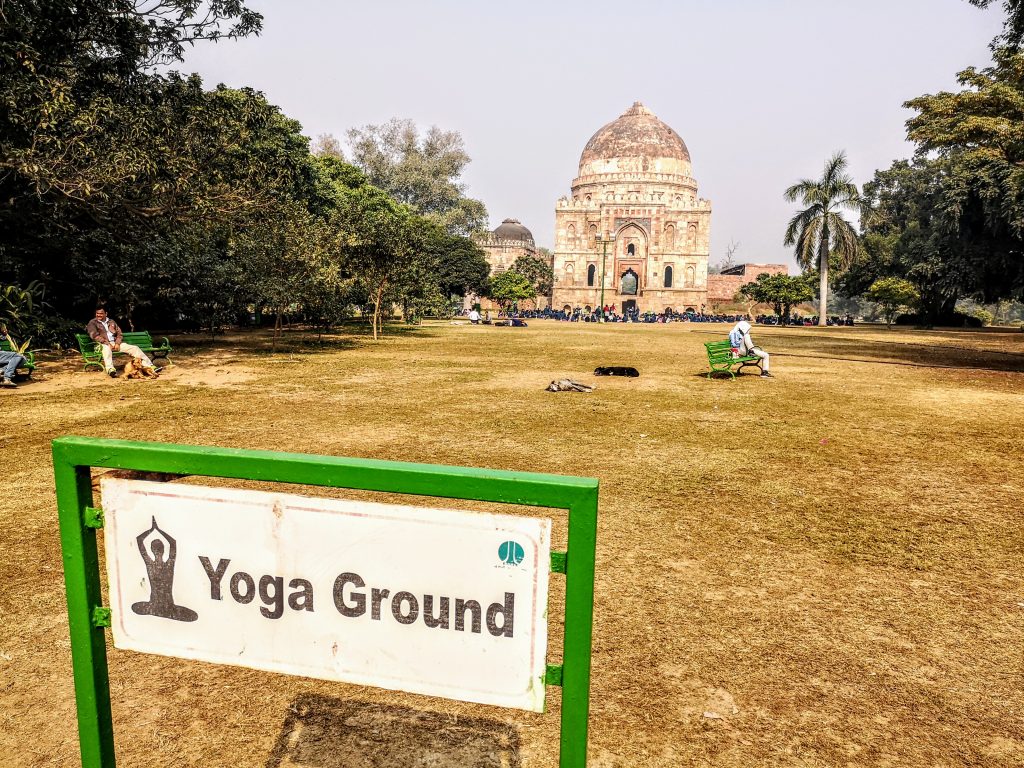 A piece of grass has been cleared as a yoga place and I saw people really doing a work-out in the vicinity of that yoga field. So very good!
Are you a female travelling to India?
Read my Tips for Women to Travel Safe to India
New Delhi Travel Guide
All the Hightlights for Delhi, India
Sunder Nursery
On the outskirts of the Nizamuddin district you will find this park complex. Also this park I've never visited but is on the list of to-do in Delhi.
Formerly called Azim Bagh or Bagh-e-Azeem. Beautiful ponds and 12 great old monuments this park is rich. The park is also called Delhi Finest Heritage Park.
You will find the following towers and tombs: Lakkarwala Burj, Sunder Burj, Sunderwala Mahal, Mirza Muzaffar Hussain's tomb, Chhota Batashewala and a tomb for an unknown Mughal leader.
Tombes and Forts of Delhi
Safdarjung Tomb
Close to Lodhi Garden you will also find this beautiful tomb. This tomb was built by the son of Safdarjung in 1754 after he died just outside Delhi and therefore no longer reigned in Delhi.
Humayun's tomb
This tomb was built for the second ruler of the empire called Humayun (1556) and dates from 1562 – 1571. His son Jalaluddin Muhammad Akbar ordered the construction of this tomb. Also this tomb is surrounded by a fine park laid out in Persian chahar bagh pattern. I found this a lovely place to walk around for a while!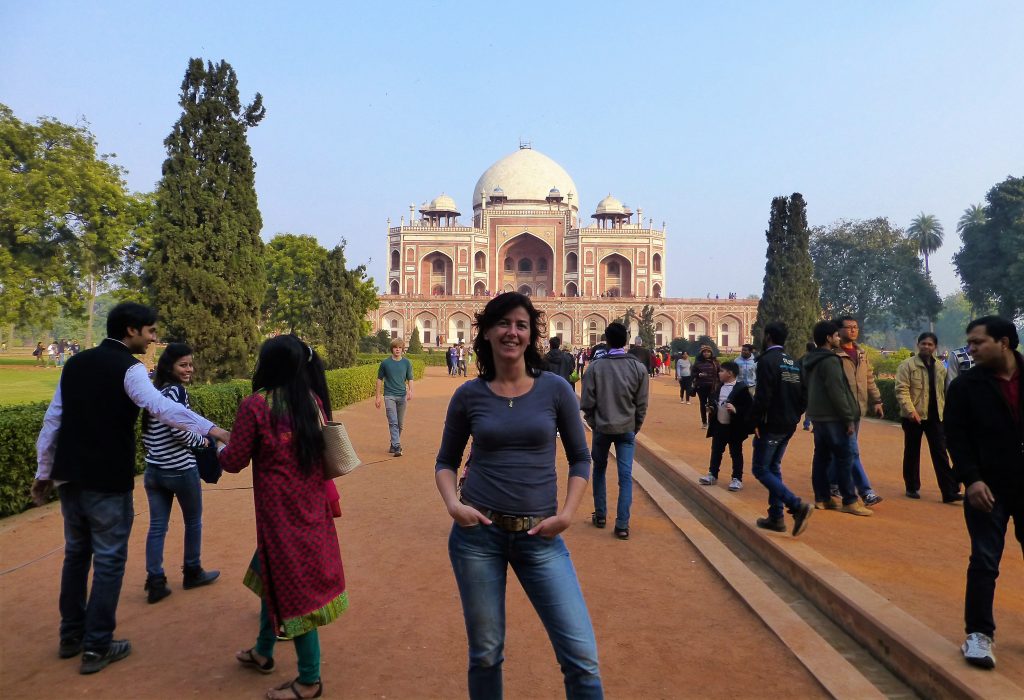 Because also this tomb is made of red sandstone and there is a beautiful white marble dome on it it gives it a great view! Because the tomb is built on an elevation it stands out extra! The elevation is on all sides no less than 99 meters long!
Purana Qila
This 16th century old fort, which is also the oldest fort in Delhi, is also lovely to stroll around. Enter through the only imposing gate that is still open: Bara Darwaza. I followed the wall on my left in the beginning and after that I went to see the middle part of this old fort. There are a number of beautiful buildings in the old Islamic style with Afghan, Mogul and Hindu influences.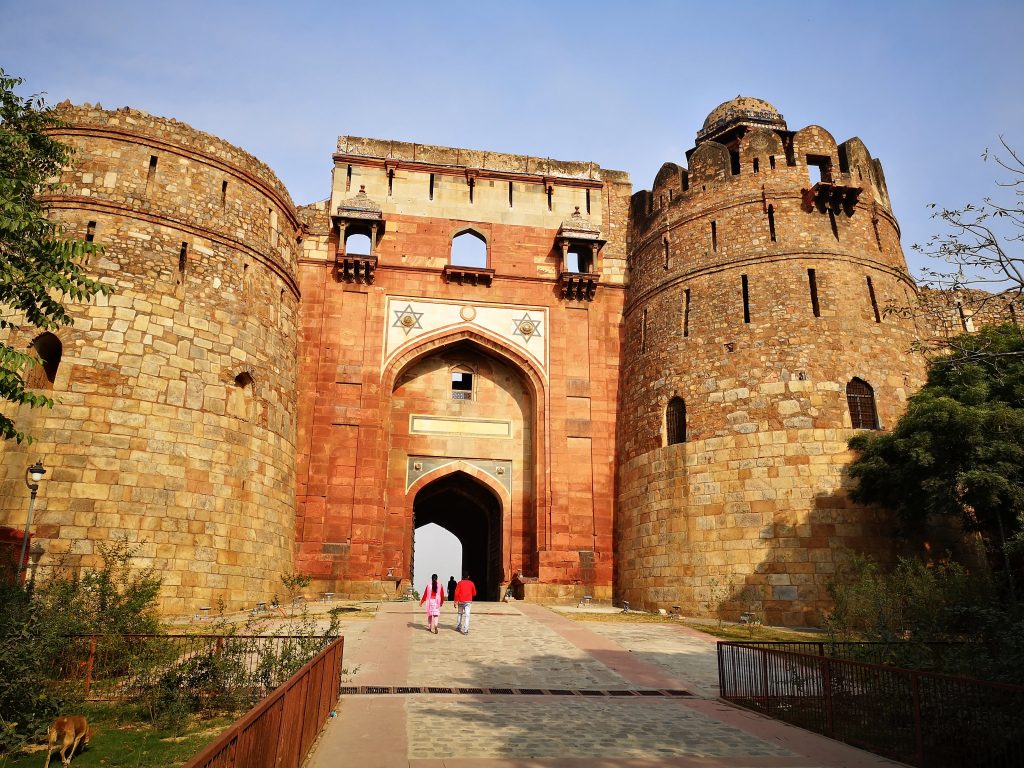 Costs: for western tourist 300 INR
Feroz Shah Kotla
Along the Yamuna River, this fortress was built as the 5th city in the course of the time of the creation of the final Delhi. Because the cities before this often suffered from drought Feroz Shah Kotla was built on this spot.
In the middle of this fortress a pillar stands out. This pillar comes from a very different time and I read that Feroz Shah had it brought here over the river Yamuna. The pillar itself dates from the time Ashoka lived: 268 – 232 BC. Ashoka described his victories on the pillar, probably never deciphered by Feroz Shah but only much later by a Brit. However, he saved neither costs nor benefits to give this pillar a nice place here. Around the pillar a kind of pyramid shape is built to support it.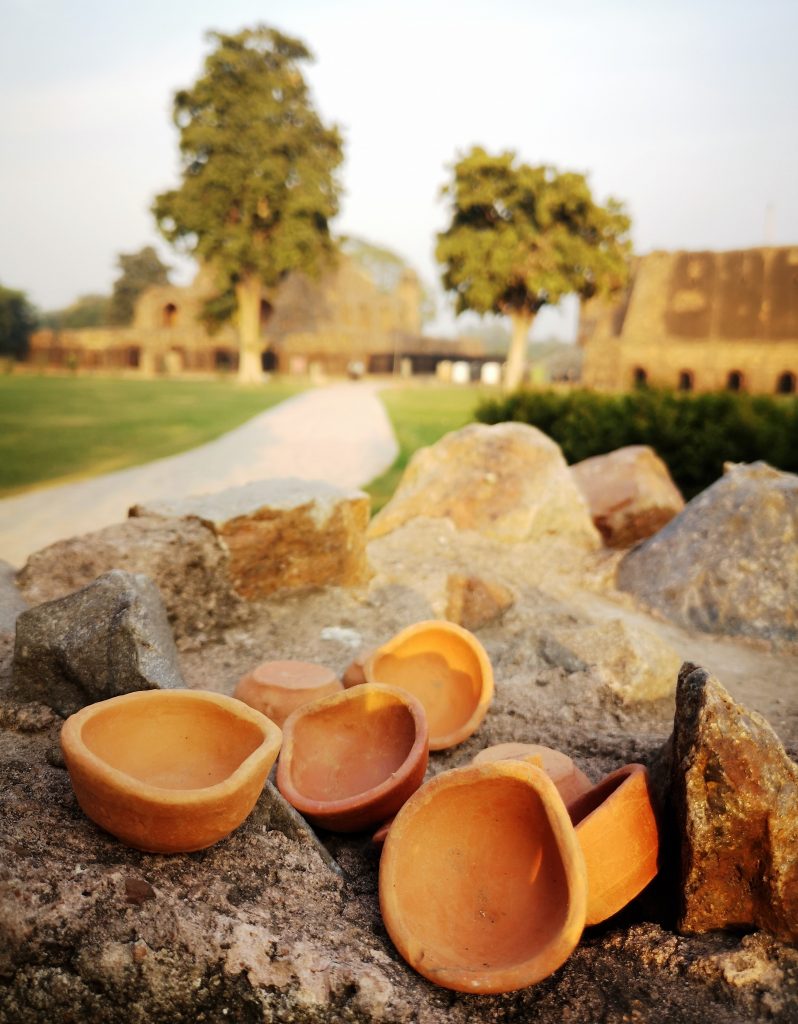 From this spot you have a beautiful view over the surroundings and you can see the Jama Masjid ( mosque ) and another separate building, a round baoli.
Everywhere in India you can see these wells or ponds with many stairs along the sides but mostly they are square. The stairs along the whole sides are meant to be able to wash yourself and get to the water at any water level. I always think they are great to see but unfortunately this one is closed.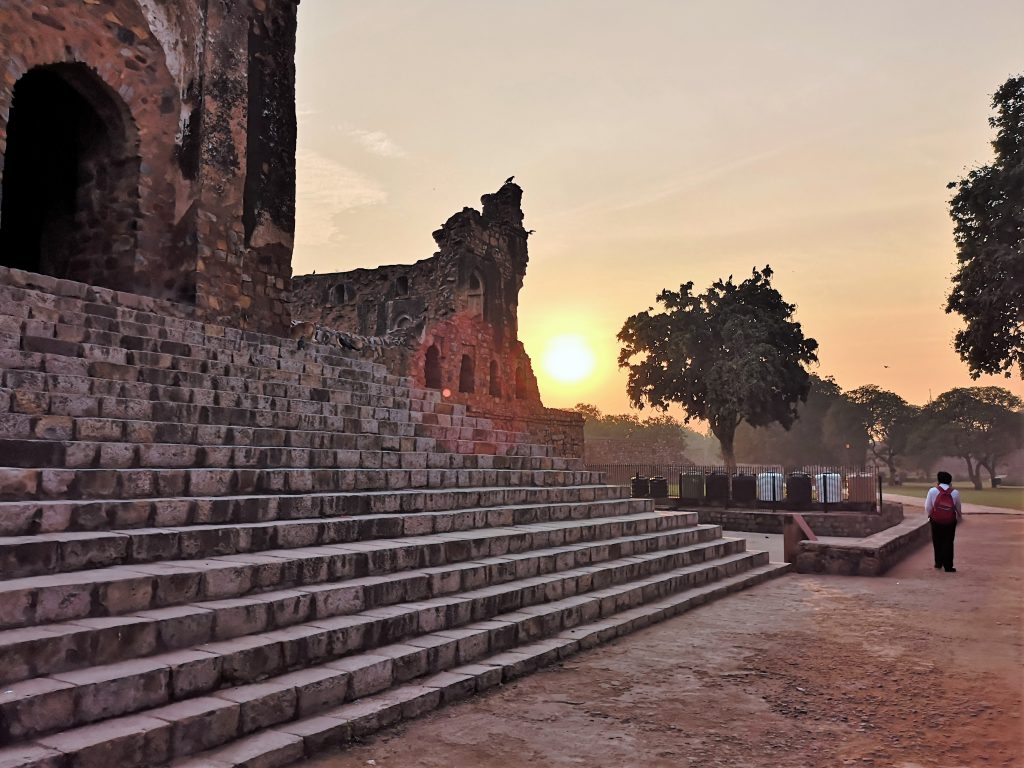 Costs for western tourist 300 INR
New Delhi Travel Guide – India
Siri Fort
Near Haus Khaz you'll find this fort. It is the second city of Delhi and dates from 1297 to 1307. The construction was done by Alauddin in the Khalji dinasty and in the construction you will find Turkish influences.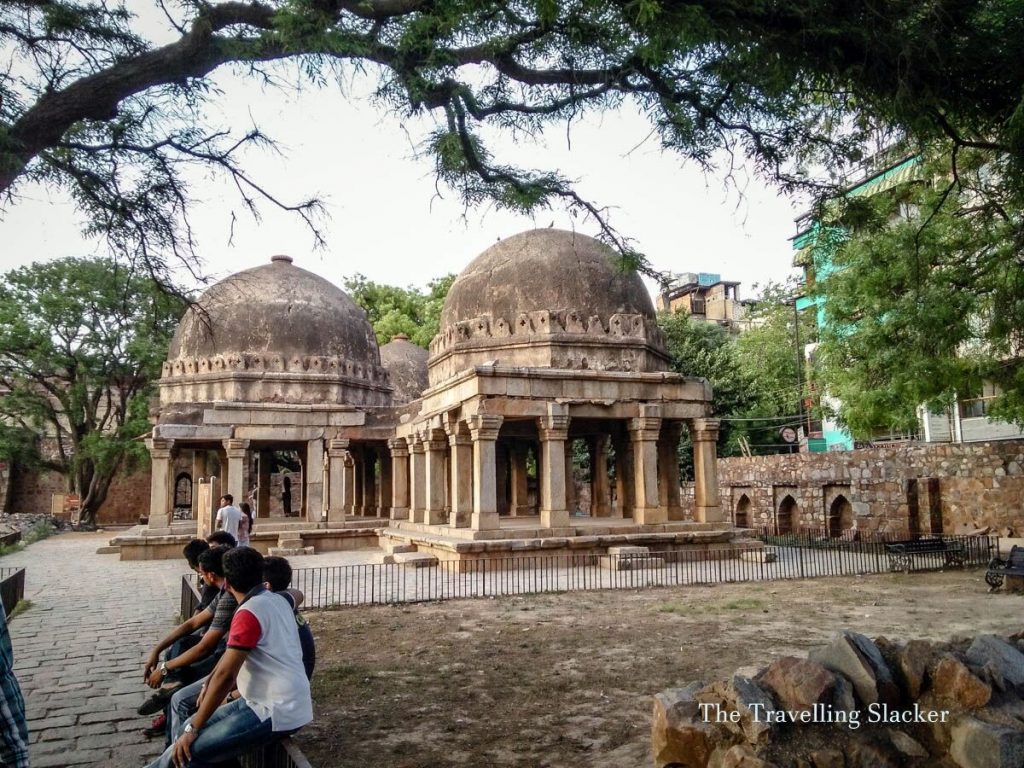 Picture by Jitaditya of The Travelling Slacker
Tughlakabad fort
About 20 km from Chandni Chowk you'll find this ruined fortress. Tughlakabad fort dates back to 1321 when the fourth city was established on this spot.  The fort has only been inhabited for 6 years but it is nevertheless an impressive structure with walls of 10 to 15 meters high. It would have had 52 gates of which unfortunately only 13 remain today.
From Chandni Chowk this place is 20 km and so it will take you an hour by car without any setbacks in traffic … and that is always there so assume that you are at least half a day if you visit this fort from the center.
You could combine this visit with the next highlight of New Delhi!
This is the tallest stone tower in India with a height of 72.5 meters. I have been here during my first visit in 2009 but also with my father in 2015.
At the foot of the Qutub Minar you will find the Quwwat-ul-Islam Mosque. The first mosque built in India. A text in the eastern gate of the complex indicates that this mosque was built from the remains of 27 destroyed Hindu temples.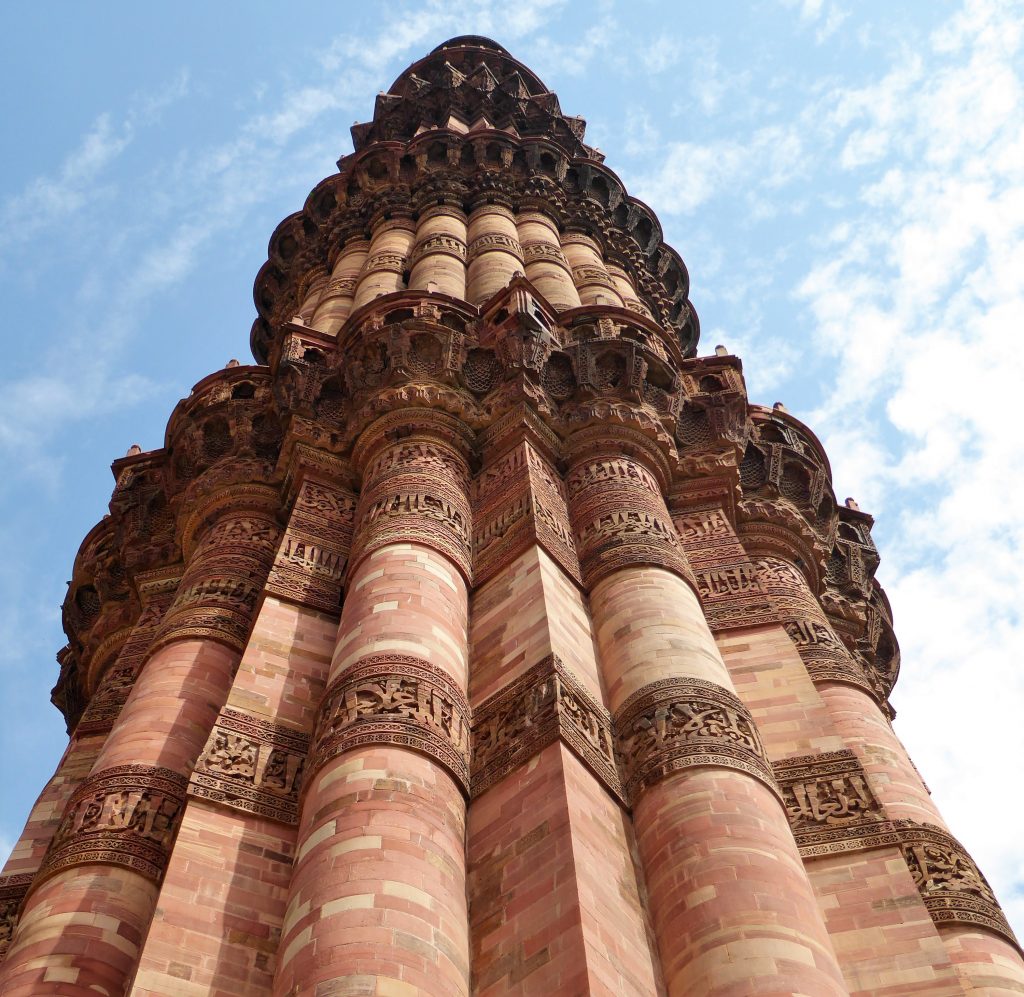 What exactly was the purpose of the Qutub remains unclear. Some say it was built for the muezzins to call for prayer from there. It is also said that it is a victory tower that announced the beginning of a Muslim ruled time.
The construction of the tower started in 1200 AD but could only be completed decades later (1368).
If you're going to India, don't skip Gandhi. I visit this memorial during my first visit in 2009. During my visit in 2015 I also went to his last place of work / office and home in Mumbai after I had previously been in Pune in a building where he was detained and where his wife died.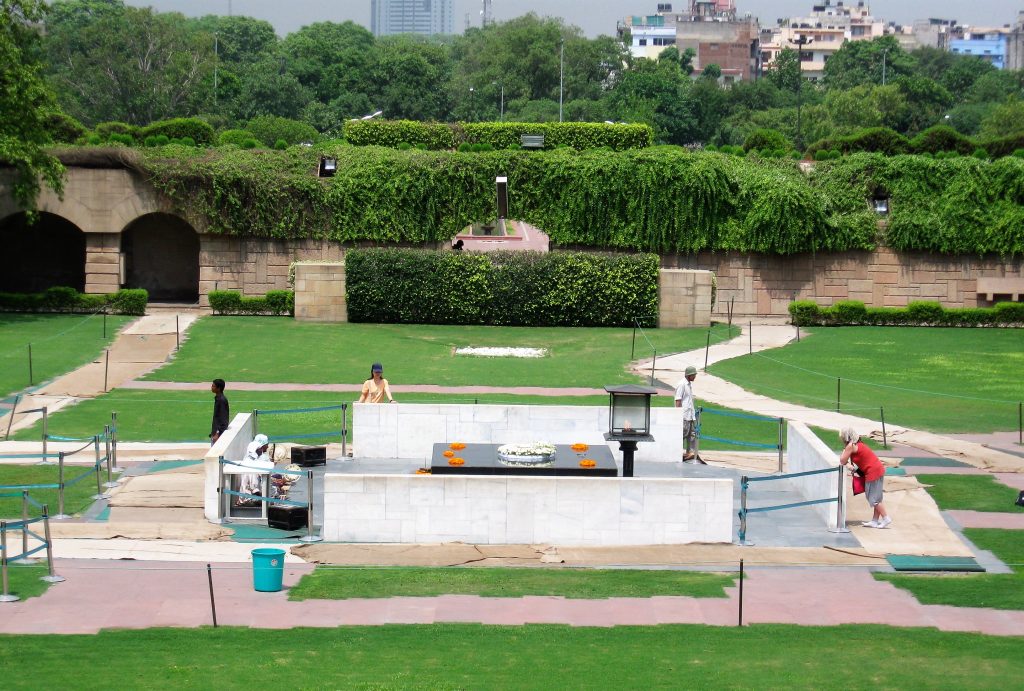 Shakti sthal
Shakti Sthal means: Place of Power and Strength. 
It is a memorial place dedicated to Indira Gandhi, the first and only female Prime Minister of India. She was PM from 1966 to 1977 and she was re-elected as prime minister in 1980. In 1984 she was murdered by 2 bodyguards in the garden of her house : 1 Safdarjung Road.
Shantivan
The last part in this memorial park in Delhi is Shantivan. This word means Forest of Peace. In this part of the park the first Prime Minister of India was cremated: Pandit Jawaharlal Nehru.  He was the central figure in Indian politics before and after independence from India.
Vijay Ghat
Vijay Ghat means Victory Bank. It is the memorial place for the second Prime Minister of India named Lal Bahadur Shastri.
All the aforementioned memorial sites are situated along the river Yamuna. Also this river can offer you beautiful views during for example the sunset!
New Delhi Travel Guide
Lotus temple
This is a very nice building! This temple is dedicated to the Baha'i religion and is built in the shape of a Lotus. The 9 lotus leaves are surrounded by baths of blue water and for that reason the lotus seems to float in water…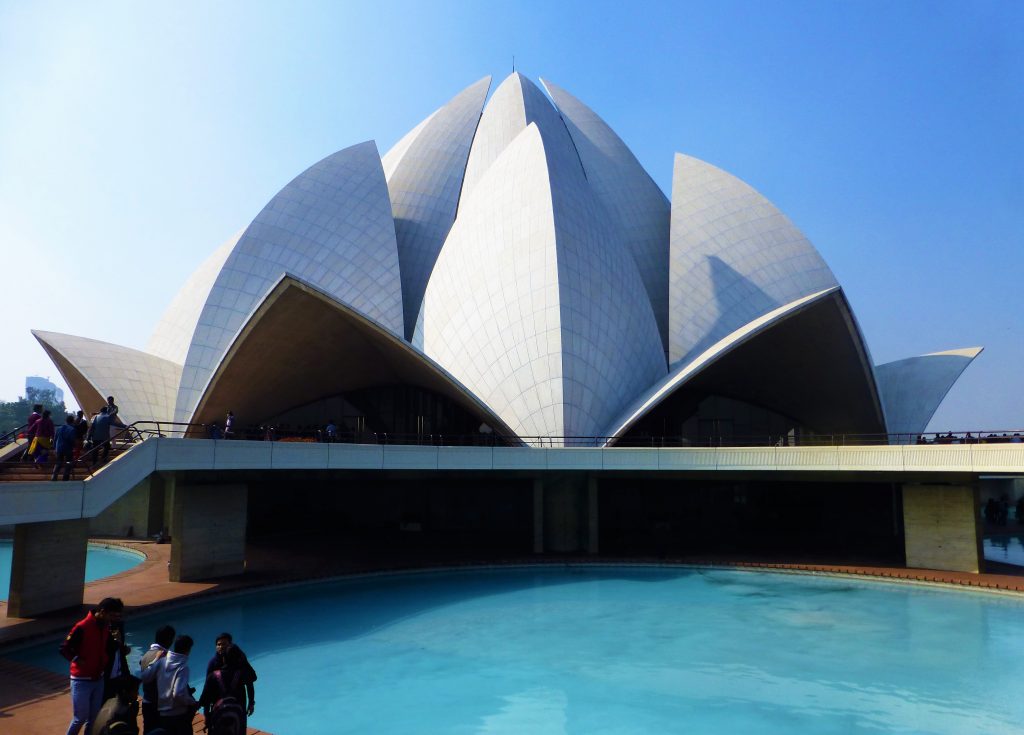 This temple is also surrounded by nine gardens. So also here you can take a nice walk and enjoy the peace and quiet and the nice weather 🙂
In 2015 I also saw him from the plane but unfortunately I was not quick enough to take a picture!
Sri Sri Radha Parthasarathi Mandir (ISKCON temple)
This temple is close to the Lotus temple, so you could combine that. I see it in the background when I look at the pictures of the Lotus temple. I haven't visited this temple yet.
Akshardham temple
I missed this temple for years… I have only been there in January 2019 and found the complex very special to visit. It is a whole center where everything is organized. You come across all kinds of things, from beautiful ponds to beautiful vistas and even a food court.
You can easily go there by metro, when you come out of the station turn right and at the first big junction turn right again. Then you walk to the entrance of this large complex.
Laxmi Narayan temple
Also called Birla Mandir. A huge Hindu temple where I spent some time walking around in all the rooms. Also here you don't enter with your camera and you are only allowed to take pictures from the outside but there is still enough to see!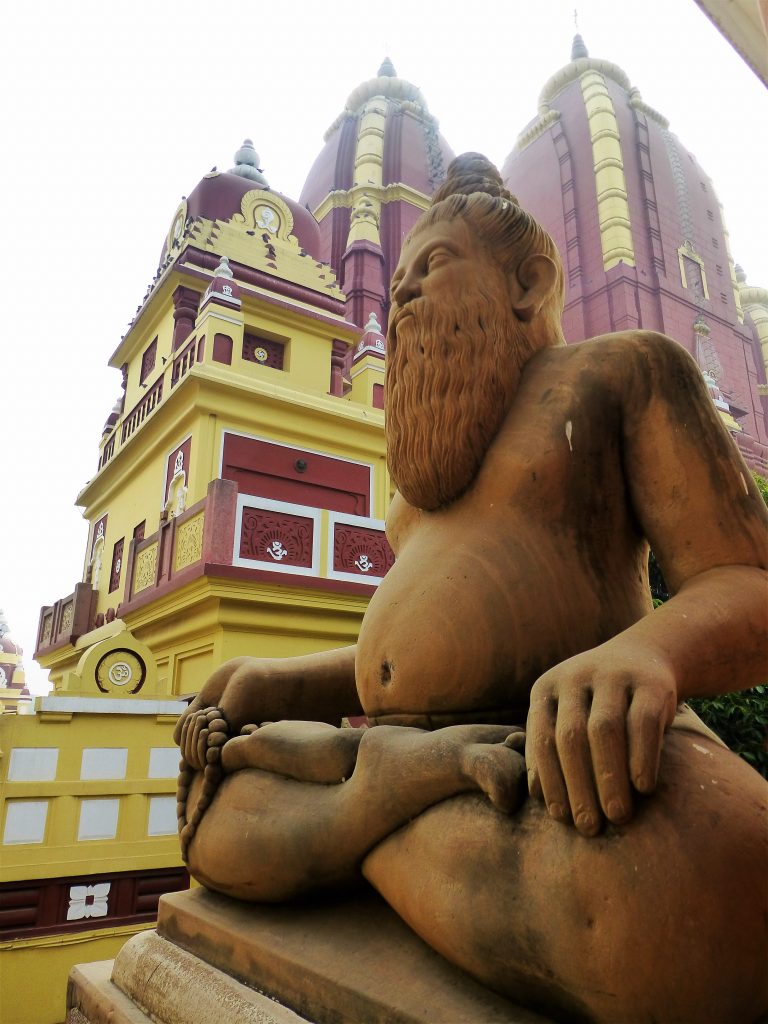 Gurudwara Sis Ganj Sahib
This Sikh temple is in the heart of Chandni Chowk. If you want to go inside you have to take off your shoes and put a cloth over your head and then you are welcome!
What I loved to hear is that on a daily bases food is distributed to 25,000 people of all religions and regardless of their origin. And to make it even nicer, your shoes are polished while you are eating. This is done by volunteers, regardless of origin and religion people sit there polishing the shoes of people they do not know. Isn't that great?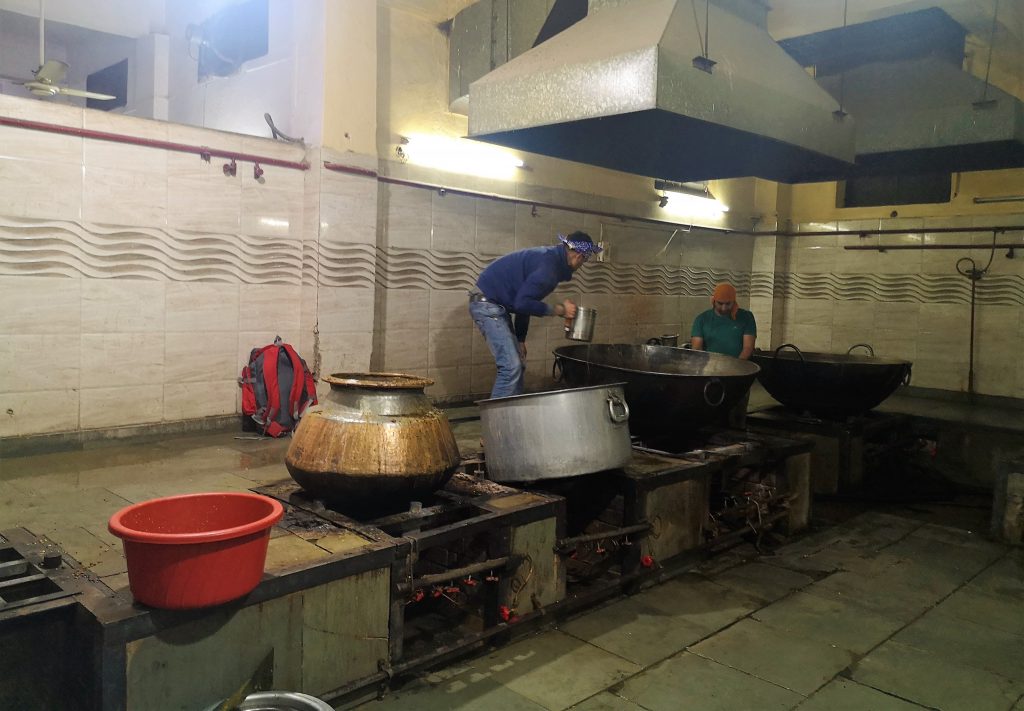 Gurudwara Bangla Sahib
One of the most important Sikh temples in Delhi. It is a huge temple and next to it there is a lake called Sarovar. I sat inside for a while to listen to the prayers. Soon a man came to sit next to me and we exchanged a glance of appreciation. Just like that, small appreciation for each other! Love that about India too!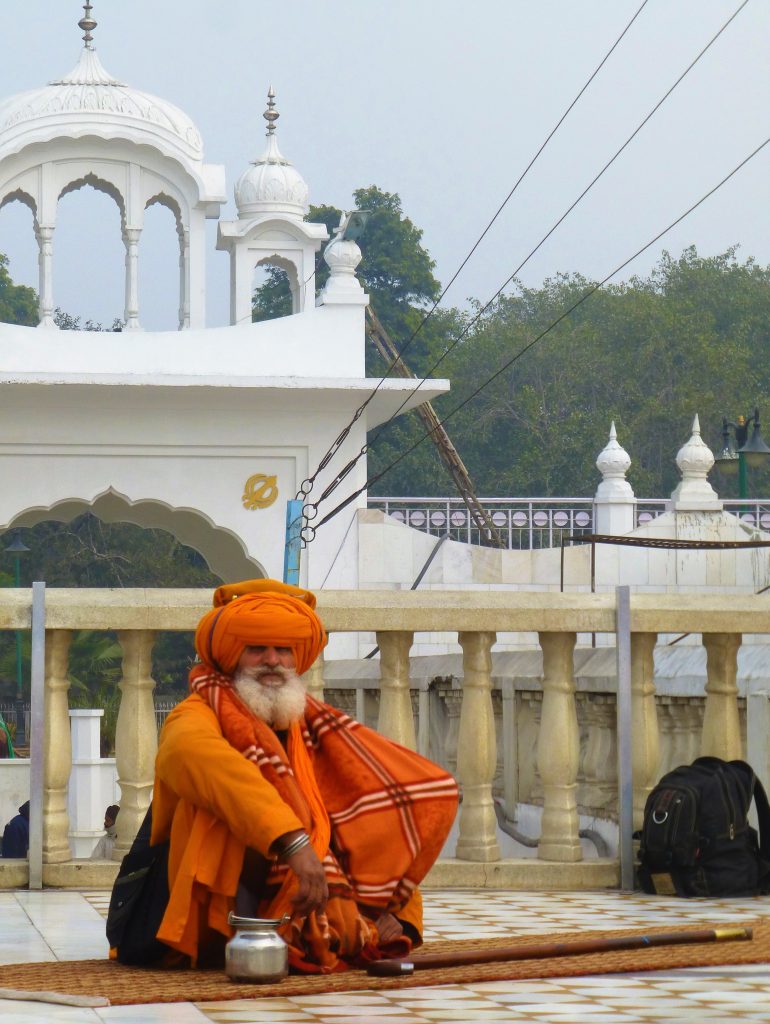 Cathedral of the sacred heart
If you have been to the Gurudwara Bangla Sahib mentioned above, you can go to the other side to visit this beautiful Catholic church. You don't see them much in Delhi so for a balance in religion it is also nice to see them 🙂
Kalkaji mandir (Shri Kalka Ji Temple)

Hindu temple dedicated to the Goddess Kali in the southern part of Delhi. Close to Okhla metro station called Kalkaji Mandir Metro Station. Also easy to visit from Nehru Place, a busy economic center where you can also find nice eateries.
Hanuman temple
You can't miss this temple either, if you ask me. I went there after seeing the great Hanuman several times. He defenitely sticks out!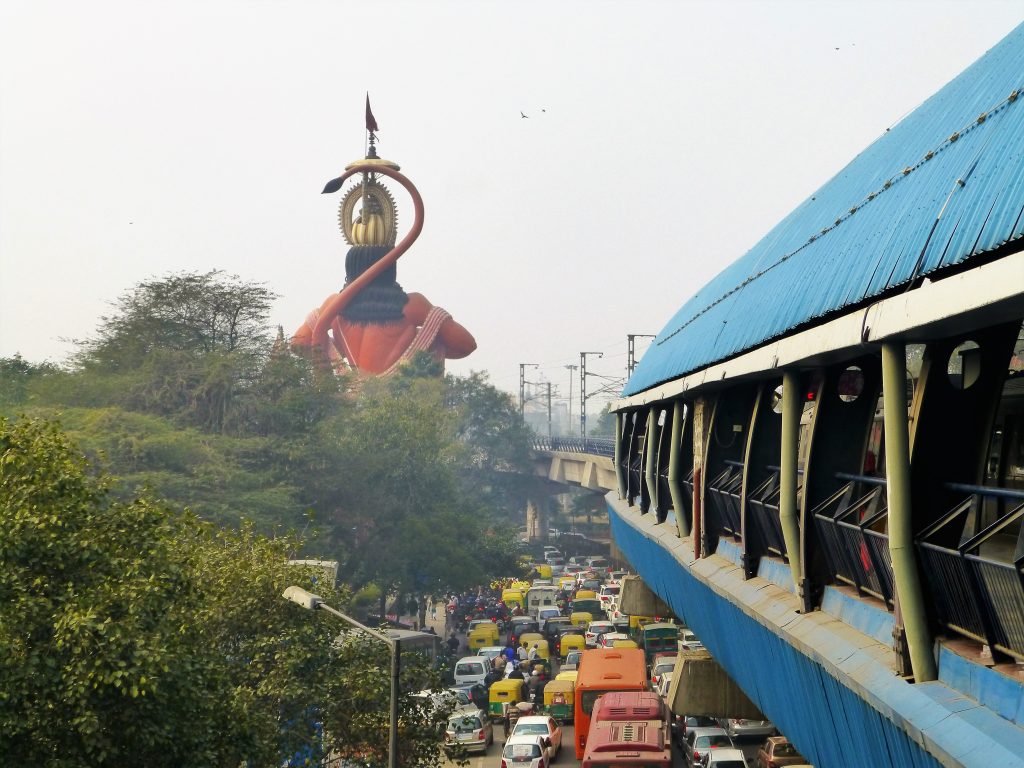 The entrance is his mouth!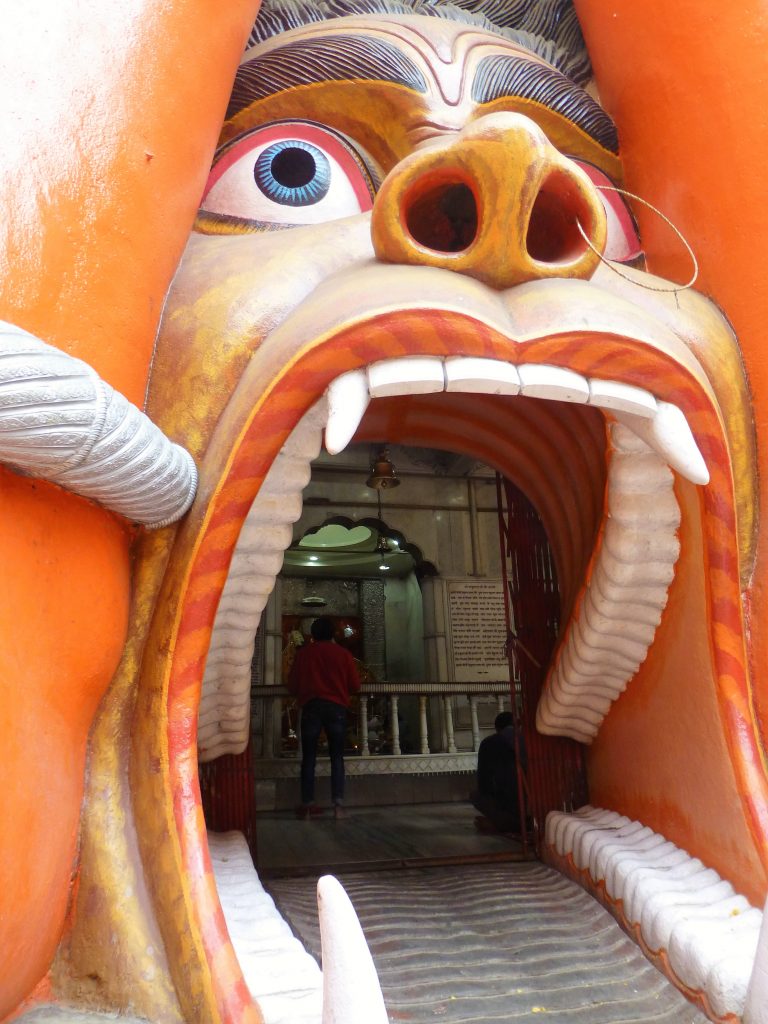 New Delhi Travel Guide – India
13 architect objects with an astrological background. I haven't visited these yet but I did visit one in Jaipur. Pretty interesting to see and I also found them instructive. I was given an explanation about the different planets and their influence on humans.
I really need to get here on my next visit to Delhi. It has old remnants like we see in many places in Delhi of a city that originated in the 13th century but now it is a hip neighborhood. I read about nice boutique shops and vintage Bollywood shops and fine coffeeshops where you can sit. So nice to spend an afternoon!
This travel guide New Delhi is not complete if I just tip some trips for inside New Delhi. New Delhi as your starting point to explore the area is not wrong at all. Trips to the Golden Triangle (New Delhi – Agra – Jaipur) is an often made multi-day trip but you also have enough day trips that you can book quickly and easily!
Tips for trips inside New Delhi
Delhi Food walk
A food walk is the best way to discover the street food of New Delhi and find the right spots! I booked the Delhi Food Walk and was super happy with everything I got to eat that evening!
Read more about it : Delhi Food Walk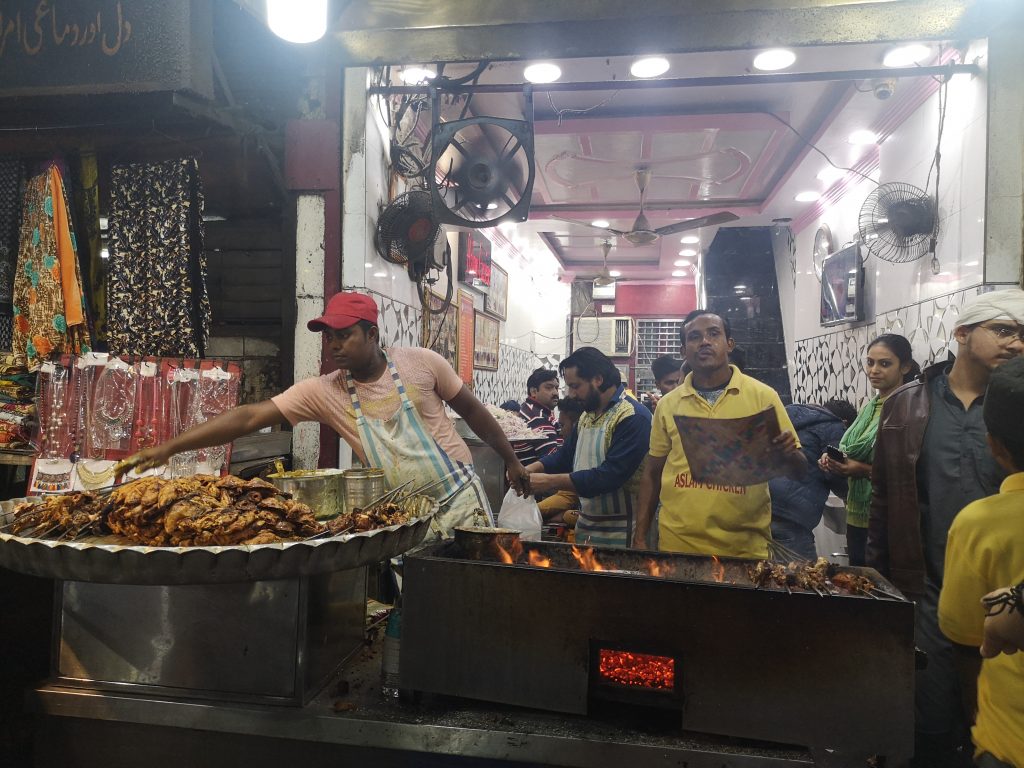 Morning walk with street connections
Very good initiative this organization. For years they take street children off the streets to offer them shelter and education. They bring the youngsters in by offering them this on a voluntary basis. When they finally make the choice that they want a different life… No longer living on the street, which often means that they also use drugs and alcohol, they choose very explicitly for a life indoors. The first 2 months they don't come out and acclimatize inside and get used to their new life.
Lelit, who showed us around that morning, was living proof that things can go well!!!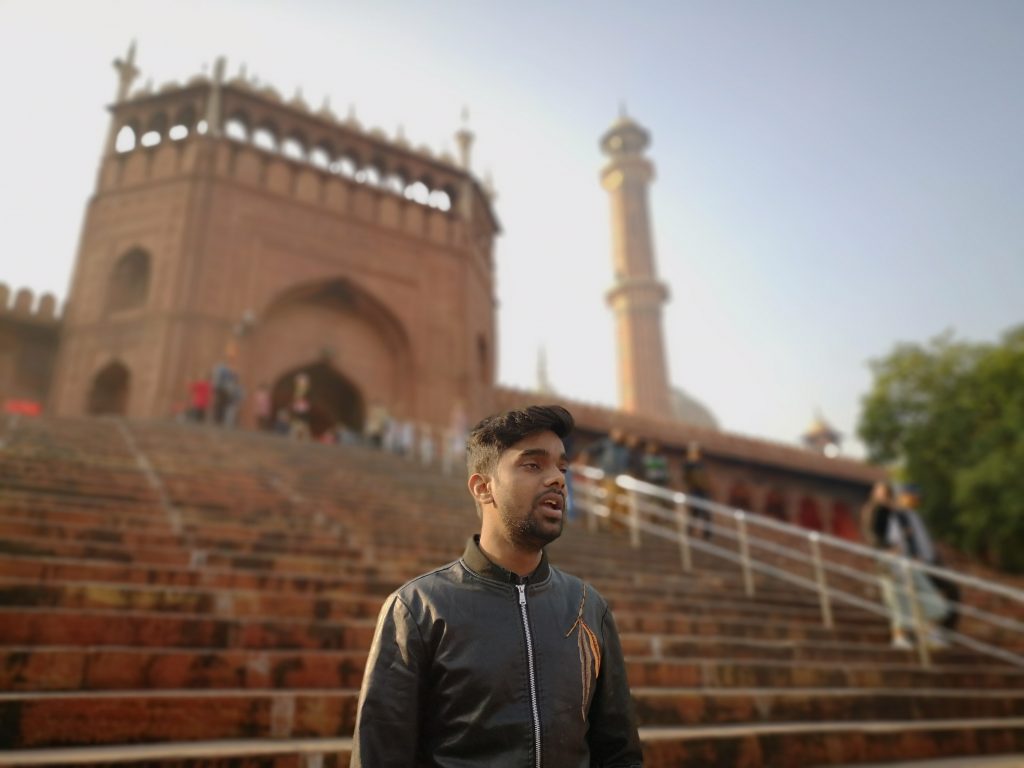 Cycling in Delhi?
I see them more and more, the bikes you can take with you and discover Delhi for a few hours for a small amount of money.
Discovering Delhi by bike seems very cool to me! Of course there are also all kinds of trips to book so you can go into the neighborhoods under supervision! Check google on Delhi by Cycle or Delhi by Bike for the different options!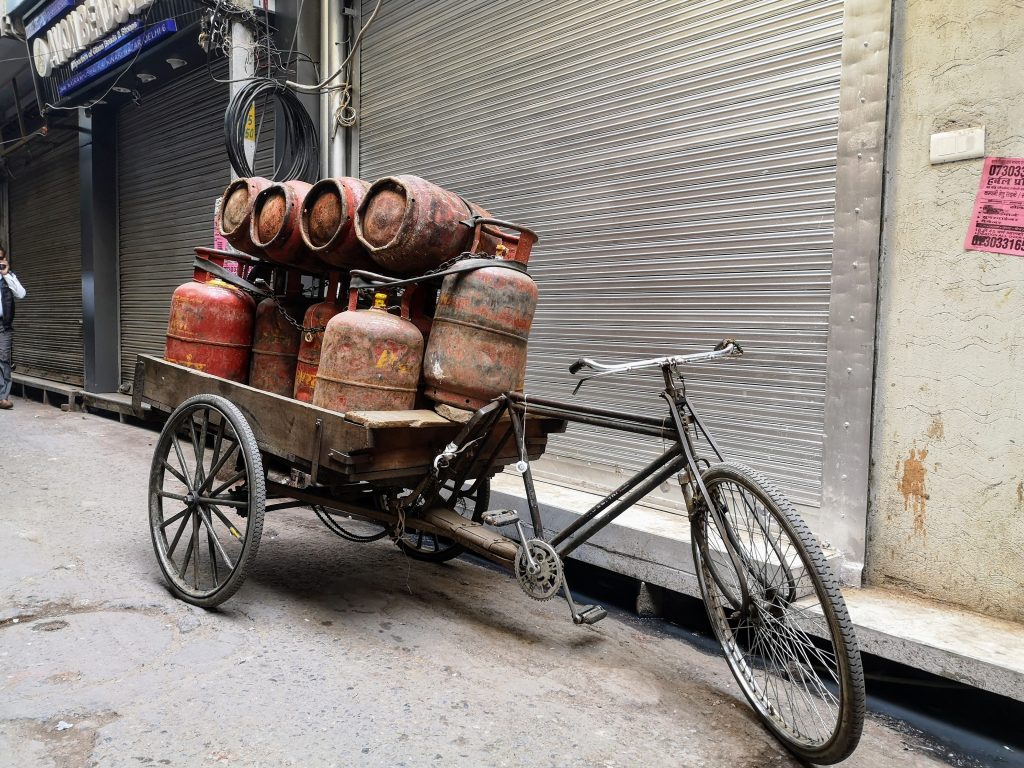 Food you can't miss!!
I ate these at the famous Haldiram's chain on the main street along the Chandni Chowk district. You can get a lot of other tasty things there! Come here if you're hungry and eat you'll get out with a full belly! It is street food only then in a neat restaurant so if you prefer not to go out on the street to try something yourself this is the alternative.
Check this video to see how they prepare the Raj Kachori for you!
I also tried the great Bhalla Papadi and the desert Ras Malai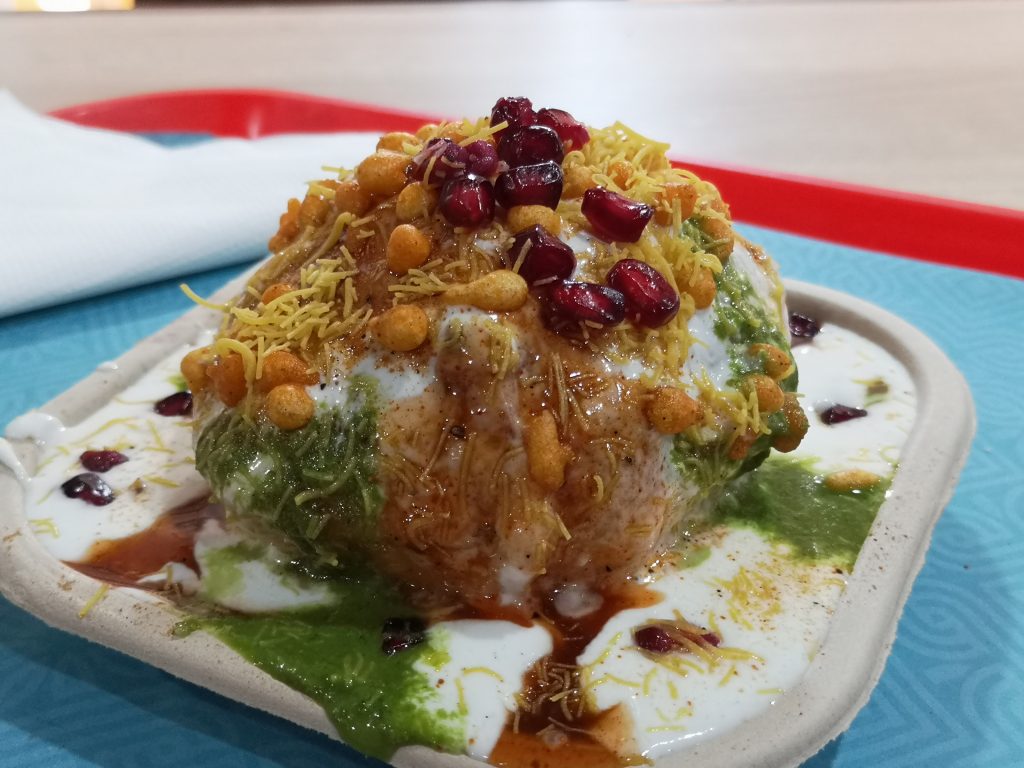 Pani Puri of Atul Chat Corner
A few years ago, I ate the Pani Puri with my girlfriend Smriti! So delicious! They are small fried balls in which they make a hole so they can fill it with all kinds of ingredients. Finally they fill it with a sweet or spicy sauce. To eat the pani puri, you have to put it in your mouth at once, otherwise the thin sauce will run out of it in no time!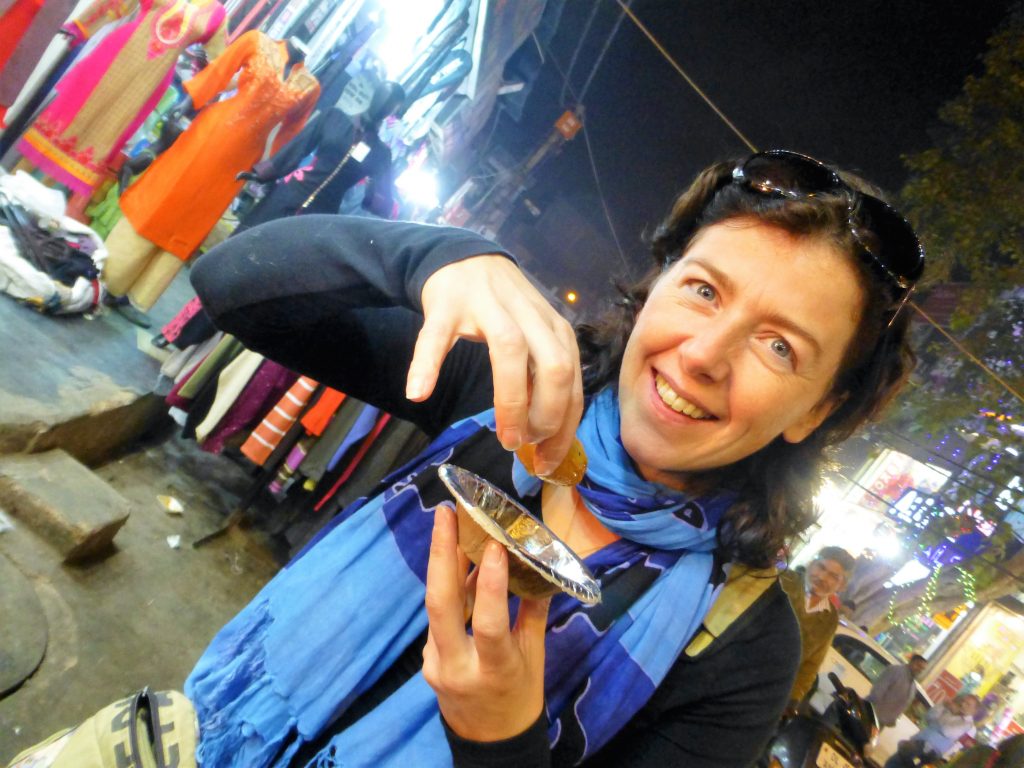 You really should buy something at this old place. It sits on a corner of the street and sells hundreds of small dishes an hour. People are coming and going at all times of the day, tourists… but even more the local Indians. I also ate there a few times and went upstairs to sit down and eat the nice little dish.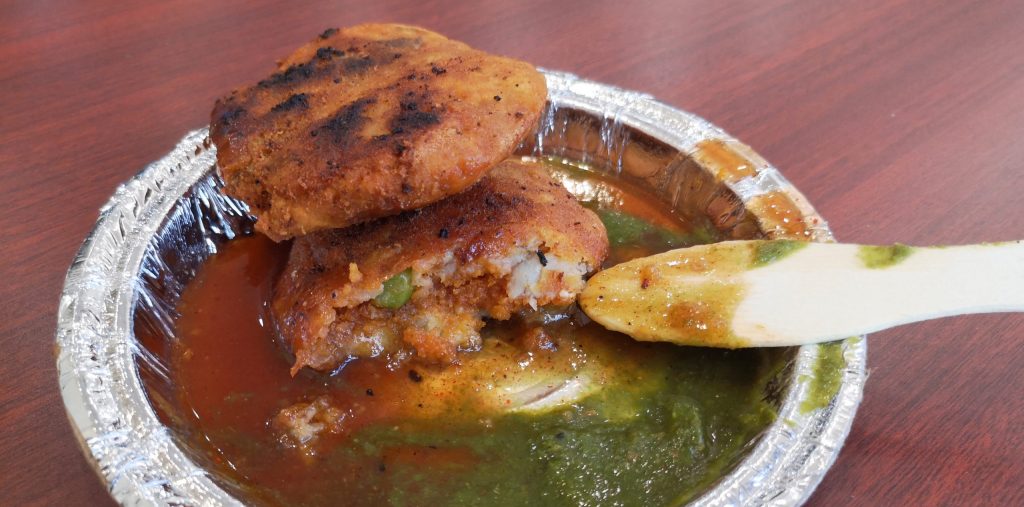 A unique place to eat in the heart of Chandni Chowk. Beautifully restored old Haveli which is now hotel and also restaurant. Not cheap but a nice experience. Before or after lunch go to the roof terrace so you can admire the whole building. I took the elevator up and walked down to peak in on every floor.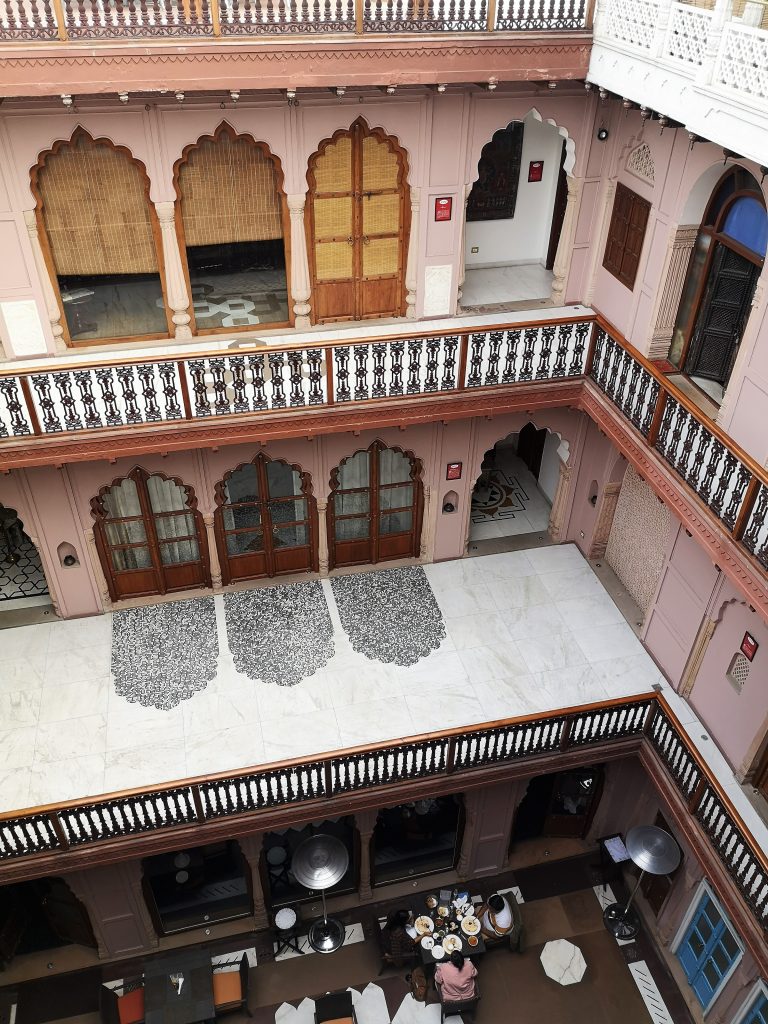 New Delhi Travel Guide
All hightlights for Delhi, India
Transport in Delhi
The metro is easy to use. Buy a pass and upgrade easily every time.
Uber is also very handy when you can go and book online. Book your tuktuk or taxi for a local price without having to negotiate.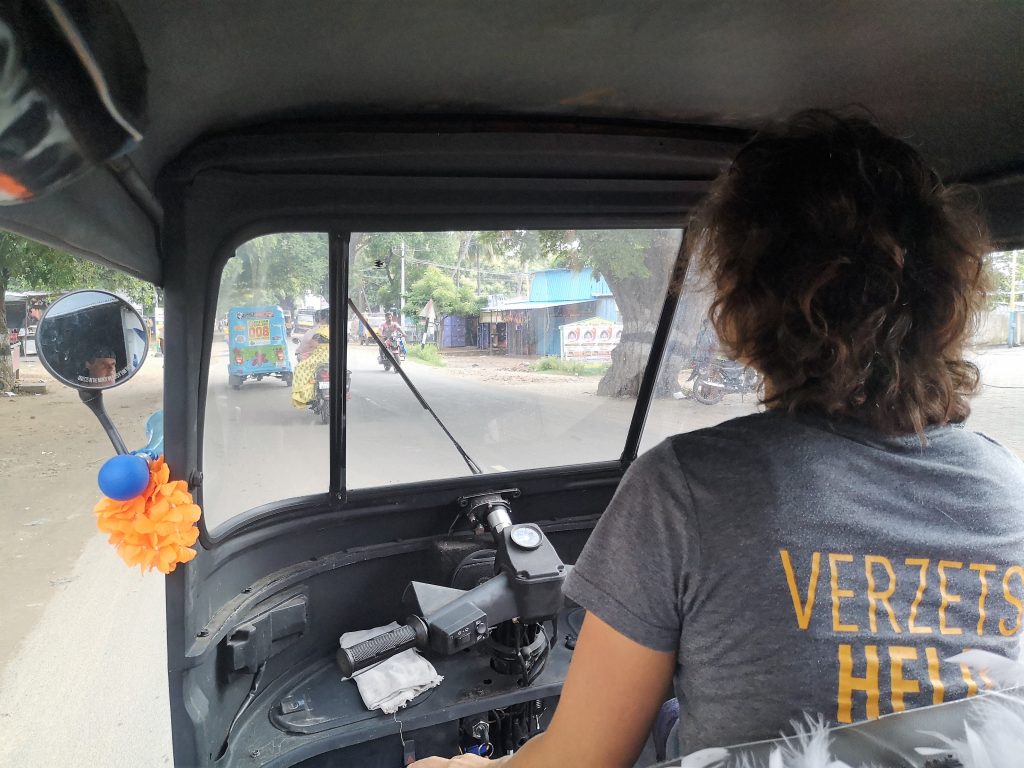 On every street corner you can easily pick up a car rickshaw or bicycle rickshaw. Negotiate however, because they start with more than double what they ask a local customer. There are more and more electric bicycle- and carrickshaws. Make a conscious choice and try to take an electric one. The air quality in Delhi is alarmingly poor.
New Delhi Travel Guide – All highlights for Delhi, India
Hotel / hostel in New Delhi
I have visited several different hotels and from cheap to medium expensive.. I never stay in super deluxe hotels 🙂
Tara Palace $$

Tara Palace is a fine hotel in the heart of Chandni Chowk. I have been here 3 days (2019) and found it a wonderful place! The hotel is within walking distance of Red Fort and Jama Masjid. The hotel offers you a good breakfast, a hot shower and helpful staff.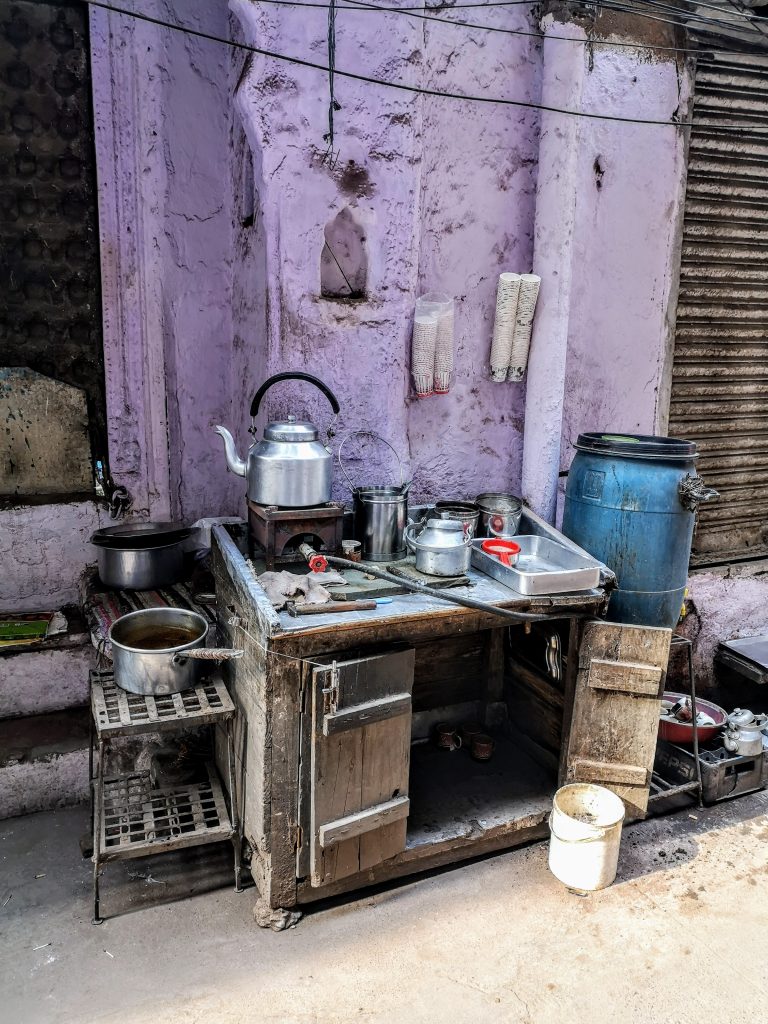 Himalayan hostel $

Cheap hostel in the Paharganj district… I found it a cozy place, better than hotels where you can sit in the lobby, but people find it actually weird if you sit there. Here was a kind of lounge area where you can surf the internet. I had a room with 2 bunk beds and a shared shower. For this I paid a few euros. When I search online now I find higher prices (30 euros) and I can't recommend this one as a cheap hostel anymore. Maybe it is now a real hotel…
Hotel Persona International $$

Hotel in the Karol Bagh district. In 2015 I stayed here one night with my father. Very neat hotel, nice breakfast in a boring room with chairs that aren't comfortable and tables with large rugs over them. This is something you'll see a lot in India 🙂
When I went for a walk in the area I came across these pigs… haha!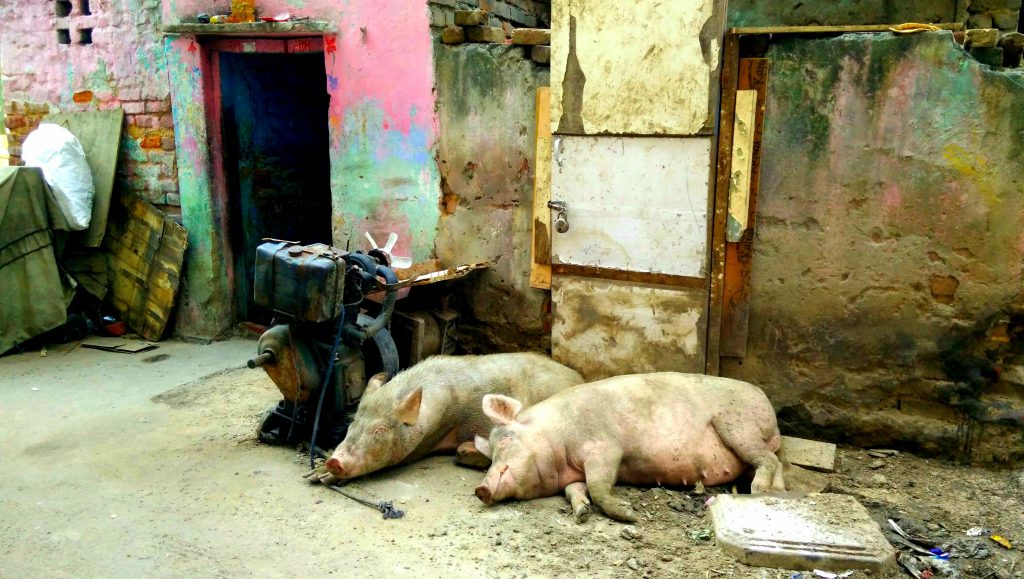 Hotel Shhaurya $$
In the district Dwarka (sector 13) I stayed in this hotel for a week. I was invited here for a wedding and so I was there for a week. On the different days the hotel was transformed into the setting for the many traditions that comes with an Indian wedding.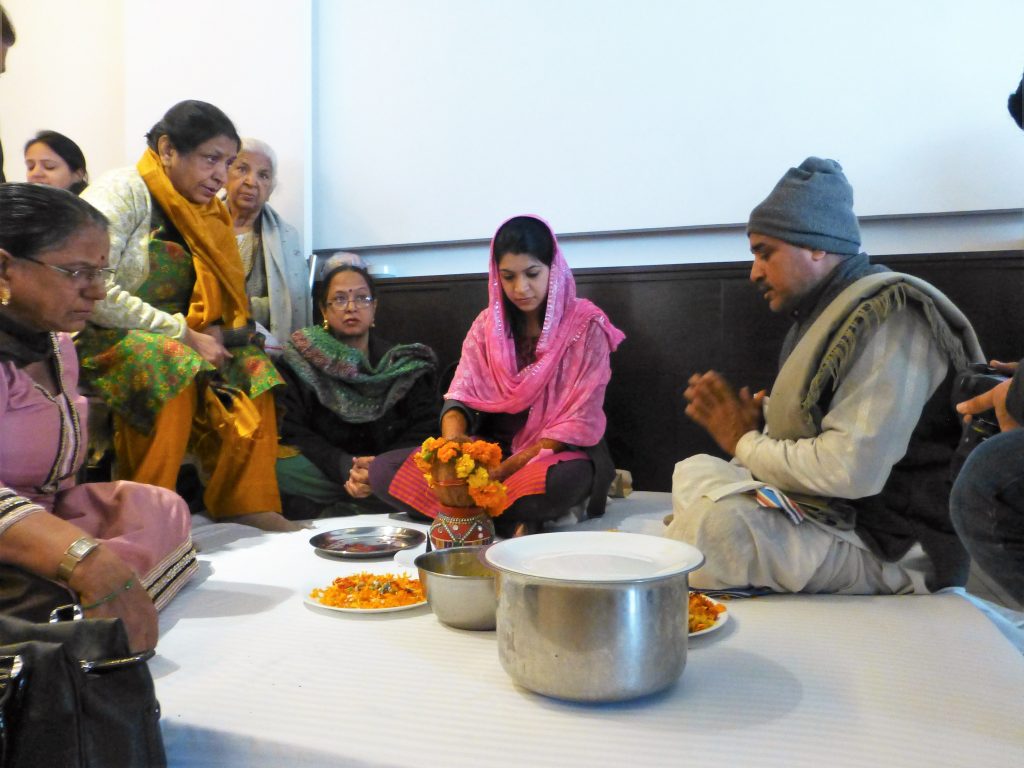 From this hotel I could easily discover the city by metro because the metro station Dwarka Sector-13 was within walking distance (10 minutes). I was there in January and got a heater in my room. Food was very good here!
Florence Inn $$
This hotel is also located in the district Karol Bagh and I stayed a few nights in 2009. Nice hotel and also as a starting point to visit Delhi a beautiful place. From there I made a lot of trips in Delhi but also very nice walks! This was during my first visit to India at the time!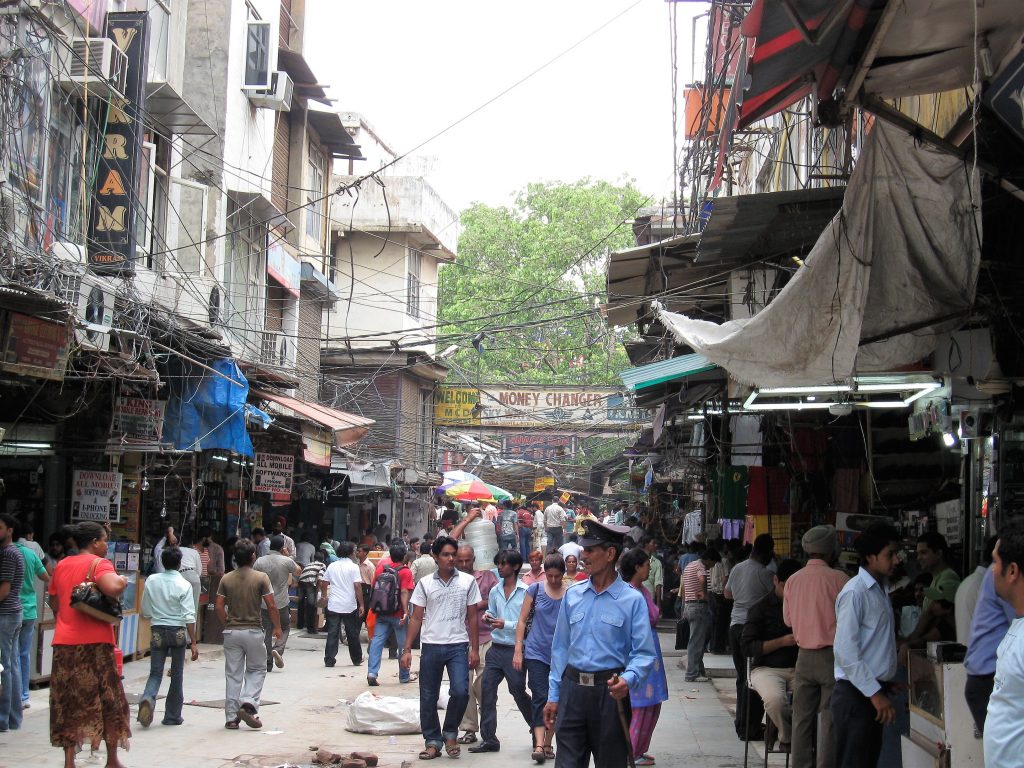 Daytrips from Delhi
If you don't have a lot of time to go and stay out there for a few days, these day trips are a good option to still visit places outside Delhi!
Agra is 235K from Delhi.  Taj Mahal and Agra fort visiting by fast train is an option
If you book the above trip with a private taxi you can also go to Fatehpur Sikri.
Visit Jaipur highlights, the pink city of Jaipur is 270K from Delhi
Rishikesh & Haridwar daytrip –  High on my list 🙂
If you start your tour in Delhi, maybe you'll discover Rajasthan too?
Did you like this New Delhi Travel Guide?
Then share it!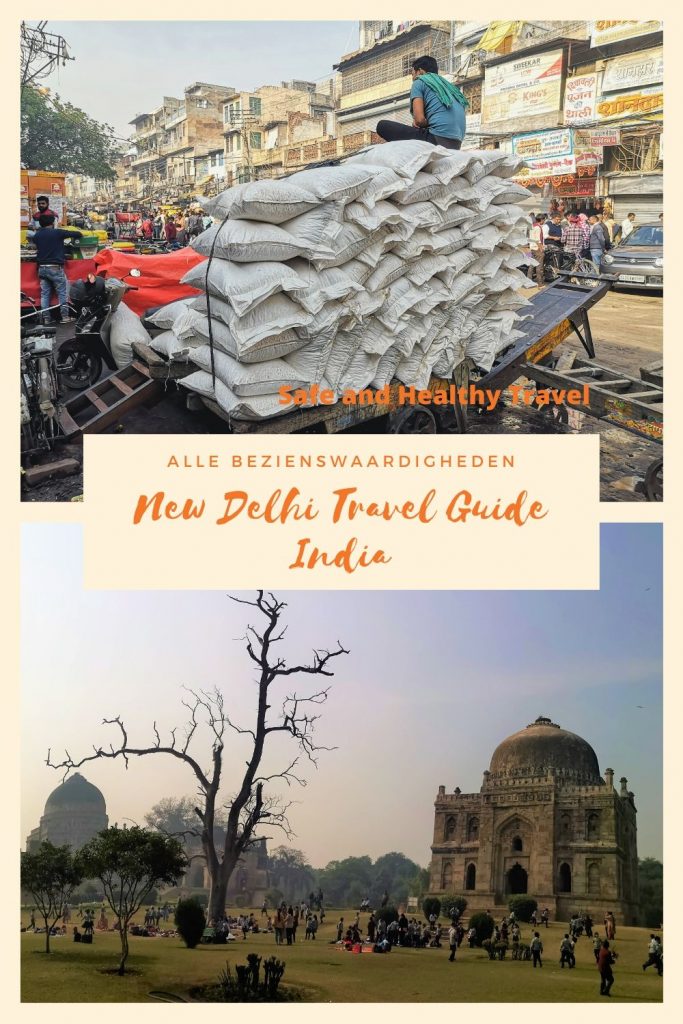 I hope you love this world as much as I do!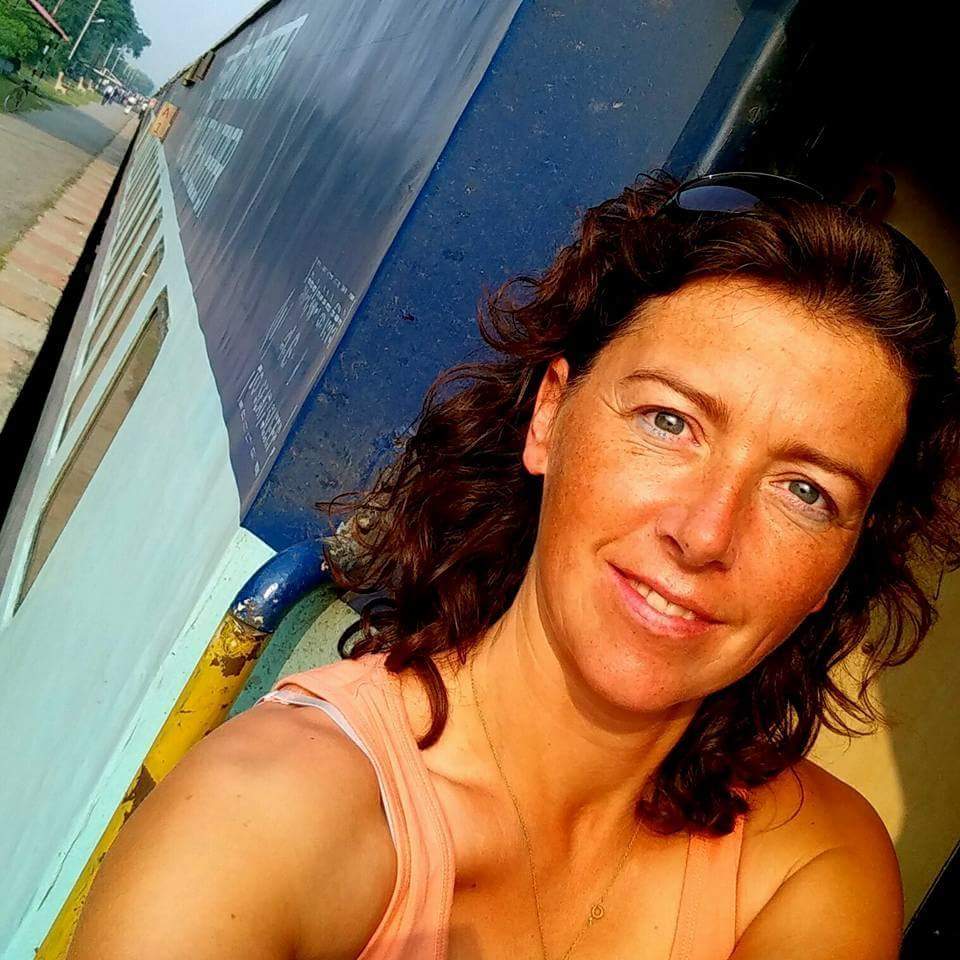 Jacomijn is een politieagent uit Nederland die jou graag laat zien hoe je veilig, actief en gezond de wereld kan over reizen. Safe and Healthy travel is a MUST