How to avoid culture shock in India – Everything for your first visit to India – Incredible India
|
It is time to write a blog for people who want to go to India but are afraid of experiencing culture shock in India. So read everything you need to know for your first visit to India and maybe to avoid a culture shock in India here. I can understand why you are afraid of culture shock in India, but this should never be the reason why you do not travel to India. When I went to India for the first time, I did not travel alone. I had also booked the trip through a Dutch travel agency, something I have hardly done for years. This first visit to India was years ago (2009) and I have been to several states of India quite a few times now.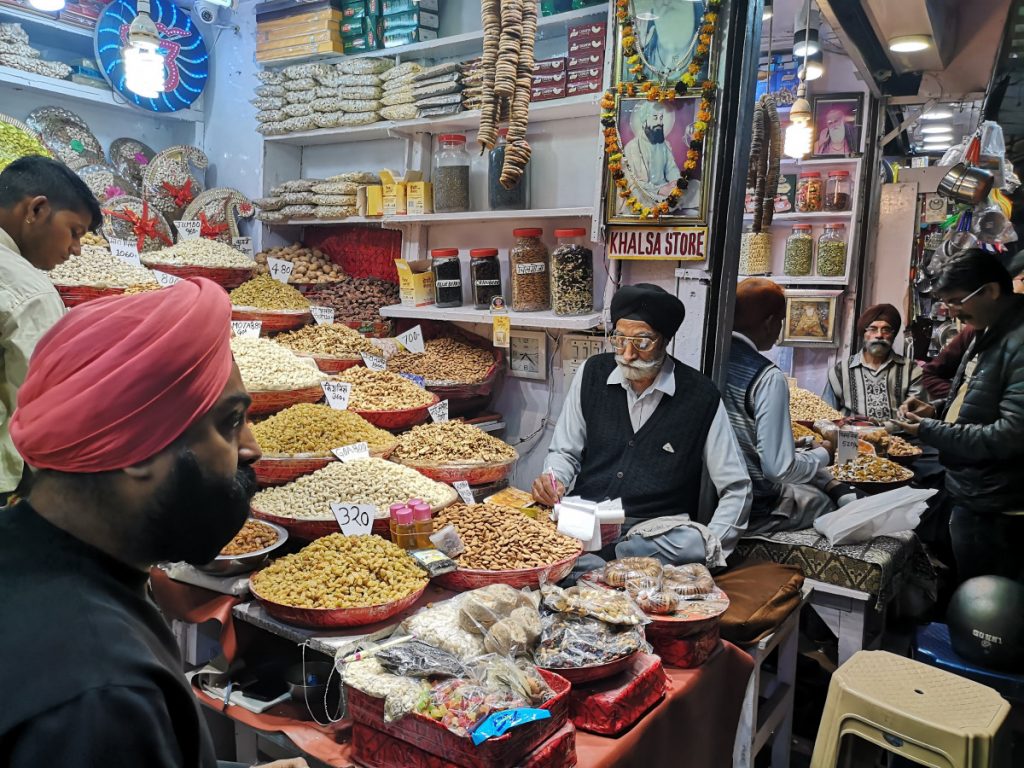 India for the first time – Safe and Healthy Travel
When you walk the streets of India you will feast your eyes. Your nose will be working overtime because of the incense that is burnt in abundance, the delicious street food that releases the most delicious smells through the streets… but also the rubbish piled up in corners and, of course, the cow patties of the sacred cows that walk there. But your ears will also get it from the many honking auto-rickshaws, the Bollywood music that sounds everywhere and the people, of course, touting their wares. And you'll have all this to deal with in a matter of seconds.
Do you know the anatomy of wonder?

You could have experienced those above when you hit the streets for the first time in India. First, you experience terror… Then the shock lapses and turns into amazement…. A little later, this amazement turns into elation. And that elation? That's what your innerself lets you feel! And what you then feel is your mind showing gratitude. Grateful for the wonder you get to experience.

And ask yourself how often do you still genuinely wonder?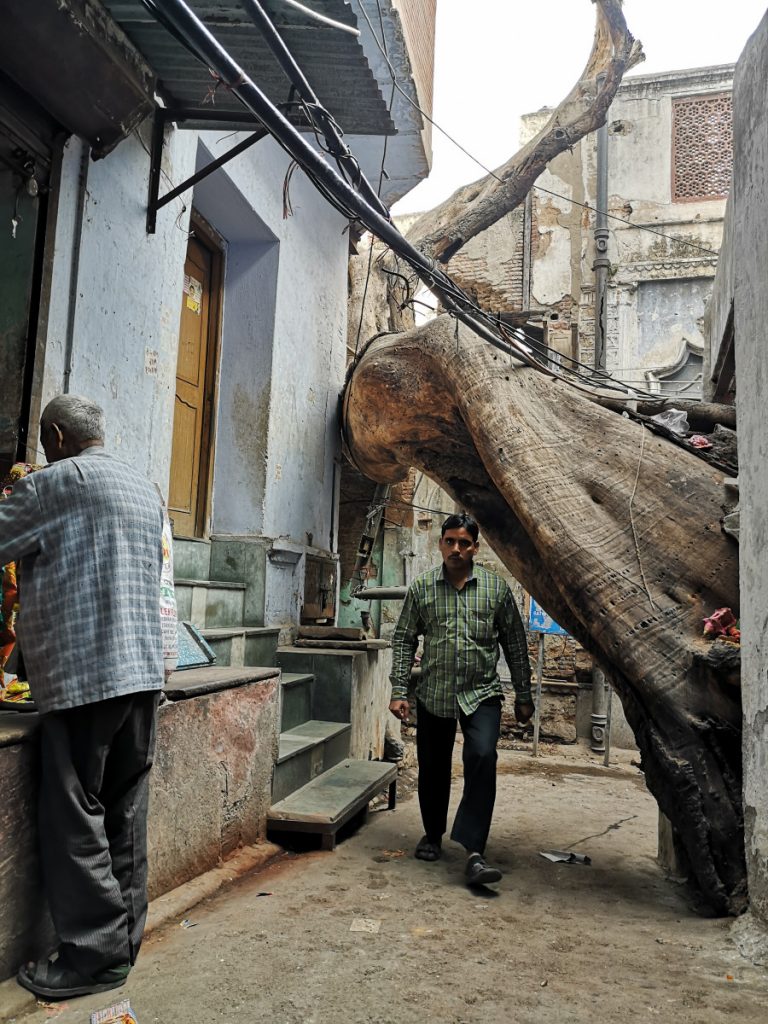 Many of the India trips I took I did solo but I was also there with my father, a friend, with fellow Indian bloggers or twice with a group to do the Rickshaw Challenge. The most impressive trips for me in India though were the first time I spent 10 days in silence in Chennai (Vipassana meditation) and the 200-hour yoga class I took in the holy city of Pushkar.
How to avoid culture shock in India
India is a great country but too often I hear that people do not go there to avoid a culture shock in India. India for the first time can be overwhelming but my opinion is that this should not be an 'excuse' not to go. If you are interested in the country, its culture and history but also its amazing nature then you just have to take that step.
Shall I tell you that even for the 10th time, it can still be overwhelming? It's just an intense country, there are millions of people to be found on relatively small pieces of land. So you can assume that when you are in the city, your personal space is not sacred. You know, that half-metre or metre around you that you like to keep for yourself….
I'll never forget that one time at Chandni Chowk (Old Delhi) at the metro I was queuing for a coin when I felt someone leaning against me…and someone else grabbed my hand right after. I was momentarily overwhelmed but when I looked into their big dark eyes…. Well…it was tough for everyone standing there and it seemed better that way. It was all women around me….
But okay, you don't want to experience this during your first day when you just came from Europe for instance. I can totally imagine. Chandni Chowk is really super cool and should definitely not be missed on your trip through India. But to avoid culture shock in India, I suggest a different travel sequence. But even before you set foot on Indian soil, you can make arrangements for a nice trip through beautiful India.
Everything for your first visit to Incredible India
Read on to avoid culture shock in India.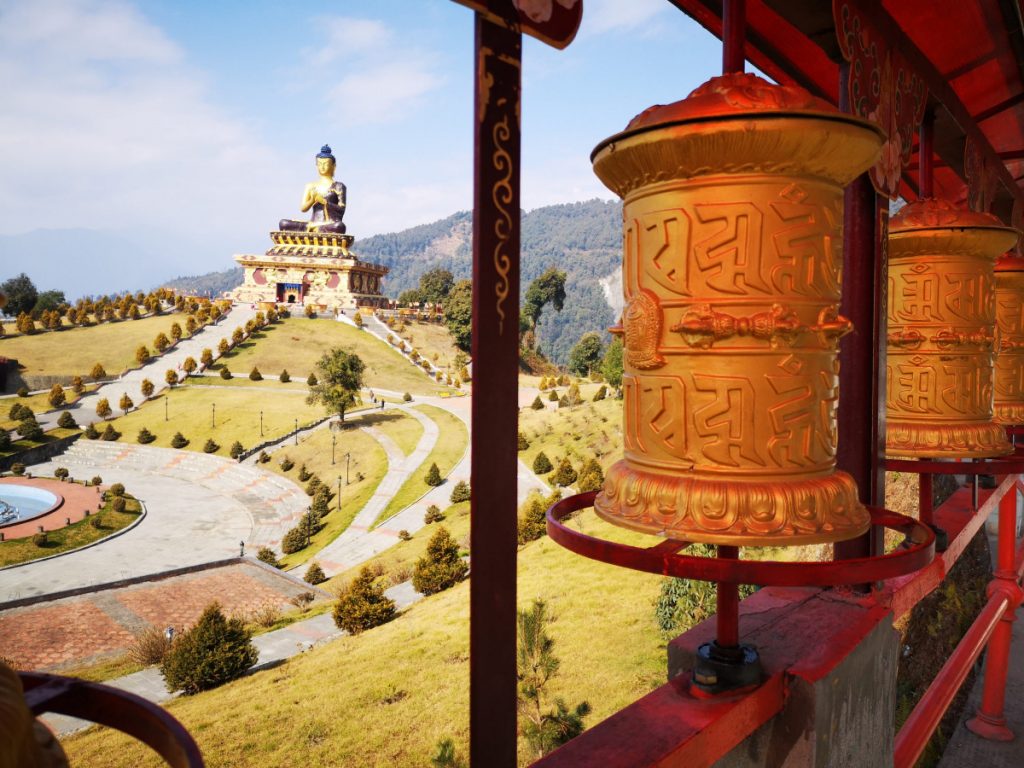 All you need to know for your first visit to Incredible India
Keep in mind what clothes you take with you
Make sure you have clothes with you that cover your shoulders and at least your upper arms a little. Look at it from the Indian side, in a sari the men see a bare belly but shoulders they never see. Imagine suddenly seeing body parts of a person that are otherwise always covered…. Yes, you have to look at that, it just attracts their attention because they never actually get to see it.
They also don't see bare legs in such a long beautiful colourful sari. So preferably wear longer trousers or skirts. Personally, I always do at least to over the knees. When travelling, I always wear leggings and I often have a loose-fitting slightly longer shirt over them. Doesn't always work but you definitely notice the difference. Want to be able to walk down the street without staring men?
Do you run into them? Staring men? Then read the following…

But first also… I don't want to skip the men here but I don't have any tips for them in this area. Maybe you can take a dhoti with you? I saw a text of mine the other day that I had posted on Facebook when I was back in India…. I wrote that I was again in the country where men wear skirts and women show their bellies.

A dhoti is the cloth that men wear as a skirt. If they are hot then they pick up the bottom and fold it in half so that they have a skirt to just above the knees haha!
How to Avoid a culture shock in India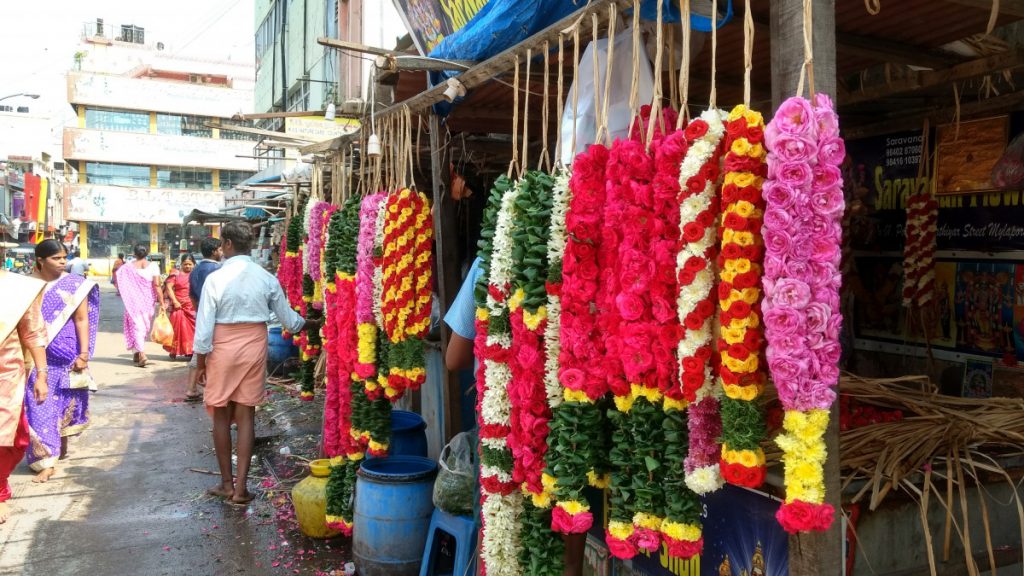 The country where men walk in skirts and women show their bare bellies

You hear it a lot about India. Men who keep staring at you and especially the idea of them undressing you with their eyes makes it so unpleasant. I must honestly say that I haven't experienced it in recent years, but that may also be because I dress differently from when I started. Back then, I sometimes walked down the street in a shirt and shorts. I really won't do that now.
But I can give you a tip for when it does happen. Look them straight in the eye with a kind of cheeky and penetrating gaze and without saying anything, so with your eyes ask, What? What is it? Maybe add a hand gesture, shrug?
I've done it a few times and people really can't stand it. Immediately the gaze was averted and they seemed a bit embarrassed because then perhaps the rest also saw that they were gawking at me. At least, that's how it came across to me. So for me it was the perfect solution!
As a tourist you will get attention.
You would think that there have been enough tourists anyway and that you are no longer a curiosity but believe me… you will be asked over for a selfie. People would love to have their picture taken with you. This was the case the first time (2009) and the last time, Aug '22 it was still the case. So this is actually normal, people like to make contact with you.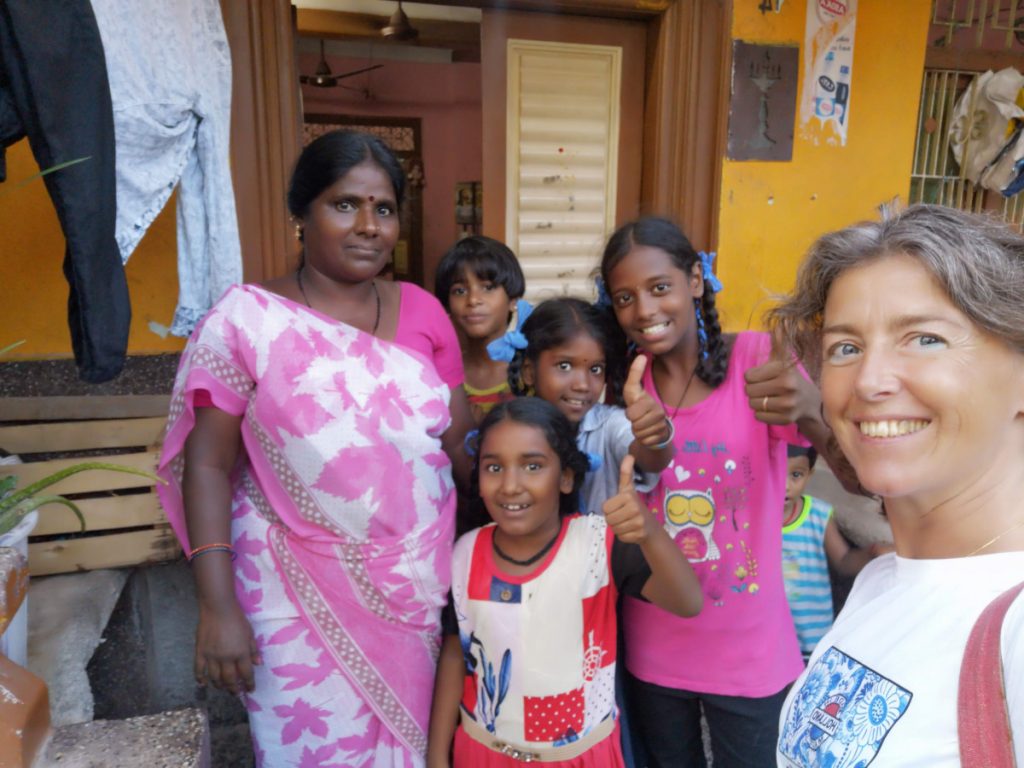 They are genuinely curious about you, a number of questions are asked as standard, where are you from or what is your name e.g. Then a photo / selfie and most people are satisfied and say goodbye to you of their own accord.
Arrange your taxi from the airport from home
Don't start your first trip in India by arranging a taxi or transport to your hotel yourself. Then you are there after a long flight, you have just passed through customs where you are already being asked a number of questions in English which you don't yet understand very well…. More about this a bit further on in this blog.
At any airport, it's always a busy place. I never feel like starting a conversation already with someone who you know will charge you the top price for your taxi ride. If you do want to do this make sure you go to a counter where you can buy a ticket for a taxi ride. Most airports have these counters where you can buy a ticket for a taxi for a pre-agreed price.
So make sure you have already booked your hotel and that you can give that address.
Start your journey from a quiet place
Instead of arranging your own transport, still arranging your round trip on the spot yourself, I can really recommend for a first time India to book part of your trip through a travel agent. If you fly into Delhi make sure you go straight to another quieter place for your first introduction. Eg Agra or Jaipur. If you then travel with a driver they will take you to your hotel or to the Taj Mahal (Agra) or the Hawa Mahal (Palace of the Winds in Jaipur).
These are places where tourists go and where the streets are a bit quieter. There, it is easier to get used to the hustle and bustle of the streets. It will still be busy and noisy there for you but believe me, that is nothing compared to the hustle and bustle of a e.g. Delhi or Mumbai.
Go search for the tiger in Sawai Madhopur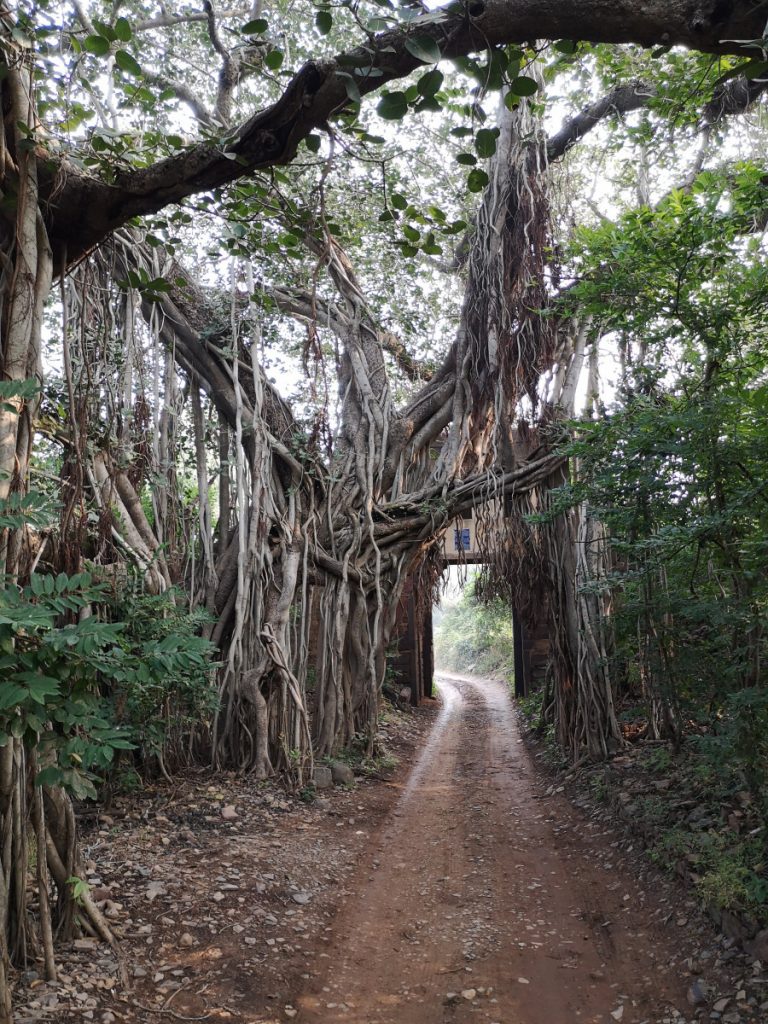 Don't go into public transport just yet
As cool as it is to go by night train or catch the local bus. Save this for later on in your trip or maybe until a second trip. I thought it was super cool to take the night train to Agra. I thought it was quite an experience even when I did it the second time with my father, taking the night train to Varanasi. Waking up in the morning and hanging outside the train for a while from the open doors. Seeing the life along the track also waking up….
Book first claas when you take the night train
You would like a bed, you would like a bed that is somewhat comfortable. You get what you pay for. If you don't pay much, then you have to unfold the bed yourself and there are three of you on top of each other. As long as the bed is not unfolded, the three of you sit on the bottom bed. You get a pile of sheets and a pillow around 8 or 9 o'clock and you can make up your bunks with that later.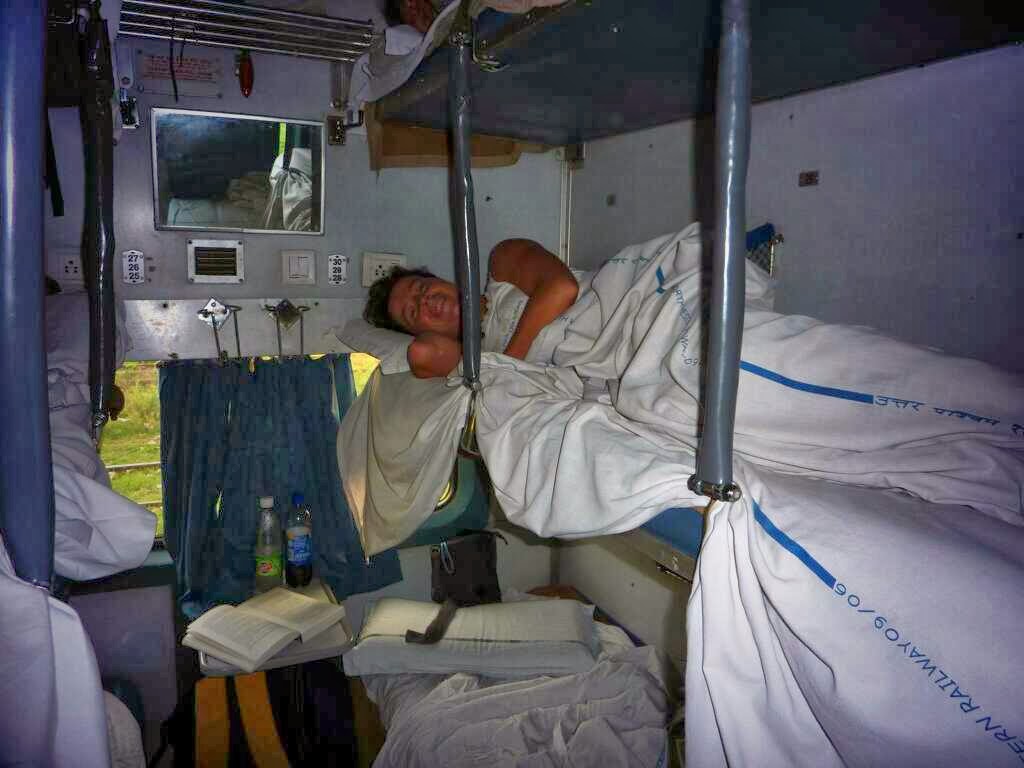 How to Avoid a culture shock in India
There are also more luxurious carriages. In those, you sit with 4 people and not 3 high, but 2 high. This gives you more room to sit on your bed. These compartments can also be closed off, there is a charger and a larger table. Every train is different so it just differs. There are many different classes you can book on the train, inform yourself and read well in advance.
Another thing I always love is that all trains in India have a name. Each train on a particular route has its own name. For instance, I have been on the Marudhar Express. I was also once on the night train in Kerala from Varkala to Kozhikode, the Malabar Express. I once read the book Around India in 80 Trains by Monisha Rajesh.
There is a chance you might eat or drink something in India that your stomach and intestines don't like very much. I don't often suffer from it I have to be honest. I have been very sick when I ate with Tikam in Pushkar. We also ate dinner at the hotel restaurant in Chennai (2019) where all three of us suffered. Then I can tell that I have a bit more resistance because it was less severe with me than with my two travelling companions.
But so take loperamide with you. This will stop the diarrhoea. Drink enough water and make sure you do get nutrients. Of course, it is good to let the diarrhoea out of your body first, there might be something in there you don't want in your body anymore but if you are empty then you are empty. After that, you can use loperamide to save your trip.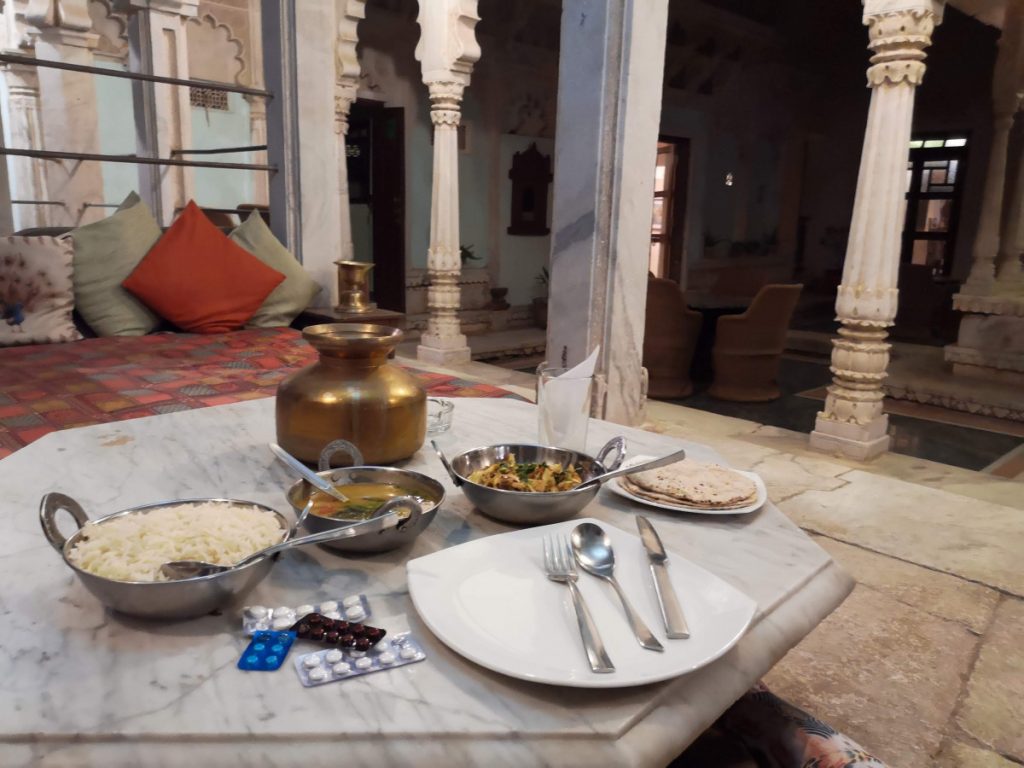 Once in Myanmar, I was also very sick from a wrong piece of meat. I was prescribed antibiotics but when I stopped taking them for a while, I still had diarrhoea. I continued to take a tablet of loperamide every few days for quite some time (1 month) just to get through the days. This did not harm me, this was in 2014 so I think I can say that now.
Tip – What I carry with me every trip are sachets of broth. Even if your stomach is bothering you, it is nice to drink light broth. You do have kettles in most hotel rooms and getting in a little salt is never a bad thing.
All you need to know for your first visit to Incredible India
Always eat where it is busy
Even the last time again when I was in India, I visited the country with two brand-new India-goers 🙂 We had a great time and ate super local food And drank Massala Chai. We were on the road during the rickshaw challenge so each time we just had to have a quick meal somewhere. Whenever we saw many people sitting somewhere in a village, we sat down there too. The food was delicious! Sometimes we could only point to something on the menu or try to explain it with our hands and feet but it always tasted great!
We didn't get sick anywhere. We didn't suffer from anything. And now I can really conclude that even if you eat along the streets and in the most local joints, the food in India is also just healthy and good.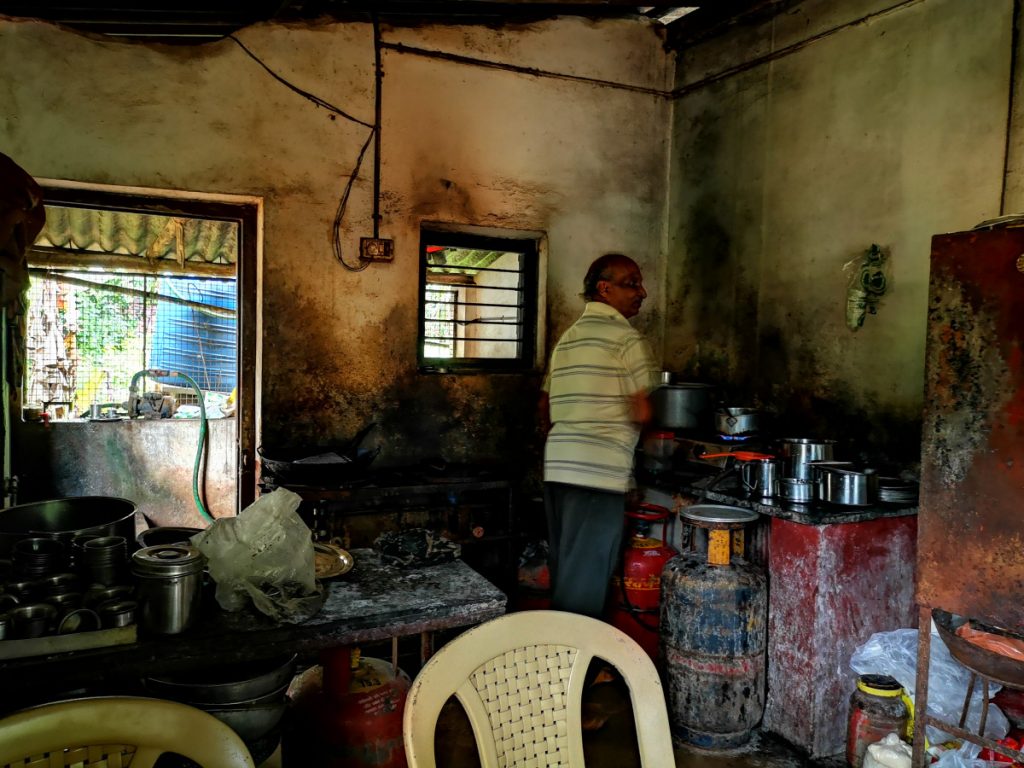 Vegetarian food is de standard
Know that when you get a menu in front of you that most of what is on it is vegetarian. You can't compare it to the ratio of how many meat dishes are on our menu and how small the vegetarian section is. Also, I think it's safer not to eat meat. Something like that is more likely to get bad in the heat anyway…. So if you want to keep it safe go and enjoy India's many vegetarian foods.

In India Non-Vegetarian is the exeption instead of the other way around
Of course, the cow is sacred so you will pretty much not find it on the menu. In a Muslim restaurant you might, but mostly it is goat, chicken or, of course, along the coast, lots of fish. The majority of the population is Hindu and Muslim, followed by Sikh, Jains, Buddhism or Christian and many more.
Nowhere do I find the diversity as much present as in India. And that's another thing I love about the country of India, it all seems to be allowed to coexist. The street scene is coloured by it much more than with us. We are so boring actually!
Most of these faiths do not eat meat or even animal products like the Jains.

Did you know that at the Gurudwara Sis Ganj Sahib in Old Delhi, thousands of meals are prepared every day? And did you know that these are distributed to anyone who comes in? I have eaten some there too….

And what I love even more then…. When you go in there, you have to take off your shoes. If you come back and you have leather shoes then chances are they have been polished. This may have been done by someone from a low caste or high caste, it makes no difference here. Just like you can just sit next to anyone on the floor to have your meal.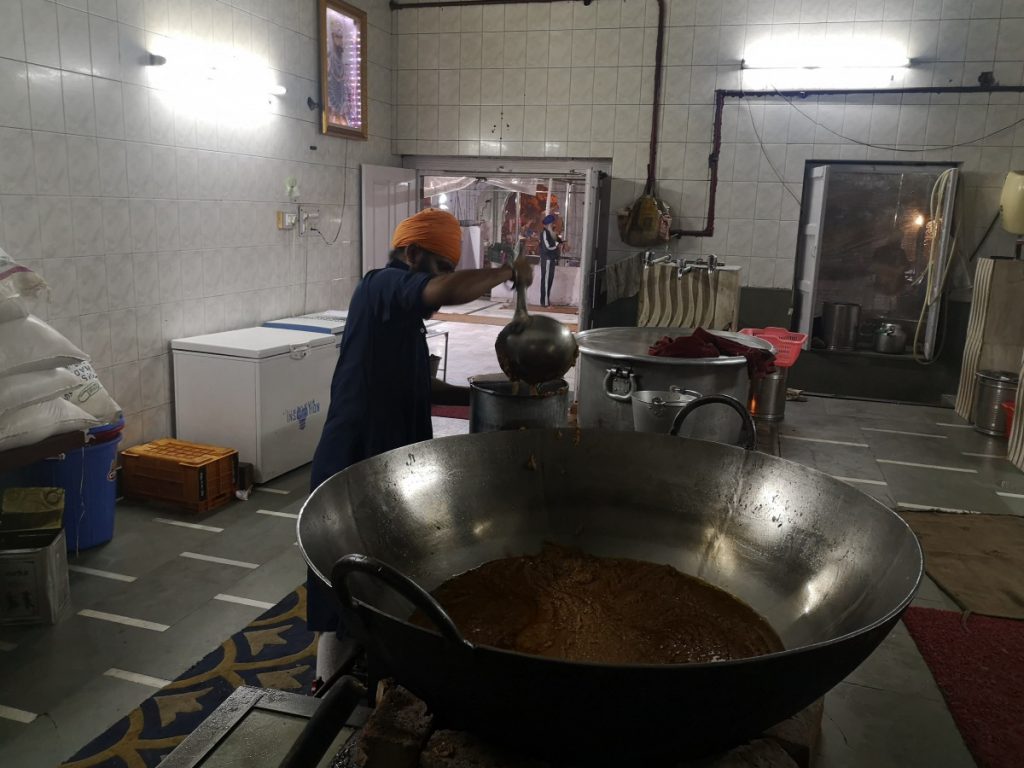 Order your food and say how hot it can be
If you don't mention how hot the food can be you are likely to burn your mouth out. It is important to say you don't want it that hot. No Spicy, or Medium hot or Mild they really get it. If it is too hot, they can often do something about it. Either they add sugar or they mix in cream or coconut. Know that they have all kinds of tricks to fix it. So indicate that it is too hot and don't sit down with burnt lips, sore stomach and experience discomfort on the toilet the day after 🙂
Culture shock in India – Be prepared for your trip
What might also give you culture shock in India are the toilets…
Because suppose you need to go to the toilet because the food was really too hot and it burned through your body? Then you have a good chance that if you are in a local restaurant that you will end up on a squat toilet. Most toilets are squat toilets. If you are in a hotel or larger restaurant, there are often western toilets but assume you will encounter many squat toilets on your trip through India. And these tend not to be the cleanest toilets and don't smell like fresh lavender either …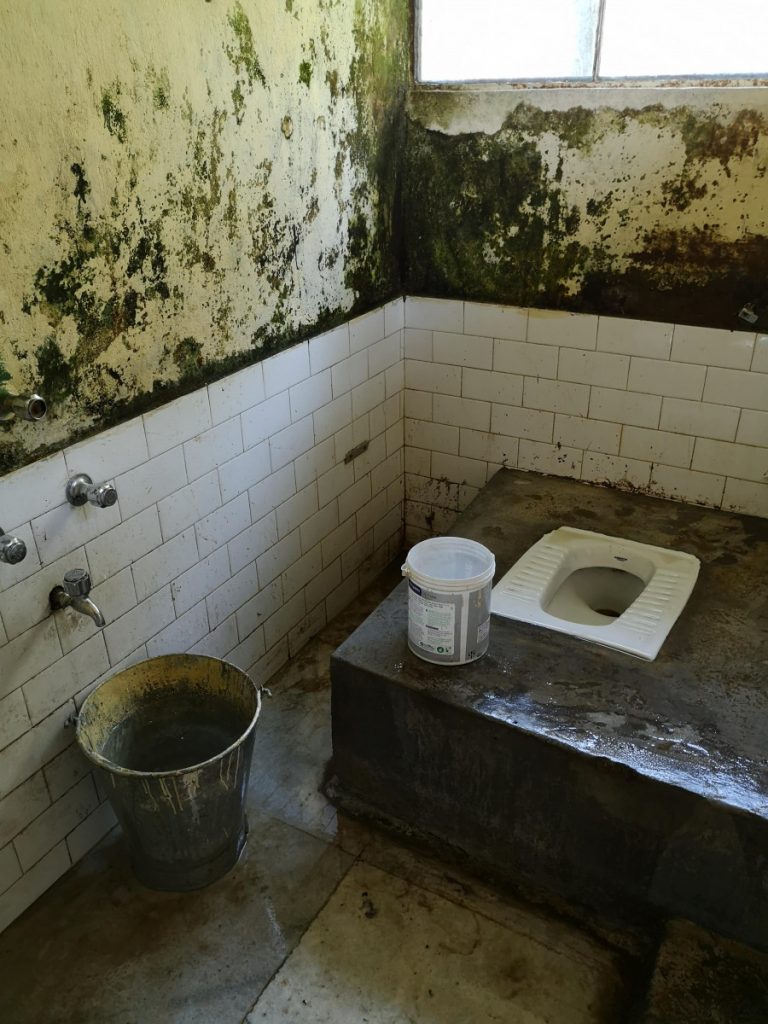 Make sure you have some paper with you then because there is obviously no toilet paper in these squat toilets. However, there is a bucket of water with a small pouring bucket in it. You may use this water to change. The Indian will do this with the left hand 🙂
Don't flush toilet paper down the toilet
The sewers / drains are not made for flushing a lot through. They are mostly narrow pipes that were not constructed until centuries later than the rest. Preferably, then, you should not flush the toilet paper you use. There will always be a waste bin, where unfortunately, often the used toilet paper is already bulging out. Throw your used paper in there and then flush.  You don't want the place to get clogged up with your piece of toilet paper.

Yes, fair is fair. I won't sugarcoat it. You will really know where you stand after this blog when you go to India for the first time. That culture shock in India that you will experience will be just a little less intense. But I can tell you that every hotel just has a normal toilet for you.
English will get you pretty far in India
Which of course is very convenient, almost everyone can speak English. Dozens of languages are spoken in India. We all know the language Hindi but that is only spoken in a small part of India. India officially has 15 different languages. But hundreds of different languages are spoken. The most important languages are Hindi and Urdu.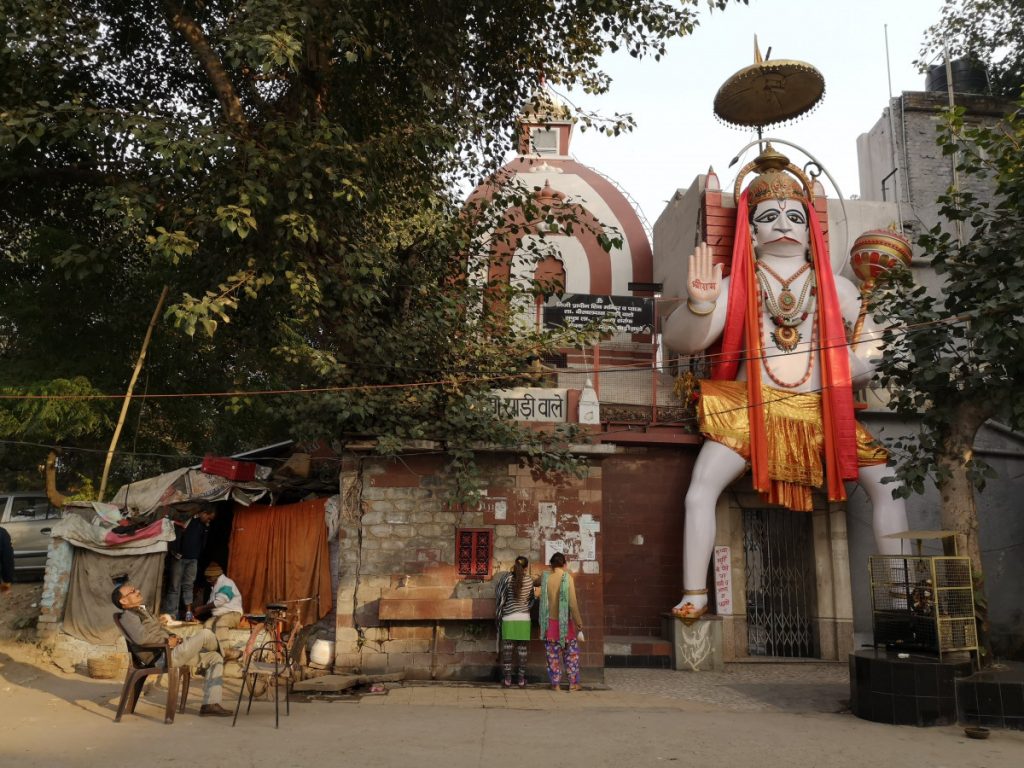 So know that a lot of people can speak English, but if you are in the smaller places, even with the translation app that can translate Hindi or Urdu for you, you will not always be able to get along. Then you will just really have to use your hands and feet, which makes it fun. Know that most people like to communicate with you so they will really do their best to understand you.
English in India sounds slightly different anyway
The Indian tongue is still just different from how we know English. After a day or two you get used to it and in most cases you understand what they say… They just pronounce words differently, the emphasis is put differently and words take on a completely different sound that way. Look at the pronunciations in this video. Or this interview with several people on the streets of Mumbai. That way you can already get used to the Indian accent a bit.
Greetings and other habits you'll learn in India
Just greet people nice and often with Namasté, they can really appreciate it. Also, put your palms together and in front of your chest and you have the national greeting to hand.
Know that there is a difference in height of where you hold your hands. If you have a lot of respect for someone, is it your grandparent or is it a teacher, then you have the hands at your forehead. And so it goes down in steps until you are in front of your chest again. Of course, you can take advantage of this.
When children come home to their parents they will greet with hands by their foreheads and if grandma is there they will walk up to grandma and touch her foot. Out of respect for the elder, you will see this more often.
The bottoms of your feet are impure
Know that the bottoms of the feet are unclean and you never show them. So if you are sitting on the floor then make sure you keep your feet with you. That's why the tailor seat is so ideal. You have the bottoms of your feet turned away nicely and can never offend anyone.
You will also find that people in India always eat with their right hand. They will never handle food with their left hand. This hand is unclean and is used when using the toilet. Try to be mindful of this so that you only use the right hand when you are handed food or when giving food to another person.
Make sure to arrange the following upfront – India voor de eerste keer
As I mentioned earlier, for a first time India, to reduce the worst culture shock, I would book a piece of round trip in advance. So that you get picked up from the airport and don't end up in the hustle and bustle of the big city right away. Apart from that, there are a number of things you need to arrange in advance, of course.
Applying for your Indian Visa
You can apply the visa yourself online or having a company do it for you. You can apply for a visa for 30 days, one year or 5 years. This year, I applied for 1 for 5 years. I think / hope I may use it a few more times in the coming years 🙂
It was never difficult to withdraw money in India. Still, the last time it was quite a challenge, with three people there was luckily someone who could withdraw money each time, but there was no real line as to why sometimes we could or why not. So it is useful to exchange some money in the Netherlands so that you already have some pocket money with you. And have some euros with you in case you run out of Indian rupees.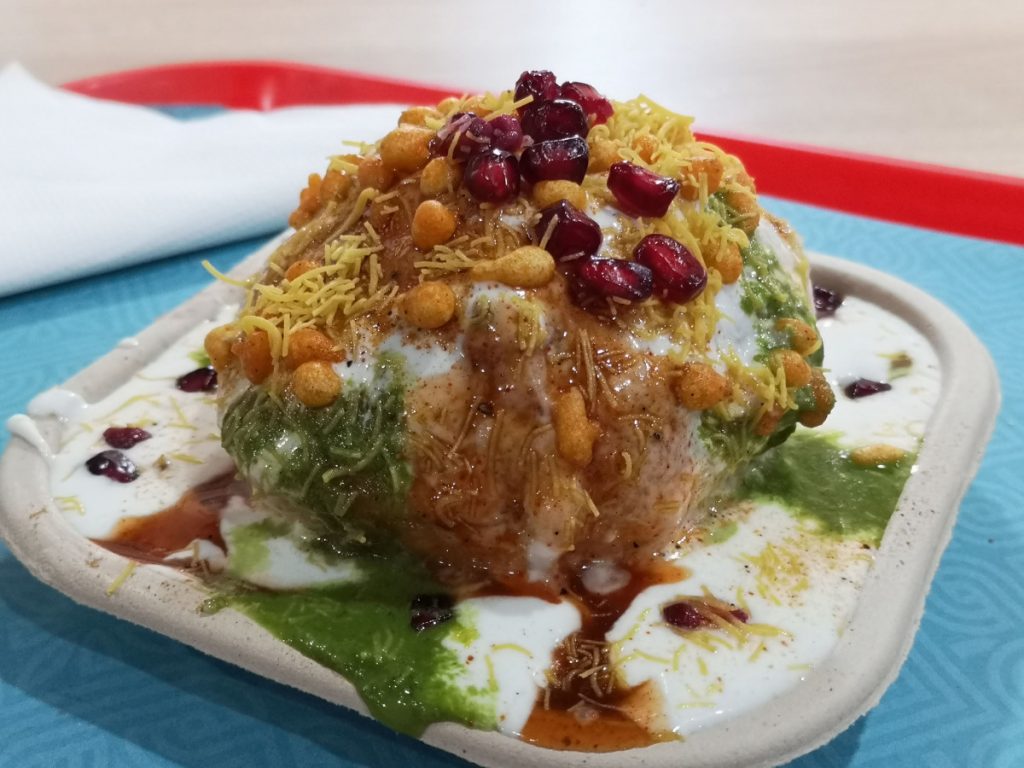 Currently, 100 INR is about 1.15 euros.  So 12 euros is then just over 1,000 INR. I always try to remember some standard converted amounts, so I can quickly calculate an approximate price in my head.
Vaccinations and other issues
Check out your central government's website or install their app on your phone to easily find out what you all need. Also what travel advice there is at the moment, corona is still present in the world though thankfully it no longer throws travel plans into disarray. With one country you may comply with your vaccinations and another country still wants to see a PCR test.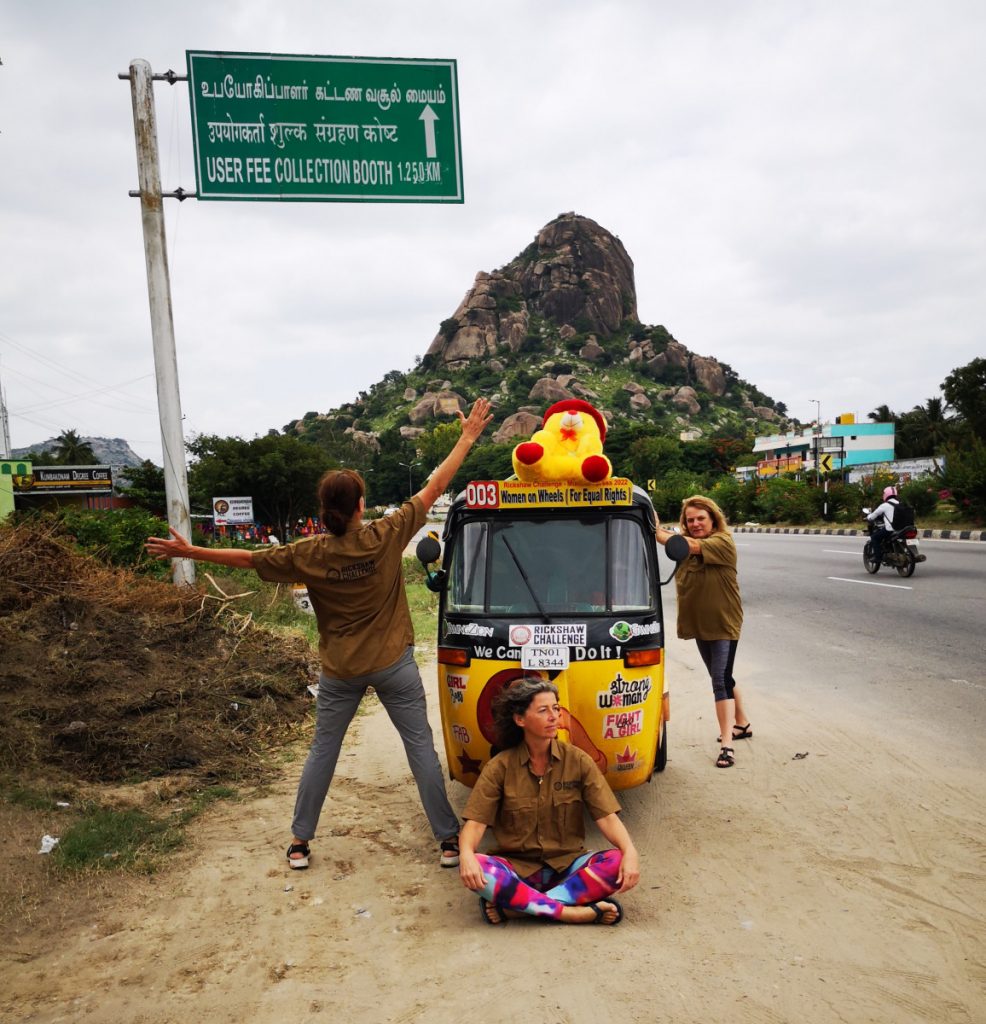 Completely avoiding culture shock in India is impossible. Nor do you want to because it is precisely that wonderment that is so beautiful! So I can definitely recommend going to India. Tackle that culture shock in India. Make sure you take a few things into account and just prepare a bit better than you would for a trip to e.g. Austria and everything will be fine! It's an amazing country, it will teach you an incredible amount about India but also about yourself. Nowhere have I encountered and thus grown so much myself as in India. I wish the same for you!
Do share this post for others 🙂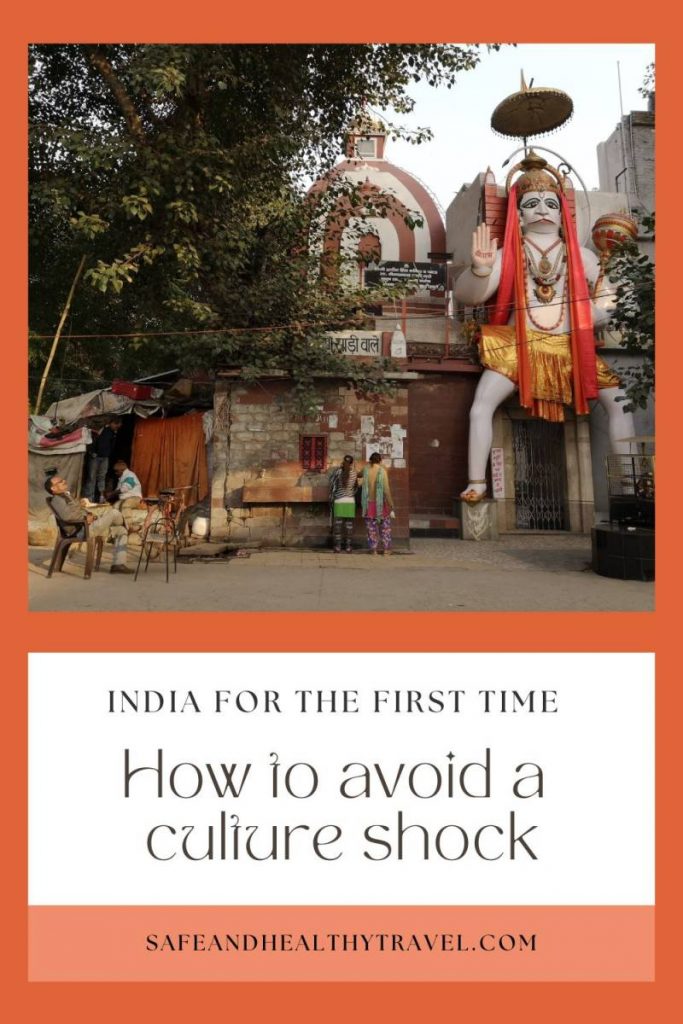 Want to read more about the Incredible India?
What to do in Udaipur –  Rajasthan
Sunrise at the Taj Mahal – Agra
Puja, Holy Rituals on the beach of Papanasam – Varkala, Kerala
Or check the page of India for all my India travels.
Want a more intense and deeper experience?
Take a one-month yoga course…
I hope you enjoy this beautiful and surprising world as much as I do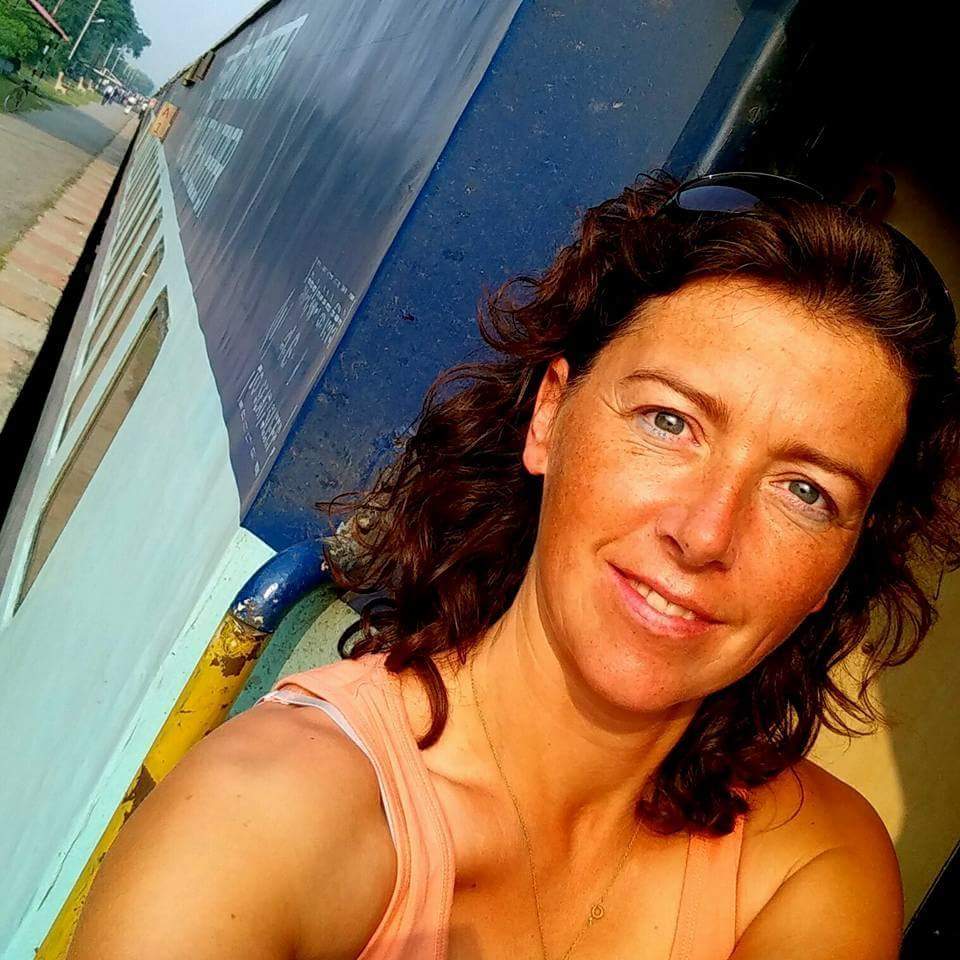 Jacomijn is een politieagent uit Nederland die jou graag laat zien hoe je veilig, actief en gezond de wereld kan over reizen. Safe and Healthy travel is a MUST