Review: Hotel Waterfront Gothenburg (Best Western)
After a long and beautiful but also wet cycling trail arrive in the city of Gothenburg and then this great hotel is welcoming you!! I cycled the kattegattleden and as a closure of the trip I had this great night offered to me at Hotel Waterfront Gothenburg – Best Western.
The hotel is situated outside the centre of the city but in a great spot along the water.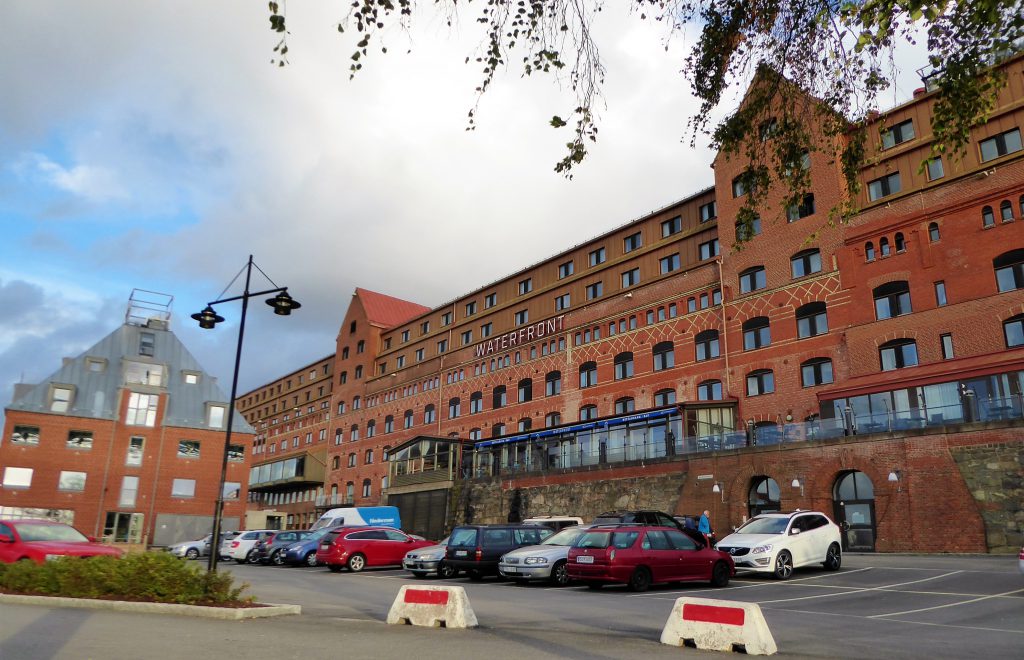 The area surrounding hotel Waterfront Gothenburg is a former industrial area. The buildings and views are soaked with imposing factory building out of bygone times. This makes this area really great!! There is this great combination of old and new what turns the area very trendyl!!
The hotel itself was a brewery in former times, the Carnegie Porter Brewery. How cool is that? If you want to know more about the history of the surrounding area the hotel offers an app for you phone. If you go walk around this will provide you with historical facts and shows you the best spots to visit!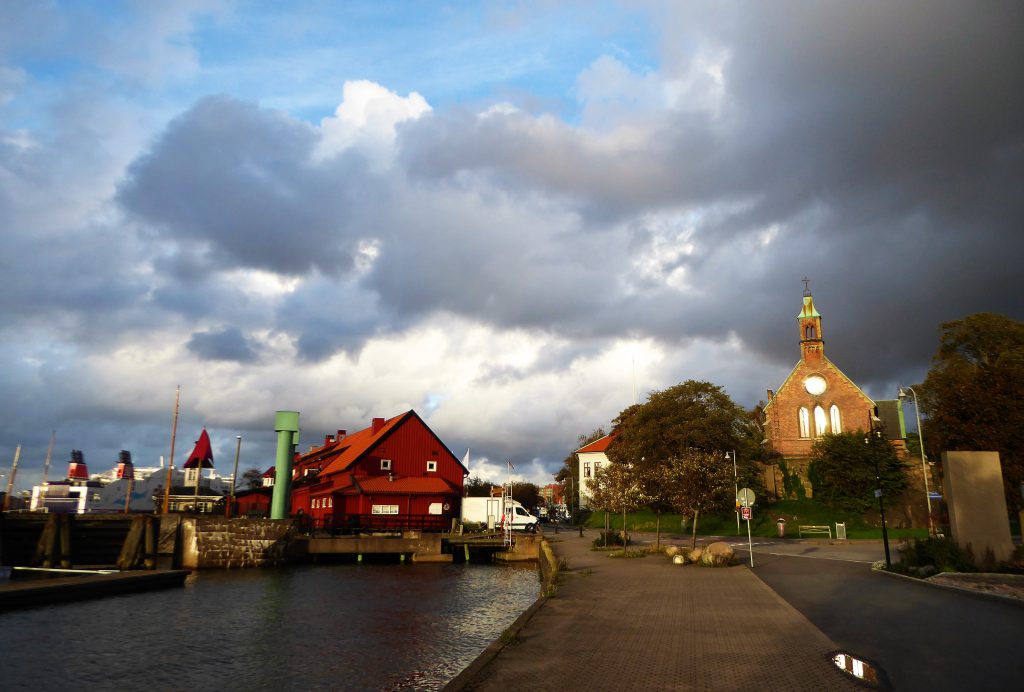 View when looking towards the citycentre onto St Birgitta chapel
Hotel Waterfront Gothenburg
Best Western
When I entered the city cycling I saw the famous green brigde and was happy to be there! I had seen this brigde last year too when I visited the Island of Vinga using the GO card. But when I cycled on I got the biggest rainshower ever on me and I was totally soaked! I had to wear flipflops for two days because my shoes were wet inside 🙂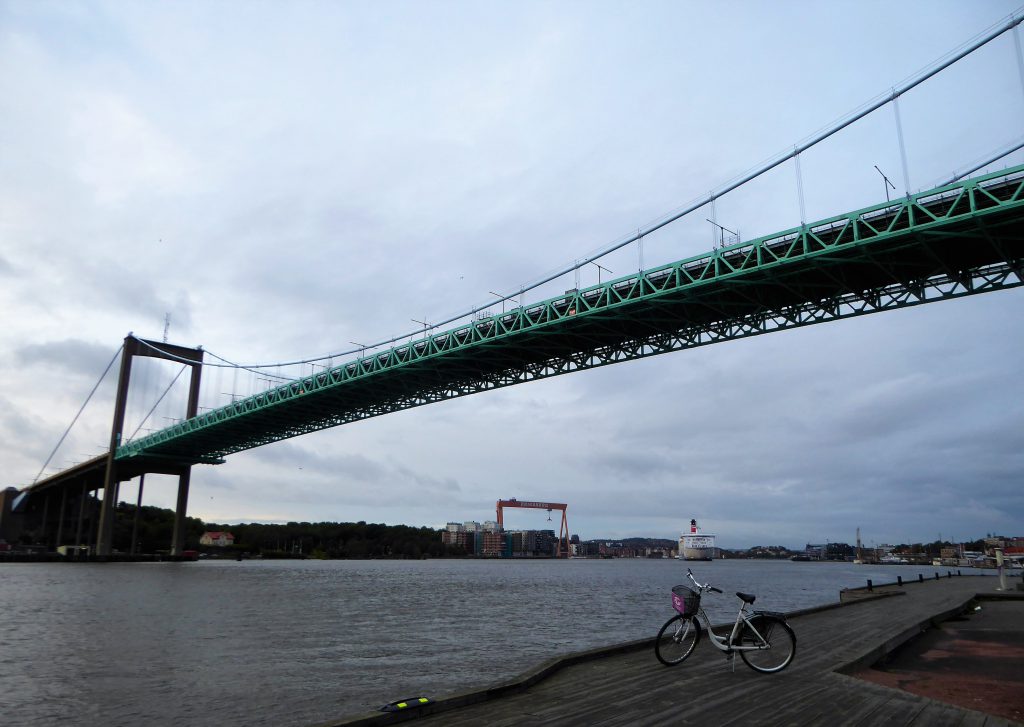 So you do get that I took this picture on another day 
I was welcomed very nicely and could check in immediatly even though I was way too early for the normal check in time. How welcoming is that? These are the moments that I am very happy and gratefull for the hospitality at some hotels and some staff!
My room had the great view over the water and so I could see the brigde too! This made me even happier! Most of the times I am situated just behind the hotel that offers the great view 🙂
Luxury in my room
My room had a bath!! #Happy I could enjoy a hot bath and come back on temperature again. They had all kinds of nice little bottles to fill the bath and my room with a nice scent.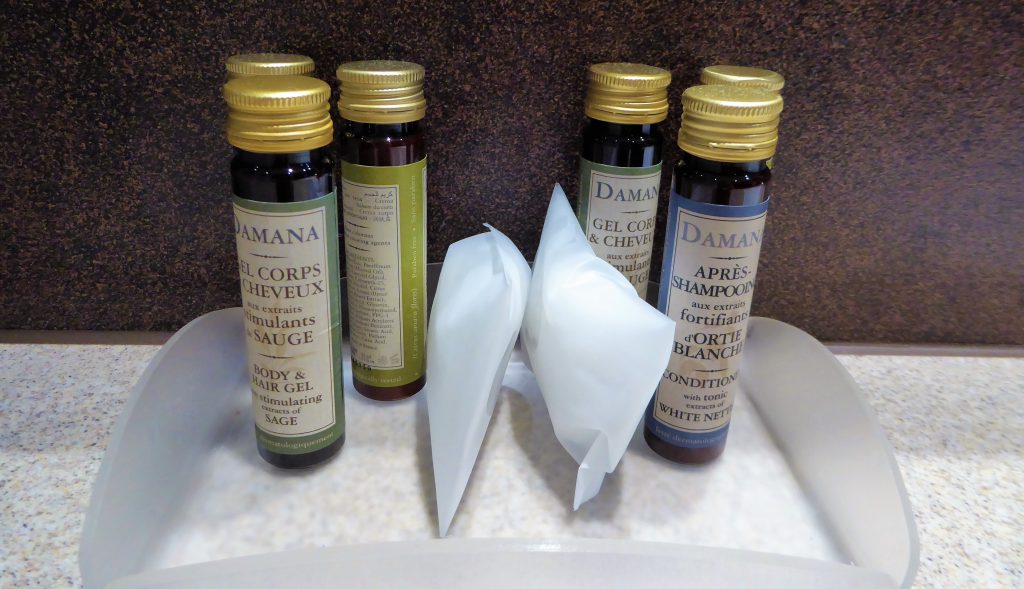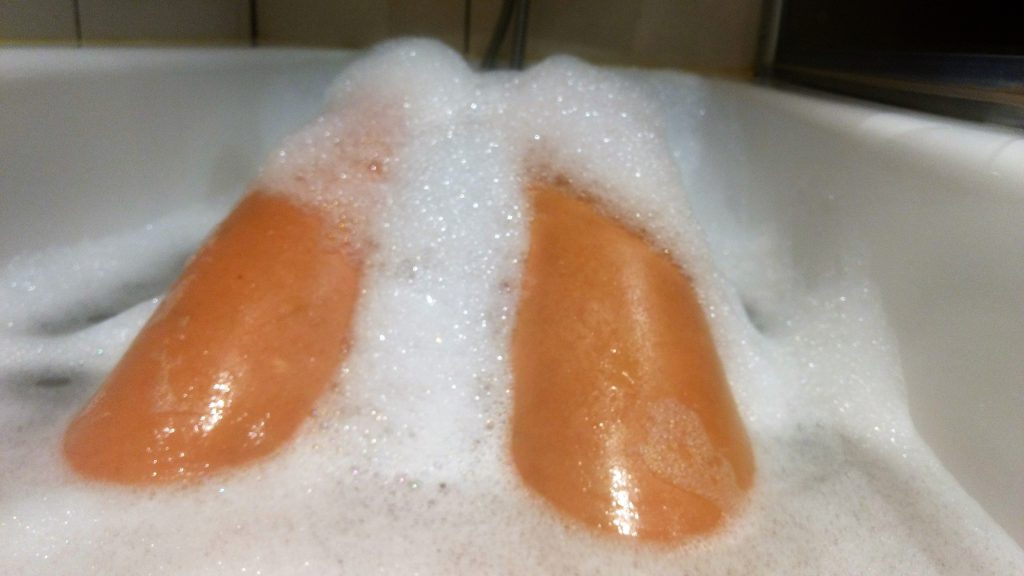 And ofcourse, after such great bath the bathroom is filled with steam…
So how do you like this?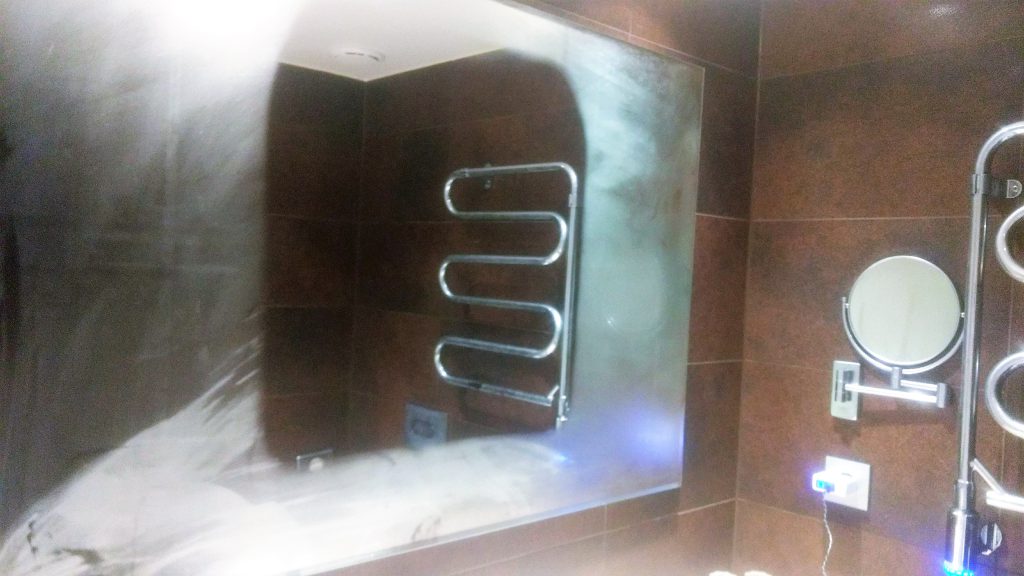 That part of the mirror stays clear!!
Hotel Waterfront Gothenburg, Best Western
Charging my phone/camera etc
In the room are different charging abilities. I really like that because most of the time you have several devices that needs to be charged a day. I really loved the fact that there was a socket that stayed on while not in the room. I really am consious of using energy and eco minded but it is nice to have at least one socket if you need to charge while having breakfast or dinner.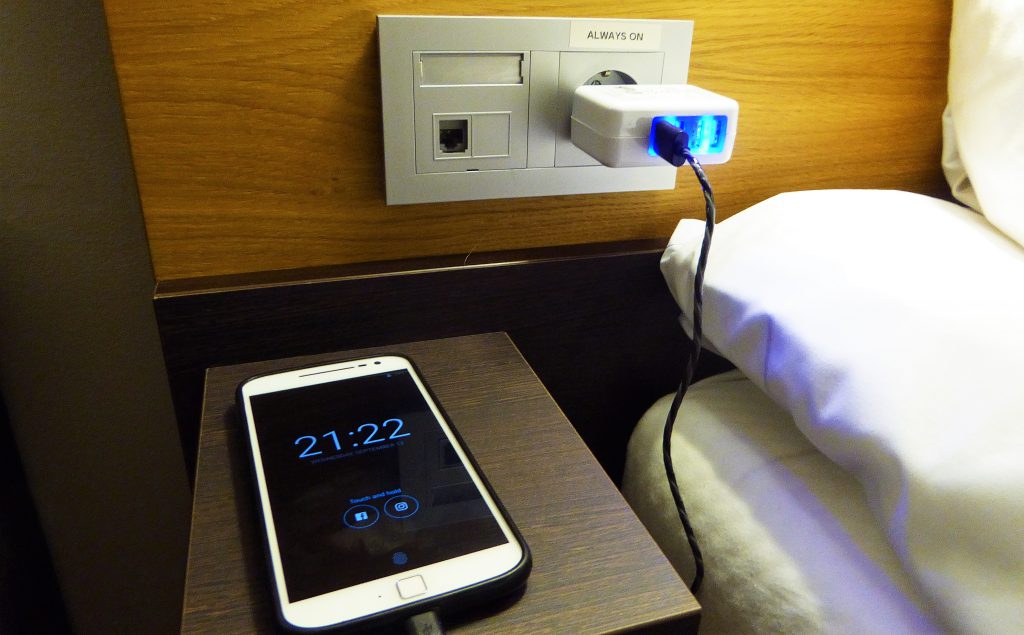 Would you like a tea or coffee?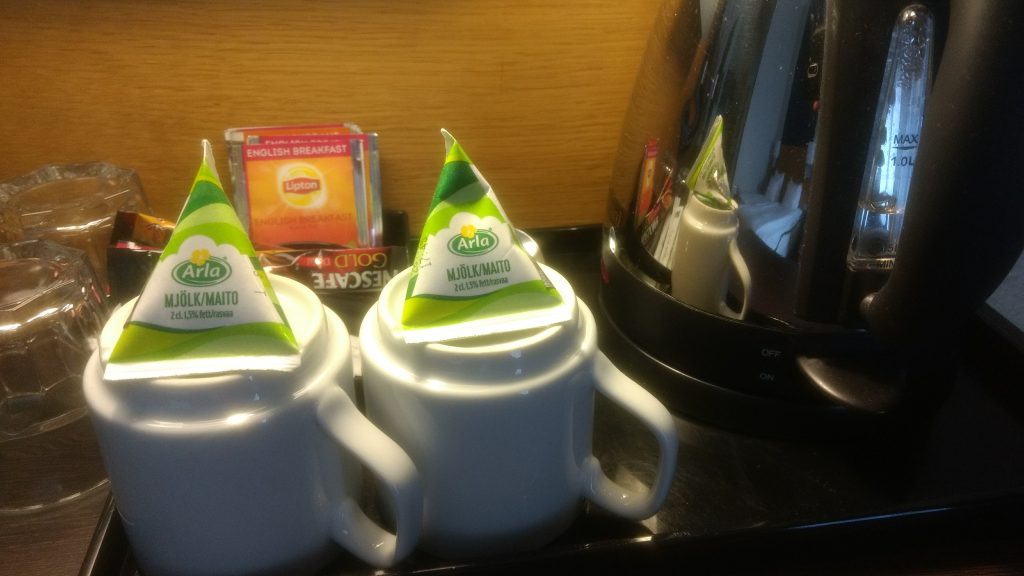 This small things makes me happy! Apart from this was a desk. A real desk with a chair to sit on. So you could really work on your blog while staying in this room! I hadn't took my laptop with me but otherwise this review was written earlier 🙂 I love a small desk in a hotelroom!
Working while traveling?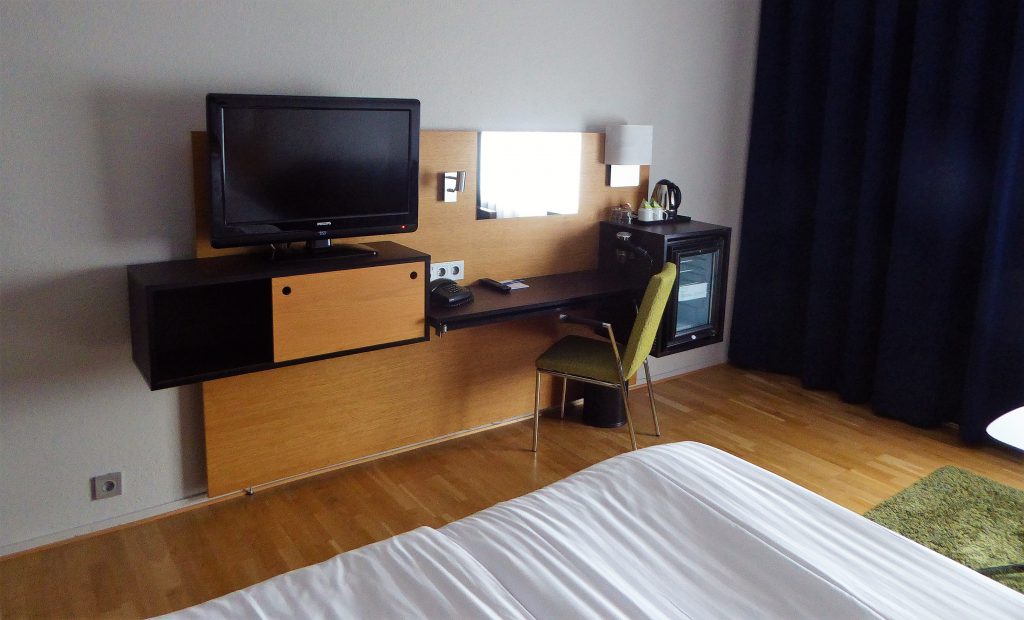 Hotel Waterfront Gothenburg
Restaurant with the best view!!
Waterfront restaurang
I searched for a spot at the window ofcourse. I wanted to enjoy that great view! I had been outside for a while but it took me too long for the sunset to start, I was getting cold and sat down for dinner. How great is this view? I had the show of sunset passing by on me!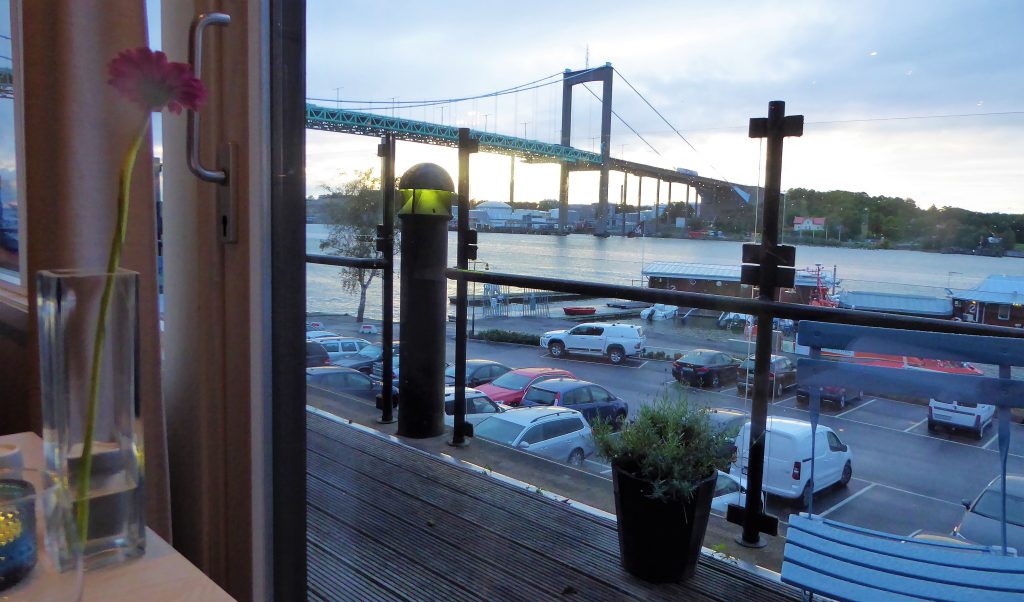 I had the best spot! The food was great and when my dessert was being served the sunset really started to glow. I asked if I could go onto the deck, which was closed due to cold weather. Ofcourse they opened it for me to enjoy!! That desert could wait for some time 🙂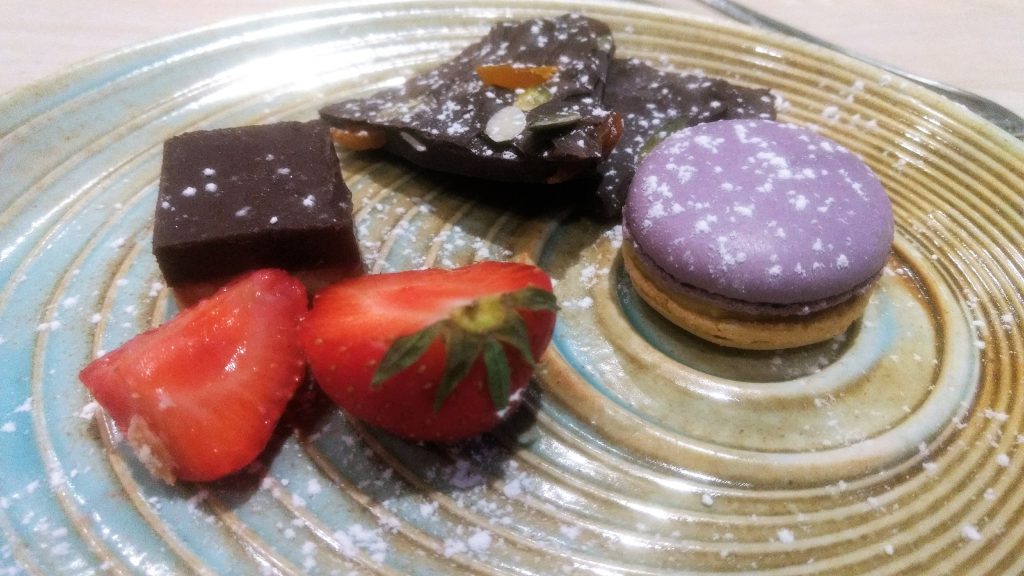 Sometimes a girl needs her chocolate 🙂
I was standing on an empty balcony and enjoying this great view! Don't hesitate to ask if your staying here, they are happy to open it for you to enjoy the sunset!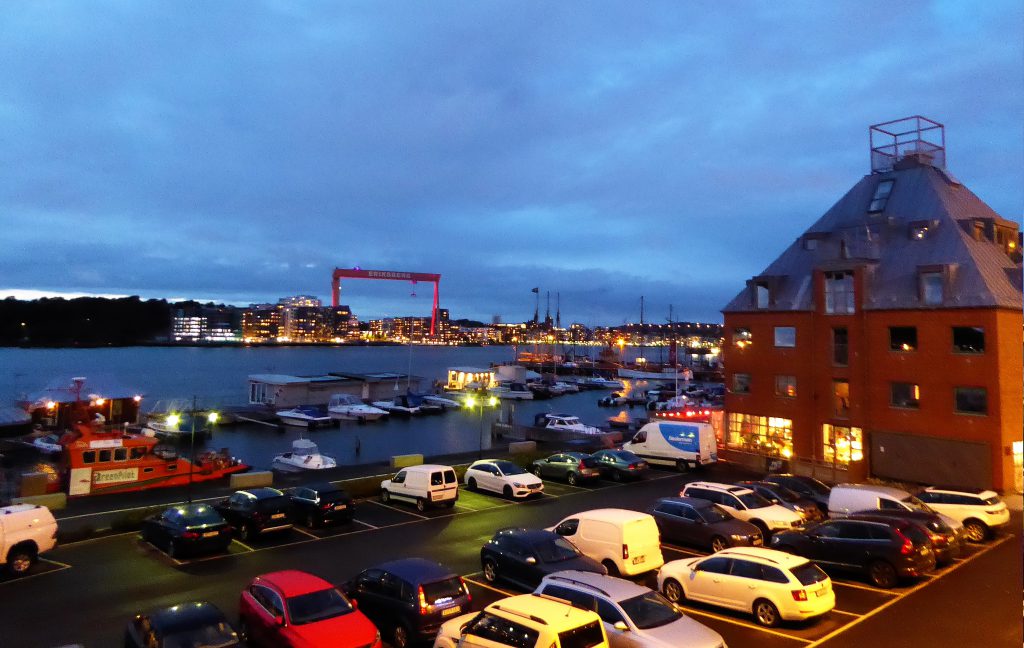 With view on that famous red Eriksberg crane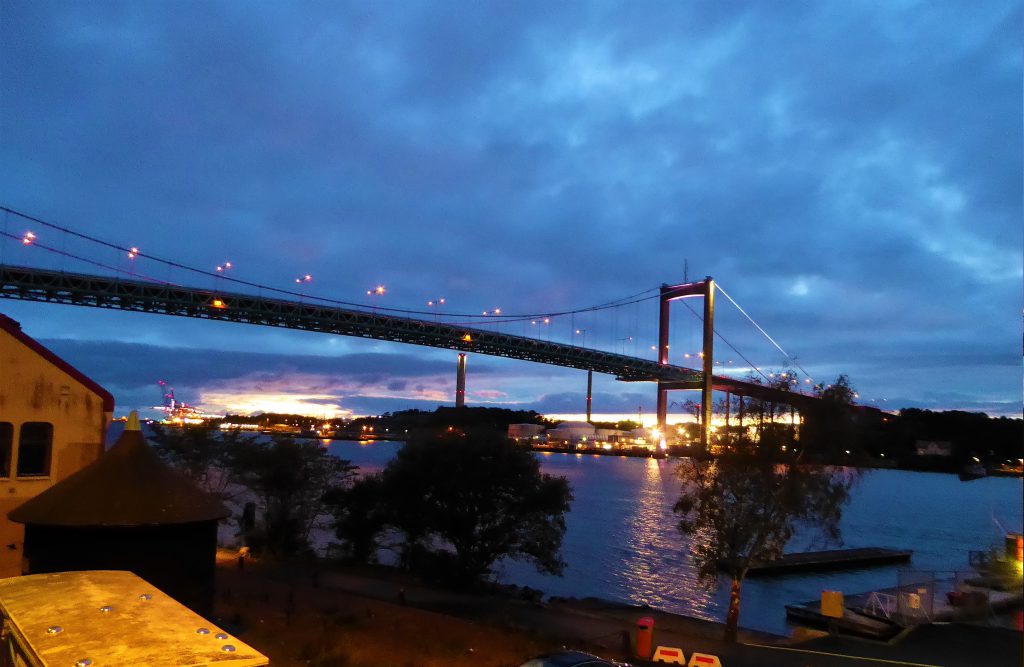 Extras
WiFi
The WiFi is perfect and one password for the whole hotel. There is just one network so that is great, no different passwords and such. Just connect and surf the internet!!
Saferoom and bicycle storage
I used the saferoom to stall my bicycle. Really nice because you don't want it outside during the night. During the day there are also places outside the hotel to stall your bicycle safely. There is a special place for them next to the entrance. You don't see that often!!
Old Volvo Cars
The hotel offers tours in the old Swedish Volvo cars. How cool is that? I saw different kind of Volvo's standing on the parkinglot near the entrance. You can drive around Gothenburg in a real swedish style 🙂 They have different options on their website  Time Travel Sightseeing Goteborg. TYou can choose to drive yourself or to be driven around!!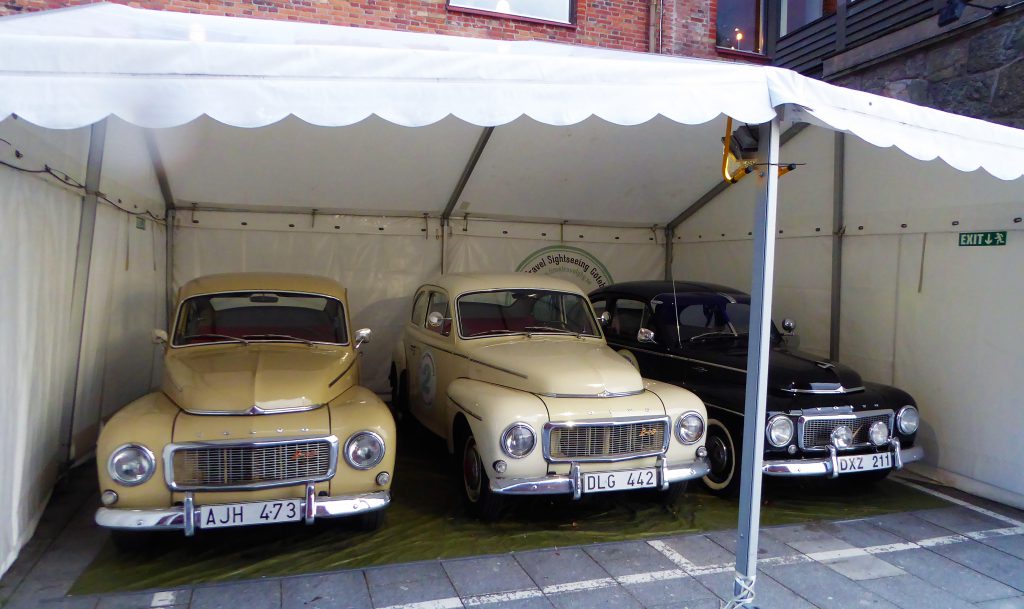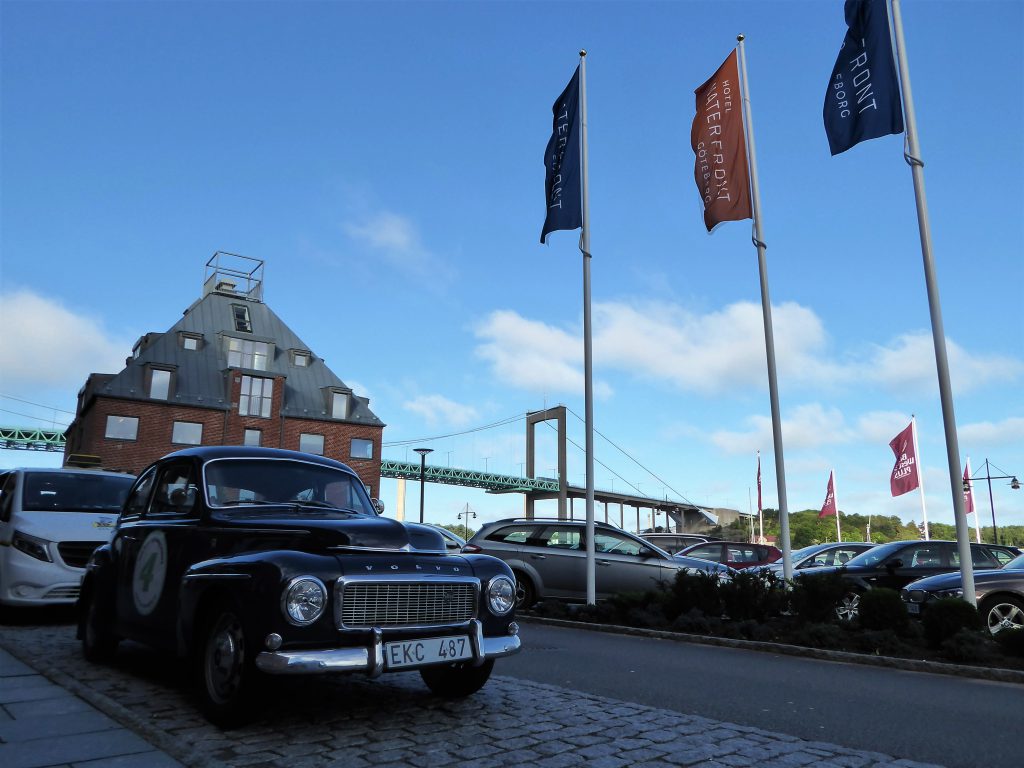 Swedish old Volvo near the entrance of the hotel!!
Disclaimer
As you see I fully enjoyed myself in this great and luxury hotel! My opinion is my own and is not different because of the fact that it is had this offered to me by VisitSweden. But this was the best way to close my adventure along the westcoast of Sweden!! I cylced the Kattegattleden!!
If you like to know how safe that adventure was click here
Sharing is Caring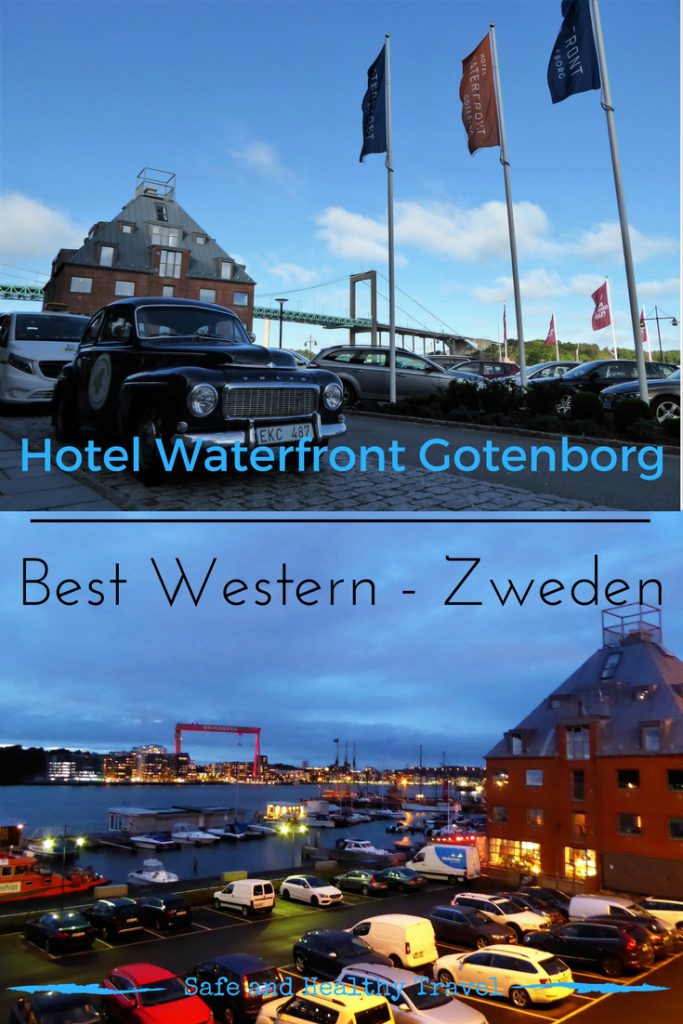 Want to see more reviews on hotels I stayed?
Botel Rygerfjord in Stockholm – Sweden
Sukhumvit 12 Bangkok Hotels & Suites – Bangkok
Brown Sugar Backpacks Lodge – South Africa
Or can I inspire you to do some yoga?
I hope you enjoy this world as much as I do!!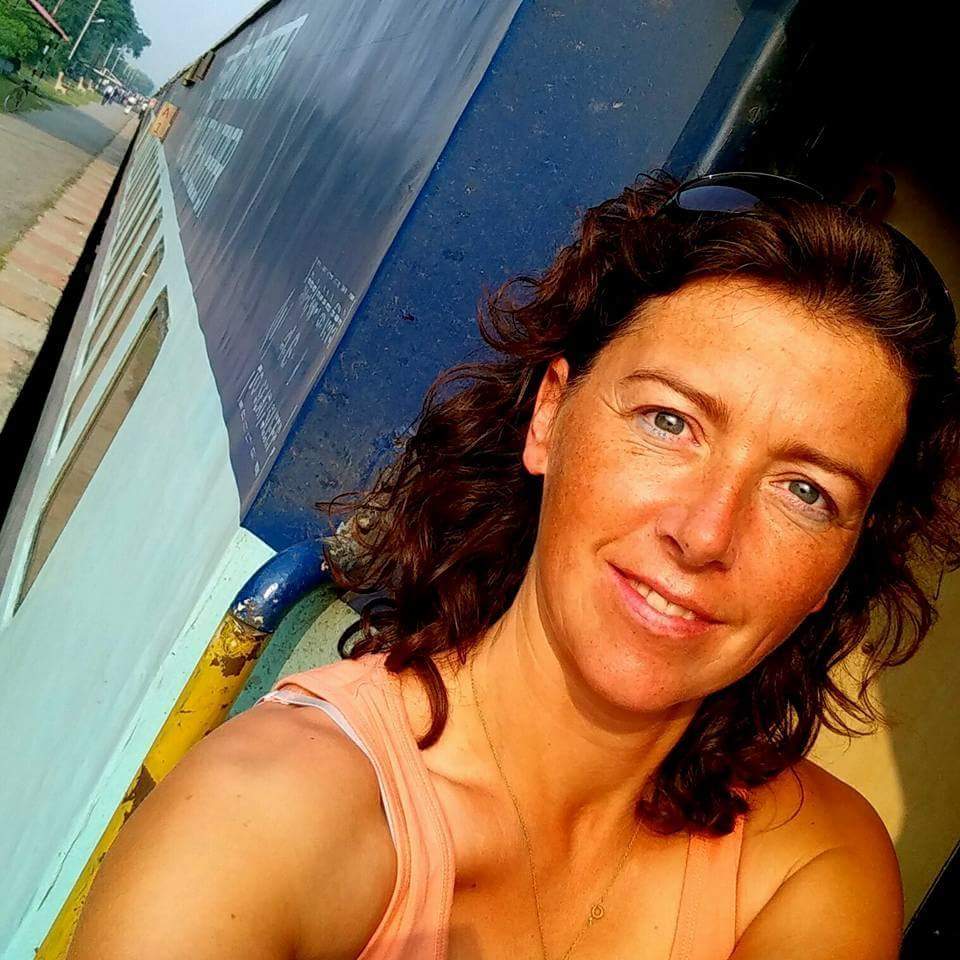 Jacomijn is een politieagent uit Nederland die jou graag laat zien hoe je veilig, actief en gezond de wereld kan over reizen. Safe and Healthy travel is a MUST