Highlights of Rhodes in 3 days – Solo Roadtrip Rhodes – Greece
|
When I did not find what I was looking for in Turkey, I made the switch to the Greek island of Rhodes. I resolved to visit a few Greek islands. How nice it is then that I could take the ferry to Rhodes in no time from Fethiye, Turkey. In total, I spent four days in Rhodes and visited the Highlights Rhodes through a solo roadtrip Rhodes.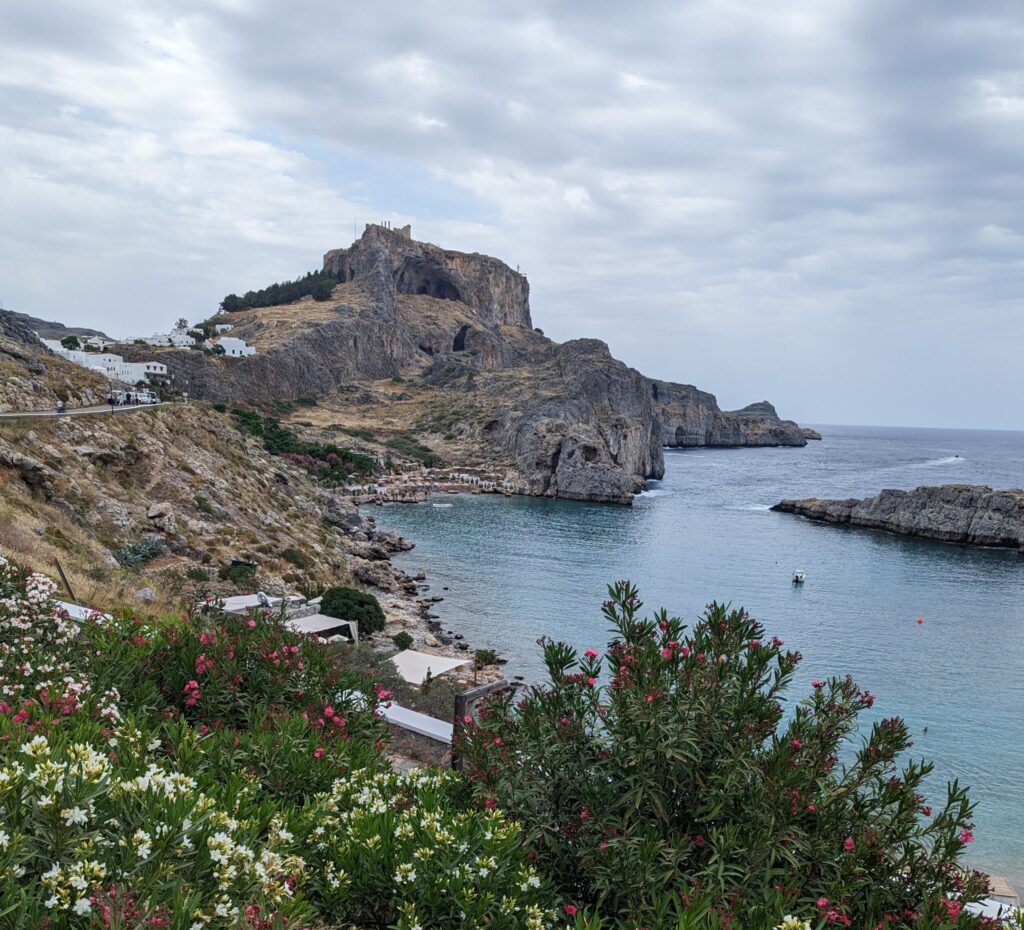 Why do a Solo Roadtrip Rhodes?
Public buses do run on the island of Rhodes, and you can of course book trips through a local travel agency. But I still found it the easiest way to explore Rhodes with your own rental car. I rented the car for two days and found it really relaxing to be able to organise my own time this way.
Highlights Rhodes in 3 days – Greece
What you need to see during your Solo Roadtrip Rhodes?
What all did I visit during my road trip Rhodes? My starting and finishing point of this solo roadtrip was Rhodes Town. Super nice city to stay and of course walk around.
Rhodes city
The numerous small alleys of old town Rhodes
The first day, of course, I explored Rhodes Town. I walked through the ancient streets and wandered around for hours. What nice streets and places there are in this city. Here and there you'll find an old church or mosque but you'll find pretty spots everywhere. The streets are also often beautifully lined with round pebbles in which such beautiful images are then created. All this gives the city such a sophisticated atmosphere.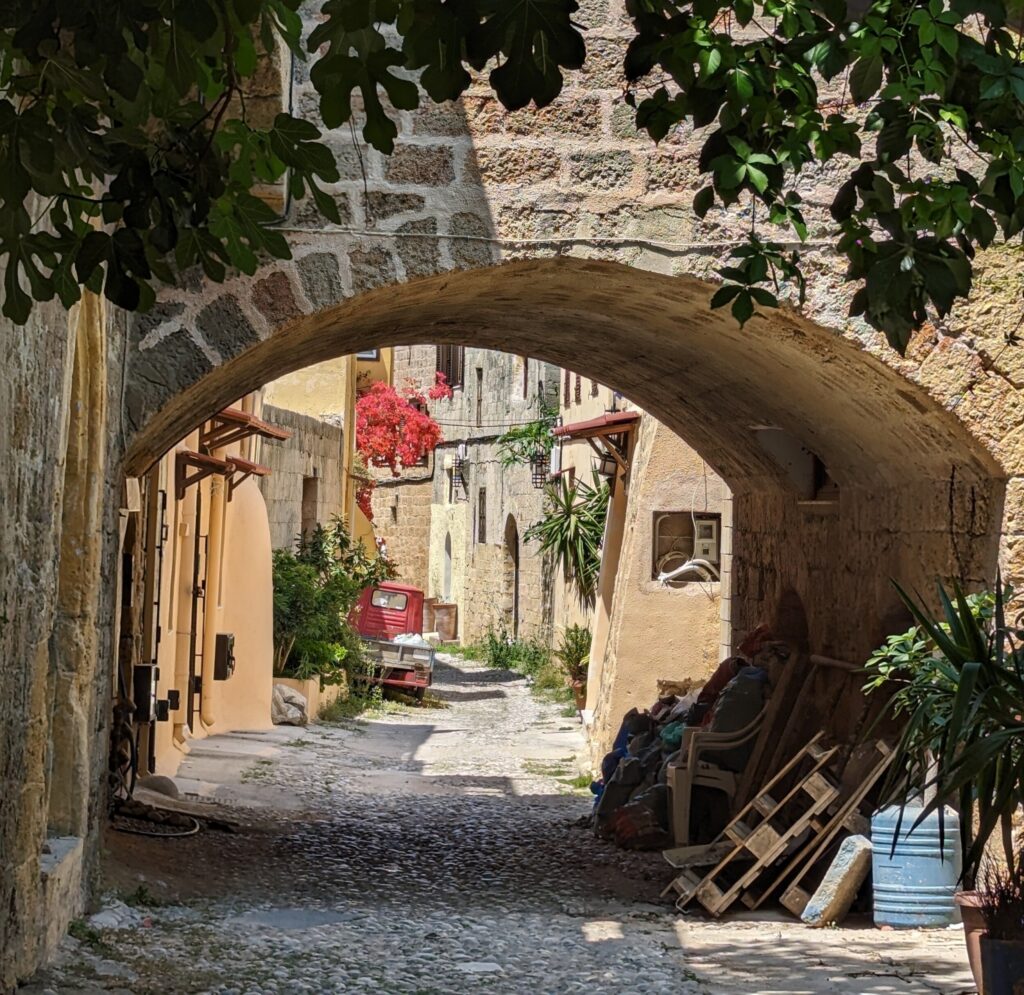 Street of the Nights of Rhodes
I do want to mention this street in particular. This street is really impressive. I walked in it from the top but I think it is even more impressive if you walk up it from the bottom. It's a long street, building after building where you can see the history dripping off….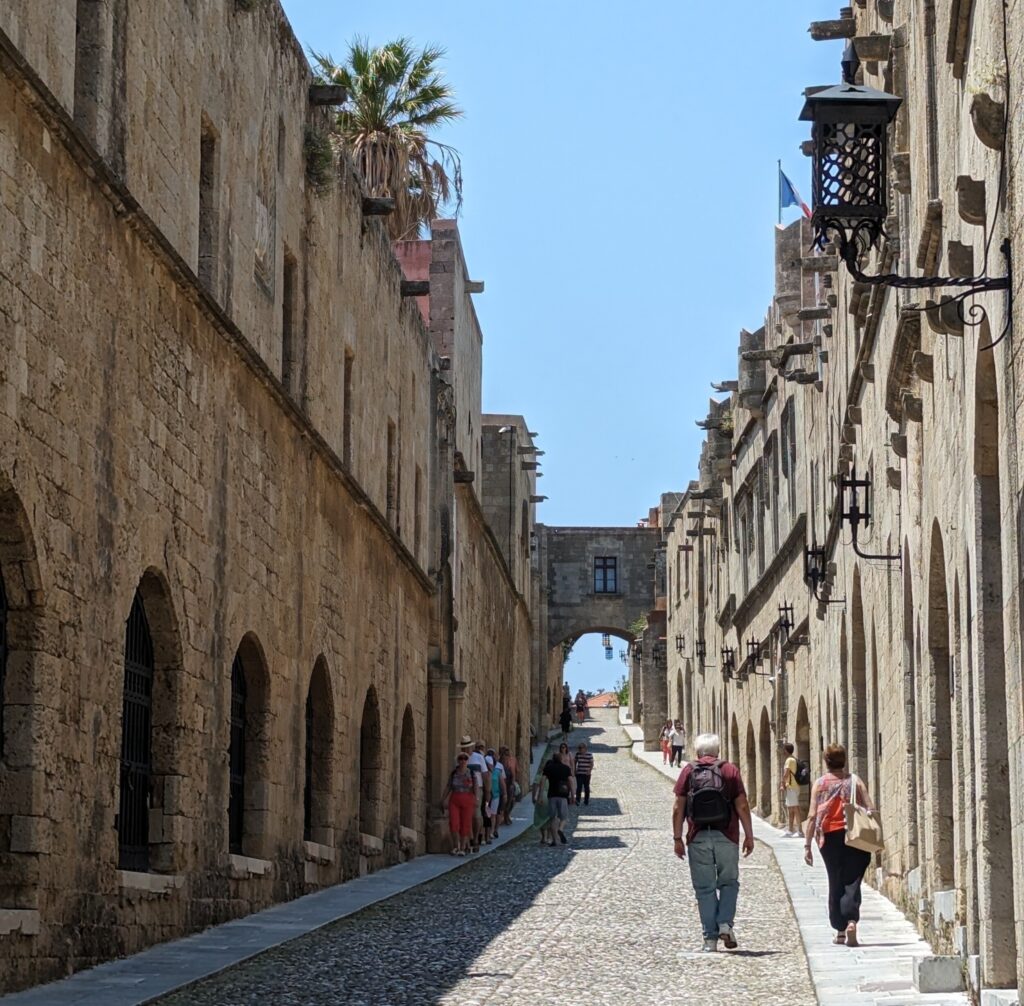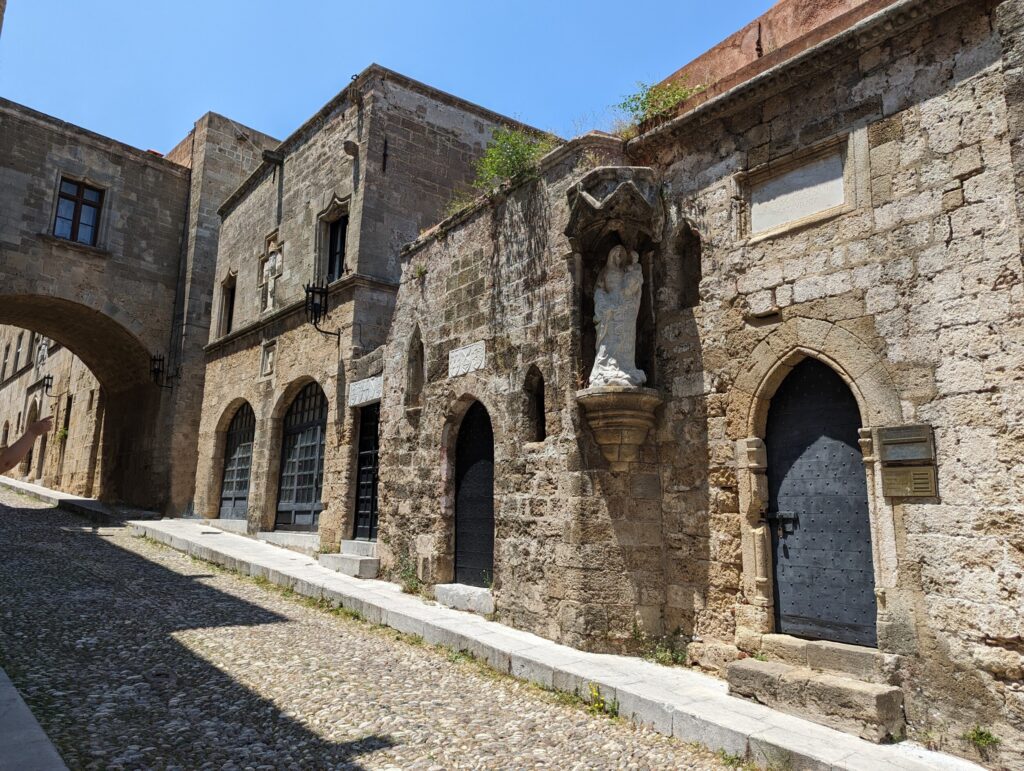 Rhodes Tip – At the very bottom of the street, on the left, you have the local tourist office and there you can get easy maps. In all sort and languages. There are a few routes mapped out for you through the old walled city. One has religion as its theme and another, for example, historical buildings or parks. Very nice to do!
The many squares in Rhodes city
Here and there you walk into the city's nice little squares. There are some larger squares of course, with many terraces where you can have a drink or eat. I sat in several squares for a while, having a cappuccino, lunch or breakfast…. Or of course my evening meal. Plenty of choice!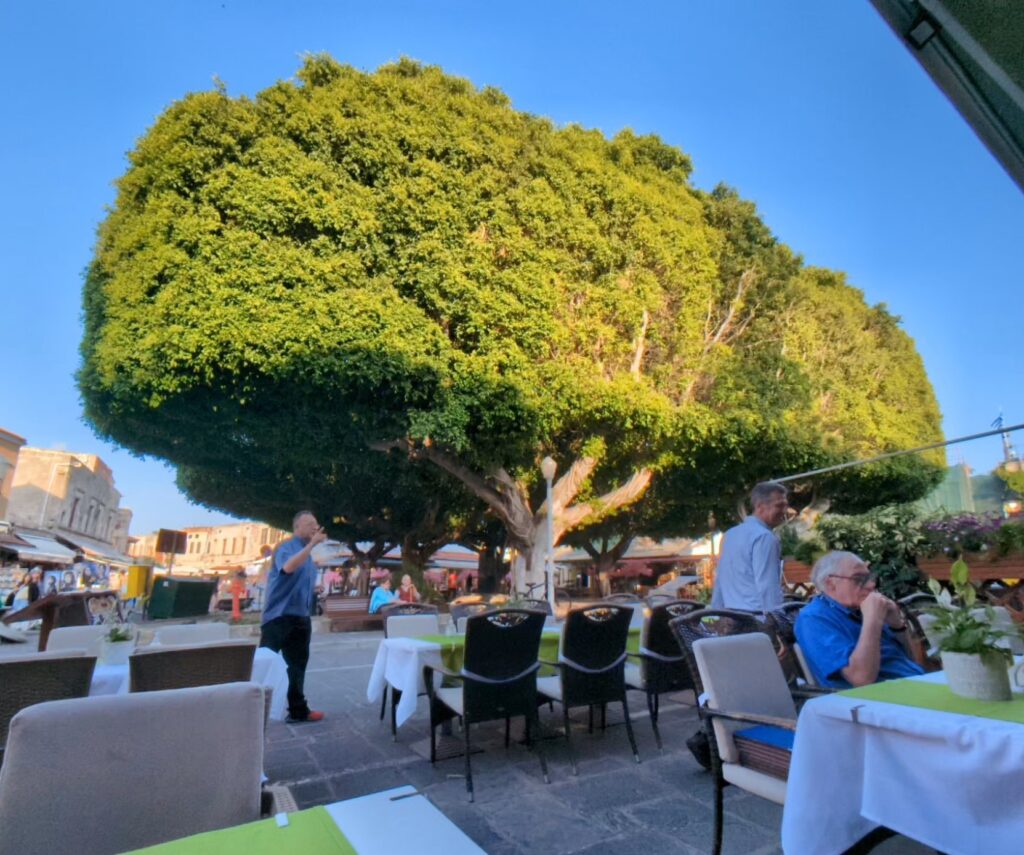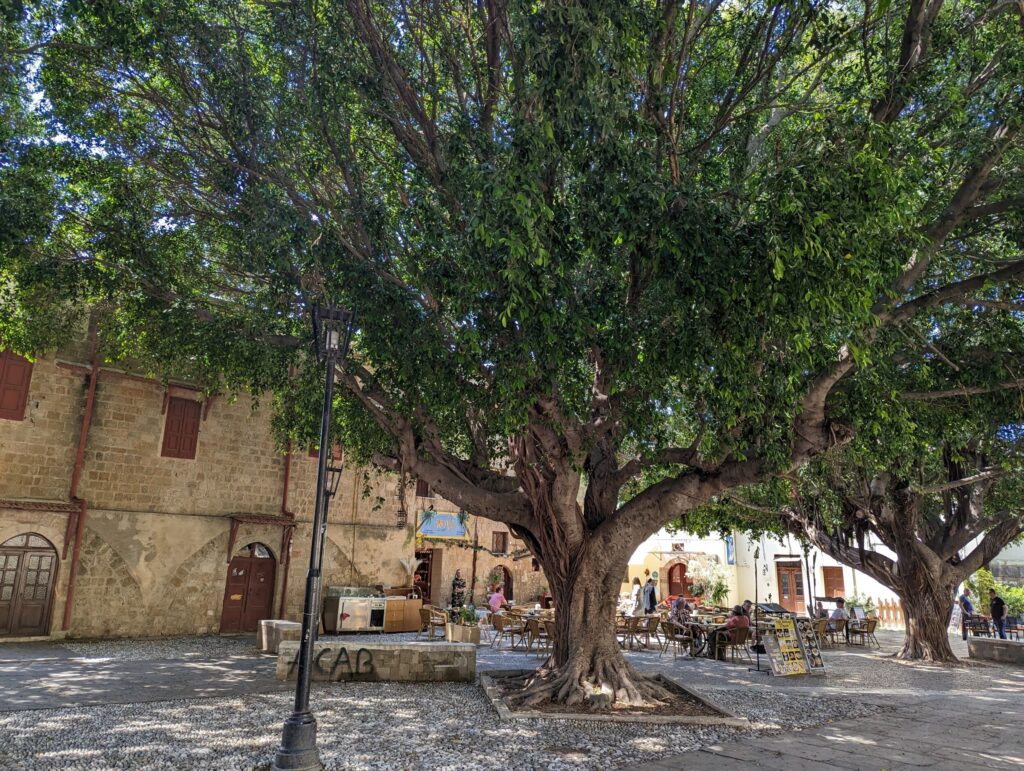 Moats around old city Rhodes
I also walked in the moat, around the old city. This gives you a good sense of how the city was built, where it was open and how it had to be defended. On the sea side, there is quite a lot of open, walls also quite low. Of course, there was a lot of trade in earlier times and the harbour was an important place.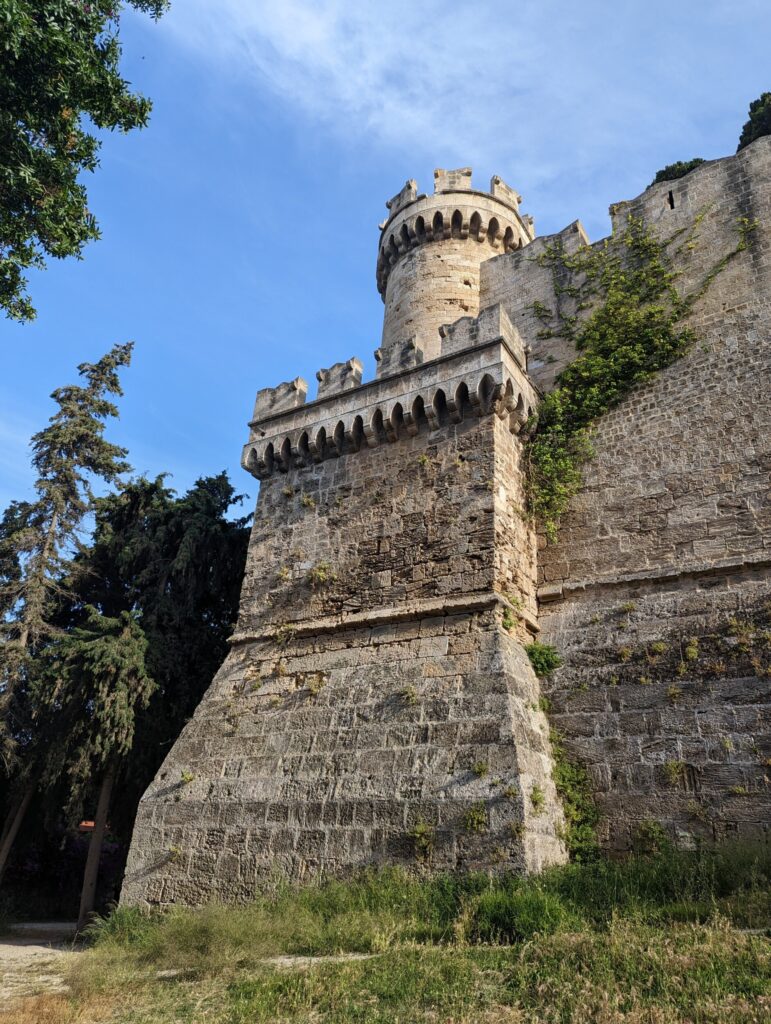 Mandraki harbour is also a nice place to be for a while. Spend the early evening when the crowds are gone and the sun gets a little less bright. Just put your feet in the water and watch the fish swim in the clear water. There are also 3 nice windmills that you can take a nice walk past to walk as far as St Nicolas Fort. Or maybe all the way to the end at the column with the deer on it.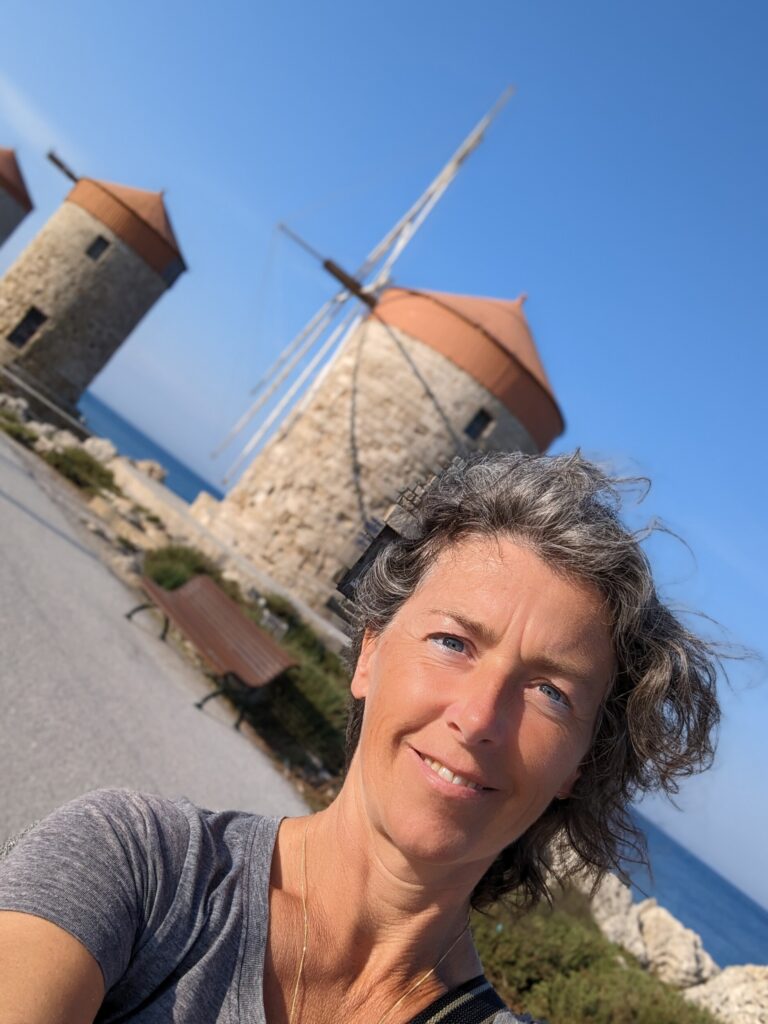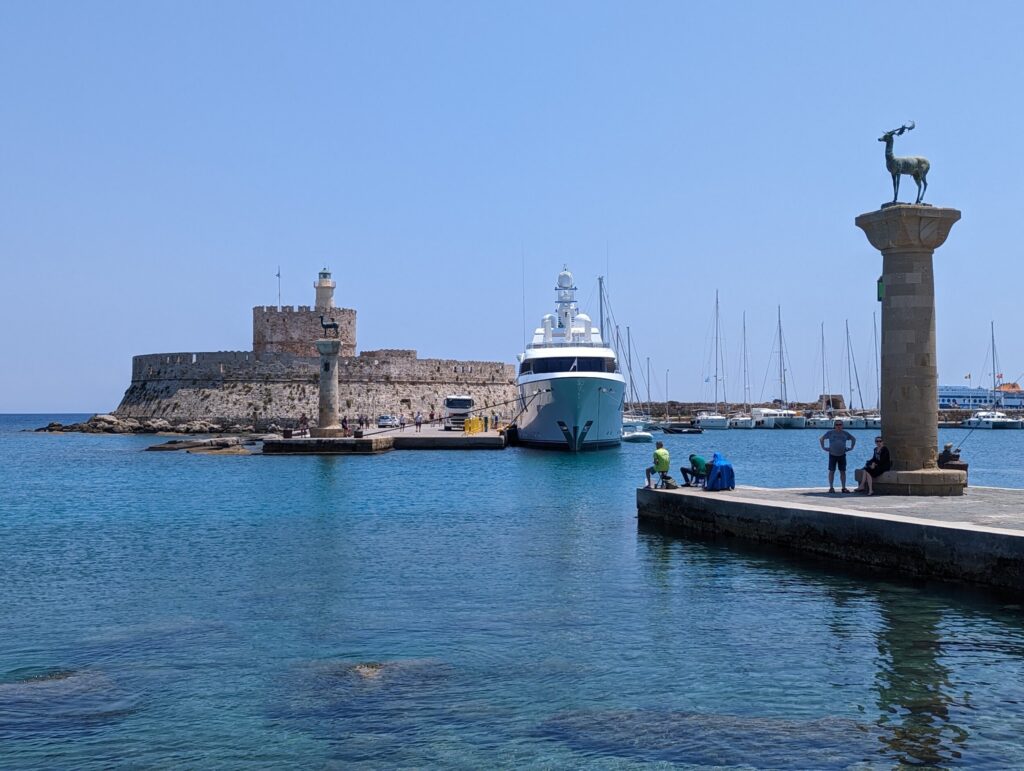 A statue of the sun god Helios used to stand here, now a column with a fallow deer (dama dama) on it stands on both sides. The dama dama is the symbol of Rhodes.
So there are a few more statues like Delphinia and the Fallen Angel in the harbour.
Will you go look for them?
I walked there briefly because I thought I might want to go for a swim but man, what a crowded beach this is. Sun bed to sun bed is there, and they were mostly full too. What is fun, of course, is the diving platform off the coast from which you can jump and dive. Elli Beach is a pebble beach, so pleasantly lying on Elli Beach is not an option, so renting a bed is almost a must if you want to spend an afternoon here.
If you have more time in Rhodes Town, outside the old walled city you could still visit the Acropolis, the ancient stadium and the remains of the temple of Athena Polias and Zeus Polieus.
Solo Roadtrip Rhodes
Highlights Rhodes in 3 days – Greece
On day 2, I entered my solo road trip Rhodes island. On my list for day 2, I had: visit the Butterfly Valley, Seven Springs and Tsampika beach.
Butterfly Valley  en Kallopetra monastery
Rhodes' Butterfly Valley (Petaloudes) is actually a natural place to visit when there are butterflies. That is not in spring and so it became just a nice walk in a valley. The valley is still a beautiful place, it was also quite crowded I thought.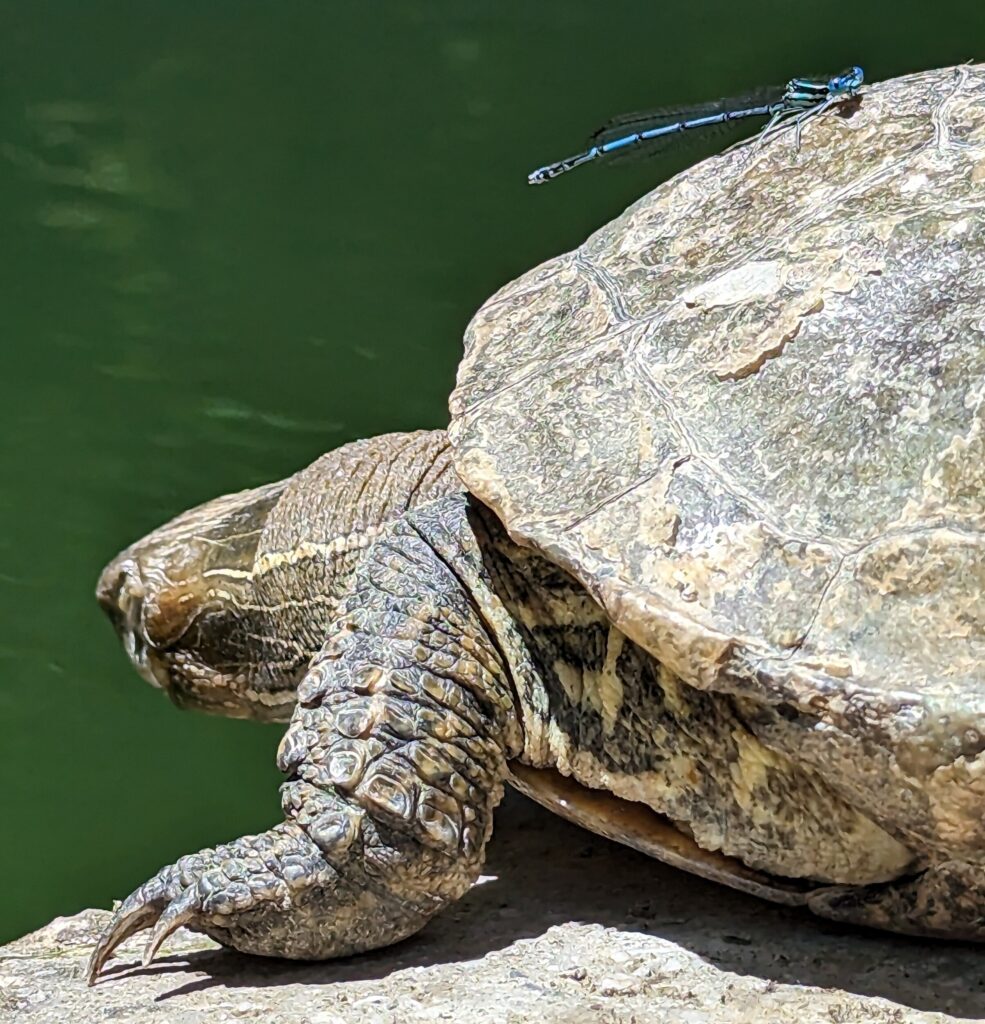 Nice paths have been made so that everyone can walk there properly. I had spotted the first turtle before the entrance, on the way back I took the photo with the dragonfly on its back. Walking on after paying 3 euros, I soon heard frogs. When I looked closer, I did see them sitting in the shallow stream. A bit further on, I also came across crabs. Even a group of crabs were devouring a dead bird in the water.
But butterflies I saw only sporadically for that, of course, you have to be here in late summer / autumn. I certainly did not see the colourful butterflies that are supposed to be there. Looking on the internet I see that the Spanish Flag butterfly should be here a lot in late summer.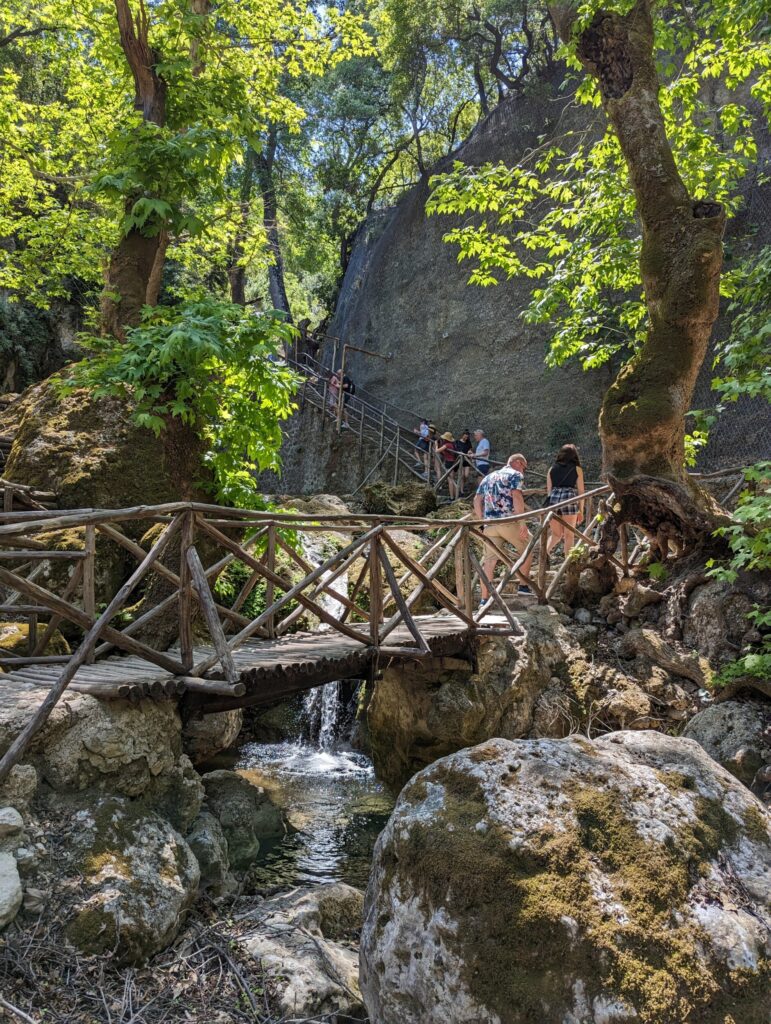 If you walk through the whole valley, you will arrive at the top of the Kallopetra monastery. Here you also have a brief view over part of the island, overlooking the sea. You can also reach the Kallopetra Monastery some 2.5 kilometres further by car. But visiting this way is of course much more fun! After this, you can take the same path back down again.
Parking at the Butterfly valley
There are two parking areas at the butterfly valley. The first where I parked but also halfway through the walk, you come across the road and sometimes have to show your purchased entrance ticket as you walk further up. So there is also ticket sales there, a car park but also a shop and a restaurant.
Seven Springs ( Don't stop here while on your Roadtrip Rhodes )
I drove here because it was on the map as a place where you can make a nice stop. Meanwhile, I had already had lunch in Psinthos otherwise you could do that here. Although I think Psinthos is a much nicer place to have lunch though. Because other than some signs that seem to send you in the wrong direction, into the forest, and a restaurant I couldn't find here.
There was supposed to be another lake and some kind of tunnel through which water goes to get to that lake. I didn't find it interesting and after half an hour of searching (just fellow tourists) and asking ( at shop and restaurant) I drove on again.
There are also many peacocks walking around the restaurant who might want to show off their colourful feathers.
Monastery of Agios Nectarios
As I drove on from the Seven Springs, I passed this monastery: Monastery of Agios Nectarios. Would have loved to visit but did not open again until 3pm and I would have had to wait an hour. It has a shop and restaurant. But the gate was closed so I didn't get close to the monastery itself. Must be a very beautiful painted and carved monastery.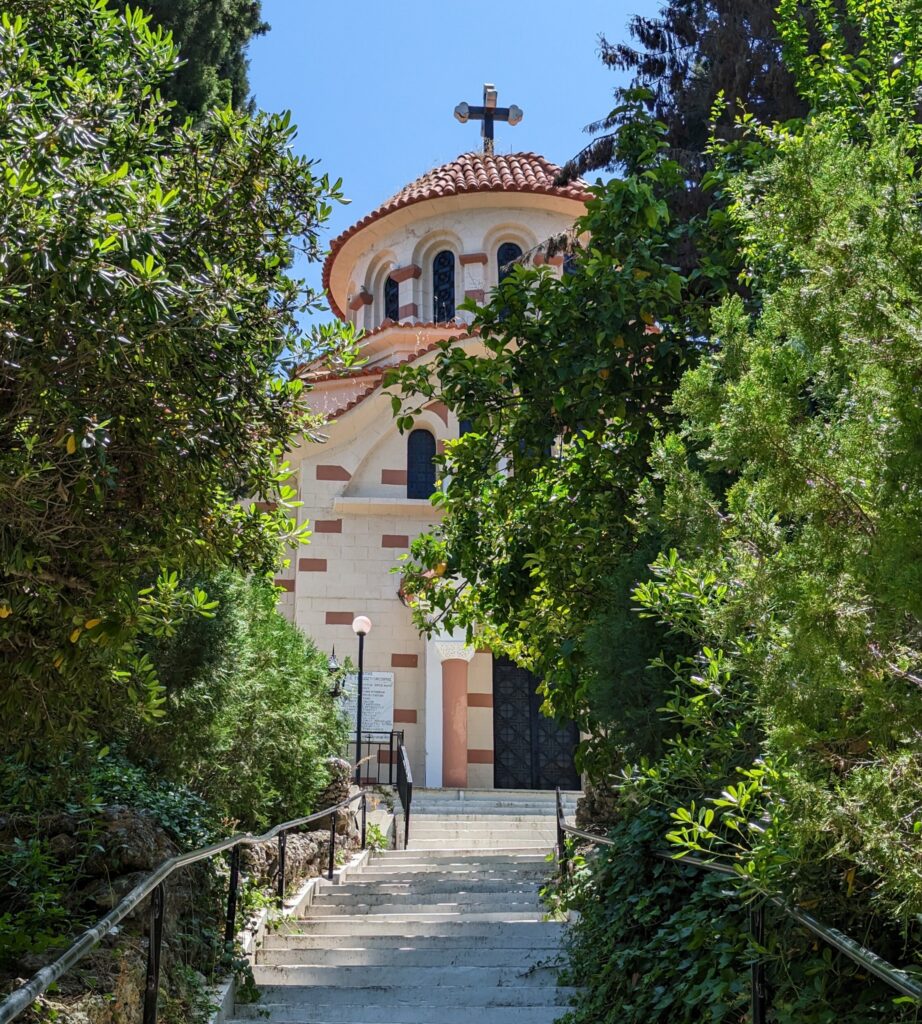 You can never turn down a lovely sandy beach on a long day of driving around right? I had first gone looking for a place called Hole in the Rock. I drove quite a few country roads for it and walked some more, but I think it is more accessible by boat. A pity, because a rock face with a hole in it along the coast is always photogenic, isn't it?
So on to Tsampika or Tsambika and lying on the 800-metre-long sandy beach. Cool off in the super beautiful clear blue seawater and get a bit of a tan in the Mediterranean sun. Nothing wrong with ending a day of exploring Rhodes like this.
At Tsampika beach you can also practice various water sports. There is also a stretch of beach reserved for nudists.
Do you also rent a car for your solo road trip Rhodes or do you prefer booking trips with fellow travellers?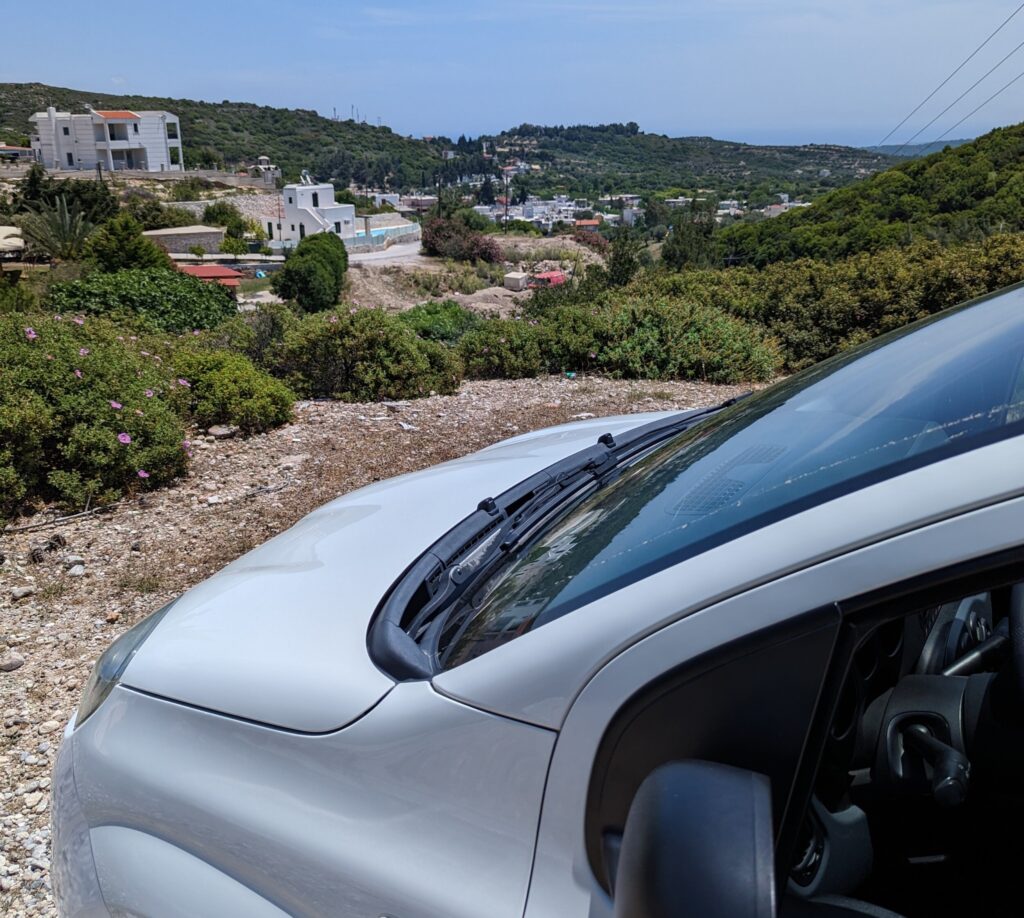 For me, this was definitely the highlight of my solo roadtrip Rhodes. I loved being back on the trail for a while. A bit of a challenge for the legs and meanwhile nice conversations with the guide and the British couple. In fact, I had booked a hike with Hiking Rhodes.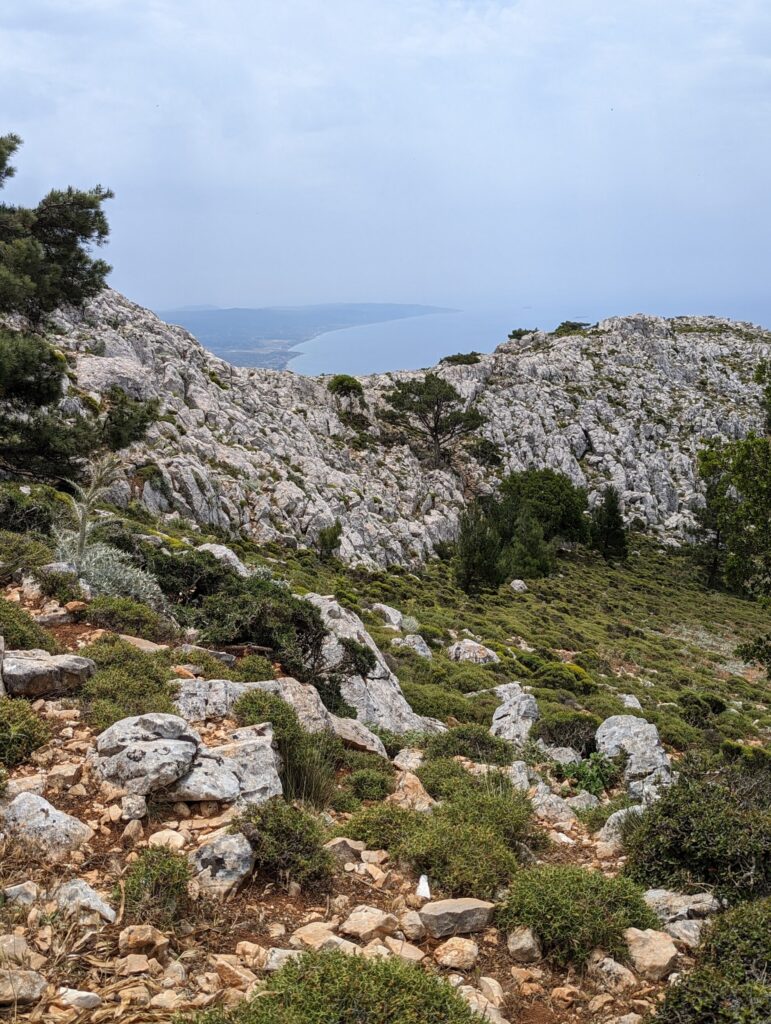 With a diversion, we went uphill. Along the way, we were told all kinds of things about nature and the surrounding area. But we were also shown a cave where there used to be spies in WWII. These were provided with bread and water by a shepherdess Mary every day.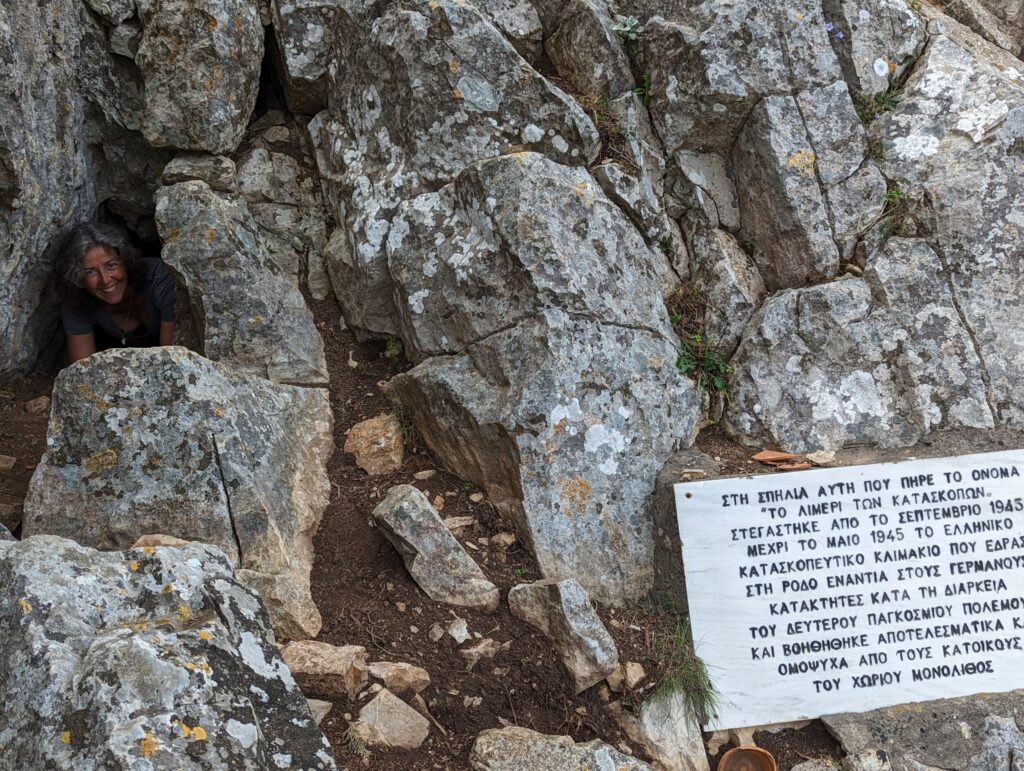 After this we walked on, and after seeing a deer that the guide called a dama dama, we finally arrived at the summit. We could spot several islands (Chalki, Alimnia et al) but also see as far as the lycian coast of Turkey.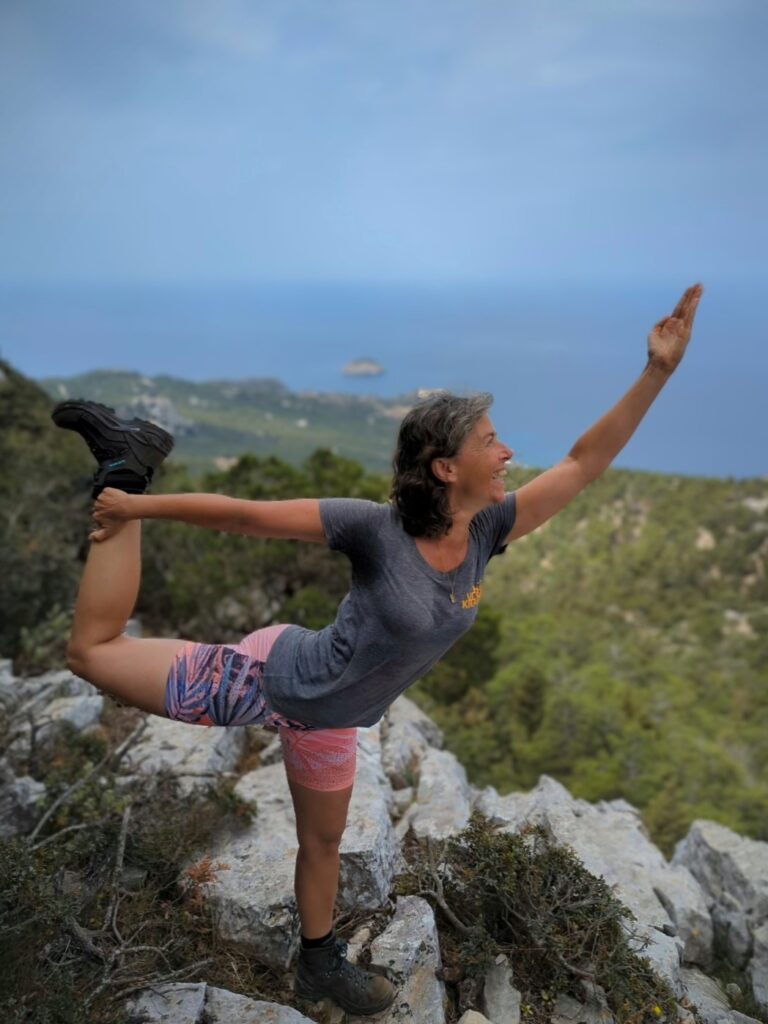 After this, we took the short way down and said goodbye again. I really enjoyed being back with fellow tourists for a while but I also found the guide, Manuela, a super nice woman. We chatted a lot along the way.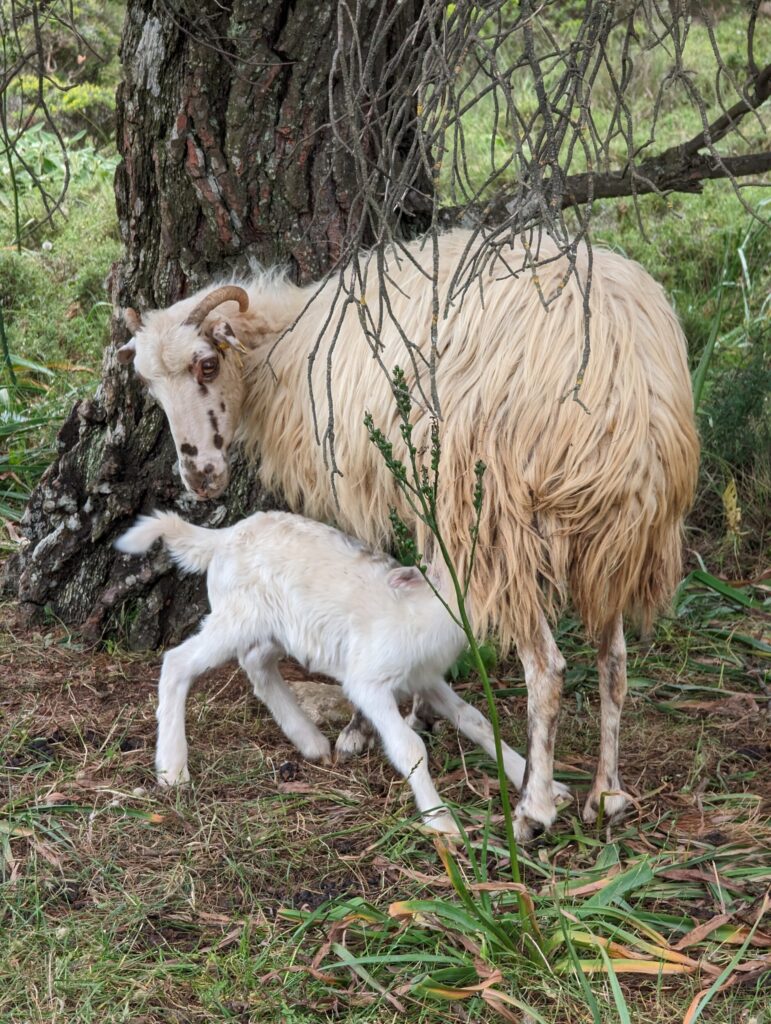 Before going up Akramitis mountain, I quickly visited Monolithos Castle. This castle again had a super spot of course. The best strategic spot imaginable. Built high on a rock of monolith and therefore not easy to attack from any side. Of course, they had a view in all directions and over the sea from where the greatest threat used to be. Rhodes was in fact on a good sailing route.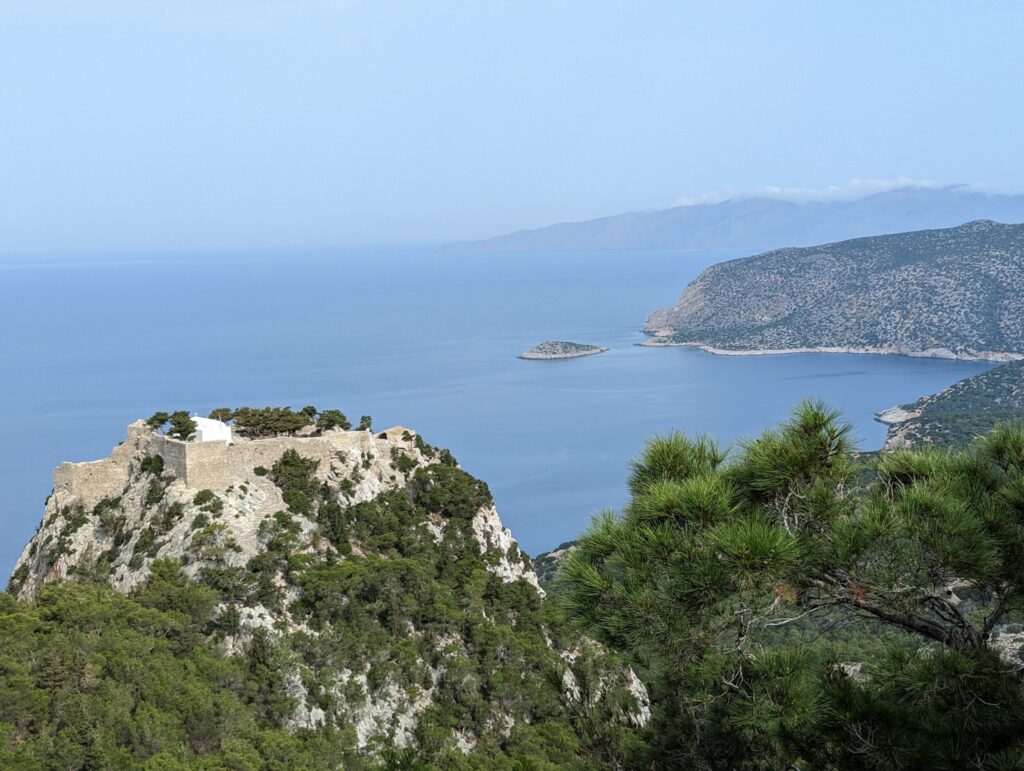 Lindos is really a town you must have visited. Lindos is also called the white town and is built against the coast of Rhodes. High over Lindos towers the Acropolis, which of course provides cool photos from all sides.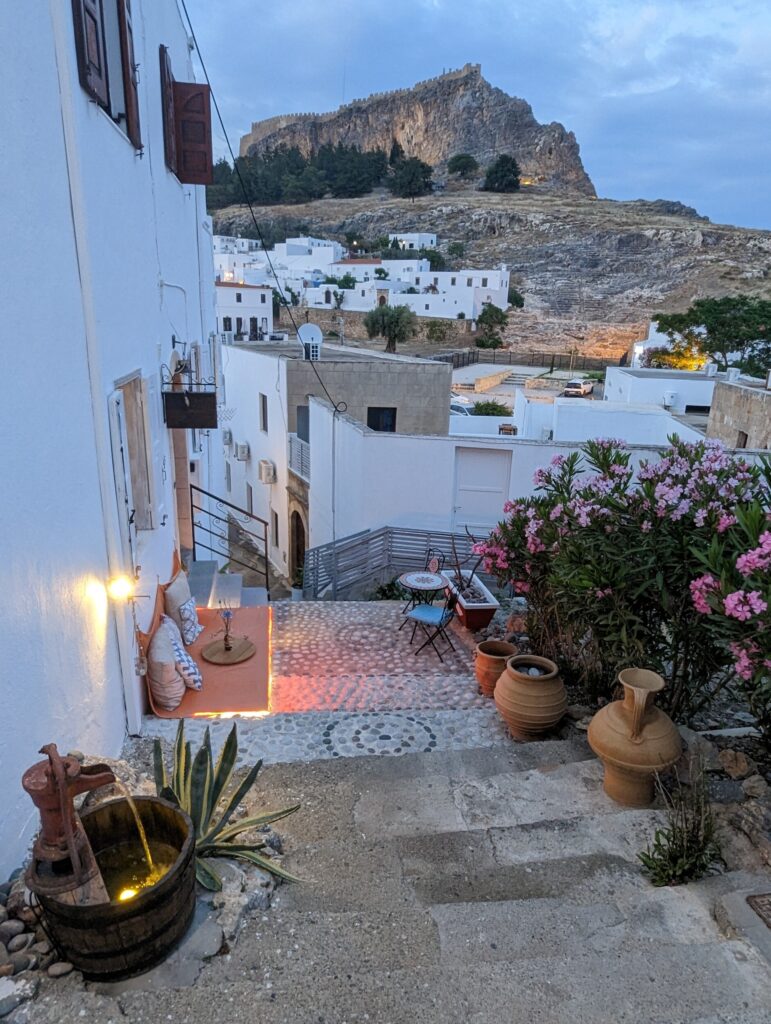 Wandering through the many small streets of Lindos was just great. Even more in the evening, when it is just a bit quieter, I once again wandered the many streets. I can never get enough of beautiful doors, inlaid floors and amazing vistas. For that reason, though, I really do recommend spending a night in the white town of Lindos. When the biggest crowds are gone you still get a better view of the streets and buildings.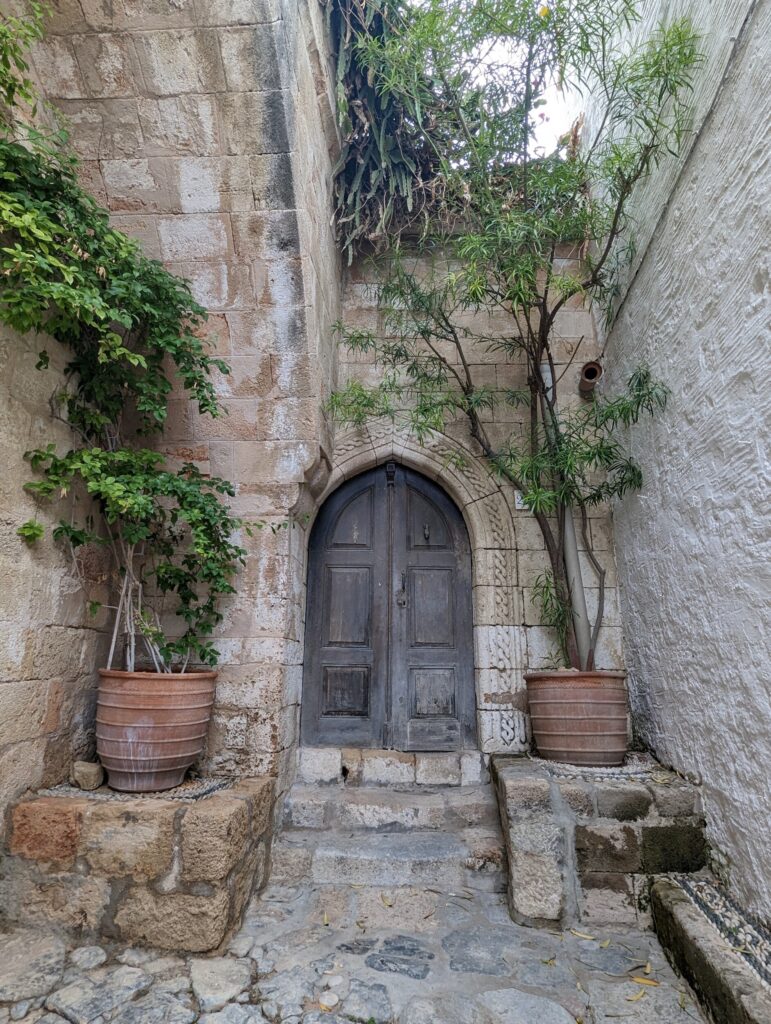 Of course I walked to the Acropolis for a while but I was only there at the end of the afternoon and did not want to do a 'quick' visit and pay the entrance fee for that. I did, of course, manage to grab a view over the whole village and the bay.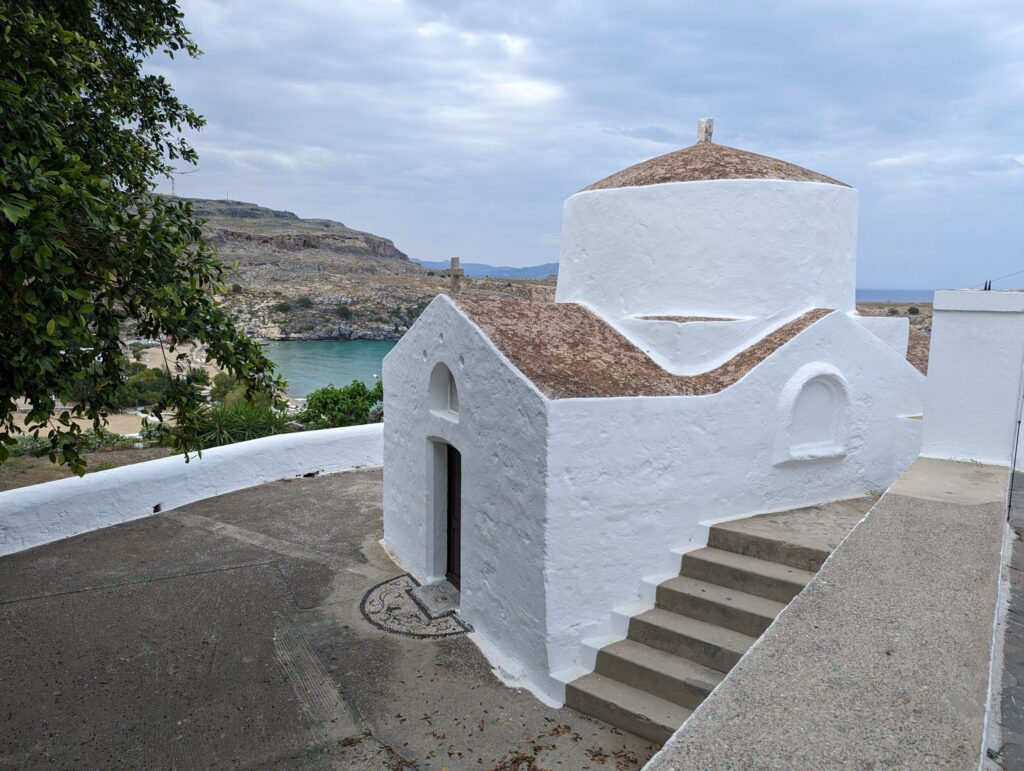 In the early evening, I also went to the beach for a while, paddling my feet in the clear seawater and just enjoying the peace and silence. If you come there during the day, it's super crowded, sun bed to sun bed, just like Tsampika and the beach at Rhodes.
Lunch during your Roadtrip Rhodes?
During my solo road trip Rhodes, I had lunch in Appolakia and Psinthos. I particularly liked the latter village. This one was after my visit to the Butterfly Valley, on the way to the other side of the island. Very nice village centre with many restaurants around a nice square with old trees.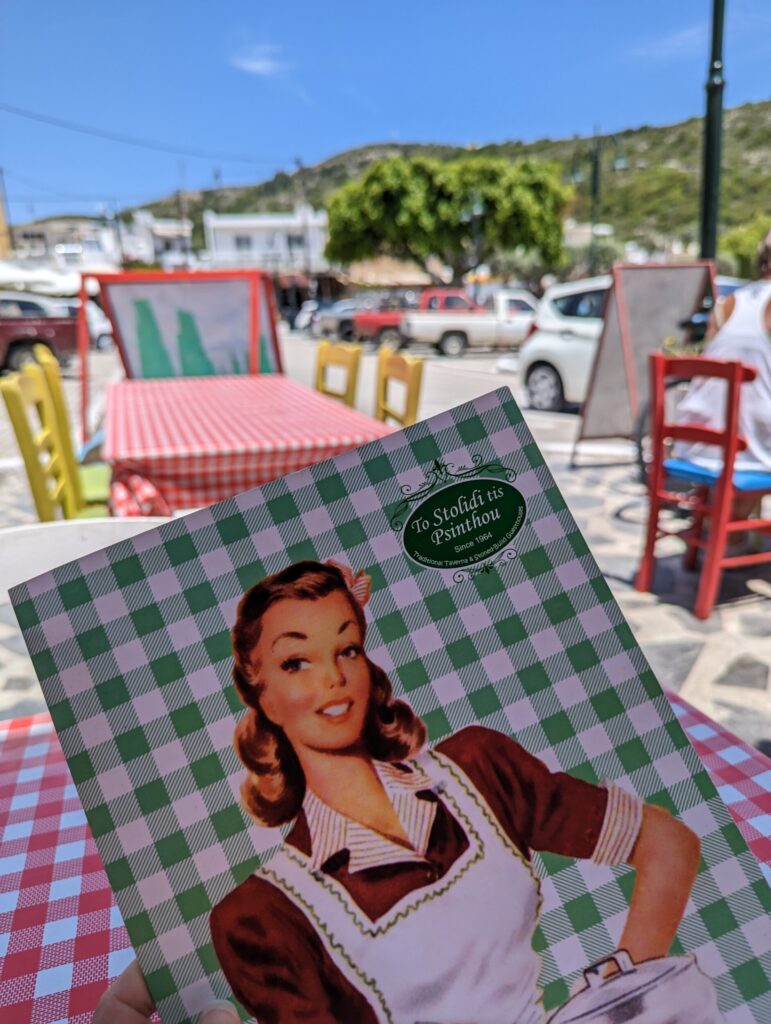 Appolakia is slightly smaller and there are two restaurants on a partly through road. I had to laugh at the two women who work at the different restaurants. They wave at every motorist and then point to their own parking space and give you a warm welcome. They do it in a nice way and I had something nice to watch over my lunch.
Renting a car for your solo Roadtrip Rhodes?
I walked into an agency and hired a car for 30 to 40 euros a day. I can also imagine that you want to discuss this in advance so that when you arrive in Rhodes, your car is already waiting for you.
Check your options for renting a car on Rhodes
Where stay during your Solo roadtrip Rhodes
Sleeping on Rhodes?
STAY Hostel – Rhodes City
In Rhodes Town, I stayed at a hostel. This was at STAY and found that to be a really nice hostel. The common room was nice, they had good coffee and a nice breakfast. In the evening, I was even offered free macaroni once.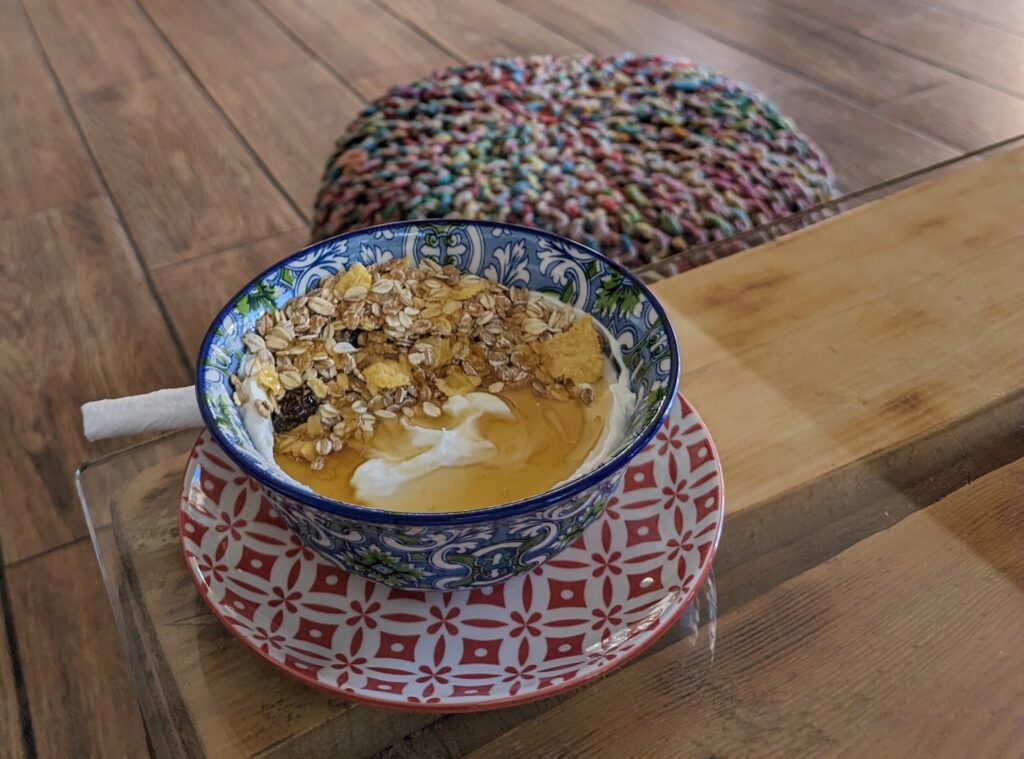 I do have to say that I found the bedrooms very small. It was a small room with 3 beds. We could just walk past the beds and then we had to put our stuff in there somewhere. There was a very small shelf on the wall but it couldn't hold much more than your bottle of water and toiletries bag. I also missed hooks on the wall so I could hang things up.
There was a locker, you could borrow a lock if you gave a deposit of at least 10 euros.
Check for availability at STAY
Electra I can really highly recommend. In the middle of Lindos' old town, behind one of those beautiful old doors, you find this hotel. You first come out onto a large terrace on which there are a number of doors, the rooms. Then one floor down there is also a garden in which you can sit.
The rooms are a bit dated but everything is clean and tidy. I paid 36 euros for 1 night at the end of May. That's a super price for this accommodation in this spot in the middle of town.
The terrace offers a view over the bay and thus the beach of Lindos. In the evening, I sat here with an Australian who, like me, was still plotting his trip on the go. Lovely!
Book your night in Lindos at Electra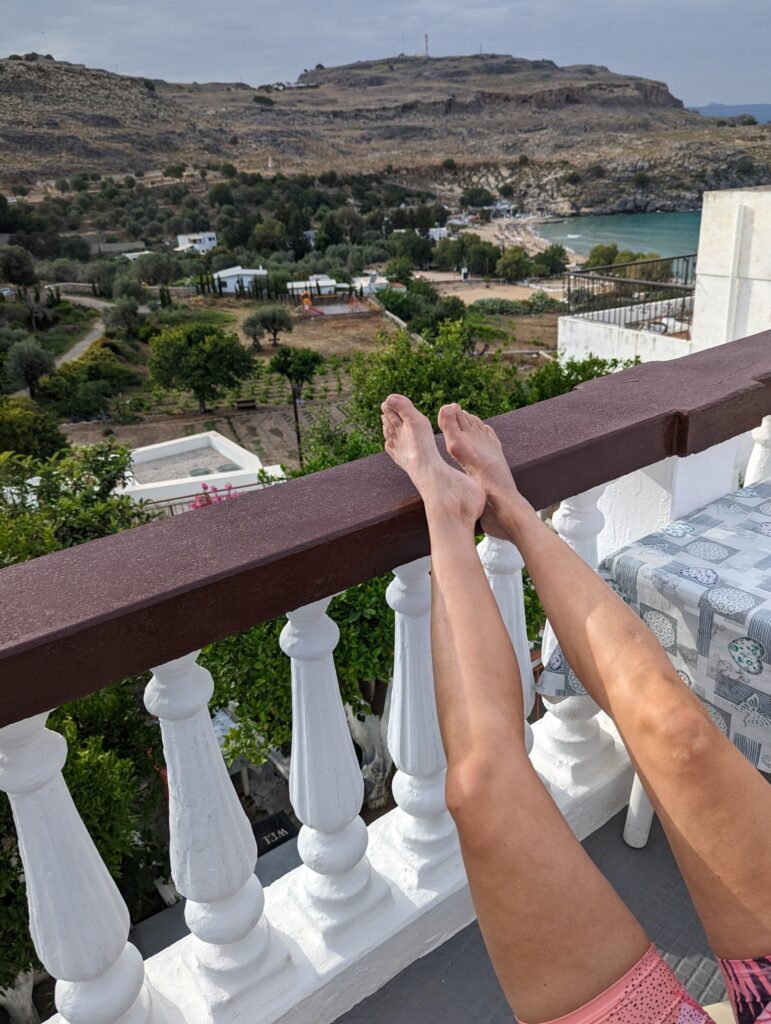 My Solo Roadtrip Rhodes was short but super fun! The next island I visited was Karpathos. Here I was a little longer and went hiking!

Do you have any tips for Rhodes that I really missed and
really need to put on my list for the next visit?

Will you share this inspiration?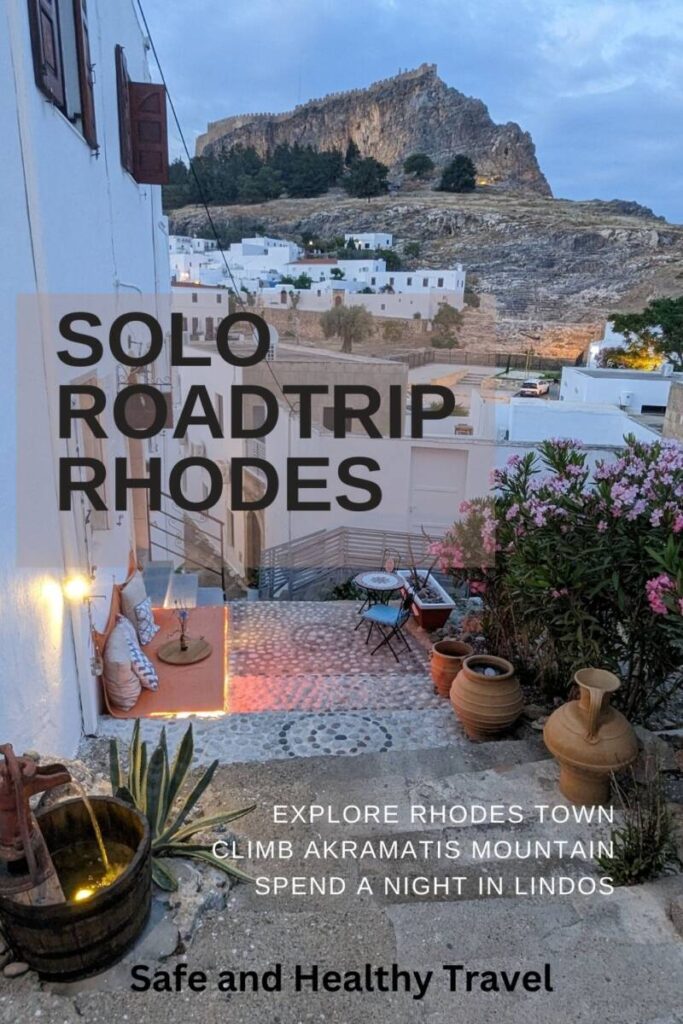 Want to read some more?
Rickshaw Challenge – Driving 2000 km through 5 states of India
Roadtrip National Park Eifel – Germany
5 Tips to Drive Safe in a Foreign Country
All you need to know for your roadtrip with 4×4
Or go on the ultimate solo road trip through Namibia
Solo Travel Namibia by 4WD – 10.000 km Travelling Solo in Namibia
I hope you enjoy this beautiful world as much as I do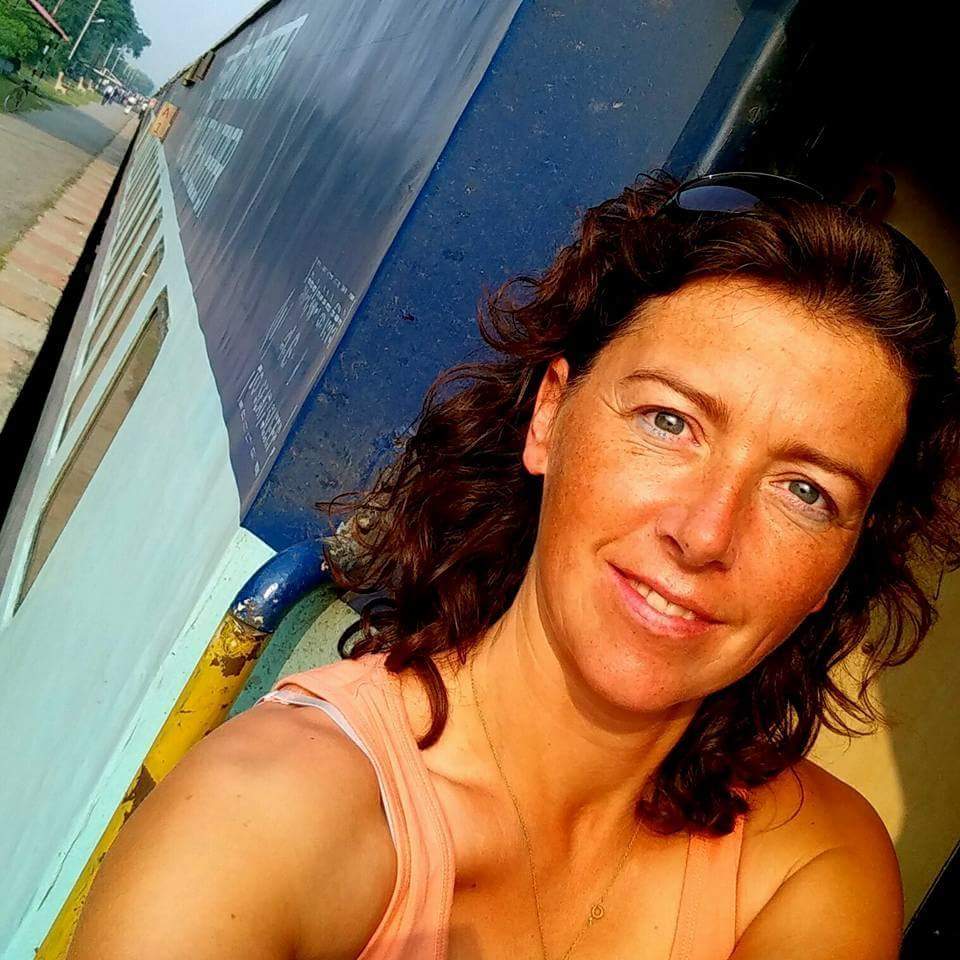 Jacomijn is een politieagent uit Nederland die jou graag laat zien hoe je veilig, actief en gezond de wereld kan over reizen. Safe and Healthy travel is a MUST