All you need to know for your roadtrip with 4×4 – Do's and don'ts for your 4WD – Solo Travel Namibia
|
If you go on a tour in Namibia or Botswana and want to do everything yourself, I can recommend you to rent a 4×4. There are always some areas where you can't go with a normal car because there is a chance that you get stuck. Deadvlei near Sesriem is such a place, you can always arrange a trip locally. That does make you dependent on someone else. It takes more time to arrange it locally and I used that time to drive into the park the night before.
To drive well through the country there are some specific tips on driving a 4WD that you have to learn. It makes driving in a strange country and landscape a lot easier. Read on to find out what you need to know for your 4WD journey.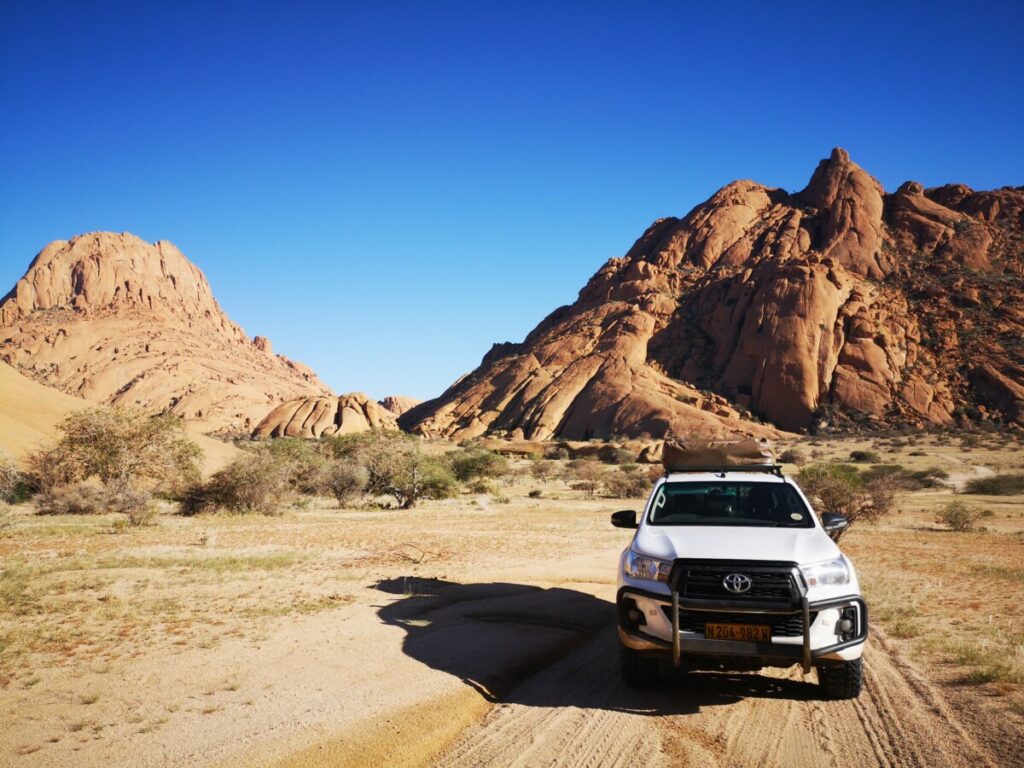 I received a number of tips and tricks from Explore Namibia, where I booked my trip. Those tips and my experiences I share with you in this blog for your roadtrip with 4×4.
What you need to know for your roadtrip with 4×4 – Namibia
Let's start with the do's and dont's for driving a 4WD.

Do's for a safe roadtrip with 4×4
Check tyre pressure daily 2.2bar Make sure you screw the valve caps back on after the check.
Always drive in 2H on asphalt roads
When changing from 2H to 4H or 4L, always stand completely still. Never change gear while driving.
If you have become stuck and are being towed or pulled, the gearshift should always be in N, free.
I did manage to get stuck in Sossusvlei but was soon helped back by a guide and his customer. Check how that went here.

When driving, the roof tent cover must always be fully zipped up.
Drive max 80km on gravel or dirt roads. A higher speed can be dangerous. Know that no matter how clear the roads are, something unexpected can always happen. There is more wildlife than we are used to. And no matter how good the road looks, there can always be a thick stone. To swerve at a higher speed than 80 km per hour is very dangerous.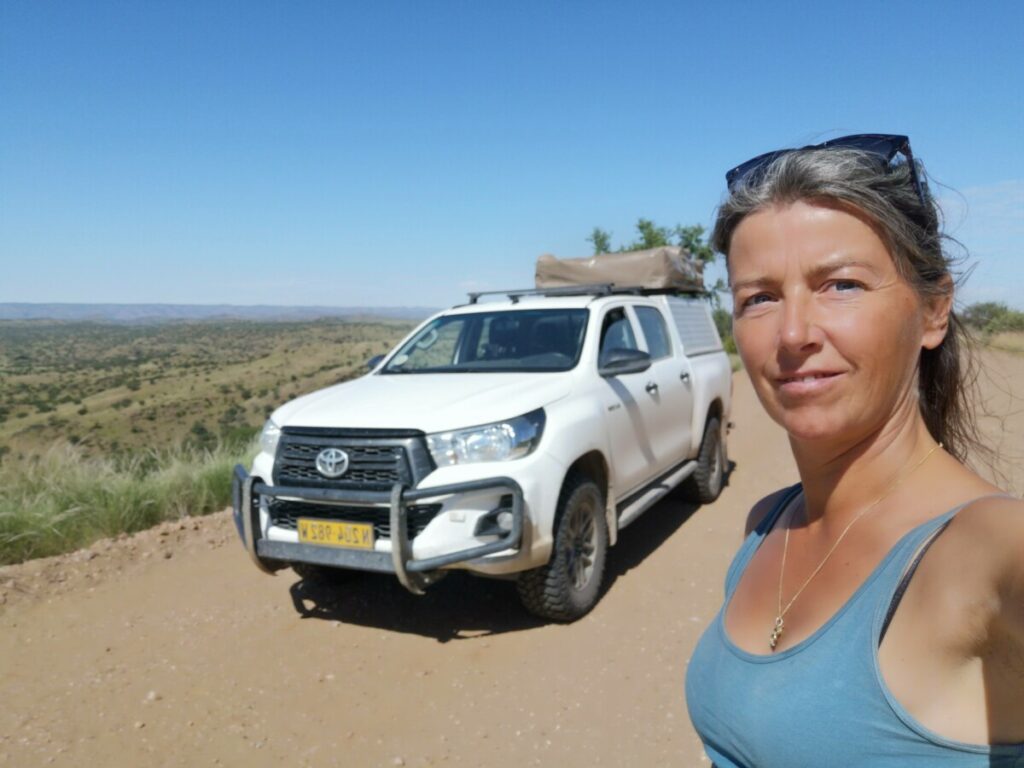 Did you know that in Namibia they drive on the left side of the road instead of on the right? That takes some getting used to in the beginning. The indicator is also on the other side… I can't count on one hand the number of times that I turned on the windscreen wiper instead of turning on the indicator. But after a few days you get used to it and it is fine!
Do's and don'ts for your 4WD – Solo Travel Namibia
Don'ts for a safe roadtrip with 4×4
Never drive faster than 80 km/h on a gravel or dirt road. If you drive too fast, you do not have enough control of the car to stop or swerve quickly.
Never test the roll-over point of your 4×4. Of course, you are not insured for such behaviour.
Never drive in 4H or 4L on asphalt.
The max speed in 2H is 120 km on asphalt roads. Never drive faster than 80 in 4H. In 4L the maximum is 30 km per hour. Read the explanation of the different gears further on.
Avoid making sharp turns when driving in heavy sand, loose sand or mud. This causes you to get stuck because the wheels then push the sand in front of them.
If you do have to turn in heavy sand, loose sand or mud, first make sure your front wheels are pointing straight ahead. First gain some speed by moving forward and backward if necessary. Once you have some speed, turn slowly to make the turn.
Prevent your wheels from spinning. This will cause you to get stuck even more.
Do not rest your foot on the clutch pedal while driving. Clutch repairs caused by misuse are usually at your own expense.
When driving in 4L gear and slowly descending a steep hill, never use the clutch.
Let the car drive slowly down the slope on the power of the engine. If necessary, apply the brakes slightly. This is the safest way and only way to keep your car drivable without losing control of it. In 4L you keep driving in the lowest gear (first or second gear) The power of your engine is necessary when you are driving down a slope at 2 or 3 km/h.

All you need to know for your roadtrip with 4×4
Do's and don'ts for your 4WD – Solo Travel Namibia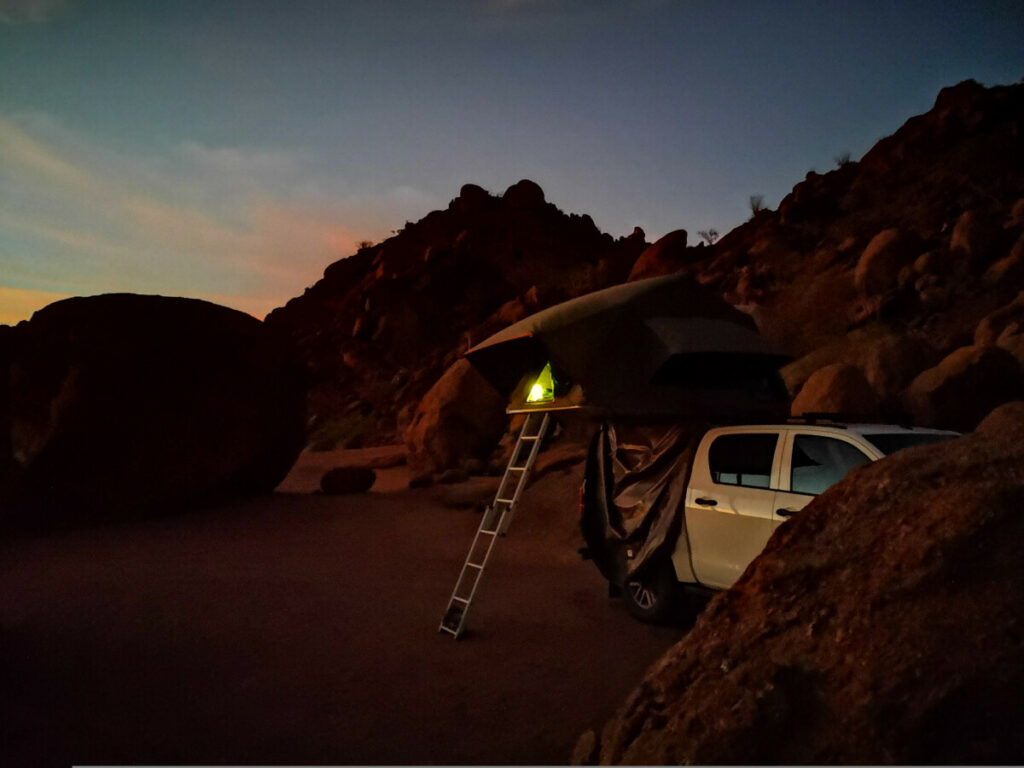 Explanation of the gear
This is the normal mode for driving. This is the mode you will use for most of your trip. On asphalt roads, the maximum speed is 120 and on gravel, the maximum speed is 80 km.

This is the normal driving position for 4WDs. Use this mode on muddy, slippery sand and gravel roads. The max speed is 80 km. When driving in this mode your 4×4 will beep, give an alarm, if you exceed 80 km. A built-in warning.
This 4L mode of driving is used in 4×4 driven and extreme areas and roads. You drive with slow speed and short acceleration. This mode is used only on very difficult roads and terrains where you definitely cannot drive faster than 30km.
Explanation about your over je fuel tanks
Most 4x4s have 2 fuel tanks. The contents of the reserve tank automatically flow into the main tank. The fuel gauge only shows the amount of fuel that is in the main tank. So if it indicates that there is still half a tank left, then this is actually a half main tank and an empty reserve tank. The 4×4 runs about 1 to 10.
I got the tip to fill up when I saw the gauge going down. Then you always have enough in your tank if there is a bit more time between refuelling. I liked that feeling. I always had enough for a few days driving in the tanks.
Safe Solo Travel Namibia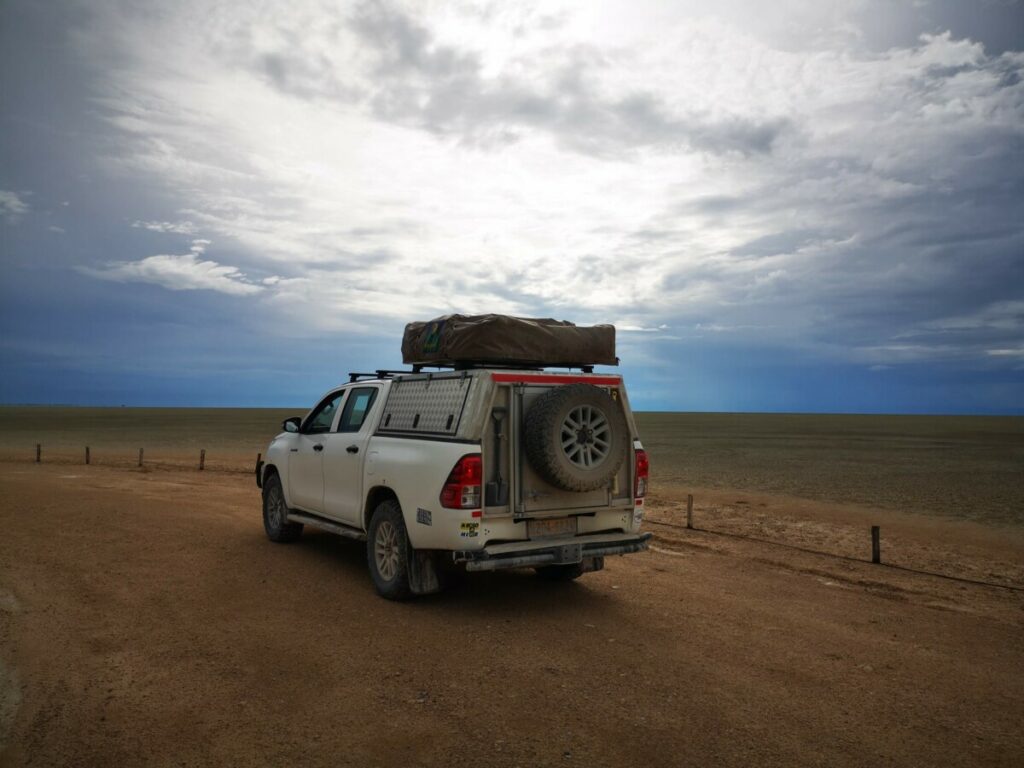 Explanation about the compressor
When driving a 4×4 in a large country with various roads, you must of course inflate or deflate the tyres every time. For that you need a compressor. The pressure when you go to the gravel roads is optimal at 1.8 and on the asphalt the optimal pressure is 2.2. You can connect the compressor that comes with the car to the battery. Then you can easily and quickly inflate the four tyres.
I also had a tyre pressure gauge in the glove compartment. So when I drove off in the morning I often checked them. In the beginning of the journey I did this every day, but after a while they didn't change that quickly and I did it every few days.
I made a video of me inflating the tyres on the way.
Lowering the tyre pressure has, of course, an important function.

If you have a wider contact area with the road, you will have more grip on gravel roads. If you ride in the desert, you can lower your pressure even more so that you have more contact surface and therefore more grip. When I got stuck, the guide and I both set the tyre pressure very low. He was glad that I had a compressor with me and before we got back on the tarmac road, we both inflated our tyres again.
All you need to know for your roadtrip with 4×4
Do you do a roadtrip with 4×4 with a rooftop tent?
How does the rooftop tent work?
The rooftop tent is really very easy to set up. A tent on the ground takes more time and effort! I actually had it up within 10 minutes. The mattress stays in it and you can fold it back easily. Just open the windows to let the wind blow through. Pillow, duvet and nightclothes back in and ready for the night.

I made a video of this too, so check that out too!
Roadtrip with 4×4 Namibia
Did you also click on subscribe?
I don't share videos very often but I would like them to be seen.
Maintenance & other important points for a roadtrip with 4×4
As the person renting the 4×4, you are responsible for a number of things. You are expected to treat the 4×4 with decency and care. Make sure there are no scratches or dents in the car, they will also be charged to you.
Regularly check the water level, oil level, tyre pressure and battery water (for power if you're on a campsite). You can easily check a lot of levels under the bonnet. Ask the rental company about this before you start your 4×4 tour.
Don't leave edible goods outside either. It attracts wild animals. You never know once they are near your tent and car what else they might do. I lost my windscreen wipers because of a couple of toucans at Spitzkoppe. When I came back from a hike, the rubbers had been torn off. I reported this immediately and fortunately I could go to a garage in the area. The bill was paid to them by the rental company. What a great arrangement!
If you are going to overtake be aware that the 4×4 is a lot heavier than your normal car. This means that you accelerate less and overtake the car in front of you less quickly. Take this into account when overtaking. Make sure you have enough room.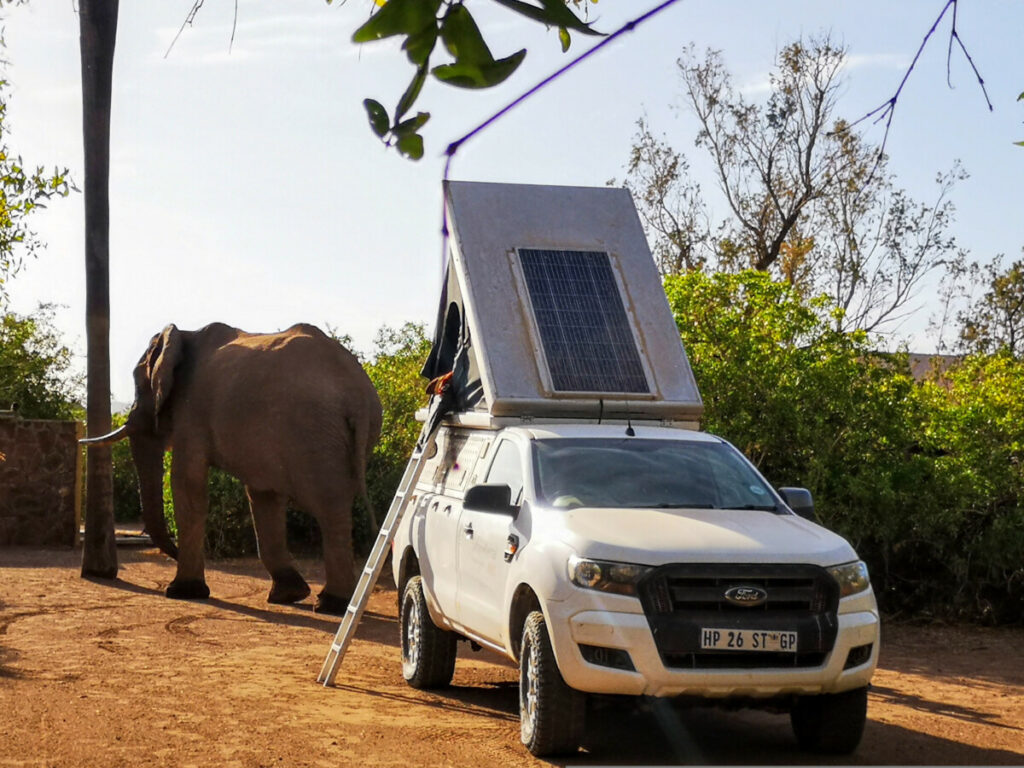 Ultimate Adventure – Solo Travel Namibia
Are you going to do a roadtrip with 4×4? I drove more than 10,000 km in Namibia and a part of Botswana! My roadtrip with 4×4 lasted no less than 72 days, so I had time to stay 2 or 3 nights in each place.
I can definitely recommend doing your roadtrip with 4×4.
It gives you that feeling of ultimate freedom!

Do you find these tips useful?
Pin it or bookmark this page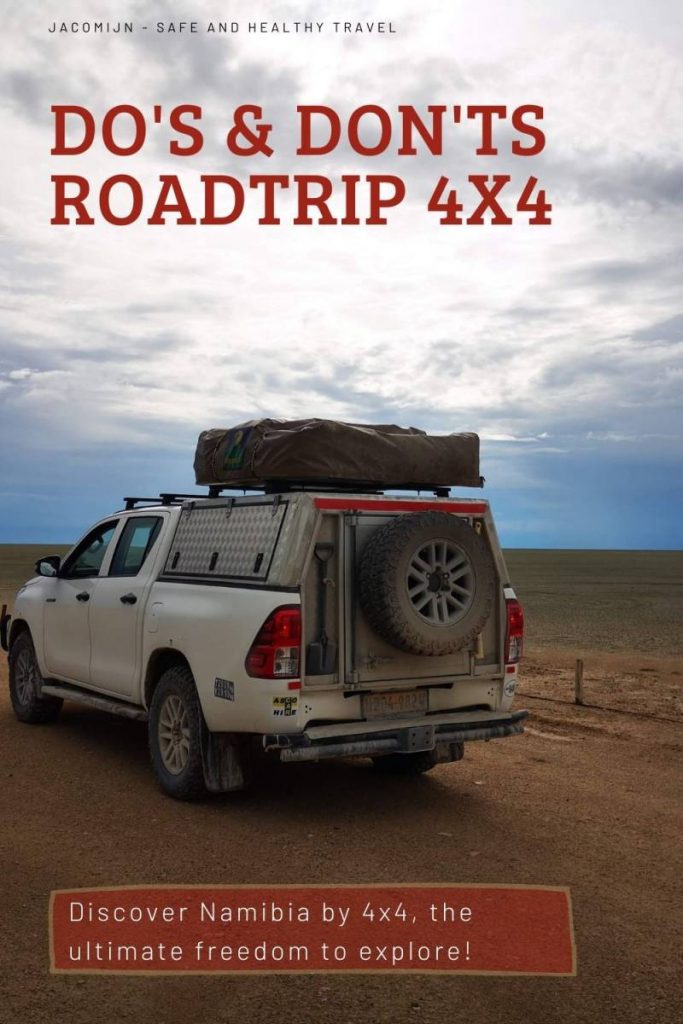 Do you want to read more about my trip to Namibia?
Visit the Ghost Town Kolmanskop and try to spot the wild horses of Aus
Highlights of Damaraland – Namibia
Visit the unique Quivertree Forest near Keetmanshoop
10 interesting facts for your roadtrip Namibie
Packinglist for a trip by 4WD in Namibia
Namibia has some of the most unique spots in the world!
Natural Heritage of Namibia – Oldest Spots of Interest to Visit in Namibia
I hope you enjoy this beautiful world as much as I do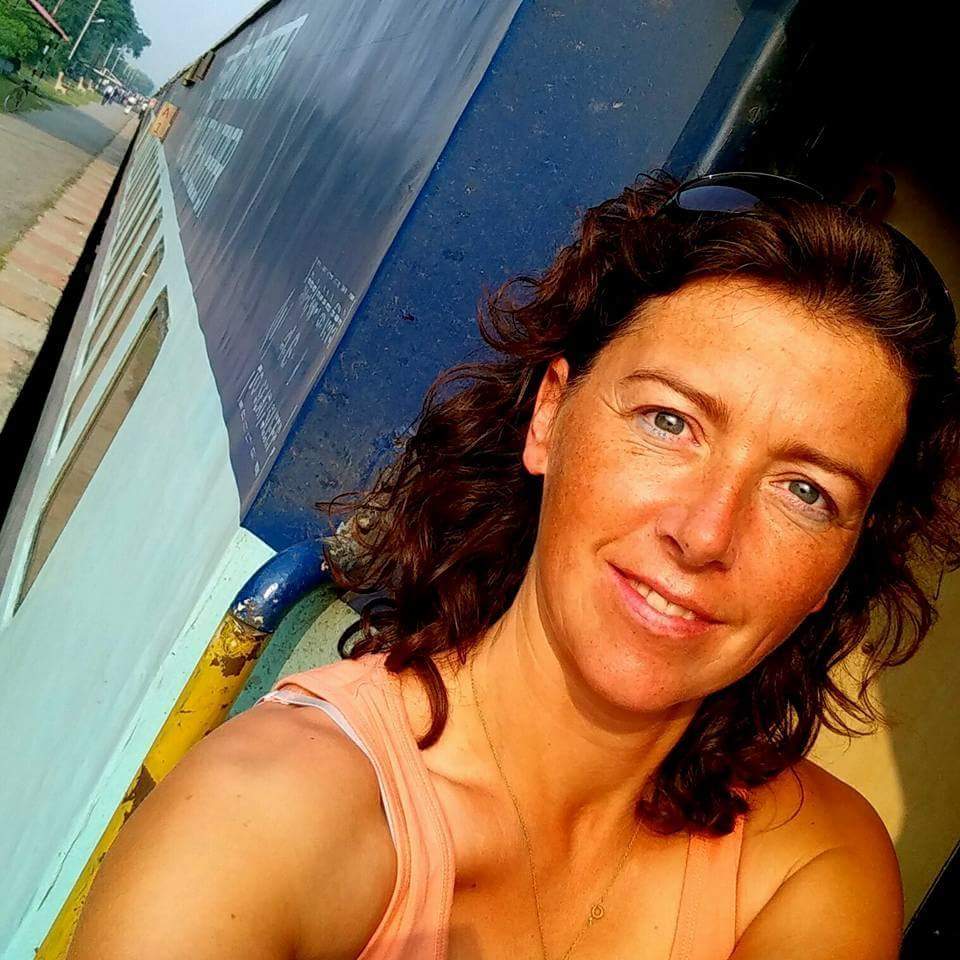 Jacomijn is een politieagent uit Nederland die jou graag laat zien hoe je veilig, actief en gezond de wereld kan over reizen. Safe and Healthy travel is a MUST