Rickshaw Challenge MumbaiXpress – 3 women, 1 autorickshaw and a 2000 km ride through 5 states of India
|
And once again I took on the ultimate challenge in India. #IncredibleIndia The Rickshaw Challenge MumbaiXpress! This time, I was going to cross a whopping 2000 km around India's unpredictable and chaotic traffic. The first time it was only '1000' and following that, there were two brave colleagues of mine who were also up for that ultimate challenge. Well, you don't have to ask me something like that twice and so we planned another Rickshaw Challenge.
This whole plan had already been planned in 2020 before corona threw a spanner in the works. Then we were supposed to go to Oman and then India. Oman was postponed to the end of 2021 and was a fantastic trip and finally in August 2022 we went to Mumbai for the 2000 km Rickshaw Challenge MumbaiXpress.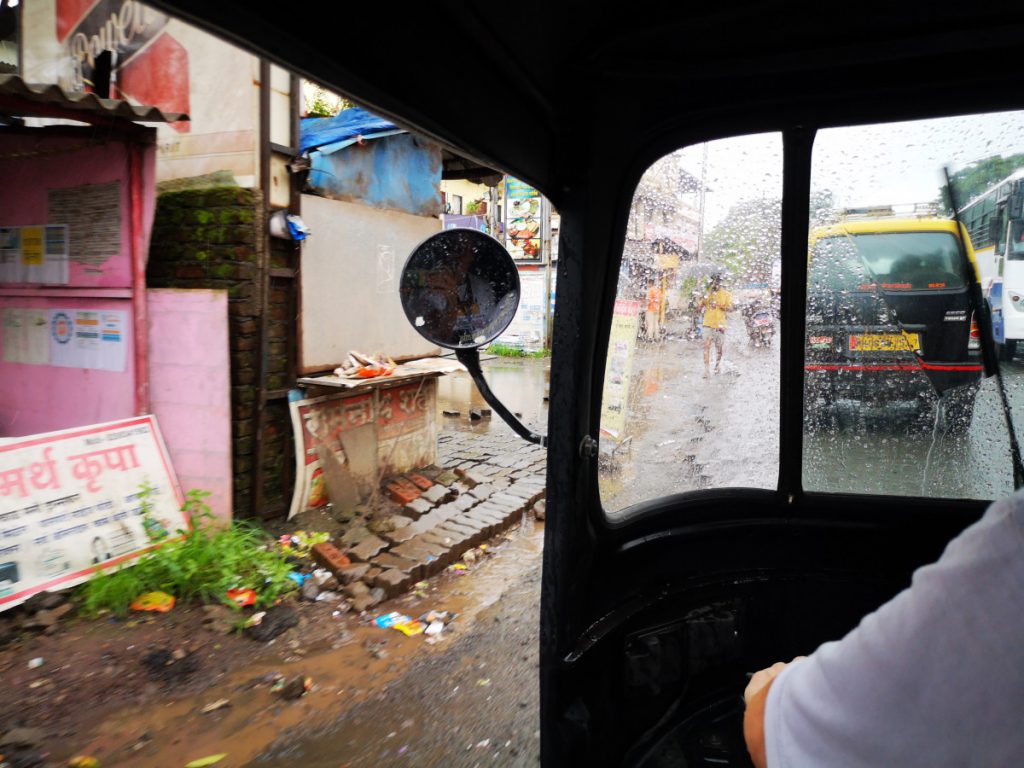 Let the Ultimate Adventure begin
Rickshaw Challenge MumbaiXpress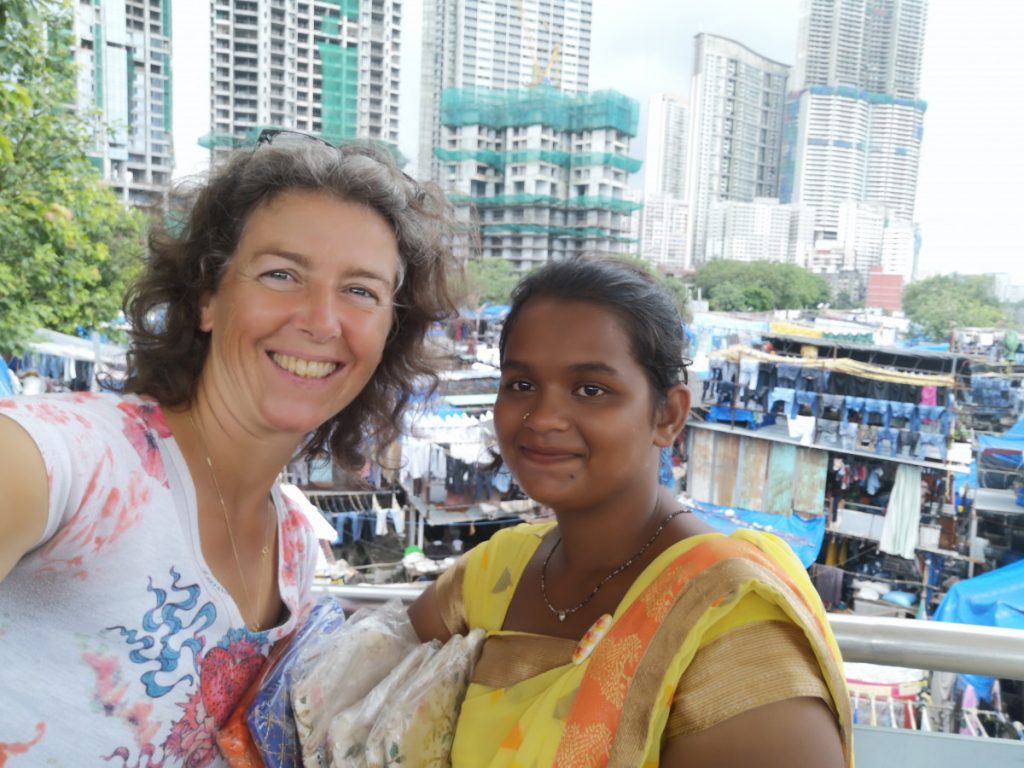 How much I missed India… How I missed the lovely people…. And how I missed the delicious food!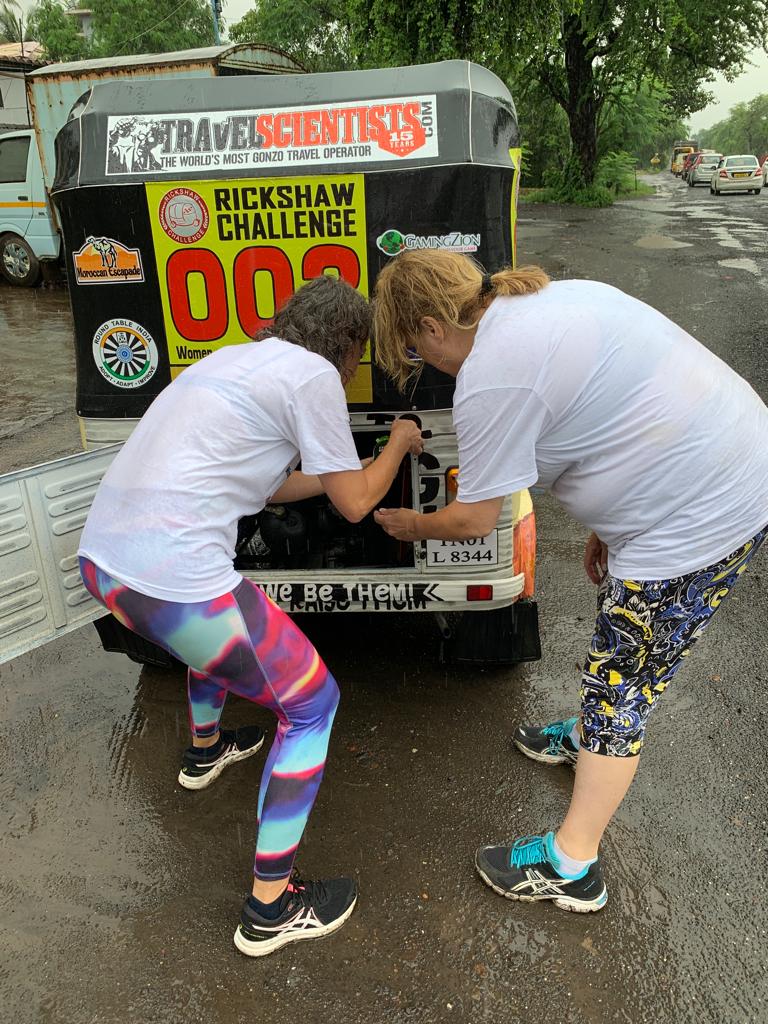 What is the Rickshaw Challenge MumbaiXpres?
The Rickshaw Challenge is a competition. You compete against other teams who have also signed up to go on the ultimate two-stroke tuktuk tour. The competition is guided to the extent that you will of course have to drive alone in traffic but accommodation is arranged (with most packages), a so-called garage bus will ride along and people from the organisation will be able to assist on all sorts of fronts should you need it.
There are two buses that run the whole trip. 1 bus for your luggage that drives forward but also a bus that is the garage. This one makes sure it drives a bit between the teams and so if there is a breakdown it can get to you pretty quickly. What's also nice then – you have wifi in your rickshaw. There is a device built in, or like this time with rainy season, you get the device with you. So you can always give your location, call via whatsapp oid.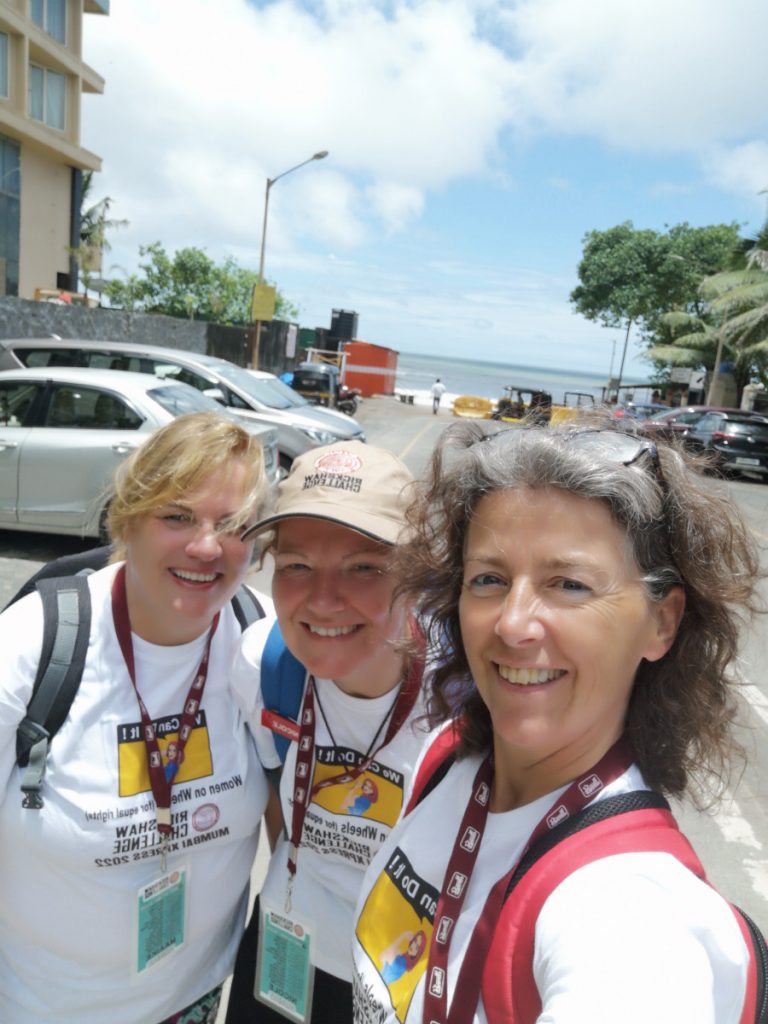 Rickshaw Challenge MumbaiXpress
Every morning there is a short briefing. We go through the day, which places are worth visiting? What should we pay attention to, are there roads you should or shouldn't go along? With the rainy season we were in this time, this was useful to know. But also in that briefing, the paper is handed out with the questions you have to answer and the photos you have to take that day. Photos that are asked for are e.g. a photo of a strange road sign with a team member and your rickshaw.
Really you are never alone on this trip. You are in team of course, 2 or 3 people but you are bound to meet the other teams as well. Often when you are standing somewhere you will see or hear another team passing by (honking or screaming from the rickshaw) and if necessary they will of course stop to offer help …. or you just do a cup of chai together! Super cosy in other words.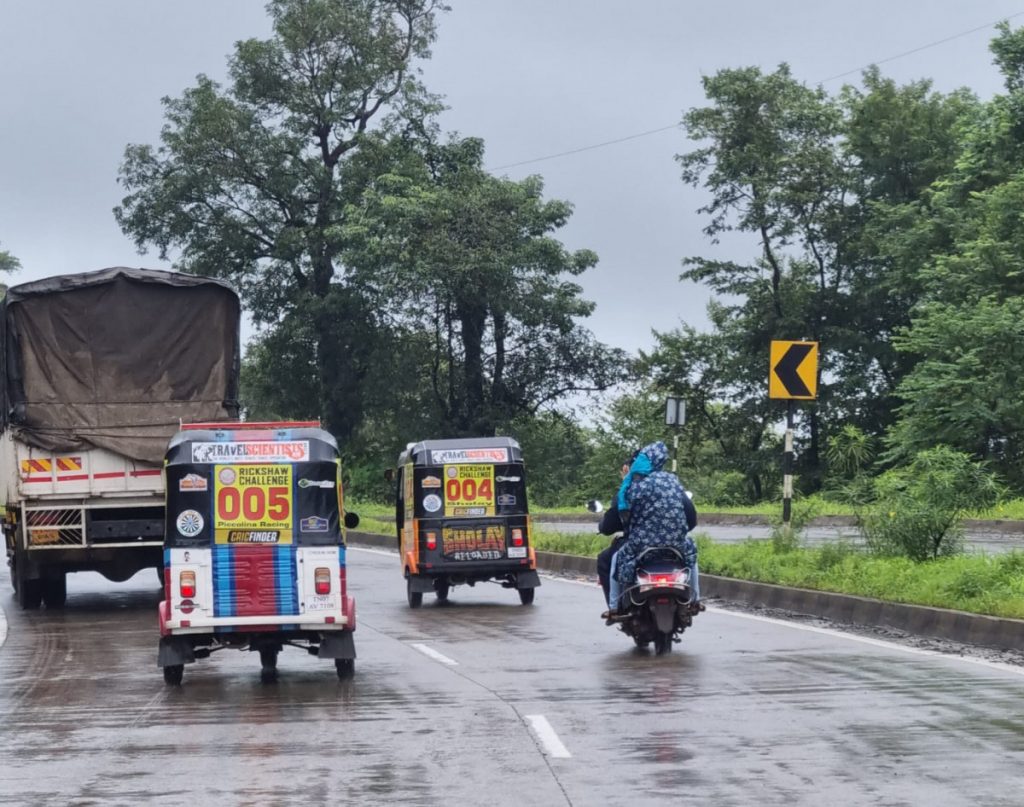 It sometimes reminded me of the camino. Where you are in a foreign country but still part of a community and where you meet acquaintances just anywhere. That cohesion is really nice!
The Rickshaw Challenge MumbaiXpress takes you through 5 states, past many big cities like Pune, Panaji, Mysore and Bangalore but many more small villages in the 2000 km drive from Mumbai on the west coast to Chennai on the east coast!
How many different Rickshaw Challenges are there?
If you go to the Rickshaw Challenge website, you will see that there are several challenges. In 2019, I did the Tamil Nadu Run, so now the Rickshaw Challenge MumbaiXpress and in addition, you also have the Deccan Odyssey, Malabar Rampage and the Classic Run. They vary in distances and hence days. The shortest is 7 days and the longest 14. Now let it be that I have those 2 ticked off now.
I am open to doing another one too…Who wants to?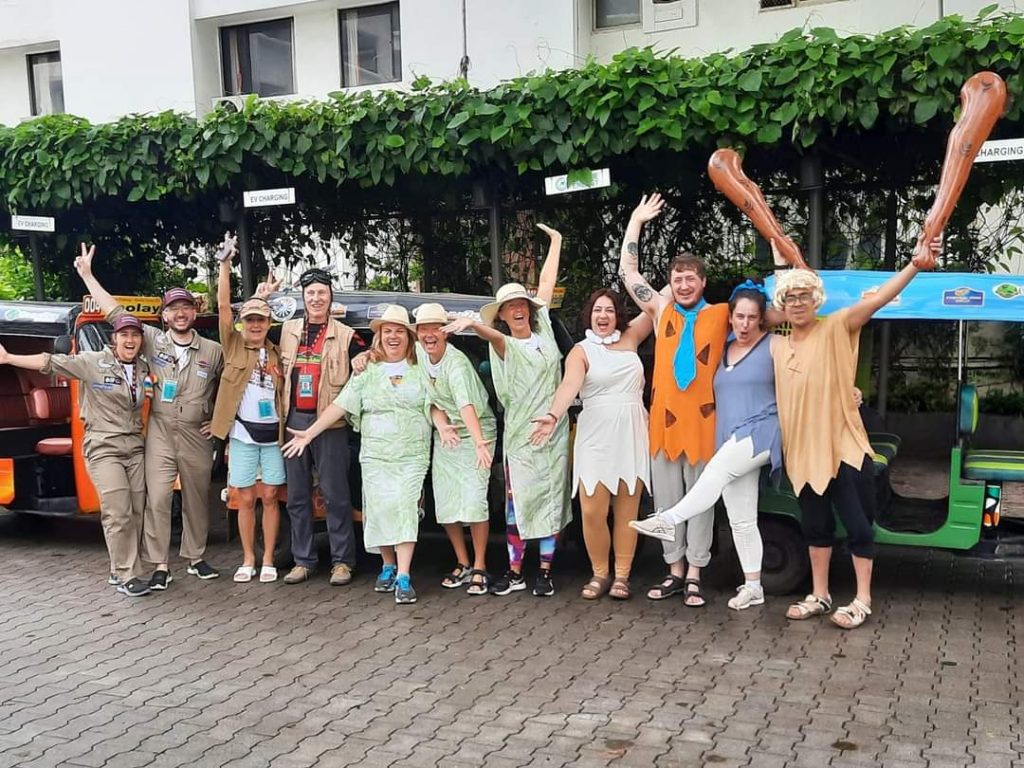 Meet the 5 teams of the Rickshaw Challenge MumbaXpress 2022
How many teams wheren there? How much will you interact?
During the Rickshaw Challenge MumbaiXpress, there were 5 teams of us. We had one German team and 3 British teams. 2 British teams were 1 company and pulled together a bit more. But eventually, after a week, you do become a big company and everyone starts to get a bit of a place. Some might be a bit more on their own, others you know are doing well with the competition and others you know the goal is just to get over and find a pub.
Contacting each other the first time was in a Facebook group set up specifically for that trip. This time, it was a cosy whatsapp group. In it, videos and photos are shared throughout the day, what everyone is experiencing and what goes right or wrong. But also, who eats where tonight and what time is tomorrow's briefing? Daily updates are also shared on their own Facebook page.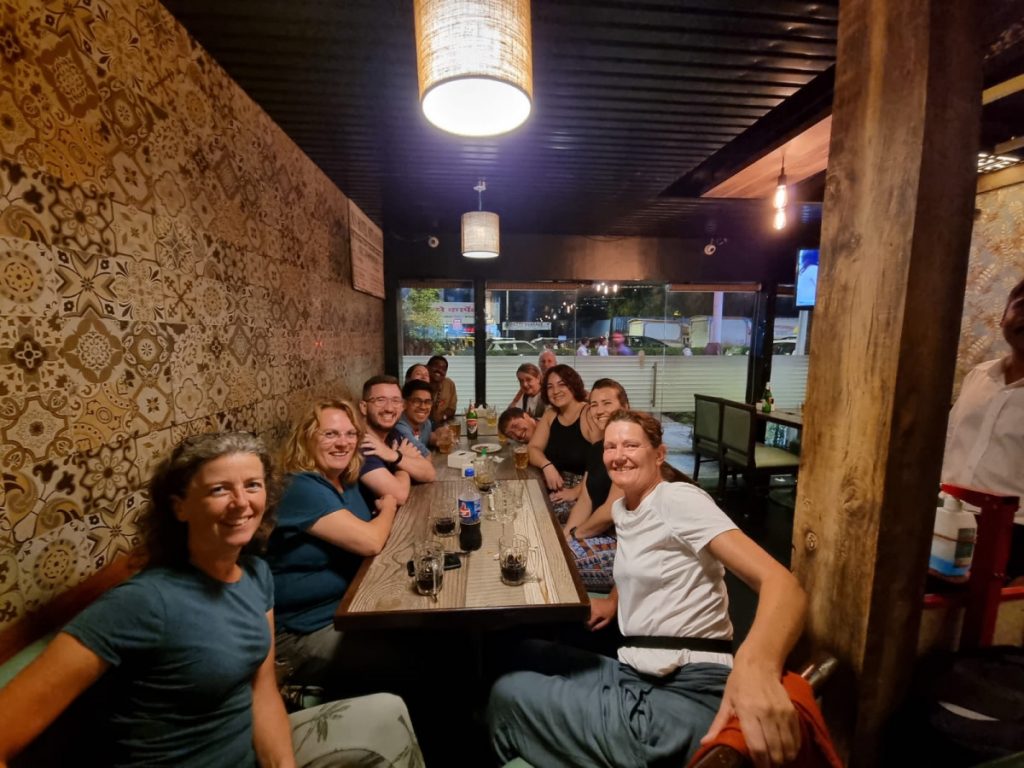 Our team:  Women on Wheels – For Equal Rights
Last time, I had two fellow bloggers (Aniek and Diana) named Dutch Angels but this time we took a slightly different approach. This time, I was with two police colleagues (Nicole and Maaike) and we wanted to draw attention to an issue. When it was shared in the news that a girl was raped by a police officer when she wanted to report that she had been raped, we wanted to do something with this.
Initially it was because of this news but our attention was also drawn to the unfairness of treatment of women. Not getting equal opportunities, but also the caste system that comes with it in India. So we ended up keeping it broad, we didn't want to go political or religious and so it became the general quote for equal rights.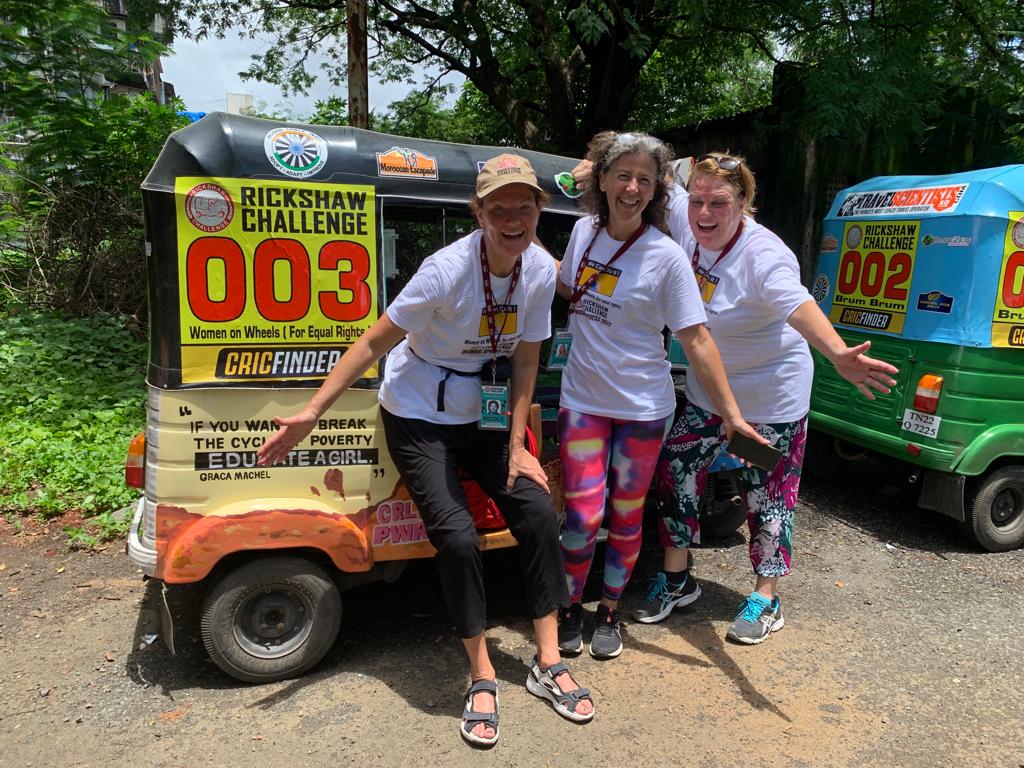 3 women, 1 autorickshaw and a 2000 km ride through 5 states of India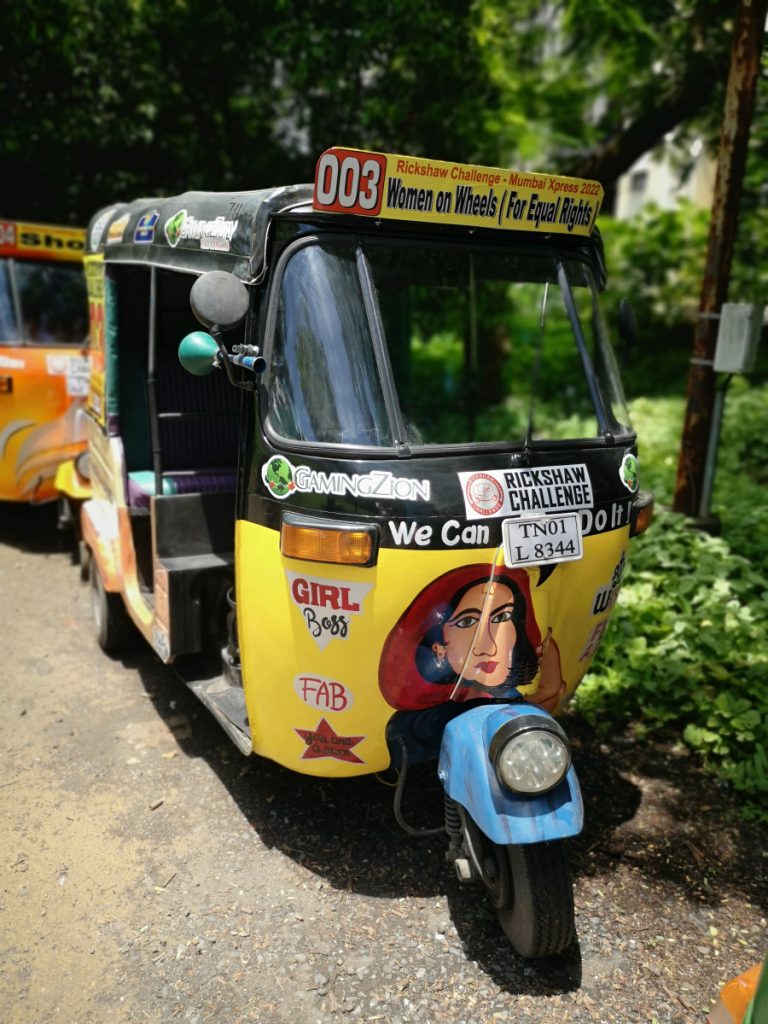 Equal Rights for Women – Something that of course plays out across the world but as with everything in India…. The differences are just bigger. It is so odd to realise that proportionately there are more women in high positions in India than in many other countries…but on the other hand, girls are still being married off and cannot / are not allowed to go to school.
So, for our rickshaw Challenge MumbaiXpress, we had the rickshaw pimped again with beautiful quotes indicating what we stand for. This pimp was in the package we bought and so we sent pictures and quotes and hoped for a nice design. Last time, Tamil Nadu Run, it had worked out really well with our Delfts blue rickshaw so I was confident this time too.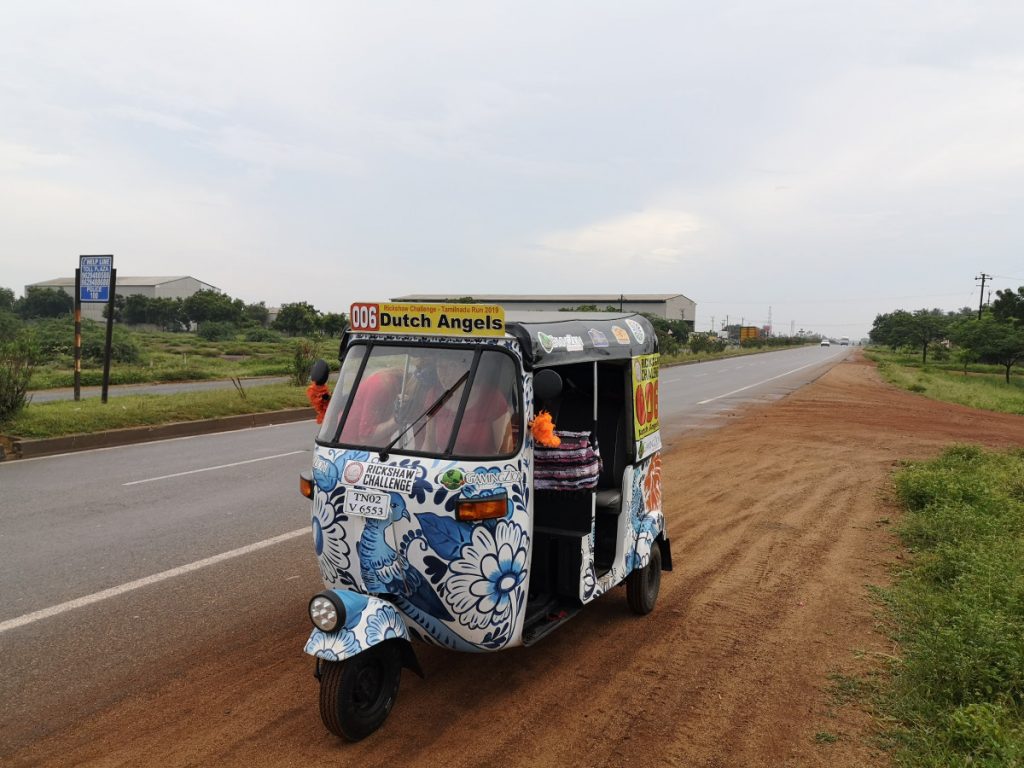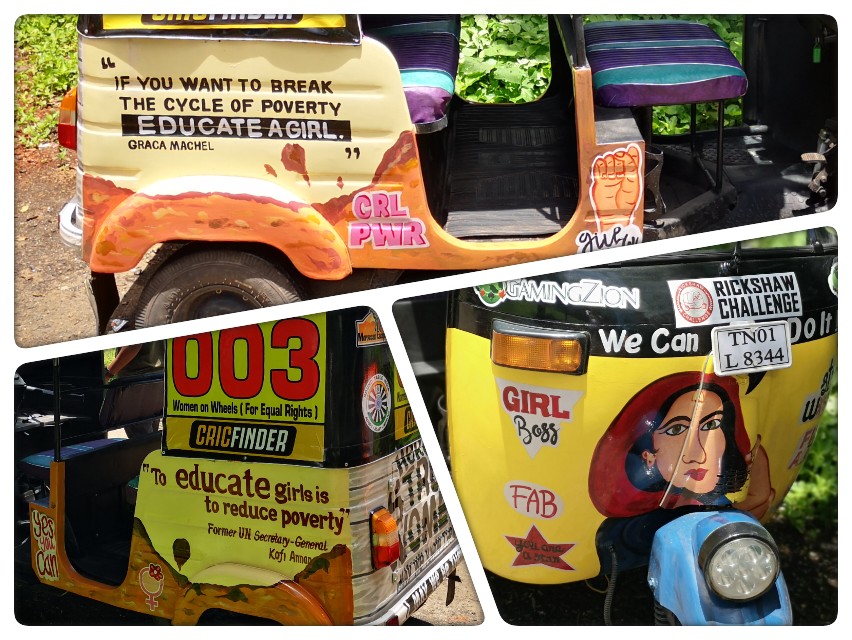 Driving the rickshaw is quite easy, once you get the hang of it.  It's a two-stroke moped, so to speak. Before, I don't know if you remember… you also had to actually pedal a moped while accelerating and holding down the clutch. These were the so-called gentleman's mopeds that my girlfriend I grew up with used to ride.
Now it works the same way with the Rickshaw, you pull up a lever several times to choke, which is on the ground to the left of you. If you then let go of the clutch, which is also on the left, you pull the lever hard again and the rickshaw starts if you then also give a bit of throttle with the right.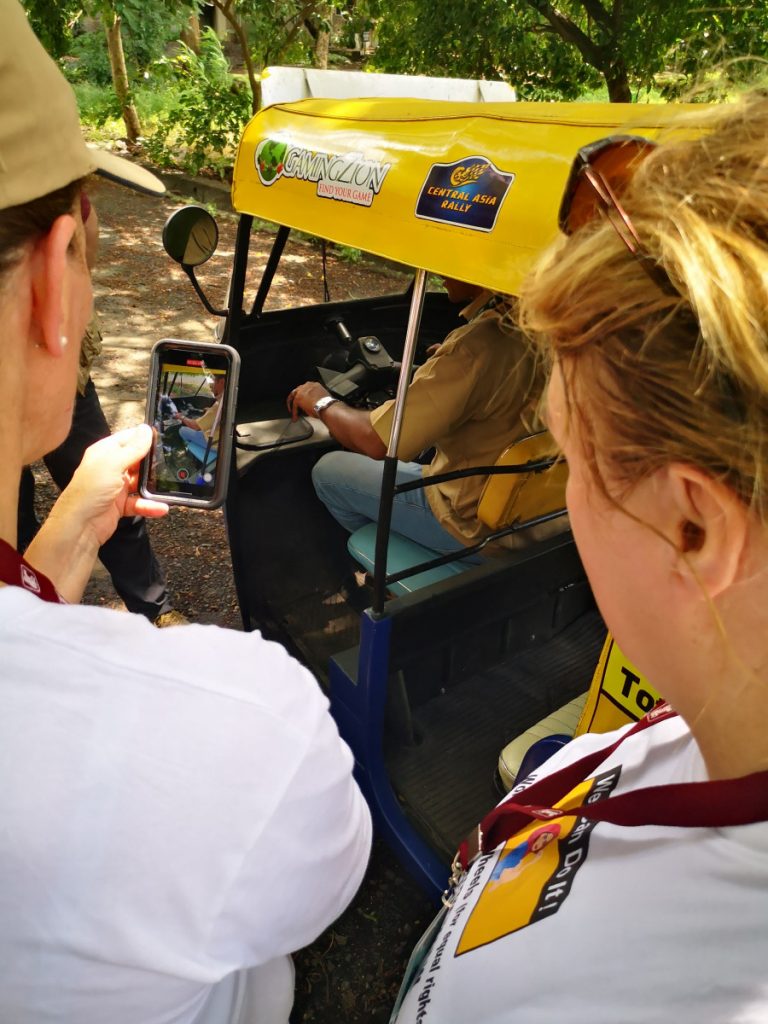 Driving lessons for the Rickshaw
So it's a number of actions that you have to perform almost simultaneously but after a day or two you'll have that dexterity firmly in place. But that's also why it's good that an afternoon driving lesson is given in a car park where there is almost no traffic.
Times of India – Mumbai & Bangalore / and the Tubantia
Already on the first day of the Rickshaw Challenge MumbaiXpress, we were noticed with our cool rickshaw. We were still in Mumbai and photographers were taking pictures of us and our eye-catching rickshaw. Questions were asked about the quotes and our trip and quickly I was able to give my phone number to 1 of the photographers as it turned green. It is very busy traffic as you might suspect…so standing still longer when it turns green is not a good plan. The next day, I got a call from Alex Fernandez of the newspaper. He had heard about us and seen our photos and was keen to share our story in the Times of India.
Maaike behind the wheel and Nicole and I snuggled up in the back.

The following week, of course, we shared this on social media and were tipped off to Tubantia. And yes, they wanted a piece on it too. It was, of course, cucumber time in August and such a crazy adventure is of course a bit different from your average trip! And of course we were happy that attention was paid to our theme, more equality for women. Even in NL this is sometimes still necessary, so thanks for this reminder in the Tubantia newspaper!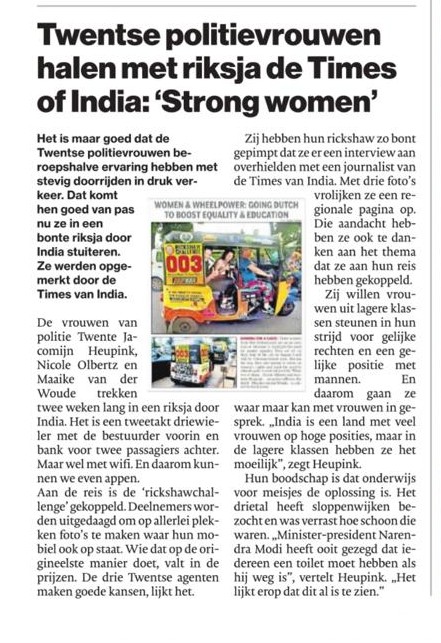 Later that week, there was another detailed article in the paper version of the Tubantia.
After this, Alex from Times of India did his best to arrange for us to be interviewed again along the way. We are super grateful to Alex for that because the Bangalore version of Times of India also thought it was worth devoting a piece to it. How cool.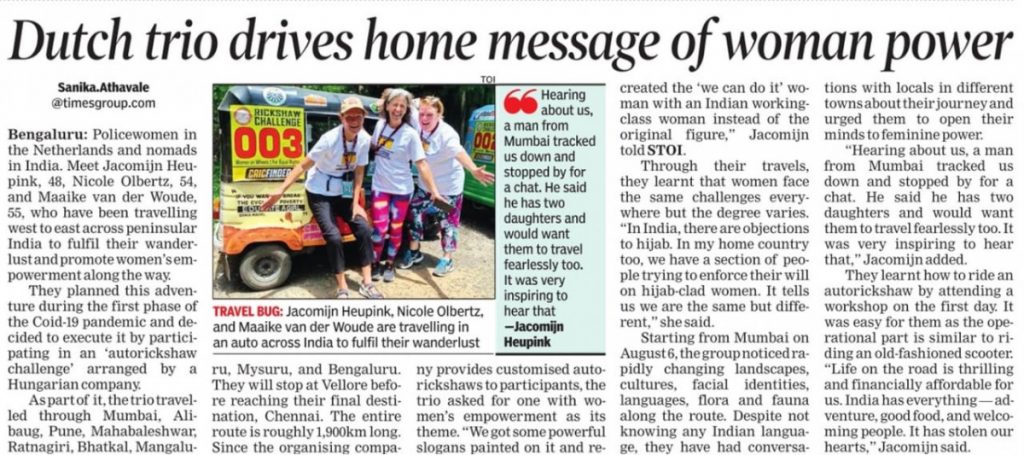 Thank you Times of India for the Exposure
Telling our story each time also made it clearer to us what we wanted to achieve. As a result, we started a number of conversations also along the street with women but also with men. How do they feel about this issue? To what extent are they bothered by this. Of course, it is always a question of whether people actually say how it is. We spoke to men who all indicated that they really liked what we were doing. Yes of course they were also supportive of this.
We ourselves were recognised by a man who had his taxi running so he could strike up a conversation with us at a petrol station where we happened to be filling up. He mentioned that he had daughters and he would like them to travel too and, of course, study.
We also spoke to young women who worked at a petrol station. They indicated that where they lived, the caste system had little influence left. Everyone had equal opportunities we were assured. Also at a school where we were guests, we were told that for the past ten years or so, it has been compulsory for every child to attend school. Does a child not attend? Then they go on home visits. I do wonder then that if you don't have a home, can't afford a school uniform how things work then.
But so the sounds were mostly super positive.
Of course, that makes you happy.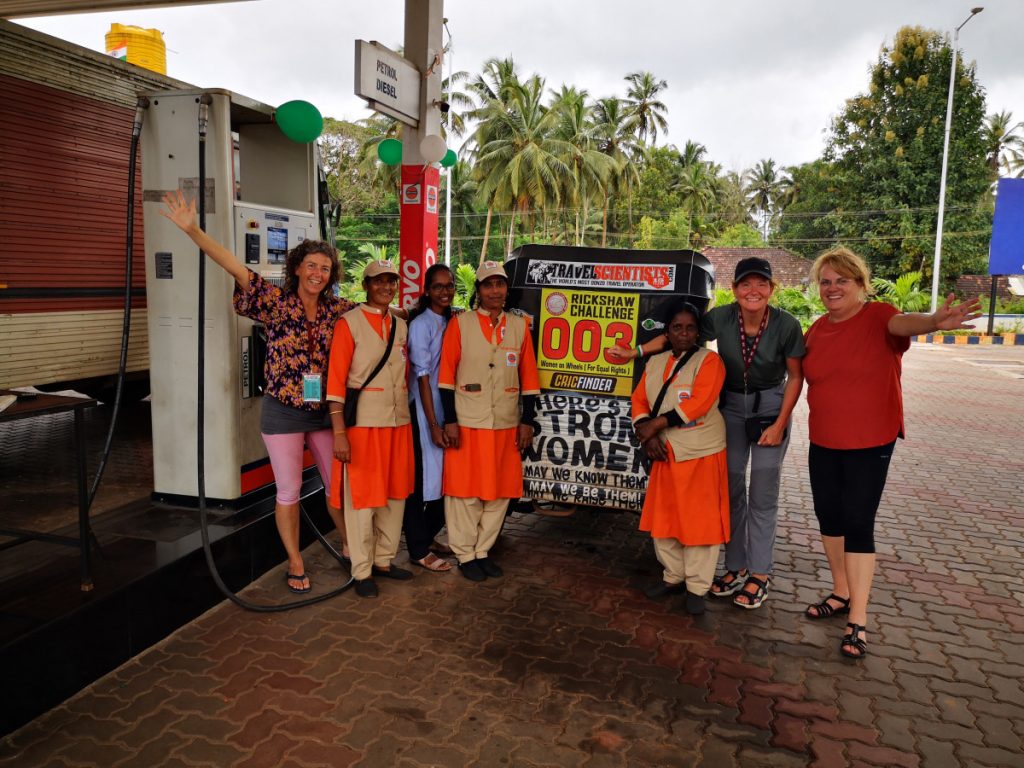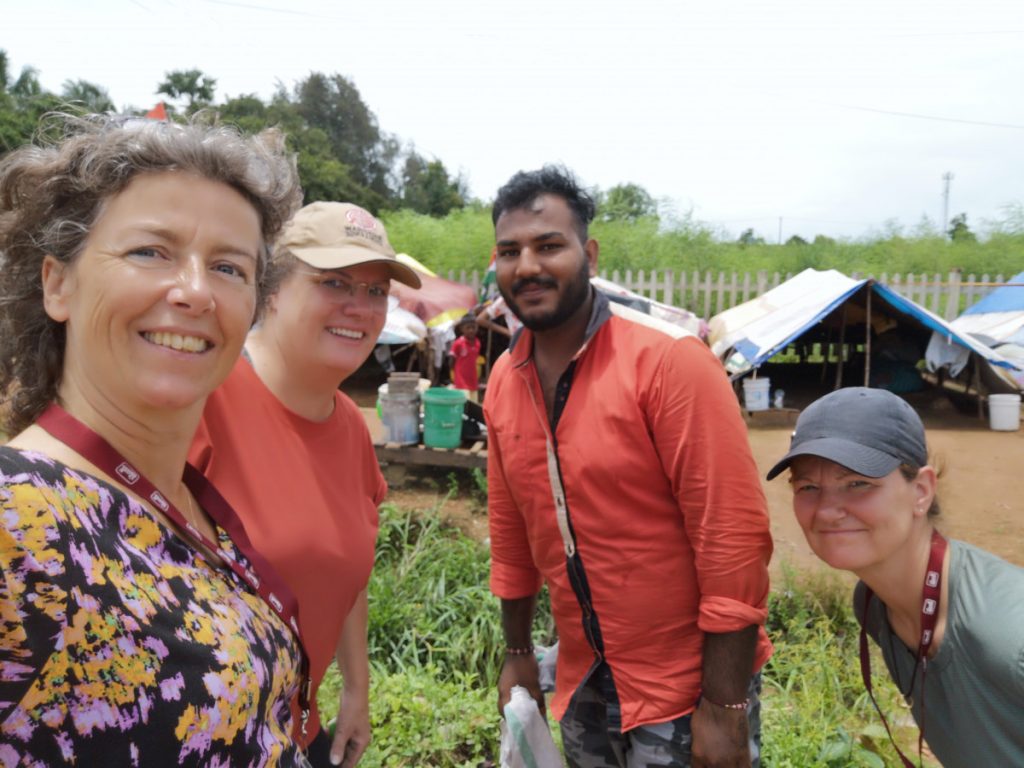 And the people of India always make me happy. They are open, cheerful, sincere and curious. That makes visiting India a treat every time. I am also very happy that Maaike and Nicole experienced it the same way. That they have now also fallen a little in love with beautiful but also dirty India. You have to have been there to be able to say that…really!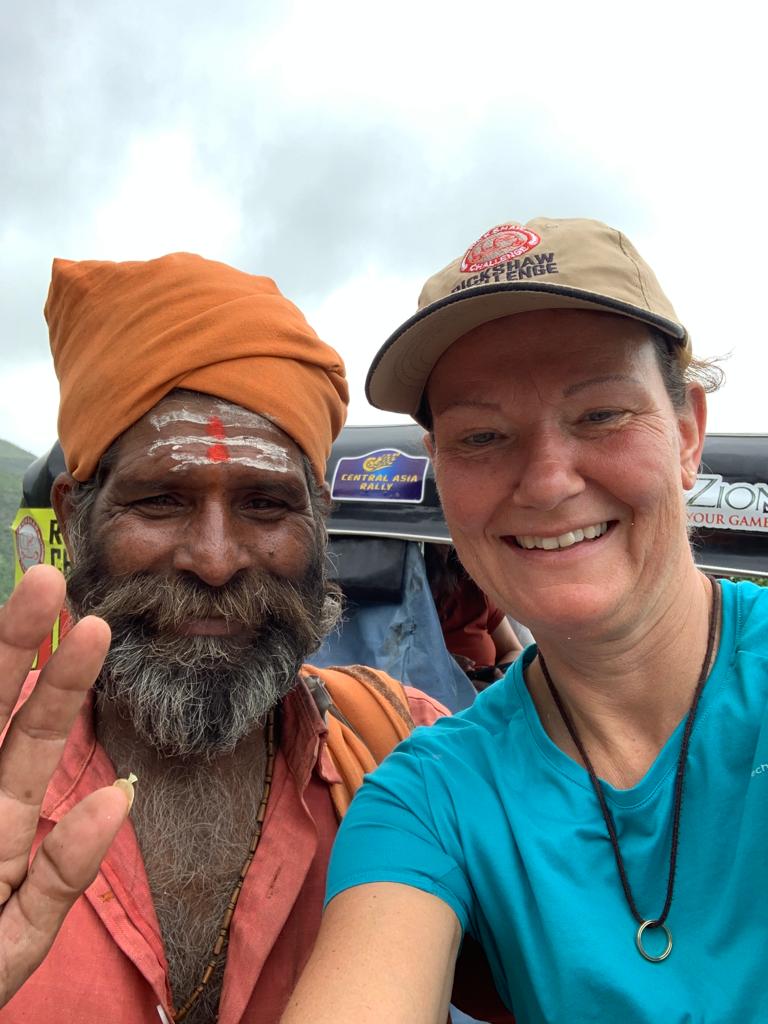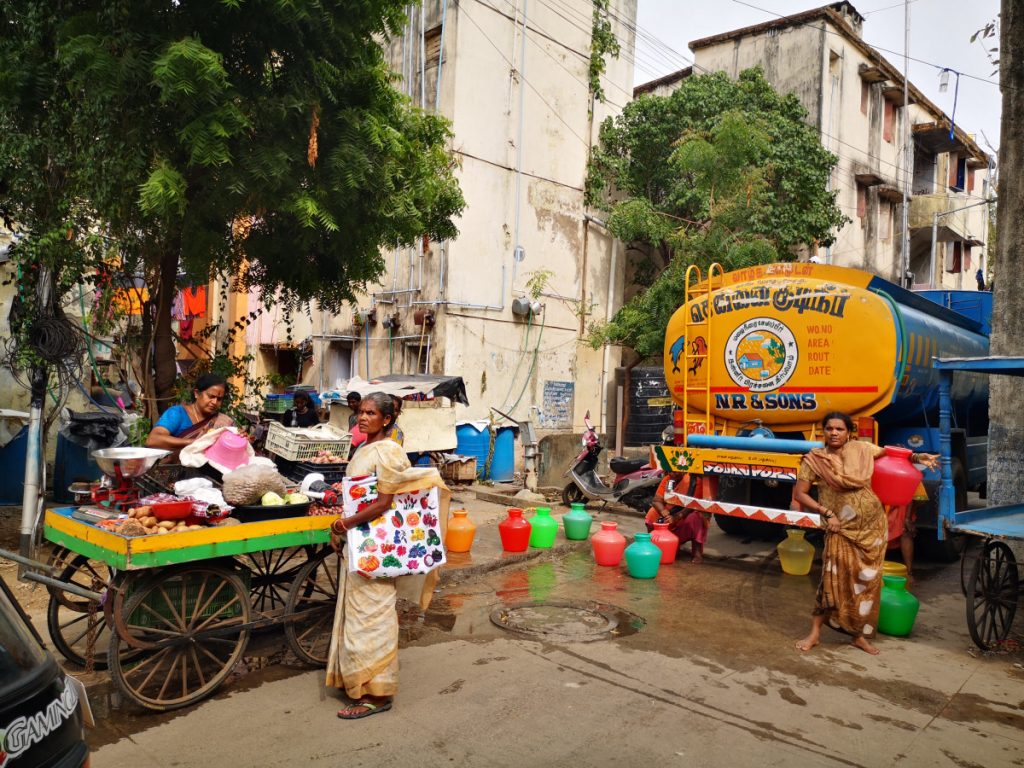 De most beautiful moments during the Rickshaw Challenge MumbaiXpress
Then when the three of you are cruising around the country for 14 days in a Rickshaw, there are a lot of great moments of course! You literally sit on each other's laps, so no privacy. The fact that you are on the road, have surprising views every time and fun and happy people pass by every time is really super!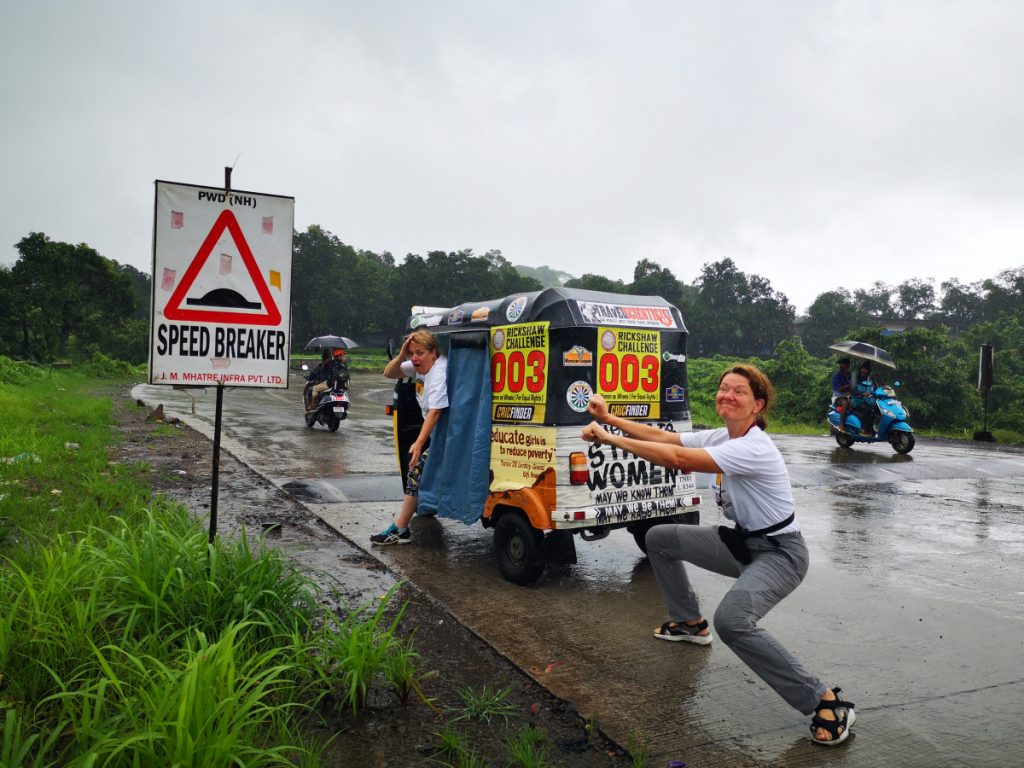 We were not bored for a moment…. We also had almost no problems in the Rickshaw but not with it either. It held up super well. Once we had a broken off exhaust…. And once that the brakes didn't work, this while fortunately we didn't drive down the mountain or full throttle on the motorway but in town so that too worked out fine. Unfortunately I was stupid enough to think I could help braking…on slippers…. So that didn't go quite right but otherwise we got off with a scare. The garage was still driving close by and in no time we were on our way again.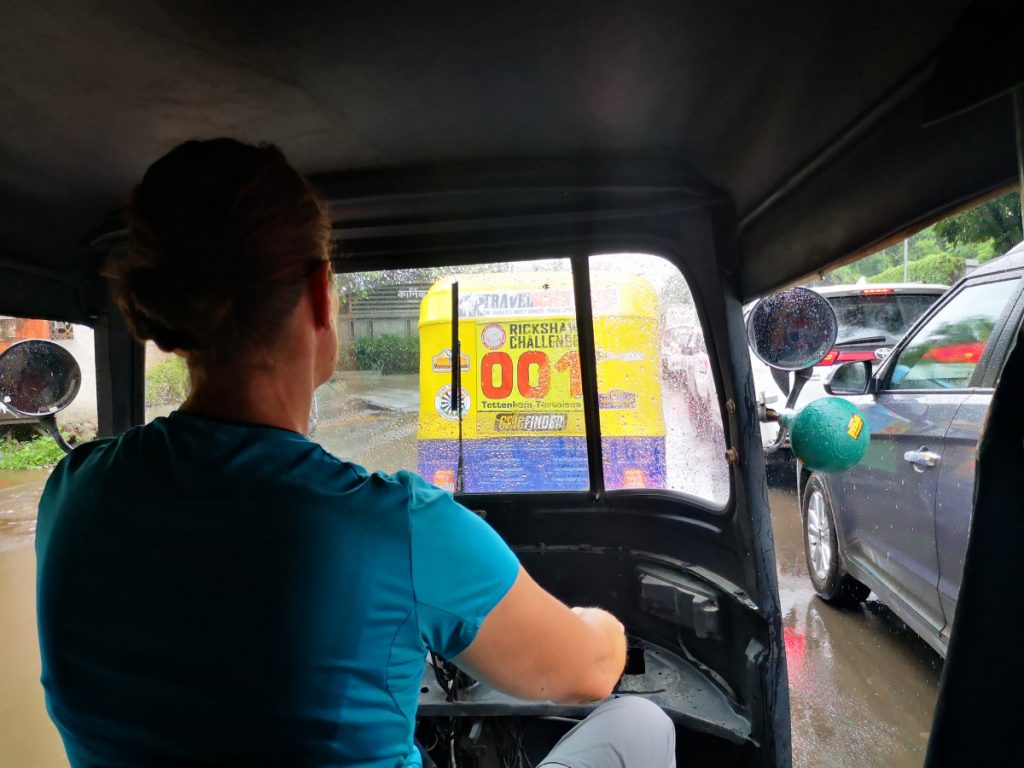 Rickshaw Challenge MumbaiXpress – India
But then, what were the best moments?
We were instructed to take pictures with the rickshaw and the beach, the coast. These were also the last two days we drove down the west coast on our way to Panaji, Goa. At various times, we chose to go off the main road and visit the small villages, mostly fishing villages. That way driving the road just along the coast. With us, or in the bigger cities, that would be a kind of boulevard but here it is a small, narrow road where the houses line. Where the boats are and where life also takes place.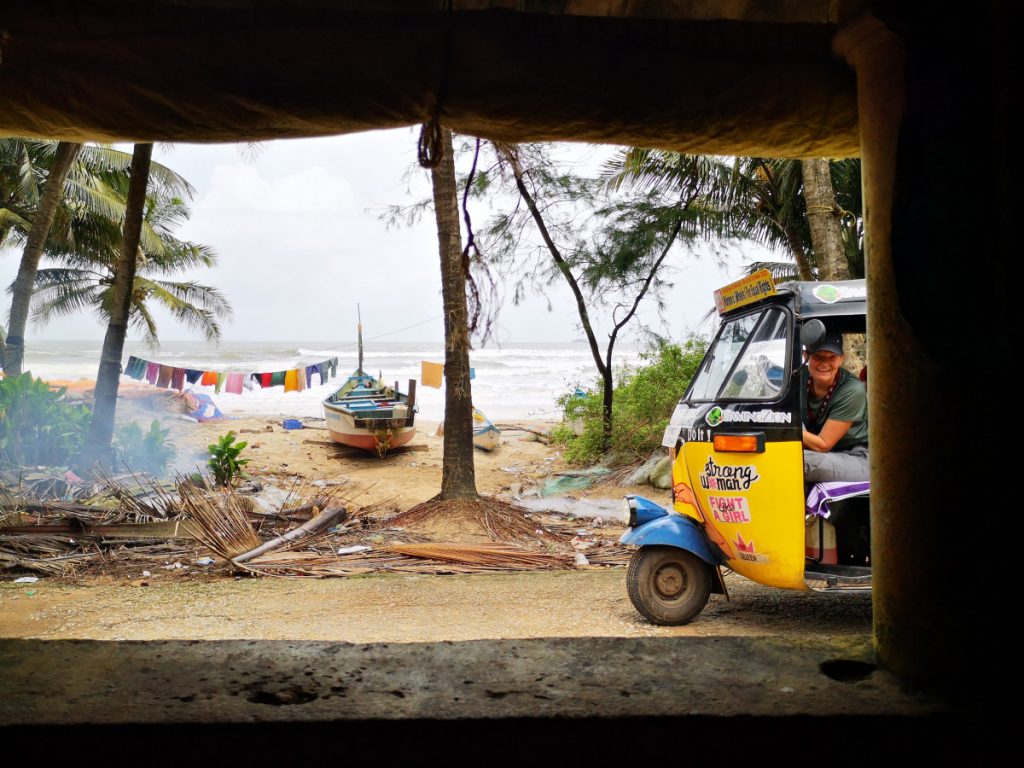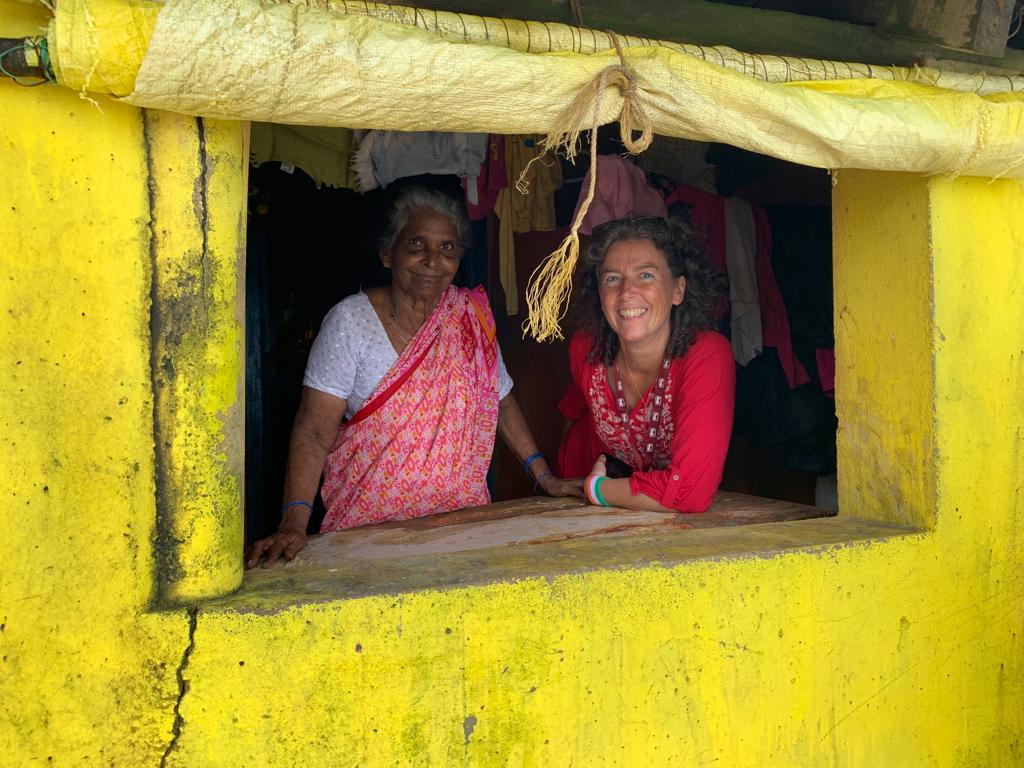 Super cool to meet people there, see life and soak up the atmosphere.
The panoramic views in the mountains?
Going inland, we had to cross the Western Ghats. Those are big mountains and big mountains also bring great views. We had nice weather in the mountains, we had rain…. We've had distant views but also lots of vegetation around us. From rivers and waterfalls to dryness and vistas across valleys. What an amazing area!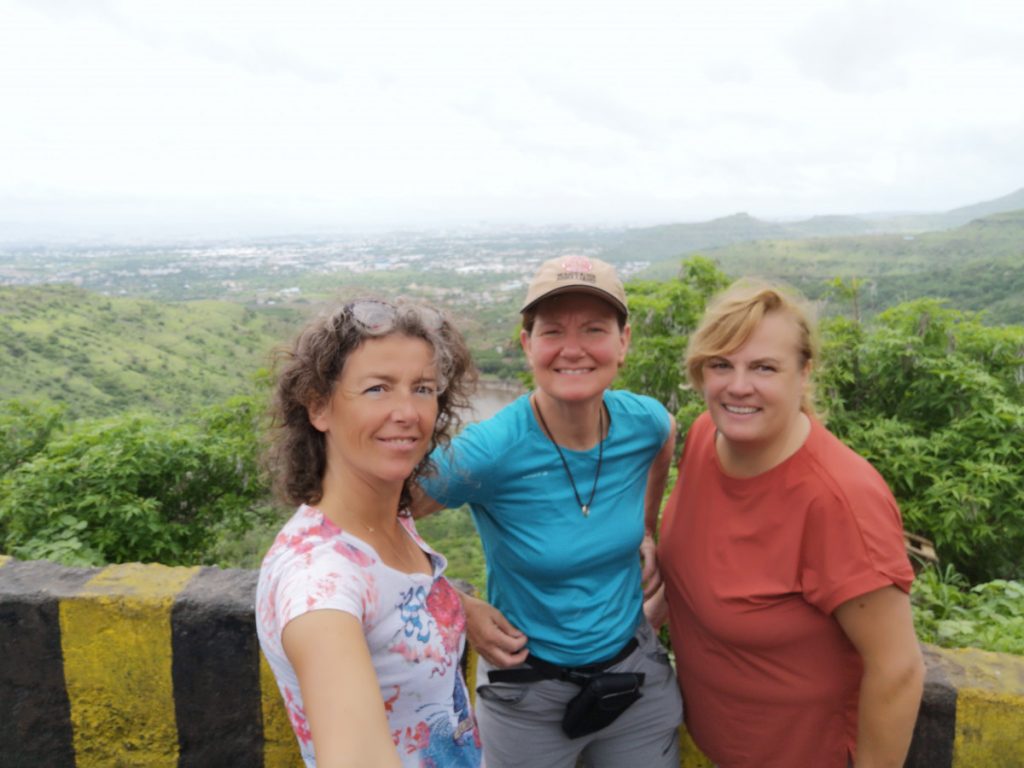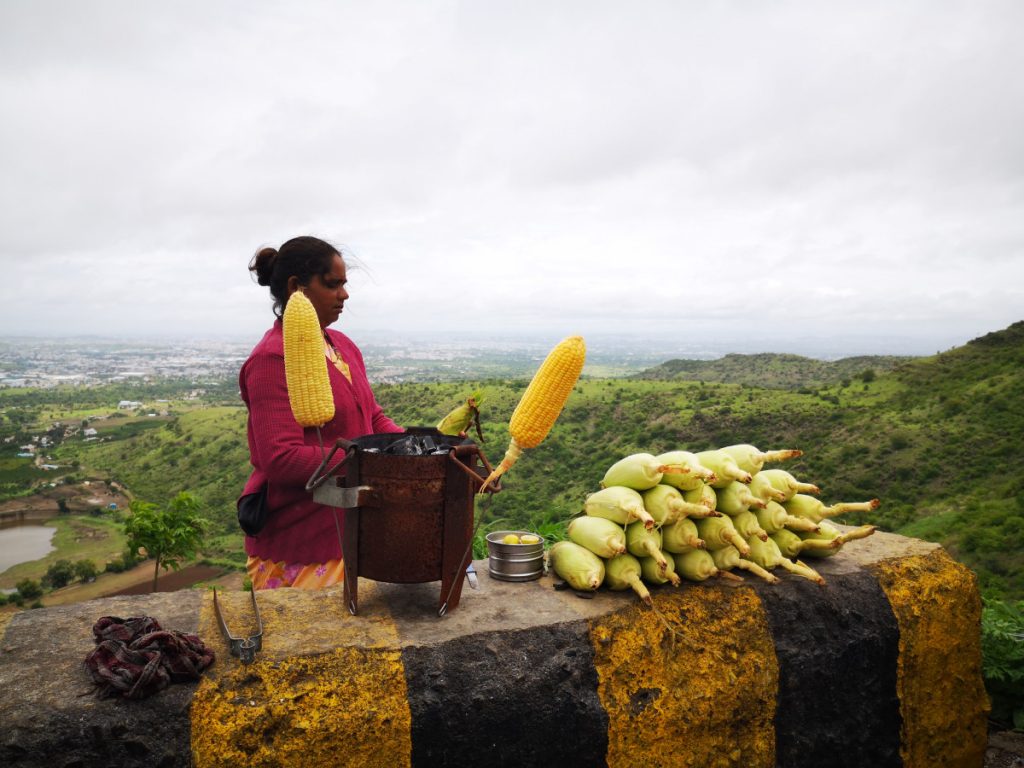 Driving in the busy city?
And when you're in India, you naturally think of the busy traffic. What a wonderful challenge that is! Of course it takes some effort but all the nicer it is when you are over without a scratch, with many happy looks around us and many Where are you from? Which we almost always answered simultaneously : The Netherlands!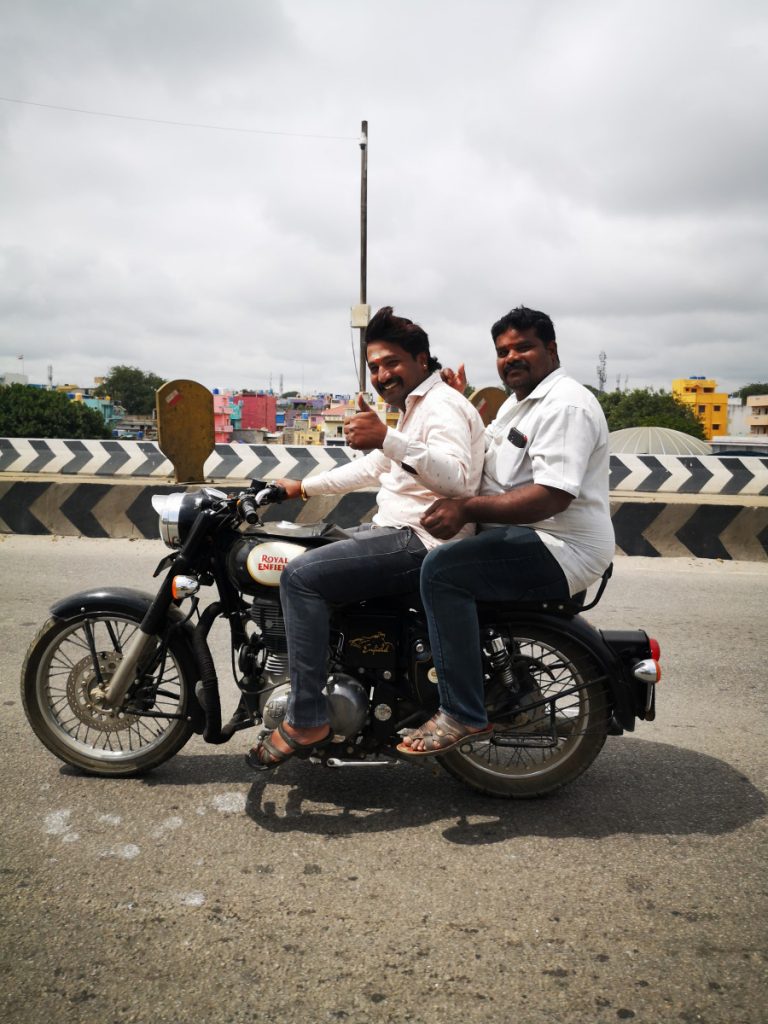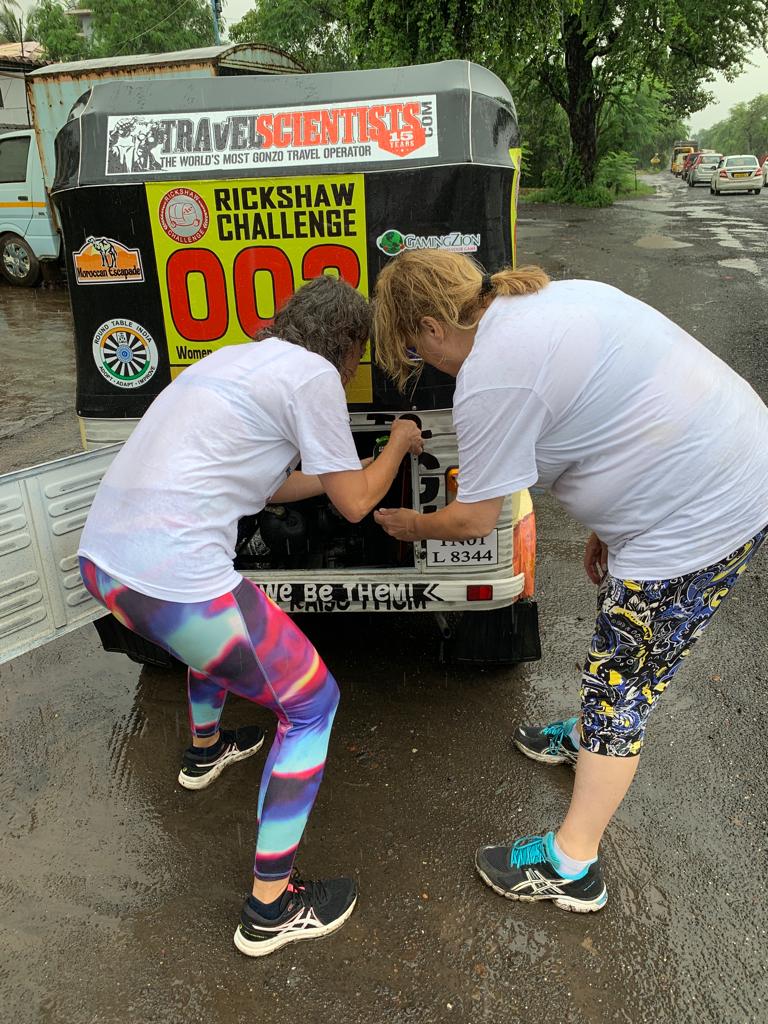 Rickshaw Challenge MumbaiXpress 2022
Imagine you are water flowing along stones… that's how you feel in traffic in India. You see someone driving and anticipate it…. The next one sees what you do and anticipates what you do and so on. Sometimes something seems impossible but if you initiate the movement then the rest moves with you so that you can do what you would like. How nice.
If only the whole world was so in tune. Seeing possibilities in moments that arise….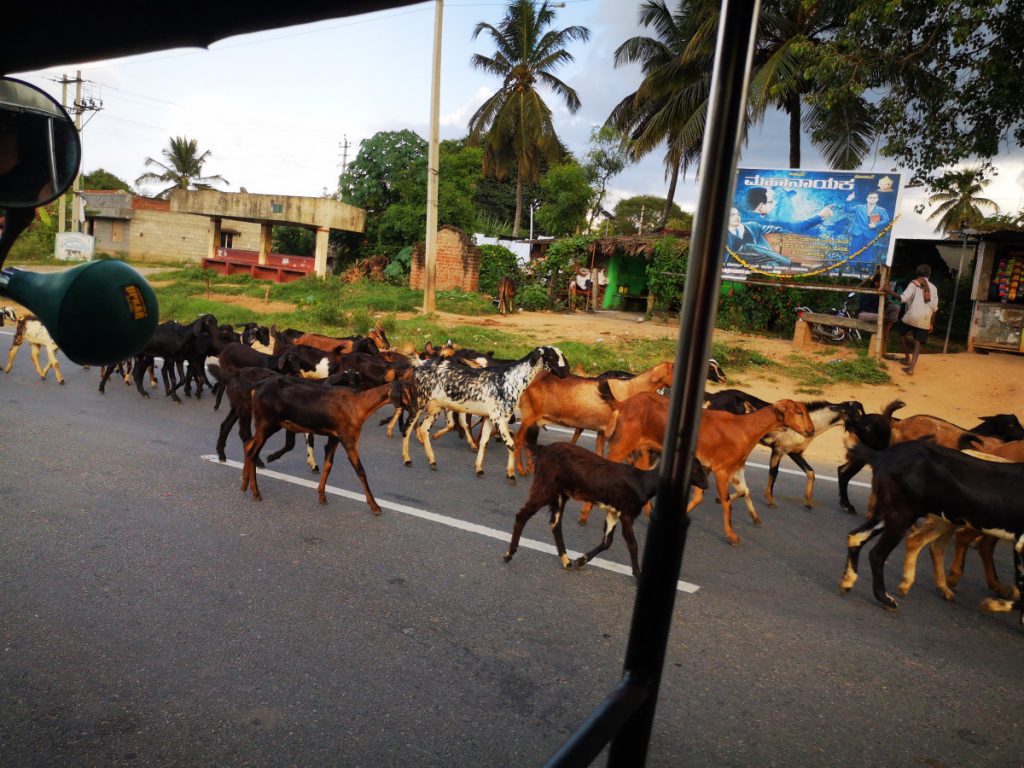 All the people are soo nice. That too makes driving through Indian traffic so much fun!
Short conversations, just a smile and a wave, great!

Or is it just the Highway?
Driving on the highway in the Netherlands is downright boring. We all go in the same direction, no eye contact with people overtaking you or you overtaking them. How different is it in India? Apart from the fact that there may of course be a cow standing or walking down the street, people also have an eye for each other.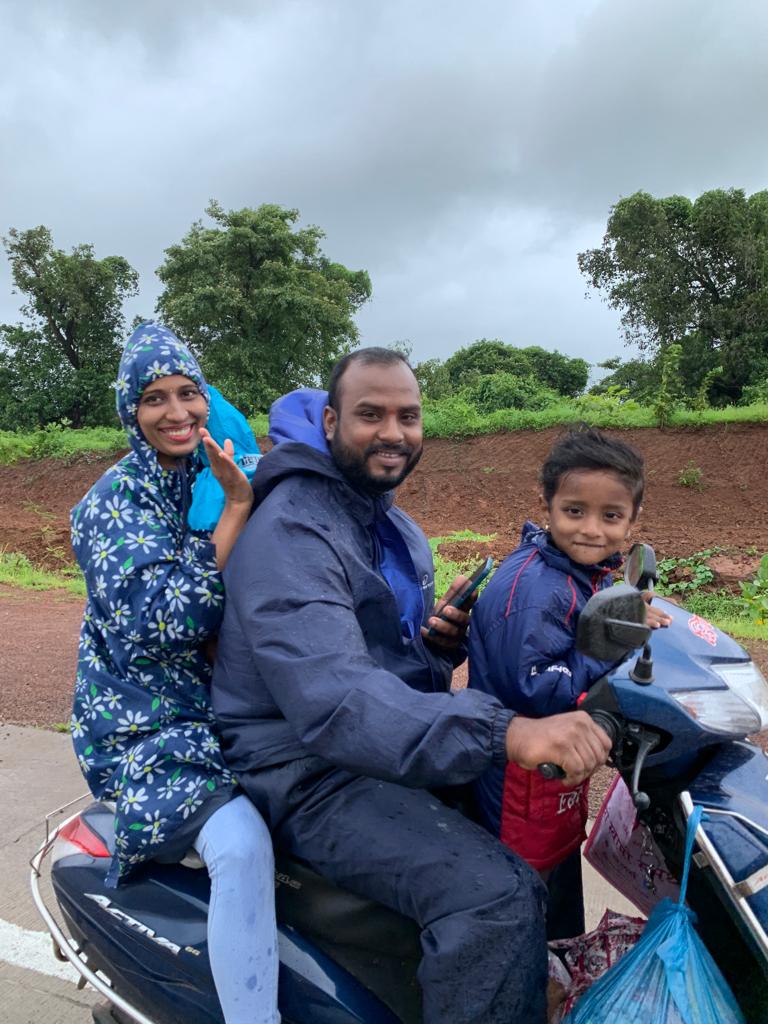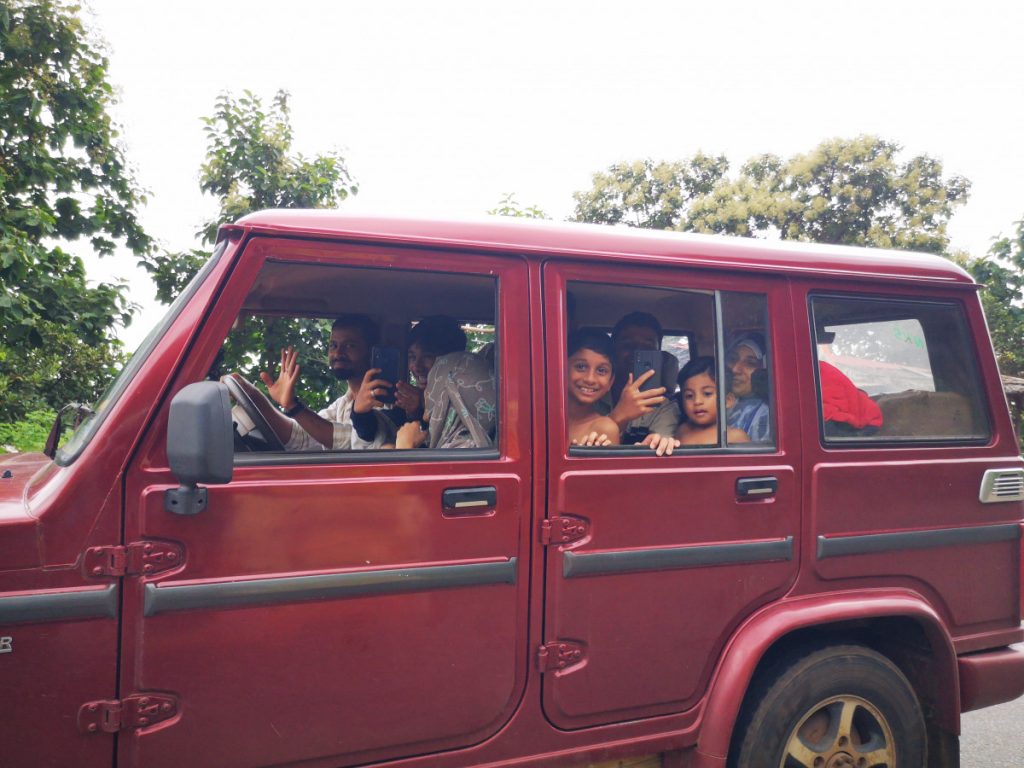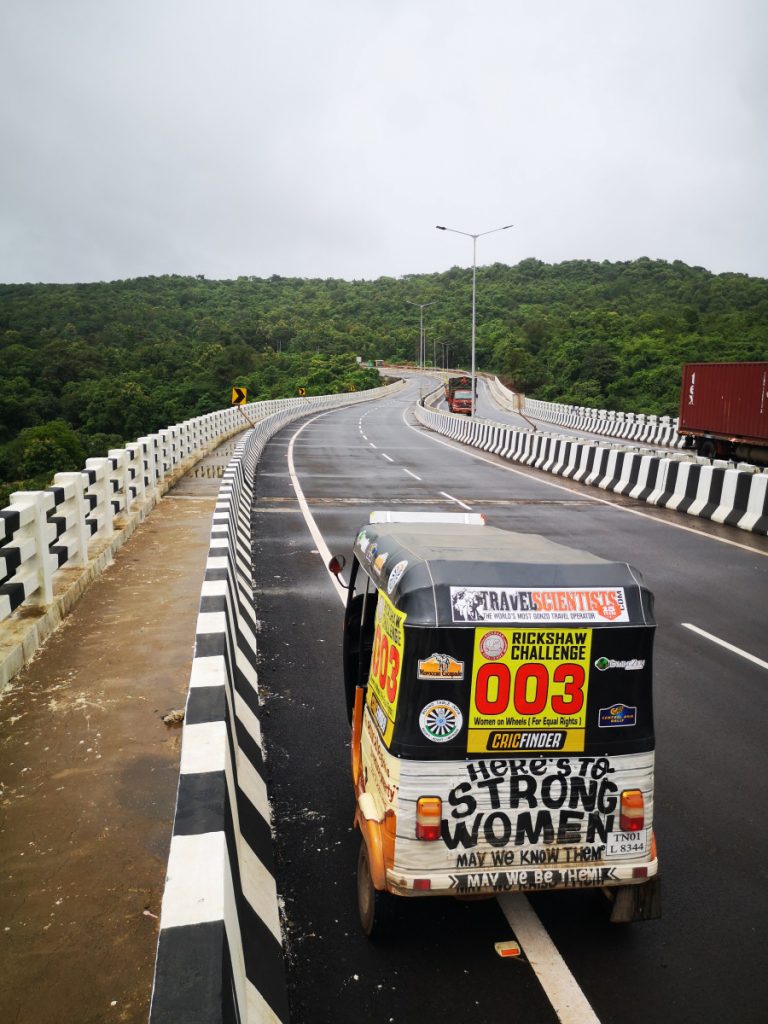 How many times have we been asked to stop for a selfie.... Yes on the motorway! How many times have we recorded each other on our phones as we passed each other three or four times. Overtaking each other several times and then taking plenty of photos and videos and then driving on. You can't imagine that at all here, can you? Then you will probably get a complaint on your trousers for invading the otherwise privacy…. "You can't take a picture of me!"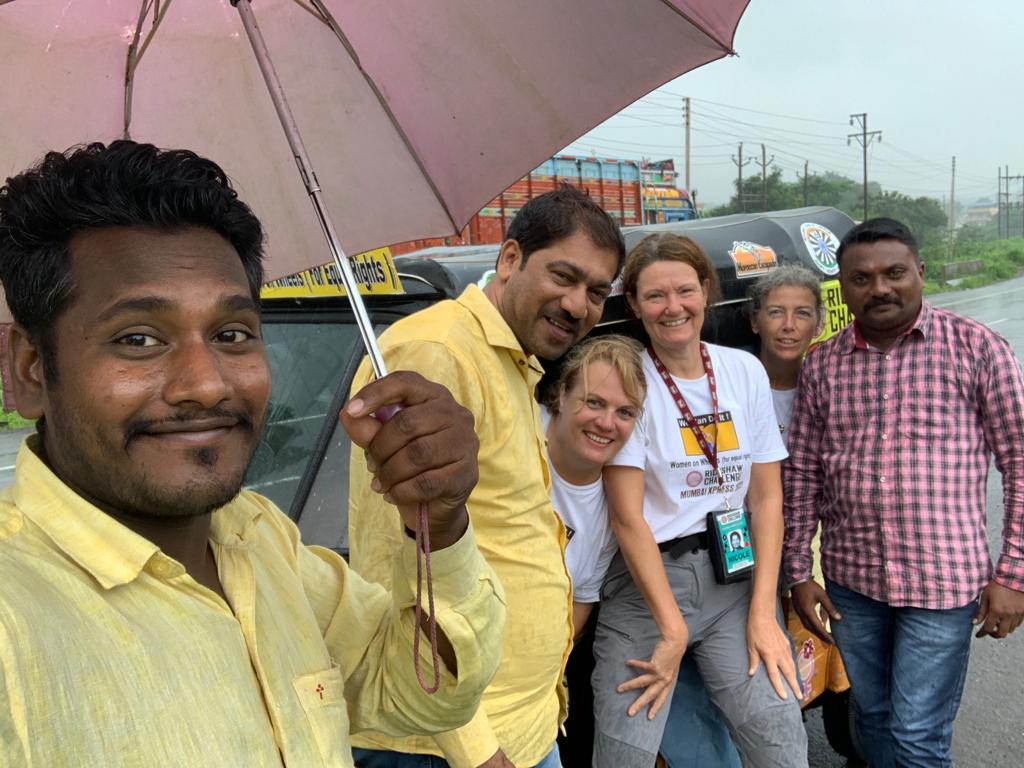 The most beautiful people during the Rickshaw Challenge MumbaiXpress
And something you never forget after such an impressive Rickshaw Challenge trip…. And I think also when just travelling around India. The lovely people! Every single one of them are happy to see you. They are happy to see that you are visiting their country, that you are open to them and that you are enjoying their country and culture.
During one of the challenges, we had to make chai / or take a photo that chai was being made. We combined the two and I soon ducked into a shop during a roadside stop to help mash the fresh ingredients and then served the tea. As a return performance, we took her a piece.
What a great woman!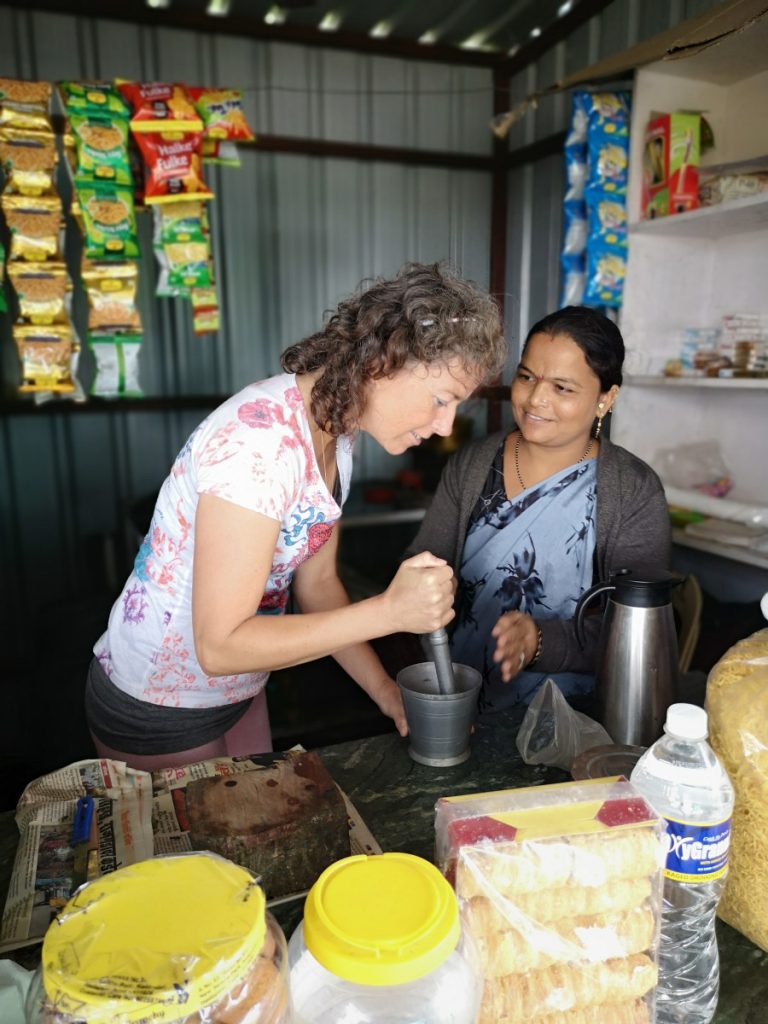 To get the Best Chai in the World you Need to go to India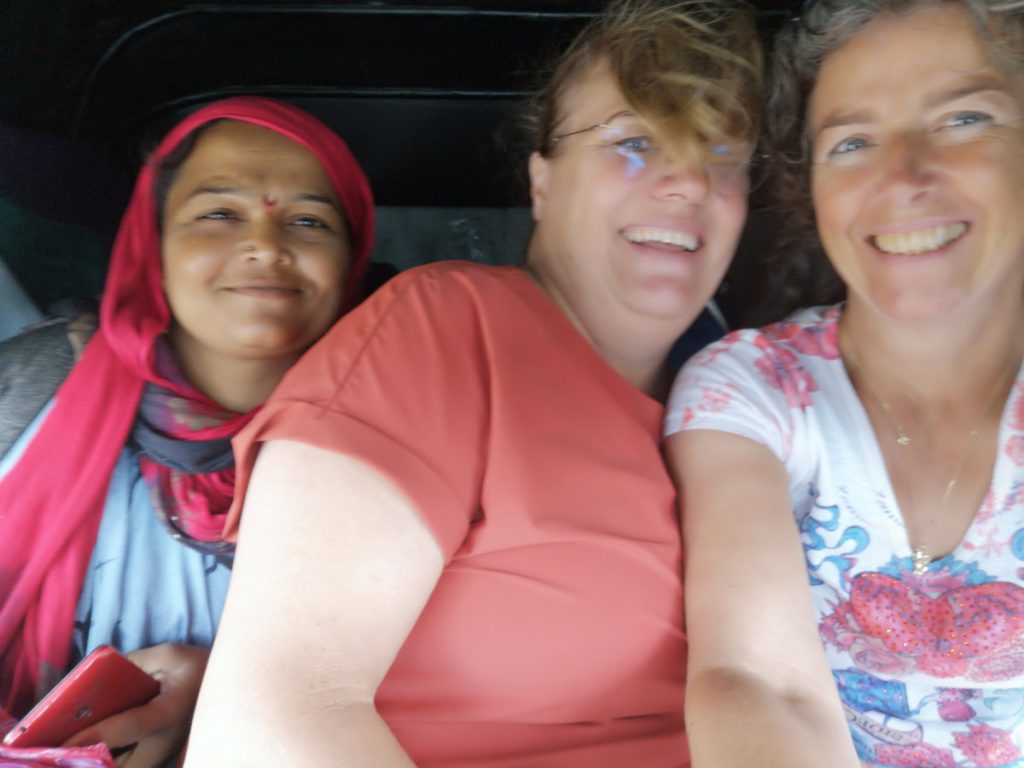 It is uncountable how many times people passed by our Rickshaw, on mopeds – in cars – in rickshaws, who looked at us in amazement and then stopped by again to ask where we were from. Grabbed their mobile phones and took a photo or video. Sometimes even asked if we wanted to stop so they could take a selfie!
In doing so, it made no difference whether you were driving on a back road or on the highway 🙂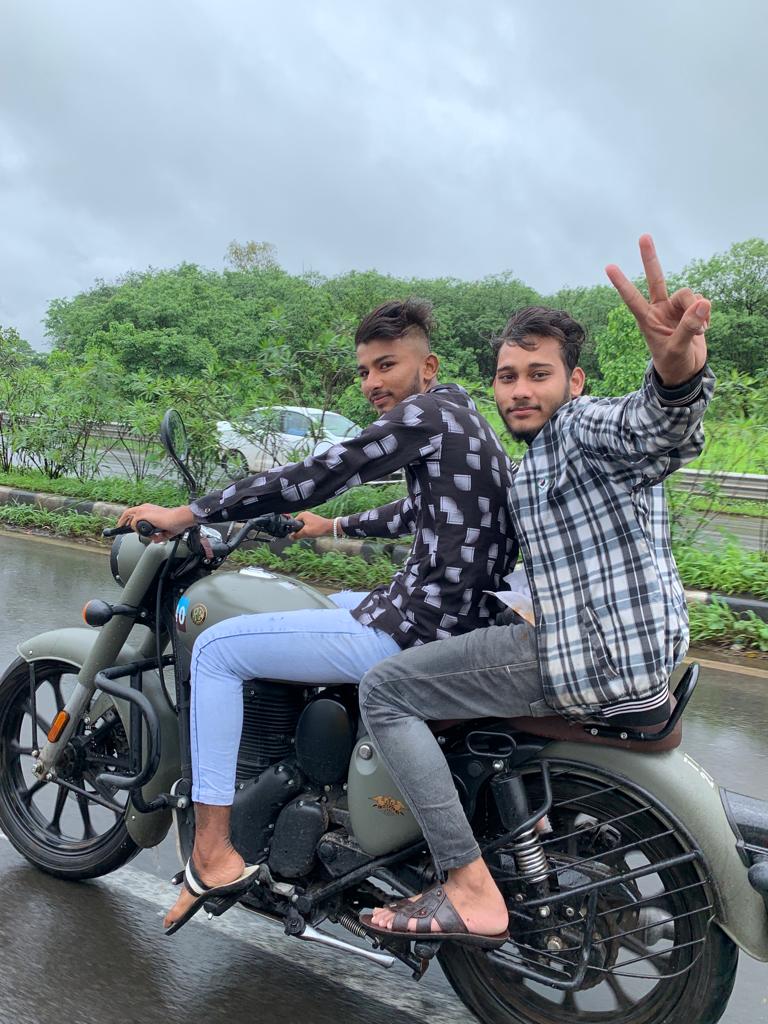 People of India always say Hi or wave to us
This contact also makes you happy. Makes you feel part of the whole.... That you are included in the life of India for a while. That is a very nice feeling… Something we in The Netherlands can definitely learn from. Here everyone goes their own way, eyes on infinity very often and no more eye for each other.
The Best Food during the Rickshaw Challenge MumbaiXpress
At one point, we would go to a temple complex in Udupi. I know that you can eat in a lot of temples, there is an incredible amount of food being handed out for tourists to enjoy. Many times I have eaten at such a place. This is open to all and you are invited to participate in this.
So when, in the first temple we walked into, I saw a large hall where people were eating, I joined the queue. It turned out to be slightly different as this was a lunch offered to people who had donated to the temple I understood. There had been a festival over the past few days and donations had been made there by all the people in the queue, they had proof of this and on that basis they were allowed to join the lunch.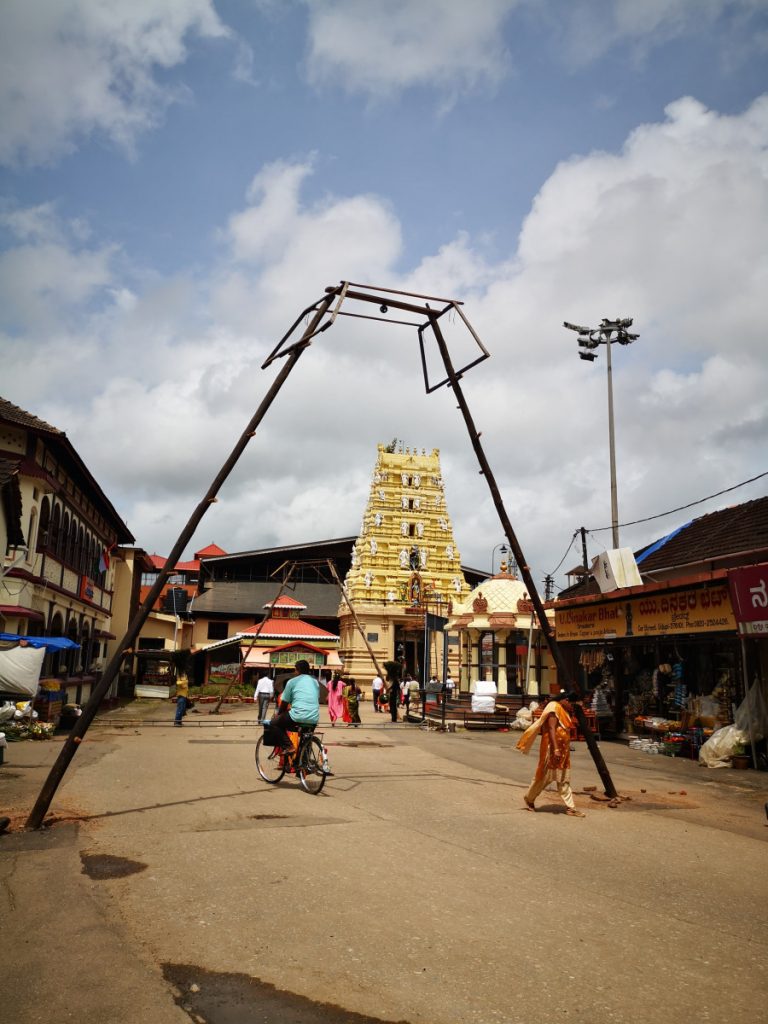 Just as we were about to walk on, I saw a man beckoning us to wait a moment, he was going to take care of something. A short conversation later, he came again and put us at the front of the queue and we were allowed to stay. The hall was full with long rows of tables and the people sitting there had almost finished their food. All the people washed their hands at the back of the room and walked out through the narrow door where we were waiting. When everyone left, we were allowed inside and came to sit at the long tables. When all the chairs were full, we were given a banana leaf in front of us, after this, a man came with water to clean your leaf for a while. Then the men came with rice, then with curry etc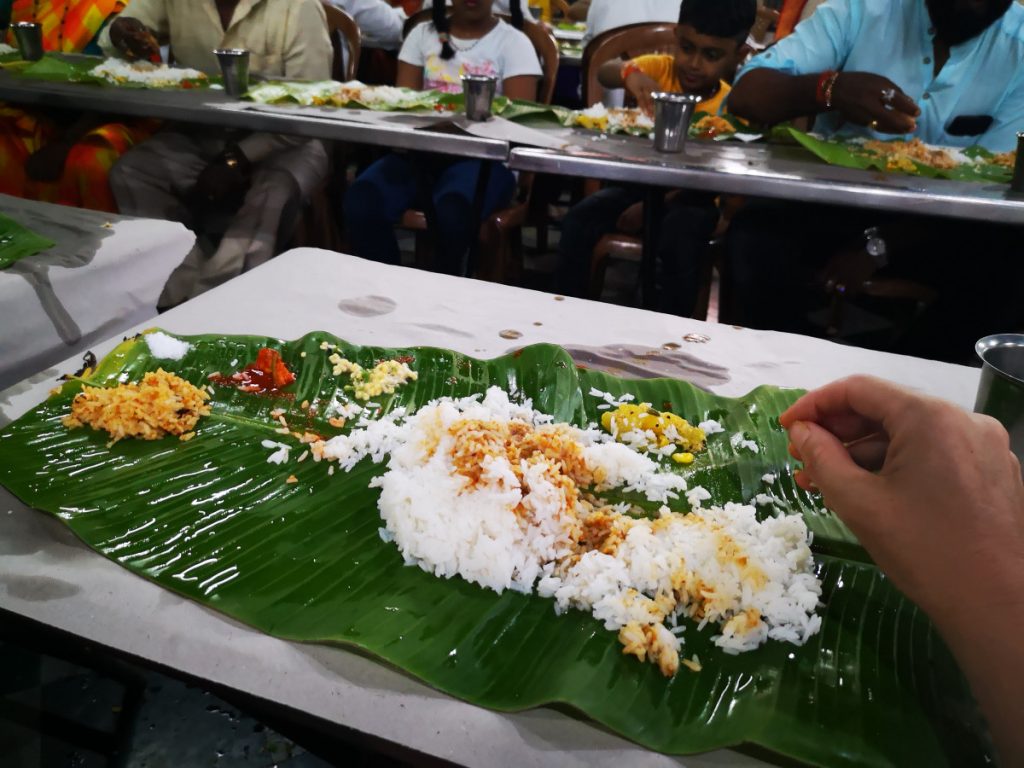 Best Food of the Trip – Rickshaw Challenge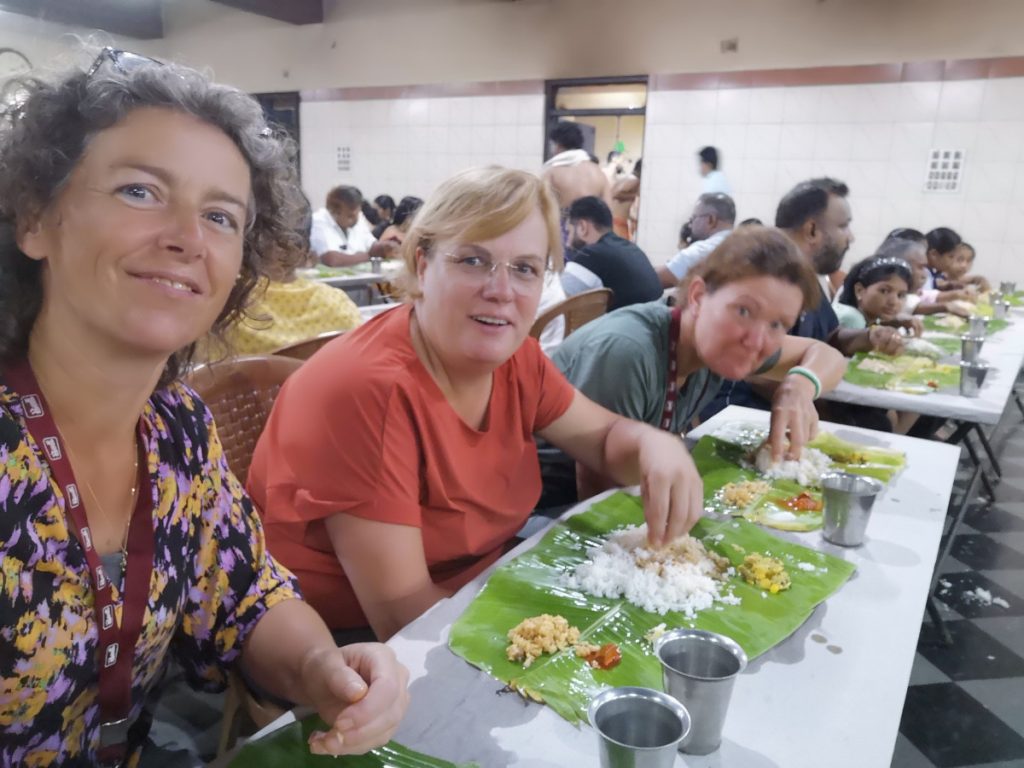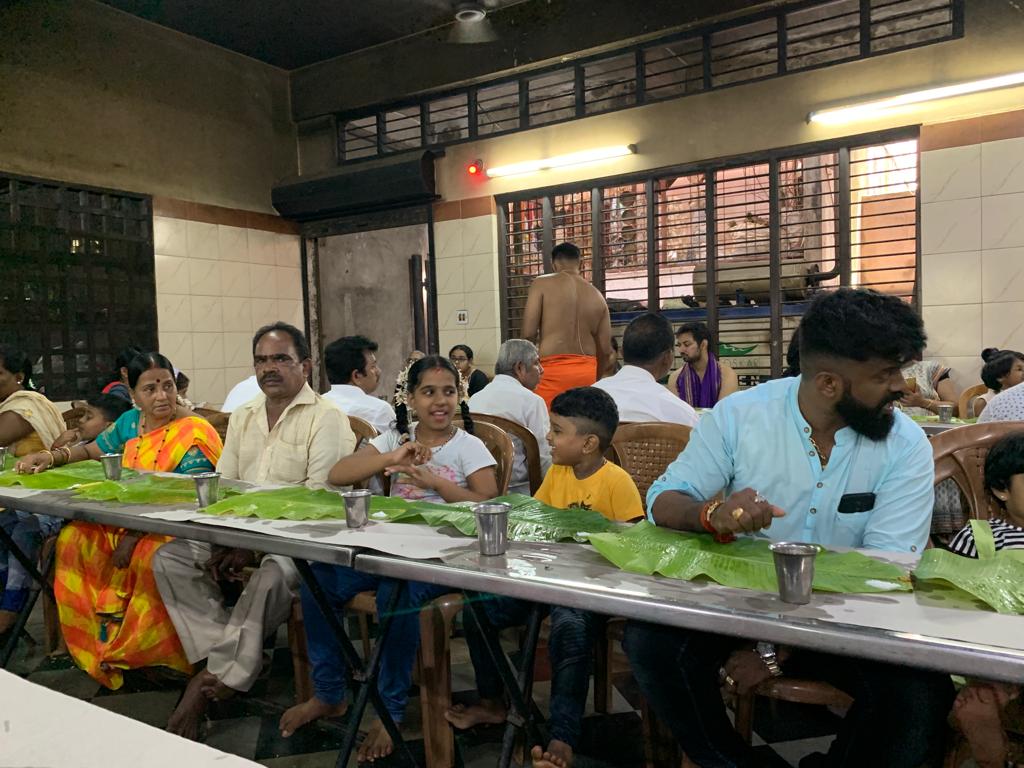 Eating with our hands is an art and I taught the trick to Maaike and Nicole. (Not that I am that handy at it but know how it is done) We artfully got everything on our hand and properly brought it to our mouths. Meanwhile, a continuous stream of delicious food was passed by in front of us and was placed on our banana leaf. It was delicious! Finally, a delicious sweet mixture was placed on the banana leaf. We were uber full, it had tasted so good that we had really eaten too much.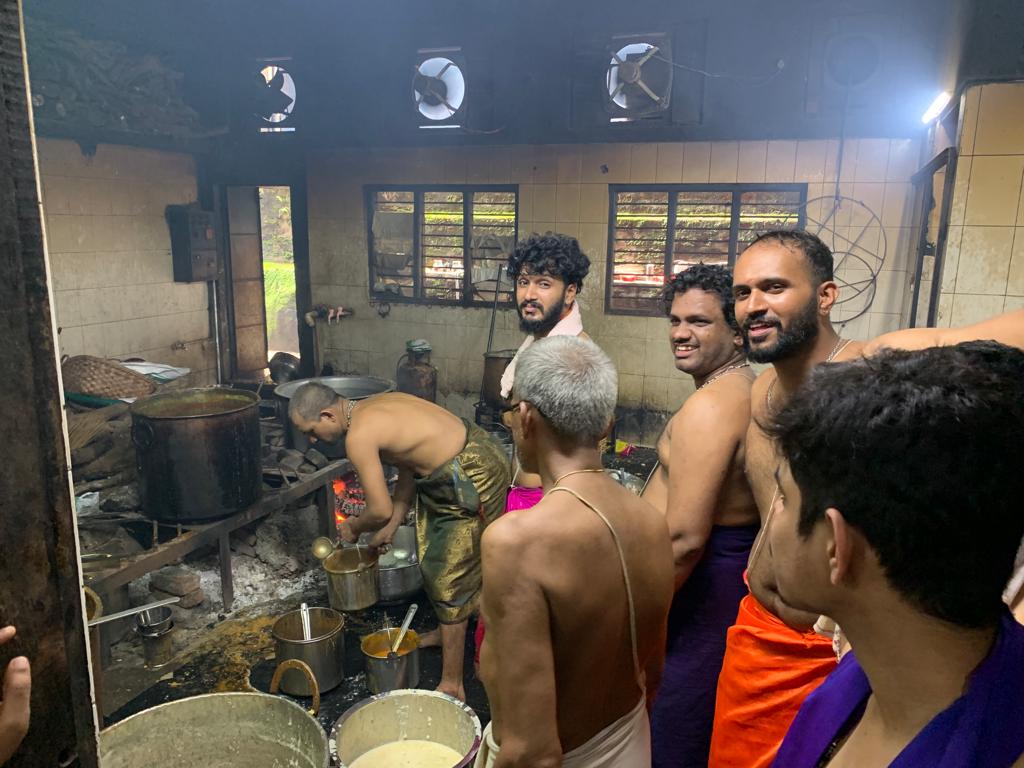 The big soup kitchen in the temple and the men who had served us.

A resting day  in Panaji, Goa
Of course, a trip also involves some rest and playing the 'so-called' tourist. In Panaji, we had a rest day and swam a bit in the pool, visited a cathedral and church and booked a foodwalk which unfortunately did not amount to much. However, I did find the delicious dish Dahi Puri and bought 1 of those.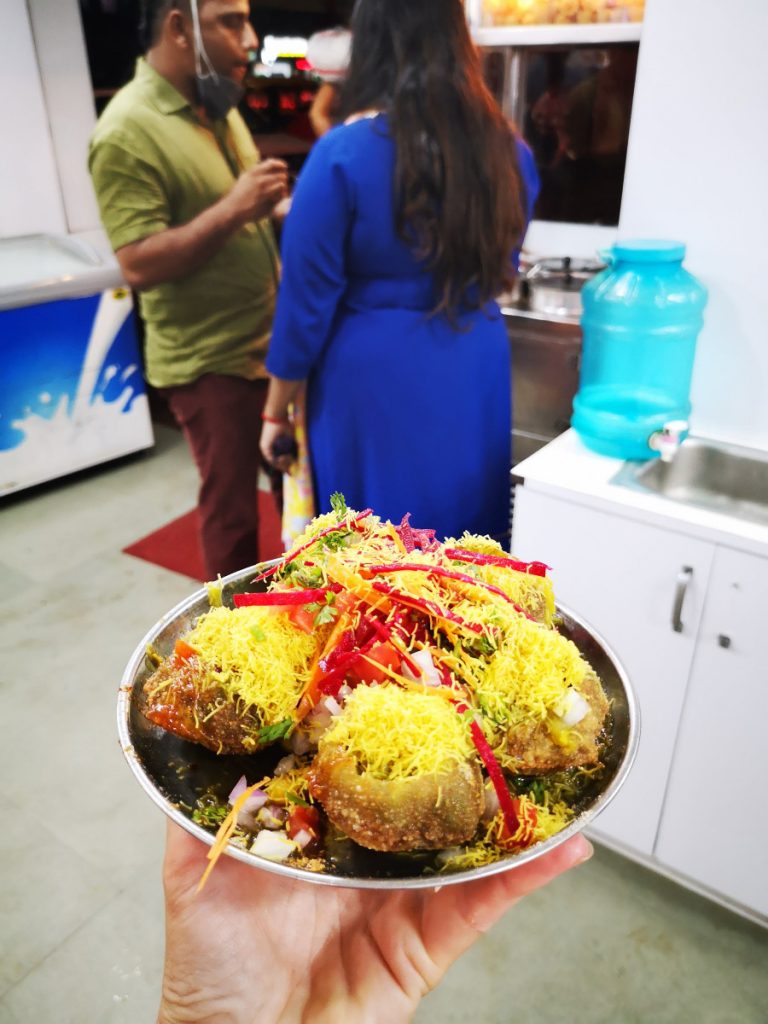 It was a plate full and luckily Maaike took 1 too. Nicole had eaten just a bit too much of the last delicious dessert of the foodwalk and was therefore already full. All in all, another delicious day!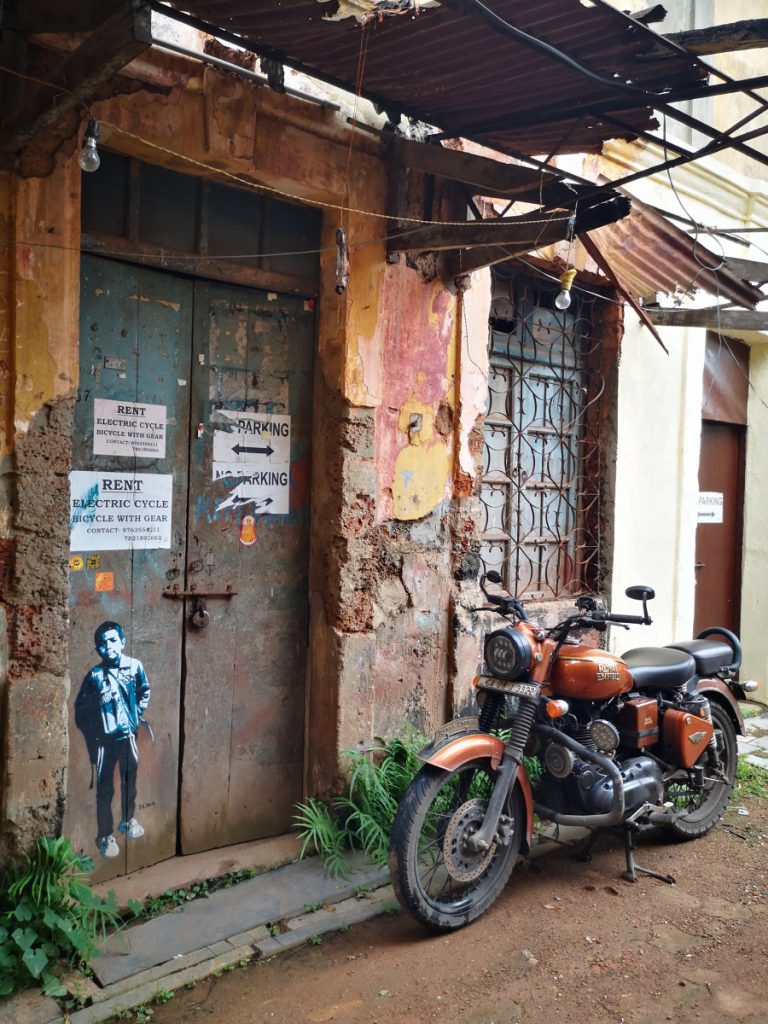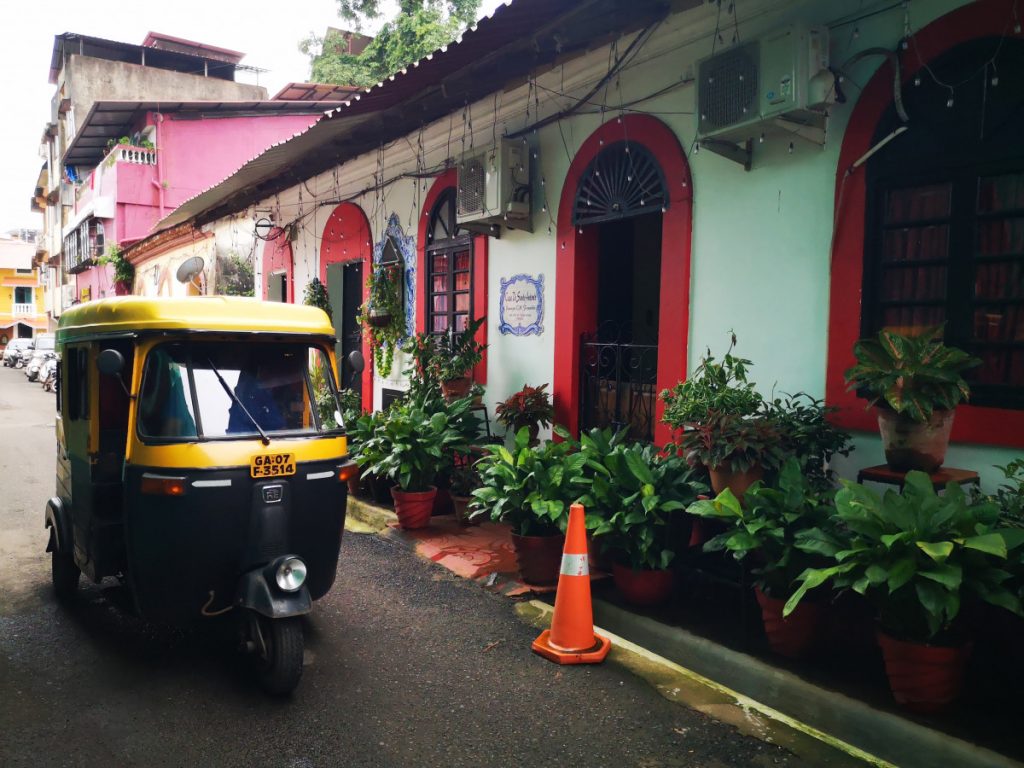 The clear Portuguese influences are clearly visible in Panaji
Resting Day in Panaji – Goa, India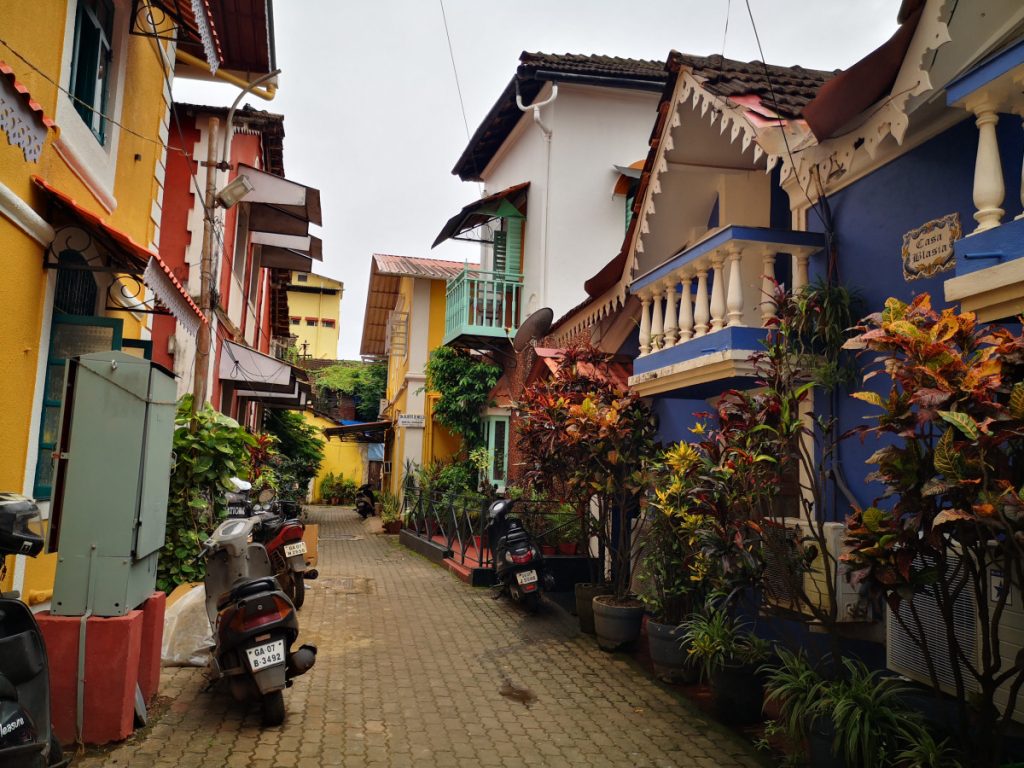 As you can see, Panaji and all of Goa was once colonised by Portugal and you can still find that everywhere. The colourful buildings there are amazing to see. Many churches and cathedrals were built by the Catholic Portuguese in those days.
A walk through this old part of the city is therefore not to be missed. You really must have visited the cathedral too. We did so in the morning with our own rickshaw, of course.
We stayed on the outskirts of this fine part of Panaji at hotel The Crown. A great hotel!
From Panaji, we crossed the Western Ghats. This is a mountain range on the left side of India, after this we found ourselves riding in a relatively flat area for a few days. Because…after that, we crossed the Eastern Ghats to get to Chennai. Our final point of this trip.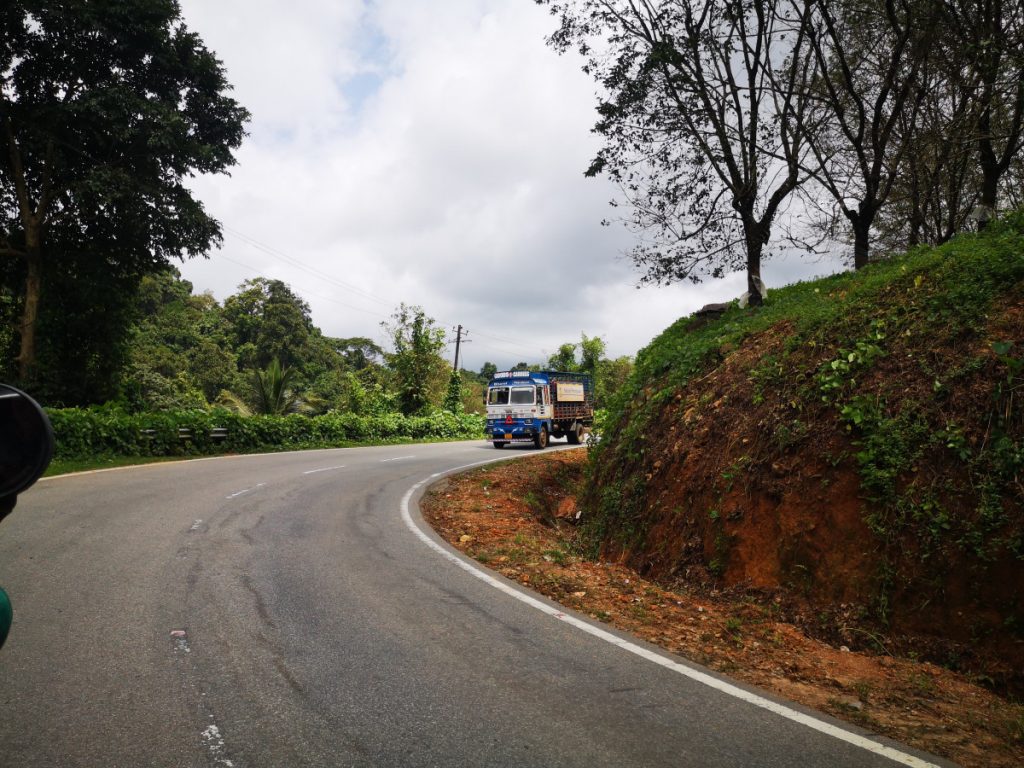 Driving through the Western & Eastern Ghats – India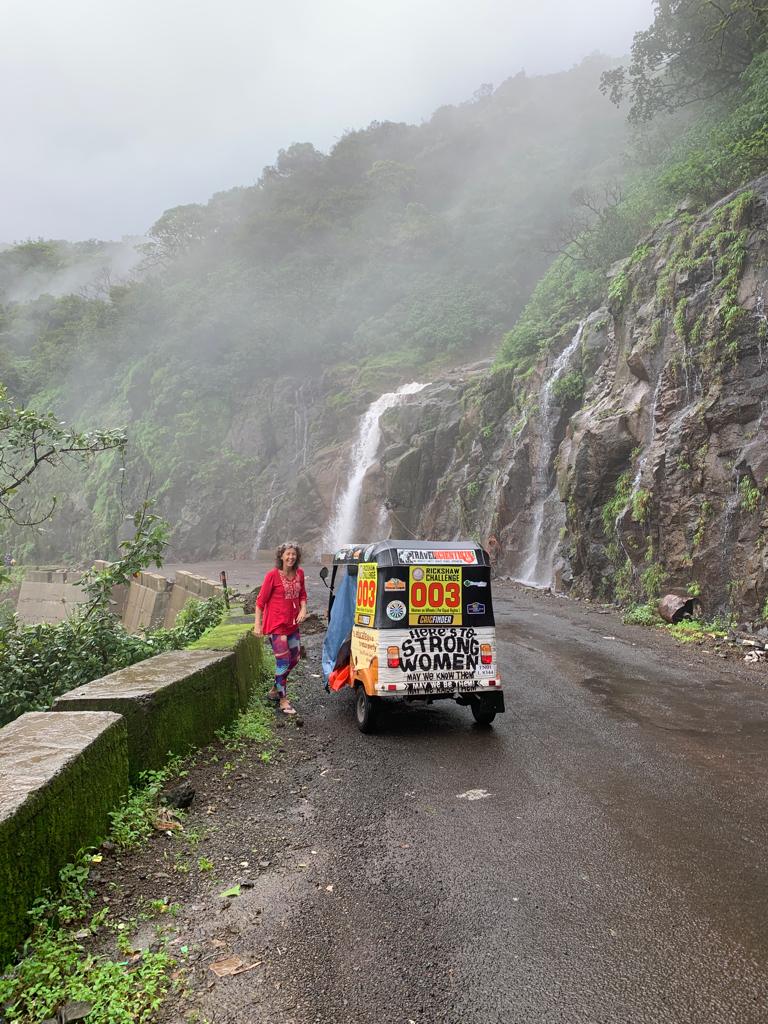 Every corner is another surprise as to what kind of vehicle is coming up to the one ahead. The versatility on Indian roads is just impossible to keep up with. You have to experience it to agree that it is innumerable. From animals to 2, 3, 4 wheelers but of course other vehicles you cannot imagine here.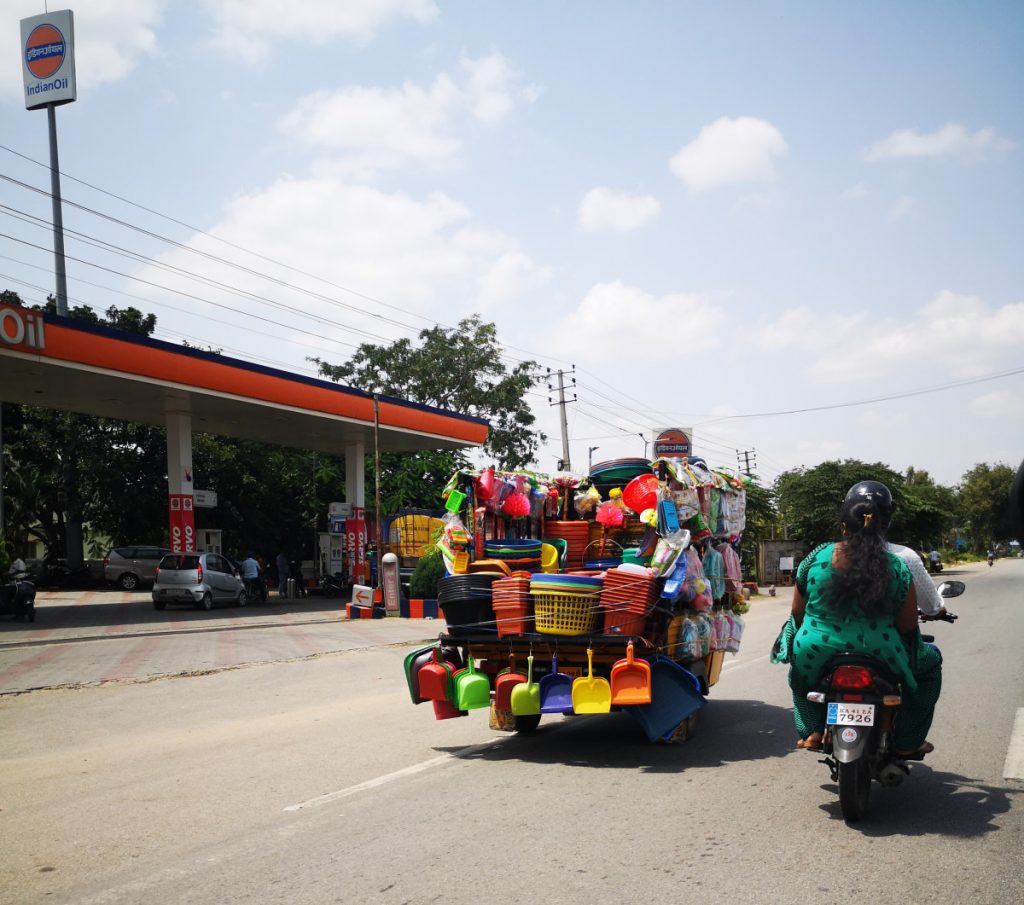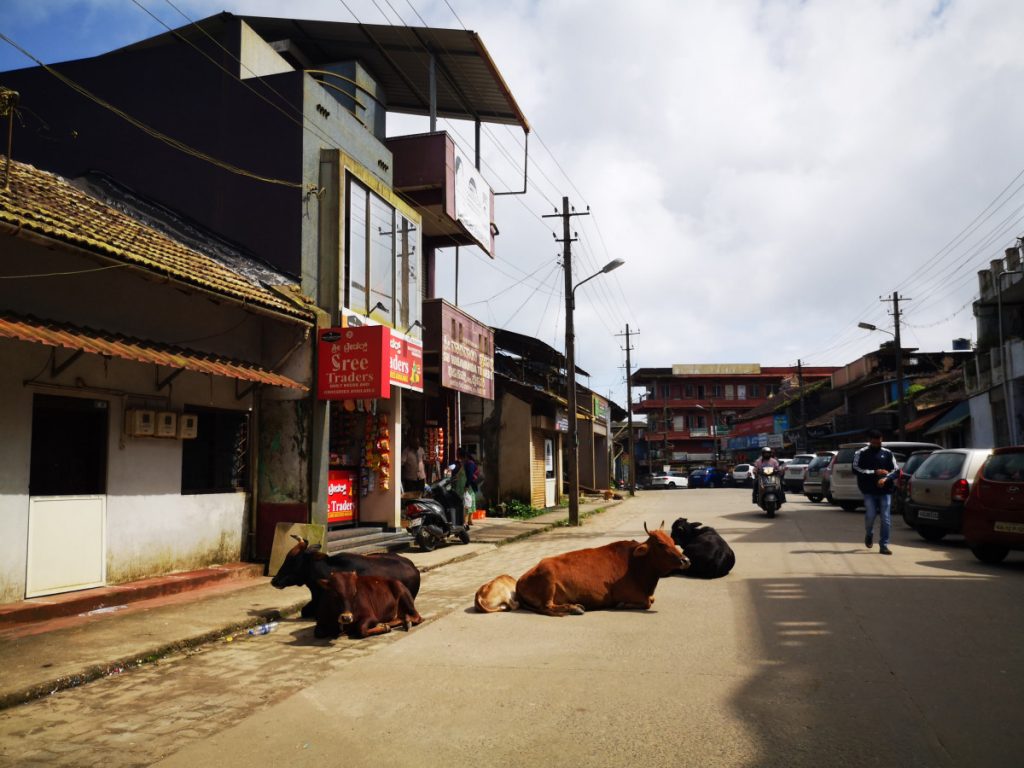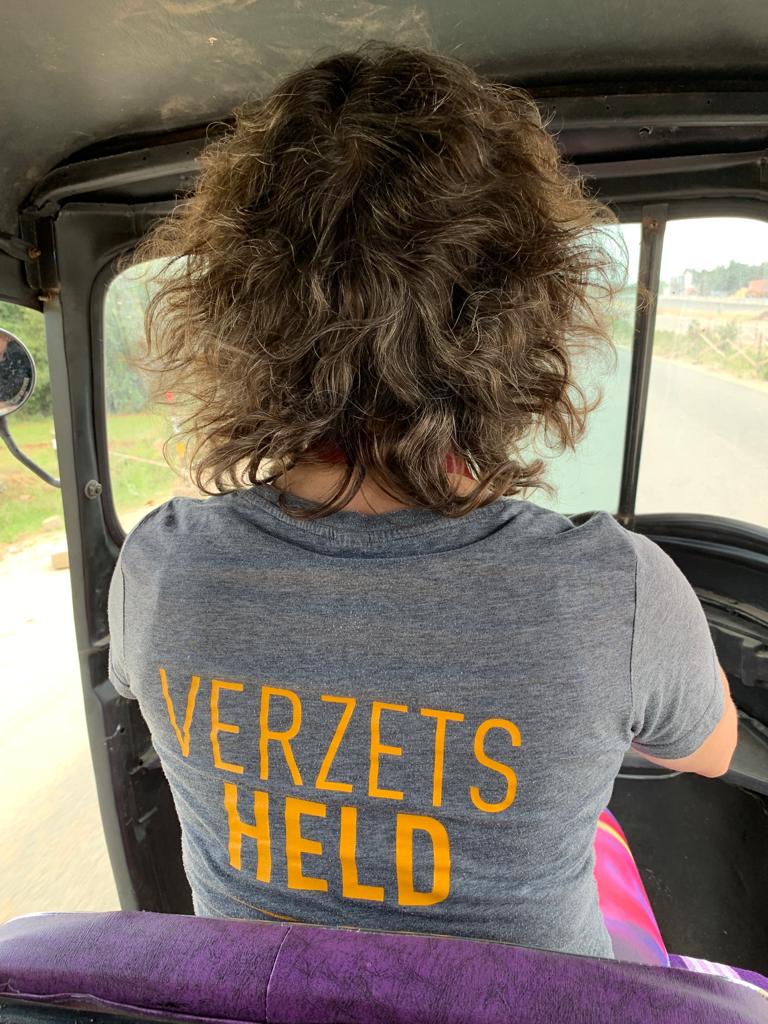 The mountains give you beautiful views and wonderfully challenging roads. But the very diversity of the interior was also super nice to see and experience.
We have also been culturally responsible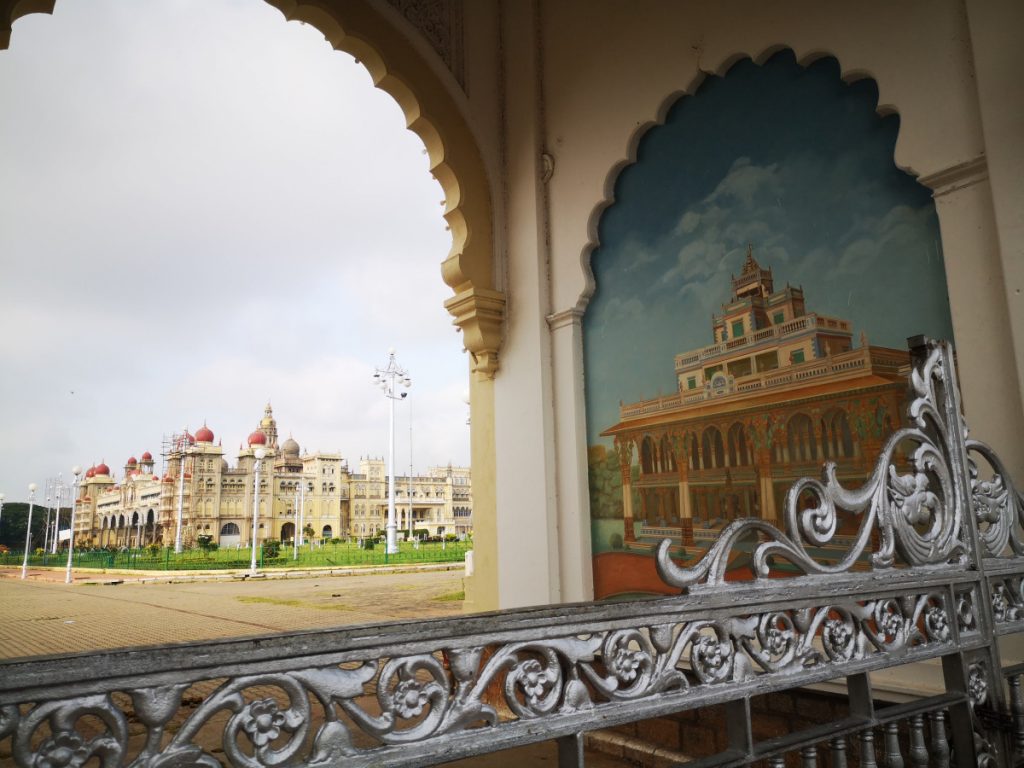 A great story but we were totally out of luck here…. In Mysore, elephants can be seen at this palace. Just not at the times we were there. We certainly tried our best. They were there in the morning, us just too late. Locals told us that they had already walked to the park and so we drove to that park but as it turned out, they had already walked back…. 12 elephants had been walking there they told us! But yes, we had to move on.
We did see quite a few cute monkeys later that morning at this beautiful waterfront spot.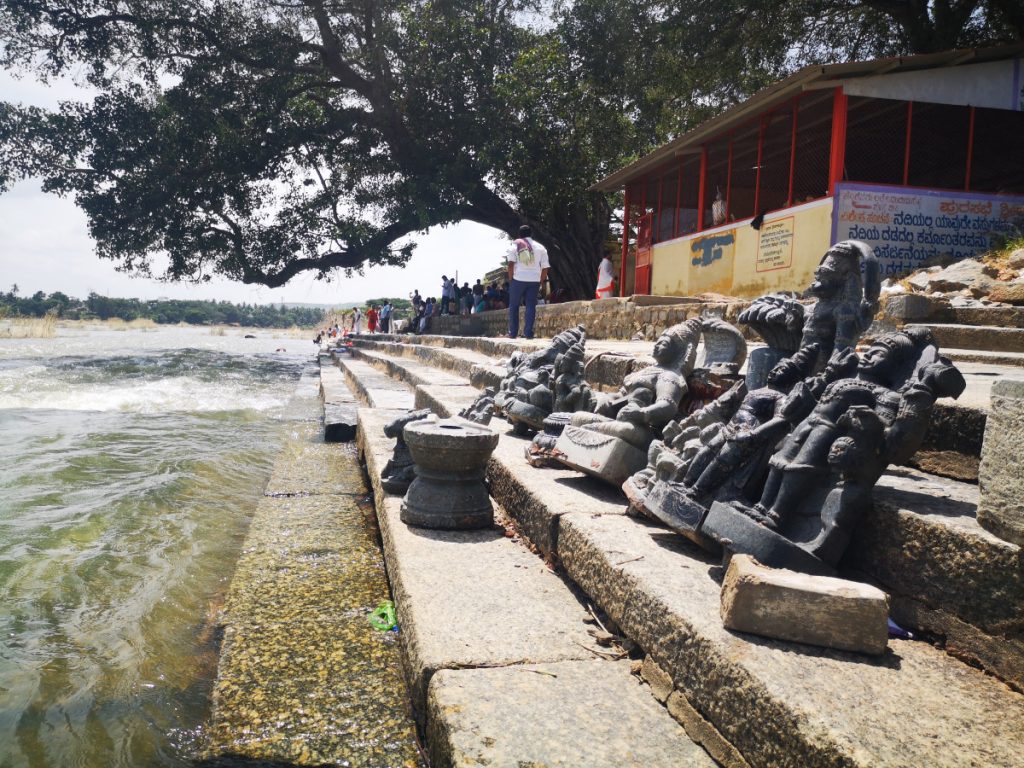 Also time for outings during the
Rickshaw Challenge MumbaiXpress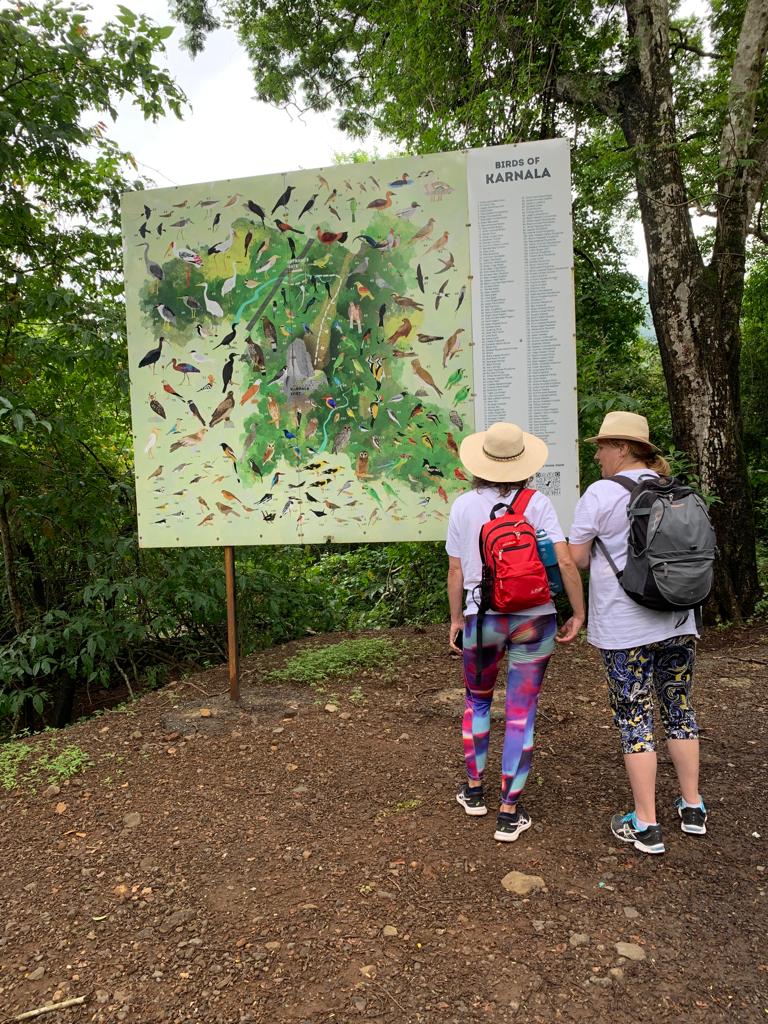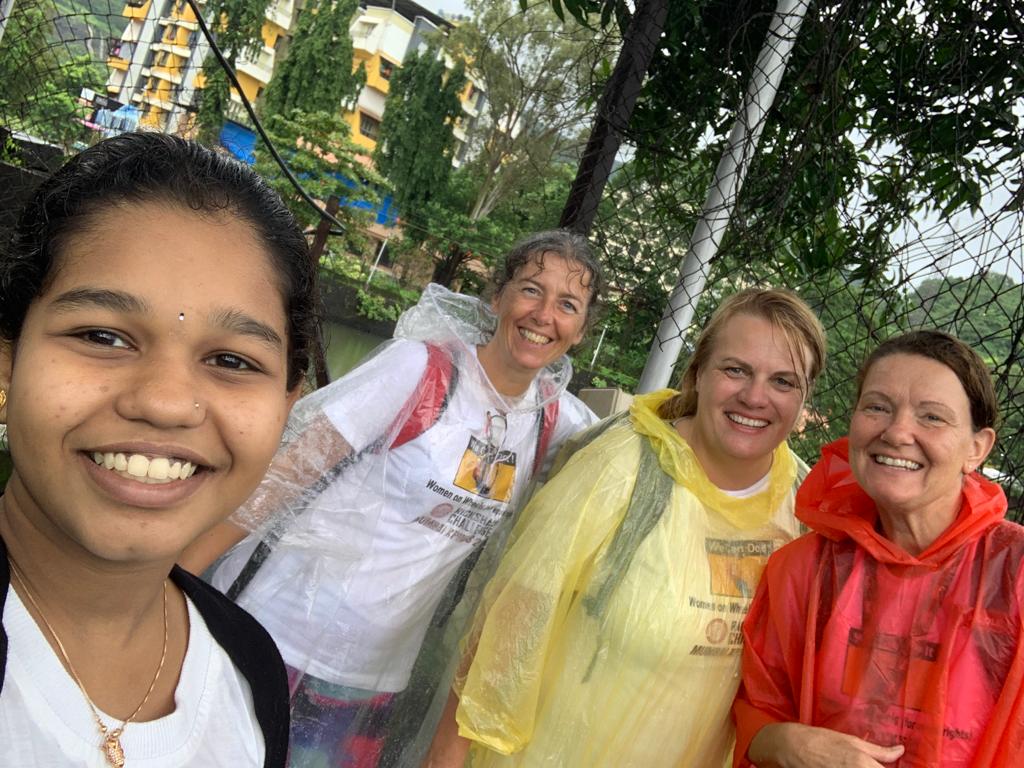 The eastcoast of India – Chennai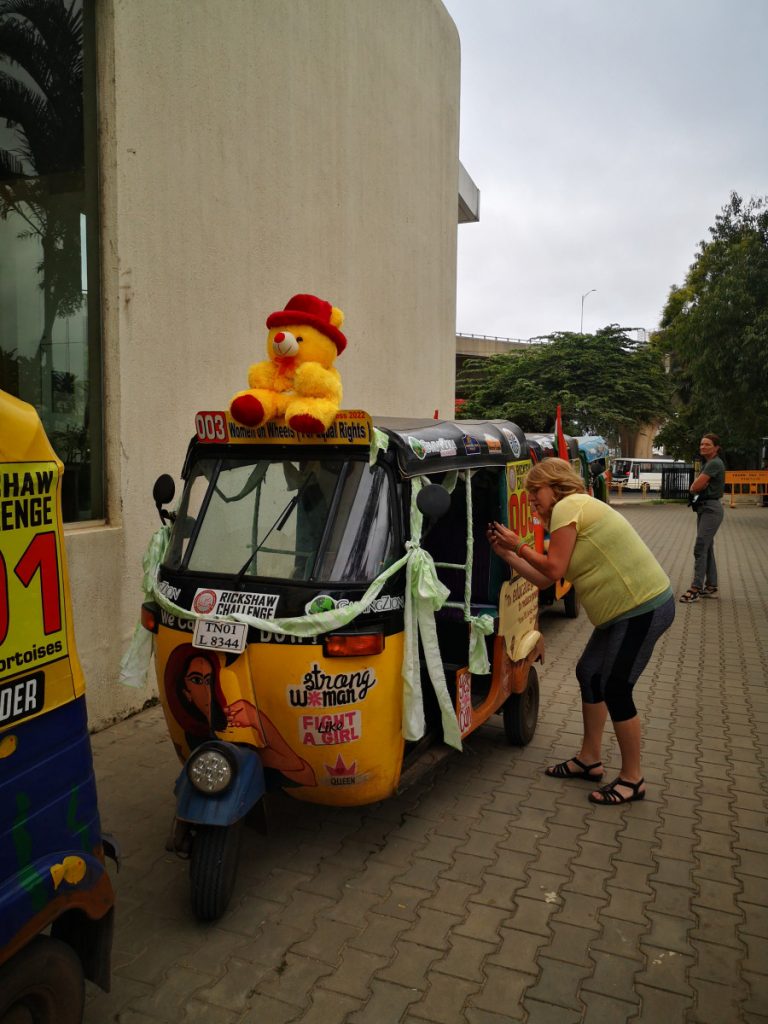 Also part of this Rickshaw Challenge MumbaiXpress is that you have to pimp the rickshaw. The other teams had also painted or embellished their rickshaw with fun paintings and new horns. For us, our dresses had to go and we had found a nice bear in matching colour along the road.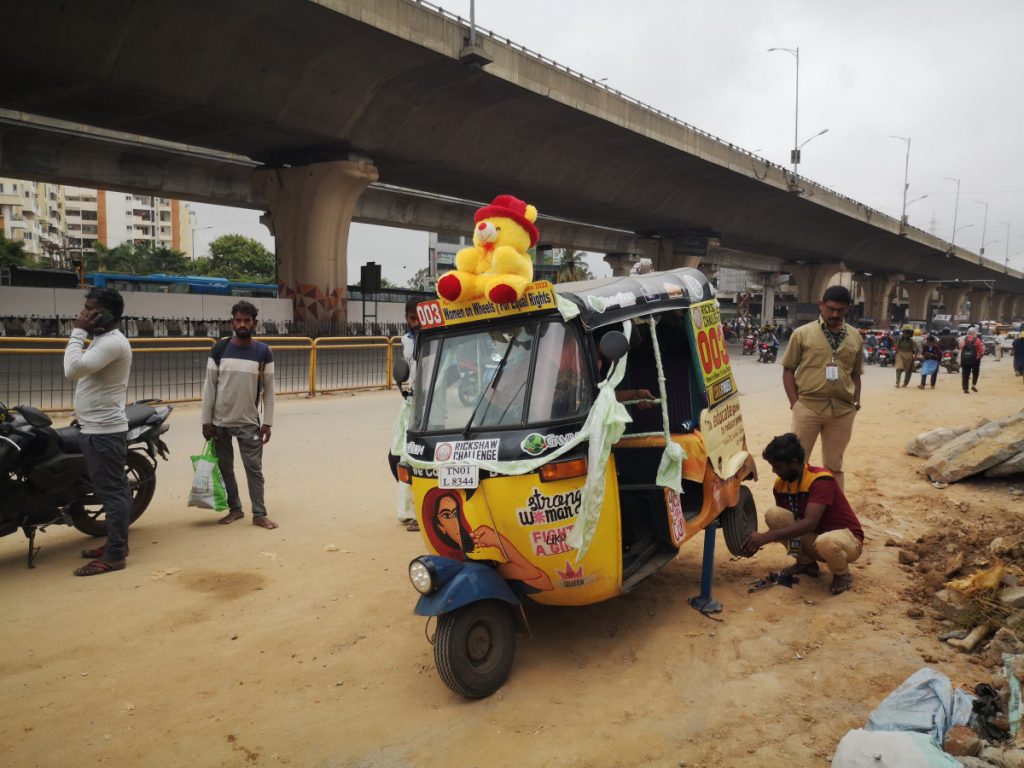 However beautiful we had made it… this was the first time something was really wrong. The brakes hardly worked, if at all… We luckily managed to come to a stop just in time before we crashed into the back of a stopped bus…. Fortunately, we were not driving outside the city and did not have full speed yet…. The garage was with us in no time because they had also just left and were able to fix it…
We were in for a bit of a shock!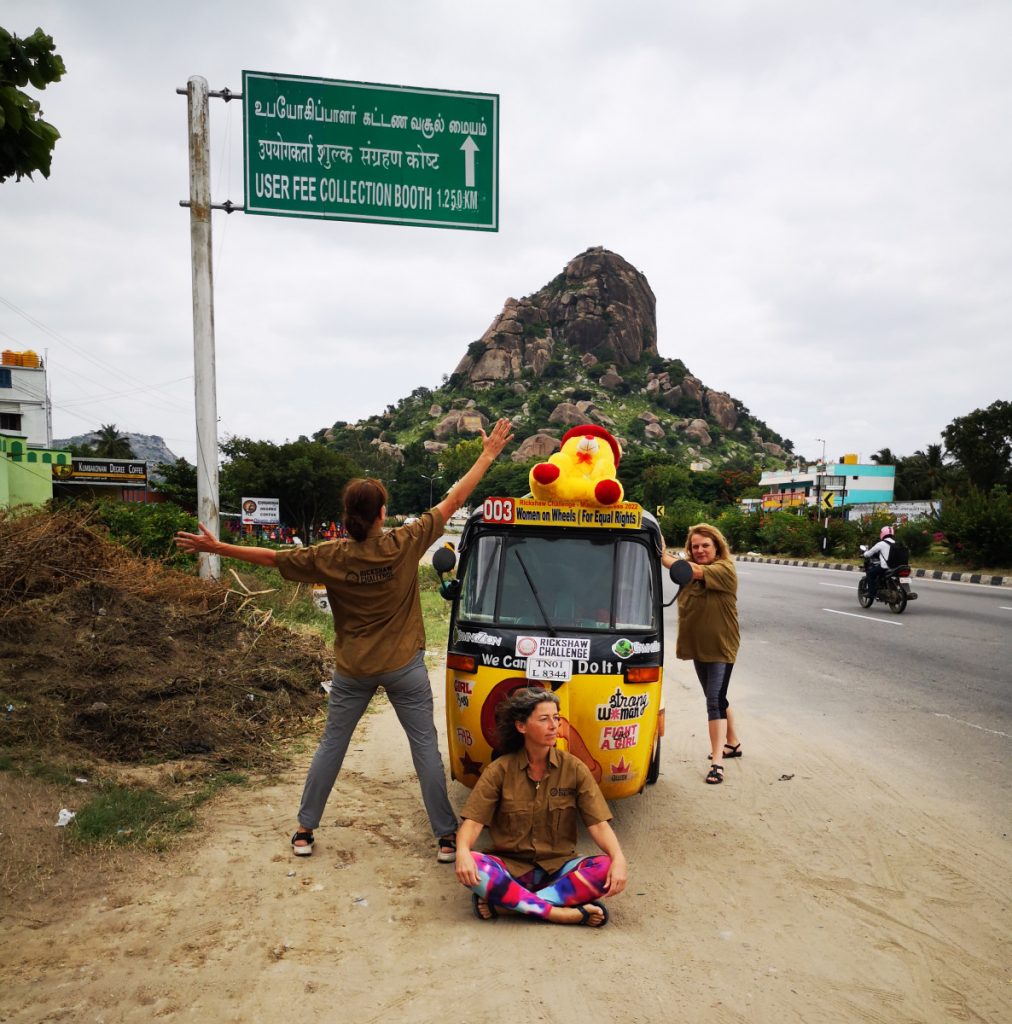 The rest of the day we felt like all the days before, invincible!

We were a super team and really had the most wonderful time we could have wished for.
Still too bad we didn't win the top prize but… also deserved of course the Bonkers Price 🙂 The prize for the weirdos… And yes, with the two I had with me, I can imagine everything. *I really behaved very nicely!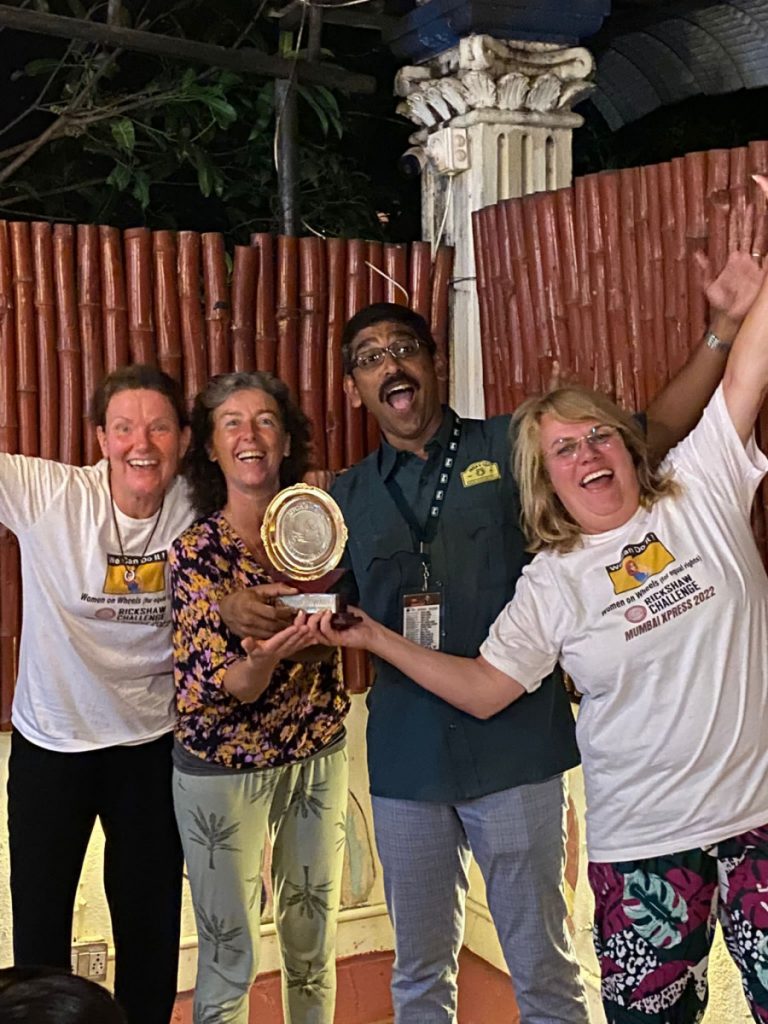 Team Women on Wheels get the Bonkers Price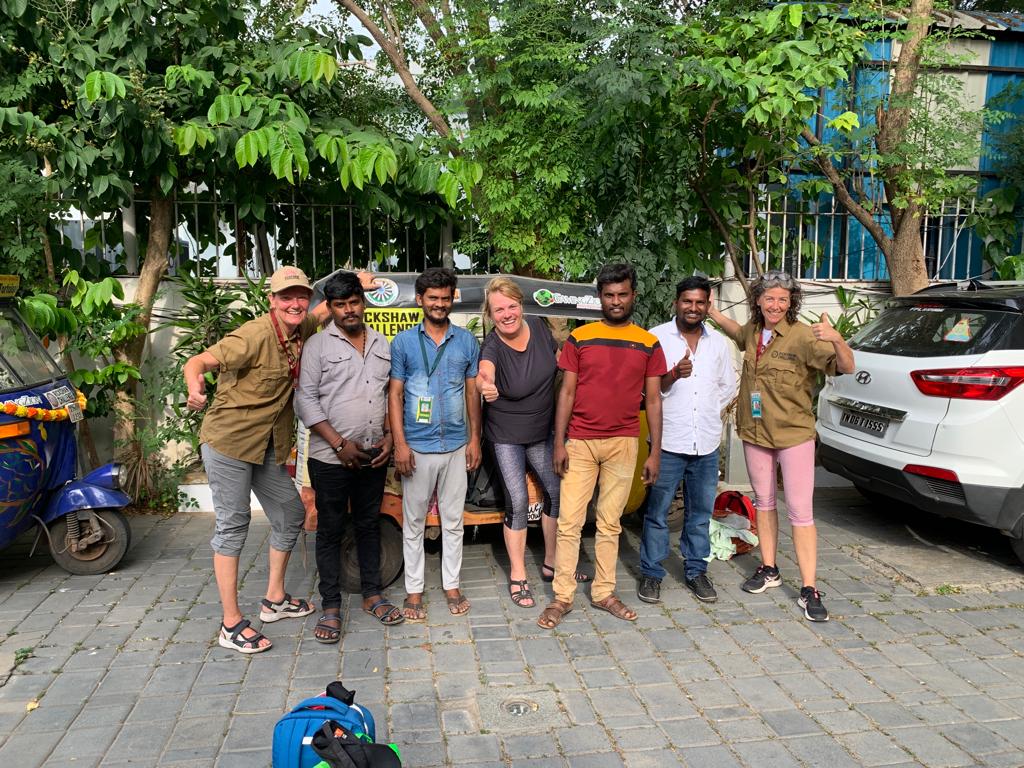 And on the last day, we did no more than swim a little in the pool. I walked around the hotel one more time and then it was time to go back to the neat and tidy Netherlands. How I am going to miss India again. The lovely people, the delicious food, the fine rules where everyone is allowed to be there it seems. I know it's always different when you live somewhere, on the surface it always seems better. But really… In traffic and the openness from person to person is really nice in India. I was a bit worried that I was coloured and couldn't see clearly but my travel companions who had never been to India agree with me completely!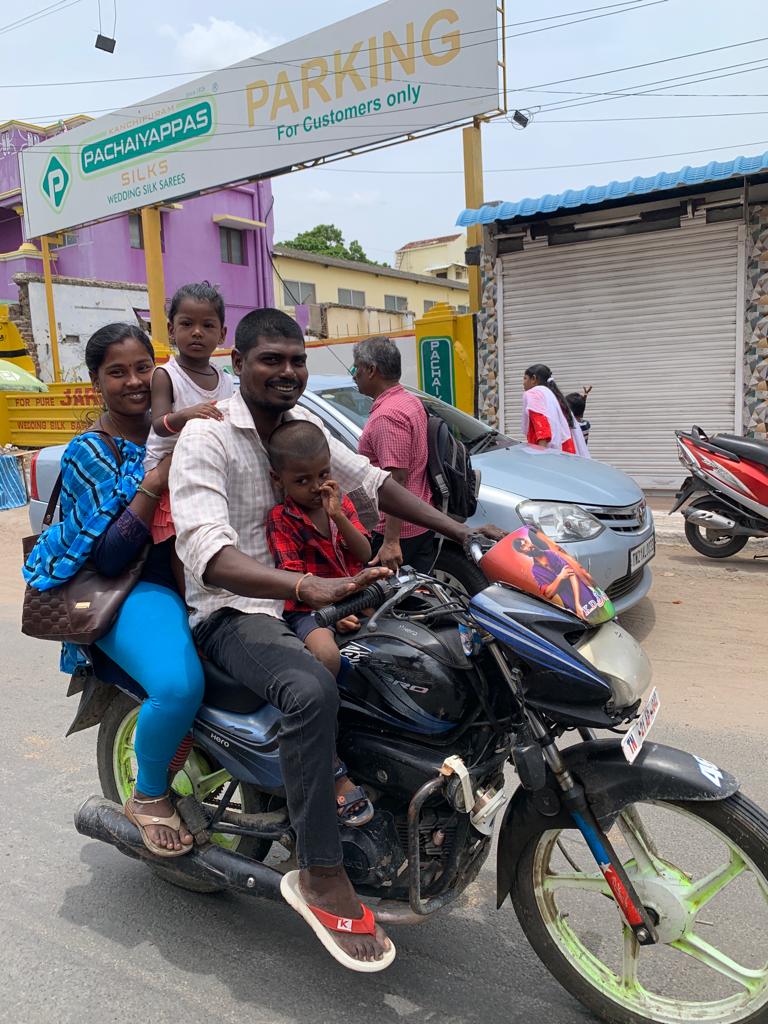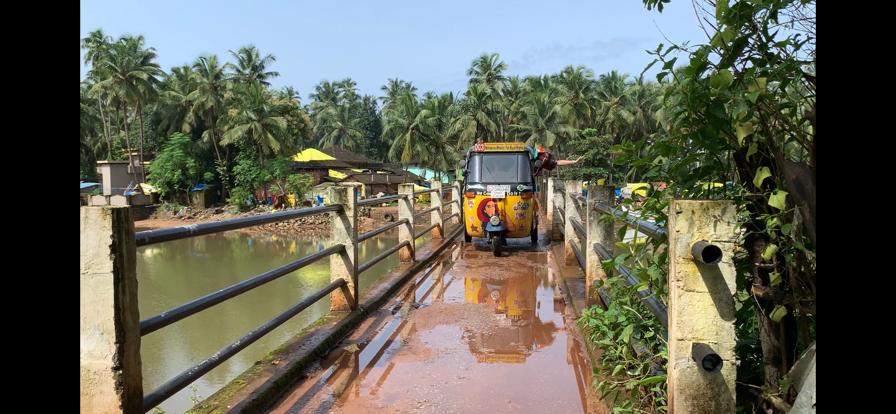 While driving over the small bridges to get by the sea and visit the small fishing villages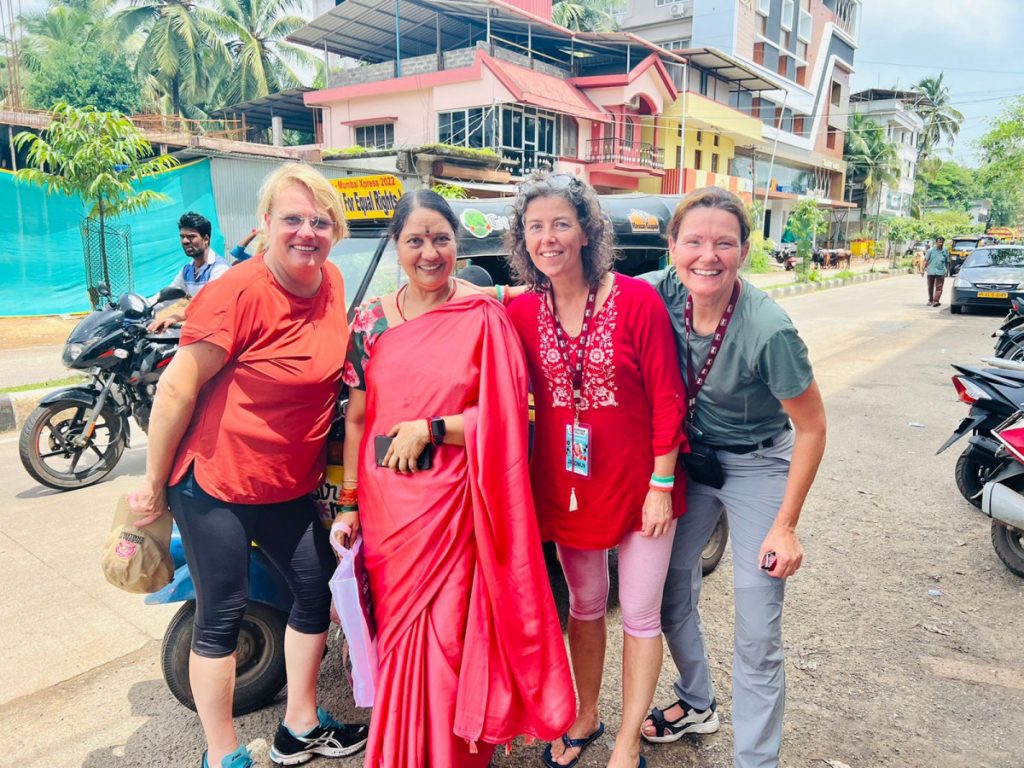 Also in for a Rickshaw Challenge?
So do you also want to go on an adventure and do you think this is cool? Contact the Rickshaw Challenge or send me an email with your questions. I'll be happy to answer them. Or also check out the whole trip on Zinvol Reizen IG Stories for inspiration.
And you can also check out my first Rickshaw Challenge in India for inspiration- The Tamil Nadu Run
Spread the word to inspire others
SPREAD THE POSITIVE VIBE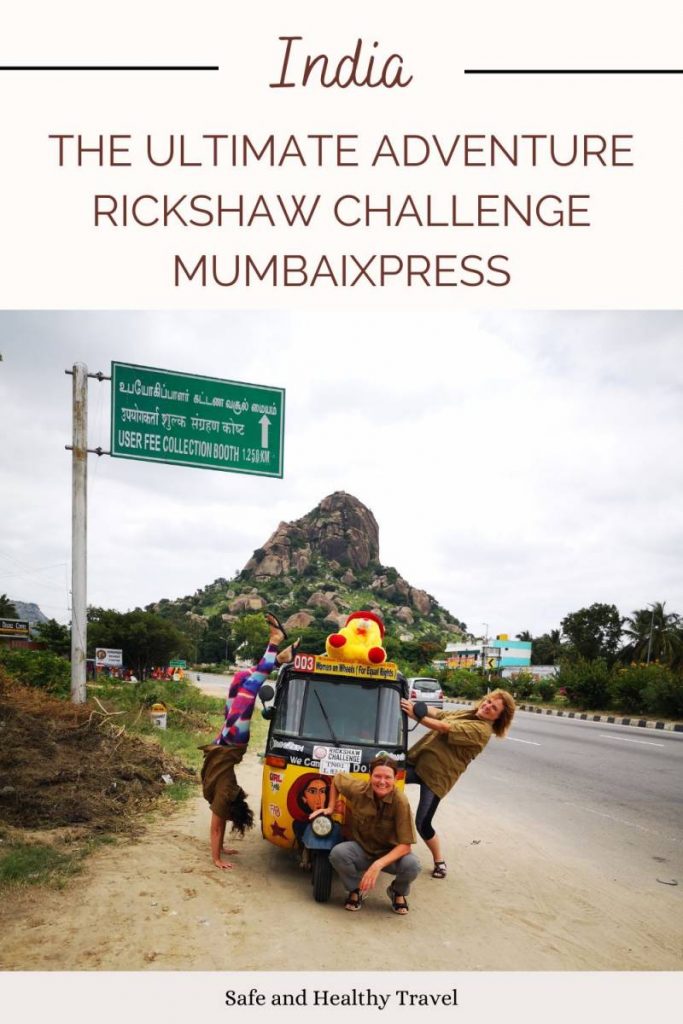 Got curious about the rest of India? I get that!
Read some more about travelling in India.

Travel Guide Udaipur – City of Lakes – Rajasthan
Kumbhalgarh Fort & Ranakpur Jain Temple – Ghanerao
Best Place to Spot tigers – Ranthambore NP
Try the Best Streetfood during Foodwalk Oud Delhi
Tips for Women – Safe Travel in India
Travel guide Namchi and surrounding – Sikkim
Do also explore the great former kingdom of Sikkim
I hope you enjoy this beautiful world as much as I do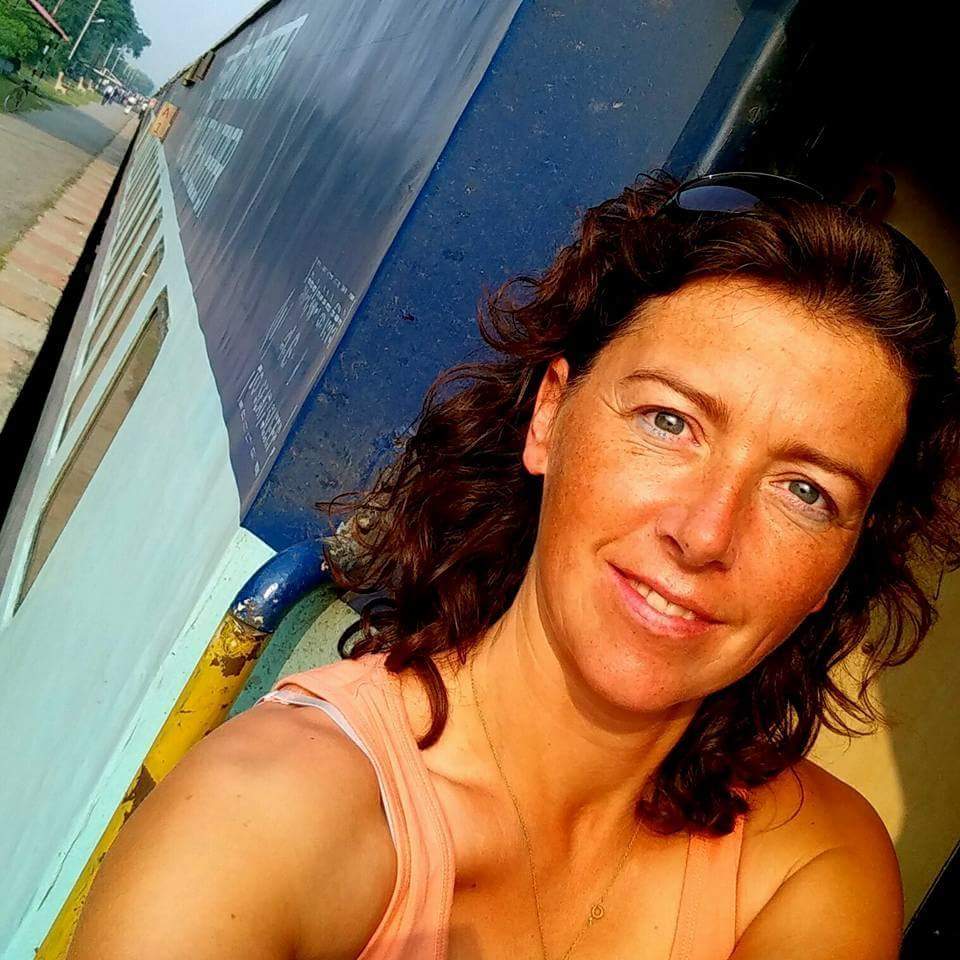 Jacomijn is een politieagent uit Nederland die jou graag laat zien hoe je veilig, actief en gezond de wereld kan over reizen. Safe and Healthy travel is a MUST