Surfing the Waves of Kartong – The Gambia
|
Before I left to The Gambia I was asked, through Instagram, if I wanted to come to a surfing weekend in Kartong!! Yandeh asked me to join as she was looking for participants to come surfing. And if I was in The Gambia. ..Well… I have never surfed before and I do like a good challenge!! So Yes!! I would love to come!
Would you  have thought about The Gambia?
Surfing the Waves of Kartong!!
Going surfing for the weekend in Kartong gave me the best last weekend I spend in The Gambia. I couldn't have wished for more!! And… I think you'll see me doing this more often! I love the exercise that comes with it.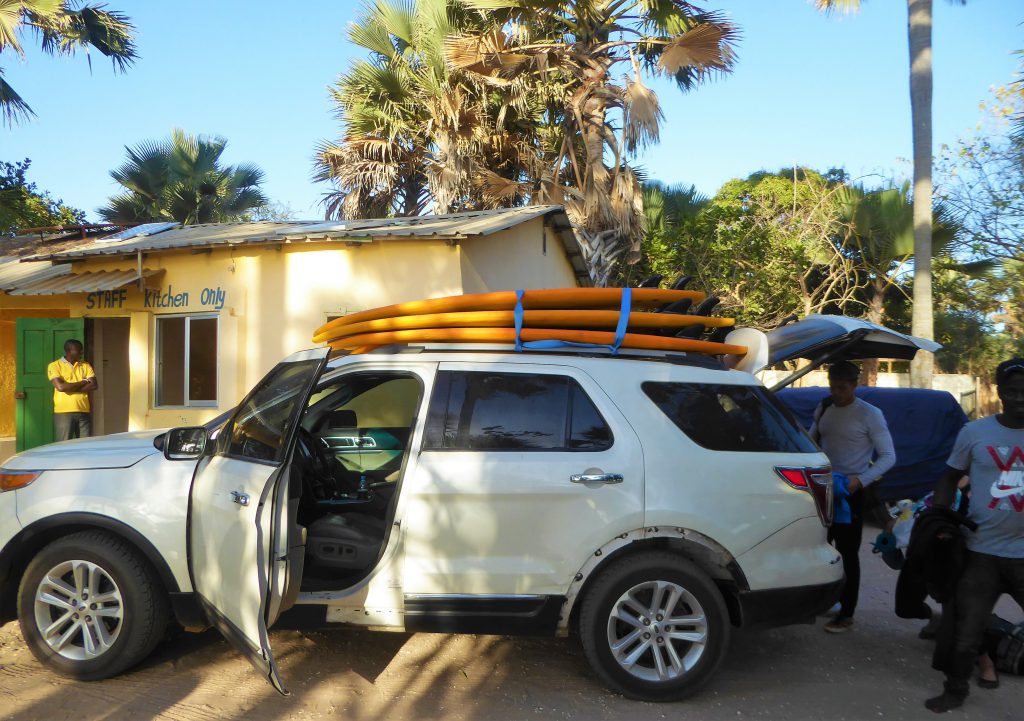 The last weekend of my two weeks in The Gambia I went to Kartong! I was being picked up in Bijilo where I stayed and met the instructor (Babacar from Senegal) and two other participants in the car.  We started talking, Babacar, Katharina (polish / Canadian) and Joan (French). We immediatly hit of with common interests!! I felt right away that it would be a great weekend!! And before I knew it we were in Kartong and started to unpack.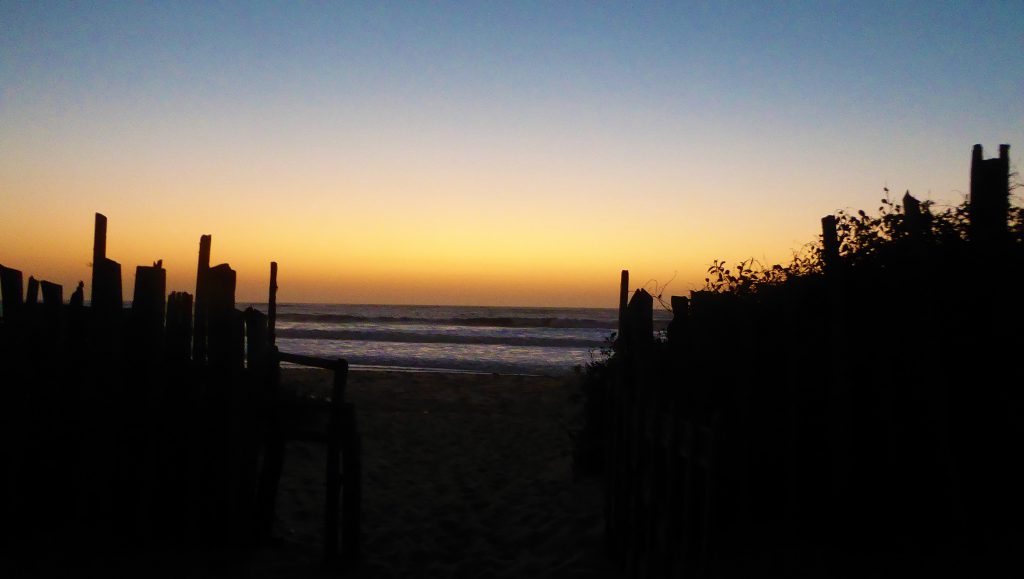 Learning the technique of surfing
A quick check-in and we started our first lesson as soon as possible! It was still daylight for an hour and we took advantage of that! A short warming up and then Babacar learned me the basics on how to lie down on the board! And then how to stand up as quick as possible when the wave hits you. And then standing and balancing!! The trick was not to stretch your legs but a bit bended and your hands pointing towards the beach.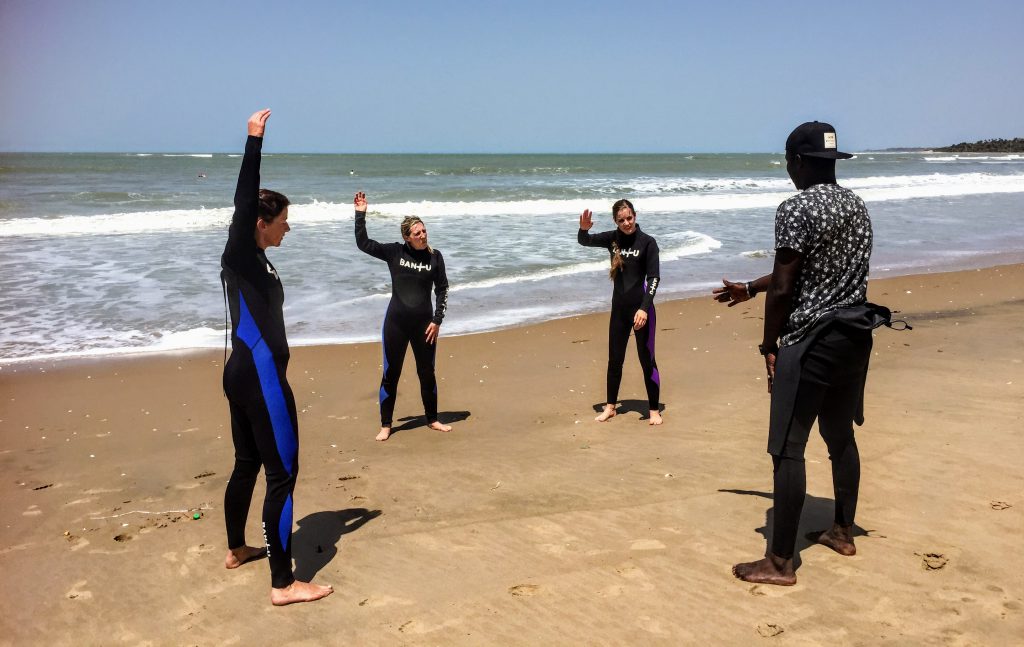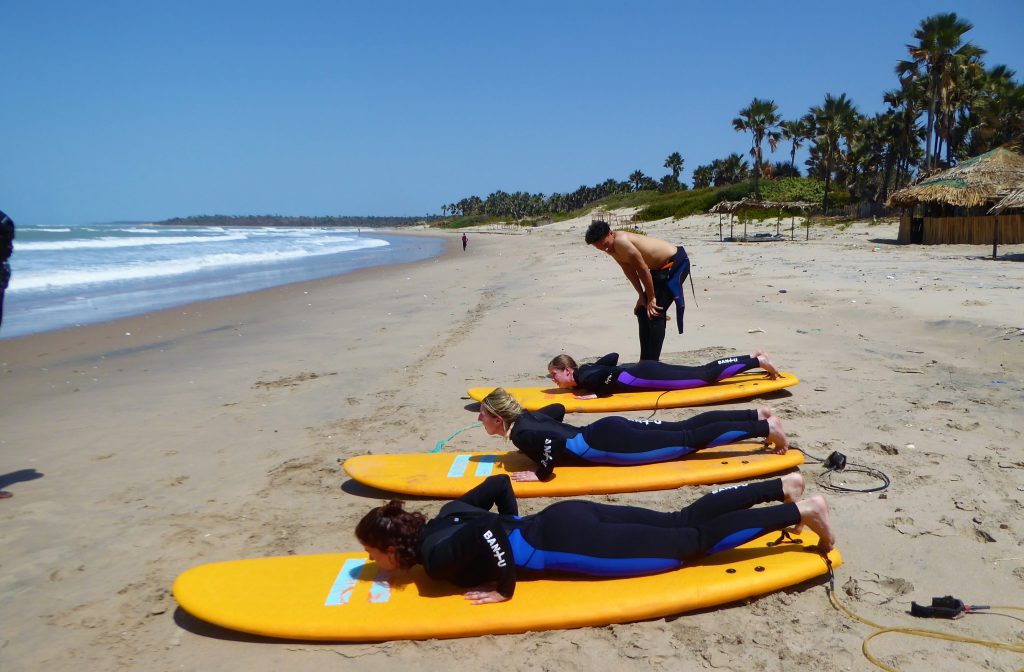 Surfing the waves of Kartong –  The Gambia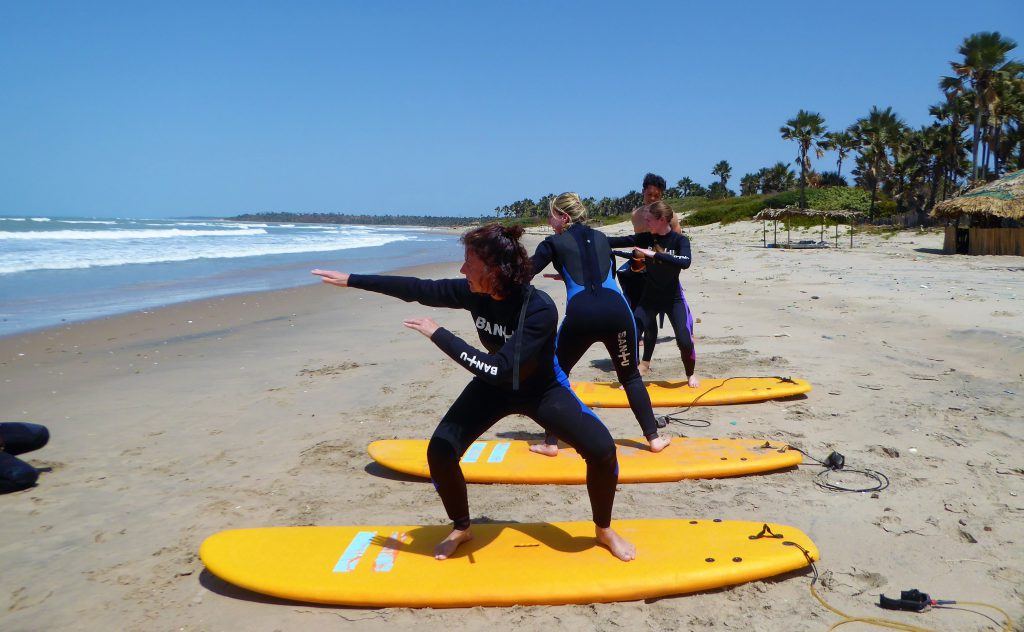 And then it was time to hit the waves!!

Then you need to experience, doing it, feeling how a wave moves and how you can catch it!
That first night I had lots of help. Babacar held my surfboard to let me stand up and get the feeling! I got off really quickly and stand on my surfboard surfing the waves!! It felt great!!D
But the next morning I got a bit less help.. The moment I got on the board I flipped and fell into the waves. Again!! I could almost stand up but before I could stretched my legs I fell down. The next wave hit me before I even was straight in front of it.. I got tired and when I got that wave behind me and wanted to get up my legs were exhausted.. What a battle, what a workout!! I loved this challenge!!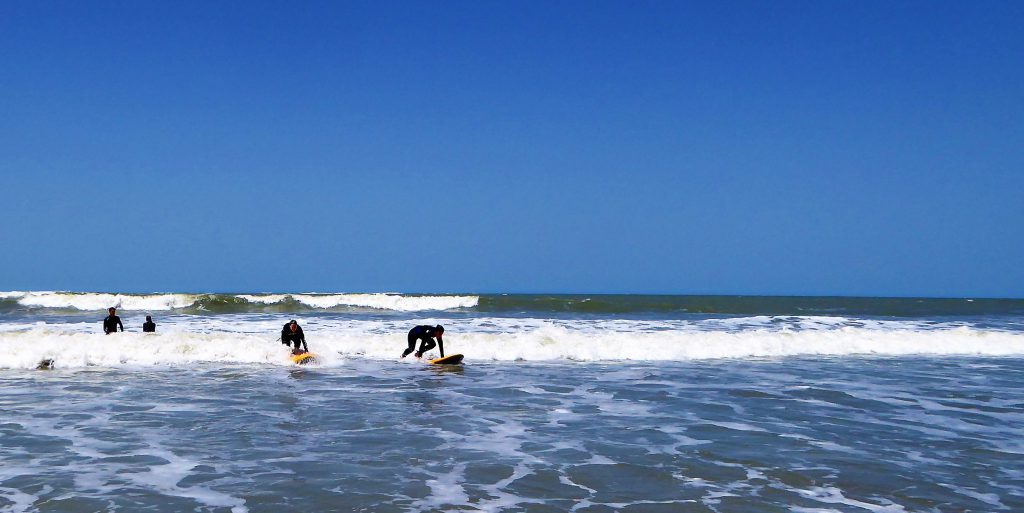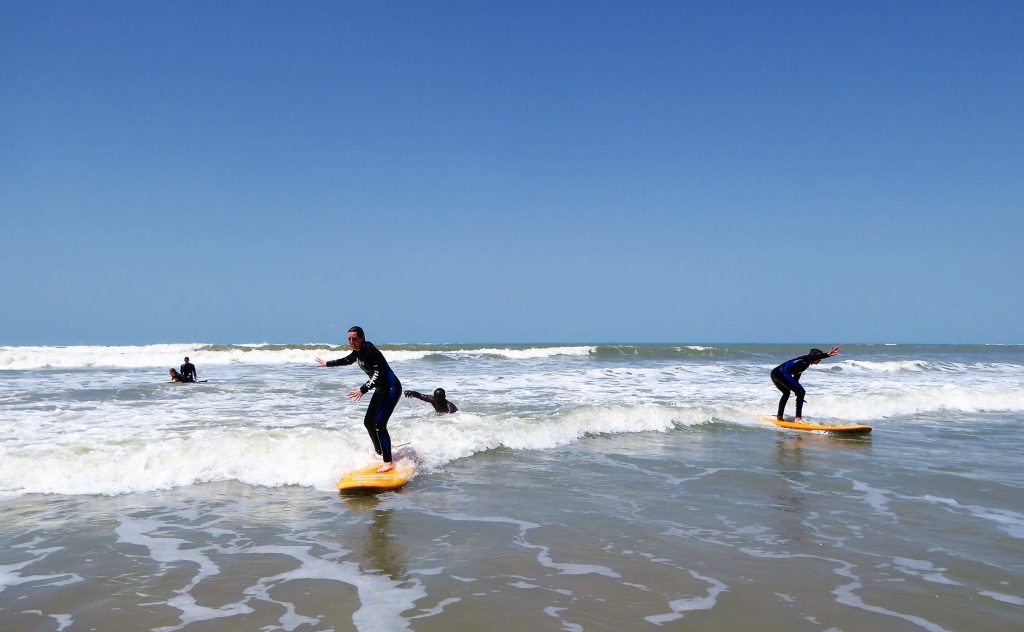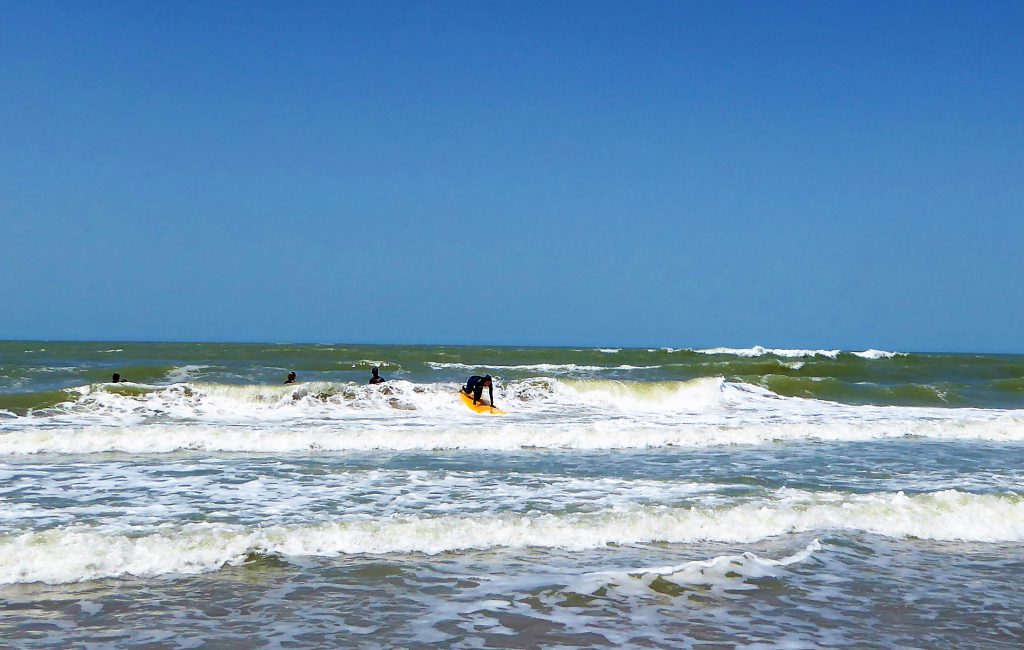 Surfing the Waves of Kartong
This fight with the waves.. You've got to read the waves… Katharina told me that she compared it with life..There is a whole theory behind it!! Read the wave, do you take it? Do you let this one go? Is it the right timing or not yet? Do you take the wave but it just wasn't the perfect one you just start over again and wait for the next wave to show itself..
The Theory of Life behind Surfing…
And just as in life… You sometimes let go of chances …
some chances you do take but it was just that… So you start again…
I loved thinking about the waves like that.. and to dive in again and go battle life 🙂 It is hard working to get behind the waves.. To go lie on the board and to wait for that one perfect wave…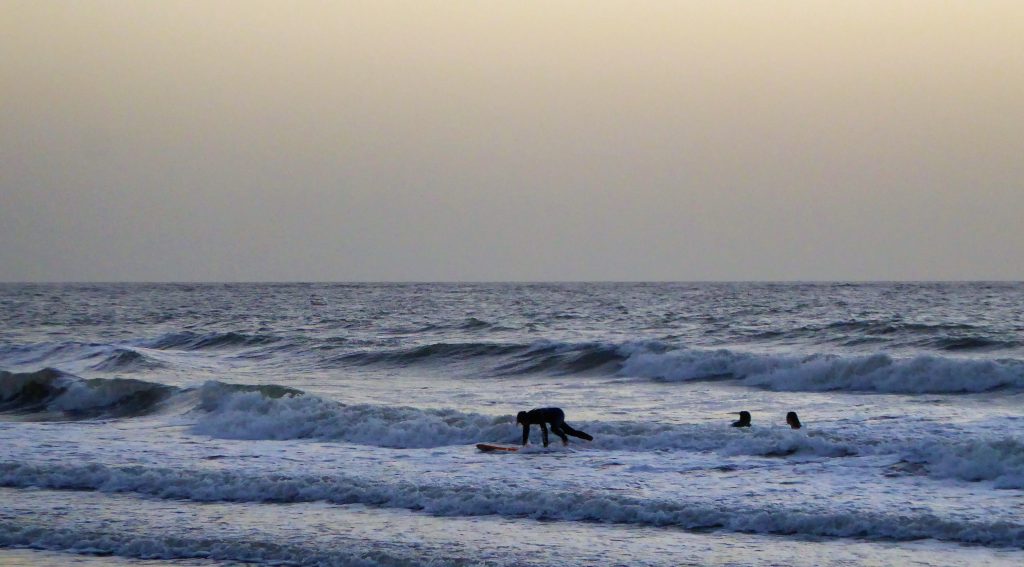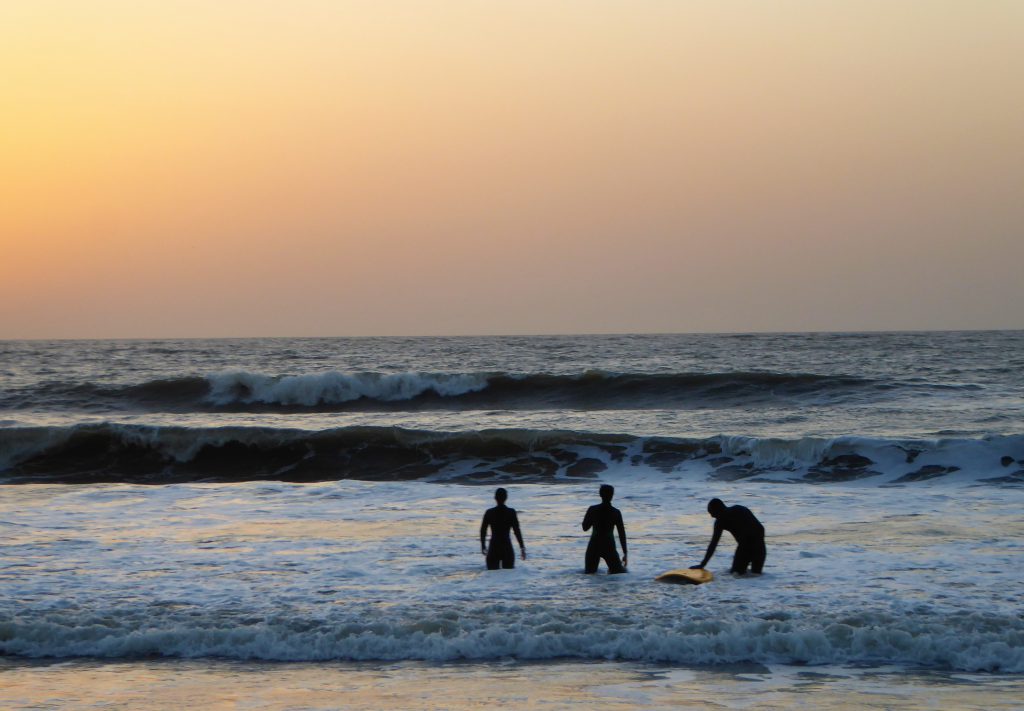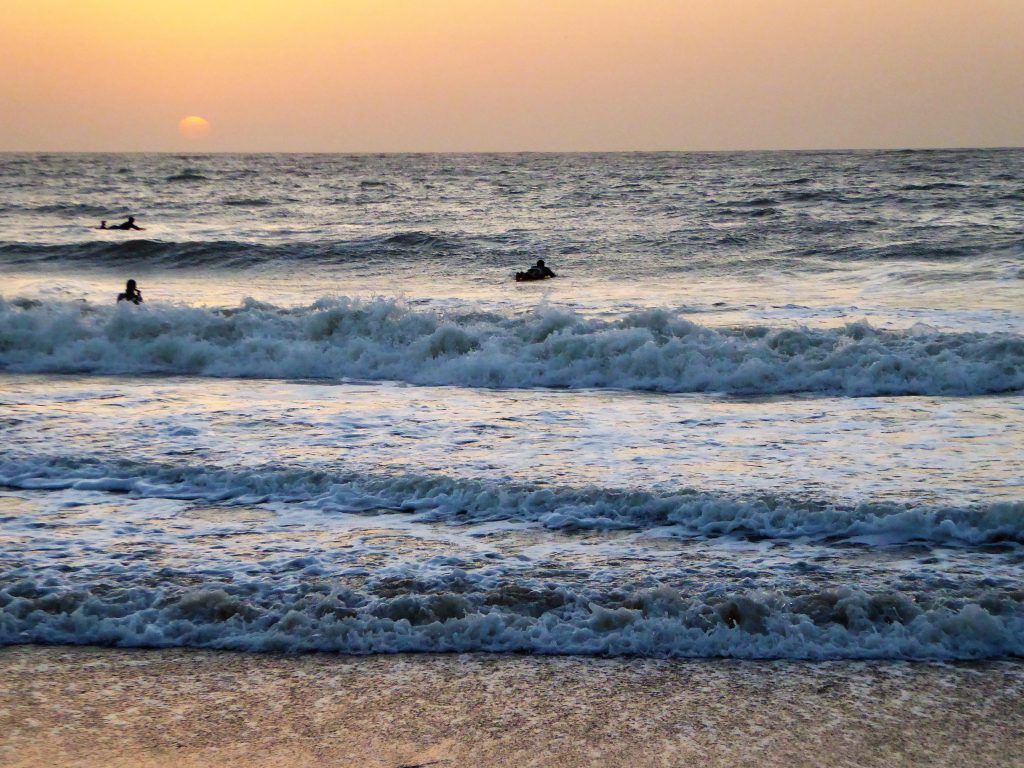 I've got a new hobby, well: challenge.
I do love to do this and there are lots of spots in the world where I can go and go relax for some days and also do this for a couple of hours!! This way I get to see a different kind of world again and the days were relaxed too! A good and healthy hobby!!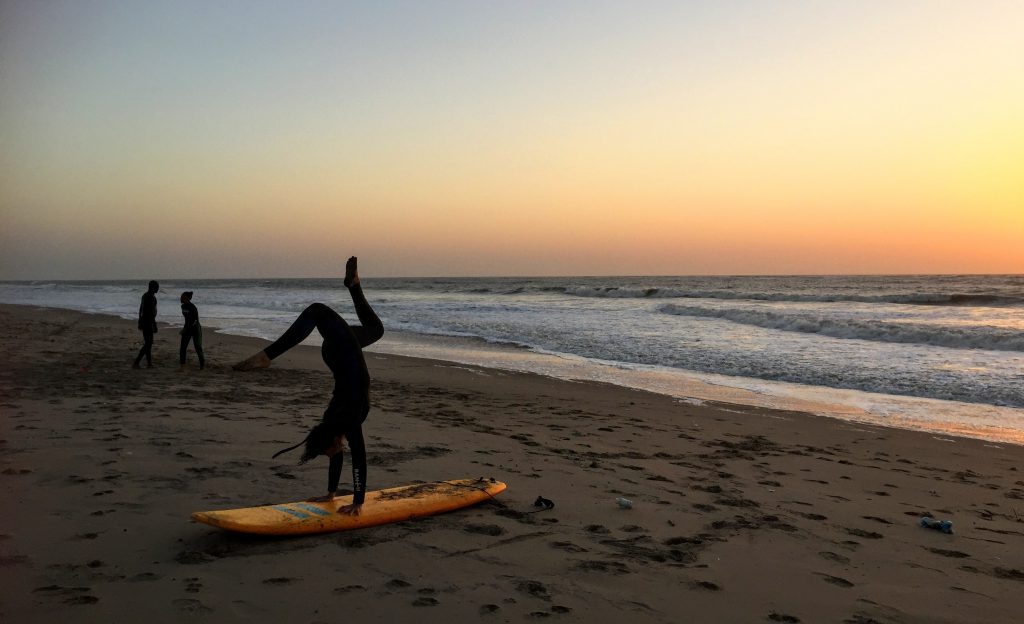 I made this clip just after this weekend…It is in Dutch but you'll get the picture!!
Stay: Kartong – The Gambia
Kartong is a village just above the borderline with Senegal. It is almost an hour drive from Bjijlo and so really great for a daytrip also!
I stayed with the group at Boboi Beach Logde but I also visited Kurumbo Logde. A Dutch lady owns it and I got to bring her a book 🙂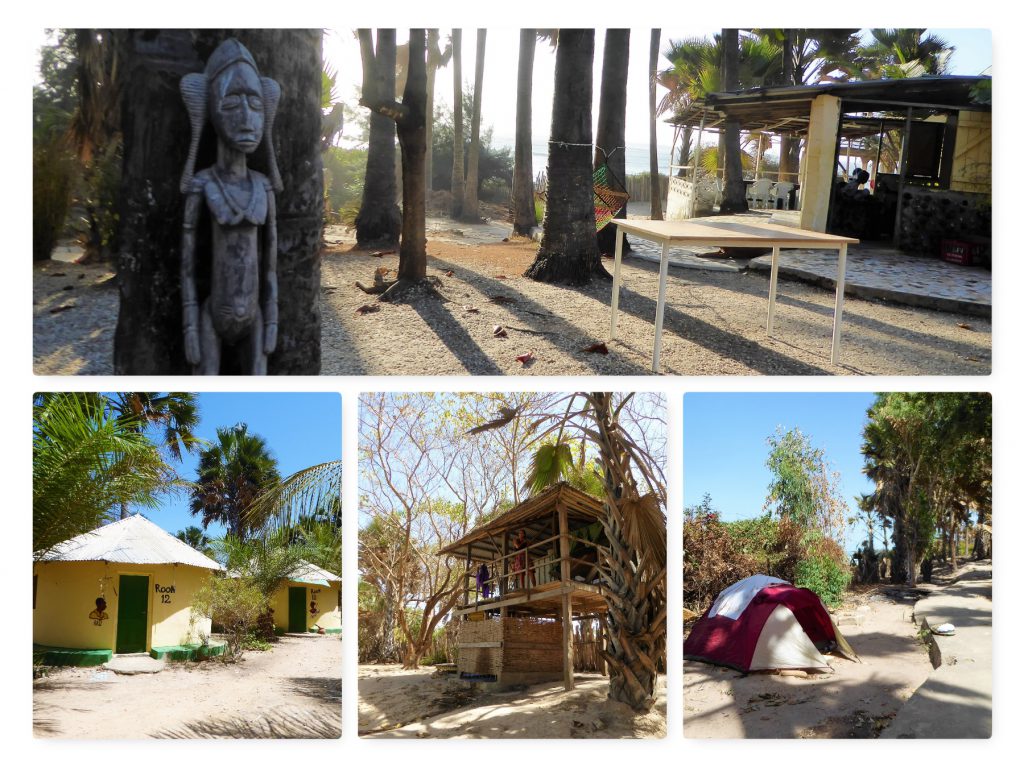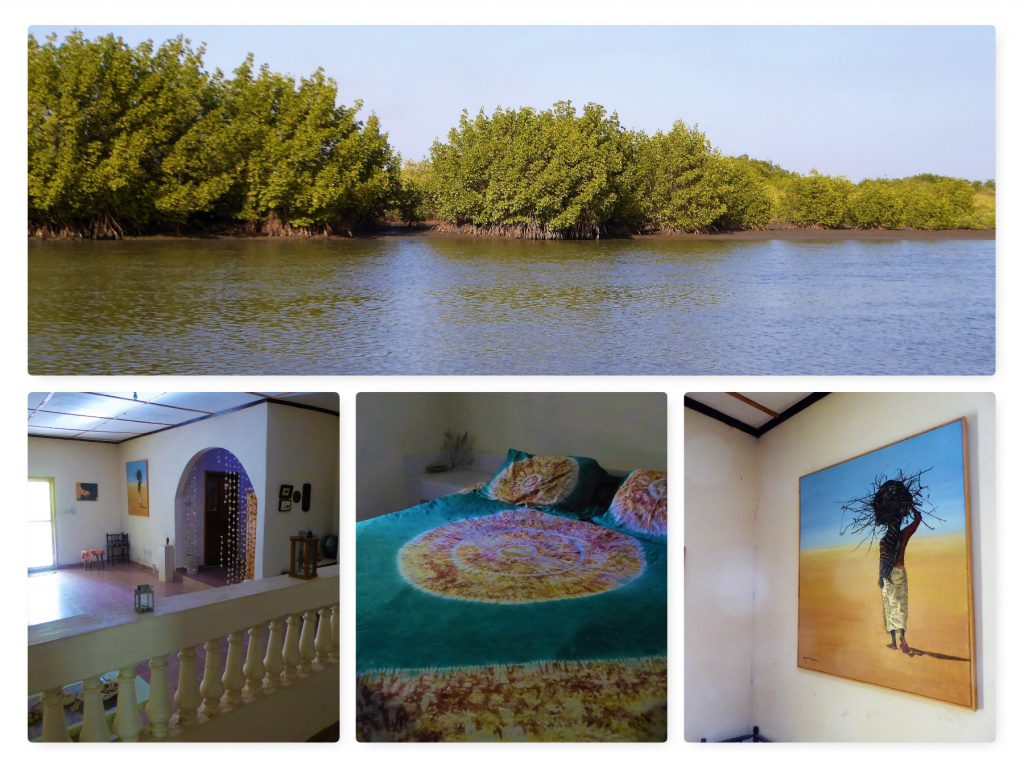 Both are really nice for a couple of nights! eide erg leuke gelegenheden om te verblijven. One on the coast and the other inlands and really remote. Are you in for some rest and see the rural landscape? Or do you go for some days beach and surfing?
Costs: Surfing the waves of Kartong
For less then 100 Euro I was there for the weekend. I paid my own water and drinks but food, stay, lessons and material (Surfboard and suit) was included!!
What else can you do
Besides Surfing the Waves of Kartong
You can go and see the reptile farm. Reptiles sometimes come into the village or at peoples home and they catch them. They bring him to the farm instead of killing them. There are lots of snakes, varanas, turtles or crocodiles.
Every where in The Gambia you can spot birds and so here too. Along the river at Kurumbo Logde and in the mangrove you can see lots of colourful birds!!
Go on a boat onto the river Allahein to go into the mangrove and see the landscape of The Gambia passing by. It is a great way to spend a hot African afternoon!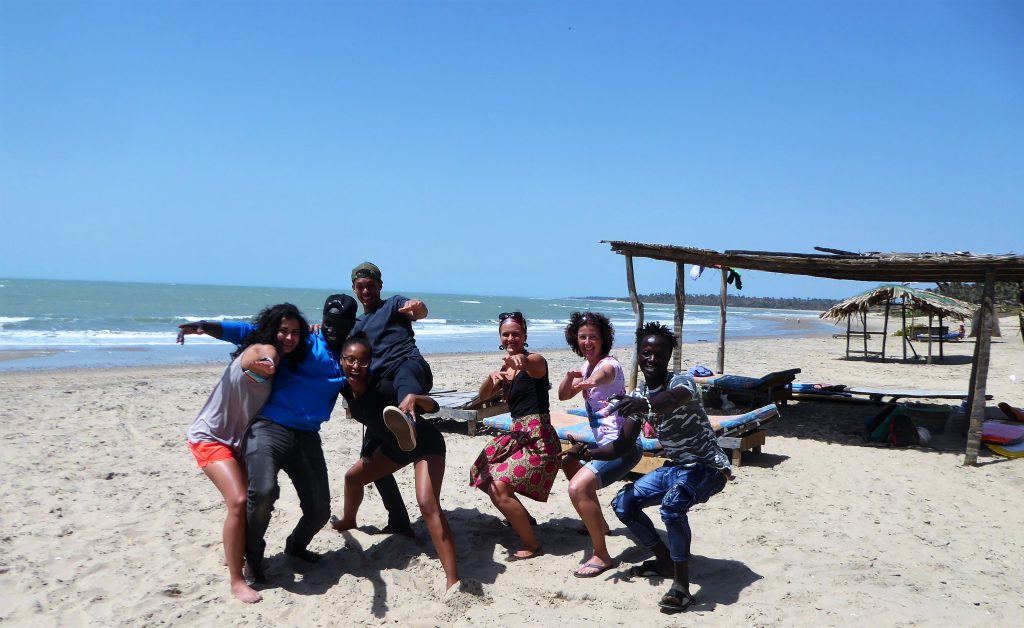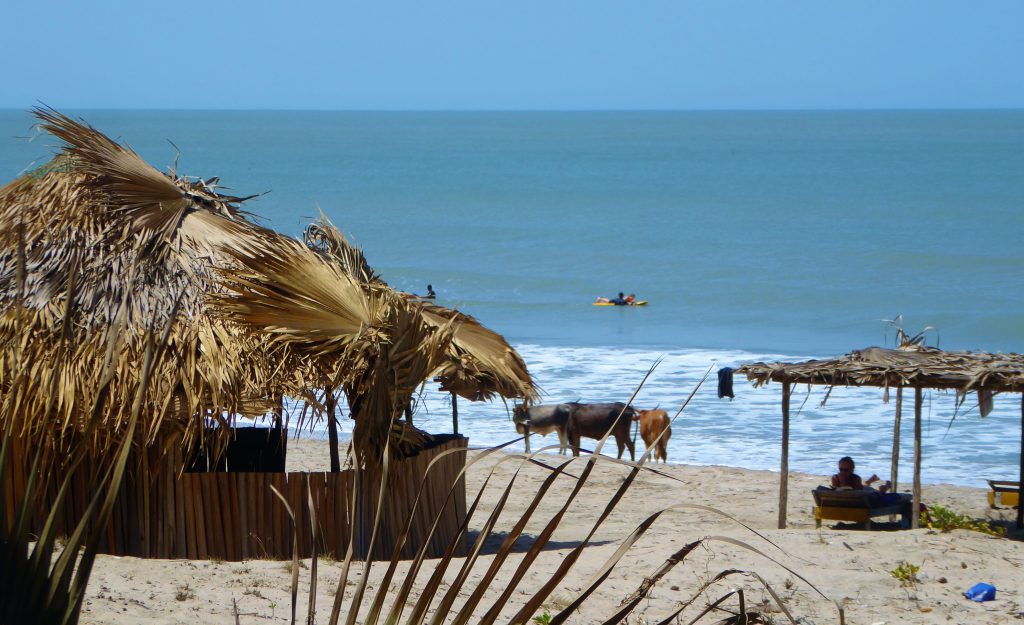 Did you like this blog? Pls share it!!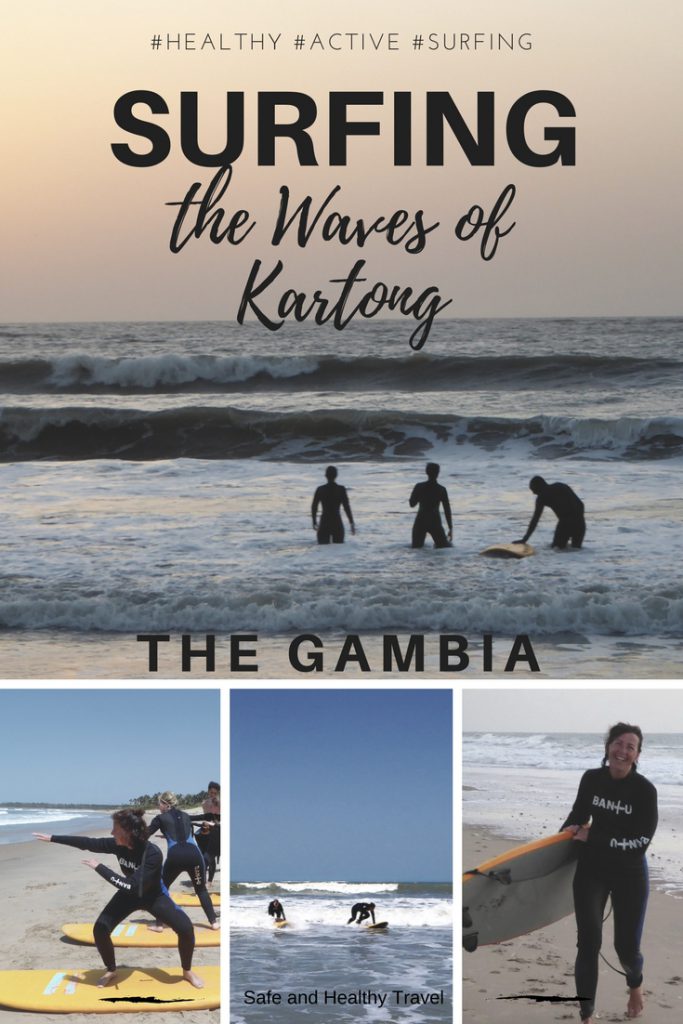 Interested in the other The Gambia posts?
Why I didn't travel solo in The Gambia
Cycling to the Fish of Tanji – The Gambia
Or how about these:
Island Hopping in El Nido – Philippines
Wandering Around the Old City of Acre – Israel
Or can I inspire you to become a pilgrim for some time?
I hope you love this world as much as I do!!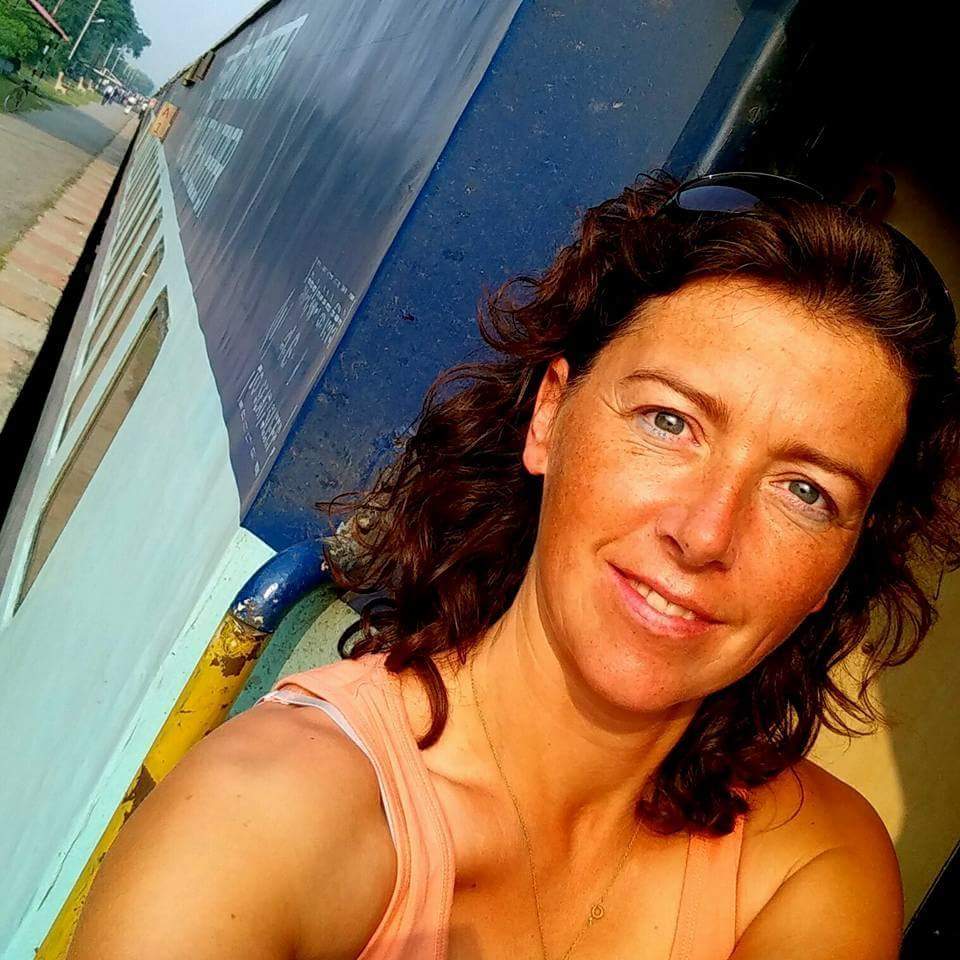 Jacomijn is een politieagent uit Nederland die jou graag laat zien hoe je veilig, actief en gezond de wereld kan over reizen. Safe and Healthy travel is a MUST