The ruins of Jerash – Once a prosperous Roman city – Jordan
|
My journey through Jordan started with a day in Amman.  After a day in the city, I went in search of the ruins of Jerash, once a prosperous Roman city in the north of Jordan.
In the capital of Jordan, Amman, I wandered around without a fixed plan to visit much. I actually like it. I am always trying to visit as much as possible so that I can make nice recommendations with my own photos, but I am starting to like the slow travel, walking around a bit slower. Also, I don't have to see everything like I did a few years ago. I also think it's fine that some things remain on my list. The experience is that this always happens, no matter how hard I tried to see everything.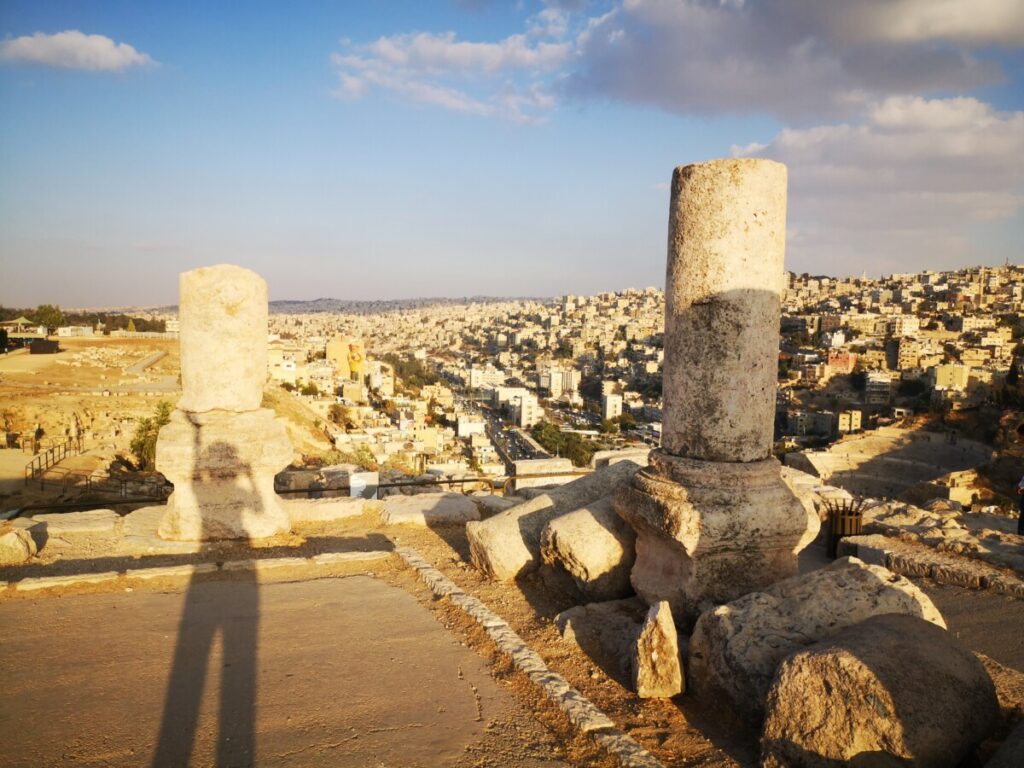 This morning, I drove off in my rental car after a delicious breakfast and arrived in Jerash at around 11 o'clock, where I checked in at Full Panorama to Archeological Site Jarash. This is the name of my hotel, it is a kind of homestay and the family gave me a warm welcome with a cup of coffee and half an hour later I was allowed into my room.
And yes, as the name suggests, it has a full view of the archaeological site of Jerash.
The ruïns of Jerash
Once a prosperous Roman city – Jordan
After this, I started walking in the direction of the ruins of Jerash. My hostess, an older woman dressed in a black long dress and with a black headscarf and a drawn beautiful Jordanian face, told me to turn right. She had to think for a moment and pointed to the right with her hand while I heard her say left… no right. We both had a good laugh about it. It's funny how you can have such a nice contact with each other so quickly. She told me that it would take me about 10 minutes to walk there, which was perfect!
I walked along the long fence along the ruins of Jerash looking for the entrance. The first entrance was actually not the right one, it turned out, when halfway through my tour my attention was drawn to the fact that I could buy the ticket further on. This is near the Hippodrome, the place where the races used to be held. Great that this was all held at this spot so many years ago.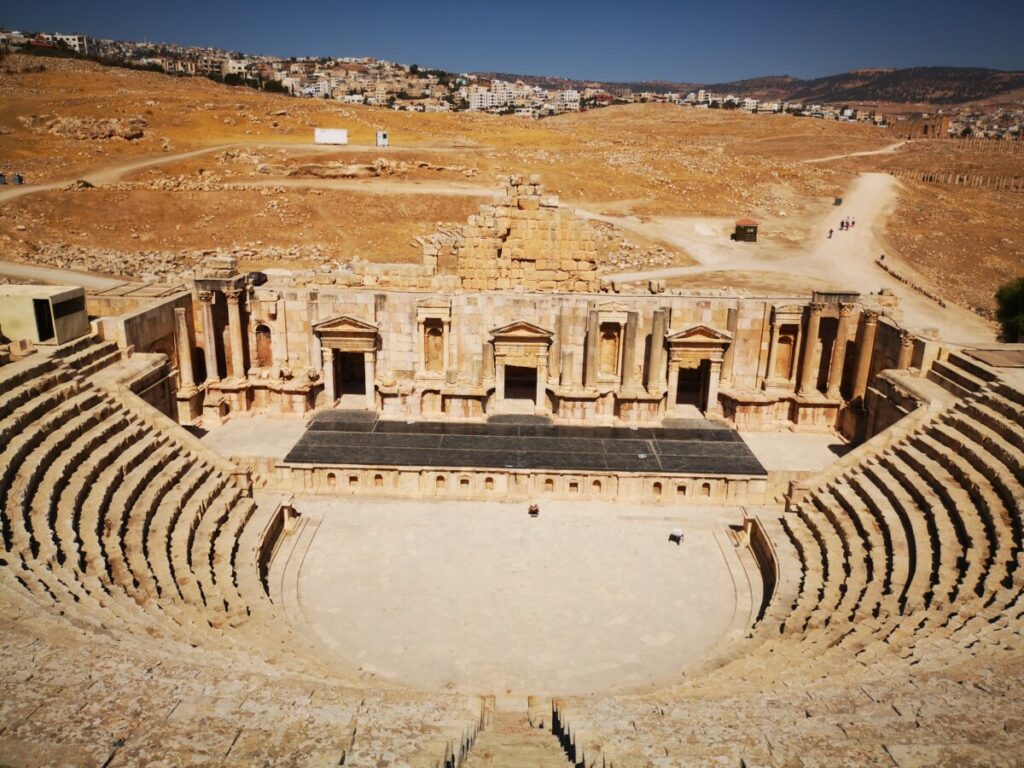 Jerash, also called Jarash, used to be called Gerasa. This is the Roman or Greek name and I read somewhere that they also call it the Pompeii of Asia.

It is one of the best preserved Roman cities in the world because there are still a lot of buildings partly standing. The first finds at the ruins of Jerash date from the Bronze and Iron Ages. I read that the Romans lived here since the first century B.C. and they built the city in the first and second centuries.
I bought my ticket, and a nice fresh pomegranate juice and walked back into the area. Before you get to the hippodrome you walk through Hadrian's gate. If you look on IG you can see in my stories from today that the pomegranate was quite sour, at least the first sip 🙂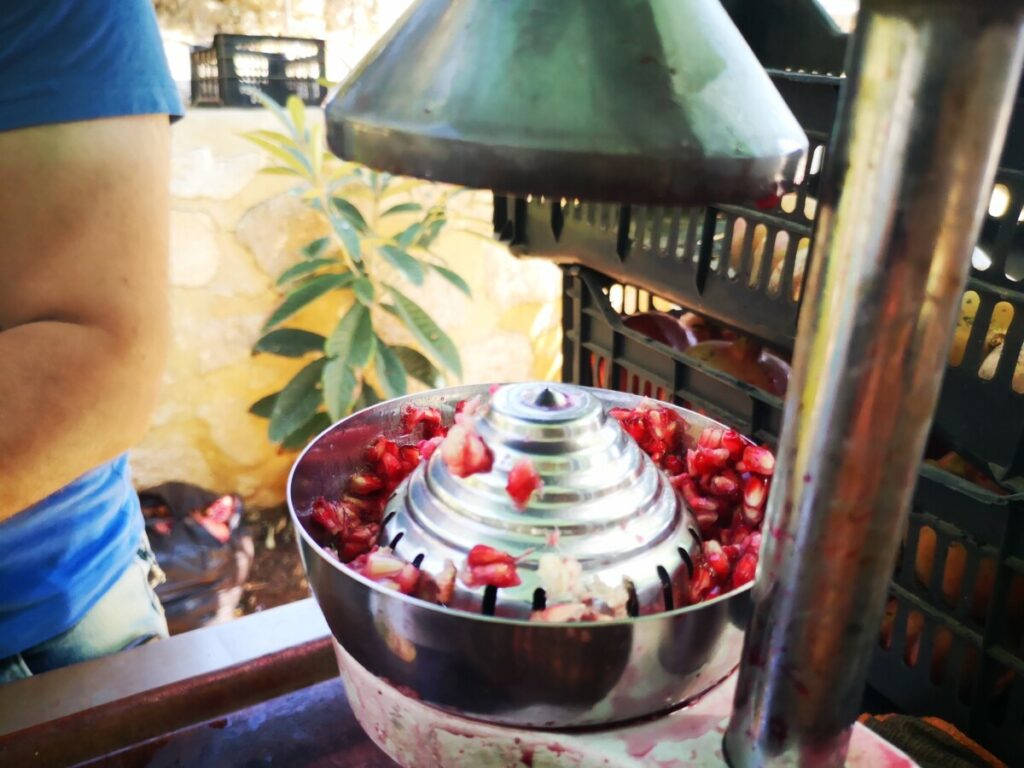 The imposing Hadrian Gate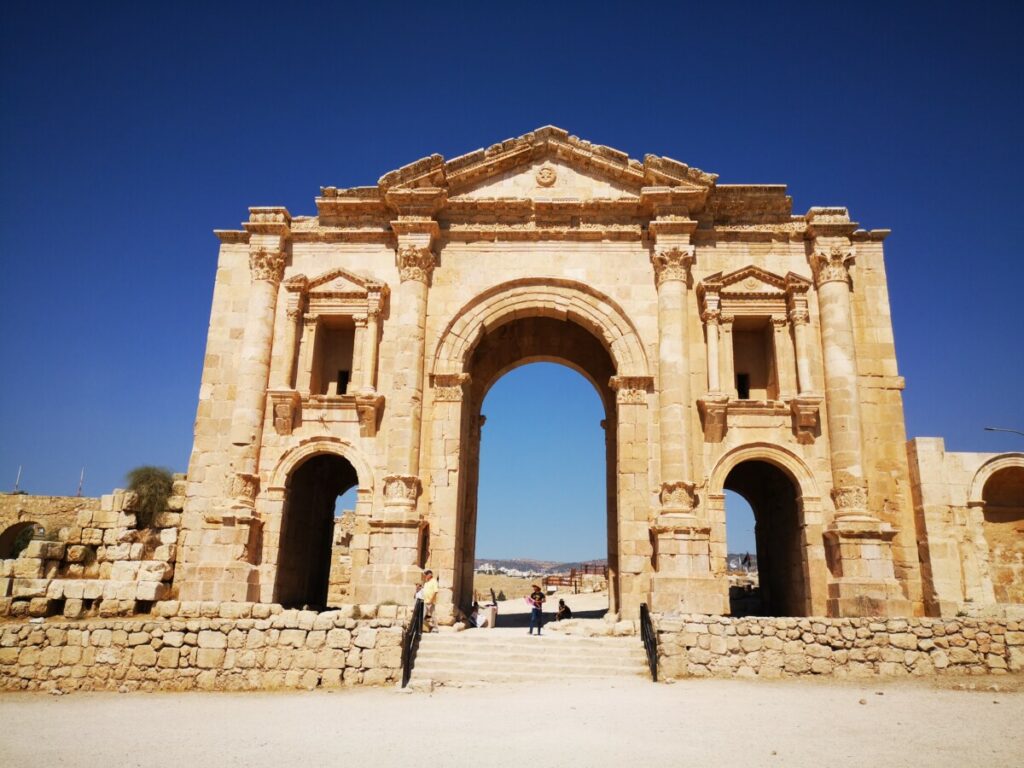 It was built in 129/130 AD when Emperor Hadrian came to visit the city. Quite an impressive gateway to the city. Continuing on I passed the hippodrome on my left and meanwhile I was approached by a young man who told me he came from Syria. His parents still lived there but he and his 2 sisters had come to live here. His youngest sister went to school, he told me proudly.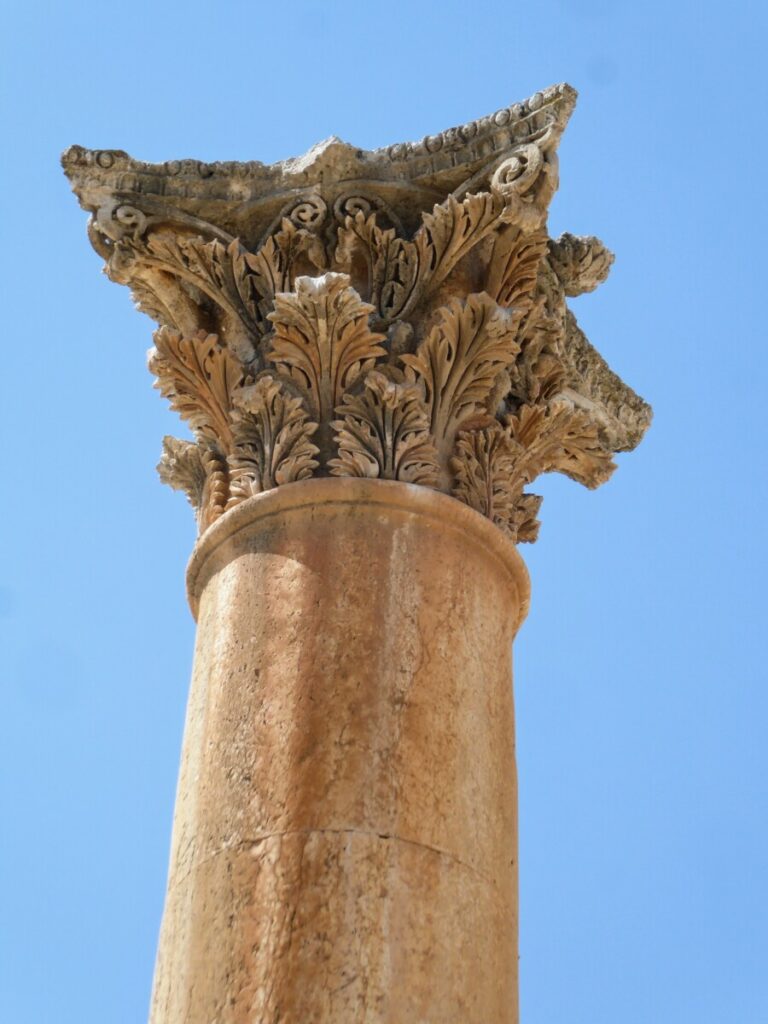 Walking further, I passed a part of the city wall and ended up at the oval forum. A large square where people are working hard to restore everything to its former state. They are working everywhere, at a Middle Eastern pace of course, but a lot is being restored to the way it was. Especially because there is still quite a lot standing, it is easy to imagine how inventive and how 'modern' this city must have been for that time. I always think that it used to be a struggle but that is not so bad when I walk down the Cardo a little later.
Cardo – The shopping street of Jerash
On this wide street you can see that it could have been a super modern city. There are pavements on both sides of the road, and the wide road itself has manholes in it. In other words, there was just a sewage system that disposed of the water and the waste here. From the small spaces that I see on the side of this road, I can, with a little imagination, see amazing little shops that sell anything your heart desires. Unbelievable, isn't it?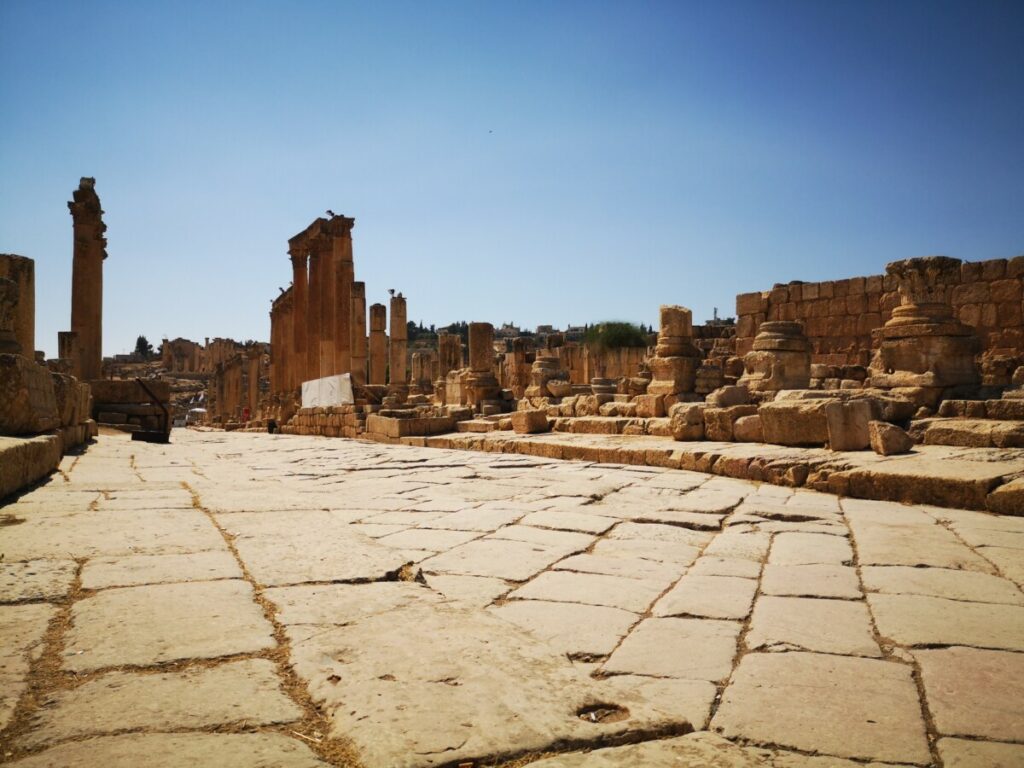 At some point, I am at a round square on this road and I can turn left and then I would come out at the baths on the east side, yes heated. If I turned left, I would walk to the area above where I later came to an area also with baths. These were slightly more modern with smaller rooms where you could take your own bath with your company. There was also a large room where you could bathe together, which was perhaps less expensive?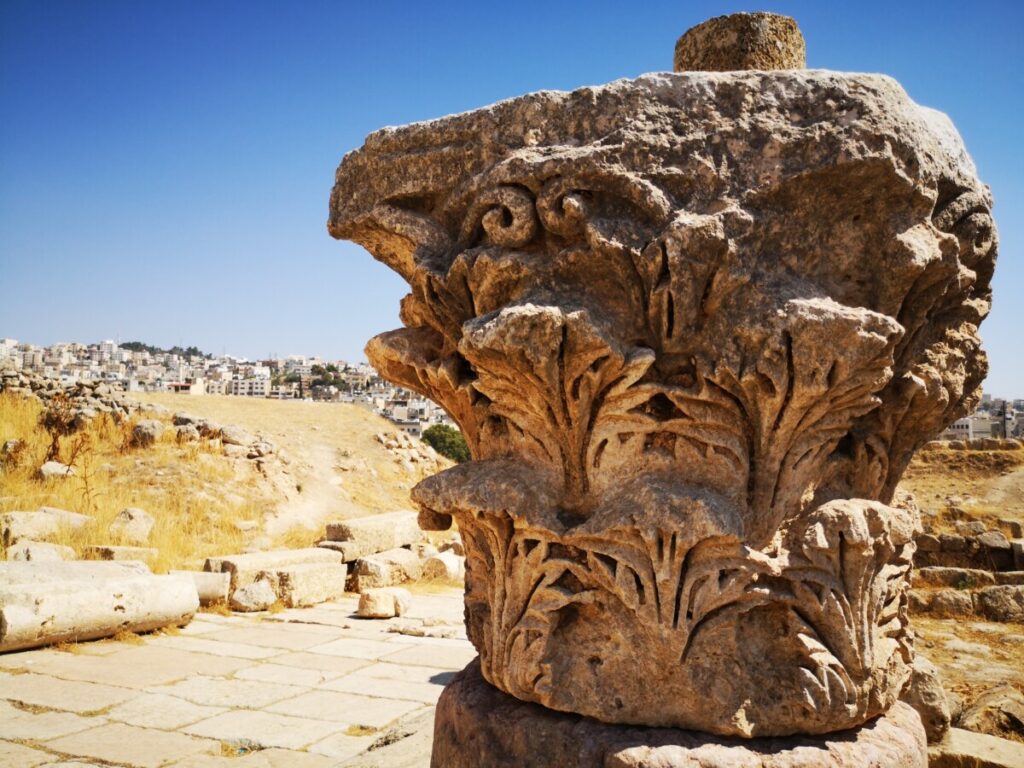 I think it is great to see and read that things could be so neat in those days. Waste as we know it, of course, they did not have. The waste they had was natural and perished, of course it can always stink but when I read that they had a sewer running under the Cardo, it was very well arranged already!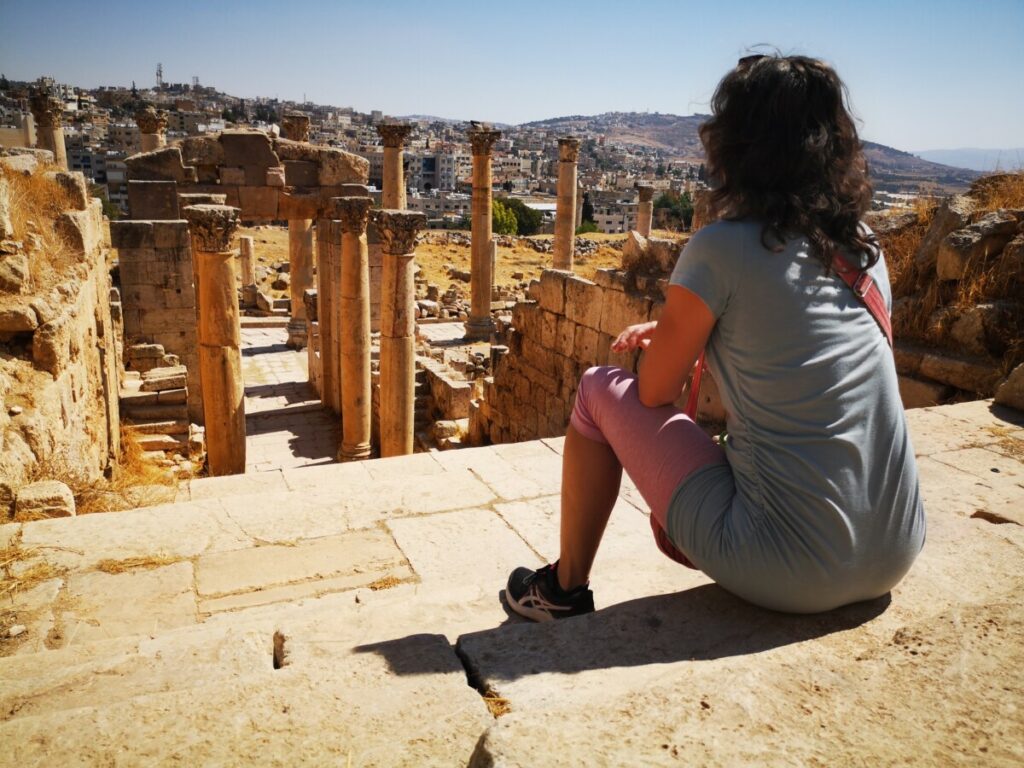 Walking further, I caught sight of the North Gate. On my left I could see the many white and beige houses against the mountain that formed the new Jerash. The ruins of Jerash are right in the middle of the city, which is quite strange. The new city has formed itself around them.
North Theatre – South Theatre
I walked up here to end up at the North Theatre, previously I was at the South Theatre. How cool? The life of the Roman people revolved around cultural gatherings in the theatre or the horse races, the forums that could be used for political purposes and religion. In the theatre, I sit for a while on almost the top step, lovely in the shade.
Enjoying the view in the theatre but also over it into the surroundings.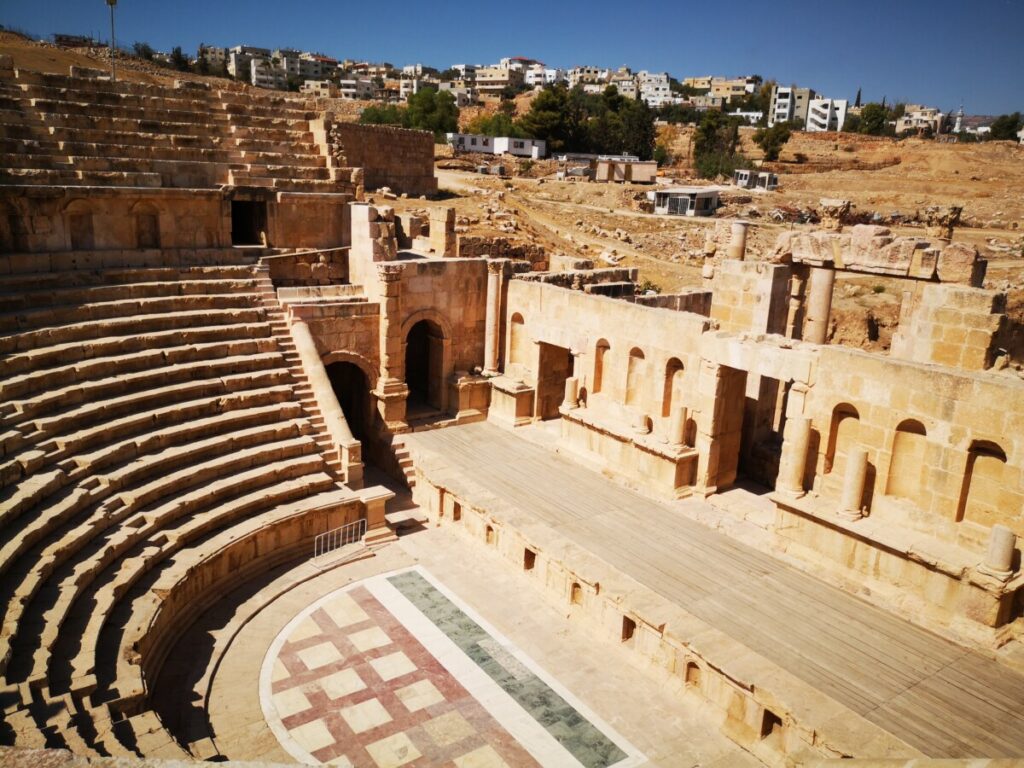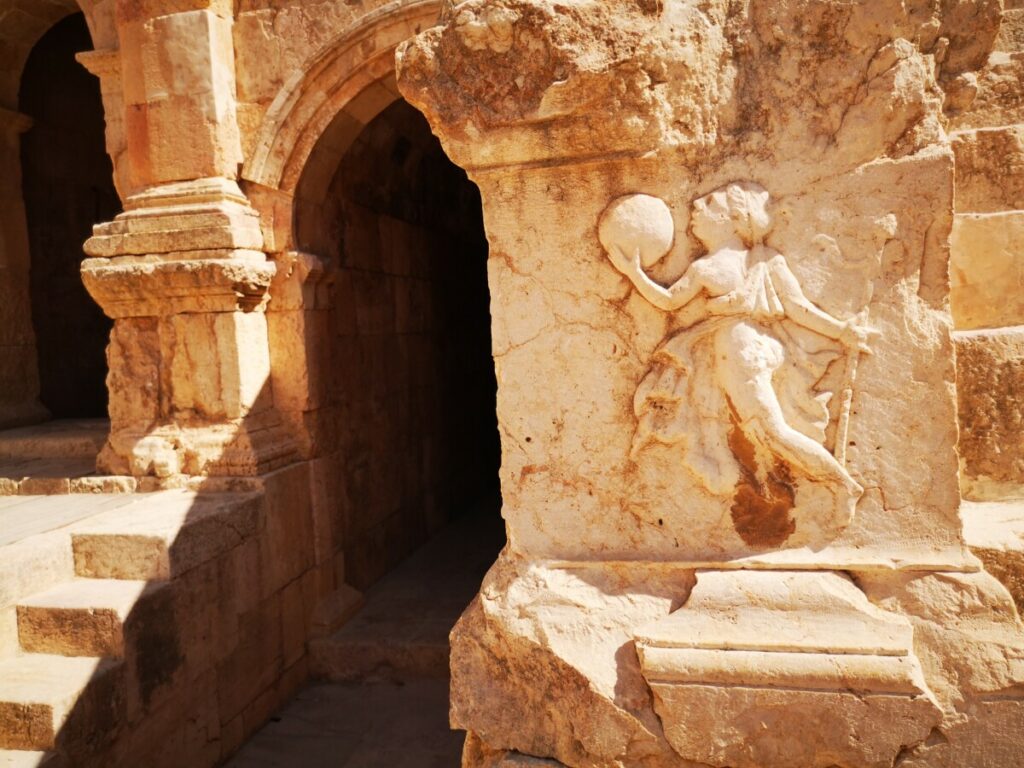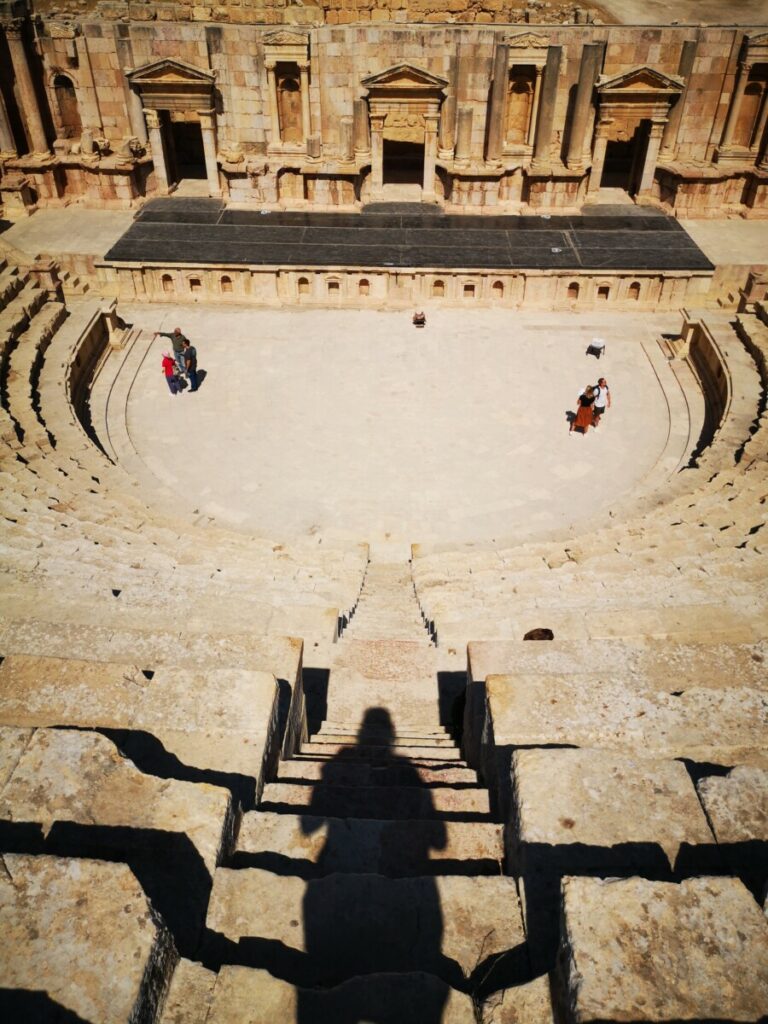 Temple of Artemis
I also come across some of the church ruins of Jerash. A Greek/Roman church and the church of St Theodore and on top of the mountain the temple of Artemis. There I meet the two Dutch ladies again. They are sitting in the shade drinking a can of chilled soft drink and are told the history of Covid19 by local souvenir sellers.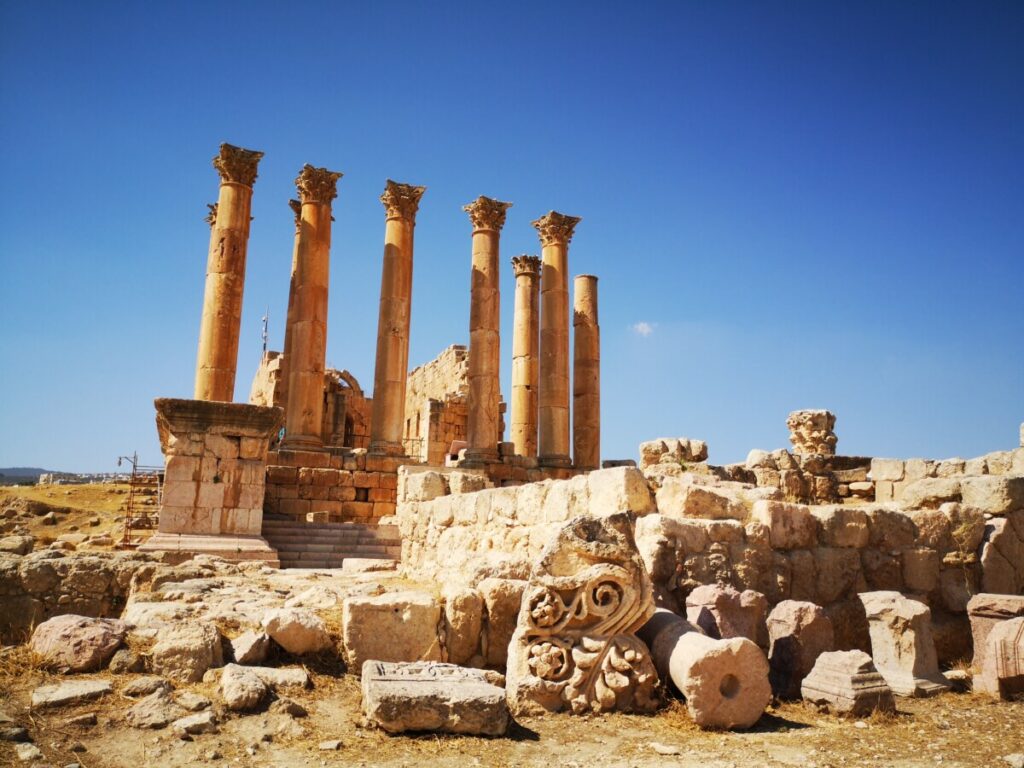 I take a look and decide to walk on again, I'm not really waiting for a corona discussion hahaa!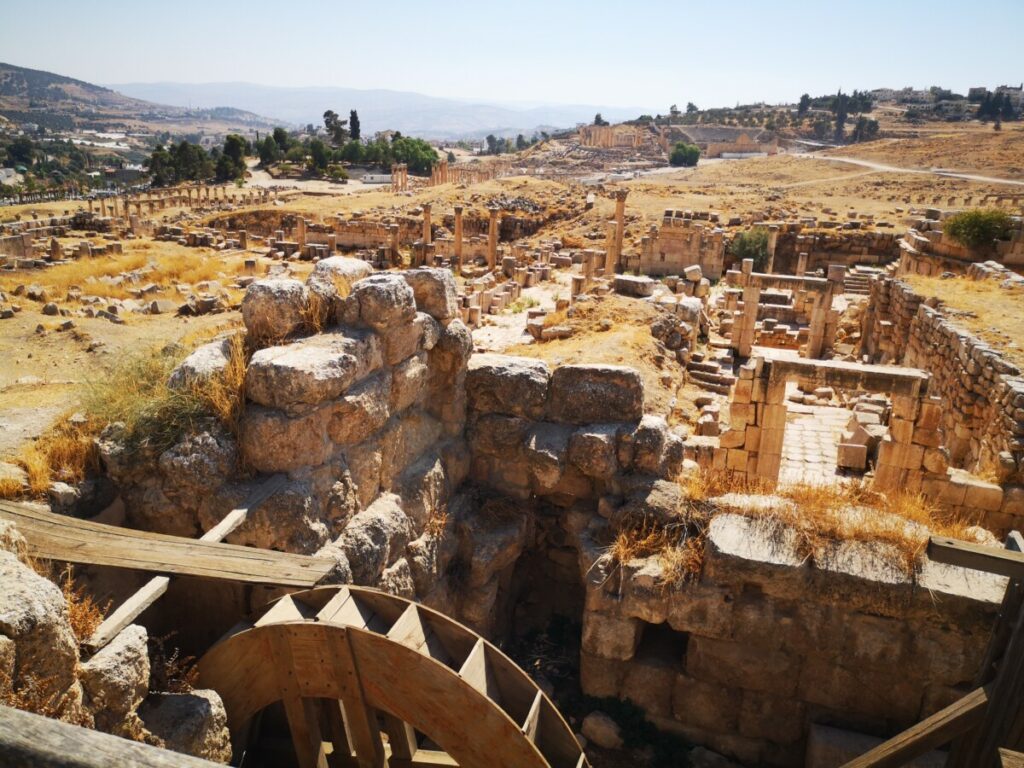 As I continue my walk, I come across an ingenious piece of Jerash, namely a water-powered saw. It could saw through stones and thus make the beautiful stones of which the buildings here are built. How good?
Next I come to the beautiful baths and I see an old stone bathtub lying on its side. In the floor plan showing the stones, I see the small rooms meant for private baths. Really well done here.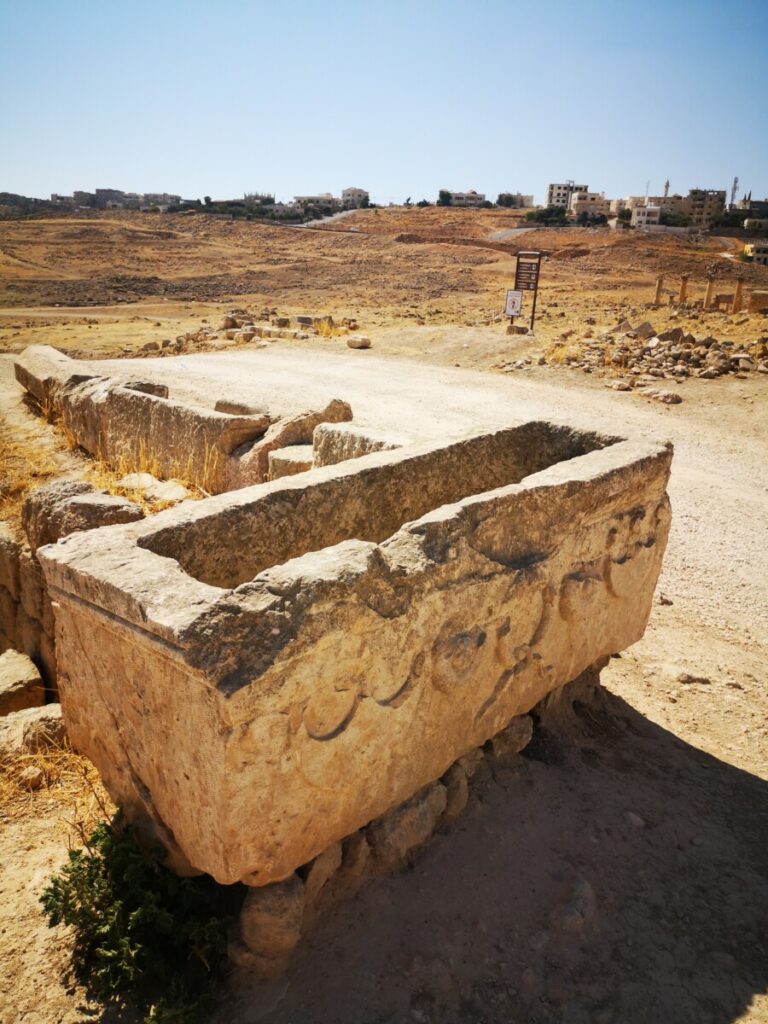 Walking further across the barren plain, I arrive at the Zuid Theater, where I entered the area through a work entrance. I decide to get out again here. It's the middle of the afternoon and I like to sit on my terrace. To enjoy the view over this place and to just take it easy. In the meantime, I've also typed this blog and I can let you enjoy my day with me!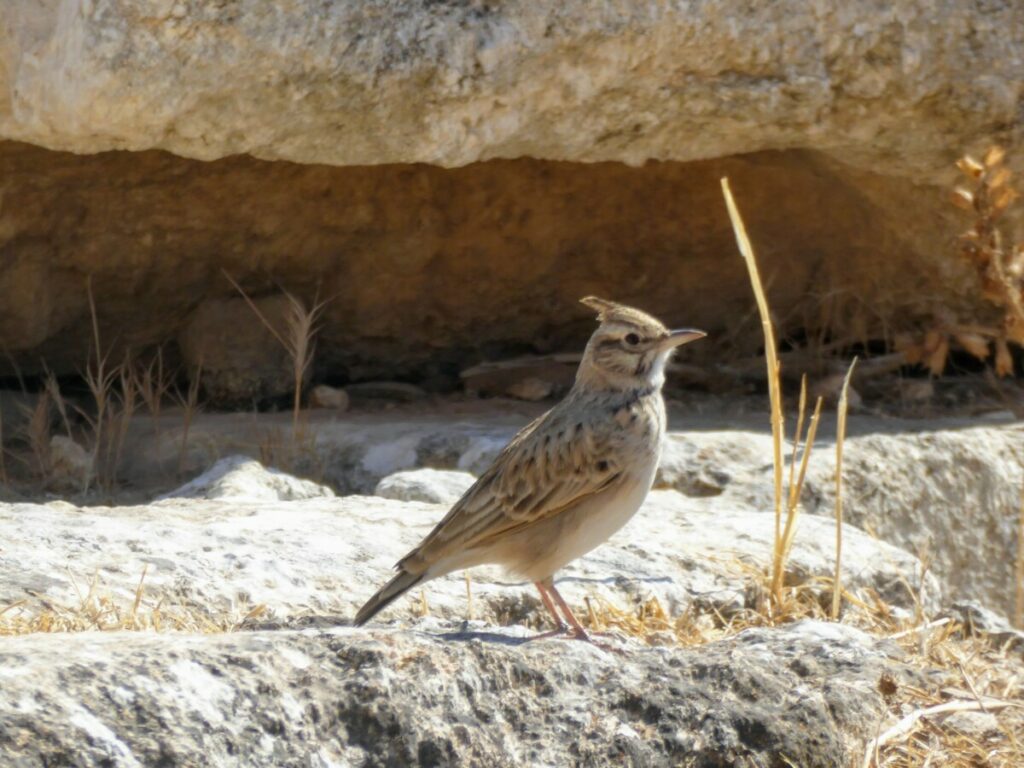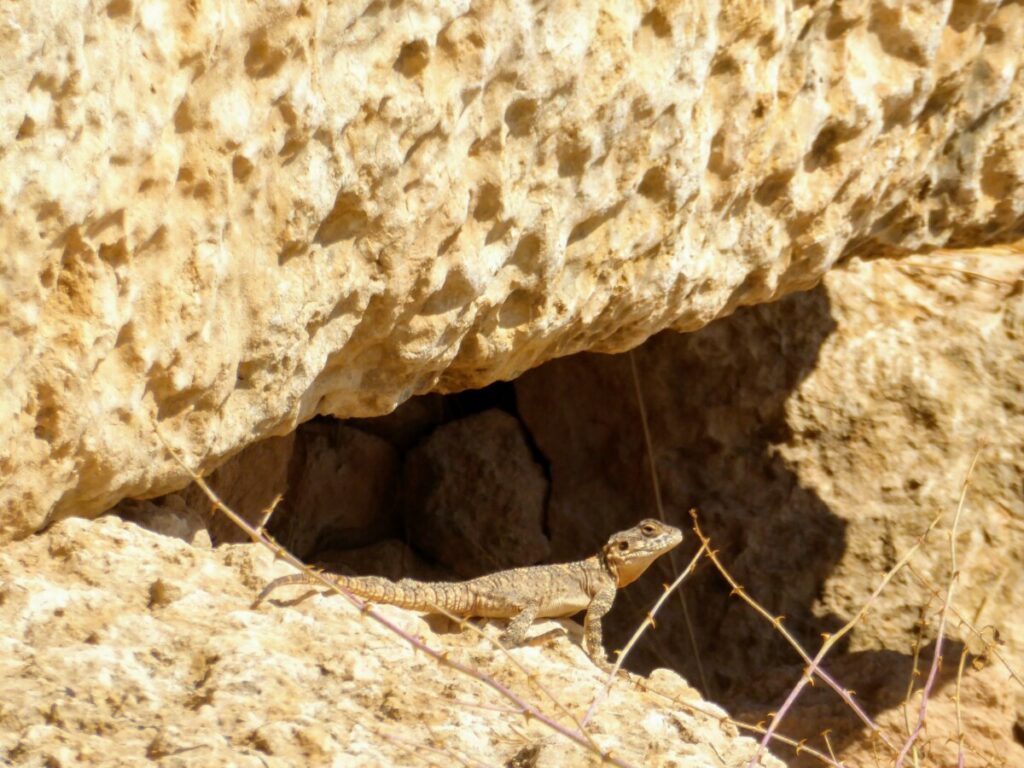 Duration & Costs
My visit to the ruins of Jerash lasted about three hours.  You can, of course, hire a guide to tell you about the area, but at many places of interest there are signs in English, Arabic and French. I found them very interesting and they were also very illustrative so that I understood the working of the saw and the water system.
The entrance fee was 10 JOD, which is over 12 euros.

Where to stay in Jerash
I was googling and searching in different apps when I stumbled upon this nice place: Full Panorama on Archeological Site Jarash. A bit of a strange name, but it shows exactly what it is. I have a full view from my balcony of the archaeological site of Jerash. Super friendly people with a good story. After dinner, which I had outside on the terrace, I joined them in the kitchen. They were smoking a water pipe and I was getting a cup of tea. Sleman, the son of the house, told me that he had an out of the box moment when he thought of renting rooms to tourists. At first, his father did not want to go along with the idea, but after he had set up a successful business elsewhere, he was allowed to start in his parents' house.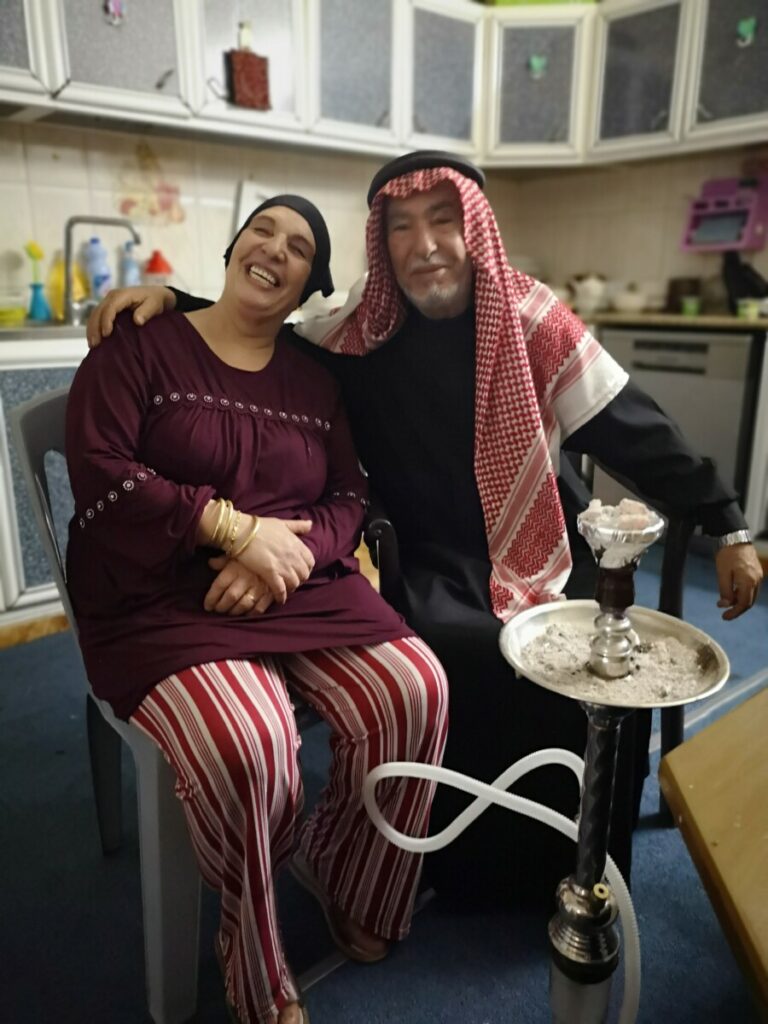 In total they now have 12 rooms, 6 on the second floor and 6 on the third floor. And they just added the third floor. They started 2 years before the corona, so they are doing well! What nice people, what a good story! I am very happy to advertise for them!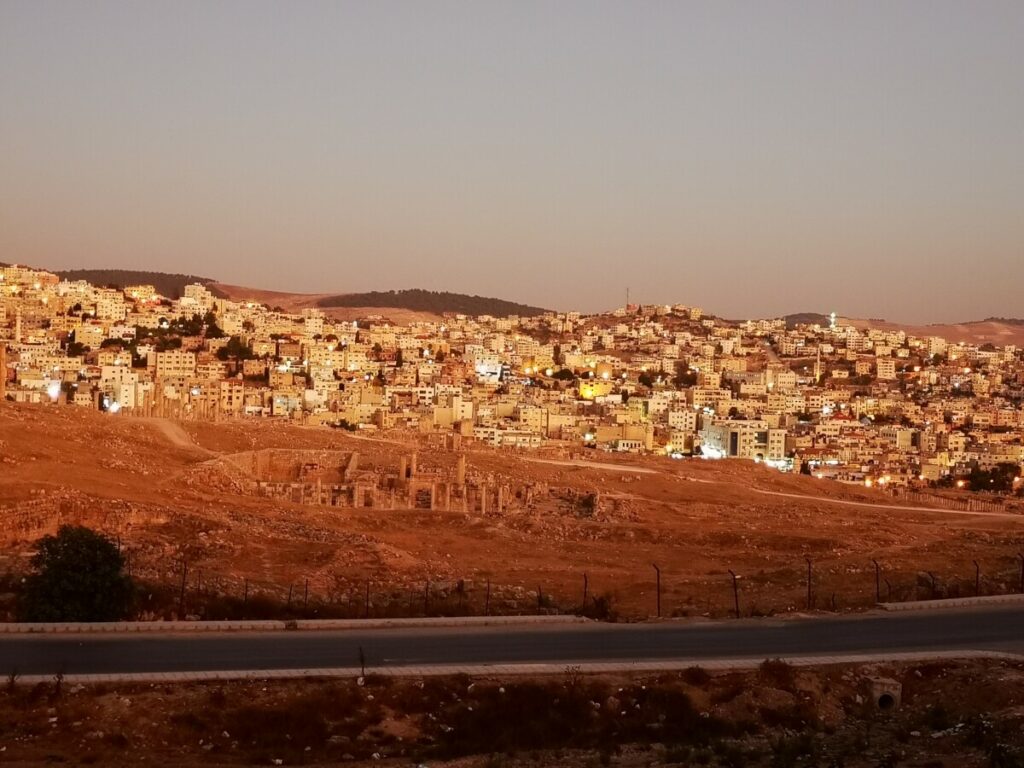 Jordan Pass
If you buy the Jordan Pass before you come to Jordan, the entrance fee is already paid. I only found out when I was already here and that is a pity because your visa is also included in the Jordan Pass. So I bought the visa at the airport for 40 JOD. I really doubt whether I should buy the pass because I already paid the biggest part of the pass: the visa. Besides, the pass is valid for 2 weeks and I am still going to Petra and that is the second precious place. I will stay here longer than 3 weeks and then it would be a pity that I already bought the pass but haven't been to Petra yet. Tricky!
Share this post as an inspiration to others
or save it for a future trip by pinning it or adding it to your favourites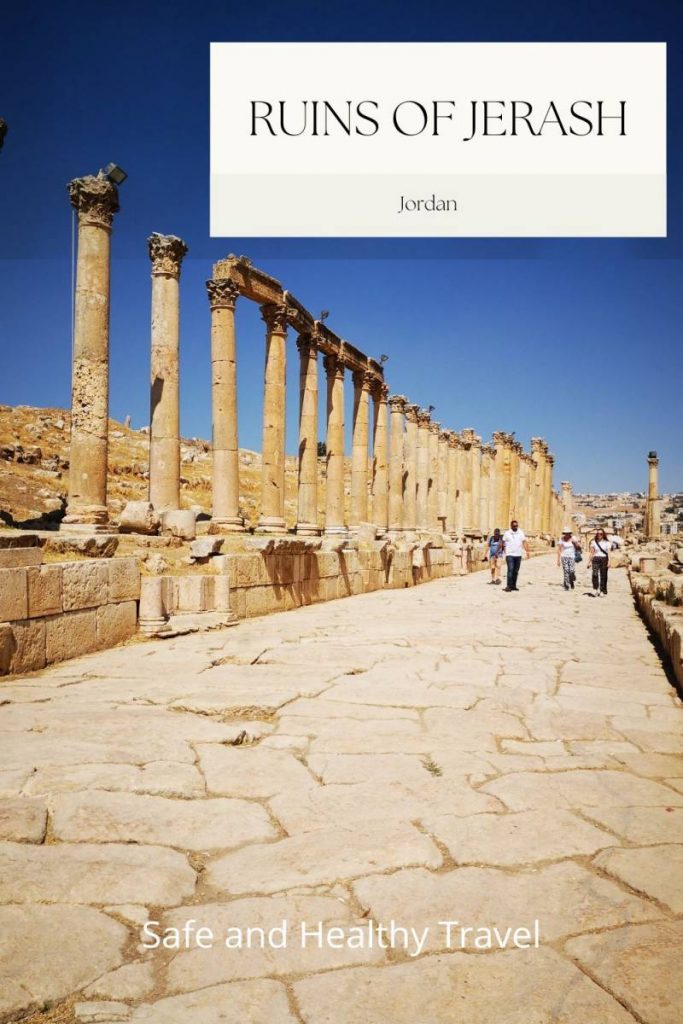 Want to read more about Jordan?
Visit Salt – The Former Capital of Jordan (As-Salt)
Visit Jordan's Most Beautiful Wadi – Hike into the Wadi Mujib
Wandelen in Dana Biosphere Reserve – 3 trails (only Dutch)
Bezoek de historische stad Petra – 2 dgn (only Dutch)
De kerken van Madaba en Bethany beyond the Jordan (only Dutch)
Also read my advice on why you shouldn't be on the streets after dark.
Nightly Adventures – Why you shouldn't be in the streets when it is dark!
I hope you enjoy this beautiful world as much as I do!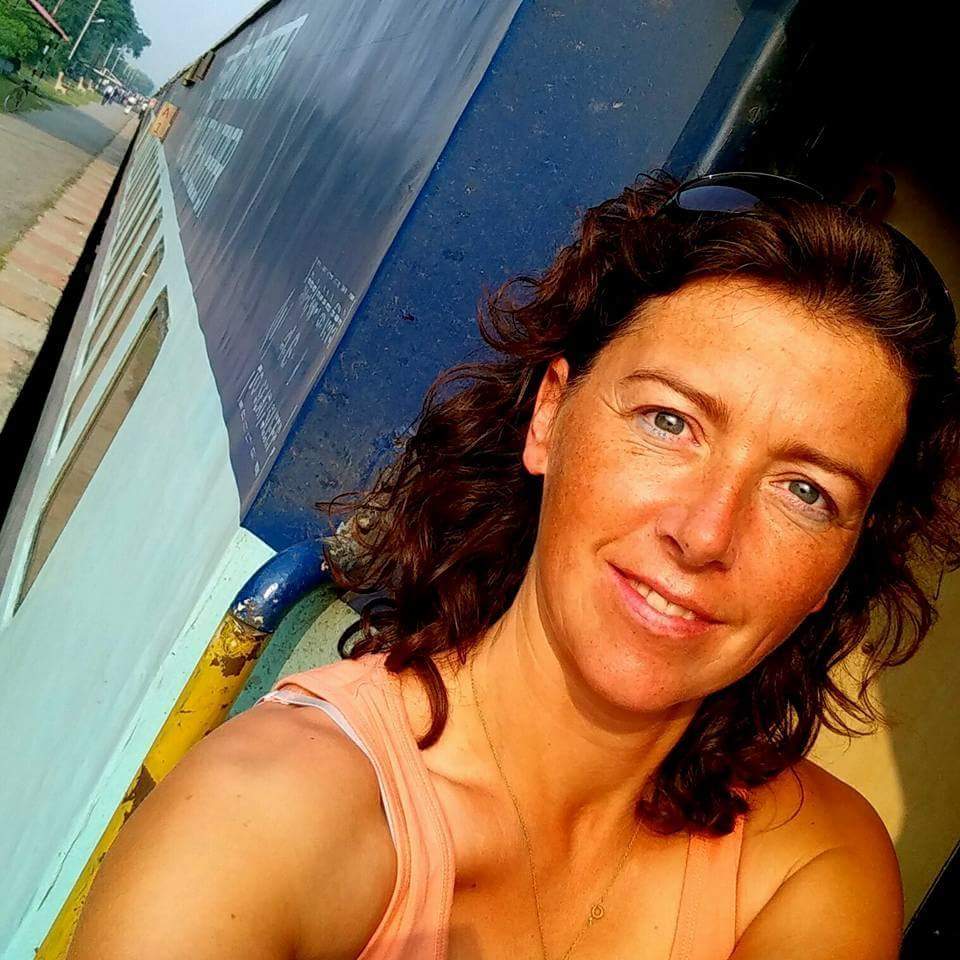 Jacomijn is een politieagent uit Nederland die jou graag laat zien hoe je veilig, actief en gezond de wereld kan over reizen. Safe and Healthy travel is a MUST