Hiking in Dana Biosphere Reserve – Get the best views in Dana, Jordan
|
When I was in Jordan at the end of 2021, I also had Dana on my list. Of course I went hiking in Dana Biosphere Reserve in Jordan. I stayed two nights in the small village of Dana and walked as much as I could. I had not booked a hike in advance and that is a pity in itself because then I would have had the. Or booked. Now I walked a short walk from Dana in the afternoon and two slightly longer ones the next day. The area is really great and I am glad I went there.
Dana Biosphere Reserve is the largest nature reserve in Jordan with 292 m2. Since 1994 Dana Biosphere Reserve has been a protected park, and efforts are being made to preserve it. It is an extremely diverse nature reserve, which has several mountain ridges in it and lies along the Rift Valley. They have been doing their best for years to get ecotourism right here.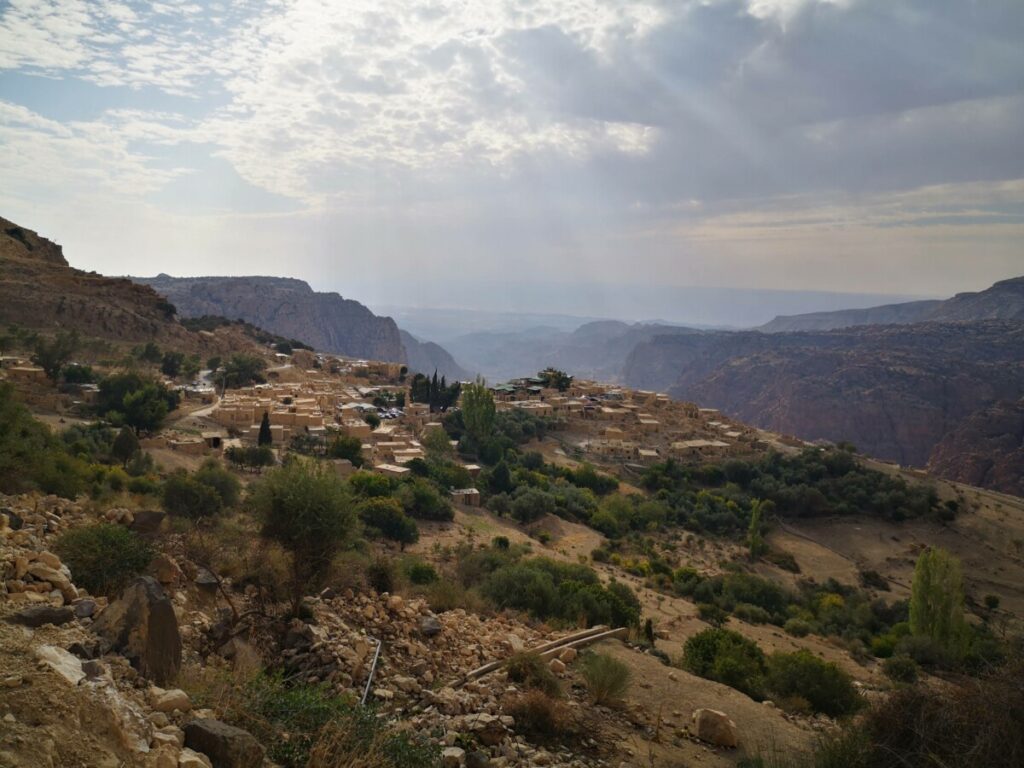 Go Hiking in Dana Biosphere Reserve
Get the Best Views in Dana, Jordan
After a good night in the Wadi Rum desert, I arrived in Dana Biosphere Reserve via the King's Highway. On the way, you get the most beautiful views and I made sure I was in time in the village so I could already explore. I also hoped that I could arrange a hike on the spot, either with another group or if necessary with a guide on my own.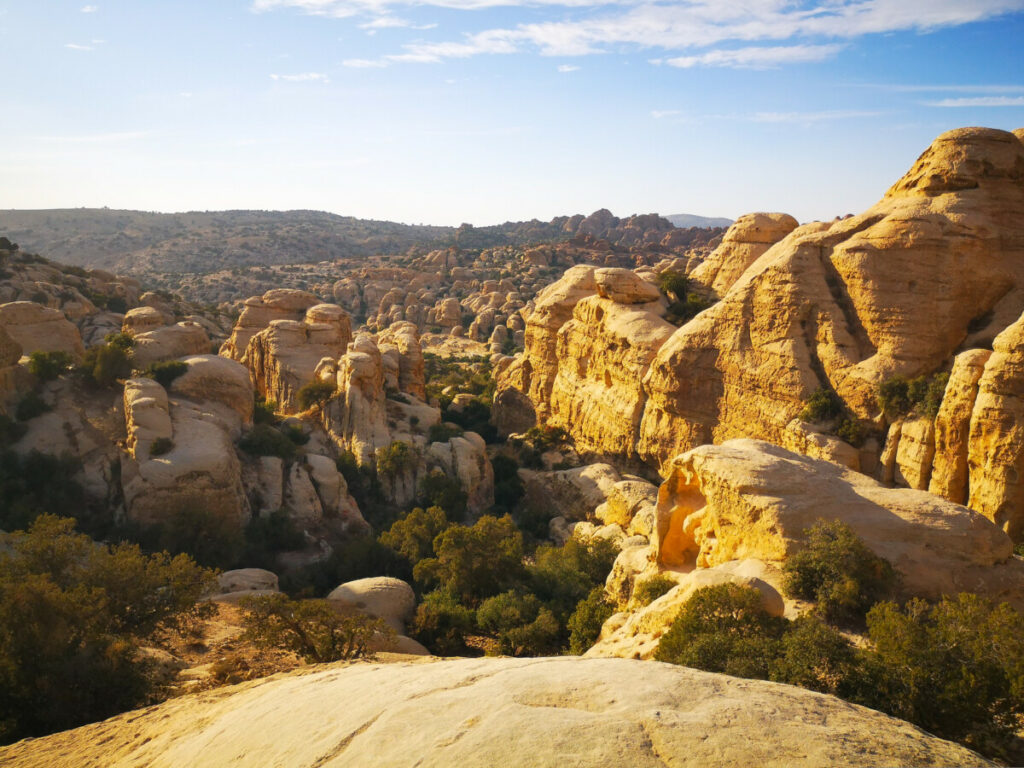 After checking in, I went out and visited the Dana Guesthouse where they also have an information centre to get your information about hiking in Dana Biosphere Reserve. If you are not in a group and have already booked in advance, it is difficult to book something there at short notice. After taking a picture of their amazing view and the surrounding map, I went back to Dana village. In the village, I had lunch at Dana Tower Hotel. There, I got good information to do walks in the immediate vicinity.
In the end, I did 3 walks that are fun and doable for everyone. I did two on my own and one with guide Ahmad from Dana Tower Hotel. Nice guy who also runs the local small supermarket next to the Dana Tower Hotel.
Go Hiking in Dana Biosphere Reserve – Jordan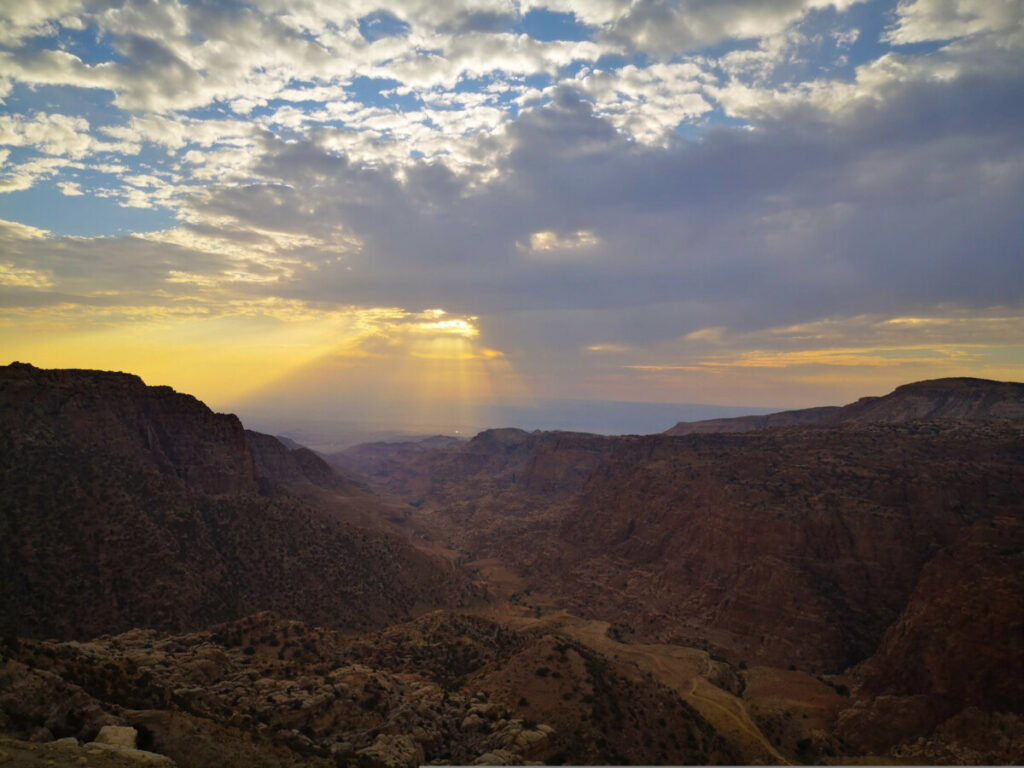 Hiking Dana area
After I had stood at the viewpoint at the end of the village and had my lunch, I went for a walk. I walked between my hotel and the mosque to end up on a path. In front of me was a grandfather walking with his grandson on the path. Along the path was an irrigation canal which carried the water; we walked upstream. After a while, we came to the spring. The grandfather stopped there, we briefly greeted each other and I continued walking. I came to walk in olive groves. On several plateaus, I walked and looked around. The views were beautiful but the paths were hard to find at one point.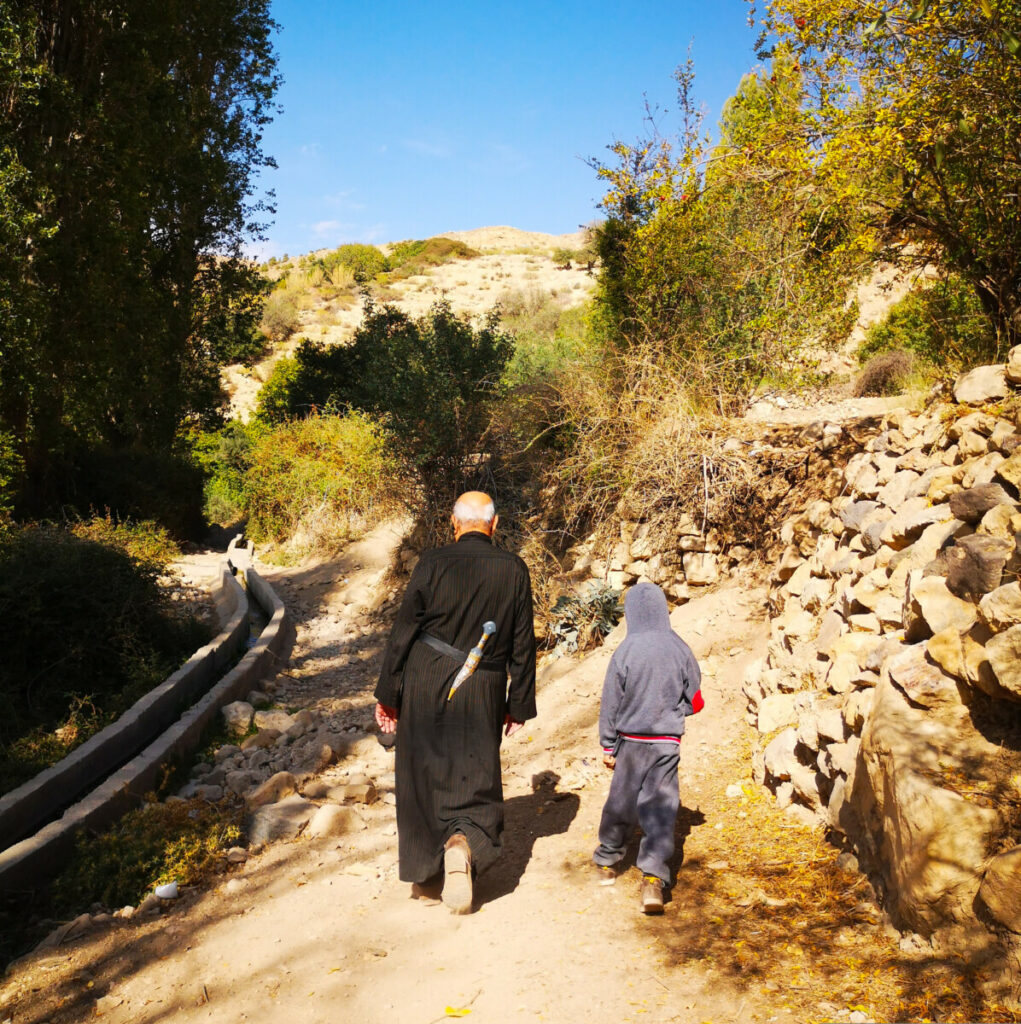 Ahmad had also told me that at some point I should just walk up. That was quite a climb and sometimes quite difficult. If you don't want to do this, you can of course just turn around and walk back the same way. On the way up, you get a really great view of the area as you walk through the olive groves. The landscape is barren and dry, yet everything is growing.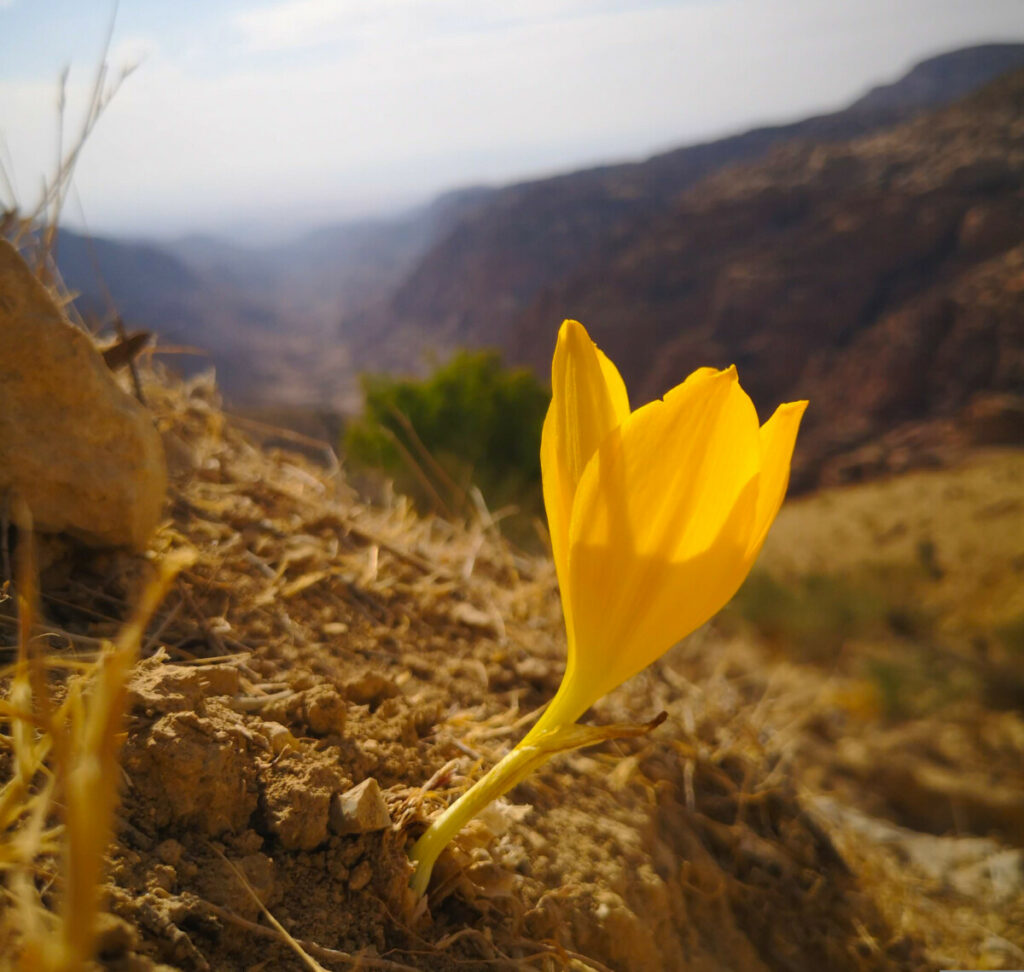 Hiking in Dana Biosphere Reserve – Jordan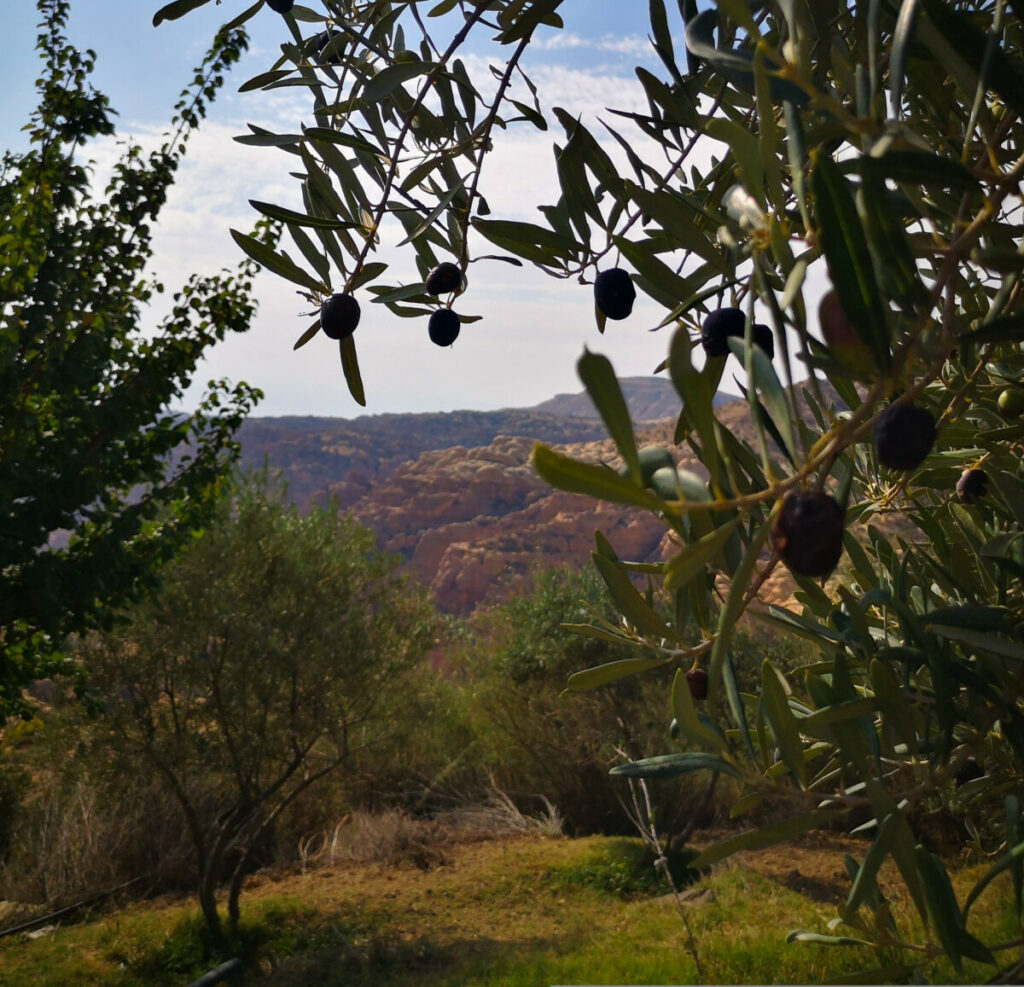 With a few breaks in the shade to regain my temperature in the burning sun so late in the afternoon, I had reached the top. I was walking on a road and a little further I could see that there must be another water source. Some children came from there with their donkeys. When they came to me, they offered that I could crawl on the back of a donkey. They would then take me to Rummana Campsite.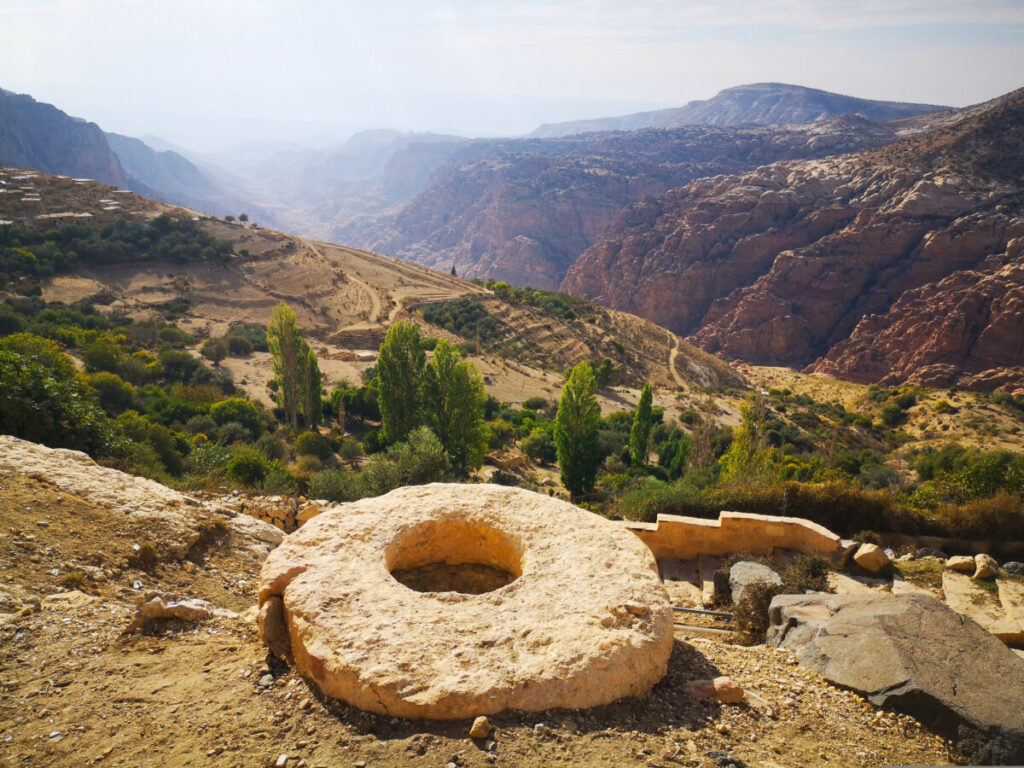 I finished the walk by having a look at the water source and then walked the circle back into the village. This water source can also be reached from the village and then keep to the left and follow the paved road. I spent about 2 hours on the road and found it a lovely first little walk in this area. After this, I went back to the viewpoint to enjoy the sunset.
Duration of this walk is about 1 to 2 hours
Wadi Dana Trail
This trail takes you from Dana down to Feynan Ecolodge. From there, you can take a taxi back but that is a trip of several hours and you have to book it in advance. I had not heard of any other tourists going on this trip and I thought paying for the taxi alone was really too expensive. So I decided to walk down the whole way in the morning and then turn around and go back to Dana. I thought it was a really great part.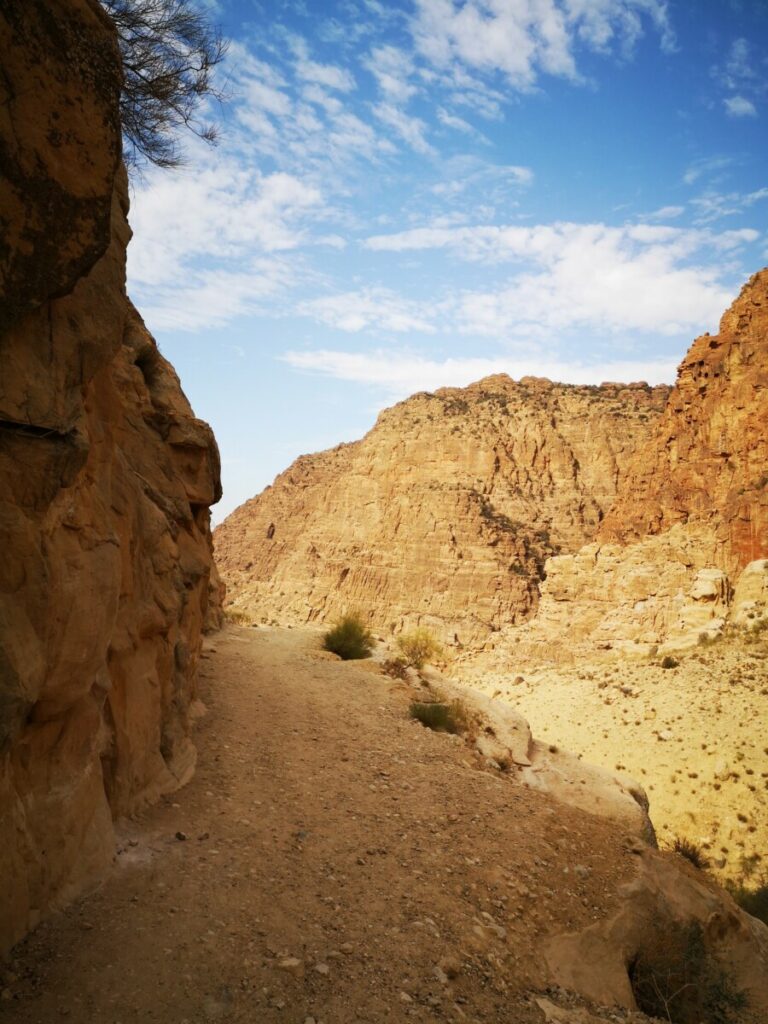 At the very beginning, I saw a huge rock face on the left. I heard some noises and when I looked closer I saw all sorts of small animals running around and moving against that wall. I assume they were marmots. They reminded me very much of Austria the last two years on the Alpe Adria Trail 🙂
I entered the wadi at the end and walked through the dry river bed. On the way back, I saw that the route actually went through the mountain wall on the left. If you don't pay attention you don't see it. Another couple also walked the route I went in and I think it is a bit heavier then. I saw them again in the evening in the village and they made it so 🙂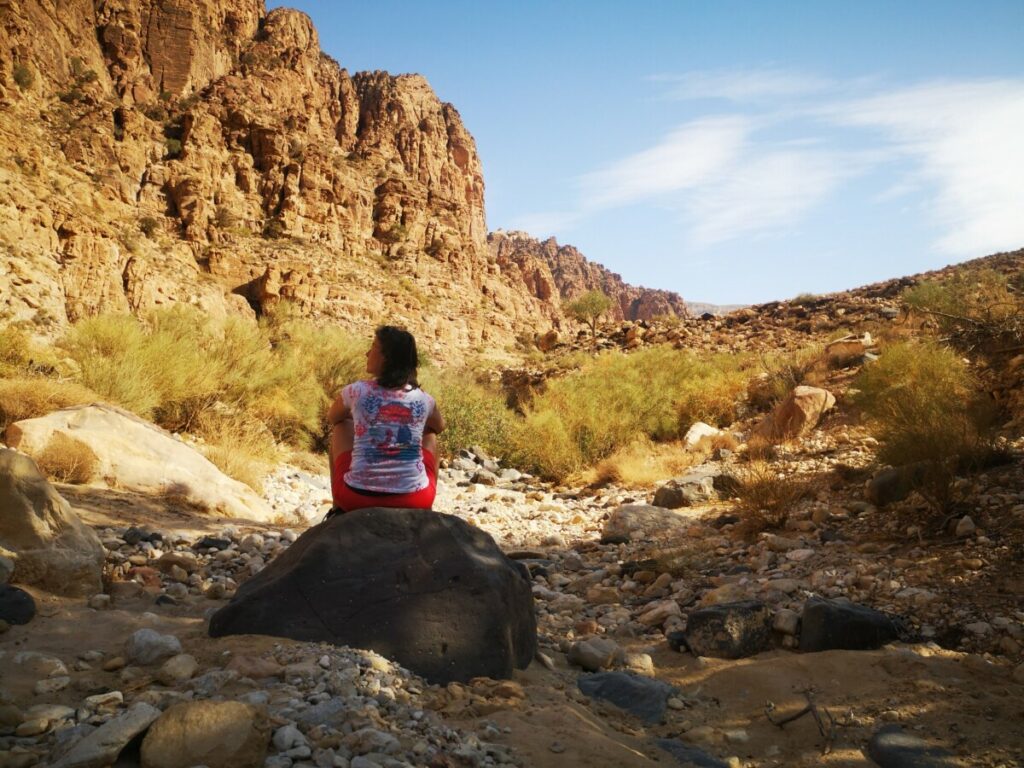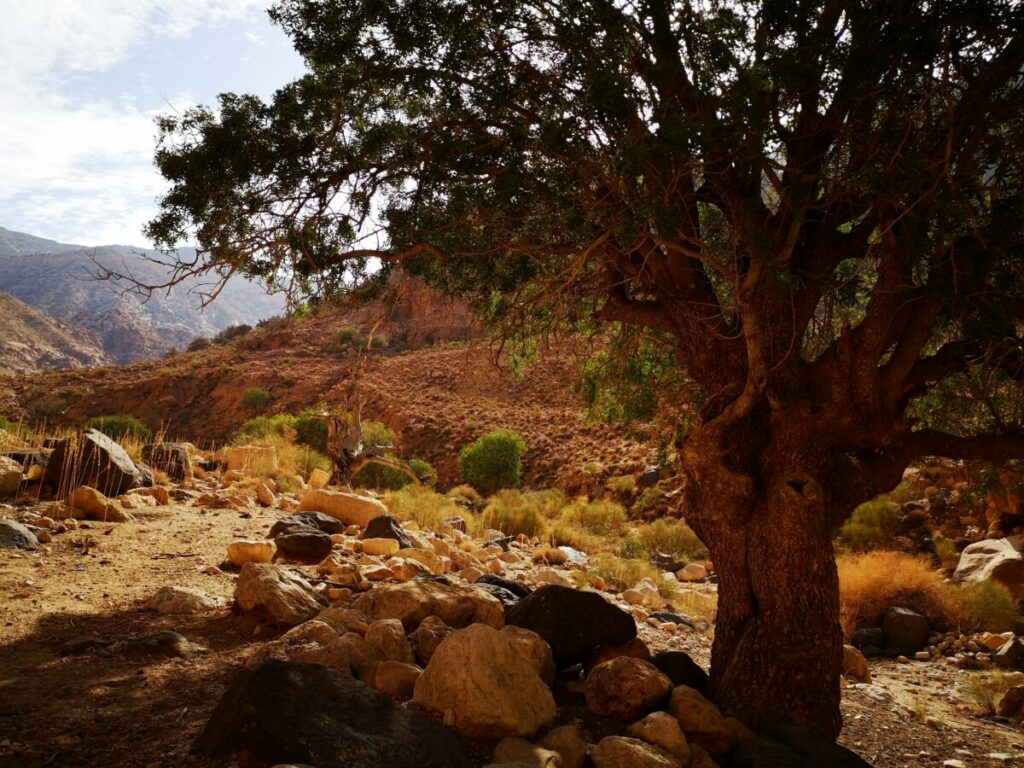 I had gone for a walk in Dana Biosphere Reserve in good time. Around 8.30am I started to walk down. Around 12 o'clock I was back at the top and had a nice lunch. Then I had booked a walk with guide Ahmad.
The whole trail is 14 km and takes about 5 to 7 hours.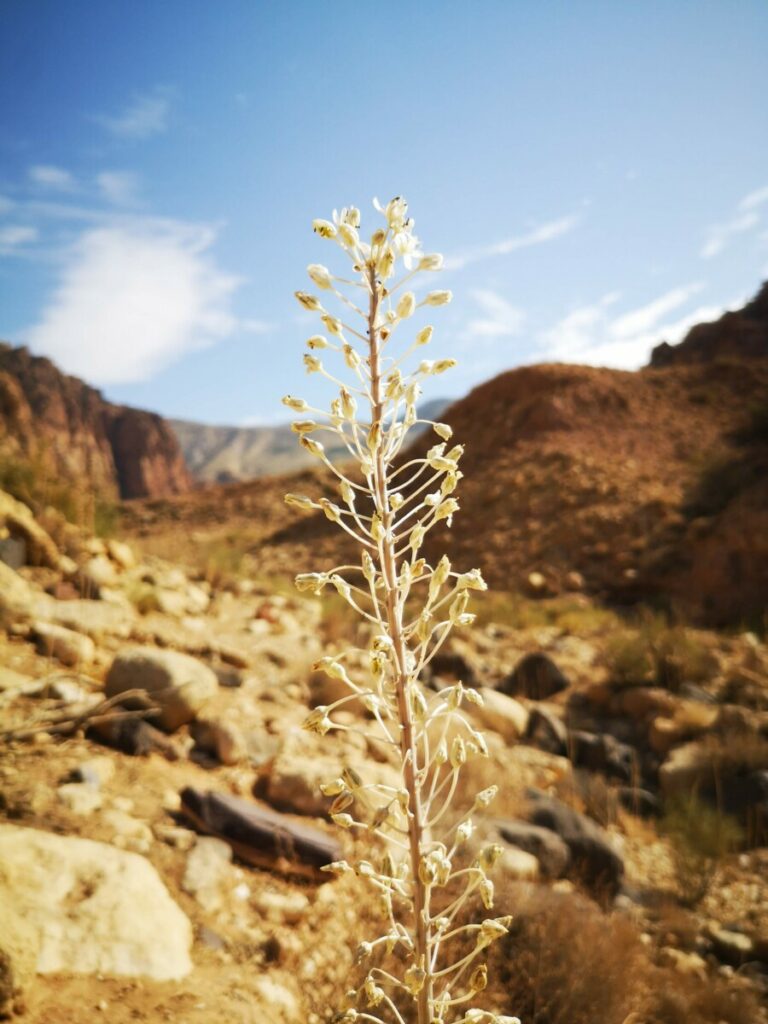 Wadi Ghuweir Trail 17km 5 a 7 hrs
This trail must be really great. So I was quite disappointed when I got there and could not discuss it. So make sure that if you want to do a day's walking in Dana that you discuss this Wadi Ghuweir Trail. Many people walk it with a guide but I also see blogs where they say you can walk it without a guide. I wouldn't take any risks and if you want to know more about the area and sometimes spot some more, a guide is not wrong. Again, you will need a taxi to take you back to Dana.
This trail takes you along the river into the wadi and you will see many beautiful plants and hanging gardens. I also saw hanging gardens in another wadi I walked. Towards the end of this walk in Dana, you will also pass an archaeological site and shortly afterwards you will reach Feynan Logde.

Distance is 18 km and takes about 7 to 8 hours
Shaq Al Reesh Trail
That afternoon we drove out of Dana, back the way I came, but in one of the sharp bends we took the road on the right that took us down the mountain. After about 10 minutes we parked by the side of the road and started walking. This was a completely different piece of nature than I had walked in this morning. Beautiful rock formations and amazing light colours were all around me.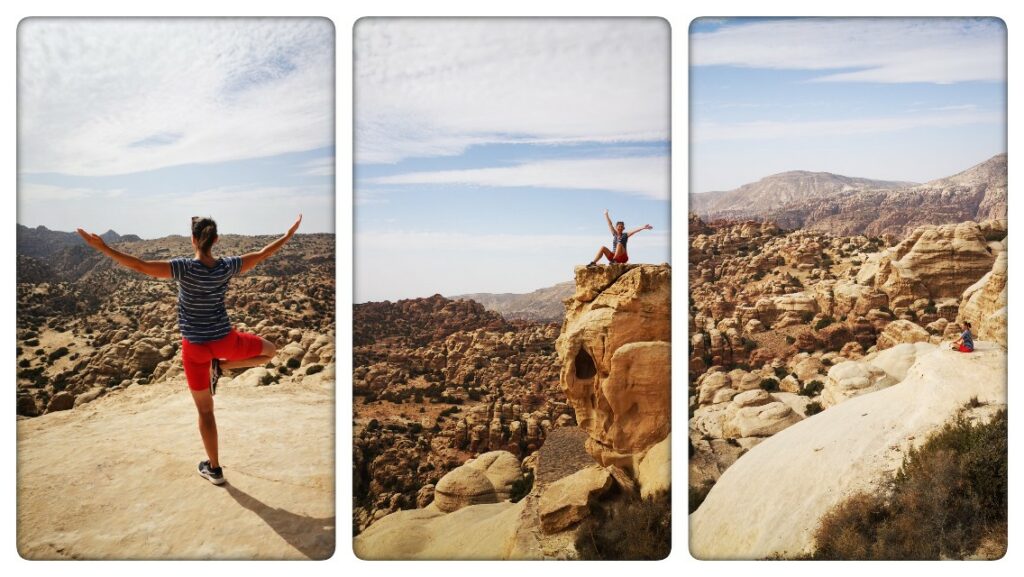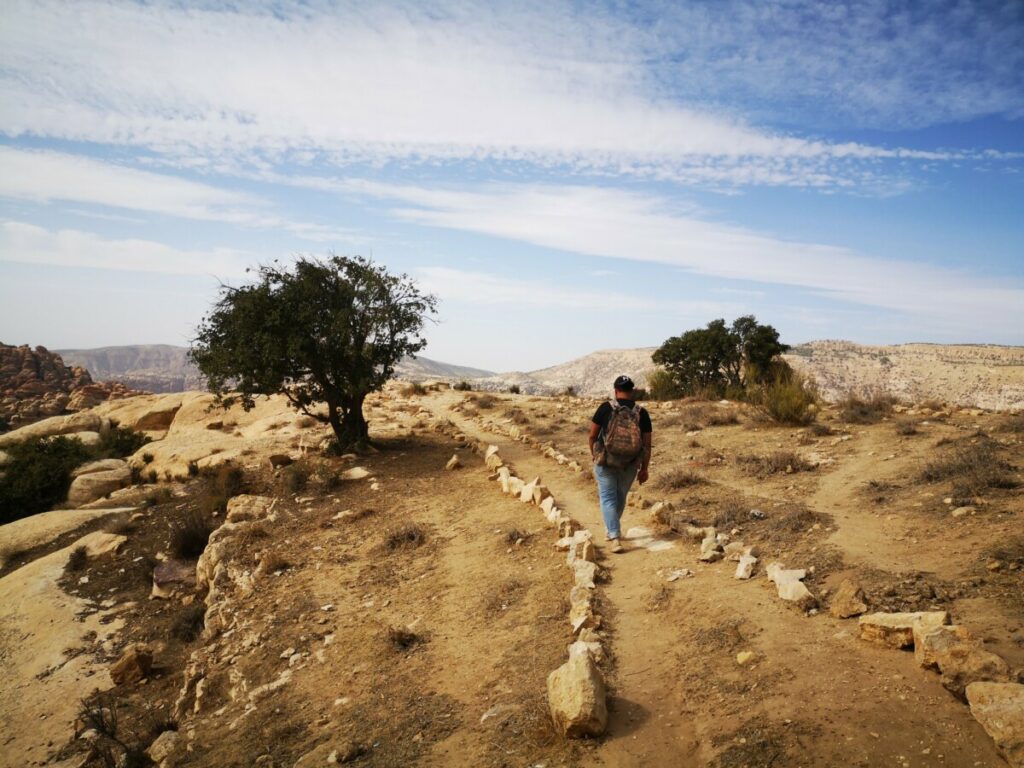 Ahmad took me along paths that I had not recognised as paths, just walking around here is possible of course, but a path cannot be found. There are also no signs to guide you along a nice route. We walked along big rock walls and through narrow passages to find a nice viewpoint. Of course, we made some nice pictures there! We kept walking uphill for a while, which I was very happy about. What a great area!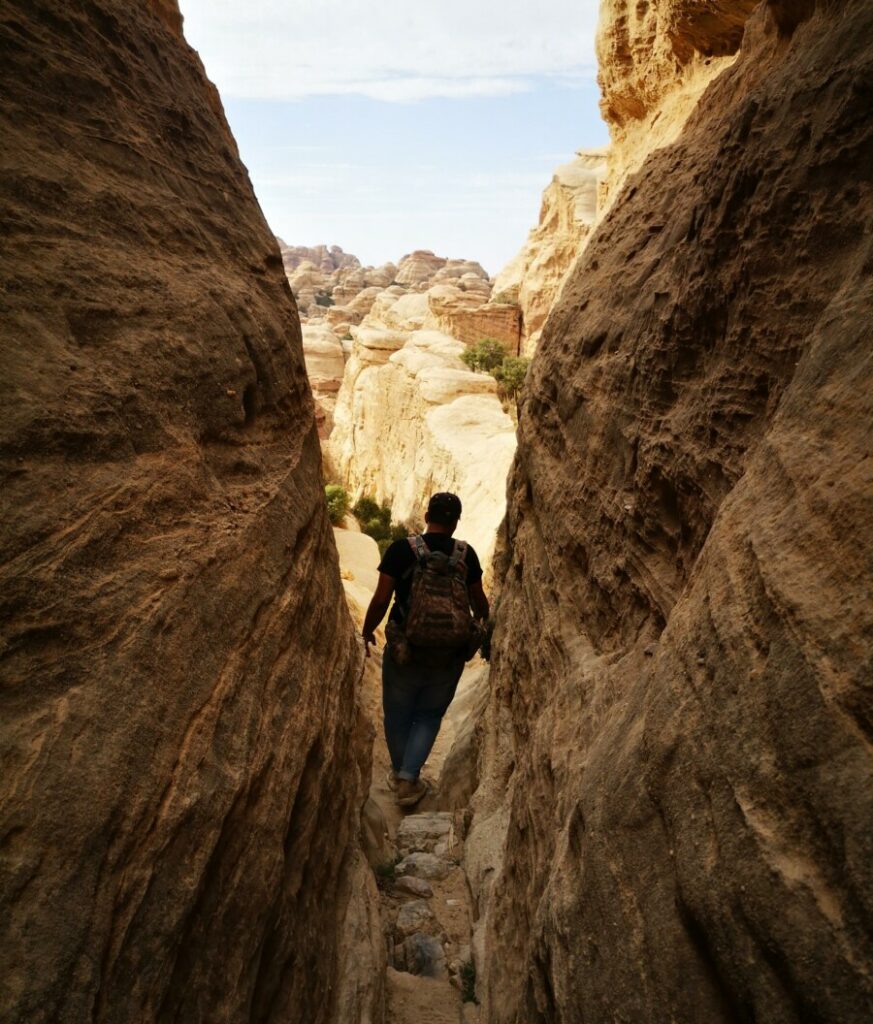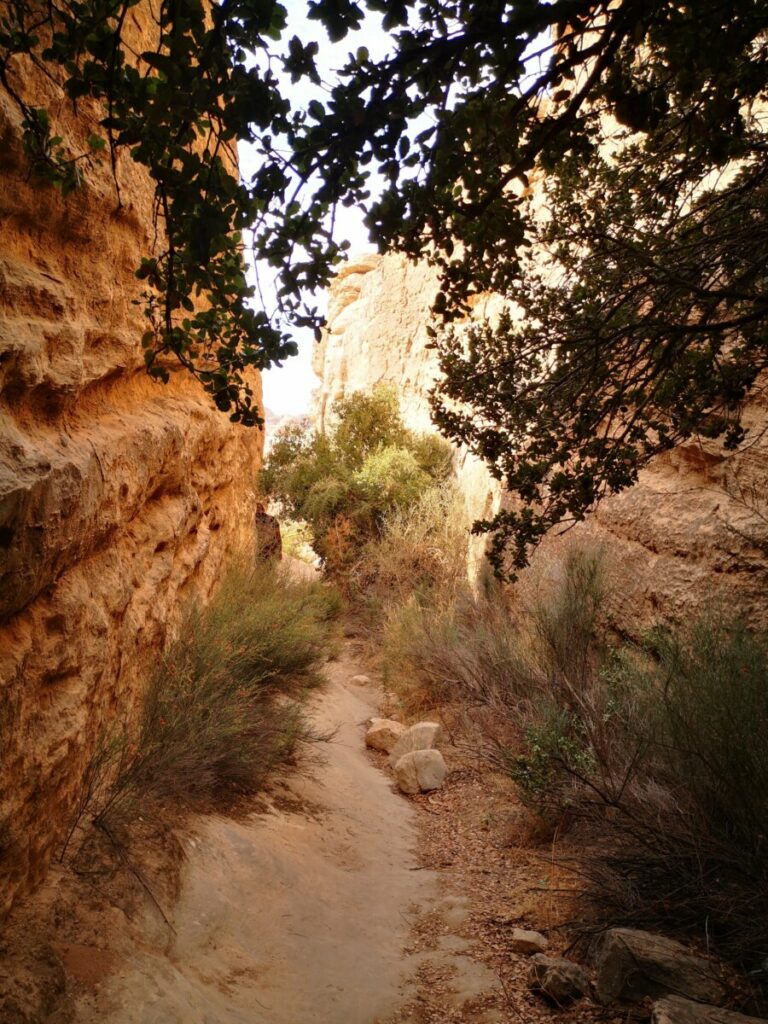 After these beautiful views, we walked down. First through a narrow gorge and then on sandy paths where we also saw a chameleon! How nice! Ahmad tried to change its colour by putting some wood next to it. After this we walked on to a nice spot where we had a cup of tea. Ahmad had brought a small kettle and made a small fire.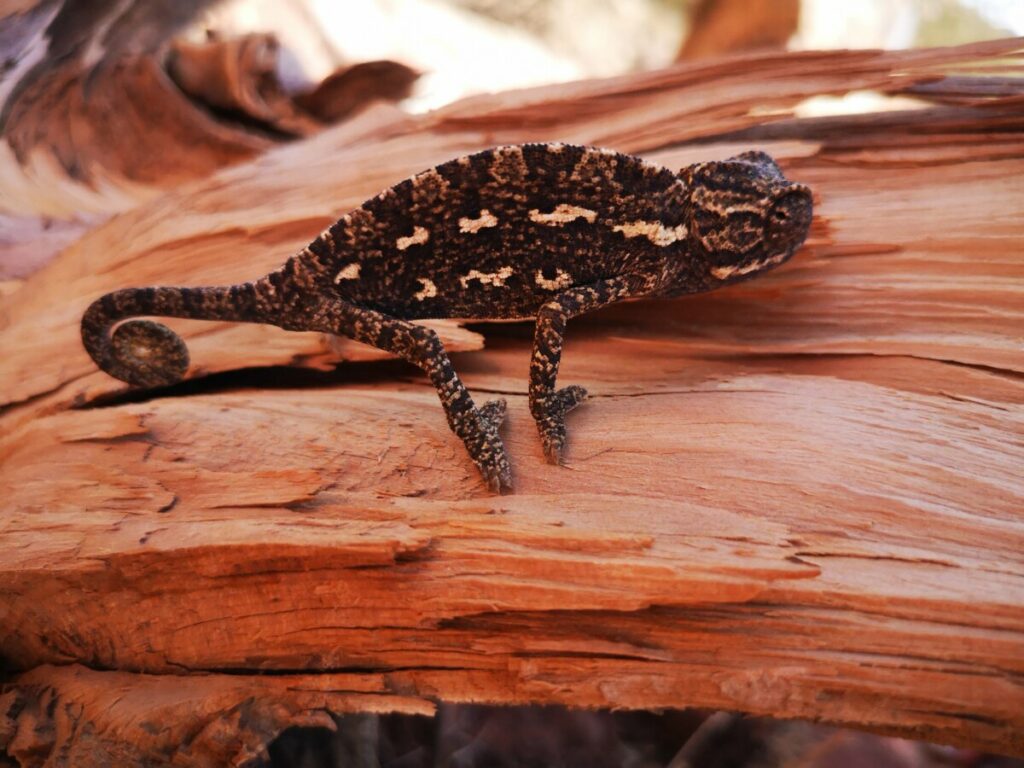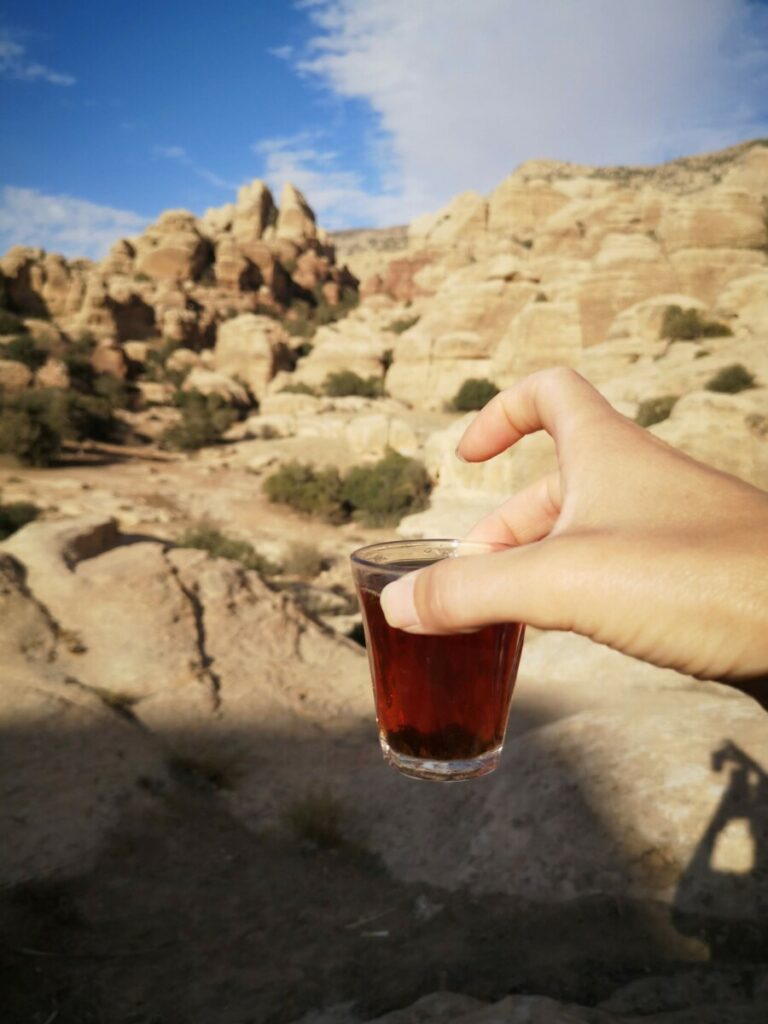 What a wonderful break in this area!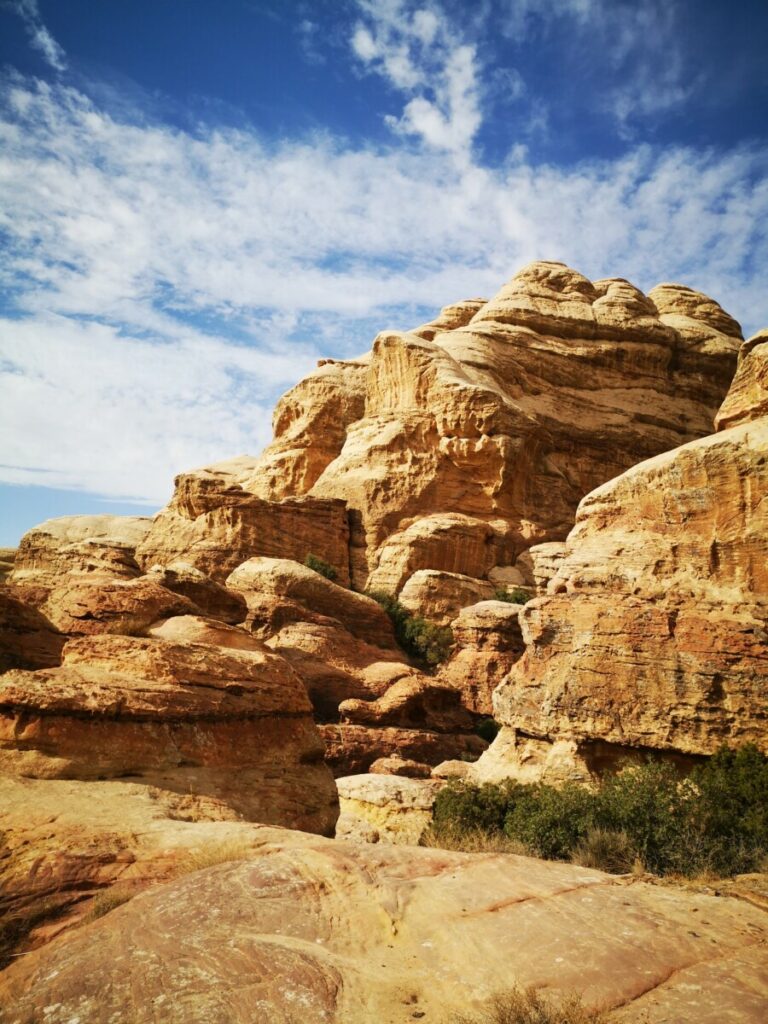 I thought my afternoon was really great! I had almost forgotten that I could not book the Wadi Ghuweir trail and was super happy with the views I got here.

Distance is 3 km and can take 3 to 5 hours
And then, of course, there are many other trails to book if you want to hike in Dana Biosphere Reserve. I will mention them briefly…meanwhile I regret not staying longer and spending more time there. But hey, choices?
Hiking in Dana Biosphere Reserve – Jordan
White Dome Trail
Again, you see those beautiful white rocks and I read that you walk on terraces where it is nice and green. You enter the Wadi of Dana and of course you get again the most beautiful views while walking in Dana Biosphere Reserve. You walk from the Guesthouse to Rummanah Campsite, or the other way round of course.

Distance is 8 km and takes about 3 to 4 hours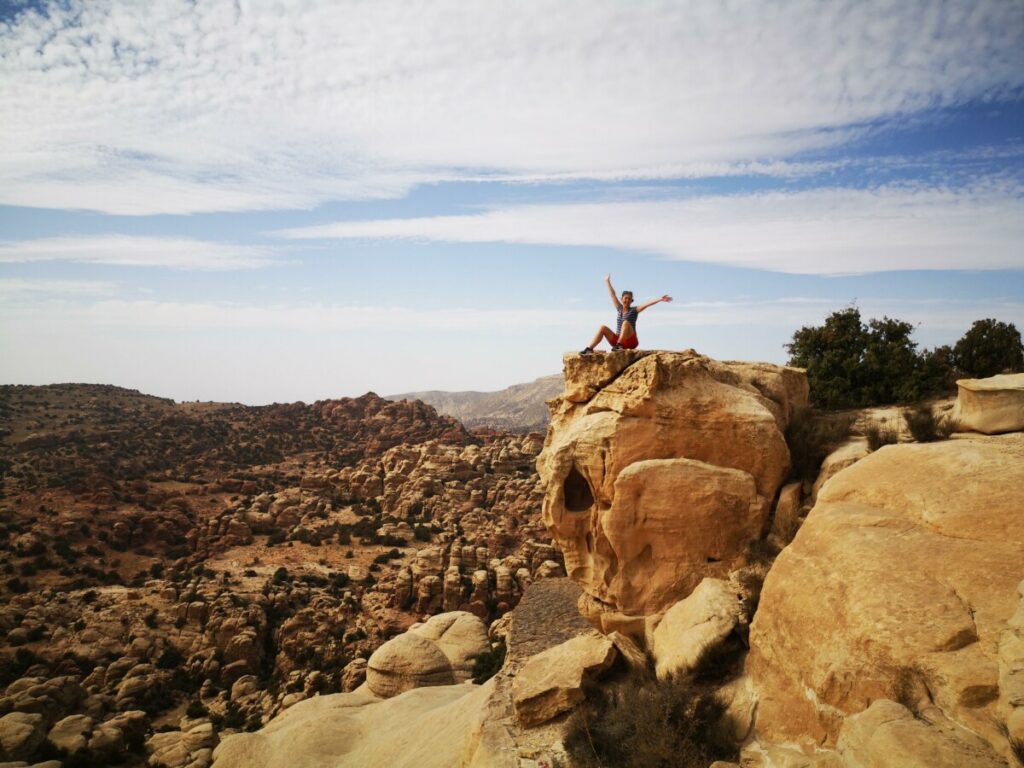 Nawatef Trail
A short trail that is also worthwhile. You will start and end this trail in Al-Barrah. On the way you will pass through the Nawatef area and walk over beautiful mountains and pass water springs and ruins.
This trail is 2 km and will take you about 2 hours
Wadi Dathneh Trail
This is a longer trail that takes you down into Wadi Dathneh and past an oasis and through Wadi al Hamra. After this you come out in the Feynan area. It is said that you should not be afraid of heights if you want to book this trail. I think this is a very cool trail to hike when I am back in Dana Biosphere Reserve. Everywhere I have been, I come back with a list of missed trails or places…Just like here!
This trail is no less than 19 km and will take you 8 to 10 hours to complete.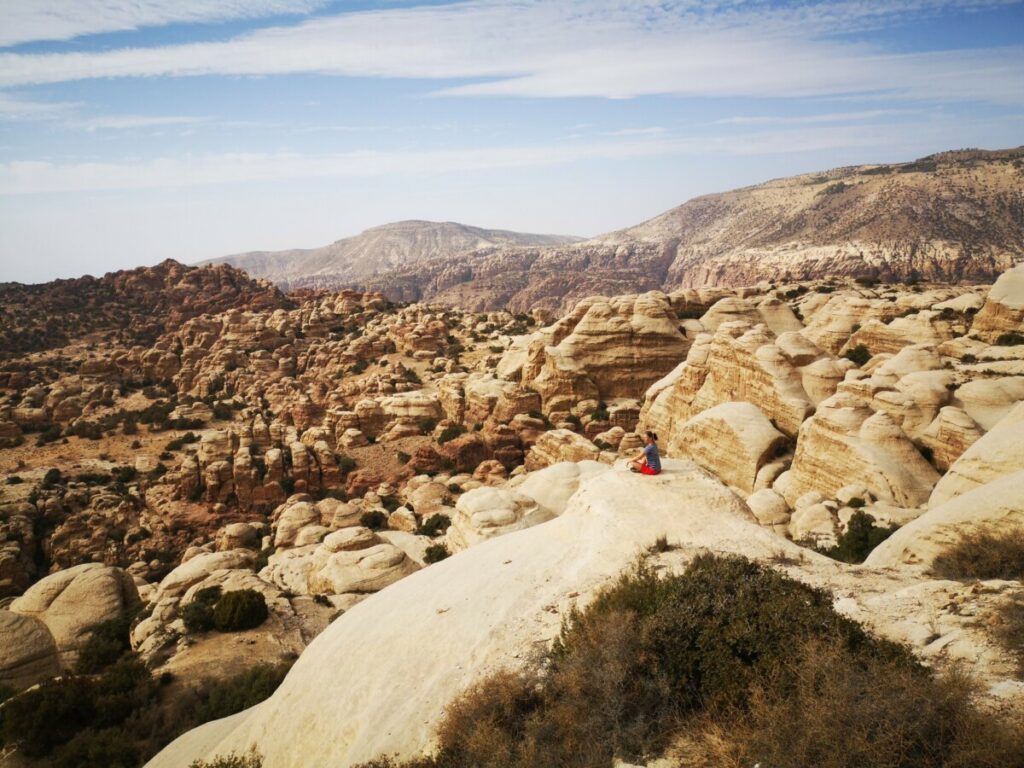 The Caves Trail
This trail starts from Rummanah Camp and you can also walk it yourself (without a guide) if you like. You will pass the most beautiful sandstone rock formations of the Shaq al Kalb ( Wadi of the Dog) to finally arrive at a group of small caves. It is thought that these were used for religious retreats.
This trail is 1.5 km and will take you about 1.5 hours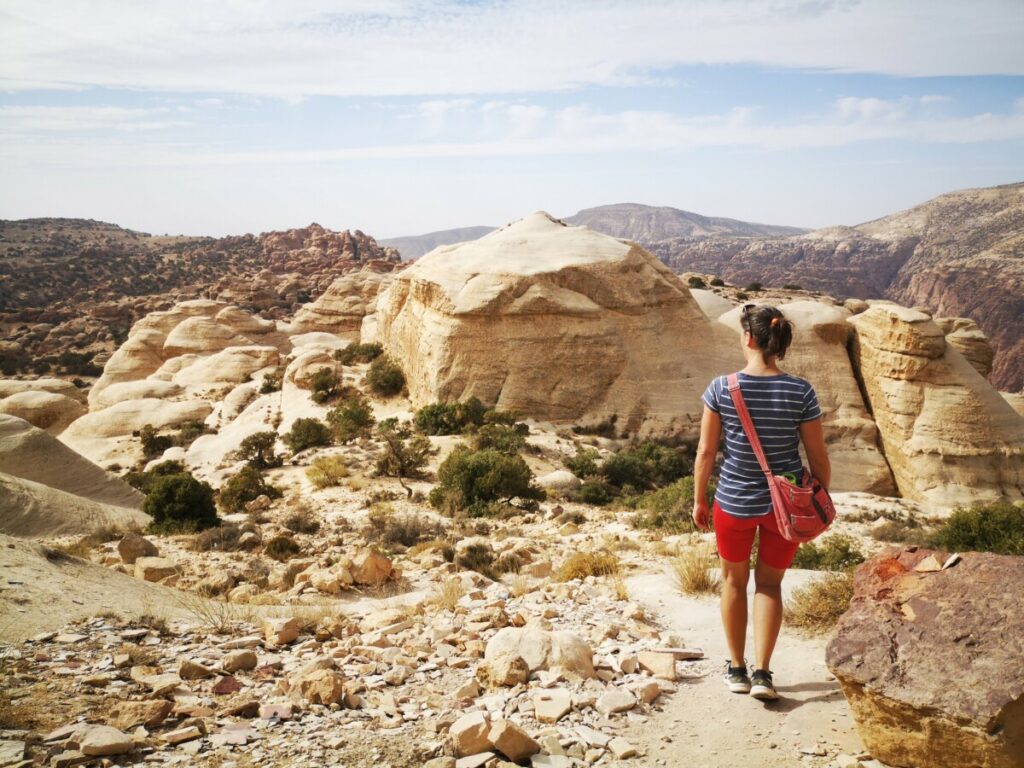 Where to stay when hiking in Dana Biosphere Reserve
Overnight stay in Dana
I spent my nights at Wadi Dana Logde. I can't recommend this place in terms of service, the room and bathroom were lovely but the staff left a lot to be desired. There is no reception, just an office where a man sits who does not do much more than refer you to their regular guide. Which is also the local Imam I heard later from my guide who I found through a nice restaurant and also hostel / hotel. This hotel is also used by the larger group travelers, so whole buses full of people come here. Also for that reason, as a solo traveller who wants some info and sociability, it is not really nice.
I would rather recommend this hotel:
Of course I did not see the rooms there but I would have preferred to stay there afterwards. It was a very cosy hotel which also had a nice restaurant. The atmosphere was good and it seemed to be the centre of the small village of Dana. I booked in advance because I had the feeling that there was not much choice but once I was there, it was not so bad. There are several hostels, hotels and B&Bs that can be booked locally, especially in corona time. Next to this Dana Tower hotel is a small shop where you can buy all kinds of things. From toothpaste to soft drinks and some nice food. My guide Ahmad managed the small supermarket.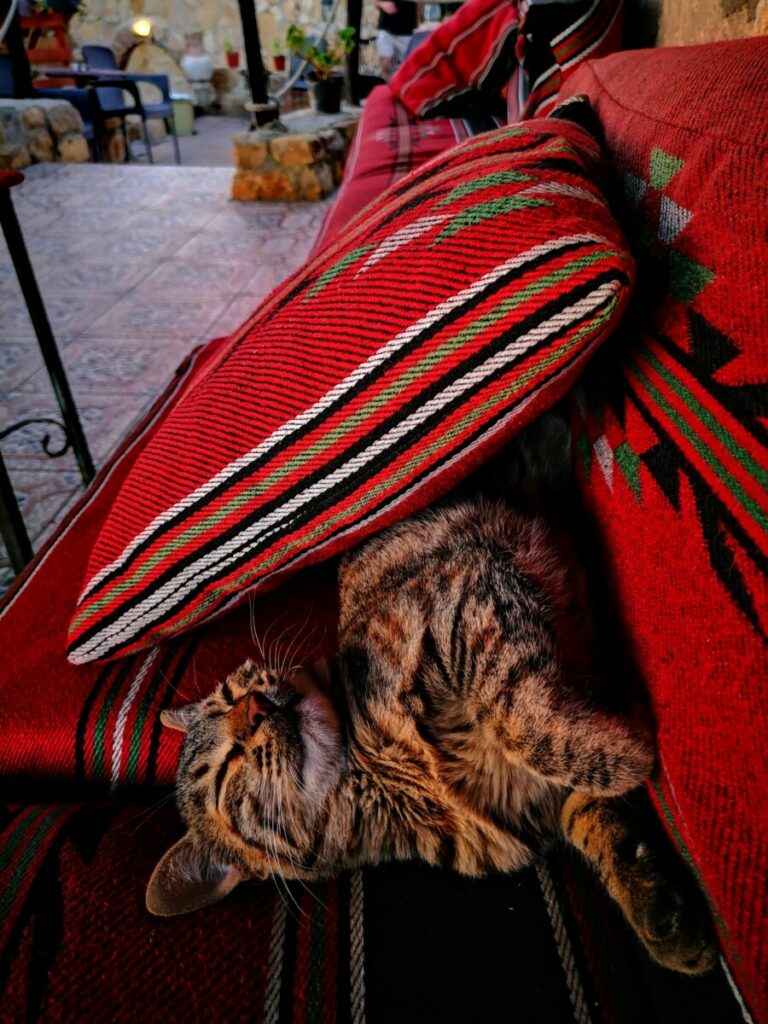 Food in Dana
You can eat very well at the Dana Tower Hotel. I had lunch and dinner there. Dinner is buffet style. You can eat as much as you want and have a lot of choice. I liked it very much. I also had a buffet dinner at Wadi Dana Logde. Just as good but less cosy.
I also ate a lunch on the roof terrace next to Dana Moon Hotel. I loved it and also there the staff is nice and sociable. Because this was so far from Wadi Dana Logde, everything is more fun and better.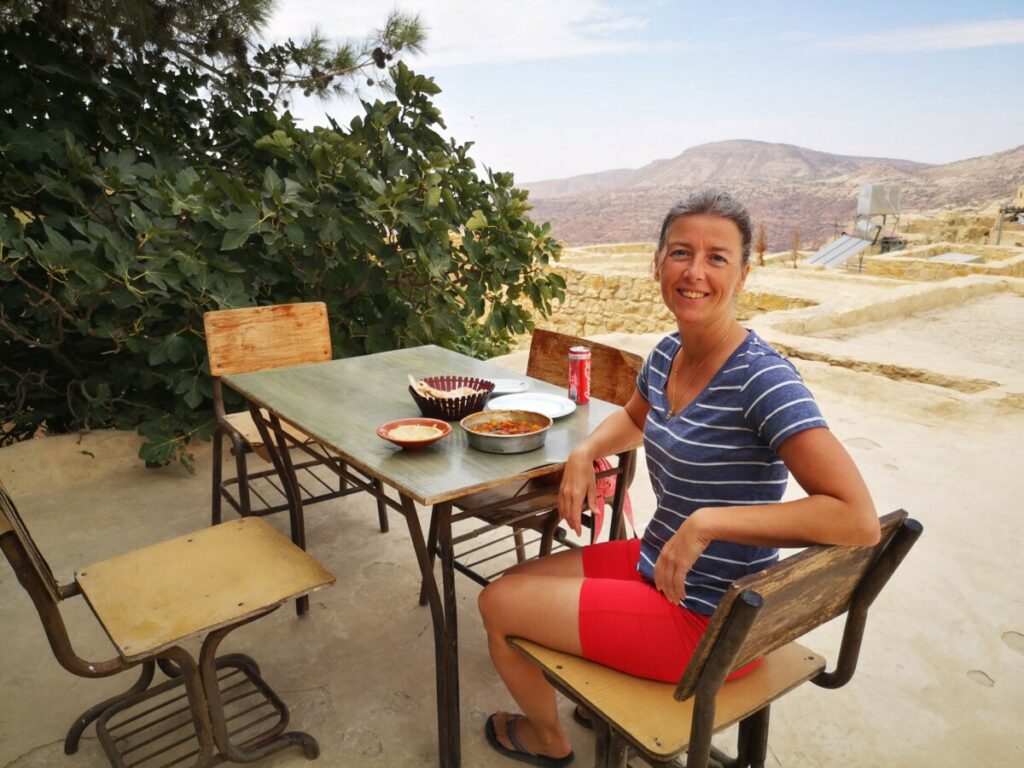 Overnight stay near Dana
When I was preparing my trip for 2019, I really wanted to go here. Then I would go with someone else and we would share the costs. I found it quite a pricey option. In hindsight, I would have liked to stay an extra night there, but I guess I had to make a few choices. Then I would have spent another night in the area and seen yet another corner of this great area. At Feynan they also offer all kinds of trails and daytrips.
At Rummana you can also camp in the area in the tents that are already there. They also offer various activities such as trails and tours. You stay at these two campsites outside the village and I can recommend that. One day I will come back and spend more time here and do more trails.
Have you been here before?
Where did you stay or what do you recommend?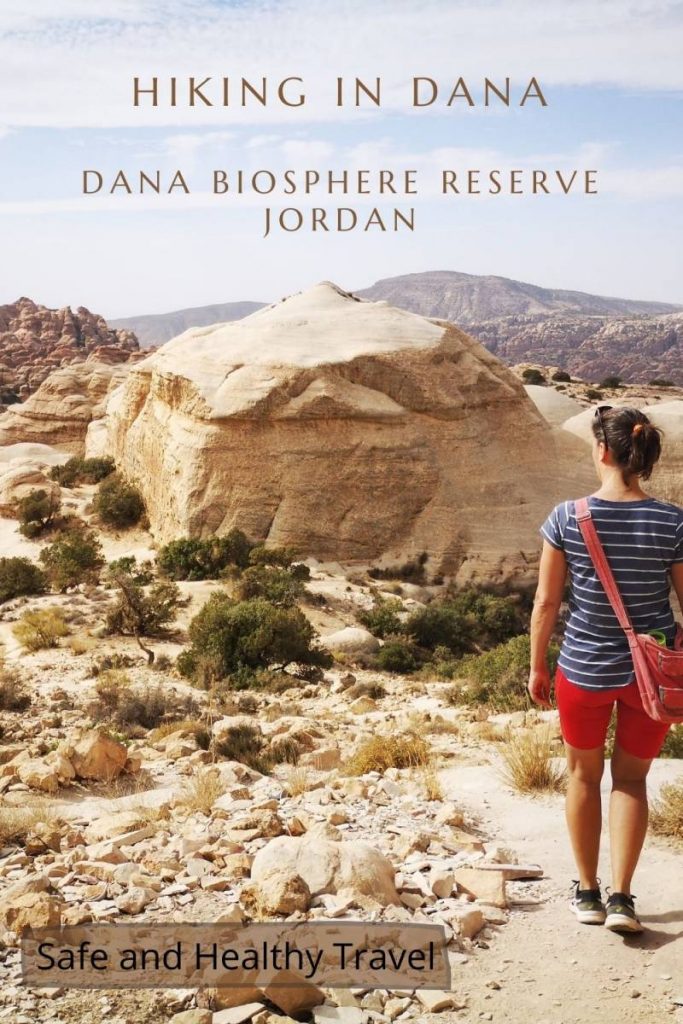 Do you share this blog? Or keep this tip in your bookmarks?
Want to read more about my trip to Jordan?
Visit Salt – Former Capital of Jordan
Visit Jordans Most Beautiful Wadi : Wadi Mujib
After this trip I traveled on to Oman
Adventurous Travel in Oman – 100% Adventure, Nature and Culture
I hope you enjoy this world as much as I do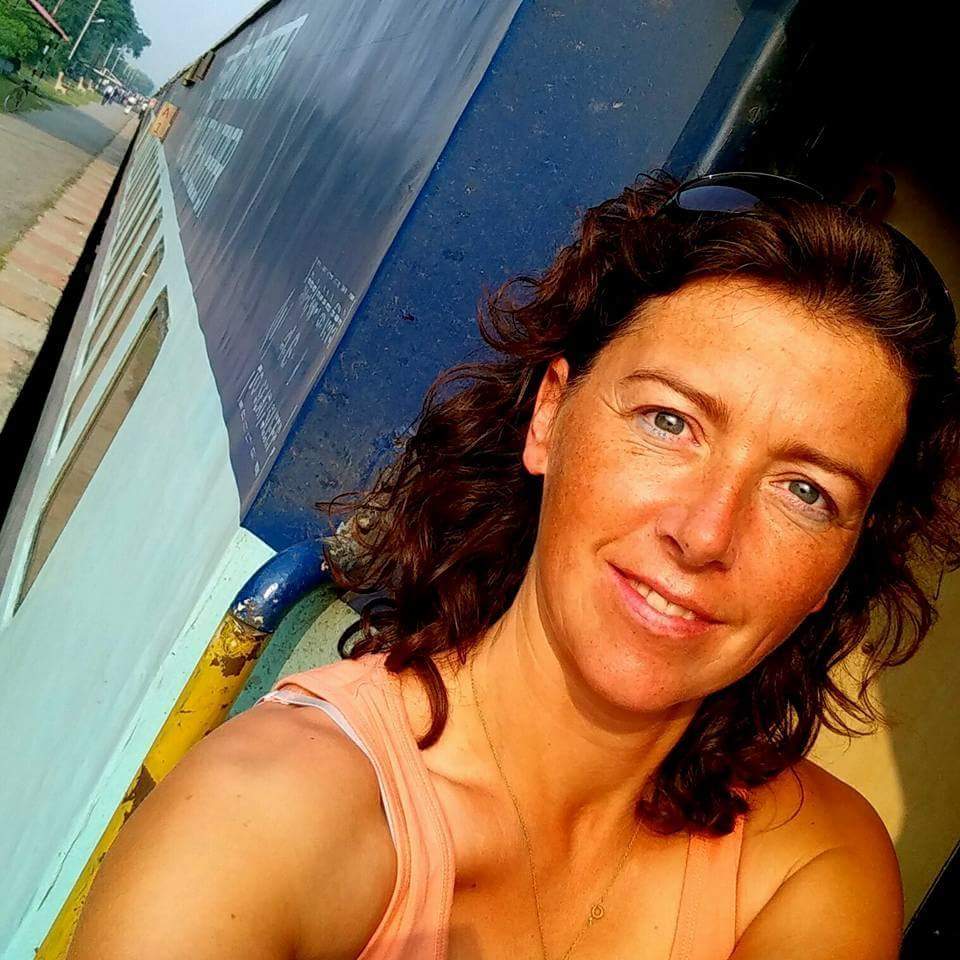 Jacomijn is een politieagent uit Nederland die jou graag laat zien hoe je veilig, actief en gezond de wereld kan over reizen. Safe and Healthy travel is a MUST