Visit the Historical City of Petra – Jordan – 2 day itinerary
|
Of course, a visit to the historical city of Petra should not be missed when you travel around Jordan. I made sure that I had at least 2 days to visit this historical city of Petra. In the historical city of Petra, I wanted to walk several trails, be at the sunrise and of course experience Petra by Night.
Petra was the Greek name of the capital of the Nabataeans. The Nabataeans themselves called the city Raqmu. Petra flourished in the 4th century BC when the Nabataeans controlled the trade of incense. Due to its location on the trade route between Egypt/Arabia and vice versa in the direction of Asia, it became a rich city. All kinds of merchandise could be found there, such as spices from India, ivory from Africa and pearls from the Red Sea.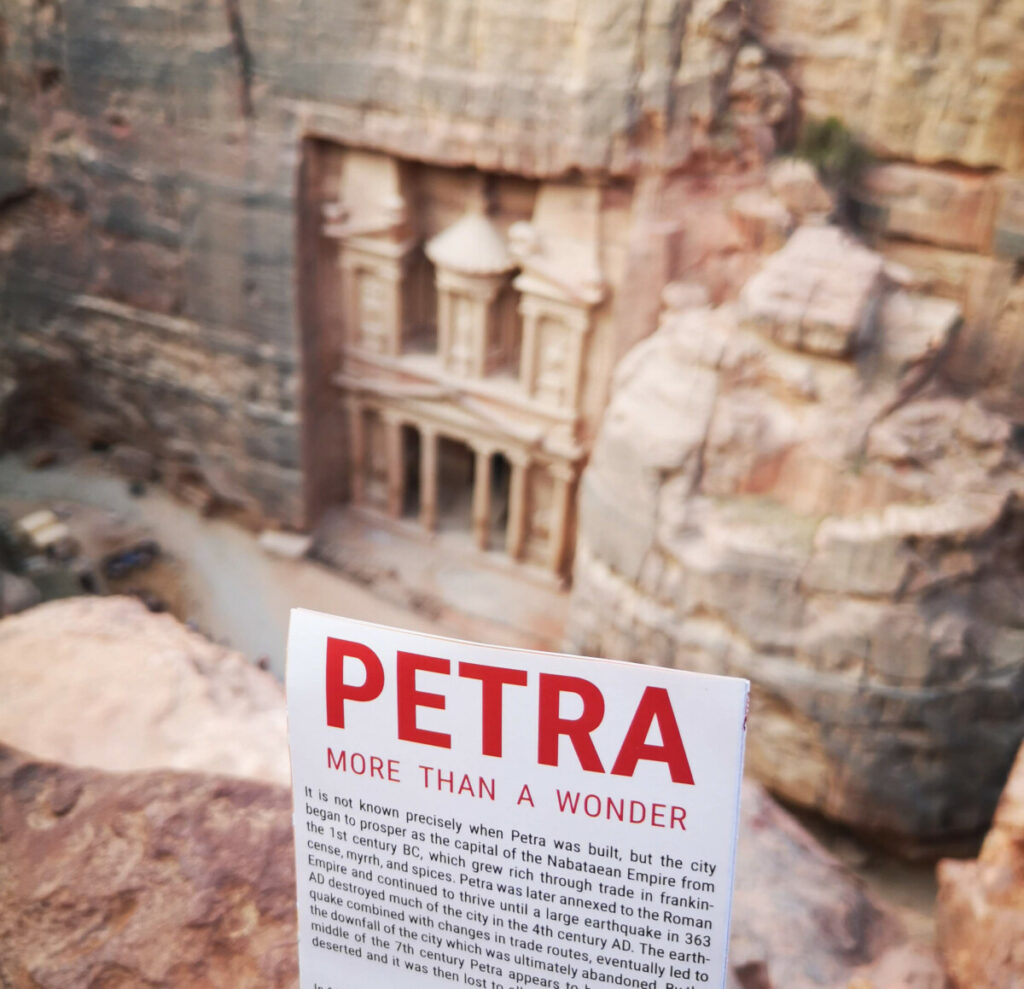 Wadi Musa – Visit the Historical City of Petra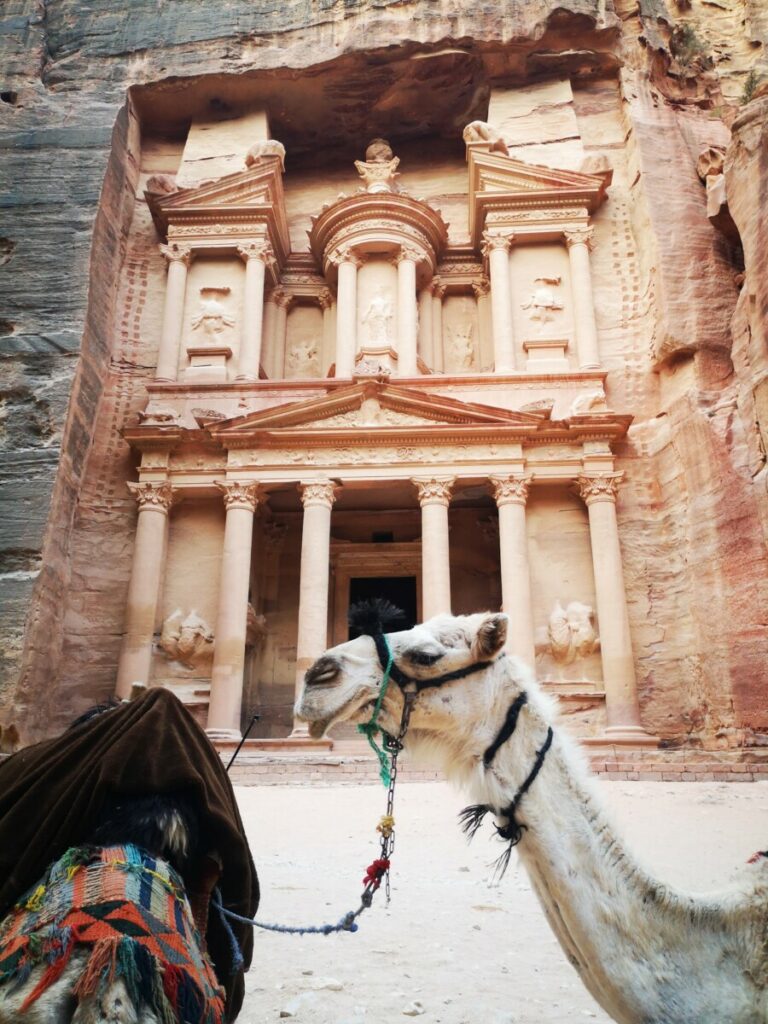 If you are going to visit the historic city of Petra, the city you are going to is Wadi Musa. Of course, all road signs indicate the historic city of Petra so if you don't remember Wadi Musa it doesn't matter. I came from Wadi Rum when I drove to Wadi Musa via the King's Highway. I had spent a lovely warm night in the desert and was unsure whether to stay another one. In the end I decided to go to the historical city of Petra. Highlight of this trip of course! Although the Wadi Rum was also one of the great highlights!
When I arrived, I had a relaxing late afternoon on the balcony of Petra Bed & Breakfast in the setting sun and ate a delicious meal at Al-Mebash. The next day, of course, I started early because I wanted to be at the entrance around 6 am. Then the ticket office opened and I could get my ticket. A ticket for 2 days, it costs 55 JOD. If you go one day it will cost you 50 JOD so that extra day is good to do. Brings some more rest in you so you don't run from one point to another to do everything in that one day. Of course, this has to fit into your itinerary.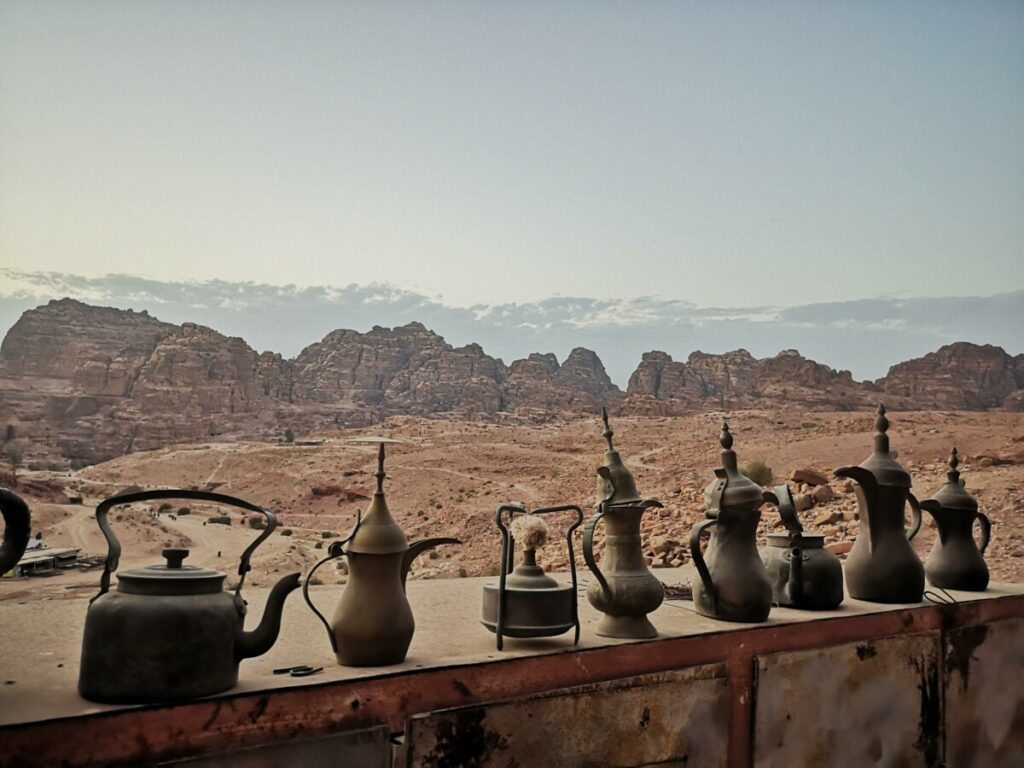 I had thought that after I had admired the Treasury I would walk on to the Al-Kubtha Trail. At the end of this trail is the viewpoint on the Treasury.
Tip: Even before you enter the sig you will be approached by the Bedouins that you can go with them to a nice viewpoint. This is a different point than where I went. I was standing with a view from the left side of the Treasury and the Bedouins take you to the right side. Also, the climb up is a bit steeper and not very safe I understand. Of course you pay them a fee for this place.
Get ready for some serious hiking at Wadi Musa – Petra
The Sig – Entrance of the historical city of Petra
After walking for about 20 minutes in the sig, almost alone so early in the morning, I arrived at the end… Suddenly I see the familiar image in front of me. The Treasury or as it is called in Jordan: Al Khazneh. It is a temple or, as was once thought, a tomb. The Sig is no less than 1.2 km long and so you walk for some time through the gorge admiring all the colours and light around you. I walked the sig in total 3 times and kept being amazed about the beauty of it.
A beautifu spot on this world!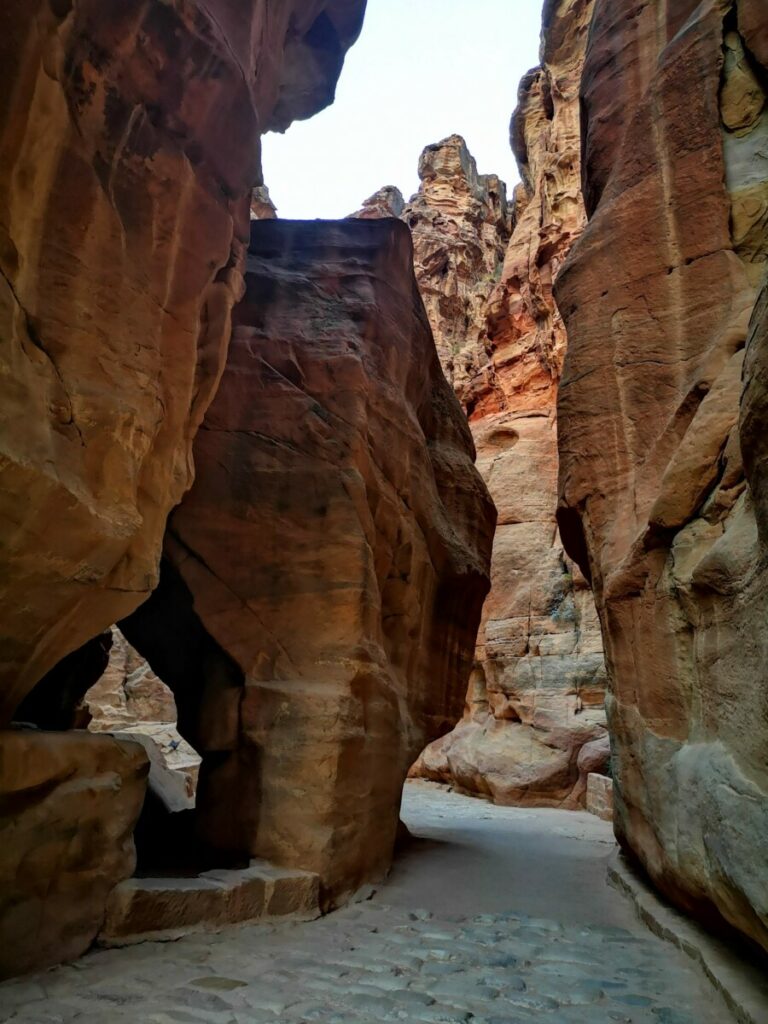 That in earlier times you walked here you have to have confidence in what you are facing. You don't have any possibility of even ducking away somewhere. You are really walking in a narrow, high canyon where you might know, or not, that there is a city on the other side. Very strange!
I read that the Treasury was intended as a tomb. It seems to be nothing more than a facade. Unfortunately, you are not allowed to go in and so you are looking at a 45 metre high temple hewn from stone in front of it. I still find it unbelievable that so many years later, say 2000, it still looks so good. The spot in front of the Treasury is not very big and it is quite busy the rest of the day. I enjoy this quiet moment briefly and then walk on.
I don't want to miss the first sunrays on the Treasury.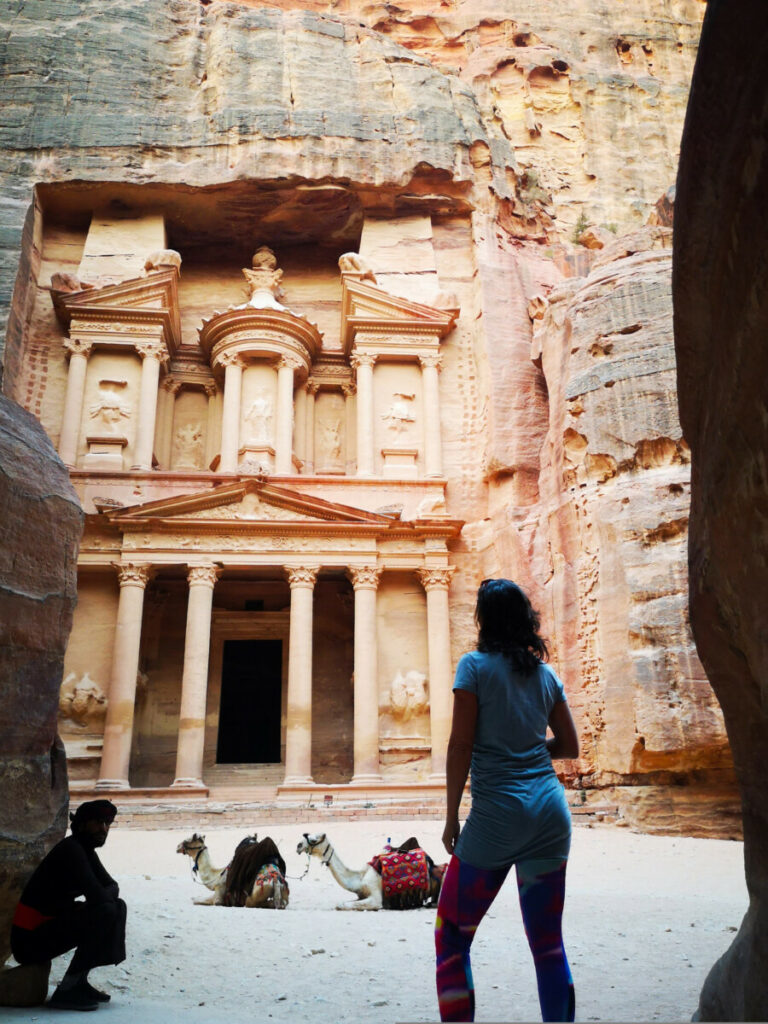 I want to see them from the special vantage point. You know, the one with the pictures you always see!

So read on if you want to know how to get there without paying the Bedouins who stand there to help you for a nice price.
Viewingpoint Treasury – Al-Kubhta Trail
There are dozens of Bedouins who ask me if I want to go up with them to visit the viewpoint. You can, of course, pay them an amount of money and walk up a steep hill. Then you will reach another, if you ask me equally beautiful, viewpoint. But you can also choose to do a longer hike, which is then free. I did buy a delicious cup of tea for 2 dinars.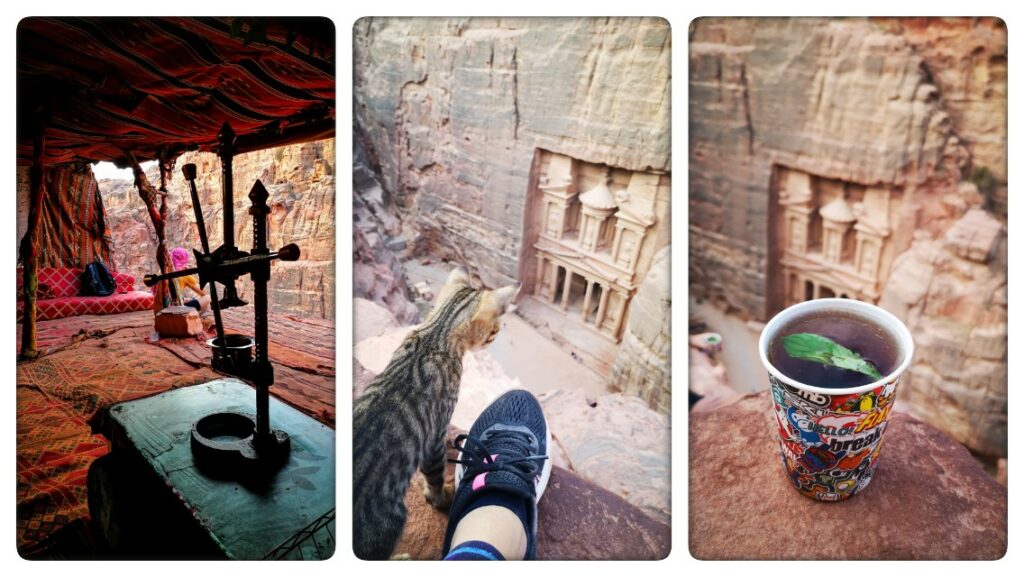 If you walk through the street of facades after the Treasury, at a certain point, after the second place where there is a restaurant, turn right. There you can find the path and also a sign Al Kubtha Trail. You then go up to a number of large Royal Tombs. The path goes past them and then up past them, right back where you came from. So past the Royal Tombs, there is a staircase around the corner to the right. It is a long walk but so worth it. You also have a little time before the first rays of sunlight come over the mountain/rock to illuminate the Treasury. You are in no hurry!
Treasury – Visit the Historical city of Petra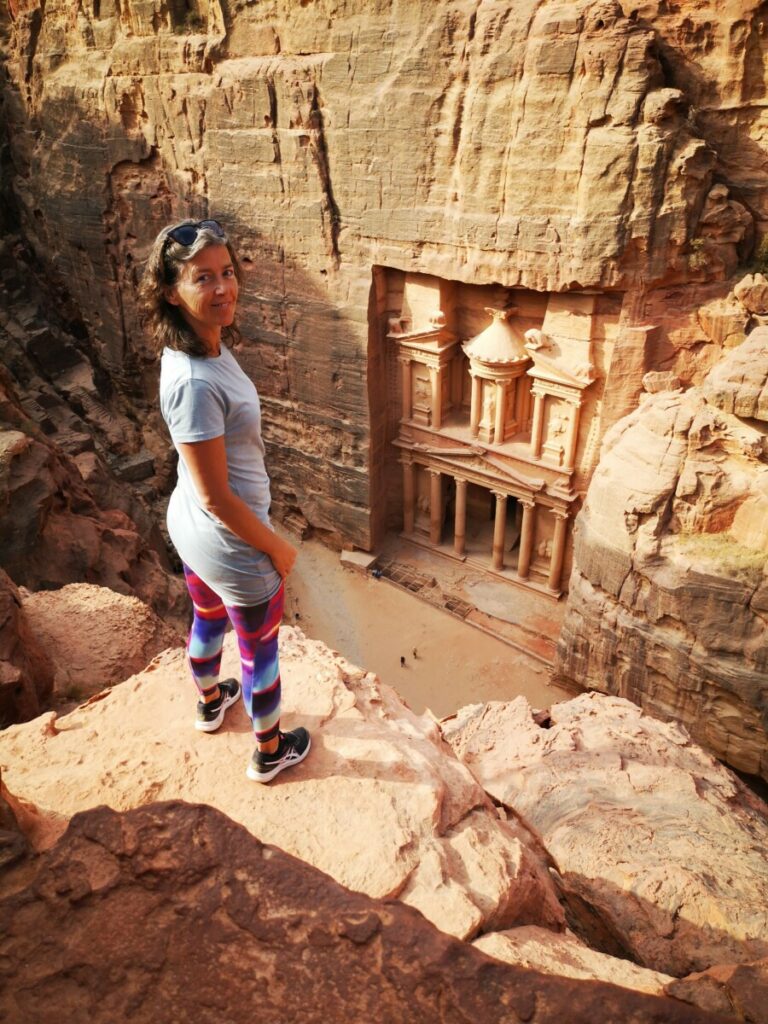 When I was upstairs, there were already two men waiting. The Bedouins were not there yet and the tea was freshly made for us half an hour later. It took at least another hour before the first sunrays came when I was sitting there. So we had plenty of time to enjoy the surroundings and the place. The place was getting more and more crowded, so I was happy to have a front-row seat. I sat on the edge of the Bedouin hut watching the Treasury. Every now and then a little cat came to keep me company.
At one point, when the sun came through a little, we were allowed to go to a lower spot to make a better photo! Also a spot just in front of the tent, one stage lower is a perfect spot to take a picture. It is as if you are alone in the world and can look at this wonder of the world.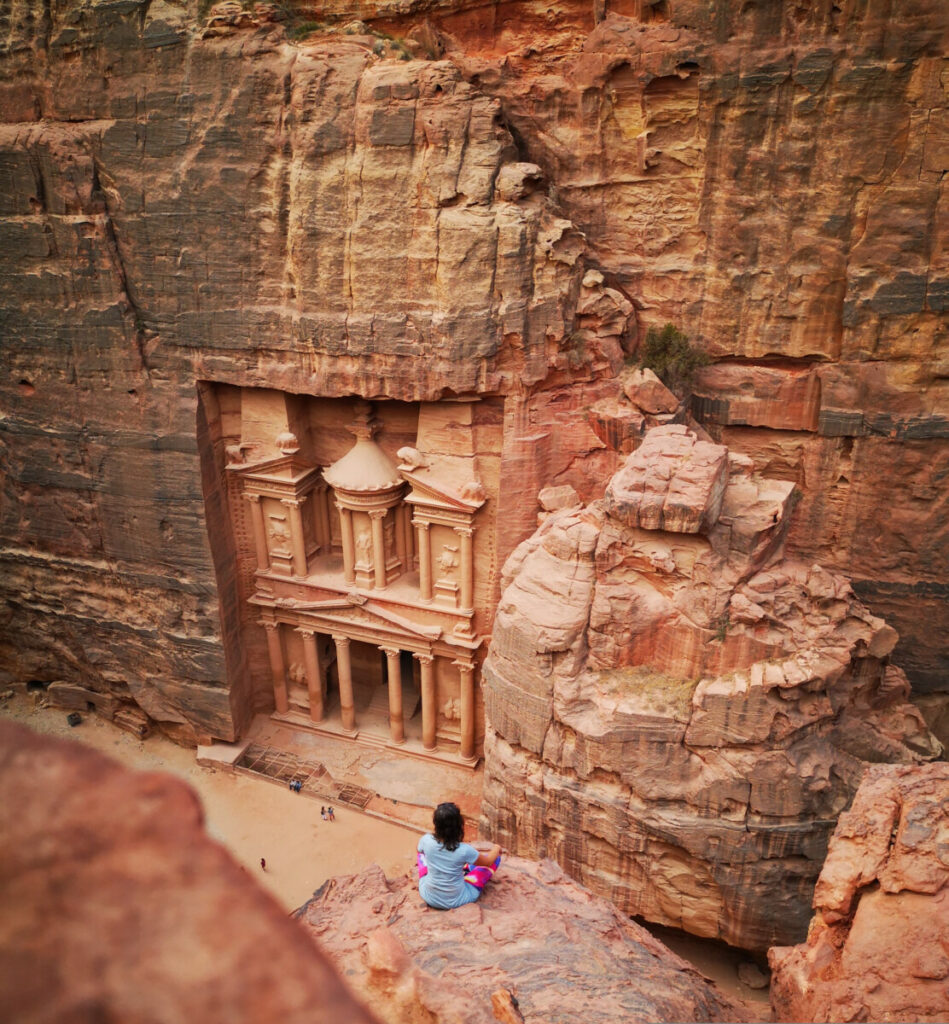 Monastery – Historical city of Petra
After spending some time up there, I walked back to the main street. My next goal was to go up to the Monastery. I was told by all bedouins that it would be a long walk. I expected to have to walk quite a few kilometres and, after drinking a cup of coffee at the end of the colonnaded street, I began the long walk.
All along the road, local Bedouins were selling touristy things, I wanted to say prut but of course that's not nice. I'm not that kind of person… In recent years I have bought little or nothing. When I come home, I prefer to give something to eat or drink, you use it once and then it's finished. Everything that's been lying around for years… I don't need that any more.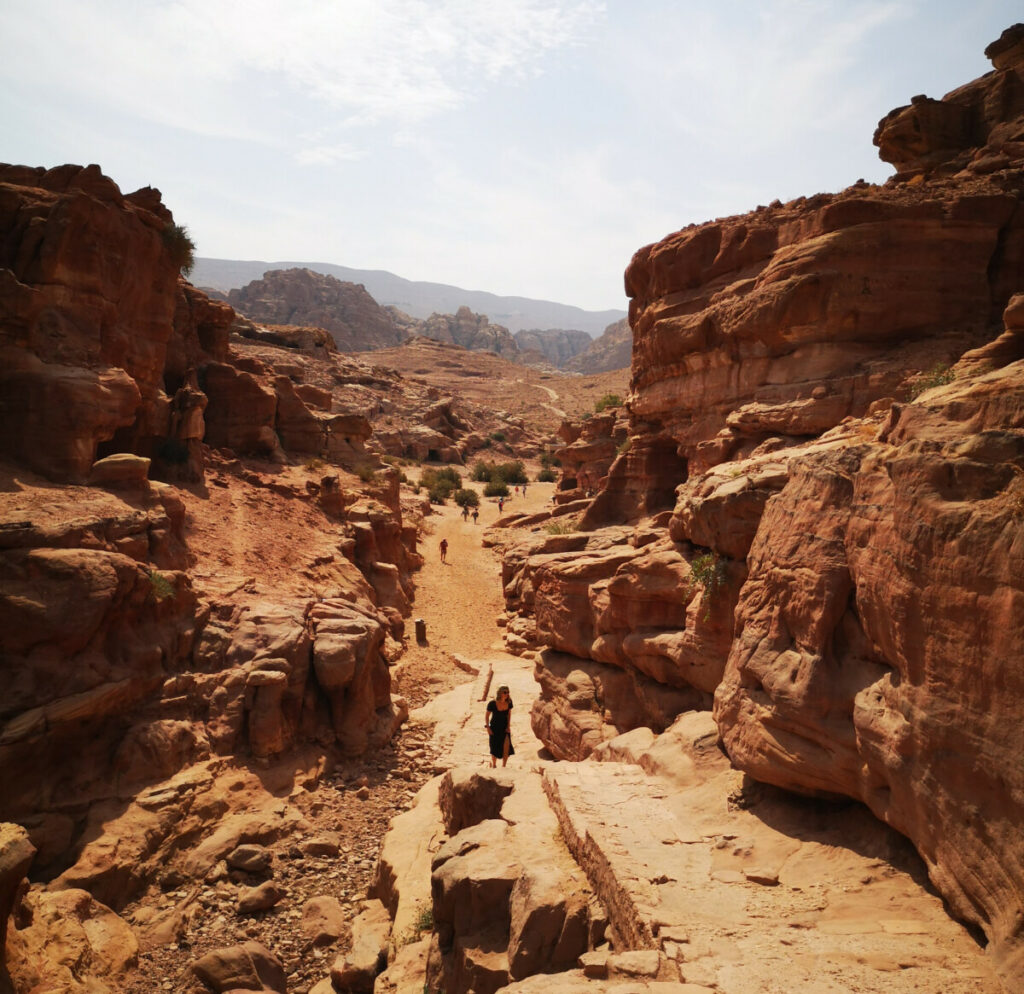 I think it took me an hour to get up there. Once up, I could enjoy the view of the Monastery, if you ask me even more beautiful than the Treasury. This facade is still super cool and sticks out above the rocks which also gives a different view. This one is not in the wall like the Treasury. I decide to go a bit higher first to get a beautiful overview of the Monastery.
Monastery – Visit the Historical city of Petra
Afterwards, I eat a sandwich and buy a delicious fresh pomegranate juice at the restaurant that is also above. So, in principle, you don't need to take very much with you. I had my backpack with me and 1.5 litres of water and food and all sorts of things just in case. But you can get everything in the historical city of Petra.
So, to the question of whether you need to bring everything you need on your days in Petra, I can say that it is not necessary. Of course, it is a bit more expensive but the places are also very beautiful. It is not a punishment to sit on a terrace. Every kilometre, so to speak, there is a small restaurant to spoil you with fresh juices or other delicacies.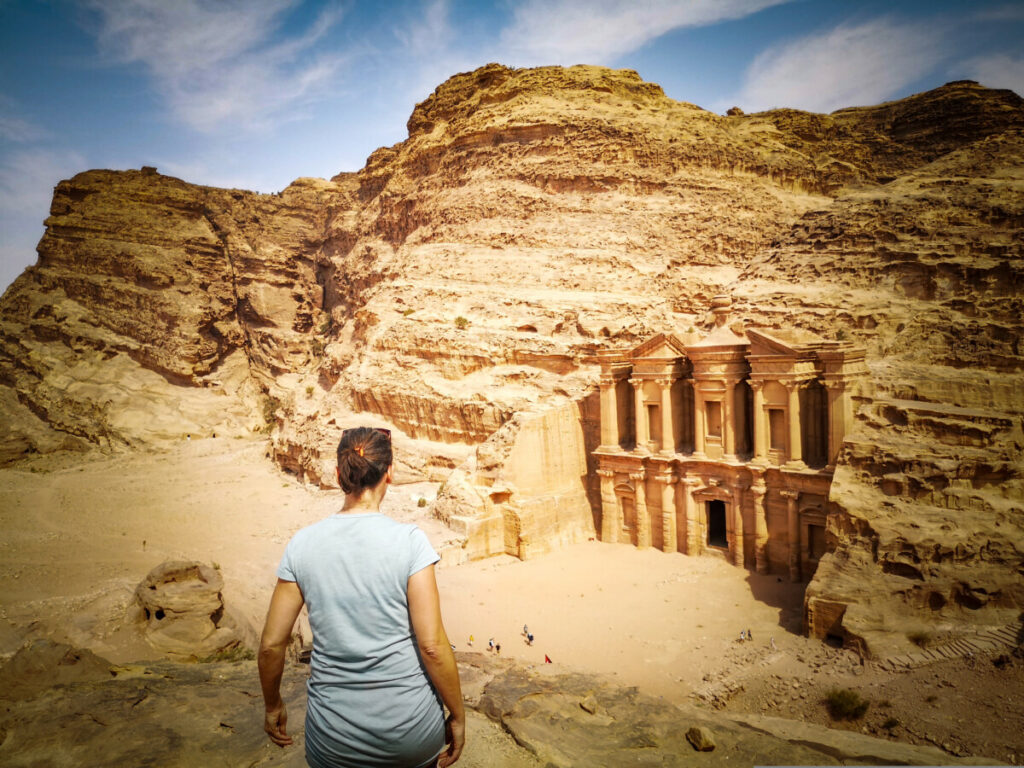 After I am down again, I decide to go back to Wadi Musa and save the rest for tomorrow. I have a ticket for 2 days so I don't have to cram everything into one day. It's a hot and sweaty day and I'm covered in sand and dust and look forward to a nice shower in Petra Bed & Breakfast.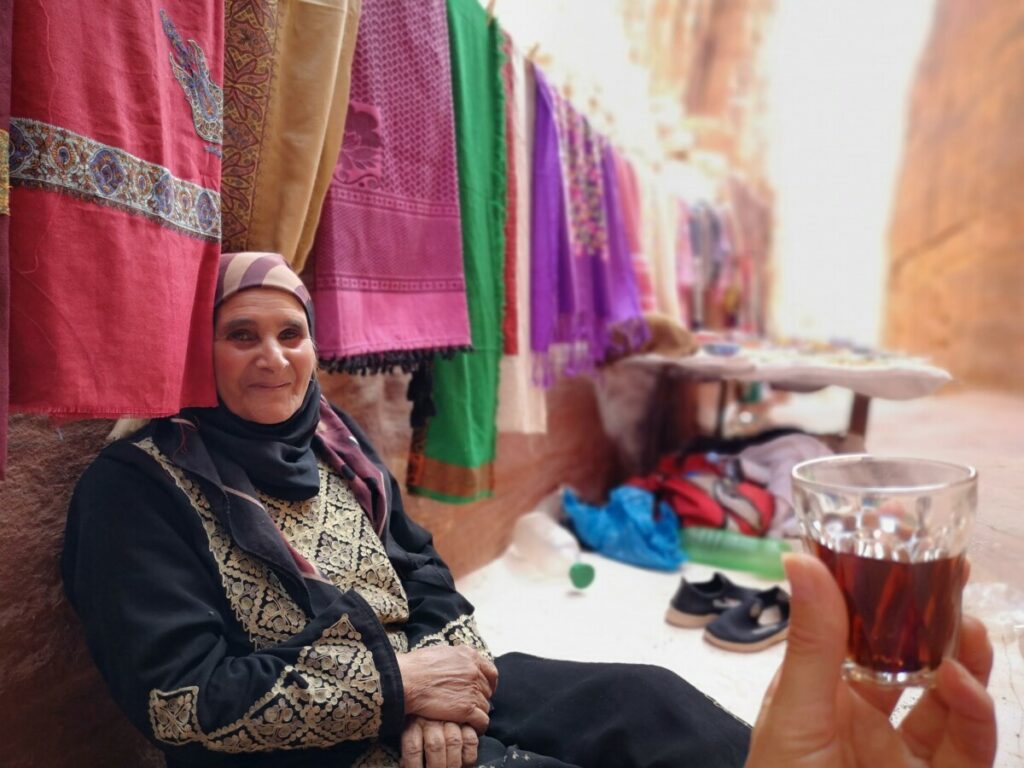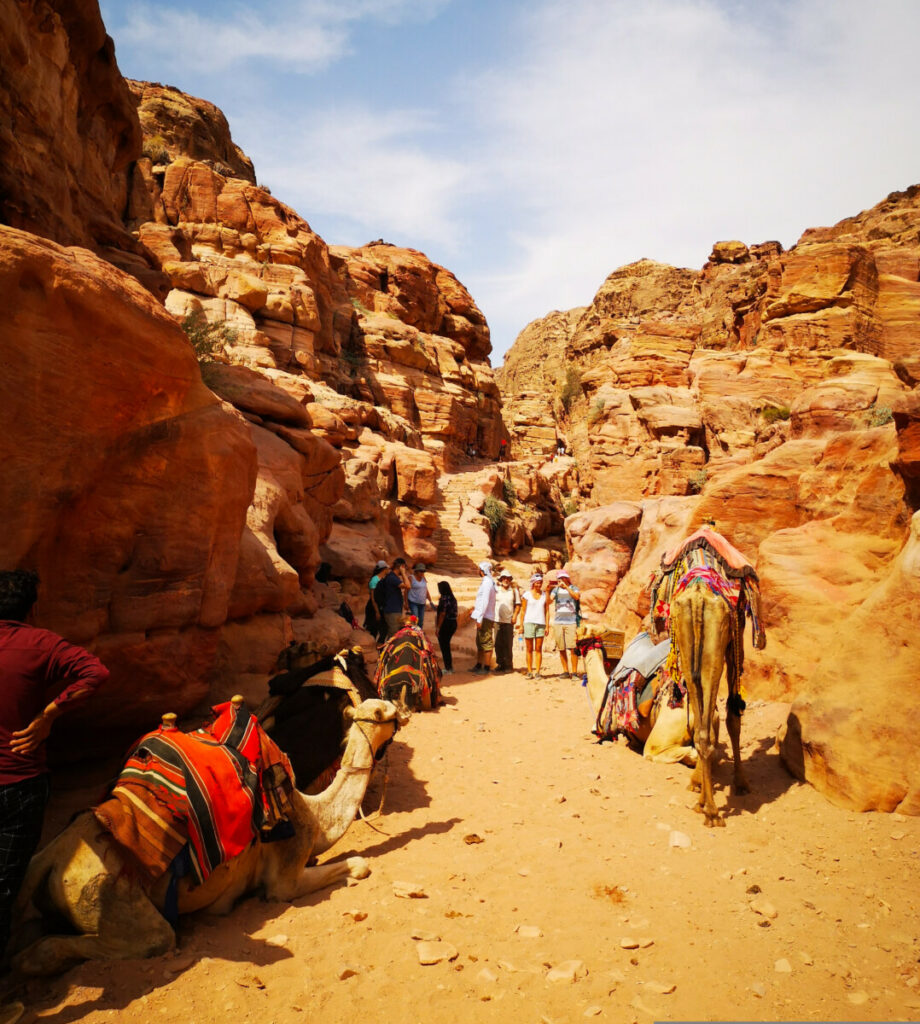 The next day, I decide to spend the morning relaxing at my Bed & Breakfast, after all, it is just holiday and I have been on the road for a few weeks now. Doing nothing for a while is also quite nice and yesterday I walked quite a few steps and kilometres.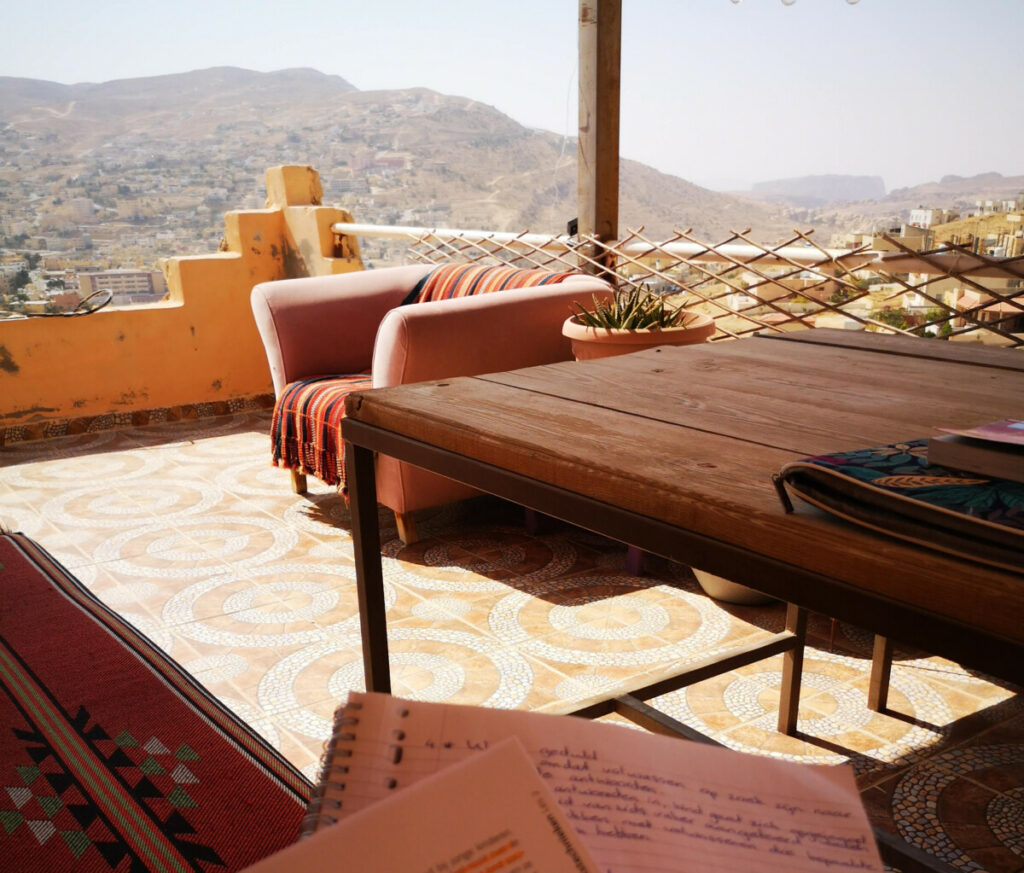 Petra Museum – FREE – Historical city of Petra
In the heat of the day, I decide to visit the museum of the historic city of Petra. This is to the right of the entrance to Petra and is a modern building that is wonderfully air-conditioned. I am inside for about an hour. I read a lot about the background of Petra and the Nabateans but also about the background of Jordan. They also have a lot of interactive screens where you can click through the information with nice pictures to give the whole thing a bit more form. I enjoyed walking through it.
I have lunch at the entrance of Petra after this, I can recommend you not to do that because the price is obviously too high. The sandwich and the fresh juice were delicious but it wasn't worth it. I could walk straight on in so it saved some time but yes, this day I had enough time.
High Place of Sacrifice Trail
I walk the path to the Sig again and am amazed at the length and height of this gorge. What a special road it is. How cool is it if in earlier, uncertain times you had your city well secured on one side in this way. After half an hour I'm back at the Treasury and I go straight on. When I reach the first restaurant, Why Not Cafe, I turn left and go up the stairs. There is no sign saying High Place of Sacrifice Trail but believe me, this is the path.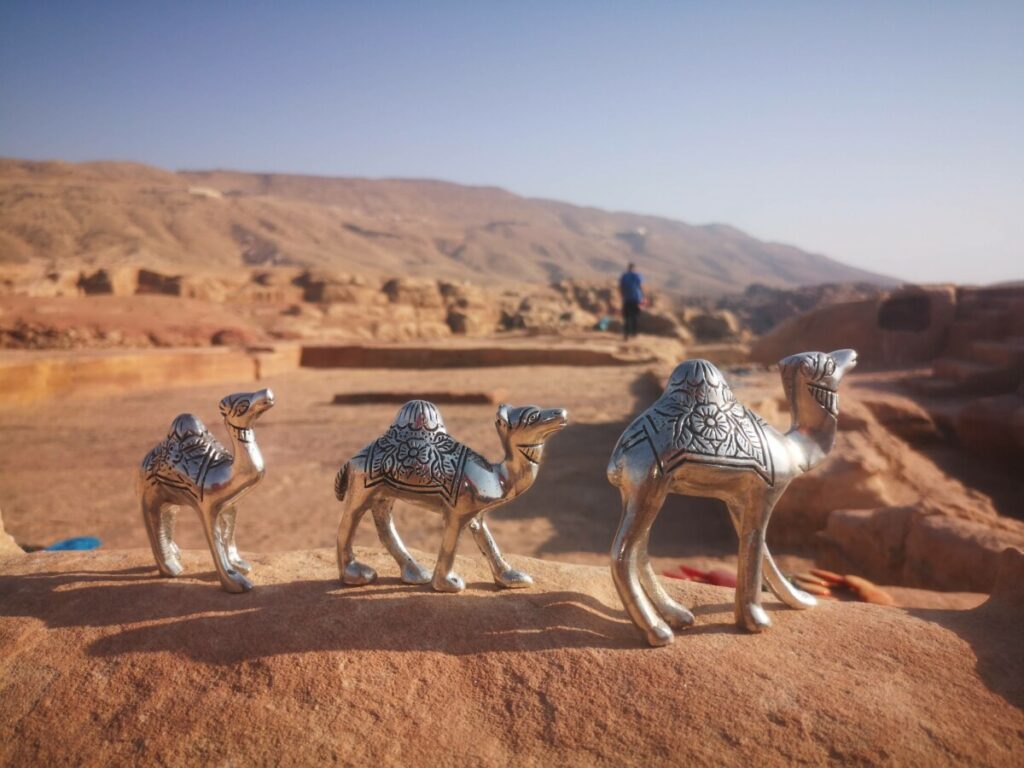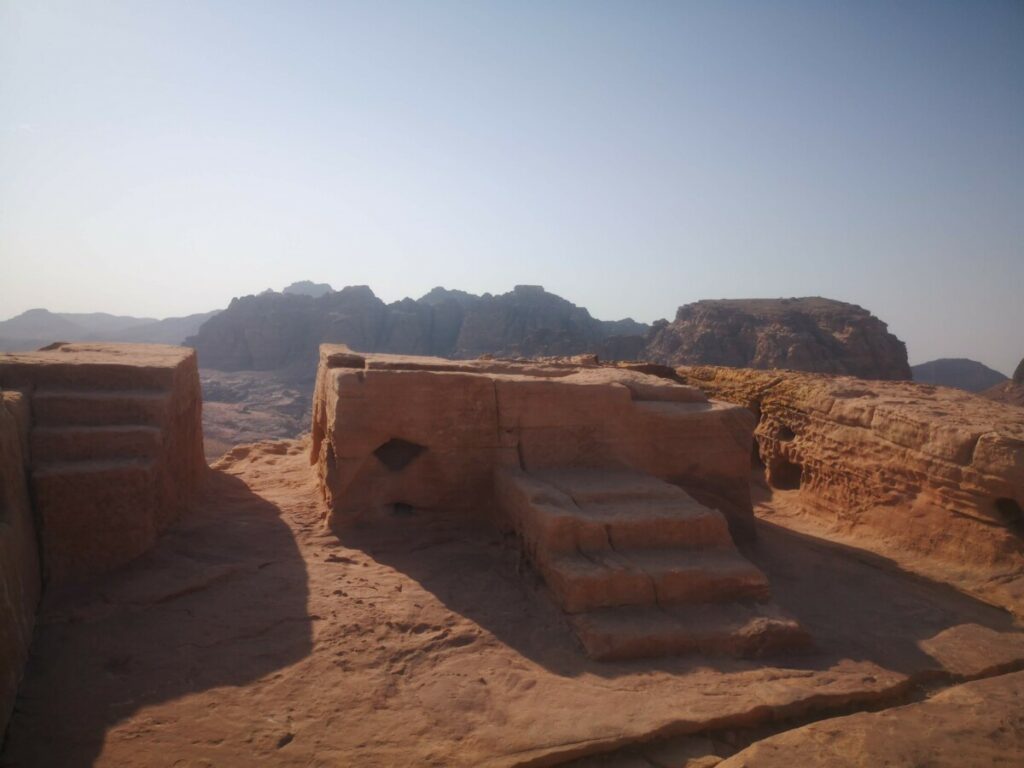 You go straight up the stairs. It's still warm and I walk slowly… Partly in the shade but also a lot in the sun. It takes quite a long time before I see a sign with the trail on it. At that moment I am almost at the top at the High Place of Sacrifice. There it is again that there are Bedouins who offer you something to drink or who want to sell you some souvenirs. I walk up and come to a plateau. I see more people walking there and a guide who points to a place of which I later see that this is the place of sacrifice.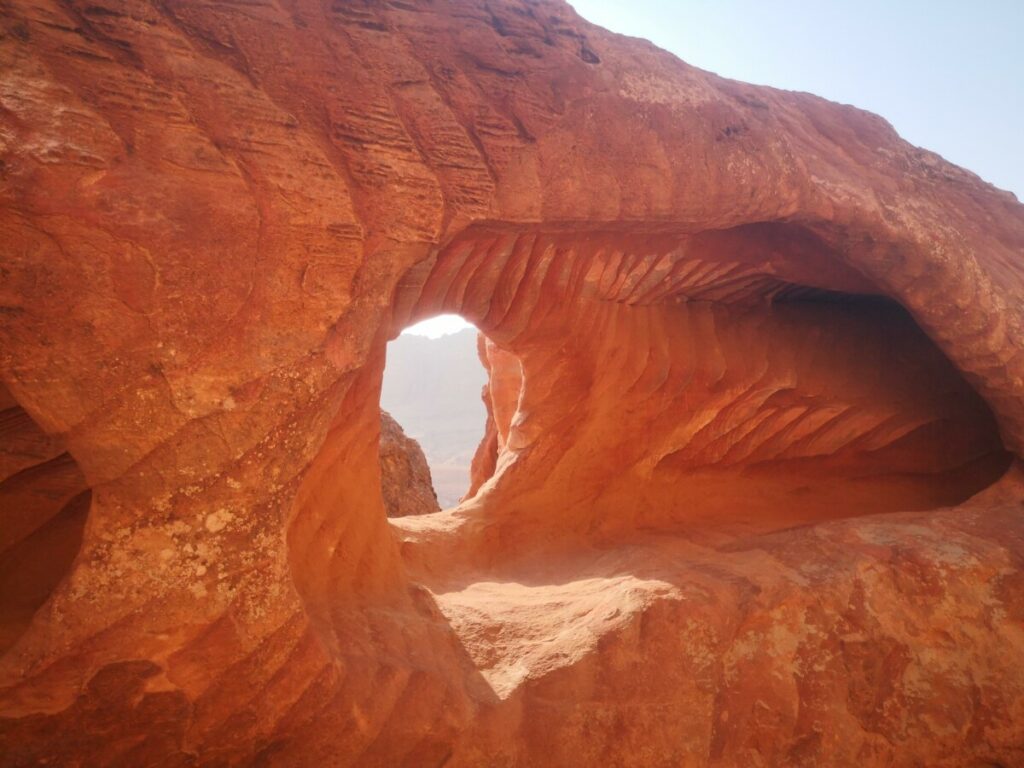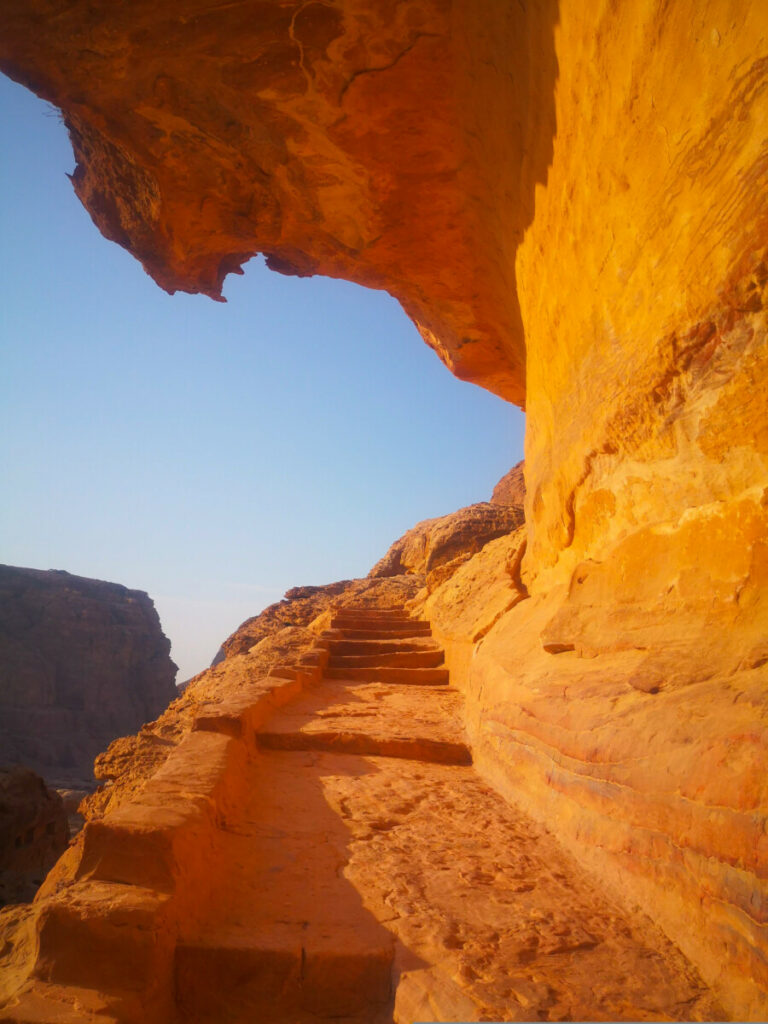 You have a view over the wide surroundings and it is a lovely wind. After I had cooled off a bit and had looked at the place briefly, I walked on to the tip of this plain. I ended up at a Bedouin tent where you can buy something to drink and enjoy the view over the main road of Petra and the rest of the area.
High Place of Sacrifice – Historical city of Petra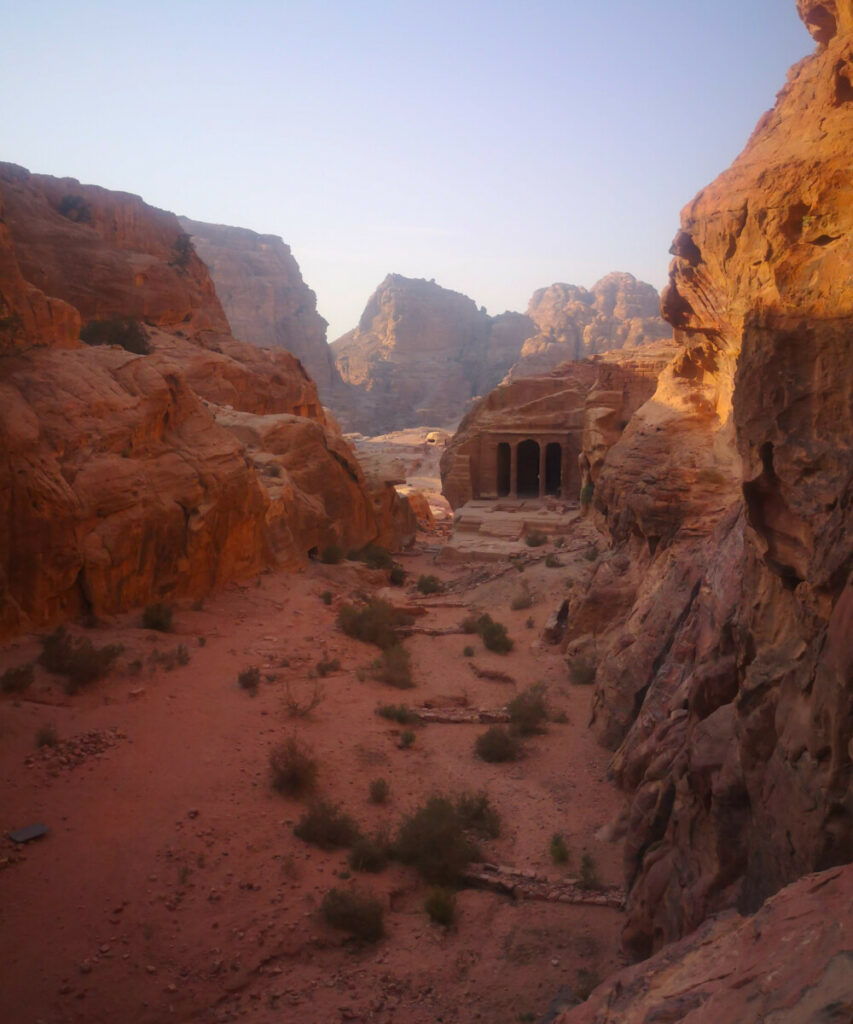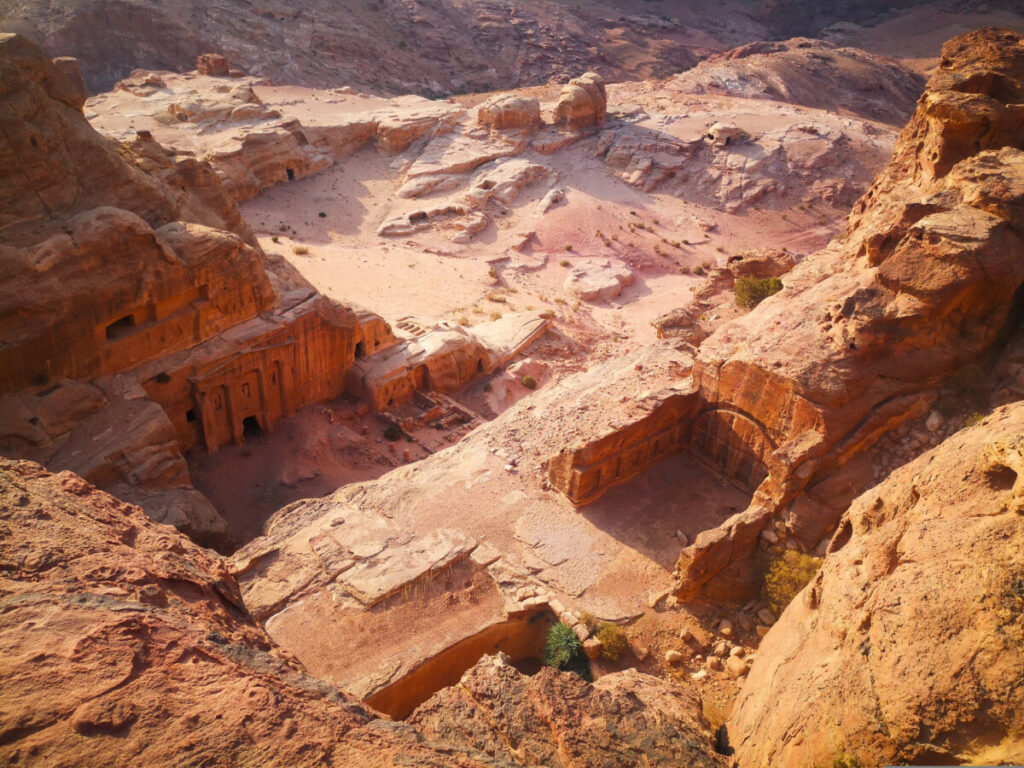 The part of the trail that comes after that I found really super! You should do this High Place of Sacrifice Trail alone because of this part, which is on the back side of the mountain and has all kinds of beautiful places and caves and viewpoints. I walked it almost alone and at some places you can go off the path into a cave, into an old temple-like cave or up or down a beautiful staircase. I thought this was a really cool part. You sometimes see carvings just like that, you come across places where you can let loose all your imagination about how people once lived here.
How they looked to the other side and saw their 'neighbours' there.
I found it very interesting.
I walked around and went inside everywhere. When you stand inside such a rock house, you can still see that it has been lived in. The ceiling is blackened, the walls have many different shades and sometimes you can still see some paintings. I find it super to see it all and am surprised to see that I have only one hour left before the sun goes down…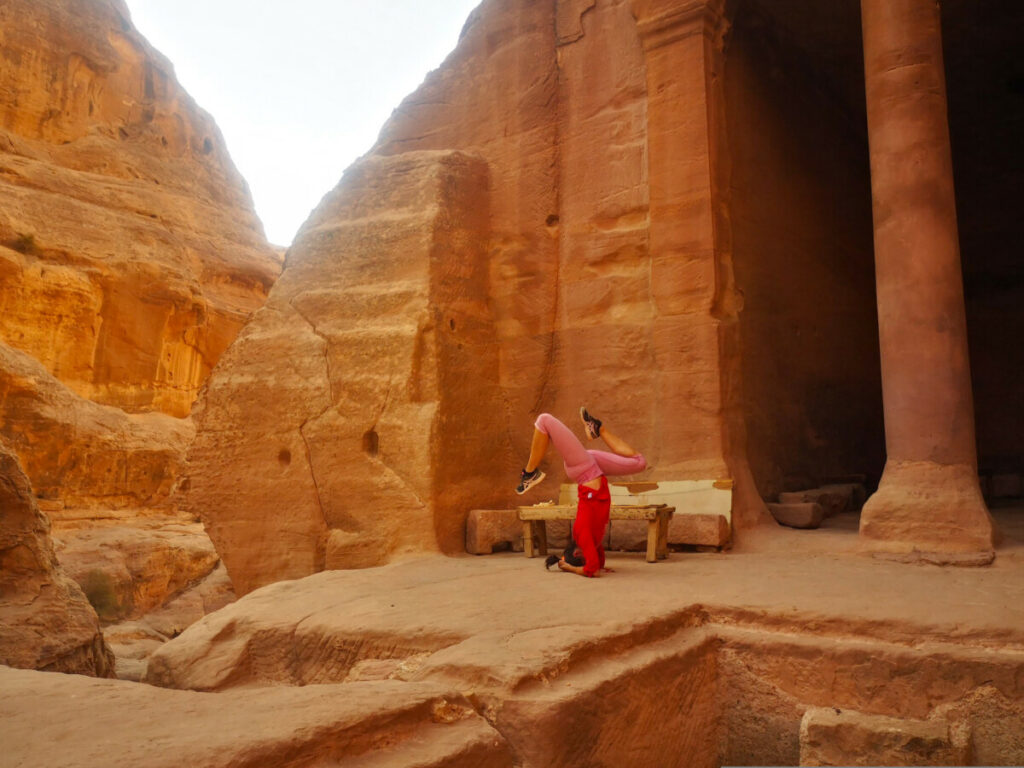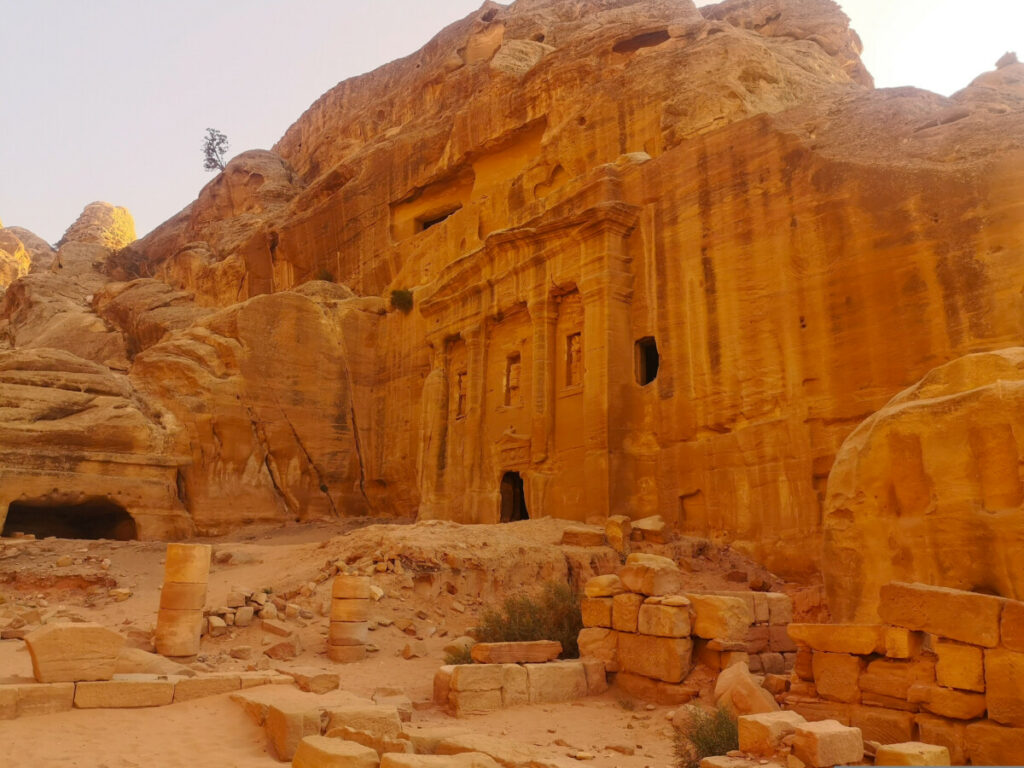 After coming out of this street, I turn a little too much to the left while you should keep to the right to stay on the back side of this mountain. Then you come back to the main road of Petra. In the distance, I see a Bedouin on his donkey moving towards me. He saw me, of course, and will accompany me the rest of the way, so that I don't get lost again. On the way, he tells me that there is a western woman living in a cave together with another Bedouin.
He asked me if I wanted to meet her?
At first I say no, it's getting a bit dusky and I don't want to be too far from the path by the time it gets dark. It was not far. I see that he is pointing from his donkey to a mountain. It is behind it, he says. I decide to walk with him to that mountain and then see if I can see anything, that it is not too far. Indeed, it turns out to be exactly behind the mountain because, when we are there, he points to a flag that I see just around the corner. According to the Bedouin on the donkey, the cave dwelling is near the flag.
Unique overnight stay in UNESCO site PETRA?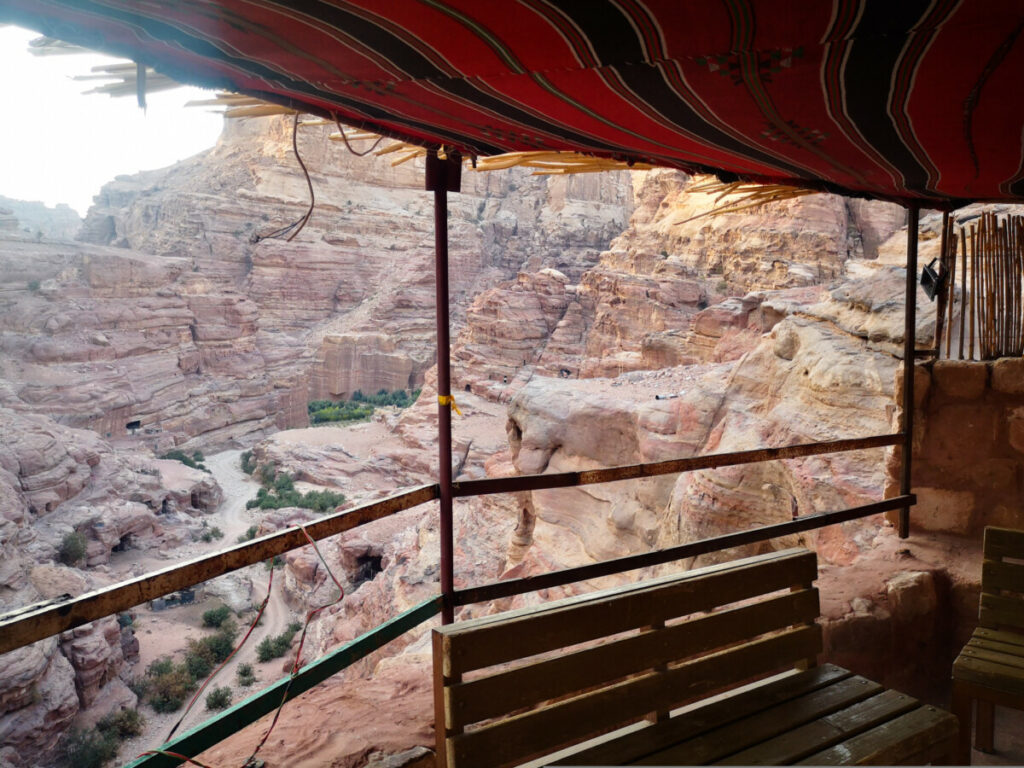 It is a cave on the wall of the mountain to the left of the road. When I walk onto the 'terrace', I see a western woman standing there. She introduces herself as Nathalie from America. Nathalie has been living here recently but has been in a relationship for years with the man who lives here. She has only recently decided to stay here and settle down in the Middle East.
When we start talking she turns out to be, like me, also an avid traveller and has an IG channel of course and organises trips to Jordan and Egypt. She also talks about renting out their cave as an AirB&B. Of course this is not allowed I understand from others but still she shows me a bedroom that they use for that.
If you would like to try it anyway when you are in the historic city of Petra, you can always contact her. Will give you a unique experience!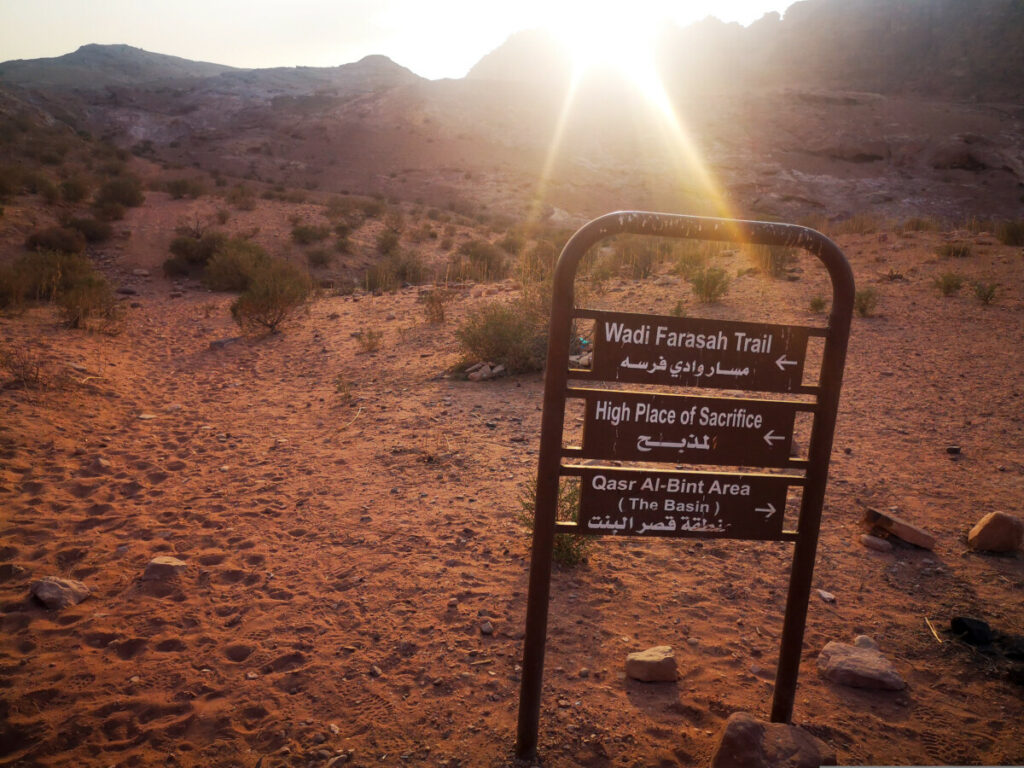 Slowly it was time for me to say goodbye to this impressive piece of the world. What an enormous history you can find here, what beautiful walks you can do. I had a great time for two days and I must admit that I did not do all the walks and that I regret that. But that always gives me a good reason to come back to this historical city of Petra. Who knows? There are still plenty of gems in Jordan that are on the list.
For now, I went to Dana Biosphere Reserve.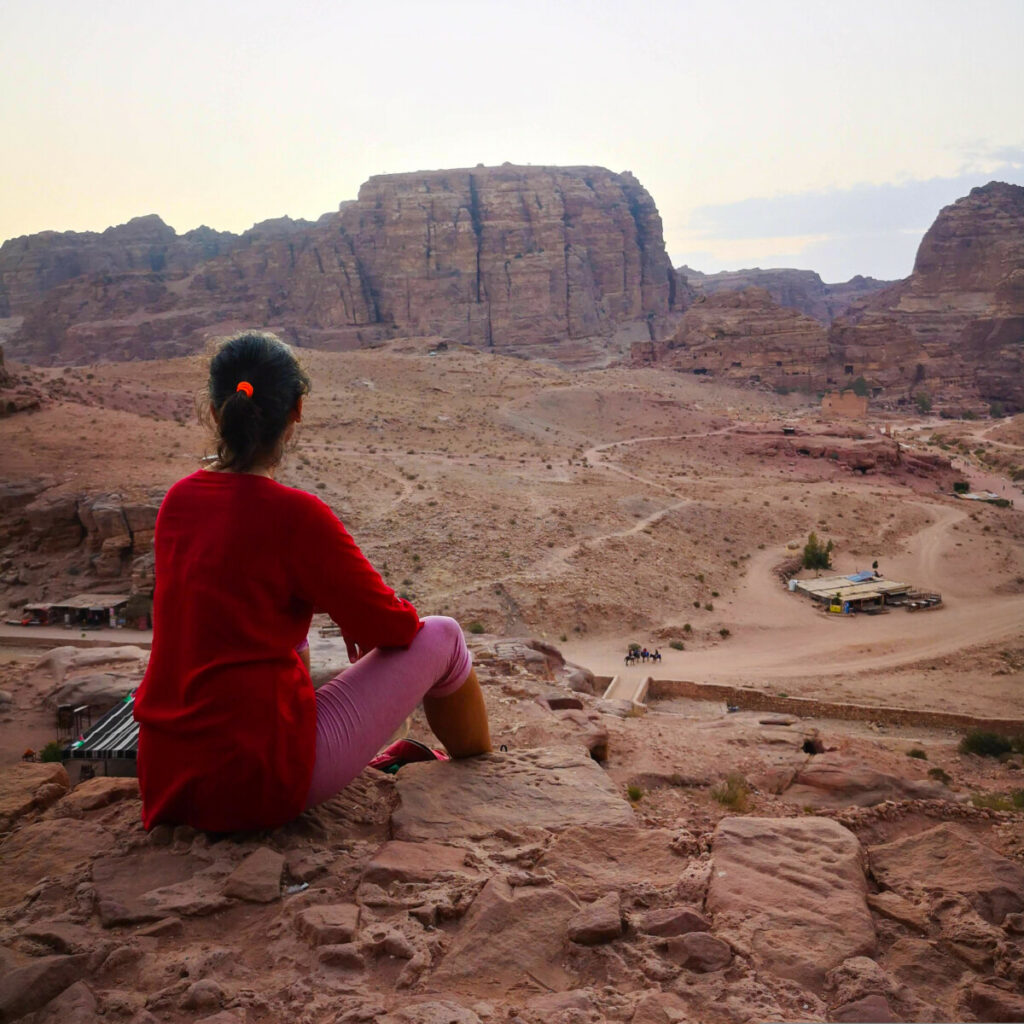 Visit the Historical city of Petra – 2 days
Wadi Musa, Jordan
Petra By Night
You must be wondering: do I have to go through this? That is always the question with these kind of über touristic evenings.
It is very beautiful to walk through the Sig in the evening, to experience the silence of the evening and to see the rock formations illuminated. It will cost you almost 25 euros to buy a ticket. You can enter the area at 20.30 from the visitor centre. Make sure you go first so you can take some nice pictures with not dozens of people in front of you. Along the whole road from the start there are already candles set up on both sides. Also in the Sig there is some soft music and nice atmospheric lighting. The show itself is short, I thought, you get a cup of tea and there is some telling and some music. The predominant message is that we all want a peaceful world.
I found the atmosphere very good and nice.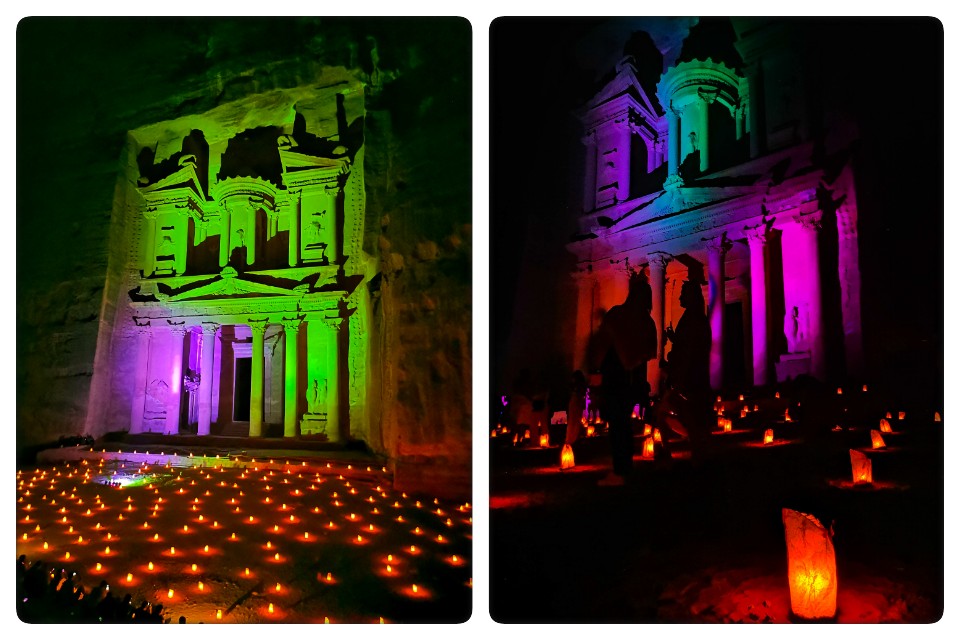 I sat on an elevation and not on the ground, because a Bedouin took me to a nice spot. He said I could be a bit higher, but I was fine with it. Afterwards, we were taken down because it was not allowed…oops. I did have a nice overview of the whole thing. On the other hand, the cup of tea passed me by because it was handed out to the people sitting on the ground.
I thought it was beautiful and I'm glad I did it.
The whole atmosphere that was created was very nice!
Food in Wadi Musa
You can eat at the entrance of the historical city of Petra, very expensive and not of super quality. In the street just before Petra, where many hotels are, there are also restaurants and that would be a better choice.
But I can recommend to go a bit more in the direction of the centre. There you can also find nice restaurants where you can sit. Both restaurants are on Tourist Street and there are also some supermarkets. Always easy if you are looking for something to drink or something nice to eat.
My first evening, I ate at Al-Mebash. I had a combi dish with falafel, a kind of samosa filled with cheese, chips and Kibbeh (oval balls with meat in them) with a salad. I really liked it and I could sit on a kind of raised and covered terrace. It was nice overlooking the street and therefore enjoying the peace and quiet and the view. I can definitely recommend this place.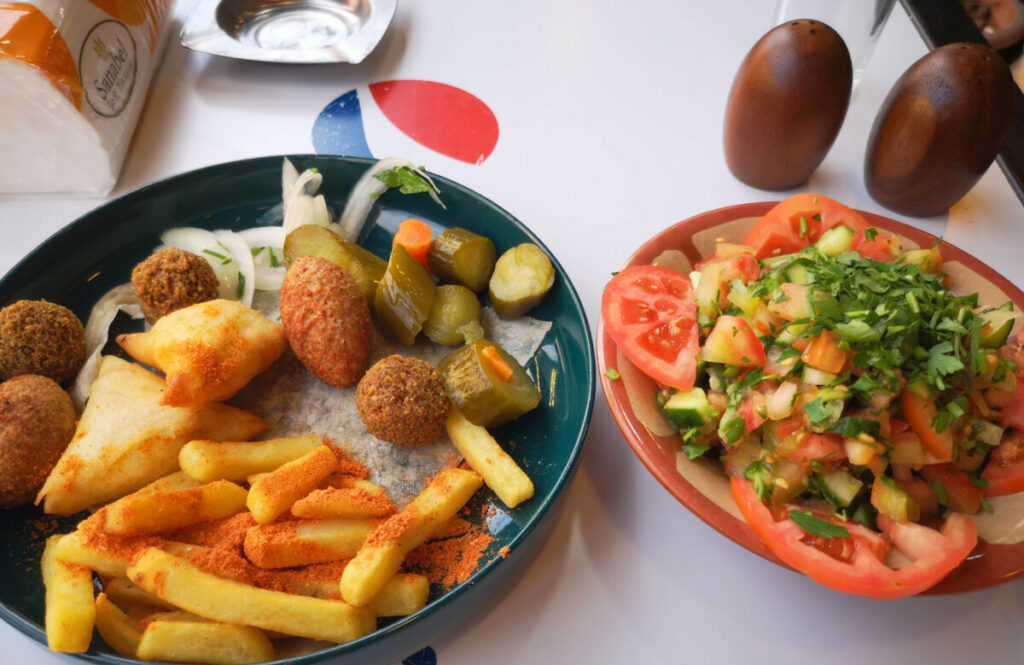 I can also recommend this restaurant across the road. Especially the waiter was a very nice man, he could speak English and really made the effort to make himself understood and to explain to me what was on the menu. Of course, most of the menus are only in Arabic, so it was quite difficult for me to read them 🙂
Eating (almost) vegetarian again was difficult so I chose a mixed salad and a dish with lots of vegetables, chicken and fries. It was a dish and the fries were added to the vegetables. So they were completely soft but the whole thing had a nice flavour. It was also nice to have something different than bread with hummus. Being a vegetarian in Arab countries can be quite difficult if you want to deviate from the humus, falafel or rice.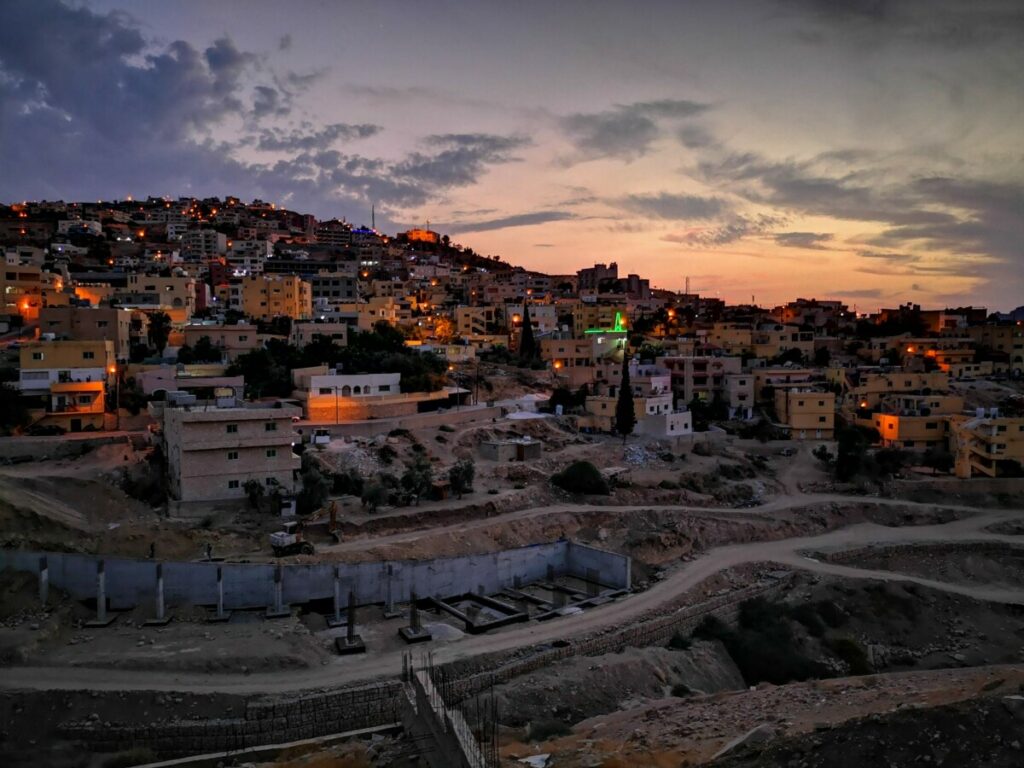 Staying near the historical city of Petra
I stayed in Petra Bed & Breakfast, a B&B where the Belgian Patricia has built her life. I really enjoyed staying with her. Just chatting in Dutch, having breakfast together and exchanging experiences. It is also an ideal starting point to discover Petra, by car it takes about 5 minutes to get to the entrance of the historical city of Petra.
The room, the roof terrace and breakfast were super!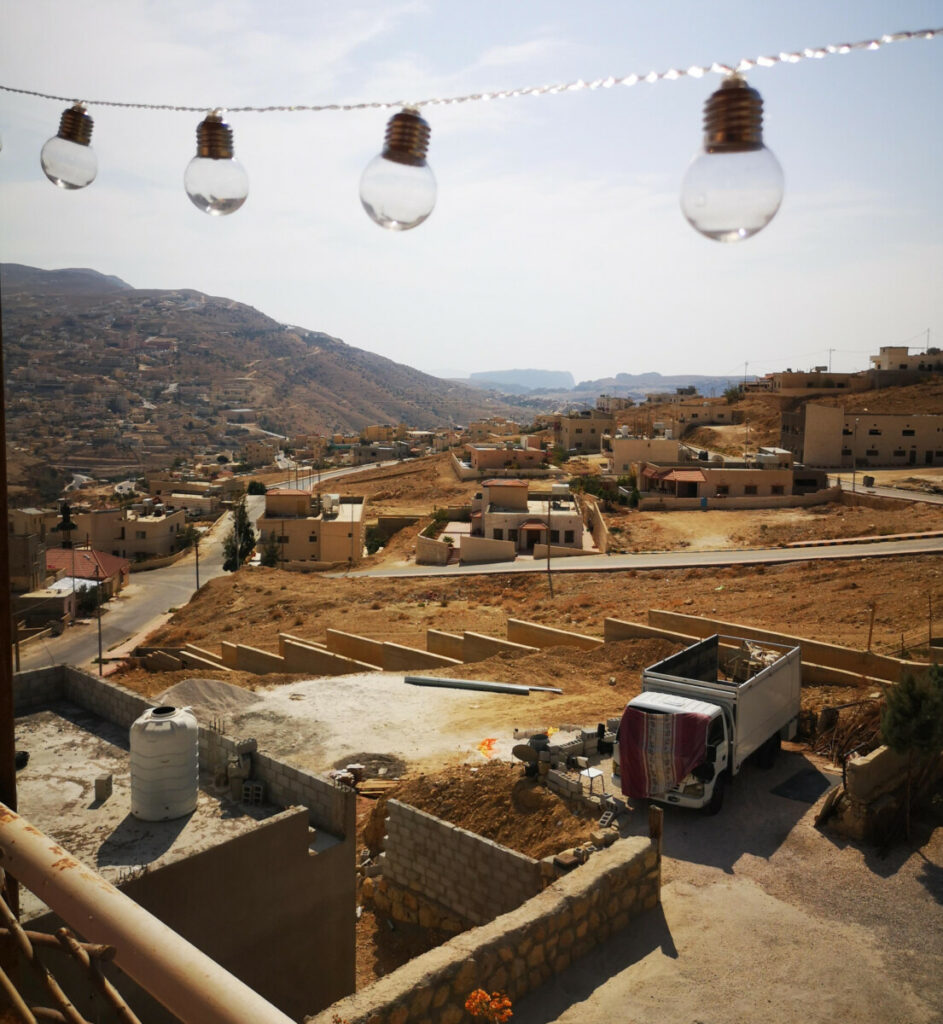 After these days I went to Dana Biosphere Reserve, I will share a nice blog about this later. If you travel down you can go to Aqaba via Wadi Musa. It is lovely on the Red Sea and you can enjoy the nice shops and terraces. I spent a lovely afternoon snorkelling there.
Do you want to share this blog?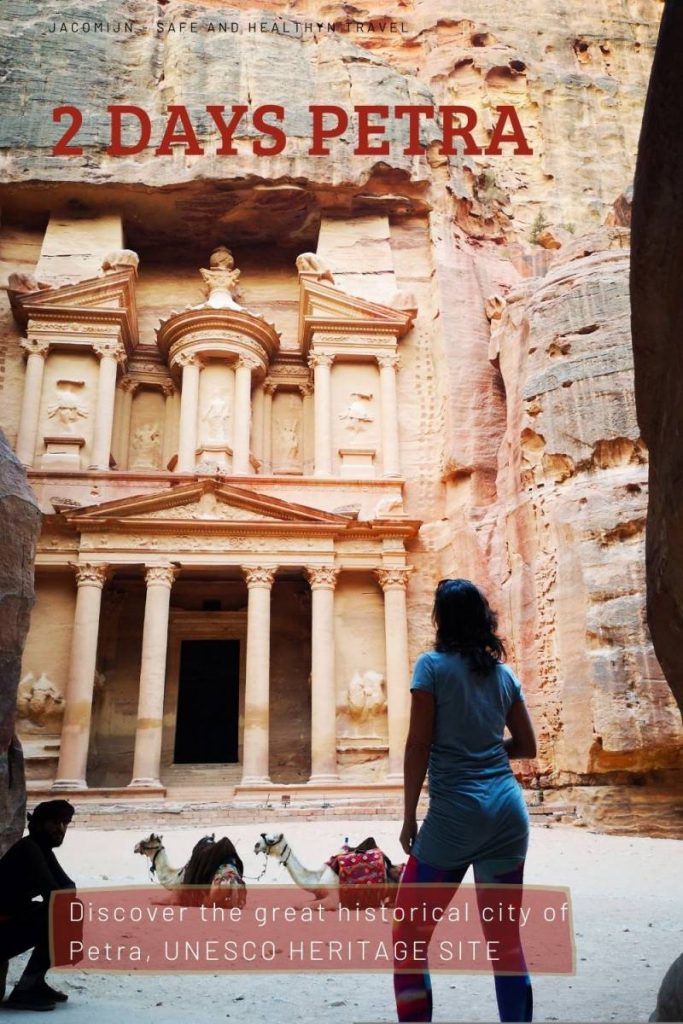 Want to read more about Jordan?
The Churches of Madaba and Bethany Beyond the Jordan
Visit Salt – Former capital of Jordan
The Ruins of Jerash – Once a prosperous Roman city
Or will you go to Oman? That is what I did after Jordan 🙂
Adventurous Travel in Oman – 100% Adventure, Nature and Culture
I hope you enjoy this beautiful world as much as I do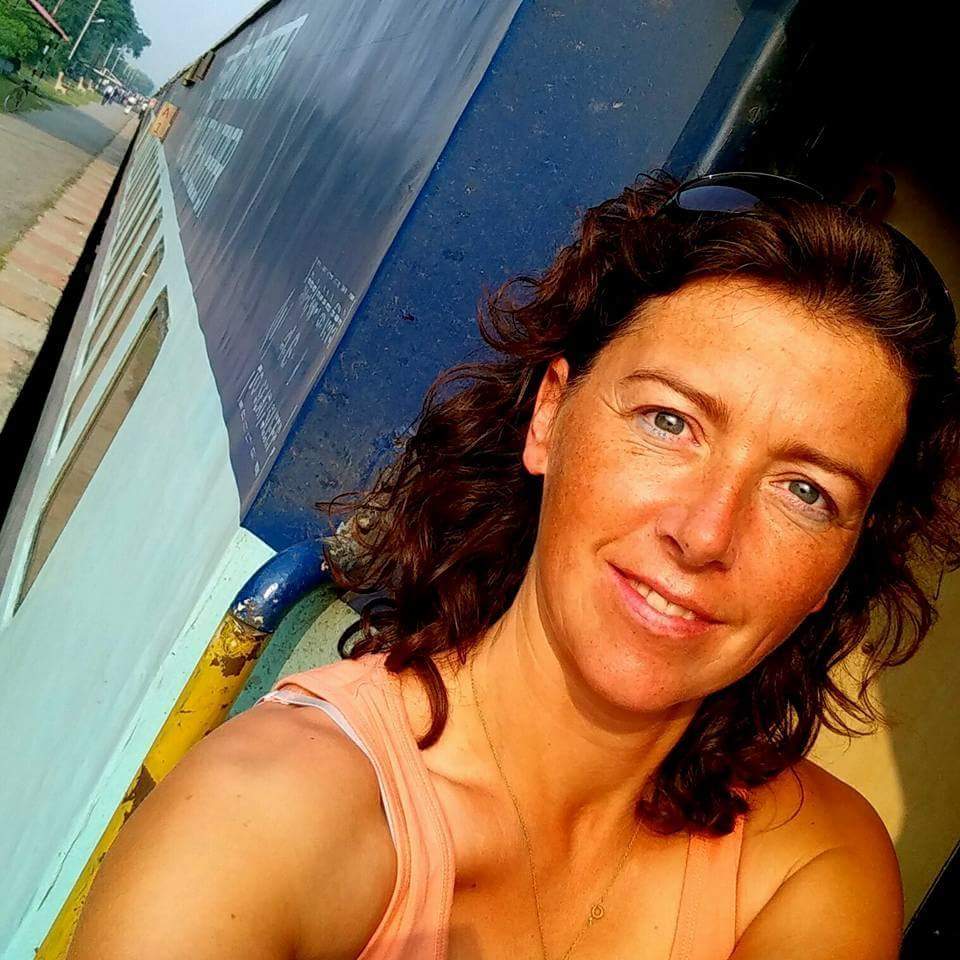 Jacomijn is een politieagent uit Nederland die jou graag laat zien hoe je veilig, actief en gezond de wereld kan over reizen. Safe and Healthy travel is a MUST