Visit Salt the former capital of Jordan (As-Salt)
|
Visit Salt! The former capital of Jordan was tipped off to me on Facebook. I had already seen it in the Lonely Planet which I have with me again. At first the city of Salt was not on my list…but I added it anyway when I realised how close everything is in the North of Jordan.
On my tour of Jordan, I was a bit rushed at first. I couldn't quite estimate how much time I had for the far north and so I was in a hurry to 'tick off' all the places. Renting the car only for a week so I would then travel by local bus. I revised it so that I wouldn't lose too much time waiting for a bus or not being able to reach certain places that I might like to.  I'll just grab that local atmosphere of my trip by having a tea by the side of the road a bit more often.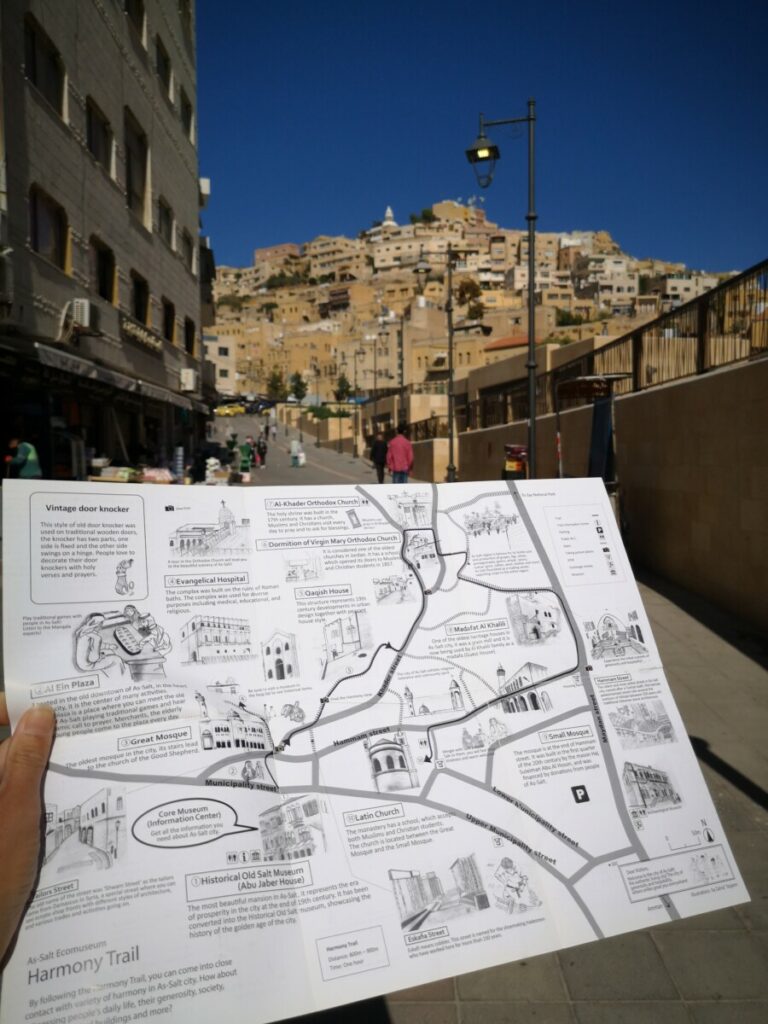 Visit Salt – Former Capital of Jordan (As-Salt)
A visit to Salt, the former capital of Jordan, was not to be missed, so when I drove from Ajloun to Madaba, I planned a stop in this nice town. I was already there on time in the morning so I could experience the start of the day a bit. I already walked through the nice Hammam street when not everything was open yet.
As-Salt is a city built on 3 hills, Qala'a, Jada'a and Salalem. When you arrive, you soon get a good view of the many houses of Salt. The land around the city is very fertile and so much was cultivated in the area making the city a hub for trade. Walking through the city you will see a variety of building styles from European to Ottoman. All this gives the city a nice and open character.

This is reflected in the people when I read in the museum that the religions here live side by side and are intertwined. Many people could learn something from this! Enjoying each other's beautiful traditions instead of disapproving of each other's lifestyle.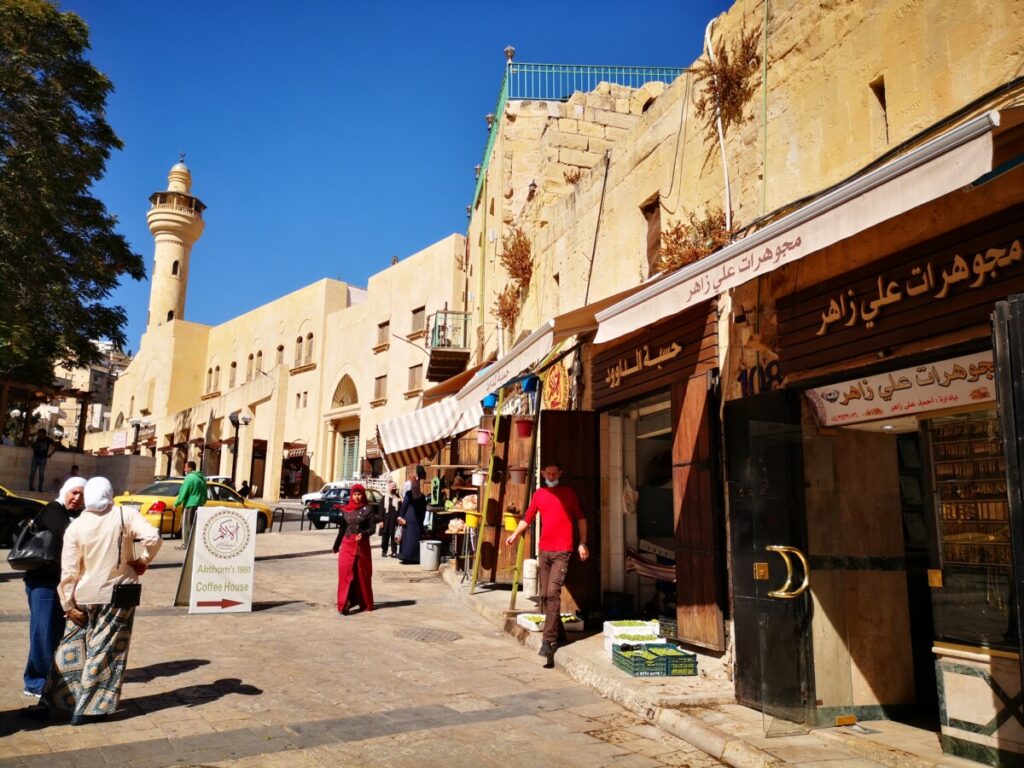 I asked around at something that looked like a museum, which was not meant for tourists but more for the local entrepreneurs, a centre (Salt Development Corporation), where I could get information. The woman started looking in different drawers of her office and one day she came up with a map on which I saw a route. She pointed out the place on the map where I could find the museum for more information but basically she gave me everything I wanted.
I read that the Harmony Trail was explained and it would let me walk through a part of Salt, super nice! And totally perfect for a morning walk.
Hammam Street
So first I walked down Hammam street and looked around at the cute little shops hidden in the old high walls with large sand-coloured stones. One side of the street lies against the mountain and sometimes it seemed as if the shops were chiselled into it.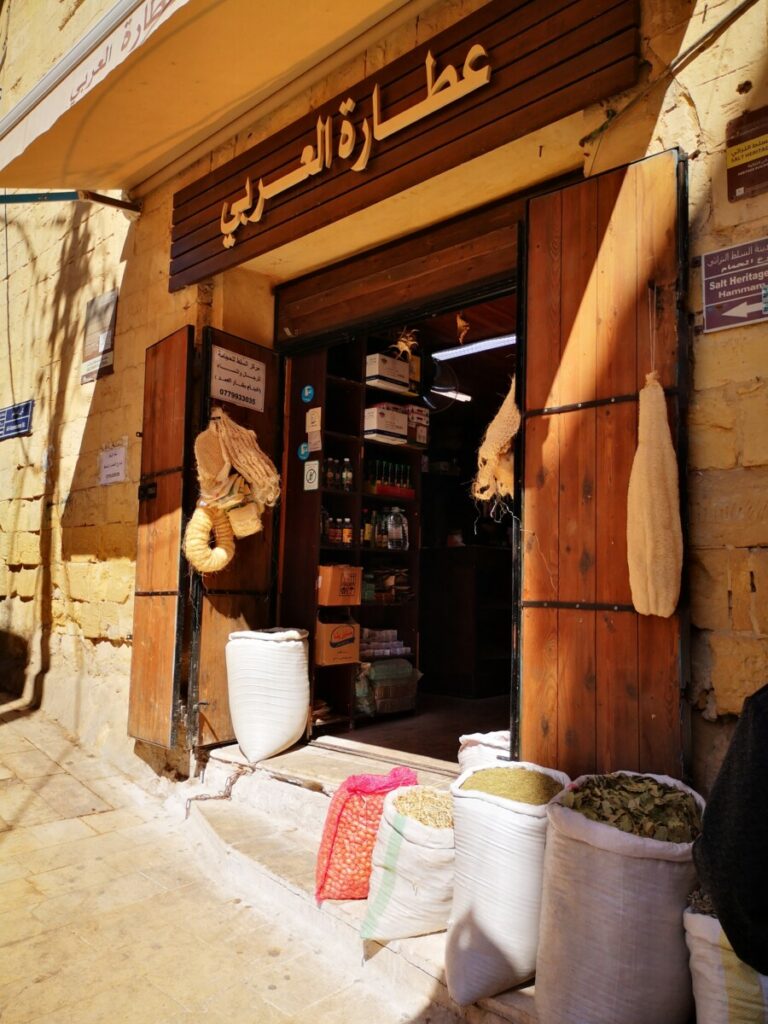 Between the shops there was sometimes a corridor or stairs, leading to a nice restaurant, or to the higher quarter behind it. I was going to visit and discover both later that morning.
Historical Old Salt Museum
I decided to go into the Salt museum first. The museum is in a large old house on the main Municipality street. The house is called Abu Jaber House. It is a nice museum which shows the daily life of Salt and the history of rulers. It is not very extensive but always good to walk through.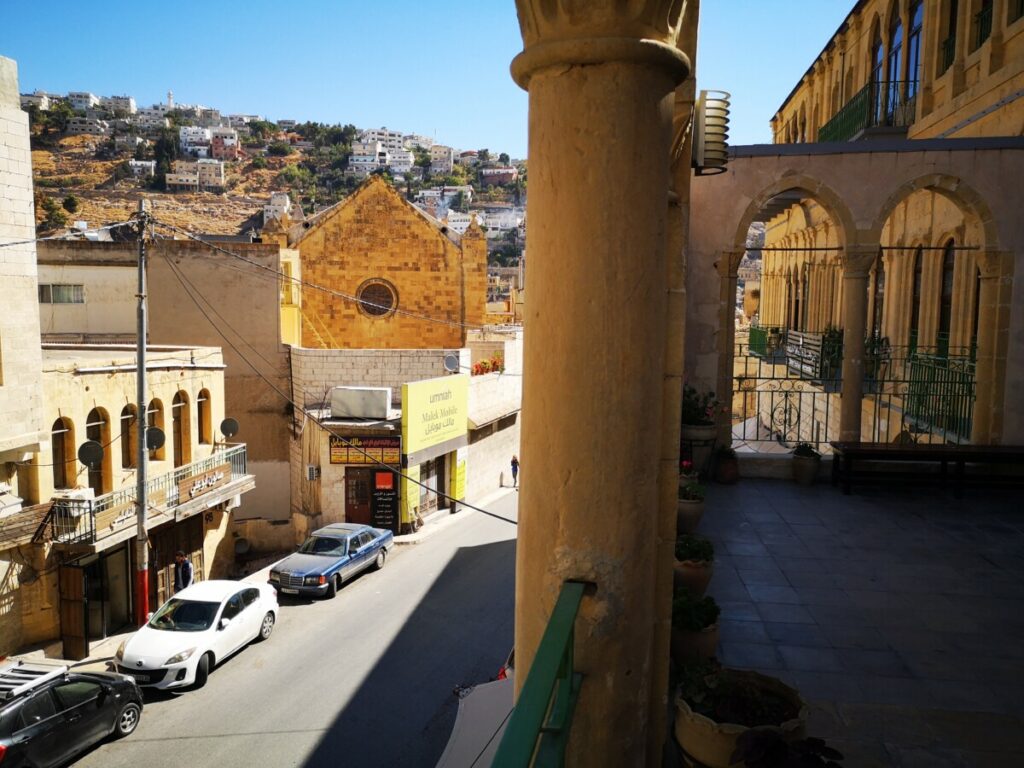 When you get to the top, you can step out onto a terrace to get a nice view of the street.
The museum can be visited free of charge and the men from the shops outside were happy to tell me all about the background. Without being obtrusive in selling their wares. So nice!
After this I walked on to Qaqish house, from where I got a nice view over the city.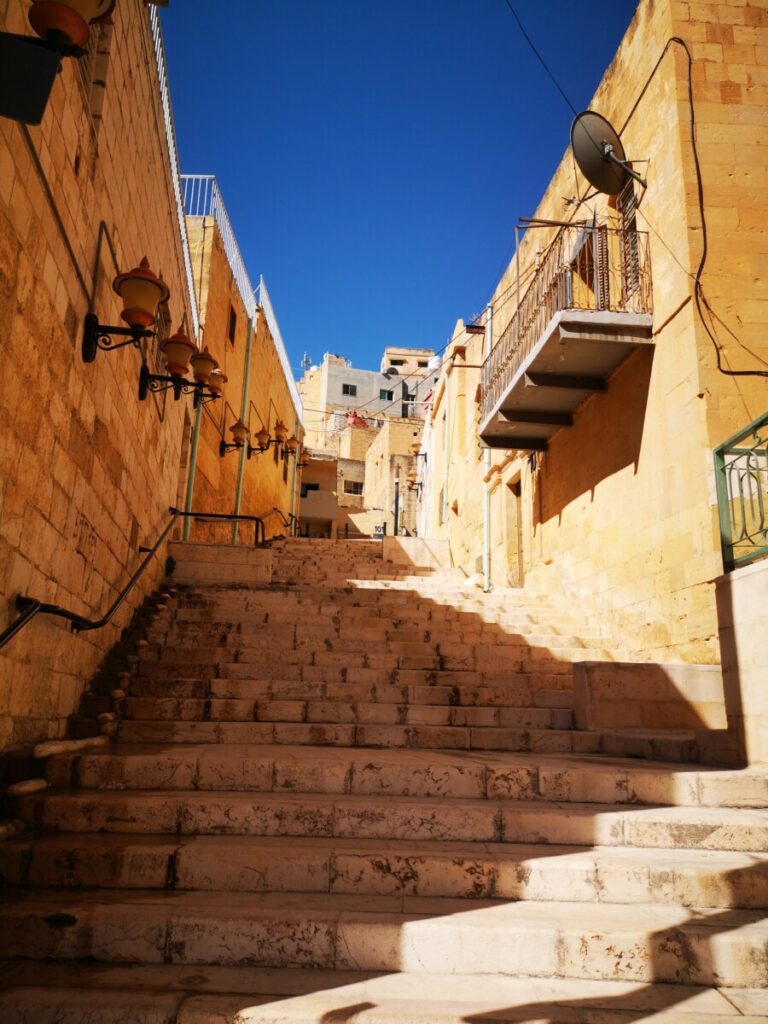 I stood in front of this house for a while without taking a picture of it. It was accessible but it didn't invite me to go inside so I can't tell you what was in Qaqish house. My map tells me that it is an old house in a typical urban design from the 19th century. I then walked upstairs and ended up at the Dormition of Virgin Mary Orthodox Church.

Dormition of Virgin Mary Orthodox Church
Next to the beautiful striking church with its round dome and cross, I hear children's voices coming from the school. I have been walking up the streets for a while and am getting hot. I sit down for a while on the steps behind the church in the shade. Just when I want to get up I hear the school bell. I wait expectantly for the children who are about to run past me. Nothing happens… Apparently it is a break and they have a schoolyard within the complex because I hear them but do not see them.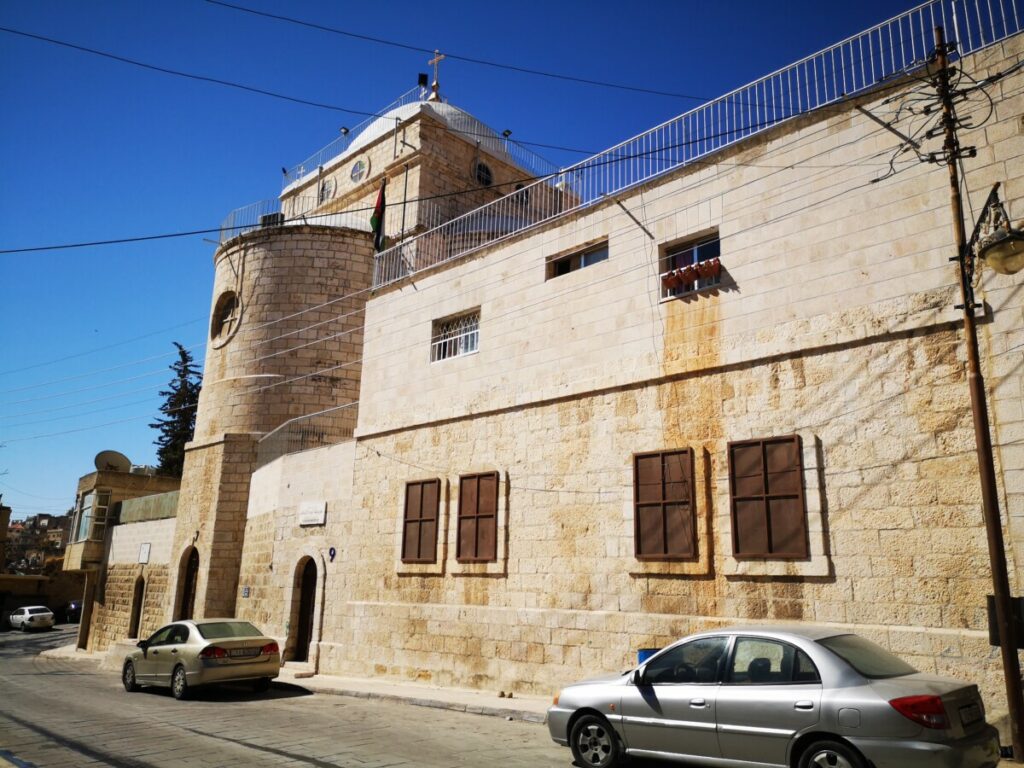 I read on the folder I have with me that the children who go to school here are Muslim and Christian, this also applies to the Latin Church near the Hammam Street. Since 1857, this orthodox church has also been a place where religions live/learn together. Very nice that this is possible and allowed! When I walk down the nice little stairs in the neighbourhood again, I end up on Maydan Street, the street where I first walked and where I got this map from the nice office lady.
Bezoek Salt – De voormalige hoofdstad van Jordanië (As-Salt)
Great Mosque – Al Ein Plaza
I walked back via Hammam Street to have a well-deserved cup of cappuccino at Iskanderani restaurant. I sat there for a good half hour looking around and taking in everything that passed me by. Afterwards, I looked around at the Al Ein Plaza near the Great Mosque.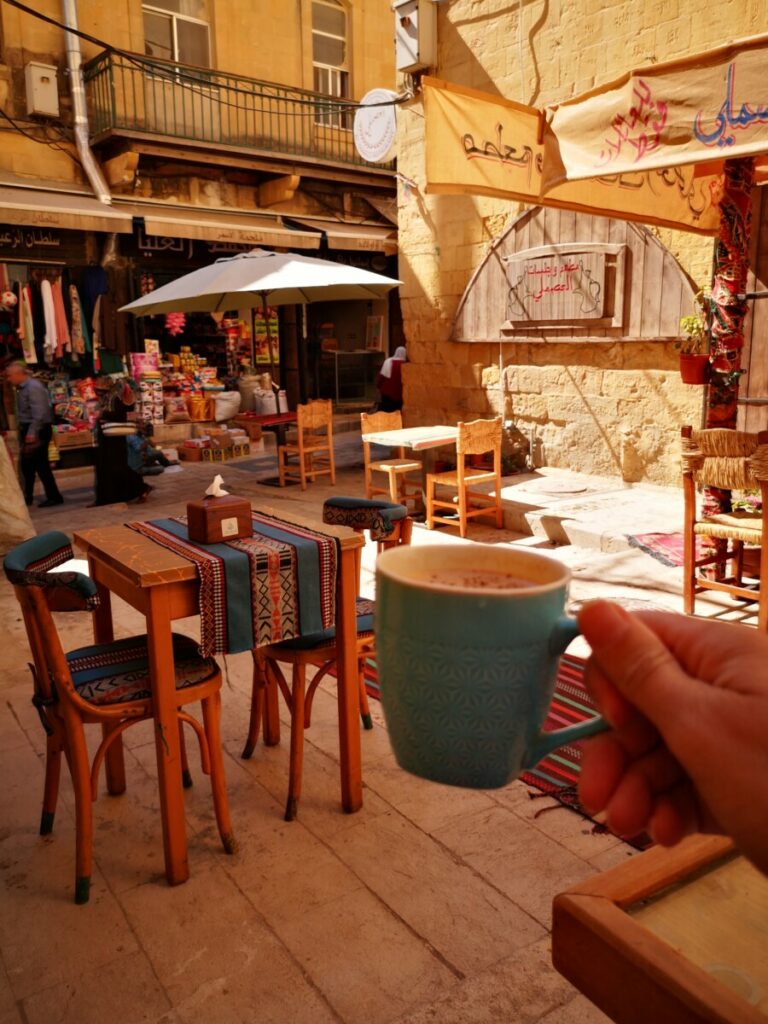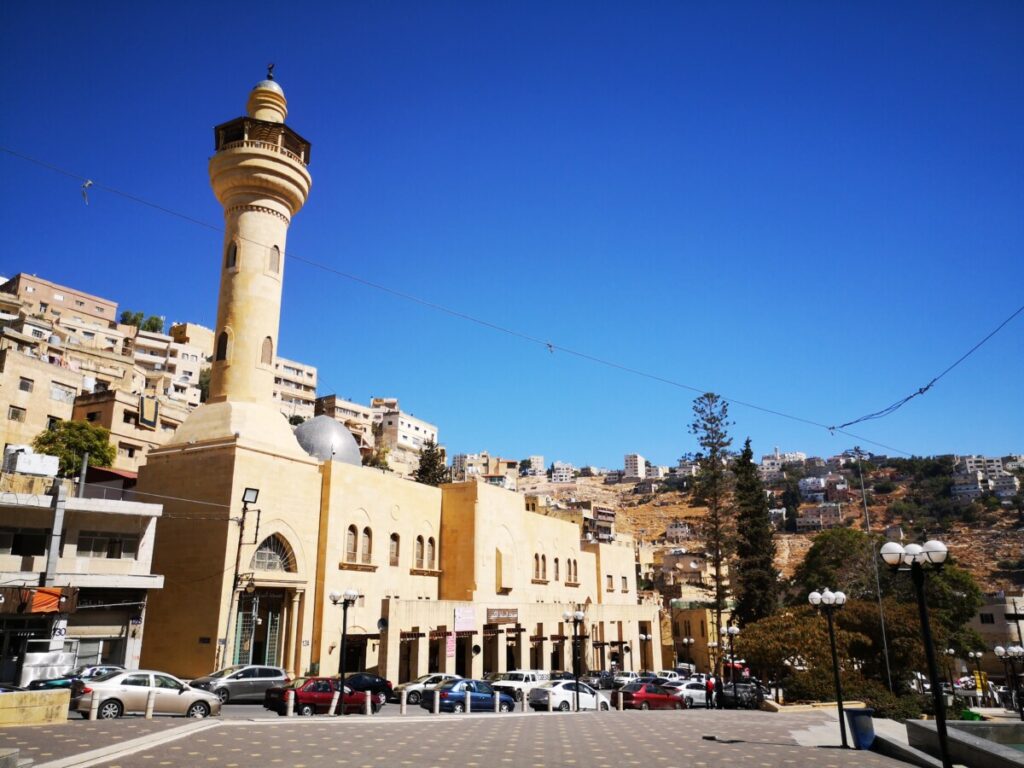 The photo was taken from a new, modern plaza and there was not much to do there. On the old Al Ein Plaza, on the right between the trees, there are many people. These are mainly men, as is usual in these countries, on the Al Ein Plaza. They are, of course, sharing the latest news and playing a game.

Because I want to go on to Madaba this day and see that city as well, I find my car again and continue my journey through Jordan.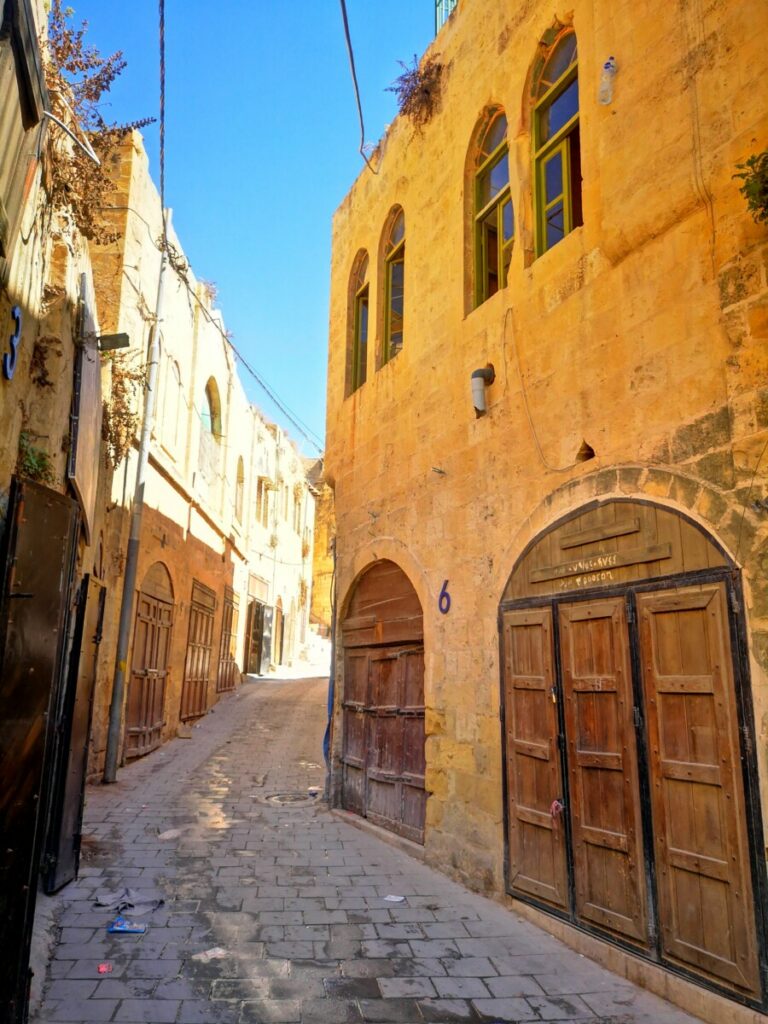 The atmosphere of the town of As-Salt is really nice. Super relaxed and all people wish you welcome in Salt and give you a friendly smile. A very nice town to spend a morning or an afternoon in. I'm glad I made this short stop on my way through the North of Jordan. I can also say: visit Salt when you are on your road trip through Jordan!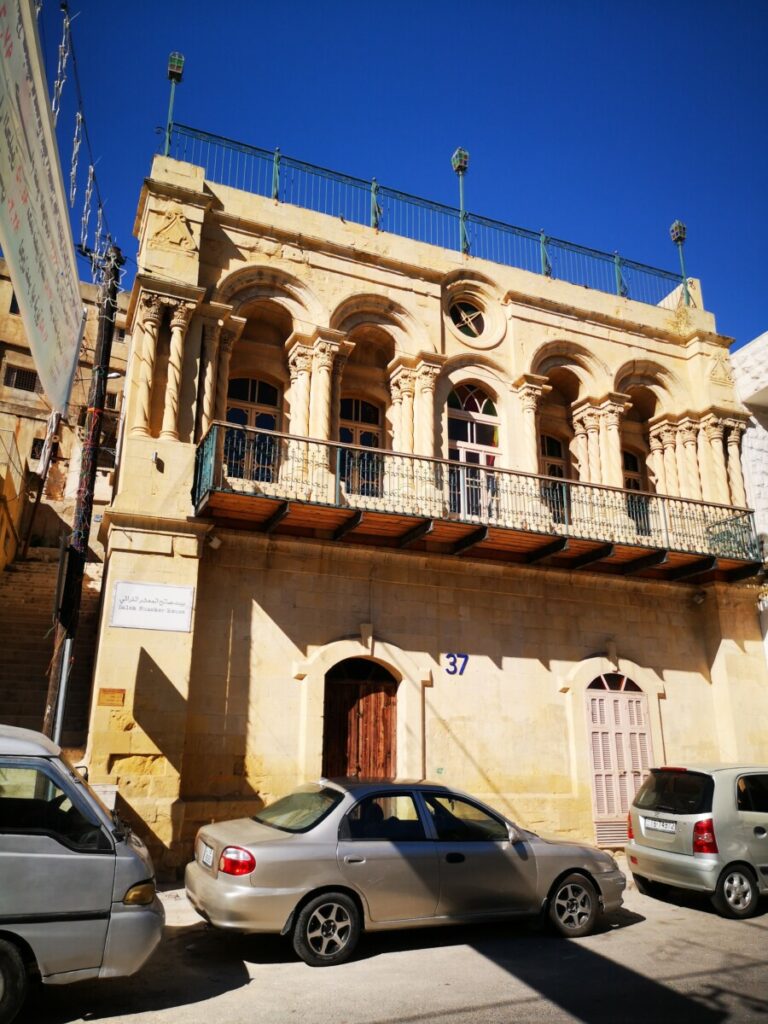 Along the way, you will come across various old buildings with a text on them so that you know who lived there. Everywhere you walk there is something to see in Salt's pleasant city centre. Read more about this fun city of Salt.
Want to save this trip?
Or share it with others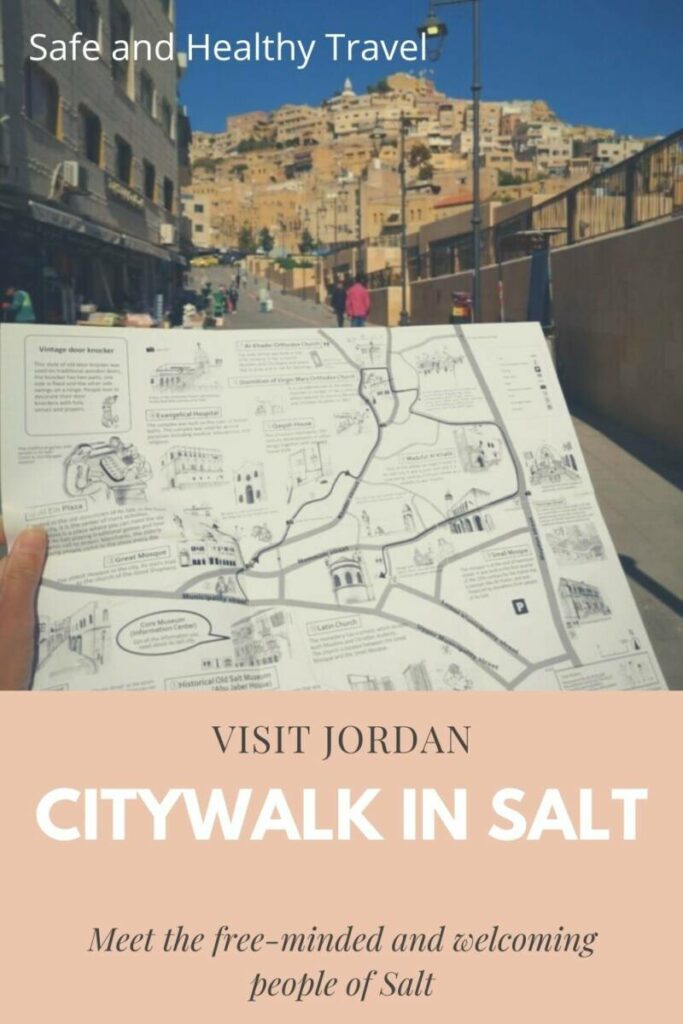 Want to read more about Middle East?
Jordan's Most Beautiful Wadi – Adventurous Trip into the Wadi Mujib
Floating in the Dead Sea – Ein Bokek
Hitchhiking on a Shabbat in Israel
Read why I think you should not walk the streets late in the evening
Nightly Adventures – Why you shouldn't be in the streets when it is dark!
I hope you enjoy this world as much as I do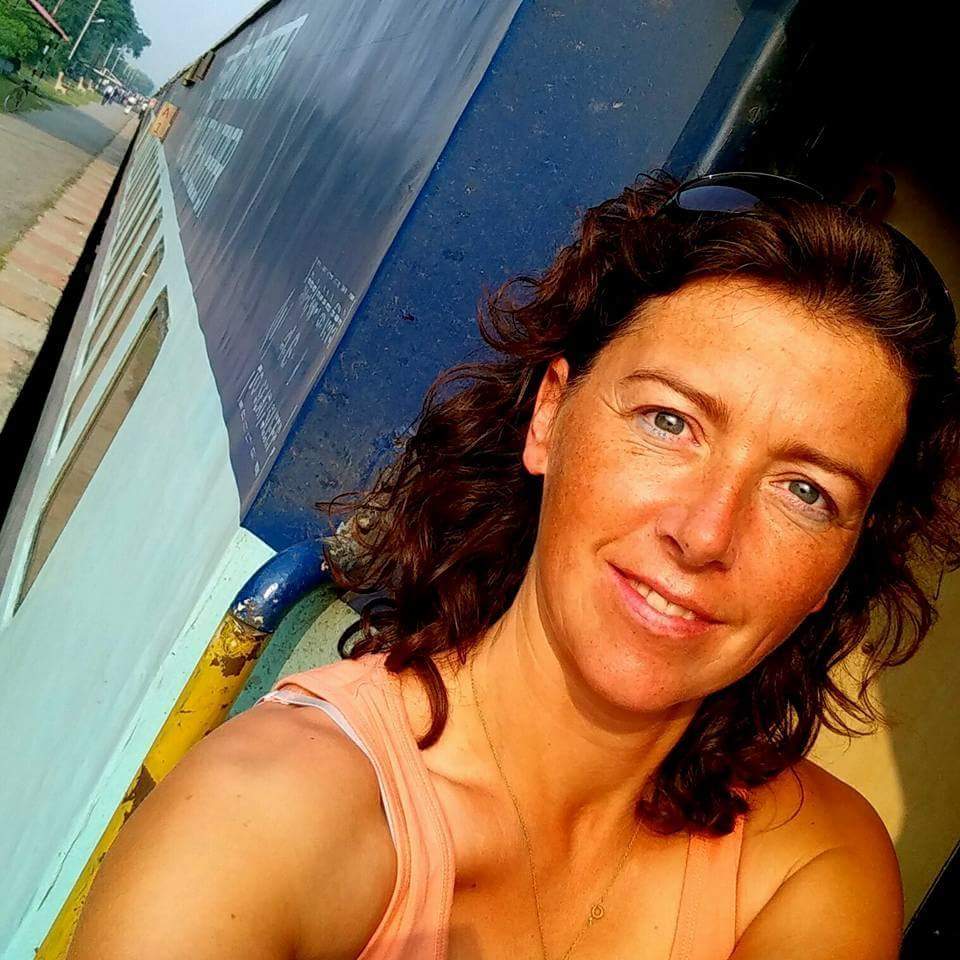 Jacomijn is een politieagent uit Nederland die jou graag laat zien hoe je veilig, actief en gezond de wereld kan over reizen. Safe and Healthy travel is a MUST