6 Day Trekking by Horse in Kyrgyzstan – Central Asia
|
Best challenge ever: Trekking by Horse in Kyrgyzstan! As I realised that I needed more goals in my travels instead of just going to some of the most beautifuls places in the world. Seeing the highlights of it and go on to the next place. I don't say that isn't a great way to travel but for me, after traveling like that for a couple of years I didn't get as much satisfaction out of it as I used to get. At that moment I decided to go on a trekking by horse in Kyrgyzstan.
And so I needed a new challenge…
and that is why I went to Kyrgyzstan to go do a Trekking by Horse in Kyrgyzstan!
To go visit Kyrgyzstan like that is a great way to go somewhere I maybe otherwise wouldn't have gone. I hadn't visited Central Asia yet and I really wanted to explore some of that too. And my visit had a real goal 🙂 A trekking by horse!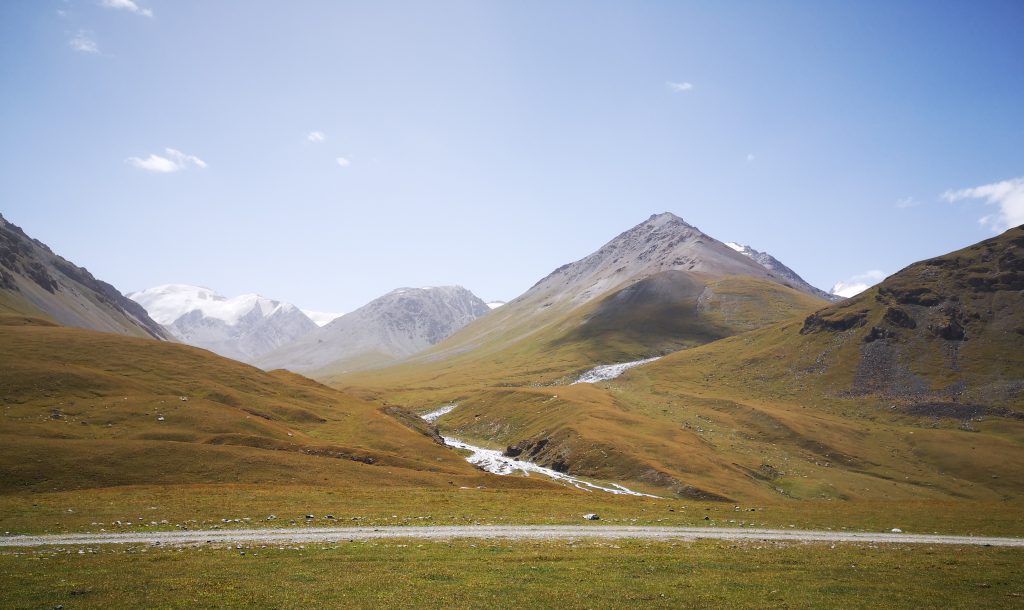 I wanted to go travel more adventurous and on this trip we would be in the mountains for 6 days! 6 days no toilet…6 days sleeping in a tent! I really was looking forward to the adventure of Trekking by Horse in Kyrgyzstan!
I got in contact with Ishen of Shepherds Way Trekking and soon we got to a nice collaboration. He actually wanted to have a promo video about his trekking and I could make that while going on the trip for 6 days!
Going to the beautiful country of Kyrgyzstan!
I went on a 6 day trekking by horse in the mountains of Tien Shan.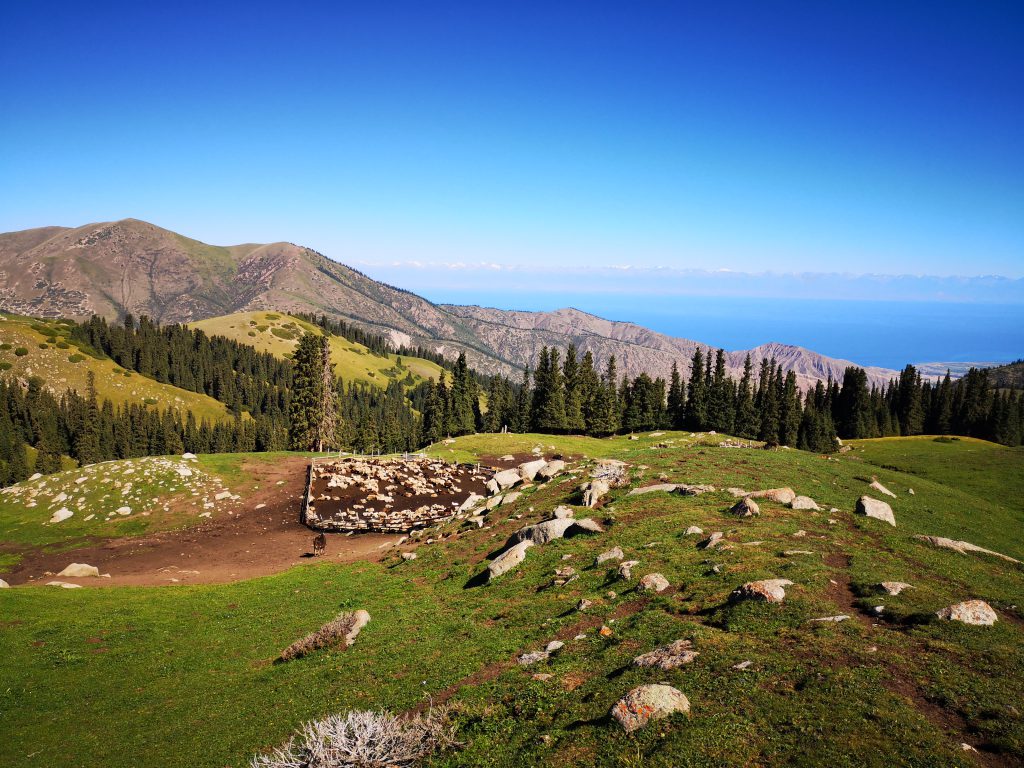 I flew to Bishkek where I met Ishen. After a breakfast that early morning we went to Barskoon, a 5-6 hour drive. He lives there with his wife and from there the trip would start. There were already a lot of other tourists in his homestay, a huge house with several rooms and a great warm… hot shower in a building in the garden. We needed to use that the same day.
The upcoming days you won't be able to use a shower so you need to go into this sauna room and use the shower.

I enjoyed the room a lot. It was hot and I washed my hair and enjoyed the Asian style shower.
If you don't know the Asian style shower: You mix hot and cold water in a bucket and with a smaller bucket you pour the water over your body and hair.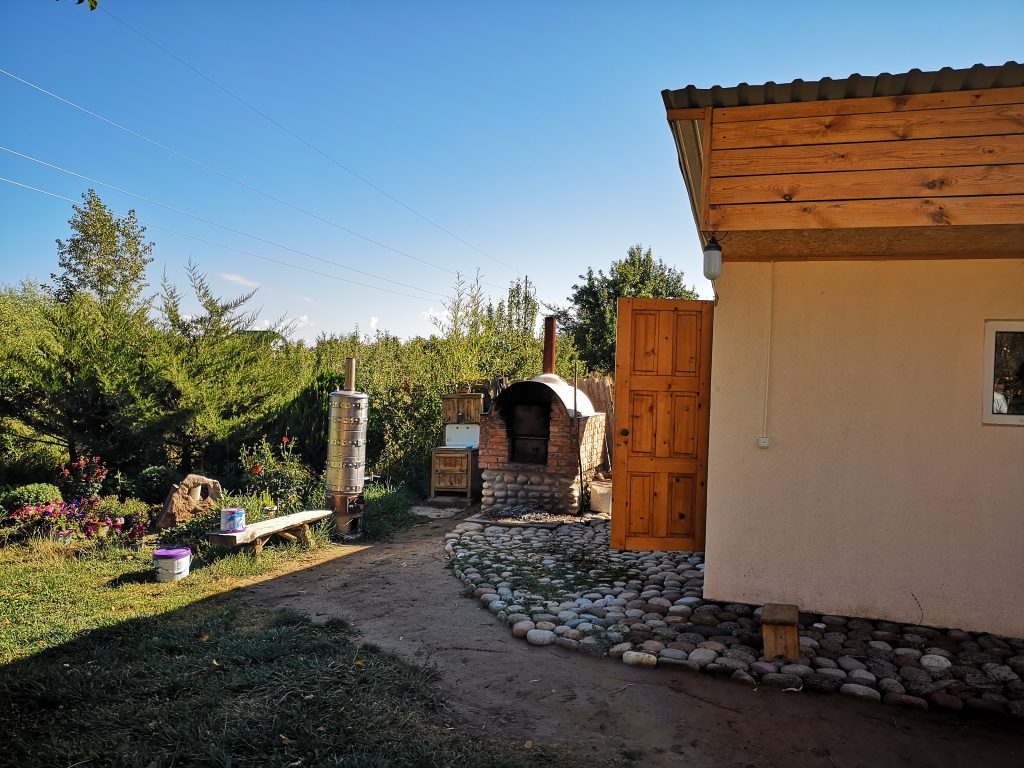 The next morning we got our horse and the 6 day trekking by horse in kyrgyzstan adventure could start! I really felt good and was really happy to be there. The weather was great and soon we were on the back of our horse and drove off into the great landscape of Kyrgyzstan!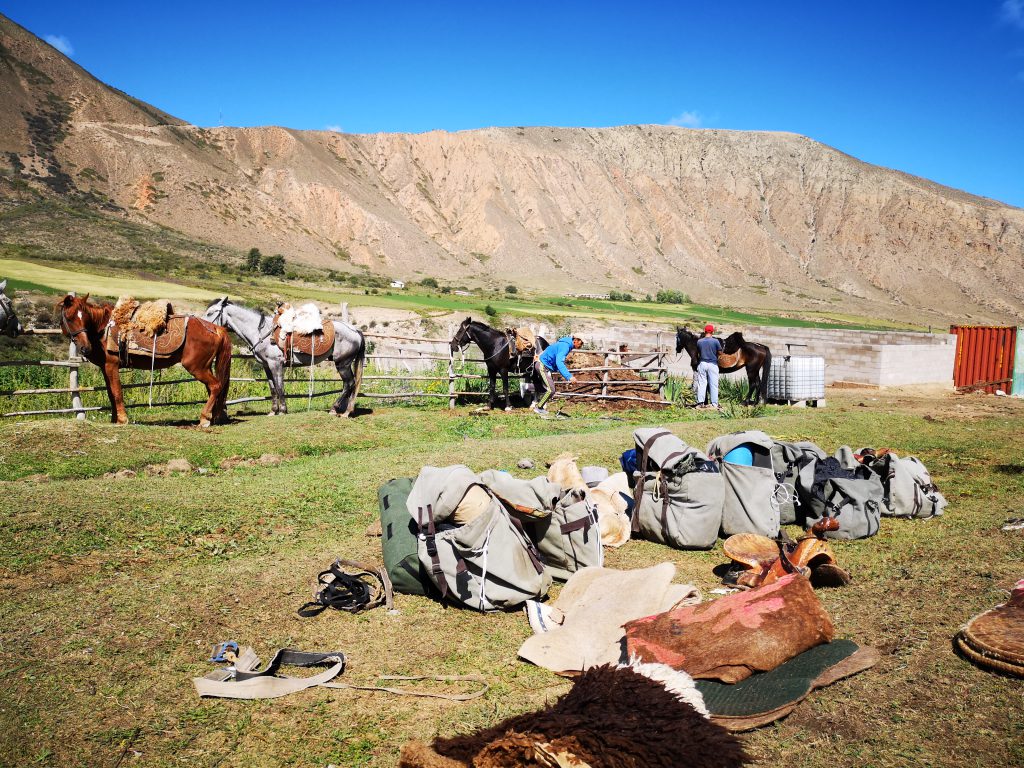 We had our lunch with view on a road where some cars were driving but when we stopped, later that day, to build up camp there were no signs of roads or cars anymore. We did have a great view on the Yssik Kul Lake and were still in between pinetrees.
Because we were still in between trees we could get a fire at night. It quickly gets cold when the sun sets and so that fire was great!
The next days we went on and ofcourse higher into the Tien Shan mountains. The first day we were at about 2400 metres. For a Dutchie that is high already and I felt that on the second day. I had a headache and I even felt a bit nauseous. I skipped my breakfast on day 2…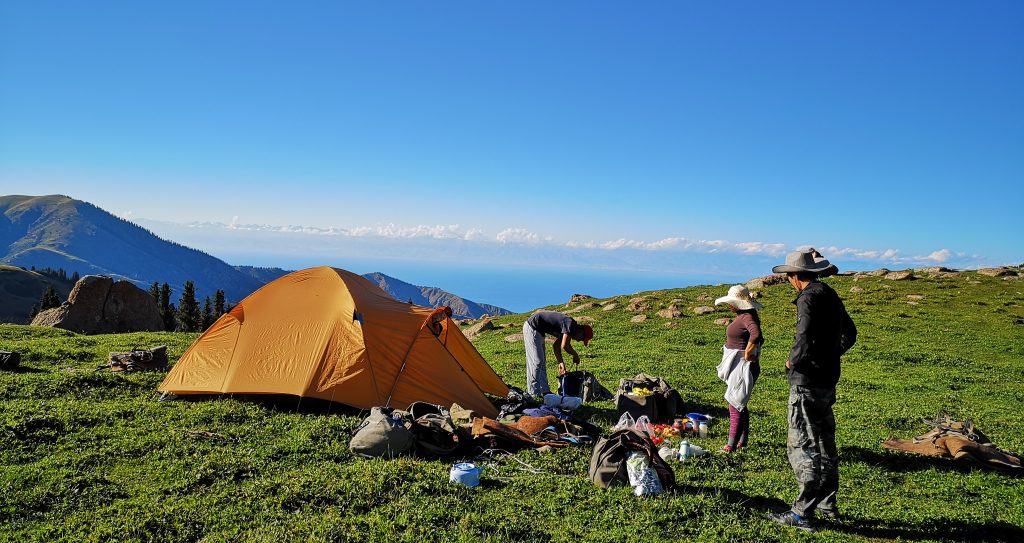 Trekking by Horse in Kyrgyzstan – Adventurous Travel
We did go higher that second day, we got to 3200 metres to camp. I did have a bit of a headache but the nauseousness was gone and at lunch that day I fully enjoyed that with a great view on the Tien Shan mountains.
The valleys and meadows we were riding our horses through are called Jailoos. These are the valleys the Kyrgyzstan farmers are with their cattle the whole summer. In the winter, when it gets too cold out there they get down to Barskoon or other villages to stay there.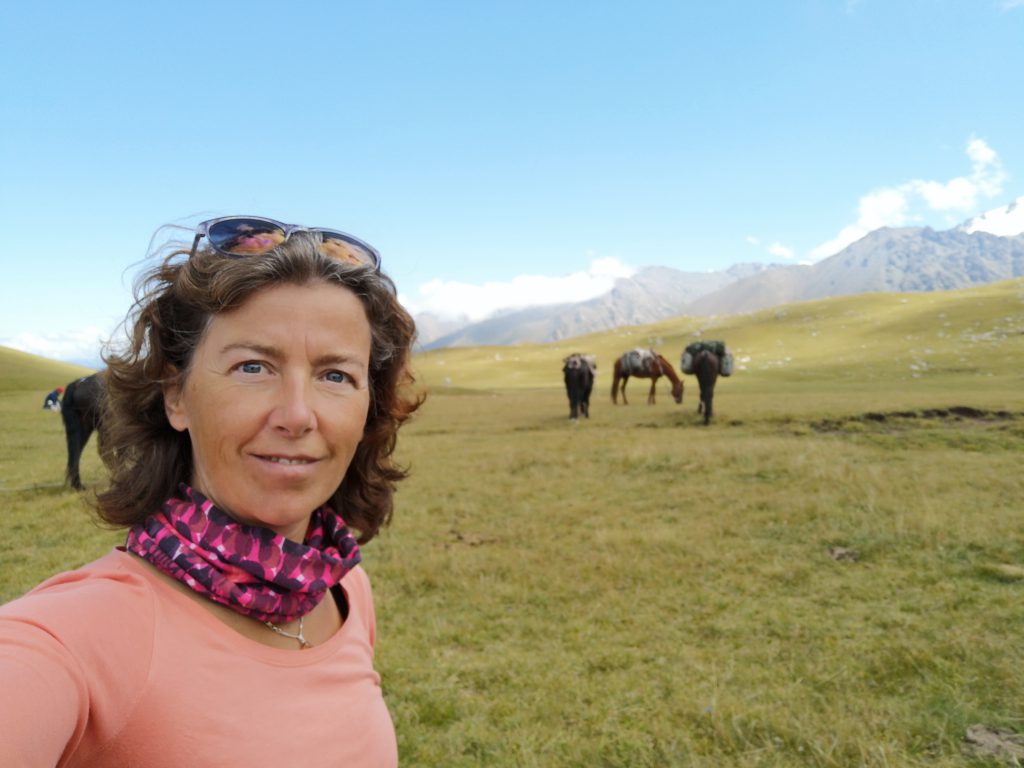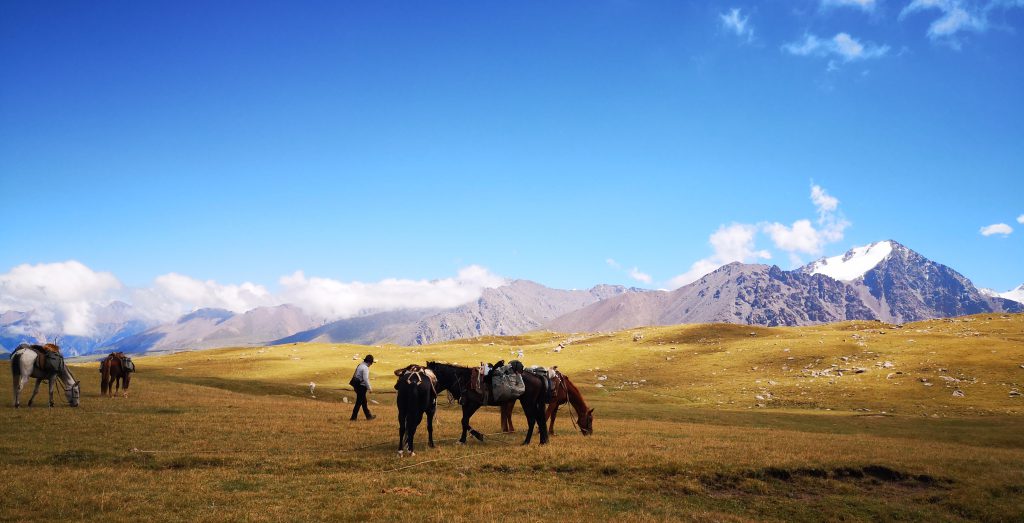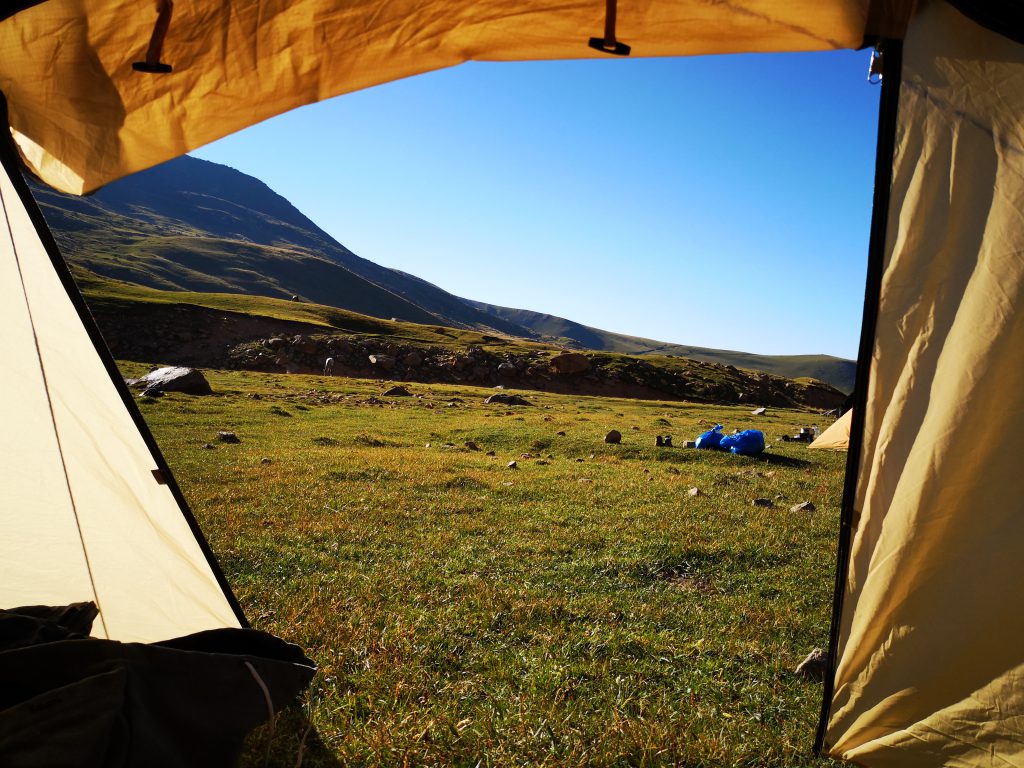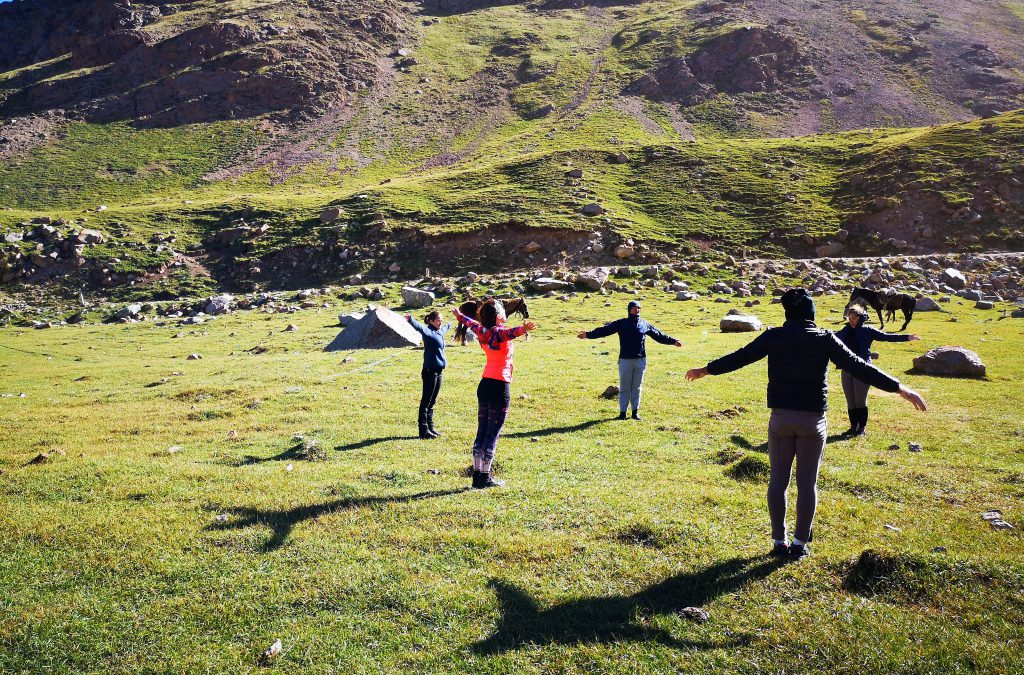 On day 3 we went through the Tosor pass, we were at 3920 metres at that time. And you can imagine it was a bit colder up there! I really loved the impressive mountains that were all around us. I loved every minute I spend sitting on my horse and realising how  beautiful it is out there!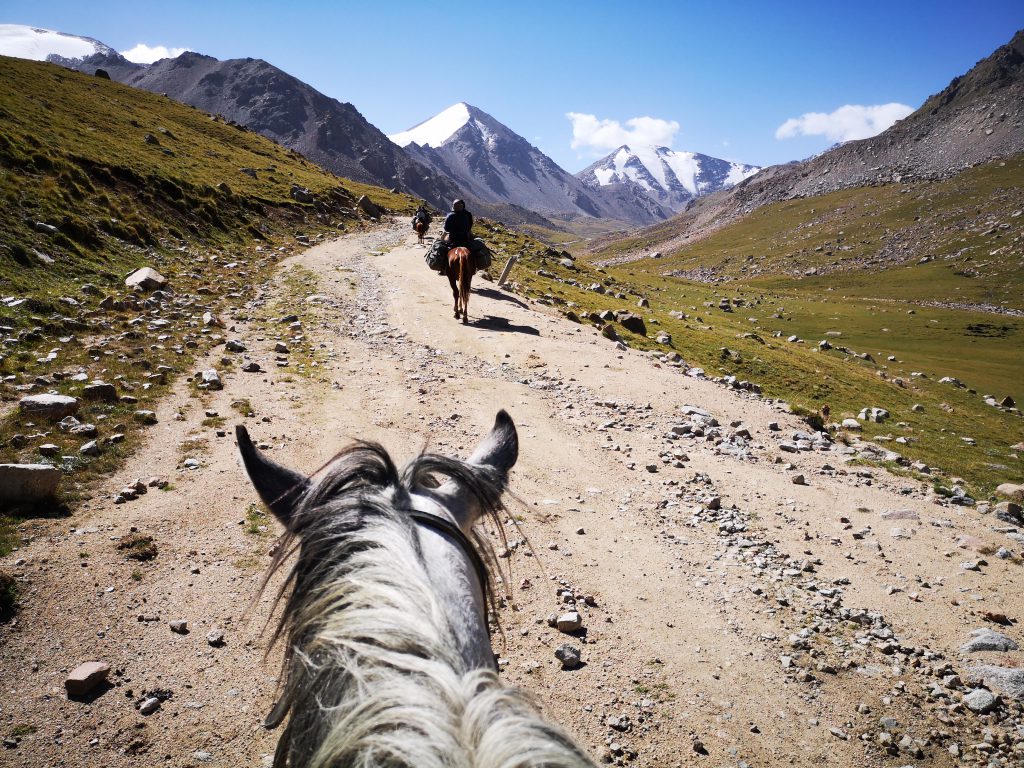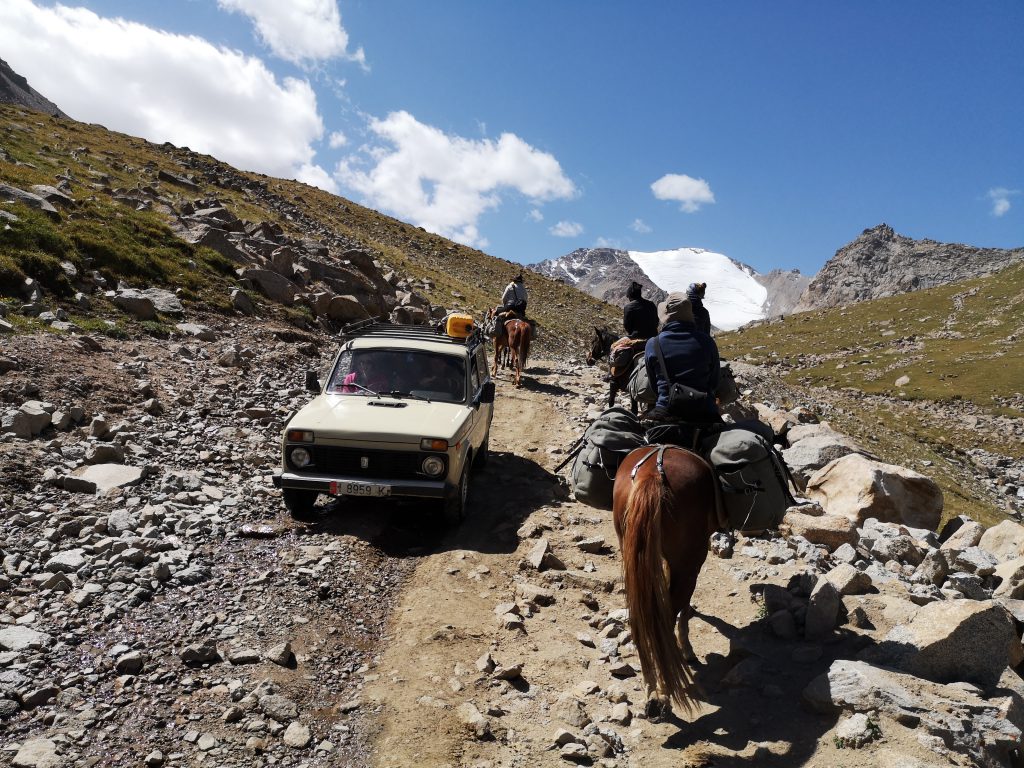 After this day we spend the last 3 days in the jailoo (summermeadow) we got in. We followed the ice cold river and the only road this area has got. I loved seeing some other tourists in that area, such as four wheel drives, jeeps, but also motor bikes!! And at some points even a group of mountainbikers! 
What an adventure!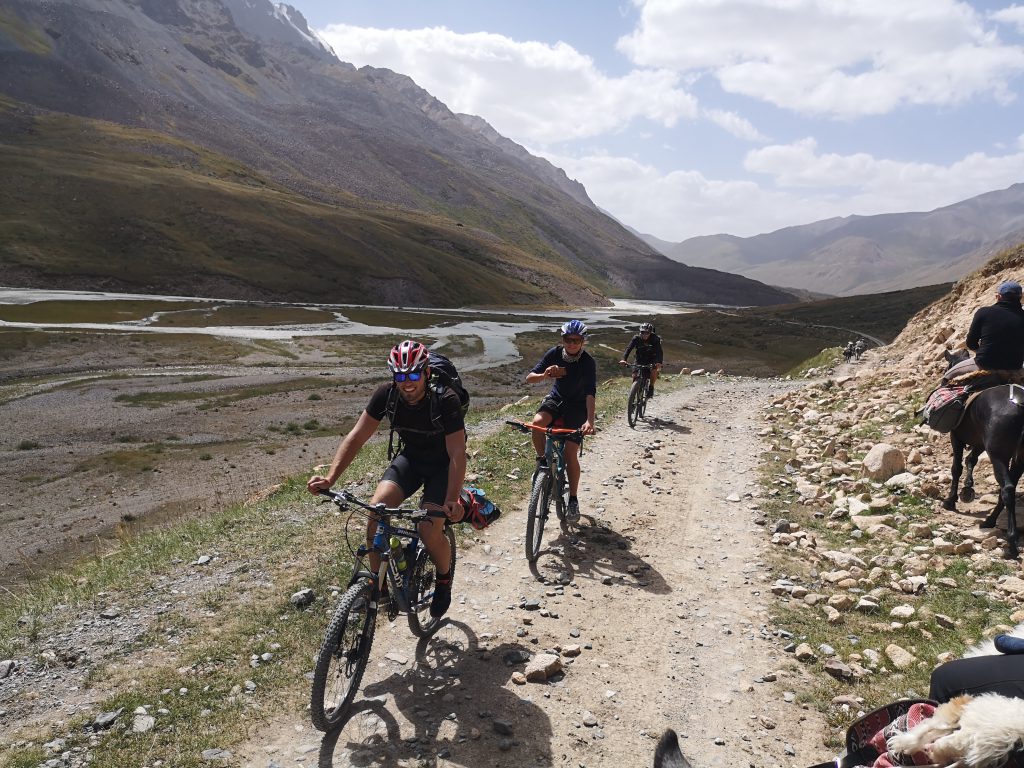 At some point, after a couple of days riding the horse, I really felt dirty. At the end of day 3, the sun was shining and it was still warm and went to the ice cold river next to our camp. I walked away from the camp and went into the river. Yes … it is freezing… but it felt so good!!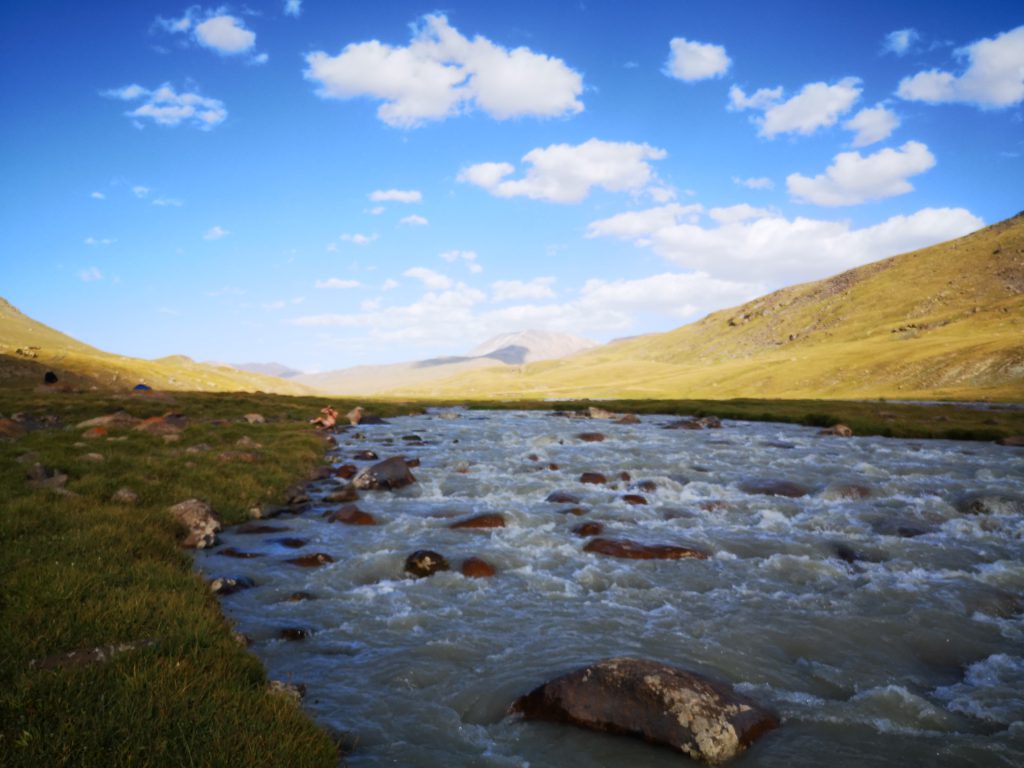 I felt great afterwards and even did some yoga poses in the late afternoon sun 🙂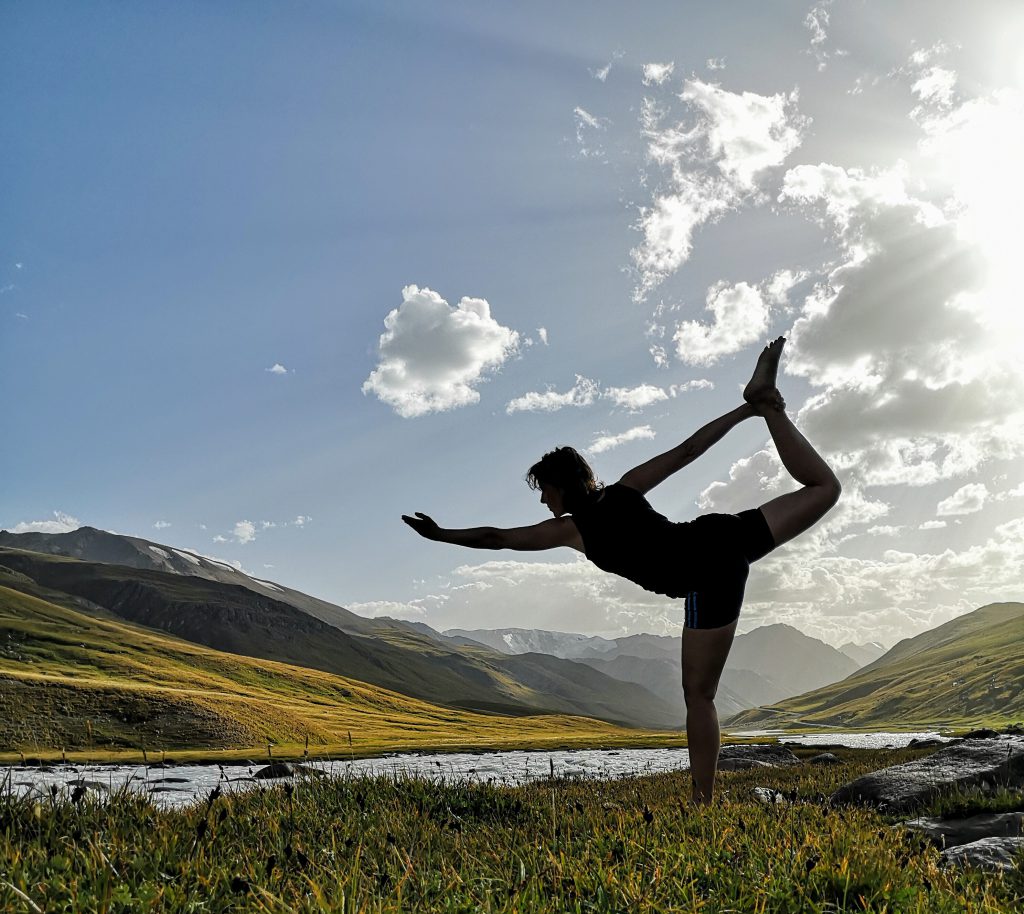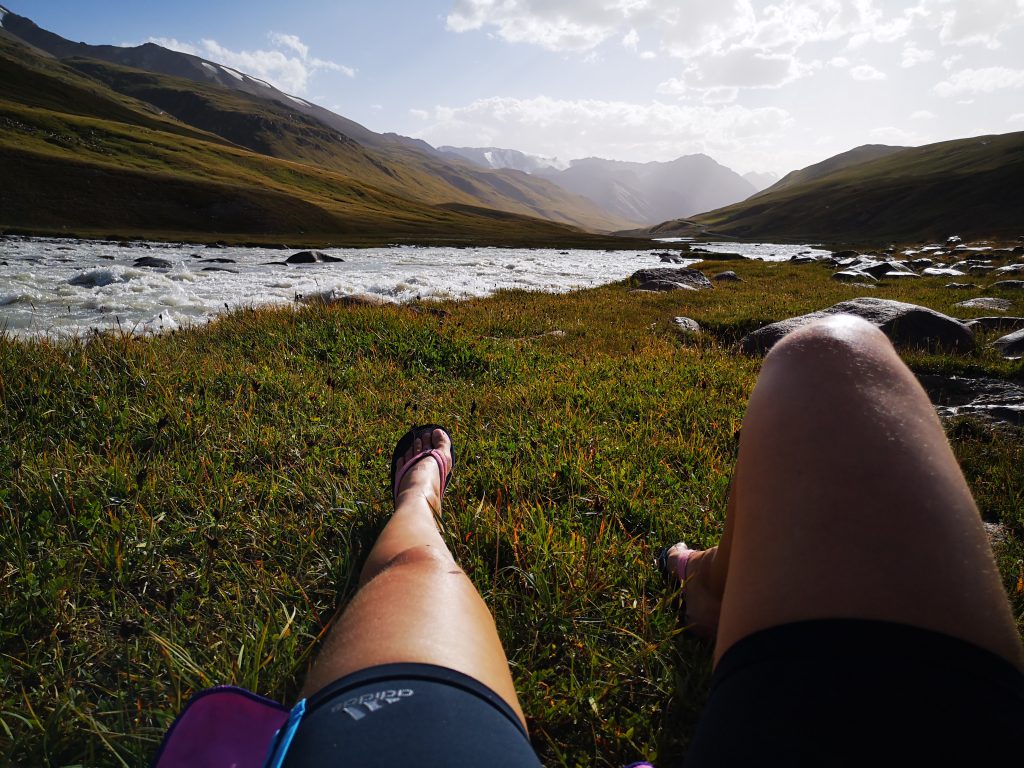 We were in the same valley for a couple of days but these views never bore you!

I never got bored of it and they kept amazing me over and over!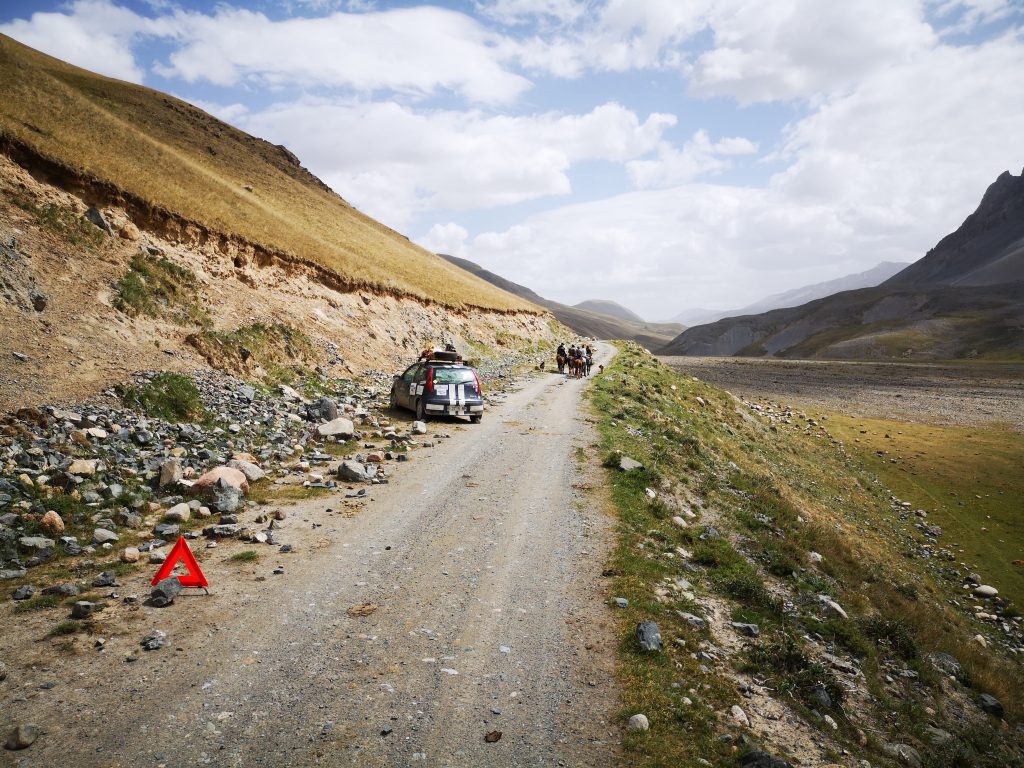 Hmm yes…. there is a rally out here… Read this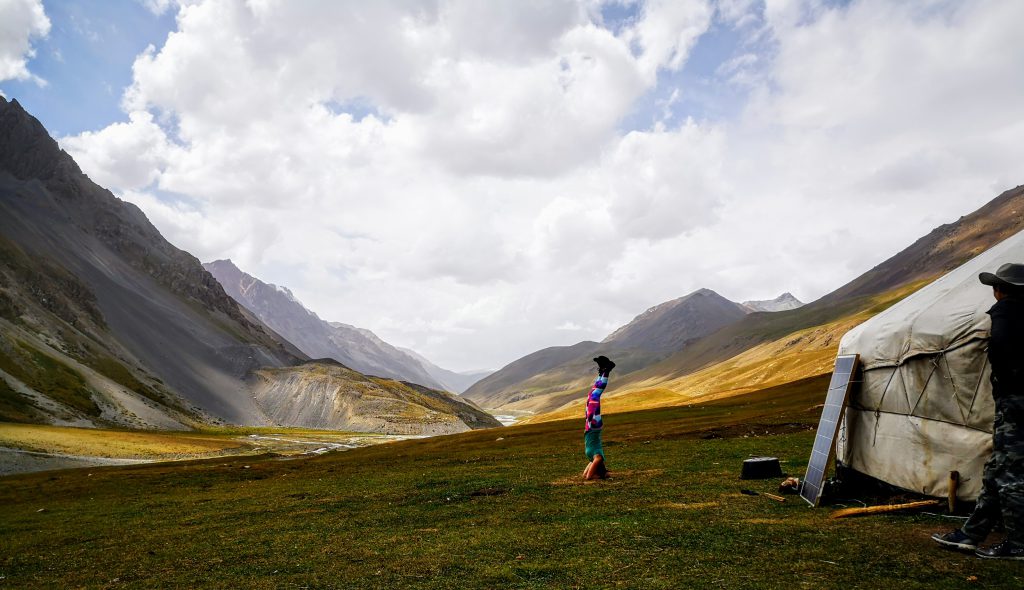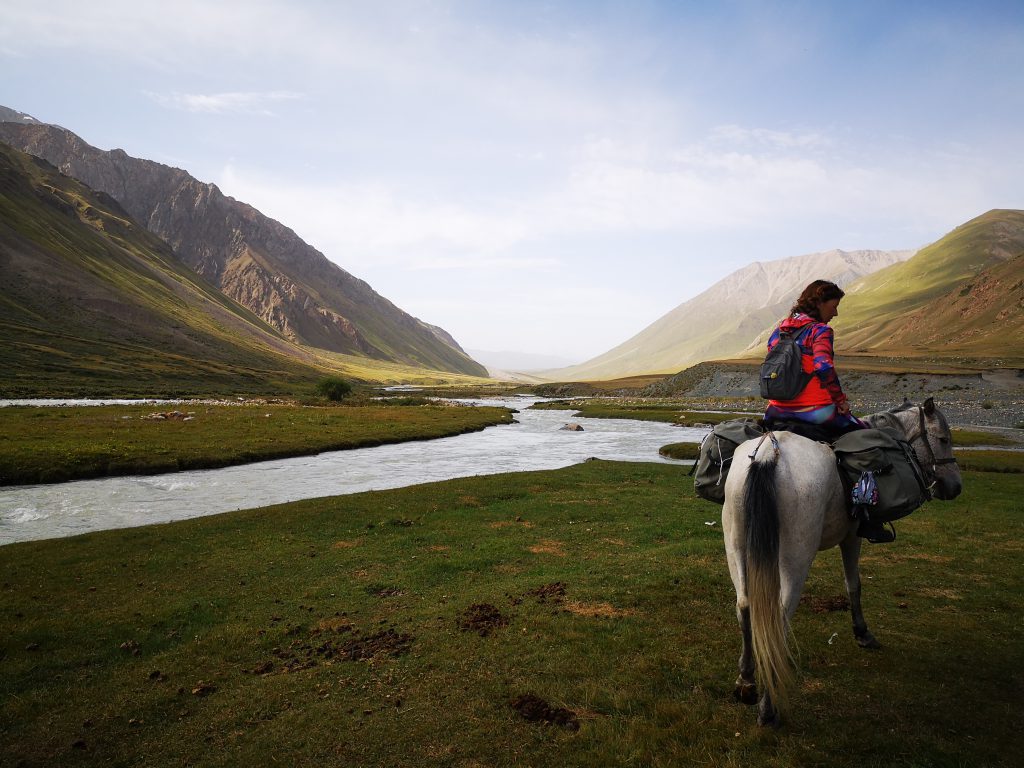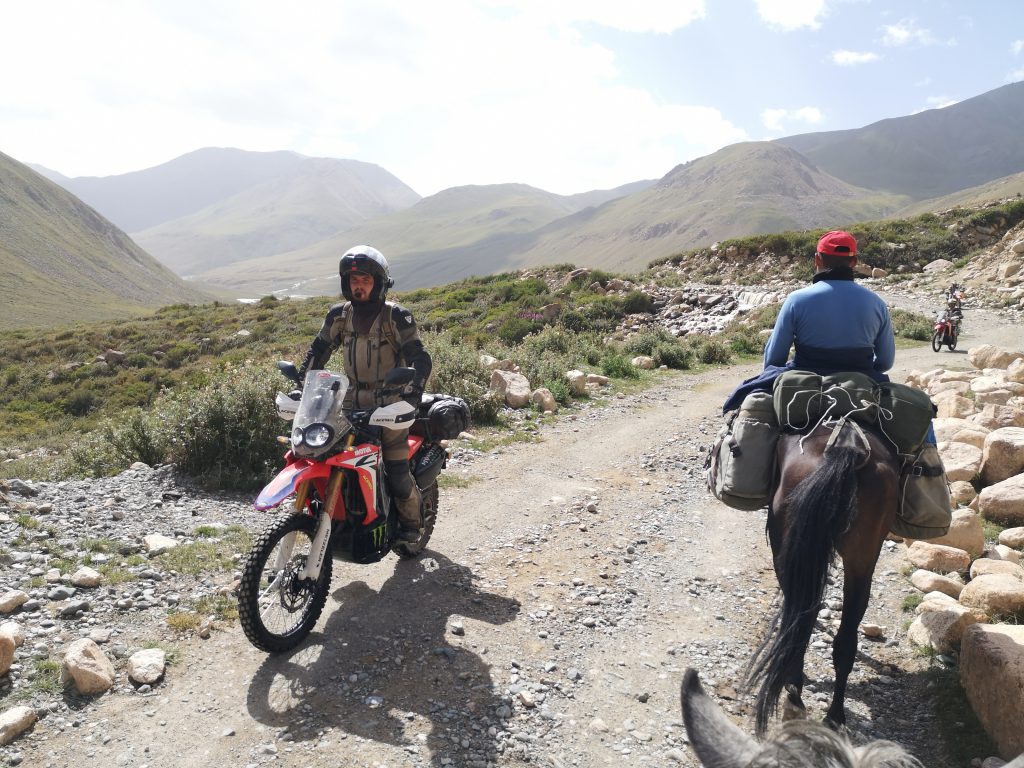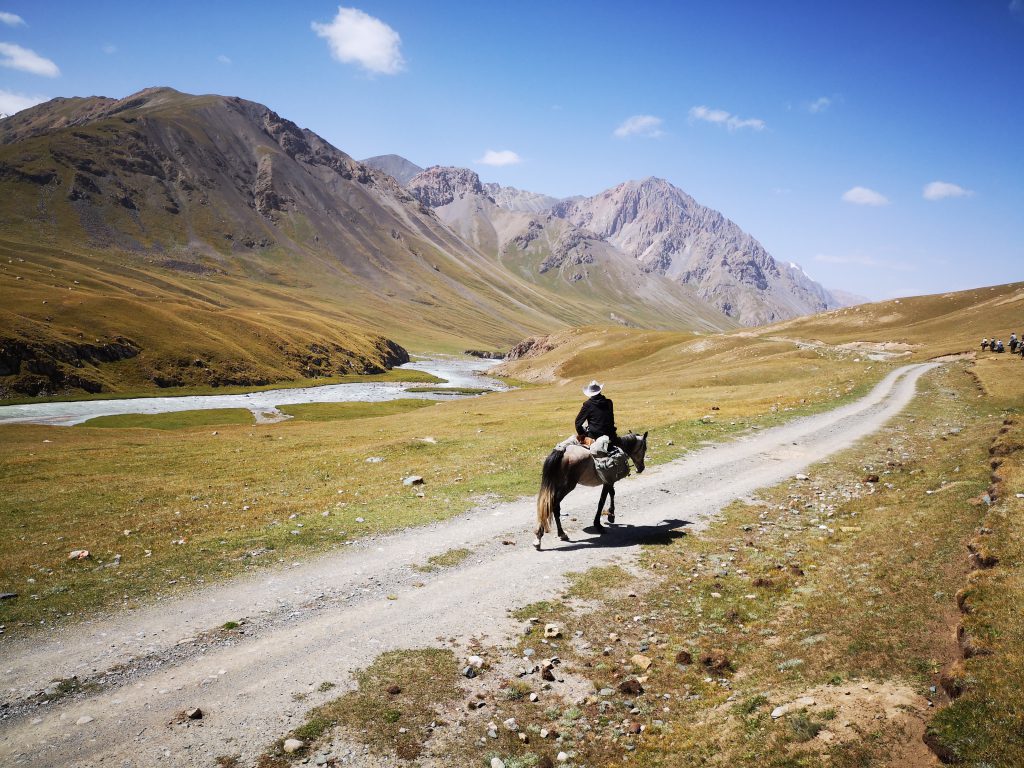 Just relaxing this great view!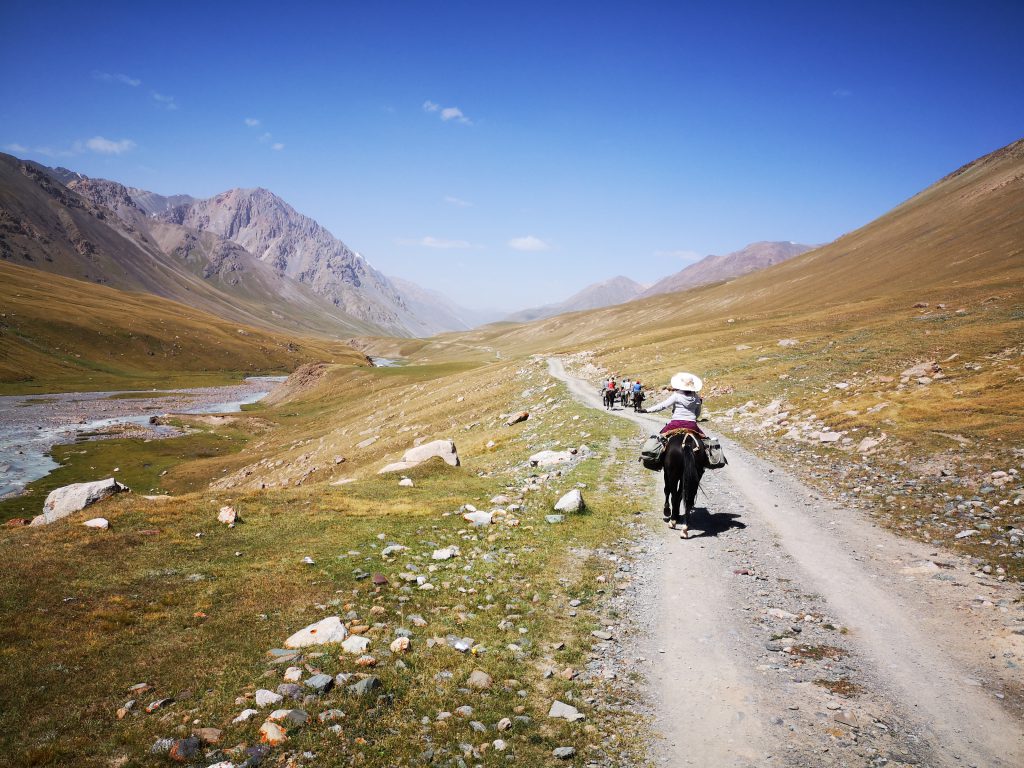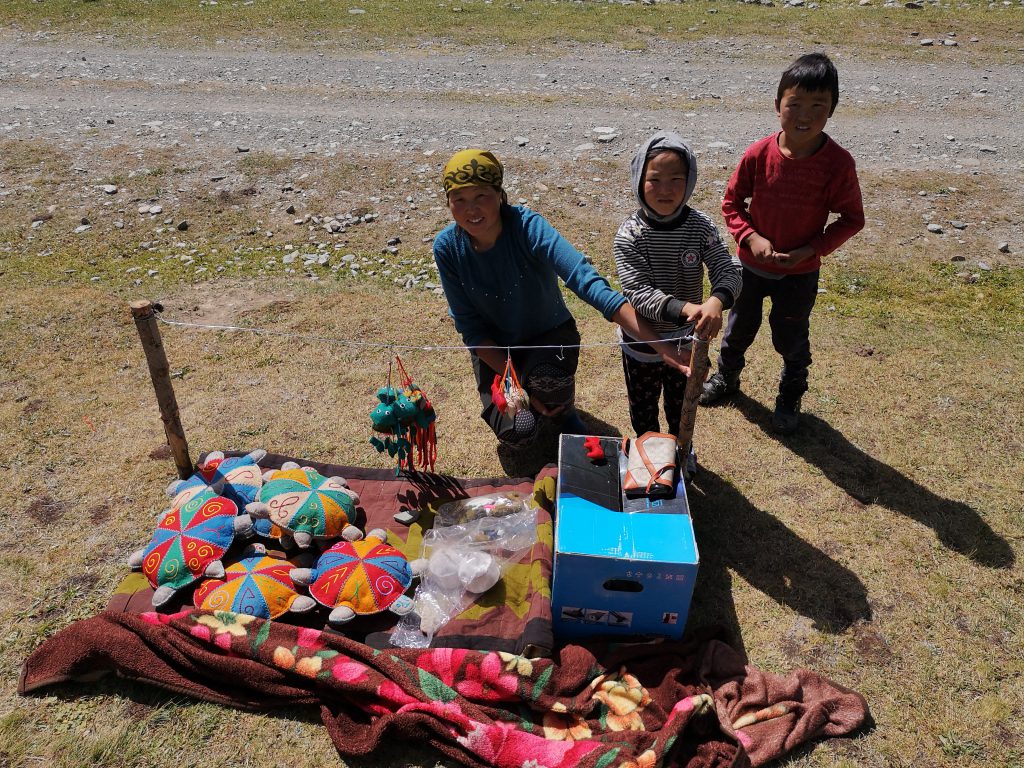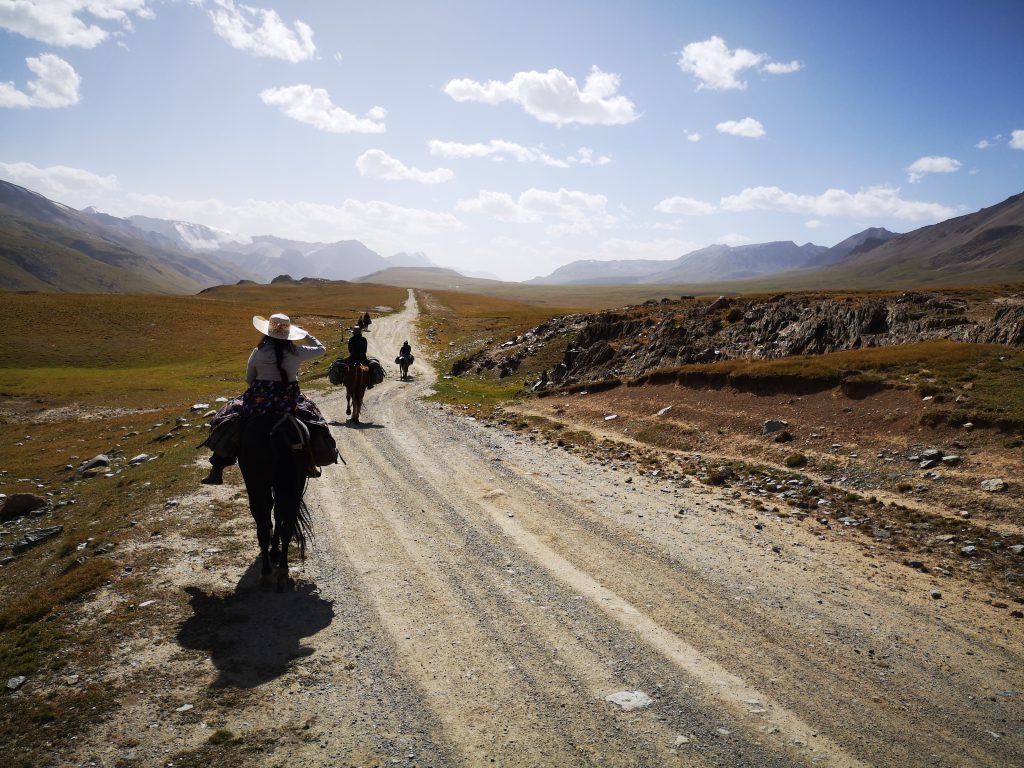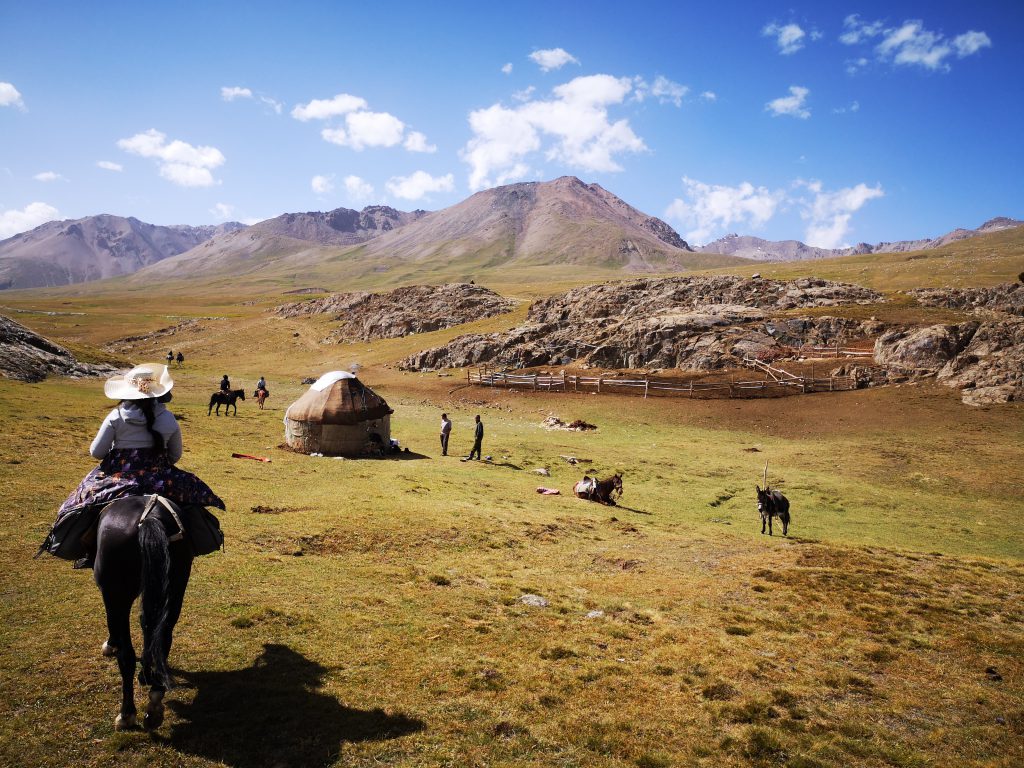 At the end of day 4 we would go to a hotspring!
It would costs us a small fee and then we could warm ourselves and clean ourselves… That sounded great! The water was around 60 degrees they told us and it took us some time to get in… In the end we all went in untill our shoulders! It was great!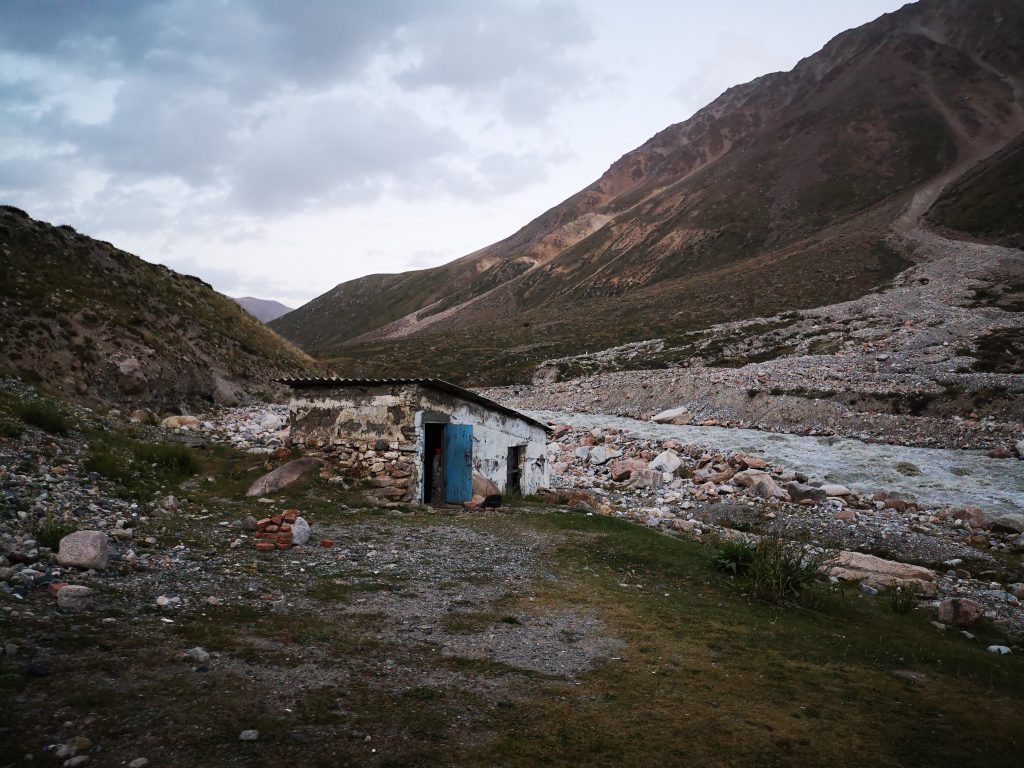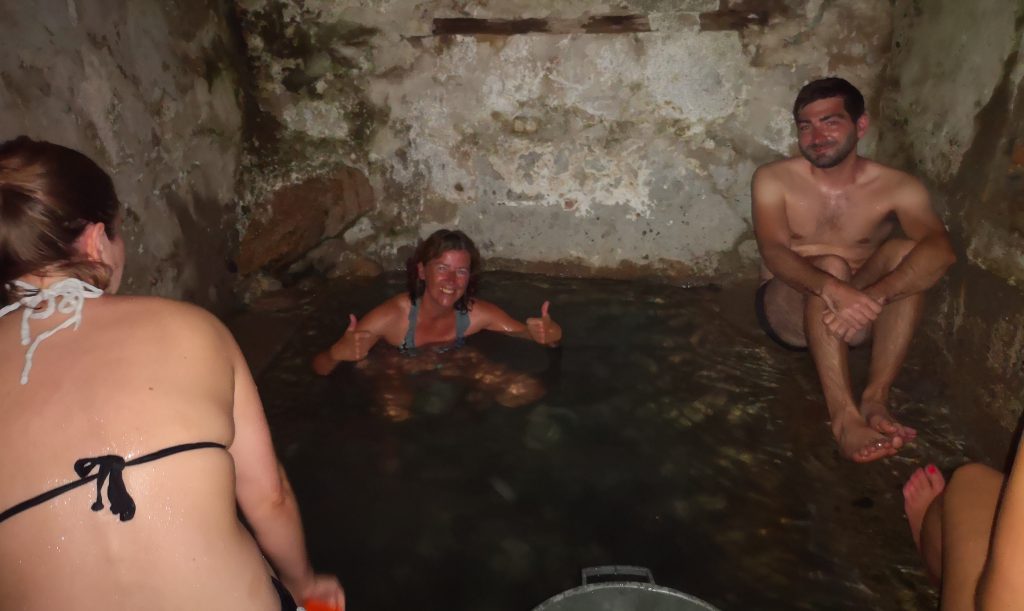 Day 5 of  the trekking by Horse in Kyrgyzstan was about going back to the house we had lunch on day 3.
That was because we had bought a sheep for around 30 euro and they would serve it for dinner that evening!! They called it Kyrgysz kebab! We really were looking forward to that! After a long day riding and the first day rain and even some hail we were so happy to get into their house and warm ourselves!! The sheep was almost ready 🙂
What a great cultural last dinner we had that evening!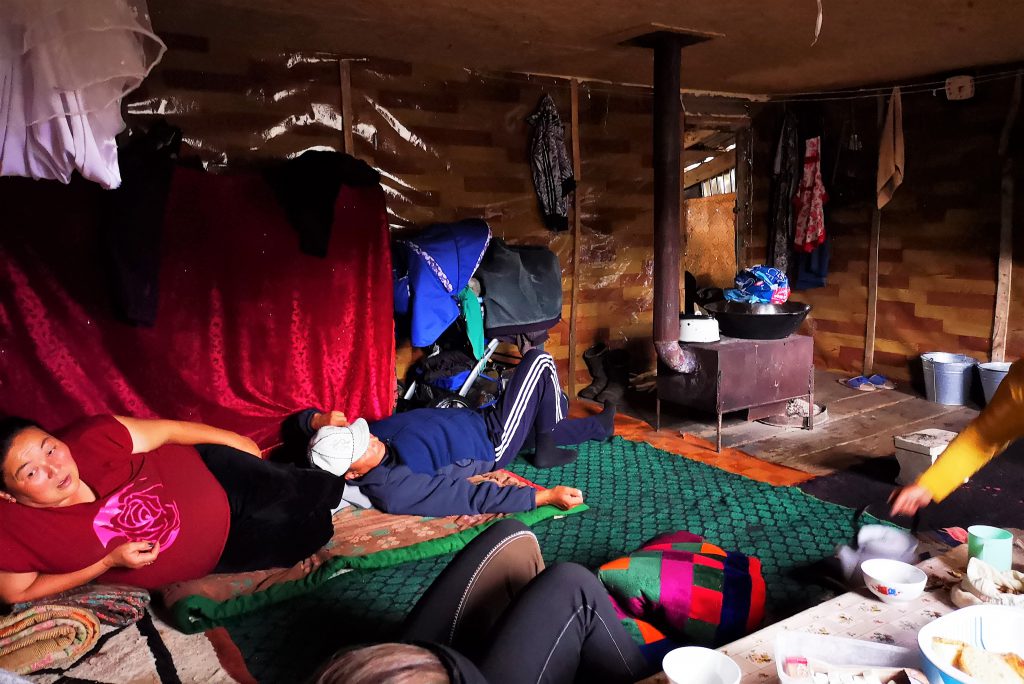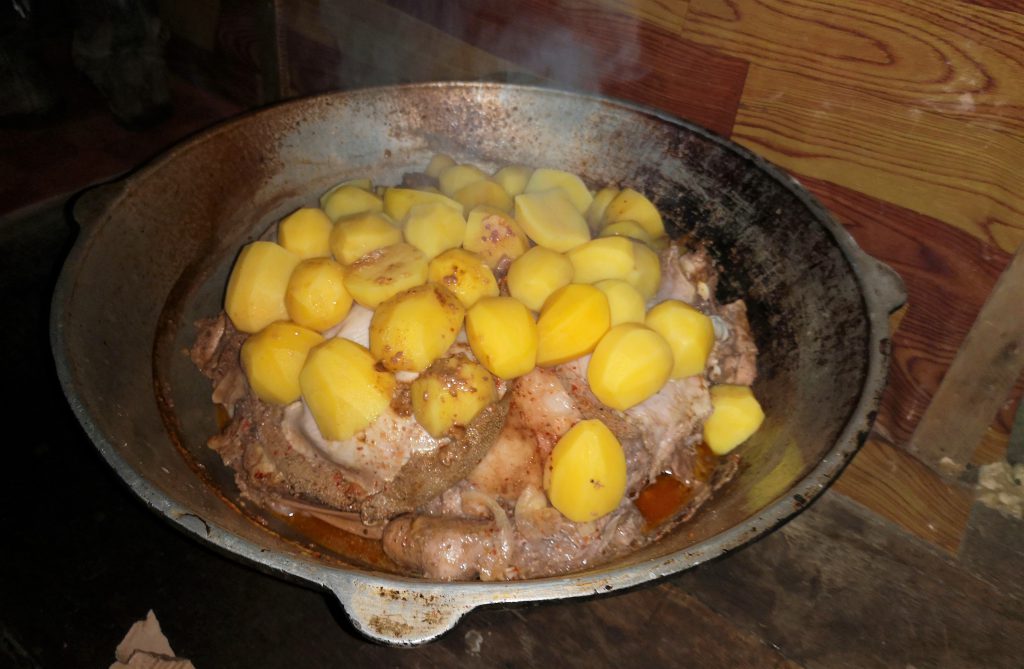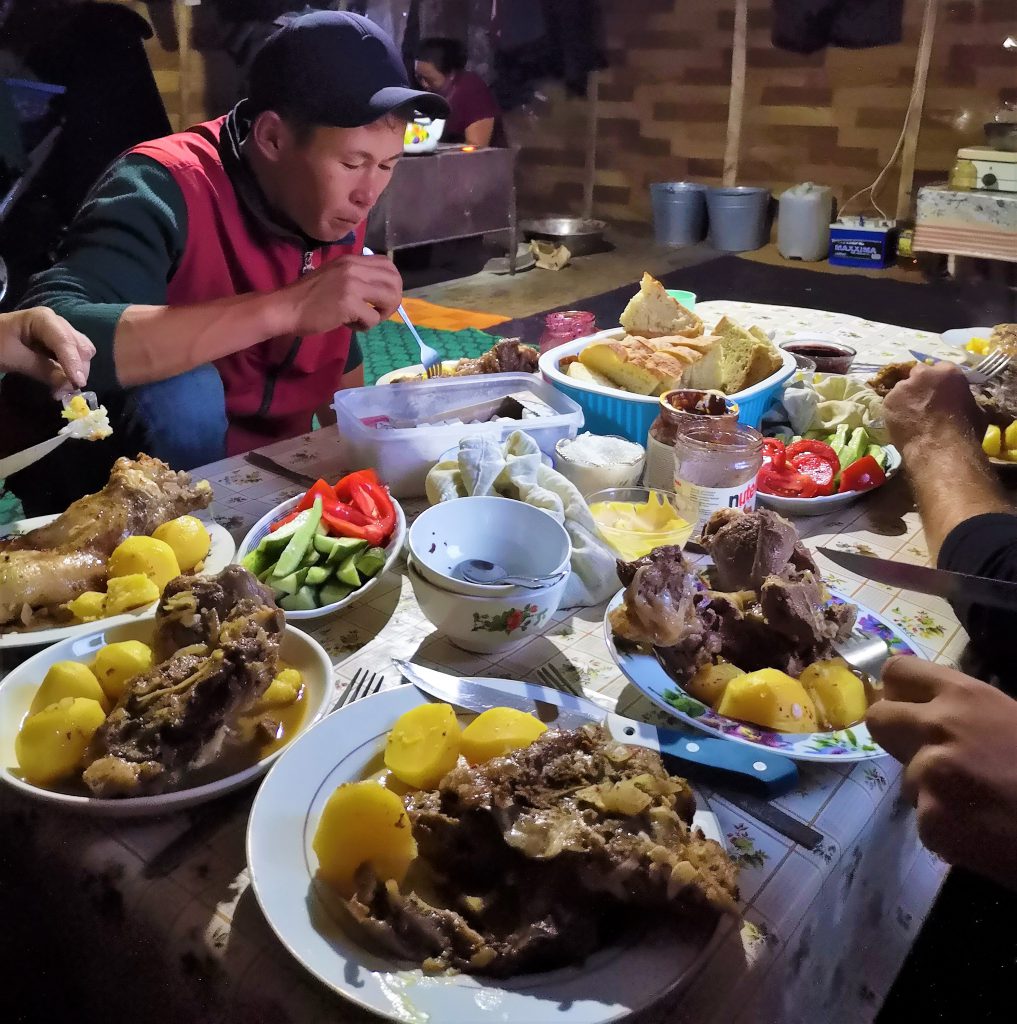 The next morning we drove out of the valley.
This great adventure would come to an end, the 6 days had passed so quickly. I enjoyed every day so much!! On the other hand…the nights were hard for me. This was because I did have a headache the entire 6 days. Each time I turned at night I woke up. I was out of breath and  my headache got worse because of that.And then I took some time to get back to sleep.
Read more about Altitude Sickness

Once I got home I started to look into it… Something I had to do on forehand ofcourse!
That last day we drove on the edge of the valley… At some points it really was a challenge to find the right path. Some part were too steep or too challenging so we got off and walked a bit.
It was a cold day and the wettest too but it was our last day…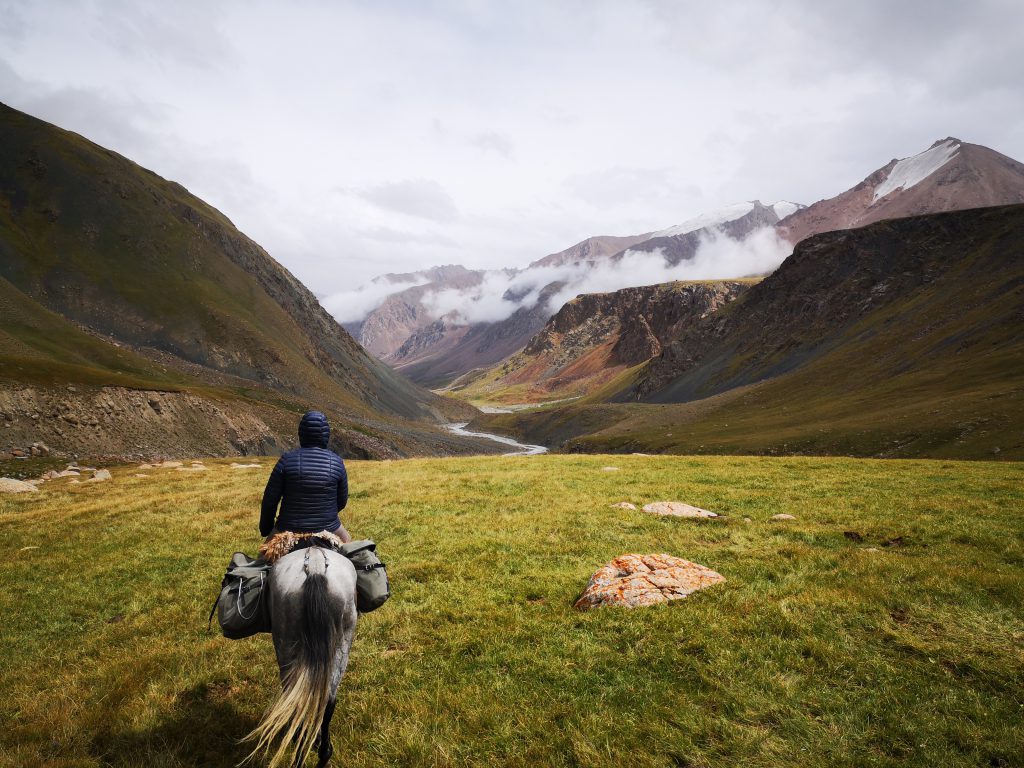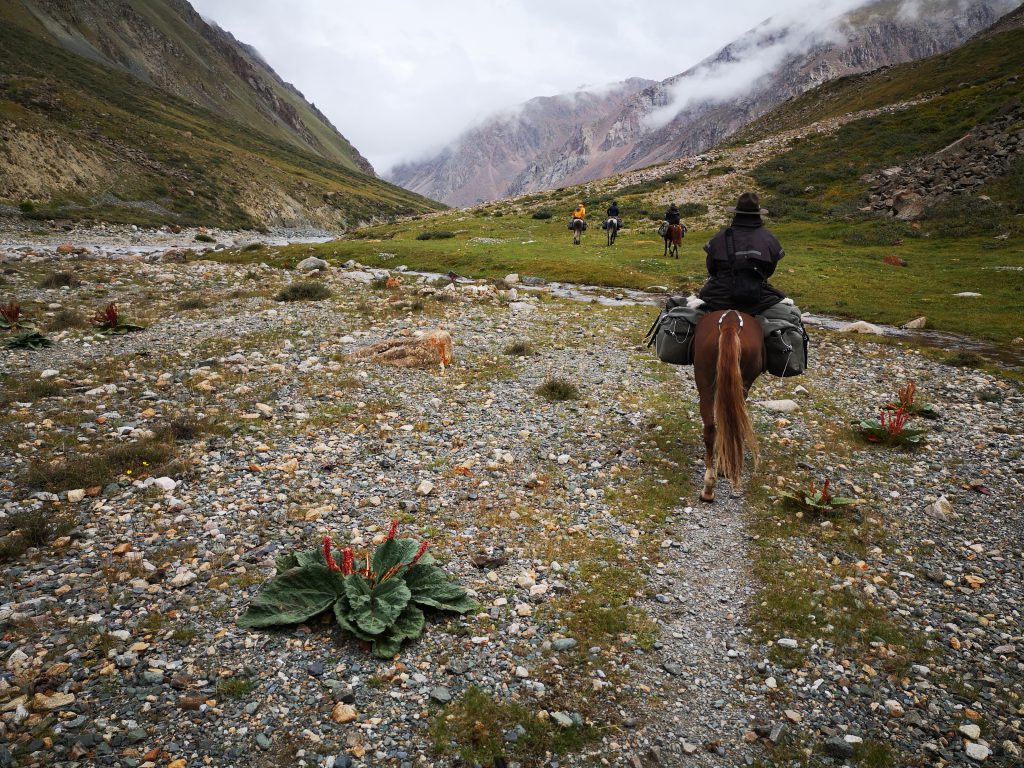 Trekking by Horse in Kyrgyzstan – Amazing landscapes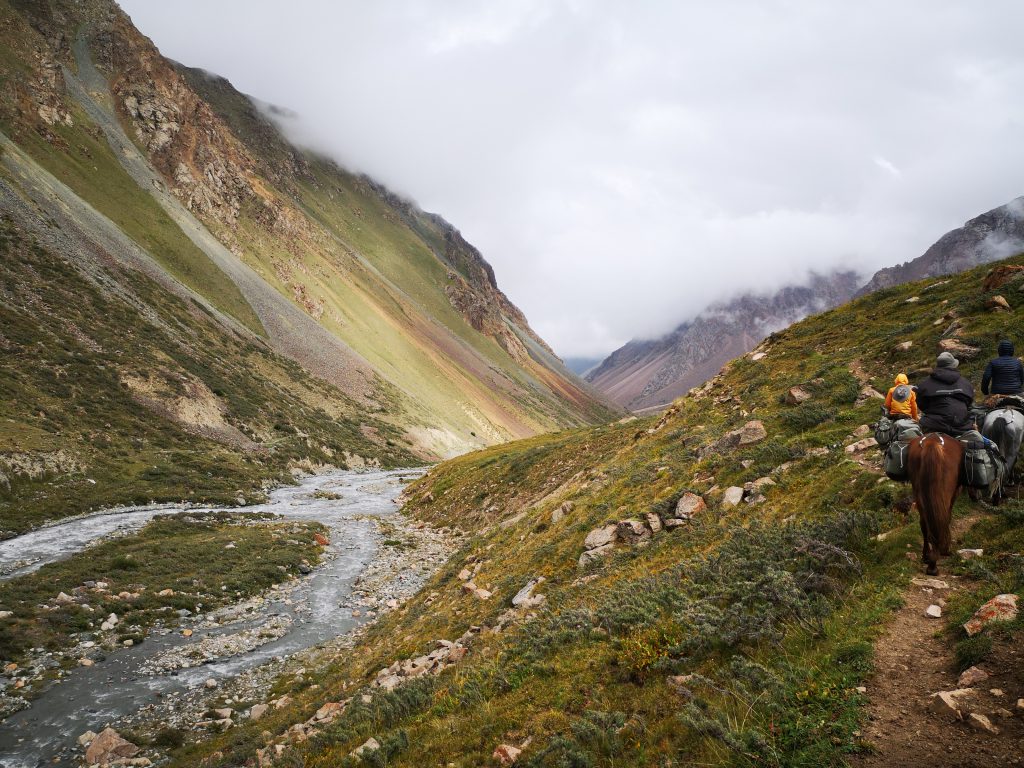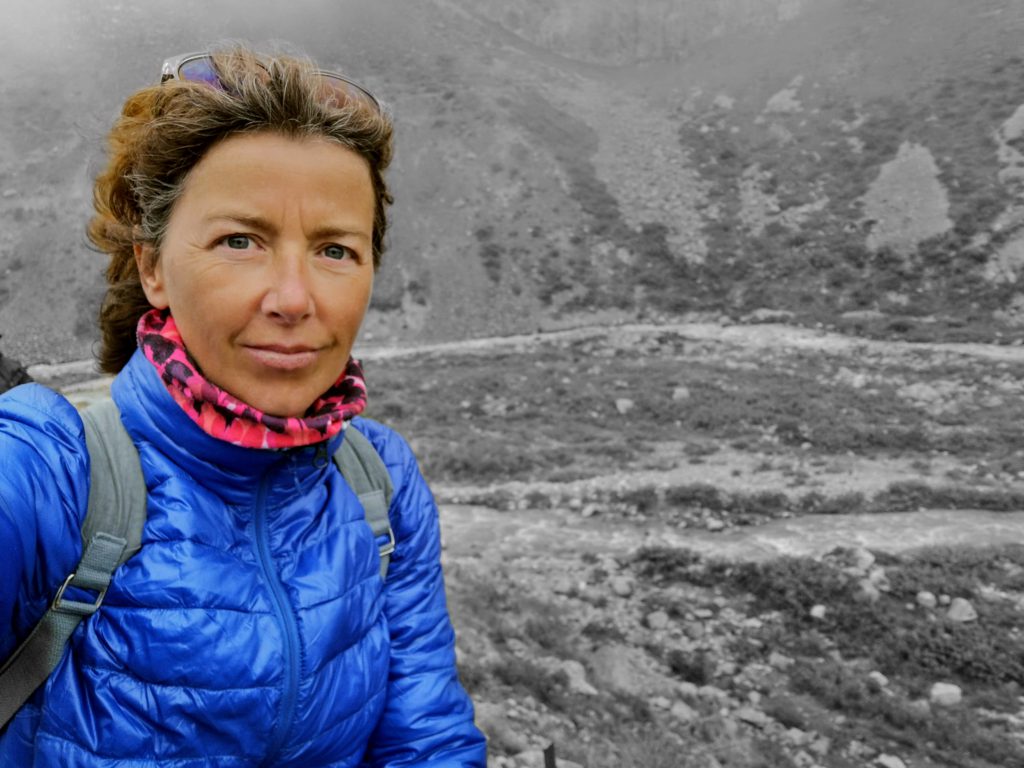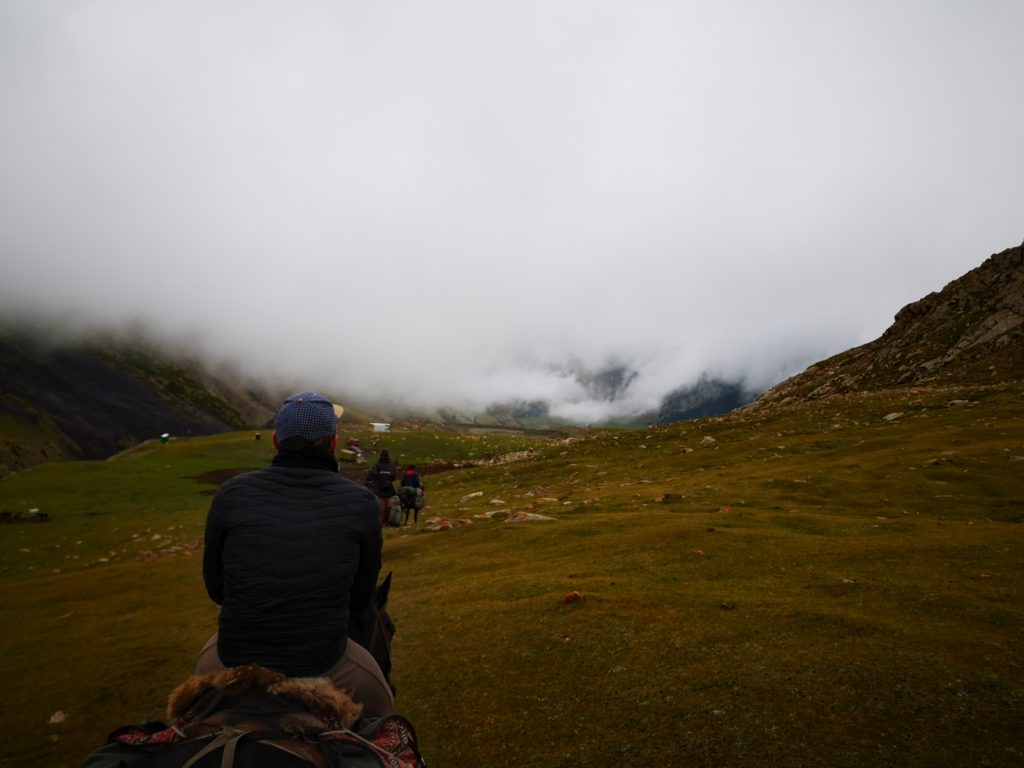 What a great journey!! And it was the best place to do it: Tien Shan mountains!
—
What should you know if you book this trip?
You will be sleeping in a tent
Necessities: sleeping mat & bag and pillow
You need to have your own sleeping mat, sleeping bag and a pillow. I didn't took a pillow but used my jacket for it. You need to have a sleeping bag that will keep you warm. It can be really cold one day and nice temperature the other..In the mountains weather can not be predicted so you need to be prepared for below minues temperatures. Tourists that came back just before us woke up and to their surprise it had snowed and the world turned white overnight. We also had some hail and some thunder and it was cold that evening. We were lucky it was our evening at the Kyrgyz kebab.
I have the sleeping mat Bo Camp, the mummy 3.0 and I do like that one. It feels warm and it is thin but thick enough to not feel every little sone. A sleeping bag I didn't have but got one to use from Ishen.
Tip: You can take a small hot water bottle with you. You know the ones of rubber? They can easily be filled with water cooked for the tea and will keep you warm at night!
No Cellphone Services throughout the journey
Tien Shan mountains – Kyrgyzstan
When you leave Barskoon and are in the mountains you will not see a tab anymore. That means that you will drink the water out of the river. I bought myself the Lifestraw. For me it was the easiest way to clear the water. I didn't got any taste of the purification pills you can use also and by sucking the water through the straw it was clean. Ideal!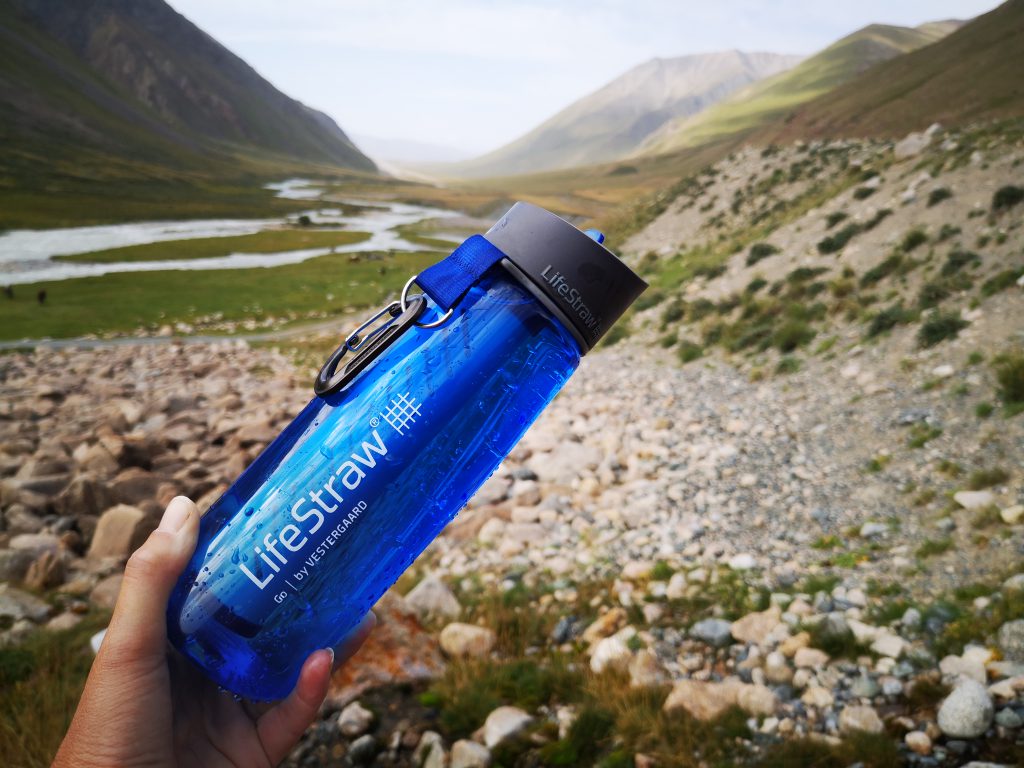 I must admit that the Lifestraw is not cheap but when you buy one a child in Africa is sponsored for a year!
When you need to go to the toilet you just look for a spot in nature. At every camping spot you can find a spot where you can sit almost out of sight 🙂 Mostly a big stone or such. You need to bring some toiletpaper ofcourse and a lighter or matches.
Why a lighter or matches you ask? You  need to burn your paper after you used it!
We only want to leave footprints 🙂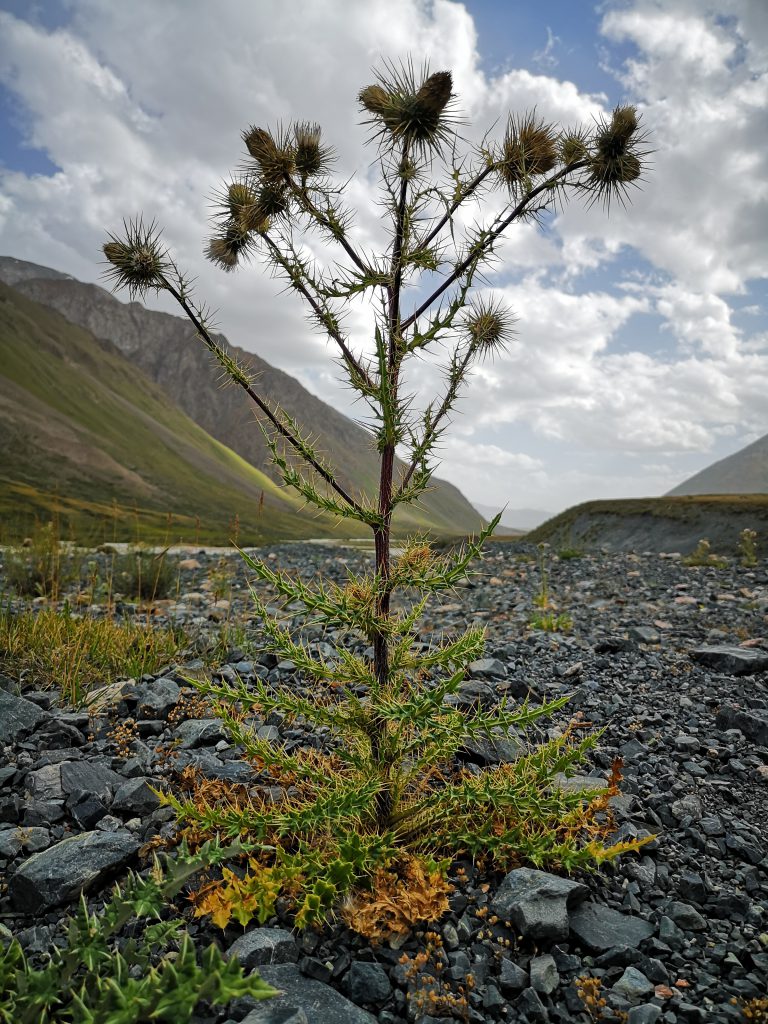 Do keep in mind that there are no chairs. We can not take any chairs on the horse but also in the yurts or other houses there are no chairs. So every meal while trekking by horse in Kyrgyzstan you will sit on the floor. Mostly you will have to keep your feet close to yourself..
Tip: I have a pressure bag in which I keep my clothes. You can use that as a small sitting bag.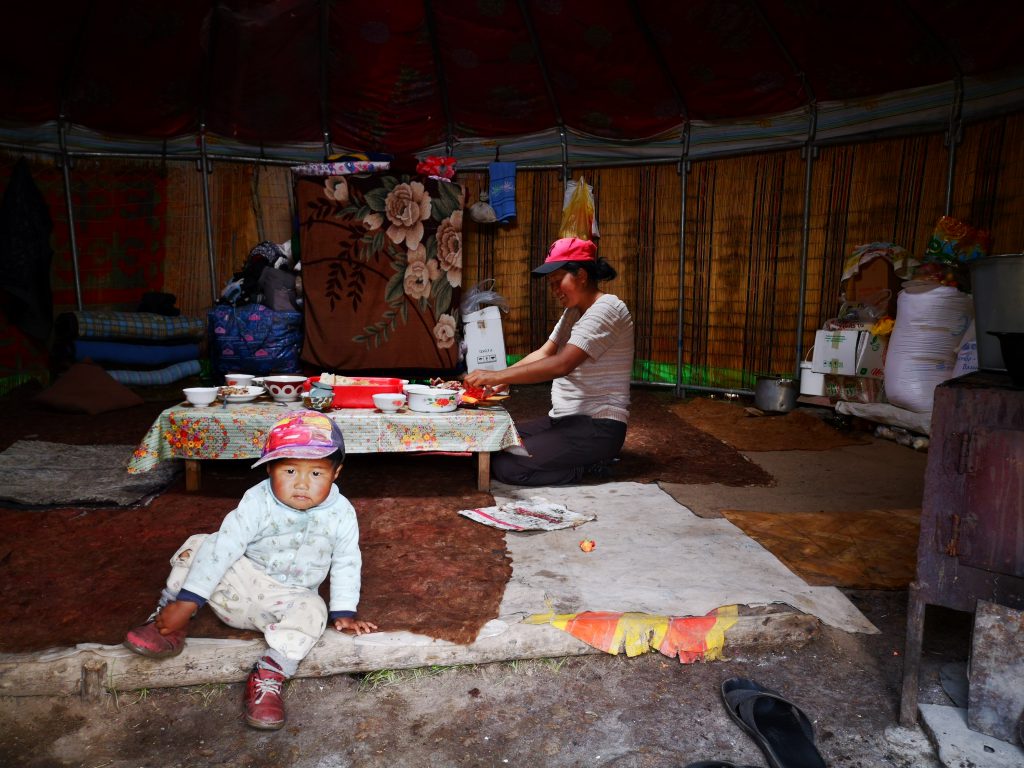 Every day we were at least 4 to 5 hours on the horse. The distance is about 20 to 25 km a day. Some days a bit more. Most people asked me about my buttocks…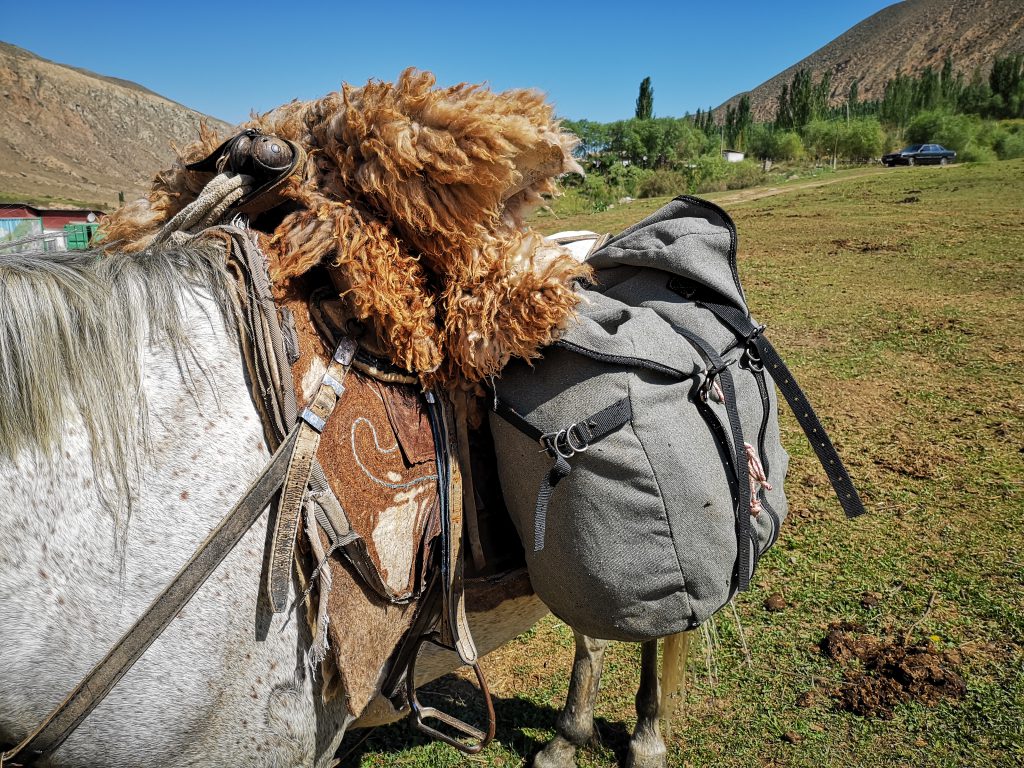 No pain in my buttocks at all…
I was really surprised about this myself too. I wasn't they only one!! The whole group was surprised not to have any pain at all because of the hours sitting on the saddle.  The only thing some of us had was a bit of a pain in the knees. They were hanging in a strange manner along the saddle and you will feel that after a couple of hours. But it is good to know that once your on the ground within 5 minutes it is over.
Each day I had a different saddle. The saddle is made of wood but they situated 1 or 2 sheepskins on it that made it quit comfortable to sit on. It really is!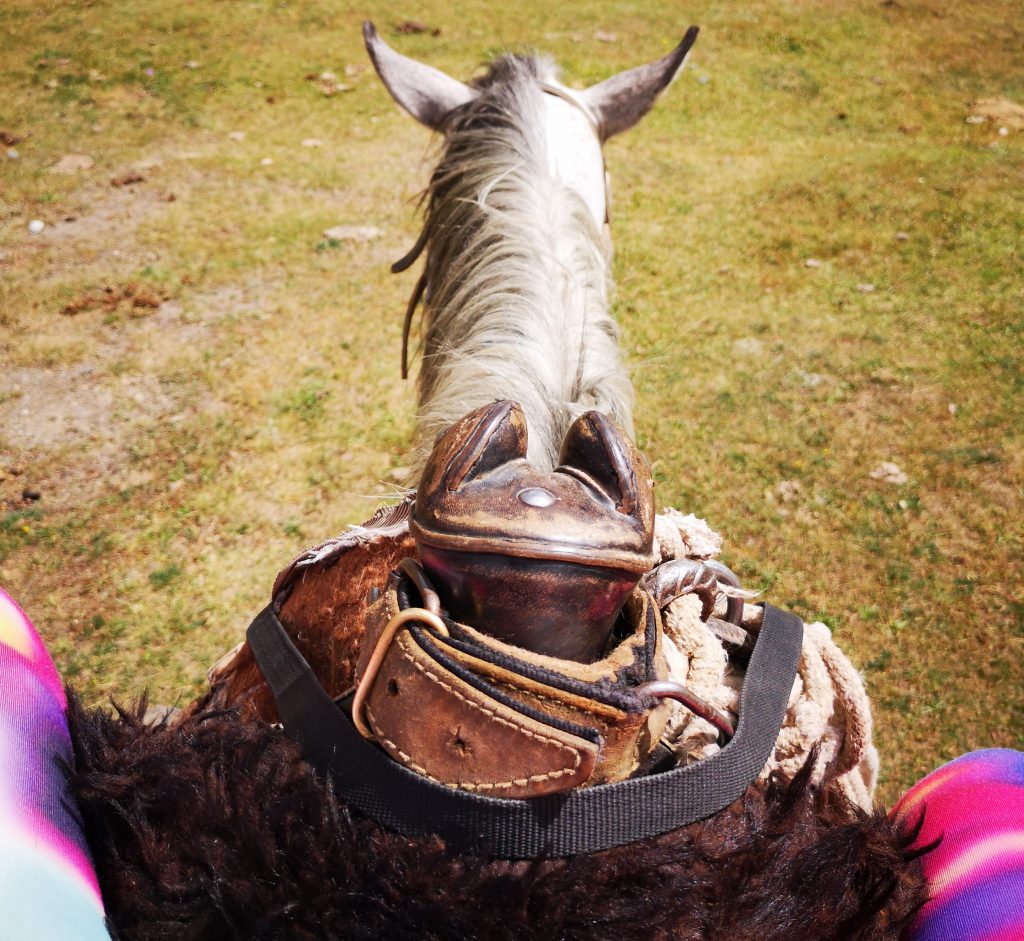 Do you still want to go here?
I totally get that!
I only went for 6 days, this is the shortest option you can book with Ishen. But I really think that if you would like to do something more or less you can arrange that with him. The oppurtunities are immens to discover this great area by horse!
And if you get tired of just sitting on the horse after 4 hours…
Try some yoga!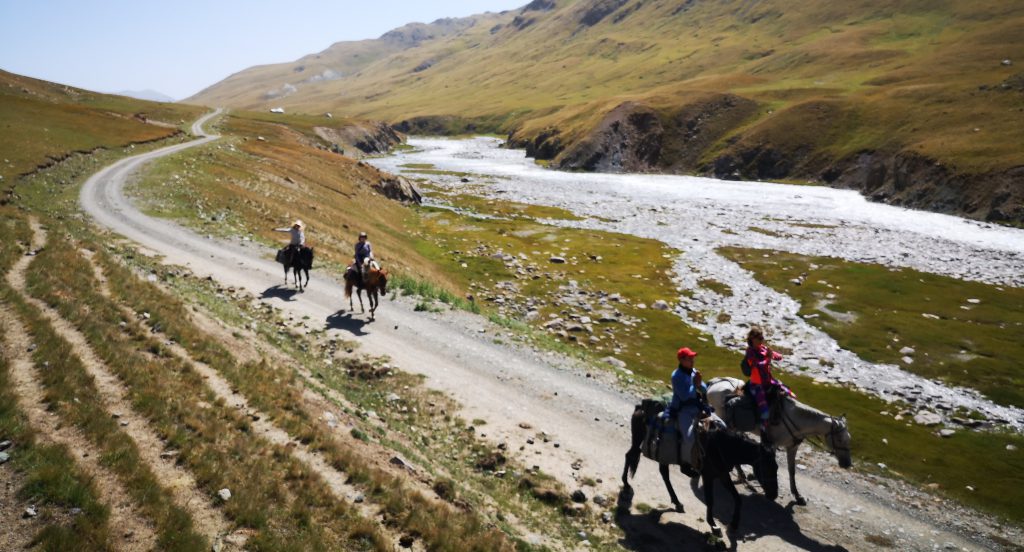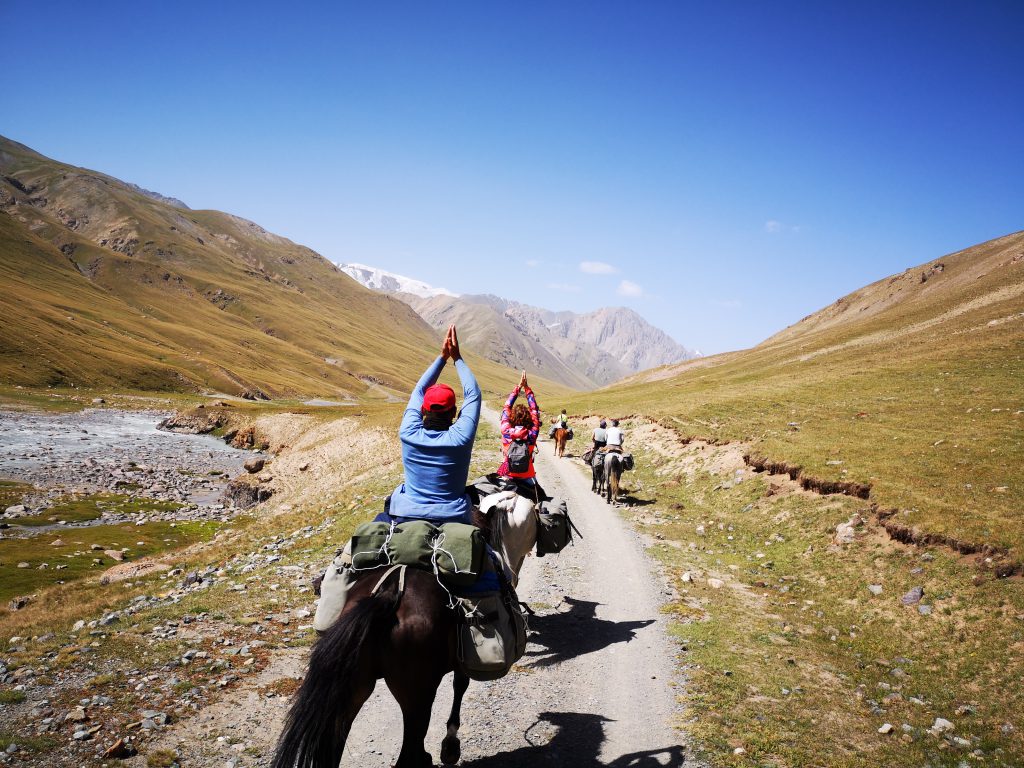 —
Trekking by Horse in Kyrgyzstan was an amazing experience!
If you want to share this blog you will make me happy!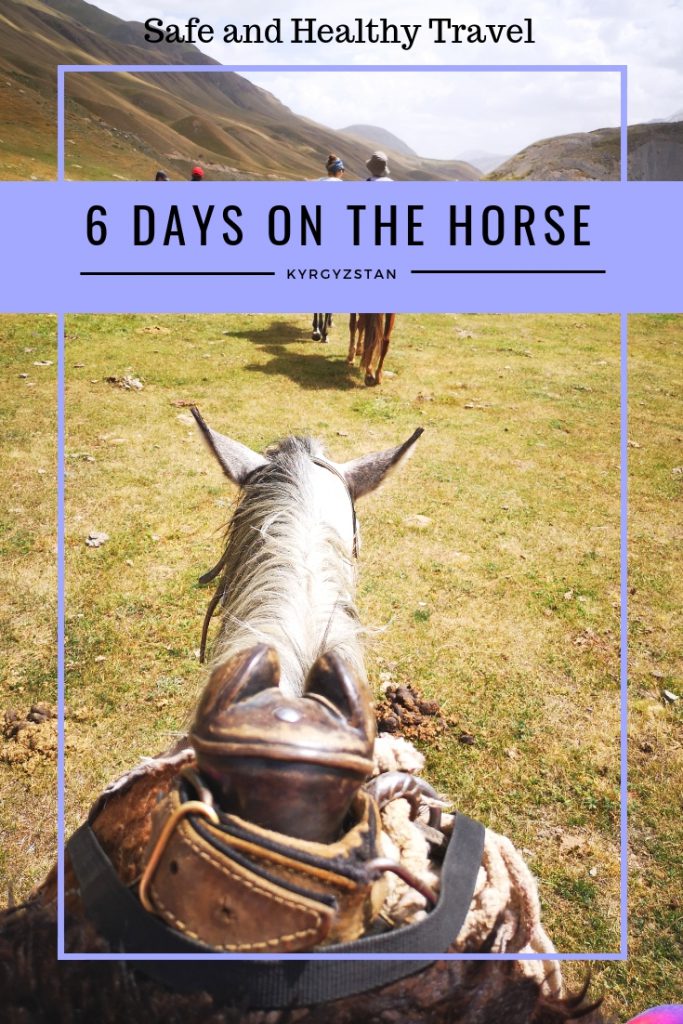 Want to read some other adventures?
Hiking to the Summit of Mt Pulag – The Philippines
Go hike the Rheinsteig in Germany
Surfing the waves of Kartong – The Gambia
Hiking the first 200 K of my pilgrim route Camino Frances
3 days exploring the Khao Yai National Park – Thailand
Or go to the amazing El Nido and do some island hopping!
Ik hoop dat jij net zo geniet van deze mooie wereld dan dat ik dat doe!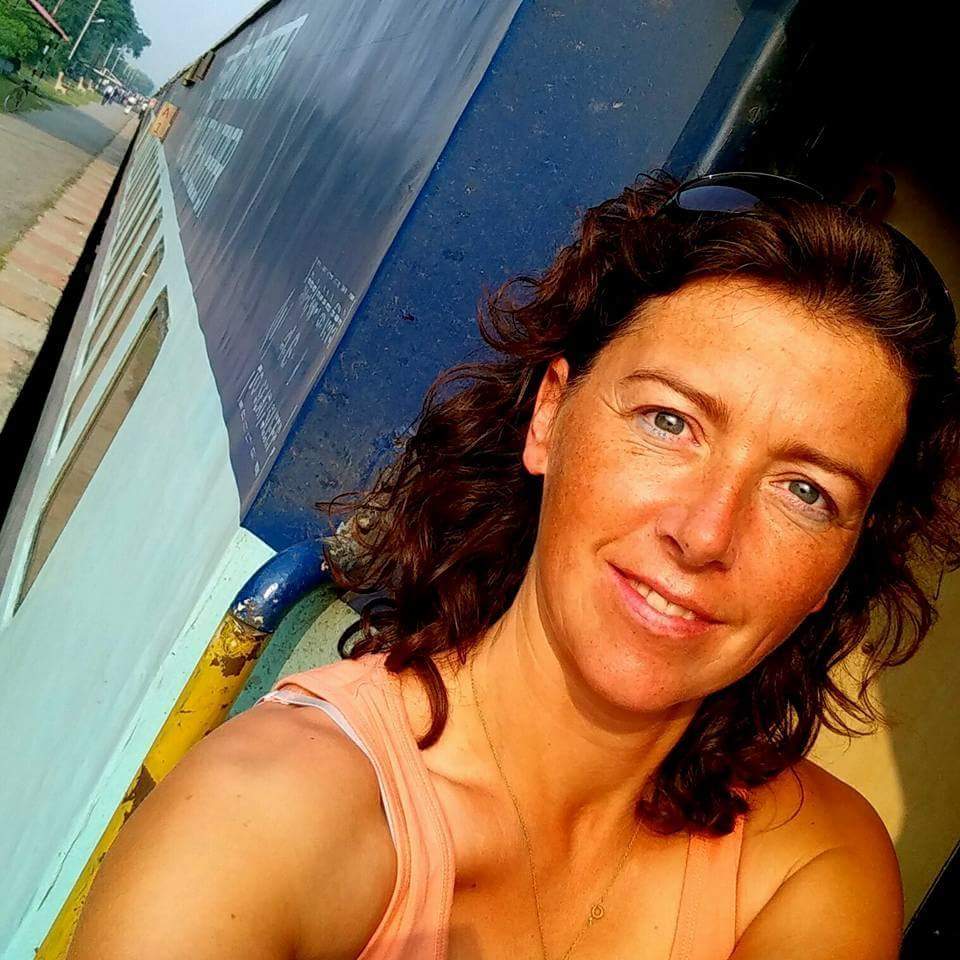 Jacomijn is een politieagent uit Nederland die jou graag laat zien hoe je veilig, actief en gezond de wereld kan over reizen. Safe and Healthy travel is a MUST