My last day on the beautiful Lycian Way – Kalkan to Bezirgan – Lycian Way in Turkey
|
Hiking the Lycian Way in Turkey, from the town of Kalkan to mountain village Bezirgan was on the programme today. This trek was only 10 km but would still give me about 4.5 hours of walking, the app taught me. It was my fifth day on the Lycian Way in Turkey and did find the area really cool!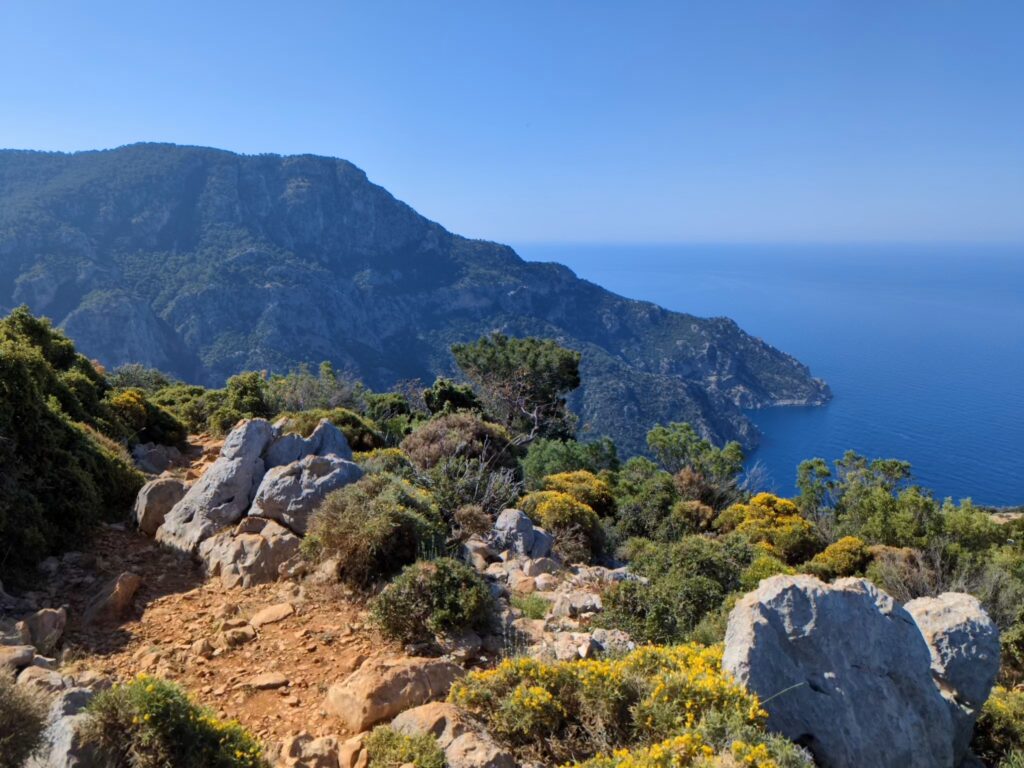 The day before, I had walked for 8 hours and got sunburnt walking through the tomato greenhouses of Letoon. I had also been attacked by a pack of dogs in Kumluova. To be honest, that made me feel less comfortable…. Still, I went back up the Lycian Way in good spirits. Don't give up too soon, give it a good chance first. I was only just on my way…
Do also read about my first day on the Lycian Way.
It was still a bit chilly when I left after breakfast at my hotel in Kalkan. The navigation took me up the main road that runs alongside Kalkan. Then I had to continue uphill and finally to the right. That to the right was a bit tricky to find. I had already walked past it twice when I took another good look at the spot where my GPS indicated it. Through the bushes, I saw a stone further on that had a red and white flag on it. Okay, so I had to make my own way because it had become so densely overgrown.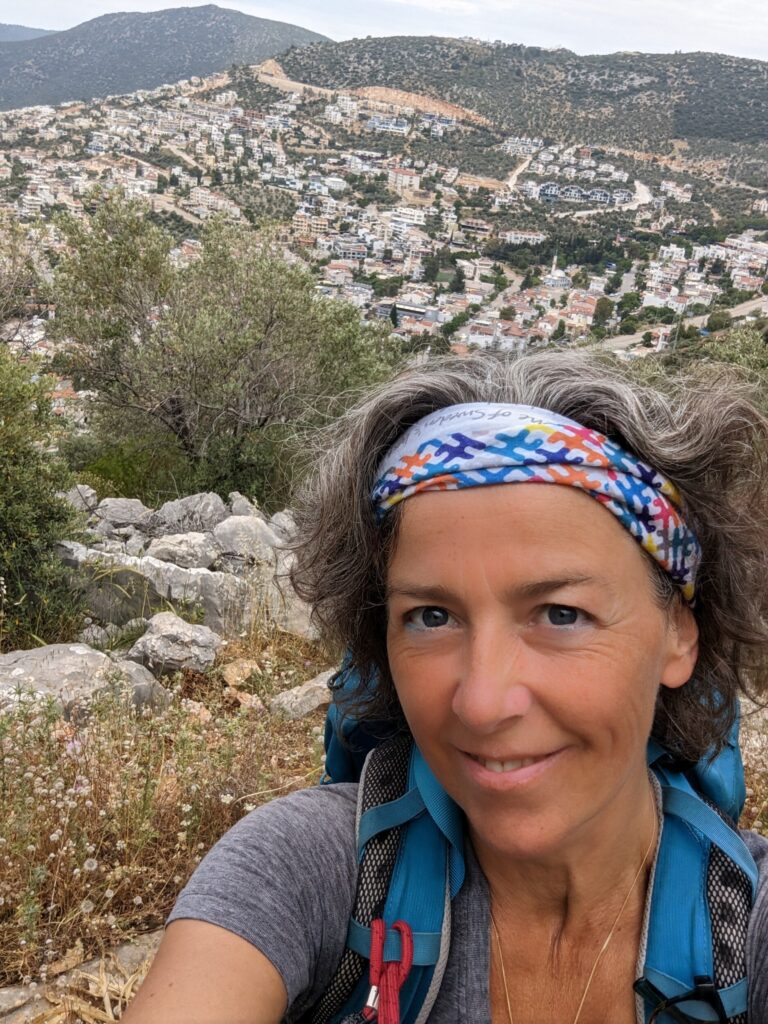 After that, things got better for a while…but unfortunately that didn't last long. The path had grown over each time. A few times it was interrupted by new villas being built there. The directions had not been moved but were simply gone. I found it very difficult and became very irritated. The bushes I had to go through were quite prickly and, of course, I was wearing shorts.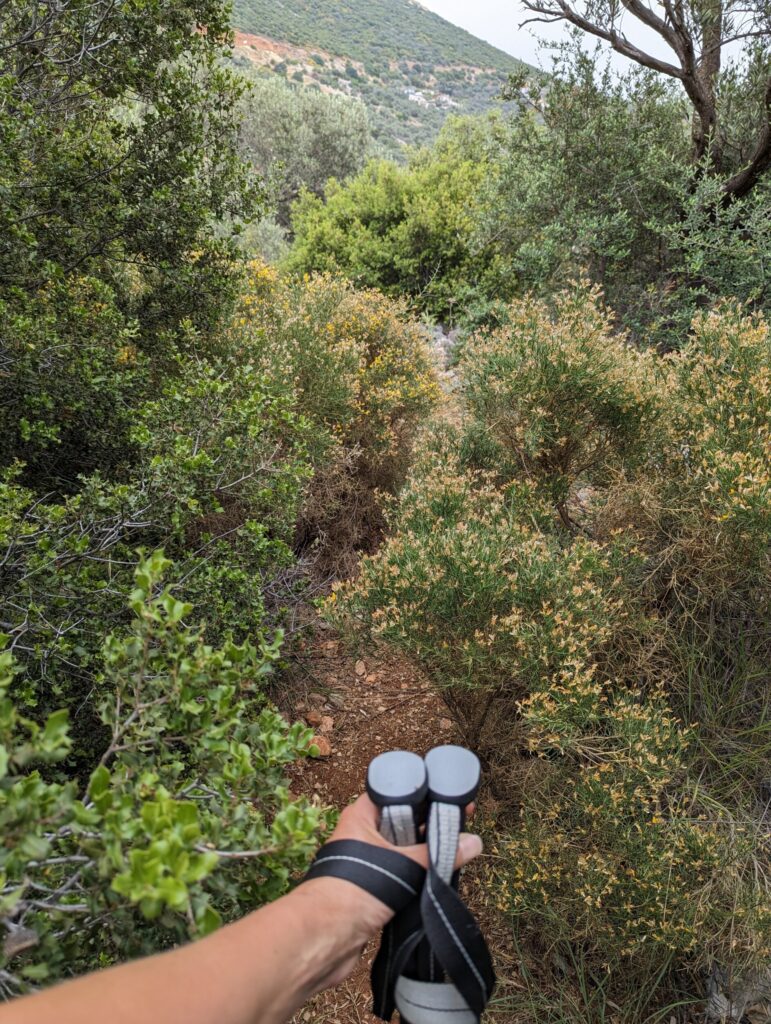 At one point, I had been on the road for a few hours, I had had the first part and was walking on a stretch of paved road. I often prefer walking on nature trails but this time it was very welcome that I had the space. My mother called me, video calling via whatsapp and I was able to vent my irritation to her for a while. Always nice haha!
At that point, I walked past an Ottoman cistern again and opposite was the route to go further up. Ended the conversation with my mother again and continued on. Past some houses and then turned right back into nature. Again a narrow path but a well-marked one. The views again became more and more beautiful and wider.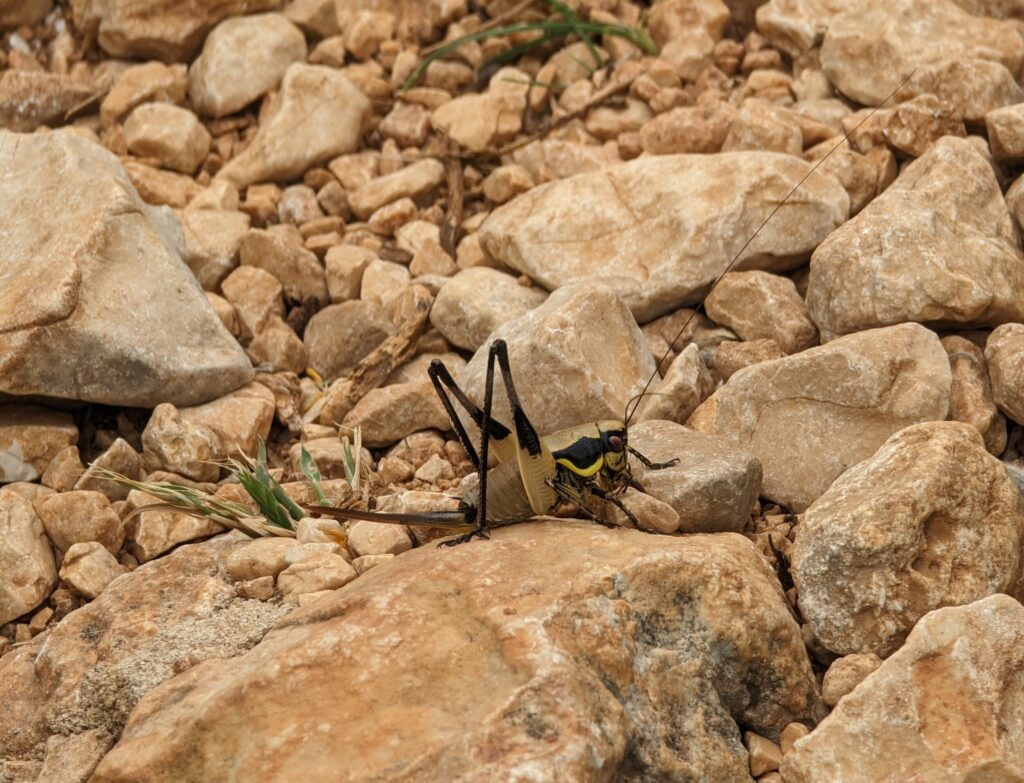 I came across another turtle, so cute! And this lovely grasshopper 🙂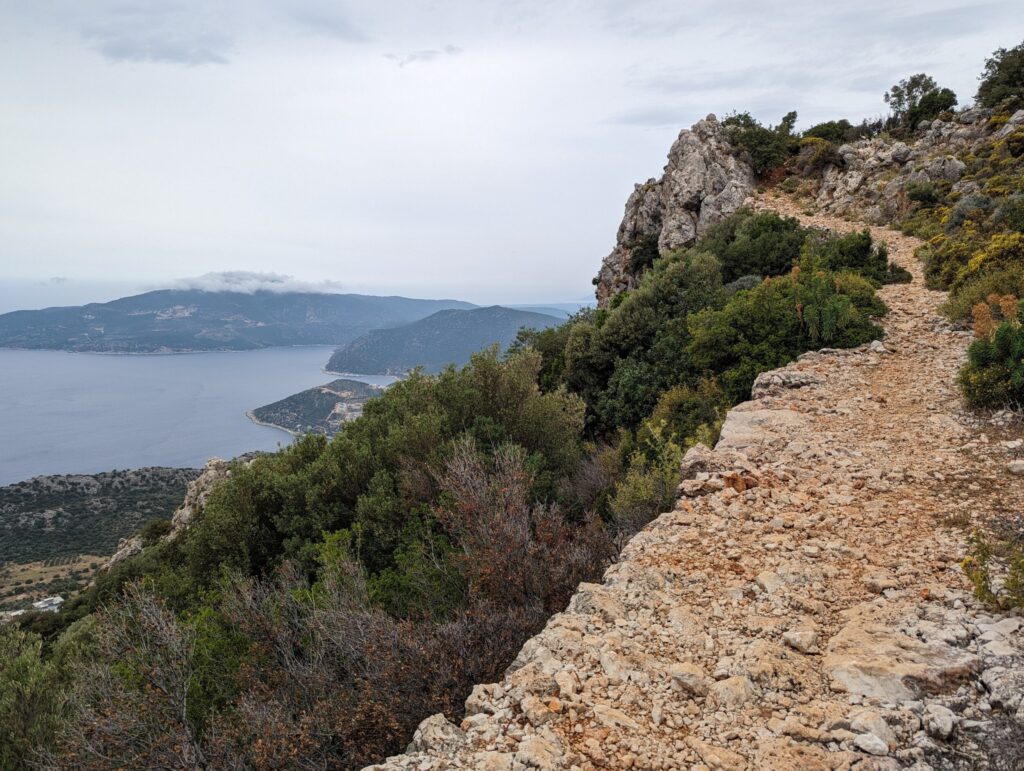 At one point, I heard something coming from above. An oncoming hiker was approaching. A man, hiker with packs but not so much that he was also camping. Short conversation later, we continued on our way again. I was going to like the top of the mountain where it would get easier. I warned him about the many villas being built there and the breaks in the trail as a result.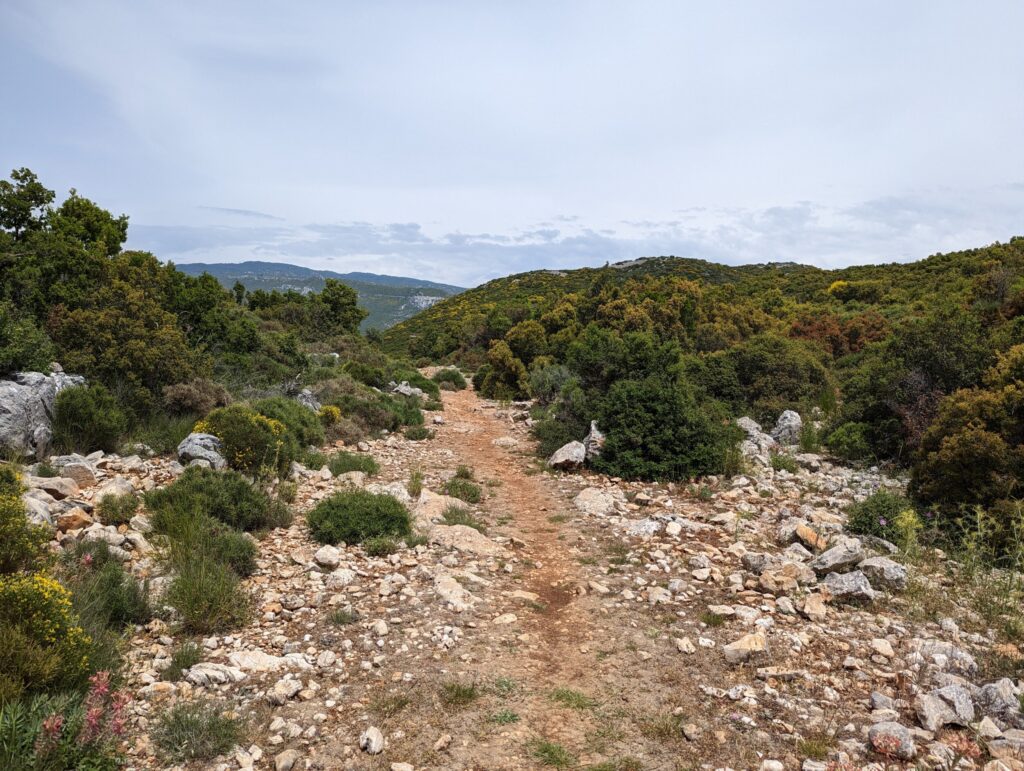 And indeed, when I reached the top, the path widened and I was able to walk nicely. I walked in a wind-free section and the sun was shining delightfully. It was nice walking!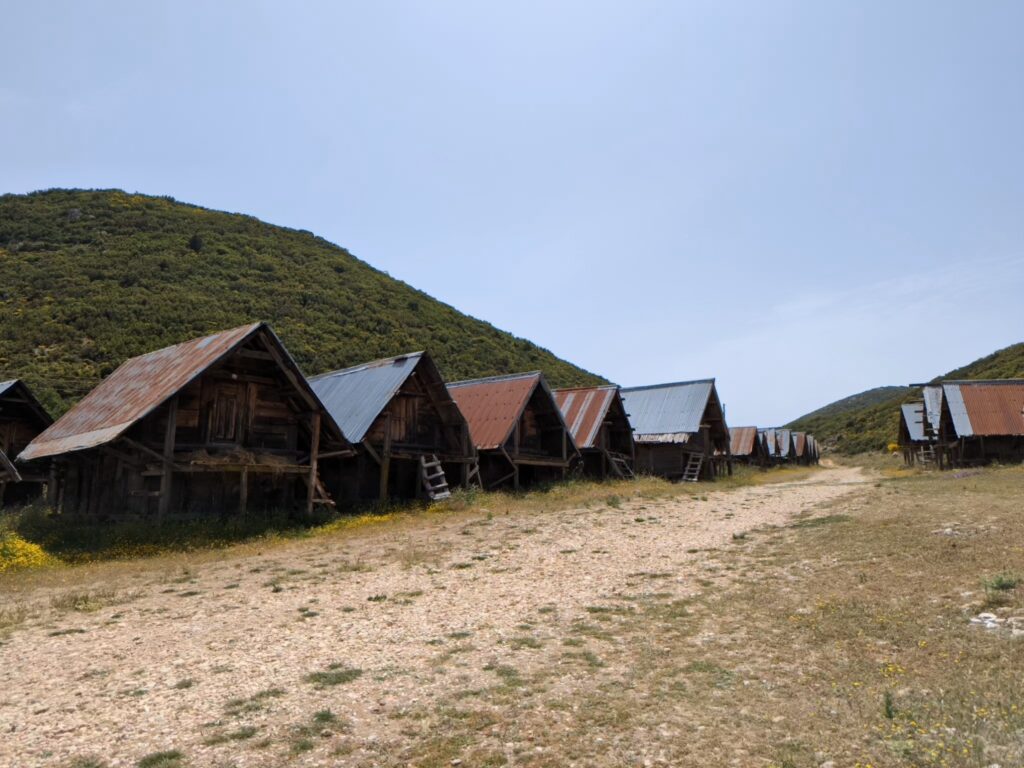 Not long after, I passed a whole bunch of grain houses. There were about 50 of them I think, rows 3 or 4 deep and as long as 10 or 15. Then I walked onto a plain where there was a village. A very long stretched village which eventually had a core with a mosque, supermarket and nice square. Just before I had seen it too, a very large tree around which a nice elevation had been built with a bench on all sides. Beautiful! In the square, there were all young men sitting on the benches, on the elevation under the huge tree.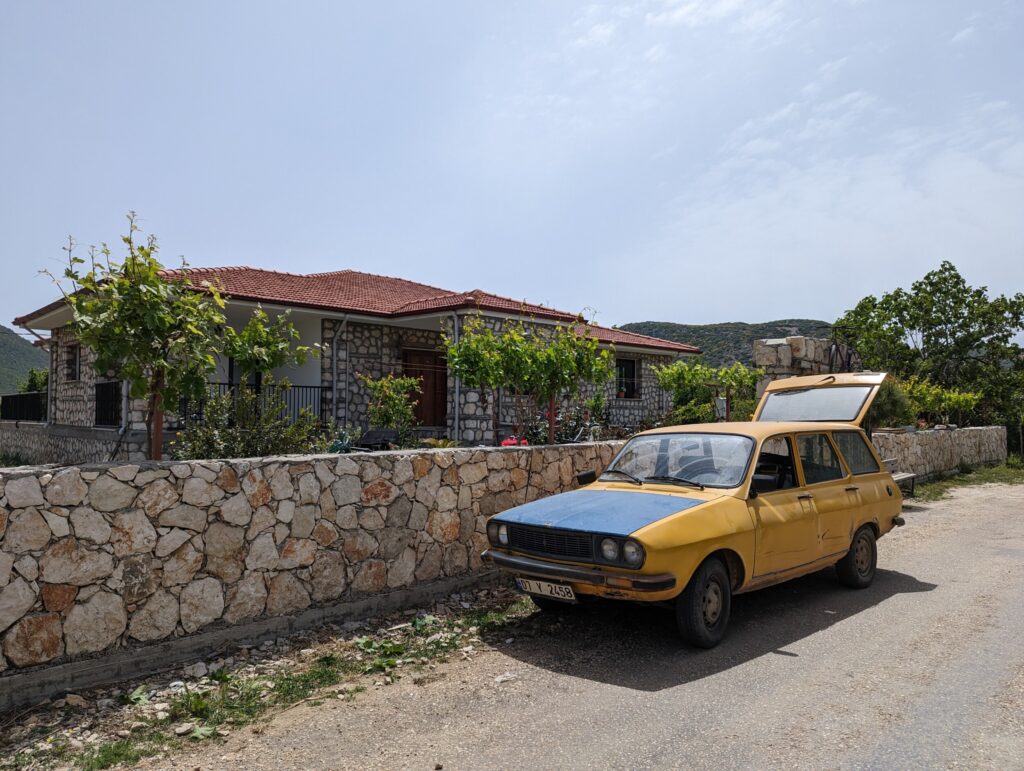 The older men were sitting on the other side, near a community building in the sun. It wasn't that hot yet and I did understood why they were sitting there. I walked to the small supermarket and saw that next to it was a sign for the bus. I couldn't make much sense of it so I asked the salesman in the supermarket. He didn't understand me but he understood that I wanted to take the bus and I didn't understand his answer. So strange that such a man replies back in full Turkish sentences, hihi!
This older man was soon replaced by a younger version, who knew a bit of English. No, the bus to Kalkan was in 1.5 hours. The bus to Kas I could catch there. So I just had to go back where I came from, hmm…. I hadn't hoped for that.
I bought a can of coke and sat down on the bench in front of the supermarket. Half in the sun, half in the shade, nice and out of the wind. I can spend an hour here, my internet was working just fine so I went to update my stories on Instagram.
Meanwhile, the man at the supermarket was being shouted at and addressed by everyone. The other way around too, for that matter. Until I noticed that he also stopped every car that passed and asked a question. I suspected he was trying to arrange for me to go to Kalkan earlier. And yes, it didn't take very long for him to arrange a lift for me. I was able to ride with a man.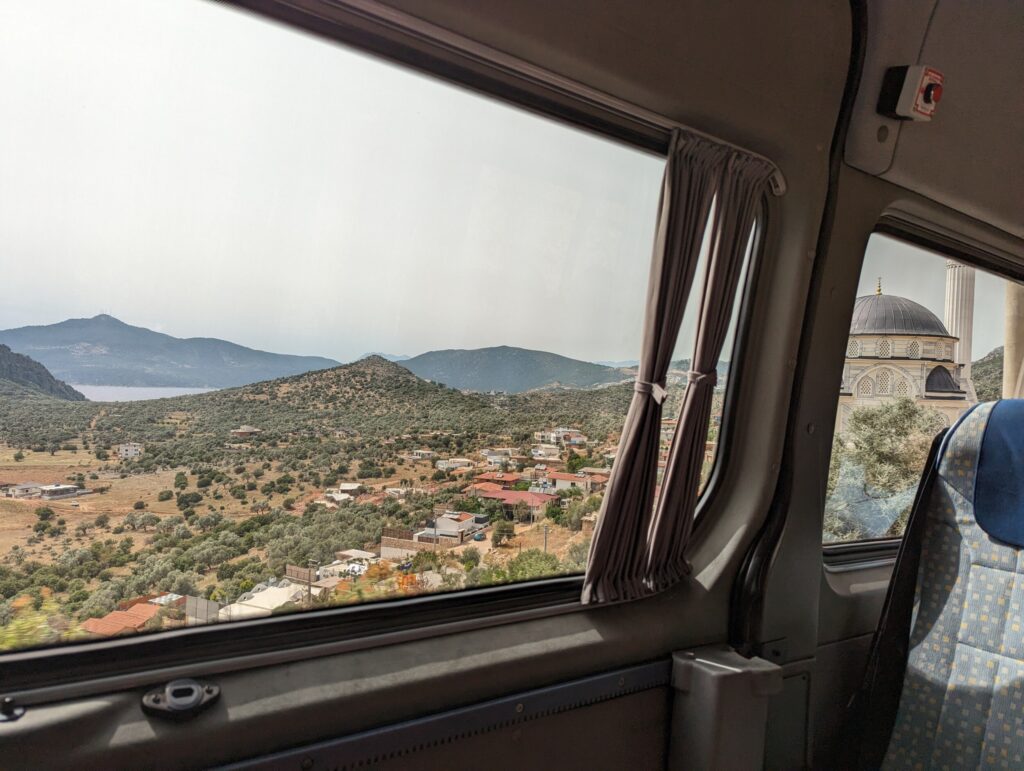 This man could speak good English and we had a nice conversation. Meanwhile, he drove along the mountain roads at a nice pace and in the meantime he was looking for a photo on his phone. When he realised that I was going to join him in paying attention he stopped and indicated that he was looking for a picture with the bus times. It was 3 pm at that time and as it turned out, at 3.30 pm the bus was going to Kas and I was able to make that.
The man dropped me off at the bus stop on the ring road above Kalkan and less than 10 minutes later the bus arrived and I took my seat. It was a nice ride along the coast to Kas.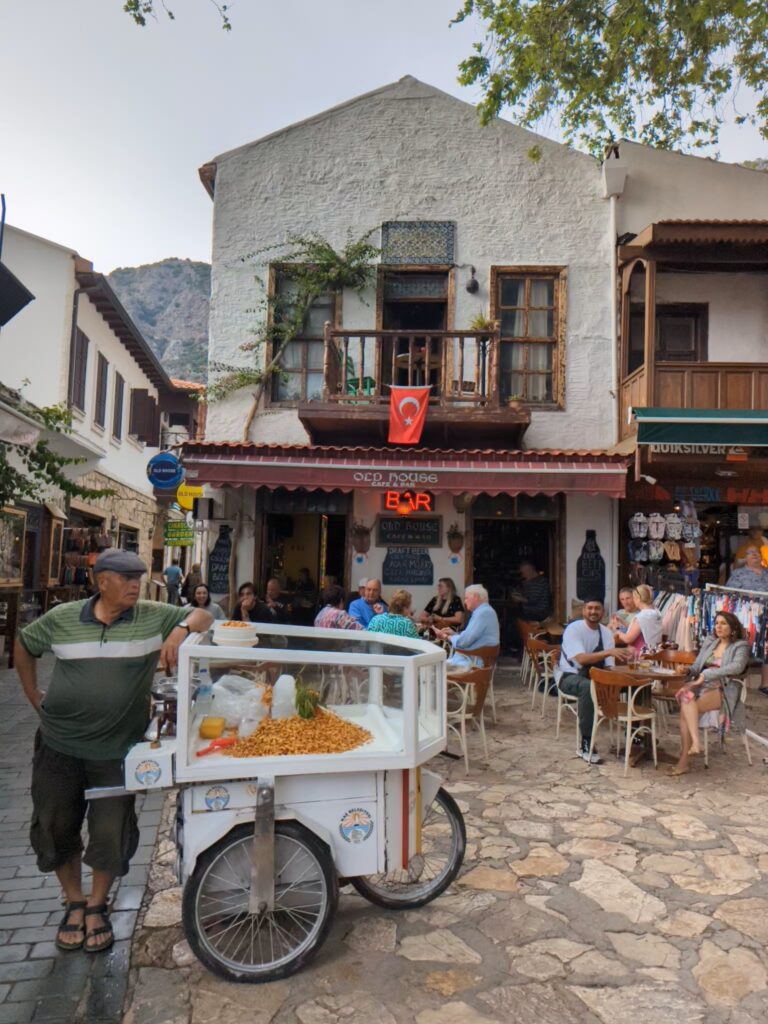 I had thought of staying a bit longer in Kas and then maybe moving on again. The uncertainty of the route was very disappointing to me. No accommodation to be found and then having to arrange another bus or taxi somewhere you hope to find…. Also the fact that the route is so hard to follow in many parts.
Often I have to get used to it and after a while it becomes easier to follow but still I regularly lost the route. Although the Lycian Way in Turkey has been around for some 23 years, it is still not common to walk it. And there are still not enough sleeping places along the route.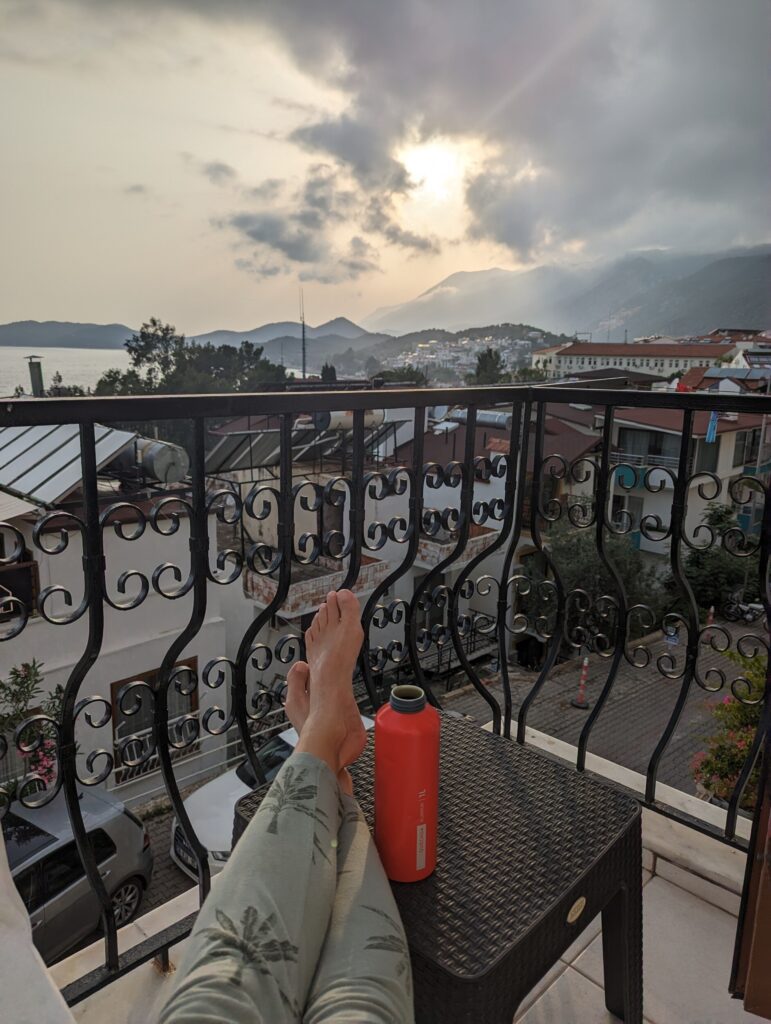 I had 3 nights in Kas and I was getting more and more convinced that I did not want to continue but wanted to do something else. Earlier this year I also wanted to go to Greece, then it was still too chilly and the tickets from Asia were very pricey. I then wanted to do it as a stopover on the way back from Malaysia where I lived in Melaka for a month. Now I could just take a boat across and I was in Meis, a Greek island. I saw advertisements for it everywhere.
That did give me an idea. When I googled, I saw that I could easily take the ferry from Fethiye to Rhodes and from Rhodes to other islands, e.g. Crete and Santorini. When I went to check my flight ticket home, it turned out that I could rebook to Heraklion with Dusseldorf as my final destination. Of course, I had Antalya to Amsterdam but this alternative really appealed to me.
So… I stopped with this great route – Lycian Way in Turkey.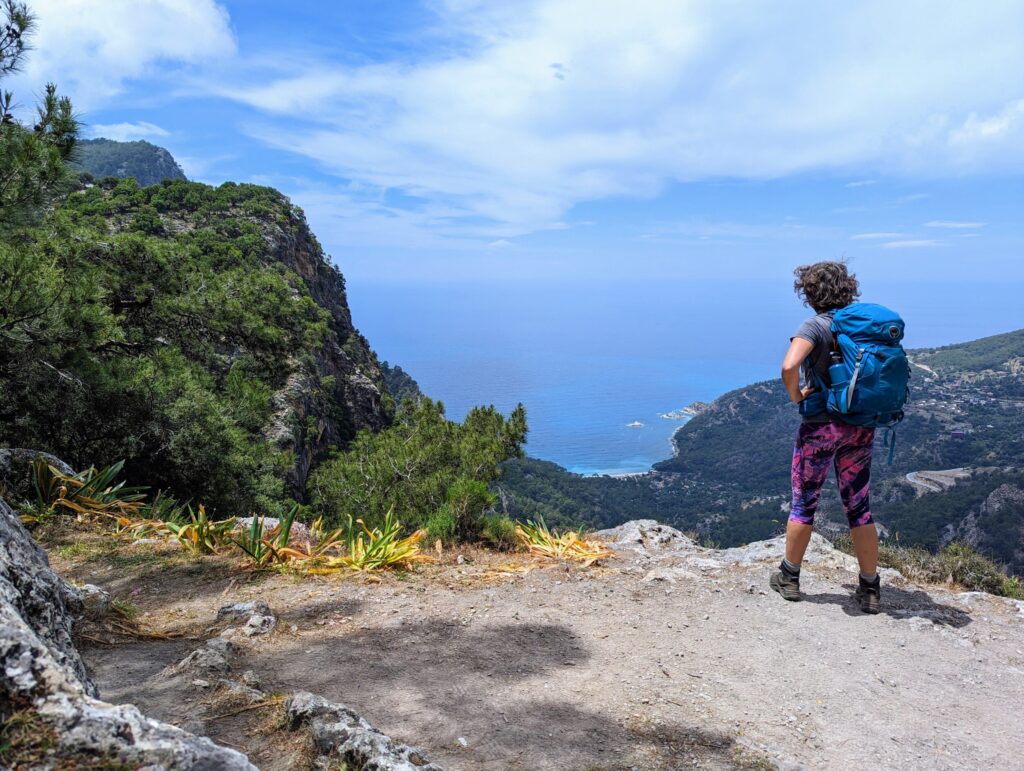 You know, I enjoyed the views! I really liked the views here on the Lycian Way in Turkey many times better than the views I had on the Fishermen's Trail in Portugal. But in Portugal, everything was better and easier to arrange. I am a luxury person then, after all.
I don't want to battle my way through a trail, I'm not a camper, I don't walk with kilos of luggage. I do like to challenge myself, put in the miles but afterwards a good bed is a requirement. That is really difficult on the Lycian Way in Turkey unfortunately.
The day after that decision I left for Fethiye, from there I took the ferry to Rhodes. After a few days I can go to Karpathos and after a few days to Crete. Then I think I can spend my remaining time there very nicely. If anyone has any tips? Of course the Samaria Gorge in Crete! I've done that one before but might do it again.
How do you like the Greece islands?
Want to read more?
8 days on the Alpe Adria Trail – Austria
Historical Way – Rota Vicentina, Portugal
Hiking on Ko Adang – Snorkelling at Koh Lipe, Thailand
Hiking on Machinchang Trail – Langkawi
Read about how I navigate while solo hiking
Solo Hiking and Navigating – How do I read the directions? How to follow the footpath properly? – Safe Travel
I hope you enjoy this beautiful world as much as I do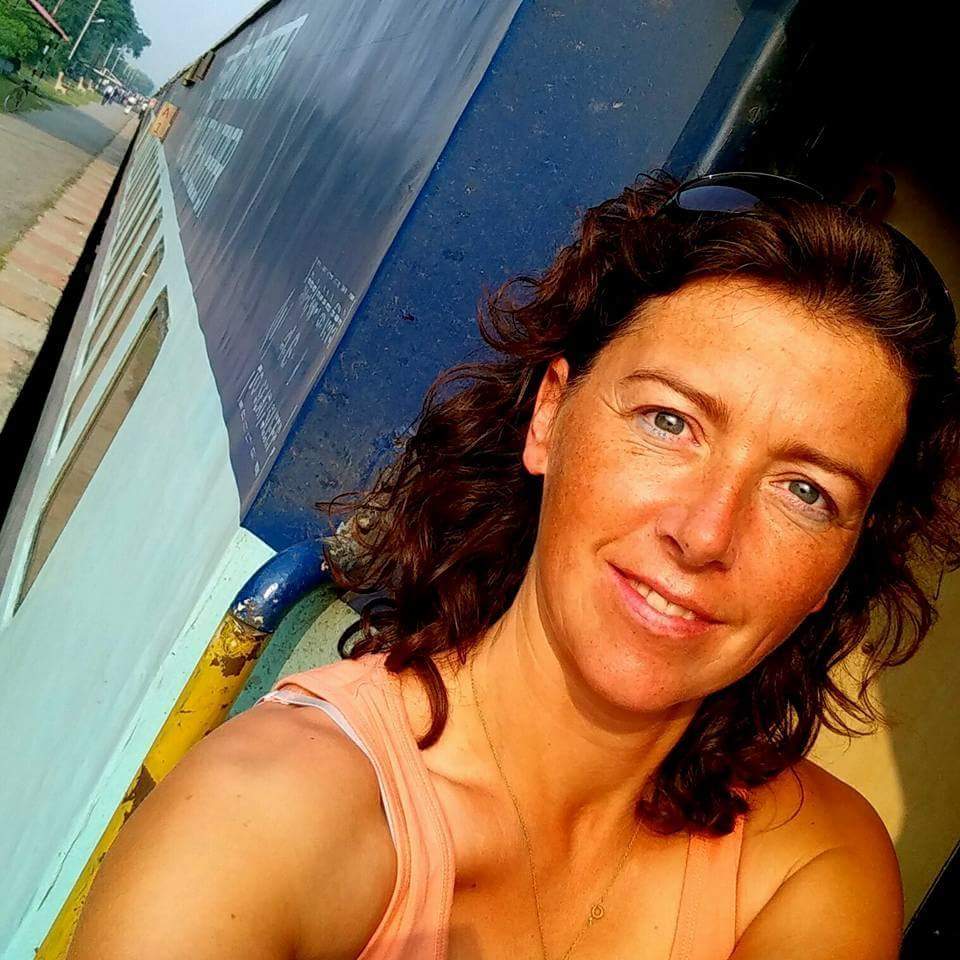 Jacomijn is een politieagent uit Nederland die jou graag laat zien hoe je veilig, actief en gezond de wereld kan over reizen. Safe and Healthy travel is a MUST