Kunene River – Visiting Epupo Falls and Ruacana – Namibia
|
During my long roadtrip through Namibia, I also visited the Epupa Falls. To spend a little longer at the Kunene River, I also stayed a few nights in Ruacana. In a shorter trip, I understand why these places are skipped or briefly mentioned, but I found it really worthwhile to stay here. If you have the time, it is definitely worthwhile to see the grandeur of Epupa Falls.
Namibia is bordered on the top by the beautiful Kunene River. On the other side of the Kunene River is the country of Angola. The name Kunene means 'falling water', translated from the Herero language. There is a lot of green on both sides of the Kunene River, with Makalani palms being particularly dominant here. Because of the greenery and of course the water of the Kunene River, many different birds live in this area.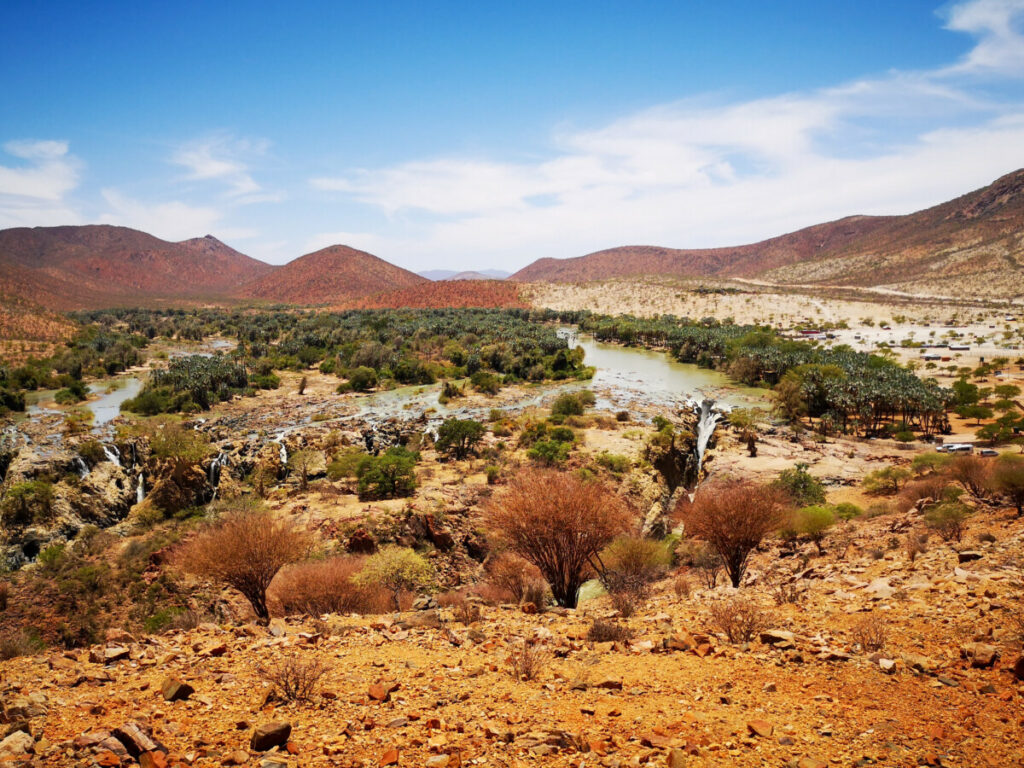 It was quite strange to realise that I was so close to a country whose name I only knew from the news.  A country where I only think about civil war and refugees. I immediately noticed that the Angolan side was green and that there was little or no life to be seen. This while the Namibian side has been made suitable for tourism and seems to be busy in high season.

Kunene Rivier – Namibia
Epupo Falls and visiting Ruacana
The green surroundings of the Kunene River are perfect for spending a few days. The Epupa Falls are impressive to see but also the many birds along the river are great for bird lovers. I stayed at two places along the river and spent a total of 5 days there.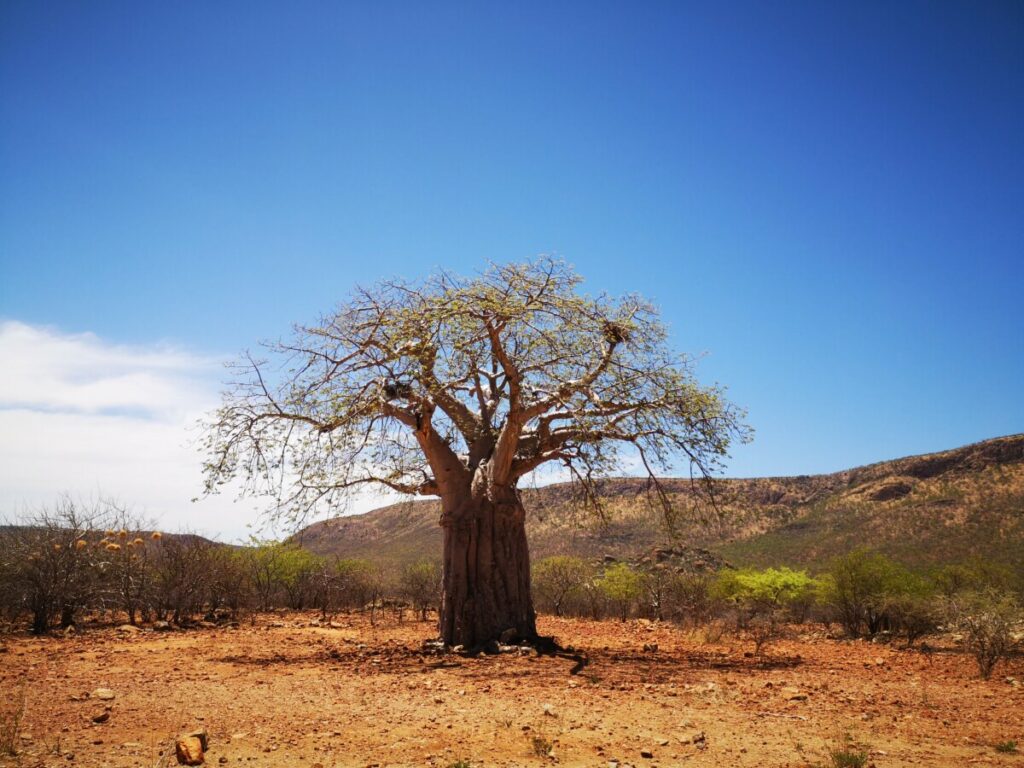 Epupa Falls – Kunene River
I drove to Epupa Falls after I had been in Opuwo and visited the impressive Himba. Of course, the area there is very dry and little grows. The closer I got to the area, the more green started to grow. Just before I arrived at Epupa Falls, I saw a sign pointing to a viewpoint. I drove straight here.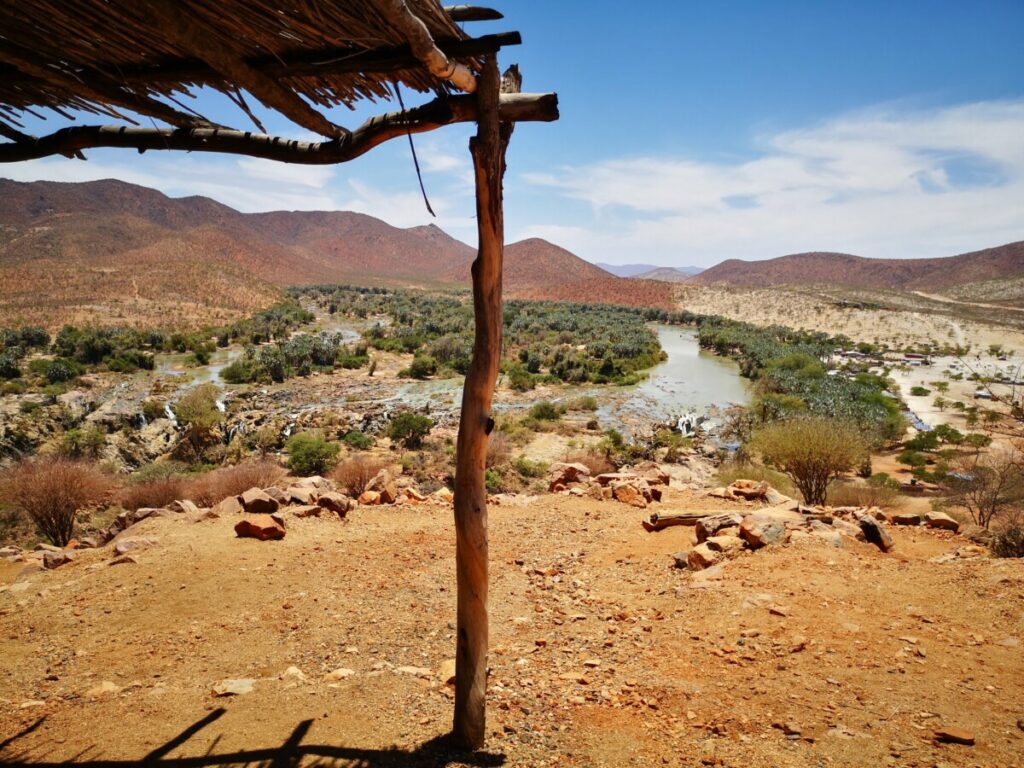 The way up was still quite a challenge. More because of the tracks that tyres make on their way down, the road is not very good anymore. I found it a challenge to steer well and keep a good grip on the vehicle. I arrived at the top and saw a roof under which I saw two men sitting.
One of them immediately approached me and started telling me what I saw. I looked down on the Kunene River from a height and saw that the river seemed to split into several rivers. At several points I saw that the river seemed to be disappearing into a gorge. A ferocious rocky outcrop split the river and the water splashed into the abyss: The Epupa Falls. The view of the area is immense. You can see for miles and that gives this place a really special touch.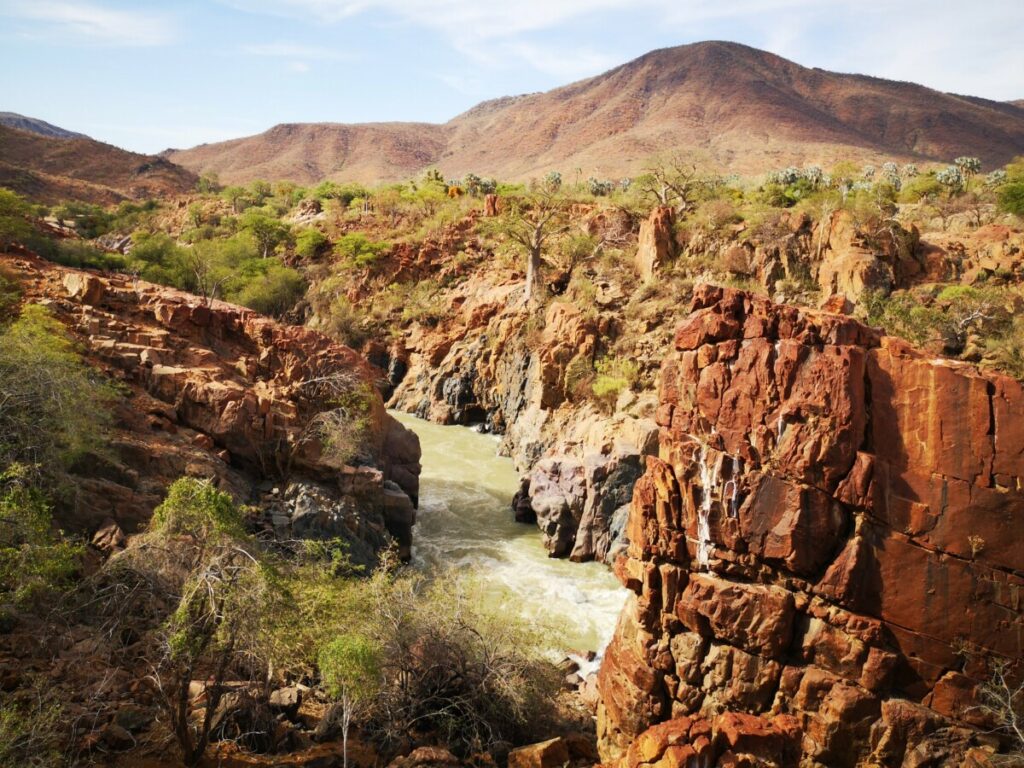 Epupa Falls – Kunene River – Namibia
I then checked in at Omarunga Epupa Falls Campsite where I stayed for two nights. I parked my 4WD with rooftop tent at the Kunene River and was warned that I was definitely not allowed to put my feet in the water. Let alone thinking, it's pretty hot, I'll take a cooling dip. There are many crocodiles in the Kunene River and it is by no means a safe place to be if you are near the water. A crocodile is quite fast and you don't always see them coming. Of course, I looked very carefully during the time I was at Kunene River, also with binoculars, but unfortunately I didn't see a crocodile. I did hear from other tourists that they had seen a crocodile swimming.
The campsite has a swimming pool so I did manage to cool down that afternoon. It was quite warm and at the end of the day I took a walk to the waterfalls. I stood there for a while watching the clattering water. I found it very impressive to see but also to hear. Wondering how wide the river was at this point and how many places it clattered into an abyss but the violence of the water was everywhere.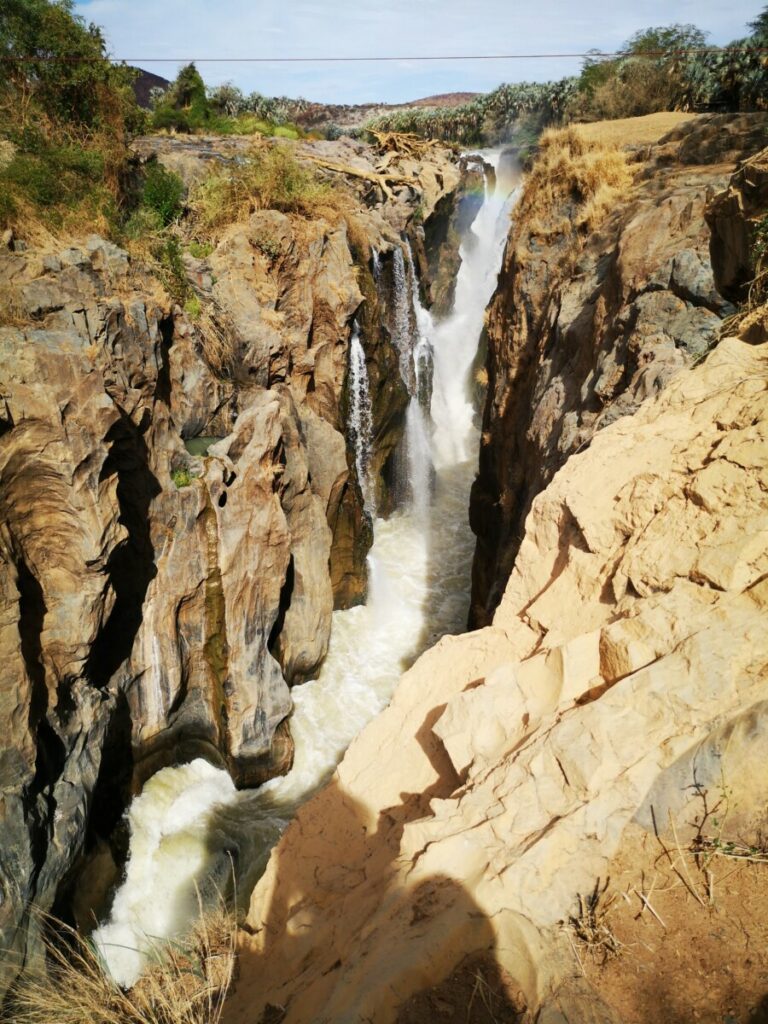 That evening, I sat by the Kunene River making my own dinner. Just far enough from the river that if a crocodile showed up I could, I guess, get away… But close enough that I could see it if it just swam by.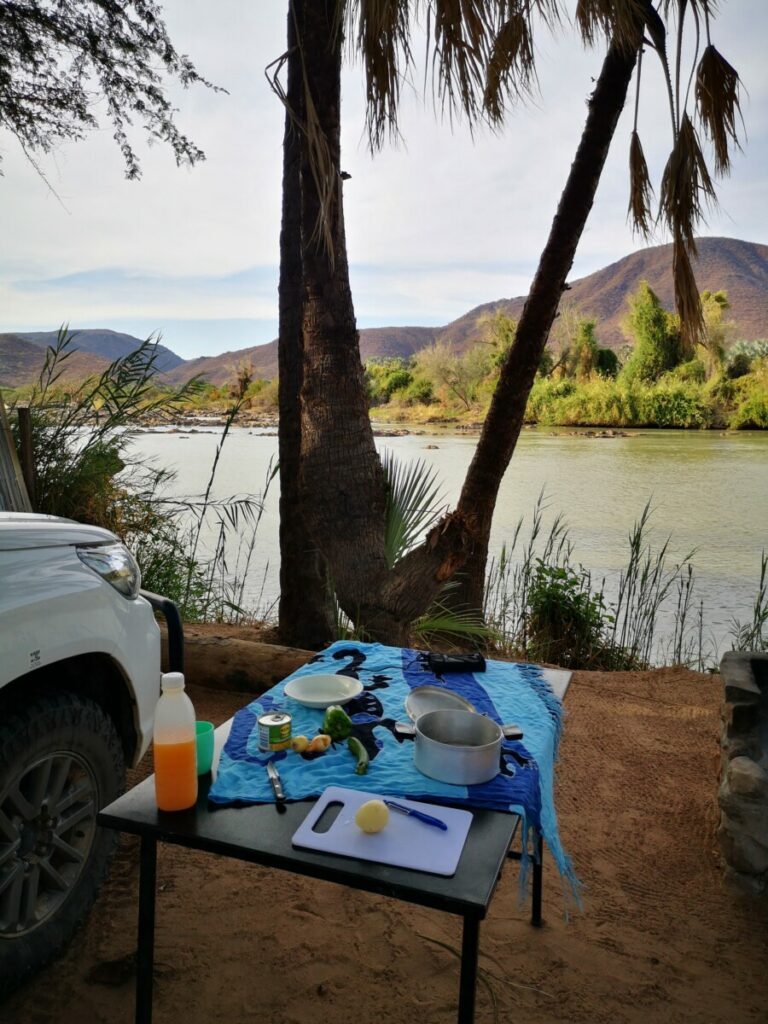 Most beautiful Sunset at the Kunene River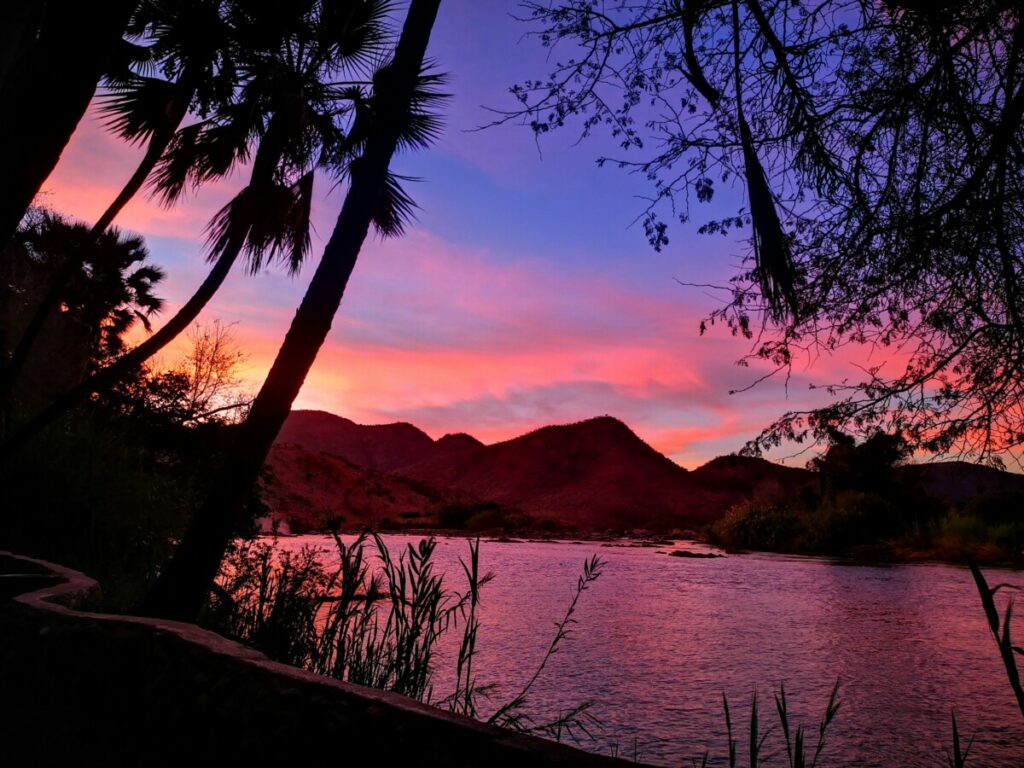 The next day, I went for a walk along the river upstream. I saw birds, people who went bathing… Not alone but together, so also taking good care of the surroundings. The local people use the river for water anyway. I understand it, of course.
On the other side, you see very little life. I saw an Angolan man walking with a buffalo and I saw another man chopping off palm leaves. On the side where I walked, there was a bit more life, but not much either. There is a small village next to the campsite. I tried to find a name for the small settlement but no, it will probably be called Epupa.
When I passed it that morning, I saw a number of slaughtered animals hanging at the local butcher's shop. They were cut and sold on the spot but also fried and eaten. In no time, the animal is finished and when I passed by later that morning, the shop ( the shelter ) was closed.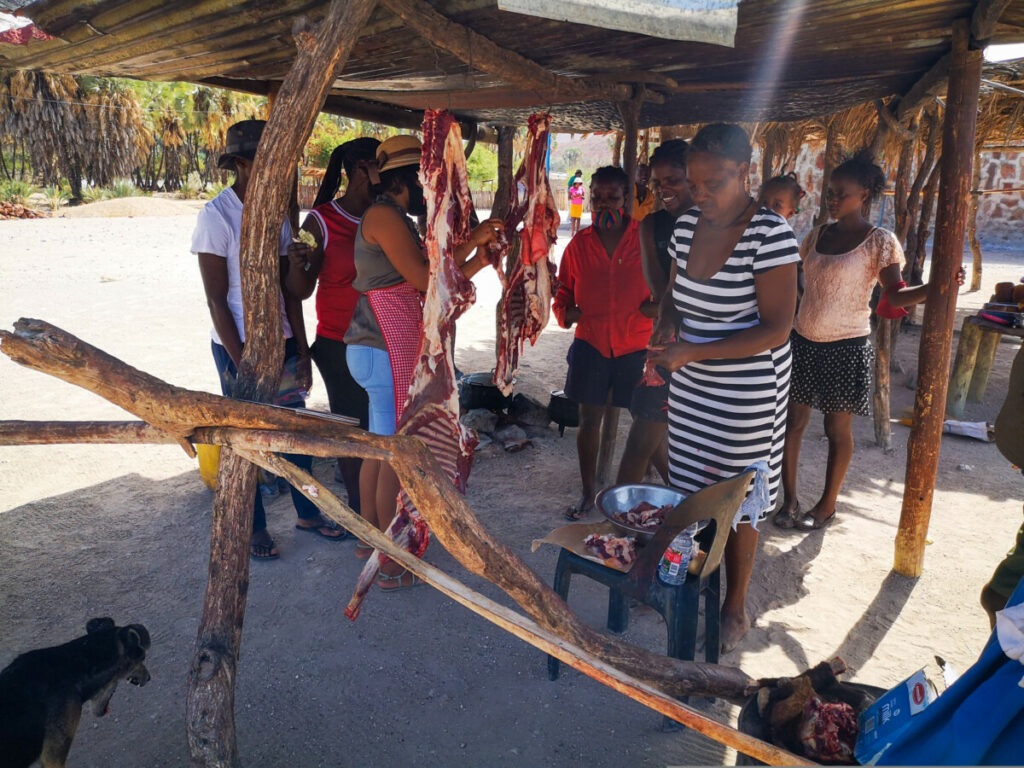 I stayed at Omarunga Epupa Falls Gondwana Collection
Ruacana – Kunene River
After two nights, I continued on to Ruacana. It is about 300 km and I had heard that you could drive along the Kunene River for quite a long time so I decided to take the first exit that let me go along the Kunene River. After a while it became really difficult to drive and there was almost no visible road anymore so I went back a bit and when the road was a bit wider I turned around. Back to the village near Epupa and first I took the other road. It didn't take long before I found myself driving along the Kunene River again, fortunately.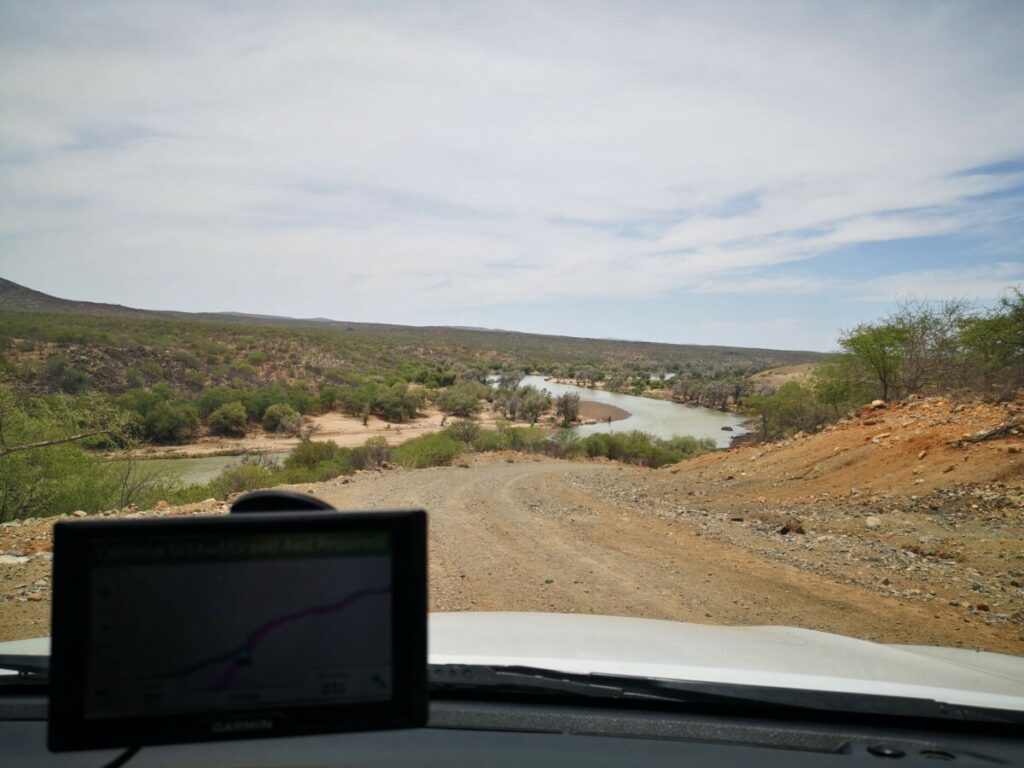 On the way, I came across many beautiful views. I also saw a couple of women fishing along the Kunene River. One was even heavily pregnant. I had a 'chat' with them, as far as that was possible with hands and feet. I stood there looking at them for a while and treated them to some dried fruit.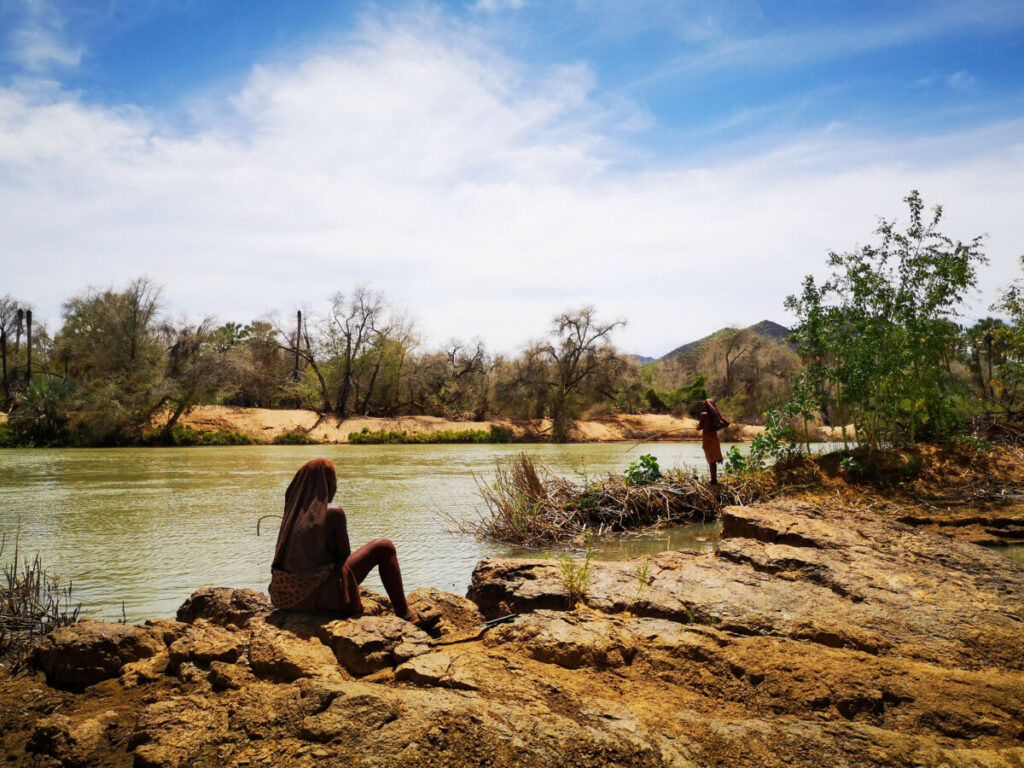 Himba along the Kunene Rive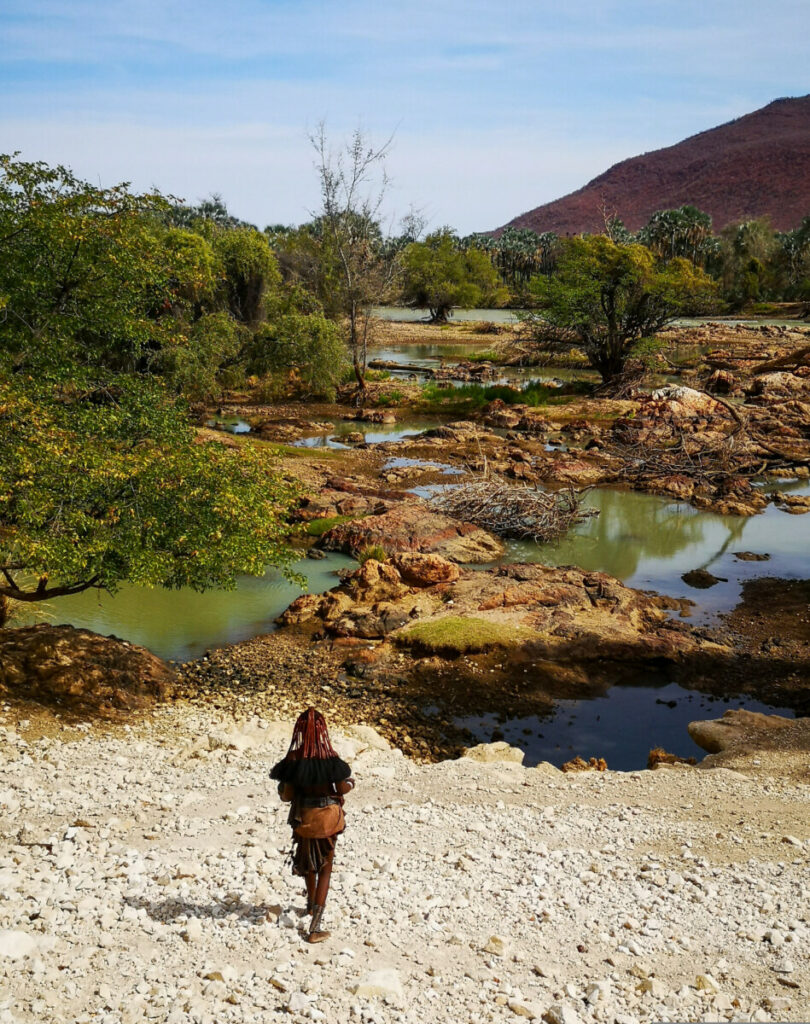 After a few hours' drive, I arrived at Kunene River Logde. I had a room here and checked in to have a nice shower and unpack everything. Every now and then, it is nice to have a bit more space to unpack your bags without getting everything covered in sand. After this, I sat down on their beautiful terrace above the river. I sat here for hours watching, looking for birds and of course a crocodile … which I still had not seen.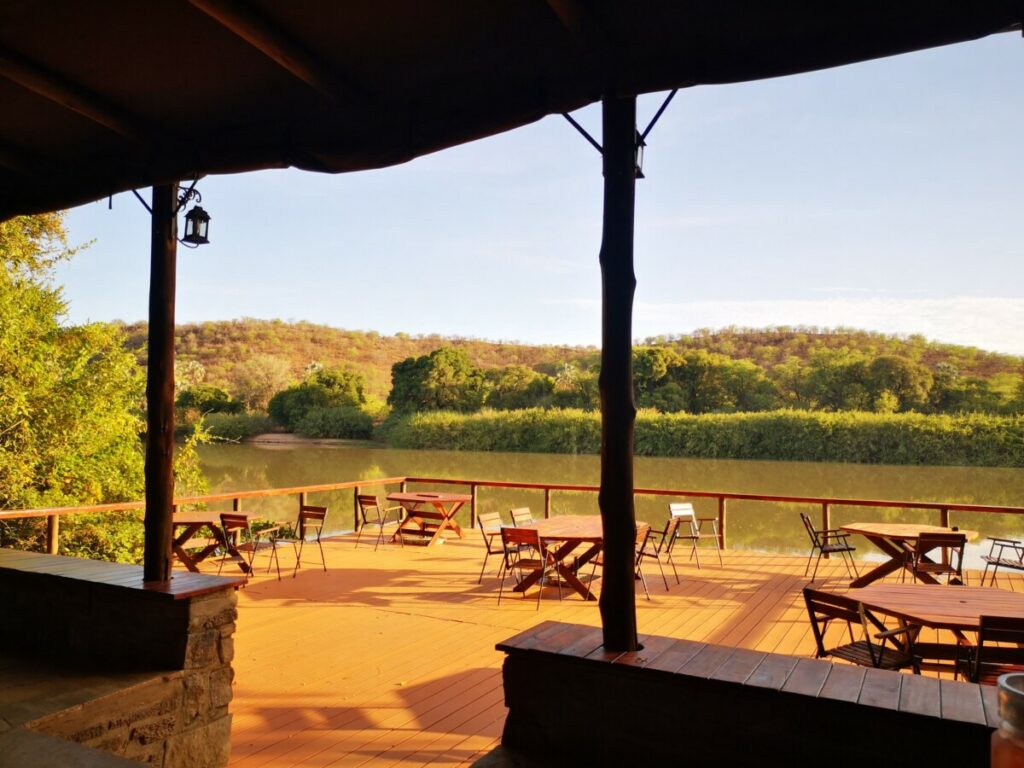 I heard later from the people who have this log that the Angolans poisoned all the crocodiles here. They threw poison in the river so that they died and so they protected their cattle. Their cattle which of course drink water from the river. Terrible, isn't it? I understand that in poor Angola they want to protect their animals, but you can't imagine that they would throw poison in a river.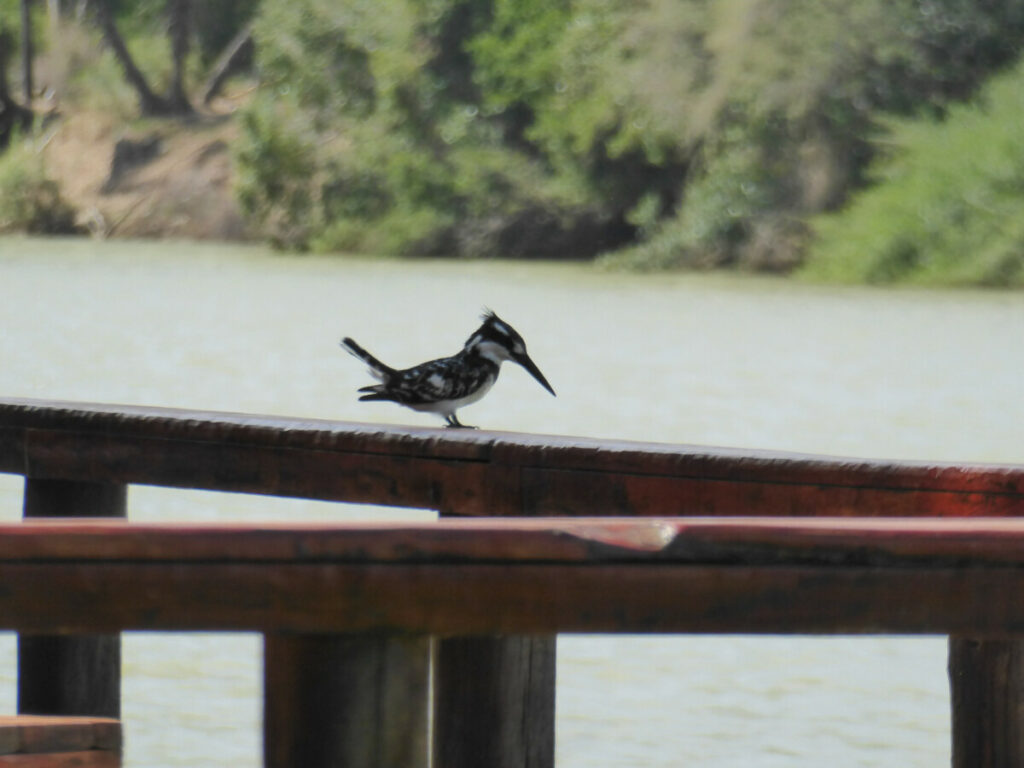 I rented a kayak from the lodge for half a day the next day. They brought me a few kilometres further along the river so that I could kayak slowly back. What a great morning! I should have kayaked slower and perhaps made a stop along the river. I saw several birds flying and standing. The area along the river was also cool to see. What a lovely relaxing morning on the river and thoroughly enjoyed myself!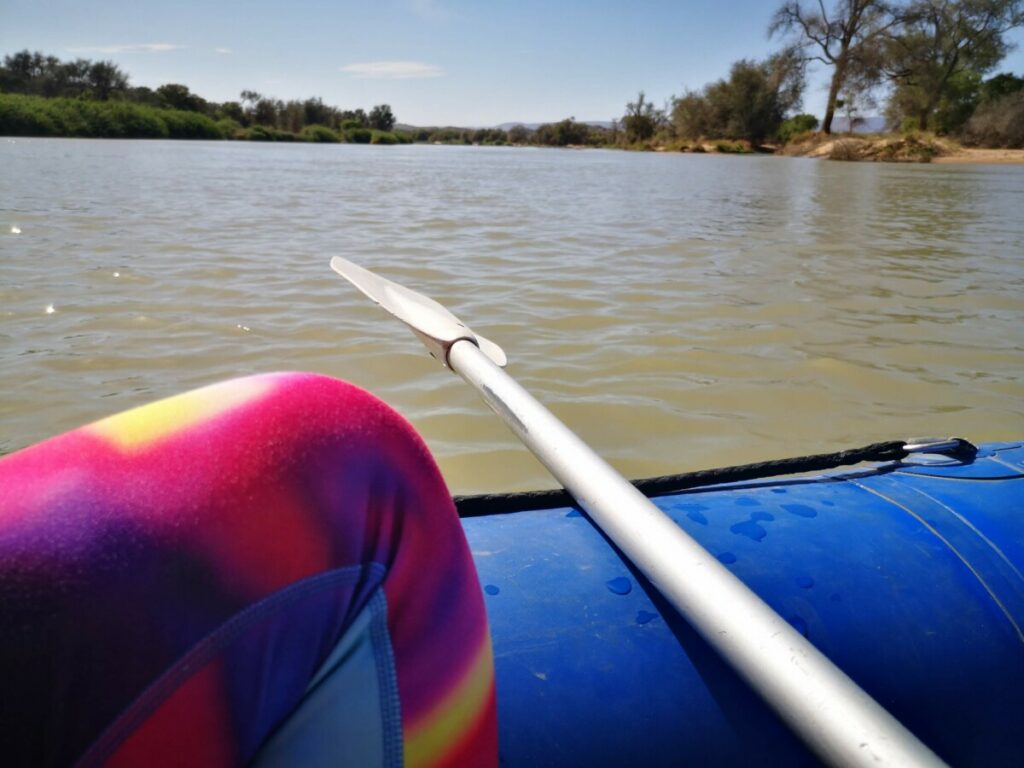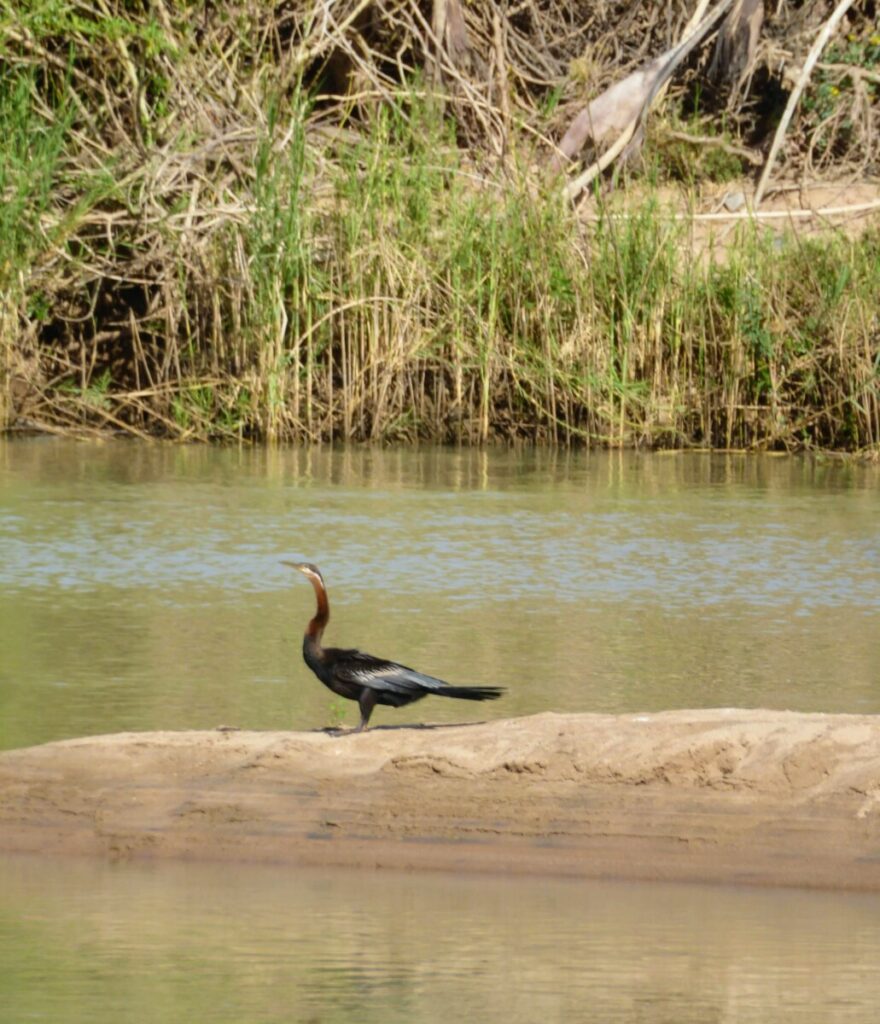 But also on the grounds of the lodge itself I saw some nice animals.  I saw an owl in a tree, to be honest, I was of course told about it by the couple who live there. And I saw a huge bat, how big! Never did I see them up close before. Very cool to see them hanging like that. Close to the swimming pool, which is at the very back of the property, there were many monkeys. I didn't use the pool here but it was in a nice open area. I sat on the terrace a lot and used the binoculars. Spying Angola, looking for birds and still hoping for that crocodile.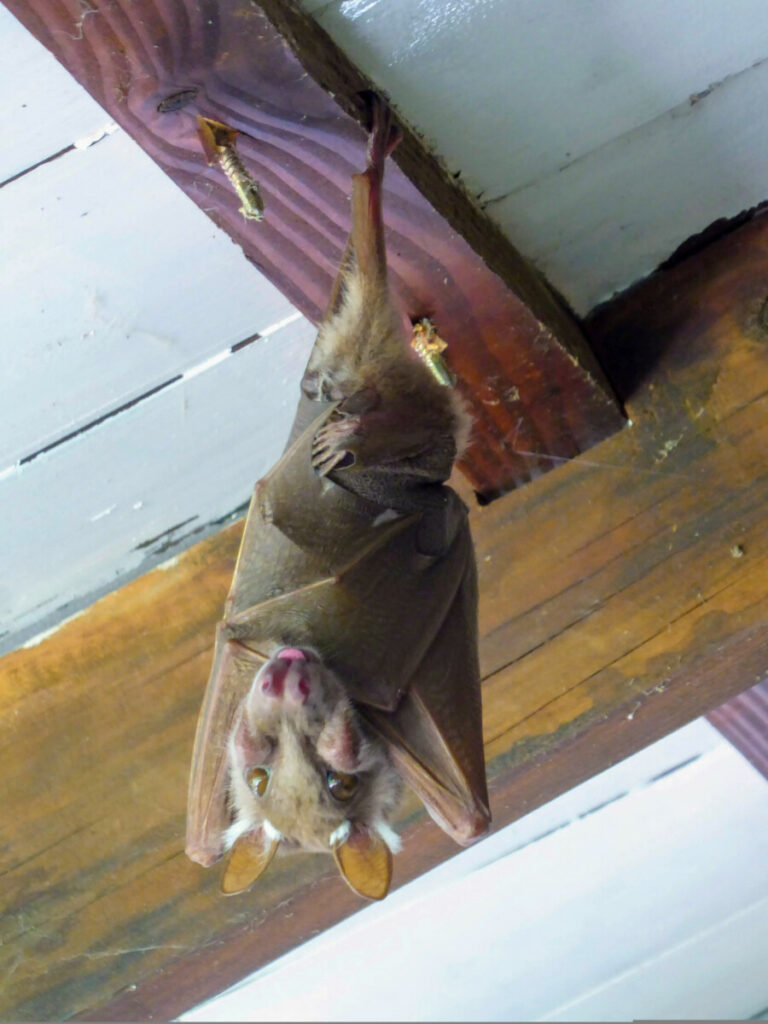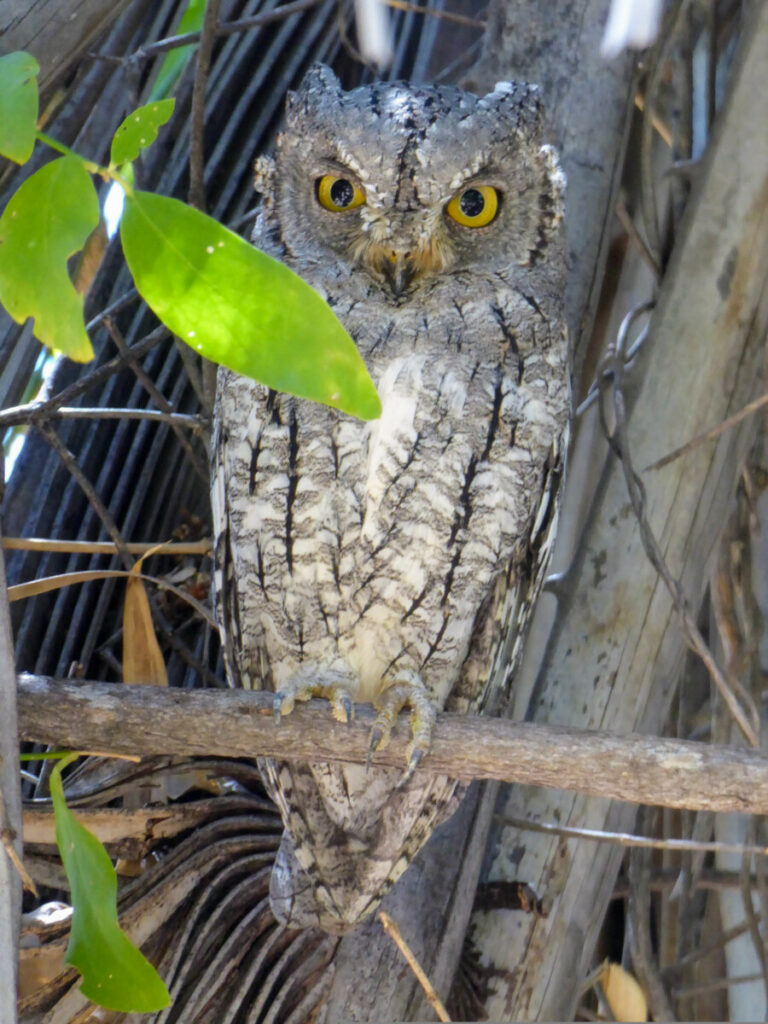 After visiting the Kunene River, I drove on to Etosha NP from where I explored the park in 7 days and camped at a number of different places.
Do you like these places too?
Save this post in your favourites for your next trip!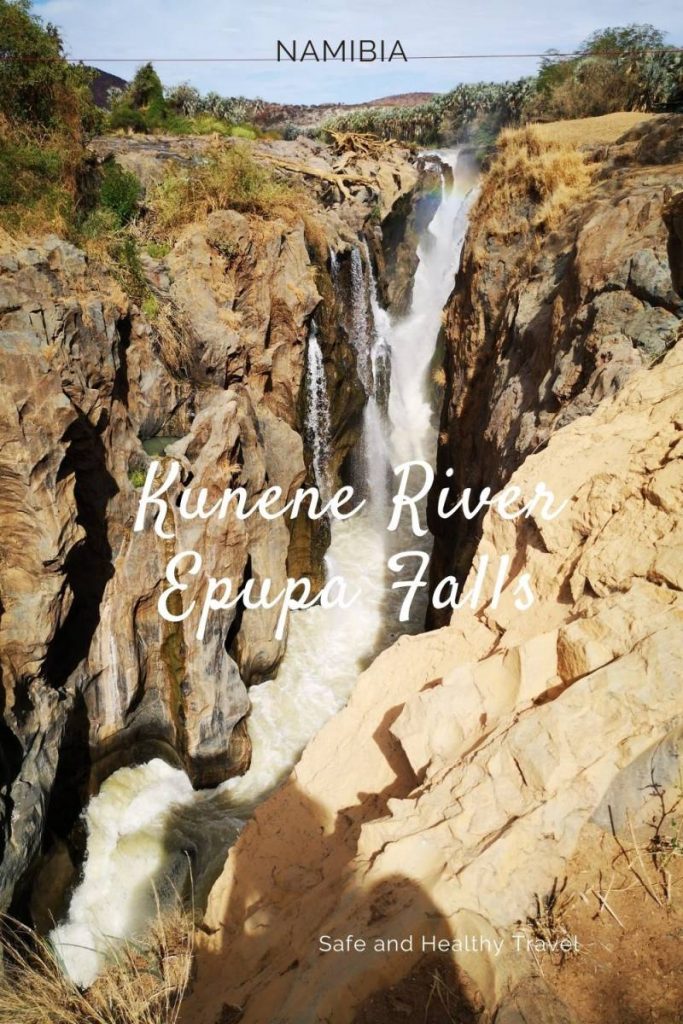 Want to read more about Namibia?
Sossusvlei & Deadvlei – Namibia's most iconic spot
De Himba Bezoeken –  Opuwo
Visit the Ghost Town Kolmanskop en coast city Lüderitz
Visit Fish River Canyon – Canyon Roadhouse
Highlights Damaraland – Palmwag, Twyfelfontein, Skeleton Coast etc
Check my whole trip of 10.000 km too
Solo Travel Namibia by 4WD – 10.000 km Travelling Solo in Namibia
I hope you enjou this beautiful world as much as I do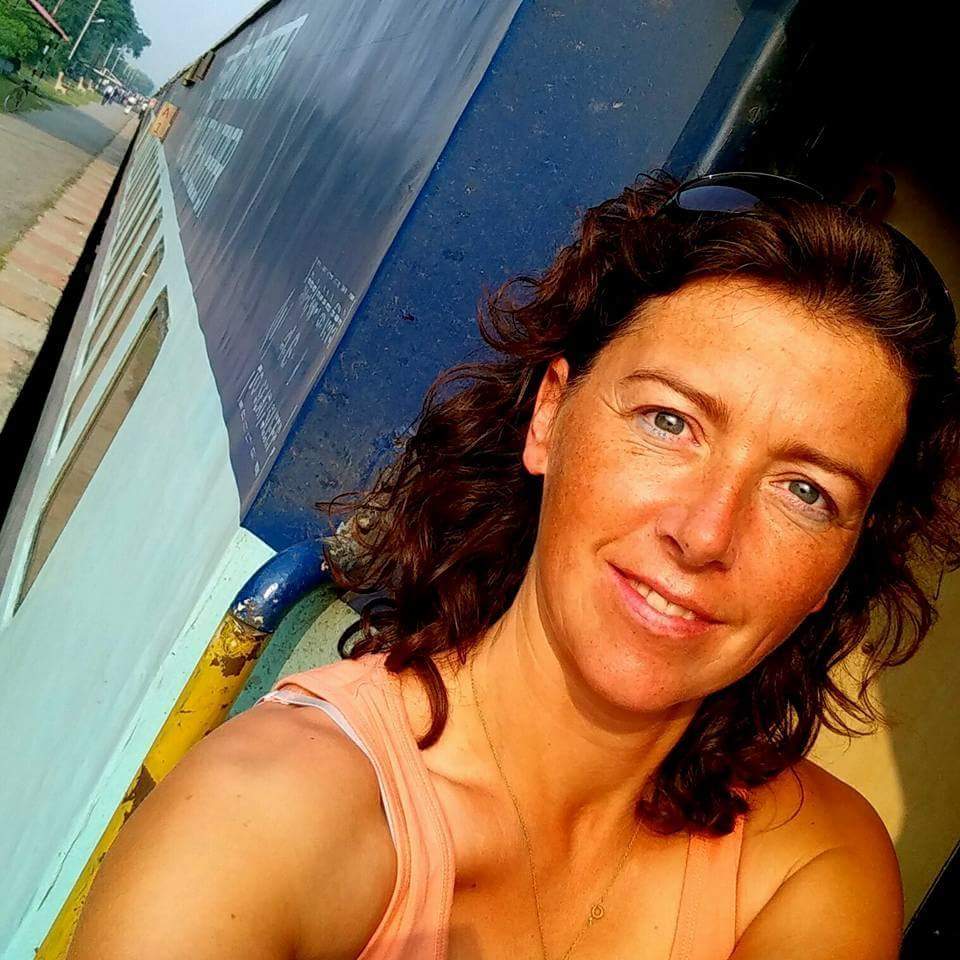 Jacomijn is een politieagent uit Nederland die jou graag laat zien hoe je veilig, actief en gezond de wereld kan over reizen. Safe and Healthy travel is a MUST