Hiking the Hanzestedenpad – SP11 – Hiking along the river IJssel – The Netherlands
|
Have you ever heard of the Hanseatic Cities in Europe? In The Netherlands we have several and now you can go hiking the Hanzestedenpad which leads you along several of these Hanseatic Cities! I didn't know about it until I happened to do a stage of another route that overlaps this Hanzestedenpad. This first hike took me along IJssel the small city of from Brummen to Zuthpen and when I came across the signs of the Hanzestedenpad along the way it gave me an idea.  A long distance walk (LAW) along the IJssel and the Hanseatic cities seemed very nice to me.
A long distance hike is reffered to in The Netherlands as LAW – Lange (long) Afstands (distance) Wandeling (Hike)
Earlier I wrote about Deventer and Kampen, two beautiful Hanseatic cities. This route takes you along those two beautiful cities but also Zutphen and Zwolle. Since I live in Overijssel I can walk this IJsselwalk easily in stages! But for you to travel through our country by hiking this path would be just wonderful!
Hiking the Hanzestedenpad leads you 120 km into The Netherlands. The route is divided into 7 stages of about 15 to 20 km each.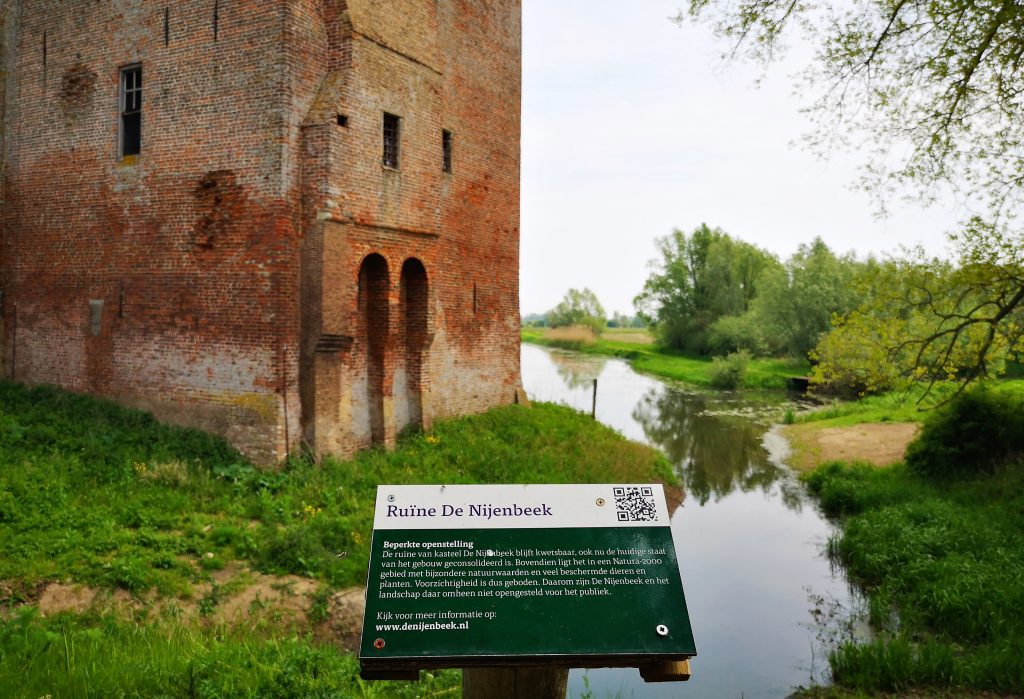 Or look at this challenging hike in Luxembourg: Lee Trail in 3 days

After that first hike I decided it would be the best to go hiking the Hanzestedenpad in the upcoming year. I unfortunately didn't make it that first year. I did love every stage of it!
If you want a short variation on this walk you can choose the IJsselvallei walk of the traincompany NS (32 km). It is easily accesed by train. This can be done in 2 stages and goes from Zutphen to Deventer and then on to Olst.
The hike is as much as possible on nature trails. Where there is no other possibility we take a piece of tarmac road. Because of the abundance of water, the IJssel and the floodplains, there are of course many meadow and water birds to be seen. I walked mostly in the spring so all the greenery came alive and blossomed!
The path is numbered Sp11 which means regional path 11. And so there are several LAW regional paths. When I started searching I came out at wandelnet.nl and saw many other beautiful LAW walks!
This in turn provides inspiration for other walks 🙂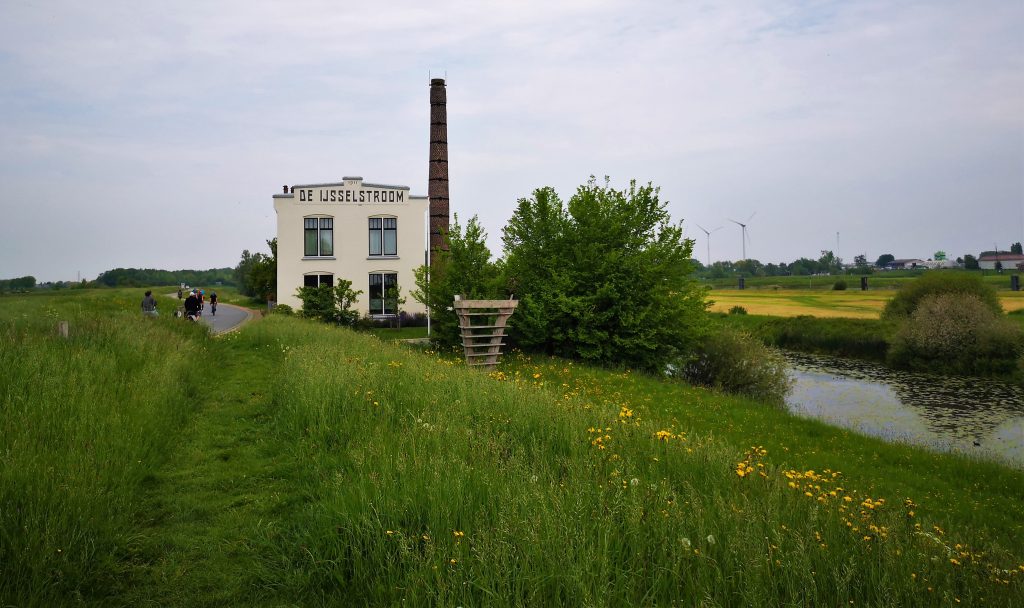 Doesburg – Brummen 19km SP11 (01)
The first stage hiking the Hanzestedenpad is from Doesburg to Brummen, a walk of 19 km and I did it at the end of April 2020.
In Doesburg you start on the outskirts of town and then the signs pointed me out of town… Strange, I thought. When I took a closer look I saw that I was led to the edge of the canals to walk to the town in a circular motion and then to the IJsselkade.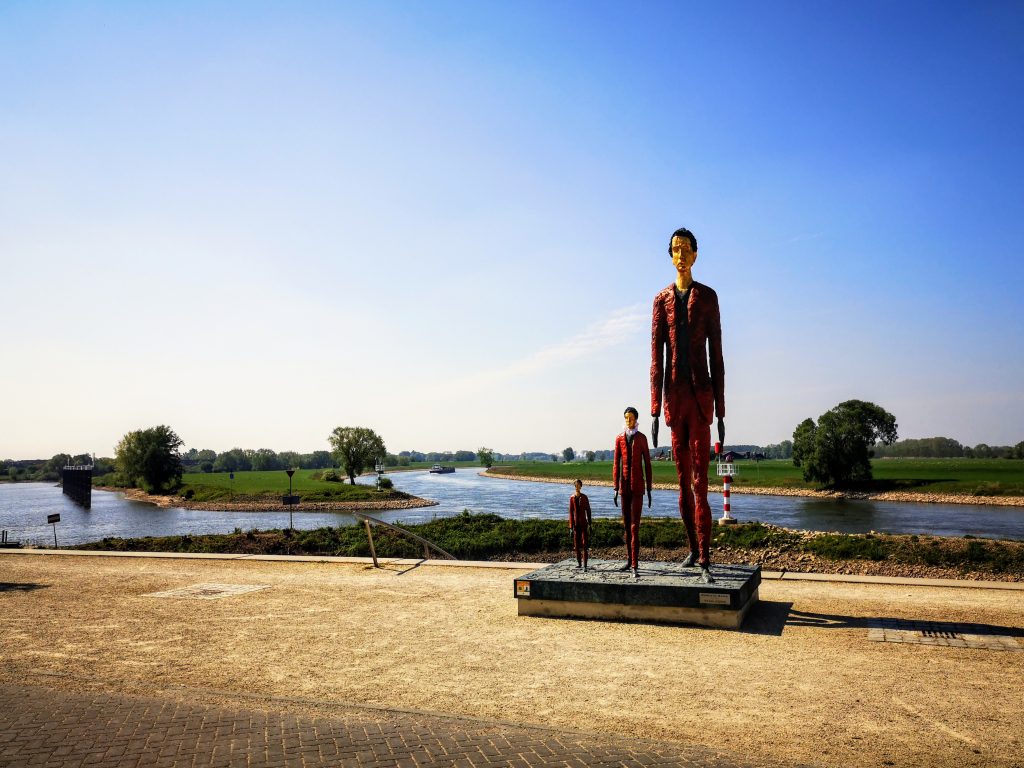 There you have a nice view on the church of Doesburg.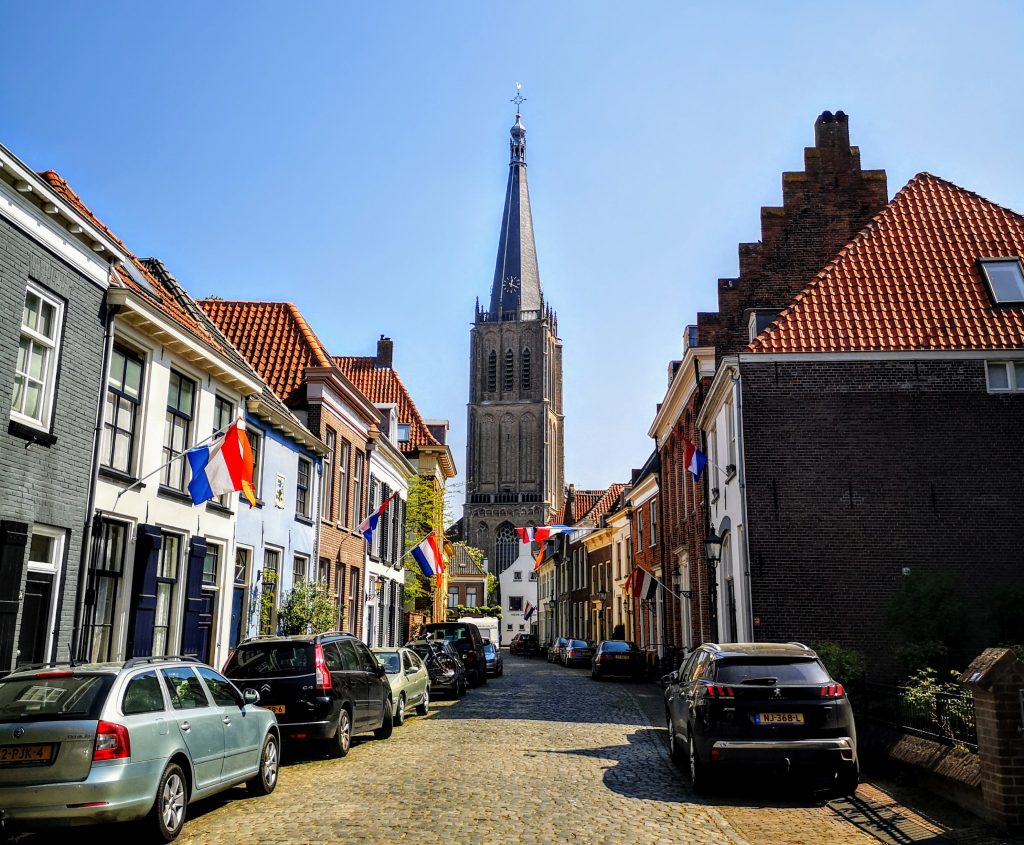 I love such an old town and I love to see those old houses. The idea that 100 years ago people had this same view is super, right?
Soon you disappear under a viaduct, turn left and a little further to the right you start to hike on a dike and start the long stretch along the river IJssel. There was still a breeze in the beginning of my walk but the sun was shining as well so it was nice walking on the dike.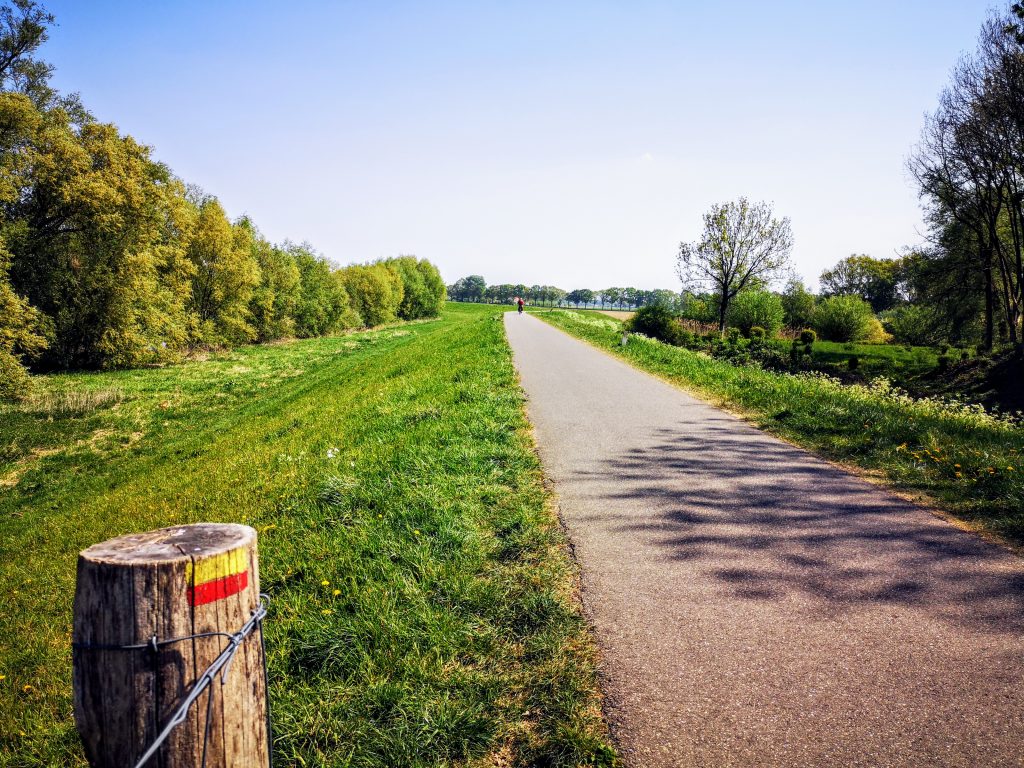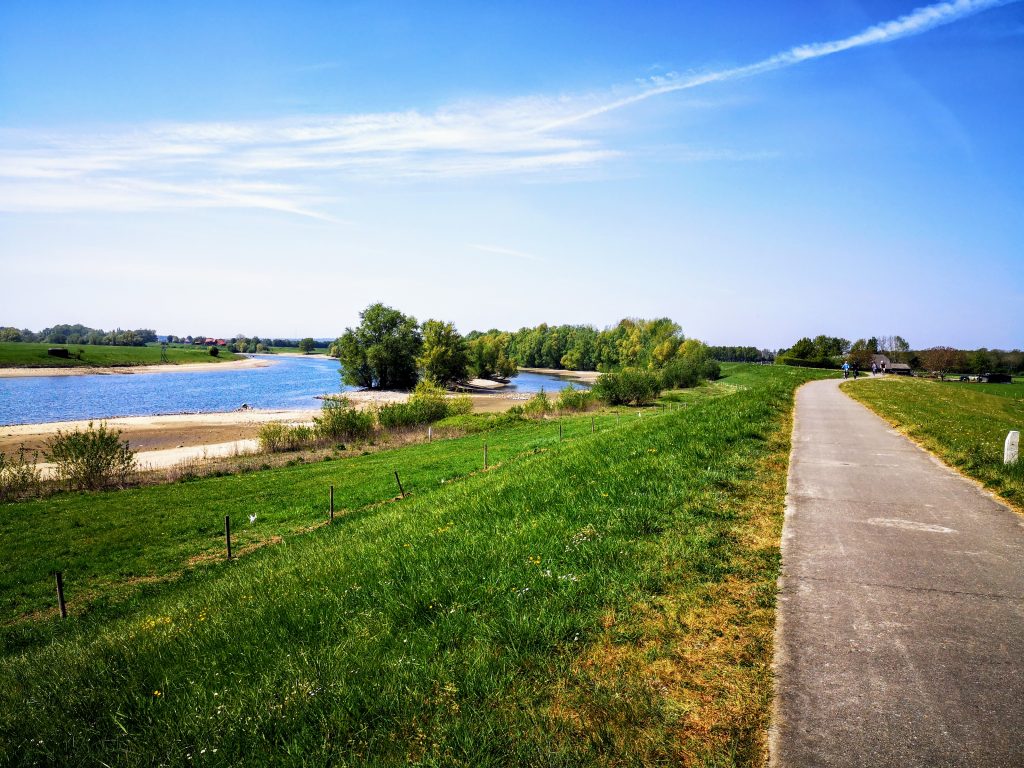 You will pass a number of campsites and a small harbour where you can get a cup of coffee at a restaurant and of course visit the toilet. In the period that I walked this stage everything was closed because of the Corona crisis and so I walked on and finally I sat on a bench just before I stepped on the ferry at Oud Dieren.
Keep in mind that you have to have 1 euro with you here… Of course you can pay by card, but you can't finish the walk if you don't have any money with you 🙂 For pedestrians to cross the river IJssel with the ferry costs one euro!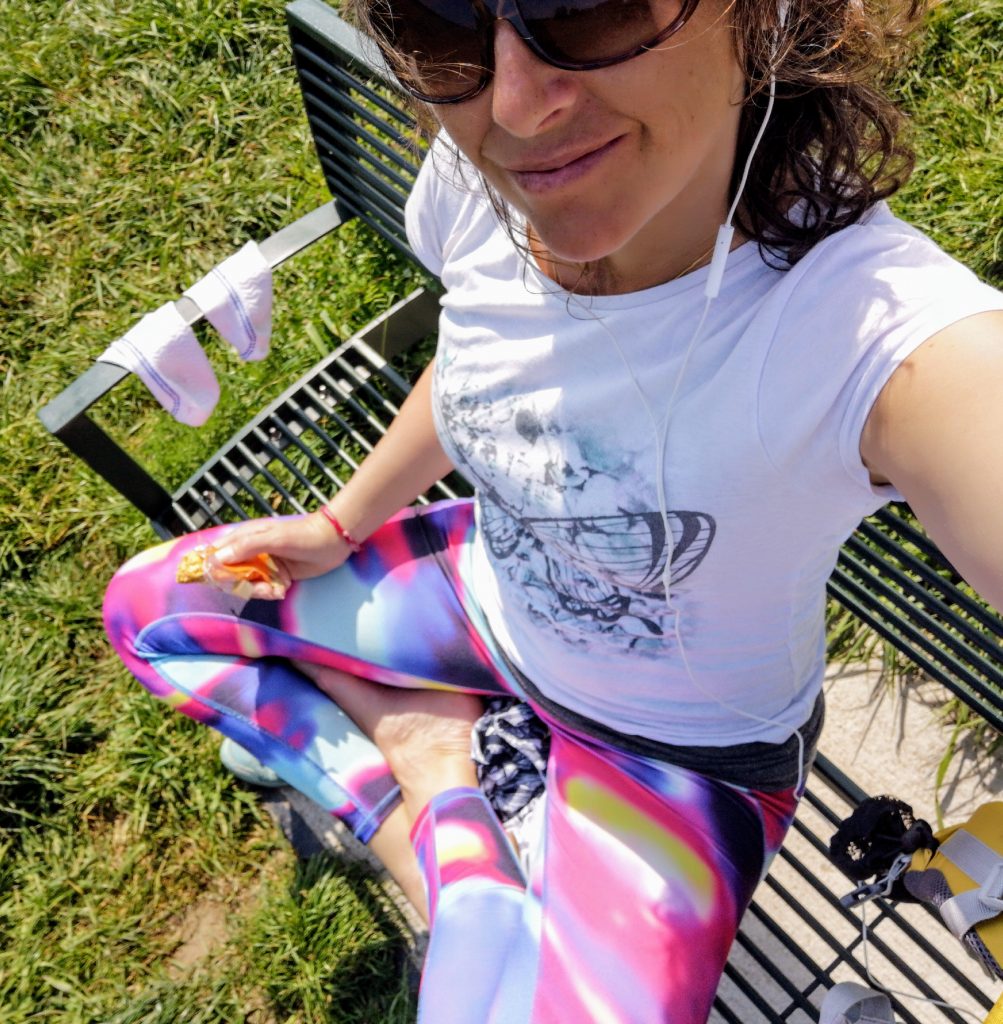 At this point you can also see that the route Graafschapspad (SP8) and Hanzestedenpad (SP11) cross each other. I saw the sign earlier this day. Maybe I should walk it too 🙂 This route is 116 km and takes you through the area of The Netherlands called Achterhoek.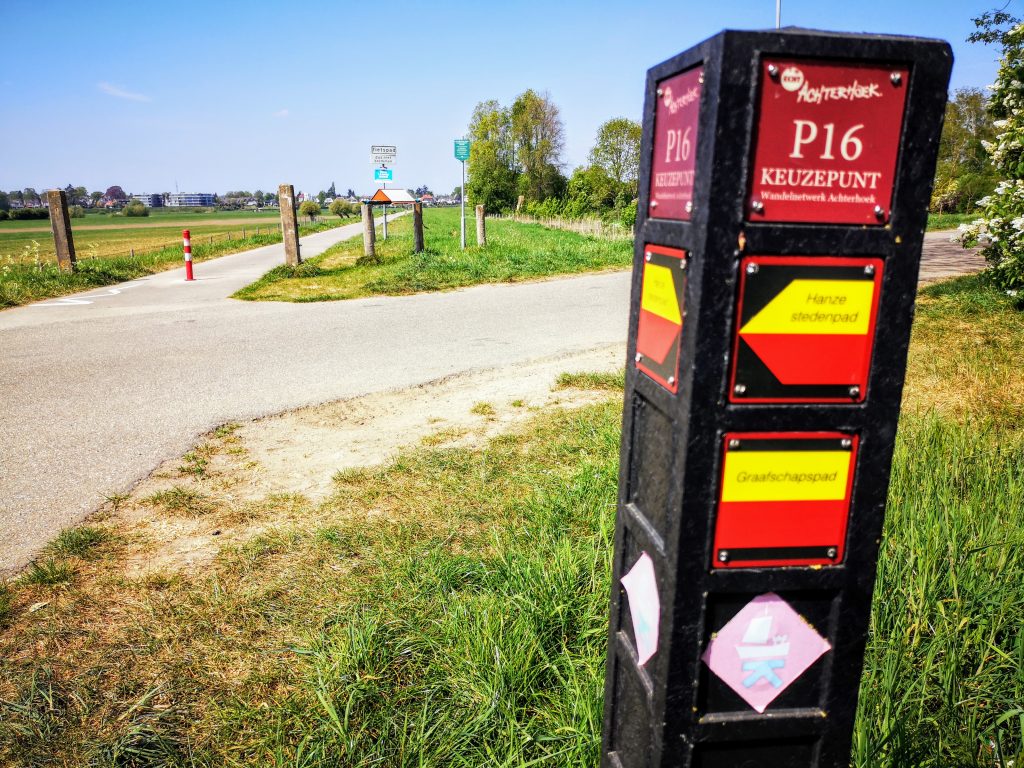 A very short walk through a district of Dieren and soon you'll be back in the countryside. Shortly after that you still have the small village Spankeren through which you pass. After this you walk more between the meadows and every once in a while into the forest. For a short while I didn't pay attention and could go back to pick up the turn I missed 🙂 Along narrow streams and sandy paths I finally arrived in Brummen.
I had a lovely walk!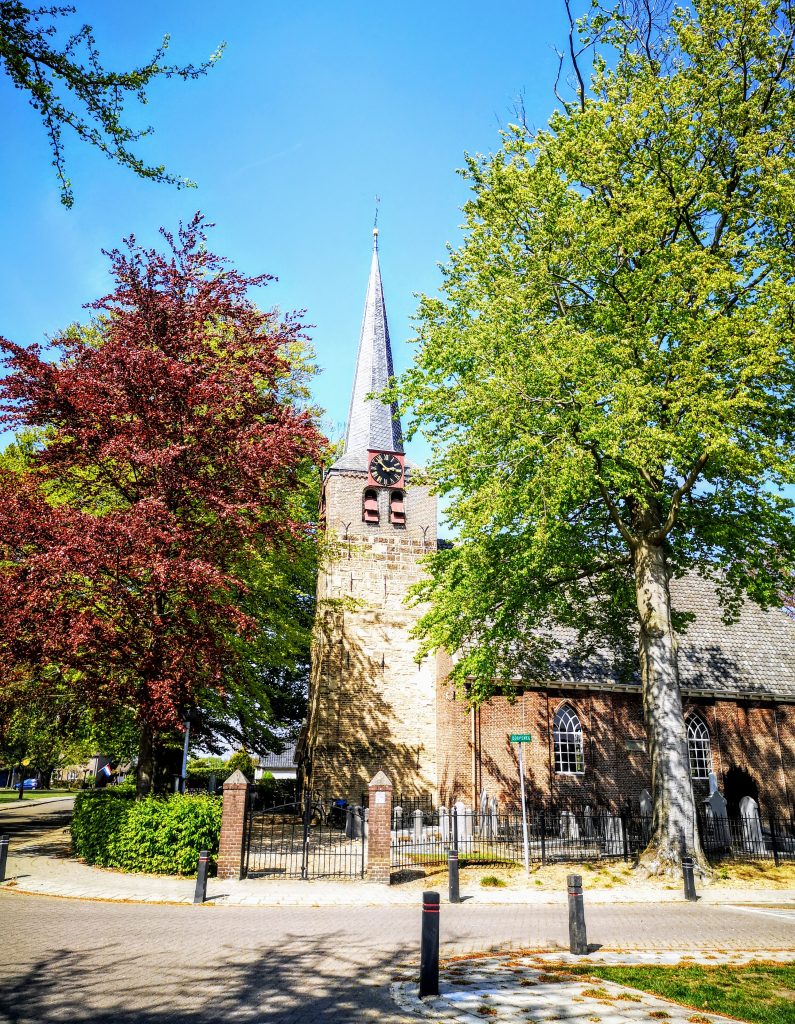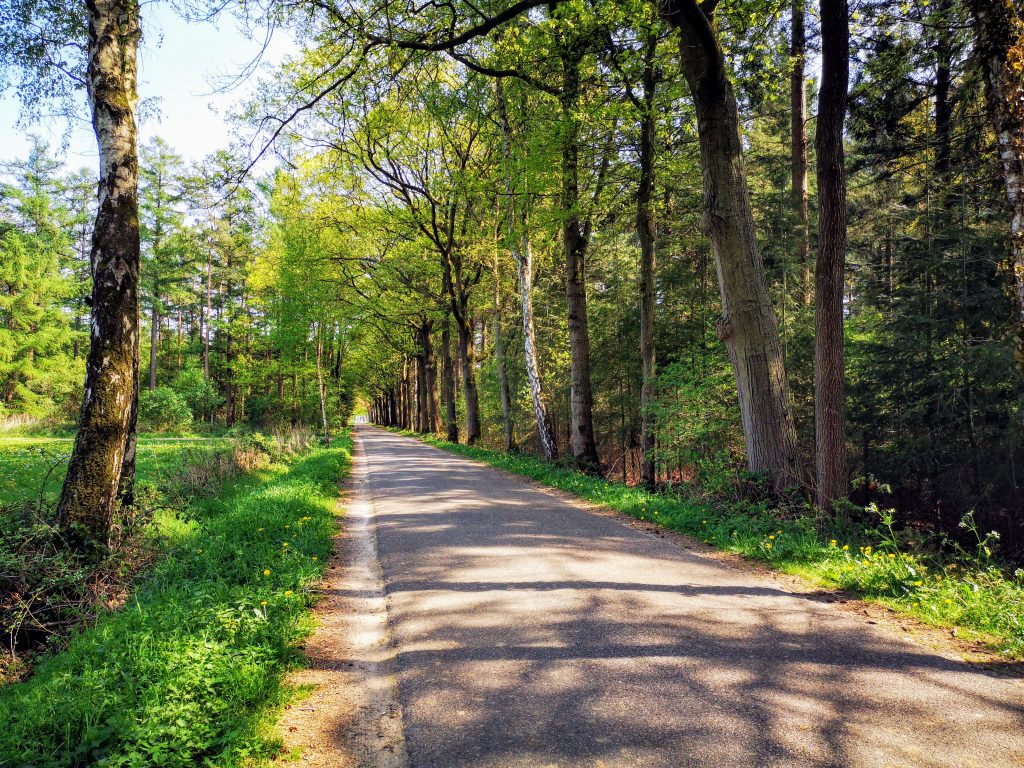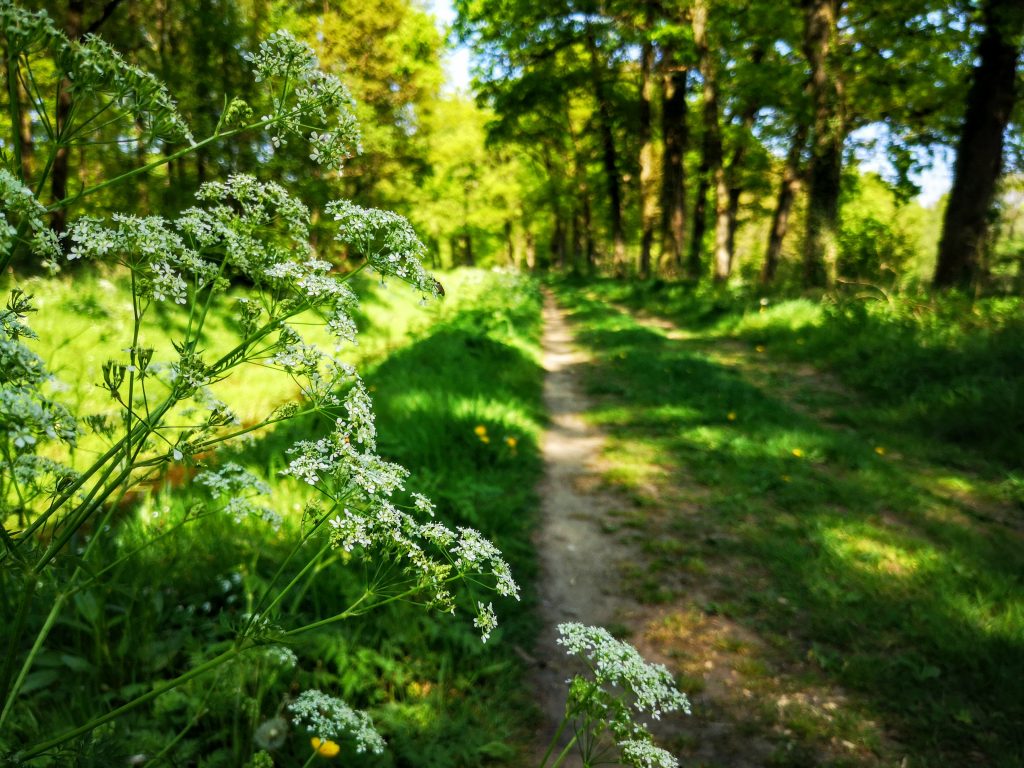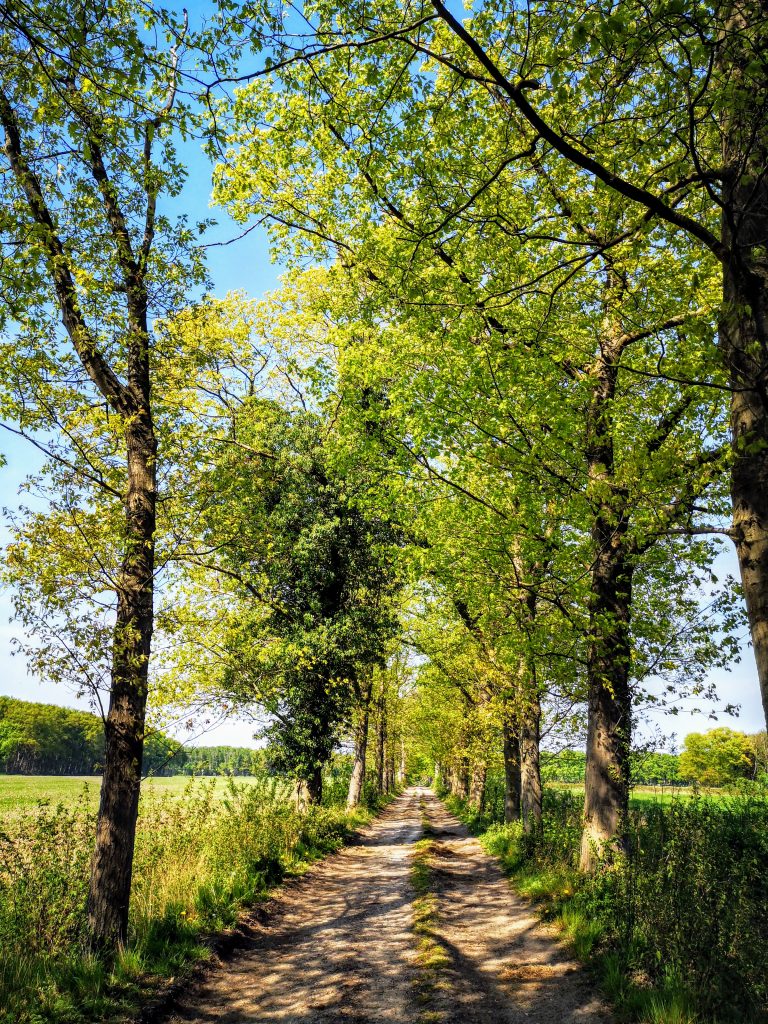 It took me about 4 hours to hike this stage of 19 km.
In the beginning it was a bit boring because of the long trip over the dike but after that I liked it a lot, alternating between the pound, the villages and the sandy paths.
Hiking the Hanzestedenpad
Brummen – Zutphen 16 km (Cortenear uiterwaarden) SP11 (02)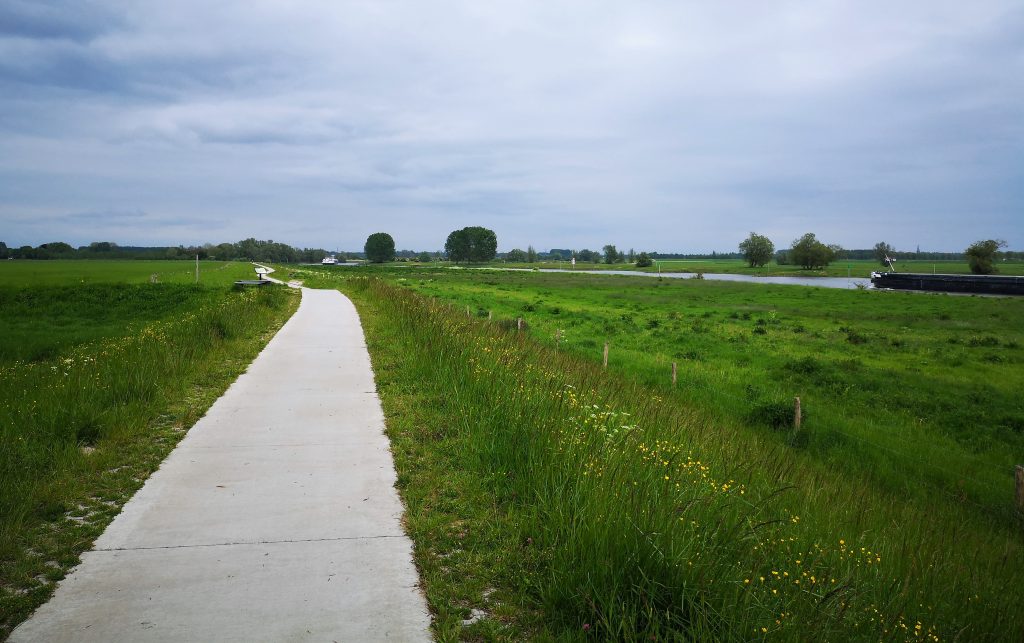 16 May 2019 I walked this stage only the version of the NS. Because I walked this stage for the podcast Reisgenoten we did this in the evening. In itself a bit of a boring walk with little challenge because it goes quite a lot over long paths with little spectacular views on the horizon. Good for the interview because we didn't have to pay too much attention to where we walked to.
The version I hiked was 12.5 km and takes you to Zuthpen also.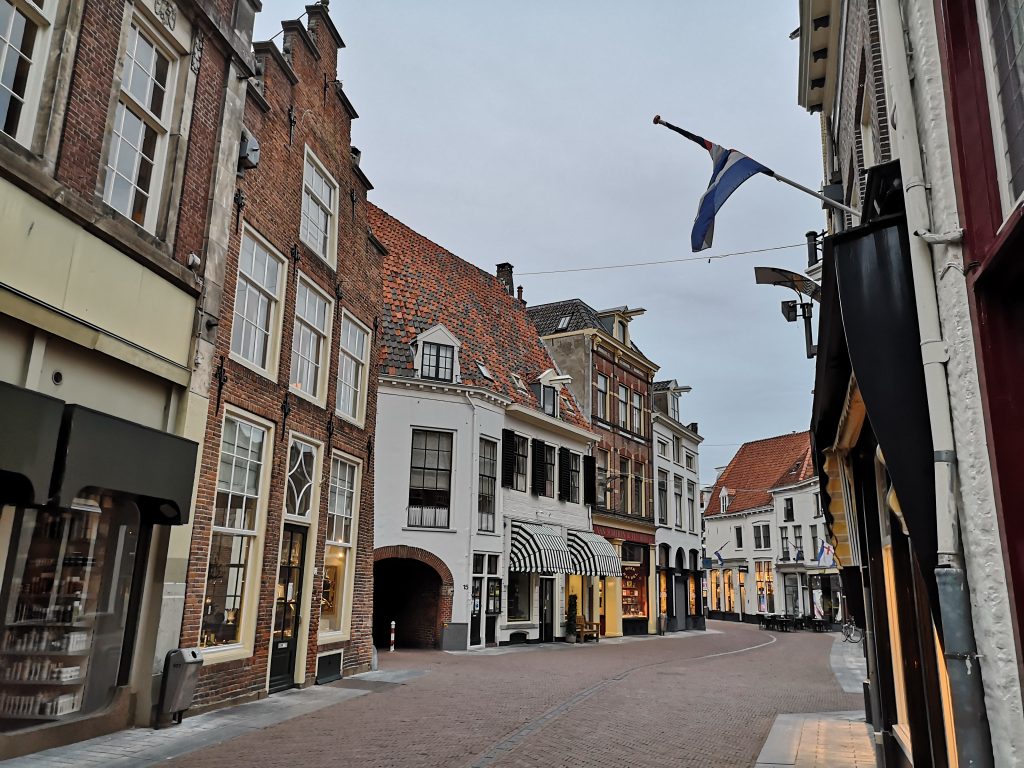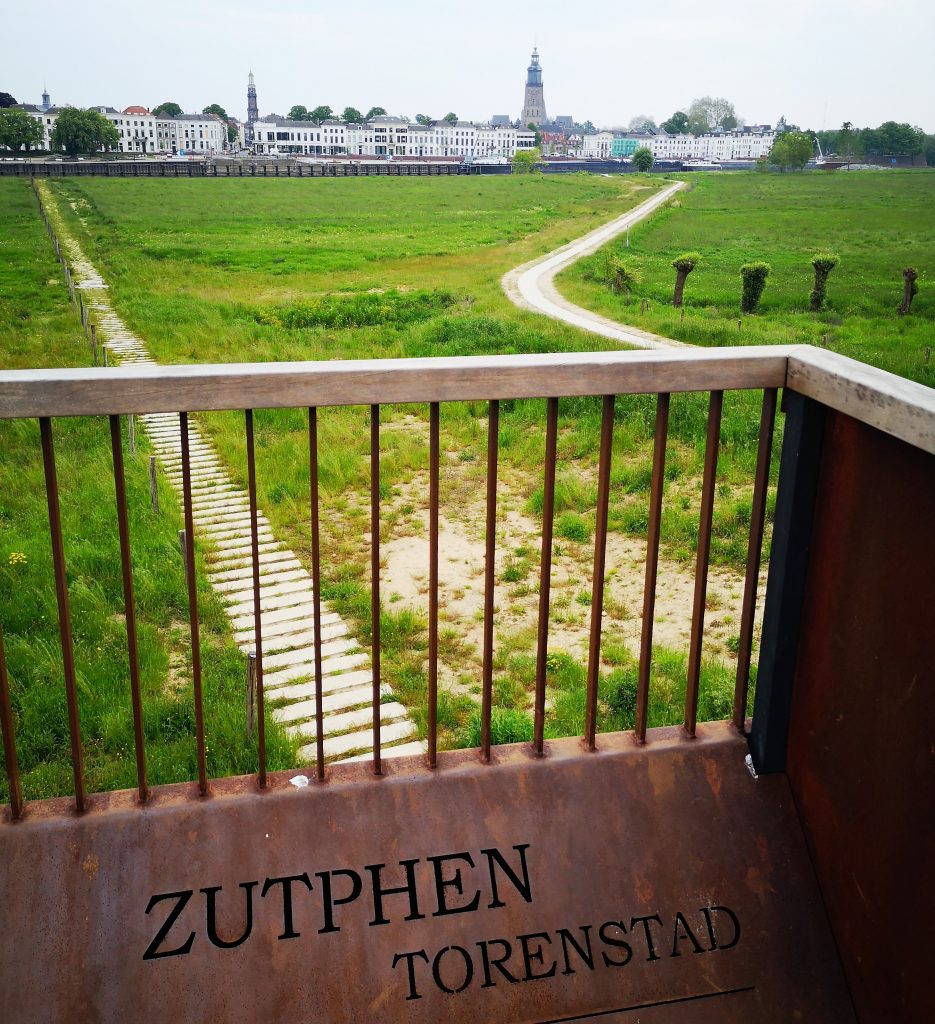 Zutphen – Deventer 18 km – SP11 (03)
A few days later I had a day off and decided to walk from Zutphen to Deventer. (May 18, 2019) 2 cities that are pre-eminently a Hanseatic city in my experience. I really liked this walk! It was full of spring colours and there are lots of blossoms and insects along the hiking path. Starting in the middle of the center of Zutphen and then you walk across the river IJssel and then immediately turn left into the nature reserve.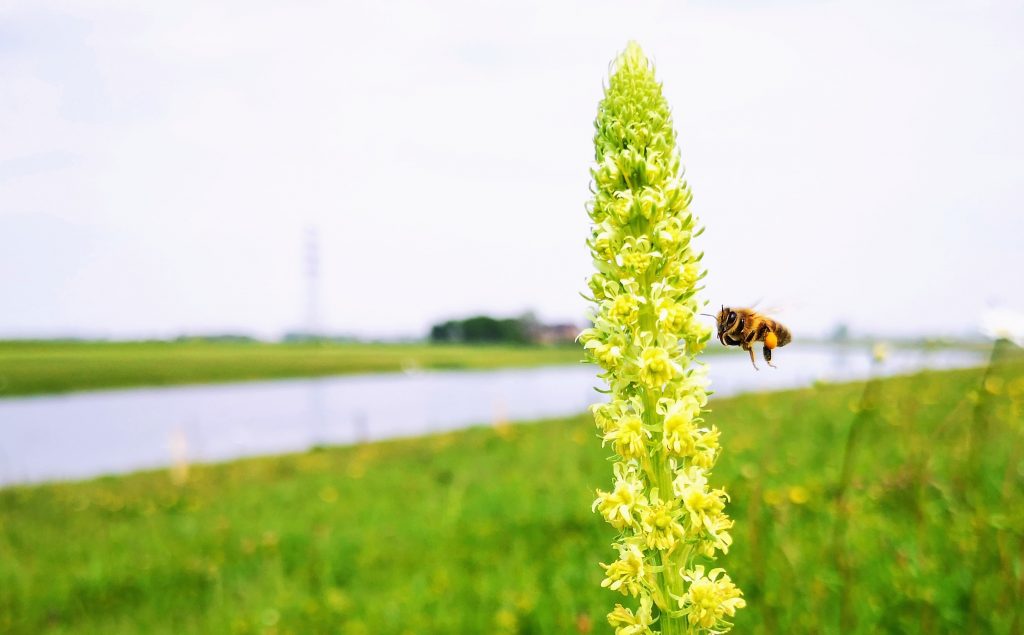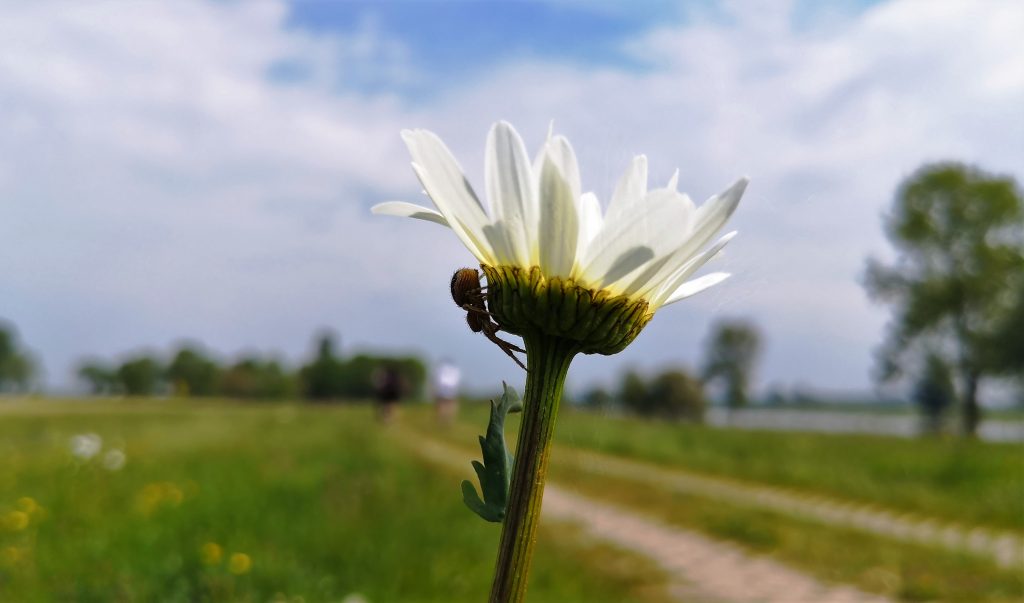 Taking enough time to take pictures of flowers and insects. I really like that!
Walking on, I passed the remains of castle Nijenbeek. I saw the turret from afar which gave a very nice view over the water! I walked a bit further over the dike and was glad that the path curved to walk back a bit so I came close to the remains of the castle. Still very special to see, a castle… or at least, what's left of it. Imagining that there was a castle and so there was a lot to do here in the old days.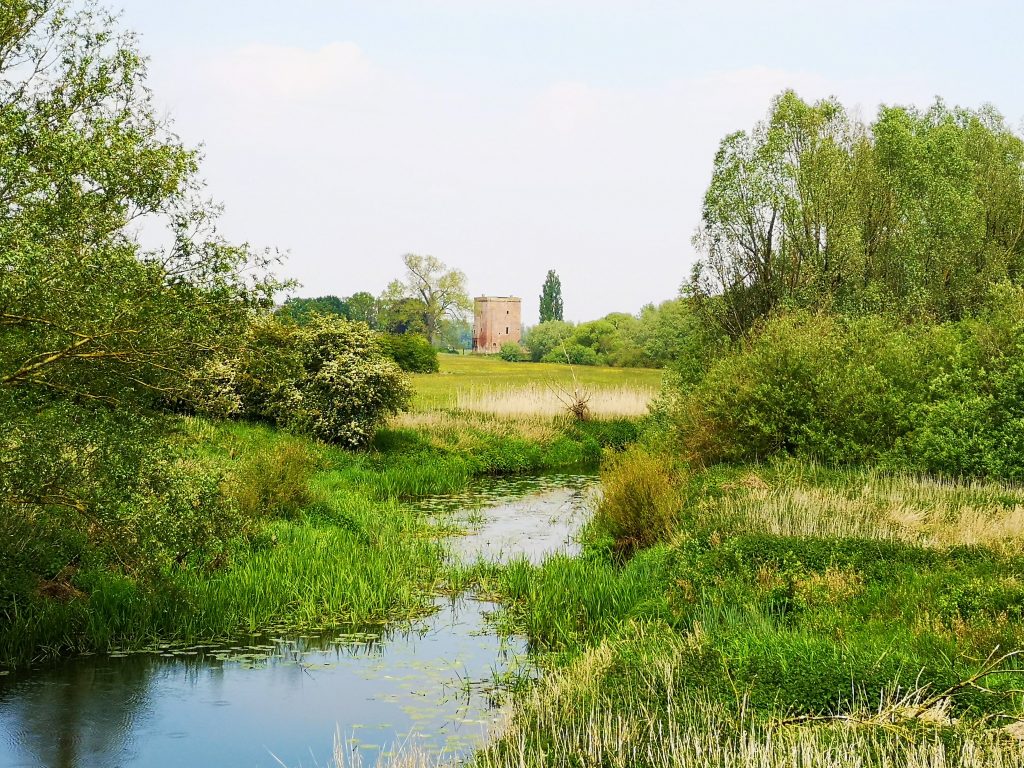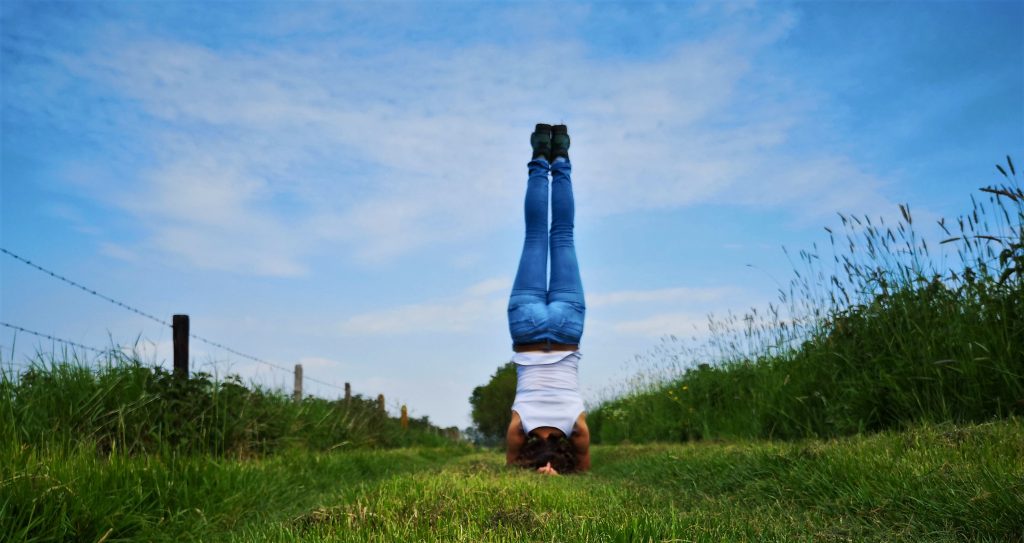 Further on I was allowed to walk over a fence to walk over the dike where the sheep also graze. How nice is that! The sheep didn't like it as much when they were lying on the path anyway, so I did walk around them so they weren't disturbed.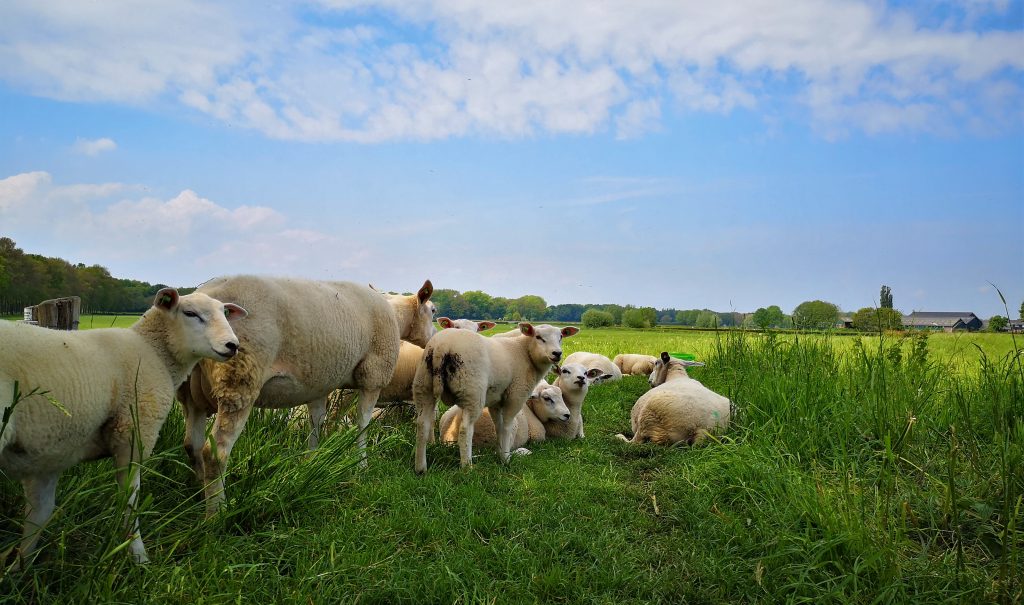 Moments later I took a short break near the river IJssel and talked to a couple who were cycling there. The man told me that if I watched a bit further I could still see the remains of the second world war. He had never noticed it untill he heard about it on TV the other day.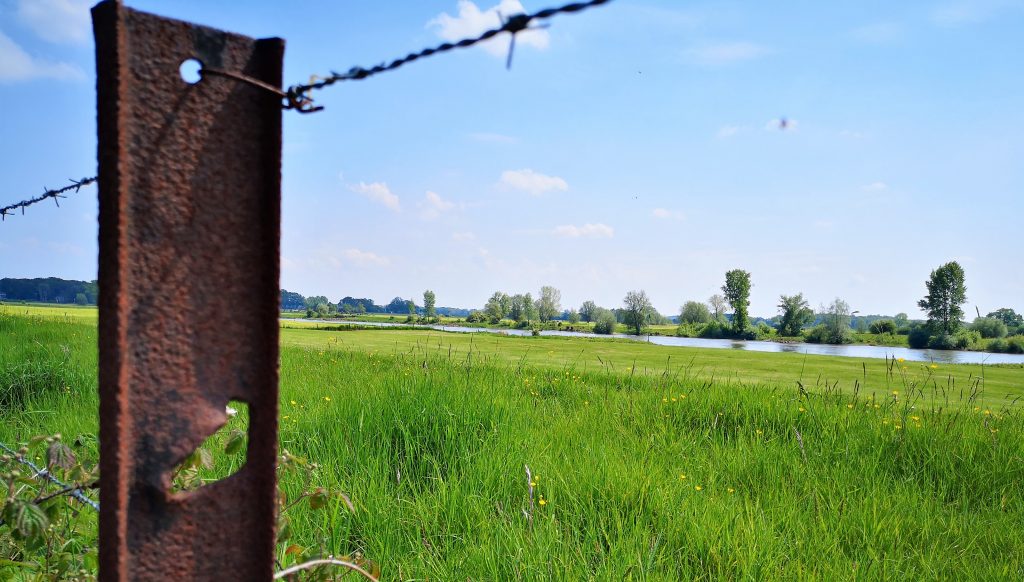 In the iron poles that separate the land from the road there are a number of bullet holes. When there was fighting, the Allies came on land from the the river IJssel and they shot the iron poles and that is still visible today!
How interesting!!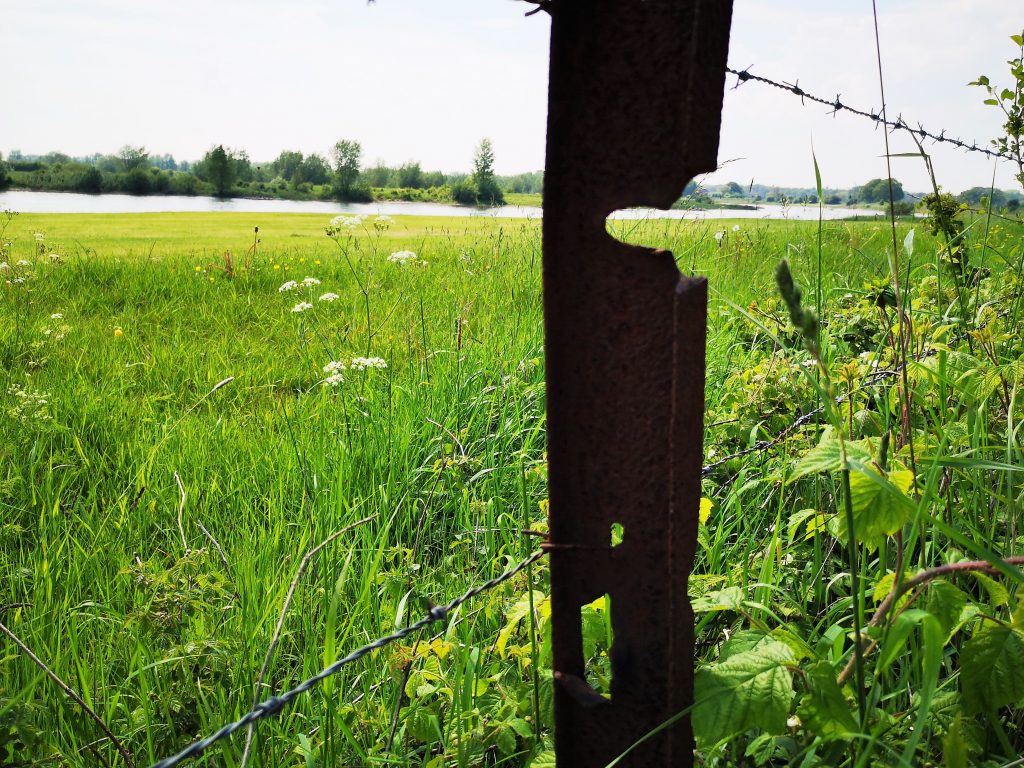 This is in the municipality of Voorst and just after you see the benches at the monument with the text: Crossing allied troops in the municipality of Voorst. So keep your eyes open and see them too!
And then the last stretch to the Hanseatic city of Deventer.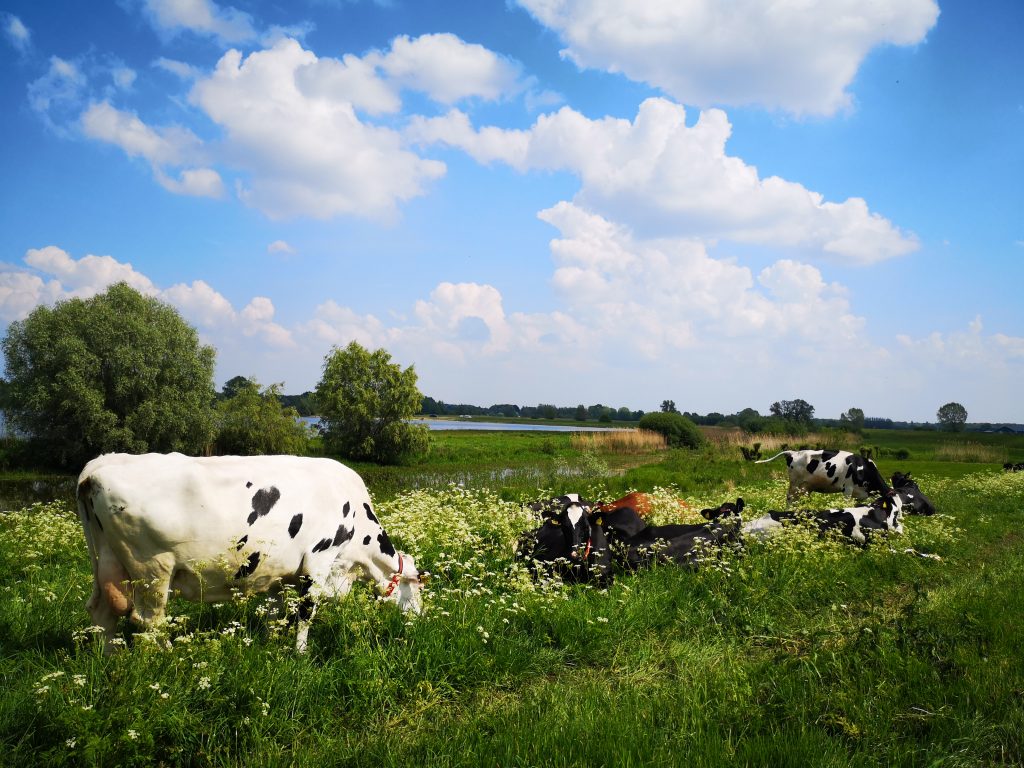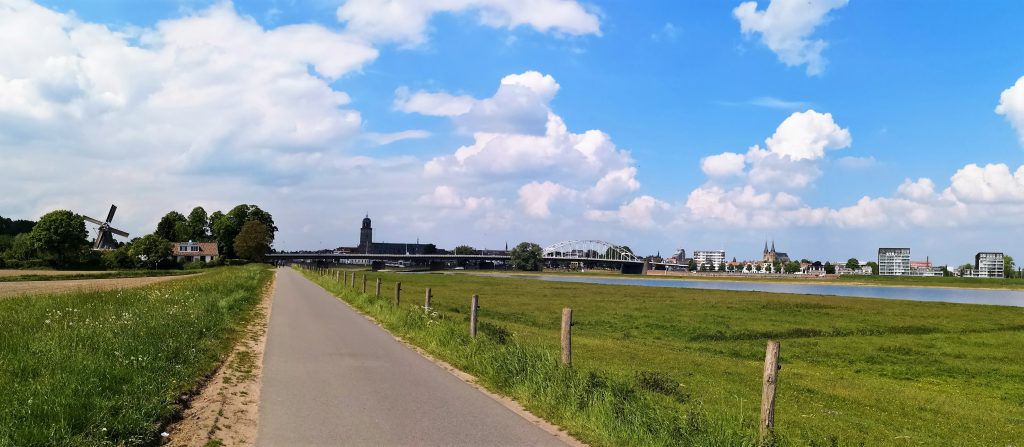 It was pretty hot that day, so I was glad I could sit on a terrace to have a drink and a bite to eat in the beautiful city centre of Deventer!
Want ot read more about Deventer?
Check Three Hikes in Deventer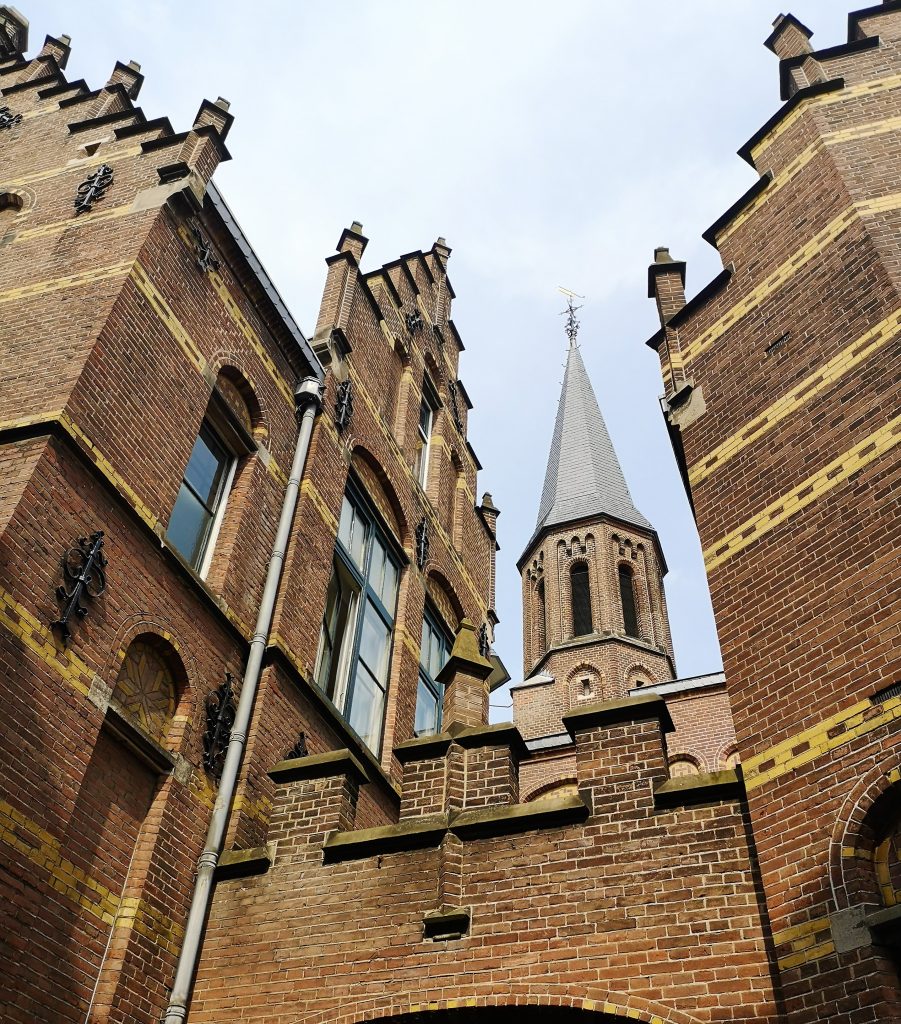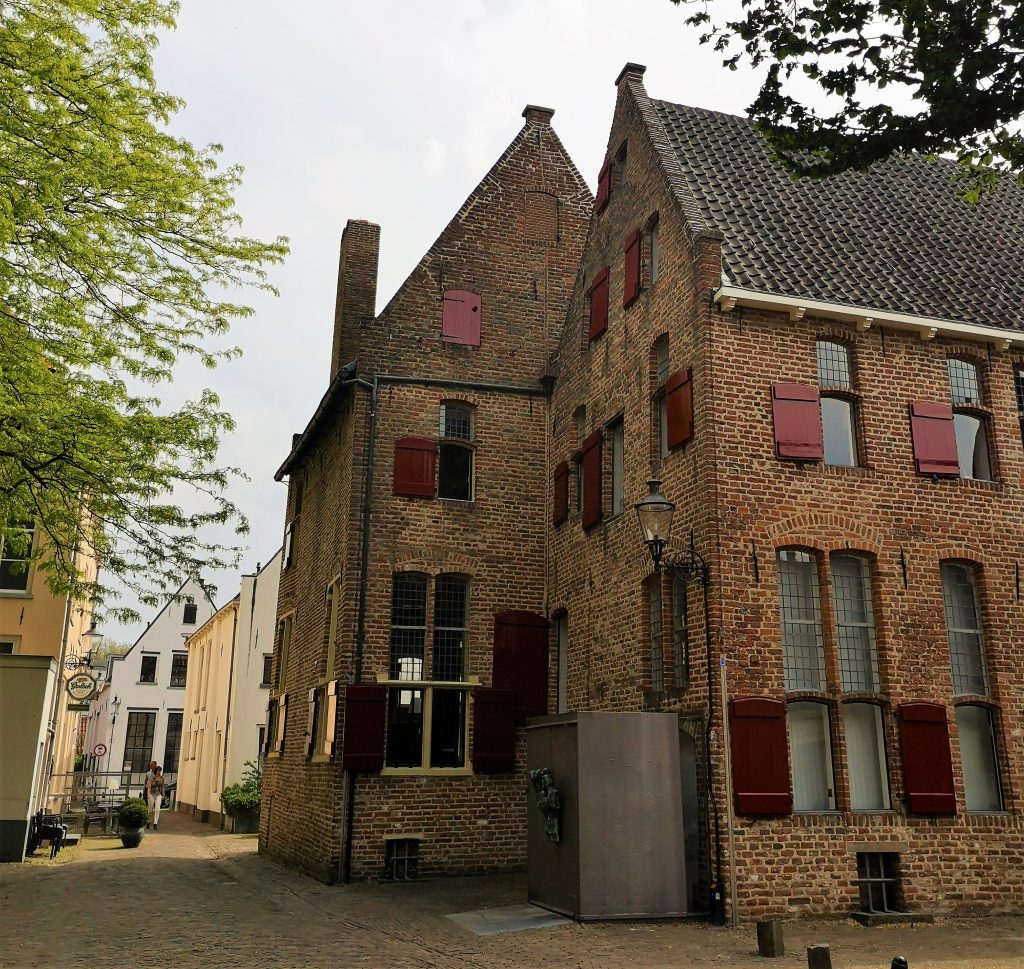 I really liked this walk. There is a lot of variety in the area but there is also something to see and visit along the way like ruin/castle Nijenrode!
Deventer – (Olst 14km) Den Nul 17 km – SP11 (04)
From Deventer I set off again a few days later (May 19, 2019) to continue hiking the Hanzestedenpad. It took me a while to find the signs but I found one on the corner of the Nieuwstraat with the Tibbesteeg. This is close to hotel De Leeuw which is tipped as a hotel to stay the night.
Soon I walked along the river IJssel again and shortly after the harbor the path bends a bit to dive into the floodplains again. I loved this walk. I walked a little further into the country but still saw the IJssel. It was not as hot this day as it was on the stage from Zutphen to Deventer. Also pleasantly right.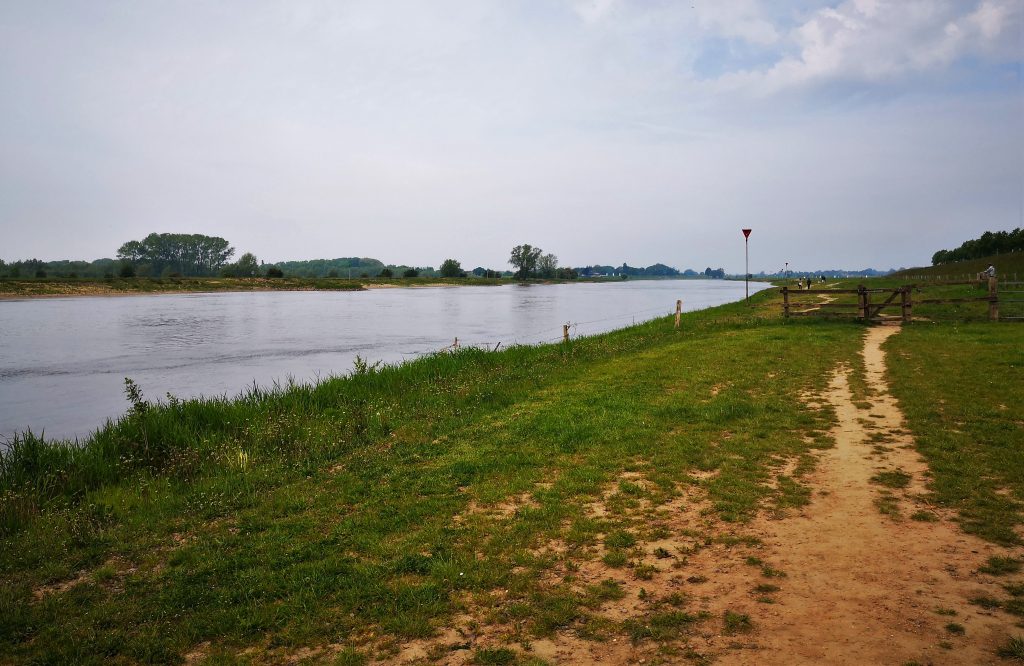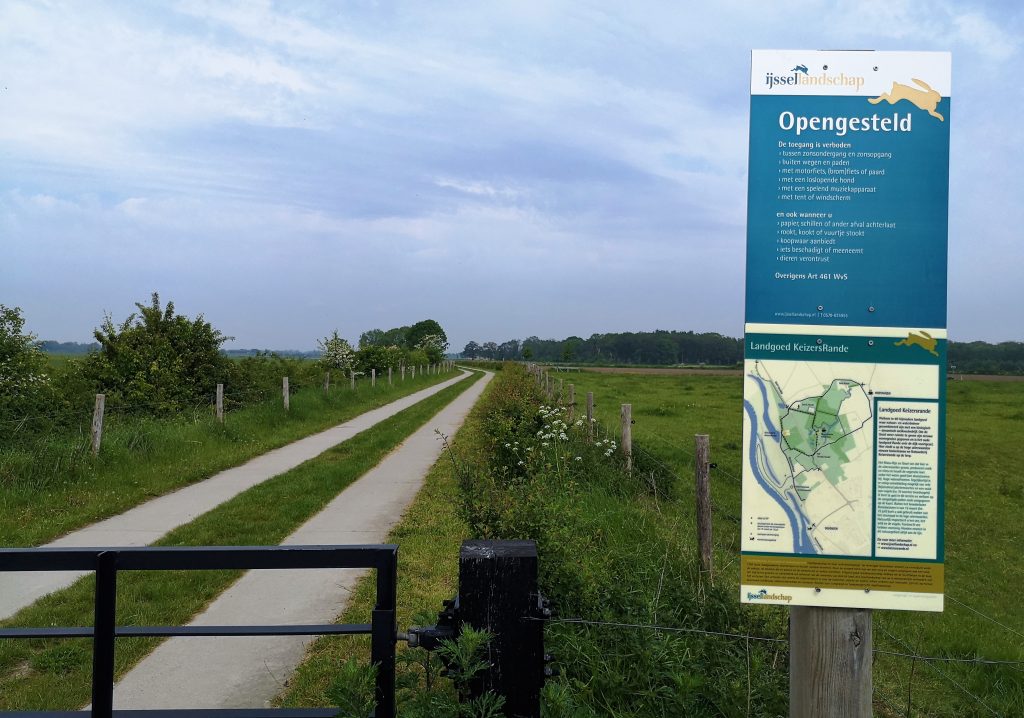 The path bent further away from the IJssel and I came to walk in the Overijssel (province) landscape. Through woods and along meadows. At one point I came across Herma's Tea Garden, how nice! I constantly heard the frogs screaming but I didn't see them yet. In this garden it was quiet enough to sit at the side of the pond and finally get a picture of them.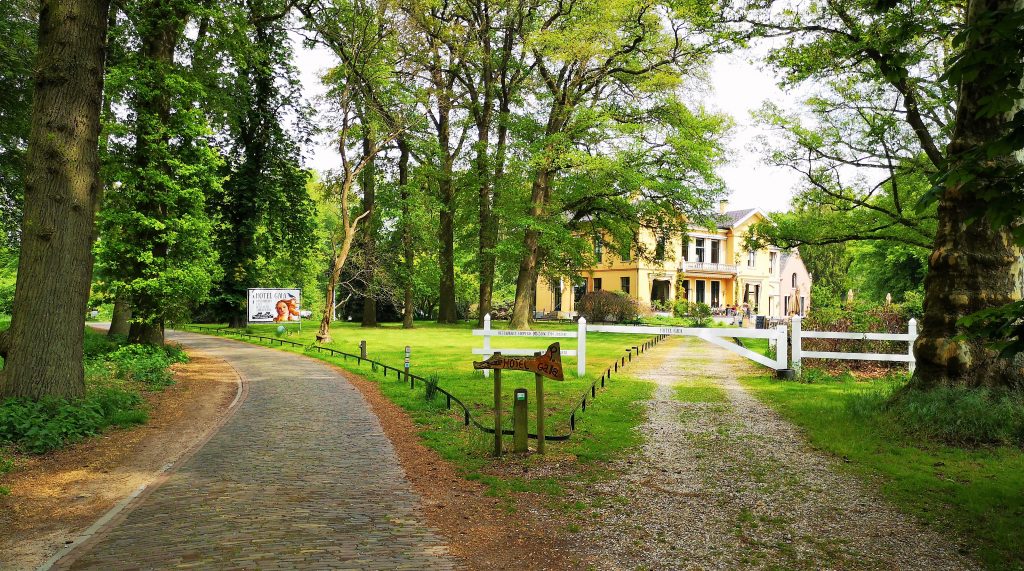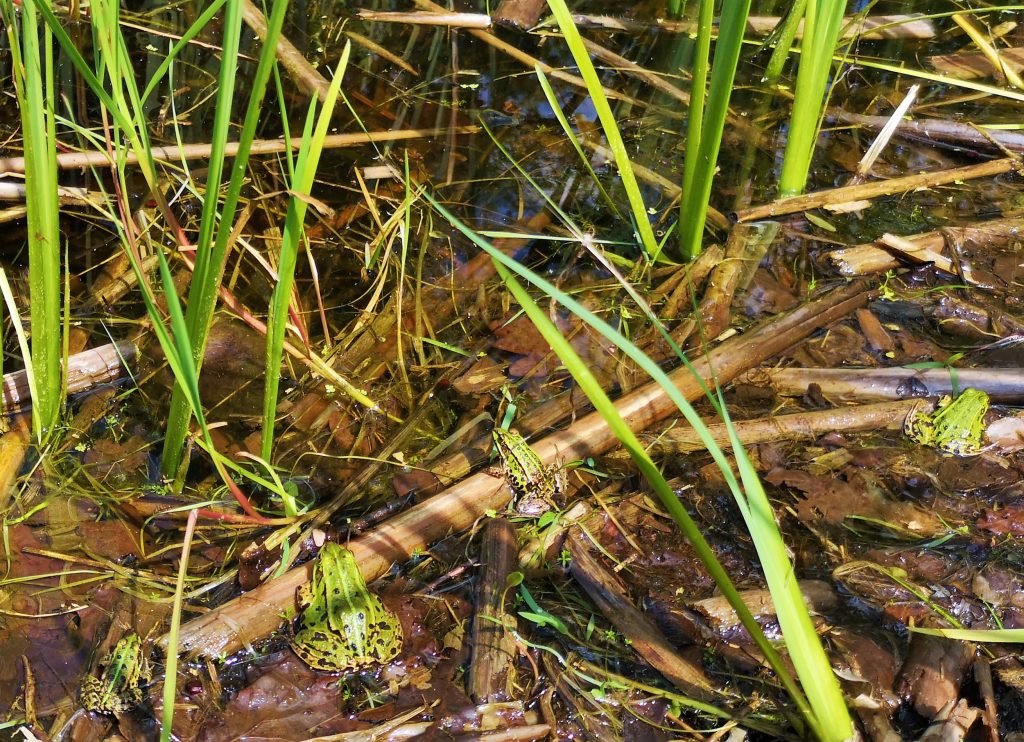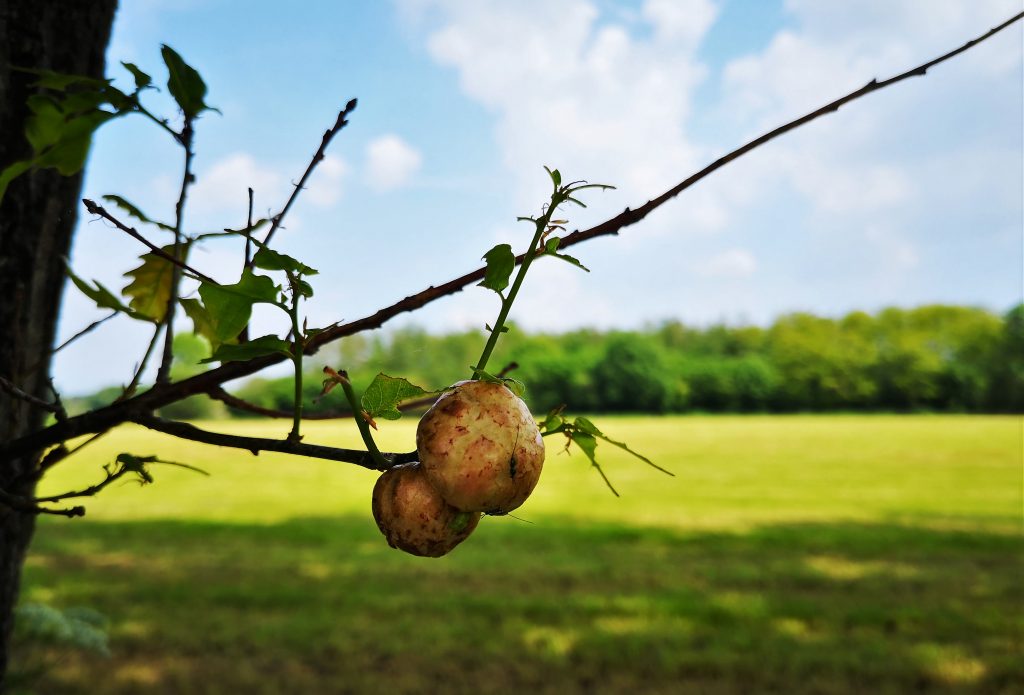 At one point I started to recognize the surroundings and it turned out that I was arriving in Olst. Where I started a different hike I came out of the forest now and I sat down on the terrace to enjoy a well deserved lunch!
Only in Duch: Wandelen tussen Kazematten en Geschut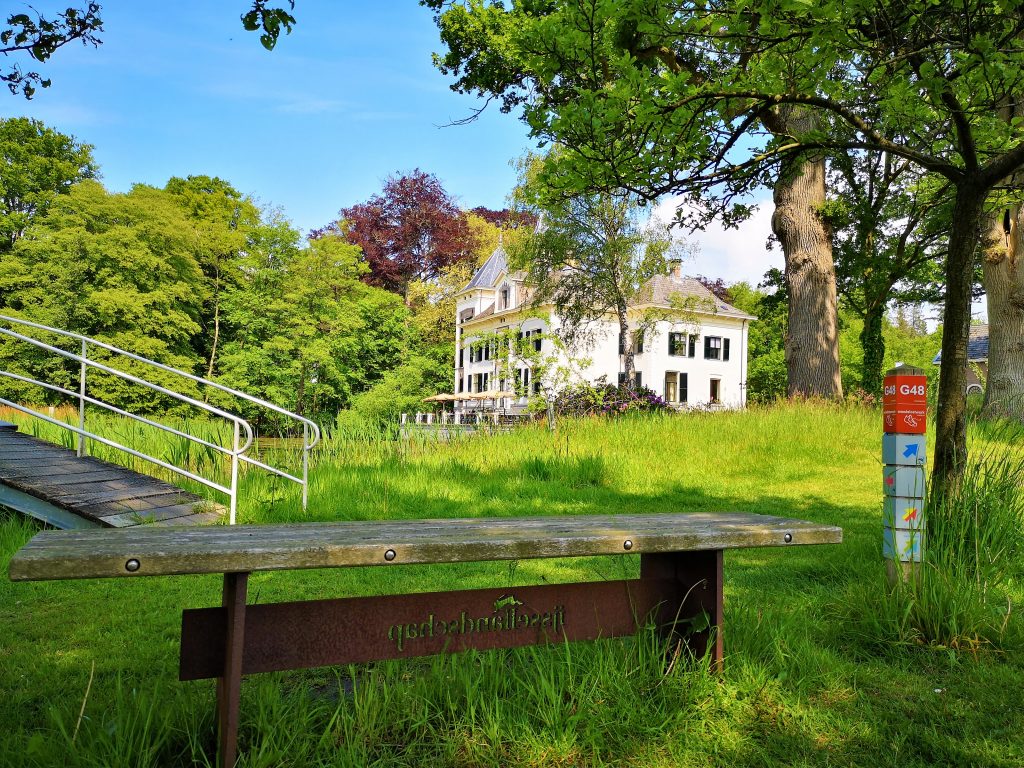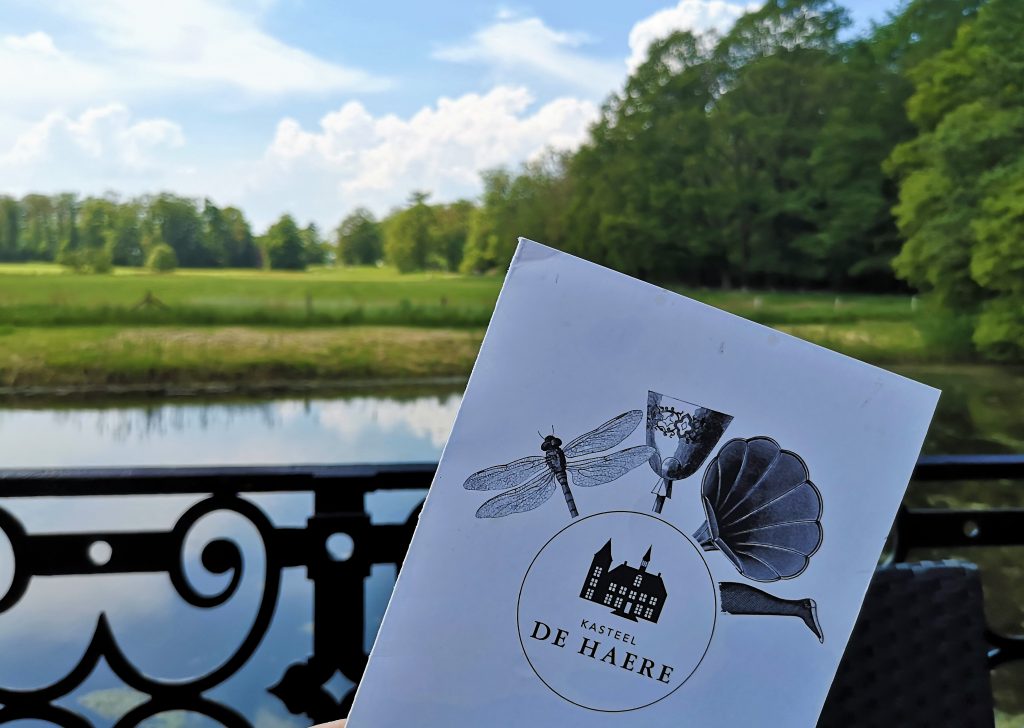 After a lovely lunch on the terrace with an excellent view over the water I walked the last km to Olst. I did not continue to Den Nul because I took the train home from Olst. Just before I got to the station I saw this flower with insect.
Isn't that beautiful?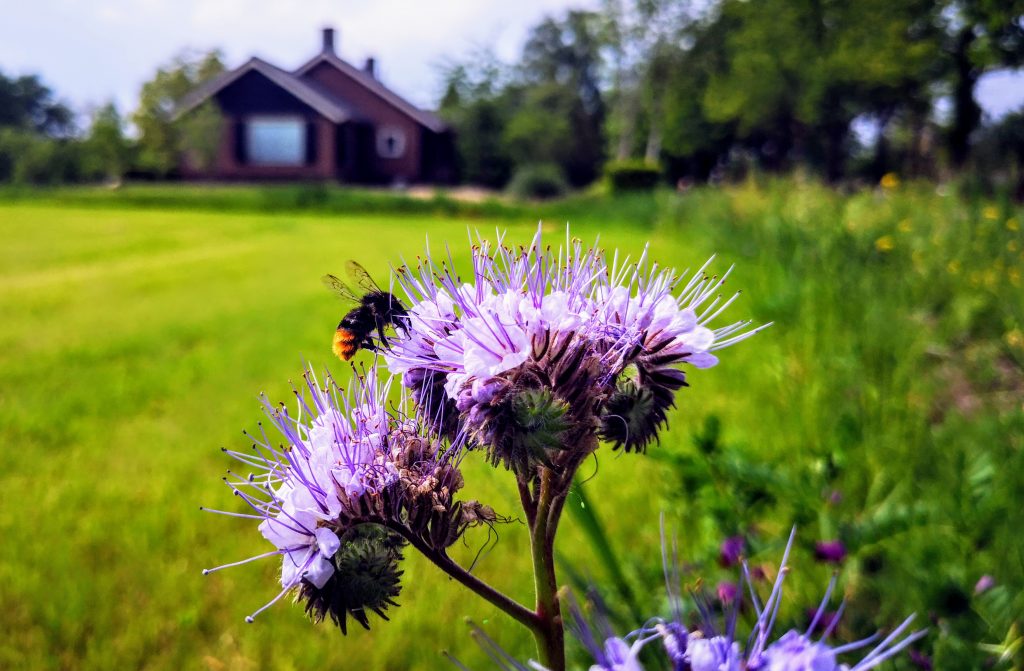 This walk has also a nice variation in walking along the river IJssel and visit beautiful sights. Also this stage I can definitely recommend to do!
Den Nul – Windesheim 18km SP11 (05)
July 18, 2020 I finally walk this stage of hiking the Hanzestedenpad with fellow blogger and friend Antonette. Nice to catch up because we hadn't seen each other for a long time. Because the route is easy to follow and mostly follows the IJssel over the long stretched out paths you have plenty of time to catch up 🙂
This stage of hiking the Hanzestedenpad is between two Hanseatic cities so we won't be in a Hanseatic city. The next stage of the Hanseatic city path will take me to Zwolle and there I'll be able to drink a delicious cup of cappuccino on a terrace 🙂
We start just before Den Nul and there we walk on a country road through Fortmond, a super small village. Just before Fortmond you can choose to go into the nature reserve and have a look at the remains of a brickwork factory and climb the watchtower which offers you a great view over the river IJssel. We walk through and dive into a forest and walk to a lookout point and bird hide to enjoy the view.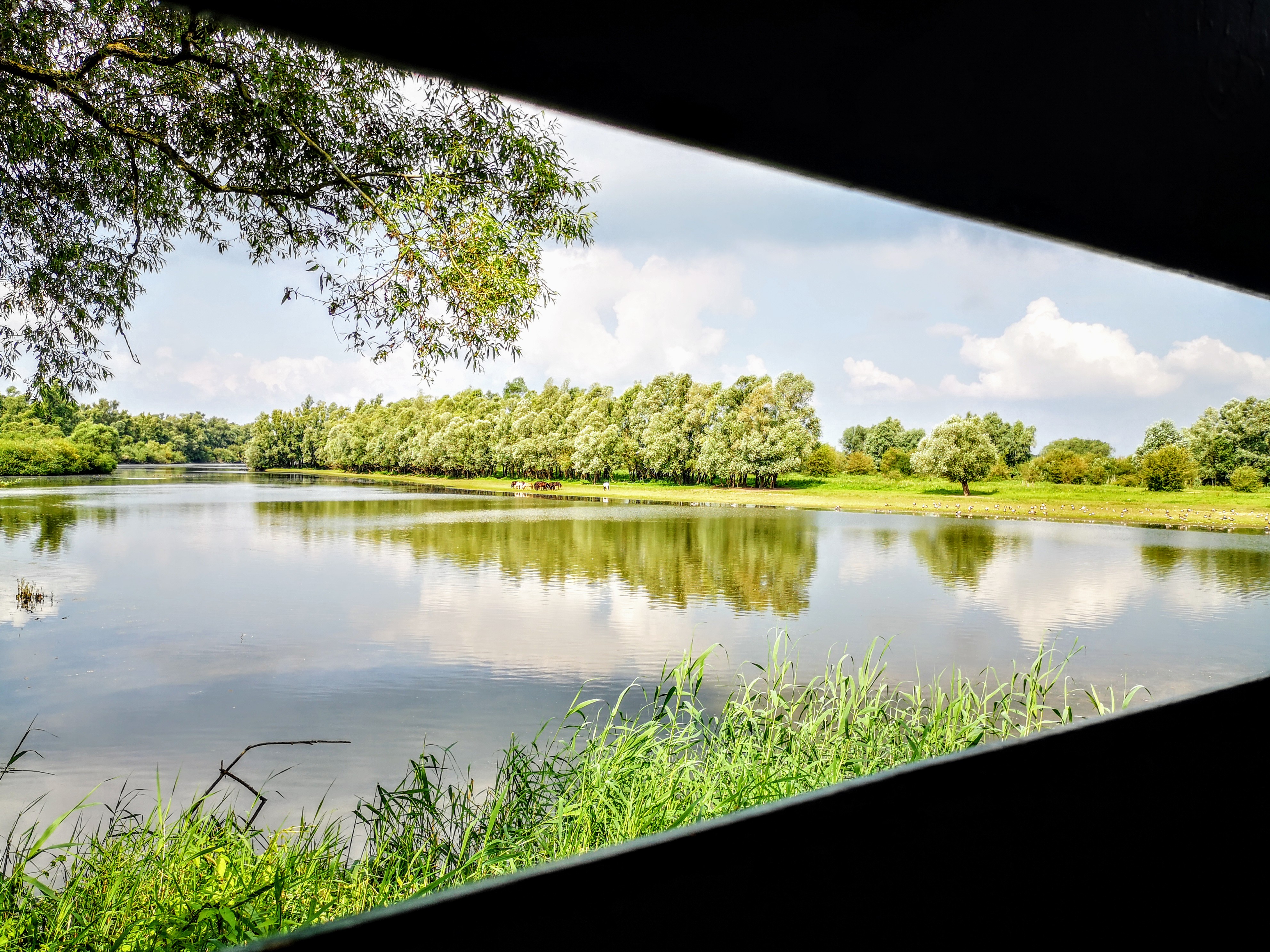 Shortly after we cross the main road between Olst – Wijhe to walk through the Salland landscape and see the farm life. When we cross the road again a little later (just before Wijhe) to go to the river IJssel we really come to walk along the river IJssel. A beautiful piece of nature and the many fishermen sitting along the shore enjoy this view just like us.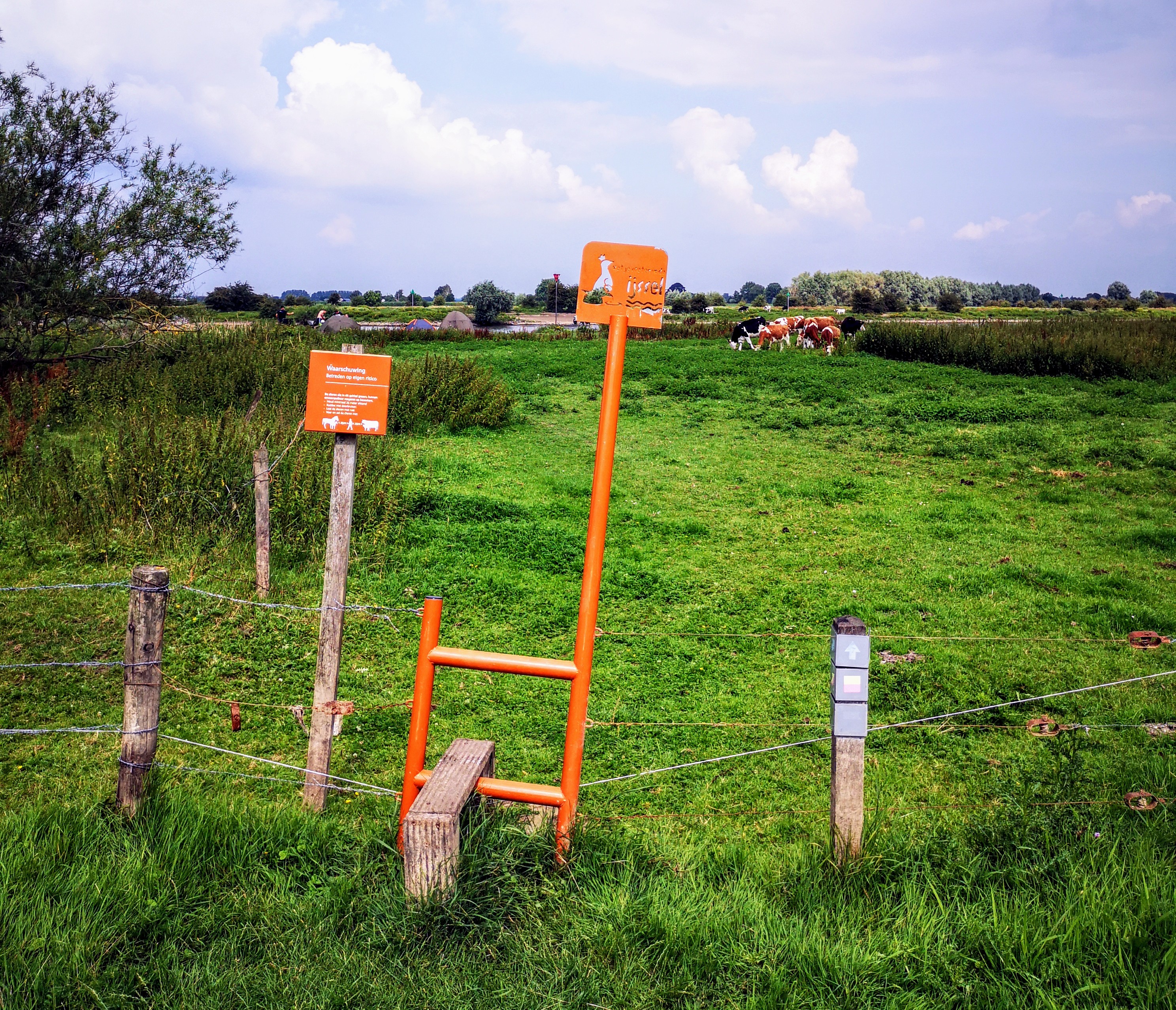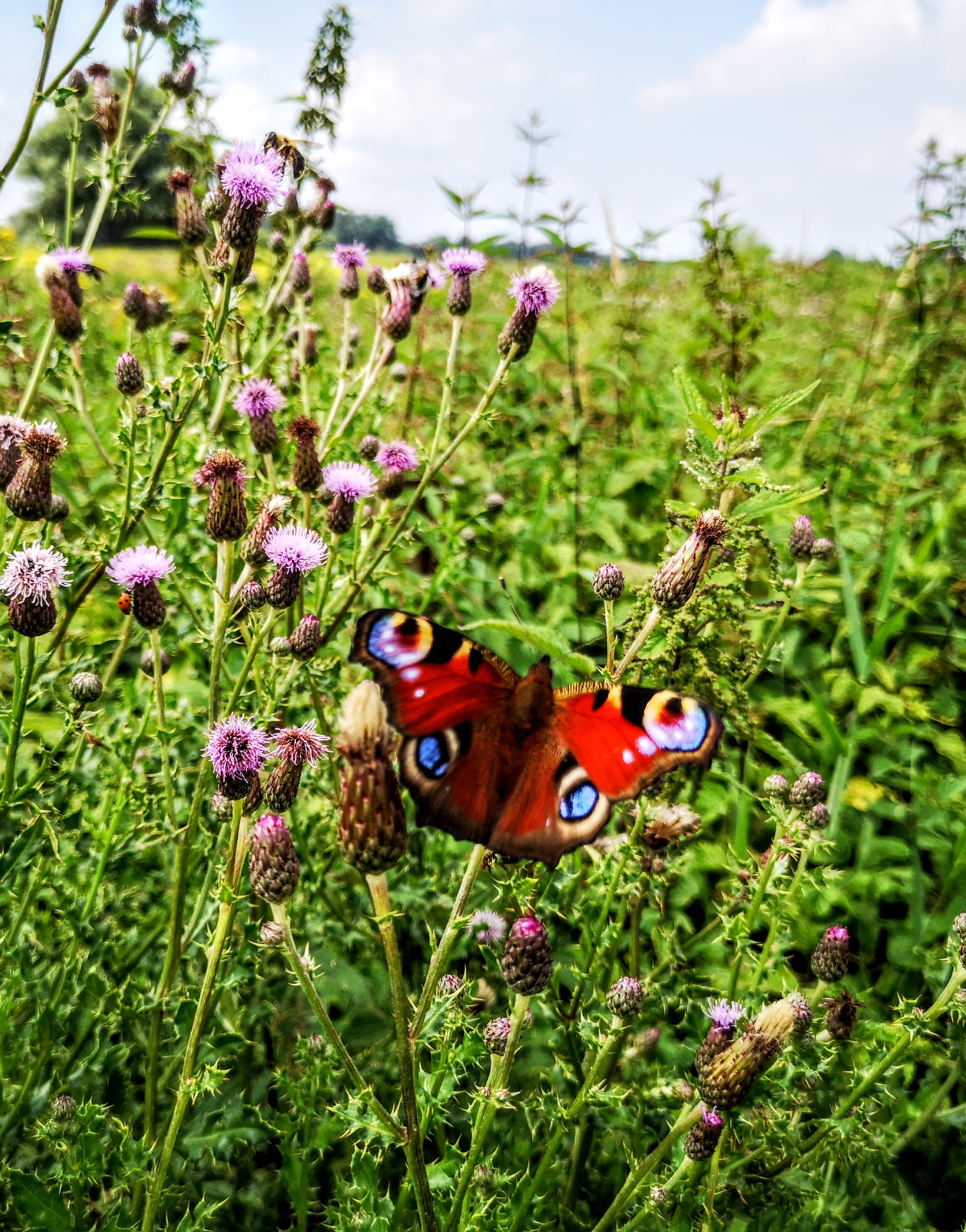 Moments later we arrive at a little harbour where we enjoy our first break. This is also a camper place (Loswal Wijhe) and when we sit there it is completely full with campers. The place offers you shade by the large tree with grass underneath so you can sit there comfortably. The quay is stepped down so you can swim here.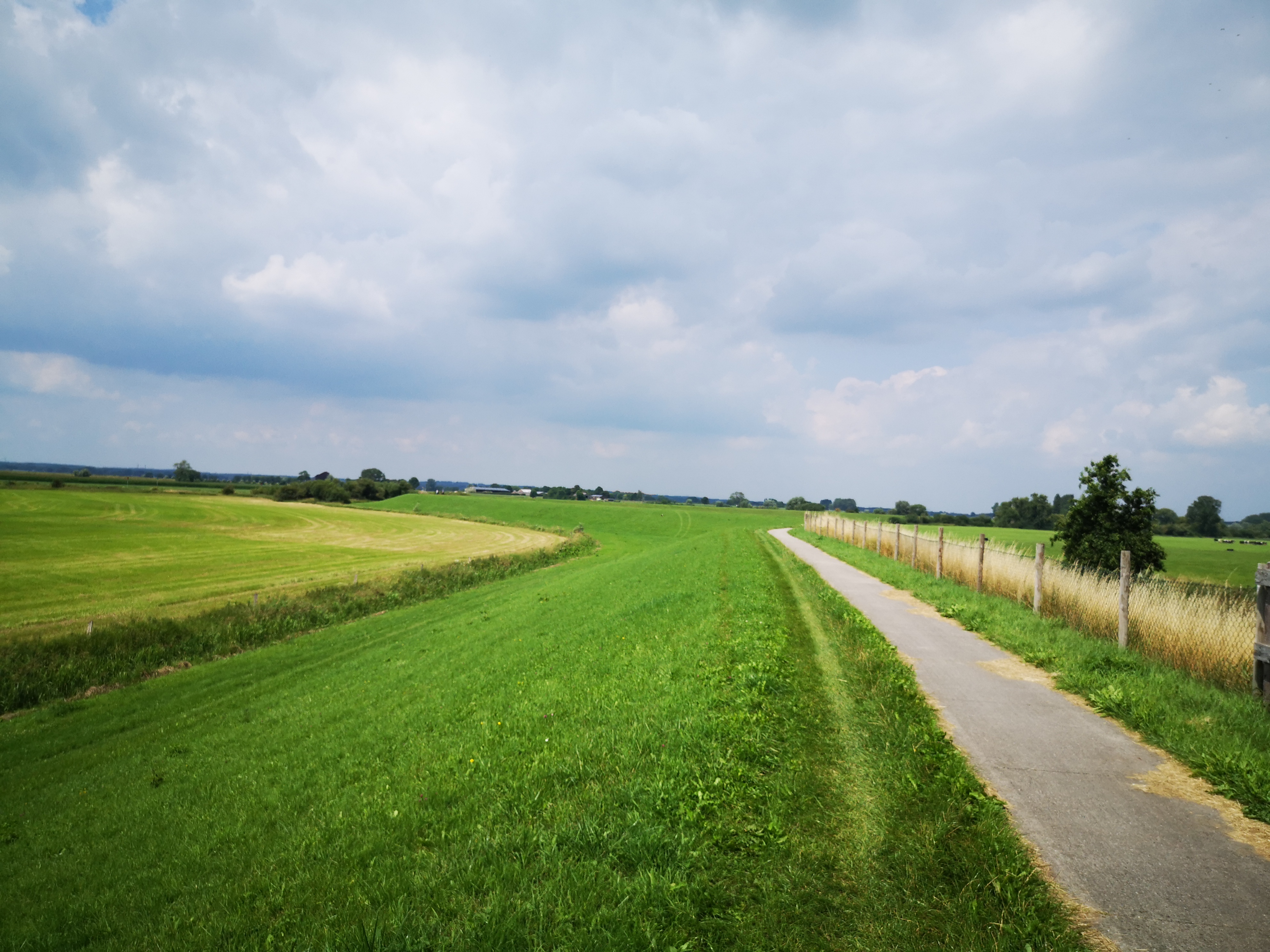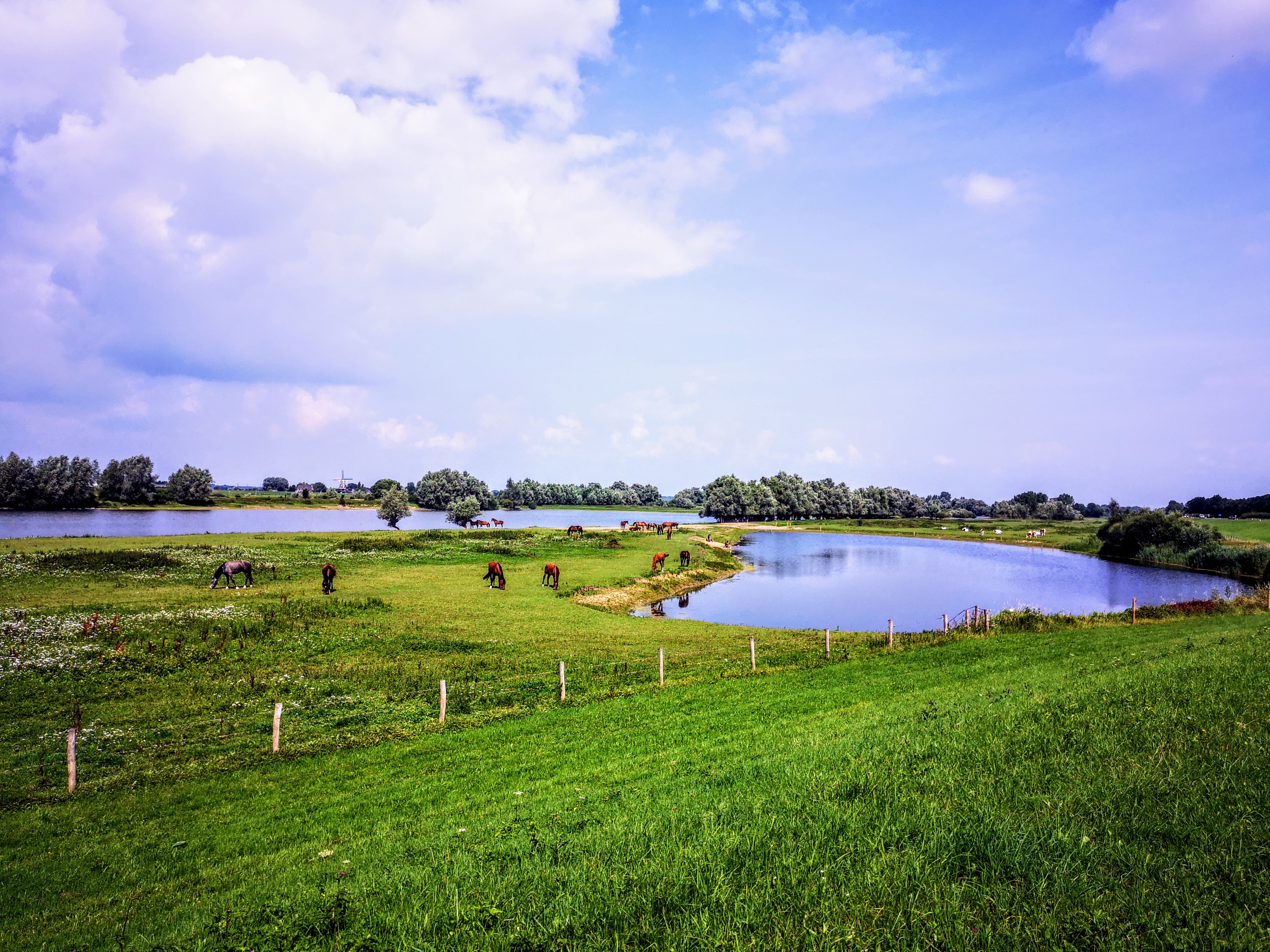 Hiking the Hanzestedenpad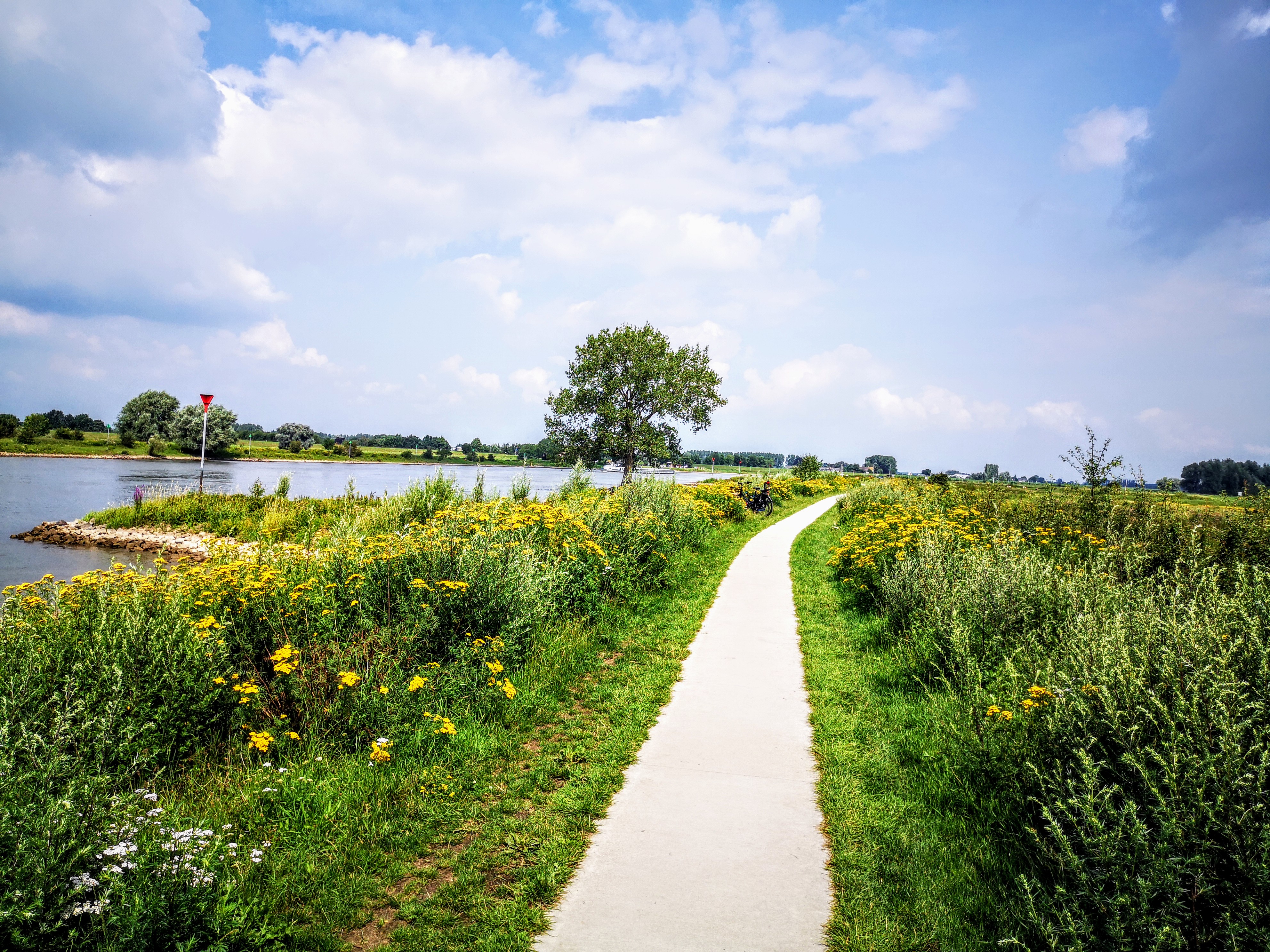 We continue walking on the cycle paths along the river IJssel. Because it's the weekend and there are a lot of daytrippers we have to walk in the grass every time, so we don't mind if we later get off the dike and walk in a bush. It's warm and the shade is pleasant at that moment!
The forest is rich in water and this gives it a completely different atmosphere than the woods I know.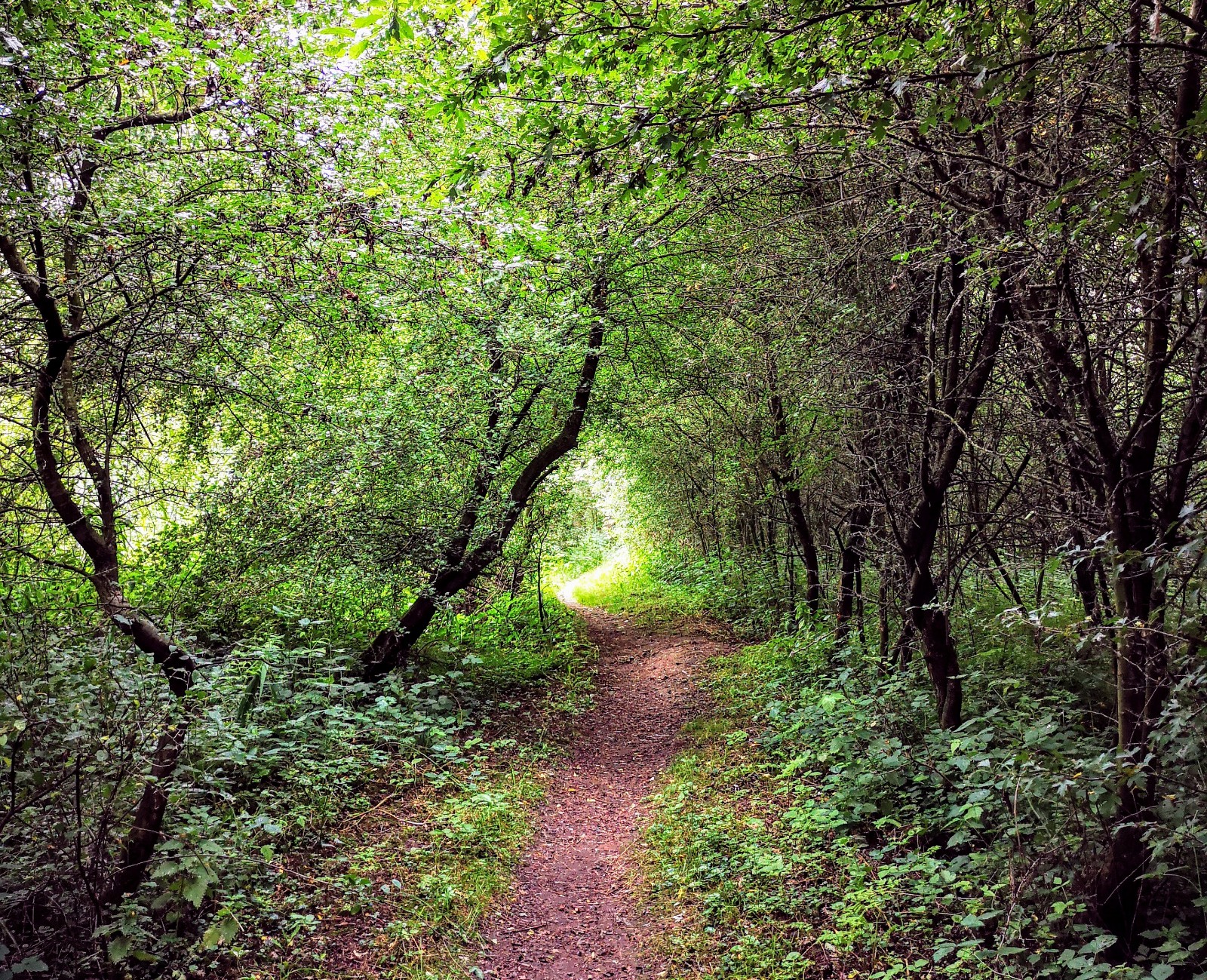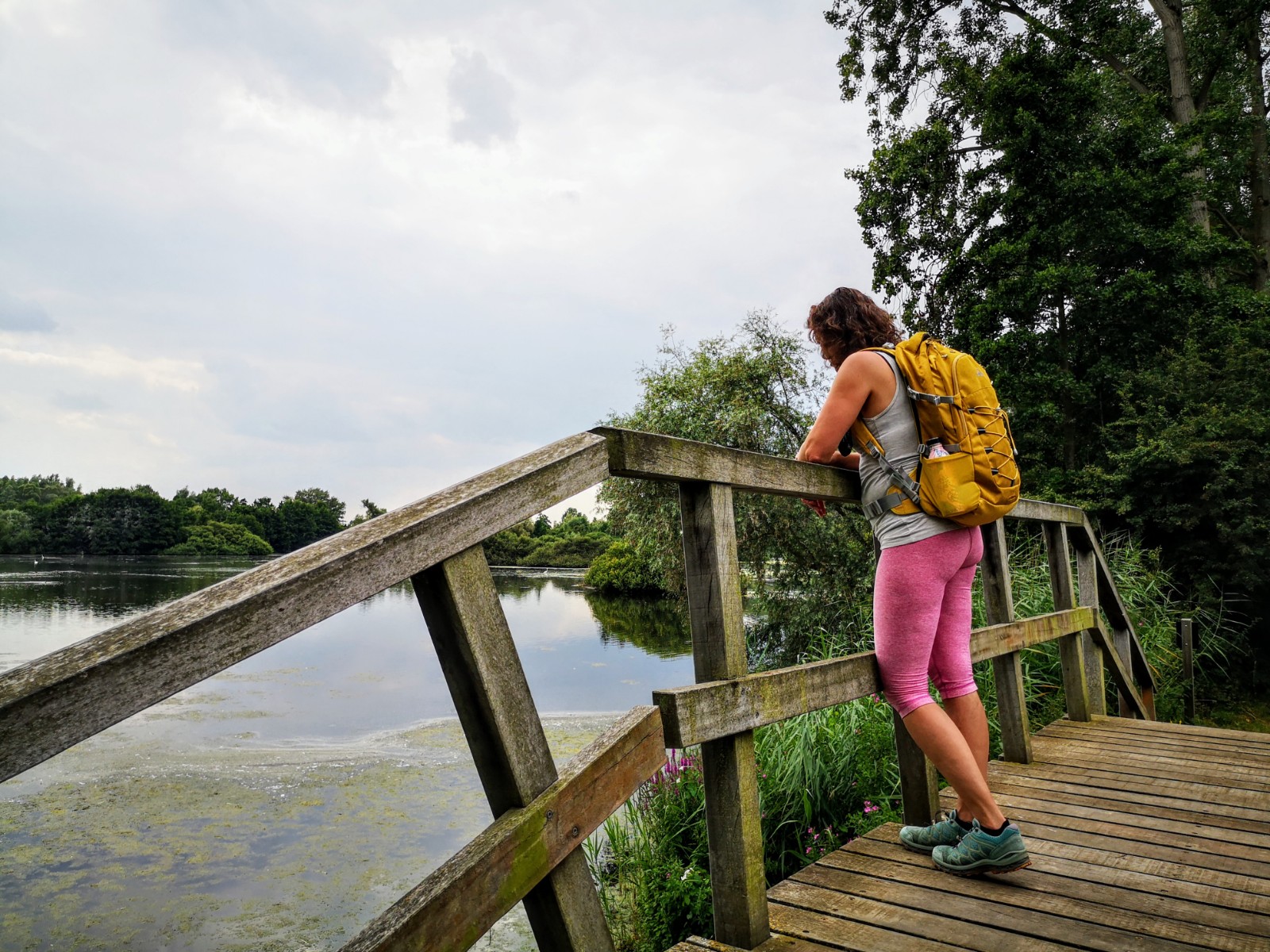 After crossing the beautiful high bridge we come to the road that leads us to Windesheim. A short view on the Windesheim house with a nice entrance gate is of course necessary when you finish this stage of hiking the Hanzestedenpad in this small village 🙂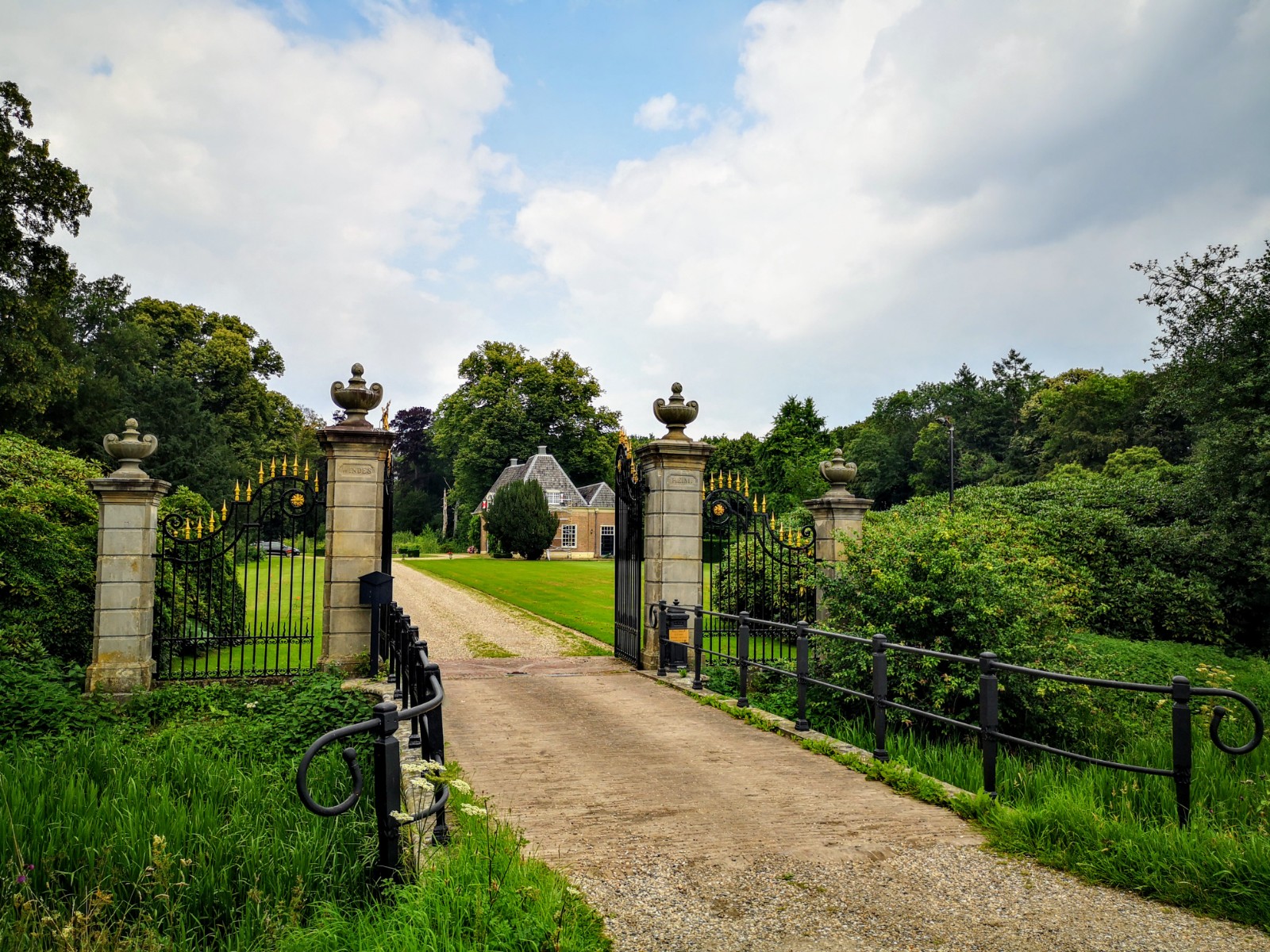 We had a varied walk, over country roads, through the floodplains of the river IJssel and even through the forest. Still, I have to admit that this is not the most beautiful route I walked during the 120 km long Hanzestedenpad.
But like life… Not everything is splendour and everything has a reason to experience 🙂 The reason doesn't become known to you until much later… #mindfulness
Windesheim – Zwolle 18km SP11 (06)
Is still on the list of walks to be made on the Hanzestedenpad.
Zwolle – Kampen 20km SP11 (07)
The last stage of hiking the Hanzestedenpad took me from Zwolle to Kampen. (23 May 2019) Both great Hanseatic cities. I've known Zwolle all my life, we used to go shopping there and I even went to school there for a short while. I took the train to Zwolle to get out of the station, turn left and at the end of the road I found the Hanzestedenpad sign.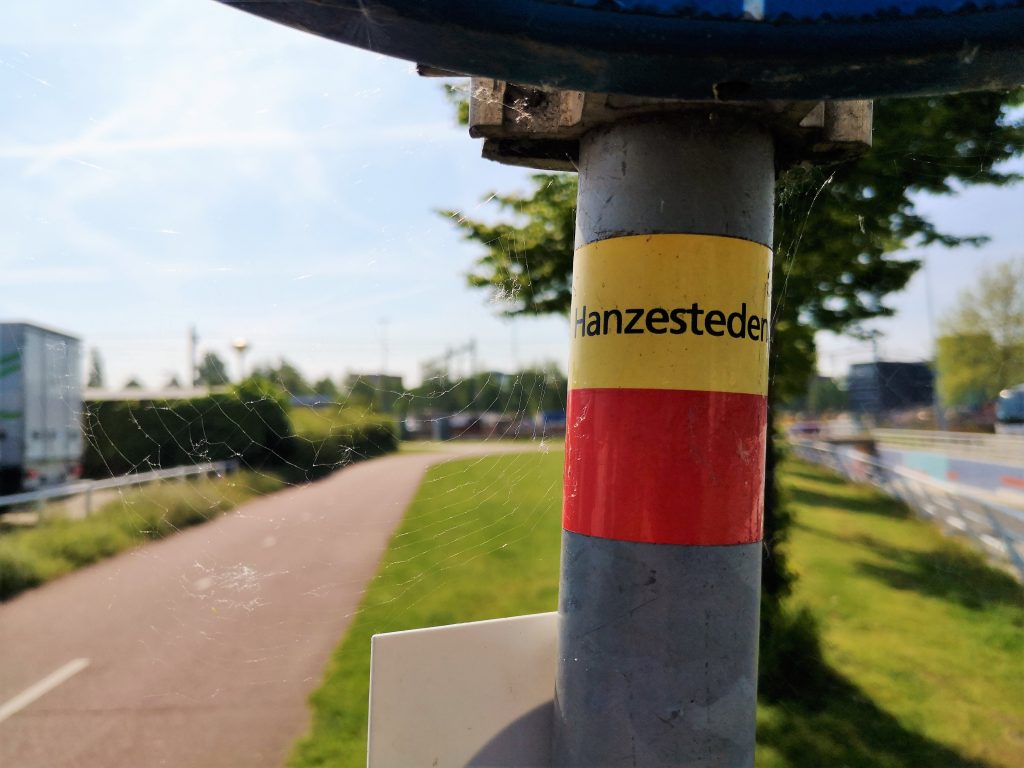 I walked a bit through the city but quickly curved down the route and we went into a park. A large and beautiful park for recreation from the city. I saw a lot of kids and people jogging, good to see that a park is used for what it is meant for!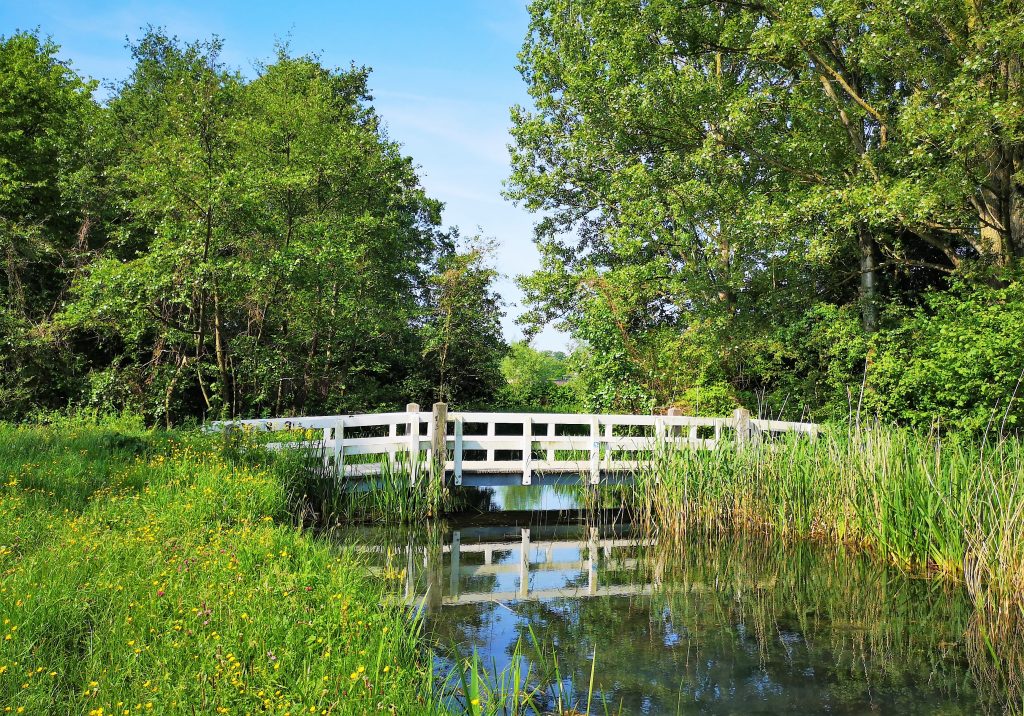 Moments later I walked along the river IJssel again and after a few km I kept right to get to a very nice part with a great bridge. So happily surprised by this beautiful place! I stood there for a while and tried to take some nice pictures but that was quite difficult 🙂 This trip I walked alone with my mobile phone and so no bigger camera. You just can't take certain angles, what you do see is sometimes very difficult to take pictures like that… You probably know what I mean!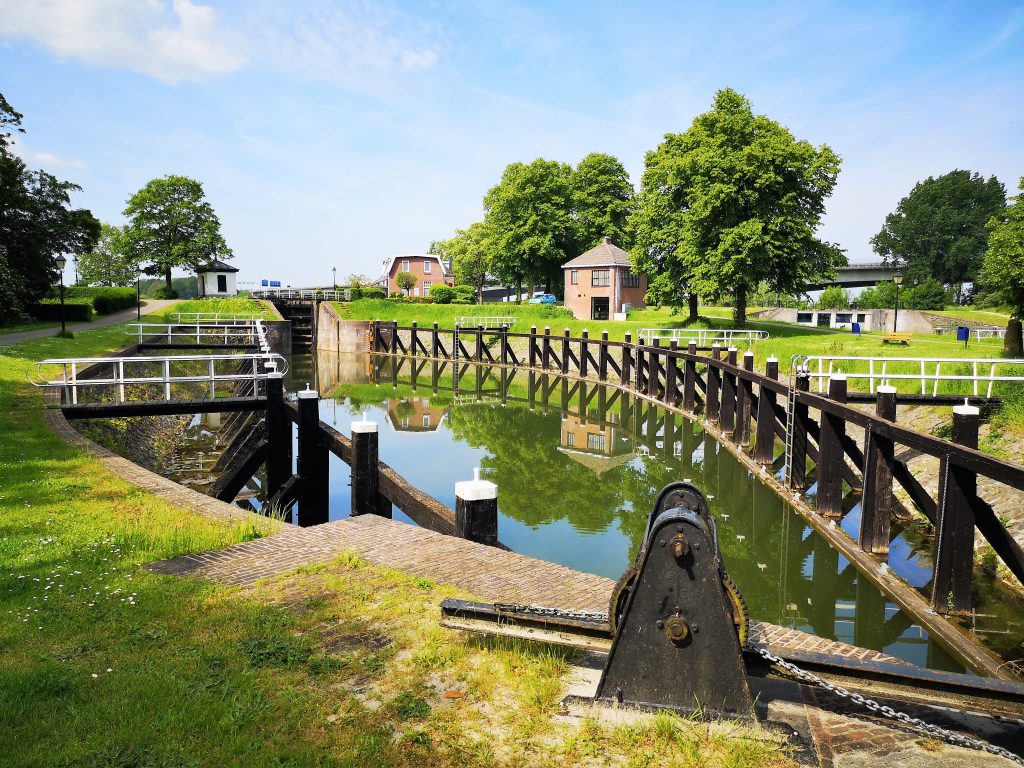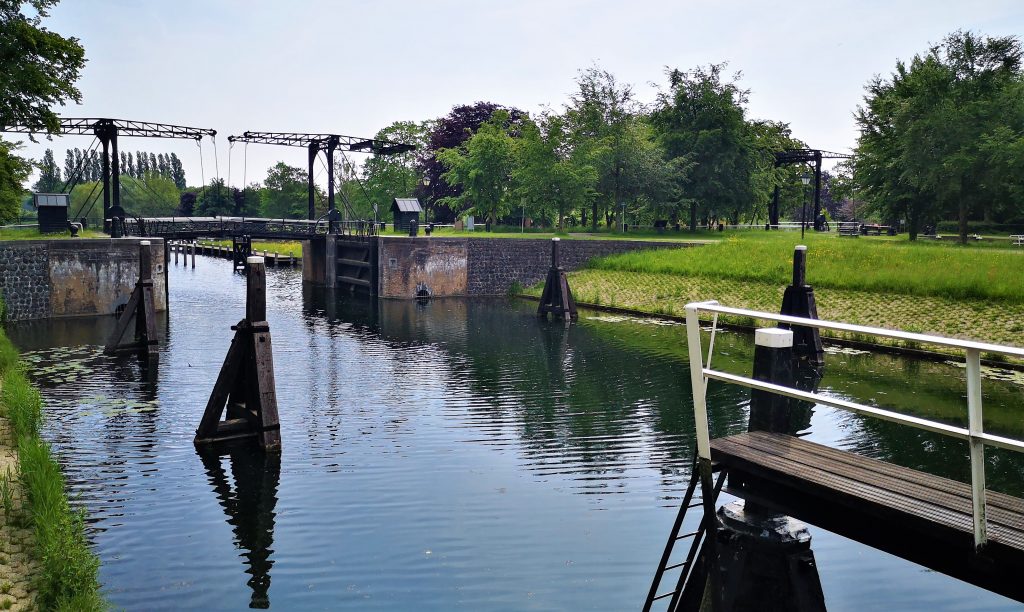 After this it took a while but I walked over the dike along the river IJssel again. Beautiful views over the water and the meadows next to it. After a few km I arrived at the Zalkerveer and I could rest my feet while enjoying a cup of cappuccino.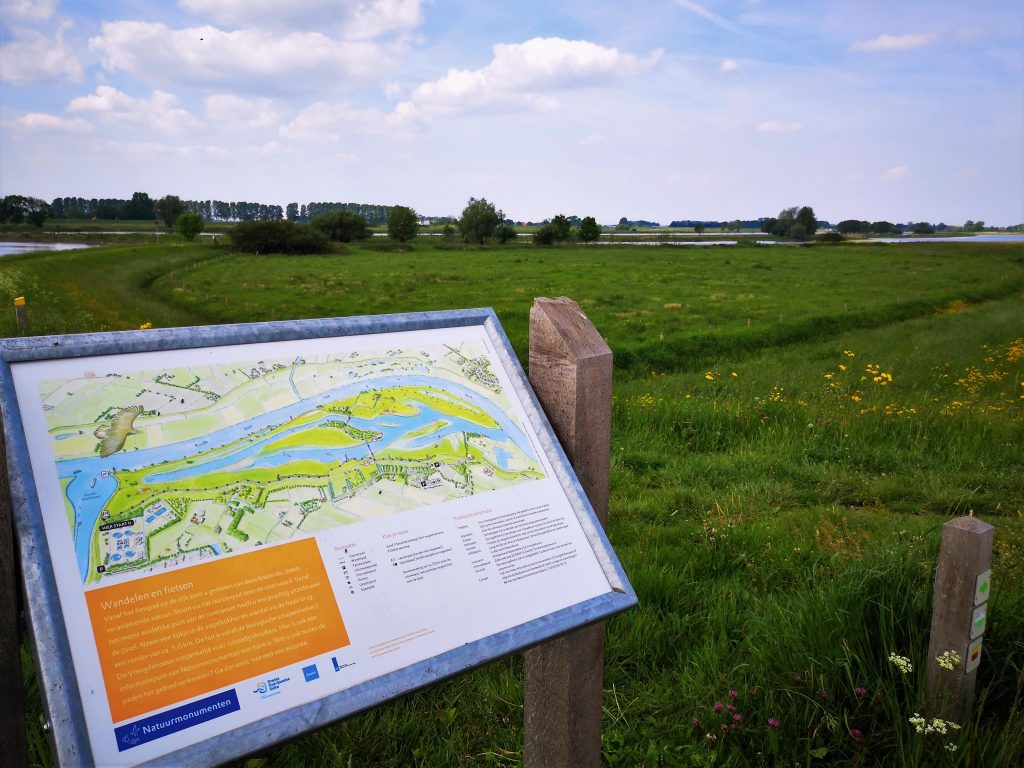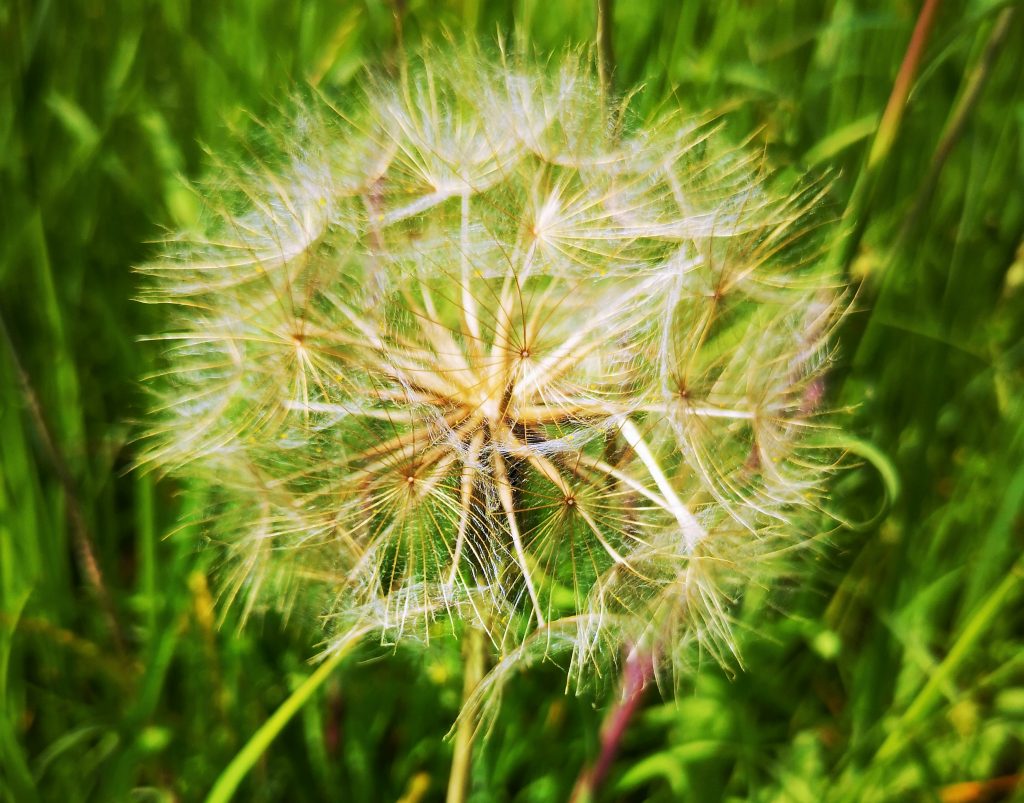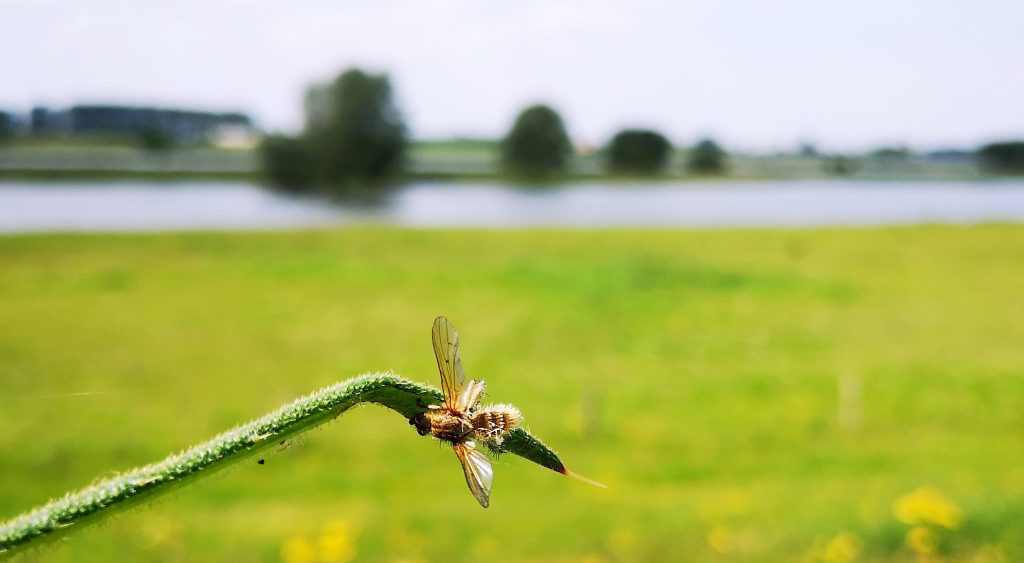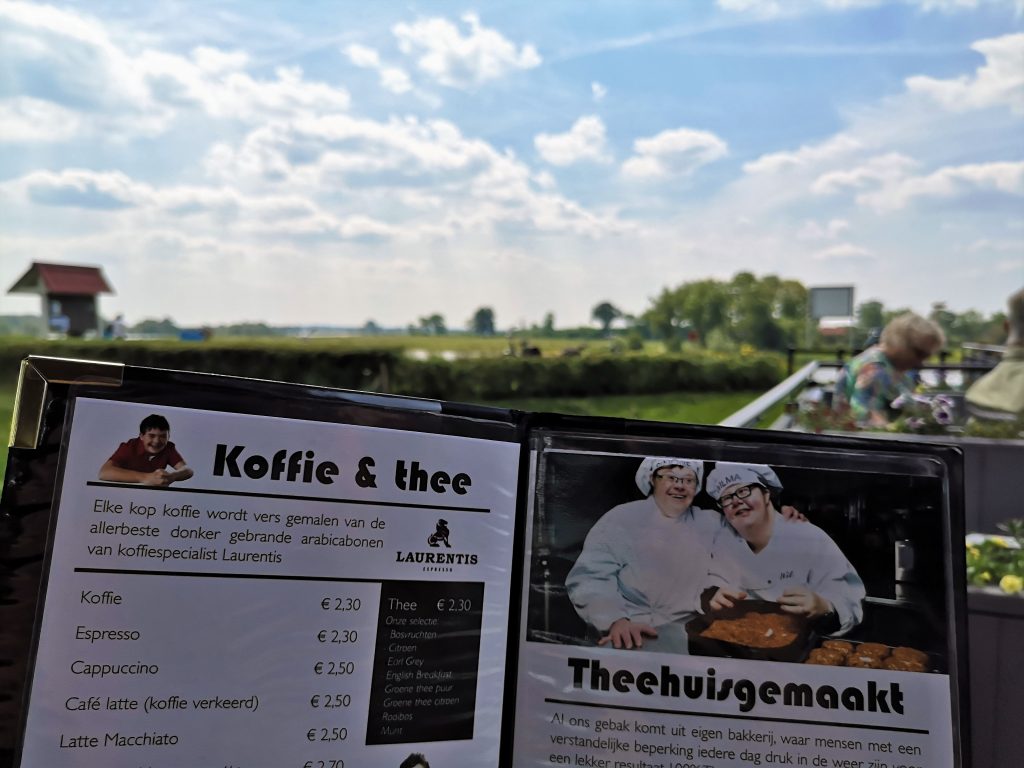 Suddenly I realized that I wasn't halfway there yet, so I had to walk a bit faster. I was hanging around too much and took some nice pictures. I had been walking on the Hazestedenpad for quite some time now and I had to walk more than half way 🙂
Still, I couldn't resist taking some nice pictures here and there. I came to walk over a different kind of dike and again I had beautiful views. After a while I came to a place where you could wade with your feet in the water. Nice! A number of places like this were made to sit down and enjoy the IJssel.
I also came to a nice watch tower where of course I climbed up to have a look.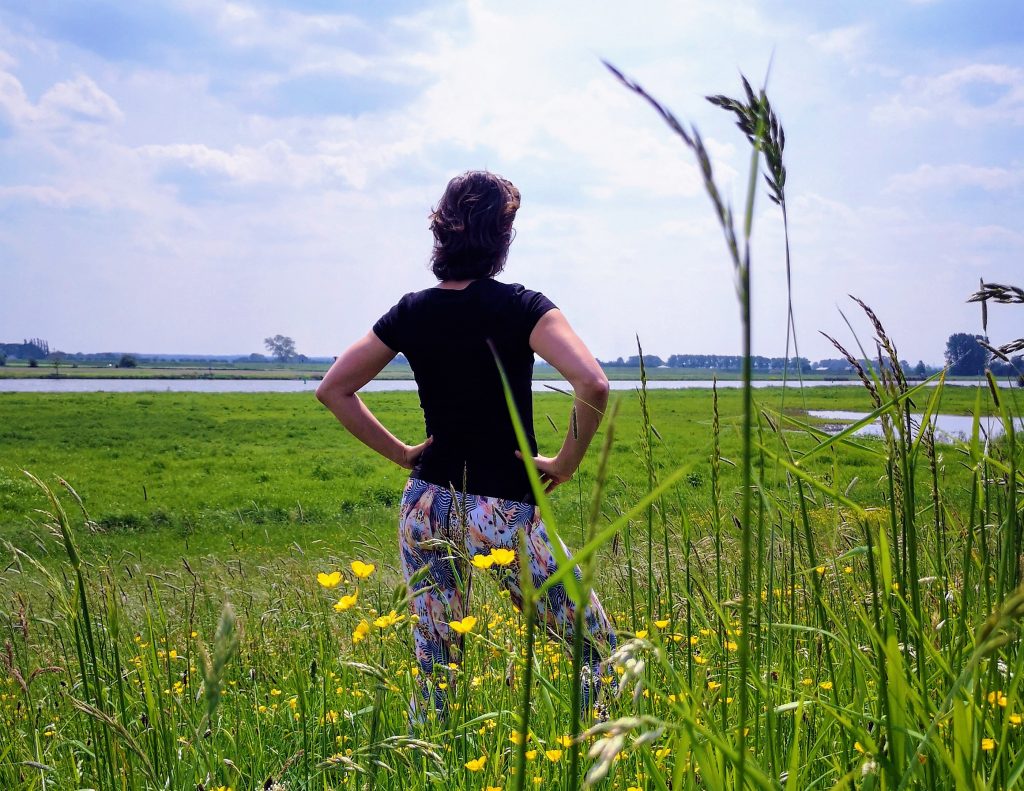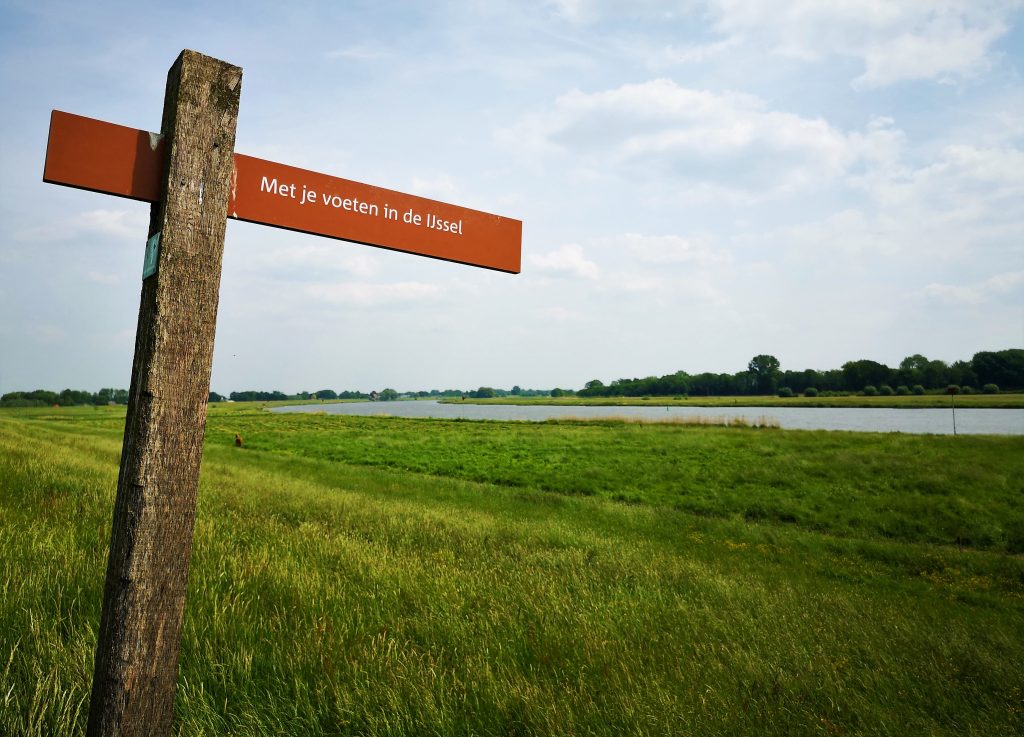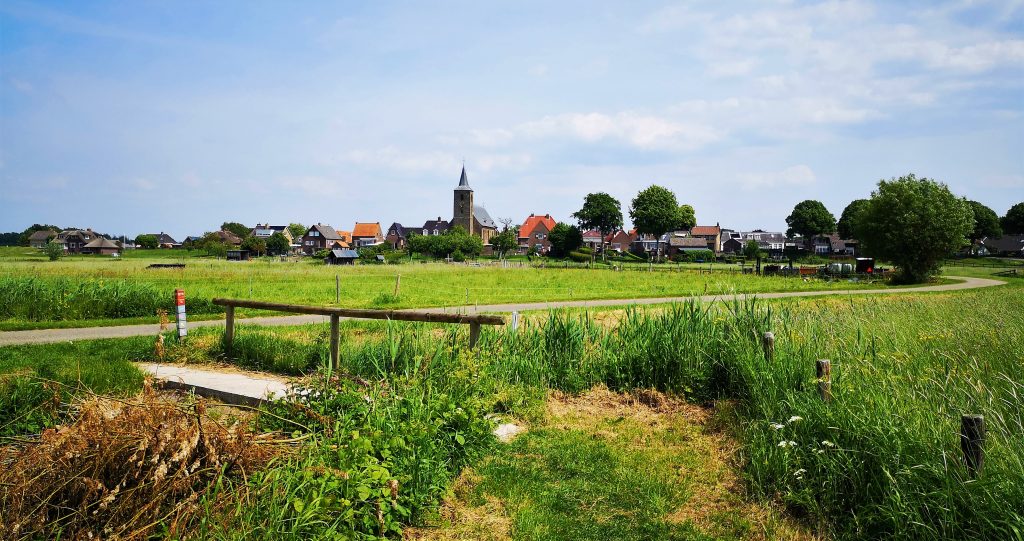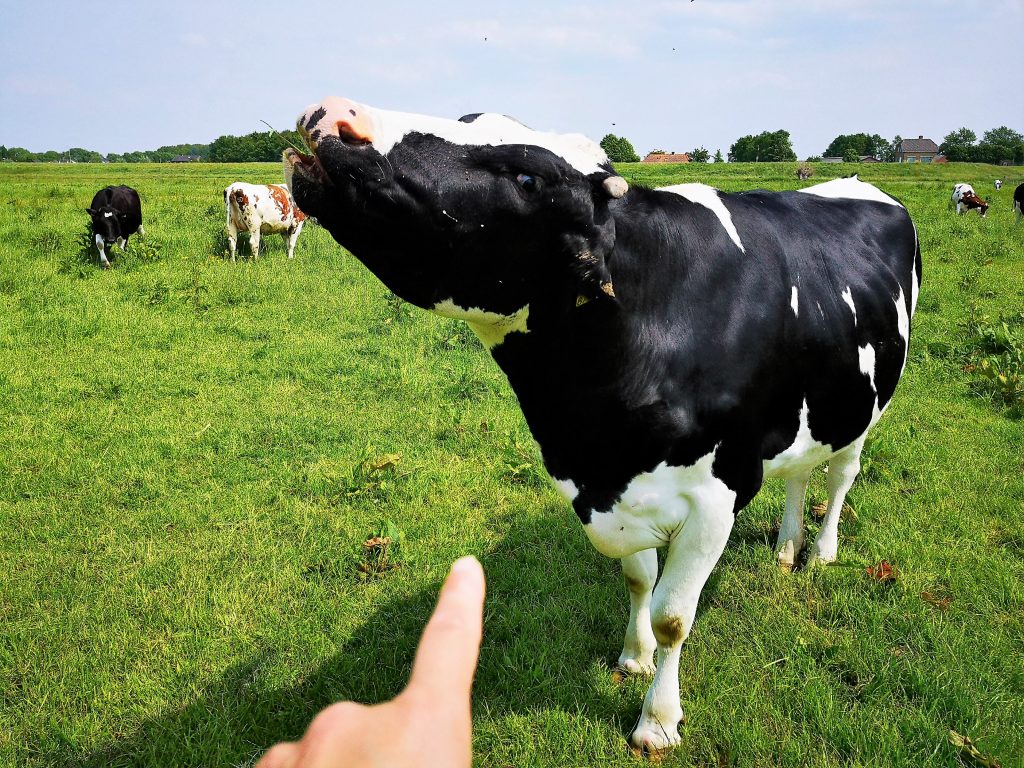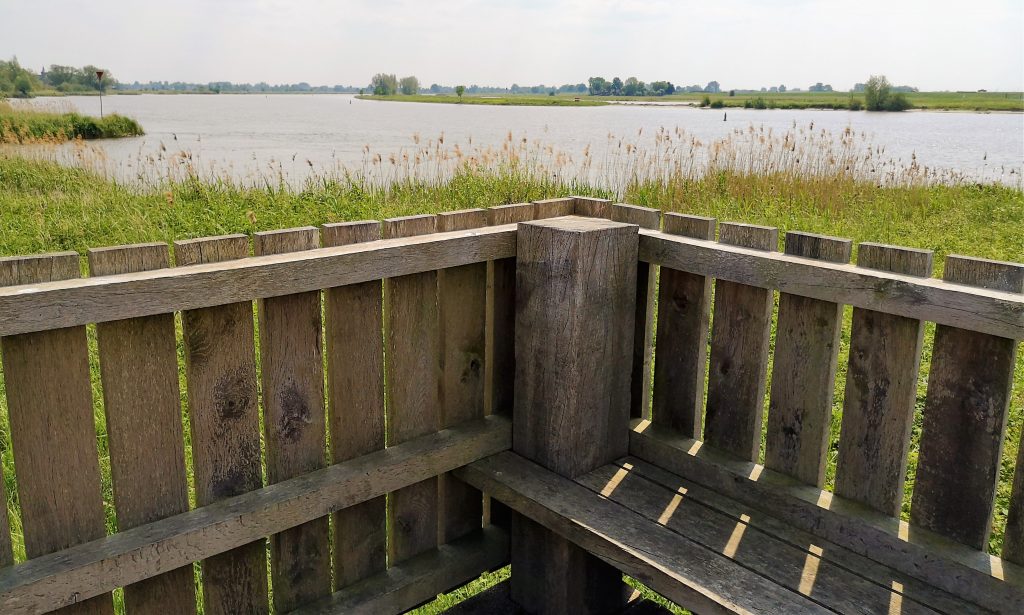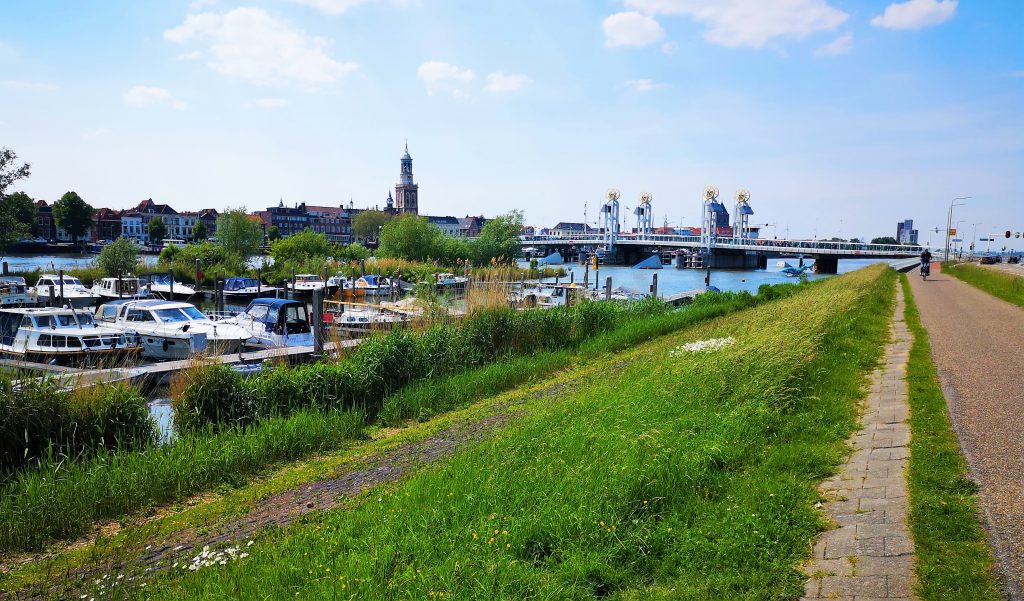 After this 20 km I just went right after the bridge and plunged into the floating restaurant which serves delicious fish. With a view over the IJssel river, I was able to finish this beautiful walk! Also this last stage I liked and varied!
Want to see more of Kampen? Only in Dutch: Bezoek de Hanzestad Kampen eens!
In total it is 120 km through the province of IJsselland landscape with a number of beautiful Hanseatic cities through which you pass. Really a nice walk with a mix of nature and culture!
Do you think this is a challenge to go for a hike? Are you going to do a stage like me every time or do you live too far away and do you have to plan an overnight stay somewhere?
I would have loved that too!!
What long distance walk would you recommend I take?
I am looking for another challenge again!!
Will you  share this Hanzestedenpad tip on your socials?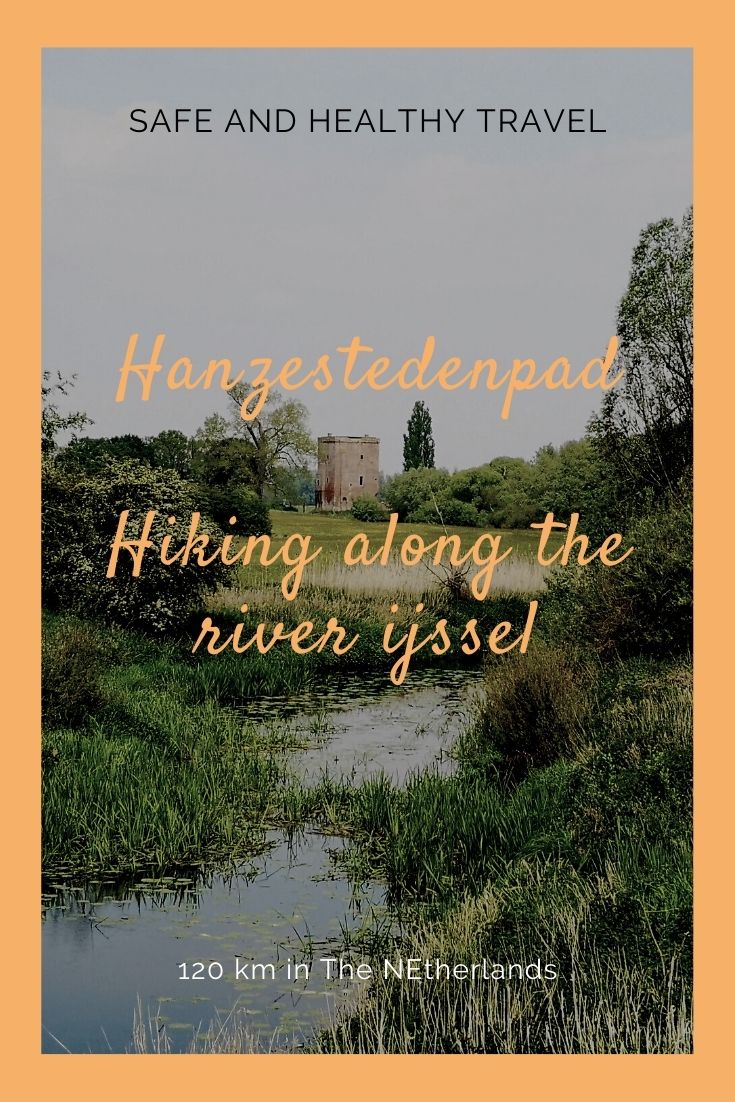 Would you like to do a more active trekking and are you looking for some challenge?
Hiking in Germany – Hermannshoehen hiking trail
Hiking on the Rheinsteig – Germany
First 200km of the Camino Frances – Spain
Poon Hill Trek in the Himalaya – Nepal
And have you ever used trekkingpoles?
I hope you enjoy this beautiful world as much as I do!!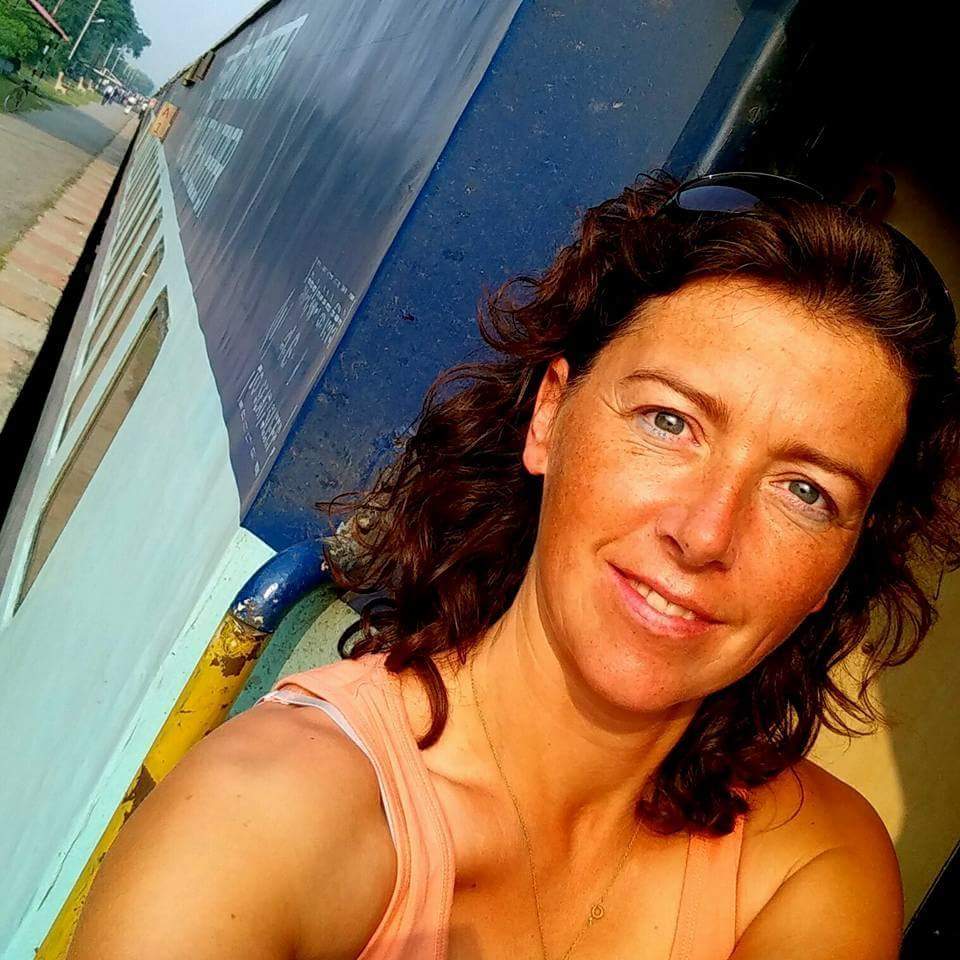 Jacomijn is een politieagent uit Nederland die jou graag laat zien hoe je veilig, actief en gezond de wereld kan over reizen. Safe and Healthy travel is a MUST