Travel Guide Sepilok – Borneo / What to do in Sepilok – Malaysia
|
When I was in Borneo, Malaysia, also called Sabah, I of course went to Sepilok. A travel guide Sepilok is in order because in the small town there is more to do than I expected. I had only heard about the Orangutan shelter but opposite this shelter was also a shelter for the little sunbear. Besides that I did two very nice walks in the rainforest where I came across all kinds of things!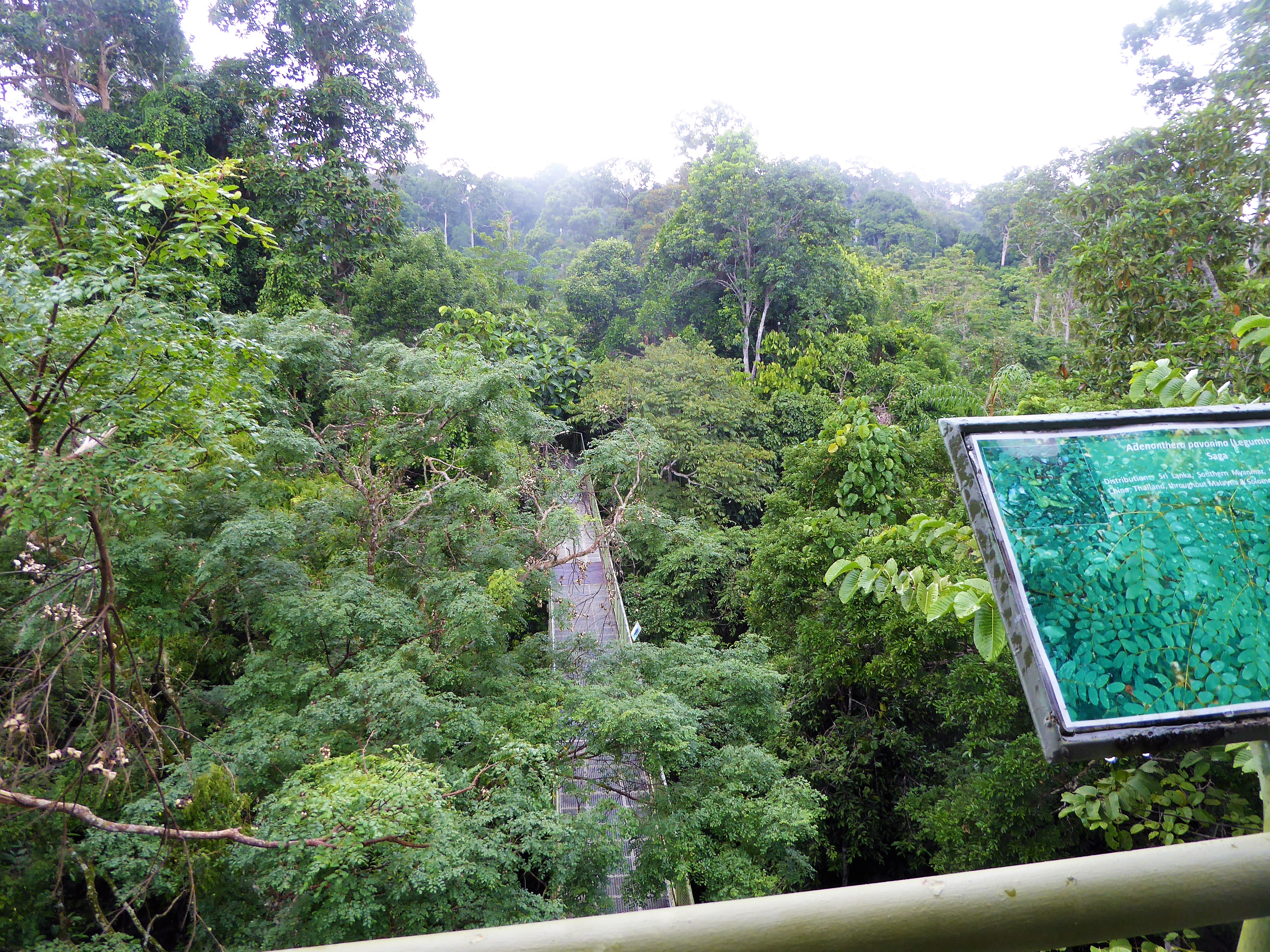 I went from Kota Kinabalu to Kota Kinabatangan but because this was going to be a very long trip I planned two nights in Sepilok. I knew there would be a shelter for Orangutans who would be rehabilitated in the jungle.
That is of course a good initiative and so I definitely went to visit it. When I checked in and asked what they could recommend in the area they told me about an evening walk in the rainforest. If I was lucky I would see flying squirrels! Of course I booked that evening walk!
Read about what else you can do in this travel guide Sepilok.
Travel Guide Sepilok, Borneo – Malaysia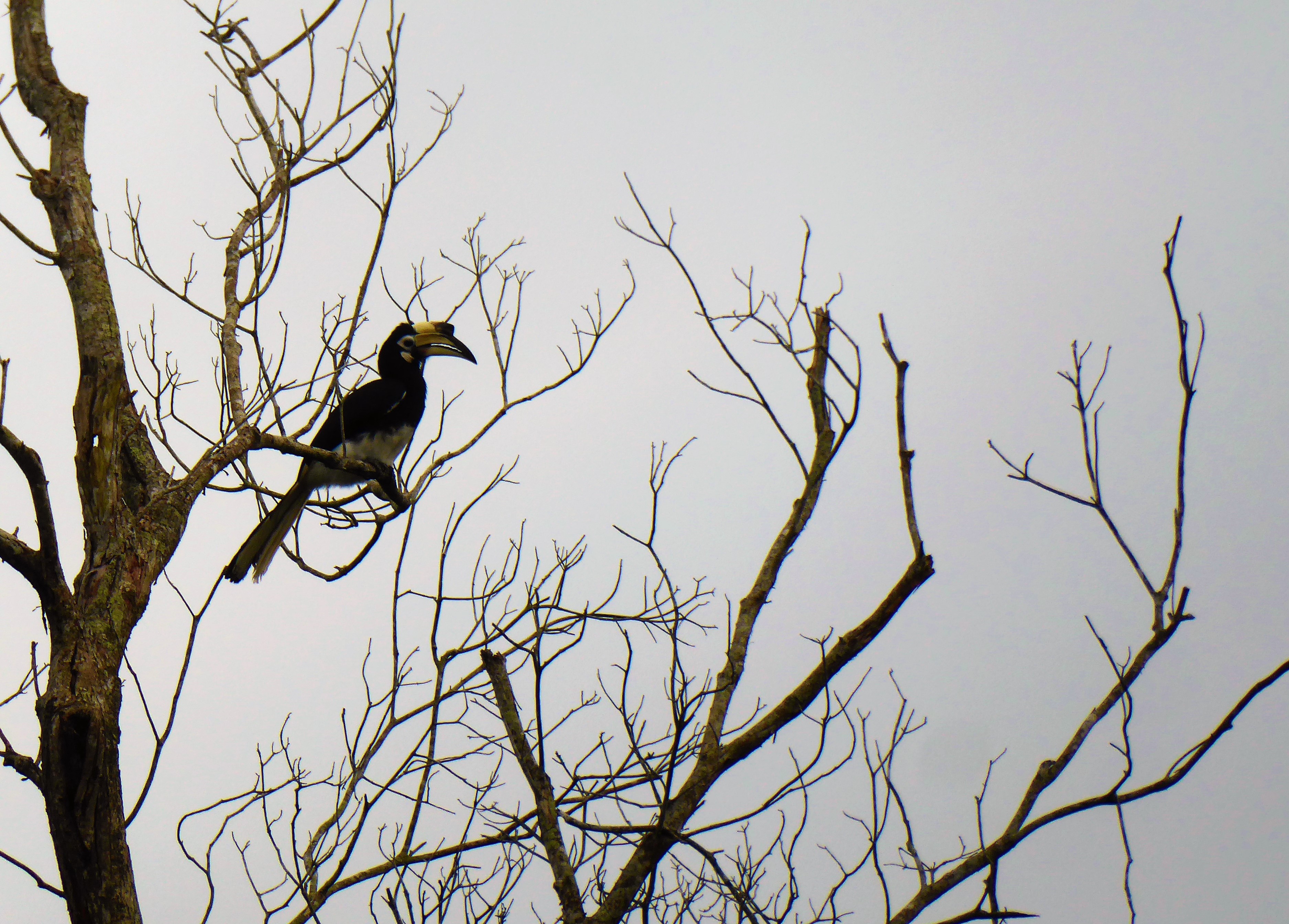 Evening walk Rainforest Discovery Centre
At dusk the evening walk started at the Rainforest Discovery Centre. I immediately planned to take a walk in daylight the next day in this part of the day. It looked great!
We quickly disappeared into the treetops via the canopywalk that can give you a good walk through this part of the park. I thought it was really great to see. It was dusk and so the squirrels became active. We saw some of them jump off of branches and end up dozens of meters further on the branches. They spread their legs and because the skin then opens like a parachute between the front and hind legs they seem to float.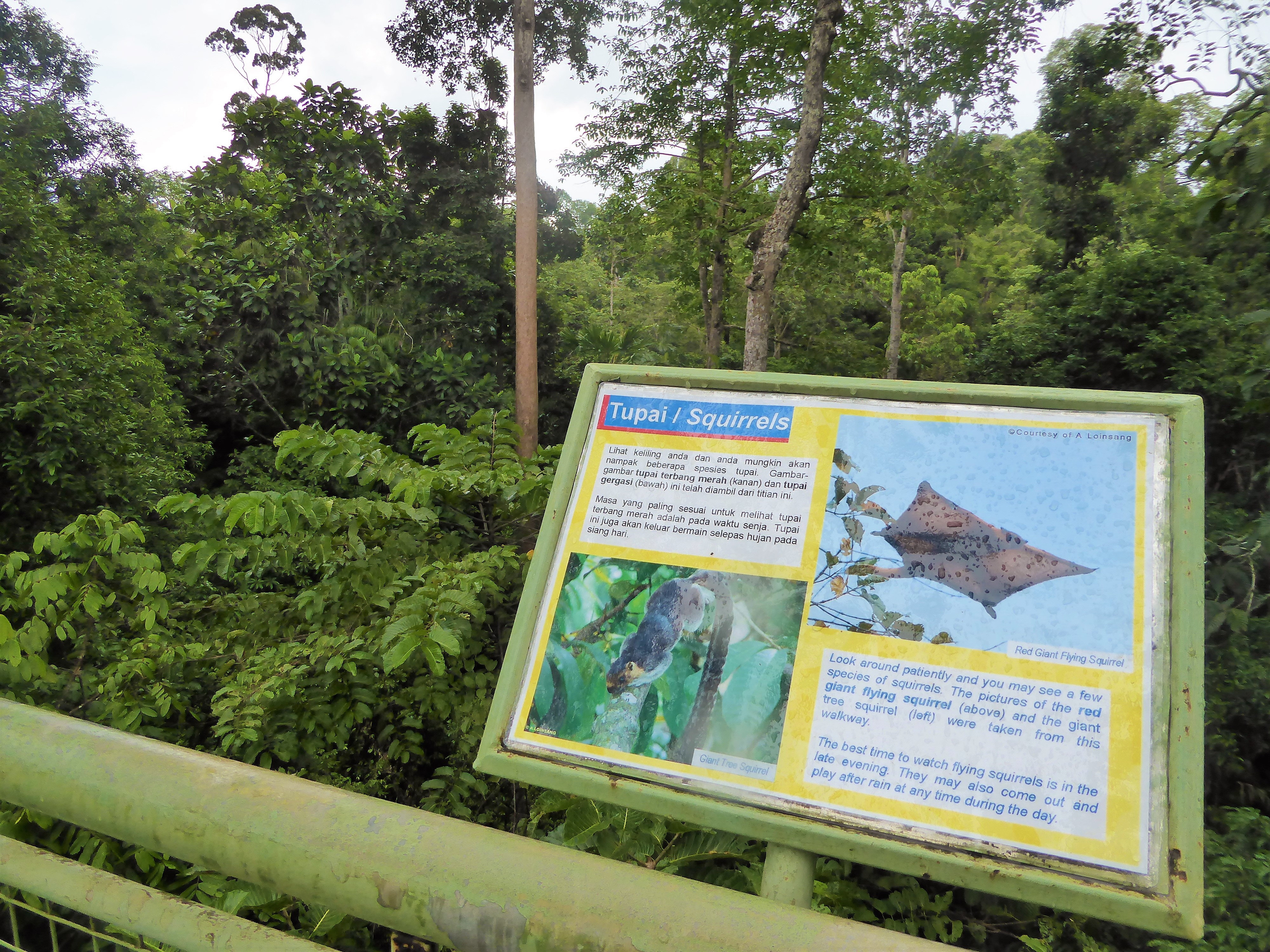 Besides this super fun sighting there was also a lot told about the wildlife
and nature in this park by the guide. I can really recommend this evening walk!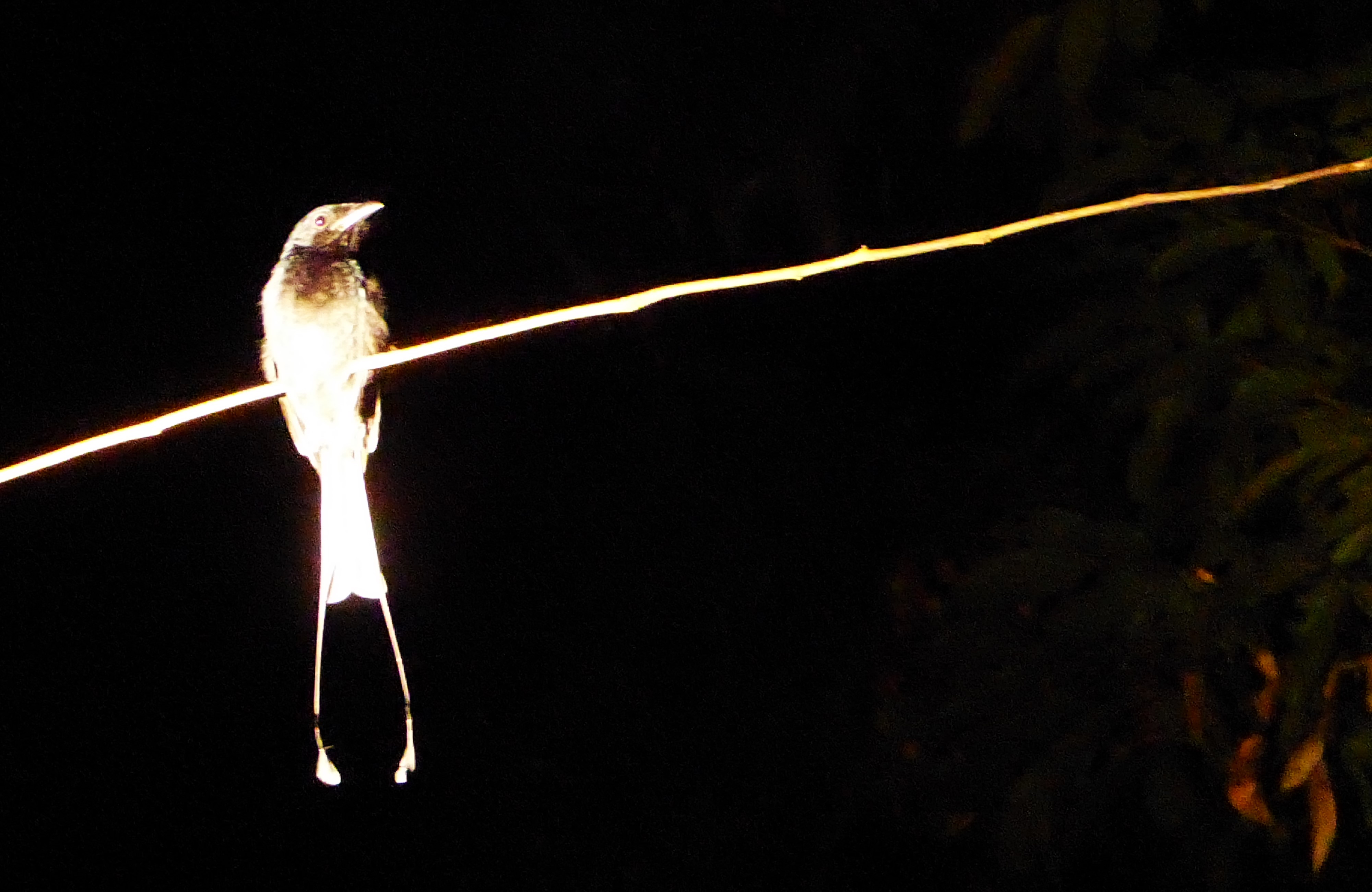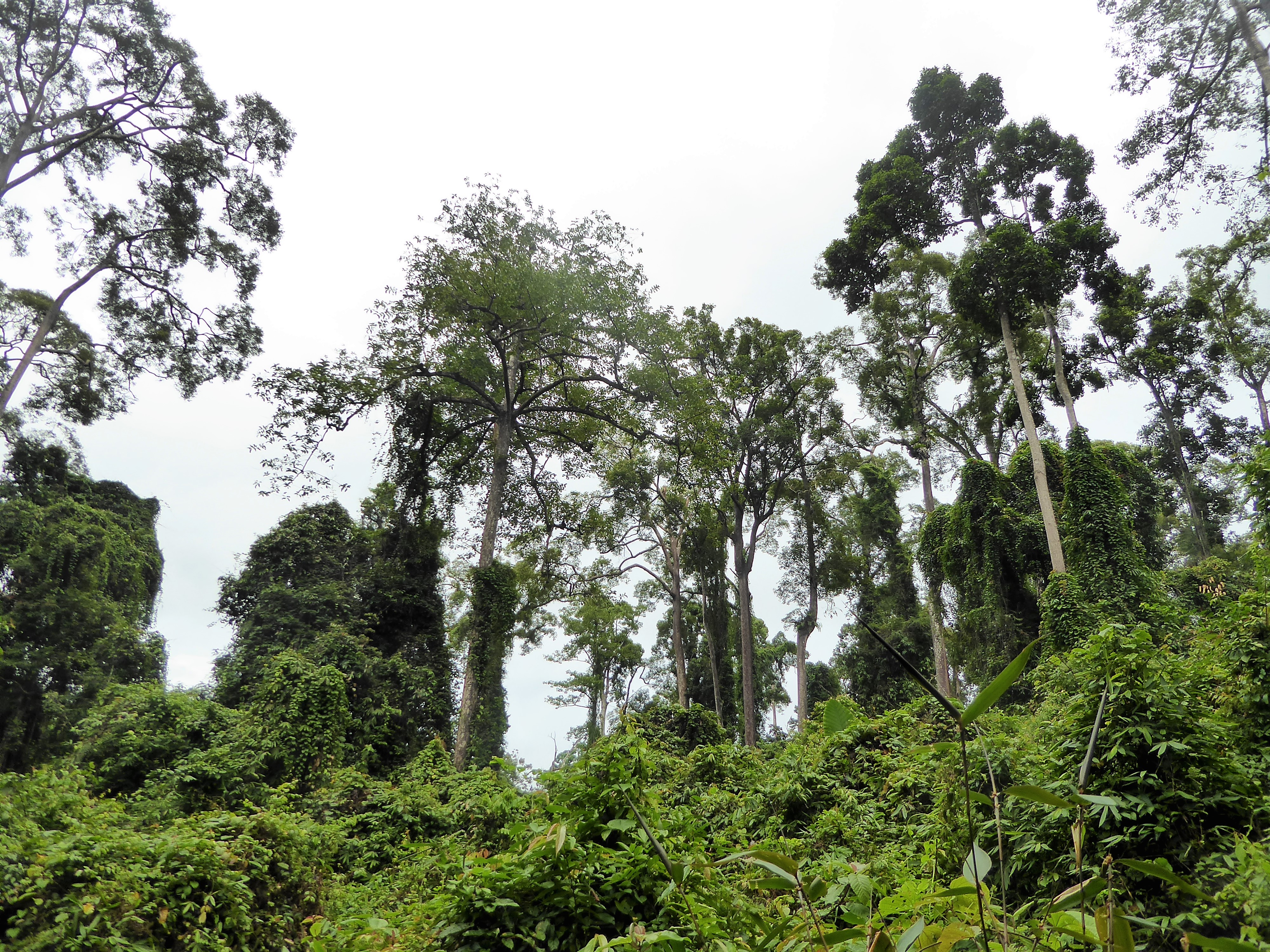 Visit Sepilok Orangutan Rehabilitation Centre
Most travelers/tourists know Sepilok of course because of the Orangutan Rehabilitation Centre. A super good initiative and I am happy that there are centers that focus on the conservation of wildlife and rainforest!
Although I really have to say that if you really want to experience the Orang Utan in the wild you have to visit Bukit Lawang in Sumatra -Indonesia!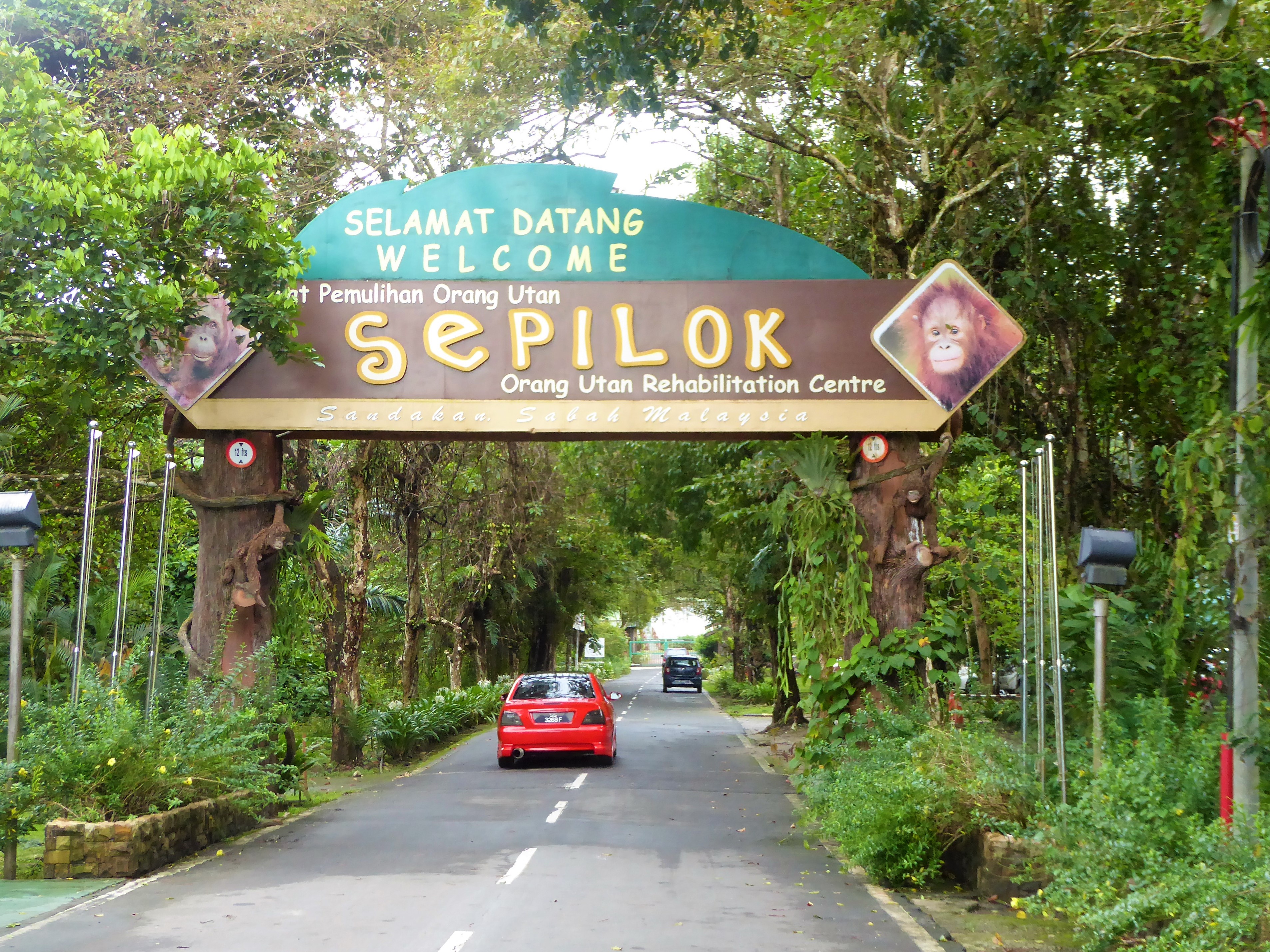 The next day I was present during the morning feeding of the orangutans. They live in the wild and those who can manage are no longer coming. But unfortunately there are still a lot of orangutans in the Sepilok Orangutan Rehabilitation Centre who come by for that tasty and easy snack.
This doesn't necessarily mean that they can't make it themselves, but maybe they find it easy. Just outside the entrance of the center I did see an orangutan in the trees who also came to the center for a bite 🙂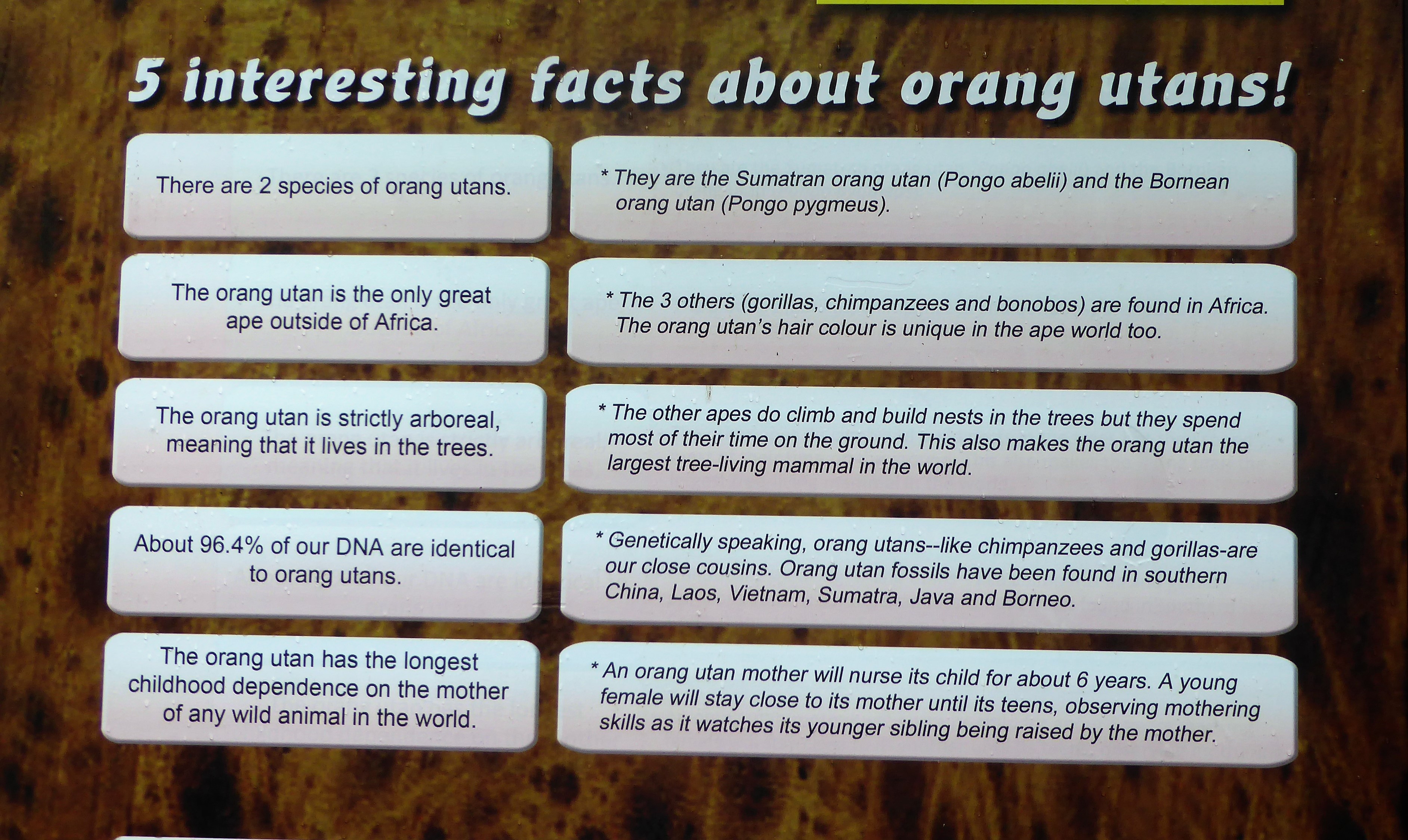 By visiting this center you spend money on an organization that wants to keep the wildlife of the orangutans high. In this way you also contribute to the sustainability of the rainforest on Borneo. So it's always good to go there and spend some money, right?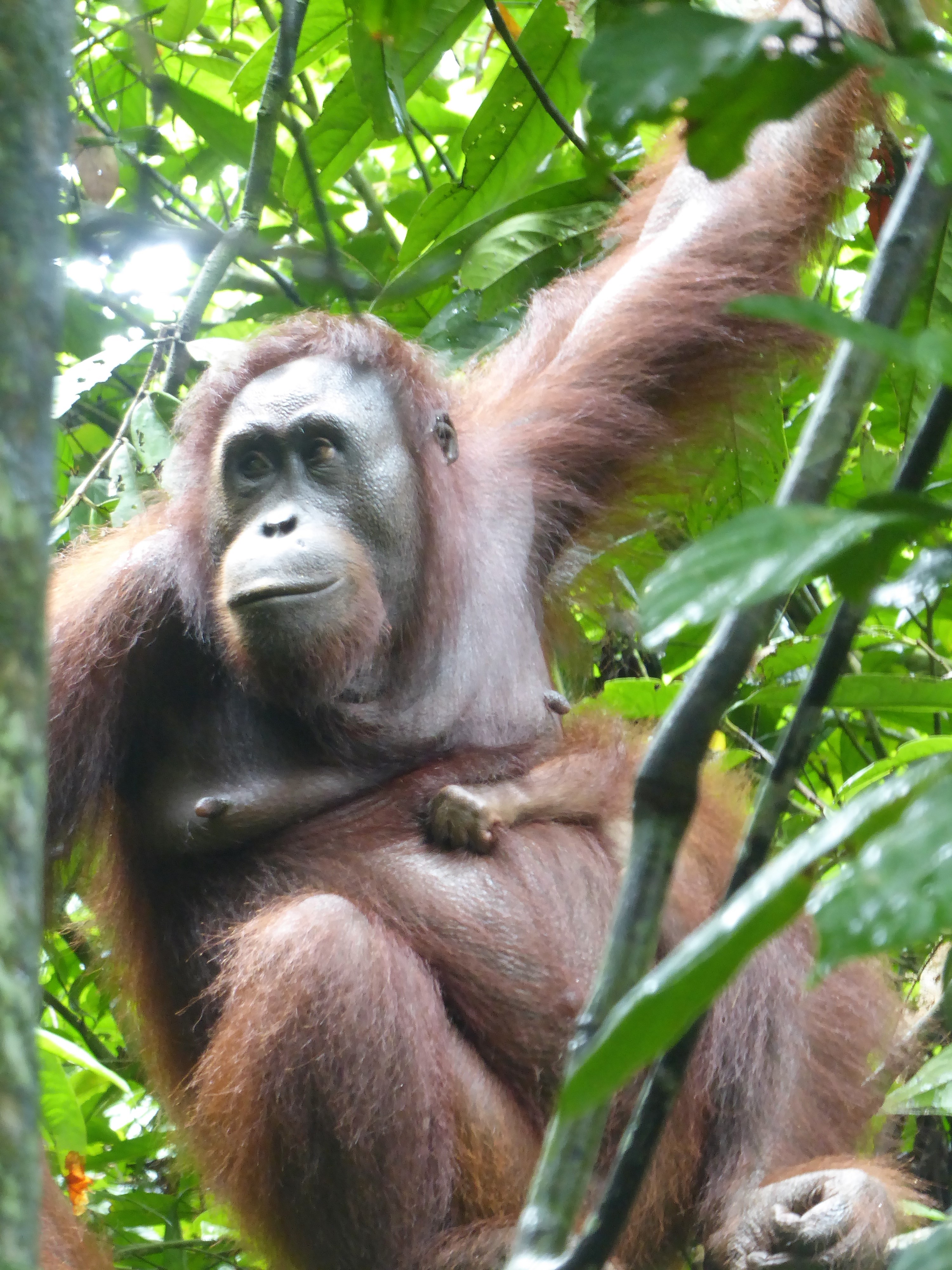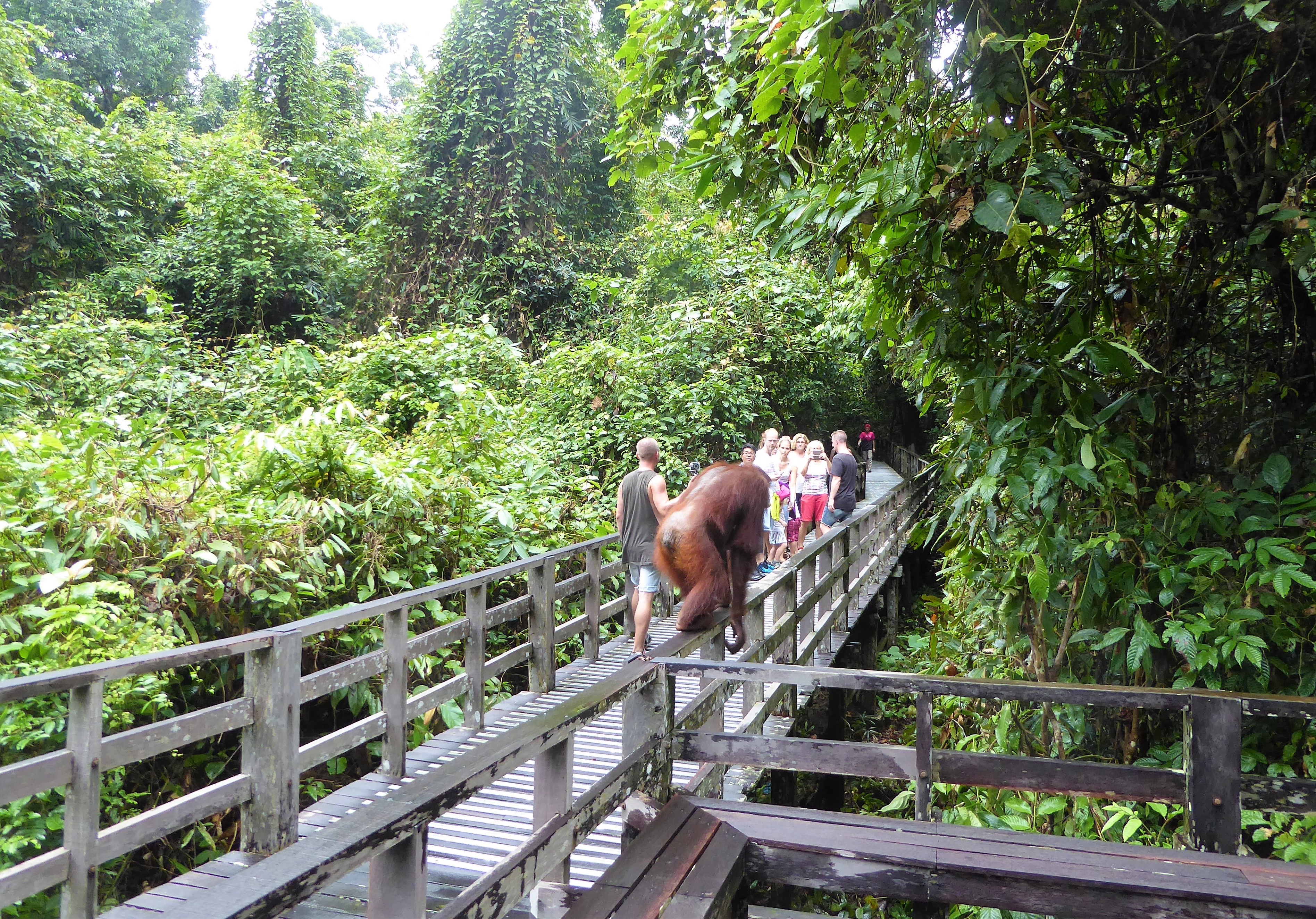 Visit the Bornean Sun Bear Conservation Centre (BSBCC)
On the other side of the road of this park you will find the Bornean Sun Bear Conservation Centre. Here you can also take a nice walk through the area. The honey bear is here in the park, just like the orangutans on the other side these are bears that need to be rehabilitated back into nature. I had never seen the little honey bear before.
The honey bear is called Sun Bear because they found that light colored crescent spot on their chest look like a sun.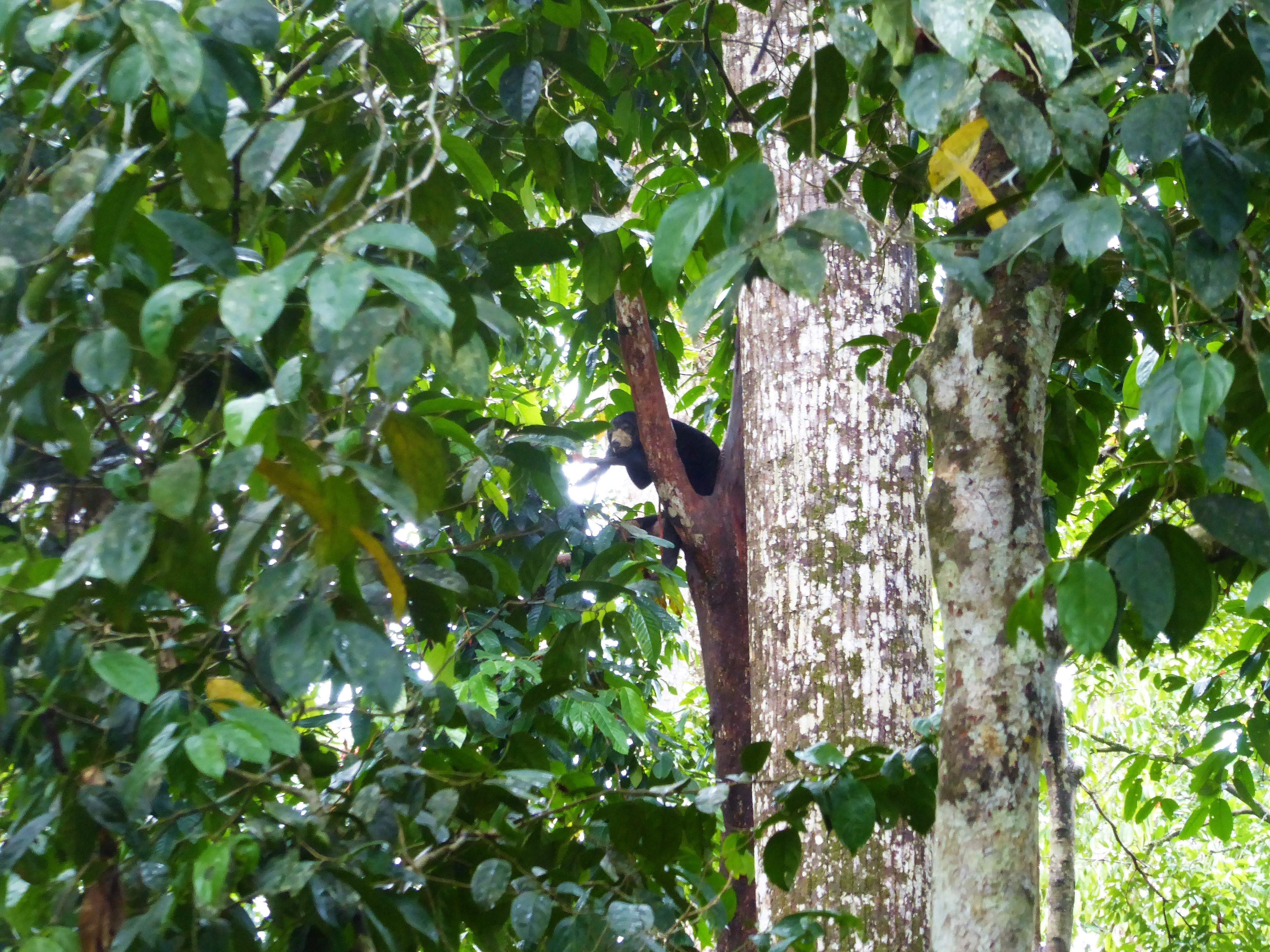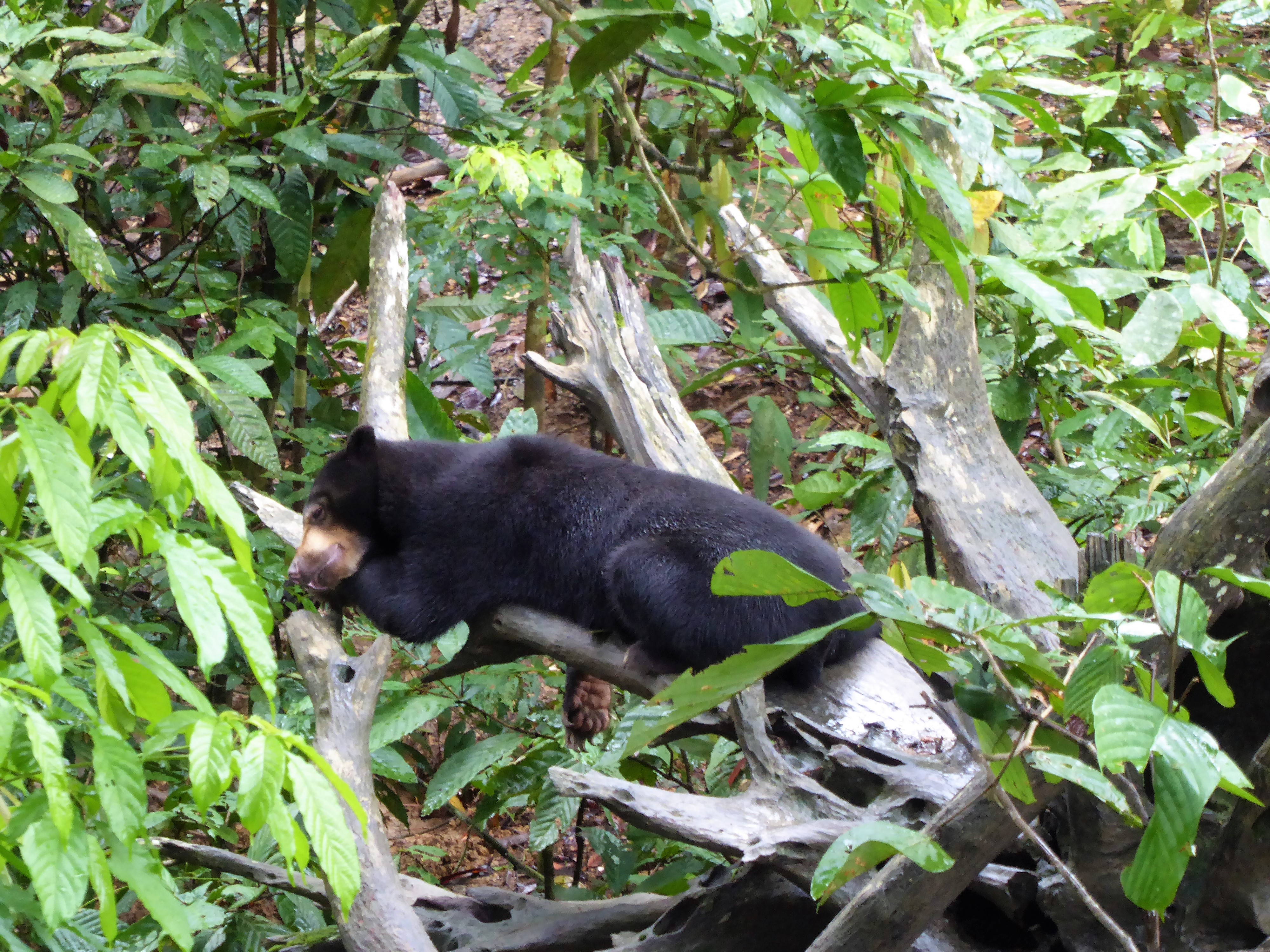 Hike into the Rainforest Discovery Centre (RDC)
In the afternoon of my second day I went for a few hours hiking in the rainforest, in the Rainforest Discovery Centre. There are several marked routes and these are well signposted. You can take an information booklet with you and the different themed walks are partly mixed up or you can choose for 1 fixed walk.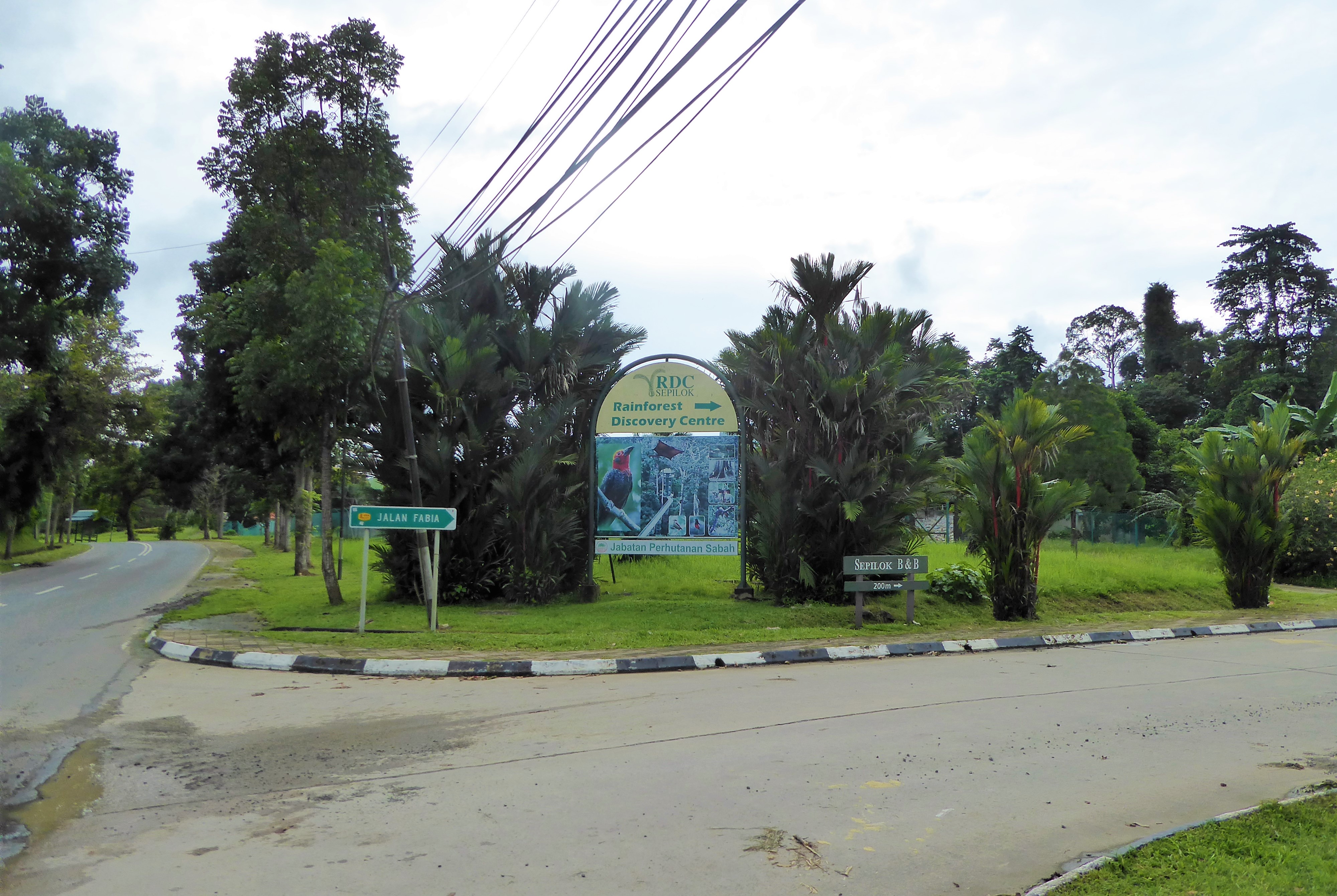 You probably can predict what I was doing… I crossed from one walk to another and wandered around the park for at least 2.5 hours. I loved it! I can definitely recommend spending a lot of time here. If, like me, you like to walk quietly, take the time to hear rainforest sounds, watch little insects and also just want to take a few breaks to just be there….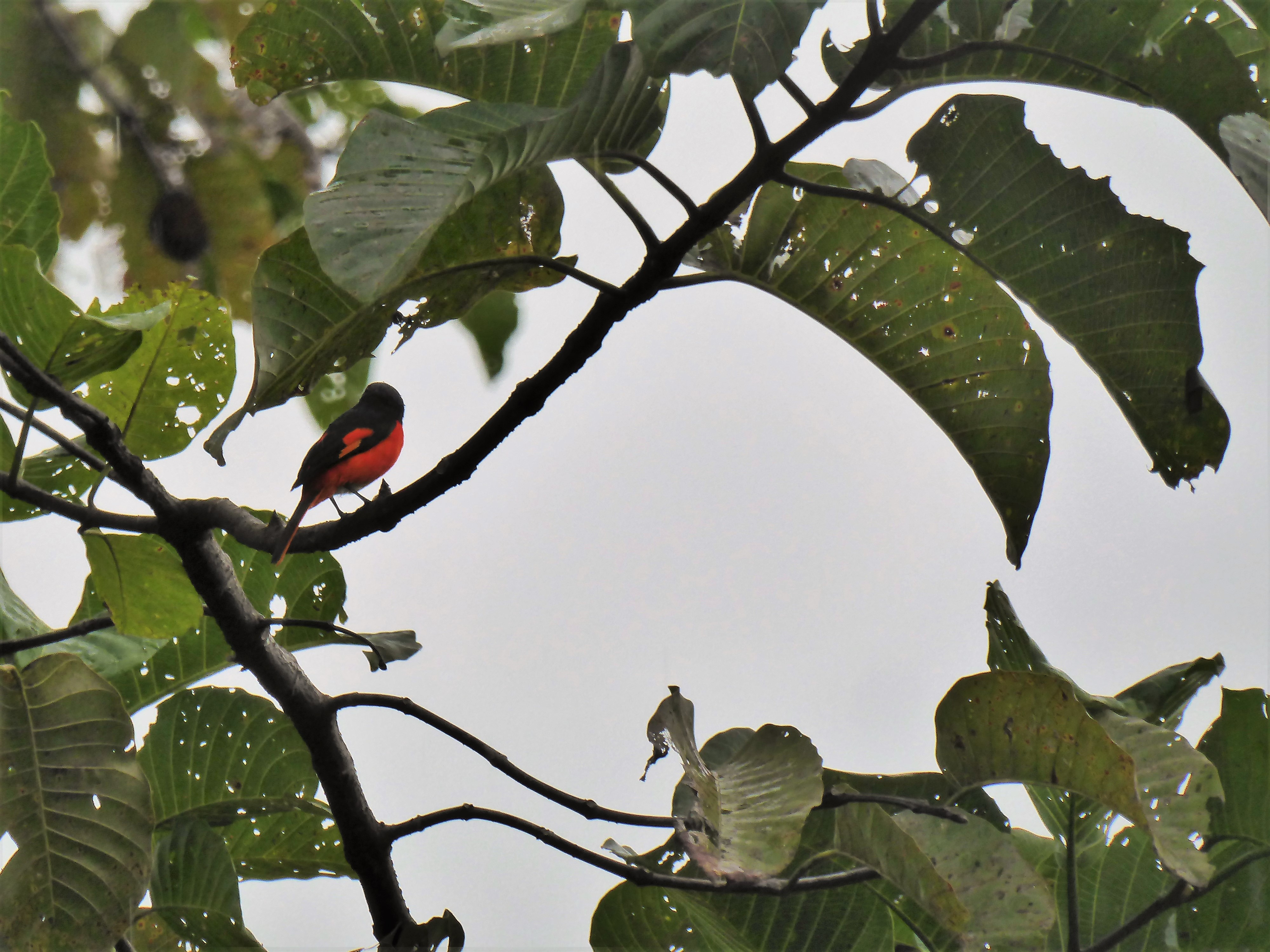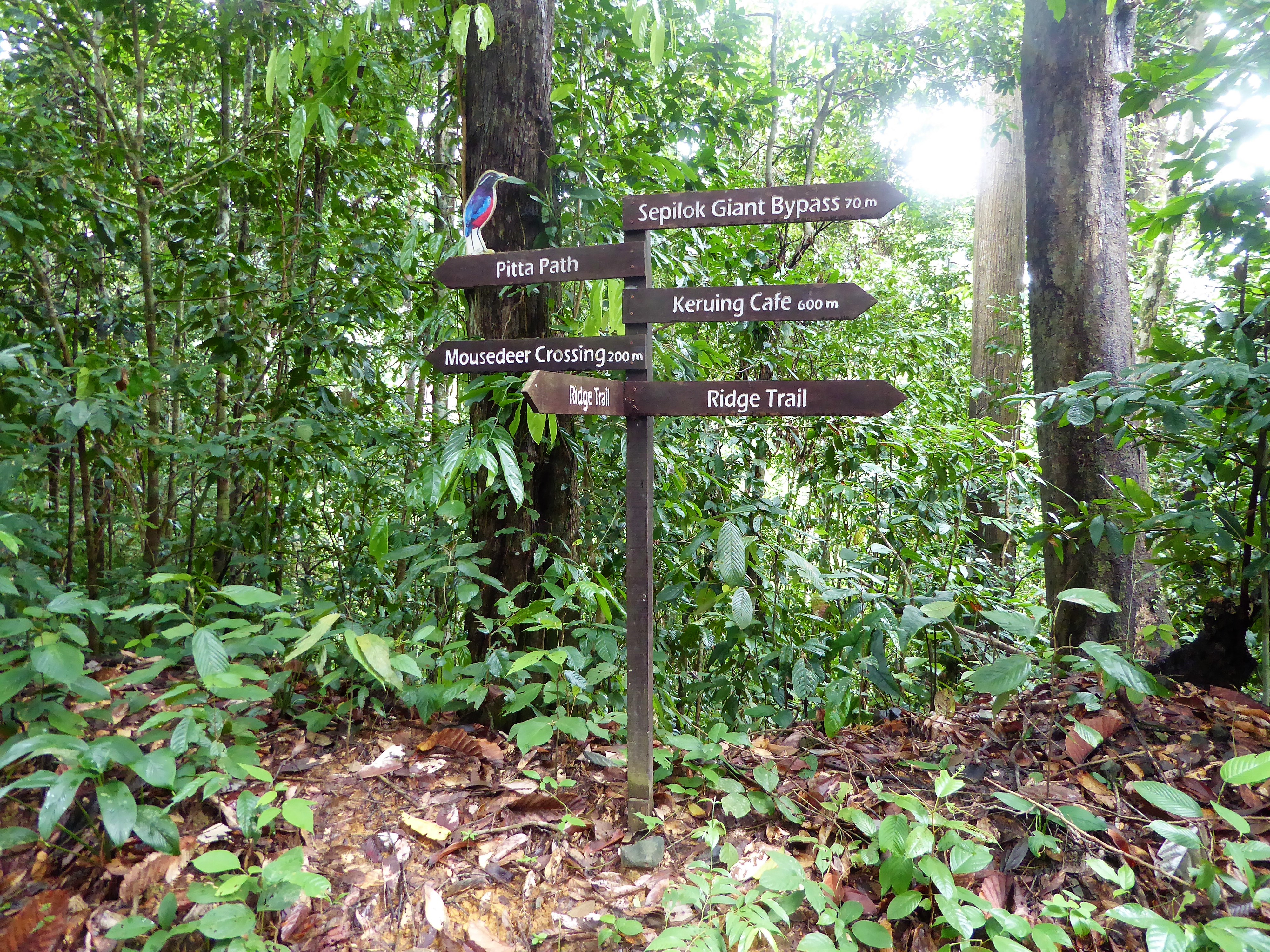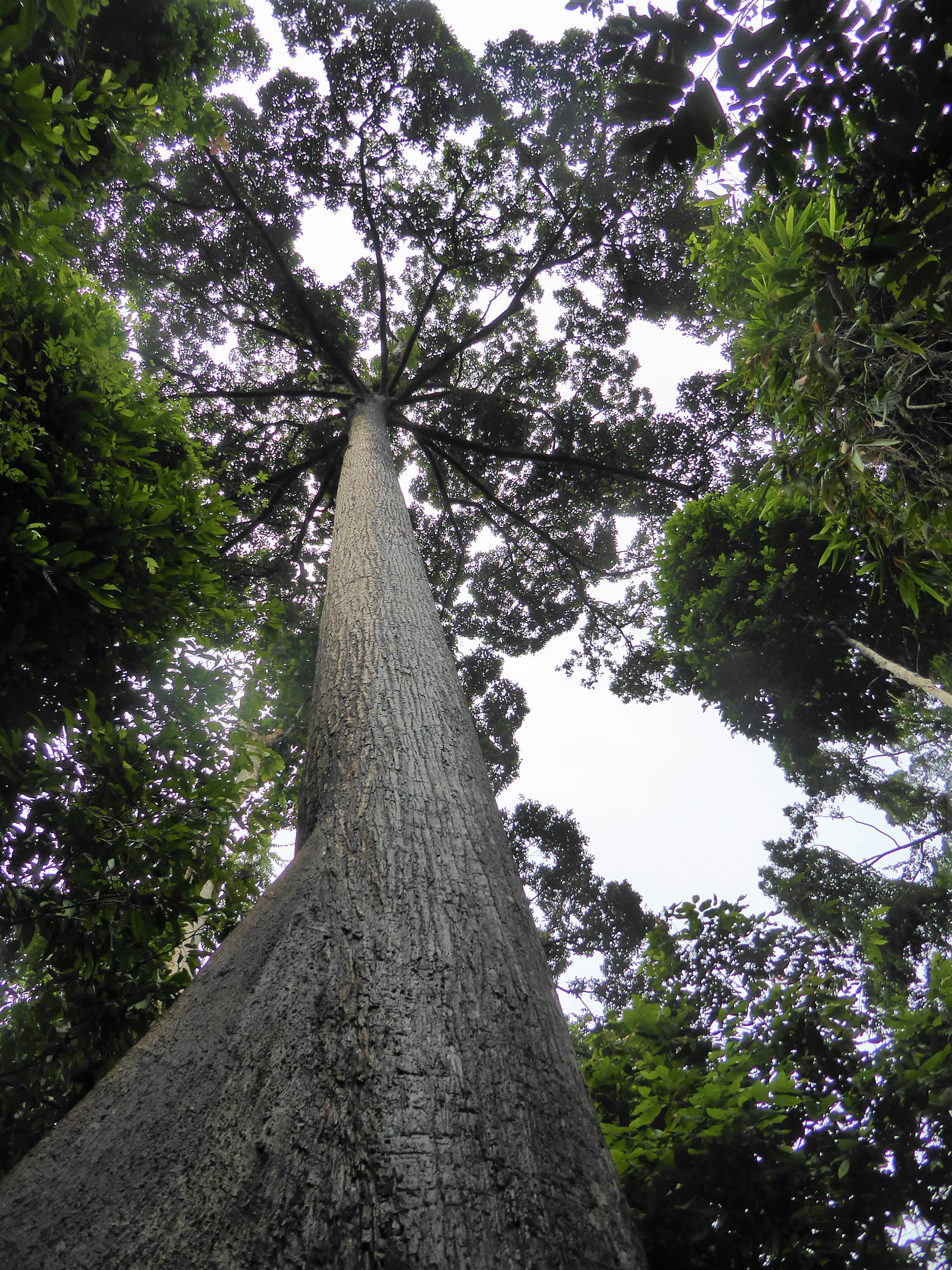 The Sepilok Giant…
And yes.. It is huge!!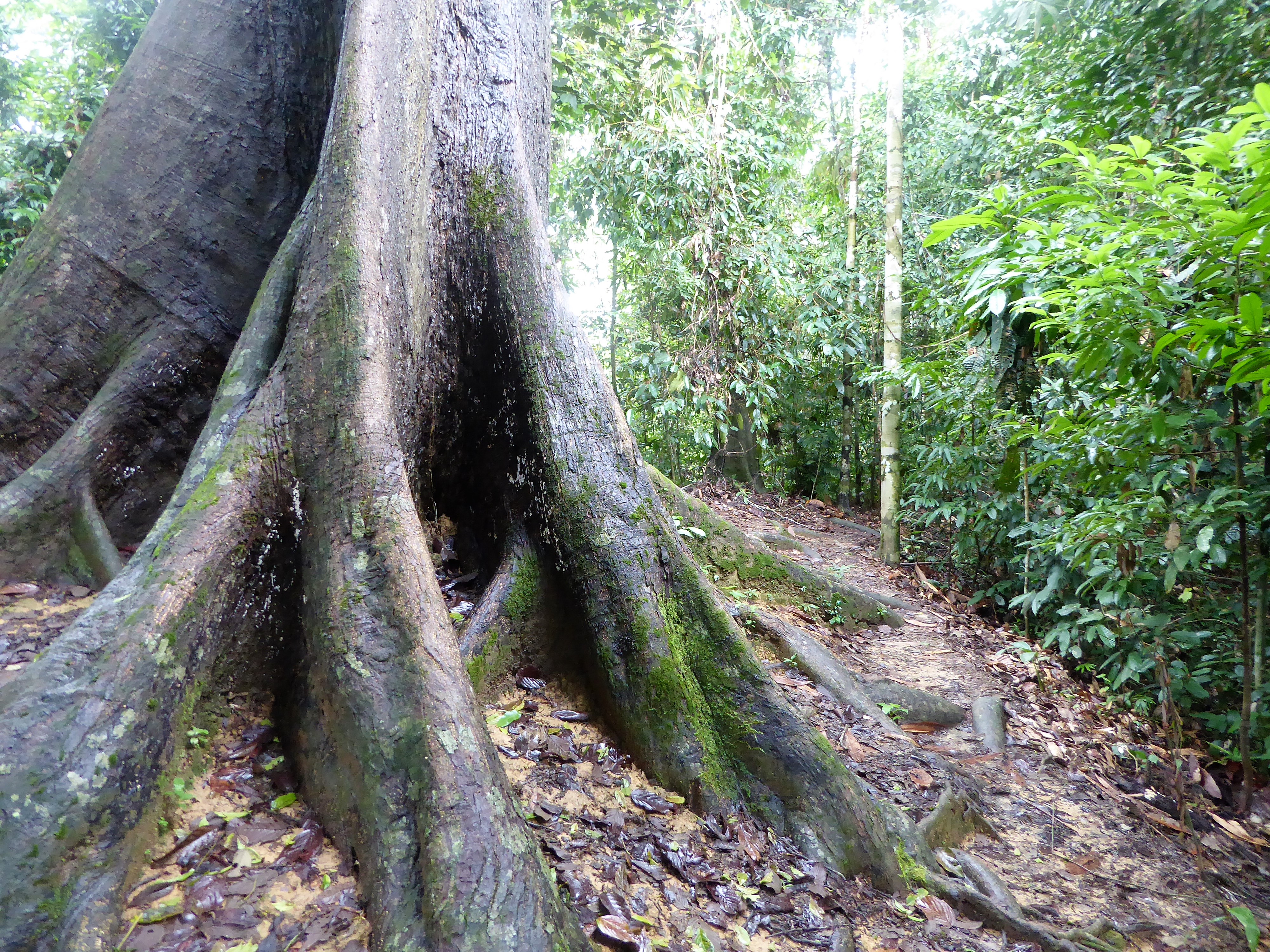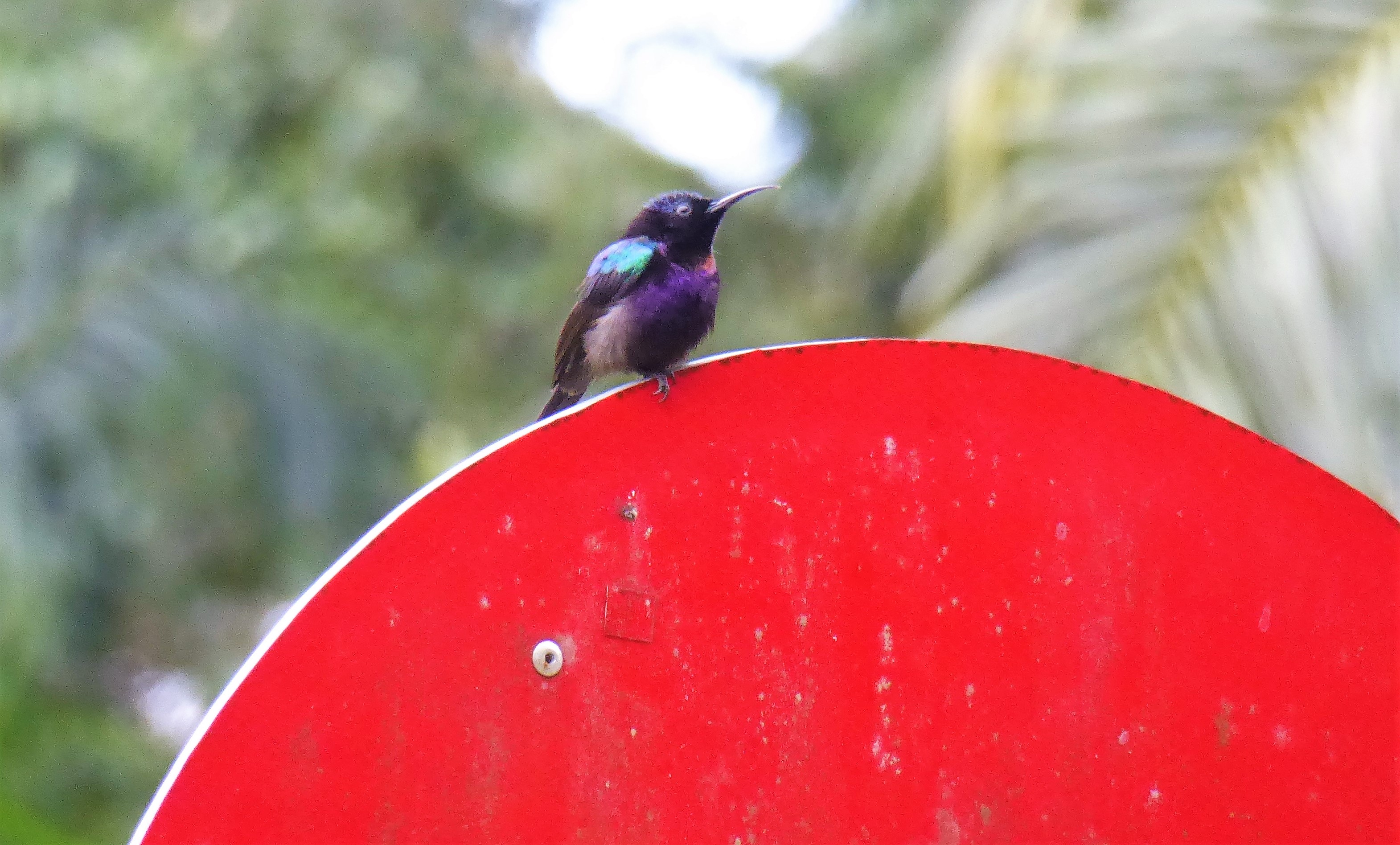 Travel Guide Sepilok – Borneo Malaysia
Where to stay in Sepilok
There are incredibly many possibilities to stay. Because I was on one of my longer trips I was looking for a cheaper option. In the wide surroundings you can enjoy all the luxury, lovely swimming pools and nice resorts.
Sepilok Forest Edge Resort
I chose the Forest Edge Resort and it turned out to be a great success. It has a small swimming pool which is delicious of course! In addition, the first night it offered me a cheap room in a building with several rooms and a shared bathroom.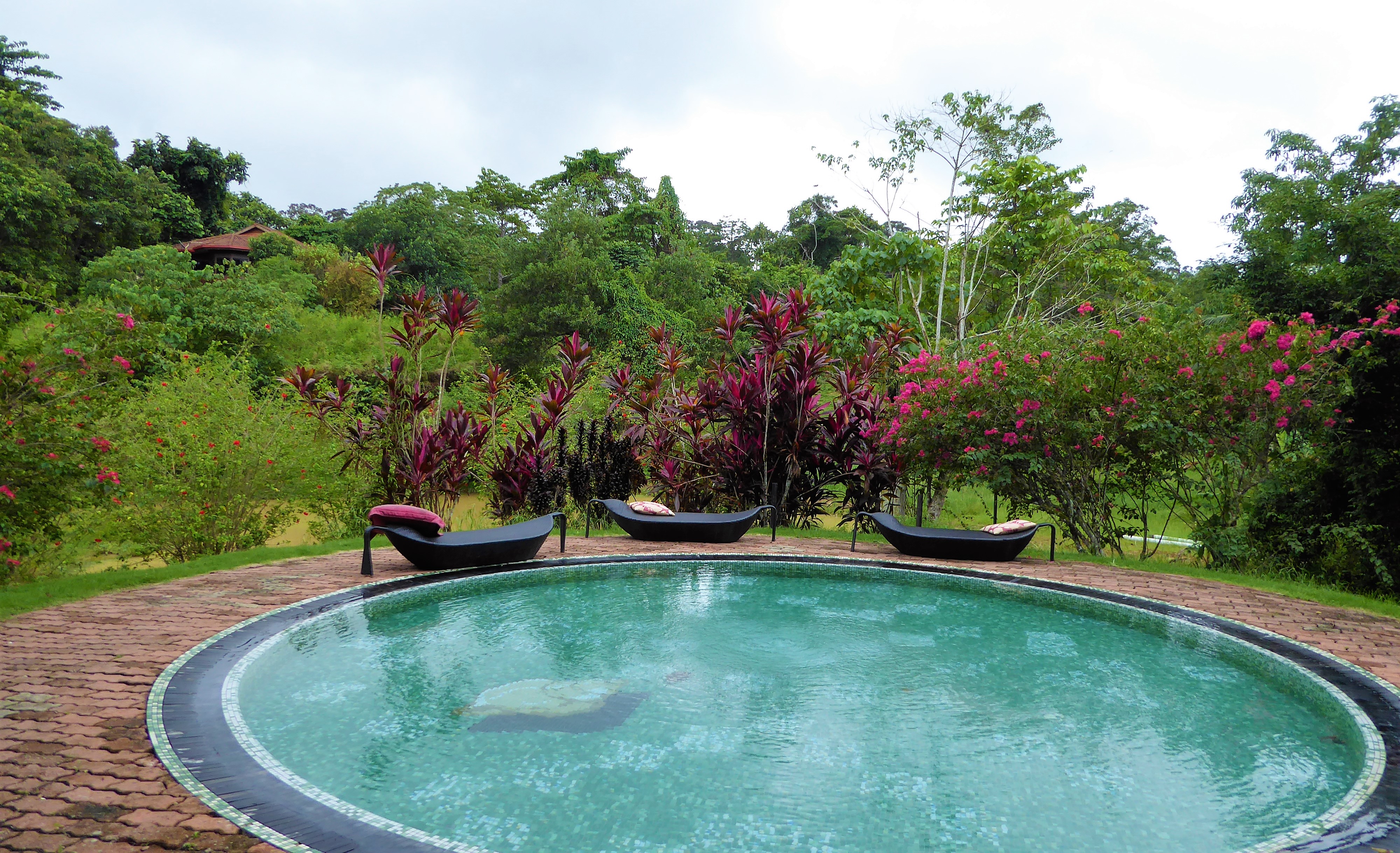 The night after, I chose one of the great cottages they have there! I had no less than two bathrooms then! One that was inside the cabin but also one that was on the outside with a view of the jungle! This room also had a great balcony with a view of the garden they have in which you can take a nice walk.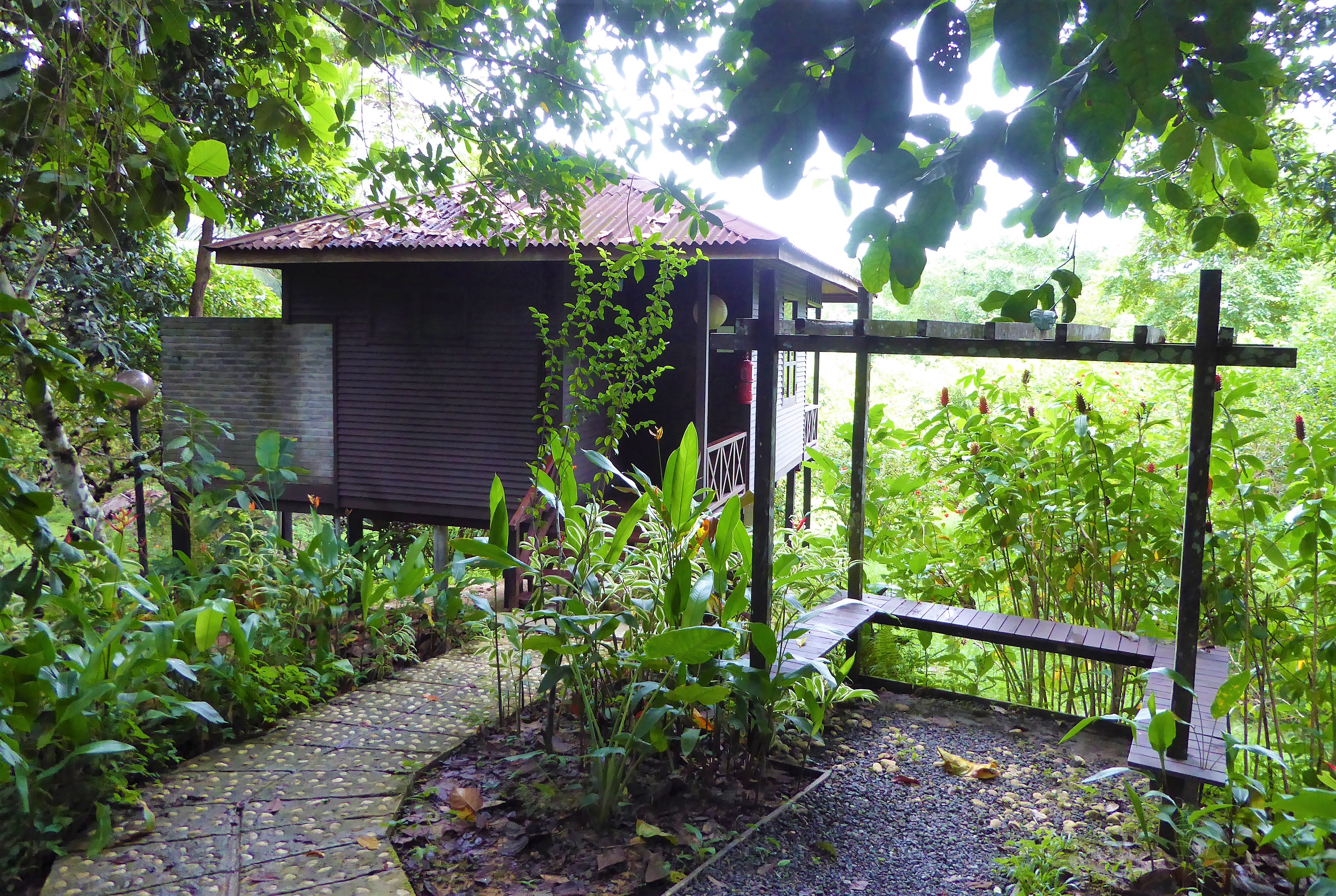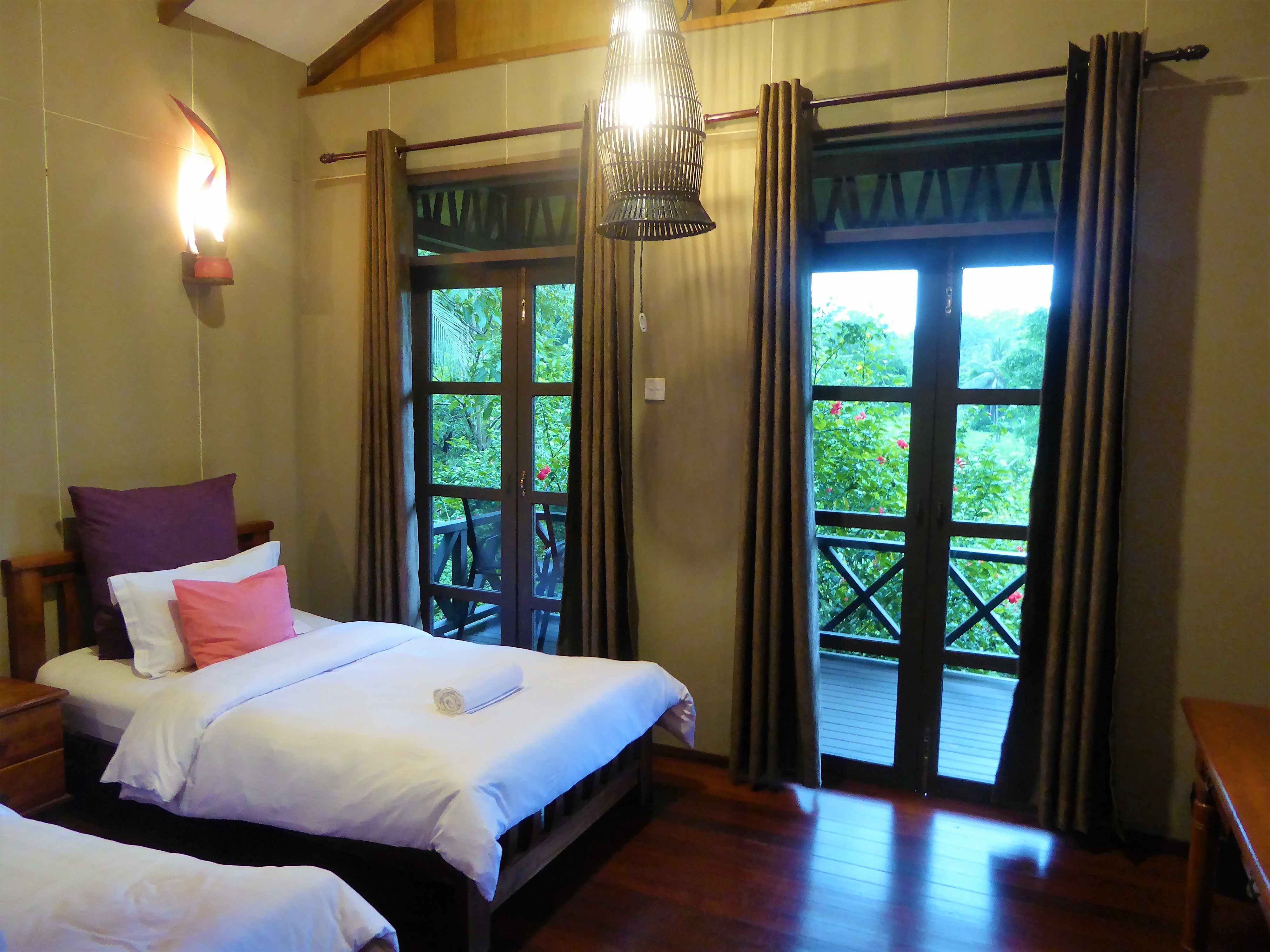 You can also take a marked walk in the rainforest at the back of their garden. With in the background sounds of all kinds of birds and here and there a monkey!
Labuk Bay Proboscis Monkey Sanctuary
If you stay an extra day in Sepilok it is also nice to go to Labuk. It is a half hour drive from Sepilok and you can watch the Proboscis monkey. What I can recommend more is a multi-day trip into the Kota Kinabatangan and see the monkeys in the wild! And that is what I did!
Coming & Going Reisgids Sepilok
To visit Sepilok you travel to the Sandakan, a real travel hub. The Sandakan Express Bus Terminal is located about 5km outside the city. Sandakan is the city where all busses pass by. From there you travel on to Sepilok or when I went on to Semporna to go diving. If you have all the time you can stay here and explore the city.
From Kota Kinabalu
From Inanam Bus Terminal several buses leave every day to go inland. It is about 6 hours to Sandakan (costs about 7 euros) and there you can take the bus to Sepilok. Then it's only about 45 minutes and it will cost you one euro.
The bus drops you off at the main traffic circle on the main road. There are enough guys there where you can arrange a cab to get to your booked accommodation.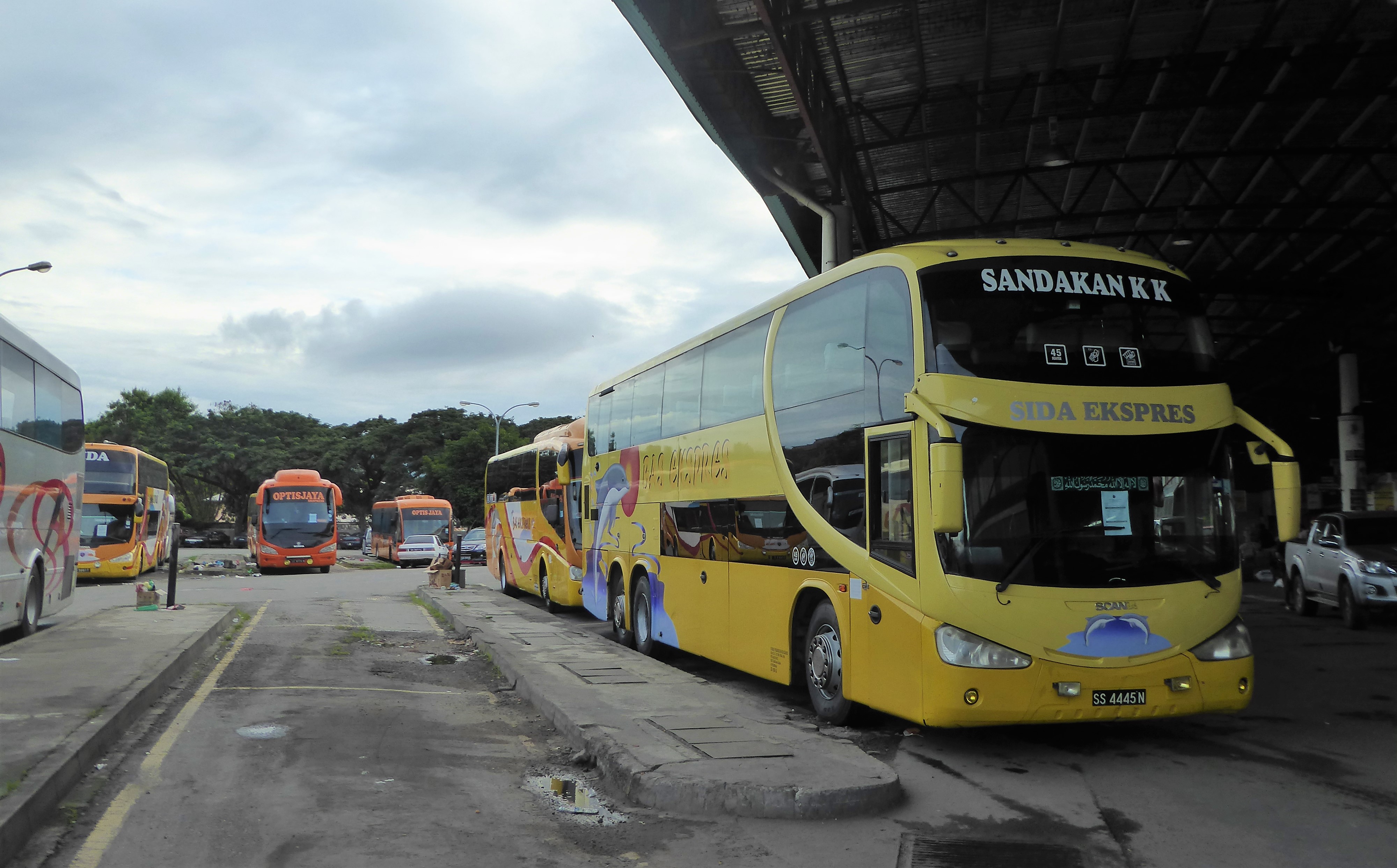 From Semporna
If you have dived off the coast of Semporna and head inland again you take the bus to Sandakan. This bus takes about 6 hours and costs around 10 euros.
Ask your hotel/hostel and they will arrange it for you or send you to the bus station if it is close by.
Did you find this a useful tip?
Are you going to Sepilok too? Then save this blog!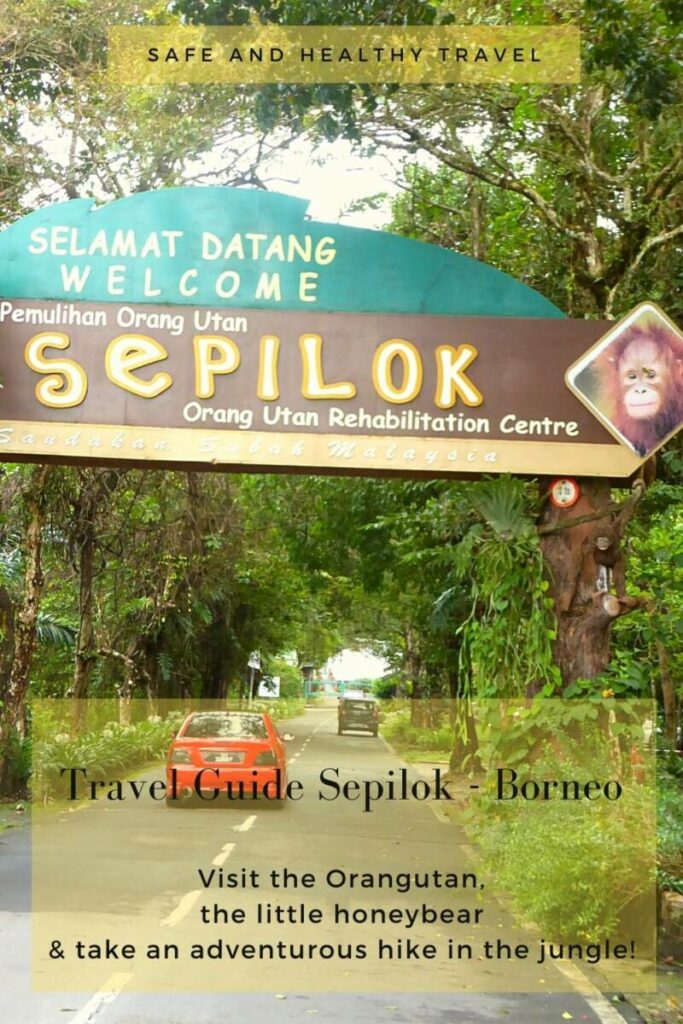 Want to read more about travelling in Malaysia?
Backpacking Borneo – Travel Tips Borneo
Cookingclass in Penang – Pickles & Spices
A nightwalk in the Taman Negara
Do visit KL! Travel Guide Kuala Lumpur
Biggest Flower in the World: Rafflesia
Or travel to Sumatra, Indonesia and visit the shaman!
I hope you enjoy this beautiful world as much as I do!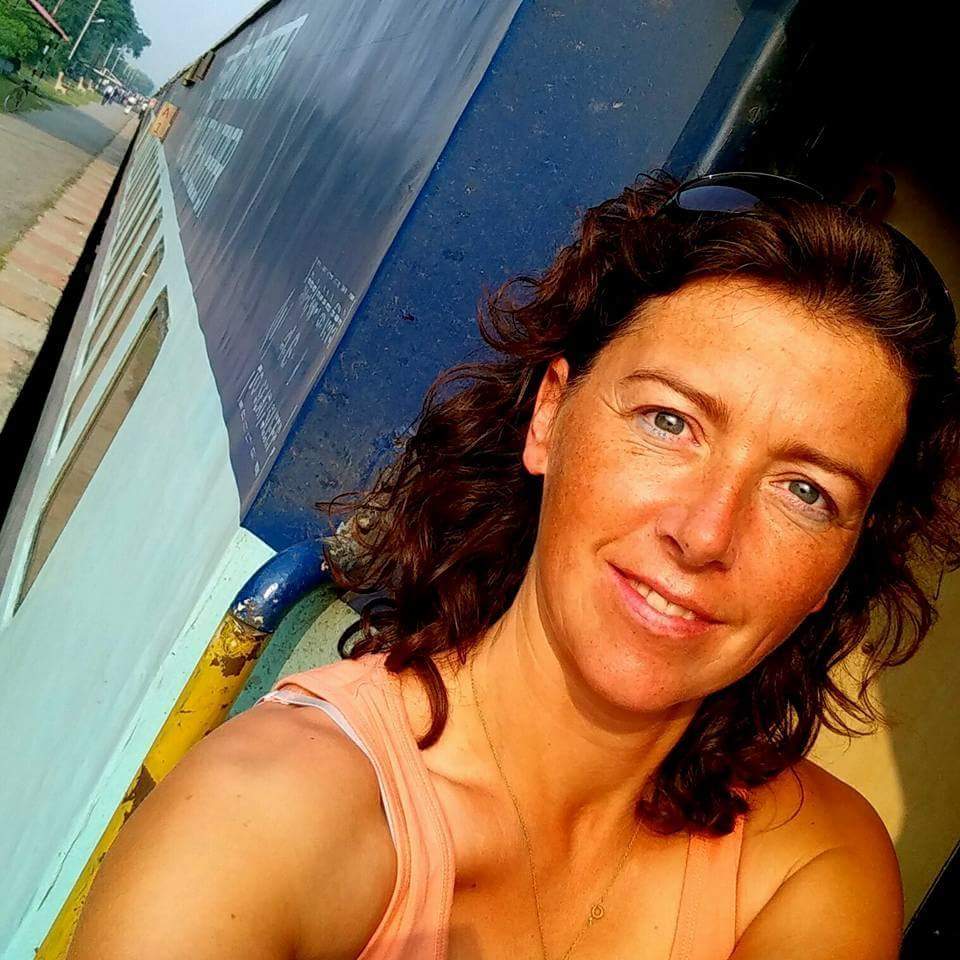 Jacomijn is een politieagent uit Nederland die jou graag laat zien hoe je veilig, actief en gezond de wereld kan over reizen. Safe and Healthy travel is a MUST